Data is the most valuable and abundant resource, with almost 2 quintillion bytes of data created each day. The importance of data is only going to rise as we become more dependent on technologies such as the Internet of Things (IoT), Machine learning, etc.
We must ensure the protection of digital data from hacks, breaches, and other types of loss. This is where data recovery comes into the picture. Data recovery is your insurance against data loss. It is important as permanent data loss can have serious repercussions in terms of financial, professional, and emotional damage. For organizations, the consequences are even more severe. E.g., regulations such as GDPR, levy a huge fine if your organization suffers a data breach and the confidential data falls into the wrong hands.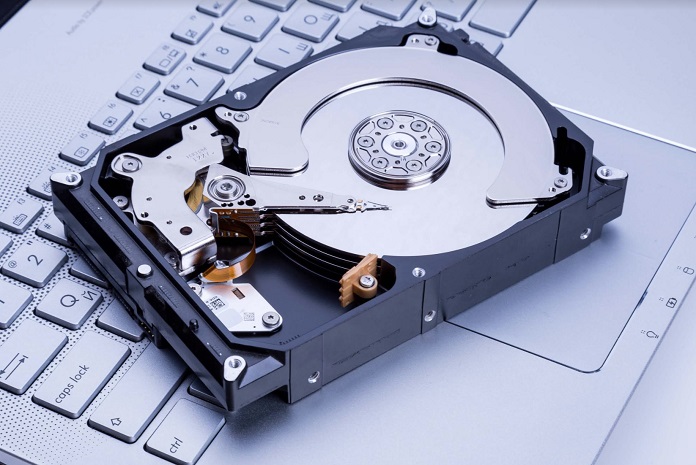 What is Data Recovery?
Data recovery consists of different processes that involve the recovery of lost, corrupted, deleted, or inaccessible data from digital storage media.
Some of the common causes of data loss are accidental deletion, malware attacks, natural disasters, corrupted files, theft, etc. A data recovery software protects you by recovering your data after it has been lost/deleted.
In this post, we are going to review one of the leading data recovery software- Stellar Data Recovery Professional for Windows. The parent company, Stellar Data Recovery, also makes similar products for Mac.
Stellar Data Recovery offers its Windows Data Recovery software in three different variants to individuals and organizations. These variants are Standard, Professional, and Premium.
Stellar Windows Data Recovery Professional
Stellar Windows Data Recovery Professional is a DIY tool that can recover all kinds of data, such as files, folders, documents, photos, videos, audio, etc. It performs recovery from all kinds of storage devices, such as desktop and laptop hard drives, external hard drives, memory cards, SSD drives, SD cards, etc. The tool is very easy-to-use, and you can recover data in three simple steps: Select, Scan & Recover.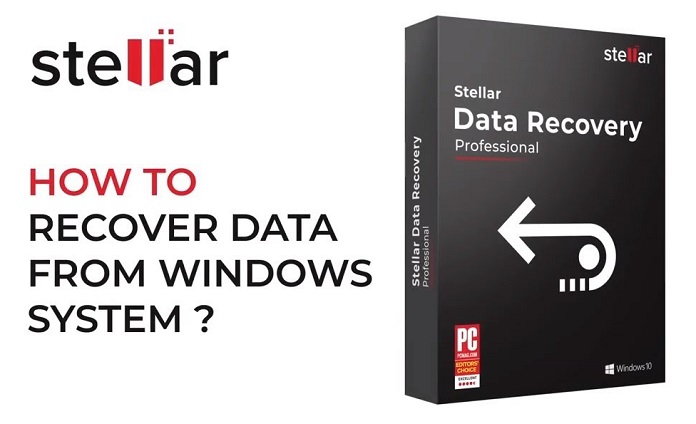 Once you install the software, it asks you a select the location from where you want to recover the file. The default setting selects all types of files on the computer. Once you select the location, comes Scan, where the tool scans the selected storage device to locate the lost data. After the Scan is completed, you can recover the desired files on your computer. The key features and differentiators of the software are listed below:
Key Features
1. Recovers all files and file types
Stellar Windows Data Recovery Professional supports more than 300 file types (documents, emails, pictures, videos, audio files, etc.). You can also add a file type if you do not find it in the list.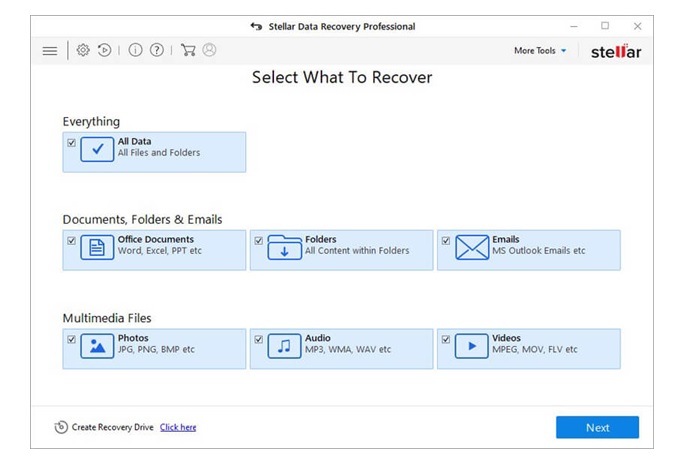 2. Restores data in all loss scenarios
Our data can be lost/deleted due to different scenarios such as file deletion, formatting, disk corruption, crashed systems, deleted partition, etc. The software efficiently recovers data in all such scenarios.
3. Recovers lost email files
Recovering lost email files can be tricky, but not with Stellar Data Recovery Professional for Windows. The software can easily restore your lost or deleted email data files, such as Microsoft Outlook (PST), Outlook Express (DBX), Exchange Database Server (EDB), Lotus Notes (NSF), and other email files.
4. Recovers data from crashed windows
Stellar Data Recovery Professional for Windows can recover data from a crashed or unbootable Windows PC by creating a bootable media in an external USB drive.
5. Disk imaging functionality
Recovery from bad hard drive sectors can be difficult. In these situations, the software creates an image of the hard disk and its local partitions in the hard disk or any external storage media. You can then specify the 'starting' and 'ending' sectors and make an image of the selected region.
6. Preview before you recover
During the scan process, you can preview the lost or deleted files. This feature allows you to detect the lost file faster. The scanned files are categorized under Tree view, File Type, and Deleted list formats. This categorization makes it easy for you to select the recoverable files.
7. Retrieves data from missing partitions
Data corruption or accidental deletion can cause your hard drive partition to become inaccessible. You cannot view the partition, let alone recover data from it. Stellar Windows Data Recovery Professional for Windows scans all the partitions, including the missing ones and lists them under the partition section. The data recovery can then be performed.
8. Comprehensive scan feature
The software offers two scan modes- Quick Scan and Deep Scan. Deep Scan is a comprehensive scan feature that goes deep into your hard drive to recover data. Plus, you can also scan multiple file systems at the same time to get the best scan result.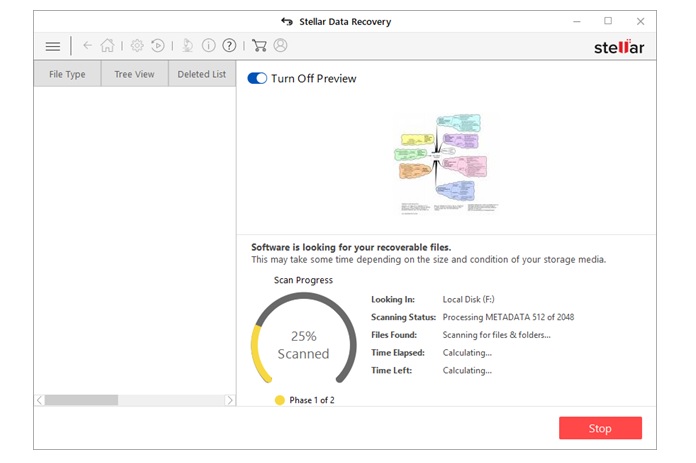 9. Save and Resume Recovery Sessions
With the software, you can pause and resume your recovery sessions at a later time.
10. Recovers data even from encrypted drive
Are you worried that your data in your encrypted hard drive won't be recovered? The file recovery software can do the needful and recover lost data from Bitlocker encrypted hard drives, SSD, or external storage media. It will just ask for your Bitlocker password to run the Scan. Plus, you can also recover data from Bitlocker encrypted disk image file.
11. Optical media recovery
The software also supports data recovery from scratched, corrupted, or partially burnt optical media such as CDs, DVDs, Blue-Ray discs, HD DVDs, etc.
12. SMART Drive monitoring
Not just data recovery, the tool also tracks the health and performance of your hard drive. This way, the software can alert you to an impending drive failure, and you can preserve your data.
13. Cloning
The software also allows you to create a replica of your disk which prevents loss of data in case of drive failure.
Supported Devices and File Types:
Devices: Hard drives, SSD's USB drives, CD, DVD's, Blue Ray discs, Pen drives, SD Cards, RAID servers, Virtual machines
Files: Emails, photos, videos, audio, documents, etc. across all formats
File systems: NTFS, FAT, FAT16, FAT32, and exFAT
CD/DVD file systems:  CDFS, UDF, and HFS+
System requirements:
Processors: Pentium processors
Windows versions: 10, 8.1, 8, 7, Vista & XP
RAM: 2GB
Hard disk: 250 MB free space
Try it now
Stellar Data Recovery Professional for Windows is an efficient and comprehensive data recovery product, designed to recover any data from your Windows device. Below is the link to download the software for free: