One of the horrors that can give many sleepless nights to a parent is the misuse of the iPhone by the hands of his/her teenage son. Leaving the iPhone in a minor's hands has many dangers.
The wrong post on social media, clicking pictures that shouldn't be in the lenses, forwarding of inappropriate messages without knowing the consequences, and having a data-stealing app on the phone is the name of a few.
All these dangers are for real and can create serious trouble for your son and the family. Hence, a parent always wants to learn an easy way to track my son's iPhone.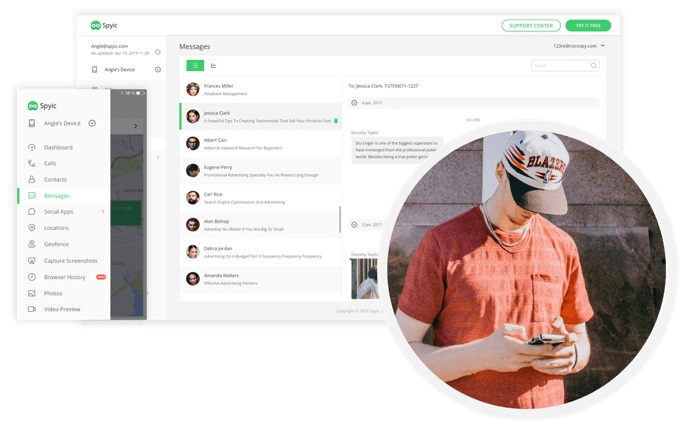 We know that it's a tough task. But we have a solution that might interest you. In this post, we are going to tell you one secret way to track your son's iPhone without giving a whiff of this to anyone. So, let's get started.
Spyic – Helping you to become your son's shadow without letting him know
You want to follow your son but are afraid that he will resist it as no teenage child wants a helicopter parent.
Forget about a teenager. An adult also doesn't want to be watched around the clock. But, that shouldn't be an excuse to let your son use the iPhone the way he wants.
This is where the Spyic iPhone solution comes into the picture. Without creating any fuss, this remote iPhone monitoring app can track your son's iPhone activities with full conviction.
Millions of others like you have already availed of its flawless iPhone tracking assistance and have managed to keep their loved ones away from various kinds of dangers.
When leading media houses like Forbes, PCMag, and many more backs one's performance and sings in its praise, it is indeed the reliable one.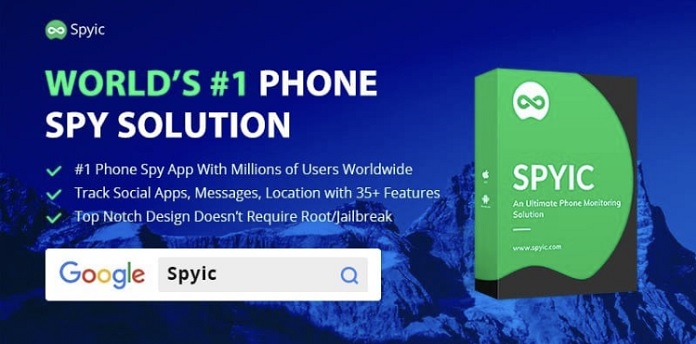 Once you are done reading the below points, your faith in Spyic will firm a bit more. 
Spyic doesn't force you to take up the risky path
One of the most well-known ways to track an iPhone is to jailbreak it. Jailbreaking allows an admin like access to the targeted iPhone and allows someone to make changes in the OS. Though it works, the dangers that will follow you are astronomical.
Facing issues like damaging the OS once and for all, exposing the crucial data to the world of cyber vulnerabilities, and getting stuck in between is normal. This is why you just get up one morning and start using jailbreak. You need to ponder over various factors.
As Spyic works without the help of jailbreak, there is nothing to be worried about. You can get-up one morning and use it to track on your son's iPhone as there are no threats. Its assistance is risk-free and reliable.
Also, there are many online solutions that promise you to help but create an endless problem by saving your crucial data on the server. By doing so, these solutions put your data safety at stake.
But, Spyic works wonderfully at this front as well as it doesn't save data on the server and keep it safe.
Not a tech-whiz? Not an issue
When it comes to iPhone tracking, the very first thing that might bother someone is the kind of technical skills it demands. People have this conception that iPhone tracking must be a very technical job.
Indeed it is. Ask from any hacker or someone who has tried jailbreak. They will say the same. It's not a child play unless you use Spyic.
Spyic is a very user-friendly iPhone tracking solution that one can ever have. Without getting you involved in all sorts of download/installation processes, this solution can keep you updated about everything.
All the credit for this goes to the brilliant minds that have conceived the 100% browser-based interface. This interface can be at work without any download and using any device/browser.
The only thing that needs to get started with Spyic is to know the iCloud credentials of the targeted person and the right kind of subscription. That's it. There is nothing else that you need to bother.
Accessing data is also very easy. All the data will be delivered directly on the interactive dashboard. The dashboard is also accessible using any device/browser. You don't have to go against the stream to use it.
Comprehensive iPhone tracking
When Spyic is at your service, you can do detailed and extensive iPhone tracking without any hassles. It can do a lot more than tracking the location. It can keep tabs on around 35+ activities.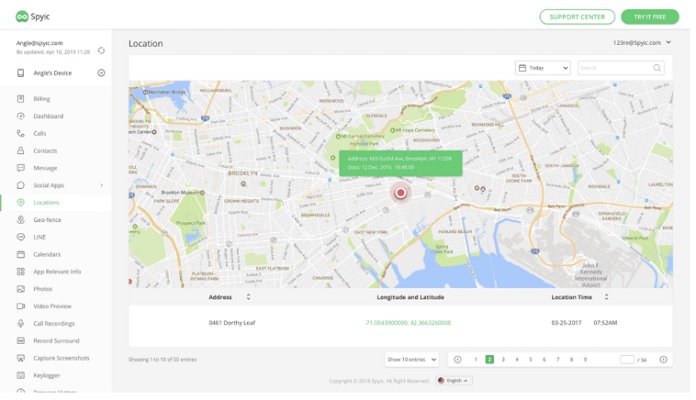 Activities such as calls, SMS, social media accounts, apps usages, SIM information, and many more can be monitored around the clock. There is hardly any iPhone tracking solution that can help you at so many fronts.
Reliable data
Don't ever try to think that if Spyic is trying hands on so many things so you will have to compromise on data quality then you're making a big mistake. Because this is not going to happen. Spyic captures data with full conviction.
Every data is captured in real-time and comes with timestamps. It is so reliable that no one can raise fingers on it. It is 100% reliable.
Affordable iPhone tracking
The offerings of the iPhone are not over yet. There is more to learn and you will be shocked to know that Spyic has managed to keep the iPhone spying expenses as low as possible despite offering such detailed and reliable assistance.
You can use Spyic for a month and capture real-time data on all the 35+ activities at a cost of $10. There is nothing in the world that can be cost-effective than this. So, with the help of Spyic, you can keep tabs on your son's iPhone activities at a very cost-effective cost.
Don't let your son do anything stupid with his iPhone
He may get excited after getting an iPhone and get drifted from the responsibility that comes with owning a phone. But, you are the parent. You are an adult and you can't let him do anything stupid.
This is why Spyic is here. Using this iPhone tracking app, anyone can keep eyes on every movement and prevent any mishap.