Today let's talk about the interesting Defunc True ANC TWS headset. Defunc is a relatively young Swedish brand, founded in 2015, which specialises in audio devices, in particular, headphones and speakers. By the way, the rather unusual name of the company consists of two words that form its philosophy – Design and Function. The brand aims to create quality devices for music lovers, combining modern design and functionality that we need today.
To be honest, before I met Defunc True ANC I had never even heard of this company, so I had no idea what was in store for me. But upon inspection I was pleasantly surprised by the headphones – sound quality, appearance and, of course, their capabilities. So I am in a hurry to share my impressions with you.
Read also:
Defunc True ANC main characteristics
Type: TWS, in-line, in-canal
Bluetooth Version: 5.3
Audio Codec: SBC, AAC
Transmitter size and type: 10 mm, dynamic
Frequency range: 20 Hz – 20 kHz
Controls: touch
Battery capacity: case – 400 mAh, headphones – 40 mAh
Headphone runtime: up to 5 hours (with ANC), up to 8 hours (without ANC)
Operating time with case: up to 25 hours
Charging: wired USB Type-C, wireless (5W)
Charging time: about 1.5 hours (case and headphones)
Water protection: IPX4
Weight: 45g
Colours: black, white, blue, green, pink, red, black, white, blue, green
Extras: ANC (up to 26dB depth), ENC, transparency mode, wireless charging support, game mode, work with voice assistants (Google Assistant, Alexa, Siri)
How much does Defunc True ANC cost?
At the time of writing the review we have the following picture. At full price (about $95) now Defunc True ANC can be purchased for $79, and even get a wireless charger as a gift. As far as I'm concerned, this is a very nice offer.
With a price tag of $80-$90, True ANC can be classified as a mid-range headset. It's not a $30 budget headset with basic sound and functionality, but it's not a top-of-the-line headset with all sorts of features like auto-pause. However, there are a lot of advanced features (like wireless charging, ENC and ANC) in the headphones, which I suggest to get acquainted with in practice.
What's included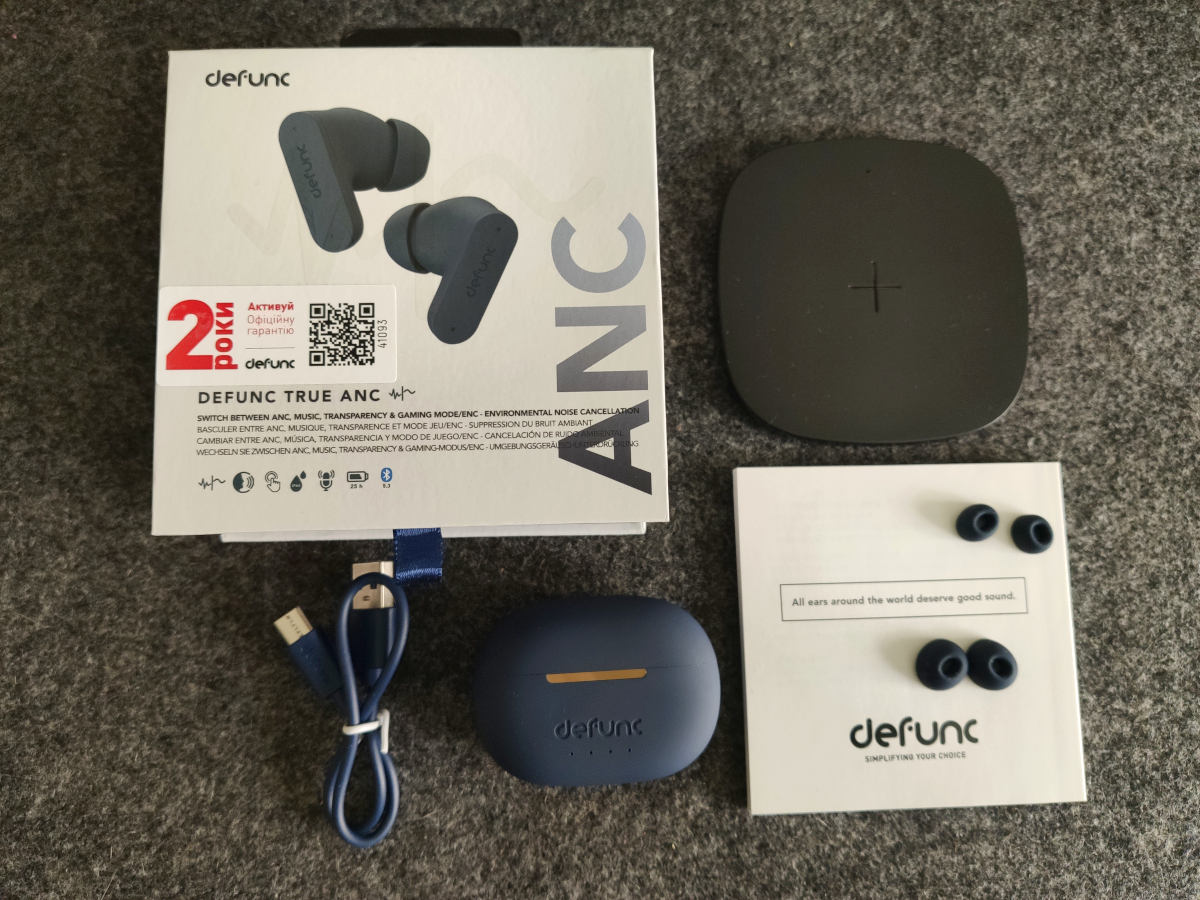 The headset arrived in a nice branded box-like packaging. Inside there is a charging case with headphones, two pairs of additional silicone ear cushions of different sizes (there are three of them in total – S, M and L), a small USB-A to USB Type-C charging cable and, of course, accompanying documentation. But in my case, the package has been expanded, because in addition to the main box there is a small package containing a wireless charger.
It's a lightweight, thin and low-power (only 5W) square-shaped docking station with rounded edges and a thickness slightly thicker than the Type-C connector. It's made of a nice matte black plastic. On top of it there is a marking in the form of "+" – this is where the device is placed. And above it there is an LED indication. When the charger is plugged in, the indicator is red, and when the device is charging, it turns white. Clear and easy to understand.
We turn the wireless unit over and see the bottom cover with ventilation holes on four sides, four rubberised feet and a sticker with key specifications: input – 5V/2A, output – 5V/1A. For headphones – just what you need.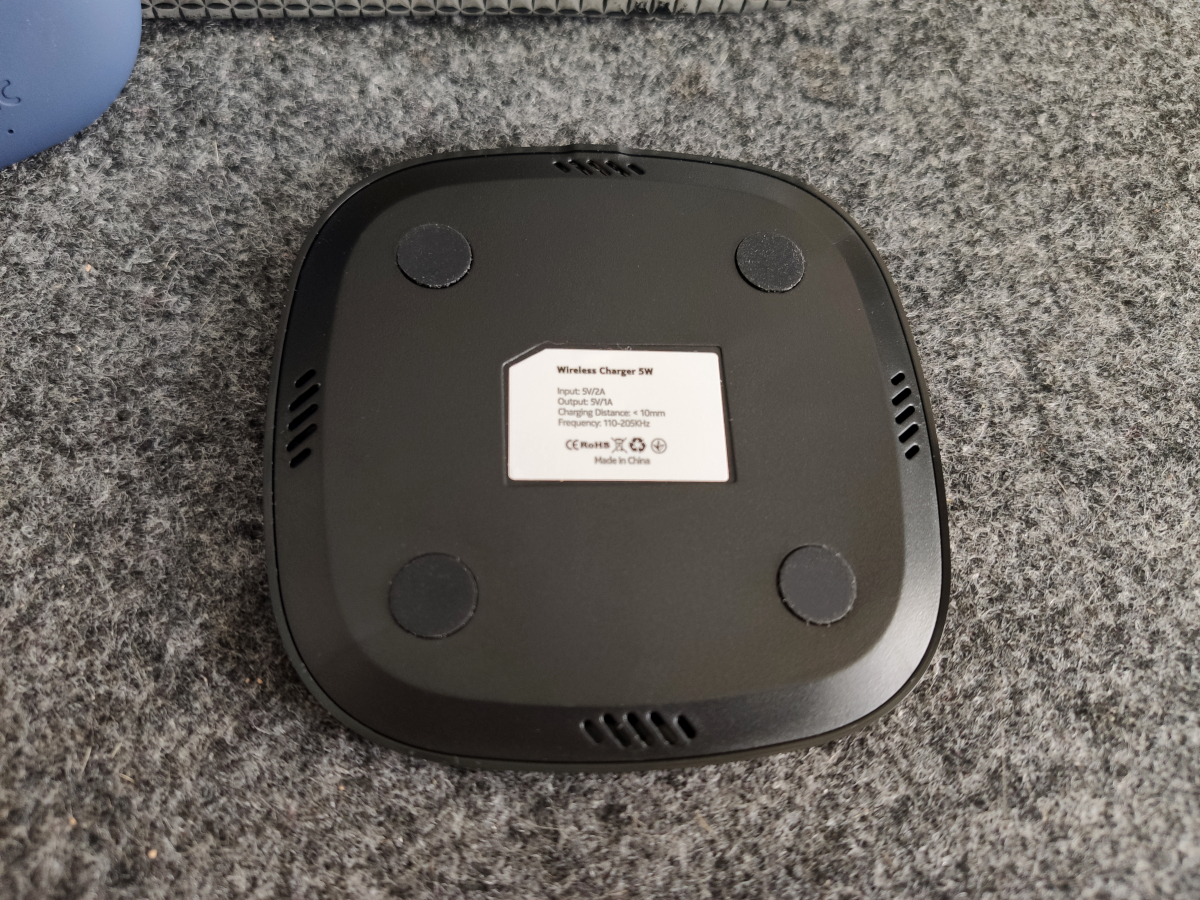 Technically, it can also charge other devices like a smartphone. But, if your device supports more powerful wireless charging, it will take longer to charge with this charger. Nevertheless, it's very cool that a wireless charger is included as a gift, because you don't always have the time to add this unit to a device that doesn't come with it.
Read also: TOZO Golden X1 review: cool hybrid TWS earbuds for music lovers
Design and materials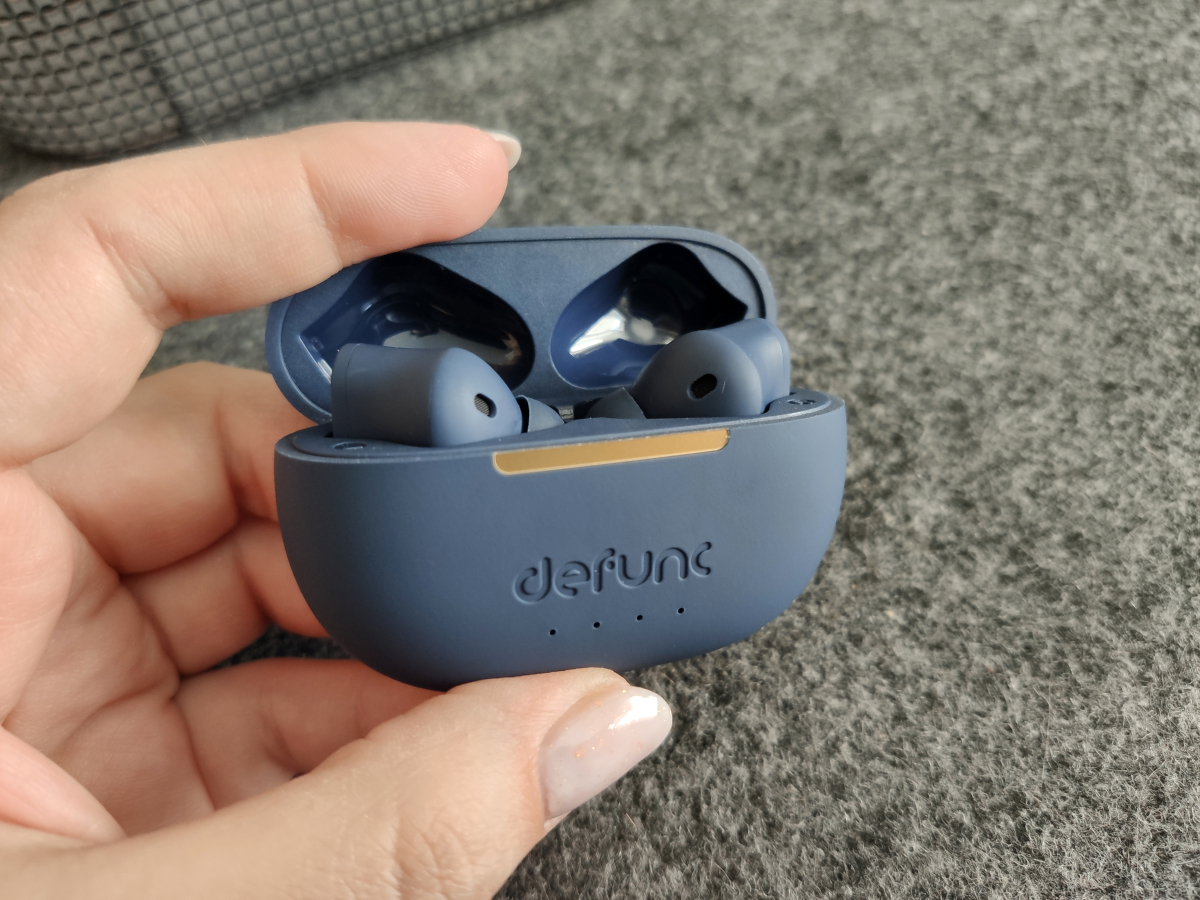 The design of the Defunc True ANC is very nice. The case weighs about 45g and has an elongated elongated shape with rounded edges on all sides. My review features the headphones in deep blue colour, but they are still available in 5 variants: standard white and black, as well as red, pink and khaki. There's something for every taste, as they say.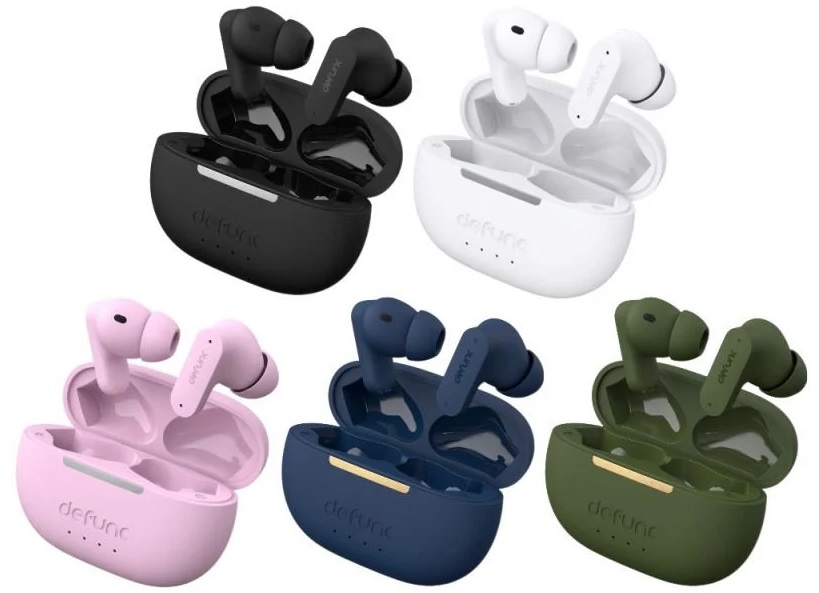 On the outside, both the case and the headset have a nice soft-touch coating. On the front of the case, you can see the brand name and 4 LED lights that show the remaining charge. Each of the lights is responsible for 25% of the charge and this is the only way to know how long the case will last. There is also a small glossy bar, which fulfils both decorative and practical role – with its help it is more convenient to open the lid. By the way, in blue and green colours this element is painted gold, while in other variants it is silver.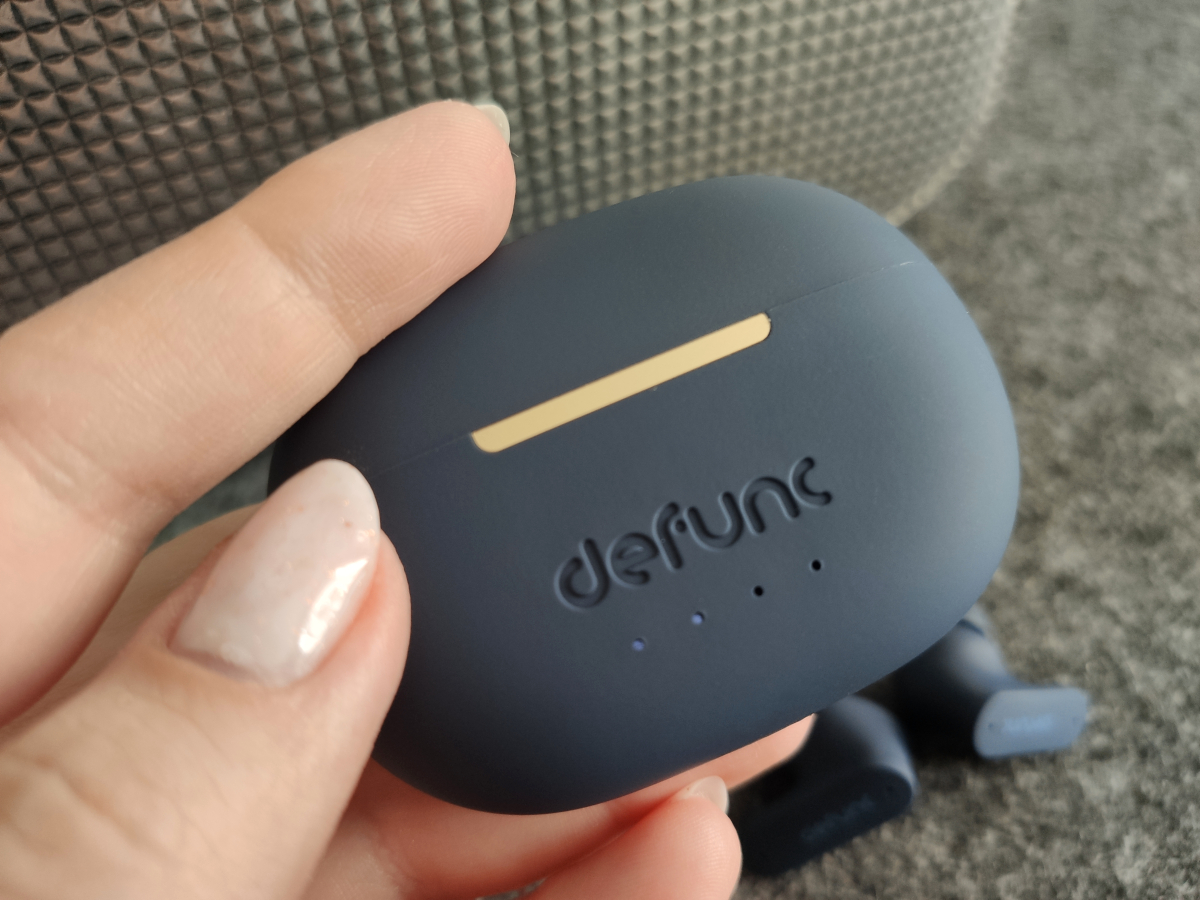 The cover opens smoothly and locks in the open position, but there are no intermediate locking points. It closes with a distinctive plastic click, which is common to almost all TWS headphones that I've seen.
On the back of the case you can see the technical labelling and some specifications of the headset, while the charging port is located at the bottom.
Now let's take a look at the headphones themselves. Defunc True ANC is an in-canal headset in a comma-shaped housing, which is classic for this format. The feet, as well as the main body, are not large, so they look quite compact. The outer surface of the foot, on which you can see the brand logo, has a touchpad for controlling playback and calls. It has neat holes at the top and bottom: the top one is probably for the microphone and the bottom one for the LED indication. Or maybe there are microphones on both top and bottom, because the manufacturer says that there are two microphones, but doesn't specify whether it's on one earphone or both. On the bottom end there are a pair of metal terminals, which are necessary for charging in the case, and the headset body has IPX4 protection against moisture, so they are not afraid of drops of sweat or a little rain.
Defunc True ANC leave a very positive first impression. Nice design, nice materials, excellent build. There's nothing to dig up. But, as they say, the most interesting things are ahead.
Ergonomics
I often find it difficult to make friends with so-called vacuum headphones. Either they are pressurised and you can't sit in them for more than 15 minutes, or they just don't stay in, no matter how many ear cushions I use. That's why I usually use "tablets" or full-size overhead headphones. But thankfully, in the case of the Defunc True ANC, I didn't have any fit issues. I just took the headphones out of the box, put them on (without even trying on all the ear cushions) and started using them. This is just magic outside of Hogwarts for me, as I usually need a more careful fitting.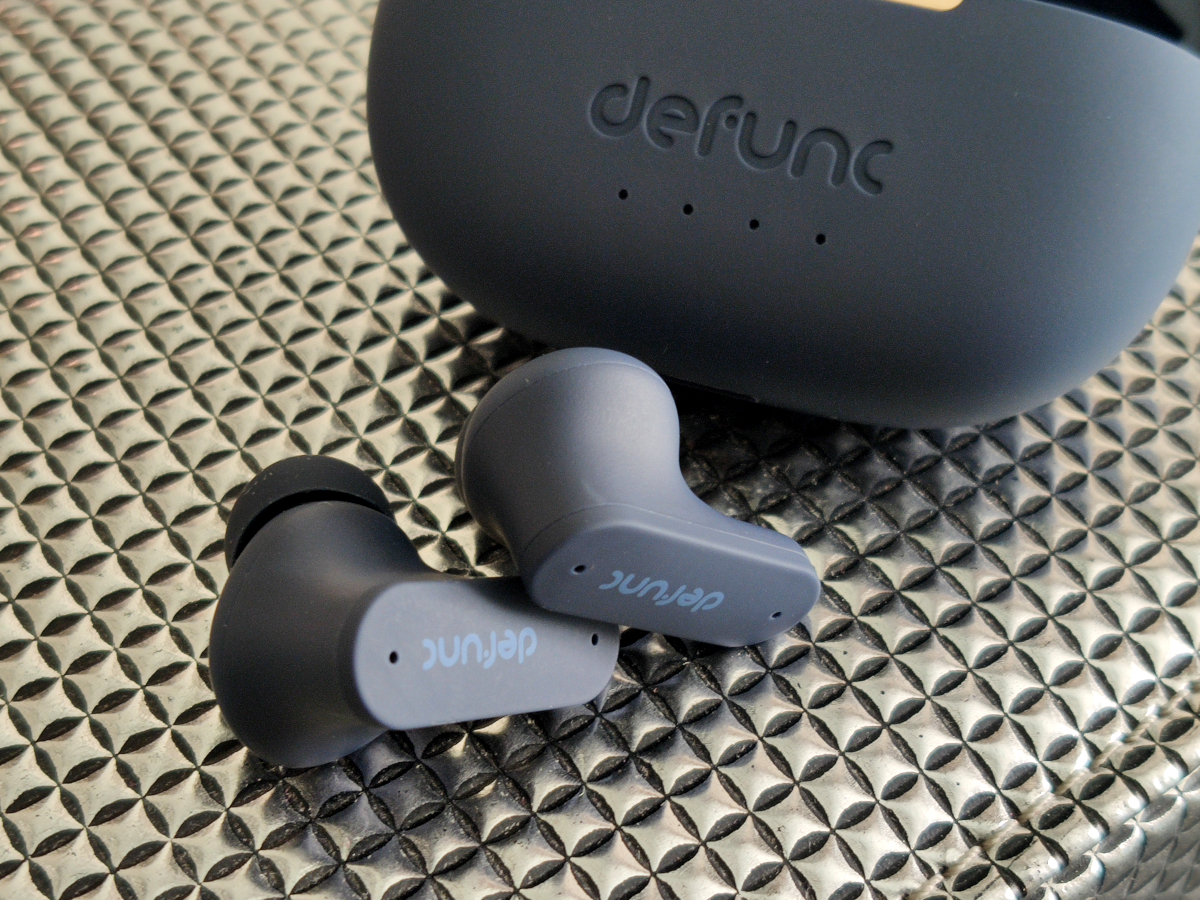 The Defunc True ANC hold perfectly without trying to fall out either in motion or at rest, there is no pressure, and I feel as comfortable with them as I do without them. So in my case, the ergonomics of the headset from Defunc is simply a 10 out of 10. But the fit of headphones is an individual thing, because each of us has our own anatomical features, so I recommend always trying on any model before buying. Even if the reviews or feedback about the headset is very positive.
Defunc connection and application
The Defunc True ANC can be connected to a smartphone simply directly via Bluetooth, or you can access advanced settings by installing the Defunc branded app. Naturally, we choose option #2.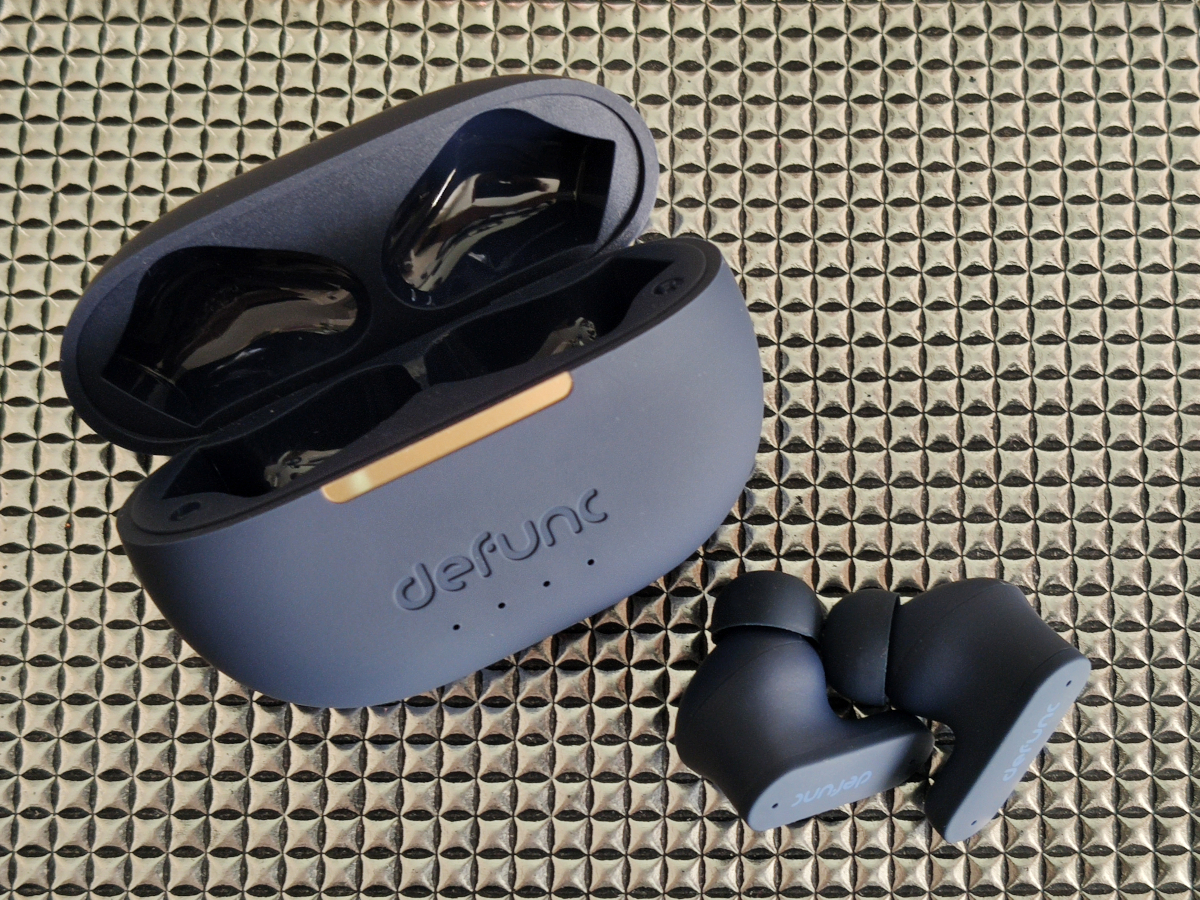 First, I simply connected the headphones to my smartphone. I switched on Bluetooth, opened the case lid, then the headset became visible for searching, found Defunc True ANC in the list of available devices and connected them. Next, it was time for the app. I searched for it through Google Play and was given several options – Defunc TWS, Defunc Home and just Defunc. Logically, I installed the first variant, but I failed to connect headphones through it. And when I installed the regular Defunc, everything went as smoothly as possible. So, so that you don't waste time searching, below you will find links to the actual application.
After installation, you need to create an account, confirm your email and the headphones will automatically pull up in the app. It has a rather simple but usable interface, which we will consider in detail.
On the main screen in the first tab at the top we can see a carousel with Defunc True ANC in all possible colours, model name, connection mode and remaining charge for each of the headphones. Unfortunately, it's not possible to check the charge as a percentage in the case. Below that is a panel for selecting the noise cancellation mode – ANC, off (neutral) and transparency mode.
Next is the inbuilt player with the ability to control playback right from here. Volume, previous or next track, play or pause – you can do everything here without having to use another app. Even further back is the equaliser. The main one displays the set playback modes, which are stylised as a rotary knob. You can switch between them right here, but if you need more settings, you have to "fall into it". In addition to the modes we're already familiar with, there's a Customize tab for two custom presets. For convenience, they are activated by a slider.
Go back and below the equaliser you will find the menu for switching between game and music mode. Further down is the location of your headphones. Very cool thing if you lose your gadgets from time to time. Tracking works pretty accurately. Not right in the bullseye, but very close. In any case, finding your headphones with such a clue will be much easier.
The second tab is the company shop. You can see what devices Defunc still sells, but after clicking on the "Buy" button nothing happens and no links open. Apparently, it is not available for Ukraine yet.
And the last tab is the user tab. Here you can find personal data, check for updates, as well as brand information, FAQ and instructions for working with the company's devices. By the way, at the time of writing the review, the manual for Defunc True ANC hasn't been added yet. We are waiting for it later.
Read aso: Review of Canyon TWS-6, Canyon TWS-8 headphones and Canyon WS-304 charger
Defunc True ANC control
As with most TWSs, Defunc True ANCs have full touch controls. That means you don't technically need a smartphone to control playback, volume, modes or calls – everything is done with gestures. How does it work?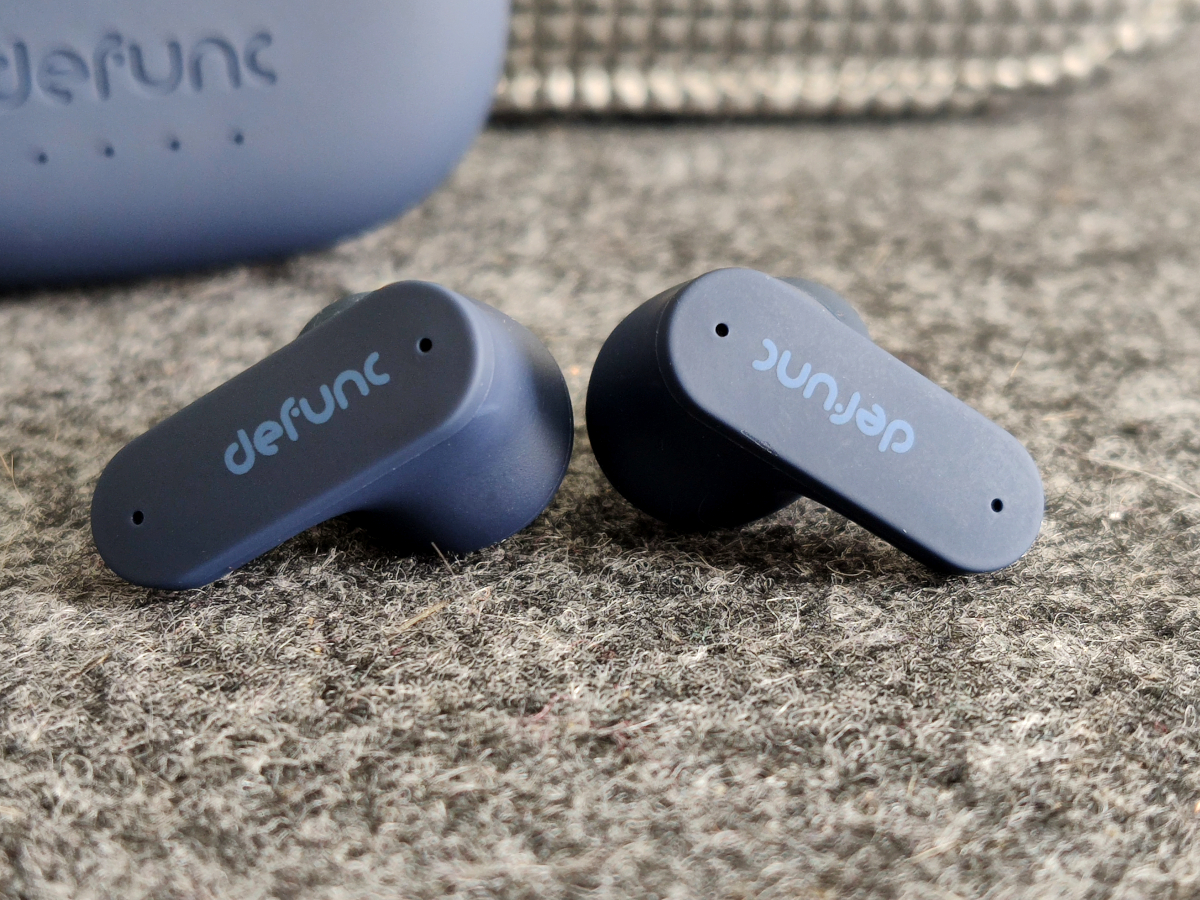 Music Playback:
Play/Pause: double-tap on either earphone
Next track: triple tap on the right earphone
Preset: triple tap on the left earphone
Volume +: single tap on the right earphone
Volume –: single tap on the left earphone
Interaction during calls:
Lift/hang up during a call: double tap on any earphone
Reject a call: long press (2 s) on any earphone
Extras:
Selecting the noise cancellation mode (ANC, non-ANC, transparency mode): Long press (3 s) on the right earpiece
Select playback mode (game or music), call the voice assistant: Long press (3 s) on the right earpiece
As you can see, everything is logical, clear and functional. The touch panel is quite responsive and works well, it recognises gestures well, but here it is important that they are clear and precise. In principle, I did not have any problems with the control during testing. It took me a while to memorise what to do, and then you do everything automatically.
How does Defunc True ANC sound?
Finally, we have come to what I think is the most interesting and at the same time the most subjective – the sound. In Defunc True ANC, the sound is provided by dynamic 10mm drivers with a standard frequency range from 20Hz to 20,000Hz, and the audio codecs supported include both the basic SBC and the more advanced AAC. I tested exactly on the latter with the Music mode. There is also a gaming mode with minimal delay (only 55 ms), but it is not very suitable for music.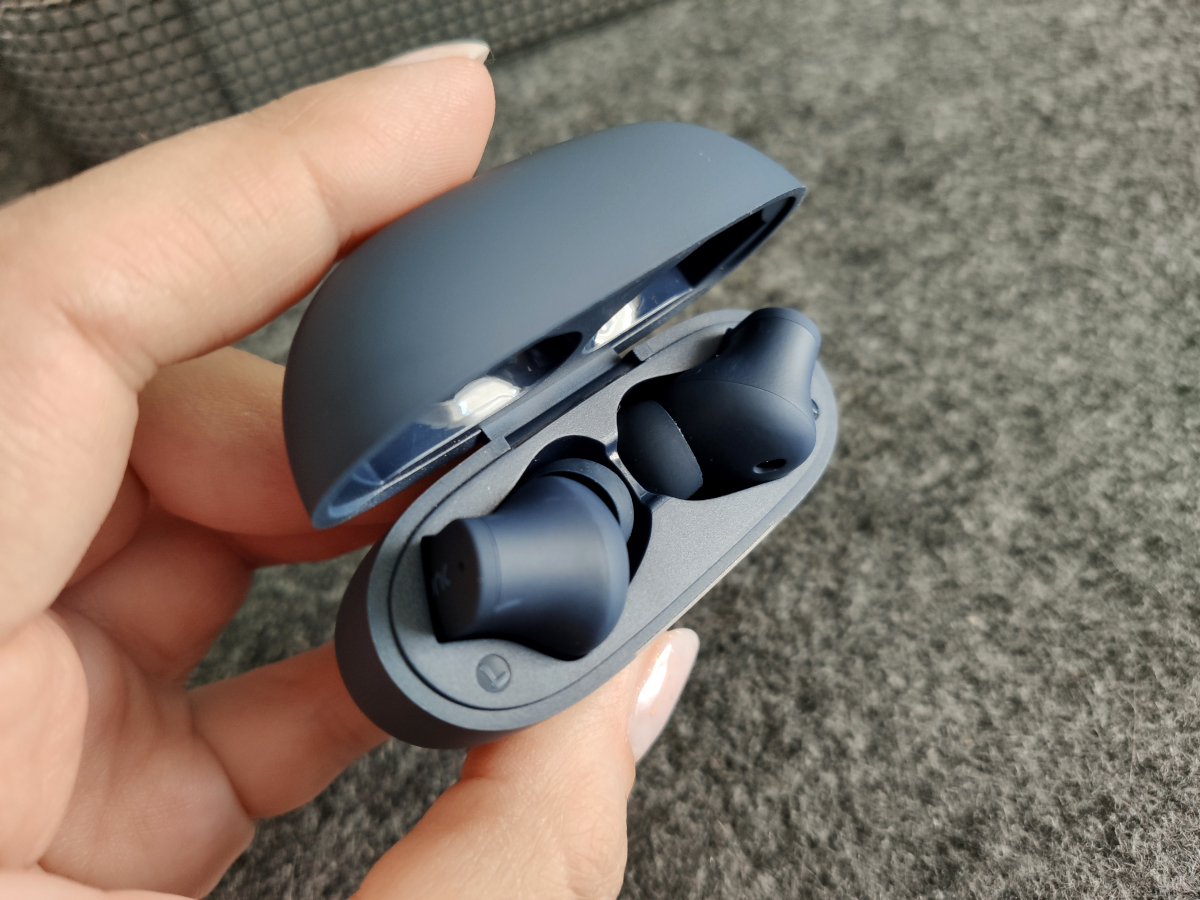 What can I say about Defunc True ANC? I was pleasantly impressed with the headset. The basic settings balance the sound very well – it's clean, crisp, with perceptible but, to me, muted bass, even and quite linear. I would compare the True ANC's default True ANC sound to that of the studios. It feels flat and very "polished", with no bias in any direction or any other missteps. For those who like this kind of sound, this is undoubtedly a plus. But it lacked character, so I went to get acquainted with the equaliser.
I decided to use one of the available modes, without using the manual settings, and got the sound I like. The bass was added, the mids were tightened a bit, and I had my favourite "thick" and atmospheric sound in my pocket. By the way, if you need to increase the "concentration" of sound, I recommend you to switch to ANC mode, even if you are in a quiet room. The effect will be even more impressive.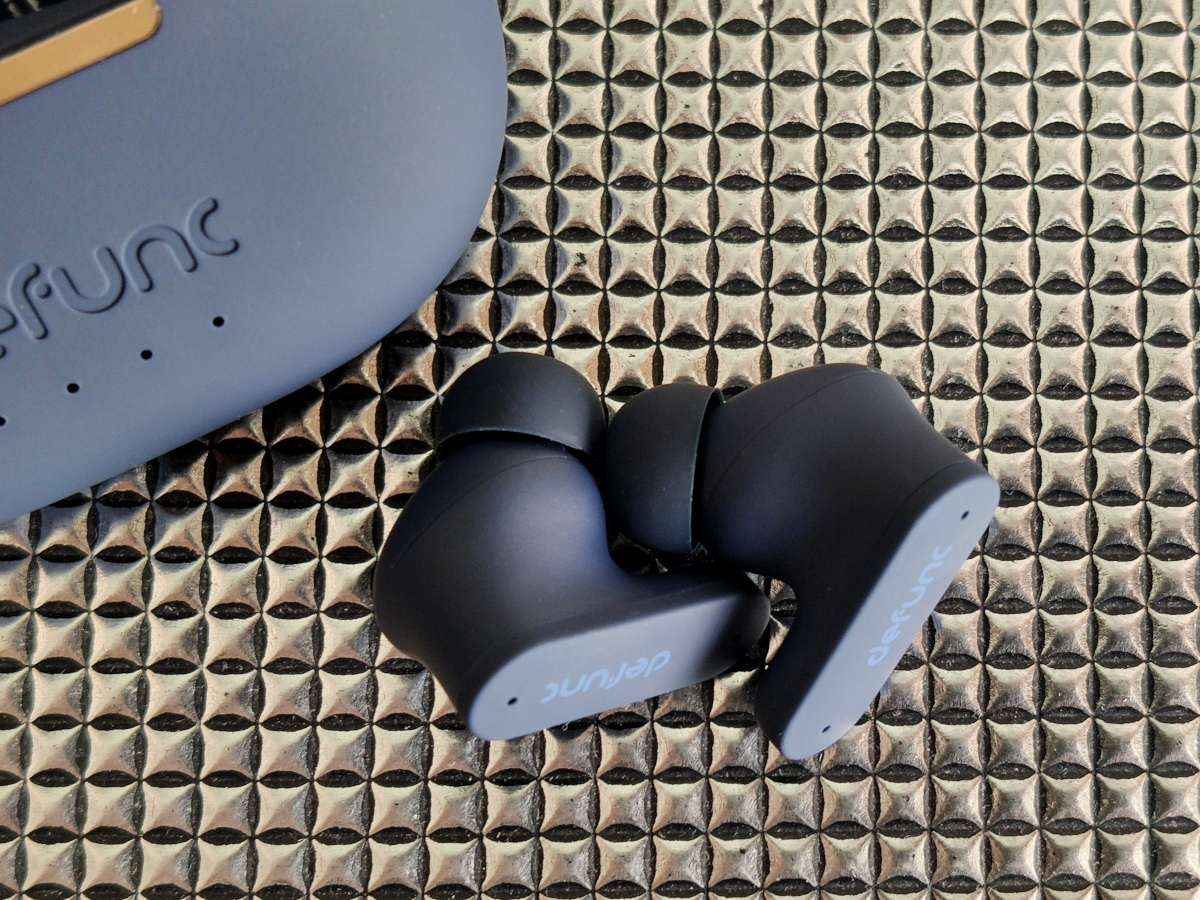 In my opinion, because the Defunc True ANCs have a fairly flat sound by default, it is very plastic and lends itself well to user customisation. After all, if you compare them with more "blocky" models (and such models are not rare on the modern market), it is more difficult to achieve something better and not "plastic" without losing the overall quality. Therefore, in my opinion, Defunc True ANC should appeal to music lovers who have certain requirements for sound quality. But, of course, it is not an audiophile instrument – it is a different category of both devices and listeners.
Read also: LETSHUOER x GIZAUDIO Galileo review: The sound of space
Transparency and noise reduction mode
It's not for nothing that the headphones are called True ANC, because the noise cancellation works very well here. According to the passport it can cut off up to 26 dB of low-frequency sound "rubbish" and in practice its work is very noticeable. For example, it was not comfortable for me to use it while walking along the streets, because you can hear almost nothing from outside, even if the music is playing at a volume of 10-20%. And this is not very safe. Therefore, I would recommend using this mode, say, in a noisy office or co-working centre to concentrate on work tasks, in a crowded cafe or in transport. But you will also need it in quiet rooms to enhance the music experience.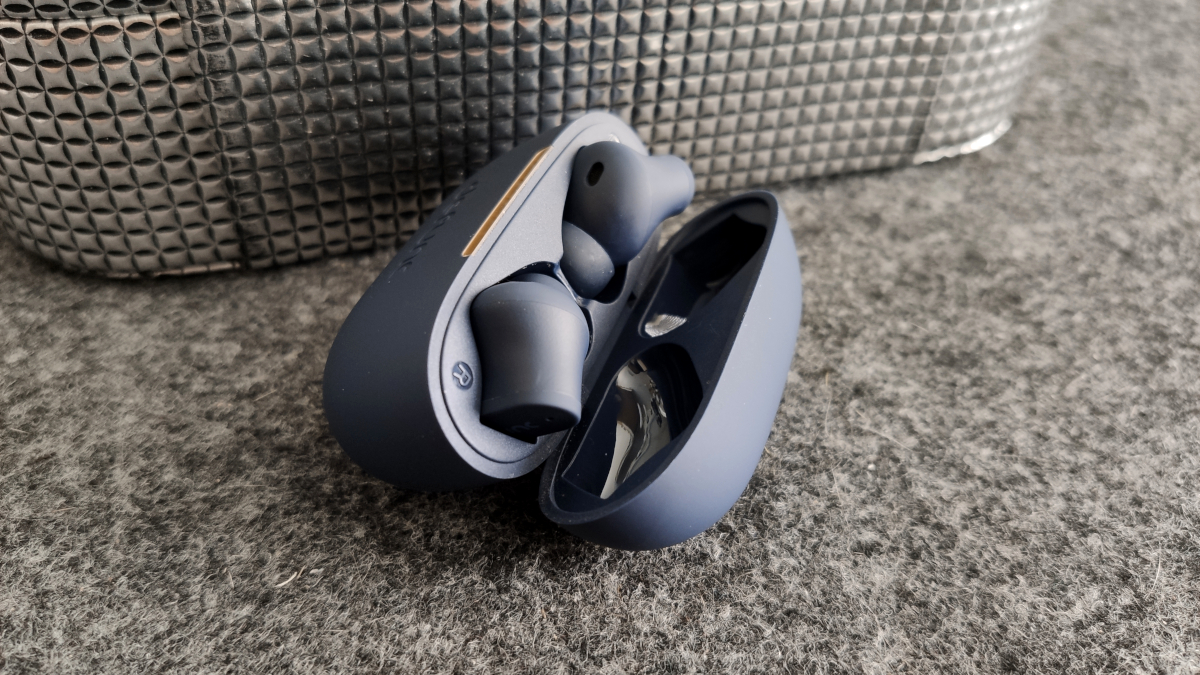 Transparency mode is a must-have for travelling around a busy city. It works quite clearly – you hear much more than in neutral mode. It doesn't amplify sounds like some models, but rather just lets them through. So you hear about the same as you would without headphones. You can switch between modes either through the app or with the touch control.
Headset function
The Defunc True ANC is claimed to be ENC, meaning they are able to cut out ambient sounds for clearer voice transmission. It works quite well – in the street noise cancellation can almost completely remove excess noise, but the volume and clarity of your voice is lost. That is, we get a fairly filtered voice, but quiet and a little "barrel" – this is from the words of interlocutors. In a home environment, where there are no unnecessary noises, you can be heard louder, clearer and better. But there is one nuance – sometimes the voice is transmitted intermittently. Not with a delay, but, so to speak, in snippets. This happens both in a quiet room and on the street. It is unlikely to be related to the quality of mobile communication, but rather to delays when connecting via Bluetooth. At the same time, you can hear your interlocutor perfectly well, while he or she sometimes complains about "fragmentation".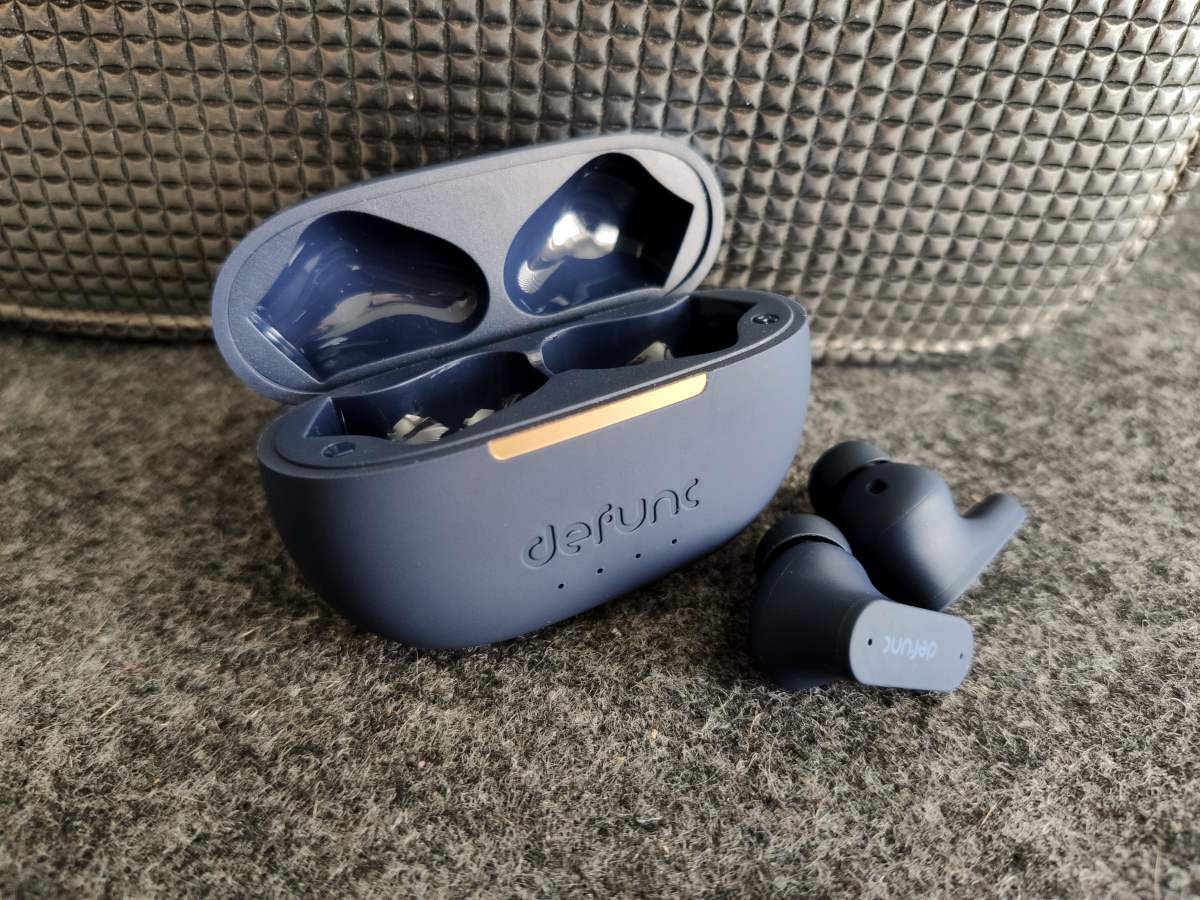 Although Defunc True ANC have tried their best and implemented a really effective ENC, I can't say that this is an ideal headset for talking. If this is a priority feature for you, I would recommend looking for alternatives in models in the higher price segment. For me, for example, it's not critical, because I don't talk on the phone very often, and if I'm expecting an important call, it's not difficult for me to talk without a headset.
Connections and delays
The Defunc True ANC's connectivity is solid. They connect quickly to the sound source and generally hold the connection well. During my testing, only once did I encounter the left earpiece "falling off" simply by plugging in the headset while walking. It took him about 40 seconds to come out of swag mode and fully connect. Why exactly this happened I never realised, as I used them a lot outdoors and never had a problem. However, this is not a system and with the overall positive statistics it looks like just a glitch, because after that everything was fine.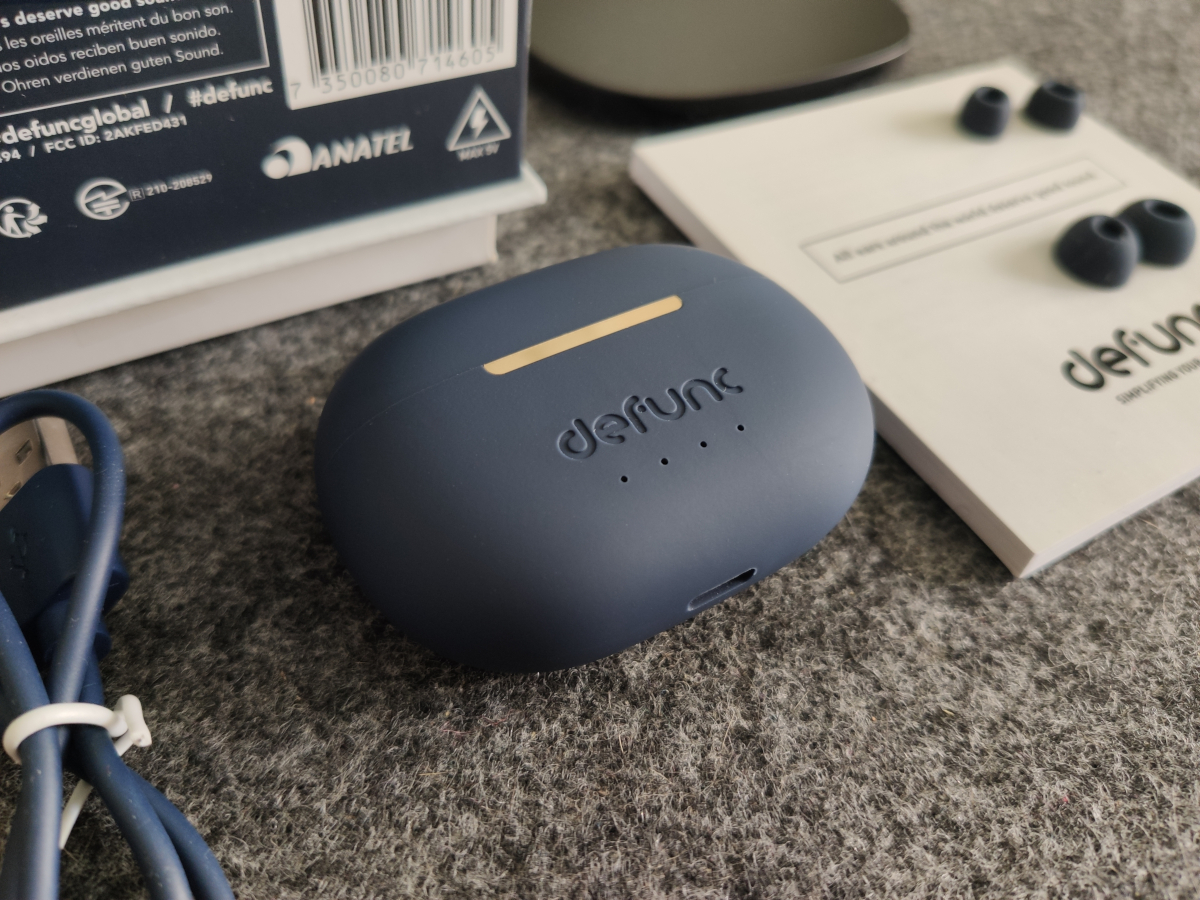 Unfortunately, Defunc True ANC does not support simultaneous connection to two devices. When both gadgets are nearby with Bluetooth enabled, by default the headphones will connect to the device from which you listened to music last time. If you need to change the sound source, you have to put the headphones in the case and switch off Bluetooth on the previous device. It's not very convenient, but it is what it is. If you, for example, use the headphones only with, say, a smartphone, it's not a problem at all.
Read also: Apple AirPods Pro 2 vs Huawei FreeBuds Pro 2: which headphones to choose?
Defunc True ANC battery life
Each earphone got 40 mAh batteries, and there is another 400 mAh in the case, which should be enough for at least 3-4 full charges. The manufacturer indicates that with ANC enabled they will last 5 hours, and without it – all 8. In practice, the gap in battery life with and without ANC is smaller: a little more than 5 hours at 100% volume with noise cancellation and a little more than 7 hours without it. You can slightly increase the autonomy (by about 0.5-1 hour) if you turn down the volume. Nevertheless, to me, the result is great even at maximum.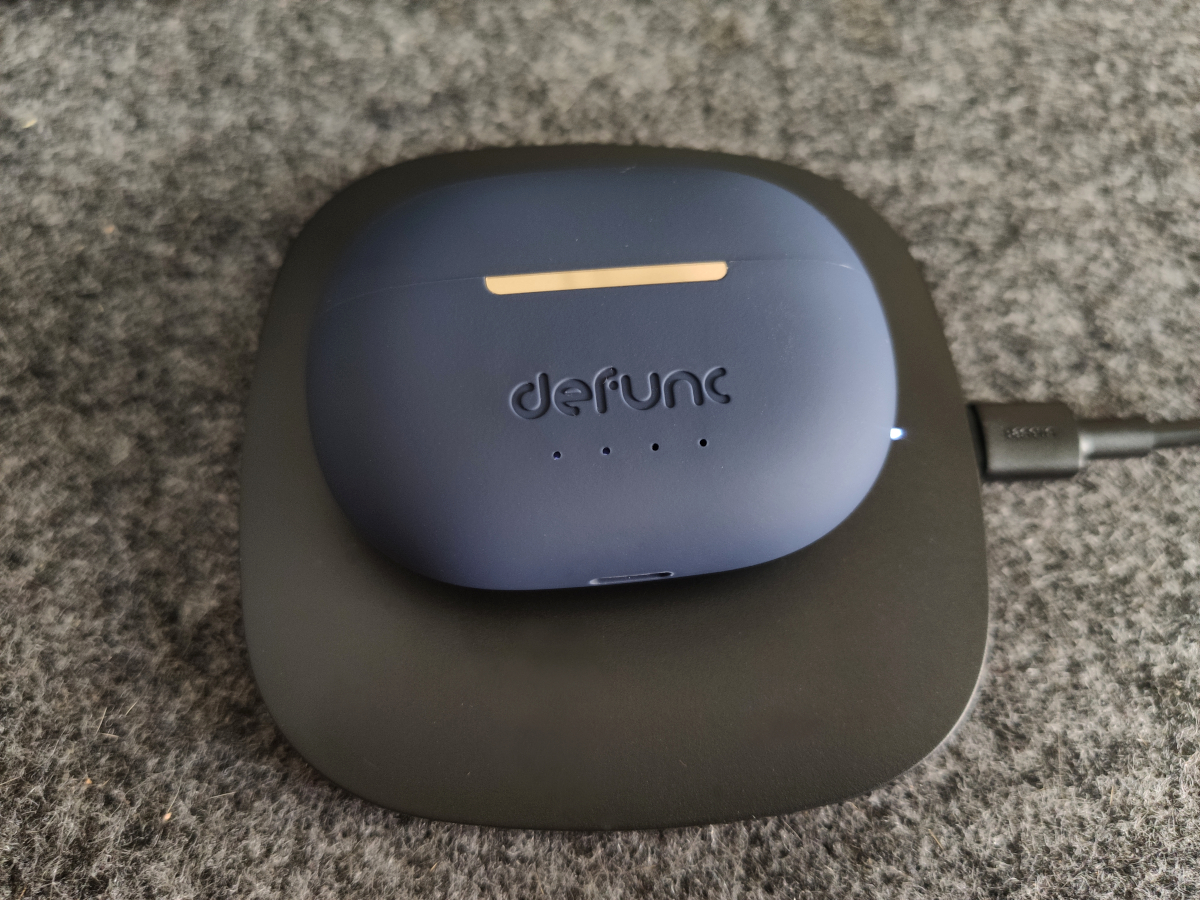 The case is charged using both USB Type-C and the wireless charging dock included in the package. The case will take a little over 1 hour to fully charge via cable, while the charging dock will take about 2 hours.
Summary
If you are looking for a decent in-canal TWS with great sound, ANC, considerable autonomy and not for all the money in the world, I highly recommend Defunc True ANC. They have a pleasant, clear and smooth sound from the start, which can be customised to suit any musical preferences, a convenient multifunctional app, full touch control, cool design with a wide range of colours, as well as a well thought-out ergonomic design. And Defunc True ANC also support wireless charging (and now the charger comes as a gift) and work with voice assistants, and confidently keep in touch with devices.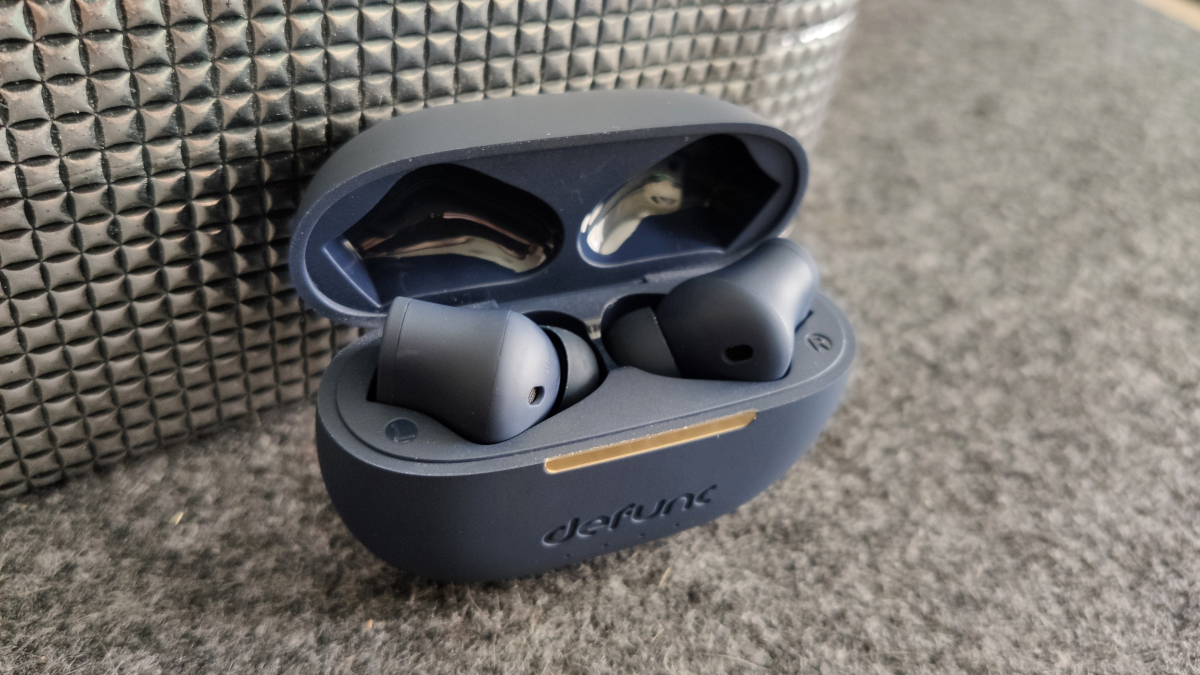 But it is not without nuances. Despite really good ENC and excellent cutting off of external noise, conversations in a noisy place cannot please with high quality of voice transmission. This is, perhaps, the main drawback, because in silence they cope with conversations much better. Well, and for complete happiness they lack fast switching between two devices, but I can't say that it's critical. But despite this, Defunc True ANC is a quality headset from a Swedish company, which is a pleasure to use and worth its money.
Read also: