We all love to receive gifts. Or something very good, and even inexpensive. Although, you have to agree, in today's world, it is almost impossible to buy quality goods for nothing. But, some Chinese brands continue to surprise us from time to time. For example, I was so definitely surprised by Haylou S35 ANC headphones, because, given their cost – this gadget can really be considered a gift of fate. That's why I didn't give this device for review to any of our authors, because I decided to tell you about it personally. Let's go!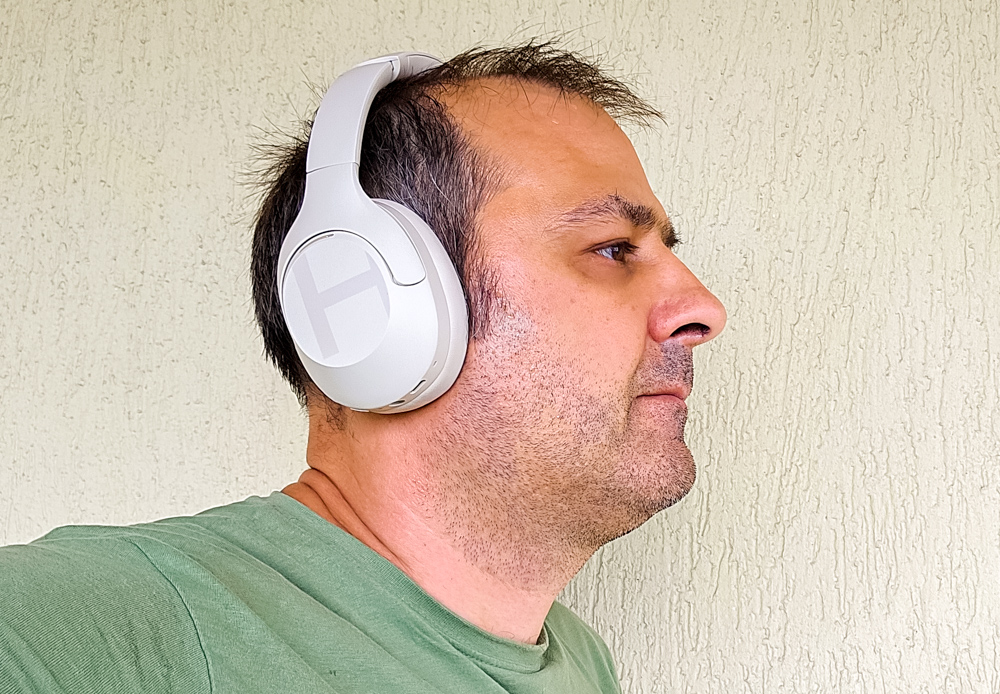 Haylou S35 ANC Features and Characteristics
Drivers: 40 mm dynamic drivers
Audio certification support: Hi-Res Audio
Playback frequency: 20-20000 Hz
Impedance: 32Ω
Wired interface: 3.5mm coaxial connector
Wireless interface: Bluetooth 5.2
Working distance: up to 10m without interference
Codec support: SBC / AAC
Bluetooth Profiles: A2DP / AVRCP / HFP
Microphones: 5 pcs
Sensitivity: 40 dB
Modes: passive noise cancellation, active noise cancellation -42 dB, sound transparency, noise reduction during calls (ENC)
Battery: Li-Po 600 mAh
Claimed battery life: up to 60 hours without noise cancellation, 40 hours with ANC
Full charge time: about 2.5 hours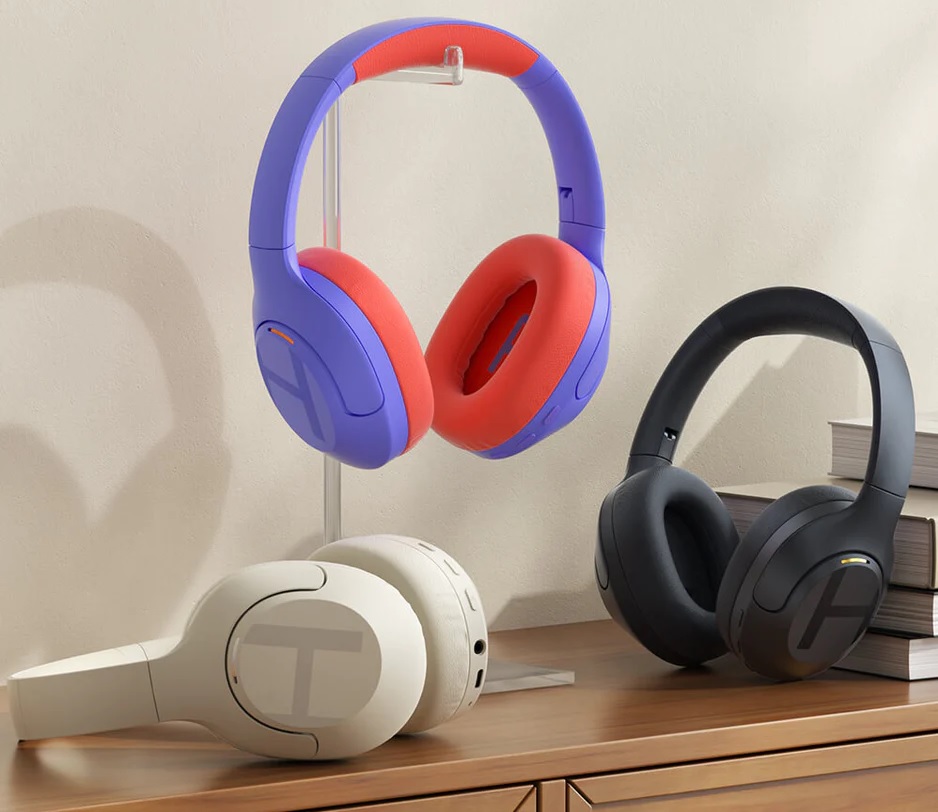 Positioning and price
The headphones are really very inexpensive. You can buy them for just $50 on AliExpress. These are probably one of the cheapest headphones in this class – full-size overhead headphones with ANC and Hi-Res Audio support.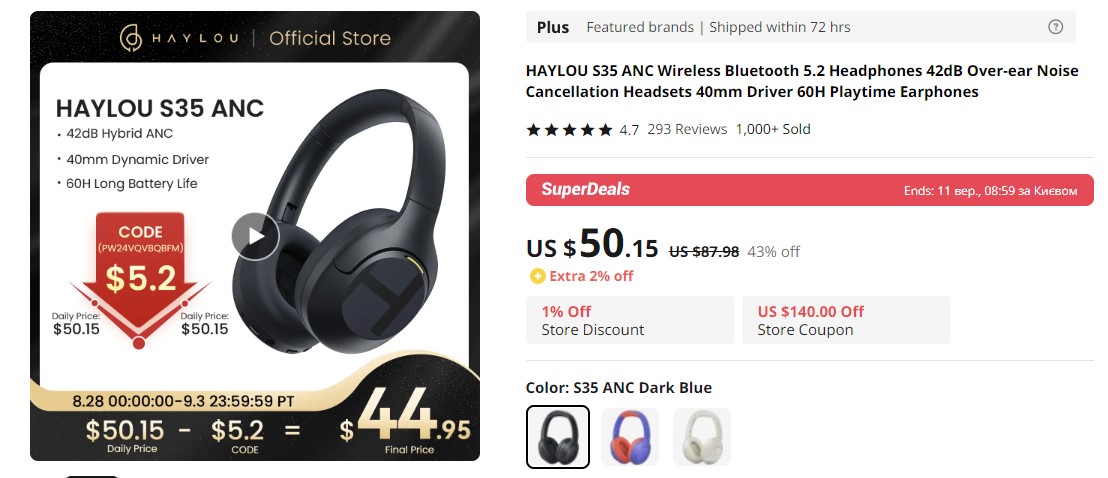 Local shops may ask for the product a little more expensive – about $60, and some almost $100, that is 2 times the original cost. Generally, even this price is normal for such headphones, competitors offer similar products at a similar price. Still, don't pay more to naked sellers, buy cheaper on our links under the main text!
Delivery set – what's in the box
The headphones come in two-layer packaging – on top is a coloured cover with basic information, product image and specifications, and underneath is an unmarked black box.
Inside in plastic holders we find headphones in folded state packed in a polythene sleeve, USB-A/USB-C charging cable, cable for wired connection to devices via 3.5 mm coaxial connector and paper manual.
The set is simple, unfortunately the manufacturer did not add a case for transporting the device. However, such accessories are more often found in sets with more expensive headphones, but the cost of this product is noticeably lower, so I will not be too reproachful for this fact.
Read also: Haylou X1 2023 TWS headphones review: high quality for a low price
Design, materials, construction, build
The headphones on my test are white, as it says on the box. But, in fact, this colour can be called rather grey-beige, but not white in any way. There are also options for the buyer: black and combined purple and orange – to choose from.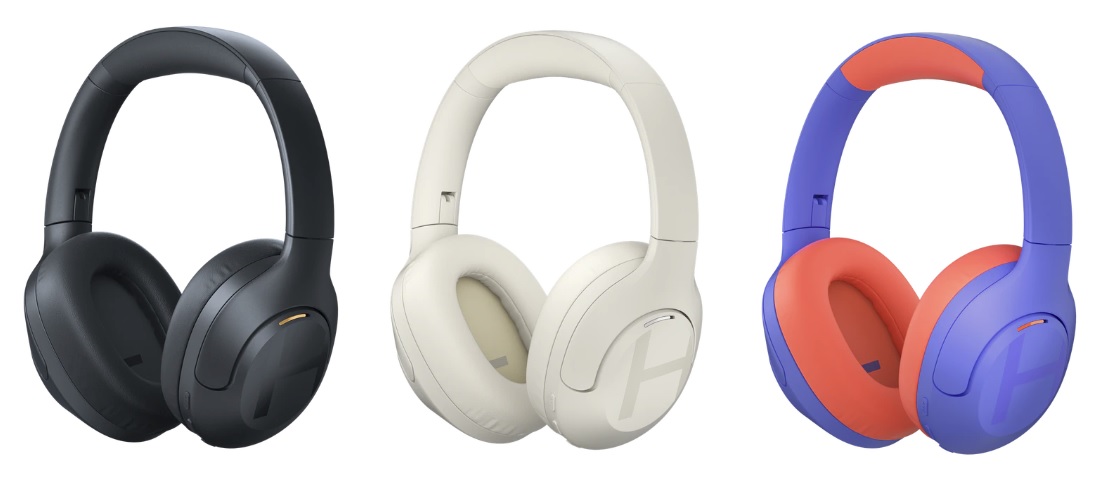 Haylou S35 ANC has a classic over-ear headphone design with an arched headband, padded headrest and ear cushions. The basic material is a simple matte plastic. But the arch is reinforced with a resilient metal strip, and there's also an extra layer of thick plastic.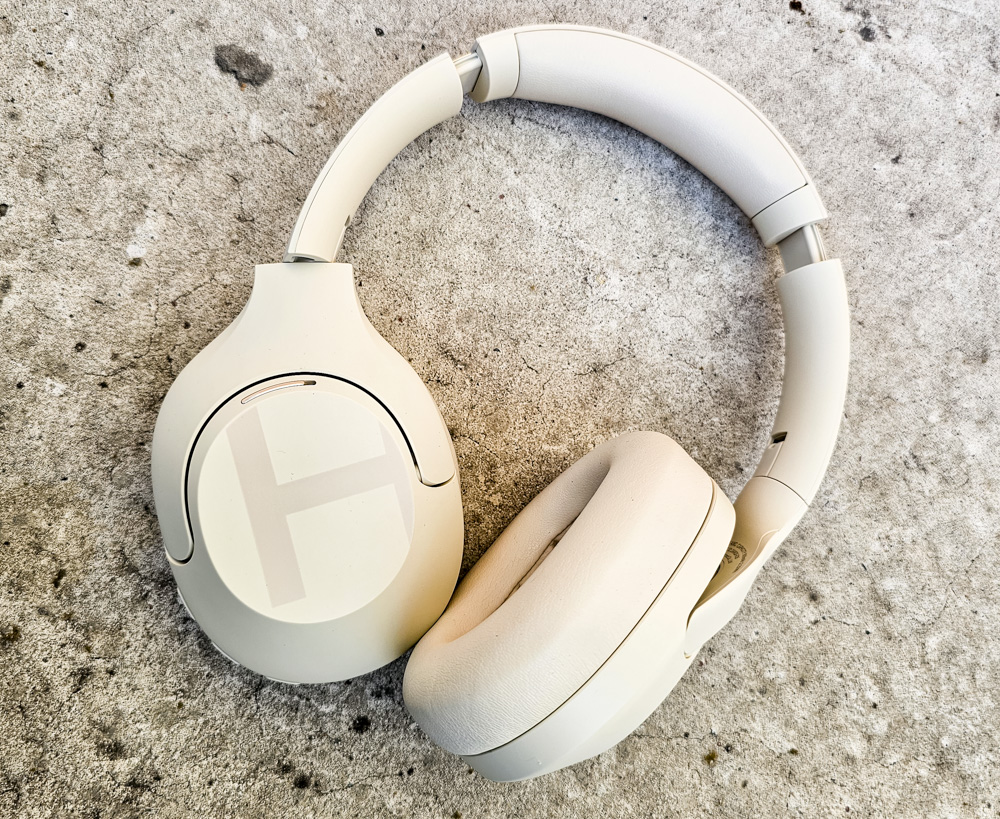 The length of the headband is adjustable, and the cups also tilt slightly vertically and rotate slightly forwards and 90 degrees backwards. In addition, the headphones are foldable for easy transport.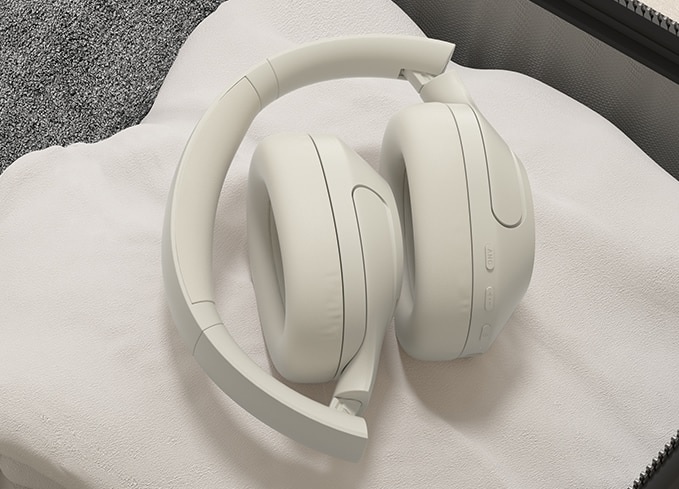 Overall the construction is sturdy to start, but I have concerns about the hinges for folding the bowls as they are completely plastic.
Personally, such headphones break most often at the headband height adjustment point. And it's not the arch itself that breaks (because it's metal), but the outer plastic, to which the load is transferred when putting the headphones on your head. And I noticed that if the headband extension node is located closer to the cups, such a construction is more durable and reliable. But with S35 this element is located at the top, so the load at this point is higher, because the lower part of the arch works as a lever.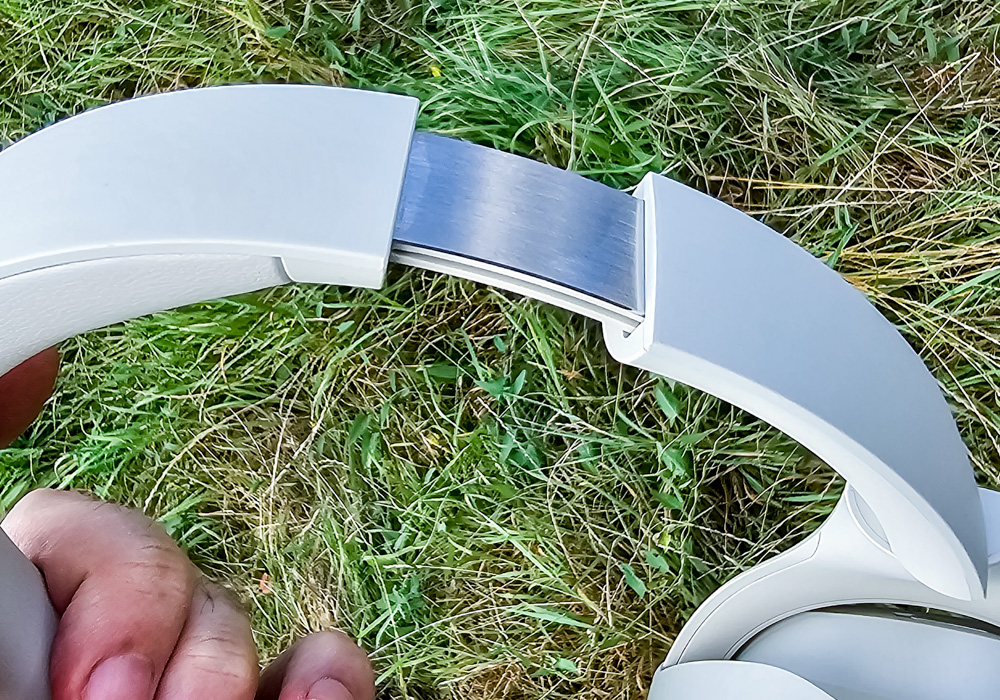 I've had several similar headphones break before, and they lasted from half a year to a year of active use. So I can't guarantee the durability of such a design, especially in cheap headphones. But, I repeat, out of the box everything seems to look reliable. Let's see what happens next.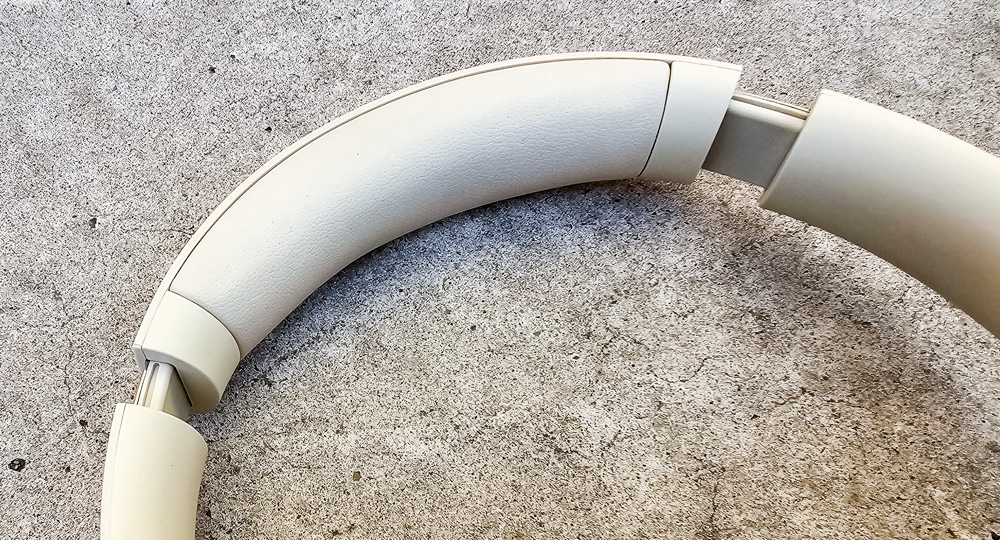 The headband is made of soft artificial leather filled with foam. The ear cushions are made of the same material, but with memory foam inside. The speakers are covered with a padded fabric with "R" and "L" labelling.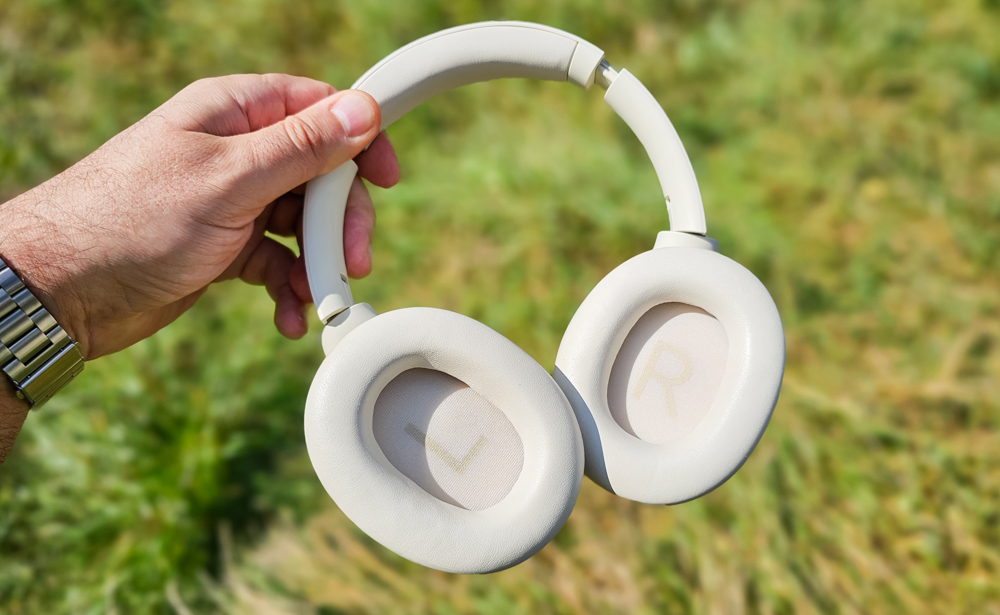 In general, the assembly of the headphones is of high quality, it even exceeds expectations from a cheap product. Gaps and backlashes are within the limits of acceptable for such a device. Even simple plastic looks quite presentable due to the matte finish. The surface feels pleasant to the touch – a little silky.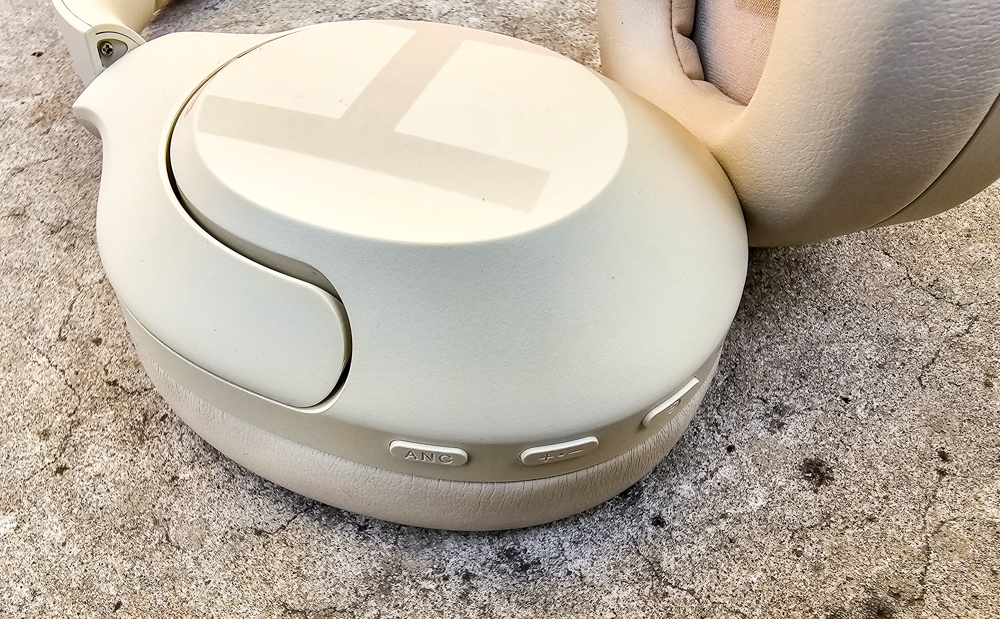 In terms of overall design and construction impressions, I immediately realised what kind of premium product these headphones reminded me of. You have to agree, it's very similar: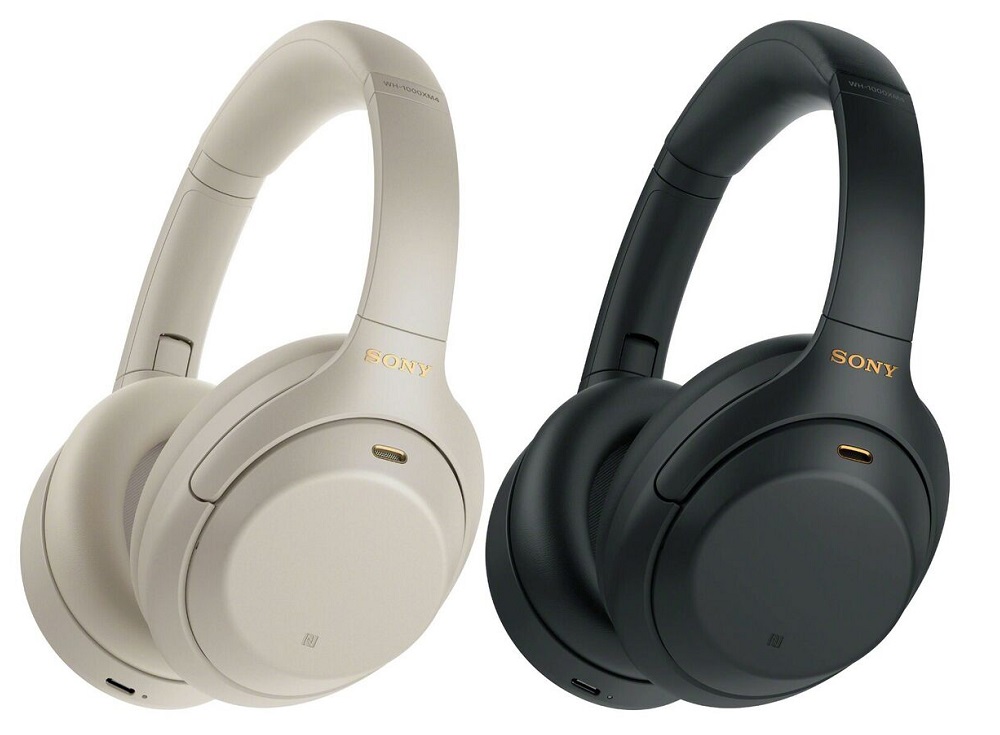 Layout of the Haylou S35 ANC elements
All the main elements are concentrated on the right side of the speaker. Here we see three mechanical buttons to control functions, LED status indicator, 3.5mm jack and USB Type-C port. The main voice microphone hole is also visible at the bottom.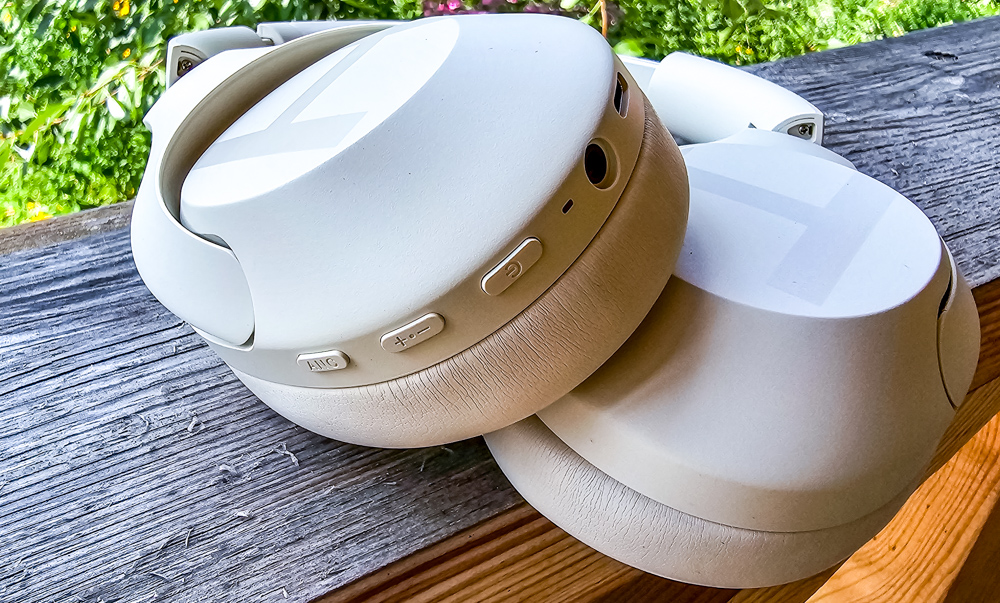 There are also oval holes under the "fork" hinge on each earphone at the back, apparently for decompression of the speakers' acoustic chamber, but this is not certain.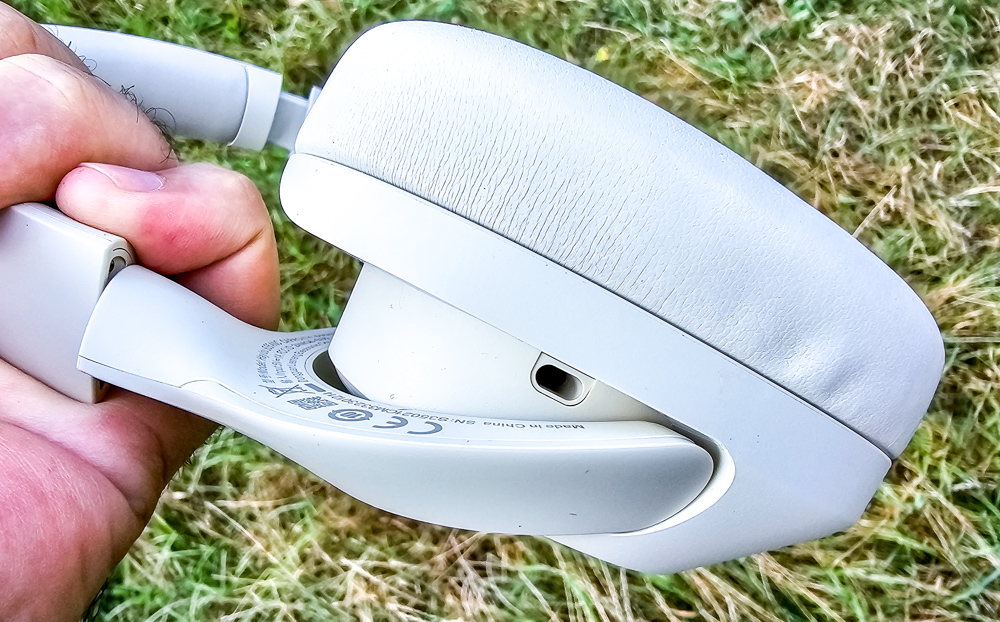 On the outside, the top of each bowl also houses the main microphones for noise cancellation and sound transparency. These elements are decorated with silver coloured overlays.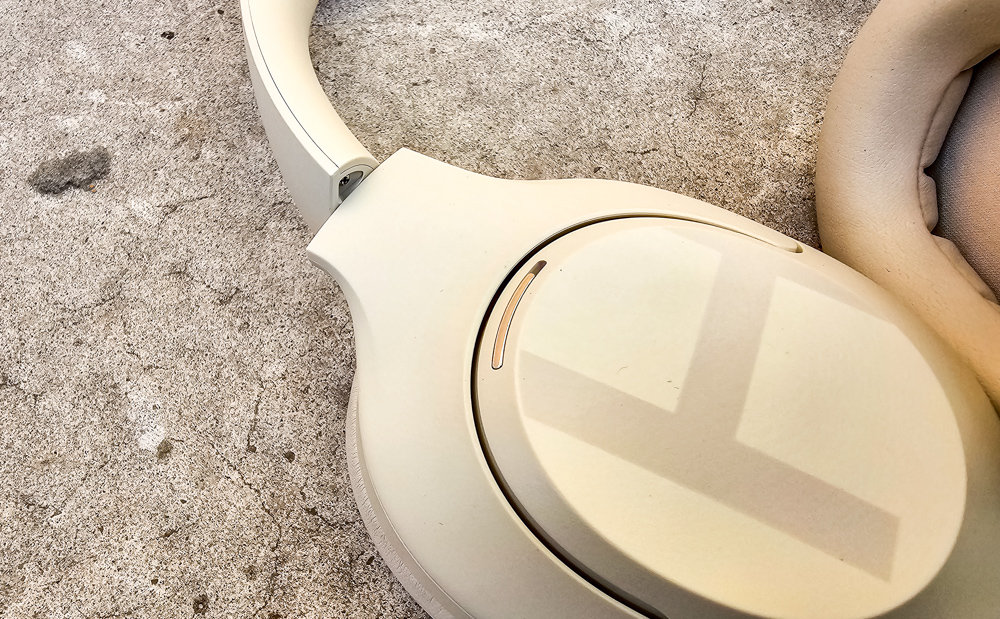 By the way, the outer flat part of the right speaker is a touch touchpad that is also used to control the headphone functions. More about that in the next section.
Read also: OnePlus Buds Pro 2 TWS headphones review: a versatile flagship
Ergonomics and control
I have no complaints about the usability of the Haylou S35 ANC. The headband is adjustable over a wide range and doesn't press on the top of my head, yet the headphones stay securely on my head. The ear cups are quite large and fully cover my large male ears, the ear cushions are soft – no pressure, no rubbing. Overall, the headphones are quite suitable for long continuous use during the working day or when travelling.
Full control of the headphones, i.e. pressing the buttons and touchpad covers absolutely all actions that are necessary when using the headphones – controlling music playback, switching tracks, answering and disconnecting calls, adjusting the volume, switching ANC modes and calling the voice assistant. Controls are single, double, triple and delayed presses. For a full description of the button operations, please refer to the user manual.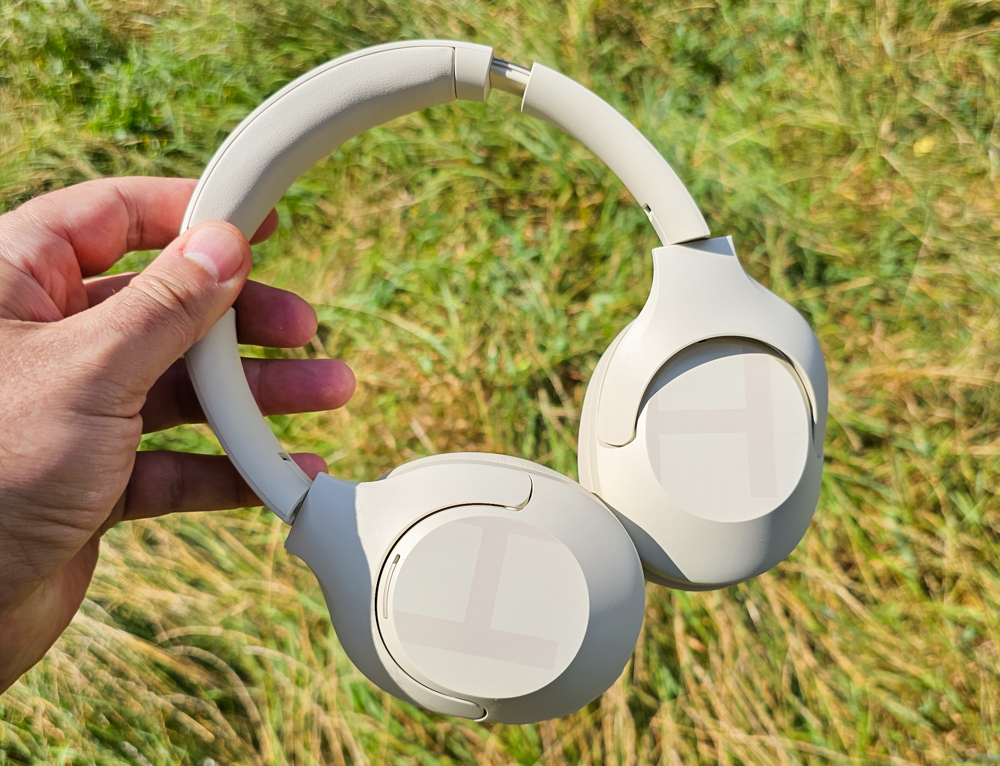 But I'd like to point out one very useful feature that I haven't seen in other headphones before. If you touch and hold the touchpad while listening to music, the playback volume is muted (but not paused) and a temporary soundproof mode is activated, which means you start to hear ambient sounds and can, for example, talk to people around you. This mode works as long as you keep your finger on the sensor and switches off immediately when you stop doing so. Very cool! I almost never used the soundproof mode before, because to activate it you have to do two things in sequence – pause the music and then activate the transparency mode. And then do the reverse steps when the communication is over. That's at least four steps. In the case of Haylou S35 ANC we have a really quick access to the transparency function, which is convenient to use.
Read also: Nokia WHP-101 Review: affordable full-size Bluetooth headphones
Haylou S35 ANC sound quality
I've been testing a lot of headphones of various formats lately, and I must note a general increase in sound quality in the segment of ordinary consumer audio devices not designed for avid audiophiles. This is especially true for wireless equipment, which in many cases supports advanced AAC or aptX, aptX HD, or even lossless codecs like LDAC. The widespread use of devices that support Hi-Res Audio also contributes to the promotion of quality sound to the masses. So in that regard, the Haylou S35 ANC headphones are no surprise to me. It's just another headphone with quality sound. Which is actually a very good thing.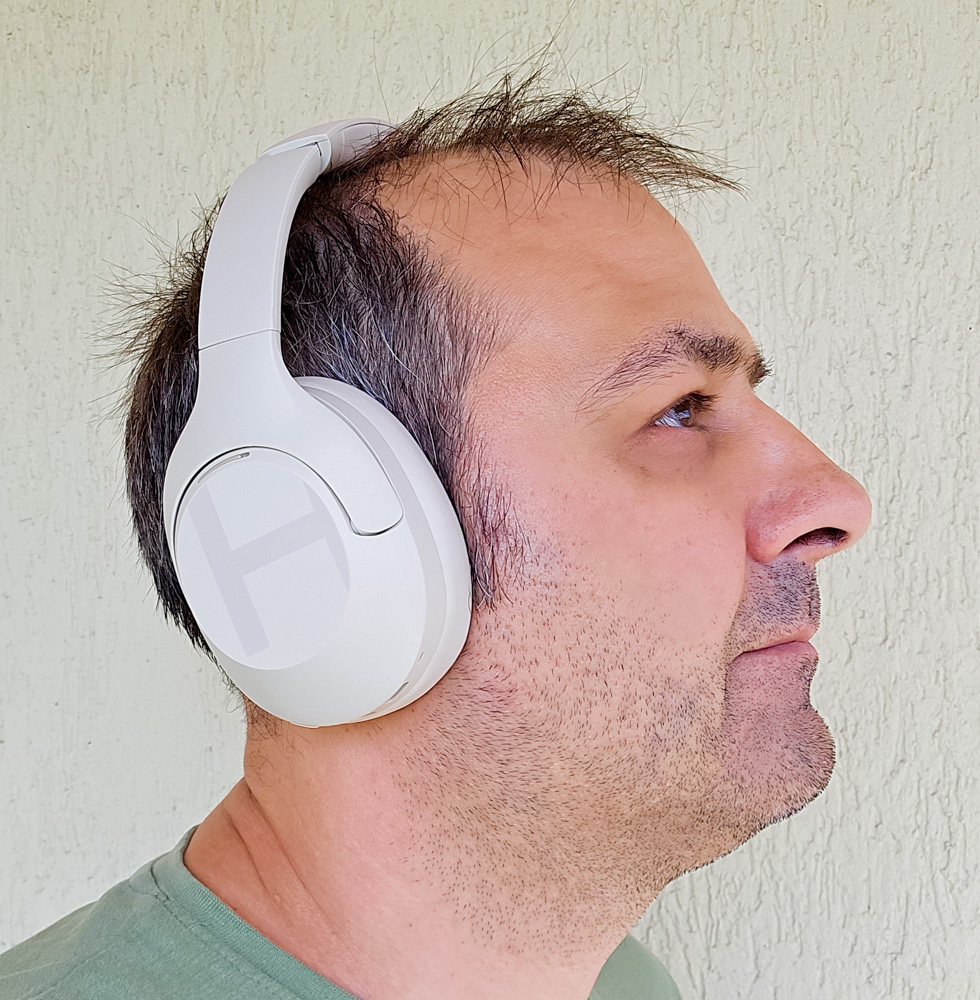 I have also noticed that against the background of general improvement of sound in purely technical terms, manufacturers have started to pay more attention to the factory setting of the sound profile of the headphones. And it is in the S35 that the manufacturer managed to do it, in my opinion. The sound of the headphones is very balanced and pleasant by default, as is my taste. But, as always, you can twist the equaliser a bit to make the sound more in line with your individual preferences. For example, you can try applying one of the presets in the mobile app, which I'll talk about later. Thankfully, the headphones allow you to make such adjustments thanks to the wide frequency range that the 40mm drivers can reproduce. Unfortunately, the frequency range is limited to the standard 20 Hz – 20 kHz, but that's just me being picky, I guess, because, in fact, the Haylou S35 ANC sound is very good.
Personally, I've been deactivating Dolby Atmos effects on my smartphone lately, as I don't feel any improvement in sound, most headphones sound great as it is, and there's nowhere else to improve the sound. At the same time, the use of Dolby technology increases the power consumption of the system, that is, you just drain the battery faster when listening to music. Do you need it? Decide for yourself.
Read also: TOZO Golden X1 review: cool hybrid TWS earbuds for music lovers
Microphones and headset function
One of the main features of modern headphones, apart from music playback, for me personally, and I think for many users, is the function of voice communication. This requires high-quality microphones and advanced algorithms for voice transmission in any conditions. And the Haylou S35 ANC has it all. The headphones are equipped with five microphones. Two of them listen to the surroundings and two more are for feedback. These four microphones are used for the ANC, ENC and sound transparency noise cancellation systems. Another microphone is placed at the bottom of the right speaker cabinet – it's designed specifically to pick up your voice.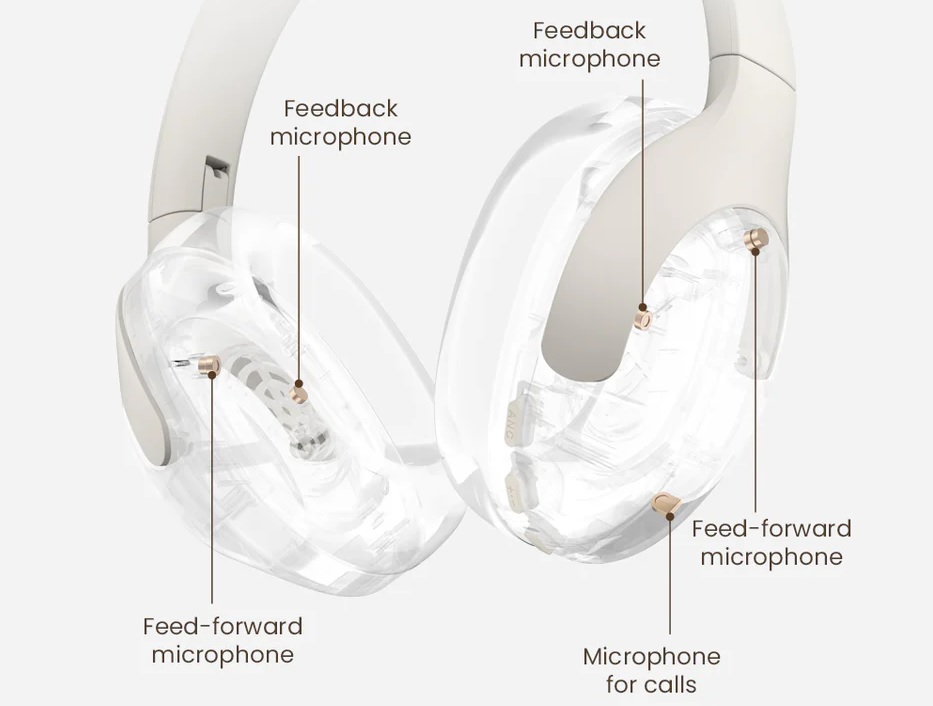 The result of 5 microphones is really impressive. Using additional microphones for feedback is an advanced technology that is common mostly in flagship headphones, so I was very surprised to find such a solution in a budget product. These microphones listen to the environment from inside the earcups behind the ear cushions and allow the noise cancellation algorithm to better understand the difference between the external and internal sound background, which helps the noise cancellation system work more efficiently and deliver your voice better.
To summarise, I can say that the quality of microphones here is very good, and this is confirmed by many practical tests. Interlocutors note the natural timbre and clarity of the voice during communication. Therefore, Haylou S35 ANC can really be considered universal headphones, which are perfect for listening to music, as well as for telephone conversations, voice chats or video conferences.
Read also: Realme Buds Air 5 Pro review: I would have paid more!
Noise cancellation and sound transparency
This section logically follows from the previous one, as it is also directly related to the quality of microphones. And in terms of noise cancellation, the headphones demonstrate simply incredible results, as for the budget segment. In general, by design, the active noise cancellation system in headphones is designed primarily to reduce high-frequency and low-frequency monotone noise. But Haylou S35 ANC effectively muffles even harsh sounds from a TV set a few metres away. It's rather like a flagship level of ANC algorithms that I didn't expect to find in an inexpensive headphone.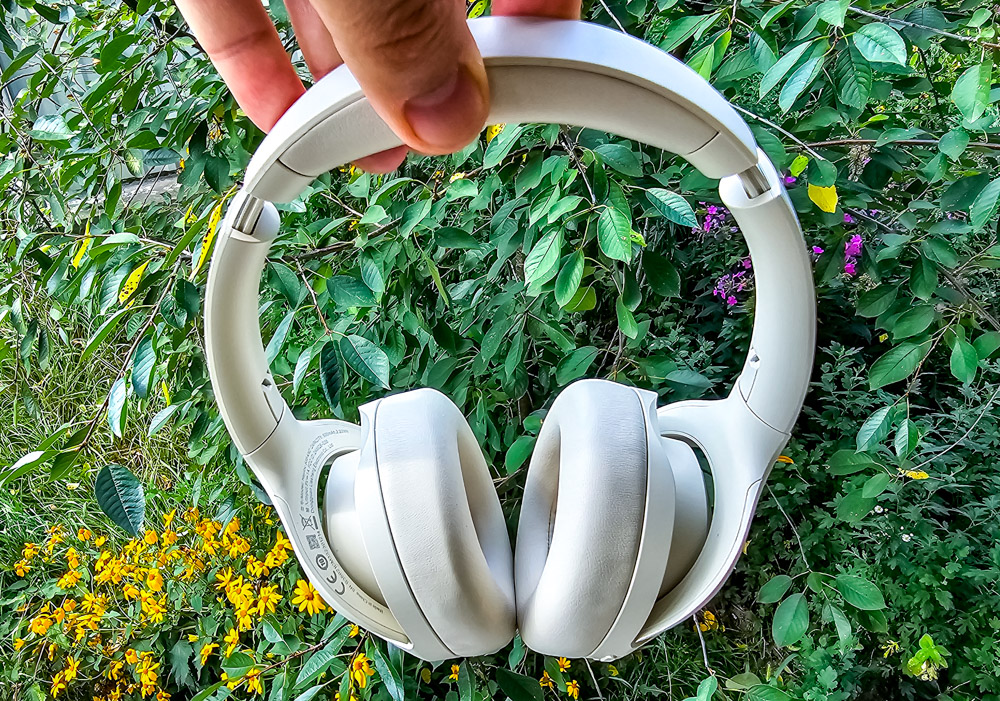 The sound transparency system also works flawlessly in my opinion. No amplification of the external background is felt during operation, i.e. the surroundings are transmitted naturally as they are.
Software
The Haylou Sound mobile app is used to configure the headphones and update the firmware.
For Android:
For iOS:
In general, the programme has a nice light interface and clear functions. And the main thing that surprised me was the sound setting, because there are ready-made EQ profiles here, but there is no setting of your own profile. But I chose the ready-made preset – "Improved Acoustics" and I'm completely satisfied with it. But anyway, keep in mind that you'll have to use the EQ settings on your smartphone if you want to set up your own profile. And that's not very convenient if you have multiple headphones that you use with one device.
Read also: HUAWEI FreeBuds 5i headphones Review: comfortable, stylish and affordable
Communication reliability and delays
The connectivity issue is very good, although I think this is now the norm for modern bluetooth devices since version 5.0. Personally, I haven't encountered connectivity problems in wireless headphones or headsets for a long time. Therefore, in the case of Haylou S35 ANC we have a standard guaranteed distance of 10 metres in the absence of interference, and in practice it can be more – up to 15 metres from the source at an open distance the headphones work stably. Streaming of the sound stream is also very stable through one or even several reinforced concrete walls.
As for latency, I personally don't notice it by ear, but in the headphone settings there is a separate item "Low Latency Mod", which reduces latency to a minimum when gaming Haylou S35 ANC. You can also activate this mode by double-tapping the headphone's touchpad.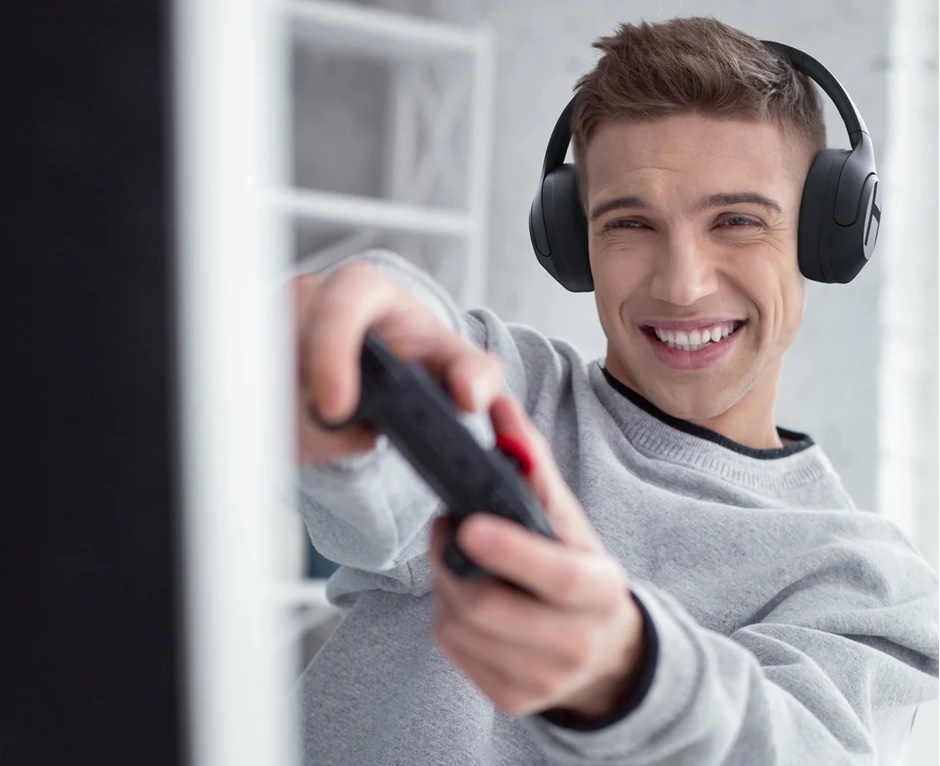 Using with two devices
The official product page claims that the headphones can work with two devices simultaneously. That is, theoretically, you can connect Haylou S35 ANC simultaneously to a smartphone and a laptop and, for example, listen to music on the laptop, and when a phone call comes to the smartphone, talk through the headphone microphone. And this is indeed true, but there are nuances.
The problem is that the headphones do not automatically connect to two devices. For example, according to the instructions, pair the headphones with a smartphone. Then switch the headphones off, put them back into pairing mode and connect them to the laptop. The next time you switch the headphones on, they will automatically connect to the laptop, and you will have to connect to the smartphone manually via the Bluetooth menu. But next time the headphones will connect to the smartphone and connection to the laptop will require manual intervention. And so it is every time. Automatically, the headphones will connect to the last device to which you connected it manually, and to the second device you have to connect it through the Bluetooth menu. Note that when you do this, the devices are constantly changing places and it's almost impossible to remember which device you connected the headphones to last time. This is very inconvenient and, in my opinion, this algorithm of working with two devices is the main disadvantage of Haylou S35 ANC.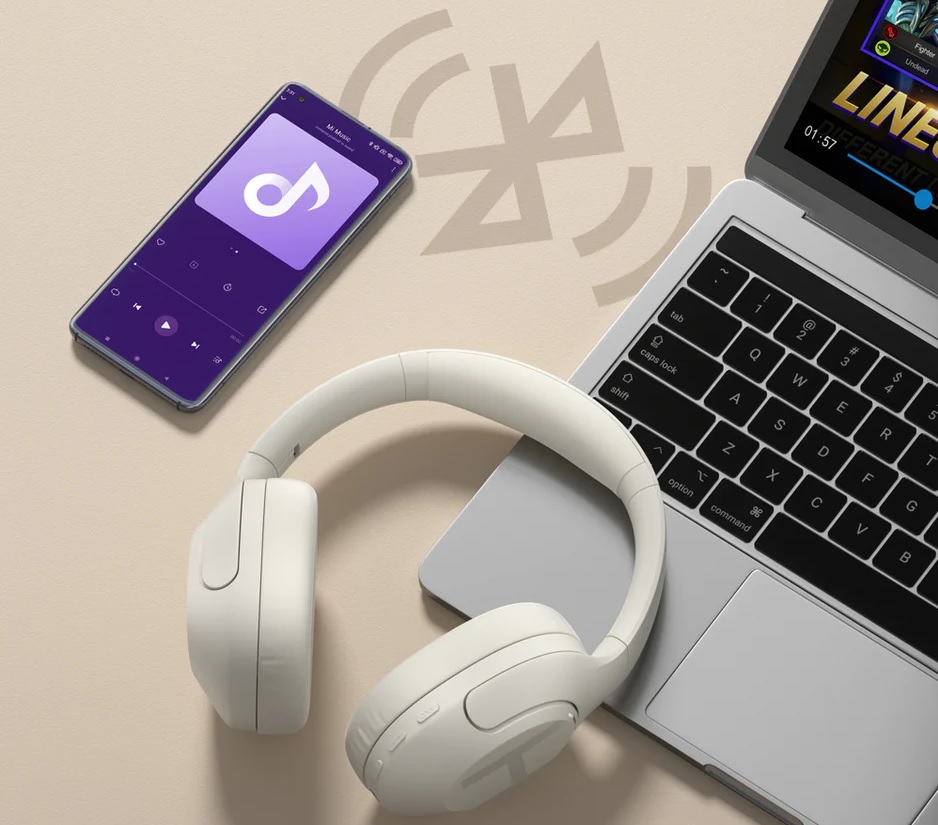 In general, when the headphones are connected and working with two devices, this happens correctly – music on the laptop is paused automatically during an incoming call on the smartphone, and playback resumes automatically when the phone call ends.
Read also: Lamax HighComfort ANC review: really very comfortable headphones!
Battery life and charging
The headphones are very good with this point, and in general, according to my theoretical calculations, the battery life corresponds to the parameters declared by the manufacturer – up to 60 hours without noise cancellation, up to 40 hours with active noise cancellation. During the test I worked with the headphones for a week for 2-4 hours a day and managed to discharge the battery only by 50%. So overall the battery life is very good. Full charging of the device takes about 2.5 hours, as I recovered half of the charge in 1 hour 12 minutes, which also confirms the specifications given by the manufacturer.
Conclusions
The Haylou S35 ANC is a good all-round headphone that, for a very low price, offers a high level of comfort of use, great sound when listening to music, flagship noise cancellation and clear performance as a headset for voice communication.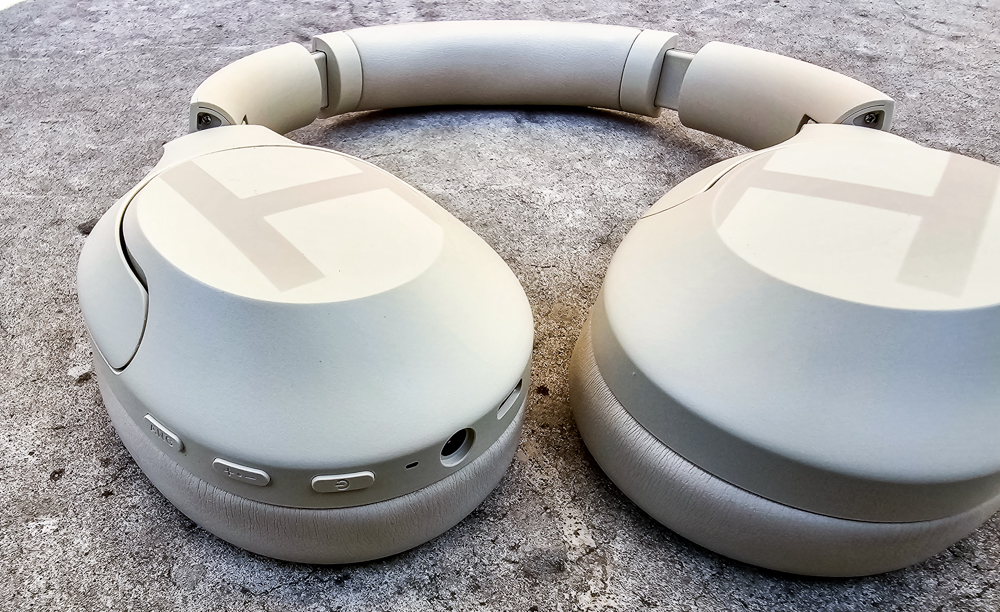 All these benefits are complemented by reliable connectivity, low latency which is important for gamer use, good battery life and a quality mobile app.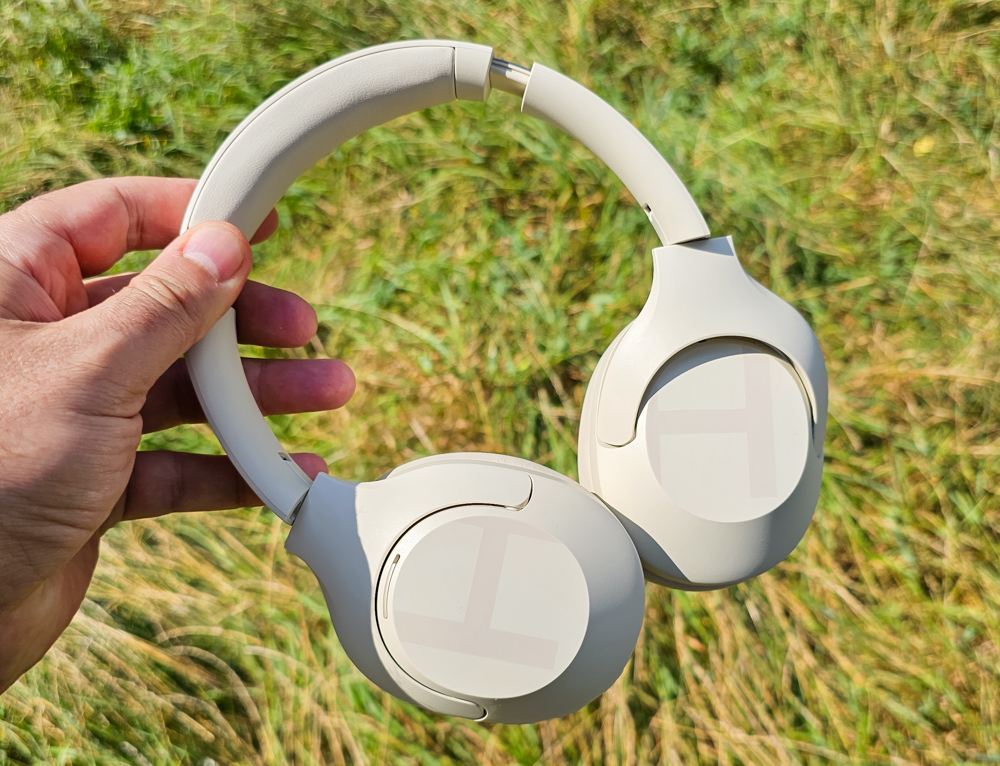 I consider the main disadvantage of the headphones to be the inconvenient algorithm of connection with the second gadget in manual mode for parallel connection to two devices. But in general, considering the price, I can definitely recommend this product for purchase.
Where to buy Haylou S35 ANC