Today we are reviewing MSI Raider GE78HX 13VI-209UA – one of the representatives of the pre-top line of gaming laptops from MSI. Why pre-top? Because there is also the MSI Titan lineup, which is distinguished by a higher screen resolution, a mechanical keyboard and some design features. In total, the Raider GE78HX 13V series has 5 notebook models, and the GE78HX 13VI-209UA we are considering is the most productive and the most equipped of them.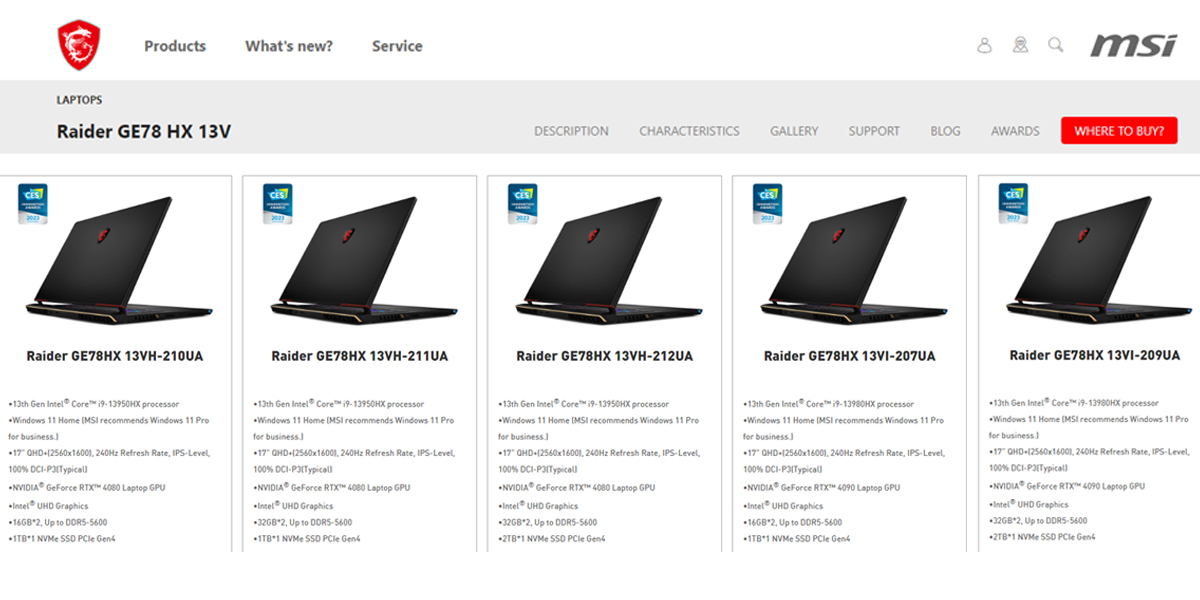 On board is an Intel Core i9-13980HX processor, GeForce RTX 4090 graphics card, 64GB of DDR5 RAM and a 2TB NVMe SSD coupled with a 240Hz 2K resolution screen. I think it's already clear from the build that this is a premium gaming laptop for high and ultra settings with all the latest technologies in the form of Ray-Tracing and DLSS 3.0. Today we'll take a closer look at this beast, run various tests, benchmarks and, of course, games. And let's start with brief technical specifications.
Technical specifications
Model: MSI Raider GE78HX 13VI-209UA
Processor: 13th Gen Intel Core i9-13980HX (8 performance cores, 16 threads, with a base clock speed of 2.2 GHz and a maximum Turbo Boost clock speed of 5.6 GHz; 16 energy efficient cores, 16 threads, with a base clock speed of 1.6 GHz and a maximum Turbo Boost clock speed of 4 GHz; 36MB of Level 3 cache, 10 nanometre process, TDP 45-55W, maximum TDP (Boost) 157W, Intel UHD Graphics 32EU integrated graphics, codenamed Raptor Lake)
Discrete graphics card: NVIDIA GeForce RTX 4090 Laptop GPU (16GB of GDDR6-type video memory, maximum clock speed up to 2040MHz, maximum TGP up to 175W)
Integrated graphics card: Intel UHD Graphics (32EU)
RAM: 64GB, DDR5-5600MHz, 2×32GB (SK hynix HMCG88AGBSA092N), timings 42-42-42-82-82-CR2
Storage: 2TB NVMe SSD PCIe Gen4 (SAMSUNG MZVL22T0HBLB-00B00)
Drive slots: 1×M.2 SSD (NVMe PCIe Gen4), 1×M.2 SSD (NVMe PCIe Gen5)
Chipset: Intel HM770
Sound: 2×2W audio speakers, 4×2W subwoofer, Dynaudio sound, Nahimic 3 Audio Enhancer and Hi-Res Audio support
Display: 17-inch, IPS, QHD+ resolution (2560×1600 pixels), 16:10 aspect ratio, 240Hz refresh rate, matte, DCI-P3
Networking & Communications: Intel Killer Ethernet E3100 (up to 2.5GbE), Intel Killer Wi-Fi 6E AX1690, Bluetooth v5.3
Camera: FHD (1080p@30fps)
Interfaces: 1×HDMI 2.1 (8K@60Hz / 4k@120Hz), 1×USB 3.2 Gen1 Type-A, 1×USB 3.2 Gen2 Type-A, 1×USB 3.2 Gen2 Type-C/DP (with Power Delivery support), 1×Thunderbolt 4, 1×USB 3.2 Gen2 Type-C/DP, 1×LAN RJ-45, 1×combined 3.5mm miniJack for headset, 1×SD card reader
Battery: 4-cell lithium-ion battery (Li-ion), 99Wh
Power: 330W power supply
Operating system: Windows 11 Home
Backlighting: RGB backlighting for the case, keyboard and logo
Dimensions: 380×298×23 mm
Weight: 3.1kg
Accessories: notebook, power supply, warranty card, documentation, wiping cloth
Price and positioning
The standard price for this model at official resellers is ∼$6100. At the time of writing the review, a discount was available on the laptop – the price was $5670. The device is positioned as a premium gaming laptop for comfortable modern gaming at high and ultra settings in 2K and 4K resolution.
MSI Raider GE78HX 13VI-209UA

Package
The notebook is delivered in a branded MSI cardboard box with dimensions 460×377×120 mm. Inside this box there is a second, already branded box, which contains the notebook itself and other equipment. The first box is quite ordinary both in terms of design and informativeness – it has only MSI brand logos and a sticker with the exact model and serial numbers of the laptop. But the main box has a rather spectacular and stylish look, and it makes sense to examine it in more detail.
On the front and back sides there is MSI's signature MSI dragon with shimmering patterns in purple and blue shades and "RAIDER Series" line designation. On the right side we can see the MSI logo in the same colours as the dragon and a sticker with the exact designation of the notebook model and serial number. On the left side only the logo and the series. At the bottom of the box are the certificates, and on the top of the box is a hinting inscription "True Gaming", the branded logo in the form of a dragon and a red pen with the MSI inscription.
The design of the packaging is cool, you can already tell that there is a cool gaming laptop inside. Let's move on to the contents of the box, in it we will find:
MSI Raider GE78HX 13VI-209UA MSI Raider GE78HX 13VI-209UA Notebook
Power supply
Documentation
Warranty card
Wiping cloth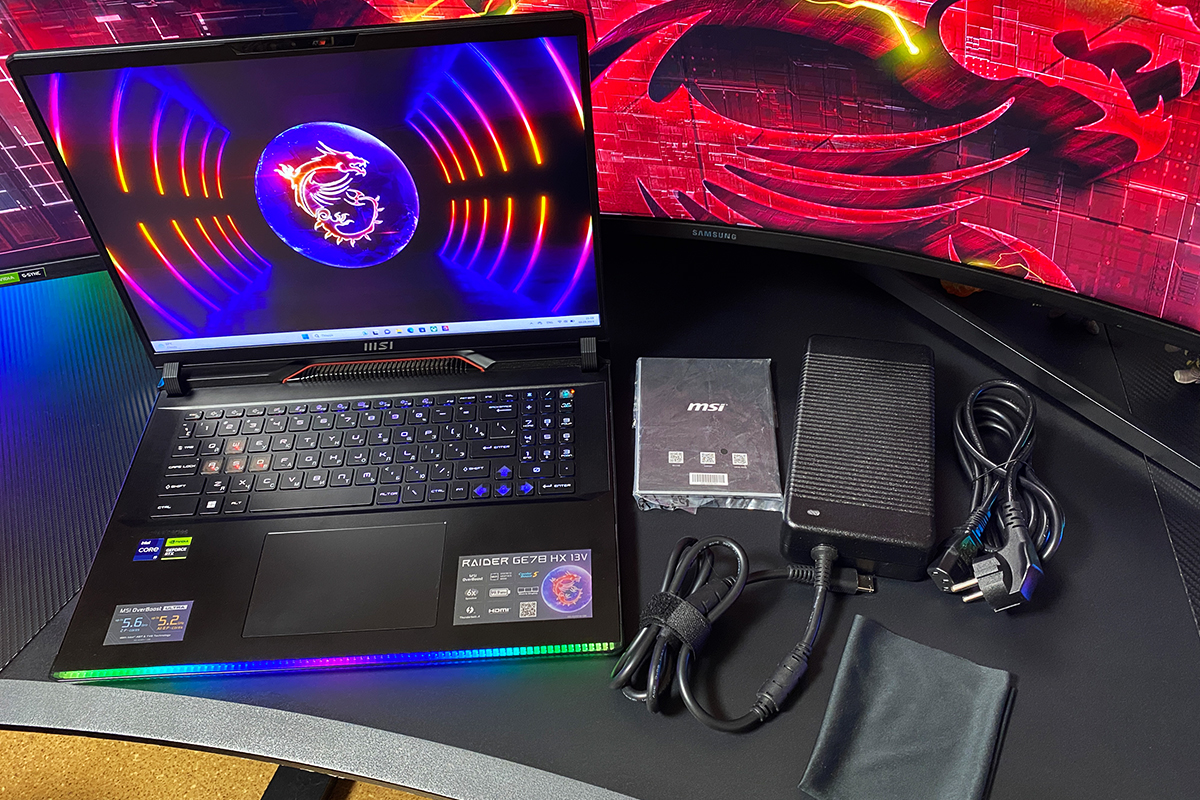 I don't want to be picky about the package, but why didn't they put a smaller compact power supply in addition? The main 330W power supply is big and heavy – 1.1kg. That is, if you want to sit in a cafe with your laptop or often take it with you to work, you'll have to carry an extra kilogram, which also takes up a lot of space. As far as I know, such laptops usually have additional compact blocks with 100 watts. You won't be able to play games with it, but it won't let your laptop sit down while travelling, and it weighs little and doesn't take up any space at all.
Design, ergonomics, build
The first thing you pay attention to when you take the laptop in your hands is its weight and size. The device is quite large (380×298×23 mm) and weighs 3.1 kg. The design is original, I would say quite in the style of MSI: logo, backlighting, edges, protrusions, ribs of ventilation holes.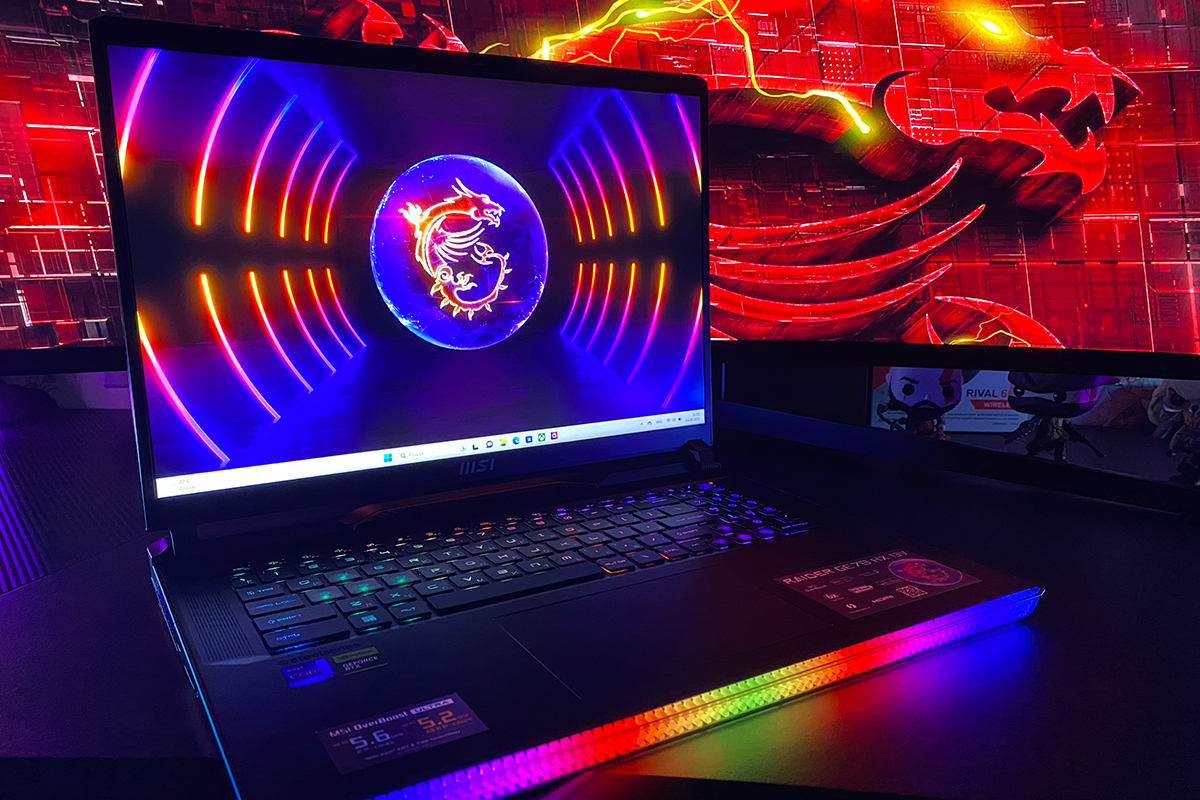 There is nothing on the laptop lid except for the MSI brand logo in the form of a dragon. By the way, it is illuminated when the notebook is switched on. From the top you can notice a neat red line and a ribbed insert. At first it may seem that these are ribs or radiator holes, but no, it's just a decoration.
On the bottom of the notebook we see: 3 rubberised pads for grip with the surface; small inscriptions indicating the model, serial number, certificates; and the most interesting thing – a mesh surface with a barely visible inscription "RAIDER", through which you can see the cooling system of the notebook. If you look closely, you can just see the construction of 2 large fans and 6 heat pipes. The decision to make this part as a grid is very good, as it is just above the cooling system. Many manufacturers either cover it completely or just make a small number of holes. Here we have exactly a grid, which should have a good effect on the cooling quality and temperature mode in general.
On the rear edge there are two large vents through which you can see the heatsinks and connectors: LAN RJ-45, HDMI 2.1, USB Type-C (3.2 Gen 2) with DisplayPort support and a power supply connector.
On the right edge of the laptop are: 2 USB connectors (3.2 Gen 1 and Gen 2), and USB Type-C (3.2 Gen 2) with DisplayPort and Power Delivery support. You can also notice the speaker holes with the inscription "DYNAUDIO" – actually, it becomes clear whose sound system is here. And a standard side ventilation hole.
On the left edge we can see the same ventilation hole and the same speaker hole with an inscription as on the right side. There are USB Type-C Thunderbolt 4, SD card reader slot and 3.5mm audio jack for headset.
On the front edge there is a large RGB backlight panel – MSI Matrix. If you look closely, you will notice that the LEDs in the panel are arranged in 3 rows.
We lift the laptop lid (by the way, the lid opens with one finger, while the base remains stationary) and see in the upper part: the display itself, the camera, which can be closed with a latch, an array of microphones, MSI logo. On the bottom part there are: a keyboard, a large touchpad, speaker holes on the sides, stickers with the features of this model and the inscription "SteelSeries". Having switched on the notebook, we can appreciate the backlight itself, but we'll consider it in detail a little later.
The design of the device is cool, there are branded memorable elements, thanks to which this laptop will not be confused with others. It looks stylish, a bit futuristic, in principle, as a modern gaming laptop should look like.
The main material of execution is high-quality matte plastic. It is pleasant to the touch. Fingerprints remain, especially on the lid of the laptop. But they can be easily wiped off, for example, with a wiping cloth, which is included in the package.
The build quality is expectedly excellent, it can't be otherwise in a premium segment notebook. The display rises and falls easily, smoothly, with a finishing effect. The case, and the whole notebook in general, is well assembled. Nothing squeaks, does not loosen or wobble.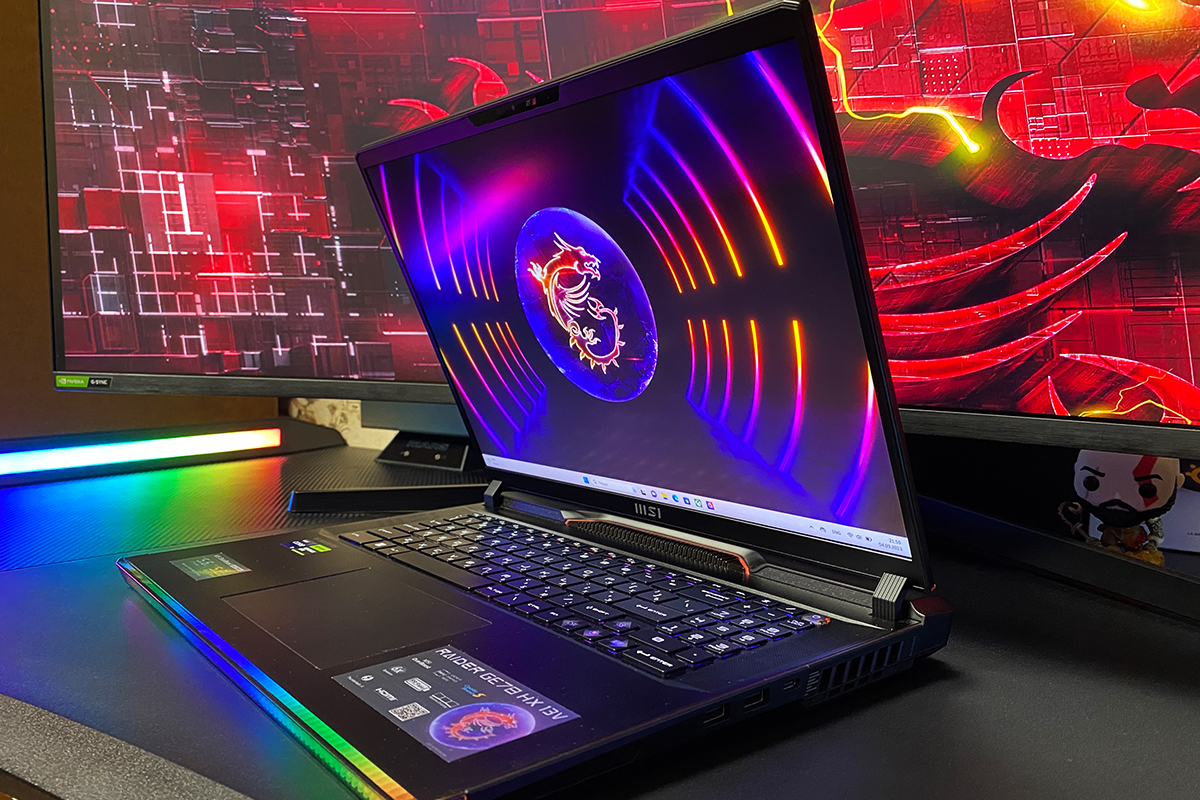 As for the location and number of connectors, to me, there is nothing wrong with it. The location is convenient, and everything seems to be enough in terms of quantity. It can be said that 2 USB will be a bit small. But now the trend is that all devices are moving to Type-C. Therefore, no one will have problems with connecting additional peripherals.
Read also:
Keyboard and touchpad
The notebook has an island keyboard with a standard WASD layout. The left Shift and Enter keys are standard, long. The arrows and number pad have been reduced in size, some numpad keys have been removed to save space. The power button of the notebook, which is usually located on the case, is made in the form of a key here. The F1 – F12 keys are all in their places. Despite the minor changes, the layout and arrangement of the keys are convenient, there is nothing to complain about. The font on the keys is non-standard – MSI branded. It looks interesting and is of high quality. By the way, there are no Ukrainian letters in the tested model.
Based on the information on the official website, this laptop has a SteelSeries keyboard, which is actually confirmed by their logo on the case, which was mentioned earlier. This means that each key is backlit separately, and we can set our own backlighting options as we like. We can also reassign keys and create our own macros. All this is done with the help of SteelSeries GG proprietary software, which is already installed on our laptop.
In general, MSI's collaboration with SteelSeries opens up very interesting possibilities, especially if you have additional peripherals from this brand. For example, you can connect a keyboard, mouse, mat, headphones from SteelSeries to your notebook and synchronise their backlighting with PrismSync. Or you can activate event mode in supported applications, so, for example, actions, alerts, Discord events will be displayed as effects on your backlight. If you enable the mode of displaying game data in supported games, then, while playing, for example, CS GO, information from the game (low health, low ammo) will also be displayed as effects on the backlight.
The laptop's touchpad is large and wide. The sensitivity and operation, in general, are excellent. Tap, swipe, right and left button presses are performed clearly, quickly and without any problems. In games, with standard control on WASD, I personally touchpad, even despite its size, practically did not hurt. And if it bothers you, it can be quickly switched off with the combination FN+F4, as well as switched back on.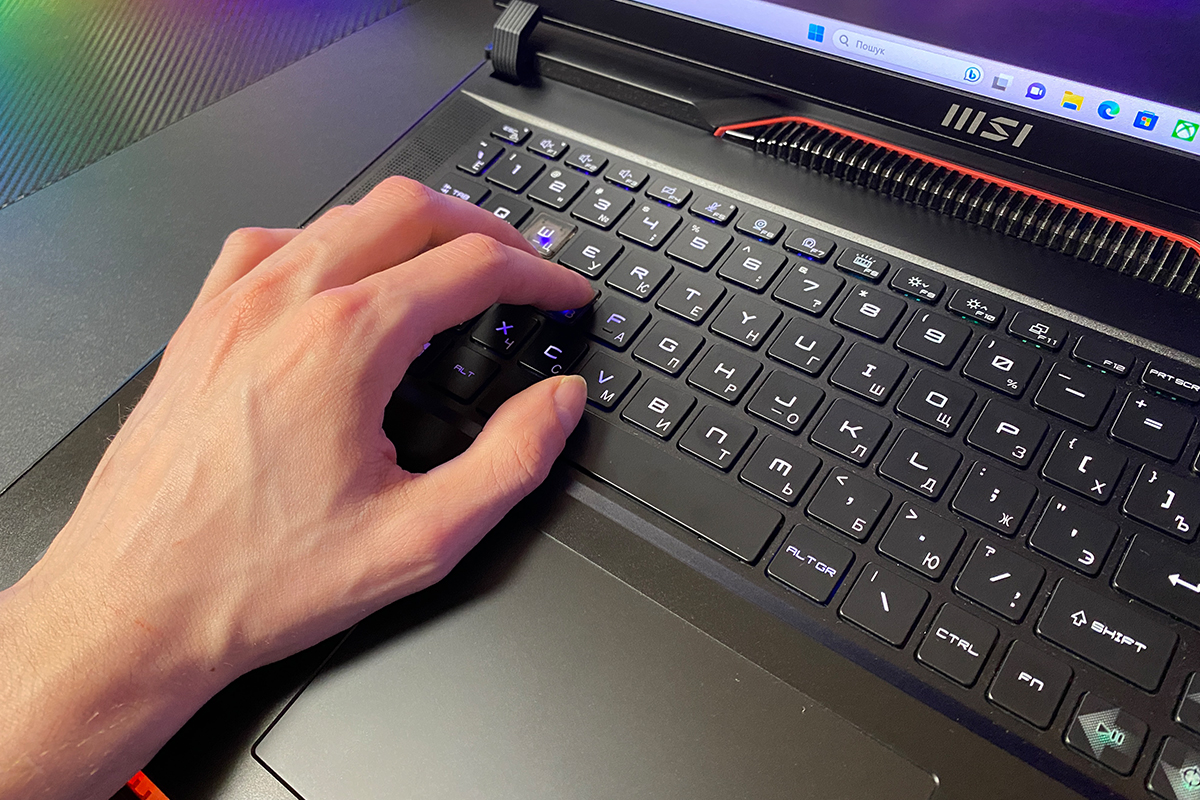 Backlighting
It would seem that backlighting is just a decorative element, so why pay much attention to it? But in GE78HX 13VI-209UA it is luxurious and looks very cool, it can be customised and set up in different ways. So let's take a closer look at this point.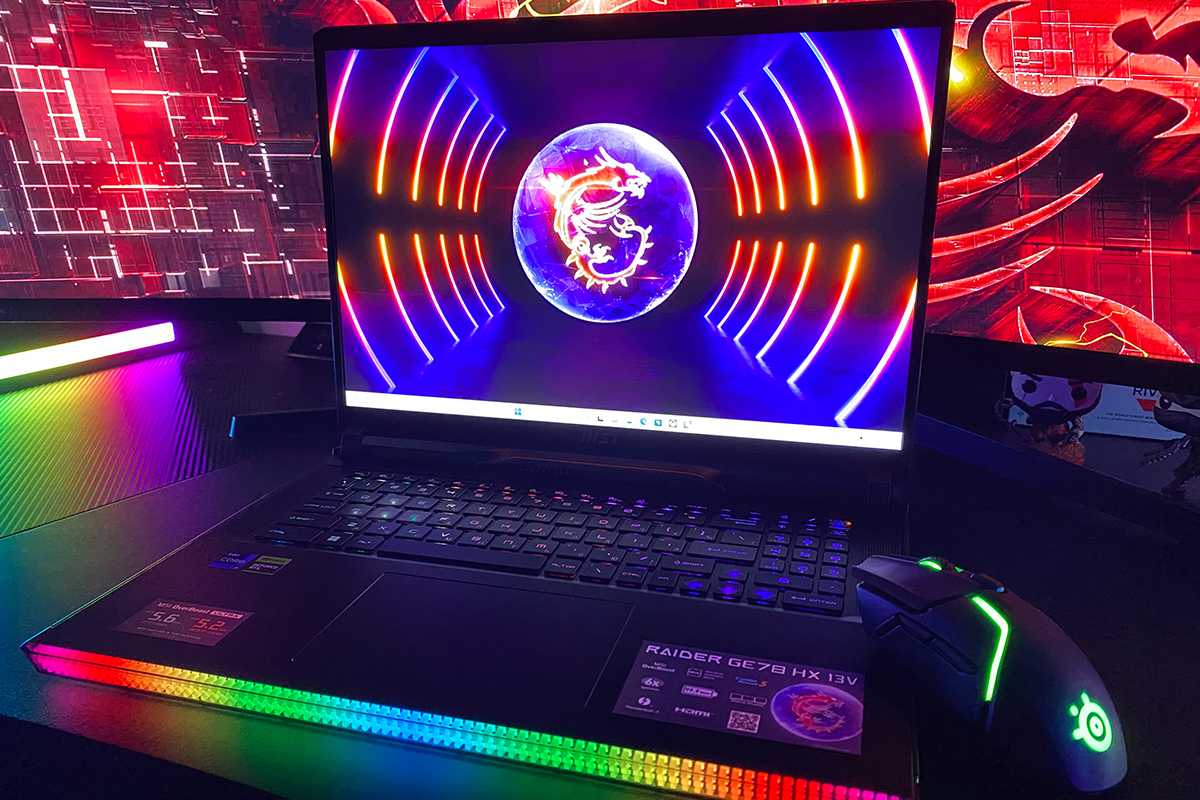 The notebook has 3 backlight zones: the logo on the lid, the front panel, and the keyboard. You can control the backlighting using the SteelSeries GG proprietary app. Let's take a closer look at it. In the Engine settings, under the Gear tab, we see our devices. MSI Matrix is the front panel and the logo on the lid. MSI Per Key RBG Keyboard is our keyboard. If you connect other SteelSeries devices, they will be added to this list.
In addition to the cool ready-made effects, you can set your own backlighting options in the app, combining them with various effects. As with many SteelSeries devices, the backlighting is divided into zones, which means that you can customise individual and independent zones of the front panel. Each key on the keyboard is backlit separately, independently of the others, which also gives you almost limitless possibilities for customising the backlighting.
With other SteelSeries devices at our disposal, we can connect, configure, and synchronise their backlighting with elements of our laptop. For example, I have a SteelSeries Apex Pro keyboard, a SteelSeries Rival 650 Wireless mouse, and a SteelSeries QcK Prism Cloth XL mat. Here's what it might look like if everything is connected and synchronised using PrismSync.
MSI Centre application
Since we have mentioned the MSI Centre application, I think it is necessary to take a closer look at it. After all, apart from backlight control (which doesn't work for me) MSI Center has a lot of other useful functions. For example, system monitoring, game mode, custom scenarios, AI-based noise reduction, Mystic Light, performance analysis, application prioritisation, device diagnostics, True Colour and much more.
The application has a wide range of functions, but we won't describe and show them in detail, because they would take a separate review. I will show you a few important settings that we will need later in the review. User Scenario – here I will set the mode "Extreme Performance", the default setting is "Smart Auto". In the "Extreme Performance" mode settings you can tweak the GPU core and memory frequencies, which I won't do, as this is already an overclocking topic and is done at your own risk, as we are warned about when entering this section for the first time. Here we will still need "Fan Speed" to test the noise level and the cooling system as a whole. By the way, in addition to the standard ready-made modes, there is also the ability to fine-tune the fan curve, for which we can give the device and MSI a huge plus in the rating.
Read also:
MSI Raider GE78HX 13VI-209UA display
The laptop features a 17-inch IPS display with QHD+ (2560×1600 pixels) resolution, 240Hz screen refresh rate and 16:10 aspect ratio. The colour space here is 100% DCI-P3. The display is matte, so glare from sunlight or other light sources is not terrible for it.
MSI's exclusive True Color technology is implemented here, which provides various modes of display operation and helps to optimise the picture for a specific situation and tasks. The MSI True Color utility allows you to:
select and adjust the colour range
split the screen into several parts
make a professional calibration
display the reticle in the centre of the screen
MSI do not specify the response time of the monitor, but we can find out ourselves with the TFT Monitor Test. The test showed an average response time of 4 ms, and this is an excellent result. By the way, I didn't notice any plumes or ghosting effects during the whole testing period.
The viewing angles of the display are as wide as possible: even at an angle, the colour reproduction is not distorted and the image remains clearly visible.
Speaking of colour reproduction – the colour reproduction on the display is excellent. Bright saturated colours, good contrast, black colour looks really black and deep. There are no backlights on the screen, no problems with backlight leakage.
I can say one thing about the subjective feeling of using it – the display is gorgeous. It is fast, smooth, and has excellent colour reproduction. In fact, the kind of display that a premium gaming laptop should have.
Components and performance
MSI Raider GE78HX 13VI-209UA has the most top-of-the-line build to date. It is one of the most high-performance notebooks from MSI products and in principle on the market. Intel Core i9-13980HX is installed here as a processor, NVIDIA GeForce RTX 4090 laptop is responsible for the video, there is a fast productive RAM of the new generation DDR5 with a total volume of 64 GB and NVMe SSD for 2 TB. Let's take a detailed look at each of the components and run some synthetic tests to clearly see the performance level.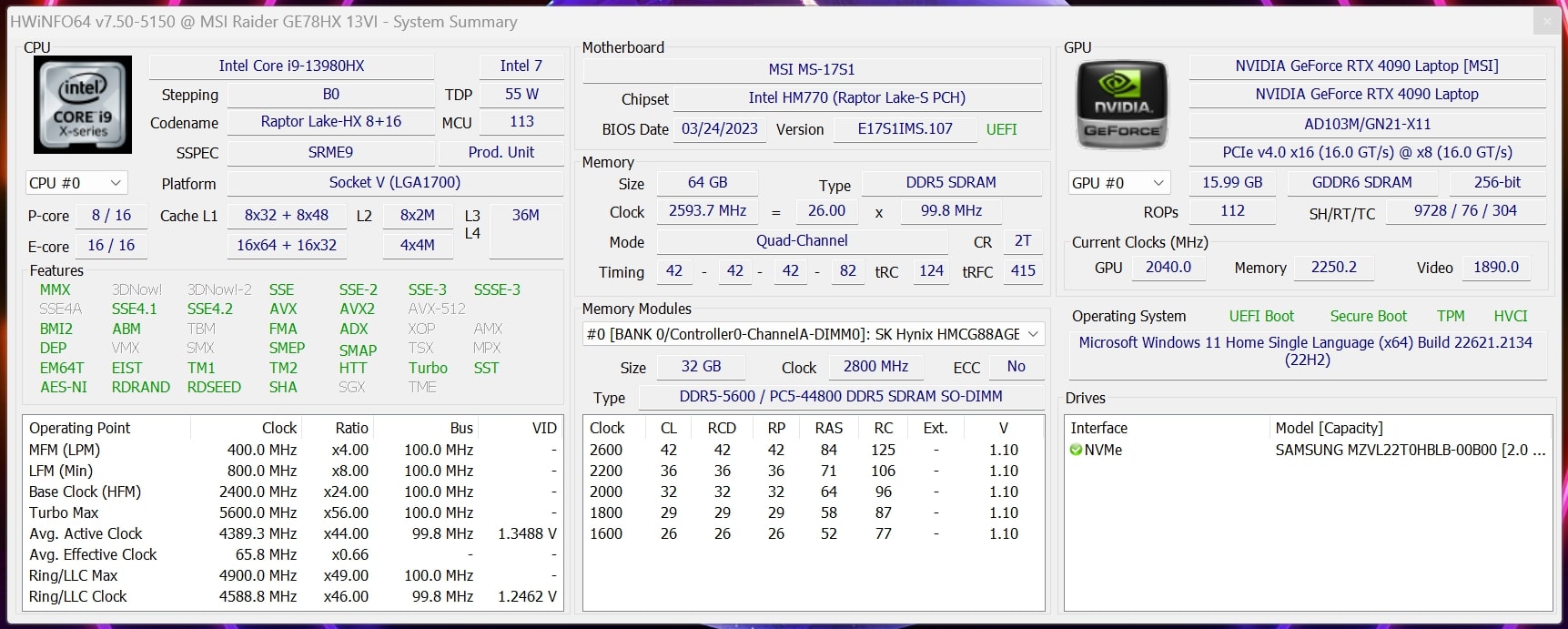 CPU
The 13th Gen Intel Core i9-13980HX (Raptor Lake) is one of the most powerful laptop processors from Intel, coming out in early 2023. 8 performance cores, 16 threads, with a base clock speed of 2.2 GHz and a maximum clock speed in Turbo Boost of 5.6 GHz. 16 power efficient cores, 16 threads, with a base clock speed of 1.6 GHz and a maximum clock speed in Turbo Boost of 4 GHz. 36MB of level 3 cache. 10 nanometre process technology. TDP 45-55W, maximum TDP (Boost) 157W. It has integrated graphics in the form of Intel UHD Graphics (32EU).
This is the ultimate CPU for gaming and more, so let's run some tests on it. For this purpose we will use: Cinebench R15, Cinebench R20, Cinebench R23, Perfomance Test CPU Mark, Blender CPU Benchmark, Geekbench 6, AIDA64 Extreme (FP32 Ray-Trace, FPU Julia, CPU SHA3, CPU Queen, FPU SinJulia, FPU Mandel, CPU AES, CPU ZLilb, FP64 Ray-Trace, CPU PhotoWorxx).
Cinebench R15, R20, R23 test results:
Performance Test CPU Mark test results: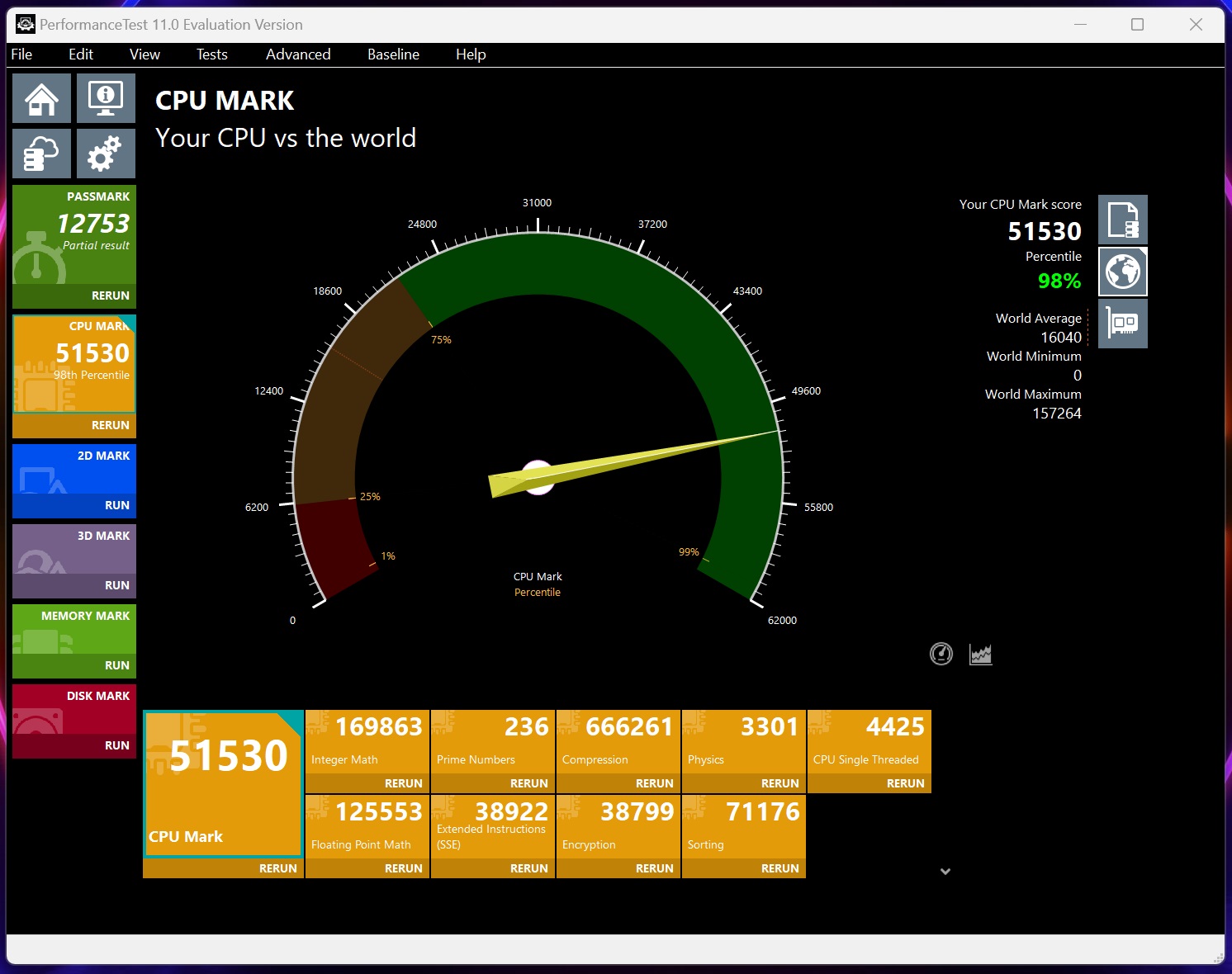 Blender CPU Benchmark test results: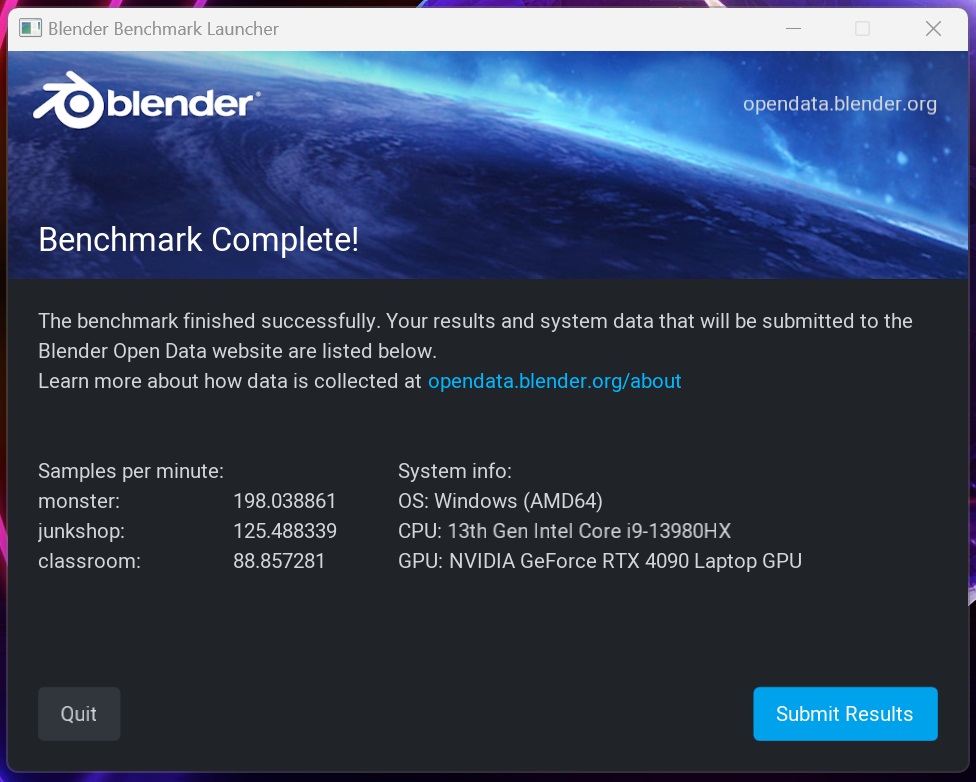 Geekbench 6 test results:
V-Ray 5 test results: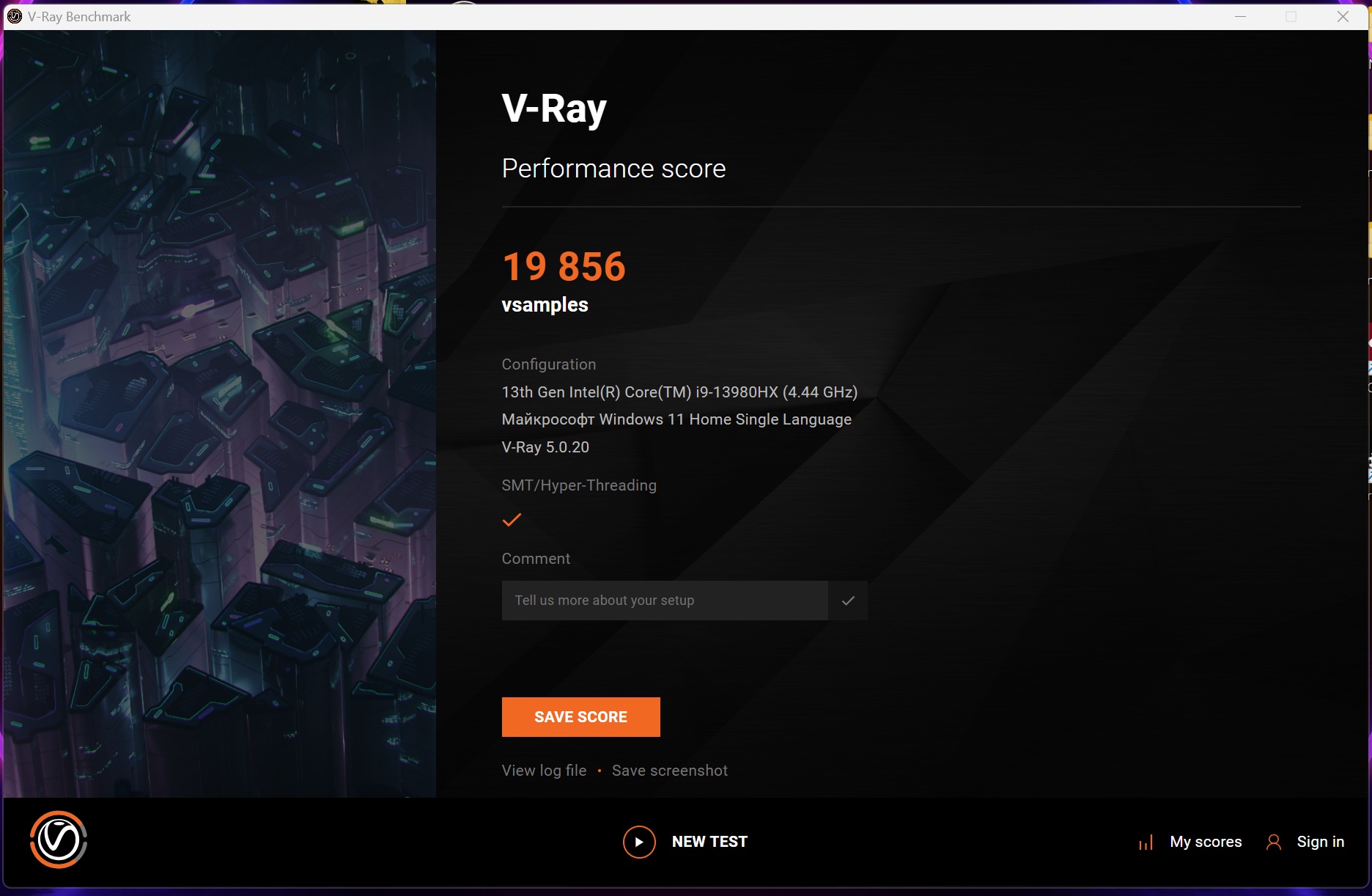 AIDA64 Extreme test results:
Video card
NVIDIA GeForce GeForce RTX 4090 Laptop GPU – the maximum that could be installed in a laptop to date. 16 GB of GDDR6 type video memory, maximum GPU clock frequency up to 2040 MHz, maximum TGP up to 175 W.
As benchmarks for the video card we will use: 3DMark, Blender GPU Benchmark, Performance Test 3D Graphics Mark, V-Ray 5.
3DMark test results:
Blender GPU test results: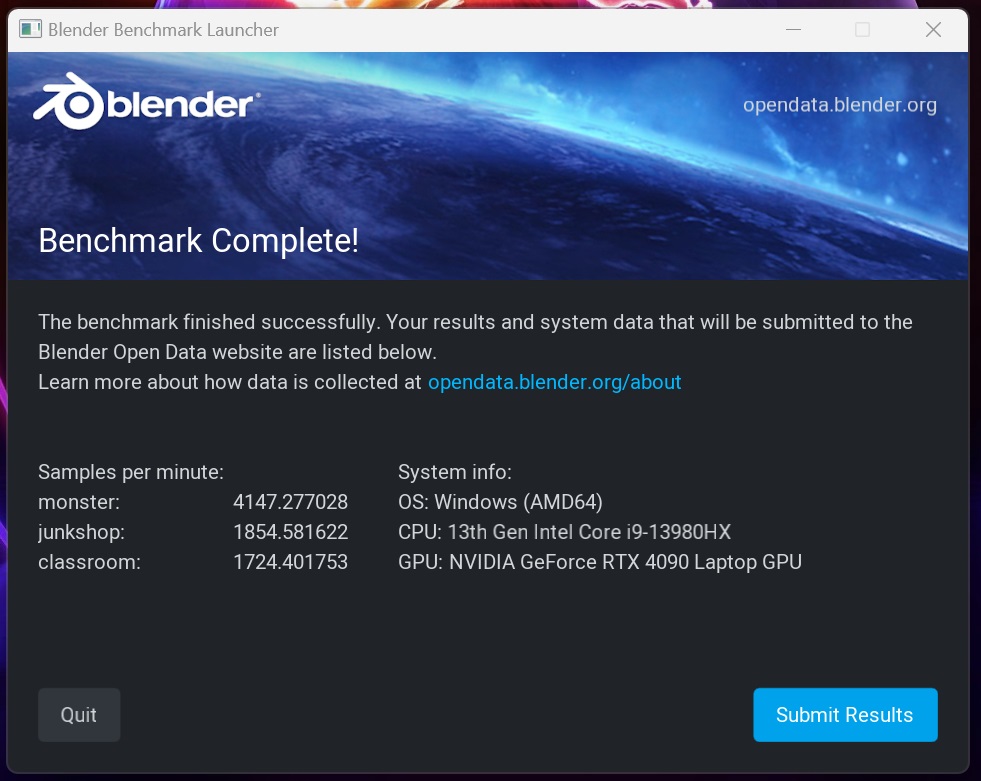 Performance Test 3D Graphics Mark test results: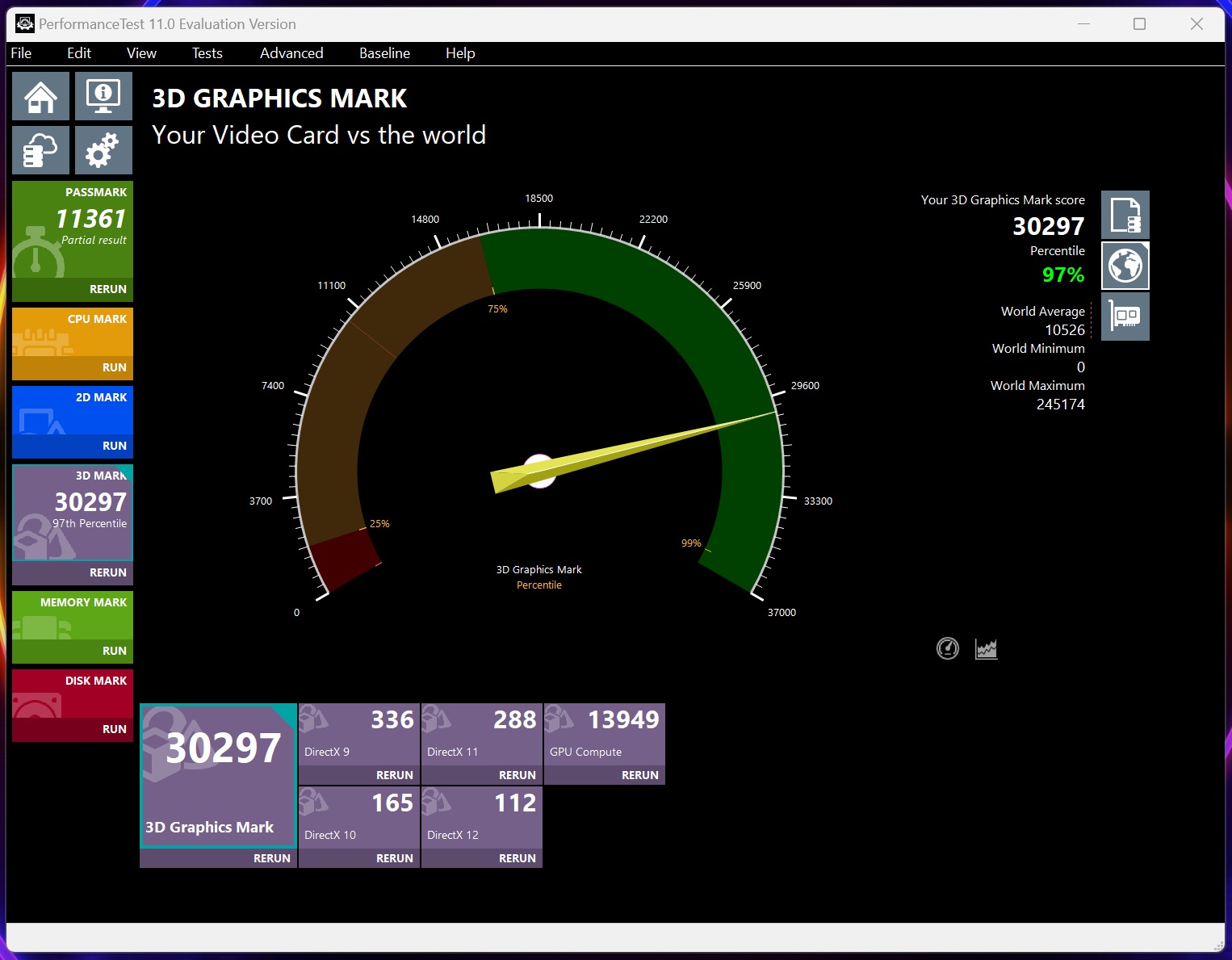 V-Ray 5 test results:
RAM
The laptop has 64 GB of RAM of DDR5 type with a clock speed of 5600 MHz. The memory is made by 2 modules of 32 GB each from SK hynix, the exact memory model is HMCG88AGBSA092N. The operating timings are set as follows: 42-42-42-42-42-82-82-CR2.
To test RAM performance we will use the built-in tests of AIDA64 Extreme: read, write, copy and latency.
Data storage
The tested notebook has a 2TB PCIe Gen4 NVMe SSD PCIe Gen4 from Samsung, exact model MZVL22T0HBLB-00B00. Judging by the specs on MSI's website, the GE78HX 13VI-209UA has 2 drive slots: one is Gen 4, which is already occupied, and the other is Gen5, where an additional drive can be purchased and installed. Such a move is a great solution with a plan for the future. For now, let's test the default drive with CrystalDiskMark (Default mode and NVMe SSD), ASS SSD Benchmark and 3DMark.
General performance tests
Let's run some more tests to understand the overall performance. We'll need: AIDA64 Cache & Memory Benchmark, PCMark 10 and CrossMark.
As you can see, MSI Raider GE78HX 13VI-209UA tests show excellent results. The notebook fully copes with work tasks, we can say that it will be more than enough. But since this is, first of all, a gaming model, let's finally come to the most important thing, namely, performance testing in games.
MSI Raider GE78HX 13VI-209UA gaming performance
We will test games in 2K resolution (2560×1600), because this is the native resolution of the display. To save time, we will use ready-made settings offered by the games: medium, high, ultra. And in some places we will additionally run on our custom settings – we will manually turn everything to maximum, because in many games ultra settings are not the limit. Minimum, average and maximum FPS will be fixed with MSI Afterburner. All ingame screenshots are made at maximum graphics settings.
Starfield
The long-awaited project from Bethesda. The game has just been released the other day, and we just can't pass by it.
Developer: Bethesda Game Studios
Price: $ 69.99
The standard settings here are Low, Medium, High, Ultra. DLSS is unfortunately not available, instead of it we have AMD FidelityFX Contrast Adaptive Sharpening (CAS) and AMD FidelityFX Super Resolutin 2 (FSR2). We will test the game on High and Ultra with FSR2 enabled, then try it without it.
Our laptop copes with the novelty without any problems. On High and Ultra settings with FSR2 enabled we have an average of 90-100 FPS, there are small slips, but most often they occur during location changes (space, landing on a planet, entering a building). With off dynamic resolution on High and Ultra we have an average of 69-77 FPS, with sags up to 33-38. The picture does not change much when disabling dynamic resolution, so the optimal settings can be considered Ultra + enabled FSR2.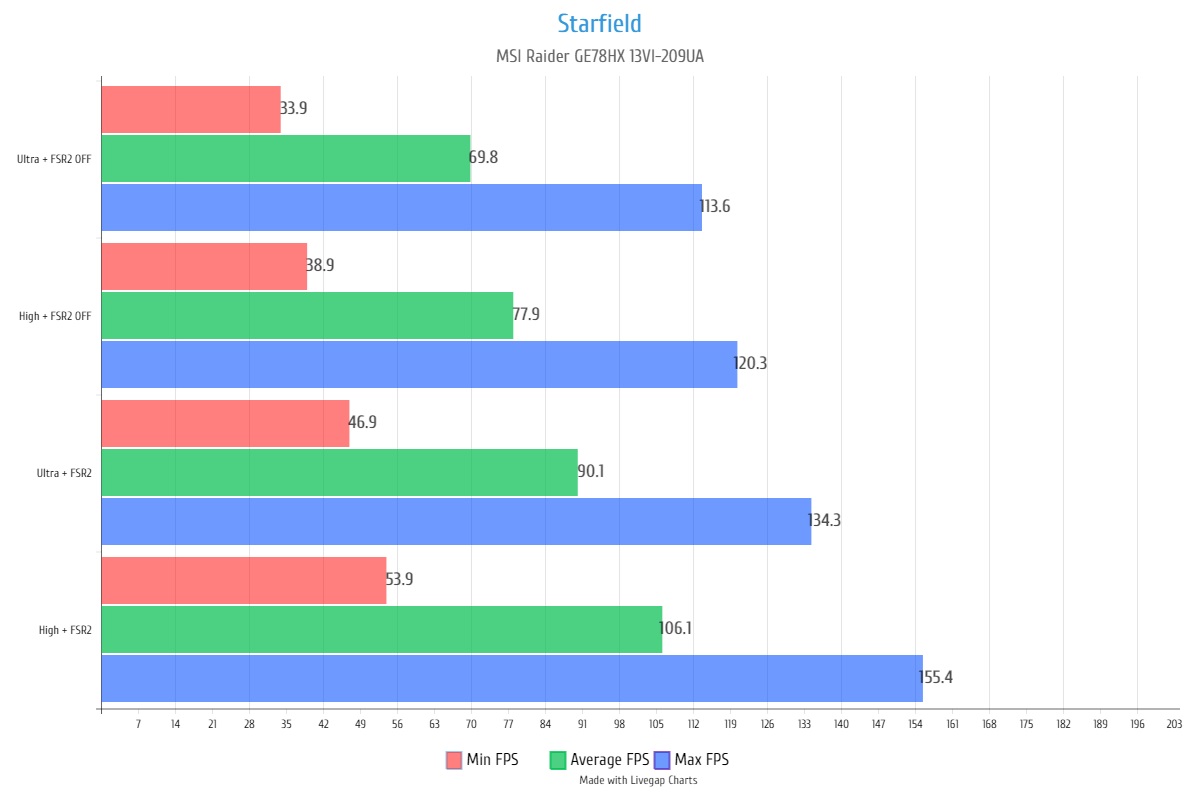 Resident Evil 4
Re-release of the cult horror game from Capcom. Redesigned graphics, high-resolution textures, modern effects and high system requirements for a comfortable game on ultra settings.
Developer: CAPCOM Co., Ltd.
Price: $ 59.99
From the ready settings there are: Recommended, Prioritise Performance, Balanced, Prioritize Graphics, Ray Tracing, Max. We will test the game on settings: Balanced, Prioritize Graphics, Ray Tracing, Max.
At all settings the game produces high and stable FPS. You can safely play the game at maximum graphics settings.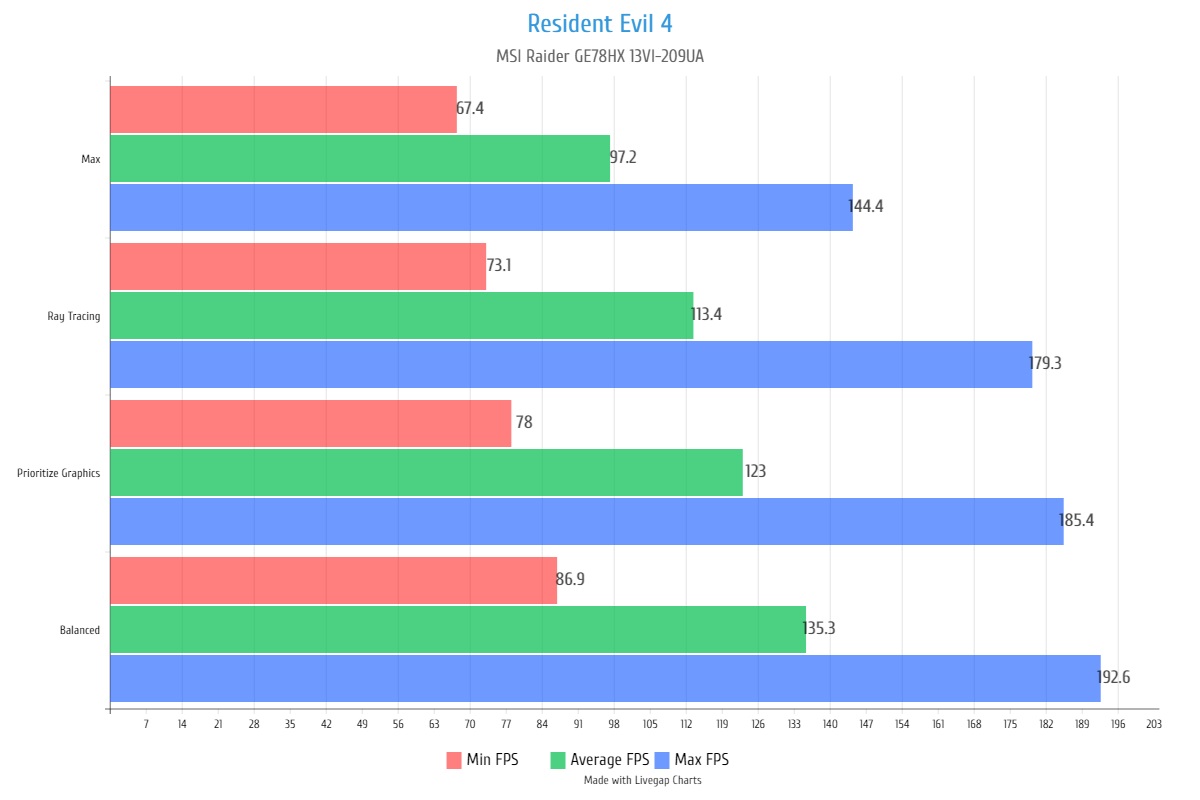 Cyberpunk 2077
The famous action-RPG from CD Project RED. And not least, with its bugs and not the best optimisation at the start. The game is not new, many unpleasant moments have already been fixed. But high iron requirements for a comfortable game on ultra are still there.
Developer: CD PROJEKT RED
Price: $ 35.99
From the fast settings: Low, Medium, High, Ultra, Steam Deck, Ray Tracing Low, Ray Tracing Medium, Ray Tracing Ultra, Ray Tracing Overdrive. Since we have a top video card, it makes sense to test the game only on Ray Tracing settings: Medium, Ultra, Overdrive. We leave texture quality on High. DLSS will be set to Auto, then we will try the same settings with DLAA.
On RT Medium, Ultra and even Overdrive settings with DLSS Auto the game shows good results, on average: 115, 110, 70 FPS. Switching from DLSS to DLAA greatly affects FPS, but you can still play comfortably on RT Medium and RT Ultra settings with average 59 and 57 FPS. By the way, the difference in FPS is quite small. At maximum settings of Ray Tracing Overdrive and DLAA we get average 34 FPS with possible drops down to 27. It's not comfortable, though if you connect your notebook to TV and take a gamepad in your hands, you get about the level of console FPS only with maximum picture quality.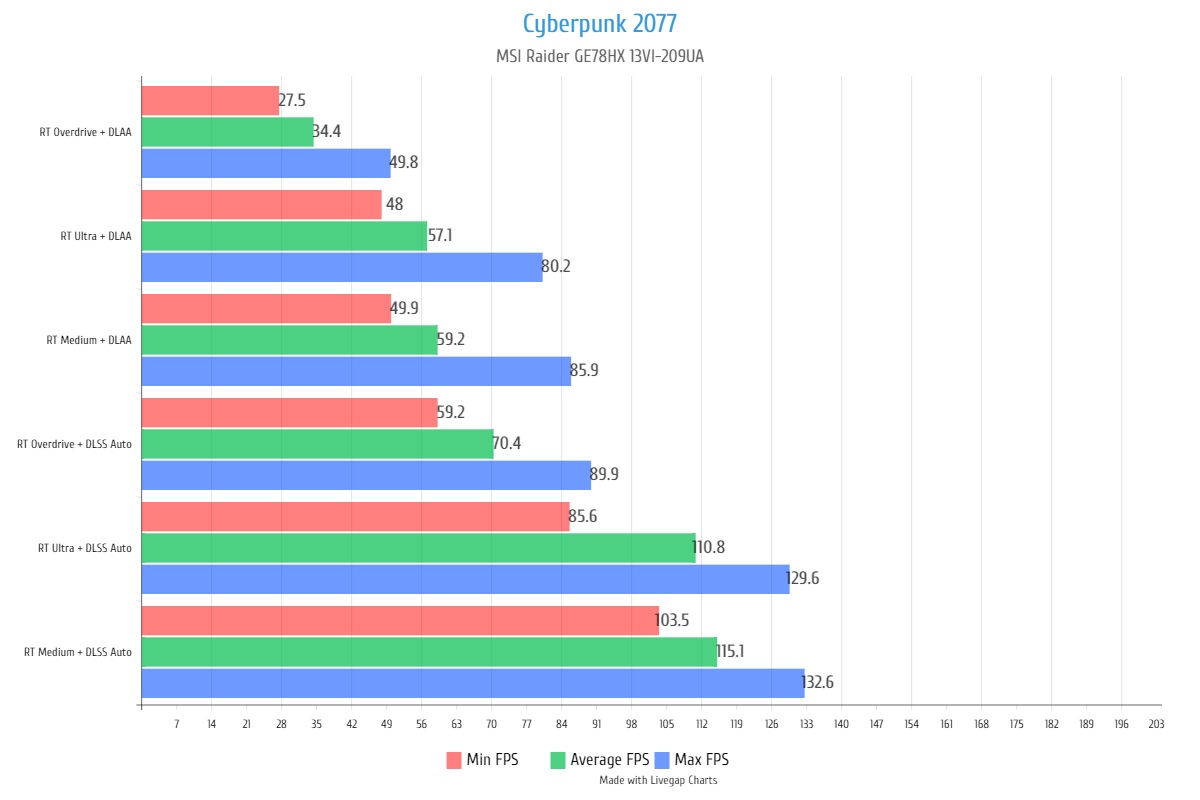 A Plague Tale Requiem
A wonderful adventure game with stealth elements. Modern beautiful graphics, there is Ray Tracing and DLSS.