In March this year, we first saw the two new mid-rangers, realme 8 Pro and Redmi Note 10 Pro. Manufacturers estimated them at about the same cost, and in terms of the characteristics of the device they turned out to be even too similar in places. In today's material, we have a proper head-to-head to decide once and for all which one is the best.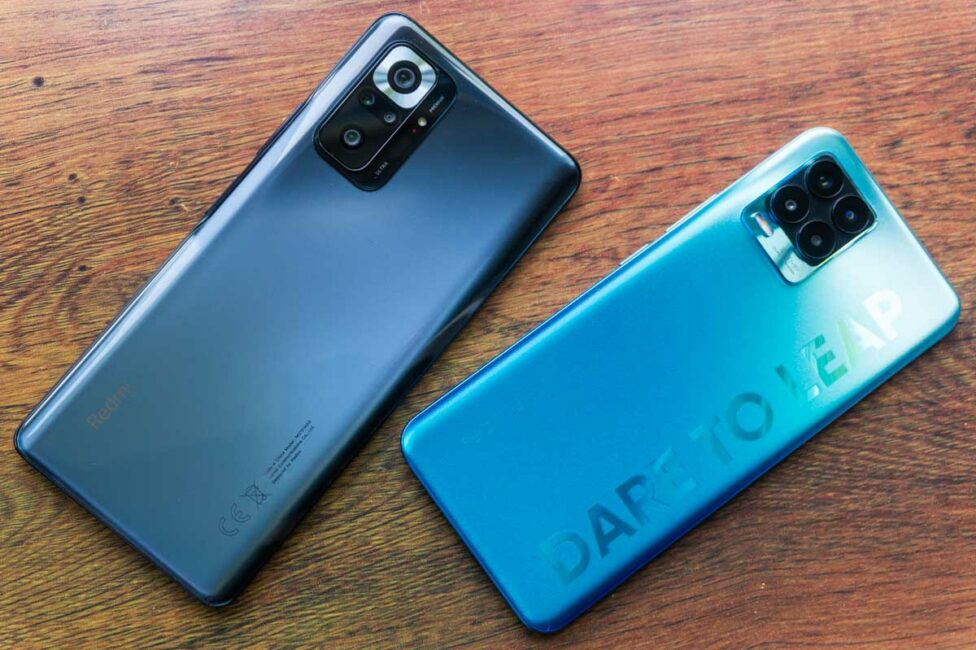 realme 8 Pro and 

Redmi Note 10 Pro by the numbers
| | |
| --- | --- |
| Redmi Note 10 Pro | realme 8 Pro |
Display
6.67′′, AMOLED, 2400×1080 pixels, 20:9 aspect ratio, 395 ppi, 1200 nits, 120 Hz, HDR10
6.4′′, Super AMOLED, 2400×1080 pixels, 20:9 aspect ratio, 409 ppi, 1000 nits, 60 Hz
Chipset
Qualcomm Snapdragon 732G, 8 nm, 8-core, Kryo 470 Gold 2×2.3 GHz and Kryo 470 Silver 6×1.8 GHz
Qualcomm Snapdragon 720G, 8 nm, 8-core, Kryo 465 Gold 2×2.3 GHz and Kryo 465 Silver 6×1.8 GHz
Graphics accelerator
Adreno 618
Adreno 618
Ram
6/8 GB, LPDDR4X
6/8 GB, LPDDR4X
Storage
64/128 GB, UFS 2.2
128 GB, UFS 2.1
Memory card support
MicroSD
MicroSD
Wireless modules
Wi-Fi 5, Bluetooth 5.1 (A2DP, LE), GPS (A-GPS), GLONASS, GALILEO, BDS, NFC, IR port
Wi-Fi 5, Bluetooth 5.0 (A2DP, LE), GPS (A-GPS), GLONASS, BDS, NFC
Main camera
wide-angle module 108 MP, f/1.9, 26 mm, 1/1.52″, 0.7µm, dual pixel PDAF; ultra-wide-angle module 8 MP, f/2.2, 118˚, 1/4.0″, 1.12µm; macro 5 MP, f/2.4, AF; depth sensor 2 MP, f/2.4
wide-angle module 108 MP, f/1.9, 26 mm, 1/1.52′′, 0.7μm, PDAF; ultra-wide-angle module 8 MP, f/2.3, 119 ̊, 1/4.0′′, 1.12μm; macro 2 MP, f/2.4; depth sensor 2 MP, f/2.4
Front-facing camera
16 MP, f/2.5, 1/3.06′′, 1.0μm
16 MP, f/2.5, 1/3.0′′, 1.0μm
Battery
5020 mAh
4,500 mAh
Fast charging
33 W
50 W
OS
Android 11 with MIUI 12 shell
Android 11 with realme UI 2.0 shell
Dimensions
164.0×76.5×8.1 mm
160.6×73.9×8.1 mm
Mass
193 g
176 g
Smartphone versions and cost
Often middle-range smartphones have several modifications with different amounts of RAM and storage. There is absolutely nothing wrong with this, the approach is understandable, because it allows undemanding users to save a little, and demanding people will not have to worry about whether they will have enough storage. That is, potential buyers have a choice – and that's good.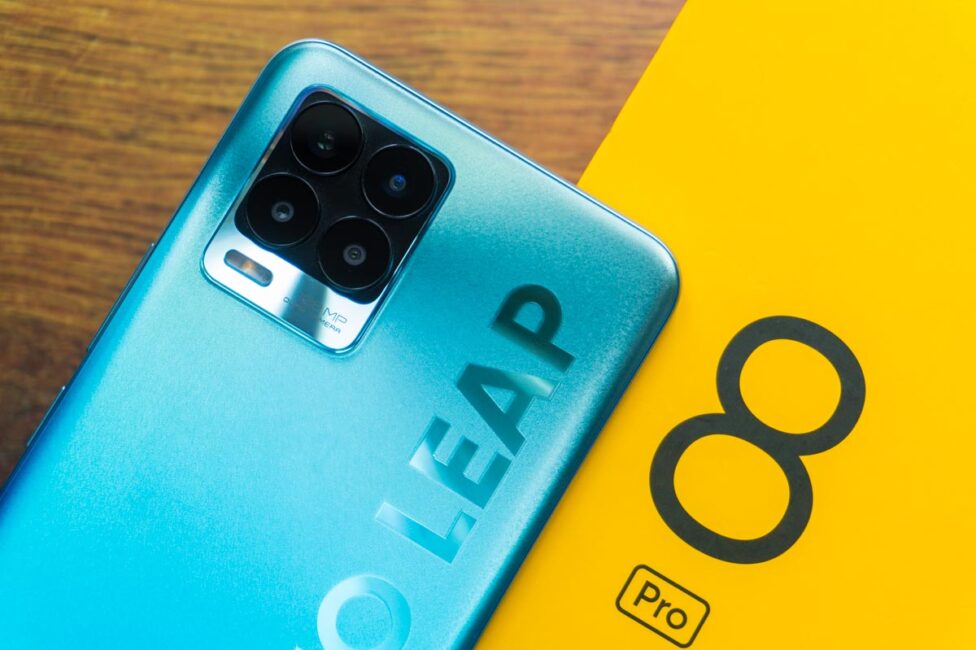 Today's guests were no exception either – both smartphones exist in several versions. In the case of the Redmi Note 10 Pro, however, this choice is slightly bigger, because the smartphone has as many as three variants: 6/64, 6/128 and 8/128 GB. The realme 8 Pro has only two: 6/128 or 8/128 GB. Of course, Xiaomi gets a small advantage here for one simple and understandable reason – there is a basic option and the buyer does not have to overpay for extra gigabytes if they don't need it. However, do not forget that the availability of certain modifications depends on the region.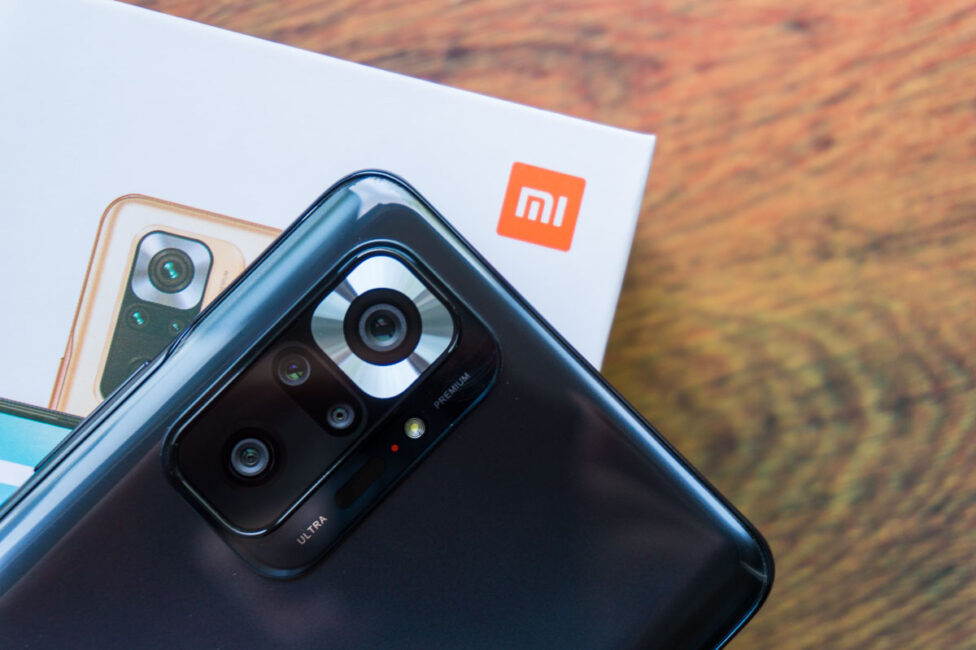 In certain European countries Redmi Note 10 Pro is sold in two versions, 6/64 and 6/128, for $293 and $329 respectively.
The realme 8 Pro 8/128 GB costs about $293.
What's in the box
Smartphones come in cardboard boxes of almost identical sizes, but it is obvious that with different design fit each of the brands. Their contents are identical on the one hand: a smartphone, a power adapter, a USB Type-C cable, a simple silicone case, a SIM eject tool and documentation. But the cases and, most importantly, the power adapters, are slightly different.
The Redmi case stands out for its matte back and Type-C port plug, but realme has a much more powerful power adapter. It is compatible with SuperDart's proprietary fast charging technology and boasts 65W power, while with Redmi comes with a 33W unit. We'll discuss these differences later.
Read also: Realme GT review: Track-Worthy Smartphone for the Masses
Design, materials and the layout
Both smartphones look relevant and correspond to all modern trends. Their front panels are made are similar, with a front-facing camera embedded in the screen, but the back sides of smartphones in completely different. Both phones have completely flat upper and bottom edges.
As I have already noted, the selfie cameras of smartphones are embedded in their screens, but are in different places. In Redmi Note 10 Pro, it is located at the top center, and in realme 8 Pro it is located in the upper left corner. In terms of placing, it is difficult to single out one smartphone, but still I welcome symmetry more. Plus the camera notch diameter of the Redmi Note 10 Pro is smaller, but with an additional silver edging that makes it more striking.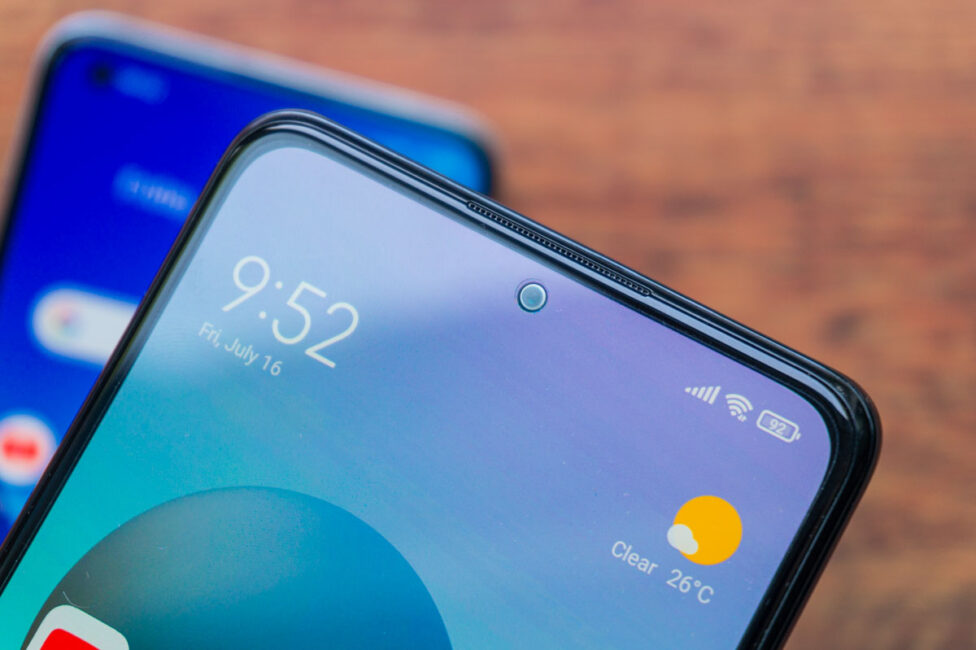 The bezels around the screen are similar in width. The thinnest, of course, are left and right, but the upper bezel is a little wider. But the main and most noticeable difference in the bezels is the lower indentation, which is smaller, again, in the Redmi smartphone.
The design of rear panels can be considered in two main aspects: the overall design and the execution of the camera unit. Let's start with the first one. We have a pre-sale model with a large vertical glossy inscription "Dare to Leap" on the back, but commercial devices will lose the slogan. So we won't talk about it as a design element.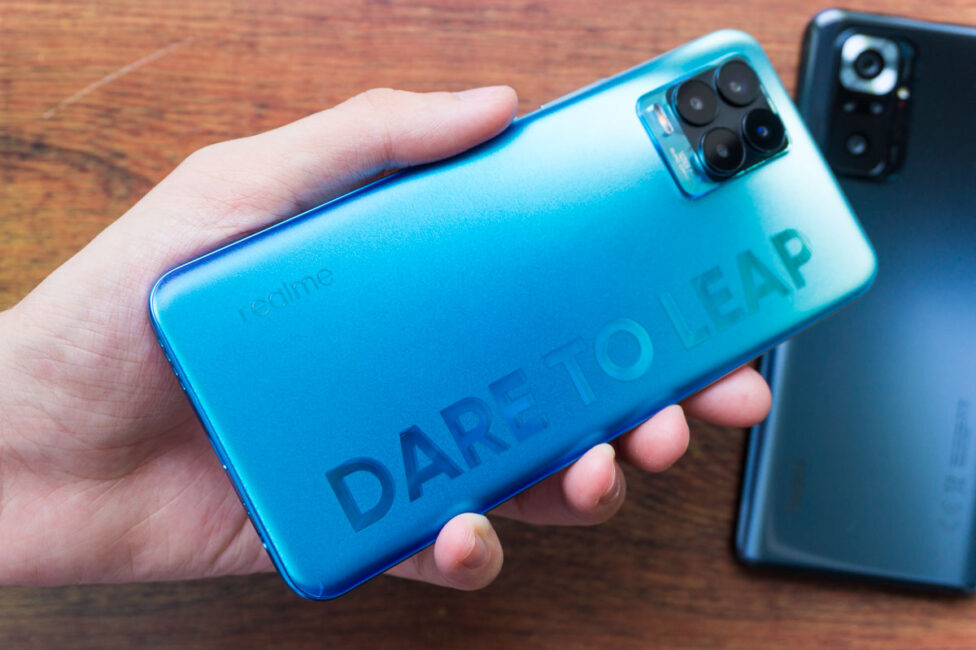 The first thing that catches your eye is different material and back panel coating. In the case of the Redmi Note 10 Pro we have glossy glass with an shimmering light The realme 8 Pro also has a similar effect, but its panel is plastic and slightly rough. The camera unit in both smartphones has four modules and a flash, but they are built differently.
Redmi's unit consists of two rectangles with rounded corners: a wide base with inscriptions, flash and laser focus window, as well as a narrow rectangle with all four modules in different visual edges.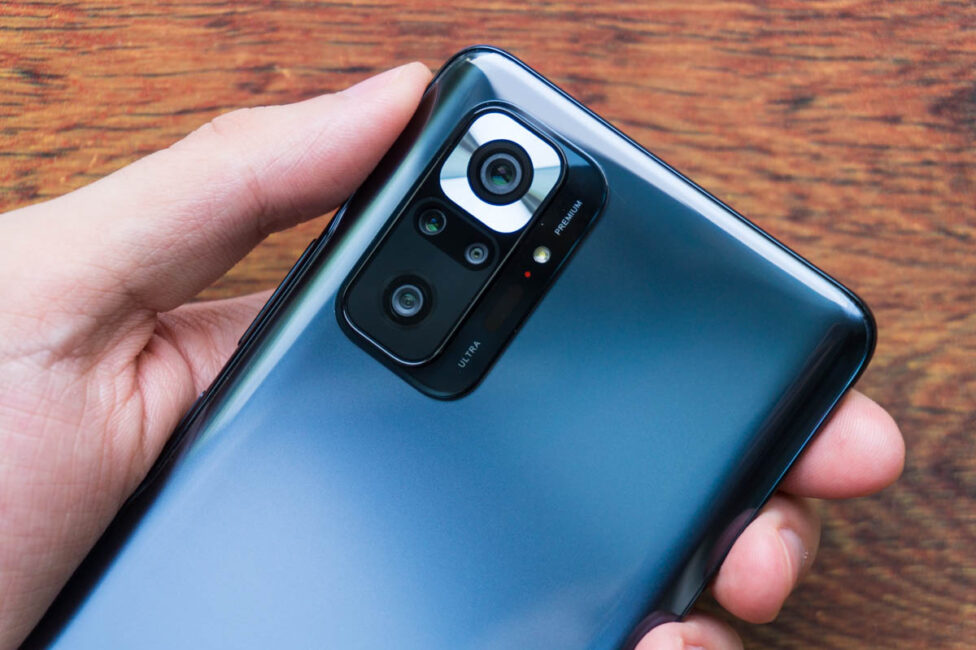 The realme block is a little simpler. It is also a rectangle with rounded corners, but each module is in a separate round eye on black, and underneath them on the same platform there is a flash and inscriptions.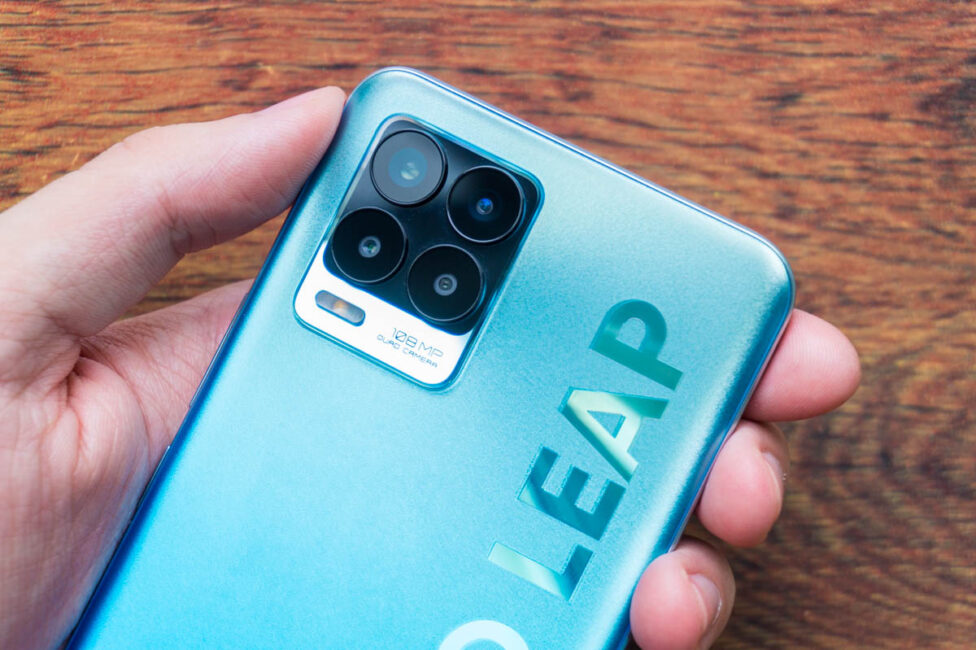 Both are visually interesting in their own way, but with nuances. Wiping the Redmi Note 10 Pro camera unit is easier simply because it's solid, and the realme 8 Pro cameras do not protrude as much. This is also important, especially if you use a smartphone without a protective case.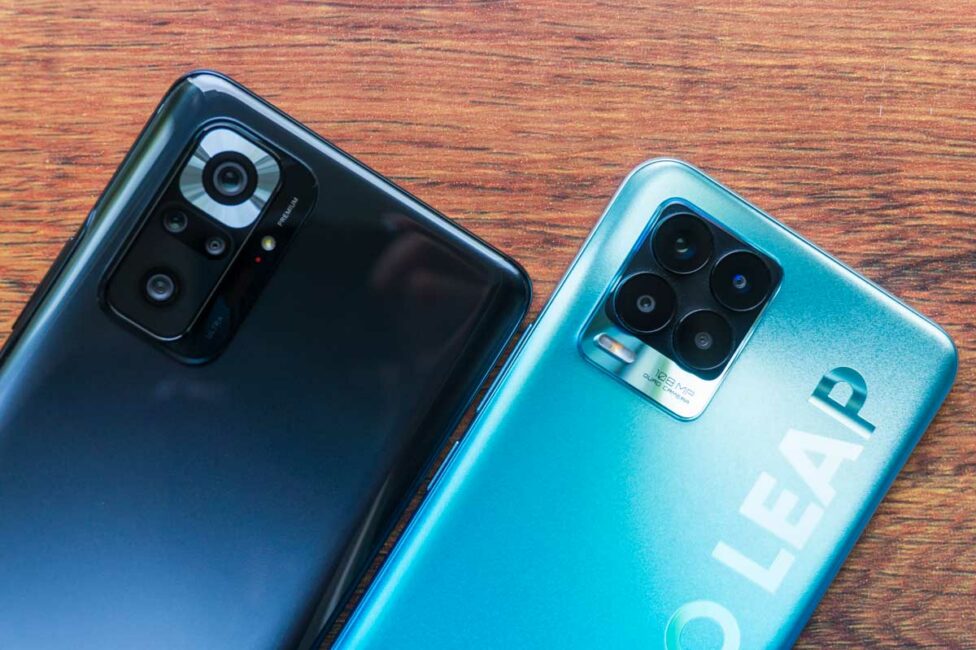 The Redmi Note 10 Pro is made of more interesting materials and is also protected from dust and splashes according to IP53 standard, which is very welcome. It uses hardened Corning Gorilla Glass 5 at the front and back, and a plastic edge around the perimeter. It collects fingerprints like crazy.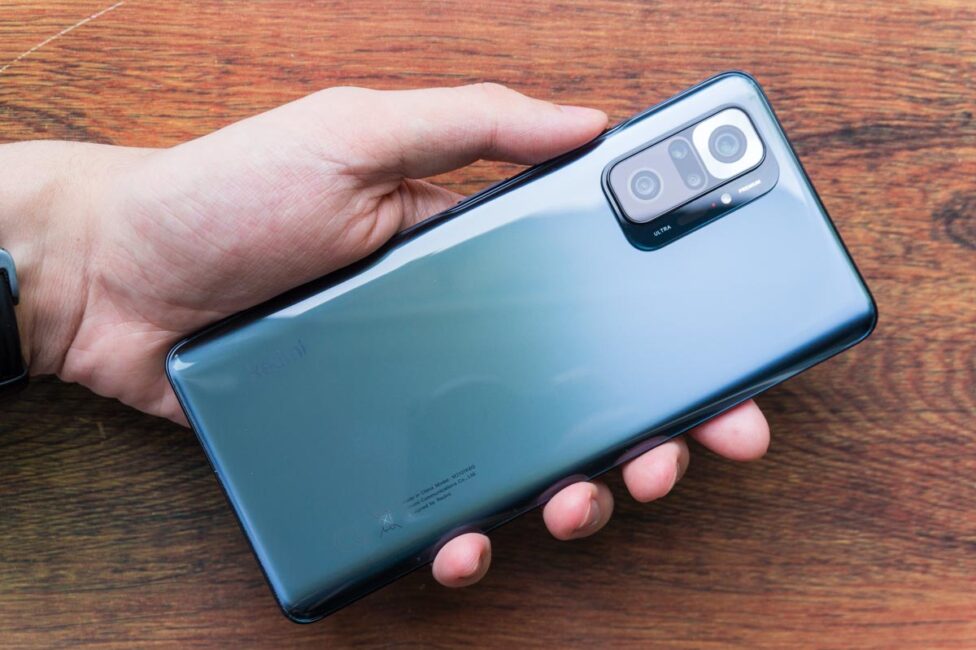 The materials of the realme 8 Pro case do not stand out much: it has glass only at the front, and the frame and back panels, I repeat, are made of plastic. But the latter have more practical coating. Especially the back panel, which not only has a good effect on the  grip of the smartphone in the hand, but also hardly gets dirty.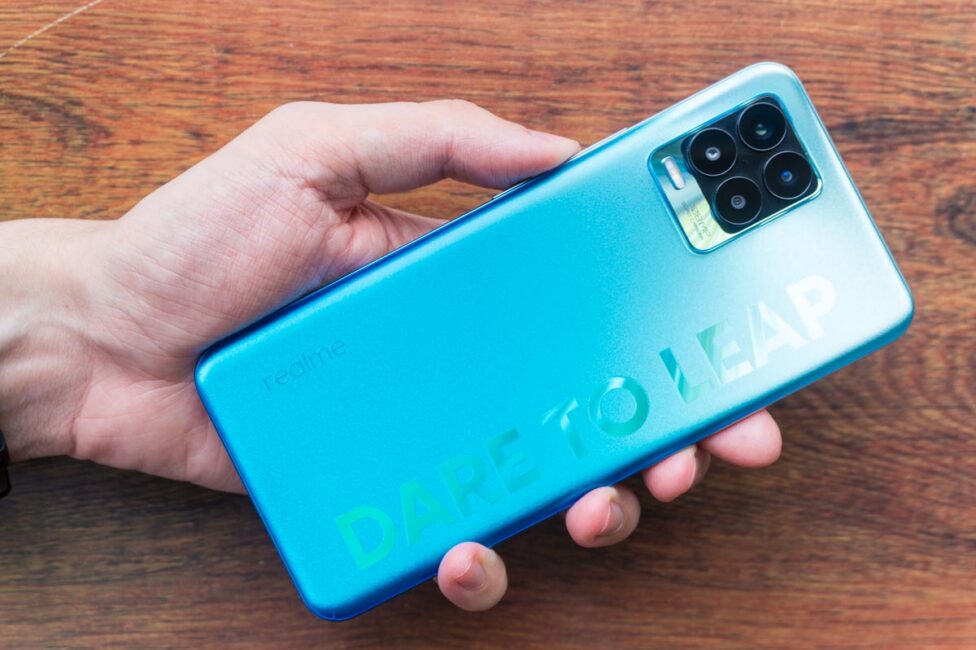 The color of the case in both cases is three pieces each. The Redmi Note 10 Pro comes in gray, blue and bronze, and the realme 8 Pro can be black, blue and yellow.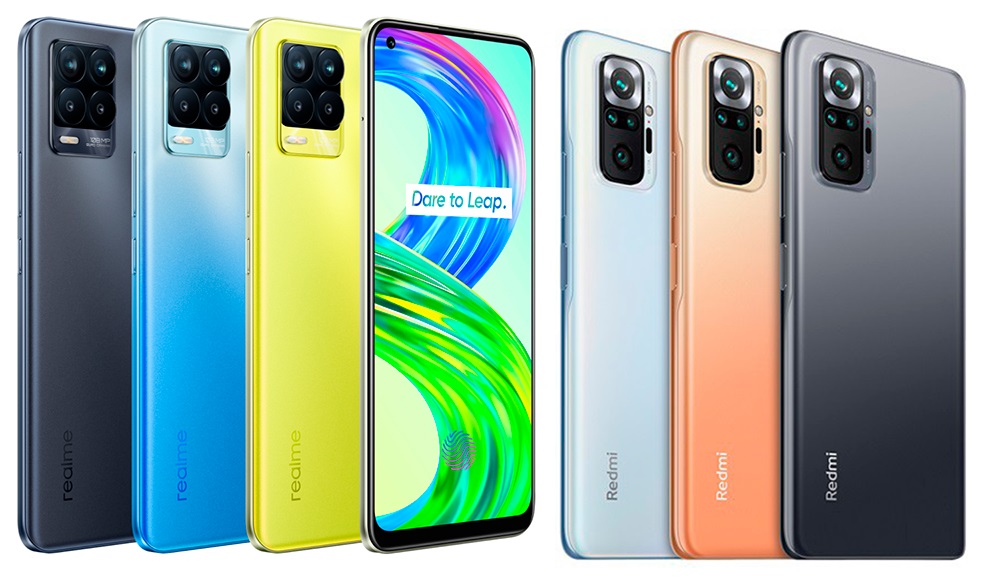 The elements are arranged the usual way. On the right are power and volume buttons, on the left is a triple slot for two nanoSIM cards and microSD, both have a 3.5 mm audio connector and USB Type-C. The Redmi stands out for two additional elements on the top end: an infrared port and a full-fledged second multimedia speaker. There is no second speaker, much less an infrared port in the realme.
Read also: Xiaomi Mi 11 Ultra review: Powerful Flagship to Shut Up the Skeptics
Ergonomics
The size of smartphones differs and the Redmi Note 10 Pro, due to the slightly larger size of the display, is wider than the realme 8 Pro: 164.0×76.5 mm compared to 160.6×73.9. Also, the Redmi Note 10 Pro is heavier for a number of reasons and weighs 193 g, while the weight of the 8 Pro is 176 g. But the thickness of the devices is the same – 8.1 mm. I think it's quite obvious that it's more comfortable to use the realme smartphone.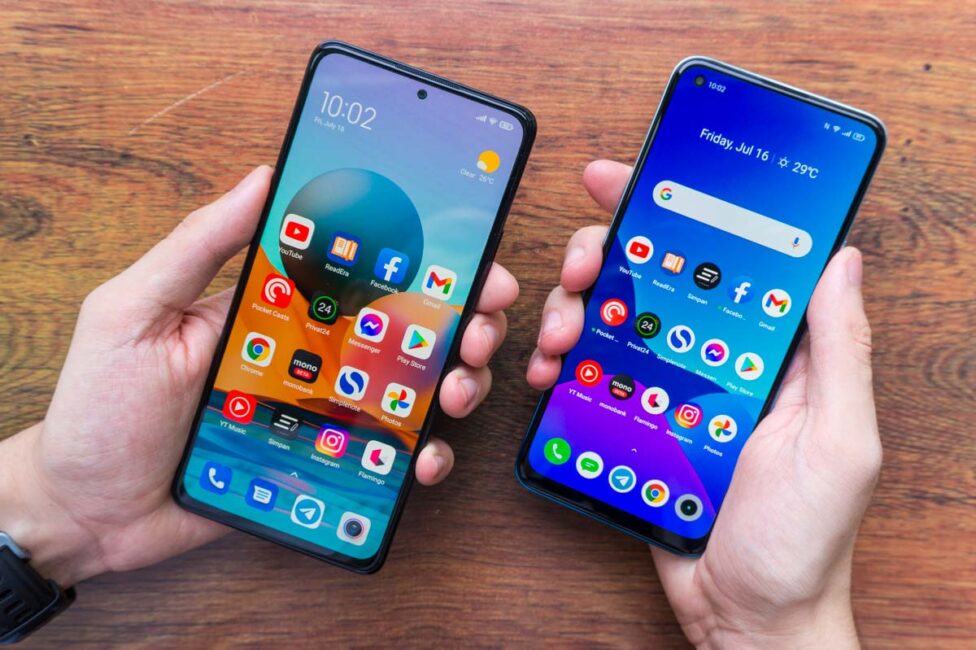 In addition to its size, it has a more practical and sturdy body. But at the same time, it would be wrong to scold the Redmi Note 10 Pro for its size, because it's just different. The big screen has its advantages: it is more pleasant to view multimedia content, play games and read. In return, you have to sacrifice the comfort of using your smartphone on the go or with one hand.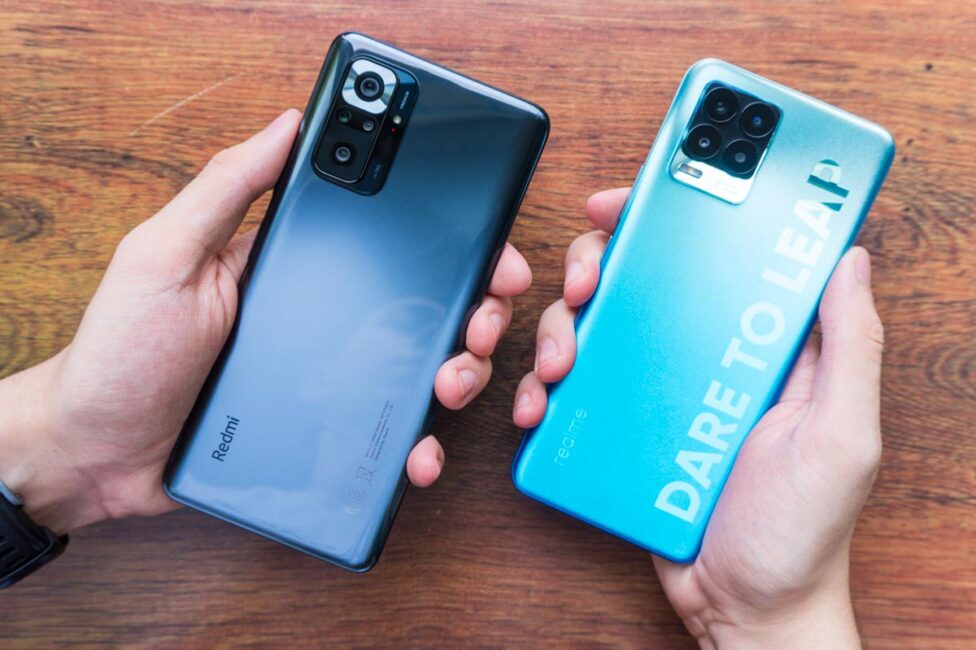 The location of the elements is similar. There is no need to reach for physical control buttons, because they are placed at a convenient height in both cases. With the realme 8 Pro it will take some time to get used to the relatively low location of the in-screen fingerprint scanner.
Displays of the 

realme 8 Pro and the 

Redmi Note 10 Pro
The displays of smartphones are, of course, different and at the same time they are quite different. The size of the Redmi Note 10 Pro screen is slightly larger, the matrices of both are active on organic LEDs, but the realme has Super AMOLED, not a simple AMOLED. However, it is unlikely that this will be any decisive factor for the end user. Much more important are their other features: peak brightness, refresh rate and touch sensitivity, all of which are better in the Redmi Note 10 Pro. From the similarities, we can only note the resolution and the aspect ratio.
| | | |
| --- | --- | --- |
| Smart phone | Redmi Note 10 Pro | realme 8 Pro |
| Display size | 6,67″ | 6,4″ |
| Matrix type | АМОLED | Super AMOLED |
| Resolution | 2400×1080 pixels | 2400×1080 pixels |
| Pixel density | 395 ppi | 409 ppi |
| Aspect ratio | 20:9 | 20:9 |
| Peak brightness | 1200 nits | 1000 nits |
| Frequency | 120 Hz | 60 Hz |
| Touch reading frequency | 240 Hz | 180 Hz |
| Other | Support for HDR10 technology | Built-in fingerprint scanner |
What can I say about screens? They are both good in terms of brightness, contrast and saturation. Among the obvious differences, we can note the colder tones in the realme 8 Pro, but this is not a problem. In the settings it is possible to adjust the color temperature of the display based on personal preferences. The maximum brightness level is slightly higher for the Redmi smartphone, but on a sunny day, the information is read normally from both smartphones.
In general, the difference between screens is quite difficult to notice when used normally. The viewing angles are equally wide, but both with typical pink and green tones of white color at certain angles. As for color reproduction in general, it can also be adjusted in both cases and made either calm or more saturated, as befits classic AMOLED panels.
Perhaps the biggest con of the realme 8 Pro display compared to the Redmi Note 10 Pro is its refresh rate, 60 Hz, while Redmi boasts 120 Hz support. Naturally, the Note 10 Pro will be preferable in this regard. The UI on the latter is noticeably smoother, it is more pleasant to look at various animations and apps that support 120 Hz.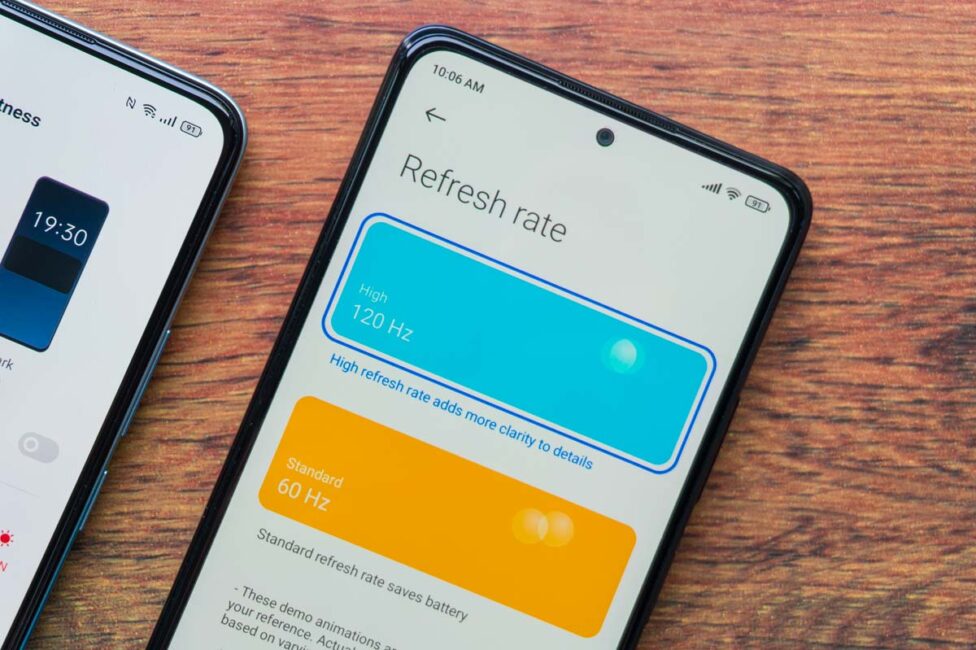 The touch reading frequency is also higher for Redmi, 240 Hz, but realme has not forgotten about mobile gamers and provided their smartphone with a sampling rate of 180 Hz. Among other features of the Note 10 Pro display there's support for HDR10, but an optical fingerprint scanner has been built into the realme 8 Pro screen, which we will talk about in the future.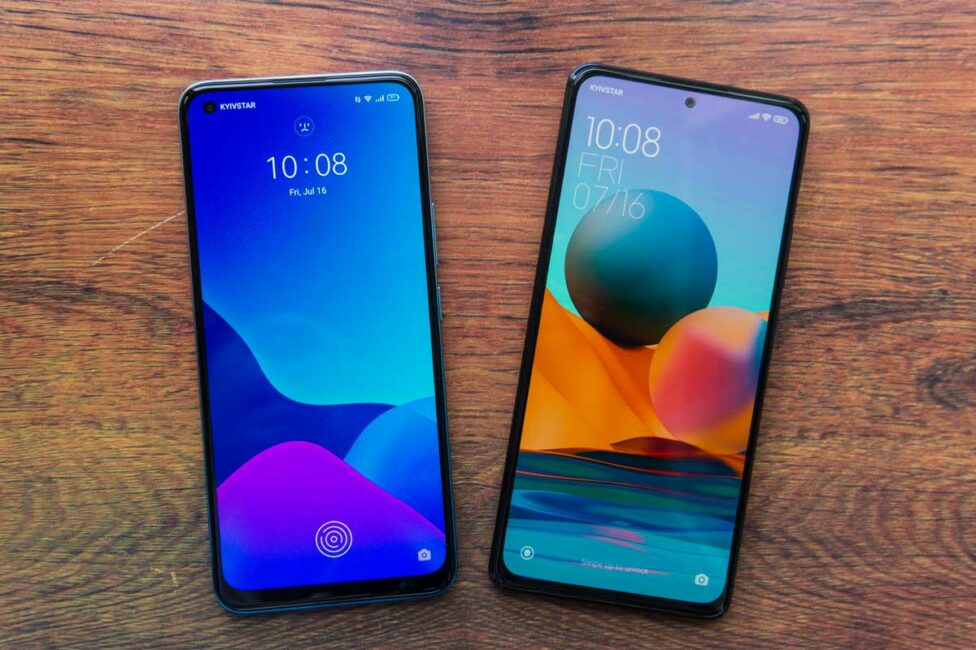 Elsewhere, everything is similar to the rest of the available settings. There are light/dark system themes, a blue filter and other familiar parameters. Separately, it is worth noting the Always On Display function. It is available in both smartphones, but the customization capabilities are much greater in the MIUI shell on the Redmi smartphone.
Redmi Note 10 Pro - Dispaly Settings
This is a wide range of different dials (analog, digital, with image) and the ability to change the styles and colors of these very dials. What's in realme? You can remove the display of the date, notifications and battery level. Maybe other dials will be added with updates, but so far this is.
realme 8 pro - Display Settings
Read also: Realme Watch S Pro review: Waterproof, with GPS and AMOLED, but is it enough?
Performance of the 

realme 8 Pro and the 

Redmi Note 10 Pro
Now, the hardware. It is similar in smartphones: these are 8-nm chipsets from Qualcomm, which include 8 cores with the same maximum clock speeds up to 2.3 GHz for two high-performance cores and up to 1.8 GHz for the other six. However, the processor cores themselves are different: the Redmi Note 10 Pro with the fresher Qualcomm Snapdragon 732G has Kryo 470 cores, and the realme 8 Pro based on Snapdragon 720G with Kryo 465 cores. Graphic accelerator in both is Adreno 618, but its frequency is higher for the 732G. That means that Redmi is better at performance, which is confirmed by the results of smartphone testing in the benchmarks.
realme 8 Pro vs Redmi Note 10 Pro
However, do not immediately write off realme 8 Pro accounts. Firstly, the difference is really small, and secondly, the overall implementation of the chipset is more successful in the realme smartphone. It heats up less. For example, you can take a throttling test, where CPU performance decreases by only 10% in 15 minutes, while the Redmi Note 10 Pro loses 30%. You can also pay attention to the performance values in GIPS.
The amount of RAM in smartphones, as I mentioned earlier, can be 6 or 8 GB, the type of memory is LPDDR4X. Today, 6 GB of RAM is enough for a mid-ranger.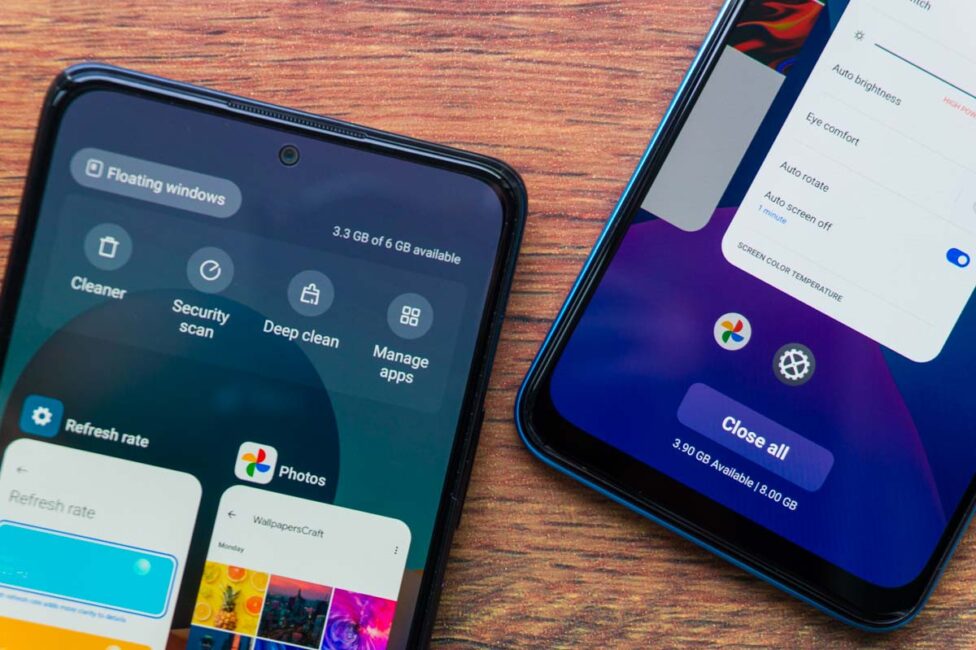 The realme 8 Pro received a 128 GB drive, and the Redmi Note 10 Pro, depending on the modification, can be equipped with either 128 GB or 64 GB in the basic version. We have devices with 128 GB of storage, of which 107.06 GB is available for the user in Redmi and 107.99 in realme. But the storage itself is a little faster in the first one since it's UFS 2.2, while the second has UFS 2.1. Storage can be extended by installing a microSD memory card; thankfully, none of the smartphones ask you to sacrifice a second SIM card.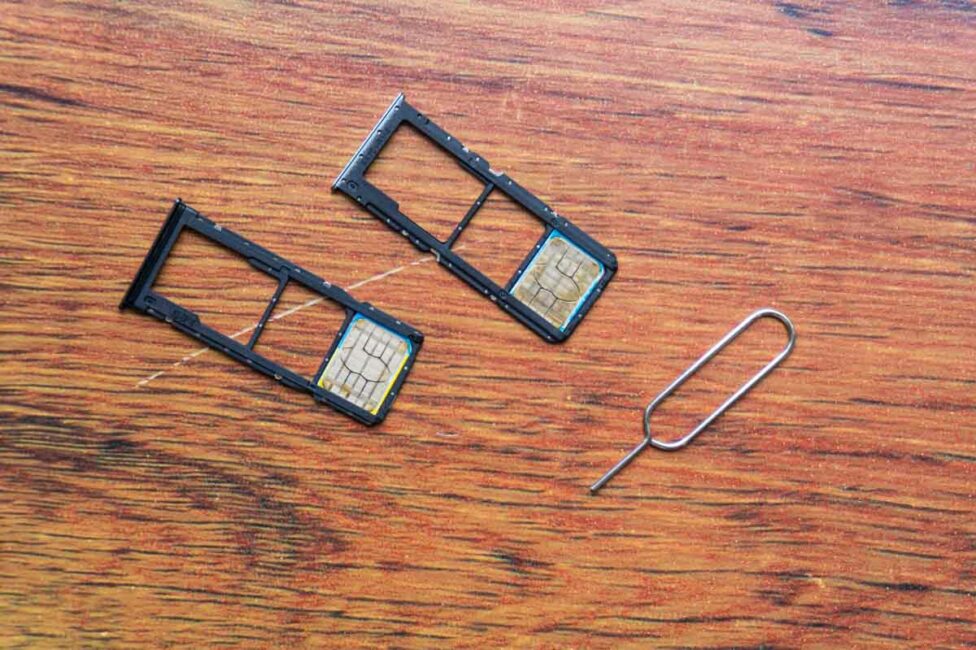 Smartphones are fast in use and can run whatever you throw at them. When comparing directly, you can feel the Redmi Note 10 Pro smoother due to a screen with a refresh rate of 120 Hz and other animations. But if you are not used to the increased refresh rate, realme will definitely not disappoint you with its smoothness and speed.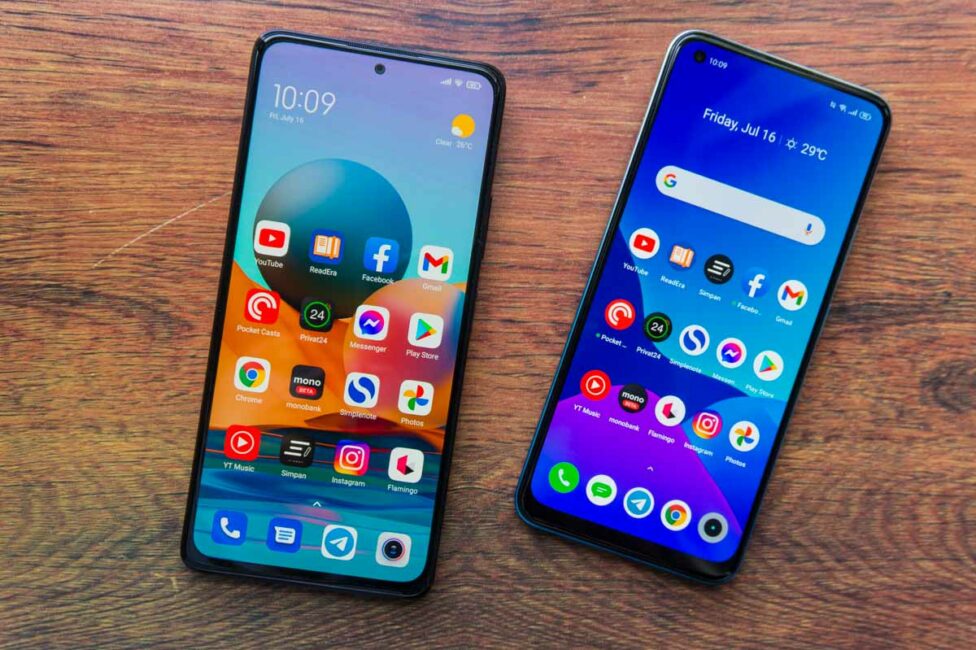 Interestingly, in resource-intensive games, the realme 8 Pro smartphone shows a slightly higher average FPS. The difference is not really critical and in Call of Duty: Mobile at high graphics settings differs by 2-3 fps, although in Shadowgun Legends on the same high chart the difference is 5 FPS in favor of realme. Both smartphones allow you to play any titles and often even on high or even maximum graphics, although, of course, there are exceptions. GameBench software was used for measurements:
Smartphone
Redmi Note 10 Pro
realme 8 Pro
Call of Duty: Mobile
(very high, all effects except reflections on the water are active)
54
56
PUBG Mobile
(high, active smoothing and shadows)
30
30
Shadowgun Legends (high, frame rate: 60)
47
53
Read also: Xiaomi Mi 11i review: the most affordable flagship on Snapdragon 888
Cameras of the 

realme 8 Pro and the 

Redmi Note 10 Pro
In this section, we will talk about the photo and video capabilities of two smartphones. The main unit of cameras of both devices consists of four modules: the main wide-angle, additional ultra-wide-angle, additional module for macro and auxiliary depth module. The table below shows their main characteristics:
| | | |
| --- | --- | --- |
| Smartphone | Redmi Note 10 Pro | realme 8 Pro |
| Wide-angle module | 108 MP, f/1.9, 26 mm, 1/1.52′′, 0.7μm, dual-pixel PDAF | 108 MP, f/1.9, 26 mm, 1/1.52′, 0.7μm, PDAF |
| Ultra-wide-angle module | 8 MP, f/2.2, 118 ̊, 1/4.0′, 1.12μm | 8 MP, f/2.3, 119 ̊, 1/4.0′, 1.12μm |
| Module for macro | 5 MP, f/2.4, AF | 2 MP, f/2.4 |
| Depth module | 2 MP, f/2.4 | 2 MP, f/2.4 |
The main wide-angle module in smartphones is identical – it is Samsung ISOCELL HM2. Except that the Redmi Note 10 Pro is equipped with a dual pixel PDAF laser autofocus system, while the realme 8 Pro is equipped with a regular phase PDAF. In practice, it turns out that the Note 10 Pro focuses a little faster and more accurately than the 8 Pro.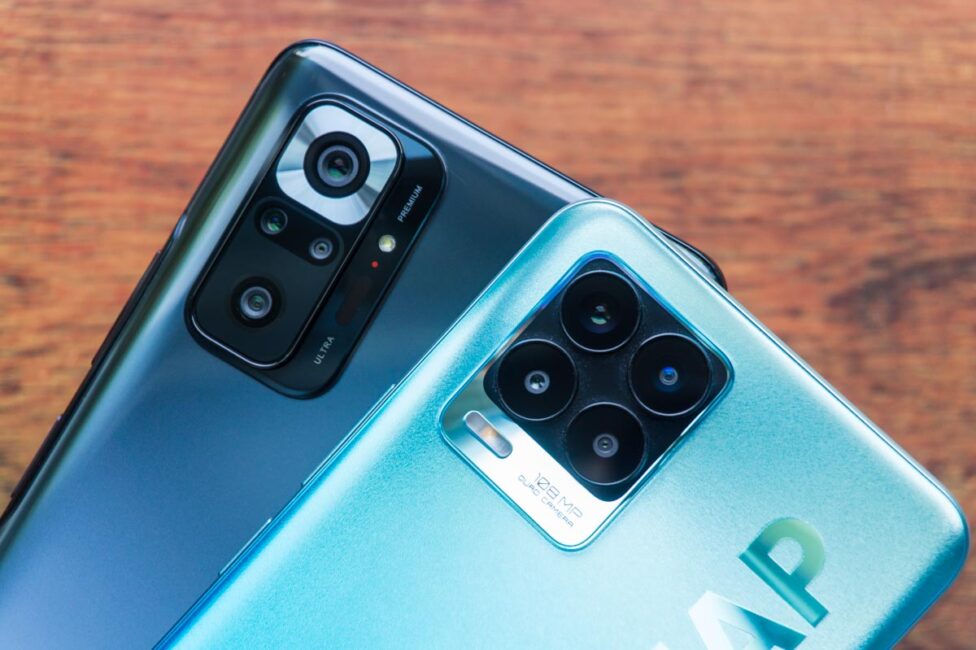 The main realme 8 Pro and Redmi Note 10 Pro wide-angle modules have 12 MP resolution, and the full 108 MP is available on devices as a separate mode. It can be used to shoot some landscapes or other scenes with a lot of small details. Such photos will look clearer and more detailed than in normal resolution.
All photos in today's comparison were taken automatically, with HDR turned off and without AI. More examples of the pictures and all those used in comparison below can be found in the Google Drive folder. Photos from realme 8 Pro are saved with the name of the format IMGXXXXXXXXXXXXXXXXXXXXXXXX, and the Redmi Note 10 Pro photos have names like this: IMG_XXXXXXXXXXXXXXXXXX.
First, let's look at several pairs of photos taken on smartphones in 108 megapixel mode. The realme 8 Pro has cooler tones, while the Redmi Note 10 Pro makes photos with warmer colors. Both phones have issues with the white balance. However, the realme 8 Pro makes more detailed pics, which is undoubtedly good. However, they are oversaturated, and the Note 10 Pro has better colors. Besides, if you pay attention to the sky, Redmi did better with the clouds.
On the second pair, the situation with the white balance repeated itself and the realme 8 Pro again made "colder" photos, with the colors that are unnaturally oversaturated, but the clarity of this picture is slightly higher. The Redmi Note 10 Pro has more natural color rendering.
Now let's discuss the usual shooting mode on the main wide-angle camera in 12 MP resolution. The first example is a tennis court. Predictably, realme has overdone it with the colors again – it looks oversaturated, and the white edge of the grid in the picture looks almost purple. The Redmi, again, is more natural, and there will be more information in the shadows. The detail is generally the same, I can't single out any one smartphone in this regard.
Now let's discuss the usual shooting mode on the main wide-angle camera in 12 MP resolution. The first example is a tennis court. Predictably, realme has overdone it with the flowers again – the coating of the site looks oversaturated, and the white edge of the grid in the picture looks almost purple in this picture. The frame with Redmi, again, is more natural, and there will be more information in the shadows. The detail is generally the same, I can't single out any one smartphone in this regard.
Now, here Redmi takes a more natural photo without oversaturated tones, and realme produces more saturated colors. Everything is very similar in detail again, but the sky is weak in both photos.
Let's look at the example taken in portrait mode with blurred background. I like blurring better on my Redmi smartphone. Firstly, it did not blur the area with the Sony logo on the camera, as the first smartphone did, and secondly, it blurred around the wooden bench more carefully.
Photos in night mode are about the same. Both are relatively bright, with similar detail and almost complete absence of any obvious digital noise. Color reproduction, as usual, is saturated with the example of realme 8 Pro. The latter also has advanced night mode, where you can manually set all parameters by ISO type, white balance shutter speed and focus to provide even better results at night.
Realme also has a cunning technology called In-Sensor Zoom, thanks to which, according to the manufacturer, the smartphone shoots with a 3X digital zoom at the level of optical 3X zoom. To do this, 8 shots are glued together and after processing a sharper photo is obtained. Redmi has nothing like that, and if you compare the 3X digital zoom on these two smartphones, you get sharper shots on the realme 8 Pro. And suddenly, less saturated. Anyway, examples below.
We move from the main wide-angle to the ultra-wide-angle camera. Alas, I have nothing to add here, so I repeat: realme always embellishes reality, unlike Redmi. The detail is better in places on the Note 10 Pro, the angle of the latter also seems slightly wider, although it has 118° in characteristics and the 8 Pro has 119°. Alas, both ultra-wides blur decently at the edges and cannot boast of good results in low light conditions. In the gallery below there are several examples at once, and it makes no sense to analyze each one, for the reason stated earlier.
There's still a camera for the macro. If earlier smartphones showed similar quality results, albeit with a significant difference in color reproduction, the images in macro mode will be radically different in all key parameters. The module itself is more interesting in the Redmi Note 10 Pro due to its higher resolution and autofocus. Below is a simple example with a cone, where realme has to maintain a long distance between the lens and the subject of shooting, and Redmi can be brought almost closely. I'm not talking about colors anymore – on realme 8 Pro they're some pale and with a strange purple shade.
You can play around with the macro module on the Redmi, and get more or less normal photos in daylight, but the second phone one is unlikely to be able to take a good picture. Below is another example.
Video recording is available in 4K at 30 FPS. By default – without any stabilization, but you can enable electronic one in the standard app. It just scales the image a little to reduce shaking, so the viewing angle with stabilization will be noticeably smaller than without it. Examples in full resolution with stabilization off – below.
realme 8 Pro:
Redmi Note 10 Pro:
The ultra-wide-angle module can record video in 1080P and 30 FPS resolution. By default with stabilization, but in this case it performs worse on the realme 8 Pro smartphone – the picture floats. Although one that the other is generally shooting video on the ultra-wide is quite average.
realme 8 Pro:
Redmi Note 10 Pro:
Front-facing cameras are 16 MP, with the same viewing angle. Both are filmed quite normally, but the better details are on the realme 8 Pro. And, of course, there was a slight embellishment of colors. Video is shot in a maximum 1080P with 30 FPS, but Redmi has a problem: the effect of a rolling shutter. realme doesn't have it.
The camera apps are advanced and have many different shooting modes both for photo and video. For example, both have full manual modes with the ability to save photos in uncompressed RAW format.
Document shooting modes, panoramas, simultaneous shooting on the main and selfie cameras, as well as a whole scattering of video recording modes: accelerated, slow, with manual selection of parameters and other effects.
Unlocking
The methods of unlocking smartphones are the same, but the technologies used vary from device to device. First of all, face recognition, it is equally implemented via front-facing cameras. Regarding the speed of operation, it is also difficult to single out one gadget, as both of them have fast recognition. Although due to fundamentally different unlocking animations, it seems that realme 8 Pro is faster. But again, both fast recognize the owner almost instantly during the day and in general, but in low light they can fail.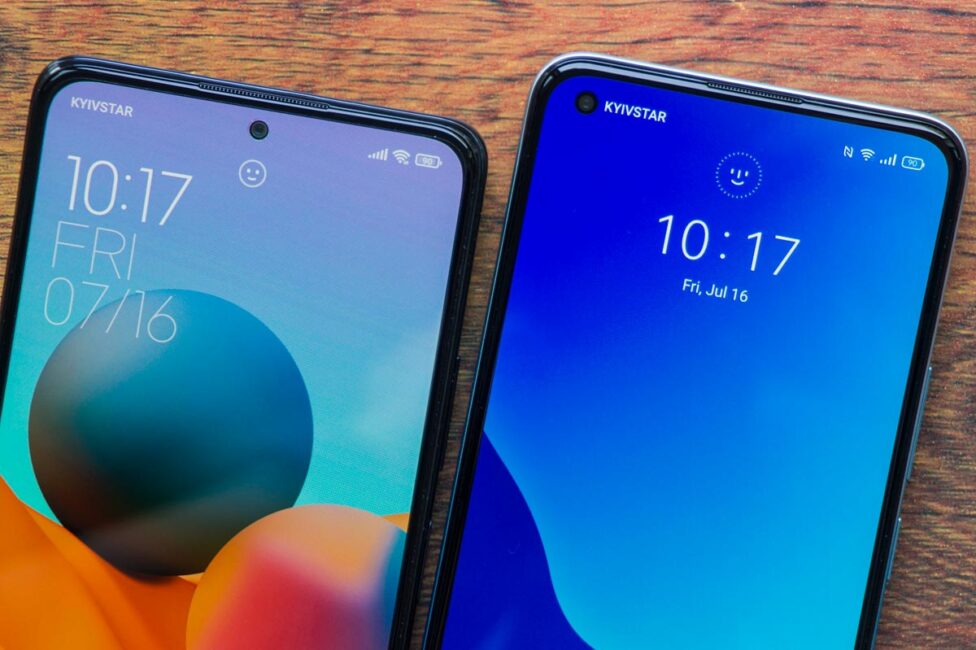 The Redmi Note 10 Pro is better in bad lighting conditions. However, Redmi does not know how to increase the brightness of the screen for additional facial illumination, unlike realme. The latter has such an option, it can be activated and then it is quite possible to unlock the smartphone face even in pitch darkness, where the second smartphone will be powerless. But under normal conditions they are about the same.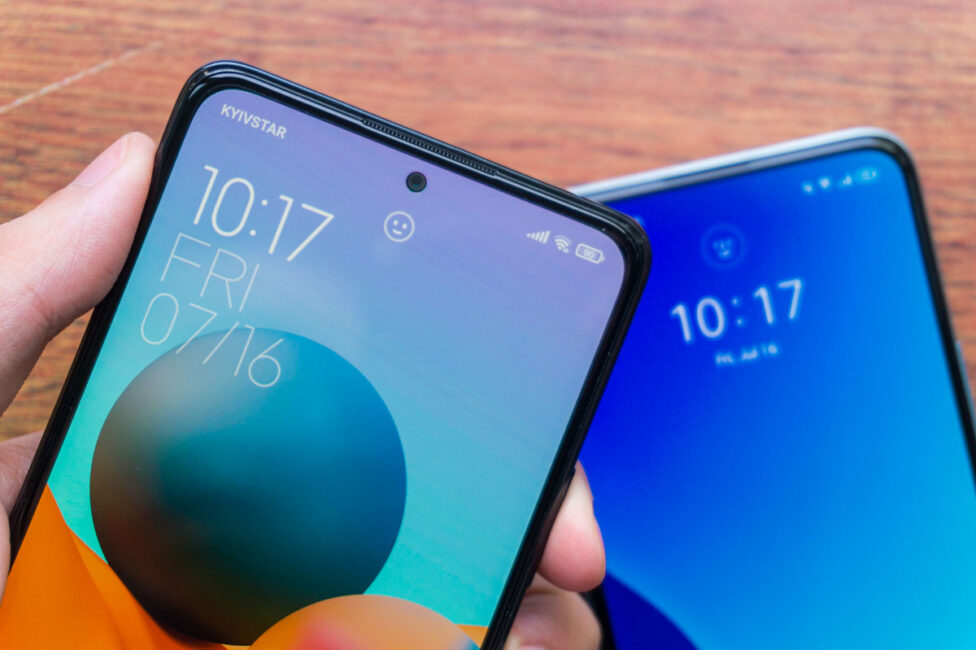 Now about fingerprint scanners. They are also present in both devices, but as noted earlier, they differ in technology. The Redmi Note 10 Pro uses a classic capacitive fingerprint scanner that is mounted in the power button. And what's especially nice is that the button actually looks like a regular key. No recessed notch with an elongated flat platform and everything else – just a relatively large button, the entire surface of which reads the fingerprint.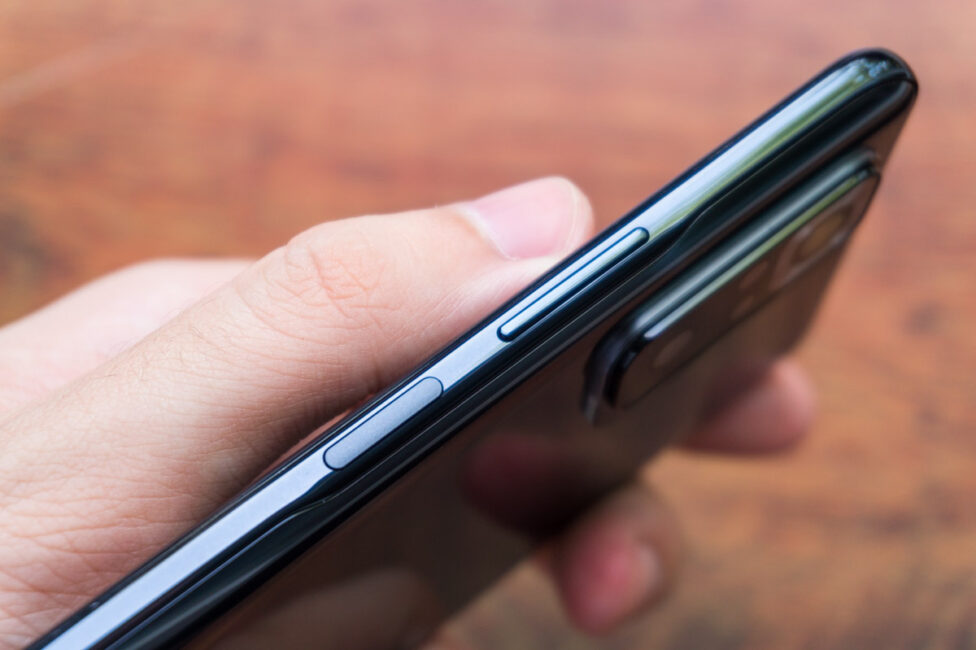 But in the realme 8 Pro we have a more modern and relevant technology that migrated to mid-rangers in the last generation with the realme 7 Pro. That is, the scanner is built directly into the screen (or under the screen, if you like). Its type, as in most other smartphones, is optical with traditional bright finger illumination when applied to the scanner.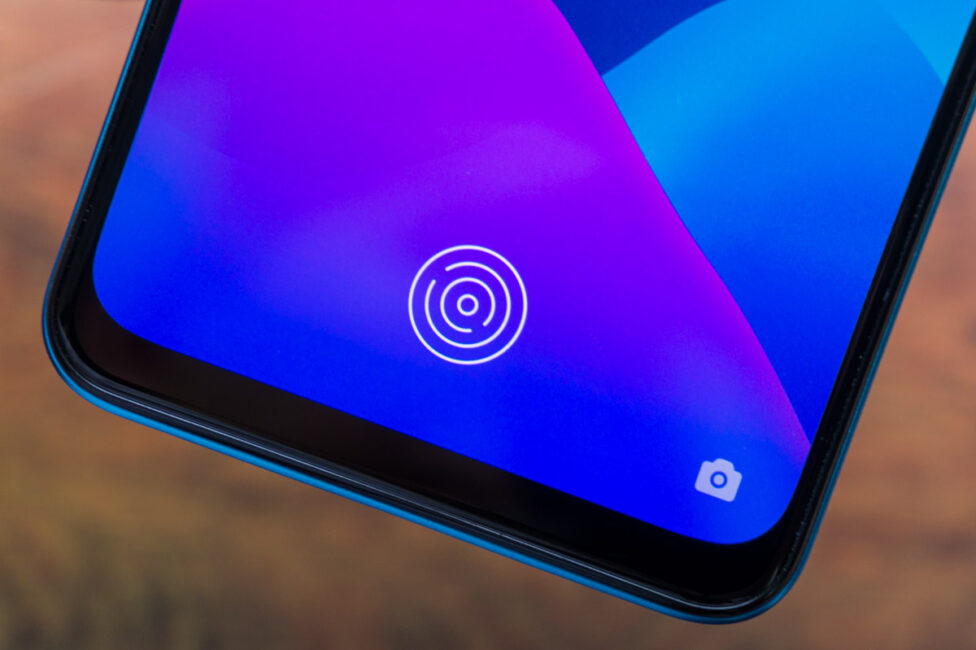 It's not really that easy to determine which option is better. On the one hand, I would like to praise realme for introducing modern technology in a middle-range smartphone, but at the same time scold it for the low position of the area itself. Plus, it should be understood that it will take some time to get used to such a scanner.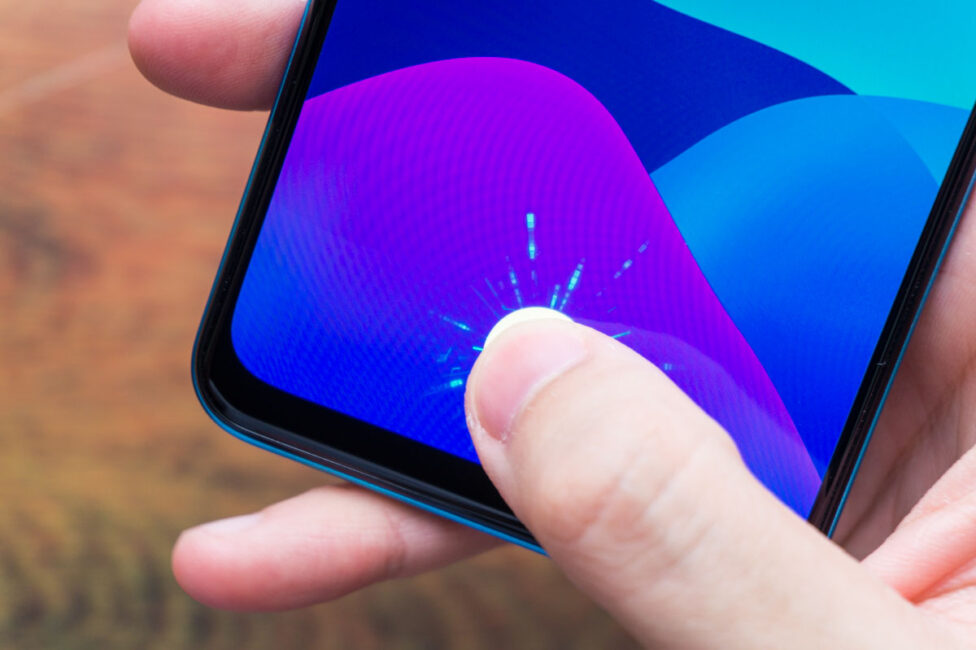 With a standard capacitive scanner, it's much easier in Redmi. First of all, it has a better location, which you do not need to get used to, because your finger itself lies on the button on the side when you take your smartphone in your hand. Secondly, such scanners are mostly ideal in terms of stability and work almost unmistakably. That is, the smartphone will not only unlock faster, but is also more stable.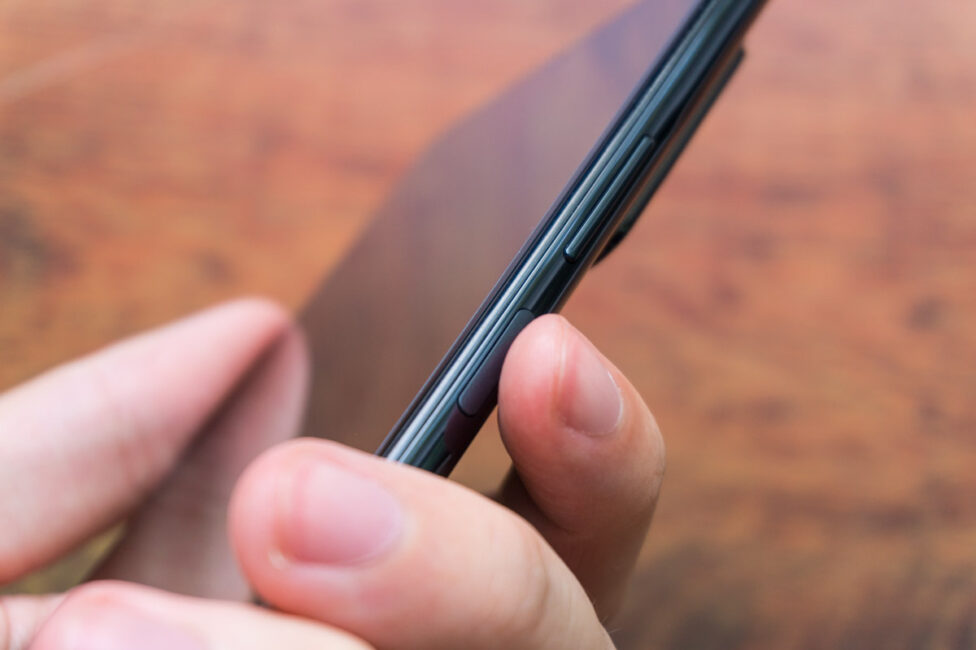 As a result, the standard fingerprint scanner in Redmi Note 10 Pro has slightly more advantages over the trendy in-screen scanner in the realme 8 Pro. Although in practice, I have no serious comments on either the first or the second. They both work well, but the Note 10 Pro is faster.
If you unlock the phone by touch, not by pressing the button, it's much faster. Because in the second case, there's a delay.In the optical scanner settings in 8 Pro there is a choice of animation during scanning, displaying an icon on the deactivated screen and running an app when applying a certain fingerprint.
realme 8 Pro and 

Redmi Note 10 Pro: battery life
We have smartphones of different sizes and it is quite predictable that they will also have different capacity of built-in batteries. The Redmi Note 10 Pro is equipped with a 5020 mAh battery, while the realme 8 Pro has a 4500 mAh battery. And with battery life, the situation is ambiguous, because that difference in volume is partially offset by a slightly larger display of Redmi, for example.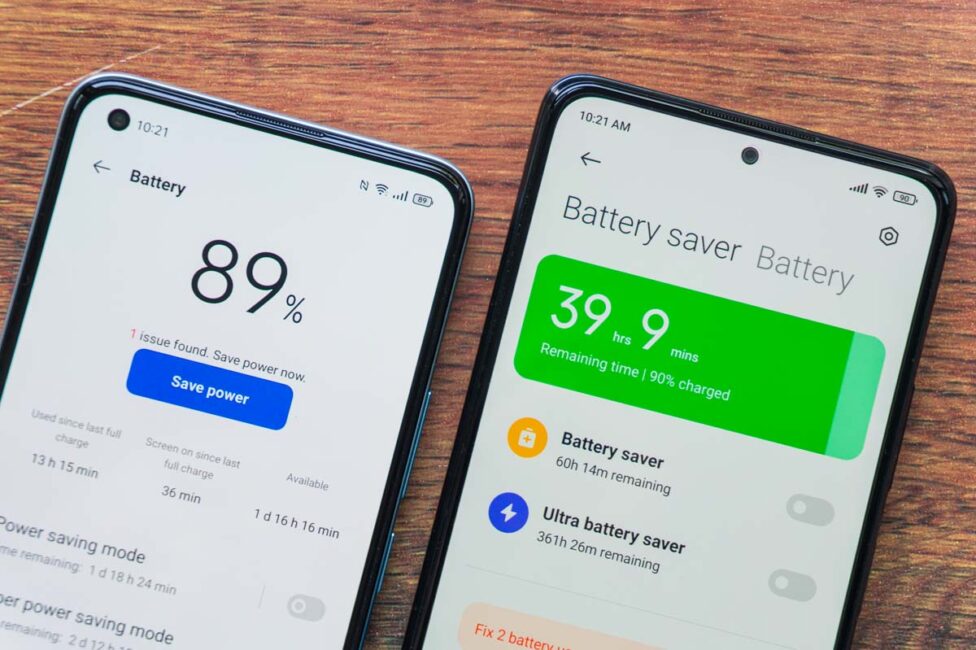 Several methods were used for more objective comparative battery tests: watching video for 30 minutes with maximum display brightness, 30 minutes in Shadowgun Legends at the maximum brightness and a Work 3.0 operating time test in the PCMark benchmark, which simulates normal use, also at maximum brightness.
What happened in the end? In the first test, the Redmi Note 10 Pro lost 5% of the charge in half an hour on YouTube, and the realme 8 Pro lost only 2%. But in a rather resource-intensive game, both devices lost 9% battery power each. In PCMark Work 3.0, the first smartphone lasted 9 hours and 7 minutes, and the second smartphone lasted 9 hours and 6 minutes. Therefore, it's about the same when it comes to the battery life, and in real use both smartphones will prove themselves very well and can be counted on a day of work provided that you use it is very intensively and one and a half or two if you do not play games.
As I noted at the beginning of our comparison, smartphones come with power adapters of different power: 33 W with the Redmi Note 10 Pro and 65 W with the realme 8 Pro. Both devices support fast charging, but it is important to clarify that in the case of a realme smartphone it will be limited to 50 watts.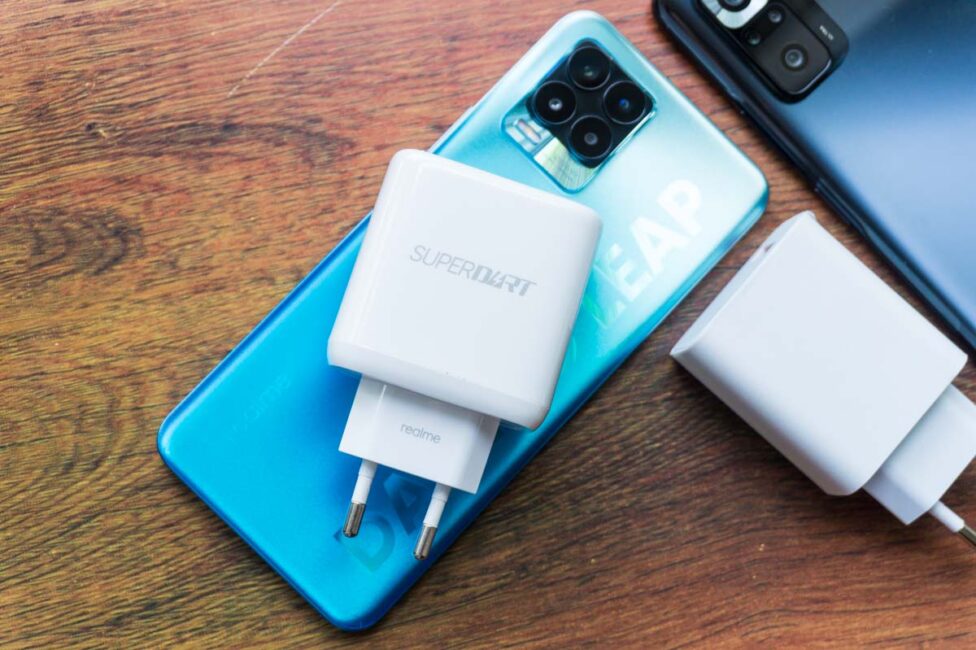 It is clear that batteries of different sizes and adapters are also different, but it will take only 50 minutes to fully charge the realme 8 Pro from 0 to 100%, while the Redmi Note 10 Pro will charge for 1.5 hours. I think you will agree that the difference of 40 minutes in the charging process is much more significant, given that there is parity between smartphones in battery life. So the winner in this fight is unconditionally the realme 8 Pro.
| | | |
| --- | --- | --- |
| Smartphone | Redmi Note 10 Pro | realme 8 Pro |
| 00:00 | 0% | 0% |
| 00:10 | 15% | 28% |
| 00:20 | 32% | 53% |
| 00:30 | 47% | 72% |
| 00:40 | 60% | 90% |
| 00:50 | 69% | 100% |
| 01:00 | 79% | |
| 01:10 | 88% | |
| 01:20 | 94% | |
| 01:30 | 100% | |
Sound and wireless modules
The earpiece speakers in both devices are normal and perform their main function well.. But if we talk about multimedia playback, the Redmi Note 10 Pro deserves praise here. The reason for this is simple – it has a second full-fledged multimedia speaker on the top (not to be confused with an earpiece speaker) in addition to the lower one. The advantages of this solution are obvious: full stereo, louder sound with decent quality for your class. The realme 8 Pro has nothing to offer here.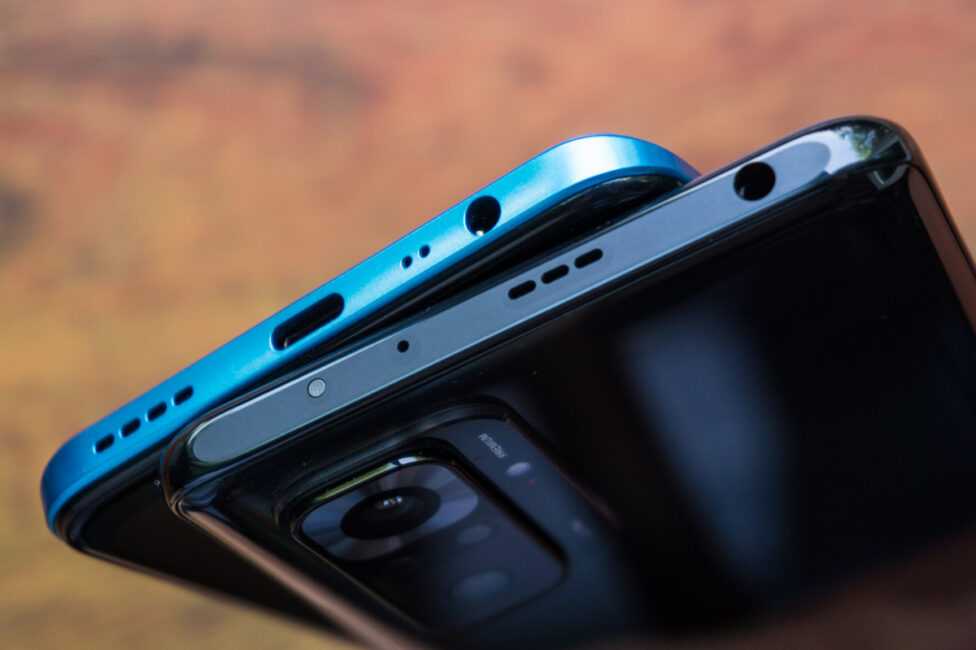 In addition, Redmi has various features: Dolby Atmos with four profiles to choose from, a full-fledged graphic equalizer with presets and custom settings, not to mention separate audio parameters for headphones. In realme, of these things, only Real Sound technology with four similar profiles is available.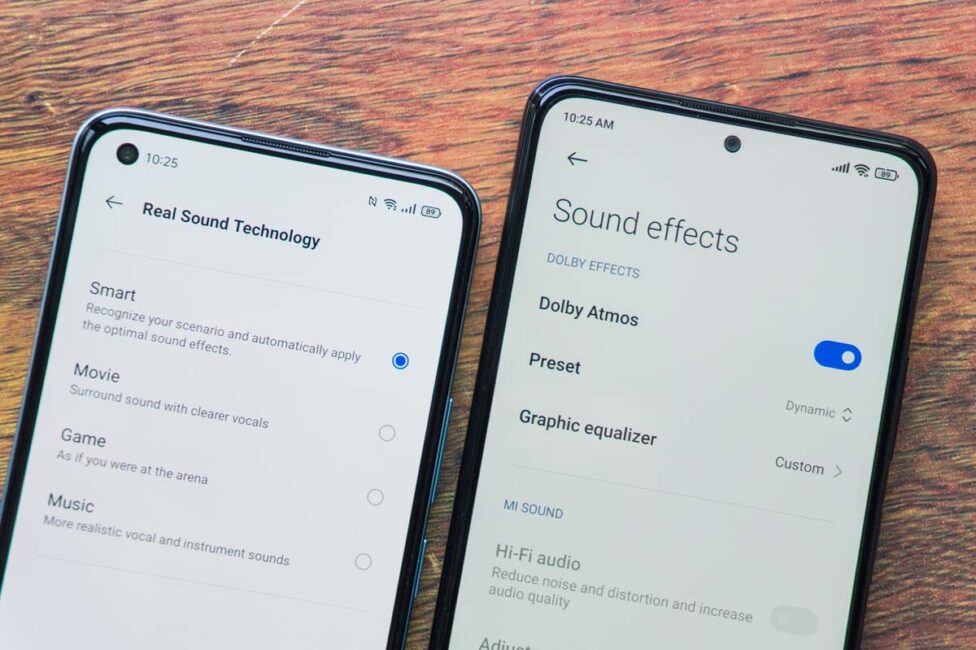 Everything is similar in wireless modules. Smartphones can work in 4G networks, support 5 GHz Wi-Fi range (Wi-Fi 5), are equally good "friends" with Bluetooth devices, although the versions are slightly different: Note 10 Pro supports 5.1, and 8 Pro supports 5.0. Navigation modules also work accurately, although in addition to GPS/A-GPS, GLONASS and BDS, Xiaomi also has GALILEO support. Importantly, the devices have received popular NFC modules for contactless payment. But the Redmi Note 10 Pro has another trump card – an IR port for managing household appliances.
Read also: Realme 7 5G review: Mid-Ranger with 5G support
Firmware and shells
Both smartphones run on the latest version of Android 11, but naturally with very different shells: MIUI version 12.5 is installed on the Redmi smartphone, and the realme UI 2.0 is installed on the realme device. They have little in common in terms of UI, but sometimes there is similar functionality.
Redmi Note 10 Pro - MIUI 12.5
For example, game hubs with similar functions, a number of identical gestures, two methods of system navigation with full gestures or three regular buttons and a decent number of visual customization tools. Each shell has pros and cons. They're both good in their own way, so we probably won't choose the best one.
realme 8 Pro - realmeUI 2.0
Verdict
The advantages of the realme 8 Pro include a more practical case and compact size, stable hardware, a modern in-screen fingerprint scanner and much faster charging. At the same time, the Redmi Note 10 Pro offers more expensive materials, its case is protected from splashes and dust, the display supports 120 Hz, the macro is better, there is a full stereo sound, as well as an infrared port.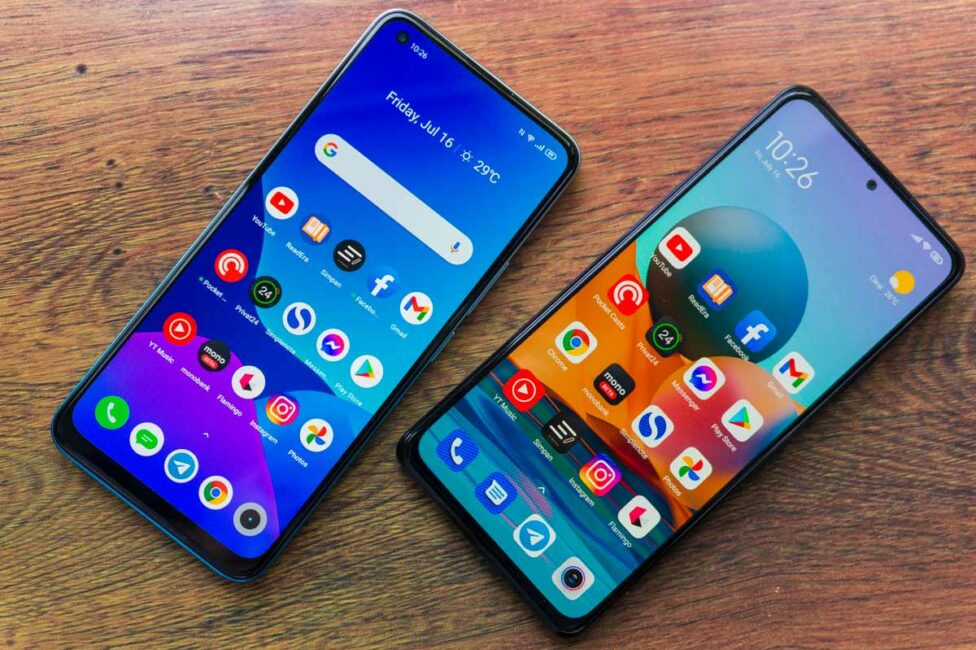 But the issue with cameras is ambiguous. Their level is very similar, but as you could see for yourself, there are significant differences in the post-processing. The realme 8 Pro takes sharp and saturated photos with which you just don't need to do anything. The Redmi Note 10 Pro offers more… balanced pics that can be edited if desired, or not touched at all.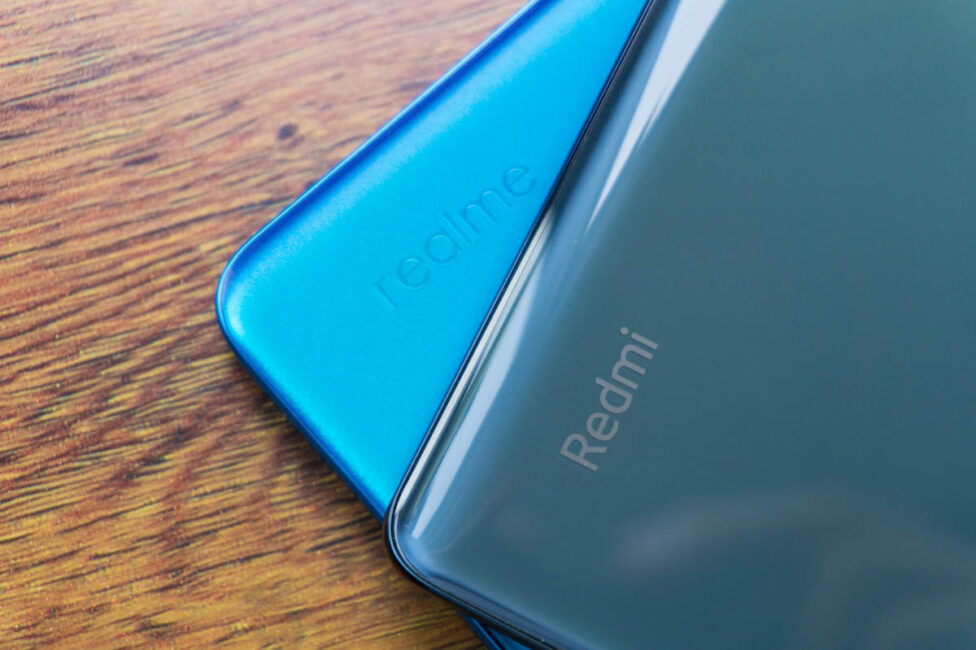 What conclusions can be drawn from the realme 8 Pro and the Redmi Note 10 Pro? Both smartphones are quite good and offer a sufficient number of interesting features for their class.
Read also:
Subscribe to our accounts: