At first glance, the Realme GT Neo 2 can be confused with the flagship — it's stylish, offers all the modern bells and whistles and boasts strong hardware. Only the price gives away the fact that it's a mid-ranger that aims at the very top. A little more, and it will get there. This smartphone is as versatile as possible, with a design that does not focus on gaming even though it was designed for it in many ways. Despite its "racing", it is restrained and looks appropriate in any setting. Everything looks fine, but is it? Let's try to figure it out.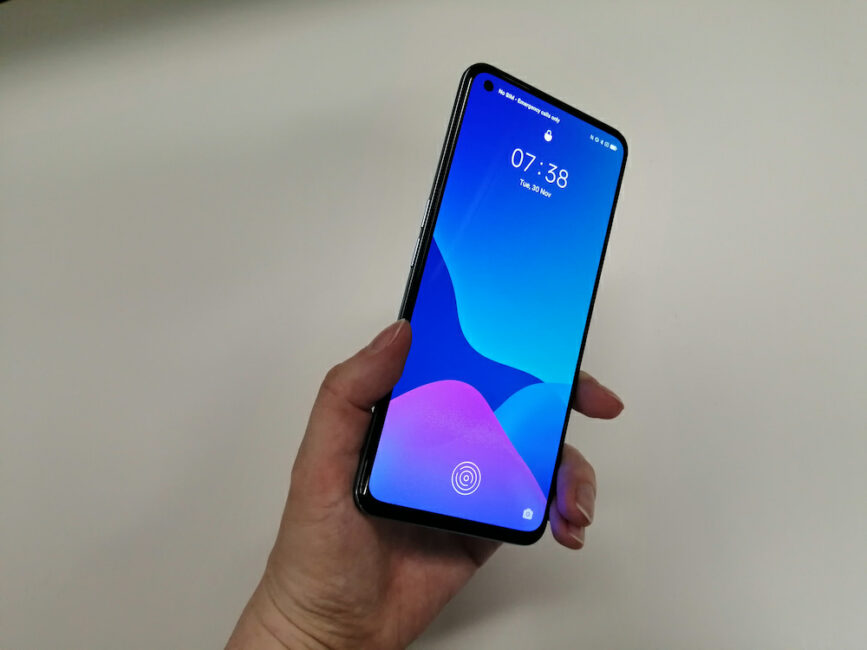 Price
The so-called flagship killers are an old and tired topic, but you can't ignore the topic when a phone tries to hard. Yes, the Realme GT Neo2 seeks to displace a number of leading smartphones, and it has every tool to do so. The the basic version with 8 GB of RAM and 128 GB of storage costs about 450 euros, and the version with 12 GB of RAM and 256 GB of constant will cost you 550 euros.
What's in the box
The smartphone has a rather voluminous black box with a solid design. There is no image of the phone itself — only the name of the model. Inside is a complete set of everything you need, starting with, in fact, the phone, and ending with such pleasant little things as a SuperDart 65W charger and a protective case, and a good one at that. Also here you can find a USB Type-A/Type-C cable and a a SIM eject tool. Everything you need, and even more.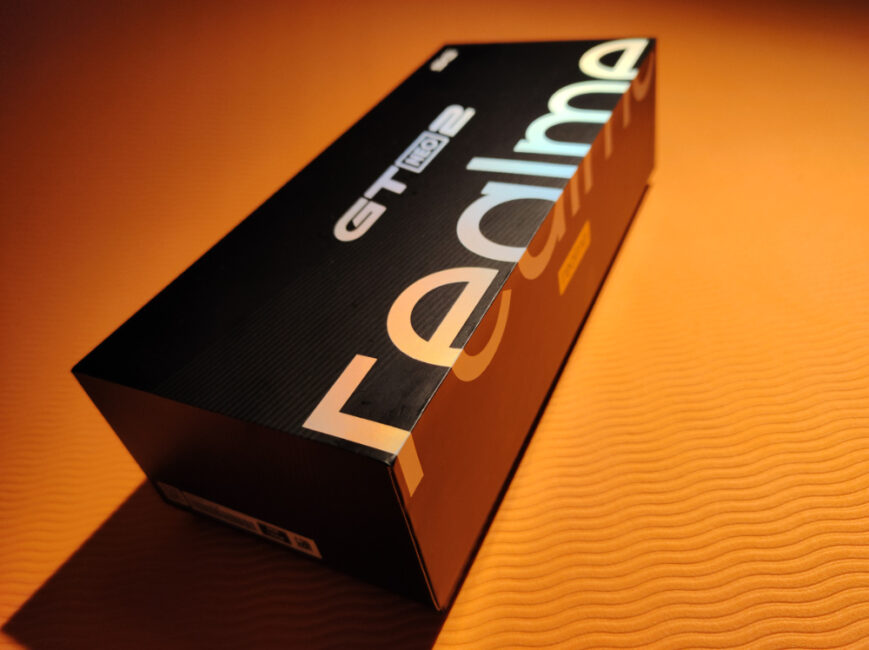 The case is simple, but very pleasant to the touch — it doesn't feel cheap, I would even buy one for myself. But it's a pity that it's gray — it would be better if it was transparent, as was in the case of the OnePlus Nord 2 5G. The back of the phone is too nice looking to hide it.
Read also: OPPO Reno 6 Pro 5g review: So good I want one now
Designs, materials, build quality
Let's start with objective and subjective statements. Objectively speaking, the phone does not stand out at all — it looks like a modern flagship on Android, with all its inherent elements like a large block of cameras, thin bezels and a small front-facing camera embedded in the display itself. It will be difficult to distinguish this phone from a dozen others – perhaps this is another explanation for why Apple is not in a hurry to abandon the infamous but instantly recognizable notch. A protective film is glued on the display directly from the factory, which is not bad.
But from behind, the situation is already more fun: the back plate (in my case) stands out with a very pleasant blue gradient that shimmers beautifully. Again, this is not a new solution, but it still looks damn nice. The matte surface is very pleasant to the touch and looks great, although over time it begins to collect fingerprints. But let's be real (me) here, the realme GT Master Edition in Voyager Grey color actually stands out, while the Neo 2 merges with many other devices from China.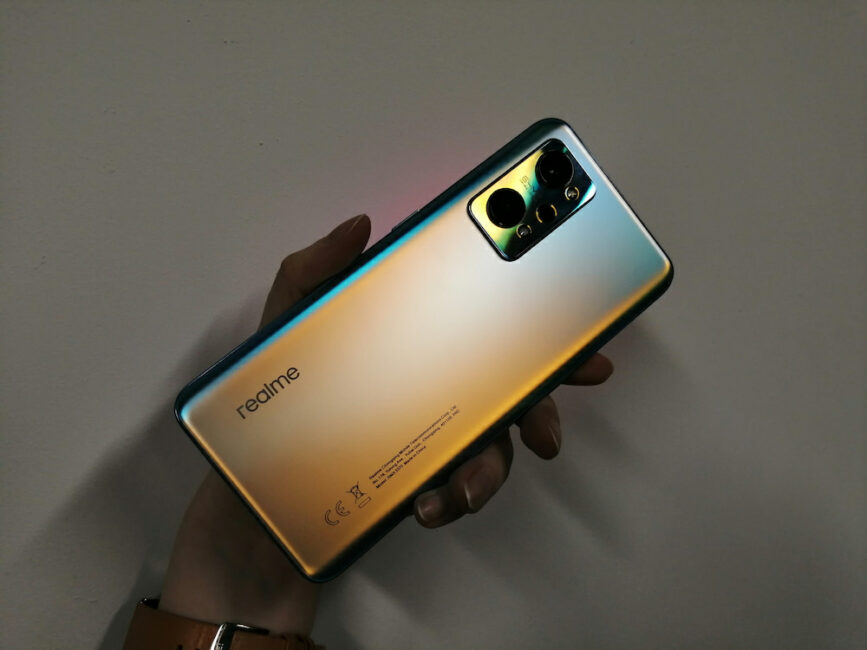 The camera unit is placed on a separate iridescent island (again, very beautiful), protruding above the surface. Because of it, the phone does not lie flat on a flat surface, but the case will help with this. There are "three" cameras here (although one is macro, so…).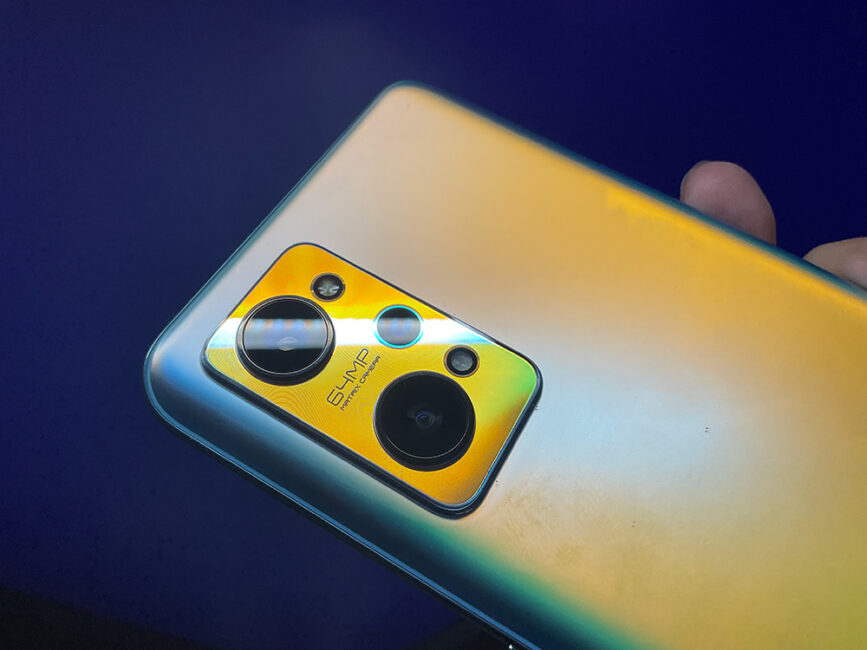 The build quality is quite nice, and despite the fact that it's only plastic, it feels very monolithic and pleasant in the hand.
Read also: Vivo X70 Pro+ review: Powerful beast with fantastic cameras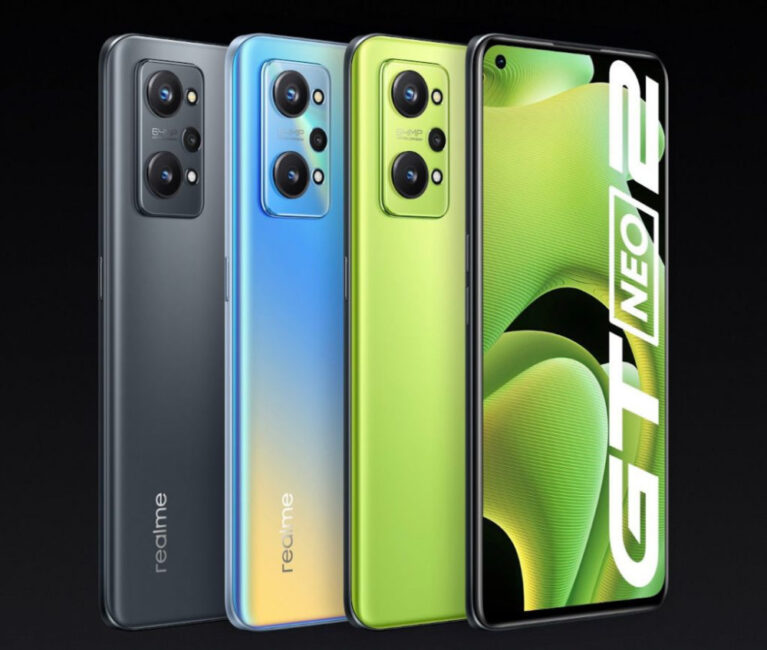 The layout
Don't expect any special surprises here — everything is usual. There is a speaker in the upper part — it helps with the stereo. There is an additional microphone on the edge. There is no audio jack.
A selfie camera is placed on the left side of the screen. There is exactly one element on the right — a power button with a textured surface. I am used to the volume control key there as well, but it's on the left side. There are two buttons for adjusting the sound, without a texture. There is nothing else on the left.
From below you can find the main microphone, a slot for two nano-format SIM cards, a Type-C port and a multimedia speaker. Standard set.
At the back there is an island of cameras, the Realme logo and technical information.
Read also: Realme GT review: Track-Worthy Smartphone for the Masses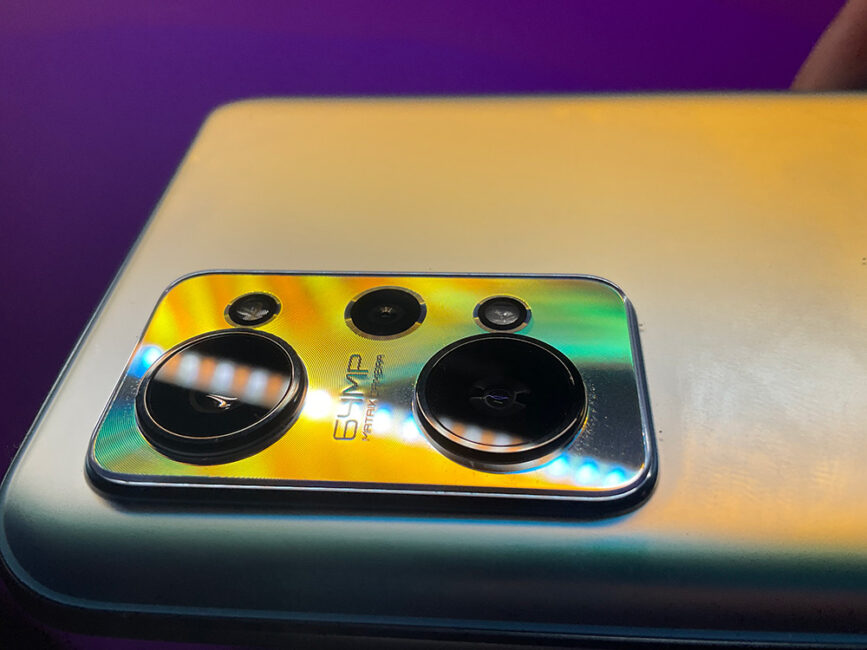 Ergonomics
The Realme GT Neo 2 is not compact, but it does not feel that big either. Using it with one hand won't work, but it still fits in my pockets and doesn't take up much space — even in a case. Its dimensions are 162.9 mm × 75.8 mm × 8.6 mm. The weight is 200 g.
As I mentioned, the phone is nice to hold in your hand, but the arrangement of the elements could be better. I very often accidentally take screenshots by pressing the lock and volume buttons at the same time. The volume buttons are placed too low – I often change my grip. But a lot of it is a matter of habit, of course.
The fingerprint scanner is in the screen, at a convenient height.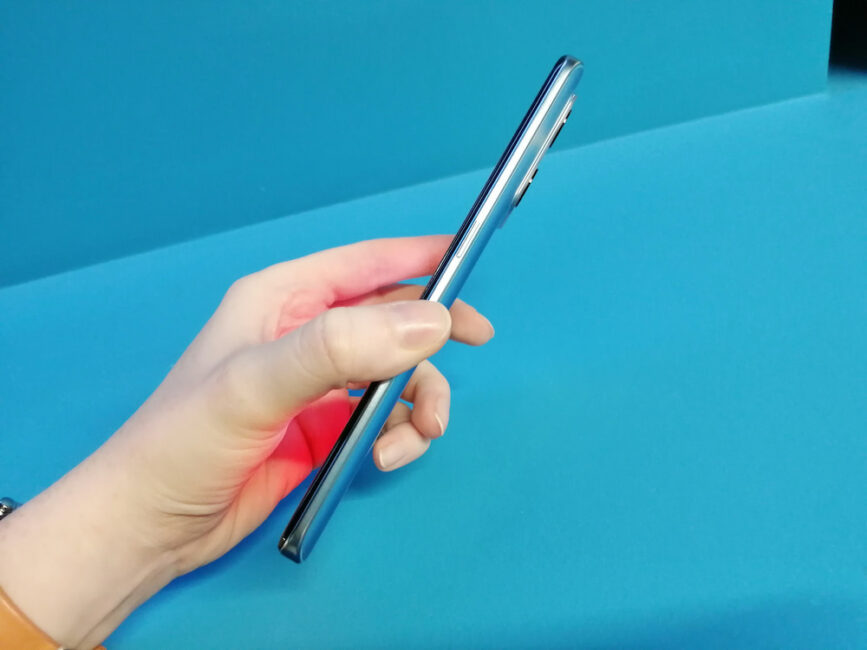 Display
The smartphone has a very decent AMOLED display with a resolution of 1080×2400 (FHD+) with support for 120 Hz and a pixel density of 397 PPI. Peak brightness is 1300 nits.
The screen is very nice: firstly, you have 120 Hz, although I have never considered this characteristic more important than accurate color reproduction. Anyway, the picture is very smooth, and in the settings you can specify whether you want the phone to choose the display mode itself, or always show 120 Hz. I chose the latter because there is enough battery life.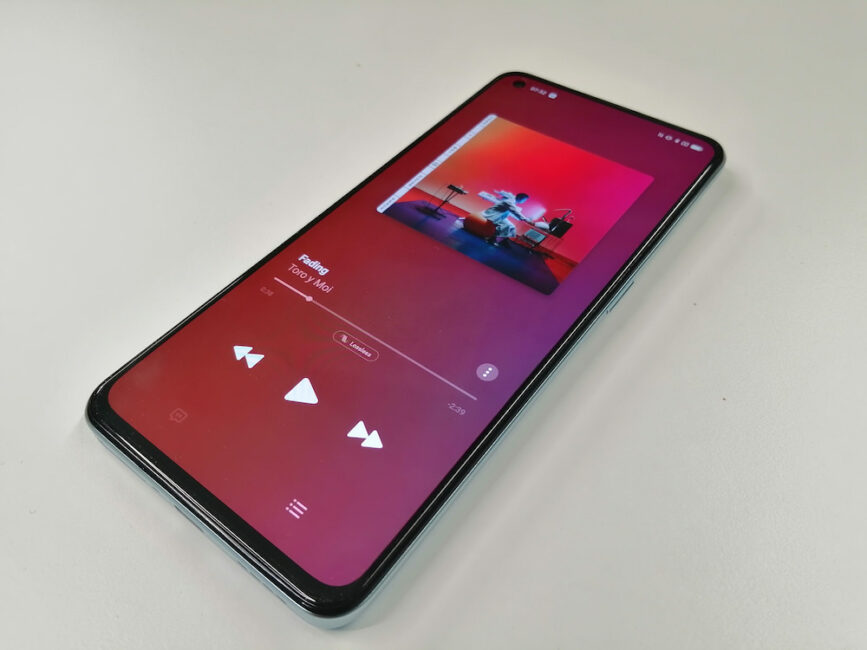 PWM is present, but it can be muted thanks to a special mode in the settings. The phone supports up to 600Hz touch sampling, which is a lot. This way the phone is able to outpace almost all competitors and attract an audience of gamers looking for additional advantages on the virtual battlefield. I'm not sure that this isn't just a marketing ploy, since I didn't feel a real difference, but… it's good that it's there.
Despite its calm design (we do not consider the green model), the Real me GT Neo 2 is primarily designed for those who like to play a lot, and the characteristics of the screen and processor confirm this.
Read also: OPPO X 2021 first impressions: Technology of the future?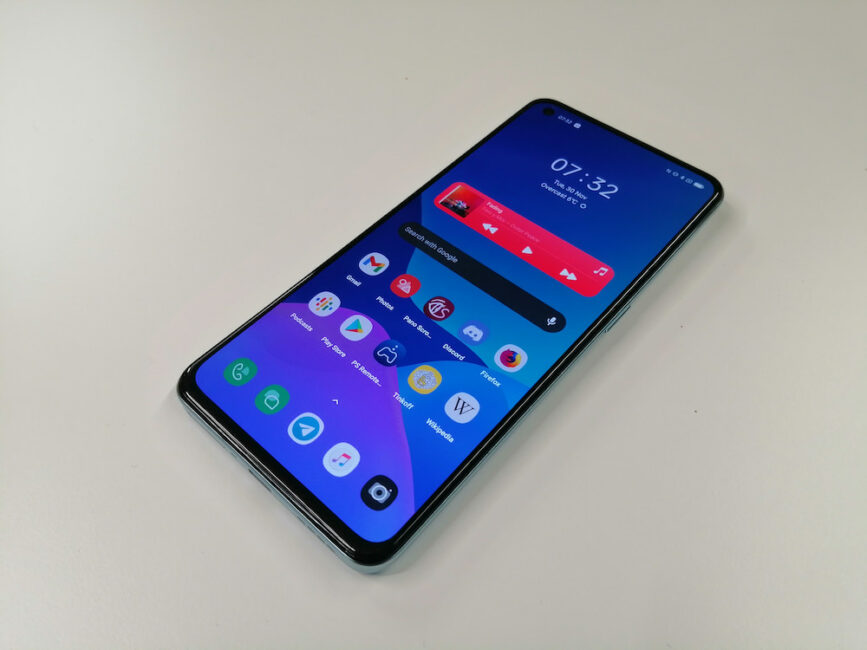 The color rendering of the phone is not very accurate — the screen offers a juicy and bright picture, but not accurate in any way. In the settings, you can choose three modes — Vivid, Gentle and Brilliant. The first mode guarantees maximum brightness, and the second one a more moderate rendition in accordance with sRGB.
There are traditional modes in the settings: light and dark themes, eye protection, color temperature, video optimization, font settings, refresh rate, full-size mode for apps, camera masking and all that.
The phone offers a rich set of AOD personalization. There are a lot of neat templates that display the clock, notification icons and the name of the track being listened to. You can even create your own design. The function can work both continuously and on a schedule.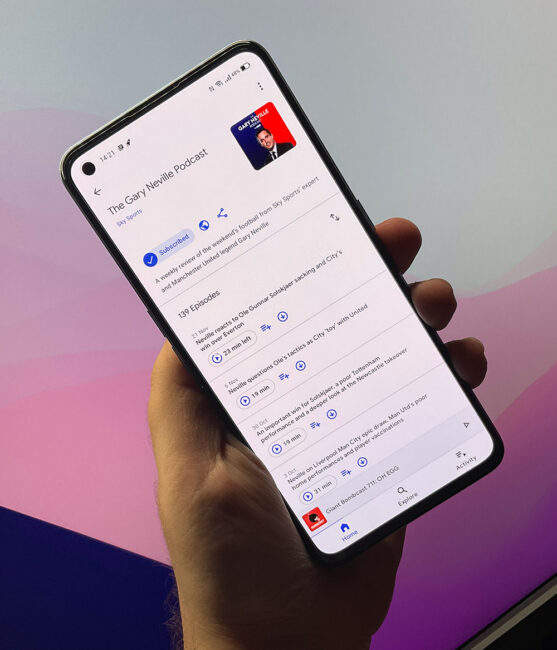 Performance
At the heart of the new Qualcomm Snapdragon 870 5G is a fresh processor with a main core with a frequency of up to 3.2 GHz and three additional ARM Cortex-A77 cores that can reach 2.42 GHz. The Snapdragon 870 is faster than the aging Snapdragon 865 and 865 Plus, but falls short of the Snapdragon 888. But we know that the latter likes to overheat a lot, and the Snapdragon 870 seems to be much more optimized. The Adreno 650 is responsible for the graphics.
The manufacturer is particularly proud of the multilayer steam cooling system. Yeah yeah it's very nice, but the phone is still heating up. During tests, sometimes the case was heated to an unpleasant temperature, but under normal use it remained cold, warming up slightly only when charging. The phone did not have any problems with games such as PUBG Mobile or Genshin Impact — both were approaching stable 60 fps. The device is very stable thanks to the cooling system and a more optimized chip.
There are two main configurations to choose from with 8 or 12 GB of RAM. Both are more than enough. I have a basic model, so the version with 12 GB will be at least as good. It's quite a future-proof configuration, and, given the ongoing semiconductor crisis, it may be the right device to buy right now.
As usual, the amount of RAM is inextricably linked to the amount of storage. There are two options – 128 and 256 GB for versions with 8 and 12 GB of RAM, respectively. SD cards cannot be used, so choose in advance. The storage type is UFS 3.1, that is, everything is very fast.
The phone is very fast and stable. It does not heat up during normal use and copes with any tasks — and this applies to games as well. I tried but couldn't find anything the Realme GT Neo 2 couldn't run. All modern titles run on the highest graphics settings. Again, it's not the most powerful phone on the market, but it doesn't have many competitors for that price.
The manufacturer has repeatedly mentioned how easily his phone copes with complex tasks. In particular, with games. And even if this isn't a strictly gaming smartphone (there are no separate triggers, nor RBG), it is excellent for such a price.
Read also: Moto Edge 20 Pro review – Not so Pro
Cameras
As you can see from the pictures, the Realme GT Neo 2 is equipped with three cameras which look quite impressive. In fact, everything is not quite so rosy: technically, there are three modules here, but as always, the macro module is more of a joke.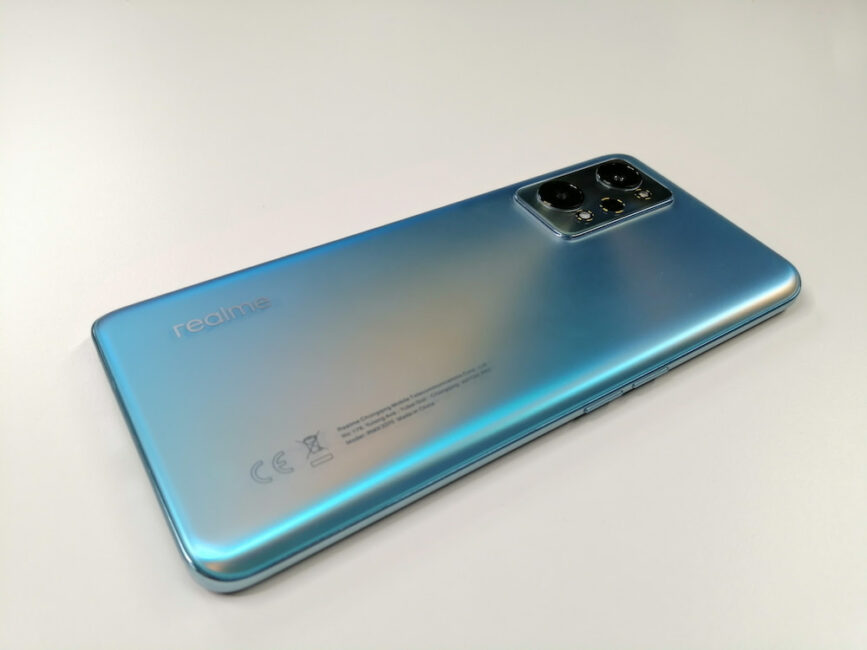 To begin with, we will describe all three modules:
64 MP, f/1.8, 26mm (wide), 1/1.73″, 0.8µm, PDAF
8 MP, f/2.3, 16mm, 119˚ (ultrawide), 1/4.0″, 1.12µm
2 MP, f/2.4, (macro)
Let's start with the obvious: this is not a smartphone for professional photography, and it is inferior in characteristics to some other models. But that doesn't mean he's no good—not at all. I would even say that it is very good and versatile, and is perfect for taking pictures in poor lighting conditions.
Realme GT Neo 2 фотографии
The main star here, by tradition, is the main module that shoots at a resolution of 64 MP, although full resolution hardly makes much sense to use if you take pictures for social networks. Anyway, the module copes with its task perfectly: the photos are contrasting and sharp. The system deftly determines the conditions and subject of filming, thanks to which I did not have almost a single blurry picture. Both objects in the room, where I often had problems with other devices, and on the street look very nice on pictures. Look at this Christmas tree – a worse camera would blur the details, but the Realme GT Neo 2 retains the clarity of the picture, sacrificing some details in the process.
Photos in the original resolution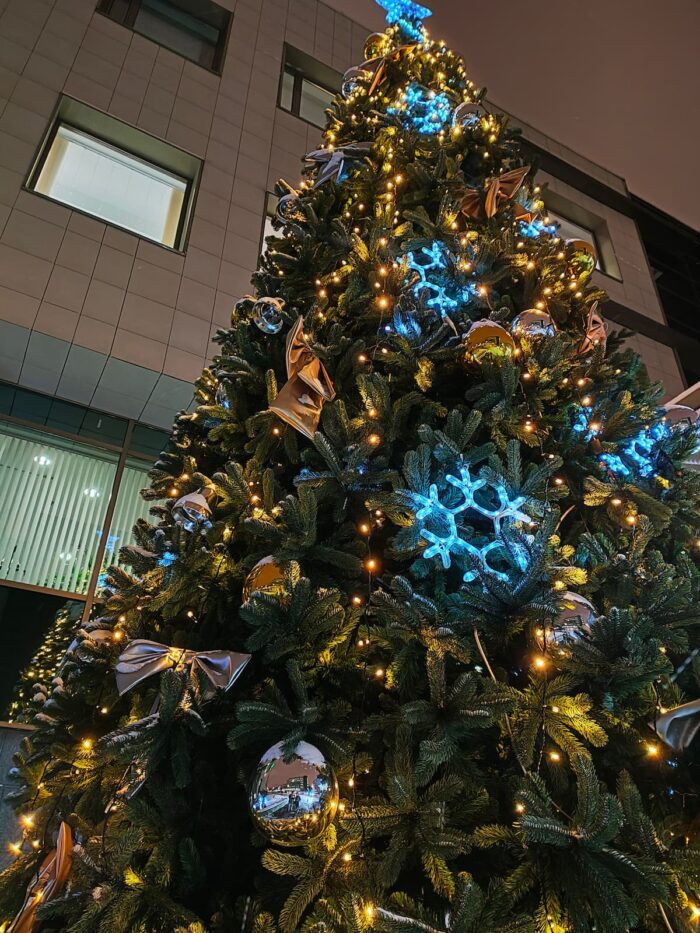 A more complex example is a picture from a window in the early morning. If we take a closer look, the "watercolor effect" will become noticeable, which is unimportant in the context of social networks, where the main thing is to convey the general feel and the atmosphere. But, of course, such a result will not appeal to professional photographers.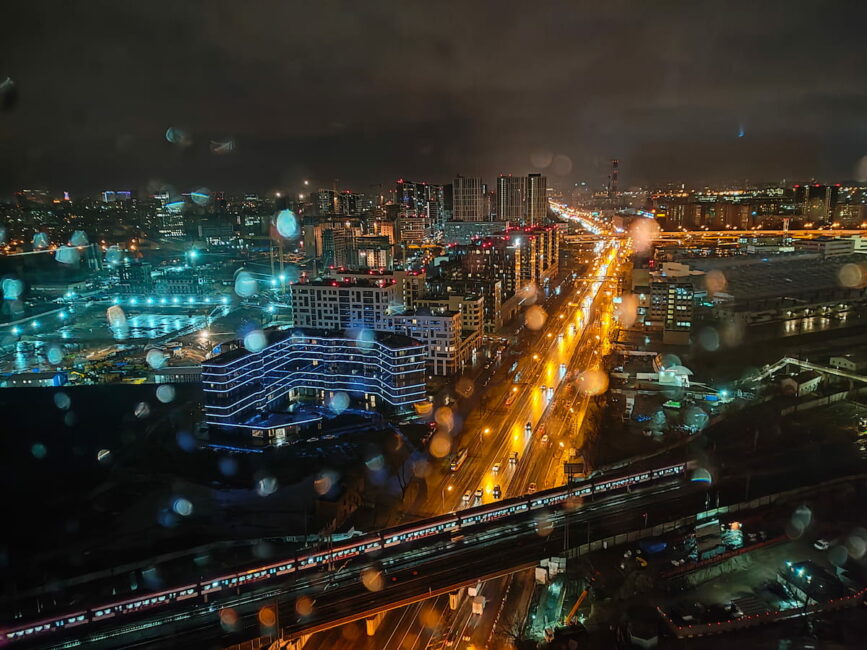 The night shots are good — the smartphone chooses the night mode itself, and then offers to hold the phone still for a few seconds to achieve the best result.
The ultra-wide-angle module is not amazing. I would say that everything is standard here: 8 MP means that miracles won't happen: it's ok during the day but with bad lighting the photos are very low-quality. Look at the result of its work in comparison with the main module — if there is no real reason to take a wider picture, it is better not to use it.
The phone only supports digital zoom. Again, it copes with his task as well as can be expected. The photos are not very blurry.
Now, the macro with a fixed focus… it's probably good that it's here, but I still hardly understand who uses this mode. Yes, it's kind of fun, but there are too few details due to the low resolution. In 99% of cases, zoomed photos from the main module are much better. No matter how hard I tried, I couldn't take a single good picture.
The default camera app is standard for Realme UI 2.0. Everything seems to be clear here, but not quite. For example, in order to find the notorious macro, you need to look for the More section, and there you'll find Ultra Macro. Here, by the way, there are other modes, like the expert mode, which allows you to take pictures in RAW format.
The following features are supported: 64 MP, Ultralight mode, panoramic photos, Expert mode, bokeh, HDR, ultra-wide-angle mode, macro mode, AI scene recognition, AI beautification, Filters, Dazzle Color mode, Text scanning mode, perspective distortion correction, tilt shift, starry sky, street shooting.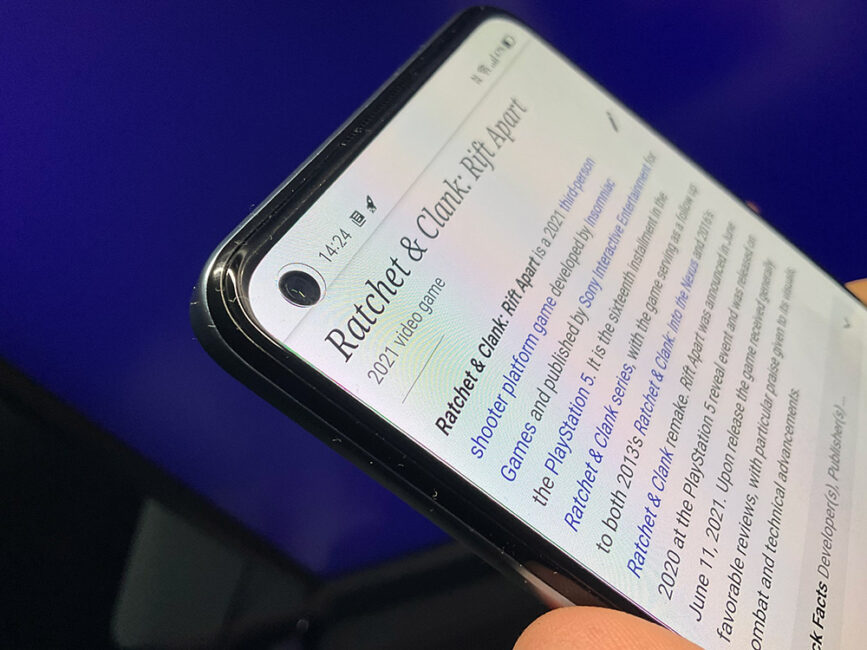 The maximum resolution of the selfie camera is 16 MP, which is not very much, but more than enough. The photos are clear, with enough details. Bokeh comes out normal, but not perfect — the main module, of course, is better. The camera supports the following modes: bokeh, video timelapse, panoramic mode, beautification, HDR, face recognition mode, filters, mirror mode, night mode, perspective distortion correction.
Videos come out as expected. The phone supports shooting in 4K format with 60 fps, but there is no stabilization in this mode. In the 30 fps mode you have a lot of details, and stabilization. But for a good video, good conditions are necessary.
Read also: Realme GT Master Edition vs Xiaomi 11 Lite 5G NE vs Samsung Galaxy A72: 2021's hottest mid-rangers go head to head
Unlocking
The GT Neo 2 supports two methods of unlocking — by fingerprint and face recognition. The scanner is built into the screen here and works perfectly. In the past, my opinion about such scanners has varied, but there is nothing to complain about — the scanner is very fast and almost never makes errors. The location of the sensor is also very convenient — I immediately got used to it.
The question of security, however, remains — we know that this is far from the most secure method. But the average user does not think about such things.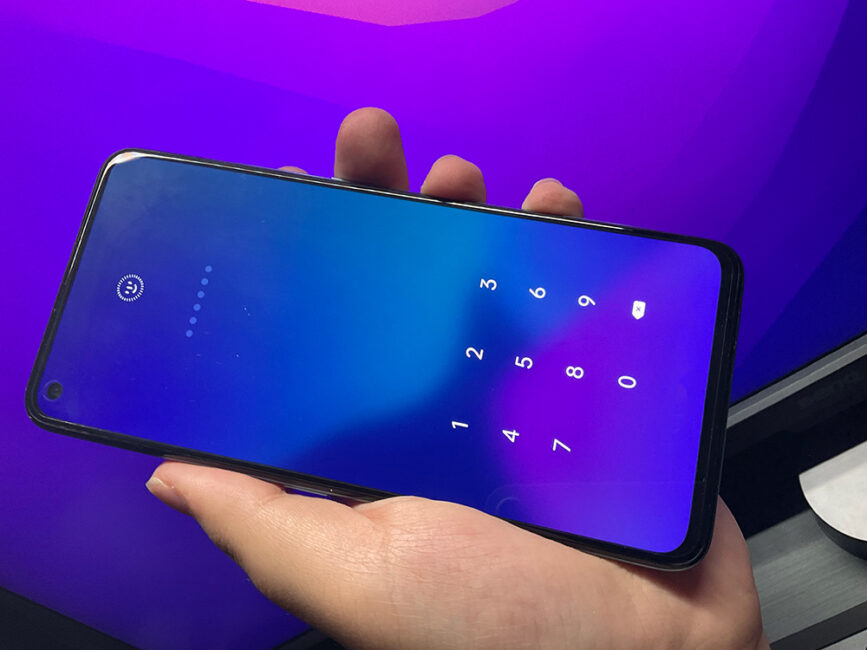 In the phone settings, you can select several scanner animations and even add a sound.
The second method is unlocking with face. Here the Realme GT Neo 2 surprised me with its speed — I would say that in 8 cases out of 10 it recognizes me even before I bring it to my face. It's very quick, and it works even in complete darkness – however, with high brightness of the screen and not always. This is not an ideal solution, but few can surpass Apple here, so the expectations should be appropriate.
Battery life
We have a real champion in front of us: the new Realme turned out to be more tenacious than most other similar devices this year. 5000 mAh battery and the bundled SuperDart 65W charger make a very powerful combination that guarantees the best performance in the class.
On a single charge, the Realme GT Neo 2 can live a lot – up to a day and a half in a very active mode with games and videos. I have  turned the brightness to the maximum, and still during the entire test there was not a single time when the phone would suddenly declare that it was about to die.
It also helps that there's a neat charger that can charge it from zero to a hundred in less than 40 minutes. Not a record, but very good. You can just charge it for 15 minutes from time to time and not worry about a thing.
Sound and connectivity
Everything is fine with the sound in the phone. The phone supports stereo sound – the earpiece speaker "plays along" with the media one, and and you get very pleasant sound.
Unfortunately, there is no audio jack, but the sound with wireless headphones is very good. The phone supports Bluetooth 5.2 and SBC, AAC, APTX, APTX_HD, IDAC and IHDC codecs. With APTX, the volume margin is VERY large, and the sound is quite voluminous and pleasant, albeit slightly aggressive. With AAC, the sound is quieter, but not as charged. There is support for Atmos effects and all sorts of built-in equalizers, but I liked the sound by default. The phone has great haptics.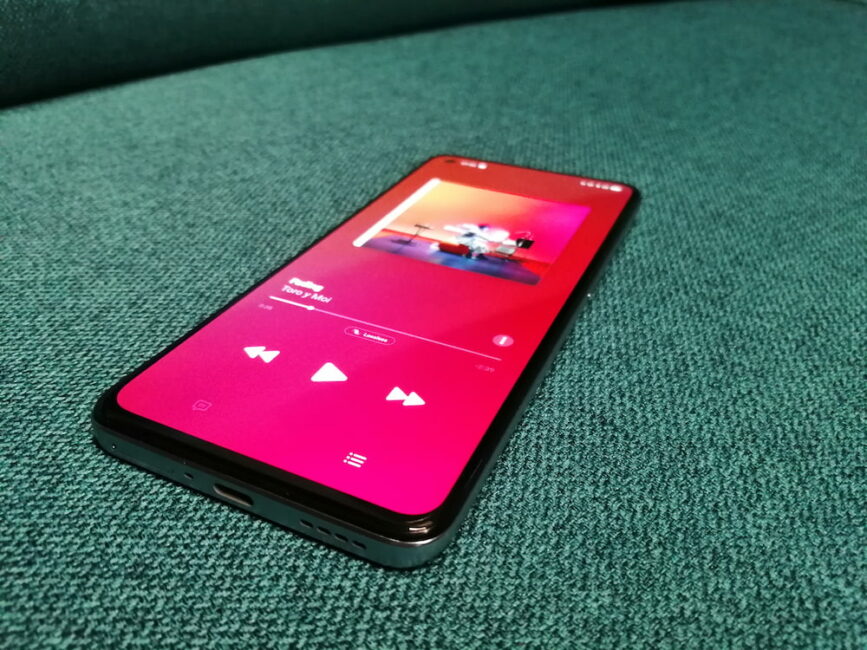 Wireless modules are in abundance here. Dual-frequency GPS, Bluetooth 5.2, NFC, Wi-Fi 802.11 a/b/g/n/ac/6, A-GPS, GLONASS, BDS, GALILEO, QZSS, NavIC, and finally 5G networks.
Firmware and software
Since the phone was released at the end of 2021, will be updated to Android 12 very soon. Probably in December. However, the update has not come yet, and we have to settle for version 11 with the realme UI 2.0 shell, based on OPPO's ColorOS. The update to 12, by the way, is important for players, since support for the DualSense comes with it.
I still don't know what I think of this shell. On the one hand, there is everything you need, with a minimum of junk from the manufacturer. Its main strength is in speed — it is light and does not slow down at all, instantly reacting to touches. There is not much that distinguishes it, but I would like to note the wide possibility of personalization – from fine-tuning the desktop to customization of the AoD screen. Standard gestures, standard gaming utility, and the like. I still prefer a clean OS, but it is unlikely that anyone will actively hate it here.
Verdict
There is no end to flagship killers, and the Realme GT Neo 2 has become the last representative of this class, offering a similar set of functions for a lower price. This is a nice, well-assembled smartphone with an excellent display, a powerful hardware, an interesting cooling system and simply excellent battery life. Its cameras are a little behind the competition, but they are more than enough for most users.
Subscribe to our accounts: