Recently we got acquainted with an interesting and very beautiful OPPO Reno 6. It impressed the entire editorial staff! Now it's time to take a look at the OPPO Reno 6 Pro 5G. Do you remember the story of the Moto Edge 20 and the Edge 20 Pro? The pro model turned out to be much less interesting, and  I was a little worried the new OPPO Reno series will be the same. But no, the Reno 6 Pro is just great! I will say more, I would even use it as my main smartphone! Believe me, I test many models and this rarely, if ever, happens.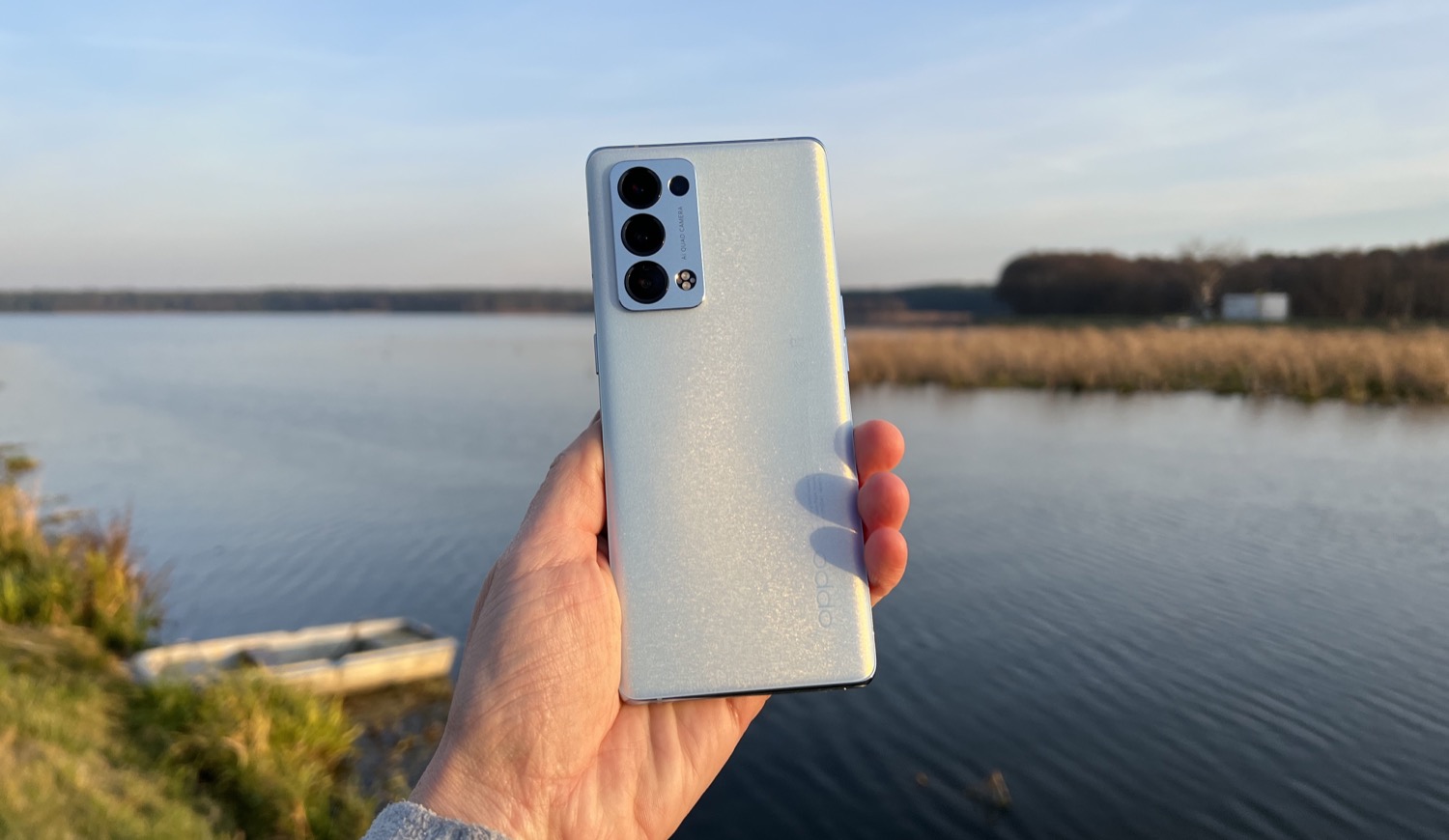 Positioning and price
The OPPO Reno 6 series launch event took place in September of this year. There are two models – the OPPO Reno 6 and the OPPO Reno 6 Pro. The Reno 6 Pro has a slightly larger screen with rounded edges, a more powerful Snapdragon 870 processor instead of a poorly optimized MTK, a larger amount of RAM (12 GB) and storage, a slightly more impressive battery, and an improved set of cameras. At the same time, it costs significantly more: almost $760 instead of $650, respectively. Is it worth overpaying? Let's find out.
Full specifications of the OPPO Reno 6
Display: 6.5′′ AMOLED, 1080×2400 pixel resolution, 20:9 aspect ratio, 402 ppi
Chipset: Snapdragon 870 5G (7 nm): eight-core (1×3.2 GHz Kryo 585 & 3×2.42 GHz Kryo 585 & 4×1.80 GHz Kryo 585); GPU Adreno 650
Storage: 256 GB, UFS 3.1
RAM: 12 GB
OS: Android 11, ColorOS 11.3
Main camera: wide-angle (main): 50 MP, f/1.8, 24 mm, 1/1.56′′, 1.0 μm, PDAF, OIS
Ultra-wide-angle module: 16 MP, f/2.2, 123 ̊, 1/3.09′′, 1.0 μm
Telephoto module: 13 MP, f/2.4, 52 mm, 1/3.4′′, 1.0 μm, PDAF, 2x optical zoom
Macro module: 2 MP, f/2.4
Front-facing camera: 32 MP, f/2.4, 26 mm (wide), 1/2.8′′, 0.8 μm
Battery: 4500 mAh, fast charging 65 W, SuperVOOC 2.0
Fingerprint scanner: optical, under the display
Data: NFC, Wi-Fi 6ax (2.4 and 5 GHz), Bluetooth 5.2, GPS (as well as GLONASS, Galileo, Beidou, QZSS), 5G, USB typu C
Dimensions: 160.8×72.5×8.0 mm
Mass: 188 g
Read also: OPPO Reno 6 5G review: Affordable and a joy to use
What's in the box
Out of the box we will get not only a phone, but also other equally useful accessories. For example: a charger (65 watts) in the classical sense of the word. Just like in the case of the Reno 6.
Also in the package is the SIM eject tool, an instruction manual and a protective case. There were also wired headphones in the box with the Reno 6, but not here. The case protects the edges of the screen well, but not the camera. Nevertheless, it's nice to have fall protection.
Read also: OPPO X 2021 first impressions: Technology of the future?
Design and layout
As you remember, the OPPO Reno 6 looked very nice. I'm talking first of all about the gorgeous back panel of the gadget, which this time is made of tempered glass (the Reno 6 had plastic). The OPPO Reno 6 Pro comes in Arctic Blue and Lunar Grey. Fortunately, we got the Arctic Blue version for testing again, and it looks just amazing!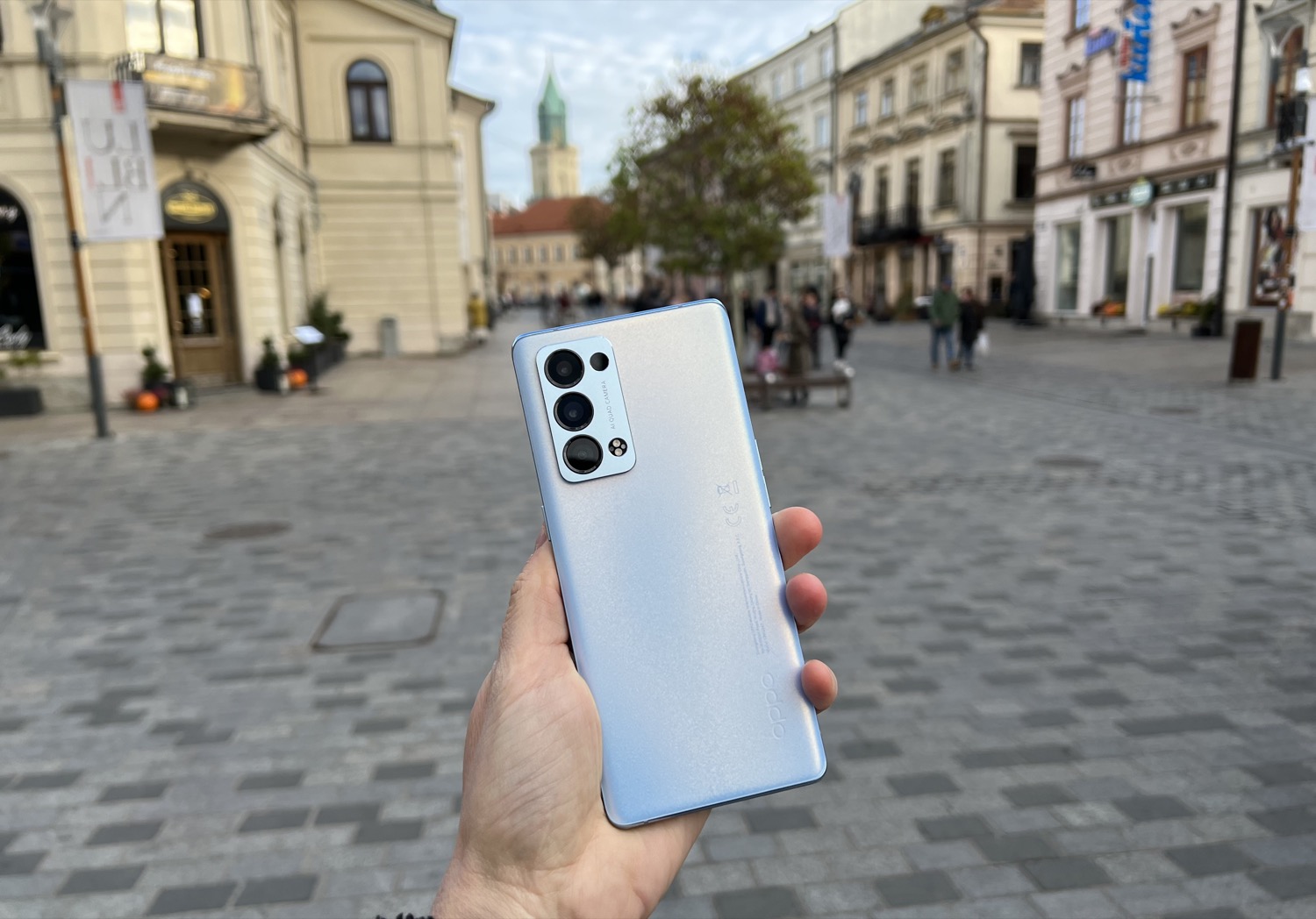 I couldn't stop admiring the way the smartphone shimmers in the sun. It looks like dry ice. Pleasant to the touch, and does not collect fingerprints at all.
The color resembles the northern lights or the glare on the sea on a sunny day. I can't tell what color the OPPO Reno 6 Pro is. Blue, or maybe a little pink or light gray? In any case, you get that wow effect. And I am sure that this element will be decisive when buying a new product, because the first impression is the most important.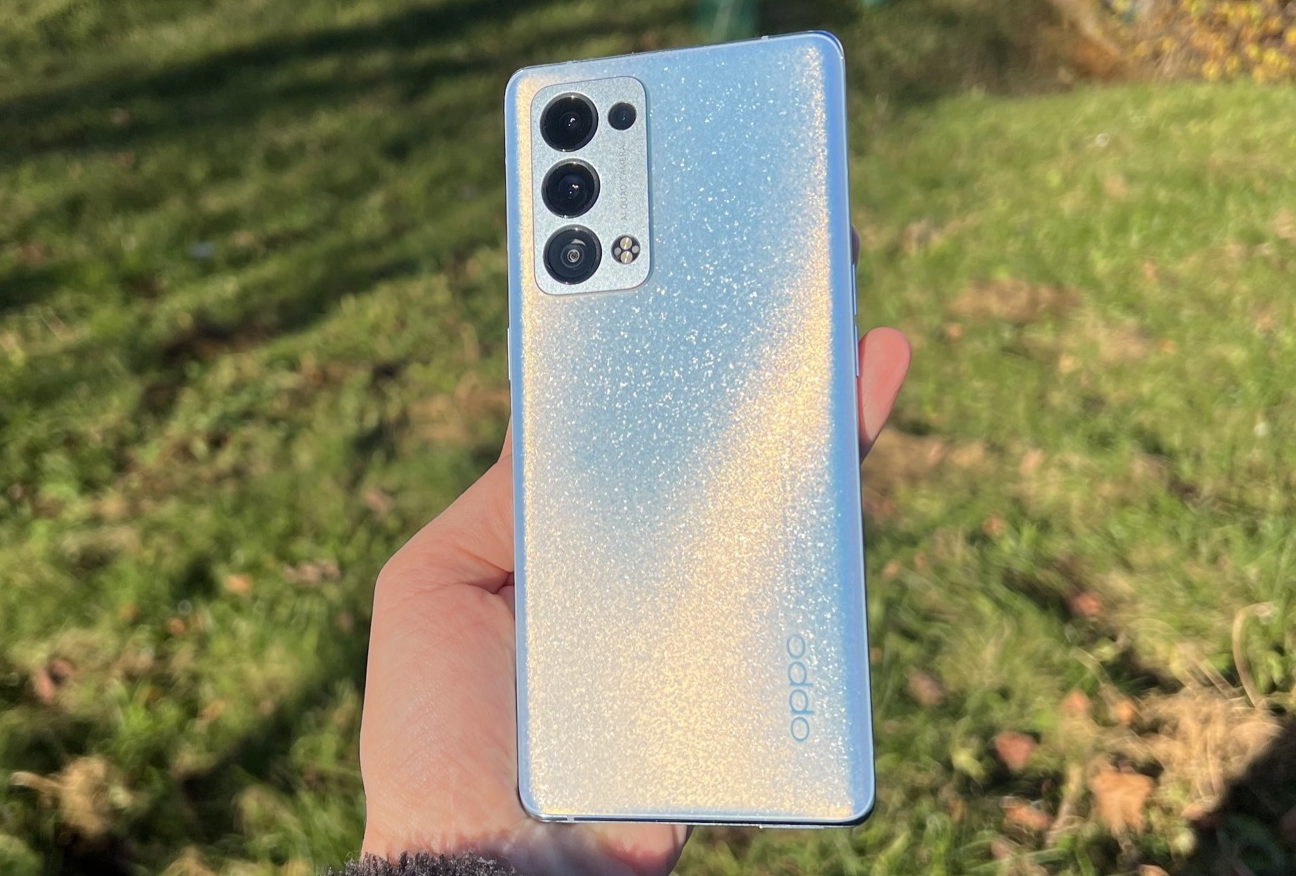 A small but pleasant thing – the upper edge of the smartphone is made of the same material as the back panel.
In the usual Reno 6, the clear rectangular edges caught the eye. The Reno 6 Pro has rounded screen edges, so the back panel is also rounded for symmetry. And it looks great too!
At the same time, the device is thin (less than 8 mm). And thanks to its light weight and flat back cover, it's a pleasure to take it in your hands. Even if it's in a case.
The rounded edges of the screen allow you to comfortably hold the OPPO Neo 6 Pro in your hand and easily control it with one hand.
The screen has minimal bezels. Some say they don't like such screens, but I don't understand them. I have been using similar devices for a long time (Samsung Galaxy S6 Edge, Galaxy S7, S8, S9 Plus, S10 Plus), I really like this type of screen with rounded edges. There are no false touches in my case. It also has a stylish design and good ergonomics thanks to a narrower body. But it's a matter of taste.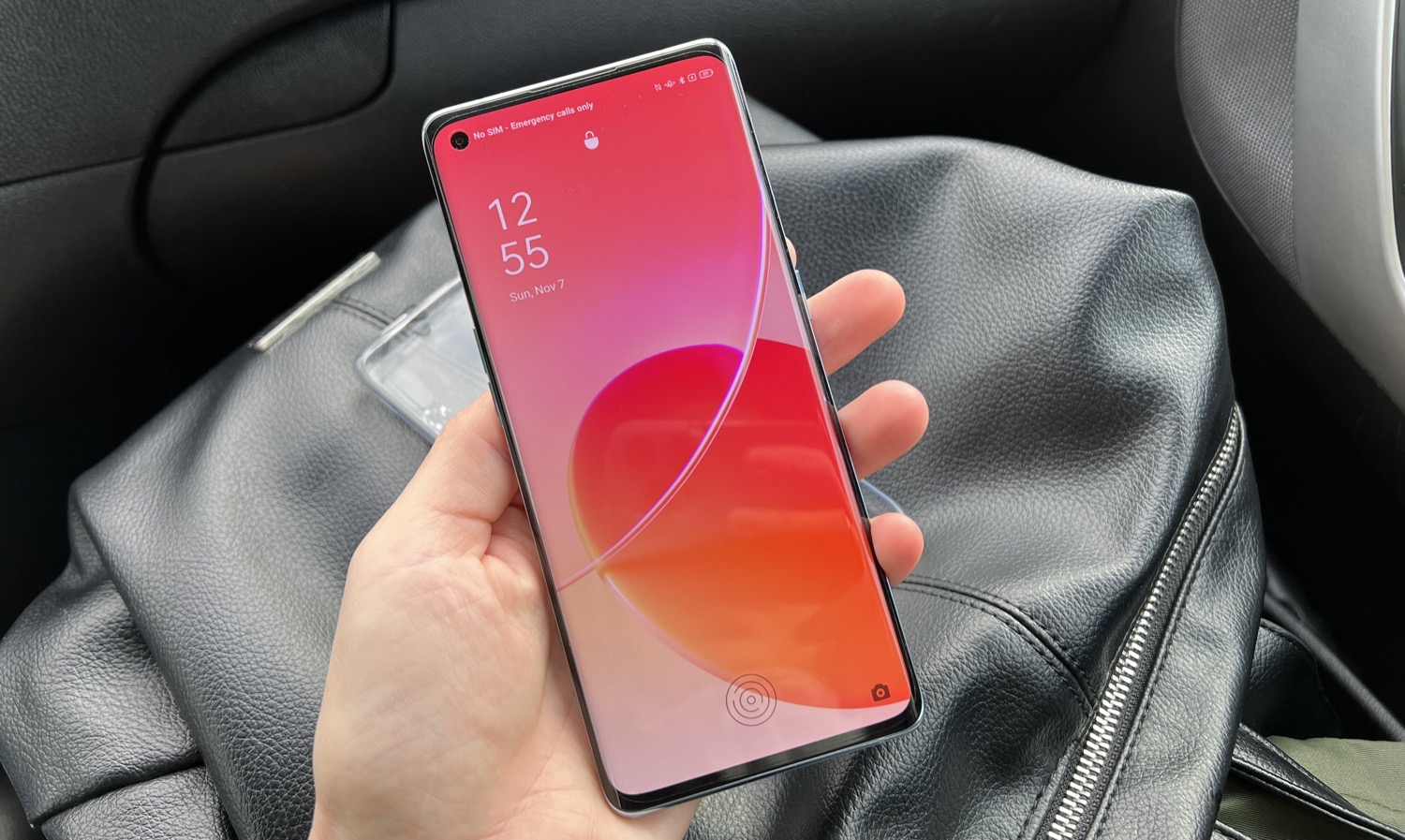 I will add that a protective film is already glued to the screen. On the one hand, this is a minus, because it has an uneven surface and gets dirty easily. On the other hand, you can just take it off. But if you still want to use a protective film, it is very difficult to find a good one and put it right on the screen with rounded edges. You don't really need it since Gorilla Glass 5 is pretection enough.
The hole for the front-facing camera is located at the top left. The smartphone case is made of high-quality metal.
When it comes the layout, theneverything is familiar and standard. The volume control key is conveniently located on the left. On the right is the power/lock button.
The SIM card tray and the power and lock screen button are located on the right side. At the bottom there is an additional speaker, an additional microphone, a Type-C connector and a headphone output.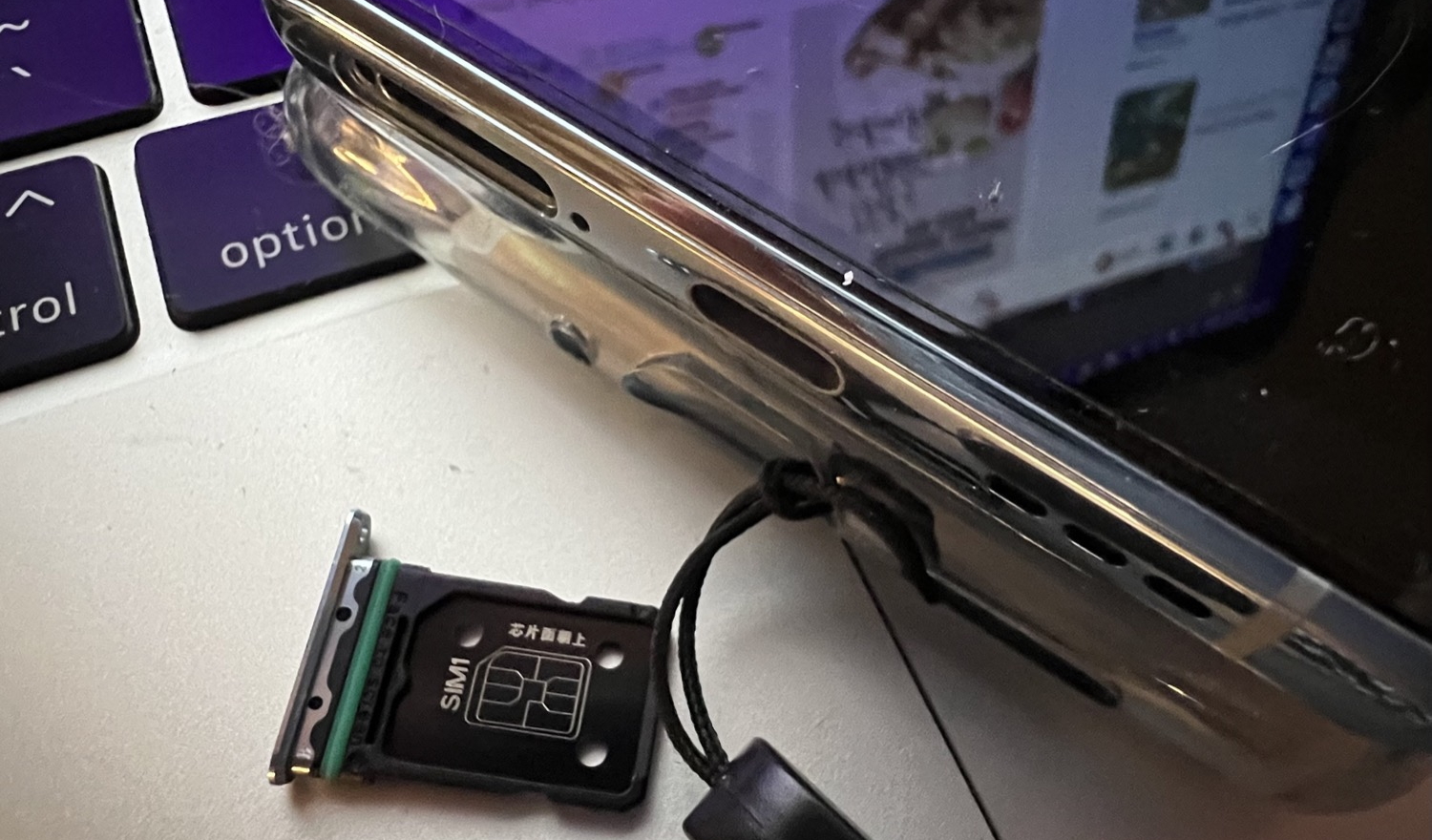 At the back there is a block of three cameras on a metal base, as well as a flash.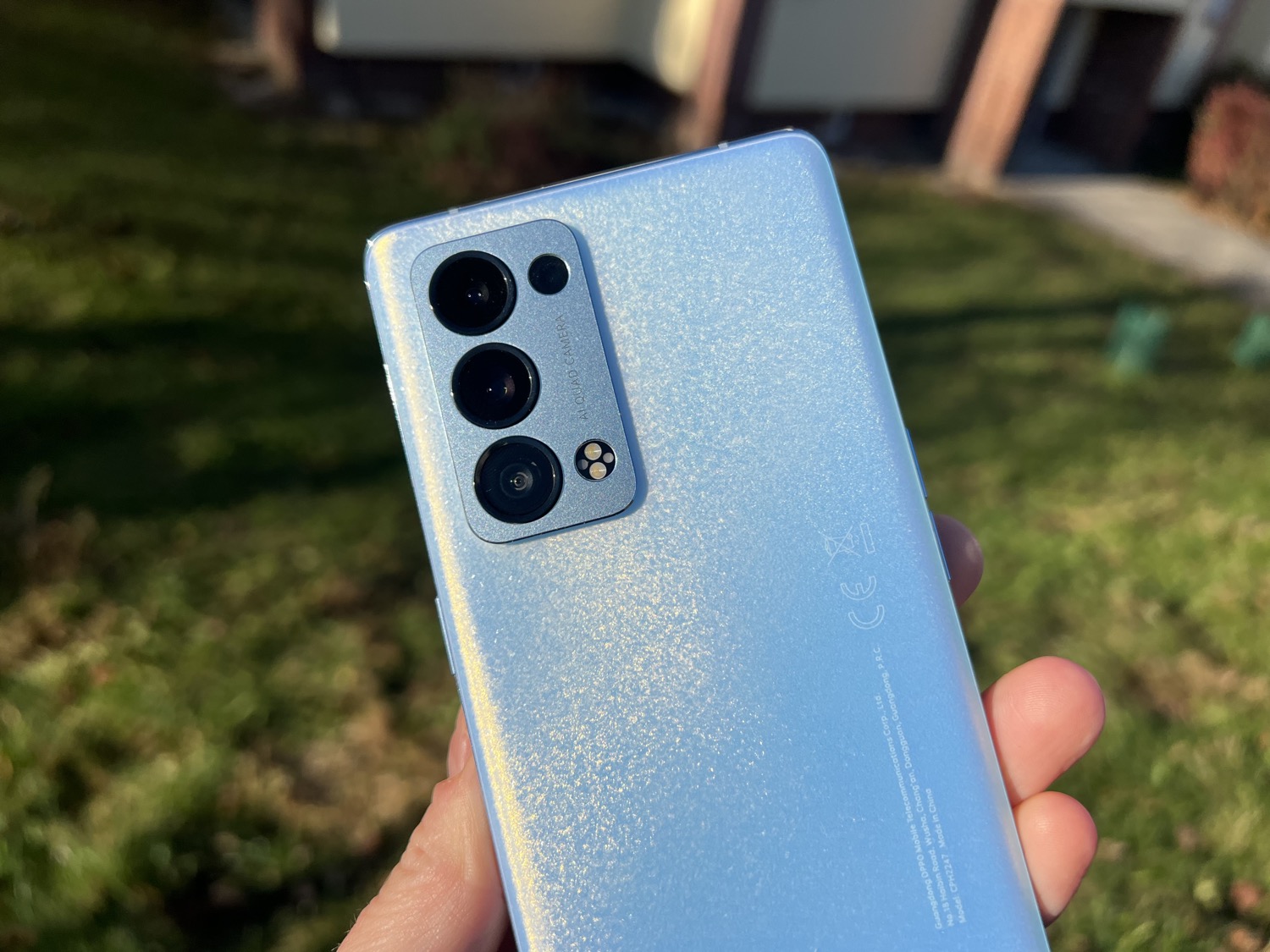 Unfortunately, the OPPO Reno 6 Pro didn't get any water protection. And considering the price, it's a shame.
Read also: Motorola Moto G10 vs Moto G20: Which Twin to Choose?
Screen
The 6.5-inch AMOLED display with Full HD+ resolution is ideal for creating high-quality, clear and juicy images. These are not the oversaturated colors that you want to turn off automatically, they are precise and muted. Using the phone is pure pleasure. The viewing angles are wide. The screen almost does not fade in the sun, the maximum brightness level is sufficient (1100 nits). The usual level is about 800 nits.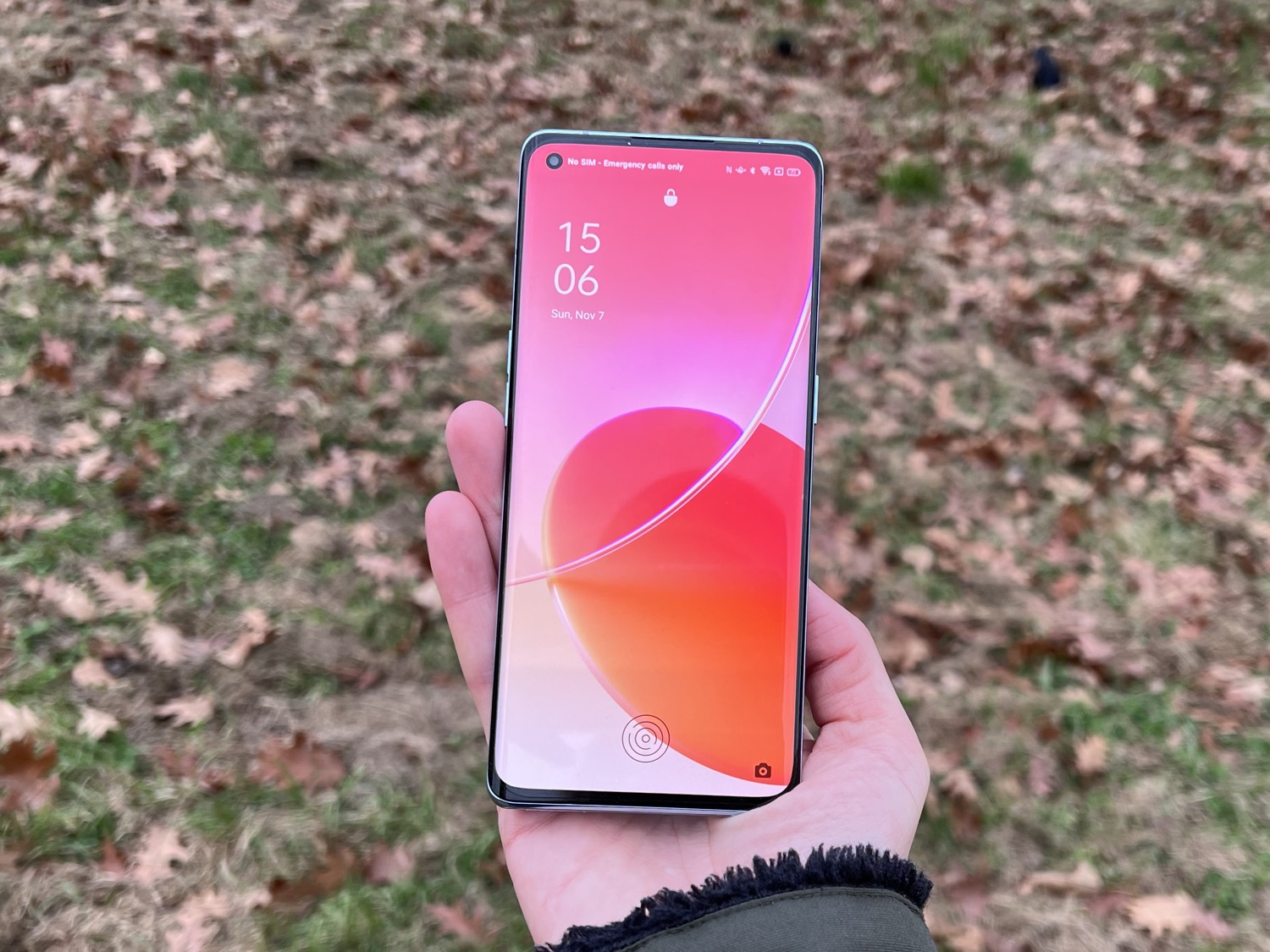 As you can see, the screen bezels are minimal, it is almost bezel-less. I have already said that I really like it. And you? Write in the comments!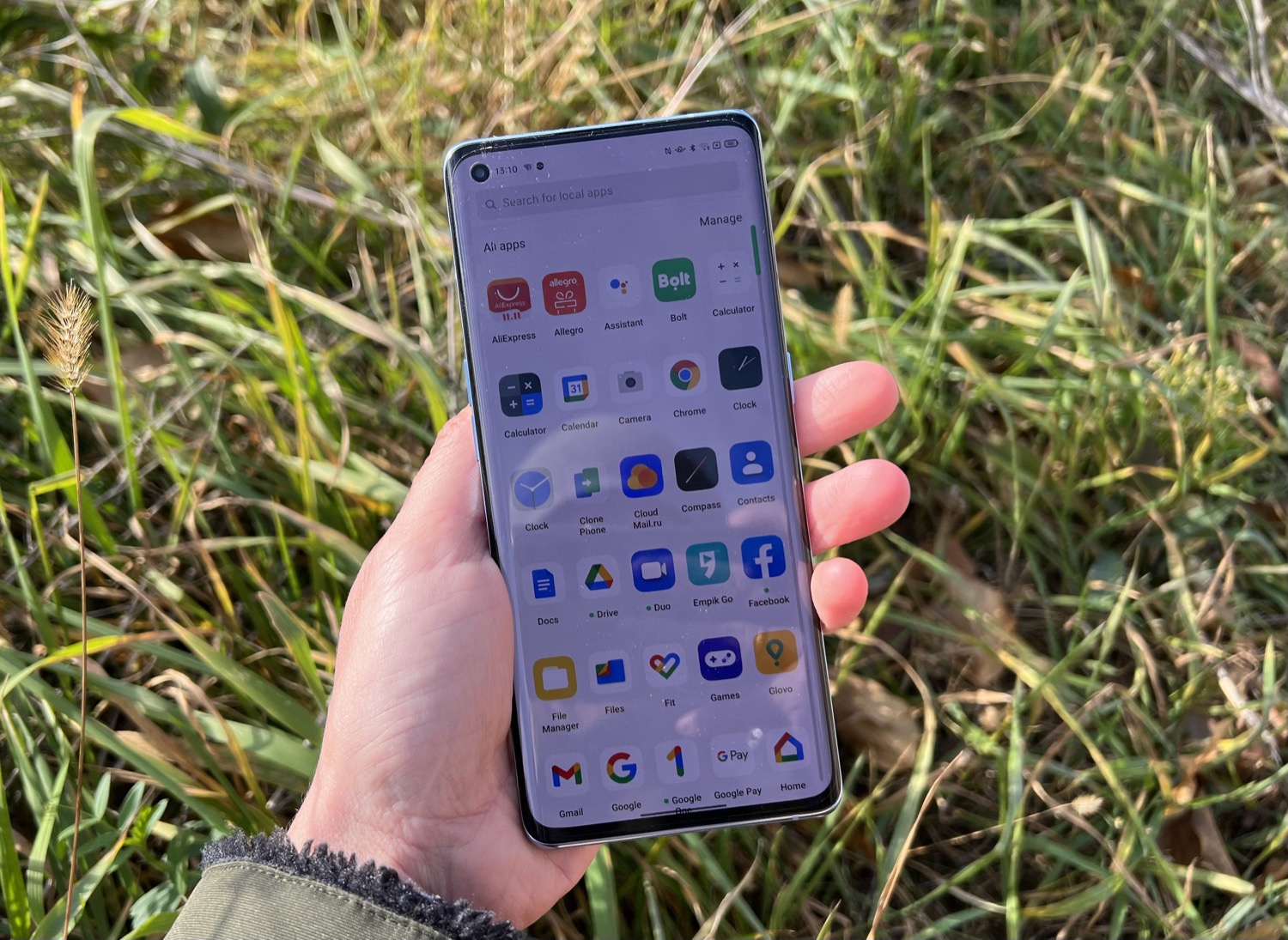 There is an Eye Comfort feature. It will be useful for people who spend a lot of time in front of the phone, so almost every one of us. In the settings there is an adjustment of the color temperature of the display and a schedule.
Another innovation is the screen refresh rate of 90 Hz, which is 30 Hz more than usual. There is a feeling that the smartphone works better and faster. If necessary, you can choose the standard 60 Hz, which will slightly extend the battery life. Of course, there are models with a frequency of 120 Hz and higher at the same price, and even cheaper (for example, Xiaomi 11T, Realme GT, Moto Edge 20 Pro), but still.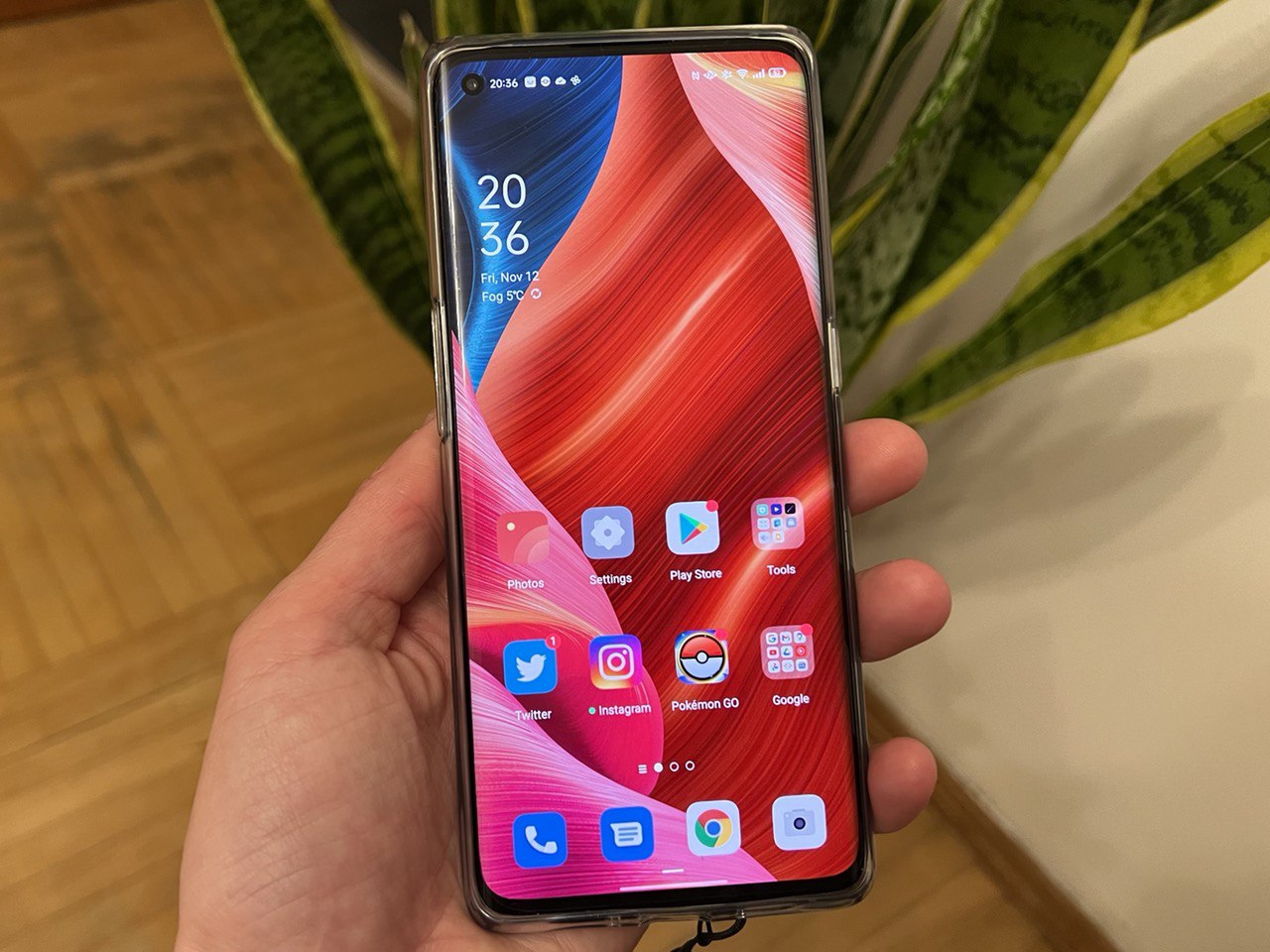 There is also an Always-On-Display mode with many parameters.
Hardware and Performance
The heart of the OPPO Reno 6 Pro is the Snapdragon 870 5G chipset, based on 7nm technology. This is the most popular chip in 2021 for advanced mid-rangers (or flagship killers, if you will). Adreno 650 handles the graphics.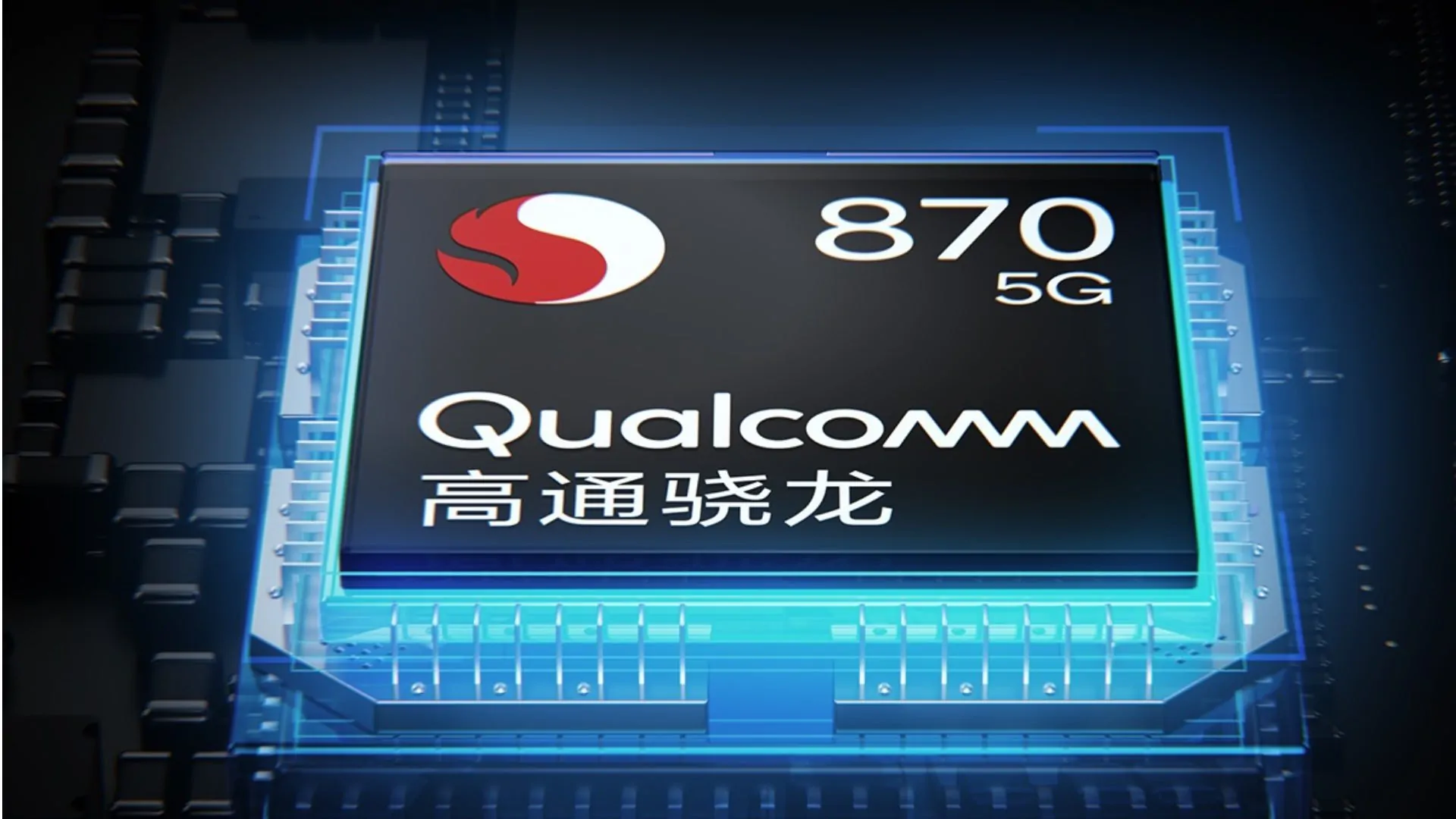 It's a little surprising that OPPO didn't use the top-end Snapdragon 888 in the almost flagship model. Perhaps for the same reasons as Motorola's Edge 20 Pro model – this processor does not have the best reputation, since it overheats. The Snapdragon 870 is also powerful enough and has no problems working under high loads.
I will add that there is also a variant of the OPPO Reno 6 Pro based on the Dimension 1200, but only in India and China.
In any case, the Reno 6 Pro 5G on Snapdragon 870 shows good performance, including in synthetic tests. It is certainly better than the alternative Snapdragon 700 series and is on par with other SD870 smartphones. However, the Snapdragon 888 is, of course, unreachable. In GeekBench 5 (multi-core), the hero of the review scored 2940 points, in AnTuTu 9 it scored 671,587.
Of course, a device with an "almost flagship" processor is very fast. The performance is excellent, everything is smooth, there are no issues even with the most difficult tasks or 3D games.
From my point of view, the smartphone works smoothly, without lags and slowdowns. Games run on maximum graphics and maintain high FPS where necessary, for example, in demanding Call of Duty: Mobile or PUBG, or Asphalt 9. Compared to the regular OPPO Reno 6, the Pro model is noticeably faster. And it is better adapted for games thanks to Snapdragon.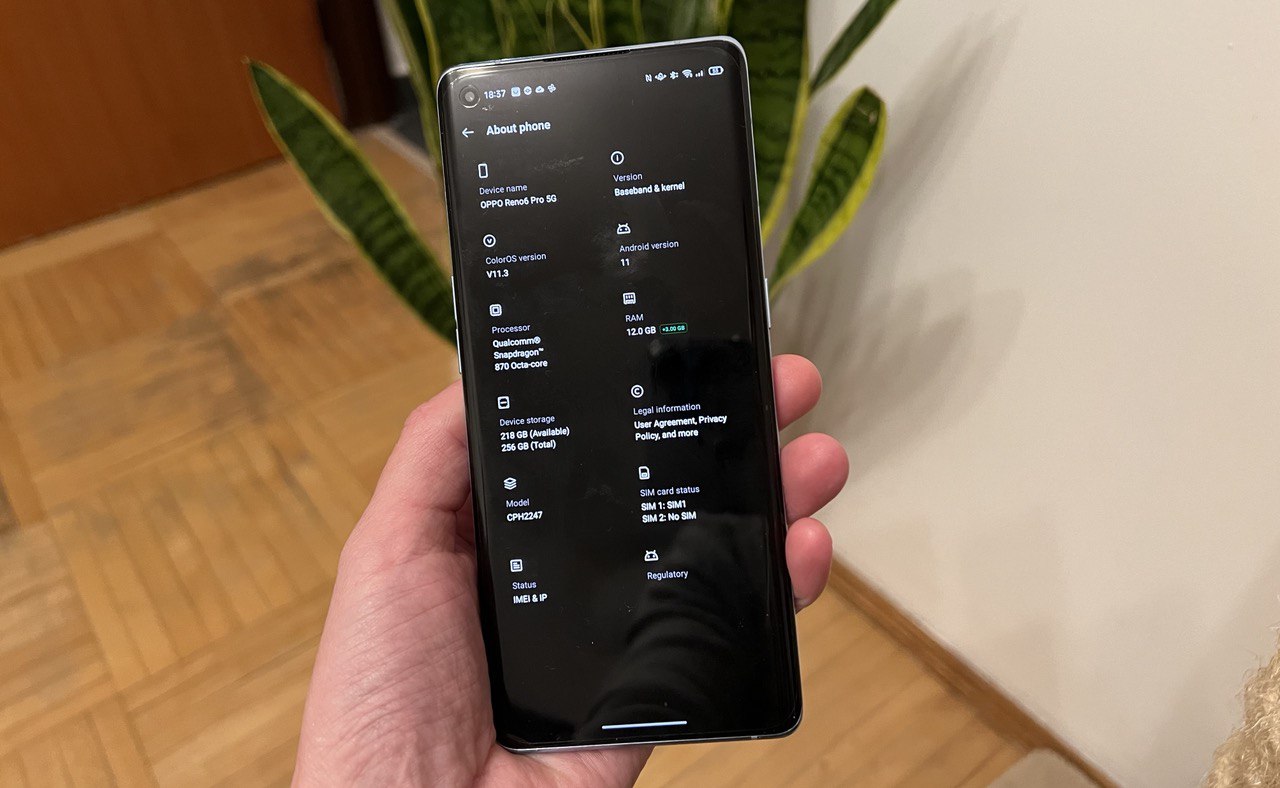 Thanks to 99% stability in 3DMark, OPPO Neo 6 Pro 5G is more stable during long gaming sessions than Snapdragon 888 smartphones. Also, the CPU load test showed that the phone is very stable, there was only one relatively small drop during 50 minutes of testing.
The amount of RAM is 12 GB. This is absolutely enough for any tasks. There's enough storage (256 GB, UFS 3.1) which is also a noticeable advantage over the usual OPPO Reno 6.
Read also: OPPO A54 5G smartphone review: It's all good, but is it cheap enough?
Cameras
The OPPO Neo 6 Pro 5G has a slightly different set of cameras than the Reno 6. If you look only at the technical specifications, there is not much difference. But the sensors are more advanced. The smartphone is equipped with a combination of four cameras. Well, three cameras, because the macro at 2 MP is a joke. The other three modules are quite alright, at the level of the flagship OPPO Find X3.
The main camera uses a Sony IMX 766.50 MP 1/1.56″ sensor with 1.0 micron pixels and Quad Layer technology. It offers an omnidirectional PDAF and what Sony calls DOL-HDR or simultaneous shooting of different exposures on the matrix instead of placing consecutive frames with different exposures, this is the same sensor used in the Find X3/X3 Pro cameras.
The telephoto lens also came from the high-end Find X series. This is the same unit with double zoom, f/2.4 aperture and 13 MP sensor.
However, the ultra-wide-angle module is different and is based on a more modest 16 MP 1/3.09″ matrix in combination with a lens with an aperture of f/ 2.2. The viewing angle is 123 degrees. Unfortunately, there is no autofocus.
The selfie camera uses a 32-megapixel sensor with an aperture of f/2.2 with a viewing angle of 80 degrees. Again, there is no autofocus here.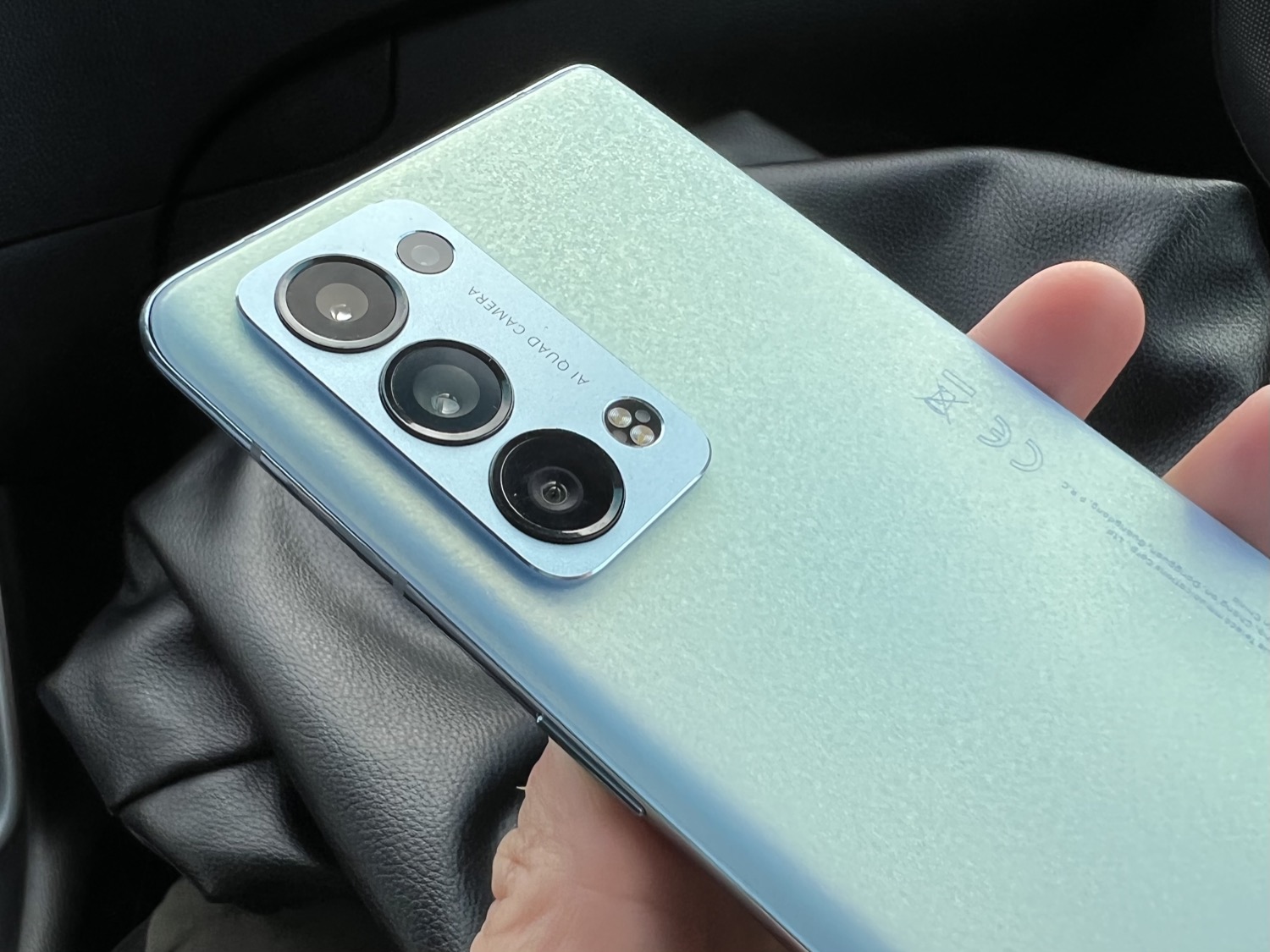 The OPPO Reno 6 Pro cameras cope well with different lighting conditions, the photos are juicy and accurate. The pictures in daylight are almost flawless. In conditions of artificial home lighting, the pictures are no less good.
You get bright colors without excessive saturation, the white balance is always well matched. The dynamic range is excellent, and complex scenes have a well-developed tonality. The level of detail is also great.
If you still want to add a little more color to your photos, you can use the "AI Scene Enhancement" toggle. It's not that ordinary photos are pale, but autumn colors sometimes need to be shot that way, and the sky also becomes more saturated. The difference is noticeable, but everything is balanced.
Quad Bayer pixel connection technology is on board, and the phone takes pictures with a resolution of 12 MP, clear and detailed. In the settings, you can enable the original 50 MP, but there is no point – it will take more time to create a photo, and the files will be heavier. And the quality is largely the same.
Different zoom levels are available. x2 when using a telephoto lens is very good, almost like from the main module. x5 and x10 are digital, the quality is not always good, but acceptable. Here are examples (1x – 2x – 5x – 10x):
ALL PHOTOS IN THE ORIGINAL RESOLUTION
Photos in low light and at night from the main Reno camera are generally good. Details are clear in well-lit places. It should be noted that the OPPO Reno 6 Pro catches a lot of light, even in complete darkness. I can say that it sees better than me. That's good enough.
You can also use the night mode (ultra night). However… what surprised me, there's almost no effect. Usually, in night mode, smartphones make the image too bright, slightly overexposed, which looks unnatural. In the case of OPPO Reno 6 Pro, there is no need to highlight the photo, so the night mode works in such a way as to give the photos a warmer "evening" color reproduction, add with more details. I'm not sure I like it. Perhaps I'm just too used to the more dramatic results of night mode on other smartphones. Examples of the Ultra Night mode on the right.
It is also worth saying that during the night shooting, the smartphone takes a series of photos; the whole process takes 6-7 seconds (hence the high definition of the pictures). You have to stand still and patiently wait for good shots. Not everyone has that much patience
The 2-megapixel "macro" camera is not very good. It is really bad for such an expensive phone, and perhaps even for a phone that costs a third of the price of the Reno 6 Pro. The resolution is low, the colors are dim, and the dynamic range is narrow. As in night mode, you need to be patient and not move while shooting, otherwise everything will go down the drain. Here are examples.
The ultra-wide-angle lens has a kind of spatiality, a large viewing angle. The photos are good, even in poor lighting conditions. The colors match the main camera exactly, the dynamic range is fine. Here are examples, wide-angle photos on the right.
There is a portrait mode with background blur and filters.
The 32-megapixel selfie camera also takes very good photos. The dynamic range is solid, the images are very detailed. In slightly darker conditions, the photos will show signs of aggressive sharpness, but this is not very noticeable.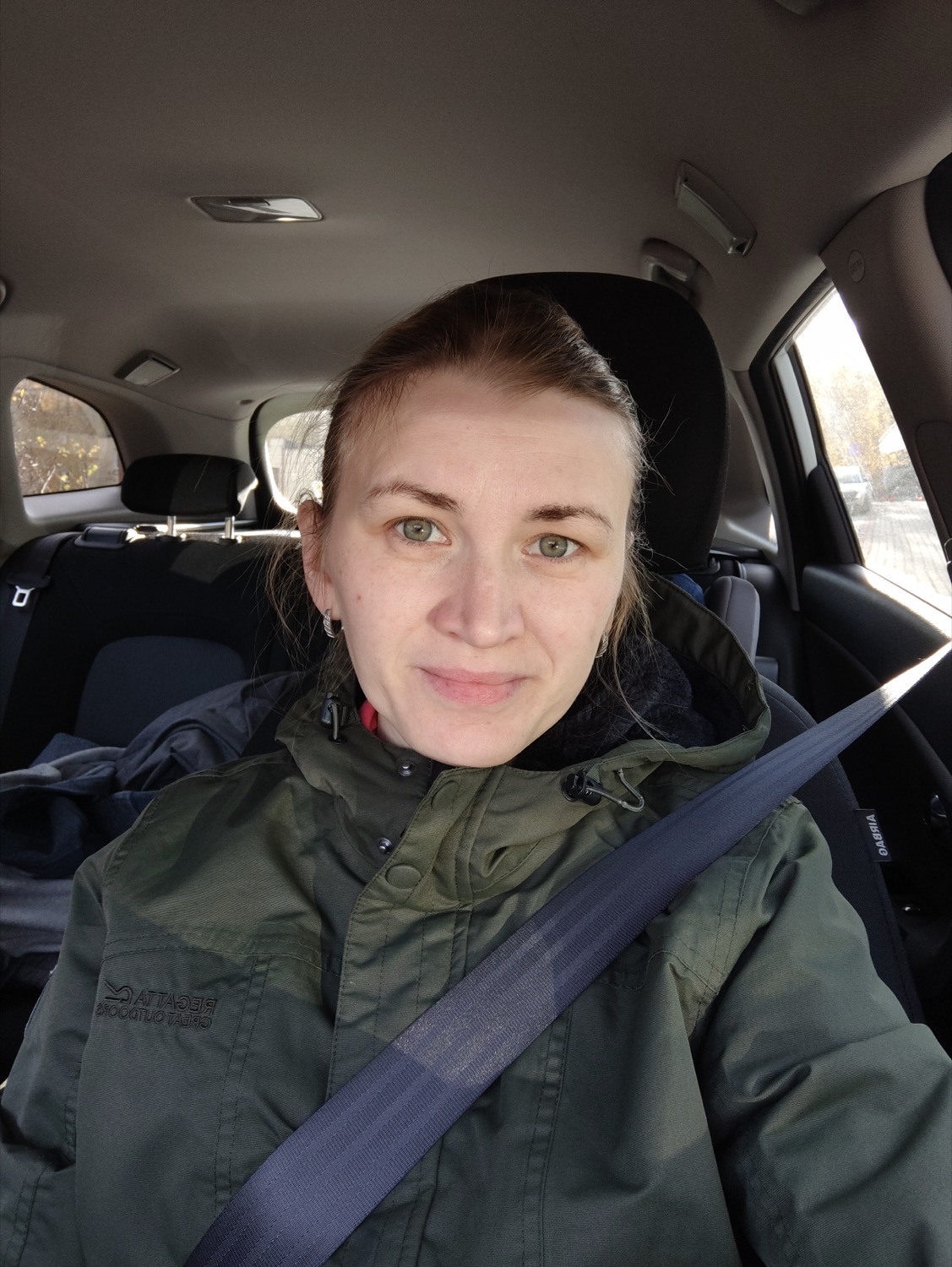 Video shooting is available in 4K at 30 fps or 60 fps (this is the main module, the rest have [email protected]).
Example [email protected]:
The video quality is high even in low light.
By the way, there is an automatic lighting mode for when it's dark, it works very well.
There is also an Ultra Steady mode with aggressive electronic video stabilization. And an interesting video mode with background blur.
There were no problems with getting used to the camera app UI. It's simple, everyone can find everything they need.
Read also:
Unlocking
The most convenient way to unlock the screen is a fingerprint scanner. It works quickly and flawlessly. That's why I only use it. I don't have to wait for the phone to "recognize" me. The area where you need to place your finger is highlighted, which is convenient. The sensor will not work if you have wet fingers.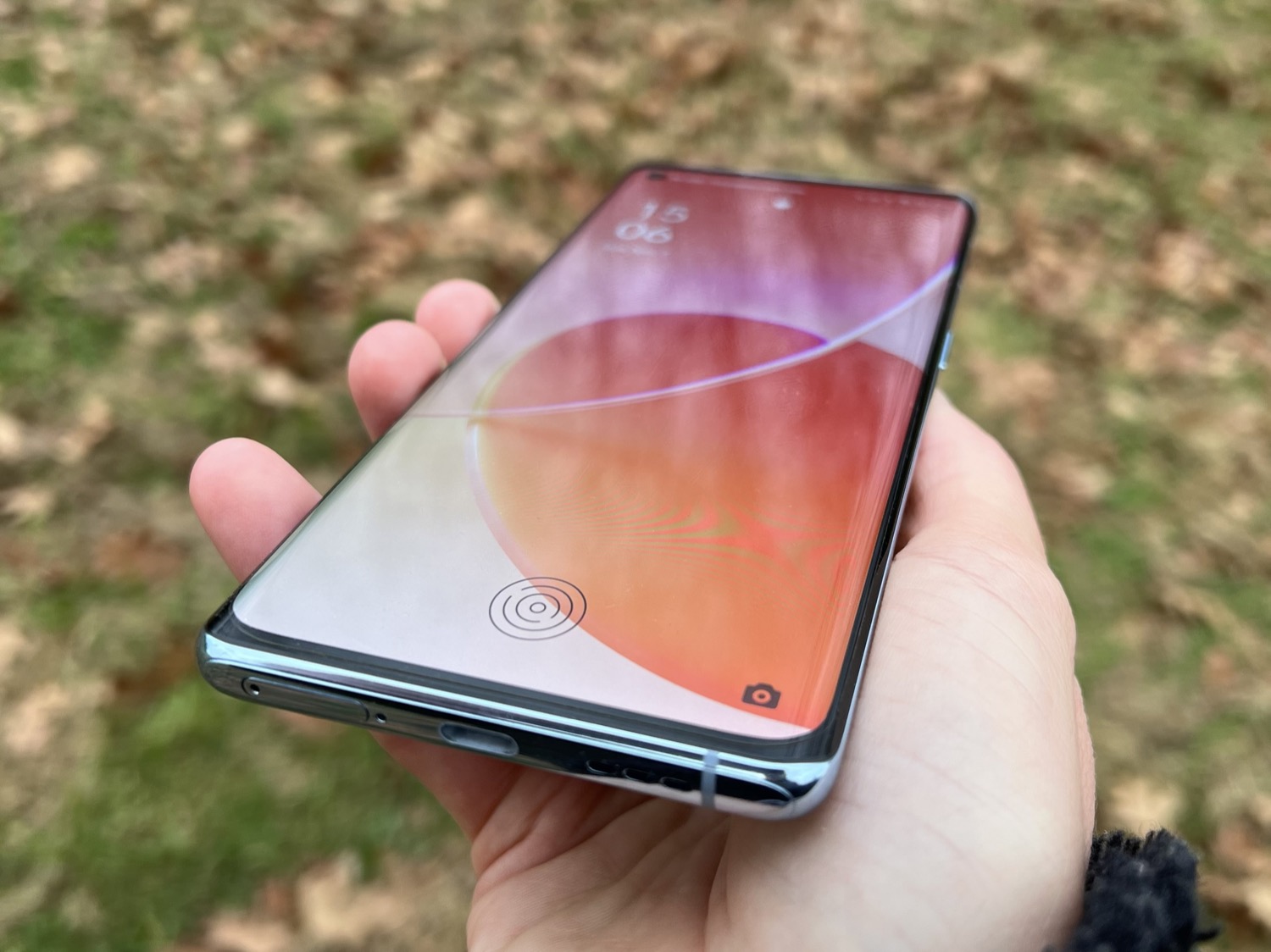 I do not deny that other methods, such as face recognition or PIN, are also effective and convenient. Everyone can choose what they like best.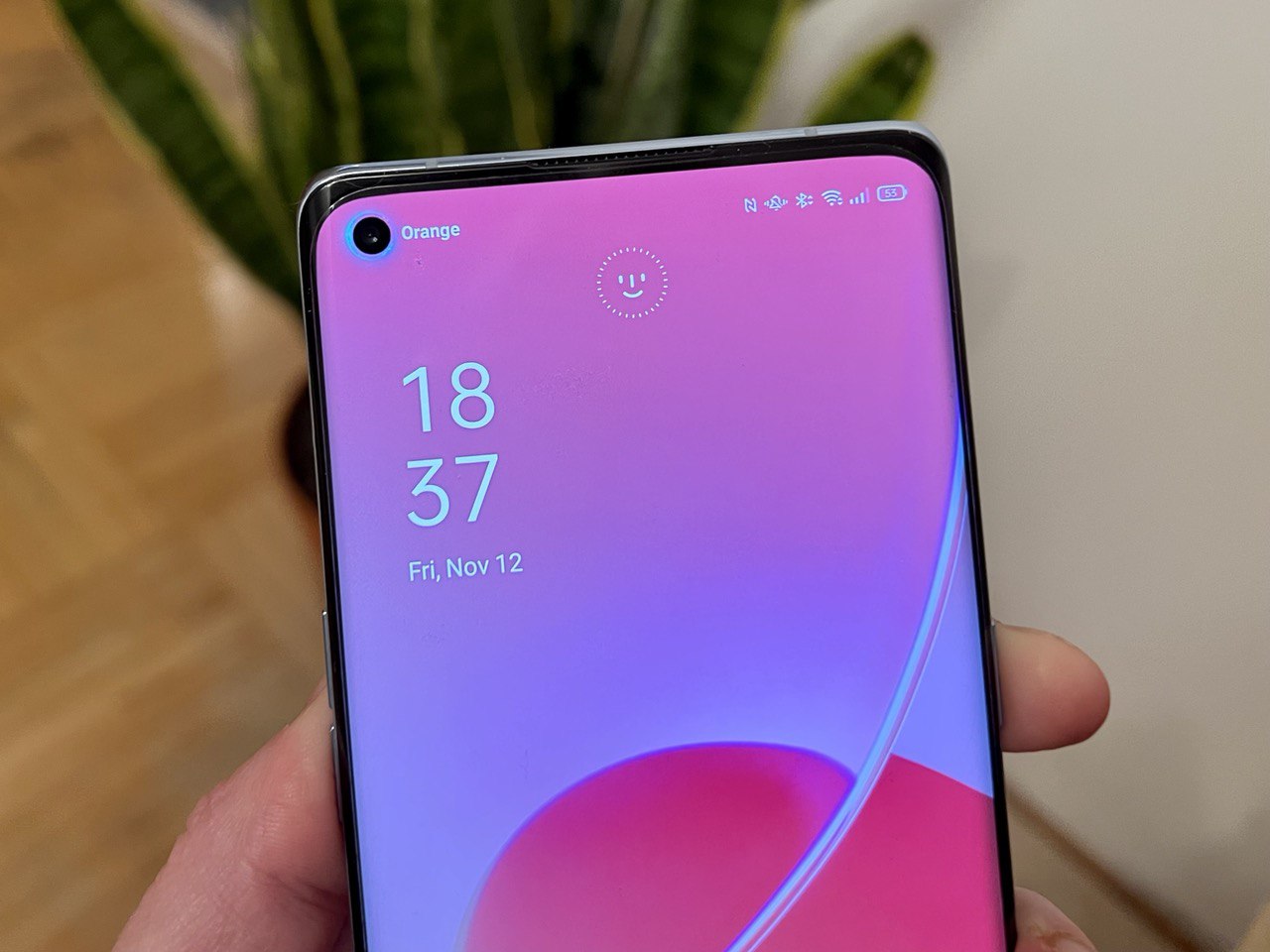 I will only add that during the test I used Face ID and Touch ID at the same time. Face ID works perfectly even in low light conditions. If you want to use this option in complete darkness, the phone increases brightness of the screen to illuminate the user's face. But the fingerprint scanner was enough for me. Interestingly, it can launch certain apps.
It's good when you can combine both methods. One is comfortable to use in some conditions, the other in others, the main thing is that there is a choice.
Sound
The speakers are stereo, unlike the OPPO Reno 6 (one is located at the bottom and the second is above the screen), and that's important. The sound is loud, high-quality. Dolby Atmos is supported, as well as HD audio on Netflix and Amazon Prime Video.
The sound is good and loud in the headphones. Unfortunately, there is no mini jack (3.5 mm), so you have to use wireless headphones or USB-C.
Read also: OPPO Reno 6 5G review: Affordable and a joy to use
Battery life
I admit that the battery is not the best. It has a capacity of only 4500 mAh, whhile competitors offer up to 5000 mAh.
In our tests, the OPPO Reno6 Pro 5g scored 27.5 hours of calls, 13 hours and 30 minutes of web surfing at above average screen brightness (adaptive screen refresh) and 20 hours of video playback at average brightness with a refresh rate of 60 Hz. Not bad! The Oppo Neo 6 model had much worse results, possibly due to the MTK processor, because the battery capacity there is 4300 mAh.
During the test, I actively used the device, and it always had enough juice until the evening, when there was about 20-25% left.
The charging process is extremely fast thanks to SuperVOOC technology and the bundled 65W charger. It takes only 35-37 minutes to fully charge the smartphone.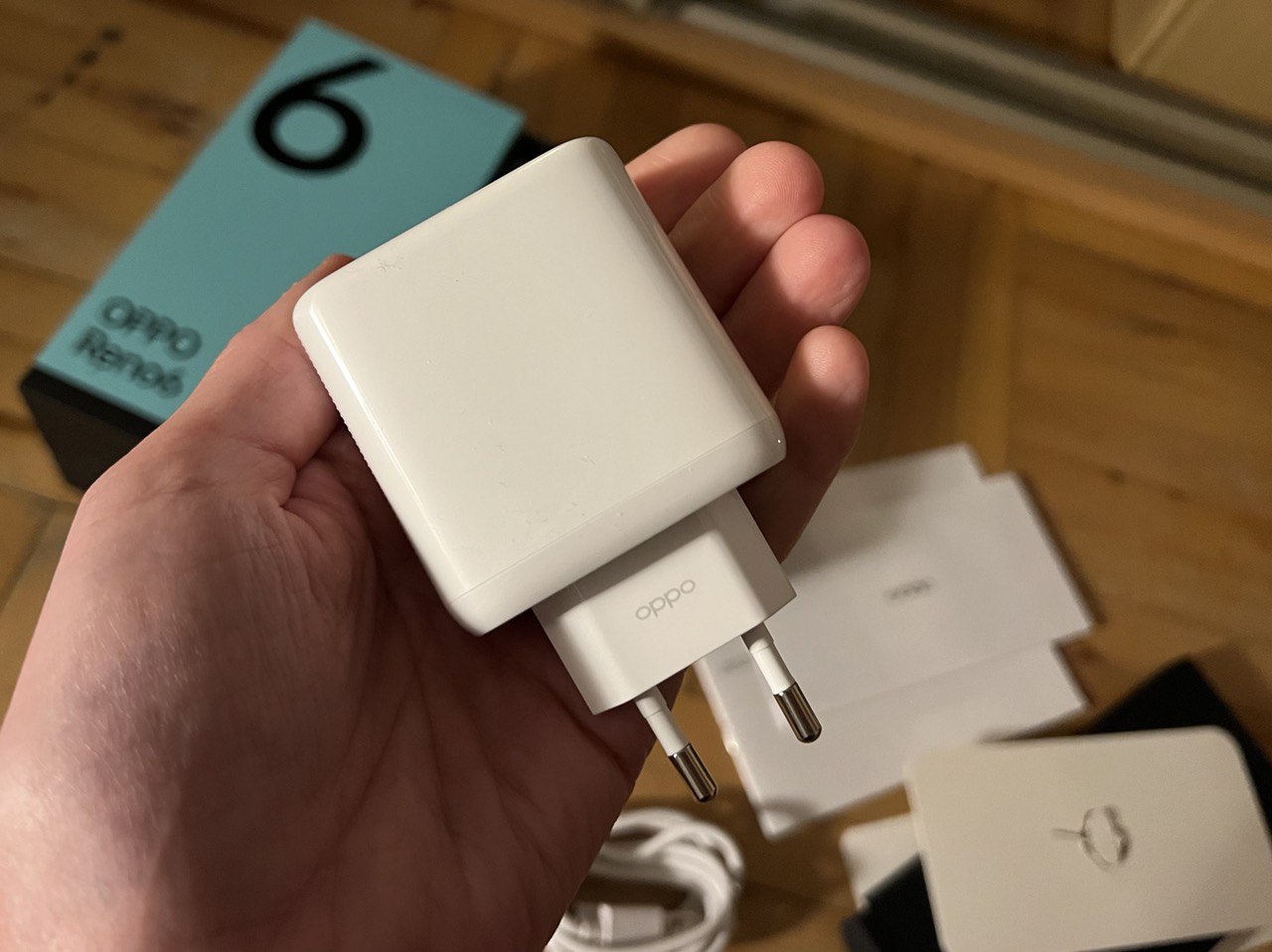 The smartphone can be used as a power bank, but, unfortunately, there is no wireless charging. I didn't complain about it in the OPPO Neo 6 review, but a more expensive model should have gotten this feature.
Software
The OPPO Reno 6 runs on the ColorOS 11.3 shell (the update to version 12 is imminent). The OS version is Android 11. As you may have guessed, I didn't have any issues here. The ColorOS shell is well designed and up-to-date, and I really like the somewhat modified versions more than the usual clean Android.
The shell has a cool and slightly unusual "cloning" function. You can duplicate both the system and the applications. And, for example, use the same gadget for personal purposes and work at the same time. Gesture control is available, and it's quite intuitive. You can divide the screen into two parts, optimize the operation of the device, there is a children's mode, etc.
In addition, you can use a software method to expand RAM and add up to 5 GB. Of course, it doesn't work like regular high-speed memory, but it can come in handy when you need to work with multiple apps at the same time. Additionally there's compass, file manager, calculator, weather, voice recorder, gallery, and video player.
There is a side panel that can be configured for quick access to the necessary functions.
Read also:
Verdict
In my opinion, the OPPO Reno 6 Pro 5G is a very good smartphone (this back panel is just so slick) with good ergonomics and almost flagship specs. It has a great AMOLED screen, really good cameras, a fast processor and 12 GB of RAM. Another advantage is impressive battery life, fast charging (the device charges up to 100% in 35 minutes) and a convenient fingerprint scanner located in the screen.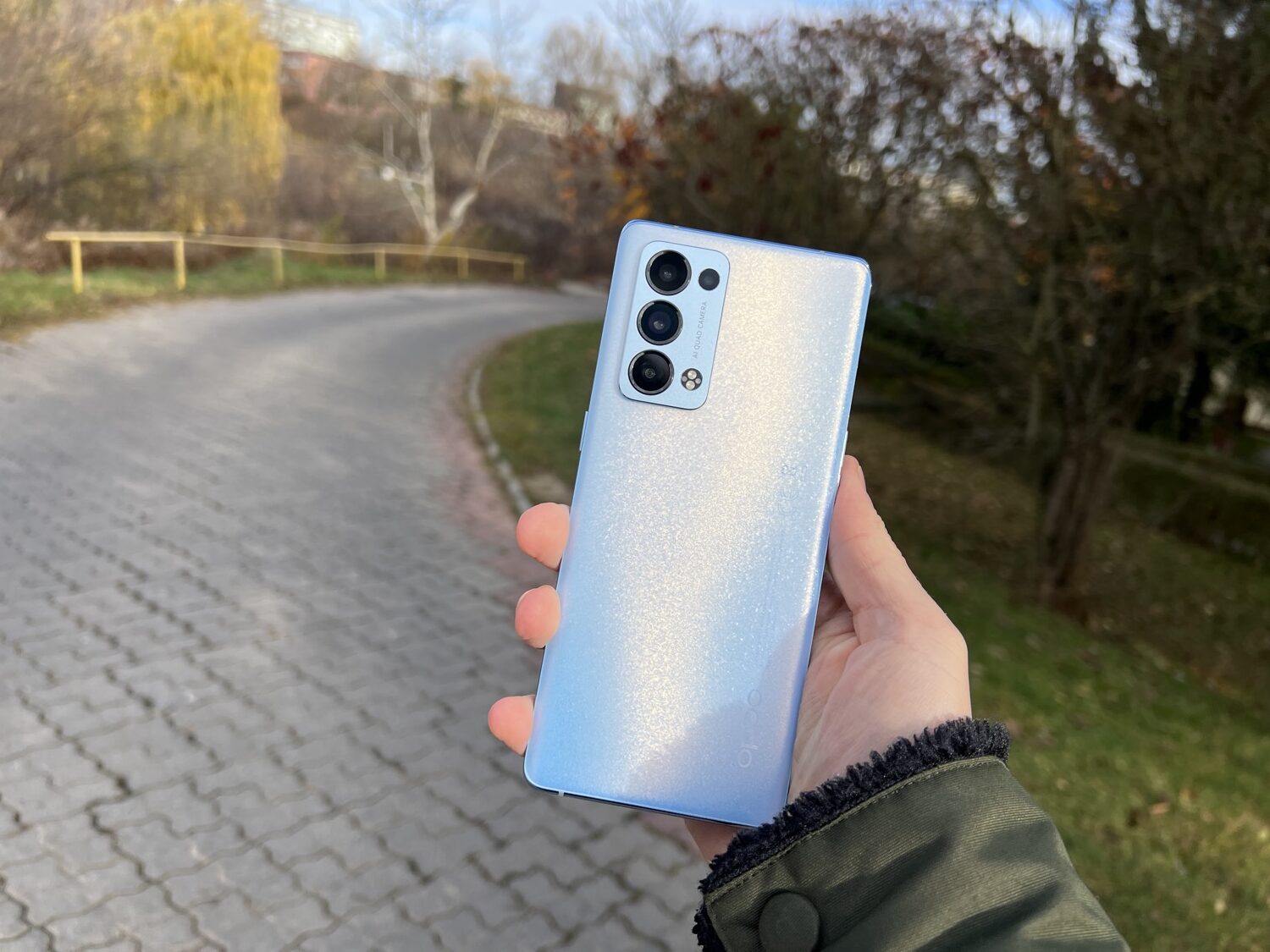 Sure, there's no protection from water and a useless macro camera. There is also no slot for a memory card (but 256 GB is probably enough for almost everyone), and while the 90 Hz screen is good, competitors offer more.
There are many other competitive models in this price range. For example, the flagship Samsung Galaxy S21 (or larger S21+). It gets you a brighter display (120 Hz) and protection from dust and water according to the IP68 standard. Samsung also uses the flagship chipset of the current generation. The Galaxy camera system is more versatile. But the Reno 6 Pro has a larger amount of RAM.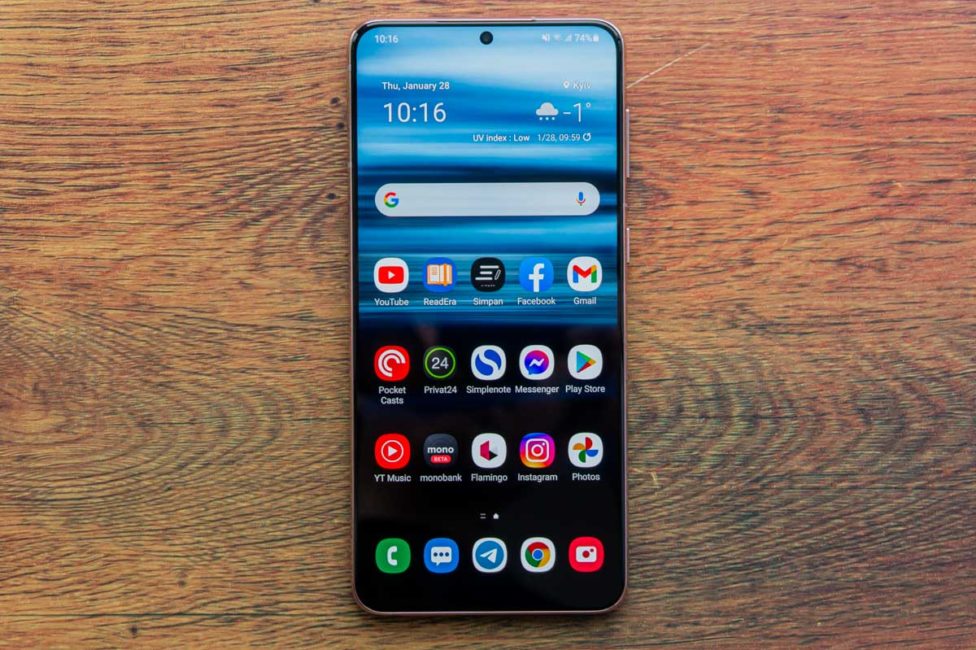 The ASUS Zenfone 8 Flip belongs to the same category. Its trick with the flip camera really works wonders and makes it one of the best smartphones for selfies. Zenfone also has a faster chipset than the Reno 6 Pro, thanks to this it has a slight performance advantage. The Zenfone 8 Flip also supports microSD cards for memory expansion. But again, only 8 GB of RAM (which is still a lot).
The cheaper Motorola Edge 20 Pro is also a strong competitor. It also looks good, has the same chipset and 12 GB of RAM, a good 144 Hz display, decent cameras and an interesting Ready for feature to turn your phone into a desktop. The Reno 6 Pro, on the other hand, has stereo speakers (which Moto lacks) and charges faster.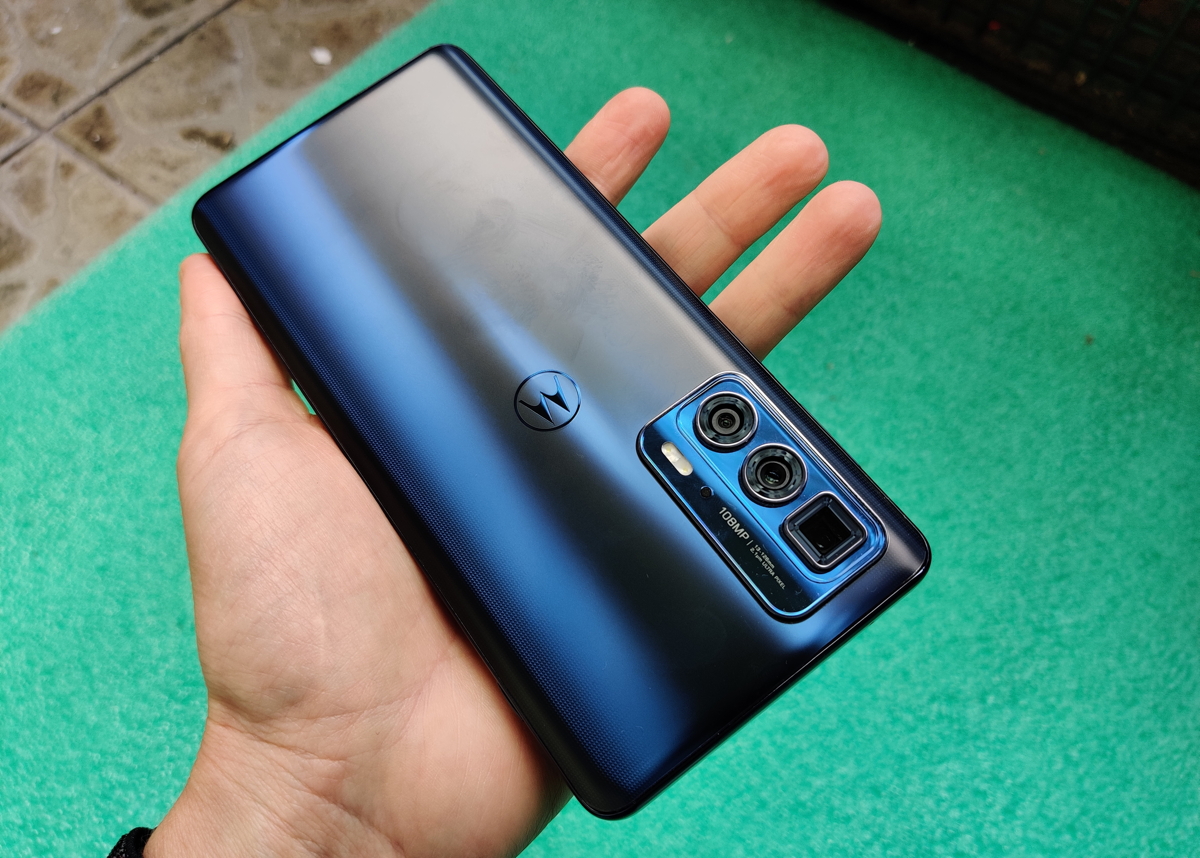 We should also mention the Xiaomi 11T Pro. It has a top-end Snapdragon 888, a 120 Hz screen with Gorilla Glass Victus, IP53 protection standard and a long battery life. Of course, OPPO is prettier and looks premium.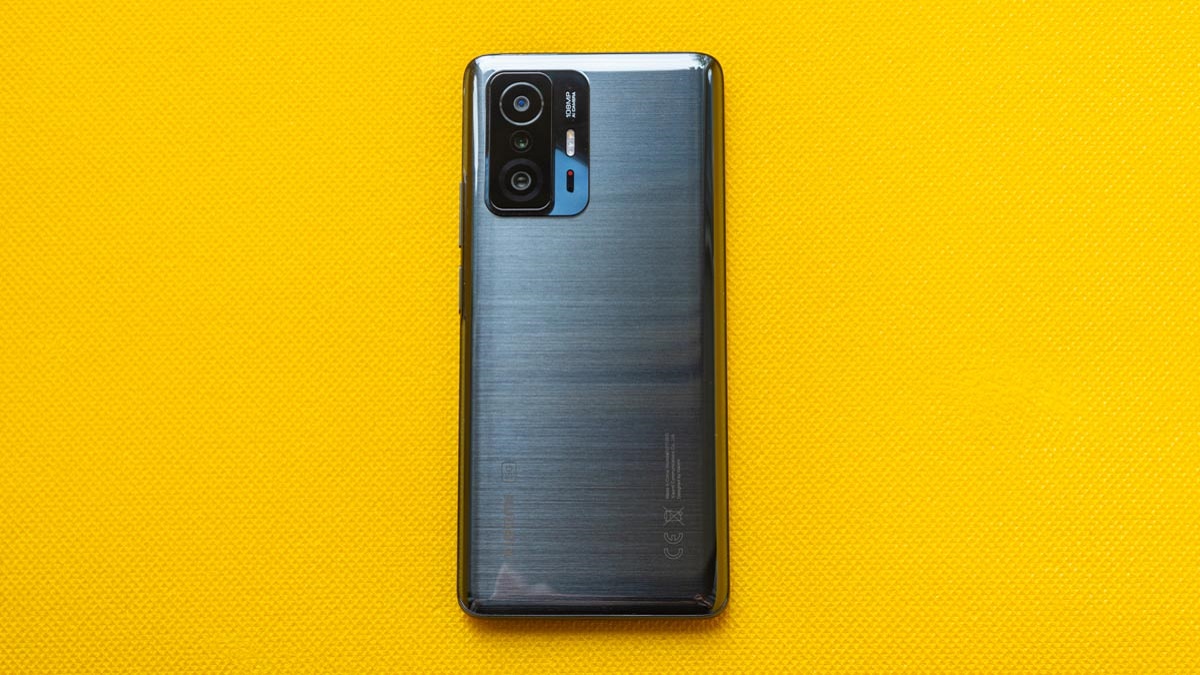 The flagship Xiaomi Mi 11 costs the same as the Reno 6 Pro. It has a good 120 Hz AMOLED display with a resolution of 3200×1440, very good cameras (including for video), and Snapdragon 888. Reno 6 Pro has a larger amount of RAM and charges a little faster.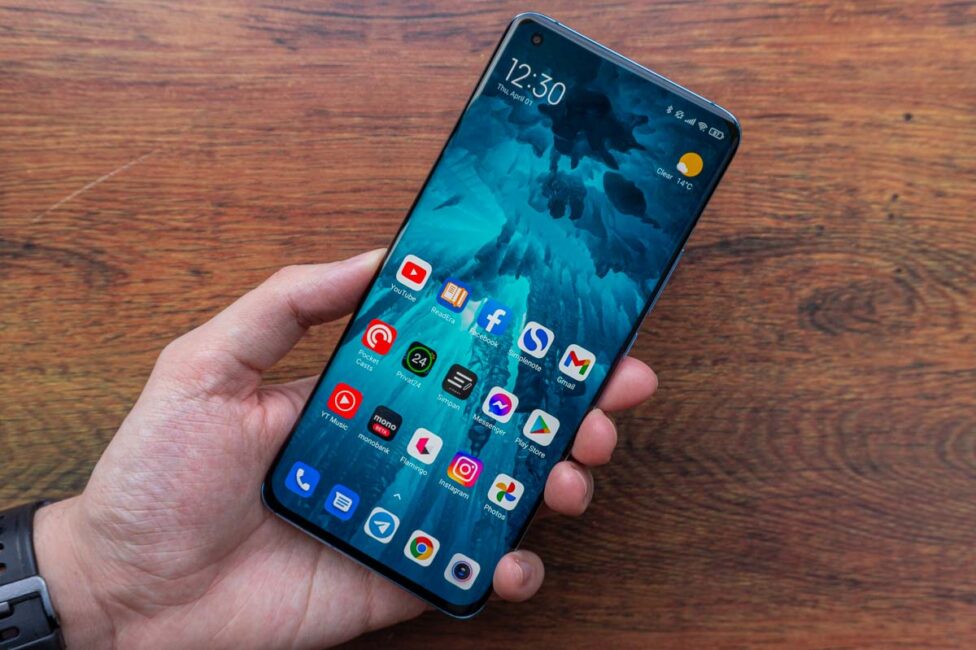 You can also pay attention to the OnePlus 9. The smartphone has a 120 Hz screen, Snapdragon 888, decent cameras developed in collaboration with Hasselblad, and Warp Charge 65T fast charging.
To compete in the market, the OPPO Reno 6 Pro 5G needs to be several tens of dollars cheaper. Although, undoubtedly, it has his own charm and considerable advantages. To be honest, I really liked this Ice model with rounded edges of the screen and excellent cameras. I would even trade my iPhone for it. And this rarely happens!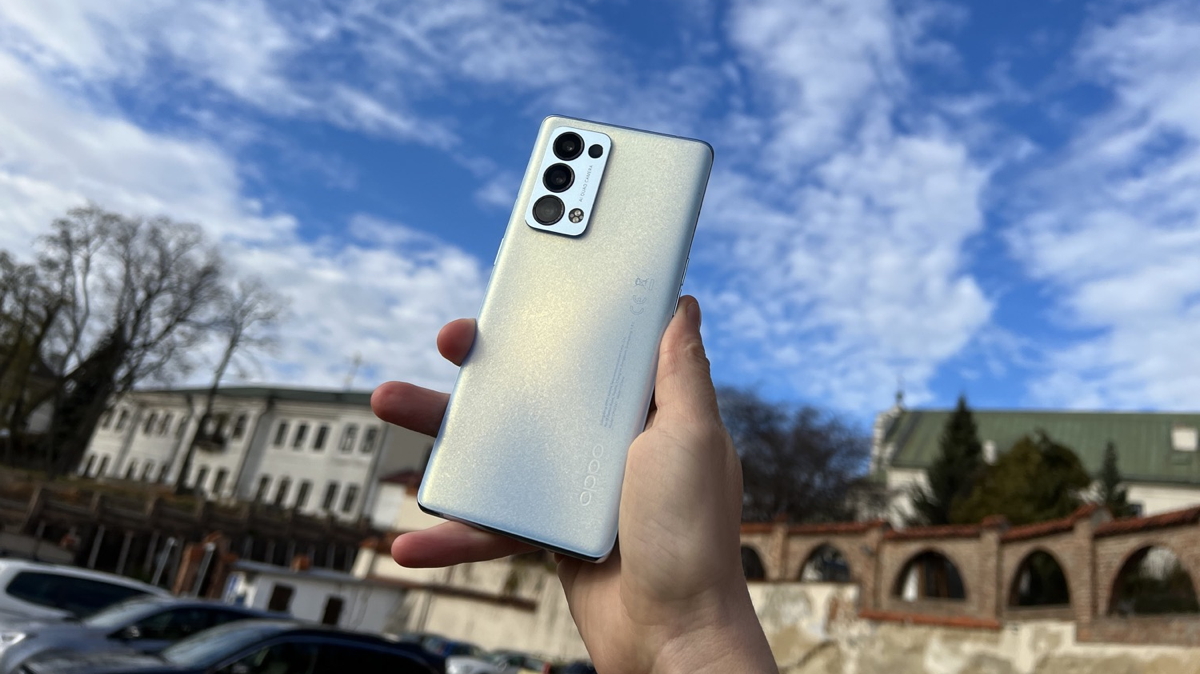 Read also: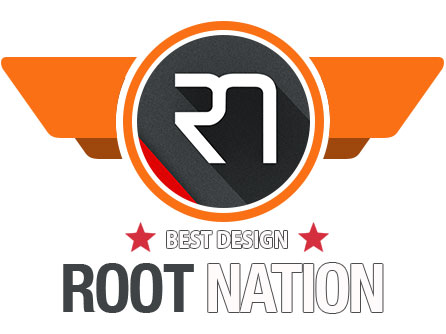 Where to buy
Subscribe to our accounts: