Samsung Galaxy Flip5 is a new foldable smartphone from the Korean company. Its main advantages are a large external display and an advanced gapless hinge. Is it enough to be on top?
Some of you may well remember the times when the market was dominated by convertibles. Since then, mobile devices have undergone a real revolution. But the echoes of history made themselves felt a few years ago when foldable smartphones started to reappear.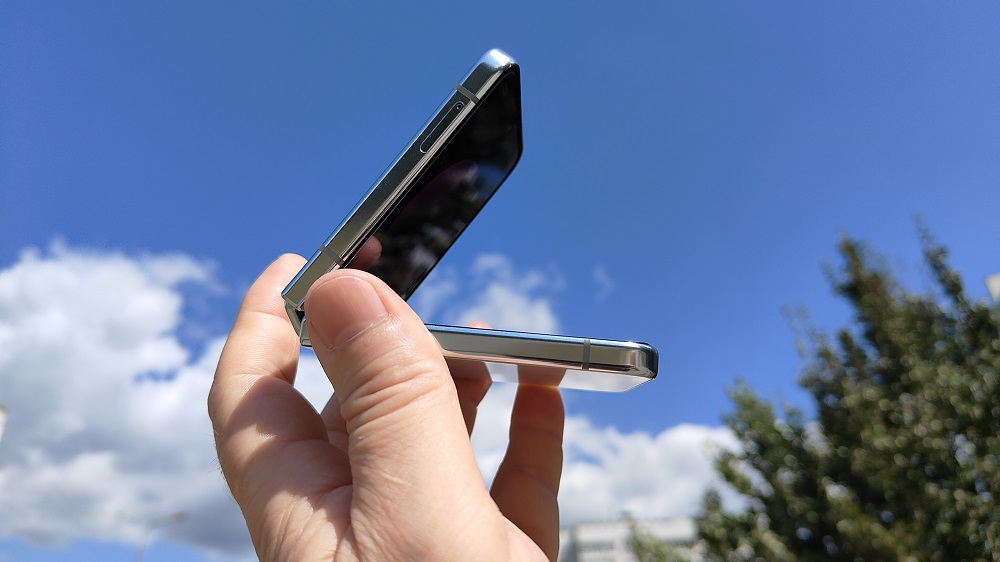 And we must admit that this segment is developing quite dynamically, as exemplified by the Samsung Galaxy Flip5, the latest convertible from the Korean manufacturer. Has the fifth Flip matured, or is it still an experimental device? My review of the Samsung Galaxy Flip5 will answer this question.
Read also: Samsung Galaxy S23 Ultra smartphone review: An unprecedented flagship
Samsung Galaxy Flip5 is a pocket-sized foldable smartphone and a flagship
Foldable smartphones have already become part of our lives. You can see them in people's offices, at work meetings, at sporting and cultural events. They are a tidbit in the mobile market today. We hear all the time that the mobile market has become boring, predictable, because manufacturers don't spoil us with anything new and interesting. The exception is foldable smartphones, which are getting better and better every year. They are no longer a technological highlight, but devices that can be successfully used on a daily basis. This is especially true of modern foldable smartphones, which deserve special attention, primarily because of their compact size and fairly affordable price.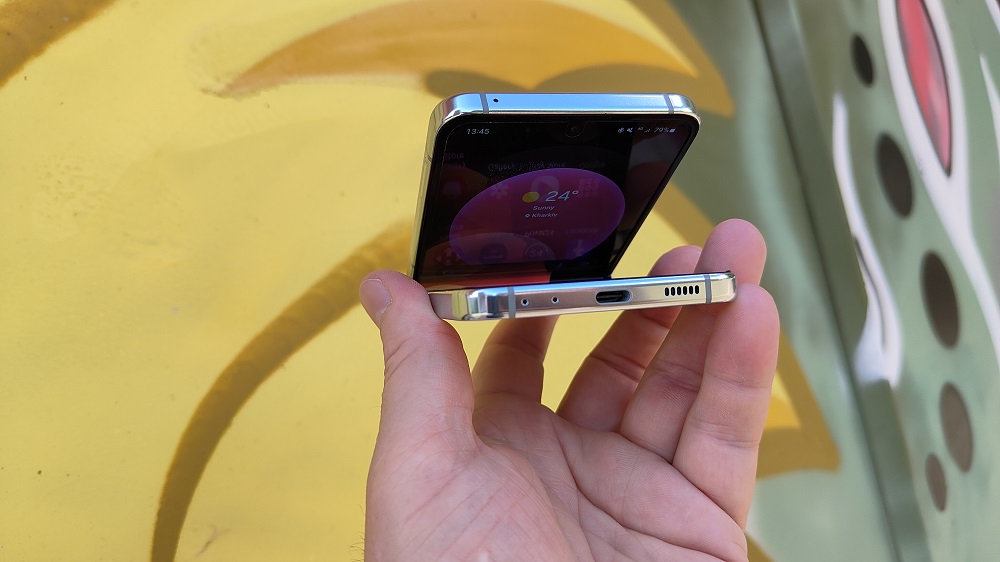 Of course, it is Samsung that is the innovator in this field at the moment. The new Galaxy Flip5 from the Korean manufacturer proves it again. Samsung Galaxy Flip5, or as I call it for myself – Samsung pocket foldable smartphone, seems to fit perfectly into the group of "full-fledged" smartphones. Thus, the Galaxy Flip5 is a kind of return to the past, to the days of folding tablets, because it folds, but, at the same time, has what demanding users expect – truly flagship characteristics.
The novelty from Samsung is equipped with a modern processor Qualcomm Snapdragon 8 Gen 2, has two remarkable Super AMOLED-displays (the outer one became even bigger), an excellent set of cameras, a rather capacious Li-Ion-battery for 3700 mAh, supported 25W fast charging, 15W wireless charging and 4.5W reverse wireless charging for accessories. The novelty also got support for all modern communications – 5G, LTE: 2000/300 Mbps, Wi-Fi 6E, Bluetooth 5.3, NFC. All this runs on Android 13 with One UI 5.1 add-ons. The smartphone is also IPX8 dust and water resistant. A modern, powerful flagship from Samsung, but in an interesting clamshell format.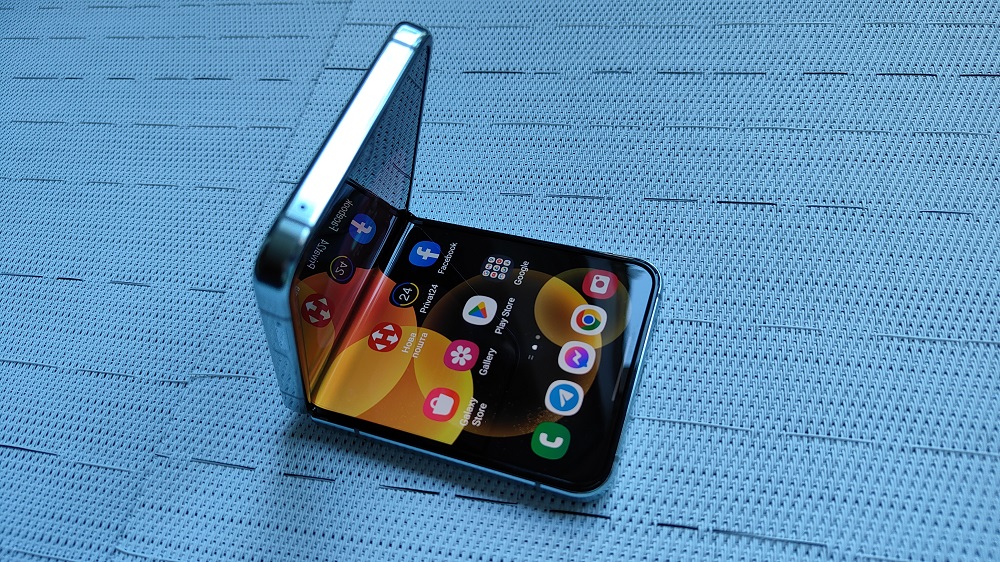 Of course, the use of ultra-modern foldable smartphone technology has affected the price of the novelty from the Korean manufacturer. Samsung Galaxy Flip5 in 8/256 GB configuration can be bought for $1150, and for a cooler version of 8/512 GB you will need to give $1260. But, the price is pretty adequate considering its specifications. The smartphone is available in four colours: mint, graphite, cream and lavender. My test variant is just the mint colour in the 8/256GB configuration.
Technical specifications
Processor: 8-core Qualcomm Snapdragon 8 Gen 2, 3.2 GHz, Adreno 740
Main display: 6.7-inch open, Foldable Dynamic AMOLED 2X, 2640×1080 pixels, 120Hz refresh rate, Corning Gorilla Glass Victus 2 protective glass, HDR 10+, 425 ppi
External display: 3.4-inch Super AMOLED, 720×748 pixels (Gorilla Glass Victus 2), 306 ppi, AOD
Camera: dual, 12MP main module, f/1.8, 24mm (wide-angle), 1/1.76″, 1.8µm, Dual Pixel PDAF, OIS + 12MP, f/2.2, 123˚ (ultra-wide-angle), 1.12µm
Selfie camera: 10MP, f/2.2, 23mm (wide), 1.22µm
Video recording: LED flash, HDR, panorama, 4K 30/60fps, 1080p 60/240fps, 720p 960fps, HDR10+
RAM: 8GB LPDDR5
Storage: 256GB or 512GB UFS 4.0
Battery: 3700 mAh
Charging: 25W fast charging, 15W wireless charging and 4.5W reverse wireless charging for accessories
Operating system: Android 13 with One UI 5.1
Connectivity: USB Type-C 3.2, OTG, Wi-Fi 6E, tri-band, Wi-Fi Direct, Bluetooth 5.3, A2DP, LE, GPS, GLONASS, GALILEO, BDS, LTE, 5G, eSIM, NFC
Dimensions: 85.1×71.9×15.1 mm (closed) / 165.1×71.9×6.9 mm (open)
Weight: 187 g
Technologies: accelerometer, barometer, gyroscope, light sensor, proximity sensor, Hall sensor, face scanner, fingerprint scanner in the power button, IPX8 protection.
Colour options: Mint, Graphite, Cream, Lavender.
Read also: Realme Pad X Review: An Extraordinary Tablet
Galaxy Flip 5 design
I had a technical sample (not for sale) on my review, so I can't say anything about the product packaging.
The Samsung Galaxy Flip5 at first glance looks very similar to its predecessor, the Galaxy Flip4. It has the same glass and metal body with a glossy finish that is available in eight colours.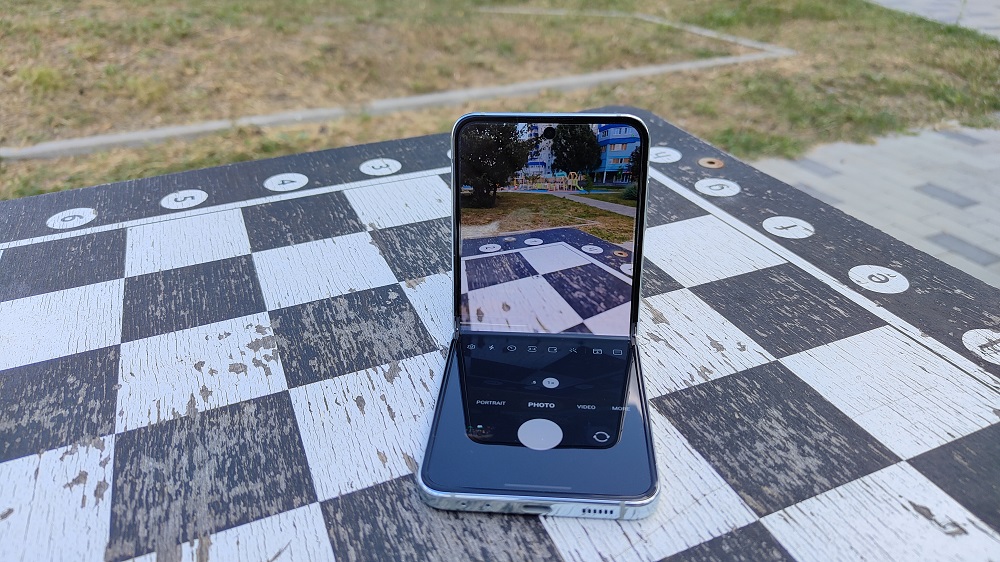 Cream, lavender, graphite and mint (the model you see in this review) are available in most places, while grey, blue, green and yellow are available exclusively on Samsung's website. The phone has a black or silver aluminium frame, depending on the colour of the back panel.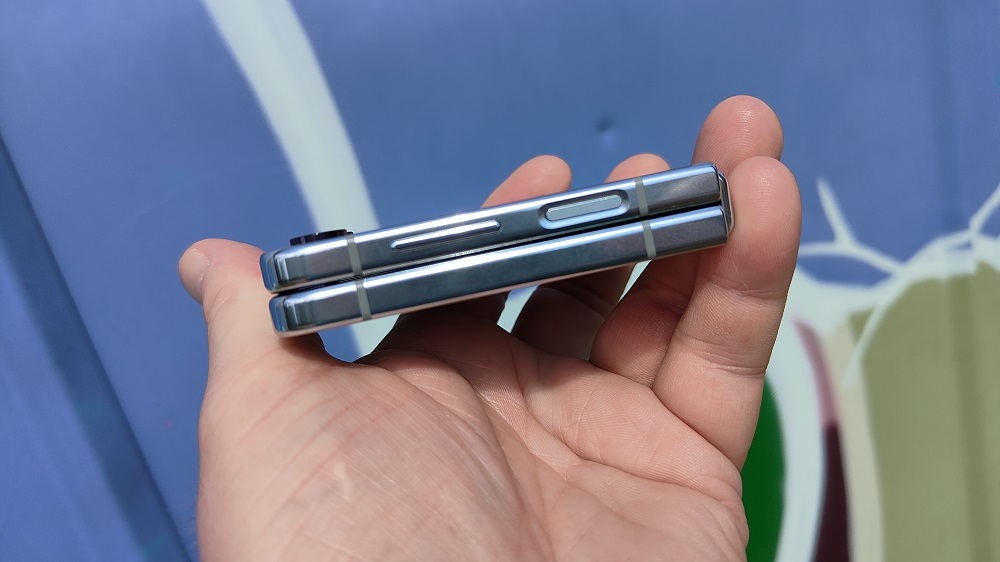 Flat frames are made of aluminium and shine very nicely when they are clean. The thing is, they love to collect fingerprints. So does the back panel, which, along with the additional screen, received Gorilla Glass Victus 2 protective glass.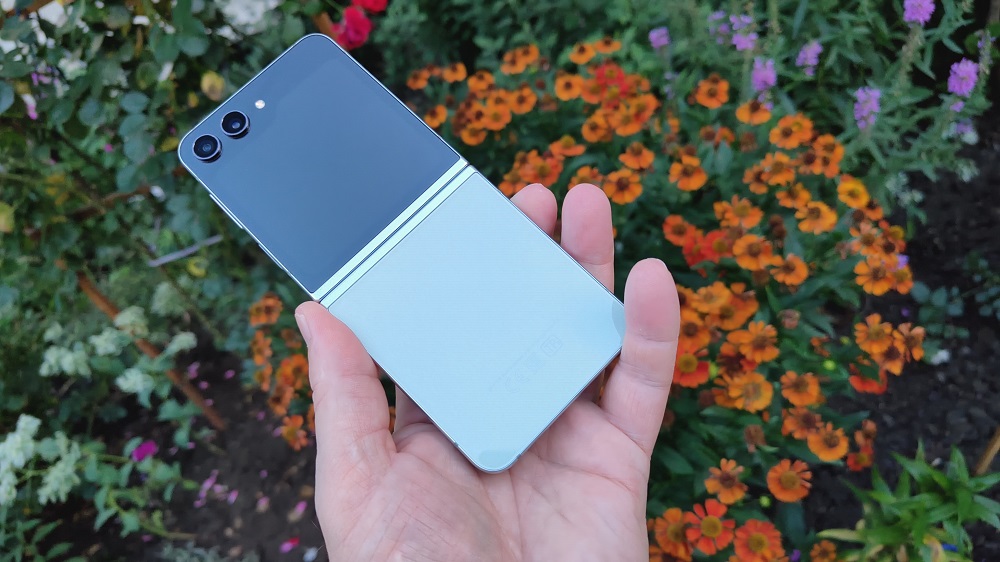 The dimensions of the smartphone are 85.1×71.9×15.1 mm (closed) / 165.1×71.9×6.9 mm (open), when open it looks like a normal modern smartphone. I compared it to my Huawei Mate 40 Pro. It may be slightly narrower, but not very noticeable.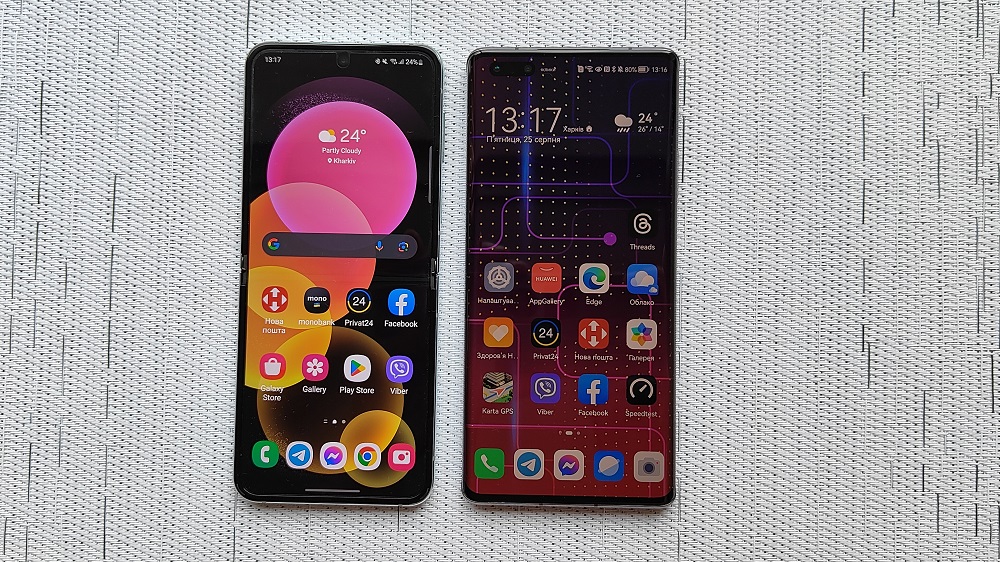 But when folded, the real magic begins. Although it is 2mm thinner than the Galaxy Flip4, it is still quite thick when folded, but it looks elegant. A real "woman's powder puff" that will find its place in the pocket of jeans and in an elegant handbag.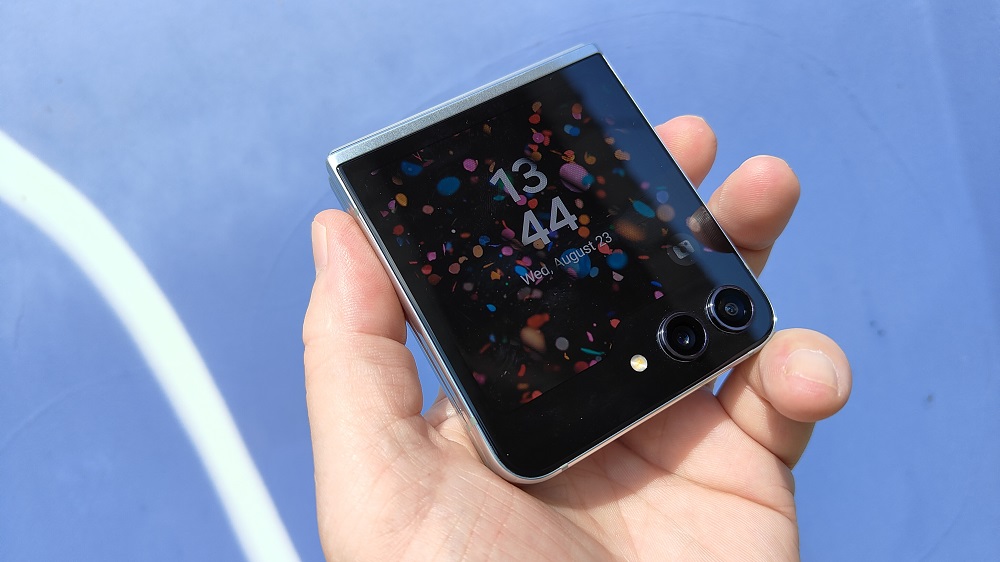 The Samsung Galaxy Flip5 weighs just 187g, the weight is well distributed so the smartphone rests comfortably in the palm of your hand in any form.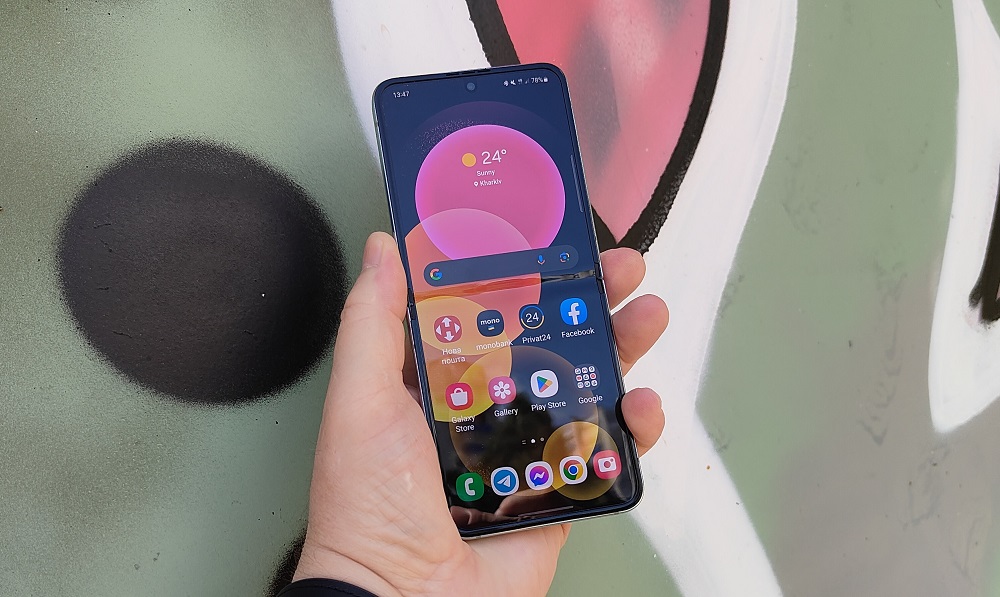 Although when folded, it reminded me more of a toy.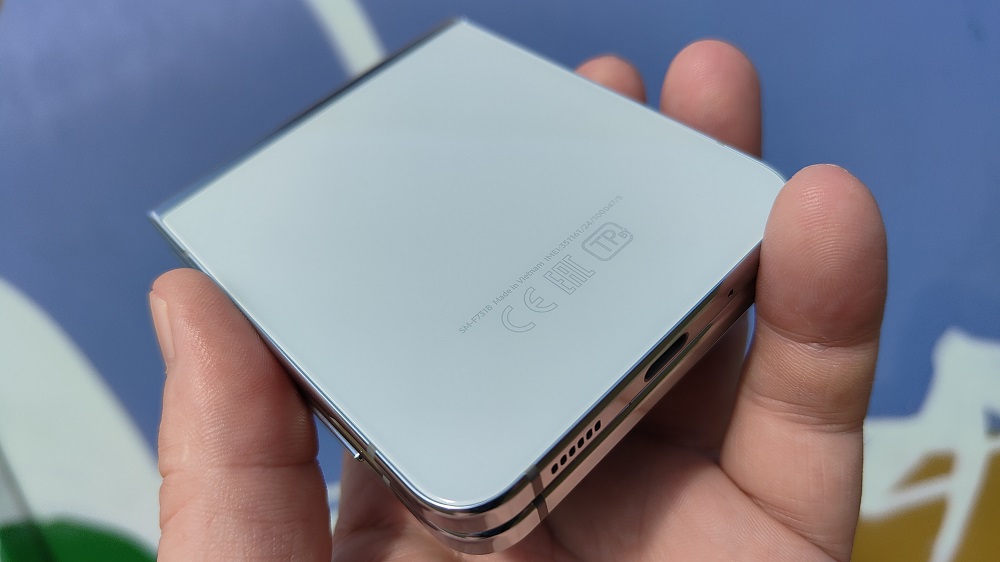 The case itself has undergone a slight facelift, I will tell you about the main innovation in the form of a large external display a little later. The aluminium body has a glossy coating on the sides, the glass back panel is also glossy, in particular we're talking about the Gorilla Glass Victus 2 protective glass. This is a big change because last year's Galaxy Flip4 was matte.
Read also: Review of the Samsung AX32 smart air purifier (AX32BG3100GG)
New Flex Hinge
While the new Galaxy Flip5 remains the recognisable smartphone of the Galaxy Flip family, there have been some changes that have dramatically altered its design and build quality. I am referring to the new Flex Hinge, which should guarantee even greater reliability, but above all, it allows the smartphone to close perfectly flat, further minimising possible dust penetration. That is, after assembly, there is practically no gap through which the inner screen used to collect a lot of dirt, besides, to me, it just looked bad – as if skewed, unfinished. I should add that the brush system is also present to further prevent (or at least try to prevent) dust from getting into the smartphone.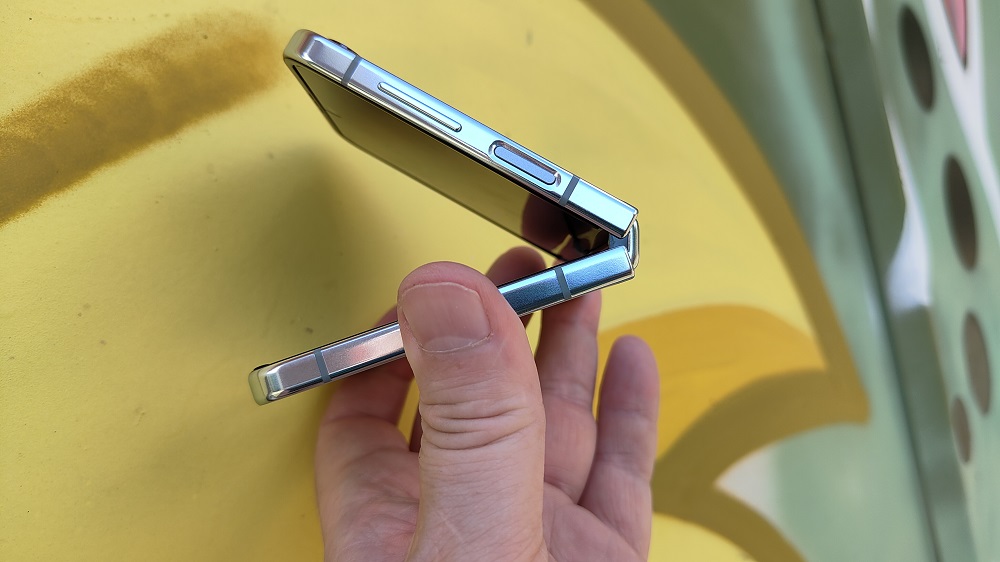 In addition, the hinge itself is quite sturdy. It works quite smoothly without making any suspicious sounds when folding and unfolding. The hinge does not wobble from side to side, which can testify to the excellent work done by the developers of the Korean company. I would also like to note that the new Flip is difficult to open with one hand.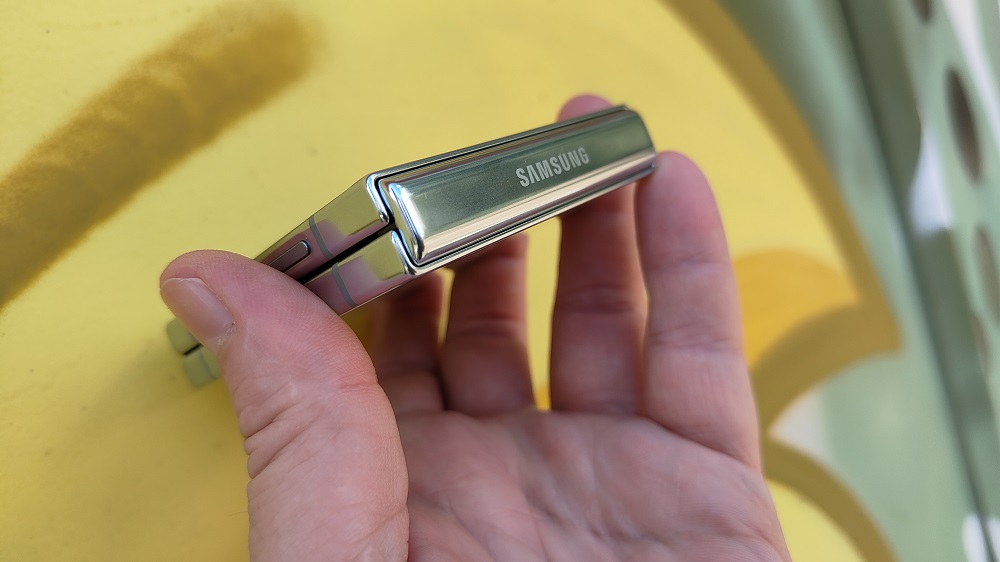 This time I put a lot of effort into figuring out how to do it more conveniently. Firstly, you need to insert your thumb between the structures and open the phone a bit. However, be careful – you may press the inner display a bit with your fingernail while doing so, risking scratches on it.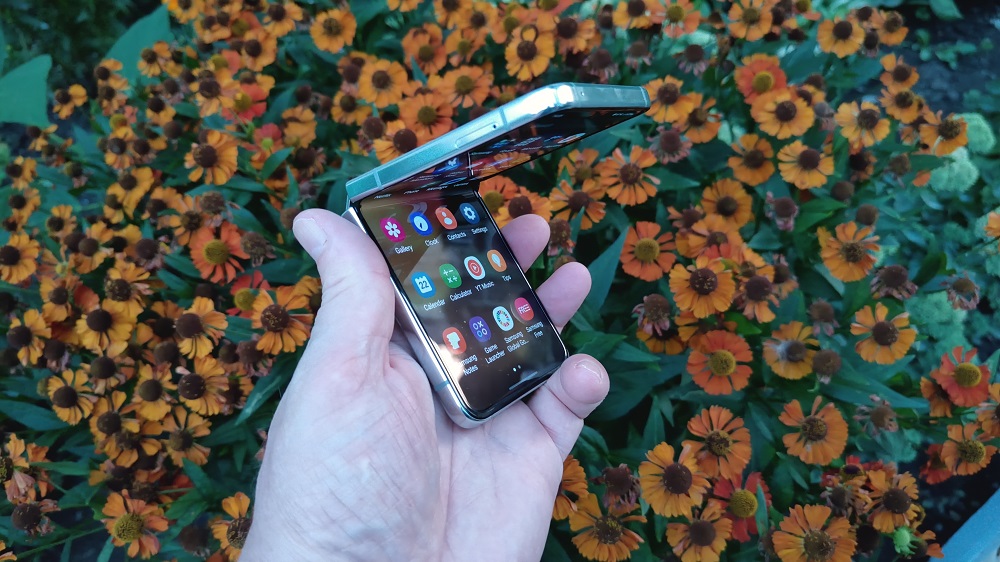 Then you will have to make a big enough swing to overcome the resistance of the hinge and finally the phone will open. This demonstrates the undeniable resilience of the hinge mechanism itself. You have to hold the Flip firmly, otherwise there is a risk of it flying out of your hand. I didn't have a protective case included, but make sure you buy one if you want to keep your new Galaxy Flip5 intact.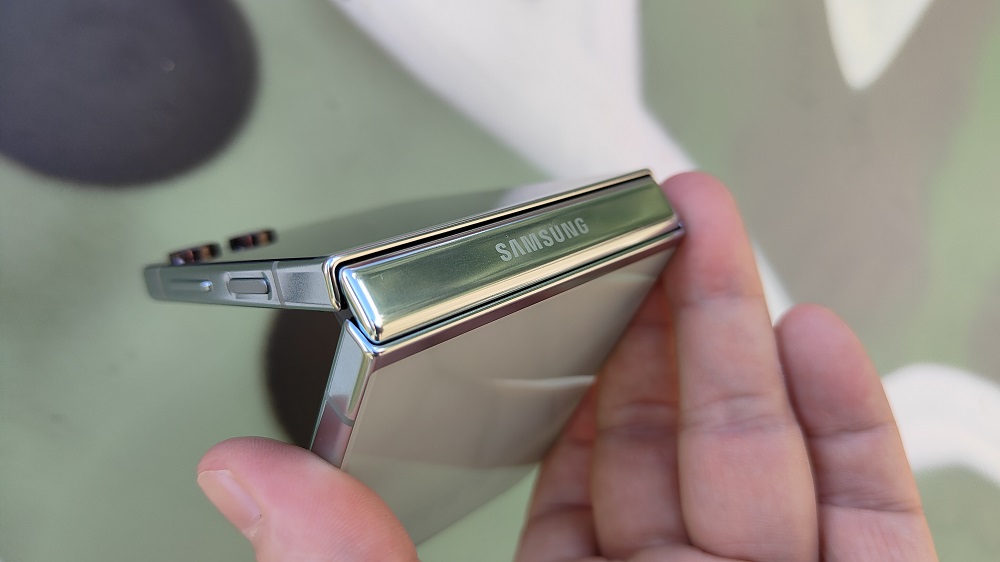 Of course, you have a question about the longevity of the hinge's performance. I used it for a fortnight and nothing suspicious happened during that time. Of course, you're probably wondering what will happen in a year, two or more. There are already some interesting tests online that show that the Galaxy Flip5 can withstand several hundred thousand folding-folding cycles. So you shouldn't worry too much about the lifespan of the hinge and screen, unless you try to damage them somehow yourself.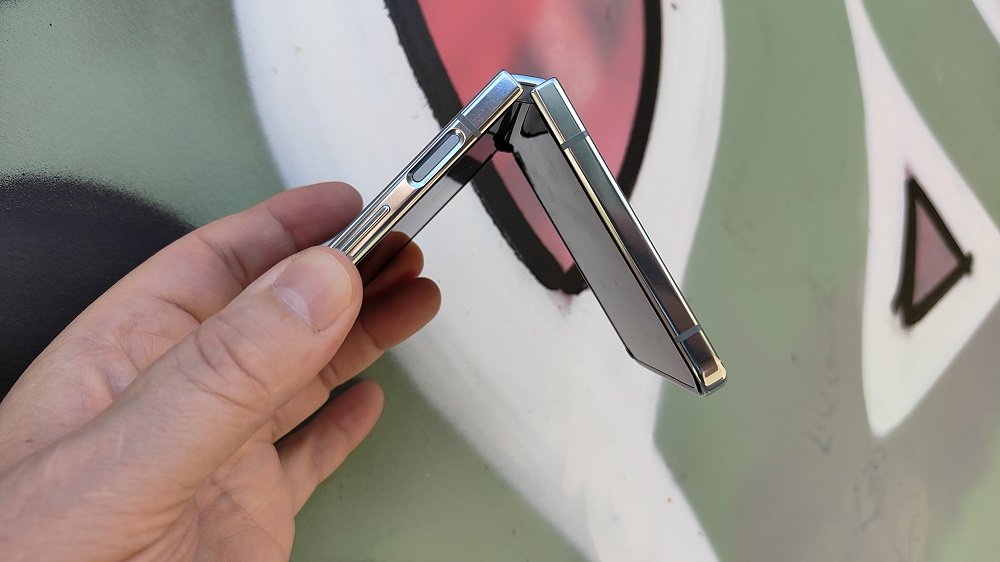 Now about what interests many supporters and opponents of foldable smartphones. The manufacturer claims that the joint line in the middle of the internal display is softened, because the panel itself is curved a little differently inside the structure. I must note that I did not see any significant improvements. If Samsung has indeed improved something, then about this detail you and I do not have a chance to learn.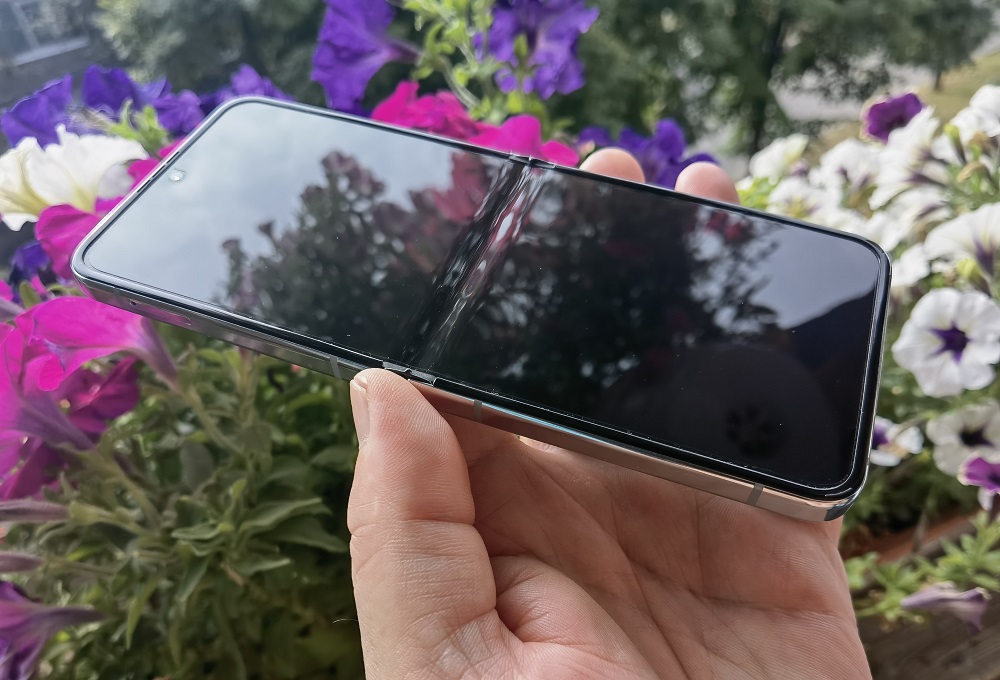 But technologically Flip has gone further, and that's good news. The connection is very strong, stays stable in almost any position and doesn't squeak. When fully open, the two halves form not a full 180° angle, but 179°, which is almost invisible to the eye, but it's a fact you should be aware of.
Waterproof to IPX8 standard
The Samsung Galaxy Flip5 is IPX8 water resistant. This means that it will withstand immersion in certain conditions. In short, up to 30 minutes in fresh water and up to 1.5 metres deep. This means that if you plan to take a bath with it, it is better to first familiarise yourself with the detailed waterproof specification of this smartphone, which Samsung provides on its website. But I strongly do not recommend you to swim with it in the sea or river.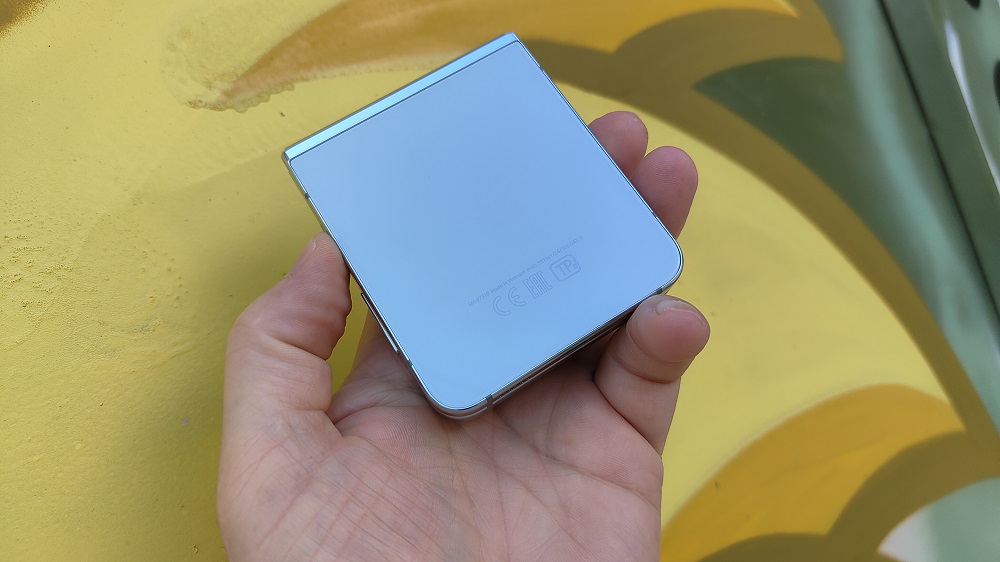 Of course, the Galaxy Flip5 is still sensitive to dust, like all foldable smartphones. So when folding it, you should pay attention to make sure that there are no particles of sand or other dust on the inner screen that could potentially leave a mark, or even damage the panel. Be especially careful when at the beach. When I used the new Flip myself, I got in the habit of just blowing on the screen before closing it to get rid of dust. And sometimes just wiping it with a cloth before closing it. This should become a habit for you.
Ports and connection interfaces
The arrangement of elements does not bring surprises At the bottom there is a microphone, USB Type-C port and a speaker that interacts with the handset, creating a pleasant stereo effect, but not too loud; otherwise the volume is quite satisfactory.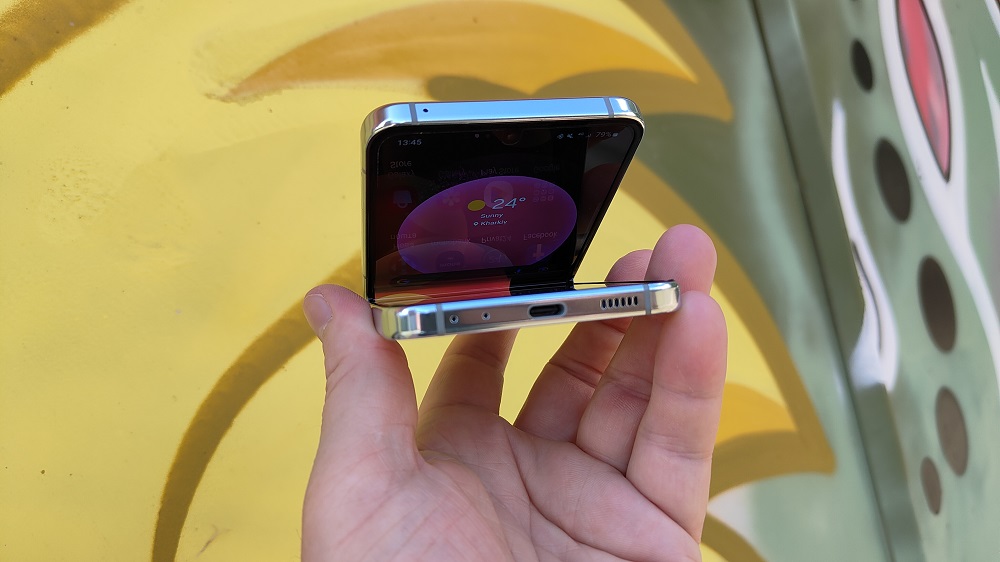 On the left is a slot for a single nanoSIM card, although Samsung's new product has the option to take advantage of eSIM technology.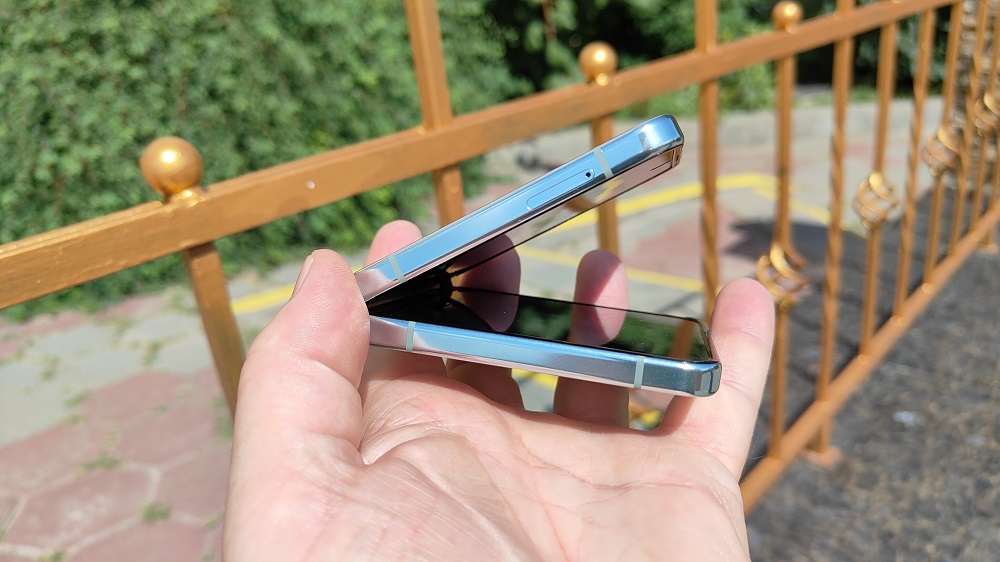 On the right side is a long rocker button for volume control, and below it is the power button with an inbuilt capacitive fingerprint scanner. It works reliably, quickly and is certainly more secure than the 2D face scanner that is also present.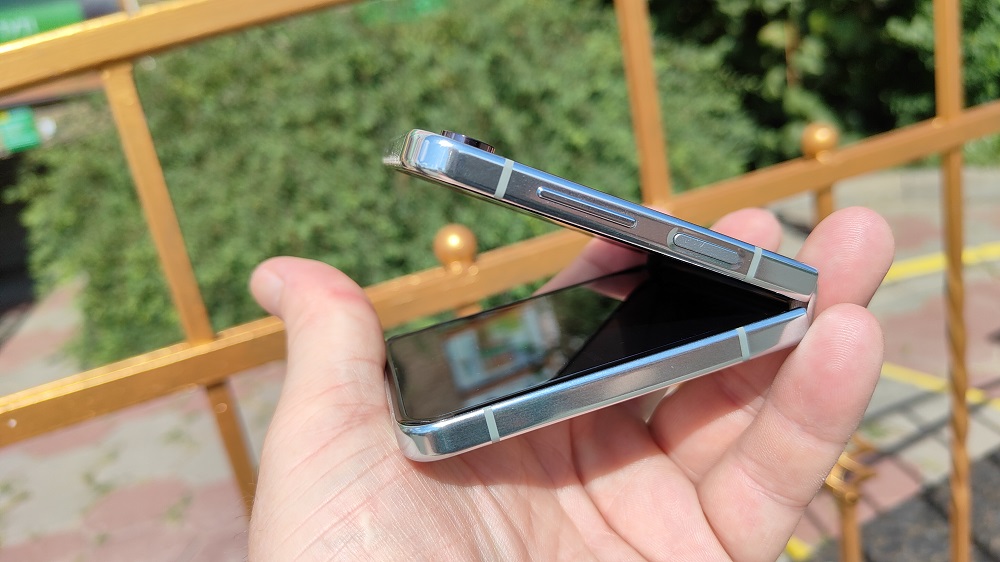 As far as connectivity is concerned, the Samsung Galaxy Flip5, as expected, offers everything that modern flagships should have. There's Bluetooth version 5.3, tri-band Wi-Fi 6E, A2DP, LE, GPS, GLONASS, GALILEO, BDS, LTE, 5G, eSIM, NFC. I had no issues with contactless payments, file transfers, or internet usage. Call quality is also excellent. It's worth noting that calls can also be received in the closed position. The smartphone then automatically switches to hands-free mode and uses the speaker located next to the USB Type-C port.
Biometrics
A few words about how to unlock the smartphone. The fingerprint scanner is located in the power button, so it is most convenient to unlock the phone with the right thumb. Of course, the Samsung Galaxy Flip5 can be unlocked both folded and unfolded. The sensor copes very well, easily recognises fingerprints and quickly unlocks the device. You certainly won't have any complaints about it. Samsung is so well advanced in this matter that other manufacturers should adopt the experience.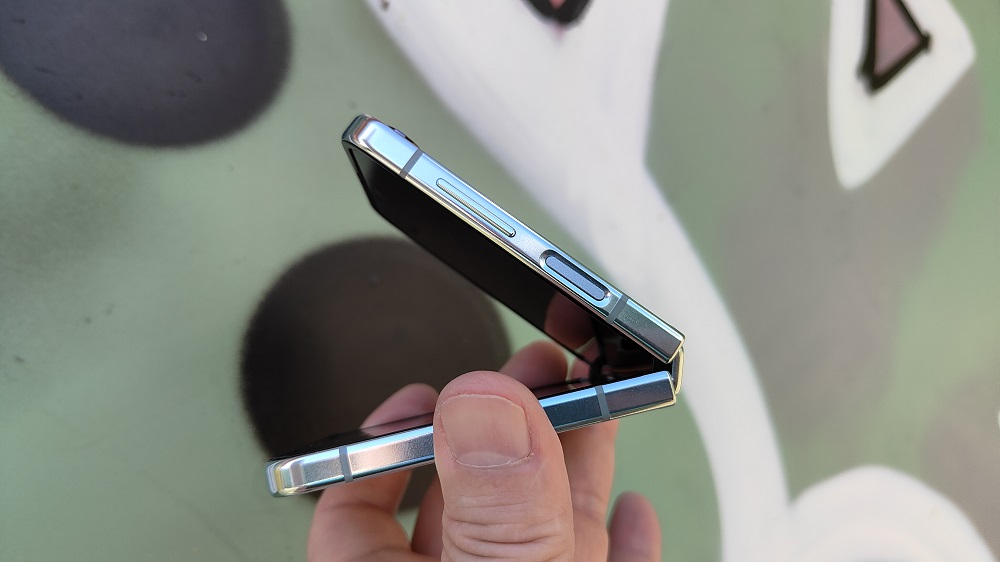 Similarly, you can use the face recognition feature that works with the main camera and is hidden on the internal screen. This is even more convenient than using the fingerprint scanner, but less secure. Therefore, be careful.
Read also: Samsung Galaxy S23 review: the cool compact flagship
Samsung Galaxy Flip5 Displays
The second, after the hinge, big change is the enlargement of the external screen, which is now not just a panel for checking the time, but a full-fledged display on which you can run applications. That's what the Korean company's developers claim, but what is it really like?
"Not a small" external screen anymore
Talking about the Samsung Galaxy Flip5's external screen, let's start with its parameters. It's a 3.4-inch Super AMOLED Flex Window with a resolution of 720×748, pixel density of 306 ppi, which is protected by Gorilla Glass Victus 2. What I missed was the use of LTPO technology, which would allow the refresh rate to be changed depending on the user's needs. It defaults to 60Hz, which is justified as it reduces battery consumption. I also wouldn't mind a slightly higher resolution and increased pixel density in the future, because it would improve the quality of the content displayed. However, these are minor observations, because the pros of the new screen are definitely more.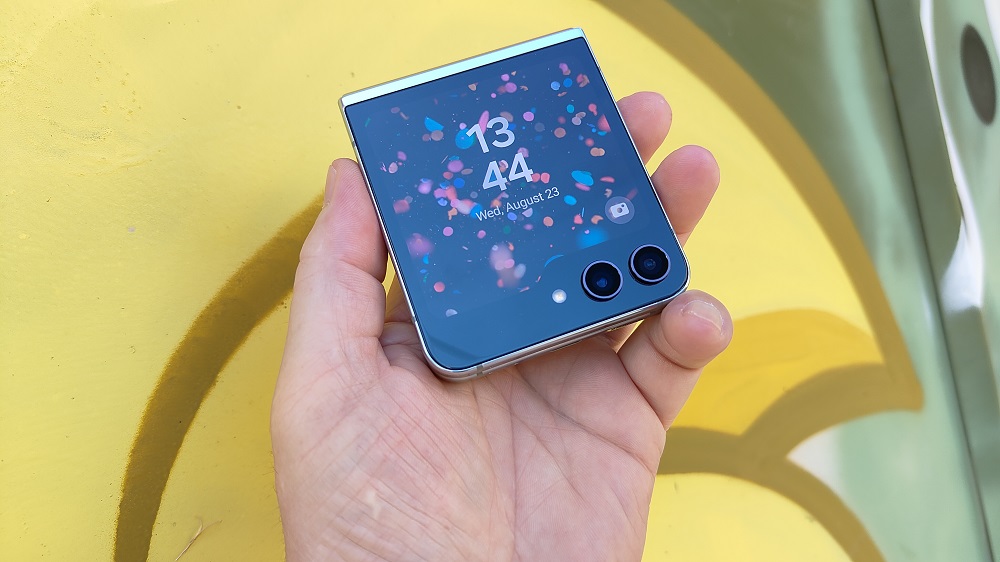 It's great that Samsung has gone this route and increased the size of the display. I've already mentioned that its functionality is greater, but it's worth talking about a bit more.
Firstly, on this screen you can run the widgets designed for this purpose – music control, calendar, weather, calls, contacts, alarms, stopwatch, timer, voice recorder or data from Samsung Health. Specific apps can be added in the settings under the Labs tab. At the moment, they are Google Maps, YouTube, News or Netflix. There will probably be more, or they already exist but were not installed on the test instance. However, since these are experimental features, they may not work properly. Personally, I haven't encountered any difficulties myself, but I don't rule out that some of you may experience inconvenience.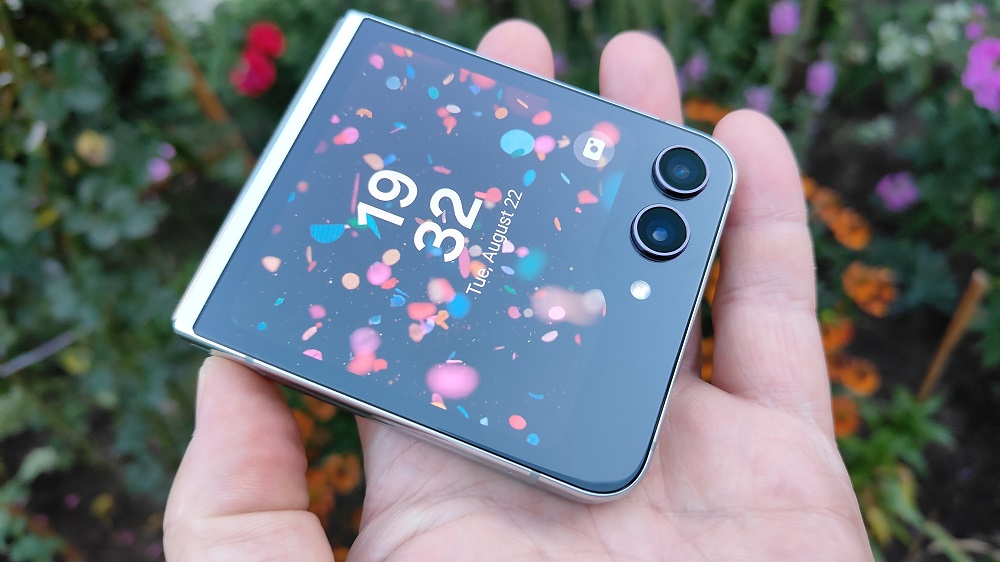 If you want to be able to open all installed apps on an external screen, you need to install Good Lock from the Galaxy Store. This not only allows you to add any apps to the small screen, but also widely personalise the smartphone interface. So it's a treat for anyone who loves fashion.
But is it worth using this combination? While testing a smartphone, I sometimes balanced on the edge between a small screen and a large one. Because there is content for which the larger display is worth using, and there is content where the smaller one is enough. So, when have I kept my smartphone uncovered? Firstly, to check notifications – I easily discarded the unnecessary ones and left what I was interested in for later. I also tried replying to messages, because the widget offers a full keyboard, but it's not very convenient. Of course, you can look at the time, weather, or call/answer a call hands-free or on headphones.
We may not have an app, but we have widgets, that should be enough. After all, no one plans to watch films on a 3.4-inch display, right? Anyway, it all depends on what and who needs it. So I'm interested in your opinion, which you can leave in the comments below the review. Which apps will be useful for you on the small screen of the Samsung Galaxy Flip5?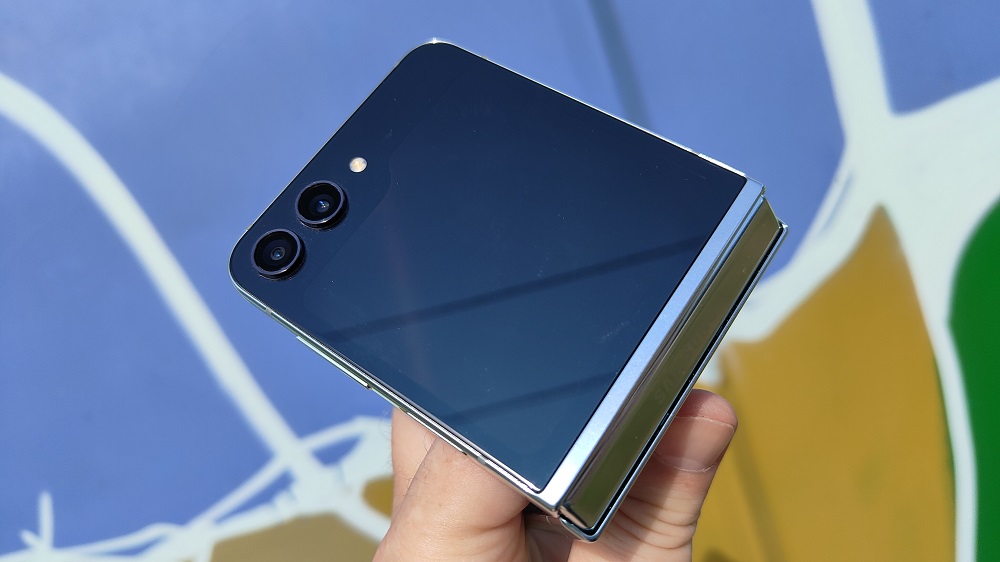 Selfie lovers will also love that they can use the small display for selfies with the main lens. With the larger screen, you have a preview of the camera image, so you can conveniently use the main camera to record video blogs or selfies. In addition, a smartphone half-folded automatically becomes a tripod, and this is very useful in this process.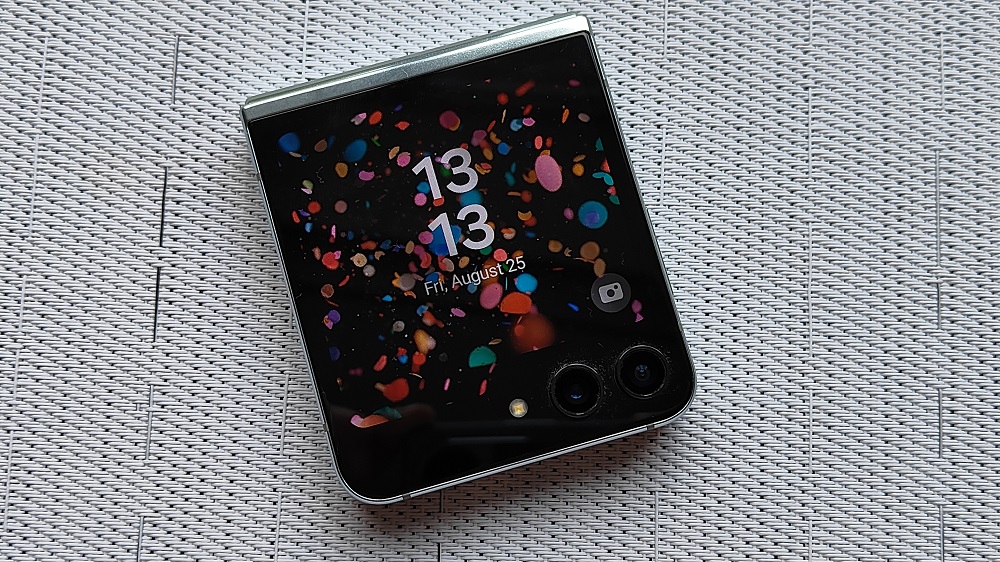 Generally speaking, enlarging the external display is a great idea. Yes, so far there is more work to be done here than done. But a good thing is a start, and it's already done.
Read also: Samsung Galaxy A54 5G Review: New king of the mid-range?
Internal display
But inside, it's a classic that Samsung hasn't improved in years. There are hardly any global changes here. The Samsung Galaxy Flip5 uses a 6.7-inch Foldable Dynamic AMOLED 2X-matrix with Full HD+ resolution and an adaptive refresh rate of 60 to 120Hz. Unfortunately, the advanced dynamic frequency offered by, for example, the S23 Ultra is missing. So you only have 60 and 120 Hz to choose from, or a smart system that switches between the two modes. The Always-on mode also works on the flexible display.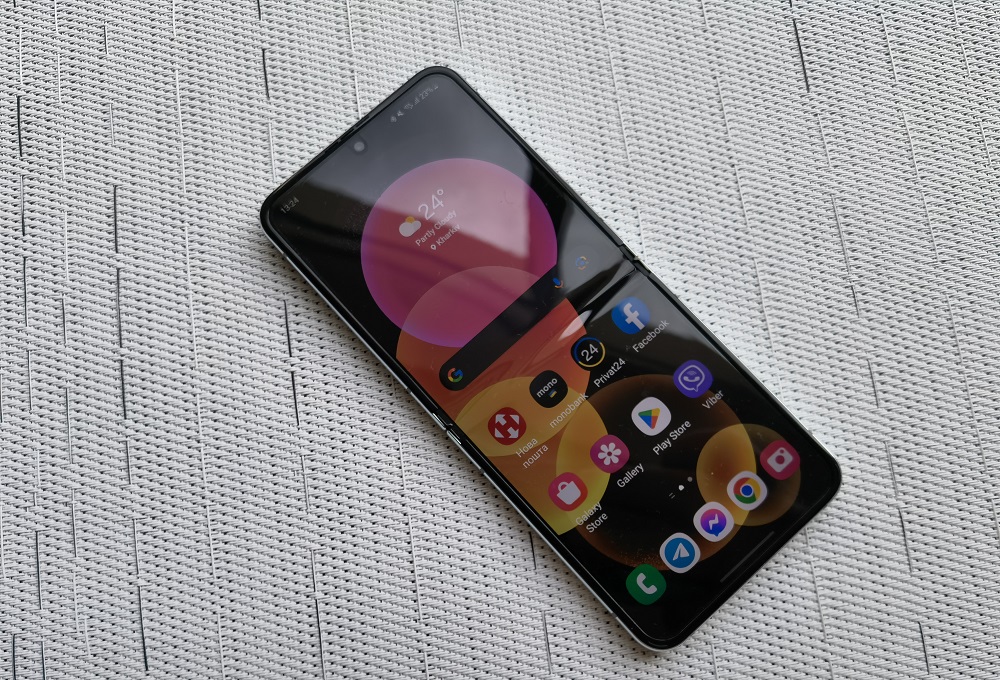 The maximum brightness of the display is 1750 nits, which allows you to read content quite comfortably even in bright light. By simple calculations we find out that the screen has an elongated format 22:9, which allows you to comfortably hold it in your hand.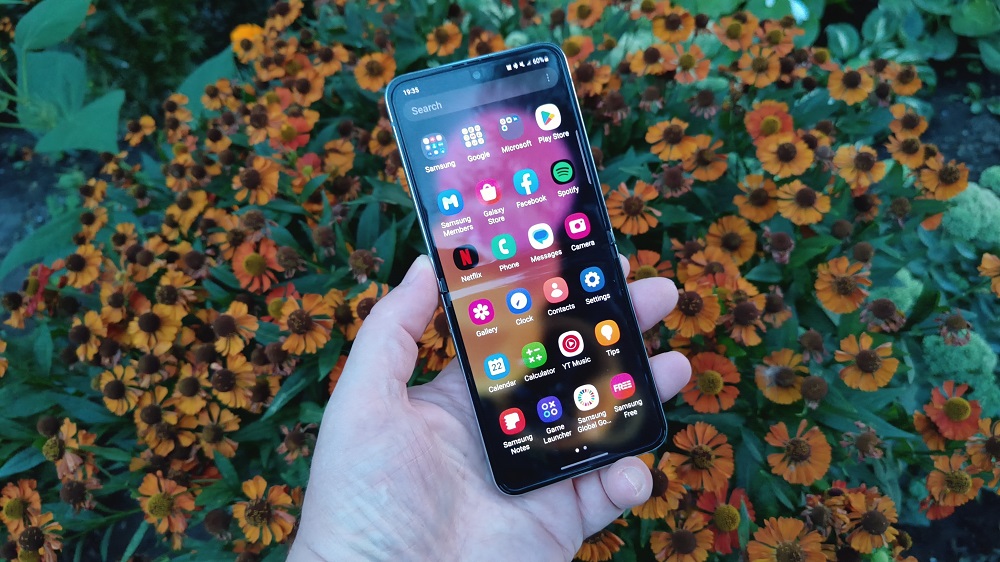 We've already talked about the bend, so I won't comment further. In fact, the bend is more or less noticeable, depending on the content displayed or the angle at which the light falls on the screen. But when you slide your finger across the screen, the bend can be felt strongly. Can anything be improved here? Probably yes. Does it have a bad effect on screen usage? Let's not exaggerate.
However, in the case of a flexible display of this type, another thing annoys me. The film that is pre-installed on the screen, which the user should not tear off, does not have a sufficient oleophobic layer. This means that it will already be covered in fingerprints within the first few hours of use. Yes, the display is covered with a layer of ultra-thin glass (UTG), which makes it more durable and scratch-resistant than plastic screens. However, it's still not as durable as regular glass screens, which is important to realise.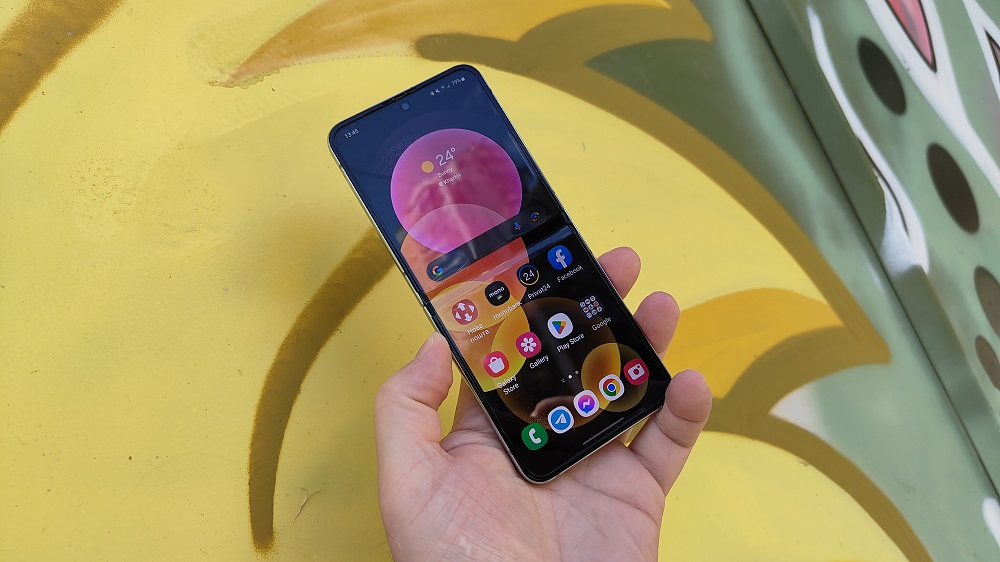 Dirt and dust particles accumulate around the perimeter of the film and, for example, in the round cutout for the front camera. And I'm not just saying that! It is very important to take good care of the internal display. It should not get sand grains or other hard particles that can damage it. Both the panel and the coating film are very thin and soft – you only need a sharp nail to make an irreversible groove.
There's also a Flex mode that, when the smartphone is opened halfway, allows you to split the app in two so that the controls are displayed at the bottom of the screen. Does this have any practical benefit for the Flip user? In my opinion, no (with the exception of the camera). This feature, in my opinion, will work better in Fold, which I look forward to reviewing.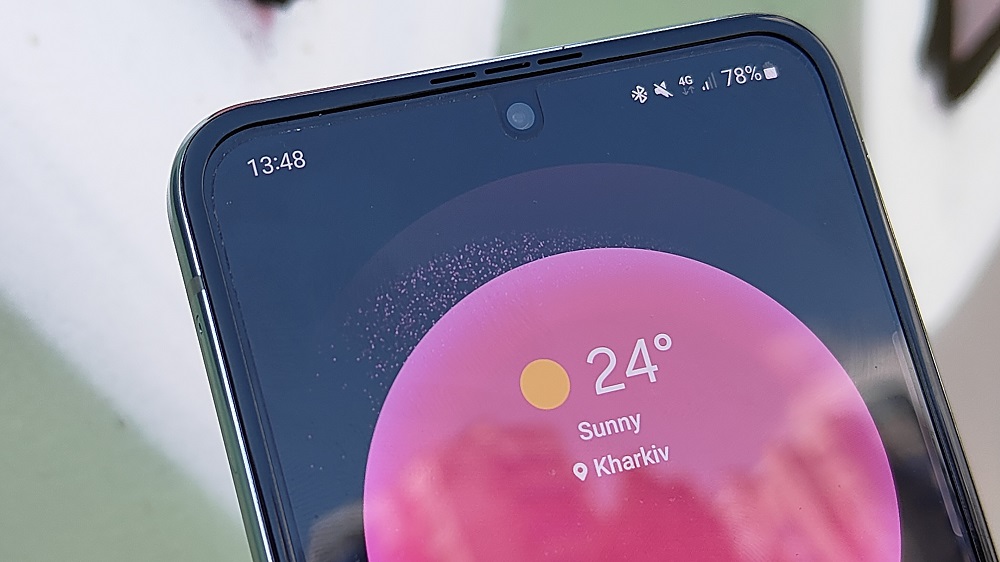 The display quality of the Galaxy Flip5 is excellent, which is expected from a Samsung AMOLED panel. Colours are bright and accurate, contrast is high, brightness is adequate for outdoor use, and viewing angles are wide. My only caveat has to do with the construction materials – foldable displays just aren't as nice as glass, and it's also a fingerprint magnet. The Cover Screen display looks much nicer simply because it's not plastic and is brighter when used outdoors, so it's great for quickly seeing what's going on. But I have no particular complaints about the Flip5's displays. Samsung, as always, is on top of its game in this regard.
How is the Galaxy Flip5's performance?
With the new generation it is advisable to deploy a new chipset, which in this case is the very successful Snapdragon 8 Gen2 for Galaxy, that is, the same processor that is installed, for example, in the flagship models of the Galaxy S23 series. In addition, the chipset is supported by 8 GB of RAM of the latest LPDRR5X type, which is about a third faster than the previous version. I only applaud the decision to offer the base variant with 256 GB of UFS 4.0 memory (unfortunately, it cannot be expanded via microSD card), of which only the system itself takes up 38 GB. More demanding users can opt for the 512GB variant.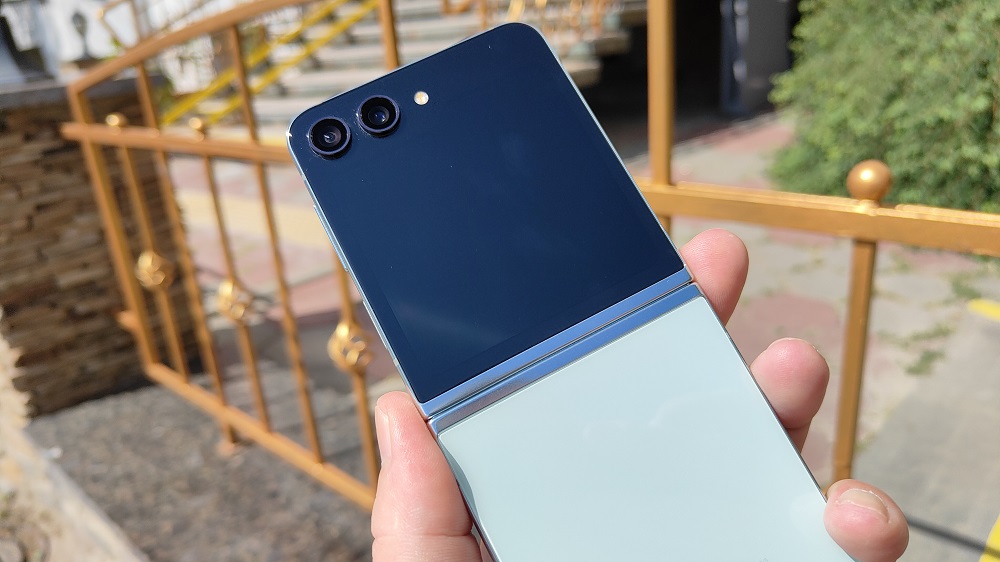 This combination guarantees smooth operation of the smartphone even under heavy load. And I will say that in the 2 weeks that I had the opportunity to use the new Flip, I had no problems with its performance. The increase in performance is evident mostly on paper, because in reality, the performance of the Galaxy Flip 5 and Flip 4 is almost no different. The system runs as smoothly as possible, starts up quickly, the powerful chipset also helps in many other areas such as taking photos or recording videos. Apps start up quickly too, switching between them is lag-free, I didn't encounter any issue with too high temperature. This is in line with a flagship costing over $1000.
Traditionally, I leave the synthetic test results here for those of you who like to compare numbers.
However, the fold-out design has a negative impact on cooling. The heat that is generated when the Snapdragon 8 Gen 2 chipset is under load is poorly dissipated, and there is quite a bit of heat in the top half of the back panel where the components and auxiliary display are located. In less than half an hour of gaming, the temperature rose to 43°C, and it was definitely unpleasant. However, the good news is that there is no such heating during normal use.
Read also: Samsung Galaxy Fold4 experience: What makes it a multitasking device?
Software: the best support on the market
There's one more important thing regarding the smartphone's performance – Samsung guarantees four system updates and five years of security updates. The compilation went on sale with Android 13 and will end with Android 17 (if nothing changes in terms of numbering). So if you're thinking of buying a phone for a few years, the Galaxy Flip5 will work as it should for a long time.
I will note that the Samsung Galaxy Flip5 runs on Android 13 with the One UI 5.1.1 system overlay, which is one of the most comprehensive interfaces out there. Lots of customisations (perhaps even too many) that can also be applied to the external screen. There is a Samsung shop, but I only use the Play Store – although the Samsung shop has a good selection, the apps are very often duplicates of those in the Play Store. There are a lot of pre-installed Google apps, and there are also apps from Microsoft.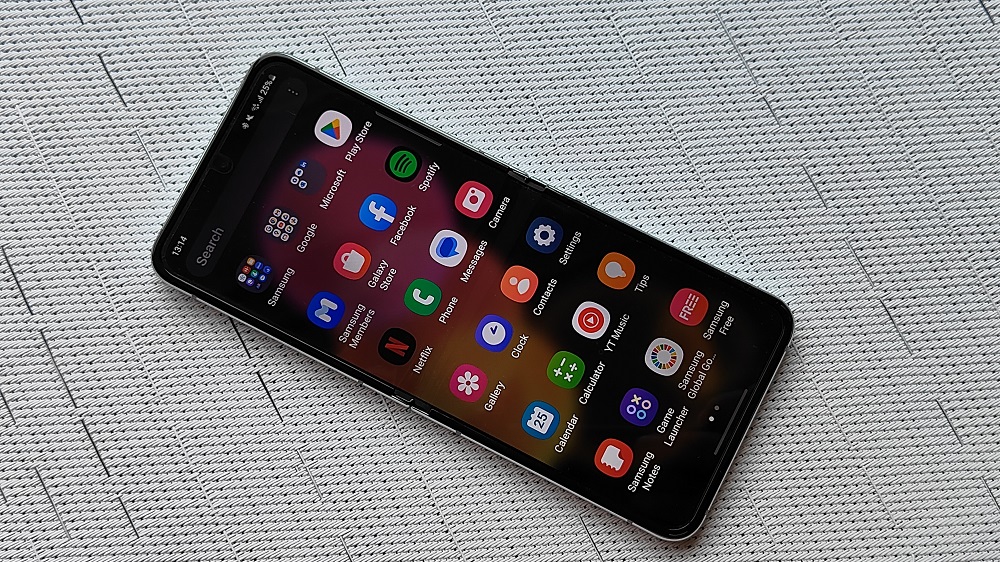 One UI 5.1.1 is pretty much the same as last year's version that we could see on the Galaxy Flip4. Again, the emphasis is on native apps, the popular sidebar with tools is also available and of course there are split screen or floating apps. Samsung is one of the best also because of its graphical add-on, which is just very good.
Galaxy Flip5 - One UI Home
However, the Korean manufacturer was faced with an important task – having offered an additional display for its phone, it had to develop a special user interface. Samsung handled this very effectively, and it must be recognised that the outer screen and its tab and widget-based environment work beautifully.
However, I'm waiting for Android 14 and One UI 6 based on it. I think the Galaxy Flip5, along with other Samsung flagships this year will get the update first. Probably at the end of this year.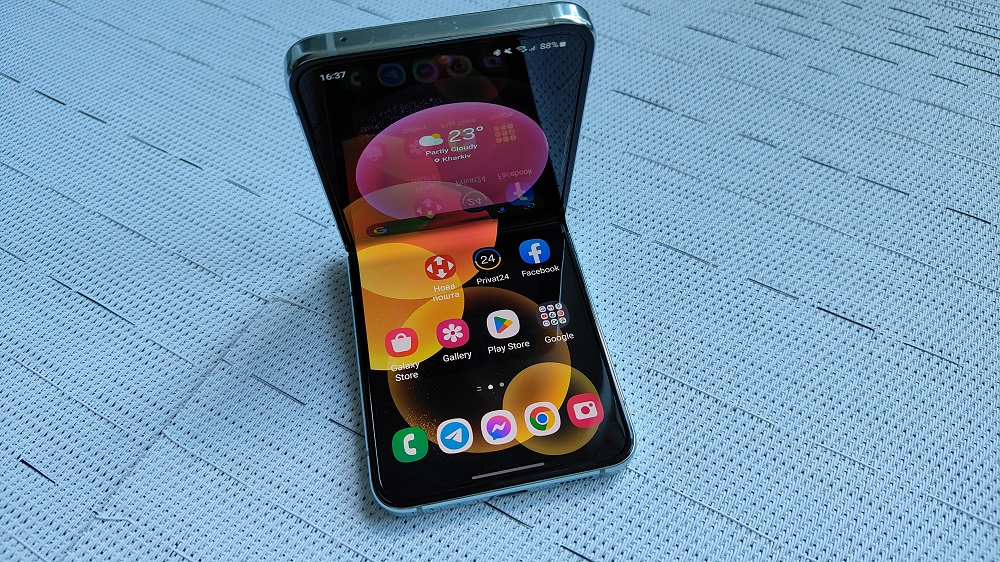 Looking at the high-end hardware parameters, the question arises, does Flip 5 support DeX mode? Unfortunately, I will disappoint you, the so-called desktop mode was not provided by the manufacturer. For unknown reasons, Samsung has never included this technology in the Galaxy Flip series of smartphones. Samsung Galaxy Fold and many other Galaxy devices can utilise this feature, but Galaxy Flip owners are still left out despite the fact that the Flip runs on the same hardware under the bonnet.
The cameras of Samsung Galaxy Flip5 are quite good
Introducing the Galaxy Flip5, Samsung boasted that while it uses the same photosensor as a year ago, it has been improved, especially on the inside. The 2023, one of the manufacturer's flagship models, offers a duo of 12-megapixel cameras: the main one with optical image stabilisation and an aperture of f/1.8, the other wide-angle with 123° coverage and an aperture of f/2.2.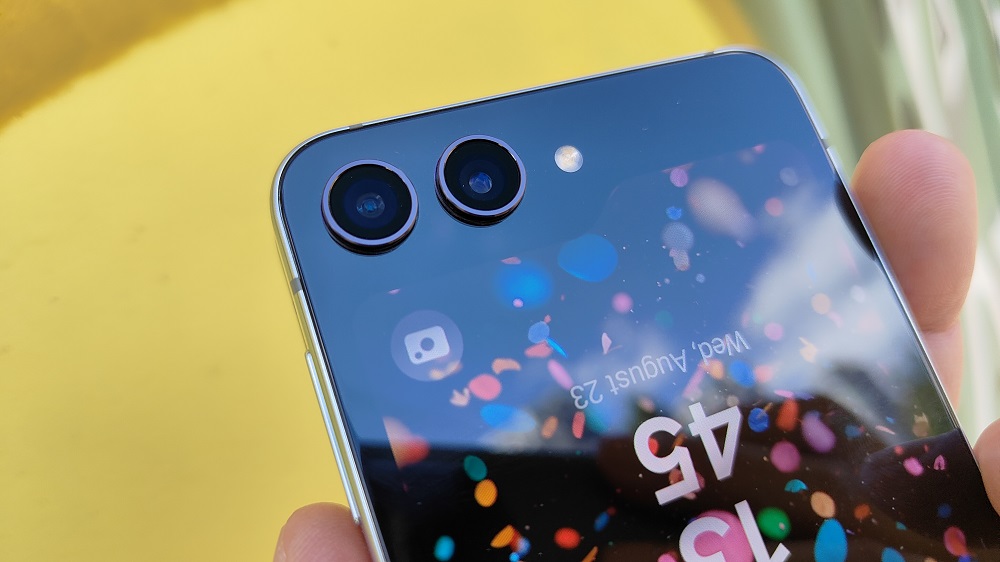 The selfie camera inside has a resolution of 10MP.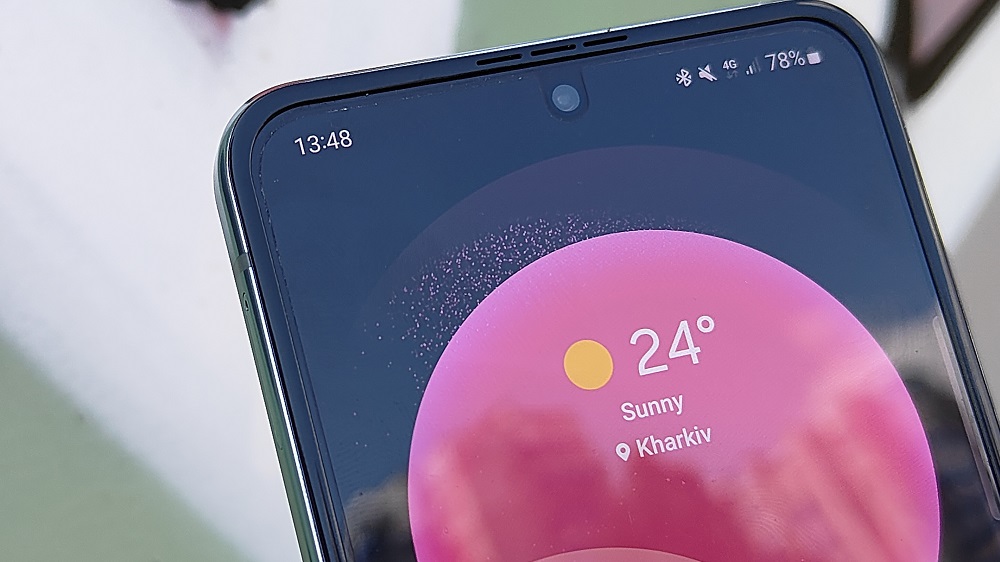 What I miss about the Samsung Galaxy Flip5 is the telephoto lens. It obviously wouldn't be superfluous, but for some reason the Korean developers decided otherwise.
The cameras provide good performance in most situations, but are not outstanding compared to other flagship smartphones. This is one of the biggest disappointments for me with the Galaxy Flip5. I wanted something new and different, but we have what we have.
Main lens
If the camera is one of the most important smartphone features for you, I have good news – you can safely bet on the Galaxy Flip5. The main lens performs very well in various lighting conditions, and photos are highly detailed and have appropriate contrast.
It's not the catwalk of mobile photography, but it's enough to fit the condition: "I take my smartphone out of my pocket and want to take a good picture". I give here sample photos with automatic camera settings.
As I mentioned earlier, the Galaxy Flip5 does not have a telephoto lens. Therefore, we can only rely on the digital zoom. And I confirm the previous words – it works quite well here. Because in good lighting, a 2x, or even 4x zoom is fine. Photos do not significantly lose in quality. Big losses can be seen already at higher values, or in worse light.
Wide-angle lens
The wide angle module is not too different from the main lens, which is quite common. That's why I used it very often myself. Detail is retained fairly evenly across the frame – you won't be able to see much blurring from the edges of the frame. Colours are also well rendered, and brightness is matched quite well.
Night photos taken at wide angle hold up well too. While I think the prime lens handles it a bit better, mainly in terms of detail, the wide angle lens does well in good light. My observations regarding night and auto mode are the same here as with the prime lens.
Night photography
I decided to compare night photos in both night mode and automatic mode. My main point is that the night mode should be used in places where there is really little light, because the smartphone illuminates them more; the automatic mode is enough where there is a lot of artificial light. There's nothing stopping you from taking the shot you want both in night mode and automatic, and then choosing the one that looks better. Anyway, check out the examples below. Some are actually taken in a very dark place, and here you can see the advantage of night mode – note the sharpness of the photo. In other examples, where there is more light, the differences are quite subtle.
Selfie lens
The selfie lens, that is, the one placed in the inner screen, impressed me above all with the night photos. Switching to night mode in places with poor lighting, you can really get a lot out of the photos. Of course, it's not some super quality, you can't exaggerate too much here, but the thing is that usually you can't see anything in night photos taken with the front lens. That's not the case with the Galaxy Flip5.
Galaxy Flip5-Selfy-Portrait
I have no complaints about daytime selfies. But I still recommend taking selfies with the main lens if possible, because the effect is even better.
Great video
Before I talk about video recording on the Galaxy Flip5, I'd like to mention that:
high image stabilisation is available when recording at 30 fps
wide-angle recording only at 30 fps (except HD resolution)
maximum UHD recording resolution of 60 fps
it is possible to switch between lenses while maintaining the same recording parameters.
By default, Samsung's new product creates MP4 video files in H.264 AAC codec, but you can switch to HEVC format in the settings. In addition to regular video, there is a slow motion mode, frame-by-frame shooting, portrait mode, director mode (simultaneous shooting on the rear and front cameras) or the popular Single Take.
I don't have any particular comments on the recorded videos. There is good sharpness, detail, brightness and image stabilisation. However, sometimes it can be problematic to switch between lenses as the image freezes for a moment, which you can see in the example video with stabilisation.
I was pleasantly surprised by the video shooting at night. Yes, it may not be the best video that can be from a smartphone, but with such lighting and dynamics, such details, such colours.
ORIGINAL PHOTOS AND VIDEO HERE
Battery and charging
The battery in the Galaxy Flip 5 has a capacity of 3700 mAh, so there are no big changes. But the smartphone has some limitations due to its foldable design, so it's hard to demand more power storage space here. For the duration of testing, the Galaxy Flip5 replaced my personal smartphone, and in normal daily use, I charged it once a day. This is mostly all thanks to the new chipset.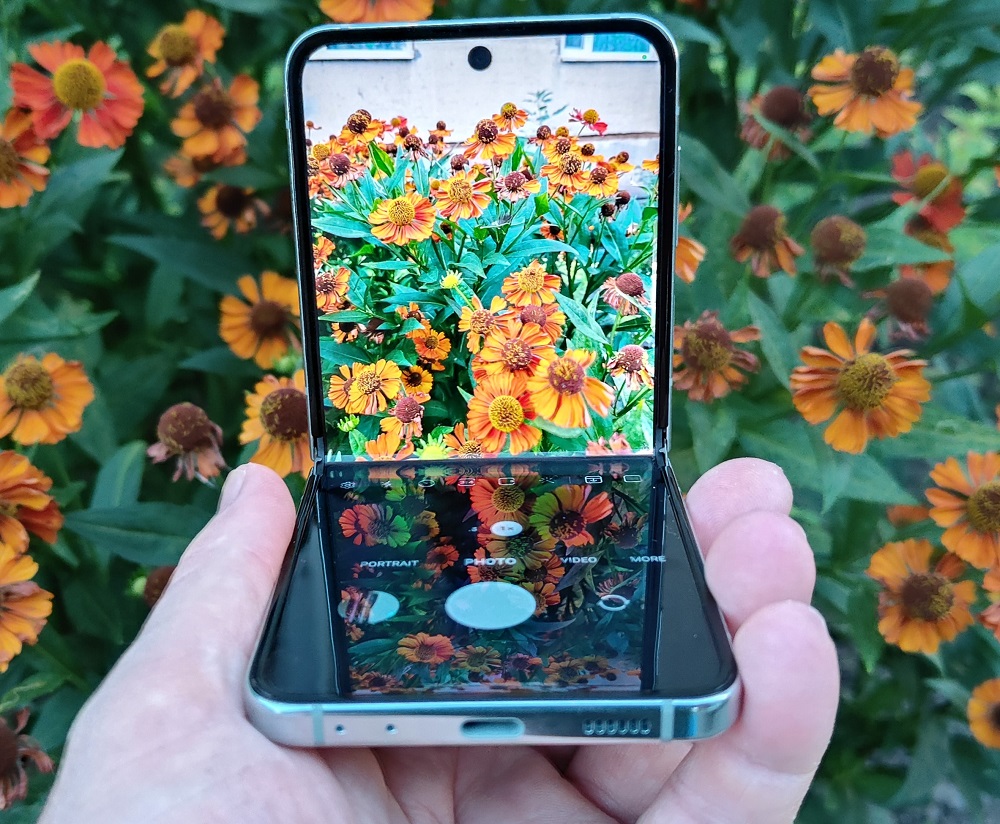 However, heavier usage required plugging in the charger a second time during the day. Translating that into screen time, the Galaxy Flip5 lasted an average of 4-5 hours on a full charge. In other words, this is the time I expected before I started testing.
Now let's move on to the charging issue. Galaxy Flip5 is another Samsung smartphone that suffers from the lack of fast charging. There's nothing to hide – 25W is not that fast charging. Of course, we're not counting on 100W or more, as is usually the case with Chinese phones. The 45W that Samsung uses in the Galaxy S23 Plus / Ultra would be enough, and I don't think anyone would complain about charging in the Galaxy Flip5 then. And with a battery that needs to be charged at least once a day, that would be appropriate.
The Galaxy Z Flip5 also supports wireless charging (15W) and reverse charging (4.5W). And this is where I have no comments. Also, I've been charging the Galaxy Flip5 mostly wirelessly at night (thanks to my old Nokia wireless charger) because it's more convenient for me. Samsung, on the other hand, still doesn't offer smart night charging, which fully charges the phone only until a call to protect the battery. You need to play around with modes and routines to set it up properly.
Read also: Review of the Samsung JetBot+ robot hoover: The perfect helper
Is the Samsung Galaxy Flip5 worth buying?
This is a question I've been asking myself since the first Galaxy Flip series was launched, and I still don't have a clear answer. Yes, it's a very cool, modern smartphone with an interesting form factor and technical stuffing. I like the Samsung Galaxy Fold series better, though. It's both a smartphone and a tablet for me, and the Galaxy Flip5, to be honest, I'm tired of folding and unfolding it all the time, but that's my personal opinion.
Samsung Galaxy Flip5 is not a big revolution, but a gradual evolution of the most famous bendable foldable convertible with perhaps the longest history. The novelty is characterised by a very pleasant appearance and solid construction. It looks good both folded and unfolded, and the hinge, which may be doubted by many users, in my opinion, guarantees operation for several years. The same goes for the inner screen, which should cope with bending for a long time. In addition, we have IPX8 water resistance. Structurally, this is a successful and spectacular smartphone that is sure to make its owner stand out from the crowd.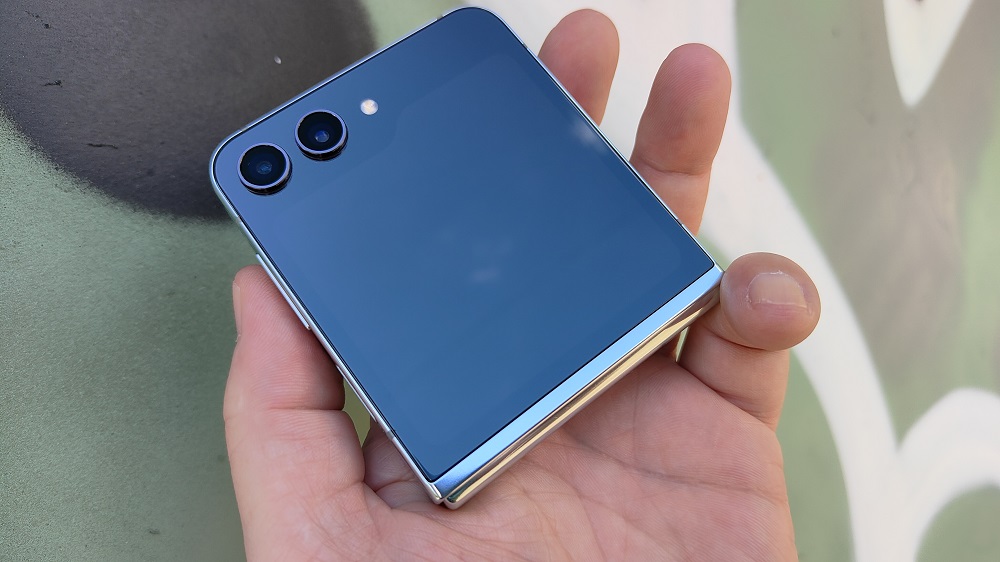 The external screen is a big step forward, as the Galaxy Flip5 has expanded its functionality. Now it's not just a strip with a clock and calendar, but a full-fledged display where you can run widgets and apps, or use it to preview images from the main or wide-angle lens. You need Good Lock to run all the pre-installed apps on the external display, though. I bet the external screen diagonal will still increase in the next generation, but at the same time, I wish it could have a slightly higher resolution, higher pixel density and adaptive refresh rate. Then it would be almost perfect.
And as for the internal screen – someone may be bothered by the visible bend of the screen, which is also felt when sliding your finger across the display. However, I leave the opinion about it to you, I got used to it literally in a few minutes.
In terms of performance, the Galaxy Flip5 is a true flagship device. Qualcomm Snapdragon 8 gen 2 for Galaxy combined with 8 GB of RAM are great and the smartphone performs just fine. The programmes and the system run fast, there are no overheating issues. Also, Samsung guarantees 4 system updates and 5 years of security updates, so it's safe to say that this is a smartphone for years to come.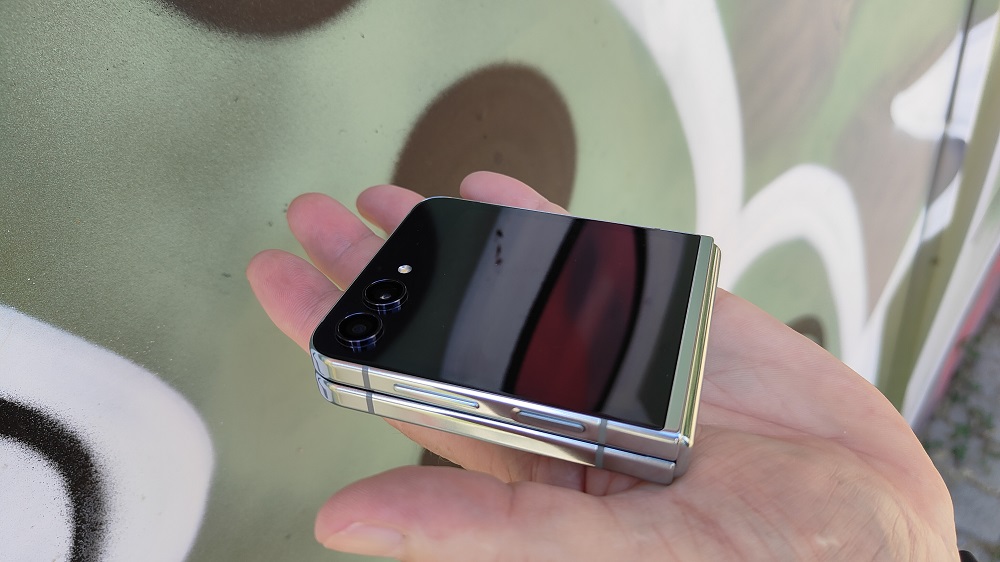 The battery capacity requires the new Flip to be charged once a day. I found it hard to get a better result using the smartphone for standard tasks (browsing social networks, sending/receiving messages, etc.). It's a shame Samsung didn't decide to go for fast charging, because 25W is already not enough by today's standards. Especially since the battery in this model is not the most capacious. Well, let's see what the future update of this series will bring.
The Galaxy Flip5 is also a smartphone for those who use cameras a lot. Yes, it's not at the very forefront of mobile photography, but its features are enough for those who care about developing their social networks. All lenses work well, photos and videos are of excellent quality.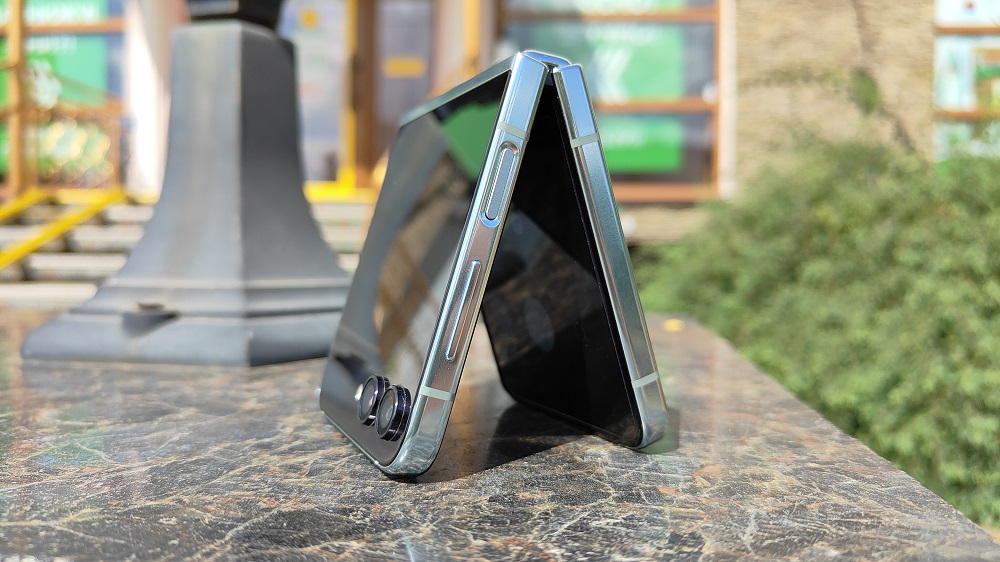 Do I recommend buying the new Galaxy Flip5? Unequivocally yes. It's a smartphone that lets you stand out from the crowd, while offering everything a high-end smartphone has to offer. Who is the Flip5 for? First of all, for fans of foldable smartphones, for those who want to keep up with the progress, who follow innovations and technology development. For those who want their smartphone to fit in their pocket without any problems, unlike tablet smartphones. Trust me, you won't want to part with the amazing Samsung Galaxy Flip5.
Read also: