In early February, Samsung introduced an updated lineup of its flagship models. Traditionally, it includes the regular S23, the larger S23+, and the most advanced Samsung Galaxy S23 Ultra. Today we will talk about the Ultra. I, Olga, the editor of Root-Nation, have been using it as my main phone for three weeks, have tried absolutely all the features and am ready to share my impressions! I'm warning you right away – this review is huge. Use the table of contents below to jump straight to the section you're interested in.
Positioning in the lineup, differences from S22 Ultra and price
Galaxy S23 Ultra is the most advanced Galaxy device for 2023. There won't be anything cooler among smartphones. This is a super-duper flagship with the best of everything.
Unlike the younger models in the line, the S23U has more advanced cameras, a larger battery, a larger screen with a high resolution and rounded edges, a version with 1 TB of memory, and a functional S Pen stylus built into the body. You can compare the new products on the Samsung website.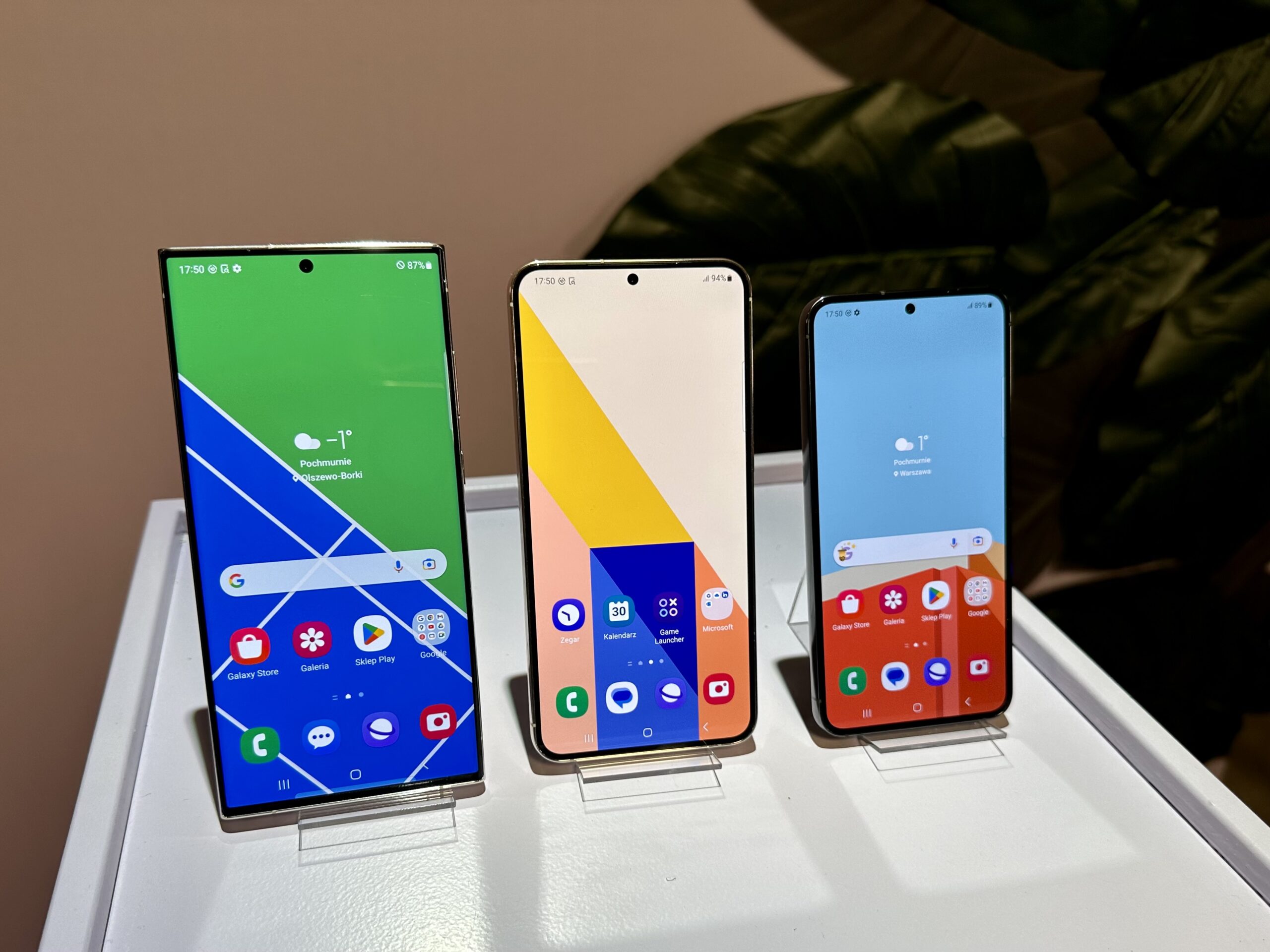 Many people are also interested in how the new S23 Ultra differs from last year's S22 Ultra, whether it is worth overpaying or switching. After all, the devices look almost identical. However, there are not so few differences under the hood.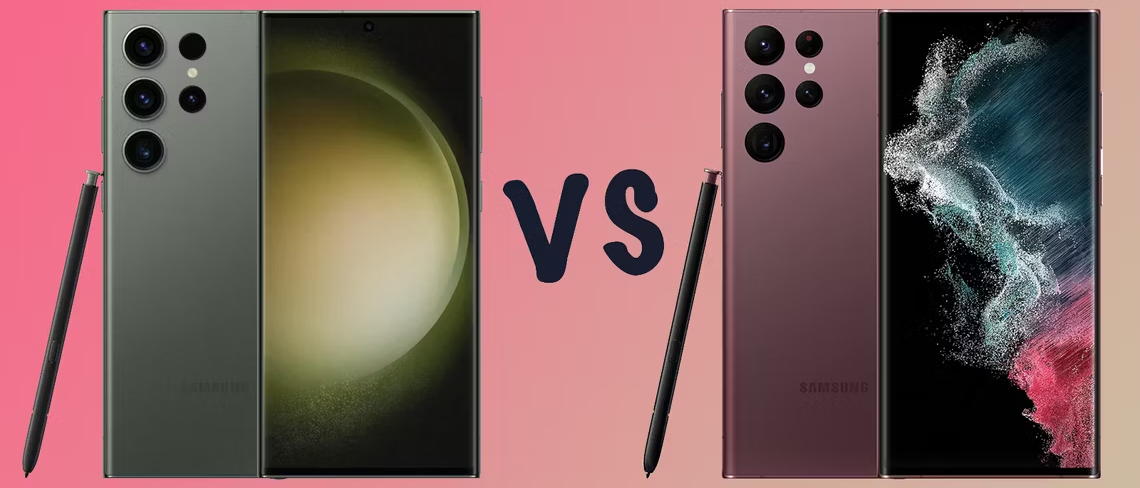 And the most important thing is probably the processor. The company has finally stopped tormenting the not-so-successful Exynos and switched to Qualcomm in all markets (previously, European smartphones were based on Samsung processors). The new S23 line is powered by the next-generation Snapdragon 8 Gen 2 chipset. And not just Snapdragon 8 Gen 2, but Snapdragon 8 Gen 2 for Galaxy – with overclocked frequencies and improved AI module performance. The new processors are less hot and much more energy efficient, which means that with the same battery capacity, the phone dies much slower.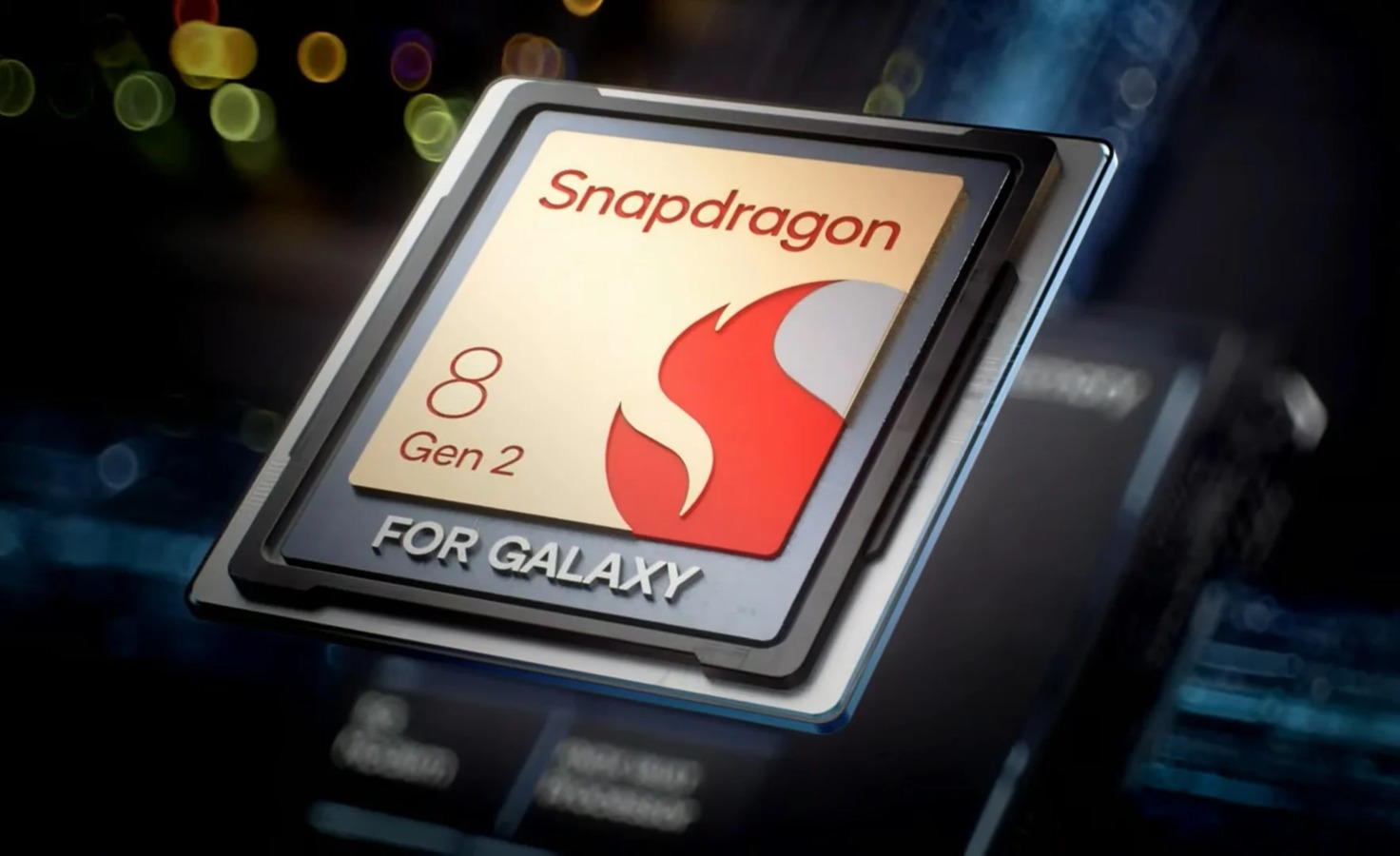 Another important difference is the camera. There are almost no changes here, except for the main module, which now has a resolution of 200 megapixels. It's clear that happiness is not in the numbers, but when big numbers are supported by good software and excellent optimization, happiness does come. The pictures are very clear, even when zooming in on individual elements.
In addition, the camera software itself has been modernized, and low-light shots have become even better, including selfies. And now it is possible to record 8K video at 30 fps, and optical stabilization has become even better.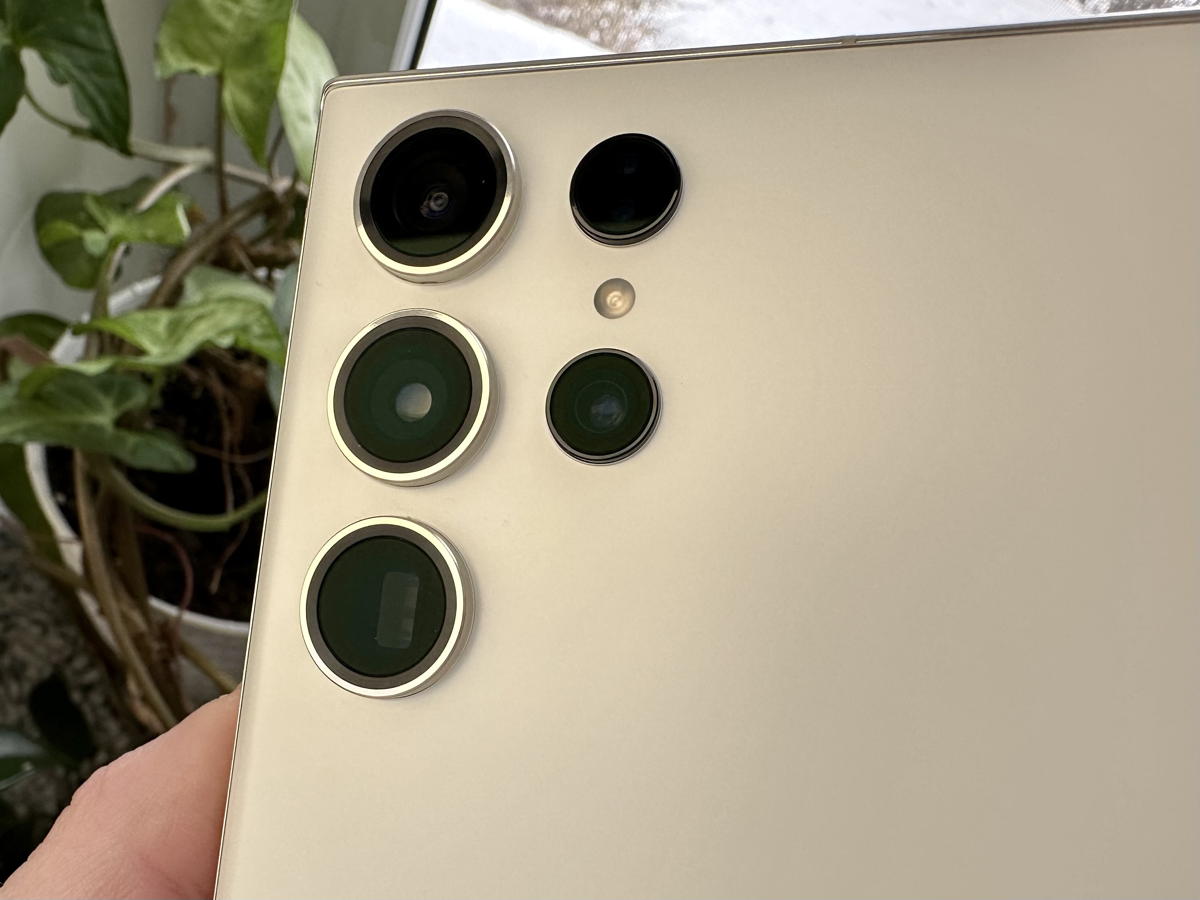 The only thing that has become "worse" is the resolution of the front-facing camera – not 40 megapixels, but we remember that the numbers don't matter much. Self-portraits are better, especially when the lighting is low. And the 40 megapixels in the case of the S22 Ultra were still reduced to 10.
The S23 Ultra also boasts a new Astro Hyperlapse 300x mode for shooting the starry sky, as well as support for the ExpertRAW function, which allows you to save 50 megapixel RAW files instead of 12 megapixels, but these features will appear in the S22 Ultra with the update, so don't worry about them too much.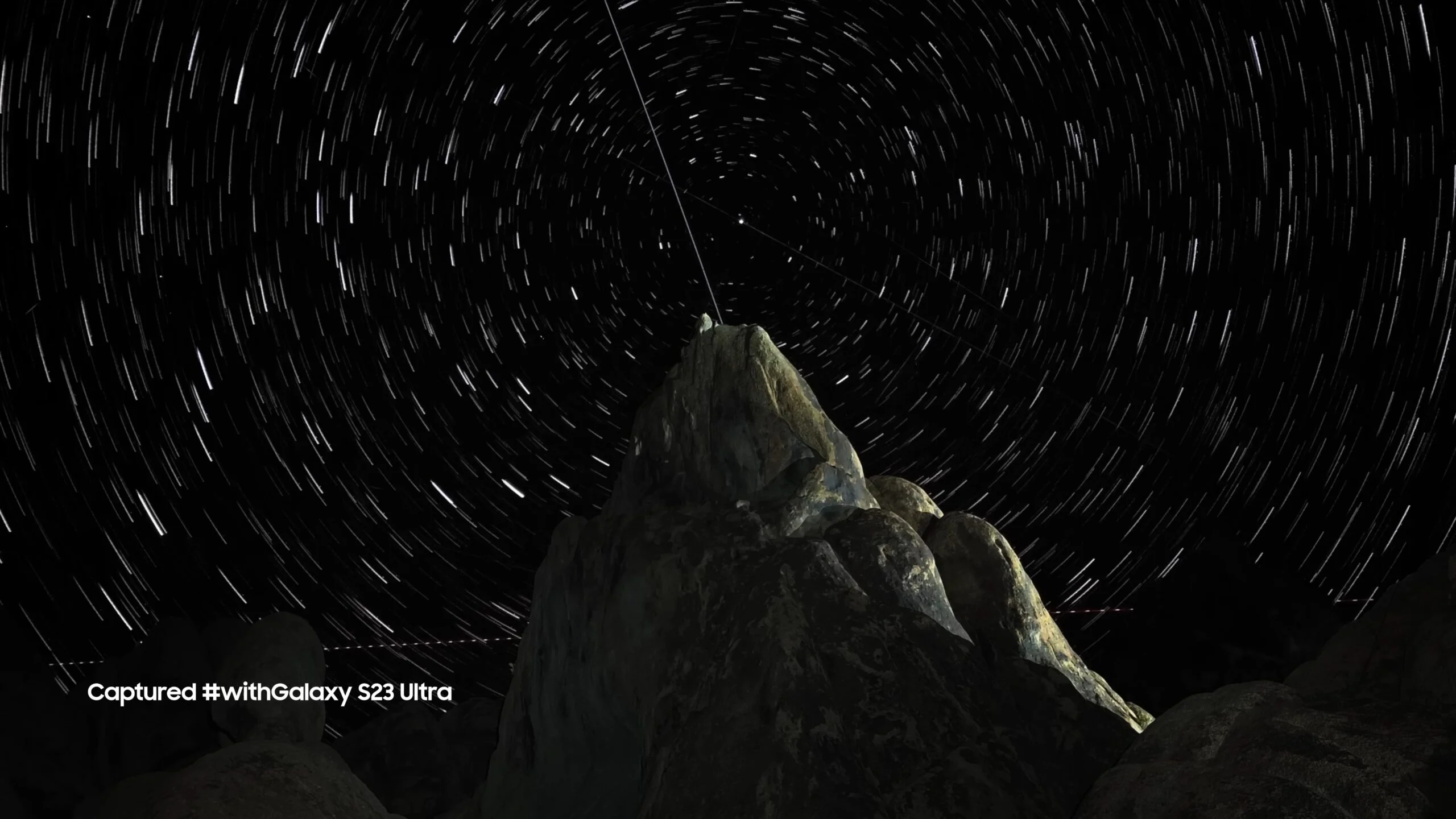 The difference is purely in the design – the rounded edges of the screen have become less rounded, and now the flat surface area is larger, which affects the convenience of work.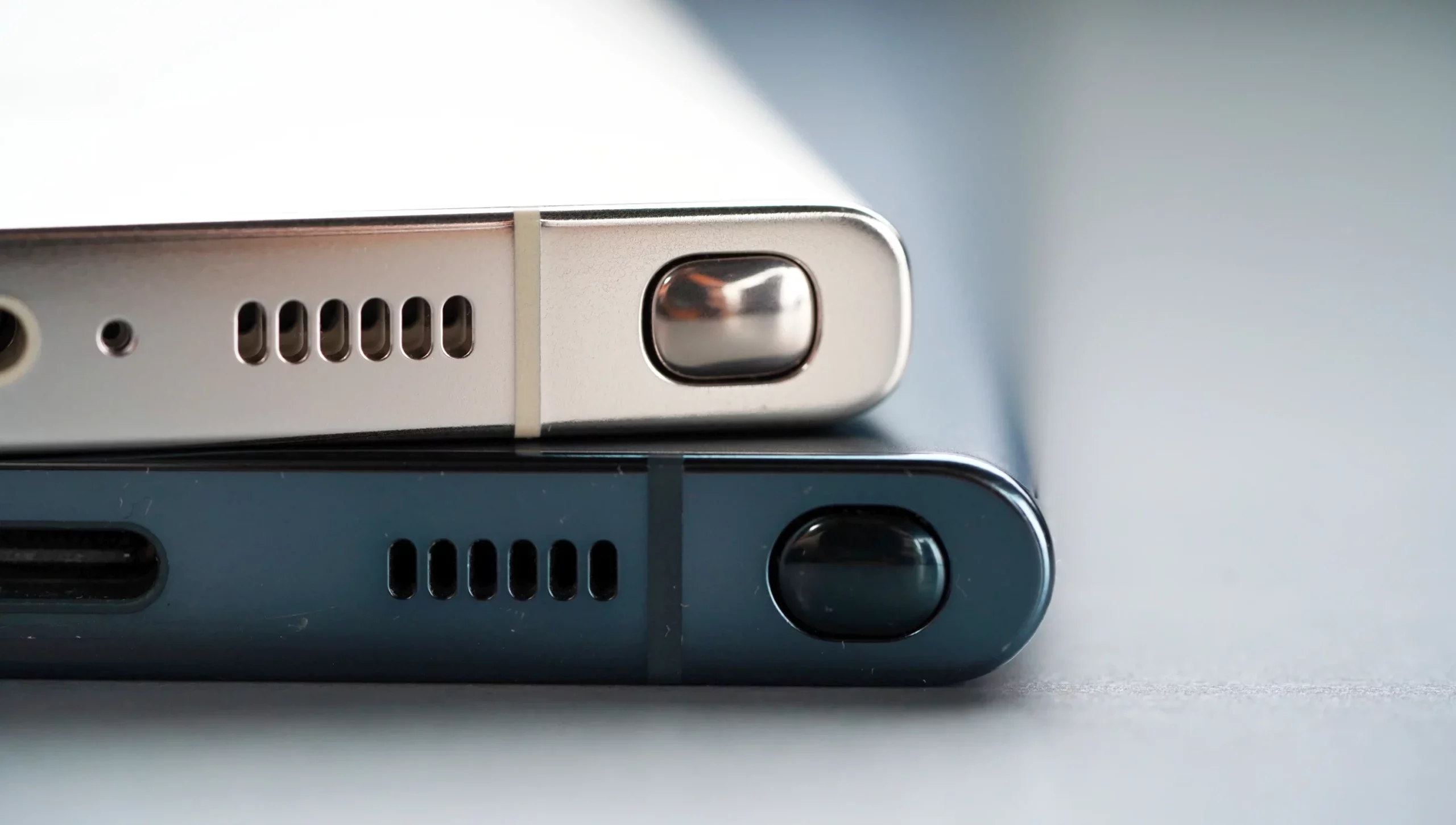 Other small but important differences include faster UFS 4.0 and LPDDR5x memory (ROM and RAM, respectively), a new generation Gorilla Glass Victus 2, a brighter (up to 1750 nits) screen, a newer version of Bluetooth, and better cooling (3 times larger camera surface that dissipates heat).
All in all, in my opinion, if you're looking for the coolest Android, you should get the S23 Ultra and nothing older. And if you use the S22 Ultra, it doesn't make much sense to sell it, losing money, and buy a new model. The 22 will be relevant for another 1-2 years in terms of performance and photo quality.
It remains to discuss the prices of Samsung Galaxy S23 Ultra. And they look like this:
$1199 (8/256 GB)
$1299 (12/512 GB)
$1619 (12GB/1TB)
A lot, and a lot more. Someone will twist their finger at their temple and say, "That kind of money for a phone? You're crazy." But there are people who can afford expensive technology and are willing to pay for it. Ultra versions of top models are produced for them. And, frankly speaking, the basic Galaxy S23 Ultra is cheaper than the basic iPhone 14 Pro Max, which has less memory and worse cameras (but we'll discuss the holivars in another post, today about Samsung).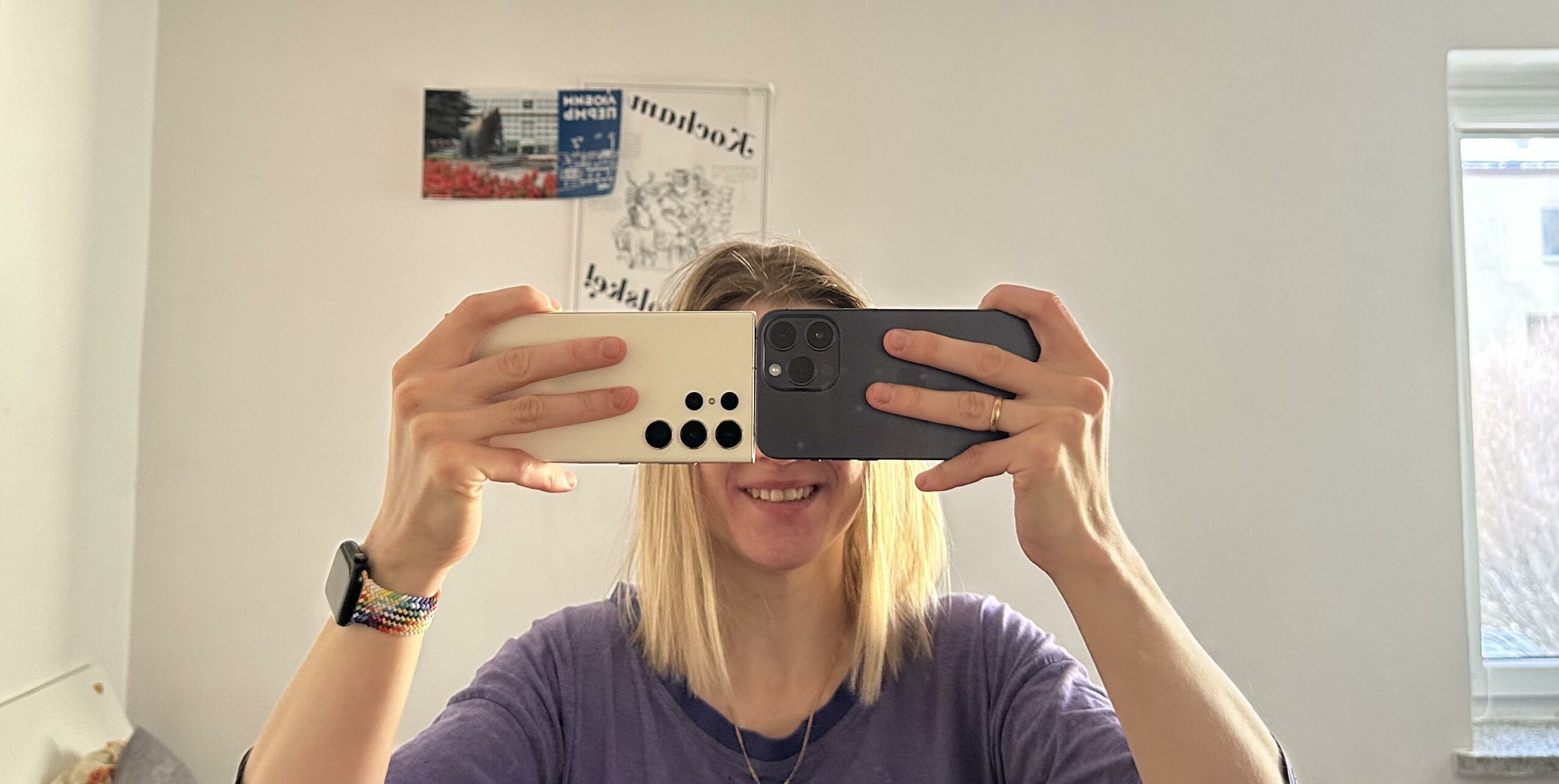 In short, normal prices for the coolest Android smartphone. In Poland (where we are writing this review) and in Ukraine, they have certainly increased relative to the S22 series, but what can you do without inflation, war, crisis…
And it should be noted that prices for top Google phones are still falling rapidly. The Galaxy S23 Ultra can already be found in online stores for 15-20% cheaper than the official retail price, which looks very "tasty". However, the "official" price also stimulates demand. For example, in Poland, pre-orders doubled the device's built-in memory, and now they are giving away expensive Buds 2 Pro headphones as a gift.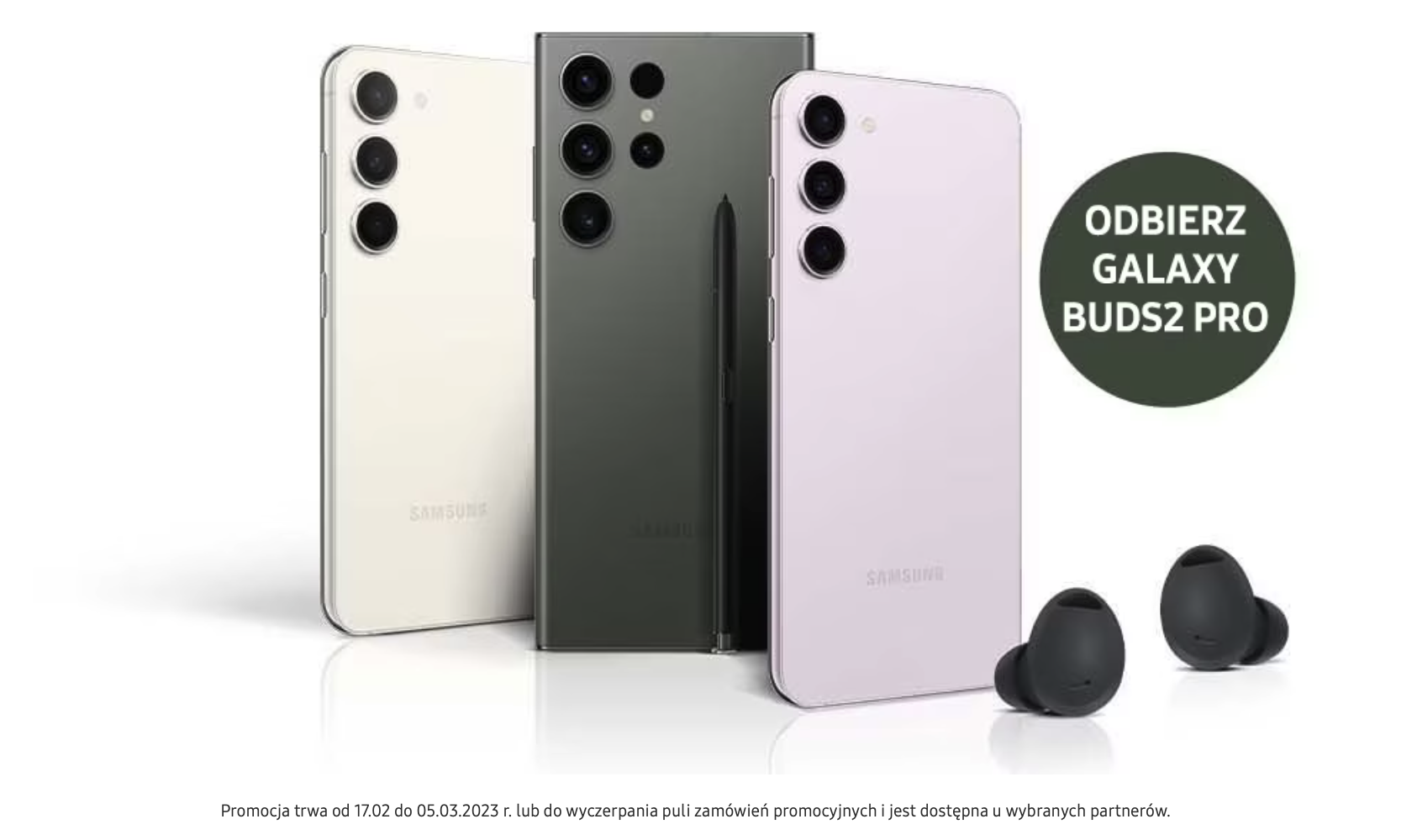 Read also: Review and experience: Is it worth buying the Samsung Galaxy S22 Plus in 2023?
Samsung Galaxy S23 Ultra specifications
Body: shock- and scratch-resistant Armor Aluminum frame, Gorilla Glass Victus 2 on both sides, IP68 water protection (withstands submersion to a depth of 1.5 meters for 30 minutes)
Display: 6.8 inches, Dynamic AMOLED 2X, 3088×1440 resolution, 500 ppi, 120 Hz refresh rate, HDR10+, 1750 nits peak brightness, Always-on display
Processor: Qualcomm SM8550-AC Snapdragon 8 Gen 2 (4 nm) for Galaxy, Octa-core (1×3.36 GHz Cortex-X3 & 2×2.8 GHz Cortex-A715 & 2×2.8 GHz Cortex-A710 & 3×2.0 GHz Cortex-A510)
Video chip: Adreno 740
Operating system: Android 13, One UI 5.1 shell
Memory: 8/256 GB, 12/512 GB, 12 GB / 1 TB, UFS 4 and LPDDR5x memory types, no memory card slot
Battery: 5000 mAh/year, PD 3.0 45W drone charging (65% in 30 minutes), 15W drone charging (Qi/PMA), 4.5W reversible drone charging
Cameras:

Main 200 megapixels, f/1.7, 24mm (wide), 1/1.3″, 0.6µm, multi-directional PDAF, OIS
Telephoto lens: 10 megapixels, f/2.4, 70mm, 1/3.52″, 1.12µm, PDAF, OIS, 3x optical zoom
Periscope telephoto lens: 10 megapixels, f/4.9, 230mm, 1/3.52″, 1.12µm, PDAF, OIS, 10x optical zoom, 100x digital zoom
Ultra Wide Angle 12MP, f/2.2, 13mm, 120˚, 1/2.55″ 1.4µm, Super Steady video
Video recording: [email protected]/30fps, [email protected]/60fps, [email protected]/60/240fps, [email protected], HDR10+, stereo sound, gyro-EIS stabilization
Front 12MP, f/2.2, 26mm, Dual Pixel PDAF, [email protected]/60fps and [email protected] video recording

Sound: stereo speakers, 32-bit/384 kHz audio, Tuned by AKG
Network and data transfer: 5G, eSIM, Wi-Fi 802.11 a/b/g/n/ac/6e, Bluetooth 5.3, navigation (GPS, GLONASS, GALILEO, BDS), NFC, USB Type-C 3.2, support for Samsung DeX desktop mode
Sensors: ultrasonic fingerprint scanner built into the screen, accelerometer, gyroscope, proximity sensor, digital compass, barometer
Dimensions: 163.4 × 78.1 × 8.9 mm
Weight: 234 g
Package contents
Samsung Galaxy S23 Ultra comes in a compact black box. There's nothing extra in it – a phone, a cable, a paper clip to remove the SIM slot, and a short documentation. Samsung hasn't been packing a charger with its flagships for a long time. And the days when you could find AKG headphones in the box are long gone. Which gives some people a reason to sigh, "There's nothing for that kind of money! But there were times…".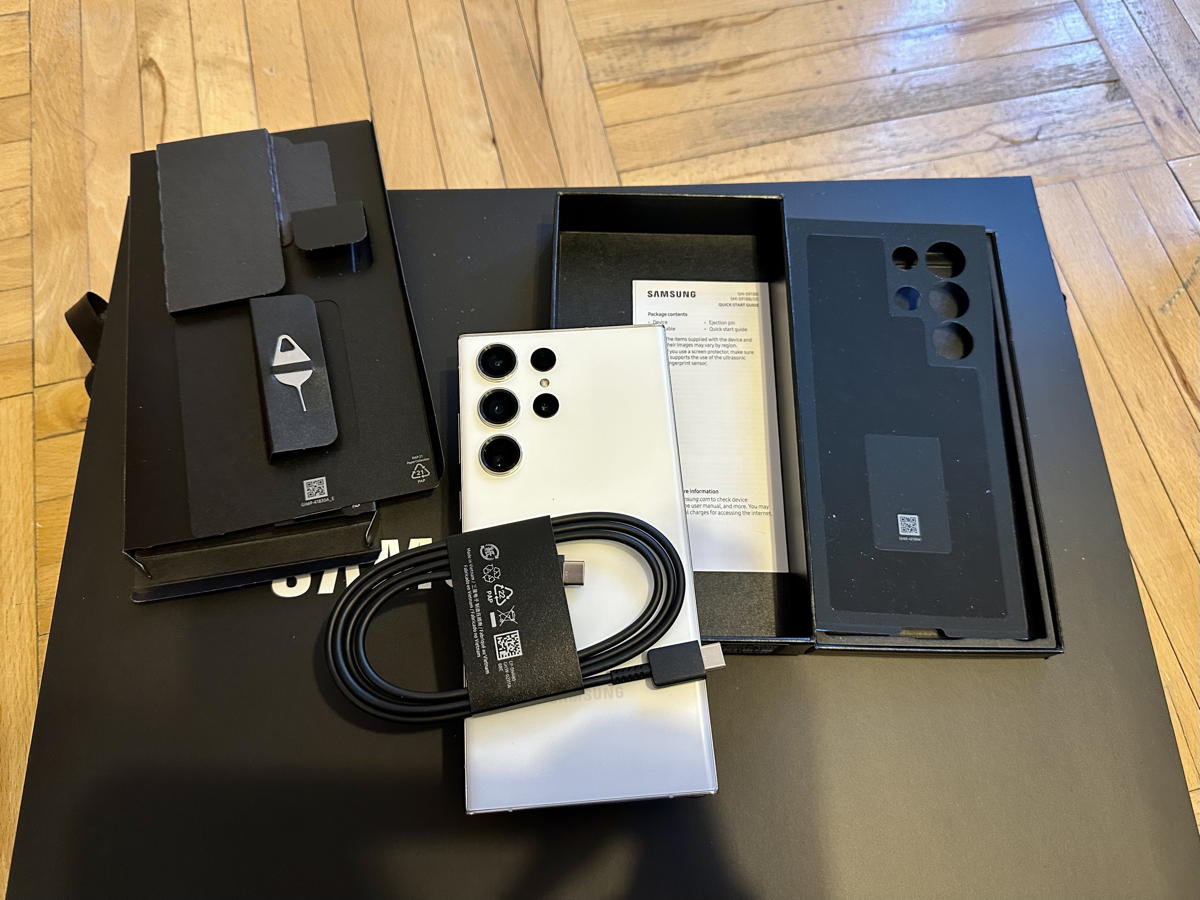 For those interested, here's a video of the Samsung Galaxy S23 Ultra unboxing:
Design
We are looking at a large and beautiful phone, the appearance of which immediately suggests that the S23 Ultra is a premium model. And no one can argue with that!
As I already mentioned, there are almost no changes in the design compared to the S22 Ultra. Except for one thing – the screen, although it has retained its rounded sides, has become flatter. Thus, the disadvantages of such "infinite" screens – accidental touches, a strongly "curved" interface on the sides, and in the case of Ultra, it is also more convenient to use the stylus.
The phone is very large, you have to understand that. However, I don't think anyone will write this down as a disadvantage of the Galaxy S23 Ultra. If a person decides on an ultra-model, he or she realizes that it is "ultra" in everything. Personally, I use the iPhone 14 Pro Max, which is not a small phone. And I can say that the Samsung is more comfortable, precisely because of the symmetrically rounded sides: it fits more comfortably in the hand and seems thinner than the clumsy iPhone. In general, yes, it's big, yes, it's heavy (234 g), but it's not like your hand gets tired and it's impossible to use. Personally, I like large screens because for me a phone is a tool for communication, work, and consumption of all kinds of information.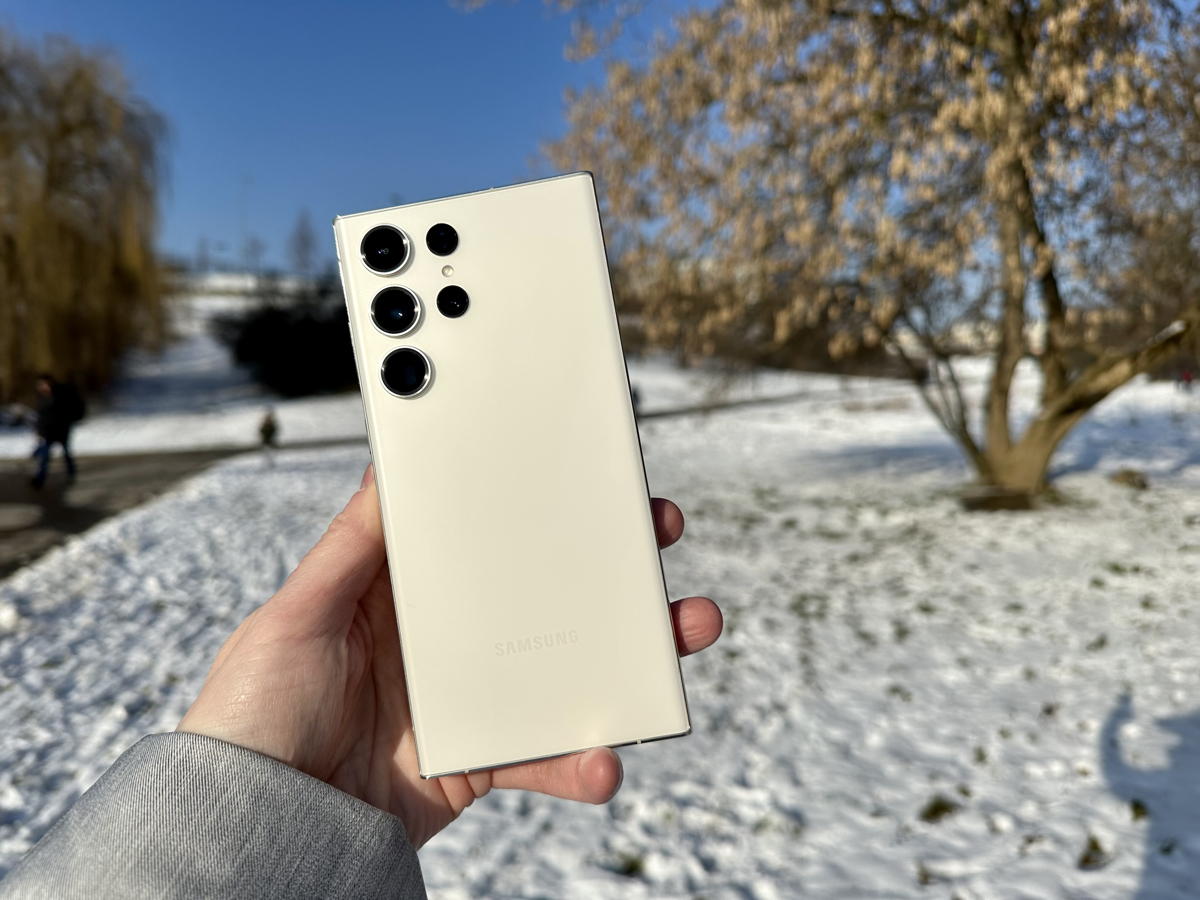 The materials are premium. The front and back sides are made of the most advanced Gorilla Glass Victus 2 glass to date.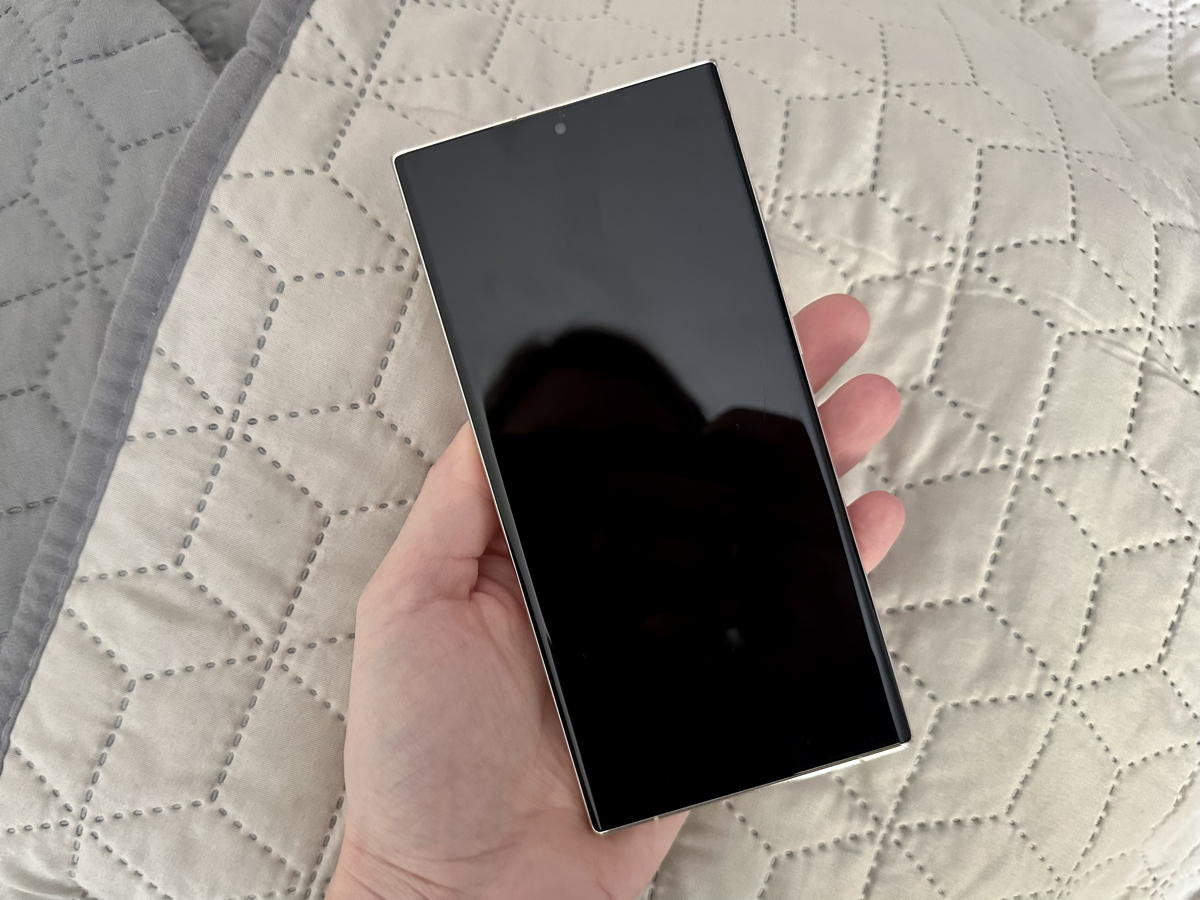 However, there are no miracles, glass is glass. I received a model that had been in someone's possession before and had noticeable scratches on the screen. However, they can be seen only at a certain angle and in certain lighting conditions, so they are not conspicuous.
The oleophobic coating is fine, although you still have to wipe off fingerprints from time to time.
The frame of the smartphone is metal, made of reinforced aluminum. It is noticeably stained with fingerprints, but I did not notice any scratches on it.
The black stripes around the edges of the screen are very narrow, on the left and right they are not visible at all because of the rounded edges. The bottom bar is a little wider than the others, but it's not striking. The front-facing camera is in the middle of the screen, not too distracting.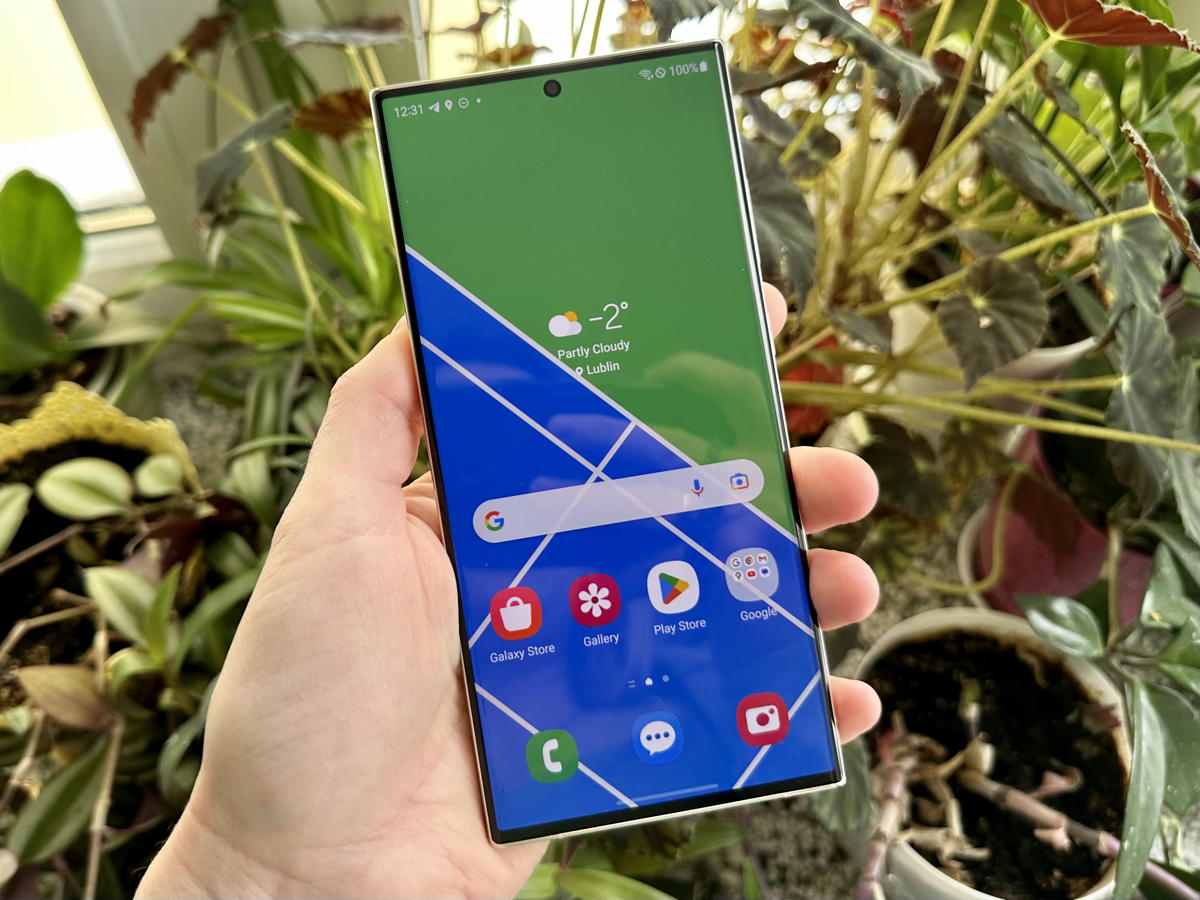 The cameras on the rear panel have a distinctive look and are arranged as separate, unconnected modules. Now the entire S23 series has this design, previously only the S22 Ultra was distinguished by it. The optics of the cameras protrude strongly above the surface of the case.
If the phone is on the table, it's inconvenient to use it – it wobbles and knocks against the metal rims of the cameras. For example, this is an unpleasant sound when combined with a glass table.
On the top end of Galaxy S23 Ultra there is nothing but a microphone. On the bottom there is a "house" for the stylus, the holes of the lower speaker, two more microphones, a Type-C connector for charging, and a SIM card slot.
The left side of the phone is empty. On the right side there are dual volume keys and the power/lock button. They are located at a convenient height.
To remove the stylus, you need to press the tip of the stylus like a button. The body of the stylus is plastic, with a pleasant soft-touch coating. It's slightly flattened, so it's comfortable to hold in your hand.
The tip of the pen resembles a ballpoint pen, and we'll talk about its usability in a separate section.
And here I should also note that the top of the stylus clicks like a fountain pen! The stickiness is terrible, you can't put it down!
The Samsung Galaxy S23 Ultra is available in four colors: black, cream (almost white, test version), green, and lilac. I saw all of them live at the Polish presentation, and they look great, so the choice of color is a personal matter.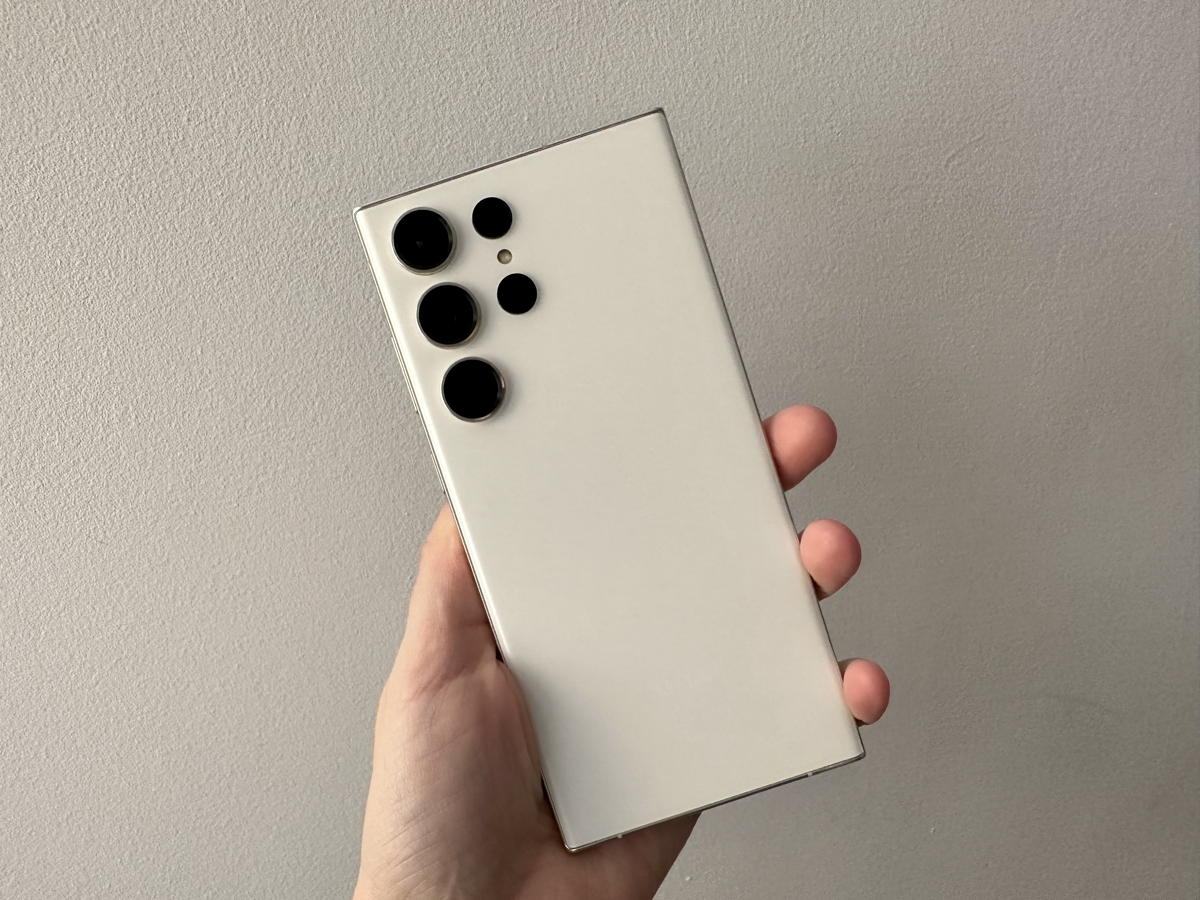 When ordering from the official Samsung website, you can choose additional colors – gray, blue, light green, red.
I should add that the advanced ultrasonic fingerprint sensor is located in the screen. It works even if you put your finger to the off display, you just need to get used to where exactly to put it, since the screen is large, but it takes a few days. Of course, there is also face recognition, which also works without errors, but for me personally, the fingerprint scanner is more convenient.
And the final thing in the design section is that the model is traditionally protected against water according to the IP68 standard, Galaxy S23 Ultra can be wet or dropped into water, washed under the tap, or taken in the pool – nothing will happen.
Read also: Samsung Galaxy Tab S8 Ultra Tablet Review: Isn't That A Bit Too Much?
Samsung Galaxy S23 Ultra screen
There's nothing to write about here, except to say that the smartphone has a gorgeous top-level screen. It's a pleasure to look at it and work with it. Minimal bezels, 6.8-inch diagonal, Dynamic AMOLED 2X matrix, high resolution 3088×1440 (Quad HD, higher than standard Full HD), 120 Hz refresh rate, HDR10+ support, peak brightness 1750 nits.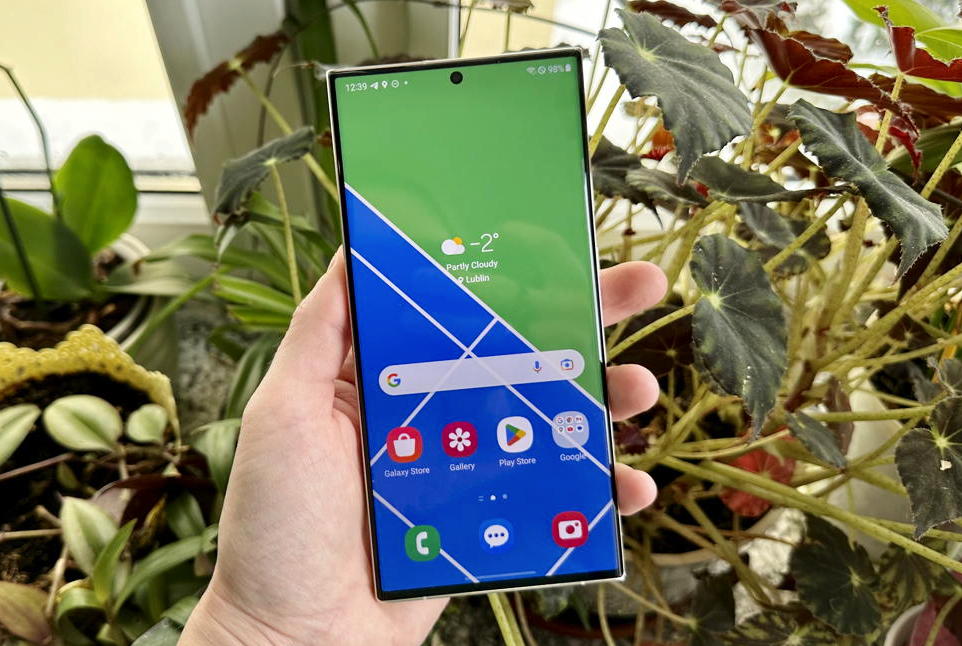 The color reproduction is perfect (and in the settings, if you wish, you can choose the saturation of shades and other options), the depth of black is the highest, the brightness is sufficient even for a very sunny day, but the screen does not blind the eyes in the evenings.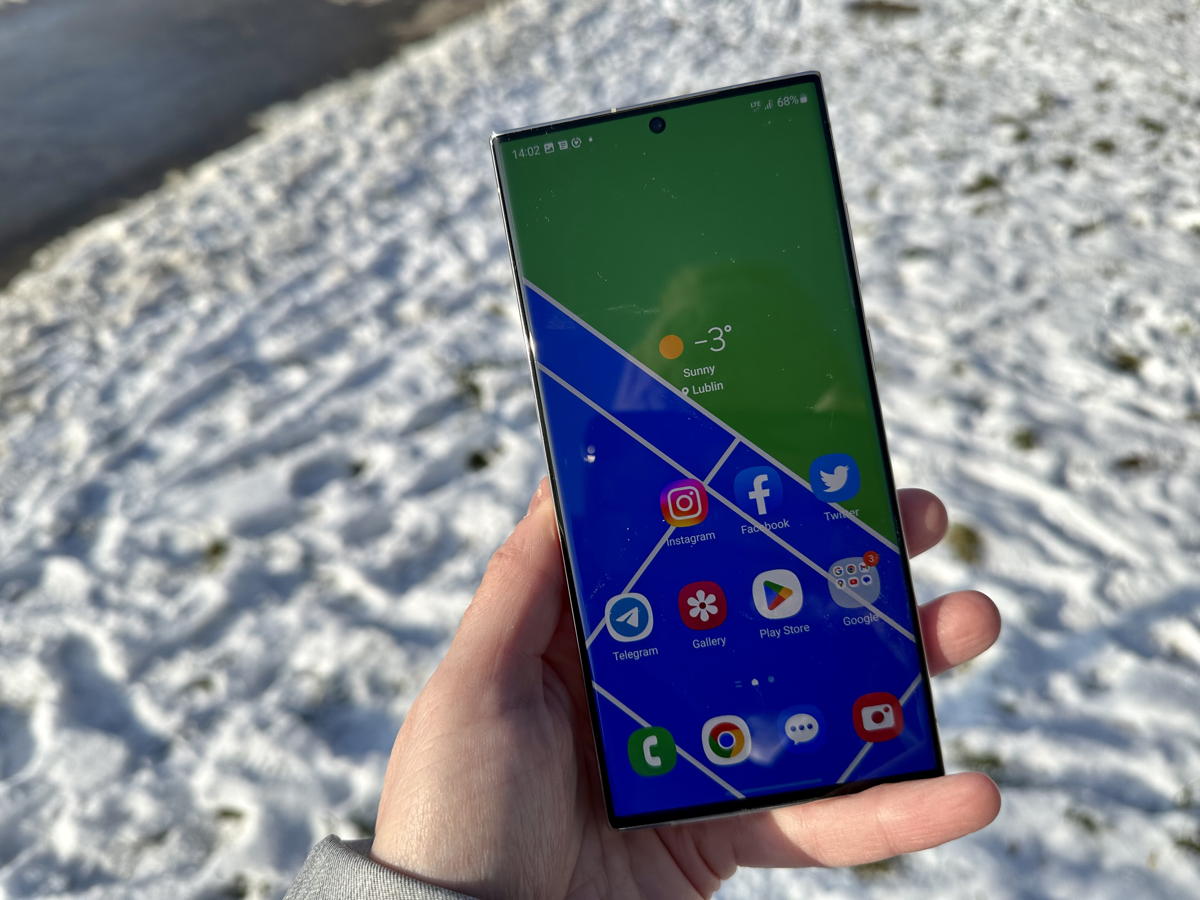 The picture is as clear as possible even in Full HD resolution, which is set by default. However, I turned on Quad HD, and although there is no difference at first glance, at second glance small elements, fonts, icons still look clearer. Although to save battery it is better to choose Full HD.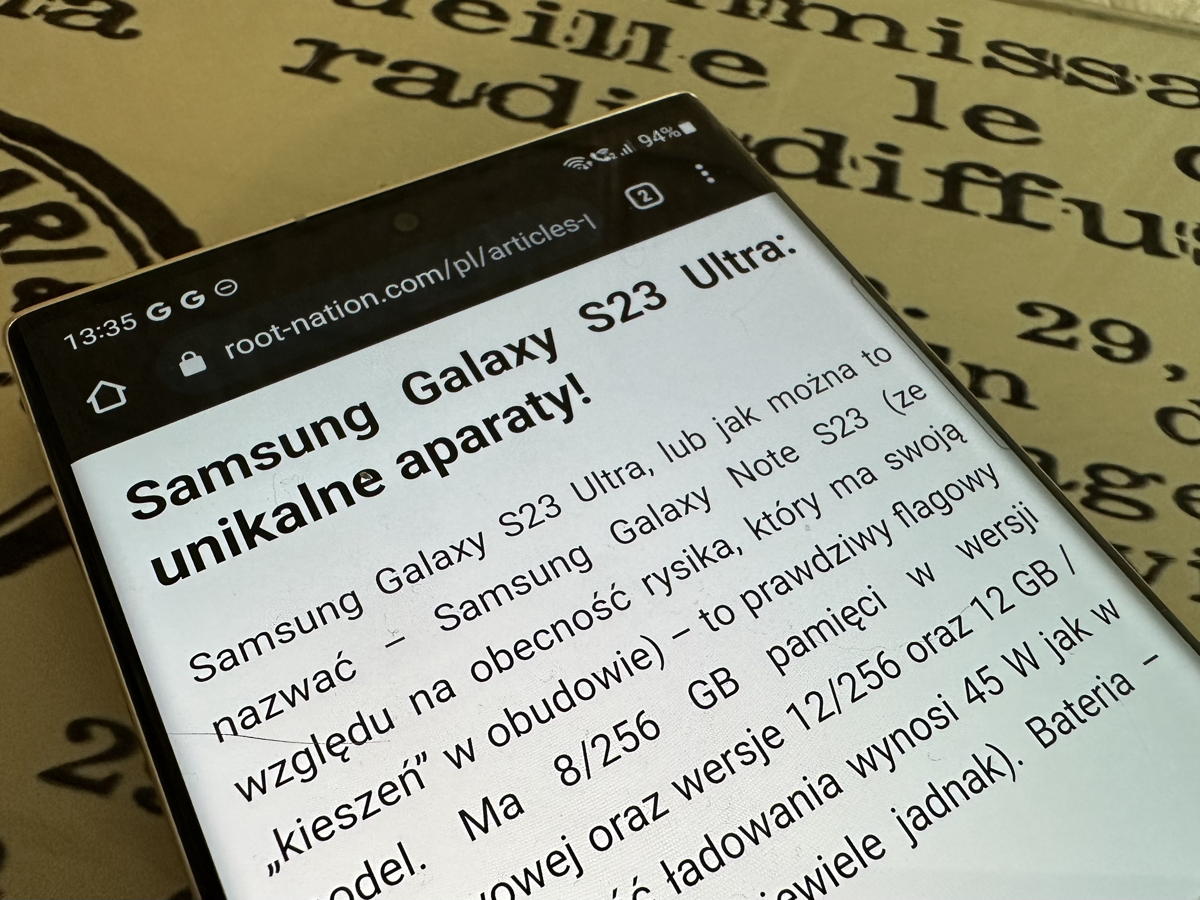 Thanks to 120 Hz, everything is very smooth, but it's not just the refresh rate that does the trick here, the Samsung shell interface itself is also very good.
By default, the adaptive refresh rate is enabled – the phone sets the desired parameter depending on the task, in the range from 1 to 120 Hz. Again, this helps to save battery power. But, if you want, you can also enable the "always 120 Hz" option, although I don't see the point in it.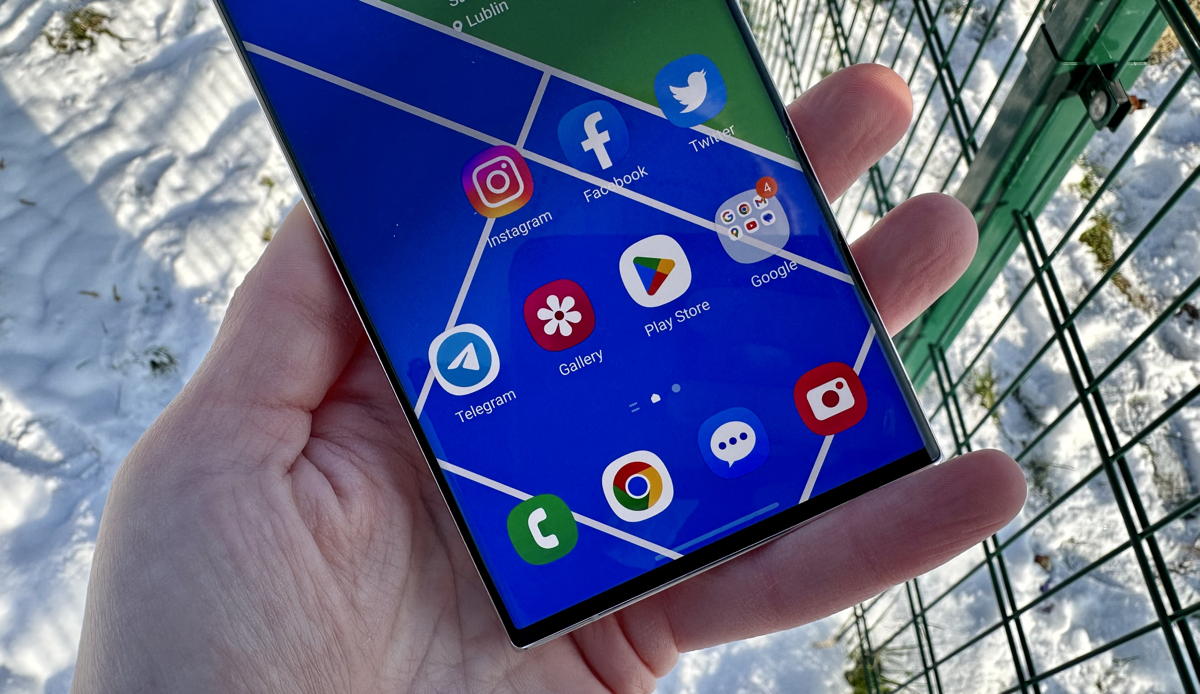 There is also support for the Always On mode, and there are a lot of settings. You can choose whether the mode will be activated only for a certain time after touching the screen or whether it will be on all the time. You can also set the option to work on a schedule.
In AoD mode, the display can show the time, date, day of the week, battery power, the name of the currently playing track, or the icon of an app with an unread message. The design is highly customizable. If you activate AoD to work from 8 a.m. to 10 p.m., the mode will consume no more than 5% of the battery.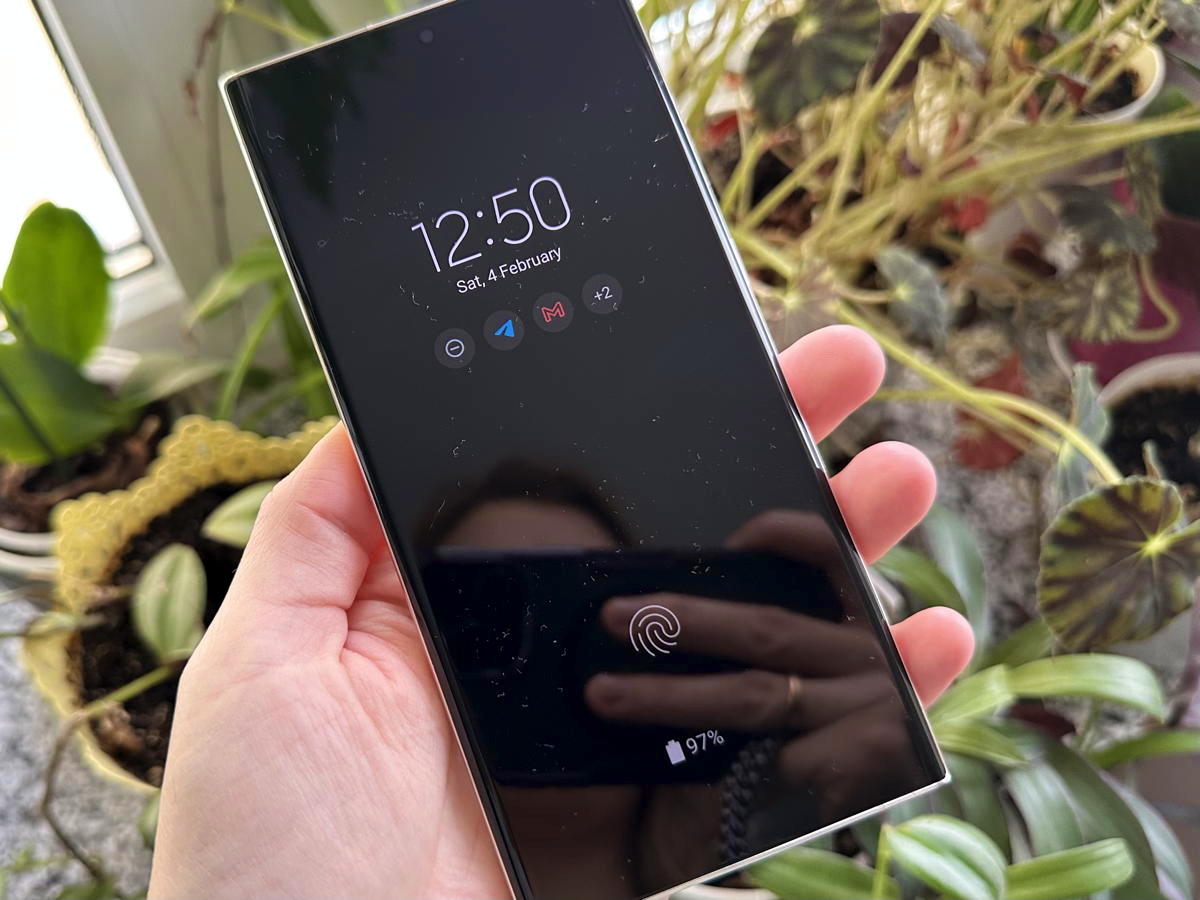 Read also: Choosing a Foldable Smartphone: Samsung Galaxy Fold vs. Flip – Which Type Is Better?
Performance, processor, memory
And there's not much to write about here. The novelty is based on Qualcomm's latest chipset – Snapdragon 8 Gen 2 for Galaxy. And not the same one as in other phones, but for Galaxy. What are the features?
Firstly, the chip has overclocked frequencies, the main Cortex-X3 core supports up to 3.36 GHz, which is 0.16 GHz faster than the standard version. The Adreno 740 graphics processor is also faster, overclocked by 39 MHz compared to the base one. And that's not all! The Cognitive ISP module has been added to the system-on-a-chip, which improves photo processing with artificial intelligence, making photos more natural. That is, in theory, photos from the S23 Ultra should be better than from other smartphones with the basic version of Snapdragon 8 Gen 2.
Galaxy S23 Ultra Dev info
One more thing about AI: the Galaxy version of the chipset has an improved Snapdragon Hexagon module to improve the performance of artificial intelligence, although it will probably be impossible to notice it without specialized tests. Nevertheless, there are a lot of changes.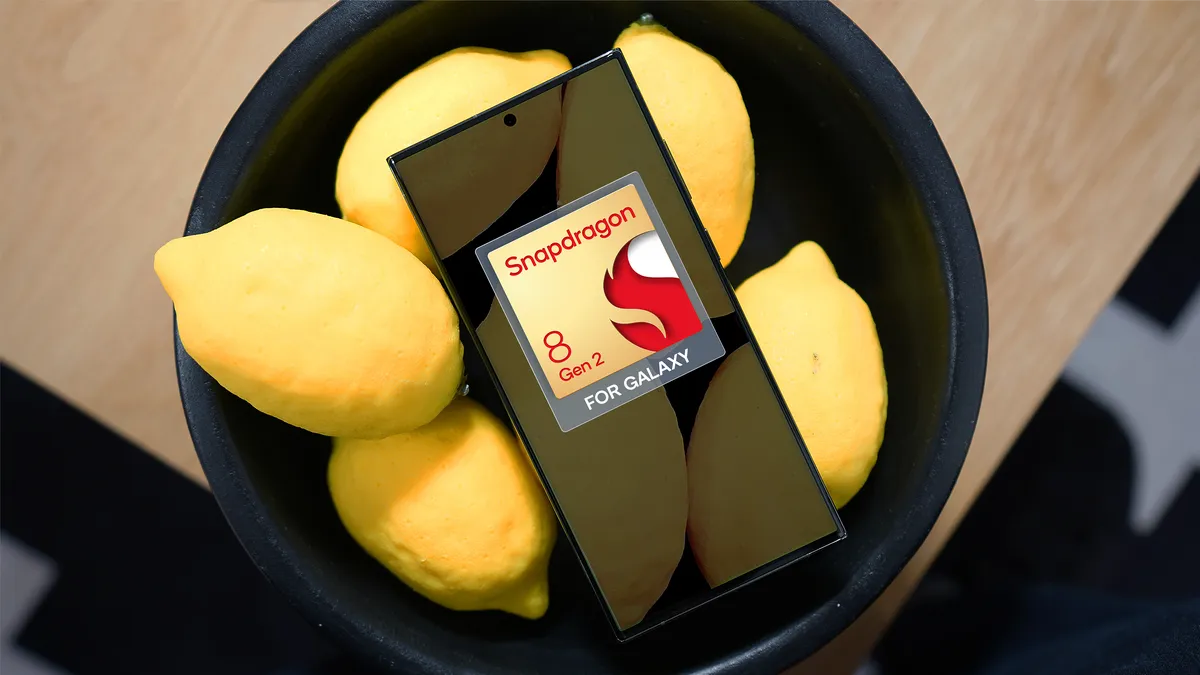 Of course, the Samsung Galaxy S23 Ultra is very fast, of course, it can handle any tasks, any high load, any new games. And Snapdragon is great.
Let me remind you that previously, the top Samsung models supplied to Europe were powered by proprietary Exynos processors. "Customers did not like Exynos very much for their not very stable performance and excessive heating, so many chased after the American versions of Galaxy. Now there are no such problems, the S23 is powered by a quad-core processor all over the world.
Unlike the Snapdragon 8 Gen 1, the new generation processor is, of course, even faster, but more importantly, more energy efficient and economical. And this is very noticeable, as we will discuss in the section on Galaxy S23 Ultra battery life.
And the Snapdragon 8 Gen 2 cannot be called "hot", and Samsung's cooling system is excellent. In everyday use, the phone stays cool. Even under high load, it heats up minimally, mainly in the upper left corner.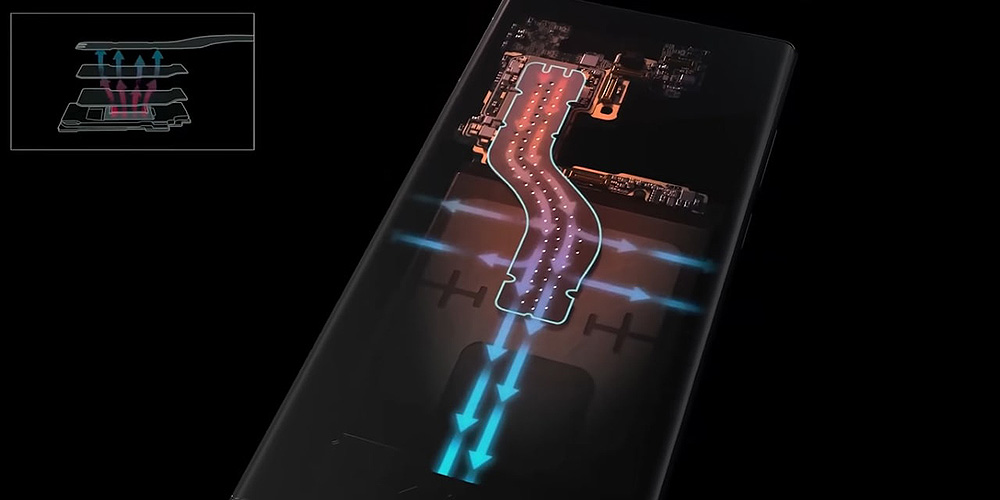 Galaxy S23 Ulta can become noticeably hot only during long stress tests, but you need to understand that no game or heavy task in real life gives a constant 100% load on the processor, as the tests do. At the same time, there is throttling (a decrease in performance under heavy load), but it is not very noticeable.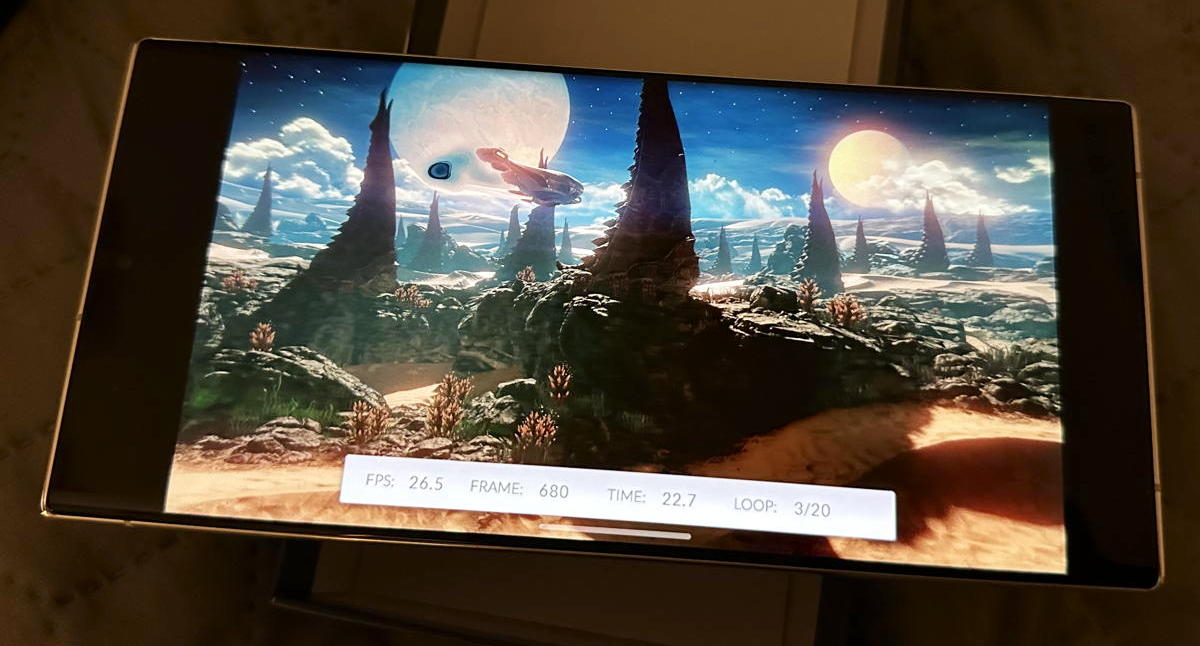 Below are the results of various benchmarks and stress tests for those who are interested:
Samsung Galaxy S23 Ultra is available in 3 memory options – 8/256 GB, 12/512 GB, 12 GB/1 TB.
As for the RAM, 8 GB is enough for any task today. But it's better to pay extra for 12 GB if you have the opportunity. Also, as in all modern smartphones, there is an option to expand the RAM with permanent memory. This, of course, is not an analog of real RAM, but it does give a certain performance boost.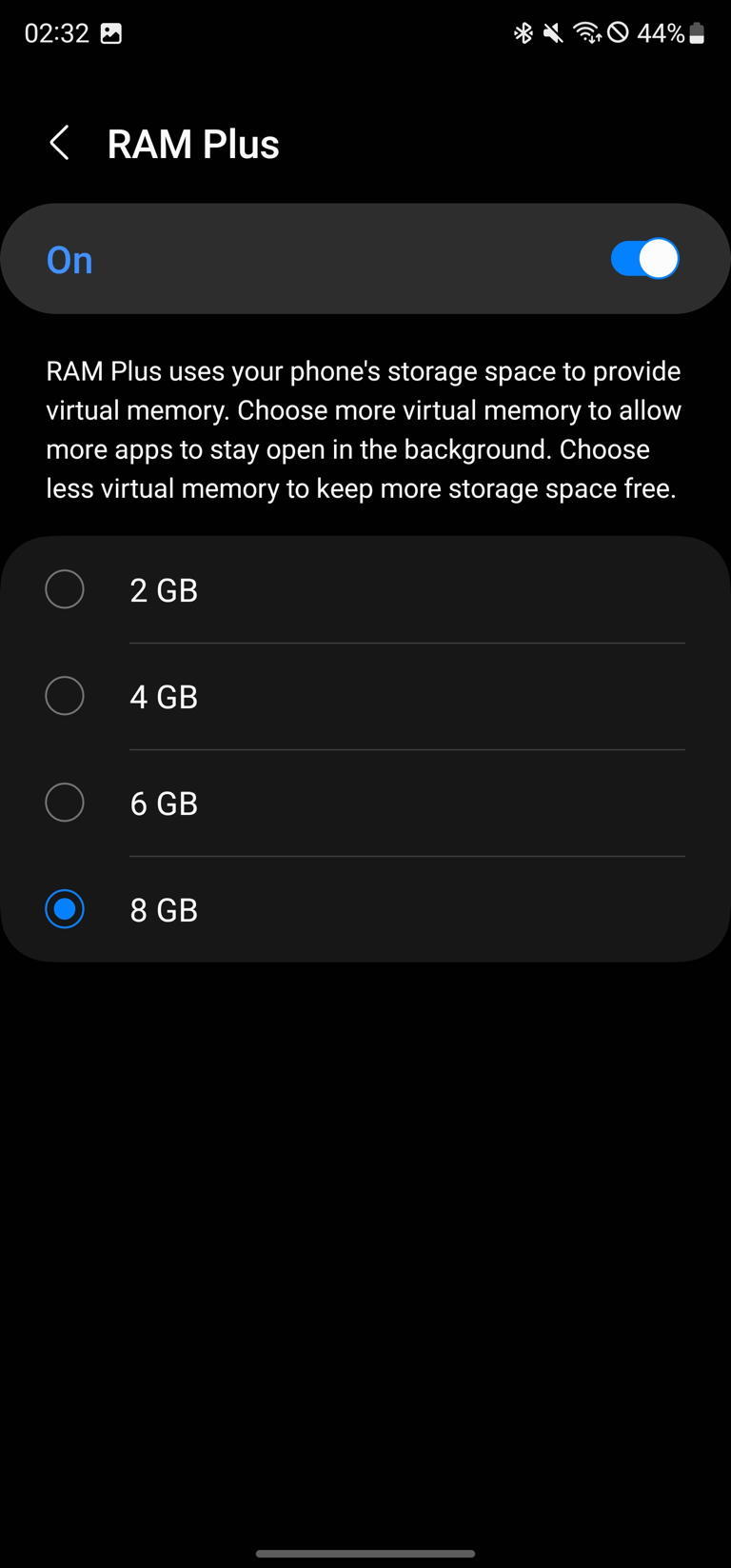 I would highly recommend paying extra for a 512GB or 1TB version. That's because the operating system and preinstalled apps take up more than 50 GB! This is rare, on average systems take up 10-15 GB, and 50 is something out of the ordinary. In the case of the ultra with 256+ GB, this is tolerable, but if you take the younger S23 model with 128 GB of memory, the problem becomes critical, because there is no support for memory cards.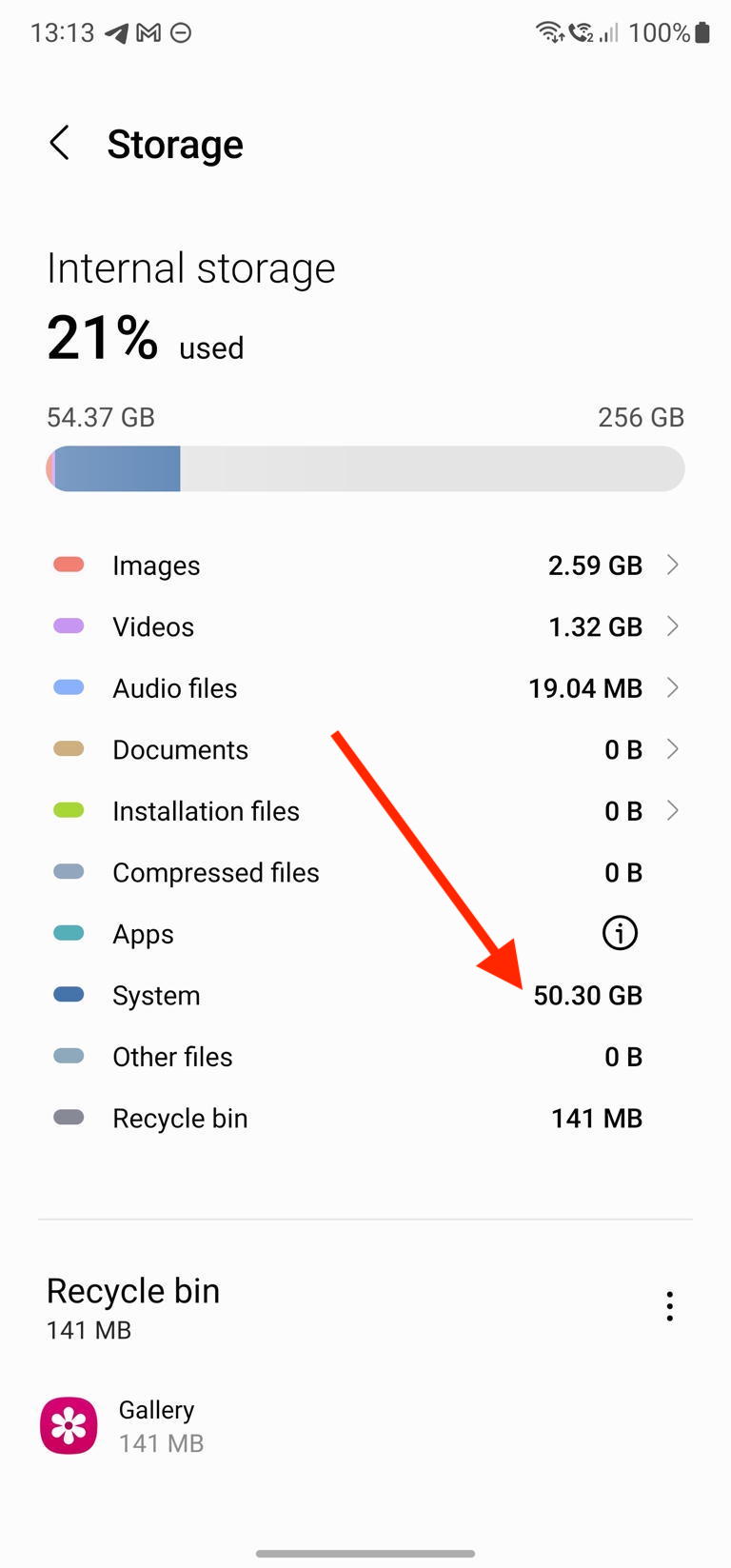 On the plus side, the memory modules are the latest and fastest, the RAM is LPDDR5x, and the drive is UFS 4. This also affects the speed of the smartphone.
Read also: Samsung Galaxy M53 Review: Slim Mid-Budget Phone With Great Cameras
Cameras and photo quality
So, here's the most interesting part of the review. We are looking at the flagship of 2023 with the most advanced cameras. And there is definitely something to test here.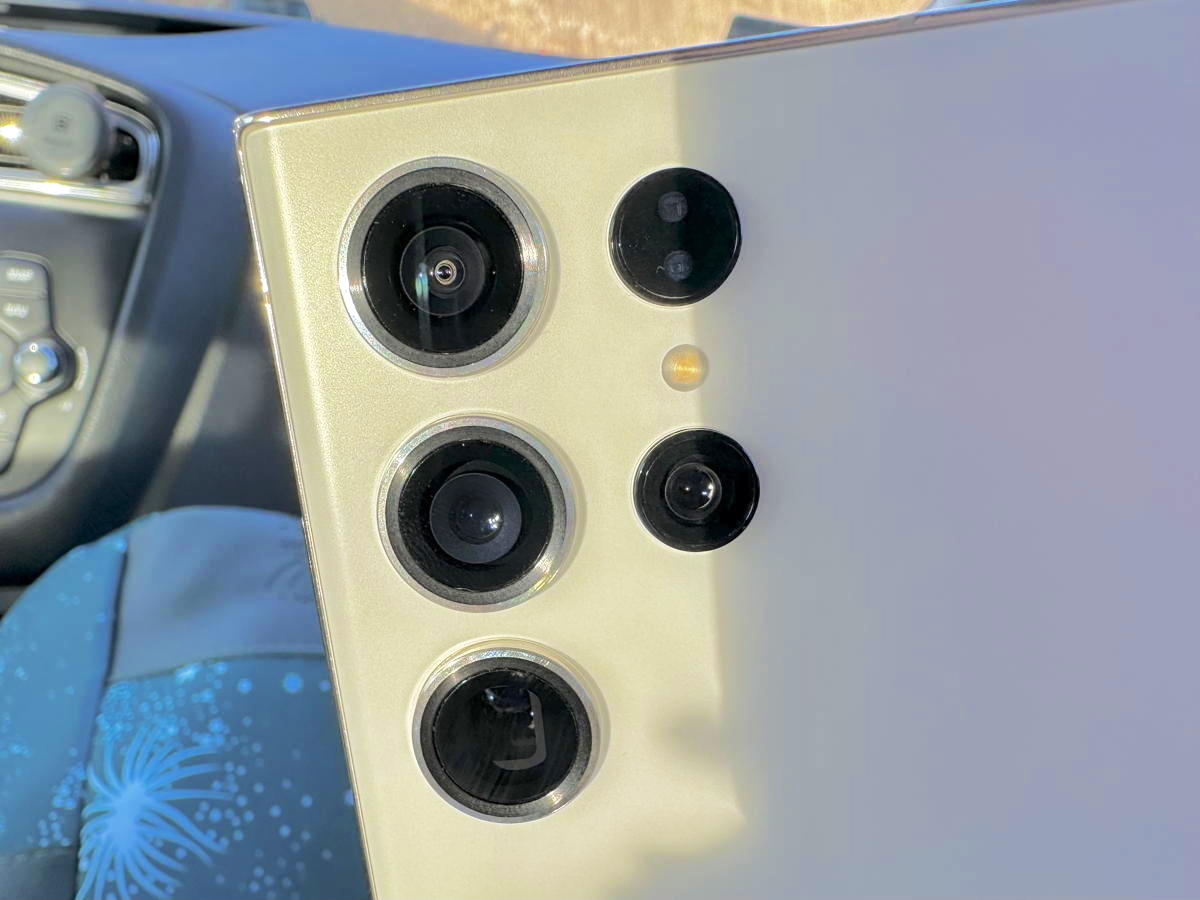 On the back panel we see 5 "eyes", but in fact one of them is a laser autofocus. And of the rest we have:
200 megapixel main module with optical stabilization
Two 10 megapixel telephoto lenses – one conventional with 3x magnification without loss of quality, the other periscope with 10x magnification, both with excellent optical stabilization
Ultra-wide-angle module of 12 megapixels.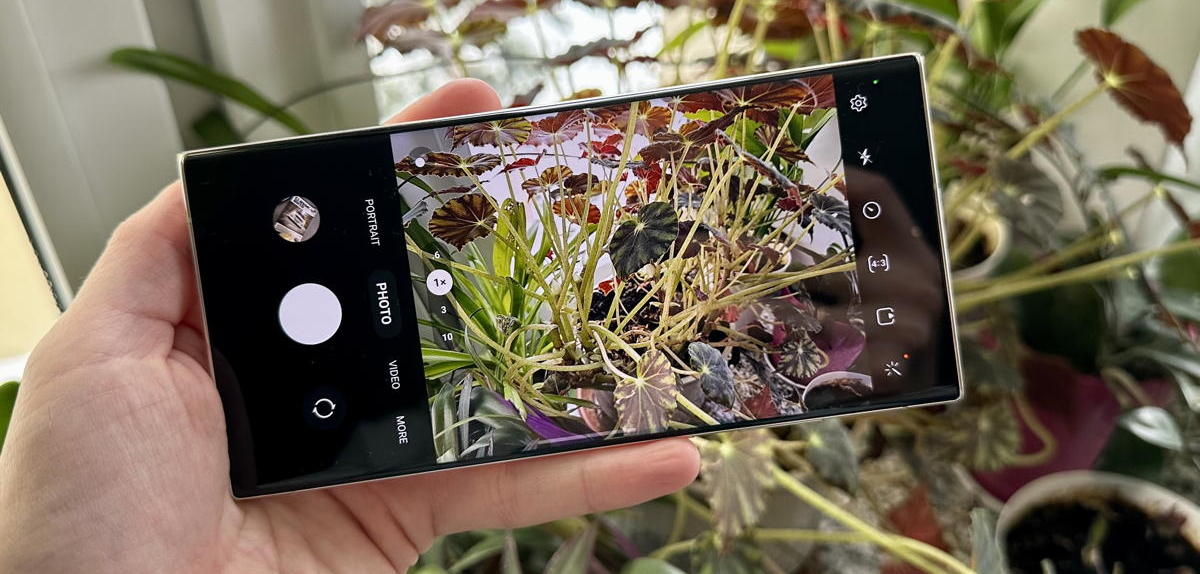 Photos on the main lens, 200 megapixel mode
In good light, the pictures are gorgeous. Excellent detail, excellent color reproduction, wide dynamic range, you won't find any flaws, even if you look hard.
SEE THESE AND OTHER PHOTOS IN FULL RESOLUTION HERE
I note that photos are saved in 12 megapixel resolution (16-in-1 pixel binning technology for photos with "large" 2.4μm pixels and better quality in low light), but there are 50 megapixel and 200 megapixel modes in the settings. In these modes, some functions are not available, such as zoom. Shooting at a high resolution can be useful, for example, to cut out a fragment of a photo with a good resolution. However, I personally prefer to shoot in standard resolution and use the zoom. Moreover, files of 50 and especially 200 megapixels can weigh several tens of megabytes. And high-resolution photos take longer to create and store.

Below are a few examples, on the left are normal mode shots, on the right are 200 megapixels. Our website reduces the size of photos for optimization, so these and other images are available in full size here.
SEE THESE AND OTHER PHOTOS IN FULL RESOLUTION HERE
One of my readers asked me if you take a 200-megapixel photo and cut out a fragment from it, will it look like a strong zoom? No, it won't, because with a strong zoom (more on that below), active post-processing involving AI comes into play. But 200 megapixels still allow you to enlarge/crop a piece, and it will be larger and clearer than with 12 megapixels. Maybe it will be useful to someone someday. Here's an example: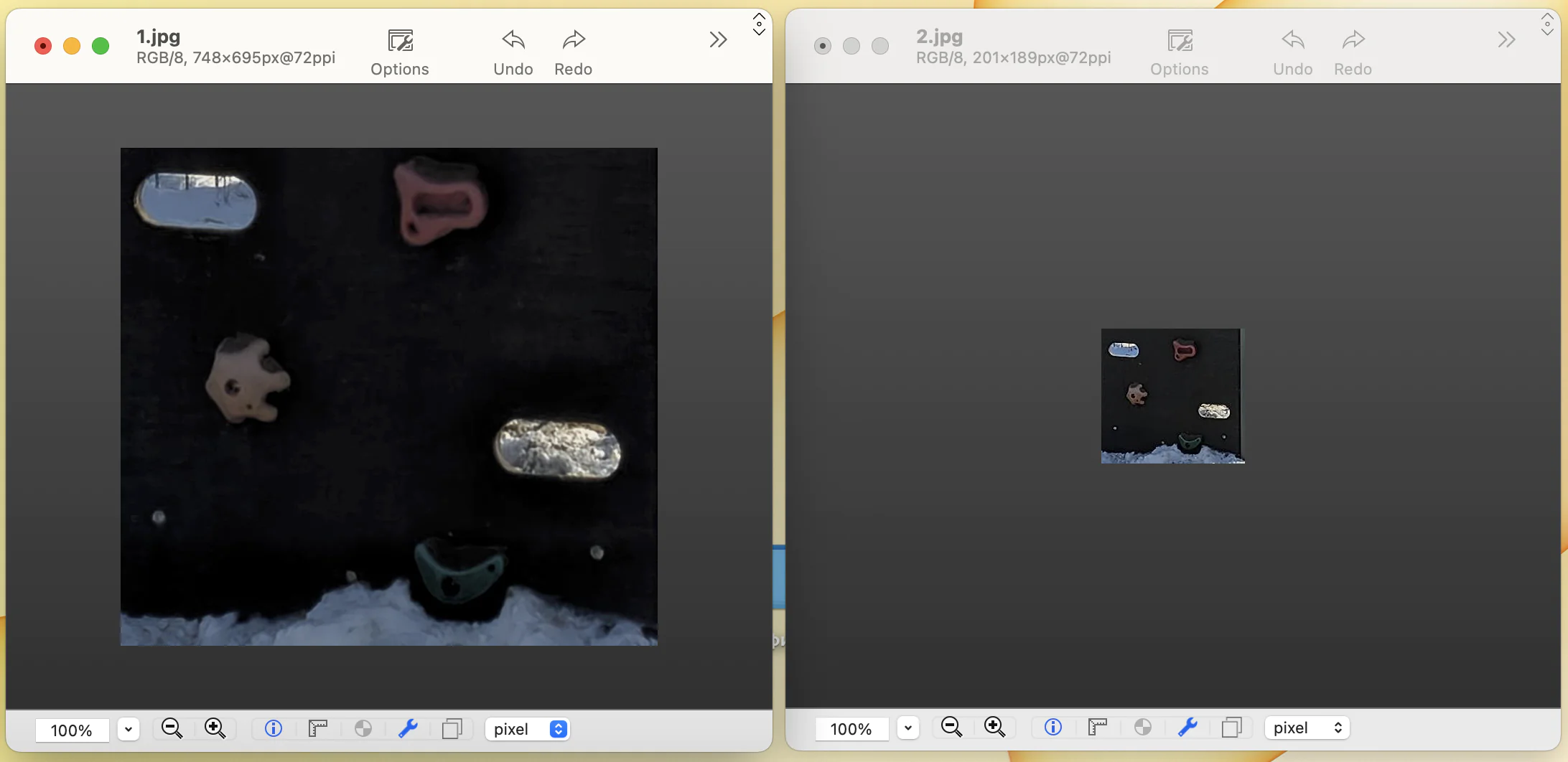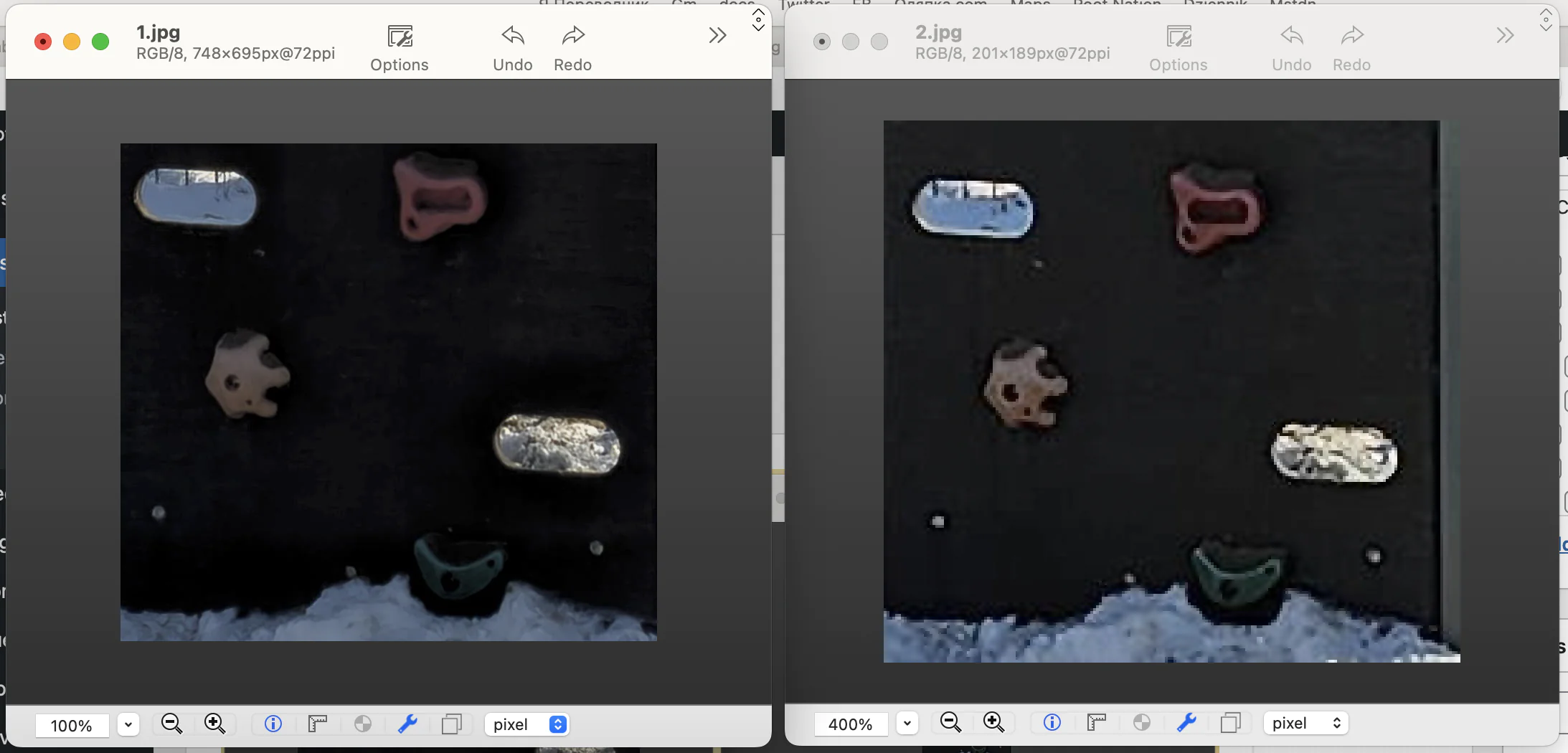 I'd like to point out a nuance. When I just received the Galaxy S23 Ultra and took the first photos in my apartment, I was surprised that the quality was mediocre. And only after a while did I notice that the Focus enchancer option was automatically turned on. But this is not an improvement, but sometimes a deterioration. The point is that when you are not very close to the object, the phone already switches to a wide-angle lens for the sake of allegedly better focus. This results in a photo of poorer quality (especially if the lighting is average) and without a blurred background. Here are examples, a photo with the main lens on the left and a wide-angle lens on the right (and more examples in this folder).
SEE THESE AND OTHER PHOTOS IN FULL RESOLUTION HERE
Focus enhancer can be turned off, but the function is enabled by default, so you need to be careful not to accidentally take a photo of poorer quality.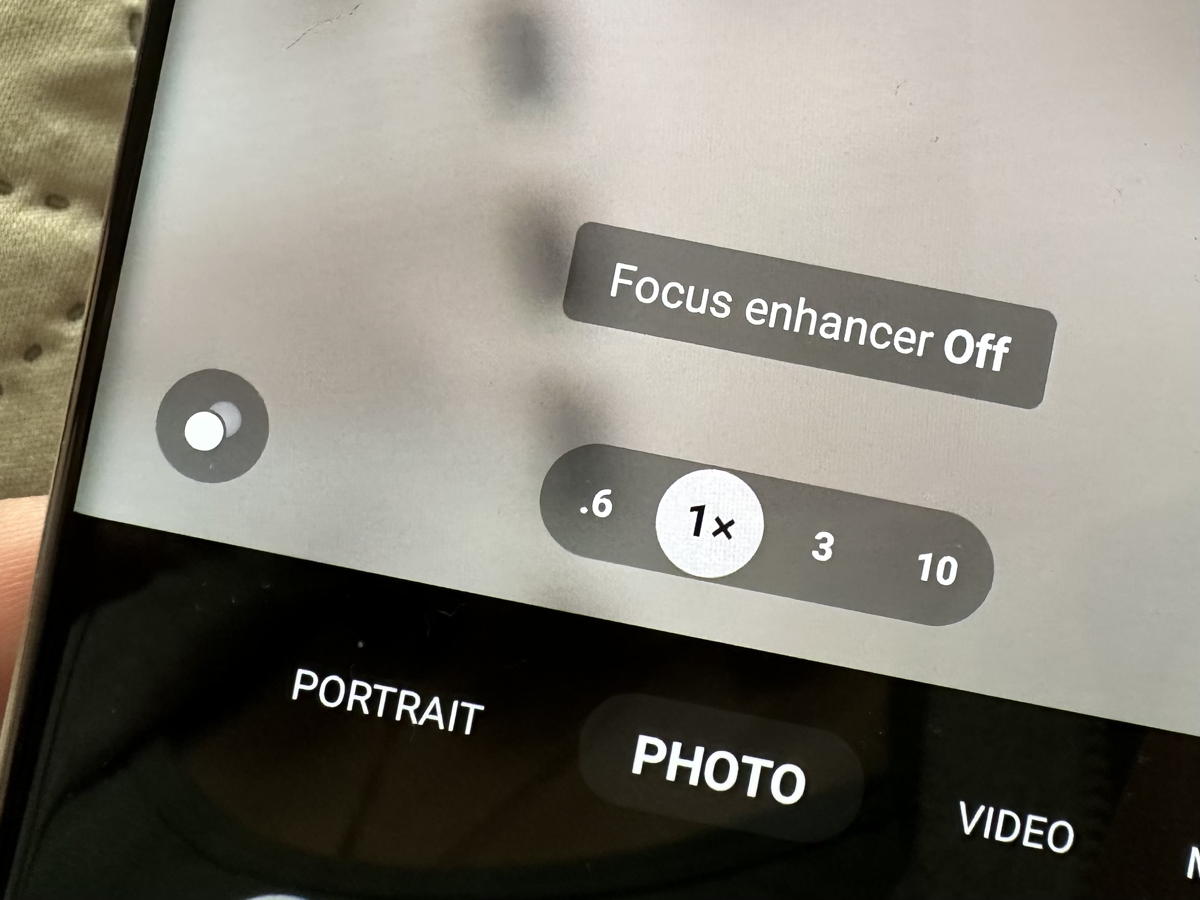 In general, the function is necessary (it implements macro photography through a wide-angle lens), but I would correct the moment when it is automatically activated.
Night photos on Samsung Galaxy S23 Ultra
There are no problems with night shooting and shooting in low light (for example, at home in the evening). The S23 Ultra is definitely the market leader here. I liked the photos from the S23 Ultra better than from my iPhone 14 Pro Max. You do not need to activate the night mode separately, the phone does everything automatically. Examples:
SEE THESE AND OTHER PHOTOS IN FULL RESOLUTION HERE
Wide-angle lens, macro mode
The wide-angle lens takes great photos. We can't say that it is noticeably worse than the main lens. Although, as already mentioned, the main lens is still better in imperfect lighting. However, they have different tasks – if you need to fit more in the frame, you can't do without a wide angle. Here are examples, wide angle on the right:
SEE THESE AND OTHER PHOTOS IN FULL RESOLUTION HERE
The wide-angle camera is also equipped with autofocus, so it allows you to take photos in macro mode at a maximum approach of 2-3 cm from the subject. This functionality is implemented on many top models, including the iPhone 14 Pro. The quality is good, the clarity is excellent, and it is advisable to try to hold the phone as steady as possible.
SEE THESE AND OTHER PHOTOS IN FULL RESOLUTION HERE
Zoom up to 100x
The camera interface has many zoom levels, with a maximum of 100x. At the same time, 3x and 10x are provided by special telephoto lenses with virtually no loss of quality. A very powerful optical stabilization system, which each module has, allows you to get great close-up shots. Previously, I tested models with 50- and 100x zoom, but most often it was not a zoom, but a torment, because the picture was "floating" and shaking, and it was impossible to catch something clearly in the frame. With Samsung, there are no such problems, you can directly feel how perfectly the stabilization system works. It's a thrill!
We can say that this is not a smartphone, but a real periscope or telescope. I played with the zoom function a lot during the tests. There are no analogues of this quality on the market yet. Well, my iPhone 14 Pro Max, which, by the way, is more expensive than the Galaxy S23 Ultra, is not capable of anything like this in principle.
Here are some examples of approximation. At 100x, you can see details that you simply can't see with your eyes, especially if your eyesight is not perfect.
Of course, starting from the 10s, the phone no longer uses optical means, but software. And here Samsung is doing great. I'm sure that some kind of artificial intelligence helps to process the received frames, which is able to draw some elements on its own. For example, take a look at the 100x zoomed-in text of a sign at a school stadium. It is perfectly clear and absolutely readable!
SEE THESE AND OTHER PHOTOS IN FULL RESOLUTION HERE
In general, it should be noted that a 100x zoom is a variation of a 30x zoom. That is, there won't be any dramatic jump in quality after 30x.
In low light, by the way, the quality is also excellent. With my own eyes, I wouldn't have been able to see that there was a suitcase on the closet in my apartment and that there were some papers with text outlines hanging on a stand in the office.
And in the photo below, you can hardly guess (unless you know the area) where the sign of this store is. And it's impossible to see it with your own eyes.
So I'm going to give you a hint: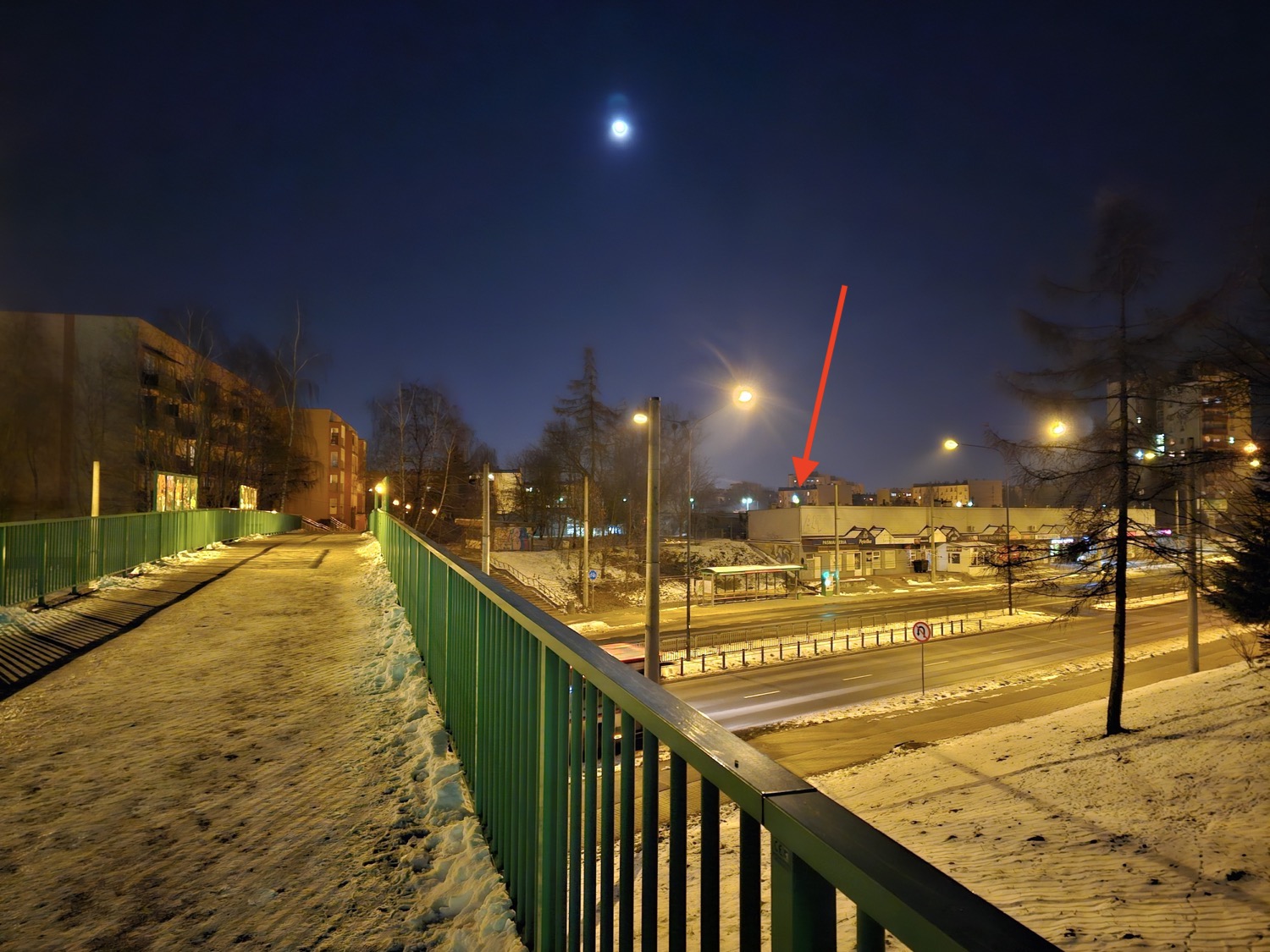 With such a camera, you can monitor people, vehicles, etc. For example, look at the readability of license plates. It's hard to understand where this car is in the first photo without getting closer, right? I'll give you a hint – next to the red and yellow containers.