Even from testing the Xiaomi 12 Lite, I'm convinced that Xiaomi is putting some personal meaning into the word Lite. That's because it's not a simple version for every day and every wallet. It's a minimally simplified flagship that looks cool, performs powerfully and gives the user almost the maximum in terms of today's technology. So what will the Xiaomi 13 Lite win us over? Let's go find out!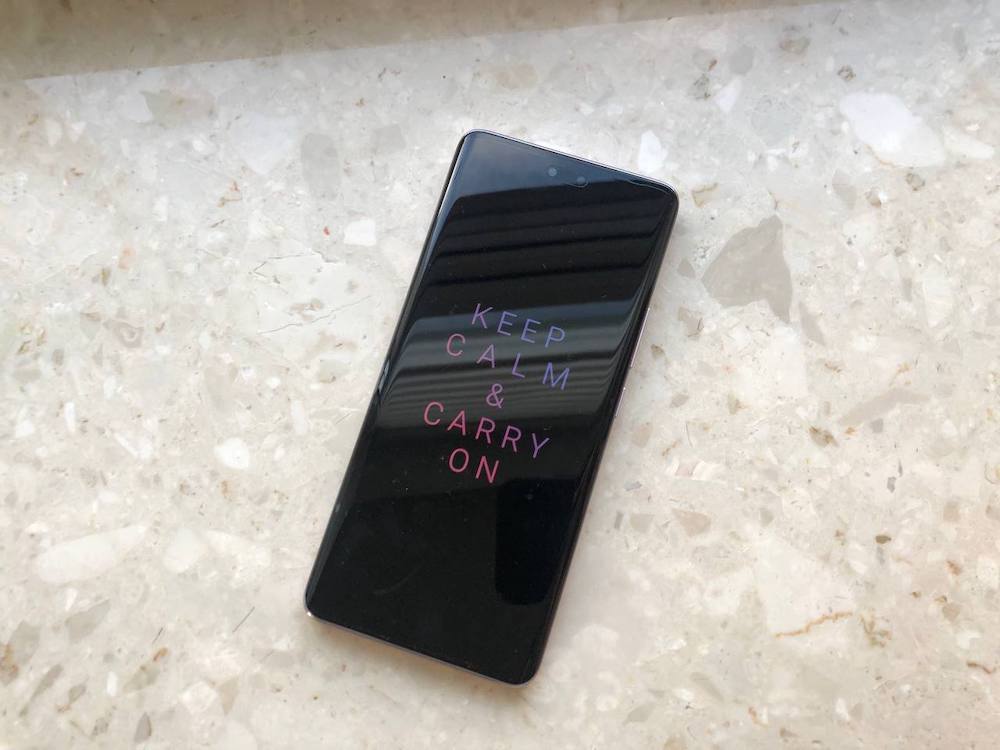 Xiaomi 13 Lite specifications
Screen: AMOLED, 6.55″, 1080×2400, 20:9 aspect ratio, 120Hz refresh rate, HDR10+, Corning Gorilla Glass 5
Processor: Qualcomm SM7450-AB Snapdragon 7 Gen 1 (4nm): Octa-core (1×2.4GHz Cortex-A710 & 3×2.36GHz Cortex-A710 & 4×1.8GHz Cortex-A510)
Video Accelerator: Adreno 644
Memory: 8GB RAM, 128/256GB UFS 2.2 flash
Battery: 4500mAh, 67W fast charging
Main camera: 50MP, f/1.8, 23mm, 1/1.56″, 1.0µm PDAF; 8MP ultra-wide-angle, f/2.2, 119˚, 1/4.0″, 1.12µm + macro: 2MP, f/2.4
Front camera: 32 MP, f/2.4, 100˚, 1/2.74″, 0.8µm
Data: LTE, 5G (n1/3/5/7/8/8/20/28/38/40/40/41/66/77/78), NFC, Wi-Fi 802.11 a/b/g/n/ac/6, Bluetooth 5.2, GPS (A-GPS), GLONASS, BDS, GALILEO, QZSS
OS: Android 12, MIUI 14
Dimensions and weight: 159.2×72.7×7.2mm, 171g
Complete set
In the box along with the phone you'll find a USB-C cable, a powerful 67W charger, a brief manual and a silicone case. Such a complete package makes me particularly happy with Xiaomi smartphones, because you really get everything you could possibly need without having to run around the shops looking for the right accessory.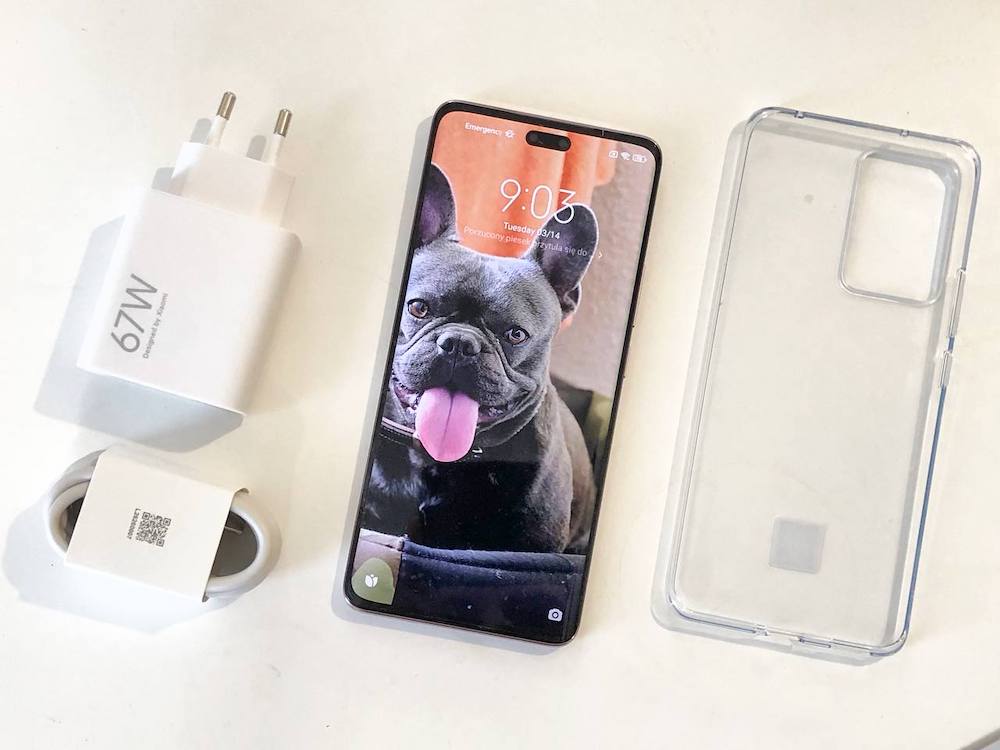 Design
The first thing I liked about the design of the Xiaomi 13 Lite was the compactness of this smartphone. With a screen that "drains" to the sides, it saves a few extra millimetres, plus the overall smartphone feels more elongated than wide. These proportions make it very comfortable to hold, especially if you have a petite, girlish palm.
If we compare with the previous version of this model – we clearly see more stylisation for flagship devices. Buyers can choose between three colour options – classic black, blue and pink, like the one we tested. Although, frankly, the colour of our copy is hard to pinpoint because it appears pink, then mint, then shimmers in shades of turquoise and lilac. No photo captures this beauty, you have to see it in person.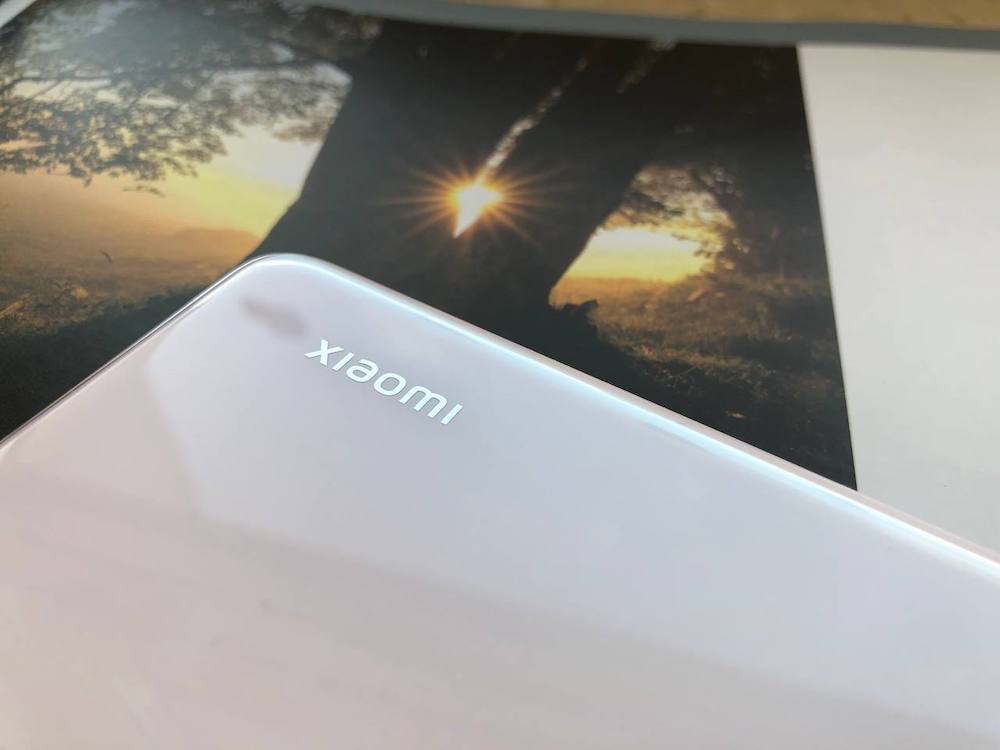 The display is protected by durable Gorilla Glass 5, which protects the screen from minor scratches and unwanted fingerprints. The back, on the other hand, gets plain glass, although frankly I didn't notice any scratches from use.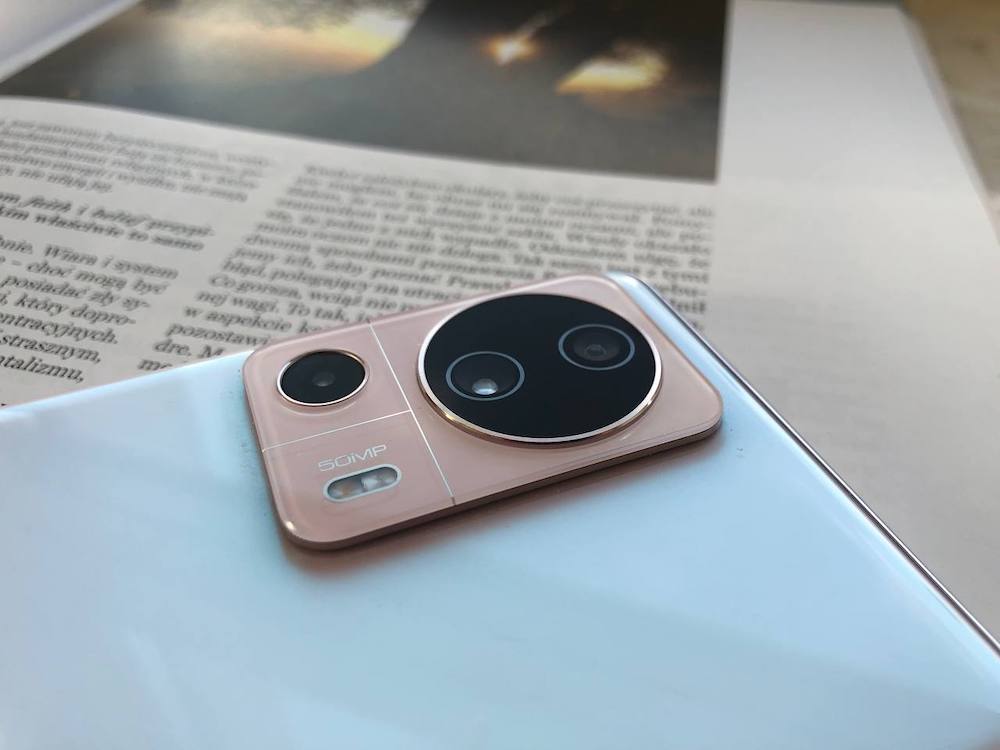 The camera island here is noticeably raised above the rear surface, which is particularly noticeable due to the overall slimness of the smartphone. Therefore, the case may come in handy to protect the camera from scratches. Although the case will deprive you of the extreme tactile and aesthetic sensation of using this elegant smartphone.
There is nothing on the left side of the smartphone. On the right side there is a two-position volume control key and a power button. The buttons are thin and relatively small, but easy to use.
On the top end there is an IR port for controlling technology and a microphone. At the bottom there is a speaker, a second microphone, Type-C slot and a slot for two SIM cards.
The fingerprint scanner is built directly under the screen, which makes me very happy, as I am a supporter of this unlocking method. Facial recognition was also added here specifically for those who prefer this "contactless" option.
Read also: Xiaomi 12T Pro smartphone review: Clark Kent or Superman? 
Display
The incredible display is another of this smartphone's powerful competitive advantages. An AMOLED matrix with a high refresh rate of 120Hz and a resolution of 1080×2400 immerses you in a world of vibrant, dynamic scenes with maximum realism throughout.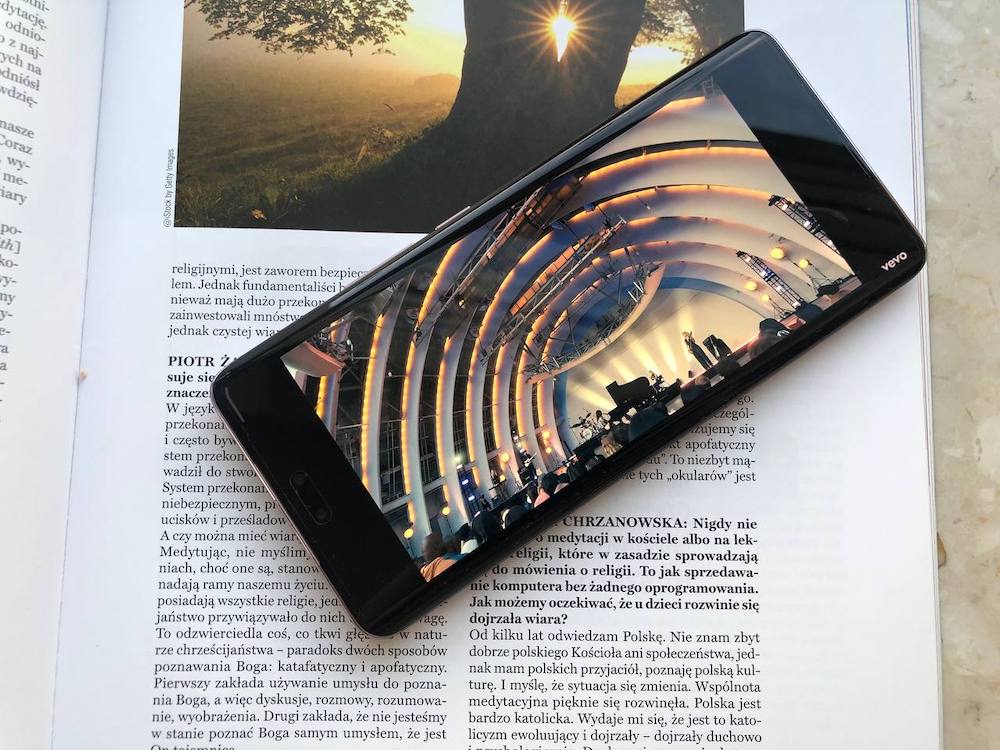 The 6.55-inch diagonal, while compact, holds a wealth of essential information when in use, so that the smartphone becomes a full-fledged assistant in all your daily activities.
There are two refresh rates to choose from: 120Hz or 60Hz. The settings include various colour options, day and night themes, monochrome reading mode and other useful settings such as the Always On Display function.
Hardware and performance
Since it's not a flagship, the list of specifications doesn't include the Snapdragon 8, but rather a slightly simpler Snapdragon 7 Gen 1 chip. So what can it offer users? Built on 4nm process technology it has 8 cores, 1 maximum powerful 2.4GHz Cortex-A710 core, 3 powerful 2.36GHz Cortex-A710 cores, 4 energy efficient 1.8GHz Cortex-A510 cores.
The Adreno 644 graphics adapter handles gaming well, so you can easily play even the most resource-intensive mobile games on your smartphone if you want to.
The results of the synthetic tests were quite good:
In GeekBench 5 (multi-core) the smartphone scores 2582 points, in GeekBench 5 (single-core) 923 points
3DMark Wild Life – 3143 points
The Xiaomi 13 Lite is available in versions with 128GB and 256GB of permanent memory. The amount of RAM in both versions is the same – 8GB. I would like to point out here the standard Xiaomi mode, which allows you to expand the amount of RAM at the expense of physical memory. Frankly speaking, I'm already used to seeing figures of 2-3 GB of potential memory expansion, but here I was frankly surprised. You can add as much as 5 GB to the RAM. That is the amount of RAM of a mid-range smartphone. With such a chip, even the simplest modification becomes a beast, which can easily swallow many running applications, resource-intensive games, and interactive user interface.
Read also: Xiaomi 12T smartphone review: clone attack
Xiaomi 13 Lite cameras
The 13 Lite's cameras draw attention visually, and for good reason – despite its non-flagship official status, the smartphone has something to brag about in terms of shooting too:
main wide-angle: 50MP, f/1.8, 23mm, 1/1.56″, 1.0µm, PDAF
8MP ultra-wide angle: 8MP, f/2.2, 119˚, 1/4.0″, 1.12µm
macro: 2 Mp, f/2.4
front: 32MP, f/2.4, 100˚, 1/2.74″, 0.8µm.
Photos from the main camera are fine in all lighting conditions. Colour reproduction is just right for me, with some tweaking of brightness and contrast, but in moderation. Autofocus is fast and sharp. No complaints about the dynamic range.
As with today's mobile cameras, images in the Xiaomi 13 Lite are not saved in their original resolution. The pixels are combined for better quality. You can view all the photos in their original resolution by clicking here.
There's no telephoto lens here, but it's quite decently replaced by a 2x zoom that works without loss of quality. Regarding photos in darkness and low light – like its predecessor, the 13 Lite does decently. The photos are clear, not "noisy", well-detailed, even if you shoot "hands-free".
If there's no light at all, night mode can help. It takes a little longer to take a photo in this mode – 1-2 seconds, so it's better to put your smartphone on something or use a tripod. Note that the night mode can also be used when shooting with a wide-angle camera.
Speaking of wide-angle. The photos from this module are also excellent, there are no significant differences in colour reproduction, contrast and exposure compared to the main camera. Sharpness can be a little worse, but it's not critical. For a clear comparison, wide angle photo on the right:
Traditionally, the third in the camera suite is the macro camera. And although I really don't believe in its necessity and indispensability, manufacturers stubbornly continue to shove it into every first device. Well, at least here the quality is not a complete failure – 5 megapixel matrix takes quite good photos.
The Xiaomi 13 Lite can shoot video at a maximum resolution of 2160p at 30fps, as well as 1080p at 30 and 60fps.
The camera interface is pretty standard for MIUI, with all the necessary shooting modes: photo, video, portrait mode, Pro. Other useful modes are hidden under the More tab – Night, 50MP, Video Clip, Panorama, Documents, Slow Down, Time Lapse, Long Shutter and Double Video.
A word about Pro Mode – all the important shooting parameters – shutter speed, aperture, white balance – are available in the settings. This mode also works with both the main module and the super-wide angle module. For the main camera, you can enable shooting at 50 megapixels.
The front camera here is not just an addition to the main camera. The 32MP wide-angle module covers all your needs, whether you want to make video calls to friends or colleagues, or fill your Instagram or TicToc feed with quality content. An optional 8MP depth-of-field module allows the smartphone to distinguish itself by the quality of its background blur.
Software
The operating system used is Android 12 with an updated version of the proprietary shell – MIUI 14. The main features of MIUI 14 do not differ much from the improvements of MIUI 13, which we have already reviewed in the Xiaomi 12 review, so I will introduce you only to those aspects that I found most interesting and convenient.
What I liked most in terms of user experience was the floating window feature. It allows you to fix a single window on the screen, while the background allows you to open any other application. Another thing for multitasking and quick access is the sidebar. Up to 10 apps can be docked to it for quick access from this sidebar right on top of the active window.
On board, our test subject has the standard data connectivity kit of today: 5G, Wi-Fi version 6 (802.11 a/b/g/n/ac/6), Bluetooth 5.2, GPS and NFC.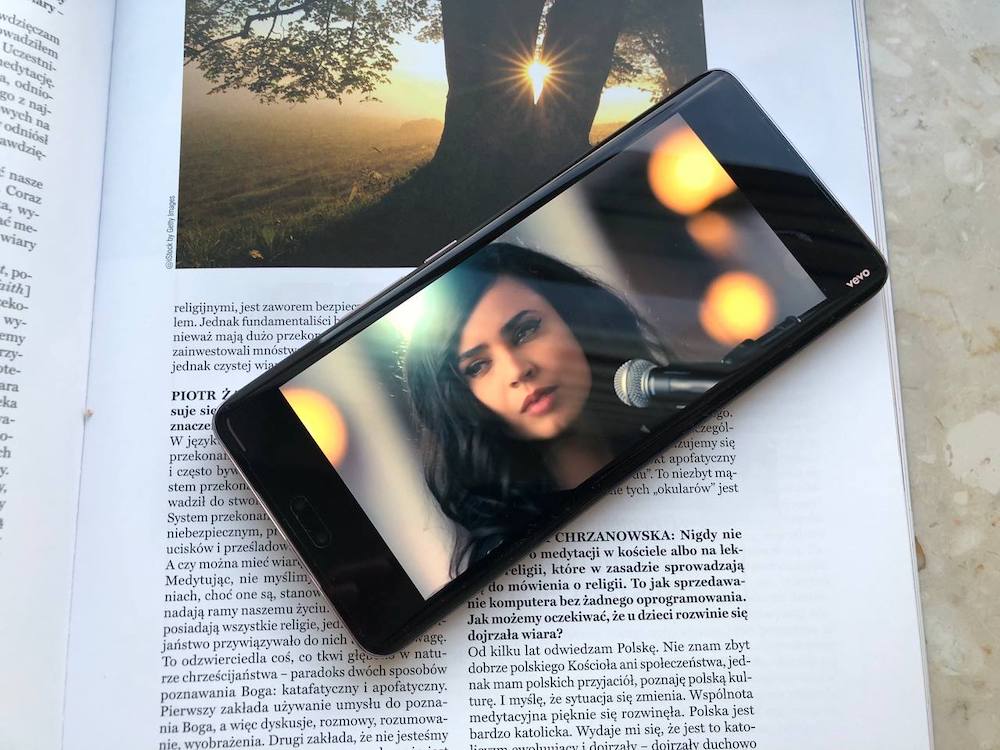 I would like to point out that although there is only one speaker, it is very cool. The sound is lush and surround, even despite its loneliness (it's true that they didn't even try to add a talkback speaker at least as a courtesy). What's more – the volume will also please fans of listening to music from a smartphone.
Read also: Motorola Moto G23 Review: Too many simplifications
Battery life
Compared to its predecessor, the Xiaomi 13 Lite has also increased its battery capacity slightly – it's now 4,500mAh. Considering its capacity, this is absolutely the right decision. The smartphone has no problem surviving into the evening, even with heavy use.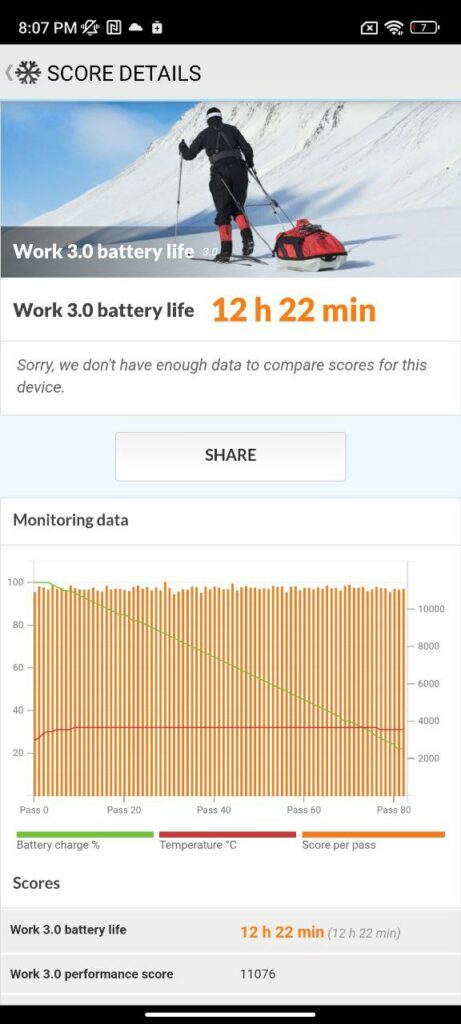 The results of the battery life tests speak for themselves. On average, the smartphone delivers around 8 hours of active screen time for various tasks, up to 12 hours of web browsing, and up to 17 hours of video playback at medium brightness.
The battery recharges very quickly thanks to fast charging and a 67W charger. In this case, the charge is restored from zero to a hundred in 45 minutes.
Conclusions
The Xiaomi 13 Lite, like its predecessor, left me pleasantly surprised. Why bother with the trickier and more expensive flagships when you can buy this particular smartphone and get absolutely everything you need, without much compromise?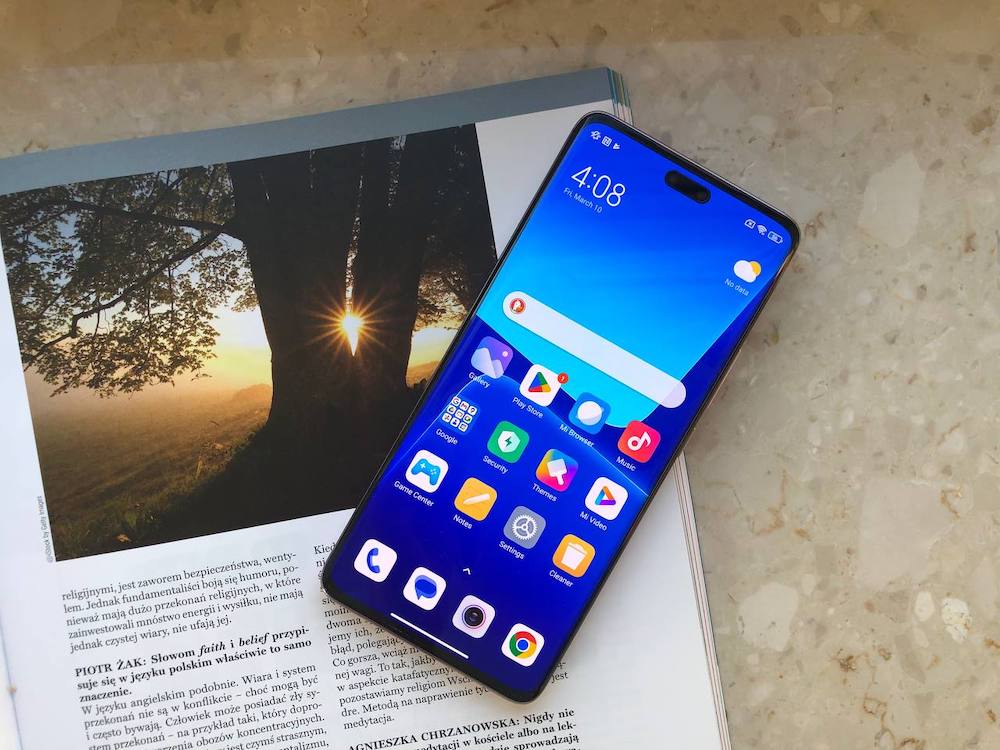 A stylish premium design, a high-resolution OLED reference display with 120Hz refresh rate, a powerful Snapdragon processor, a great camera suite, a loud speaker, good battery life. No matter what you try, the Xiaomi 13 Lite passes the test decently everywhere.
The only weakness of this shiny smartphone is the price. Yes, it's cheaper than current flagships, but last year's flagships are breathing down its neck in both features and price offerings. But I am sure that this smartphone will be able to win over its fans and occupy its market niche.
Read also: