A new series of Xiaomi flagships went on sale in April. Since then, new products have become significantly cheaper and are successfully sold in all markets. In this review, we will get to know the Xiaomi 12. The model costs from $600, which is quite affordable for a flagship, looks cool, takes great photos and works quickly. Does the smartphone have disadvantages? Let's try to find out!

Read also: Xiaomi Watch S1 review: is the brand's most expensive smartwatch going to surprise us?
Xiaomi 12 specifications
Display

AMOLED Dot Display120 Hz, 6.28 inches, AMOLED Dot Display

DisplayMate A+

Ratio: 20:9

FHD+, 2400×1080

TrueColor

Brightness 1100 nits

Contrast 5000000:1

16000 levels of brightness

Over 68 billion shades

Dolby Vision, HDR 10+

120Hz AdaptiveSync refresh rate

The reading of the sensor layer is 480 Hz

360° lighting sensor

Low blue light emission

Vibromotor on the X axis

Main camera

50 MP wide angle

f/1.88, 6P

2 μm 4-in-1 Super Pixel

Recording video 8K / 4K HDR 10+

Ultra Night Video, One-click AI cinema

Xiaomi ProFocus (object/movement/eye tracking)

Night portrait mode with HDR

13 MP ultra wide angle with 123° FOV, f/2.4

5 MP marco lens

Focal length equivalent of 50 mm
Auto focus
Night mode

Front camera

32 MP

f/2,45, 1,4 μm 4-in-1 Super Pixel

Video HDR 10+

Night mode AI

Dimensions and weight

152,70×69,90×8,16 mm

180 g

CPU, OS

Snapdragon 8 Gen 1

4 nm

ARM-V9:

1x ARM Cortex-X2 @ 3,0 GHz

3x ARM Cortex-A710 @ 2,5 GHz

4x ARM Cortex-A510 @ 1,8 GHz


video chip Adreno 730

LiquidCool cooling system

Android 12 with MIUI 13 shell

Memory

128/256 ГБ UFS 3.1

8 ГБ LPDDR5 RAM (12/256 ГБ version is not shipped to Europe)

Sound

Two symmetrical speakers
SOUND BY Harman Kardon sound
Dolby Atmos support

Battery

4500 mAh

67 W wired charge
50 W wireless charge
10 W reverse charge (charging other wireless devices)
Xiaomi AdaptiveCharge technology

Communication

USB-C

Dual SIM, dual 5G standby

NFC

Bluetooth 5.2

5G

Wi-Fi 6/ Wi-Fi 6E

Body colors
Gray, lilac, blue
Range positioning
The current line consists of Xiaomi 12, 12 Pro and 12X smartphones. The test model can be called the "golden middle". At the same time, the senior Xiaomi 12 Pro received an advanced screen (larger diagonal, resolution, contrast indicators, better color rendering), better camera + telephoto lens, 4 speakers and super fast 120 W charging.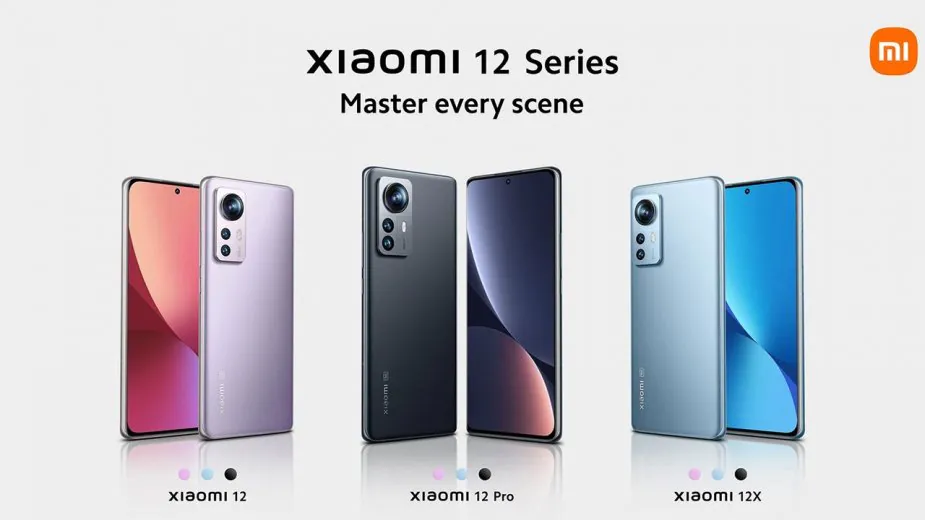 In turn, the junior 12X has a screen at the level of the Xiaomi 12 (with minor simplifications), only two main cameras (no wide-angle), wireless charging is not supported. In general, an acceptable range with simpler, cooler and basic models. At the same time, the basic one looks just like the best purchase in terms of price-quality ratio. Let's get to know it better.
Xiaomi 12 delivery set
In the box with the phone you will find a thick USB-C cable, a heavy 67W charger, a brief manual and a silicone case. It is good that the Chinese company is not trying to deprive its flagships of a charger.
The cover is also a nice addition. Protects the screen, camera lenses, pleasant to the touch – no need to look for another.
Read also: Xiaomi 11T review: Alternative to a Flagship?
Design
I'll start with the main thing.
We have definitely one of the most beautiful Xiaomi in recent years
We have a SMALL phone in front of us!
Now in order. And I will start with the second point, since for many it will be even more important than the first. Xiaomi 12 is a really compact device that you don't see very often lately. I test many phones every month and I can say that it is really so.

Here's a comparison with my iPhone 12 Pro Max, which is truly monstrous. The '12' looks more like a toy next to it.
And here is the Xiaomi 12 and a typical budget device with a 6.75-inch screen (Huawei Y70), both in cases. As you can see, Xiaomi is more compact and sleeker.

The device is light, thin, and the beveled edges of the screen make the phone even narrower and more compact. It's really easy to operate with one hand, with no "almosts" and "ifs".

Read also: Redmi Note 11 Review: Classical Budget Phone by Xiaomi
Now about beauty. Xiaomi really turned out a successful smartphone – elegant, pleasant, balanced. The cover for the front camera in the middle looks elegant, the screen frames are minimal, while the side ones are completely invisible due to beveled edges (once Samsung invented such screens and called them "infinite").

Regarding these rounded sides of the screen, I know that many users do not like such screens. The disadvantages include the impossibility of successfully choosing a protective film (to hell with films, the screen is so well protected from scratches), false touches (I have never had them in all the years of using phones with such screens), distortion of the image at the edges (I wouldn't say that it is distorted).
Personally, I like such screens. I think that it is, first of all, beautiful. Secondly, it is ergonomic. Beveled edges allow you to make the screen and the phone itself narrower. Due to this, it lies better in the palm of the hand, it is more convenient to control it with one hand.


The display is protected by ultra-durable Gorilla Glass Victus, it does not collect scratches (at least not too quickly), fingerprints are almost invisible.
The body frame is metal (of course, this is a flagship), matte, matching the color of the back panel.
And the main thing is the back panel. The camera island is elegant (they happen to be really ugly sometimes!) and slightly raised, again neatly beveled edges and… ah, this color! Probably, the black and blue options are also good, but this mauve-pink-lilac just won my heart. The whole surface of the back panel is frosted glass (Gorilla Glass 5, which is important), resembling dry ice. It is a little rough to the touch, very pleasant, does not slip in the palm. Fingerprints don't stay here at all.

And how beautifully the Xiaomi 12 panel shines and shimmers in the light, changing shades! In short, I am delighted. The appearance alone immediately arouses sympathy for this smartphone.
We will also describe the location of the elements. There is nothing on the left side of the smartphone. On the right is a two-position volume control key and a power button. The buttons are thin, but easy to use.
On the upper edged there is a speaker, an IR port window for controlling equipment (a standard Xiaomi chip) and a microphone. At the bottom there is also a slot for the speaker, a second microphone, a Type-C connector, a slot for two SIM cards (there is no memory card support).
Read also: Redmi Buds 3 Lite TWS Earphones Review: Cheap But High-Quality
Xiaomi 12 display
I will not repeat the list of characteristics here, but you can scroll up and see how many cool things are related to the device's display. And to put it briefly, this is a really high-quality AMOLED display with a refresh rate of 120 Hz. High contrast, maximum viewing angles, excellent color rendering, excellent brightness (up to 1100 nits at peak, even on a sunny day the image and text remain readable), smooth animations.

There are only two modes to choose from: either 120 Hz or 60 Hz. There is no intermediate option in the settings, and the first one is dynamic. That is, part of the programs even in 120 Hz mode will be displayed with 60 Hz. It can be some static state, for example, a photo in the gallery. But the charge is saved.
Xiaomi 12 - Display Settings
In the settings, there are various color rendering options, a dark theme, reading mode (monochrome), the ability to change the color temperature, text size, and more. The Always On Display function can be configured separately – displaying the clock, date, and messages on the screen that is turned off.
Read also: Redmi Buds 3 review: Light and affordable TWS buds
Hardware and performance
Here it is enough to say that the smartphone works on the basis of the latest processor made on the 4 nm technological process, Snapdragon 8 Gen 1. Of course, you should expect flagship performance from it, and these expectations are justified. The smartphone is fast in all tasks, runs any games, I think there is no point in describing anything in detail.

For those who are interested in numbers, I will say that in GeekBench 5 (multi-core) the smartphone scores 3652 points, in GeekBench 5 (single-core) 1200 points, in AnTuTu 9 – 985119 points, in 3DMark Wild Life Vulkan 1.1 – 9545.

I think that in the case of a powerful flagship, what is more interesting is not that it runs  (because any phone runs), but how exactly does it run – whether it is stable or does overheat or not. I will tell you about this.
And everything is fine here, too. Despite its compact size, the Xiaomi 12 boasts a large panel that helps dissipate heat. The company claims that the cooling tube contains a 2,600 mm² vapor chamber and a 10,000 mm² graphite element for additional heat dissipation.
During normal operation, the body of the device is always cool. At high load, the smartphone may heat up, but not critically. We noticed strong heating only during the 3DMark stress tests, but it should be understood that no game will create a long-term 100% load on the processor, which is why, in fact, the tests are called synthetic.
As for the RAM, Xiaomi 12 8/128 and 8/256 GB versions are available for sale. Theoretically, there is a modification of 12/256, but in Europe they offer such amounts of memory only for 12 Pro.
However, 8 GB of RAM is quite enough for any current tasks that the smartphone may face. And even the option to expand RAM by 3 GB at the expense of internal memory does not seem necessary to me (but if you want, you can find it in the settings). But permanent memory should be chosen carefully, it may be worth paying extra for the version with 256 GB, because there is no slot for memory cards. However, I personally do not see the point of overpaying, almost like Bill Gates is sure that '128 GB will be enough for everyone and always' if video and music are consumed through cloud services.

Xiaomi 12 cameras
It should be noted right away that there is no telephoto lens. Still, I would like to see it in the flagship (allows you to zoom in on objects without any loss of quality). And what is there – the main sensor (50 MP Sony IMX766 with optical stabilization), wide-angle (13 MP OV13B10, 123°), macro (5 MP Samsung S5K5E9, with autofocus). The front camera is a 32 MP OmniVision OV32B40 sensor.

We have a flagship in front of us, so we expected excellent photo quality. And we were not disappointed. Photos from the main camera are beautiful in any lighting conditions. The color is natural, precise, clean, clear. Autofocus is fast and sharp. No complaints about the dynamic range.
ALL PHOTOS FROM XIAOMI 12 IN THE ORIGINAL SIZE
As usual in modern mobile cameras, pictures are not saved in their original resolution, pixels are combined for better quality. As a result, photos from the Xiaomi 12 have a resolution of 12.5 MP. You can turn on the "native" 50 MP, but there is no point in this – when combining pixels, the quality is better.There is no telephoto lens, but it is quite decently replaced by a 2x zoom, there is no noticeable loss of quality. Here are examples, double zoom on the right:
As for photos in the dark and in poor lighting, again, we are delighted. The photos are clear, not "noisy", perfectly detailed. The smartphone captures enough light, if there is any. Look in the gallery:
ALL PHOTOS FROM XIAOMI 12 IN THE ORIGINAL SIZE
I even managed to take a picture of the  Ursa Major constellation! Not every camera in the phone is capable of this.

If there is very little light, night mode comes to the rescue. Creating a photo in this mode takes no more than 1-2 seconds. Night mode noticeably brightens very dark pictures. At the same time, it does not make them unnatural or low-quality. Just look at the examples, night mode on the right:
Night mode can be turned on to work in automatic mode – then the software itself will decide how it will be better, and it does it well. I would like to add that in night mode you can also shoot with a wide-angle camera.
By the way, about the wide-angle lens. Photos from this module are also excellent, we did not notice significant differences in color reproduction, contrast and exposure compared to the main camera. Sharpness can be a little worse, but it is not critical. Here's a comparison, wide-angle photo on the right:
ALL PHOTOS FROM XIAOMI 12 IN THE ORIGINAL SIZE
Macro camera in Xiaomi 12 is also decent. From the experience of testing inexpensive smartphones, I am used to the fact that macro modules are installed for a tick, so that there are more cameras. But not in the case of 12. Its 5 MP camera with autofocus produces good photos, especially when compared to the 2 MP sensors of cheaper models. Colors are bright, contrast is good, and sharpness is more than acceptable.

Selfies are expectedly excellent – clear, with good color rendering.
The Xiaomi 12 can shoot videos at 4320p at 24fps, as well as 2160p and 1080p at 30 and 60fps. The videos have excellent stabilization, but there are two additional action camera modes that focus on stabilization rather than quality. They are called Steady and Steady Pro and are limited to 1080p resolution at 30 fps.
In general, the video quality can be praised, excellent detail, natural colors, excellent contrast and dynamic range, no noise. And in low light, the quality is great due to the company's Ultra Night Video technology. Video examples:
Xiaomi 12 cameras are stuffed with various AI chips and technologies like Xiaomi ProFocus (intelligent focus that tracks various movements) and are generally well-suited specifically for video recording.
The camera app is standard for MIUI, with all the necessary shooting modes: photo, video, portrait mode, manual, night, 50MP, video clip, panorama, documents, slow motion, timelapse, long exposure and dual video. Manual mode works with both the main module and the ultra-wide.
Read also: Xiaomi Pad 5 review: Excellent Multimedia Tablet
Software
The Xiaomi 12 operating system uses Android 12 with an updated version of the proprietary shell – MIUI 13.

Basically, all the key changes in MIUI 13 are under the hood and they are aimed at optimization. And the manufacturer himself singles out the following among them:
Liquid Storage – an optimized file storage system, increases the efficiency of reading and writing up to 60%
Atomized Memory – optimized RAM operation, RAM efficiency increased to 40%
Focused Algorithms — optimization of processor priorities, improvement of overall productivity and speed of execution of processes
Smart Balance – automatic determination of the balance between performance and charge usage, the overall battery life has increased by 10%
Among the more mundane things for the user in the new version of the popular shell can be noted, for example, notifications when the screen is off, when the edges of the display are gently illuminated for some time. You can choose a color.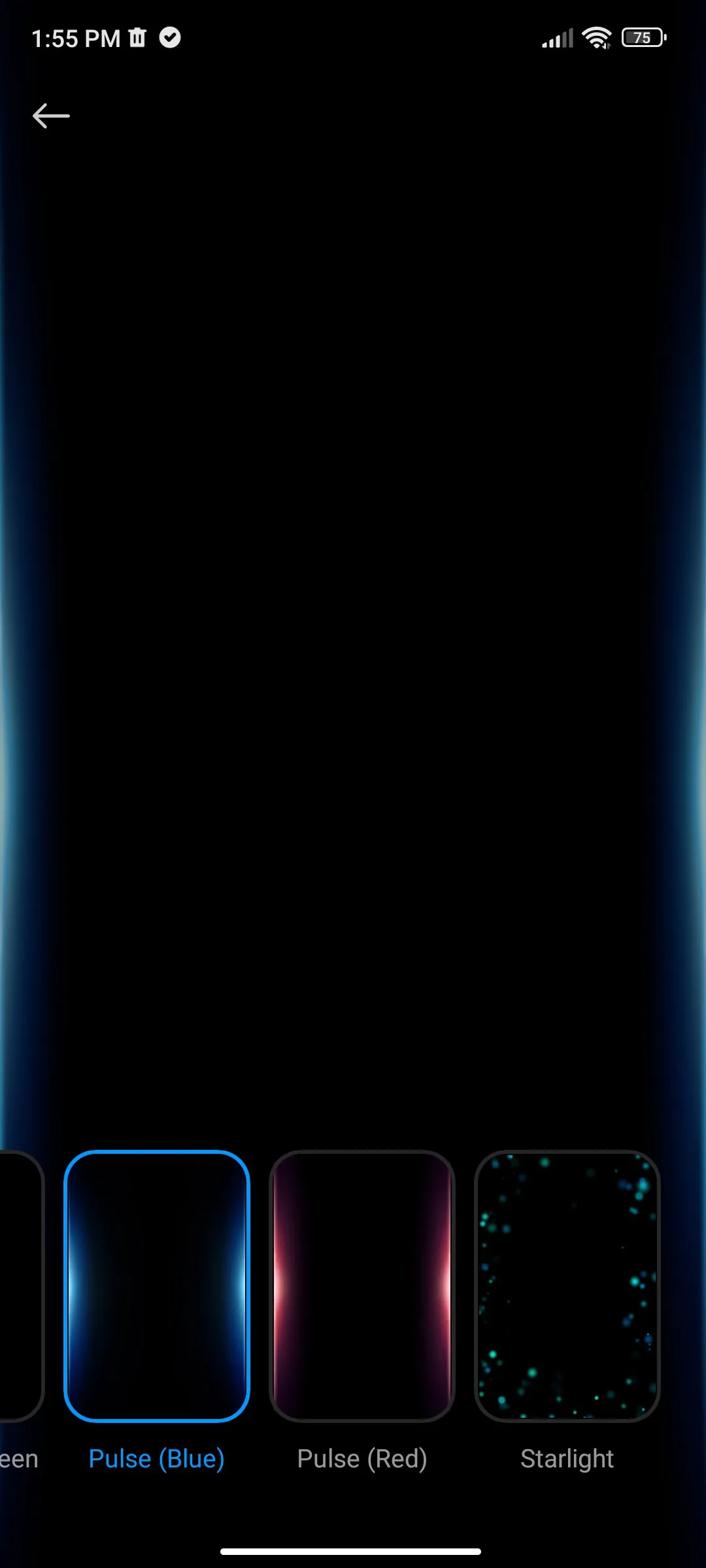 And there's a cool sidebar that you can customize and add up to 10 apps to quickly launch from this sidebar right on top of the active window. Moreover, these programs fully retain their functionality — that is, we get multi-window functionality.
In general, MIUI 13 is a very bright, beautiful, smooth and well-thought-out shell. You can even hardly call it a shell, MIUI looks so different from standard Android that it could be considered an independent operating system. Although it is still Android "under the hood".
Read also: Poco F4 GT Review: It's Not Only About Gaming
Unblocking
Xiaomi 12, as befits a flagship device, received a fingerprint sensor built into the screen. It works quickly and clearly, there are no complaints. The only thing is that it should be placed a little higher. From the settings, there is a choice of recognition method: by simple touch or physical pressure.

There is also face recognition, this is a standard feature for any Googlephone, it works fine, even in the dark, but of course, the quality and speed of recognition is far from the same as that of the iPhone. The on-screen fingerprint scanner is much more convenient – just put your finger and use it.
From the options, you can add another person, stay on the lock screen after successful recognition, show the content of notifications only after face verification and recognition immediately when the screen is turned on for even faster unlocking, but in return, battery consumption may increase slightly.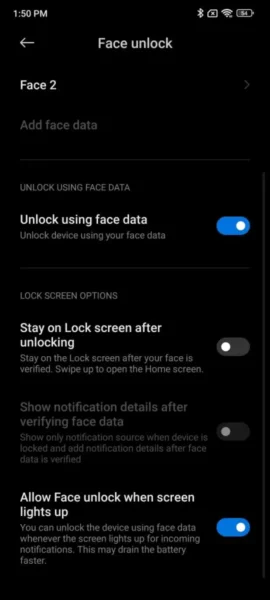 Read also: POCO X4 Pro 5G review: not a flagship killer anymore
Battery life of

Xiaomi 12
A thin smartphone couldn't get a capacious battery, that's obvious. So – what we have is what we have, 4500 mAh. By the way, the more powerful 12 Pro has only 4600 mAh, and the filling is more resource-demanding. On average, the 12 gives about 7-8 hours of active screen time for various tasks. According to professional tests, up to 12 hours of web browsing, up to 16 hours of video playback at medium brightness.
I am a very active user, I almost never take my smartphone out of my hands — I take photos, use maps, communicate in mail and messengers, write in social networks, write articles and posts, read websites, on average, according to statistics, I have 6-7 hours of screen time. Only the durableiPhone 13 Pro Max is enough for me to last until the very late evening. Well, I had to charge the Xiaomi 12 a couple of times on active days.
Of course, not everyone is a "maniac" like me, a normal user of the phone will definitely have it last until the evening, even with active use. But no more, charging every night is a necessity.
The battery charges quickly thanks to fast charging and a 67 W battery. Half an hour is enough to gain 85-90% charge! According to our tests, 40 minutes are enough for 100%.
In addition, there is fast 50 W wireless charging (but this will require a compatible charger), as well as reversible charging. That is, the Xiaomi 12 itself can share the battery charge with another phone, smart watch or headphone case. At the same time, the charging speed is minimal – 10 W.
Sound
Xiaomi 12 received two stereo speakers located on opposite ends of the case. The inscription Harman-Kardon next to one of them hints that the sound will be decent. So it is. The sound from the speakers is loud, spacious, and does not deteriorate even at maximum volume. And even the bass is quite pleasant.

Dolby Atmos sound effects with four presets (dynamic, video, music, voice) and a full 10-band graphic equalizer with 8 presets and a user profile are available for the speakers.
Xiaomi 12 - Audio Settings
In the headphones, the sound is also of high quality, just as well as during phone conversations. There are no complaints. Also, among the small but very pleasant features, it is possible to note a high-quality and pleasant vibration response, which is accompanied by various actions and gestures, both in the system itself and in many standard (and not only) applications.
Data transfer
There is 5G, Wi-Fi of the 6th version (802.11 a/b/g/n/ac/6), Bluetooth 5.2, GPS, NFC. According to the Xiaomi tradition, they did not forget about the IR port, through which you can control household appliances, the application for setting up this function is pre-installed. There is a complete set of satellite navigation.
Conclusions, competitiors
Xiaomi 12 is the first really compact Xiaomi flagship after Mi 8. That alone makes the model worth paying attention to. And it cannot be said that the small size made something worse. The battery is not the most powerful, but 4500 mAh is quite good, wireless charging is also available.

Read also: OPPO Find X5 Pro review: A flagship that can KILL
There are also three cameras, although without a telephoto (but the two-fold digital zoom compensates for its absence). And the top Snapdragon 8 Gen 1 and powerful stereo speakers are also available. The display is also excellent – 120 Hz, Dolby Vision HDR10+, 10-bit color, Gorilla Glass Victus protection. The assembly is perfect, the materials are premium, the only thing missing is water protection. And someone may complain about the lack of a slot for memory cards.
In general, the disadvantages are insignificant, and the advantages are plenty. And if you take into account that the price of the model is quite adequate now, then there is only one recommendation – if the price range suits you, then take it without hesitation! Xiaomi 12 is a great smartphone!

But does he have alternatives? Not so much, especially considering the compact size. The following models can be named among the competitors.
Motorola Edge 30 Fusion 8/128 GB. Fresh from Moto with a 6.5-inch screen (i.e. bigger than the Xiaomi 12), a 50MP camera with OIS, a P-OLED display with rounded edges and a 144Hz refresh rate. The processor is not the latest, but last year's flagship Snapdragon 888+. Android is pure, without shells, which is a plus for some.
Samsung Galaxy S21 FE (because the current S22 5G is still more expensive). Nice 120 Hz AMOLED screen with a diagonal of 6.4 inches, thin body and nice colors, Snapdragon 888. There are not many megapixels (12+12+8 MP), but there is a telephoto lens. The battery is the same 4500 mAh. And bingo! – IP68 water protection. Charging, however, is not the fastest – 25 W. But if you are still ready to pay extra, then you should look at S22 5G, which also pleases with its compact size with a 6.1-inch screen, excellent cameras, Samsung's top chipset and other flagship chips.
ASUS ZenFone 8. Another compact flagship, which, however, loses to the hero of the review in terms of cameras and other characteristics.
POCO F4 GT 12/256 GB. A very large smartphone with a powerful filling, a top Snapdragon 8 Gen 1 chip, a 4700 mAh battery and special game keys.
realme GT 2 Pro 8/128 GB. Another very large smartphone (6.7 inches screen) with a 5000 mAh battery, a top processor, a wide-angle camera with a record viewing angle of 150° and an unusual design. In any case, the Xiaomi 12 stands out with better materials, better photography from the main camera and support for wireless charging.
Apple iPhone 12 Mini 64 GB. An option for lovers of very small iOS-based phones. Of course, it makes no sense to compare this model directly with the top Androids, those who love Apple will choose Apple. And pay for a 2-year-old phone as a flagship Googlephone.
The Xiaomi 12 has interesting competitors, but not everyone is as good in all parameters, although they can be better in some individual ones. In any case, the main thing about the 12 is the affordable price and compact size. Few can compare with this. We recommend!
Read also: Weapons Of Ukrainian Victory: Black Hornet – Drones Smaller Than A Smartphone
You can also help Ukraine fight with Russian occupants via Savelife or via an official page of the National Bank of Ukraine.