Oukitel RT3 is a fresh ruggedized tablet that was introduced at the end of 2022. And today we are reviewing it. Why is it interesting? First of all, it's interesting because of its "armor", because, in addition to the IP68 standard, which is common in consumer electronics, it is certified according to the IP69K standard, as well as shock protection according to the American military-industrial standard MIL-STD-810H.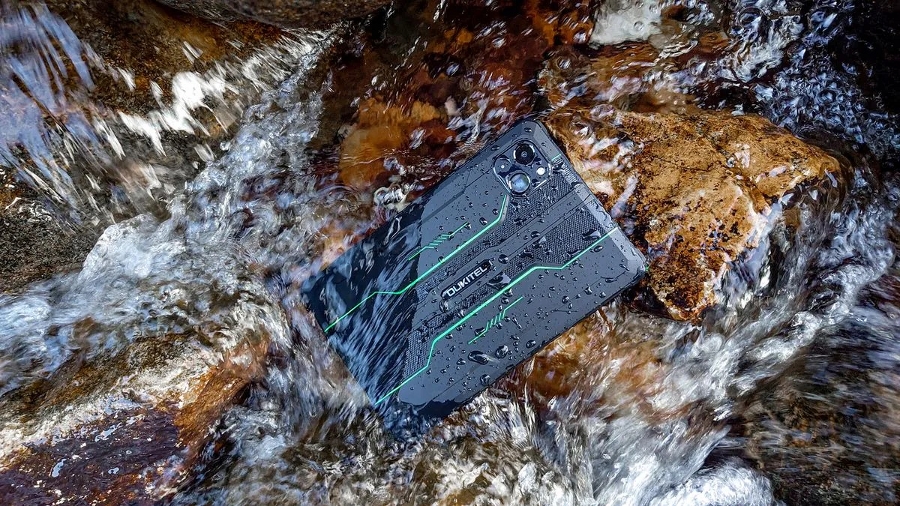 Technical specifications of Oukitel RT3
Display: 8″, IPS, 1280×800 pixels, pixel density 188 ppi, aspect ratio 14.4:9, brightness 400 nits (typical)
Chipset: MediaTek Helio P22, 12 nm, 8 cores (4 Cortex-A53 cores with a clock frequency of up to 2 GHz, 4 Cortex-A53 cores up to 1.5 GHz)
Graphics accelerator: PowerVR GE8320
RAM: 4 GB, LPDDR3
Permanent memory: 64 GB, eMMC
Memory card support: yes (microSD)
Wireless interfaces: Wi-Fi 5 (2.4 GHz + 5 GHz), Bluetooth 5.3, GPS, GLONASS, Beidou, Galileo, LTE
Main camera: main module – 16 megapixels, Sony IMX519, f/1.79, 81.5°, AF; auxiliary – 0.3 megapixels, GC032A, f/2.2
Front camera: 8 megapixels, Sony IMX314, 1/4″, f/2.2, 75°
Battery: 5150 mAh
OS: Android 12
Dimensions: 207×134×14 mm
Weight: 538.1 g
Additional features: IP68, IP69K dust and water protection, MIL-STD-810H shock protection, 2 speakers, 2 ninoSIM support
Oukitel RT3 price
Oukitel mainly specializes in creating good user and ruggedized devices with a fairly reasonable price tag. Therefore, the RT3, as a representative of the brand's ruggedized tablets, has an affordable price. Thus, at the time of writing, the tablet can be purchased at a discounted price of $154.5 in the official Oukitel store on AliExpress. For an ordinary 8-inch tablet, this is a nice price tag, but for a tablet protected from water, dust, and mechanical damage, the price is very good.
Read also:
The package contents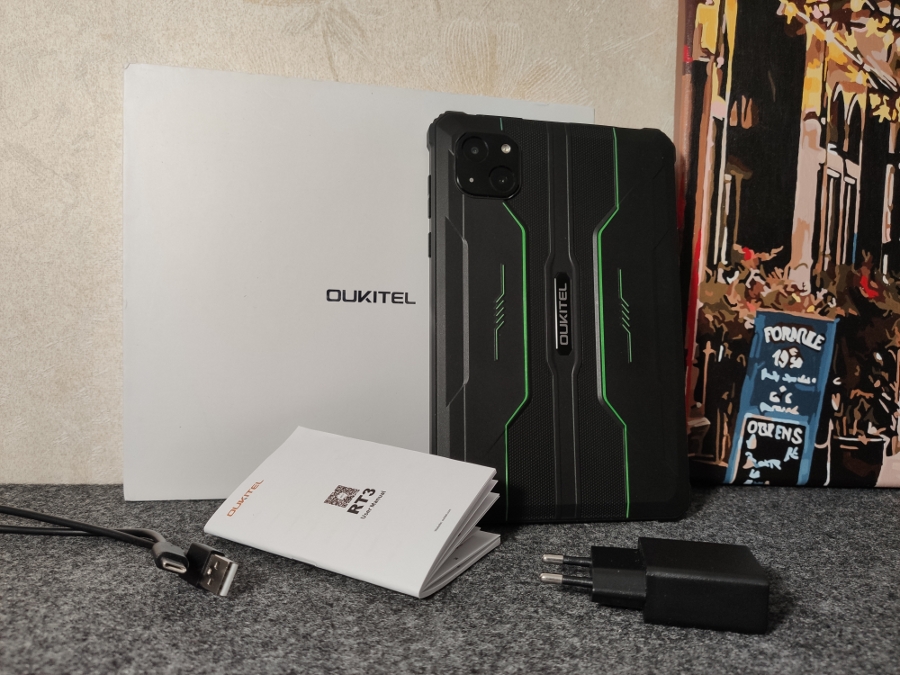 The Oukitel RT3 arrived in a flat white cardboard box with only the brand name on the top and ends and some specifications and technical markings on the bottom. Inside is a tablet, a 10-watt charger, a USB-A to USB Type-C charging cable, and some accompanying literature.
Design and ergonomics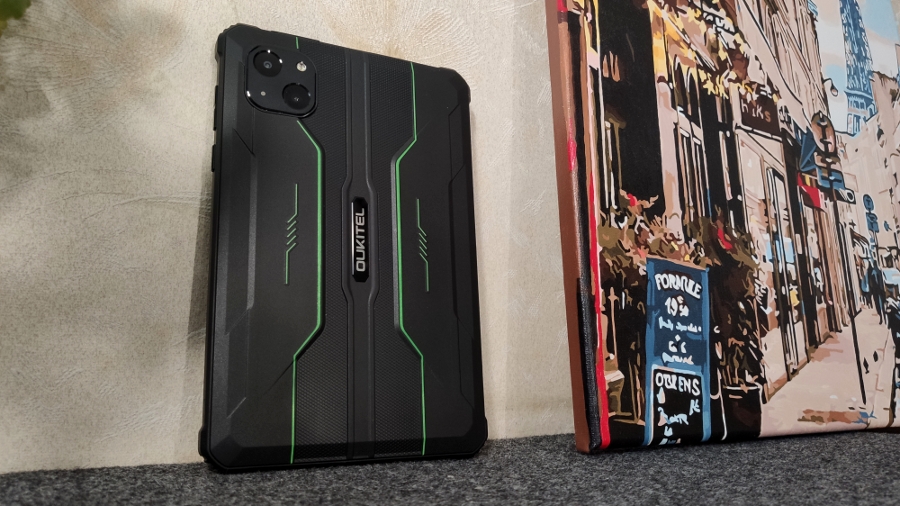 The RT3 looks like a ruggedized tablet should look – brutal, massive, and very reliable. At first, it seems that there is a protective case on the back of the device, but no, it is a fixed element of the case. As for the level of protection, here we have not only the "classic" IP68, but also protection certificates according to the IP69K standard and the military-industrial standard MIL-STD-810H, which indicate resistance to mechanical damage.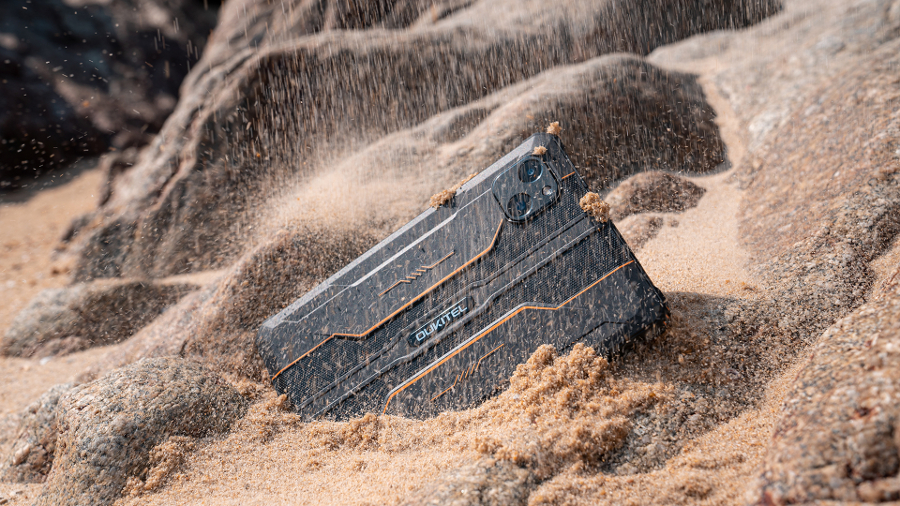 The main color of the tablet is black, but it has colored decorative elements on the back and sides, which can be green, as in our review, orange, or non-contrasting gray.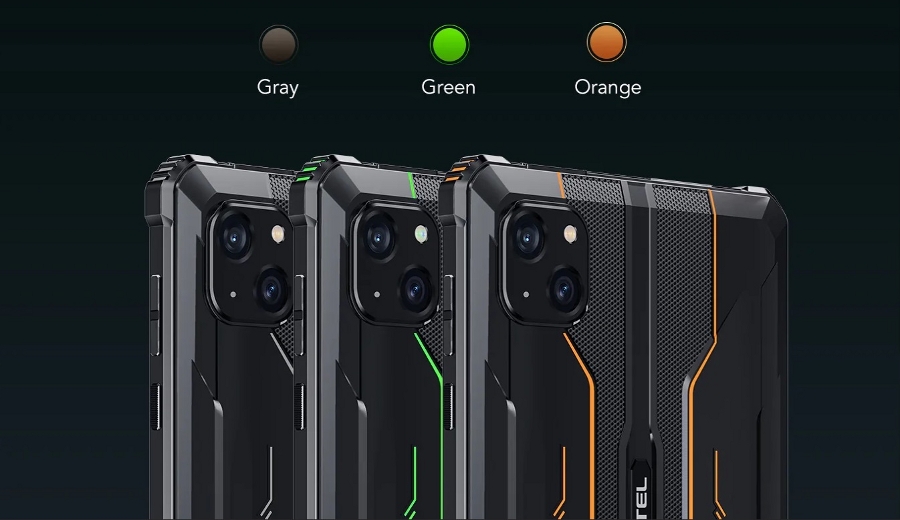 The case is plastic, but it feels like the surface is slightly rubberized. As for the quality of materials and assembly, everything is at a high level.
The design of the back cover has something of a cyberpunk look, it looks like a stylized chip with three-dimensional and sometimes textured elements. The brand logo is located in the middle of the lid. In the upper corner, you can see a protruding dual camera unit with a flash, which visually resembles the camera of the latest generations of iPhones. The camera modules themselves are not very large, but the "windows" for them are enlarged. Well, trends are trends.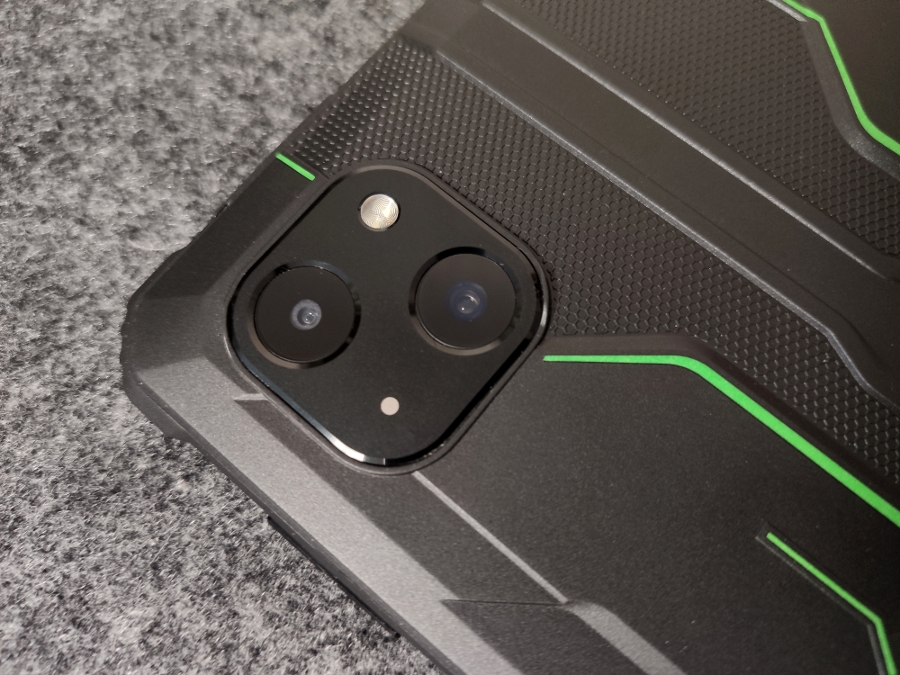 The front has an 8-inch screen with rather massive bezels, but this is understandable for a ruggedized device. Thanks to the large bezels, the tablet is more comfortable to hold in your hands without fear of touching the display with your fingers. Above the screen, you can see the front camera and a light sensor near it. A nice bonus is that the display comes with a protective film.
In addition, the ends protrude slightly above the screen, which gives it additional protection when lying on the surface with the display facing down, and it is impossible not to notice the reinforced corners that will protect the device in case of a fall.
Another thing worth mentioning is the weight: the small 8-inch tablet weighs more than half a kilogram (538.1 g, to be exact). Overall, it's comfortable to hold, as the weight is well distributed in your hands, no matter how you use the device. Holding it in one hand is also quite good, because the reinforced curved corners provide a more reliable "contact" with the palm of your hand.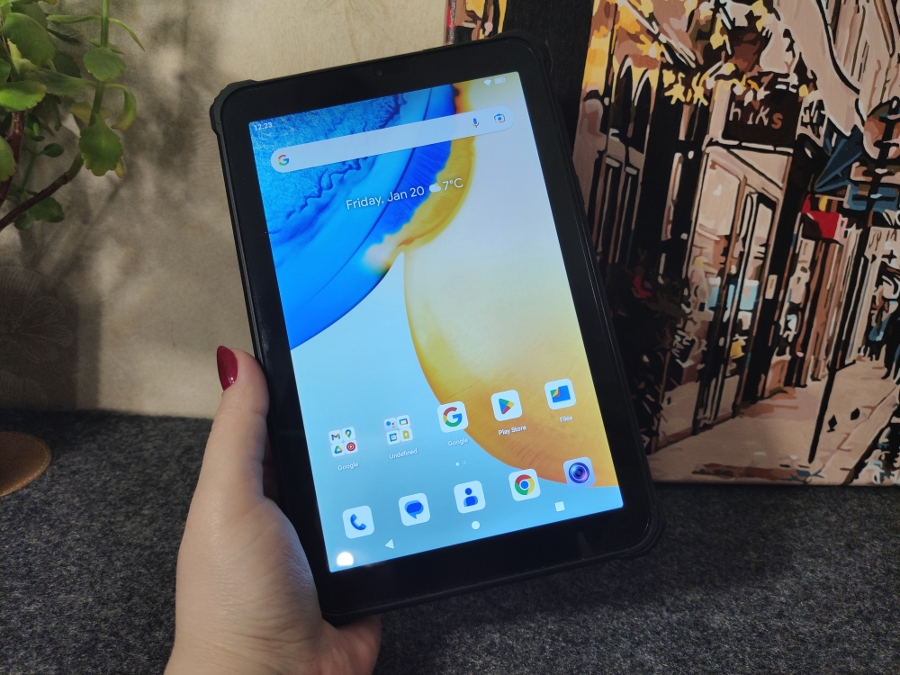 However, when you hold it for a long time, you still feel tired from its weight. So if you plan to use the device often, you should consider a stand. And if you choose such an "unbreakable" model for a child, the device will be too heavy for them, and a holder or stand is definitely necessary.
Read also:
Layout of elements
Oukitel RT3 is a ruggedized tablet, so the ends and especially the corners are reinforced, and all the connectors have reliable covers to protect them from moisture and dust. It's convenient that the caps are labeled, so you can find out where the charging port is and where the slot for a pair of nanoSIMs or one nanoSIM and TF is without spoiling your manicure.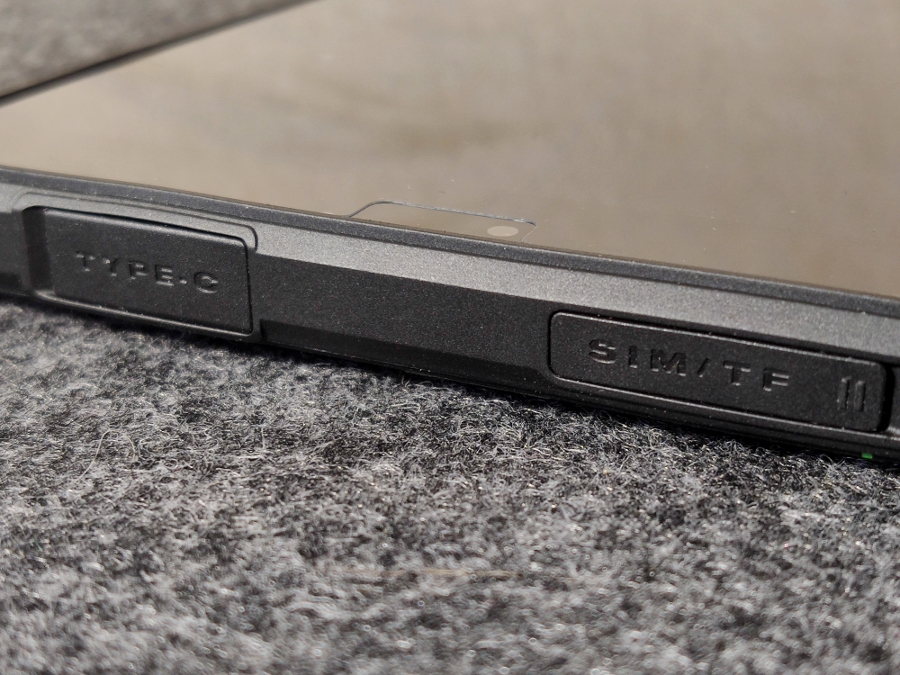 Since the front camera is on the short side, we can say that the tablet is more oriented for use in a book format. So we will consider the device based on this. So, to the left of the screen there is a microphone hole and a pair of symmetrical holes for the docking station. Unfortunately, we don't have it in our review. On the opposite side there is another microphone, volume buttons and a power button, which has a corrugated surface that makes it easy to recognize by touch.
On the top, there's a Type-C port and a combination slot with protective caps. They fit very tightly to the case, so neither liquid nor dust has a chance. Below is a pair of speakers, but without plugs, but there is no 3.5 mm headphone jack.
Oukitel RT3 display
The RT3 uses an 8-inch IPS matrix with a resolution of 1280×800, a pixel density of 188 ppi and an aspect ratio of 14.4:9. The brightness here is 400 nits, and it's more than enough for indoor use. However, it's a bit low for outdoor use on a sunny day.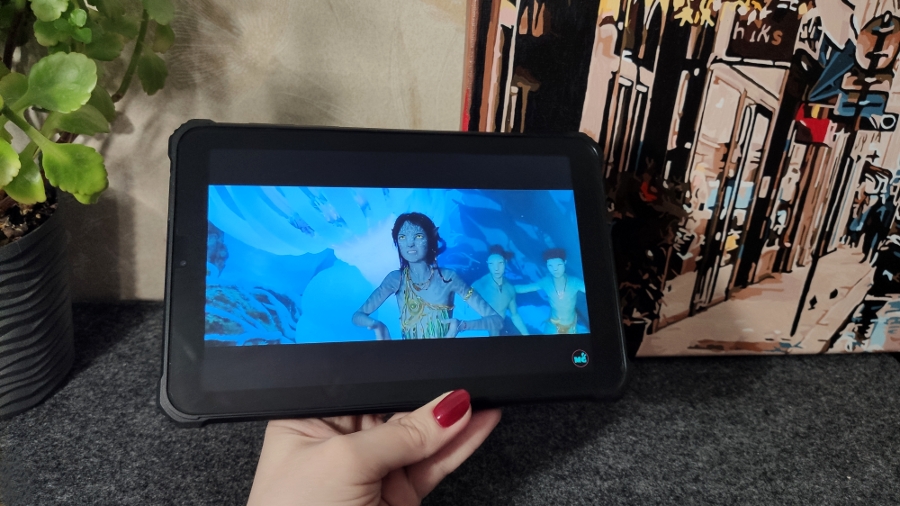 The viewing angles are not the maximum, and at a deviation of about 45-50° you can already notice some color distortion, but for normal use you can't complain about it. The color reproduction is nice: on the one hand, it's natural, on the other hand, it's quite saturated and contrasty. This is especially noticeable when watching videos. The main drawback of the screen is its low resolution and, as a result, low pixel density. This is not a problem for consuming text or video content, but some application icons, screensavers with a monochrome background, and some games are not very clear. But you should understand that this is a budget tablet and for an inexpensive device this is acceptable.
The settings include a dark theme, reading mode, and adaptive brightness. You can also set up the display of information on a locked screen, the scale and size of the font, auto-rotation, and the screen saver.
Read also: Realme Pad X Review: An Extraordinary Tablet
Performance
The ruggedized tablet is powered by an 8-core MediaTek Helio P22 with a PowerVR GE8320 graphics accelerator. The processor is made on a 12 nm process technology, and out of 8 cores, there are 4 Cortex-A53 cores with a clock frequency of up to 2 GHz and the same number of Cortex-A53 cores up to 1.5 GHz.
The tablet is available in a single modification – 4 GB of RAM (LPDDR3) and 64 GB of permanent memory (eMMC) with support for LTE and microSD cards. 4 GB of RAM is still not enough today, so the tablet has a function to expand the RAM at the expense of permanent memory. Thus, the user can choose how many gigabytes to free up on the flash memory – 2 GB, 3 GB, or 5 GB. Of course, this won't achieve a global performance boost, but even if some processes are delegated to the ROM, the tablet will be faster.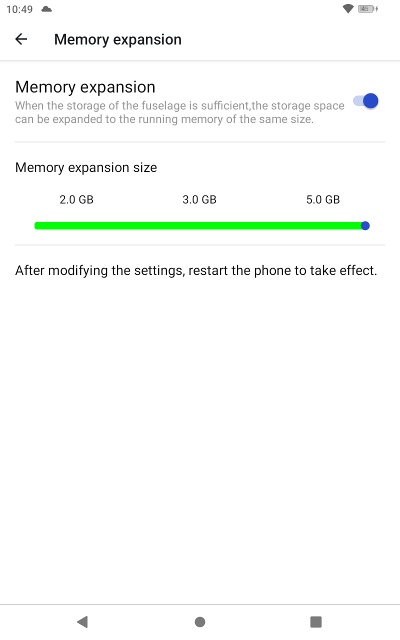 It is worth noting that the slot here is combined and allows you to place either a memory card and a SIM card or two nanoSIMs. The ability to use cards of two operators in parallel is not so common among tablets, but it's a good feature, especially for Ukrainians and especially now. Because of the war and, as a result, because of rolling or emergency power outages or for some other reason, it often happens that one operator "falls off" completely, while the other continues to work in the same city. So with this tablet, the user always has a backup plan and the ability to stay connected under any circumstances.
But let's get back to performance. Here we have 4 GB of RAM and a 2018 MediaTek chipset with a maximum clock speed of 2 GHz, so the tablet is not designed for heavy workloads. It is well suited for everyday use: surfing, social media, watching videos, working with applications, simple time-killer games, and so on. But sometimes, with a large number of applications open, the interface can be a little slow – it can be slow to switch between applications, tabs in the browser, or between chats in messengers. This is partially solved by expanding the RAM, but we can't talk about impressive performance with such hardware. There's no point in talking about serious 3D games either, as everything is clear. The test results can be found below.
Wireless interfaces, in addition to LTE, include dual-band Wi-Fi 5, Bluetooth 5.3, and geolocation services such as GPS, GLONASS, Beidou, and Galileo.
Software
The software part is represented by Android 12 without the declared additional shells. However, the interface, in my opinion, has some improvements from Oukitel, which is noticeable at least by the non-standard notification curtain. But if there are any changes, they are minimal. The system is stable, but there are questions about the translation of the interface. There are errors in Ukrainian, English, and Russian.
The tablet also has parental control and a game mode. The Oukitel RT3 also has a number of interesting additional tools: a compass, a sound level meter, a level (horizontal and wall), a height meter, a magnifying glass, a protractor, and a mirror. There's even a heart rate monitor that, unexpectedly, measures heart rate through the main camera sensor. You can also find a tool called "Alarm Ringtone". It has three functions: a flash (flashing of the camera's flash), an alarm (no, it is not like the airborne alarm that Ukrainians have been hearing every day since February 24, it is rather a radiation alarm), and flashing of the screen in different colors. Such tools can come in handy if you find yourself in an emergency situation and need to be heard and seen.
Oukitel RT3 cameras
Tablet cameras are definitely not the most important option in tablets. They're mostly useful when you need to take a quick photo and don't have your smartphone at hand. This is also the case with RT3. The rear camera here is dual and consists of a 16-megapixel Sony IMX519 main module (f/1.79, 81.5° viewing angle, autofocus) and a modest 0.3-megapixel GC032A auxiliary module for blurring the background with an aperture of f/2.2.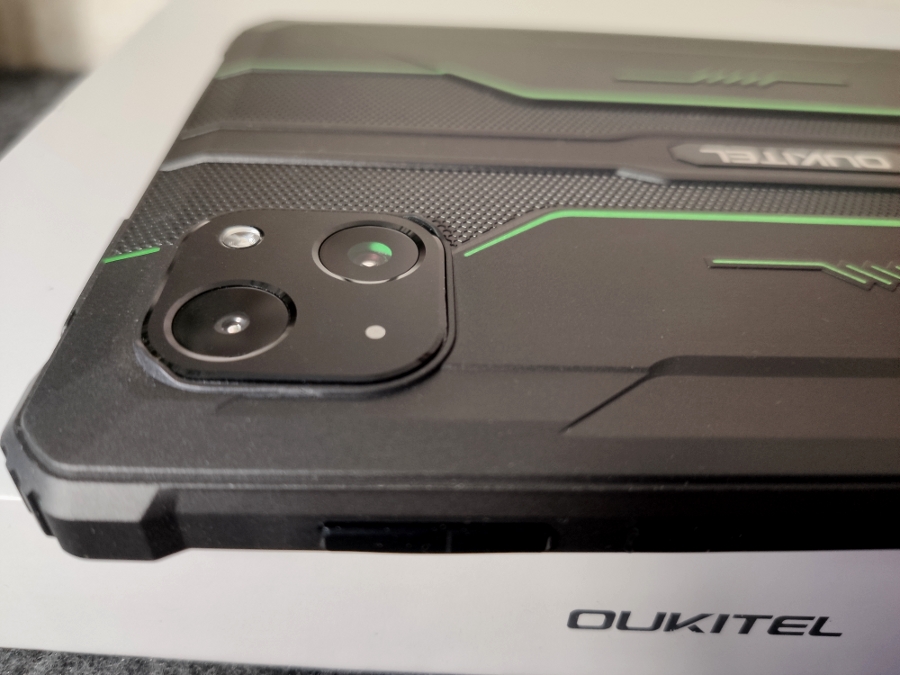 As for the photo quality, the result is adequate, but it's not impressive. Although the pictures are quite clear in sufficient light, a violation of the white balance can overexpose the frame and deprive it of detail. If there is little light, noise appears and detail also disappears. Another nuance lies in the focusing time. It takes 3-5 seconds to catch the focus, and as we remember, the tablet is quite heavy and it's a bit difficult to hold it still. So to get a good picture, you need to take at least a couple of shots, because either your hand will shake and the image will be blurred, or the focus will not have time to adjust and you will get the same thing. Below you can see examples of photos taken in standard mode in different lighting conditions.
Oukitel RT3 приклади фото
EXAMPLES OF PHOTOS IN FULL RESOLUTION
For video, the camera app has a single mode, and for photos, there is "Image" (i.e., "Photo"), "Beauty", HDR mode, "Panorama", Pro mode, "Black and White", "Bokeh", and quick access to the QR code scanner, which is installed in a separate application.
The front camera here is an 8-megapixel Sony IMX314 with f/2.2 aperture and a 75° viewing angle. It's good enough for video calls, but you shouldn't expect it to take good Instagram selfies – that's better left to smartphones.
Unlocking methods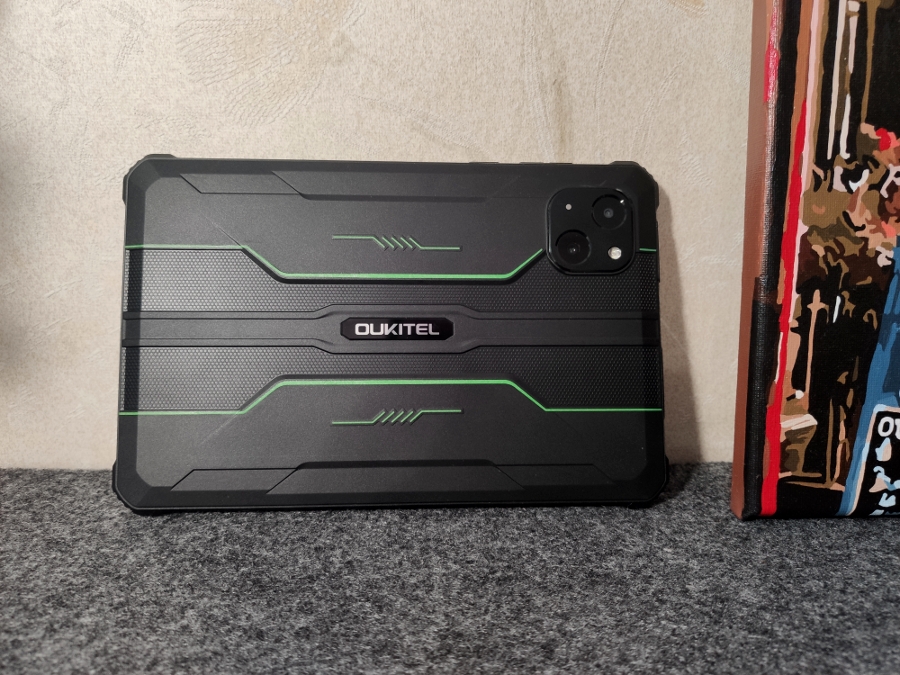 In addition to the pattern, password, and PIN, the RT3 has only a face scanner, and no fingerprint scanner. The face control technology works stably in good light, but rather slowly. It takes a few seconds to recognize the owner, and sometimes it takes longer, which is not so much due to the lighting as to the performance of the tablet itself. In some cases, it's easier to enter a PIN or key than to wait for the device to recognize you. However, it often happens that you have just started entering a PIN, and the face scanner works. As a conclusion, the face scanner lacks speed, which is occasionally annoying.
Read also:
Battery life
The battery in the RT3 has a capacity of 5150 mAh, and the manufacturer claims an autonomy of 18 hours in audio player mode and up to 5 hours when watching videos. However, in reality, the tablet turned out to be more survivable. Thus, the PCMark test showed that from 97% of the charge to 18%, the tablet works without problems for 9 hours and 52 minutes with the screen constantly on at an average brightness level and with Wi-Fi turned on. This is a pretty decent result.
Unfortunately, there is no fast charging; the tablet is charged with 10 watts of power, and it takes about 2.5 hours to charge from 18% to 100%.
Sound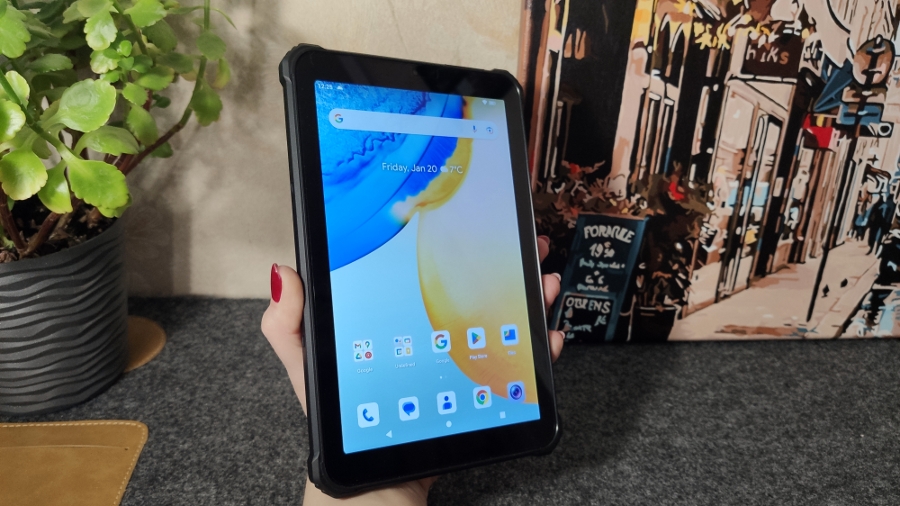 The device has a pair of speakers located at the bottom. Two speakers are definitely better than one, but unfortunately, due to the placement of both on the same end, it is not possible to achieve the stereo effect. The tablet sounds better when it's in portrait orientation – the sound is distributed more evenly. And in landscape orientation, the sound comes from one side and the sound becomes less attractive.
In general, the speakers are enough for watching videos, playing games, or making calls: they are loud, but they provide quite clear sound. In other cases, it's better to use a headset, and here we have only the option of wireless models, because there is no headphone jack.
Read also: Huawei MatePad 11 review: Testing the first HarmonyOS tablet
Conclusions
The Oukitel RT3 is a good option for those looking for an affordable and rugged tablet for work in the field. First of all, the tablet impresses with its level of protection against both water and dust (IP68, IP69K), as well as mechanical damage according to the American military-industrial standard MIL-STD-810H. The device is not afraid of falls, liquids, or getting into the sand, so you can take it with you on vacation, especially if you like outdoor activities, although it will not let you down on the beach. It will also appeal to parents who are tired of carrying their children's tablets to service centers. After all, children are children and spills, drowning in the bathroom or simply falling with a broken screen are not so rare. RT3 will help you avoid this and, what's more, save a lot of money.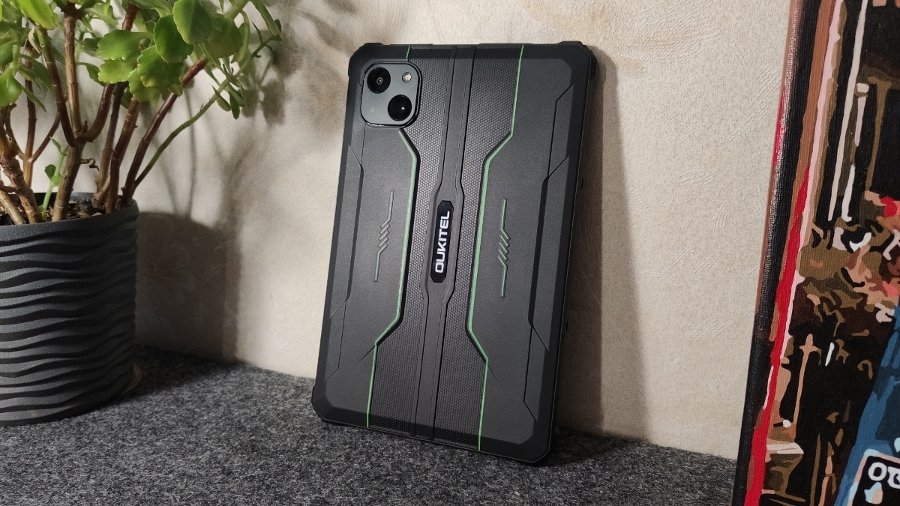 The model is worth praising for its considerable battery life, excellent build quality and good materials, a good display for its class, a fairly fresh Android 12 without any special add-ons, support for current wireless interfaces and two SIM cards, which is quite appropriate for Ukrainians today. However, let's be honest, the RT3's performance is not great, because the processor is not the freshest and fastest, and there is not much RAM. In addition, I would like to see more powerful charging, stereo sound, a faster face scanner, and better interface translation.
Where to buy
Read also: