Along with Apple Watch Series 6, a review of which we published recently, Apple Watch SE was released to the masses. This is a more affordable model, which, in addition to cost, differs a lot from the flagship Series 6. In this review, I will tell you about what exactly the new device differ, who needs it and why would you buy it.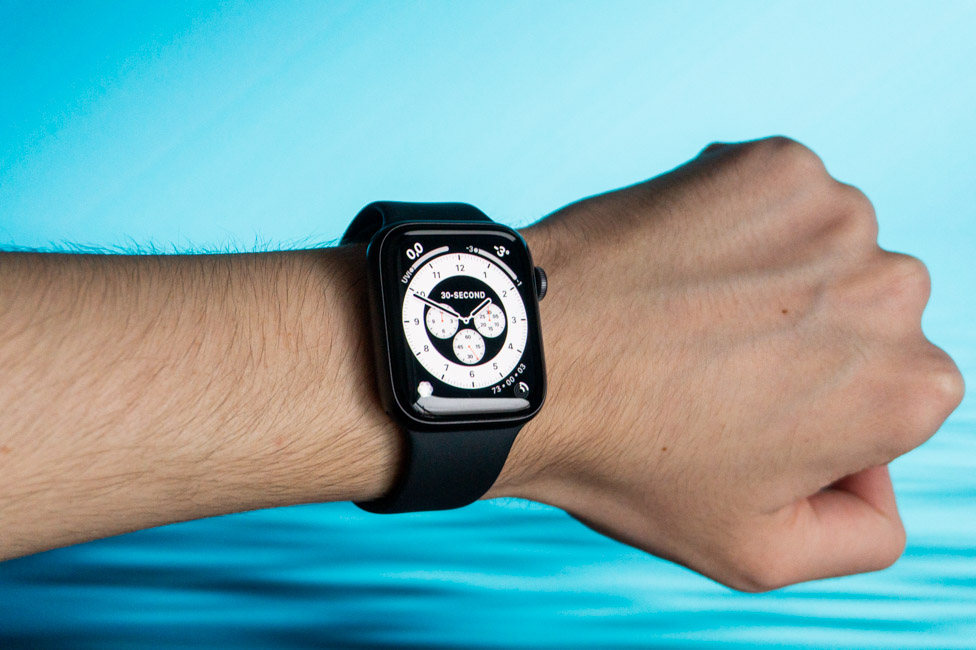 Apple Watch SE 40mm/44mm Full Specifications
Apple Watch SE, like Series 6, comes in two sizes – 40mm and 44mm. The watch differs only in dimensions and display resolution. Below are the characteristics of the 44mm version:
Display: 1.78″ OLED LTPO with Retina, 368 × 448 pixels, 326 ppi, 1000 cd/m²
Chip: Apple S5 with 64-bit dual-core processor and W3 wireless chip
Storage: 32 GB
Connectivity: Wi-Fi 802.11b/g/n (2.4 GHz) and Bluetooth 5.0
Power: built-in lithium-ion battery, up to 18 hours of operation
Sensors: gyroscope, accelerometer, optical heart rate sensor (2nd generation), ambient light sensor
Other: speaker, microphone, GPS/GLONASS
Case protection: ISO 22810: 2010, waterproof up to 50 meters
Band: silicone
Dimensions: 44 x 38 x 10.4 mm
Weight: 36.20 g
The version with a 40 mm body, in turn, received a 1.57-inch screen with a resolution of 324 × 394 pixels, dimensions of 40 × 34 × 10.4 mm and a weight of 30.49 grams. In the photo below, you can see the difference in dimensions between the black Apple Watch SE 44mm and the silver Apple Watch Series 6 40mm (the dimensions are identical to Apple Watch SE 40mm).
Read also: The differences and similarities between iPhone 12, 12 Pro, 12 Pro Max, and 12 mini. How to choose a new iPhone
How Apple Watch SE differs from Series 6 and Series 5
As I already noted, Apple did not make only one size AW SE and released them in versions with a case of 40 and 44 mm. And this is rather good. Both for the consumer and for the company itself. The second will cover the maximum number of potential buyers, and the users themselves will not lose the right to choose and will be able to purchase exactly the variation that they consider most suitable.
How Apple Watch SE differs from Series 6 and Series 5
Let's start with the differences between the Apple Watch SE and the flagship Series 6 and last year's Series 5. In fact, the Apple Watch SE is a lot like Series 5: it has the same processor (S5) and the same amount of storage, 32 GB. But Series 5 has Always-On and an ECG option, which, as you understand, SE doesn't. But at least it is equipped with an always-on altimeter, like the Series 6.
Series 6, in turn, takes a noticeable lead, offering the user the ability to measure the level of blood oxygen saturation, ECG function, Always-On, a new processor (20% faster), support for 5 GHz Wi-Fi range and increased charging speed
Read also: Apple Watch Series 6 review – Worth an Upgrade?
So who should consider the Apple Watch SE? Definitely not the people who already have Apple Watch Series 5. You, roughly speaking, will gain nothing. Change the constantly working altimeter to Always-On and ECG that only works in certain countries? I don't think that makes any sense.
Comparing and choosing between Apple Watch Series 6 and Apple Watch SE… probably worth it for only one reason – the price. If the budget is limited then it's SE for you, if not, buy Series 6.
As for the older generations, everything from the Series 3 and older should be replaced with the Apple Watch SE. As for Series 4, it's harder to say, but overall SE is a little better: the processor is newer, there's twice as much storage, there is a compass and an always-on altimeter, but no ECG.
What's in the box
Looks are important, so we will start with packaging. I will say right away, the SE packaging is simpler, but that hardly matters, does it?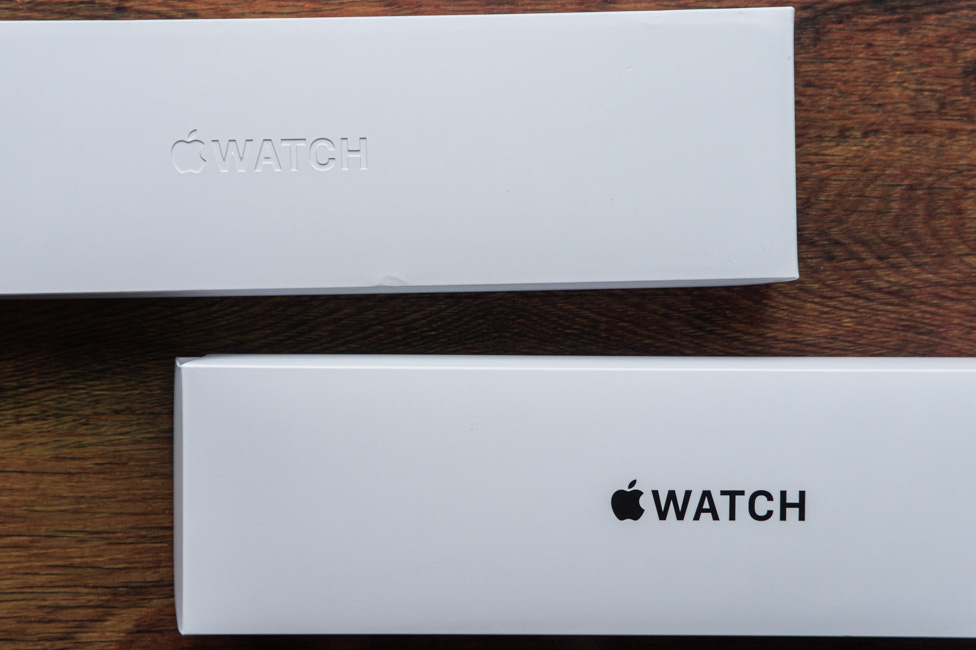 Instead of the embossed logo on the cover, there is a simple inscription. On the box with the Series 6 watch there is a three-dimensional image, and with the SE just a printed picture. The Series 6 itself comes in a cardboard case, and SEs is packed in thin translucent paper.
The package bundle does not differ at all: a watch, in a separate box a band with two lower halves of different sizes (S/M and M/L), a USB-cable for charging with a magnetic mount and a set of papers. There is no power adapter in the box either. I already talked about in in the Series 6 review, so I won't repeat myself here.
Design, materials and elements configuration
Apple Watch SE design is almost identical to Series 6. I would even say that it is closer to Series 4/5. But the back of the Series 6 looks completely different. But we rarely look at the back, so in general – yes, exactly the same design, classic Apple Watch. Except that the crown does not have a pad with electrodes, which is found on the wheel in Series 4/5/6.
The watch has aluminum case, which is quite logical and reasonable. Since SE is an inexpensive watch in the Apple Watch line, there is no point in bothering with titanium, ceramics or steel. Still, for those who want more premium materials, the manufacturer has the sixth generation of smart watches.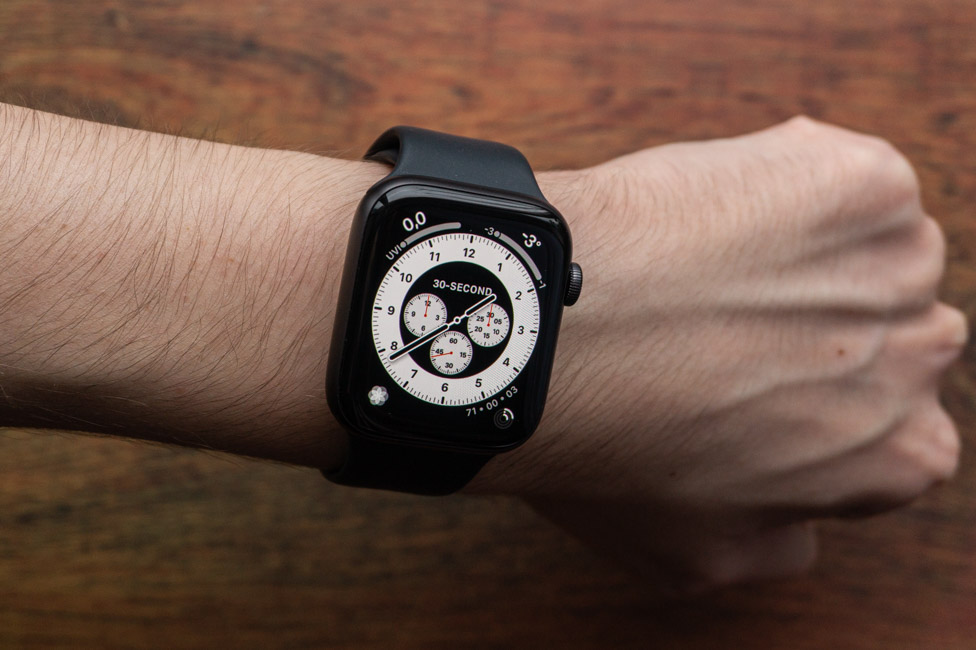 New colors, unlike Series 6, have not appeared and you will have to choose between classic silver, gold and black Apple Watch SE. During testing, I had a version in black colors, with a black band. The other two have white and pink silicone bands, respectively.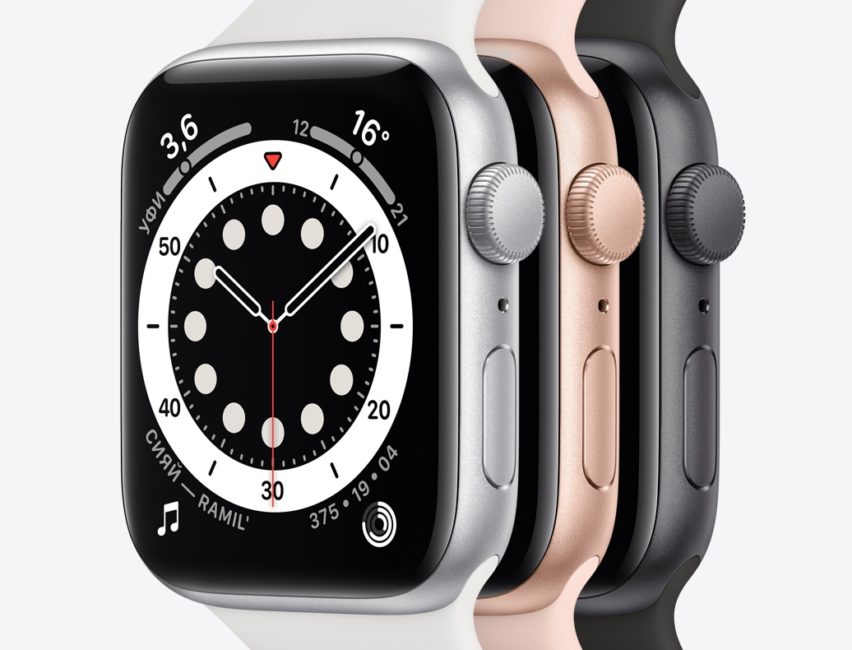 The materials and elements configuration are exactly the same as the older model. The front panel with the screen is covered with Ion-X tempered glass with a good oleophobic coating, the body is recycled aluminum, and the back side is made of ceramic. On the right side you can find the previously mentioned Digital Crown, a microphone and a second side button. On the left are the speaker slots, and the top and bottom is the usual band attachment. On the back, top and bottom, there are buttons for fixing the strap, ring engraving with information about the watch and an optical heart rate sensor.
The case is also protected according to ISO 22810: 2010 and will survive hand washing, and swimming in a pool or sea, but the manufacturer does not recommend using the watch when diving, water skiing or other similar activities that involve immersion to great depths or contact with water at speed.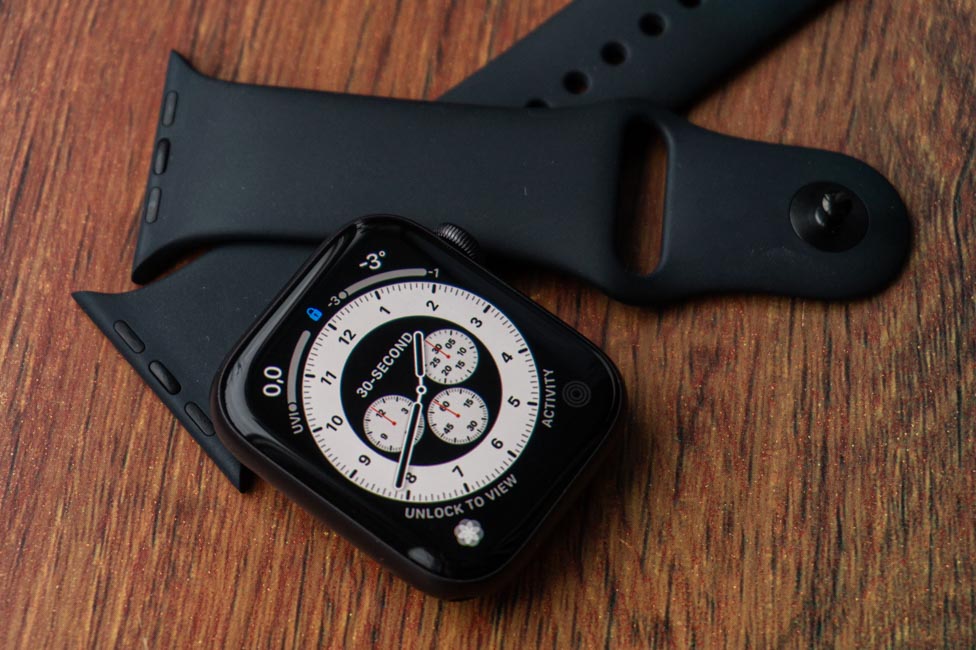 The band is made of soft, tactile silicone. The universal mount allows you to use any other compatible straps with Apple Watch SE, including the new Solo Loop monobralets, which are described in more detail in the Apple Watch Series 6 review.
Apple Watch SE display
On paper, the Apple Watch SE display is no different from the Series 6. In the case of the 44mm test version, we have a 1.78″ OLED LTPO screen. The panel has a resolution of 368 × 448 pixels, the density is 326 ppi, and the declared peak brightness is 1000 cd/m².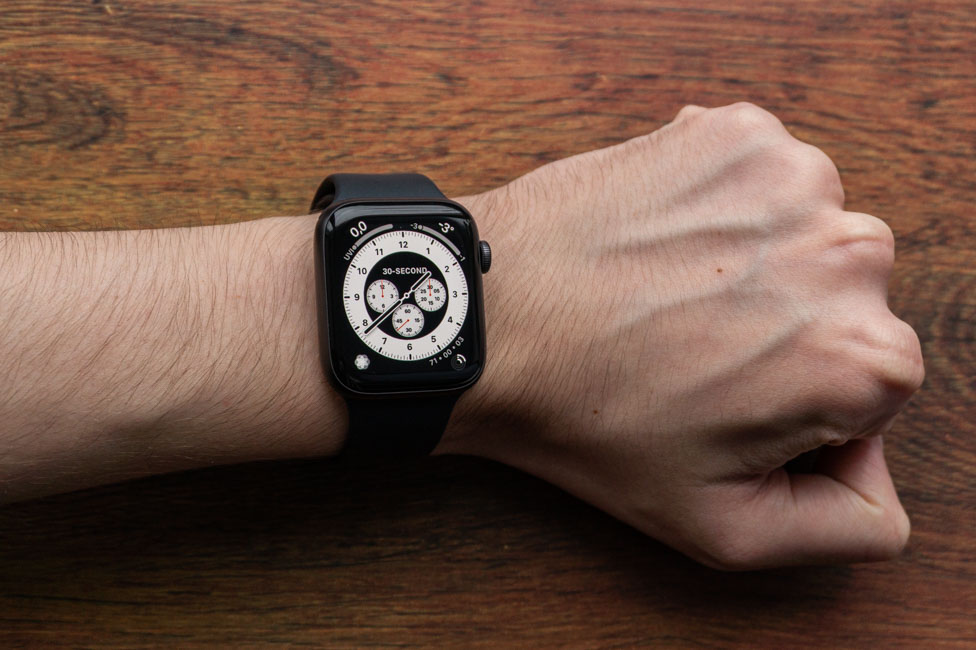 So yes, this is the same screen, but without the main feature of Series 5/6 – the Always-On mode. There are no hardware components of Force Touch either, which is not particularly important, given that the function was replaced by software for a long hold in the latest version of the operating system.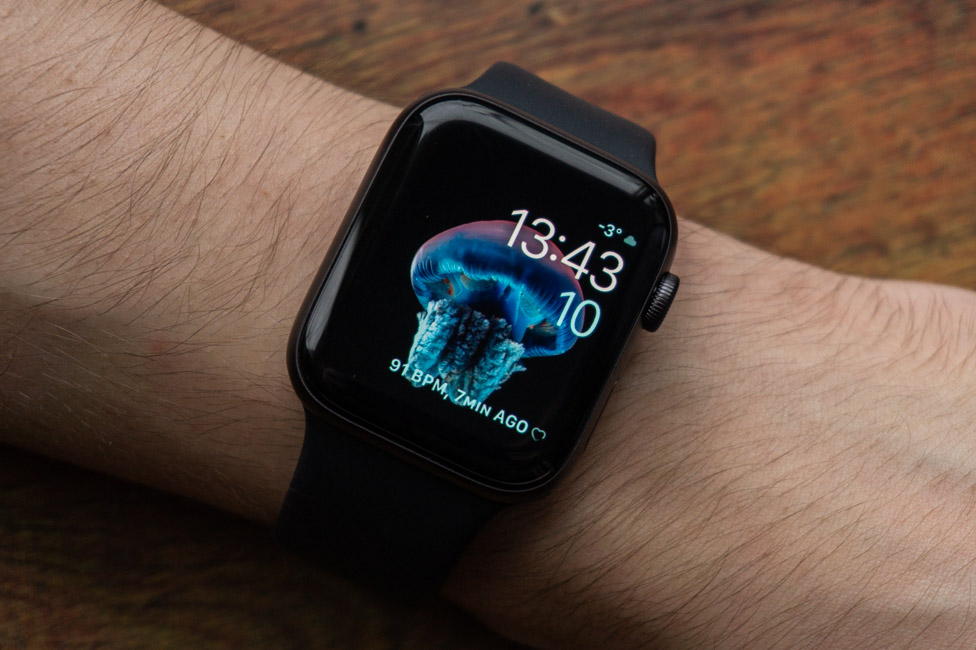 As a matter of fact, the screen of Apple Watch SE is perfectly fine. Its brightness is enough for working indoors and outdoors, it is contrasty and saturated. And all the advantages of OLED panels are also preserved. As, by the way, are the issues – at an angle the white color turns blueish.
A good screen, but without the convenient Always-On function. You quickly get used to it, but SE will have you view the screen the old fashioned way – only after activation – with a button, wheel, touch or the usual gesture. Everything works, as expected, perfectly.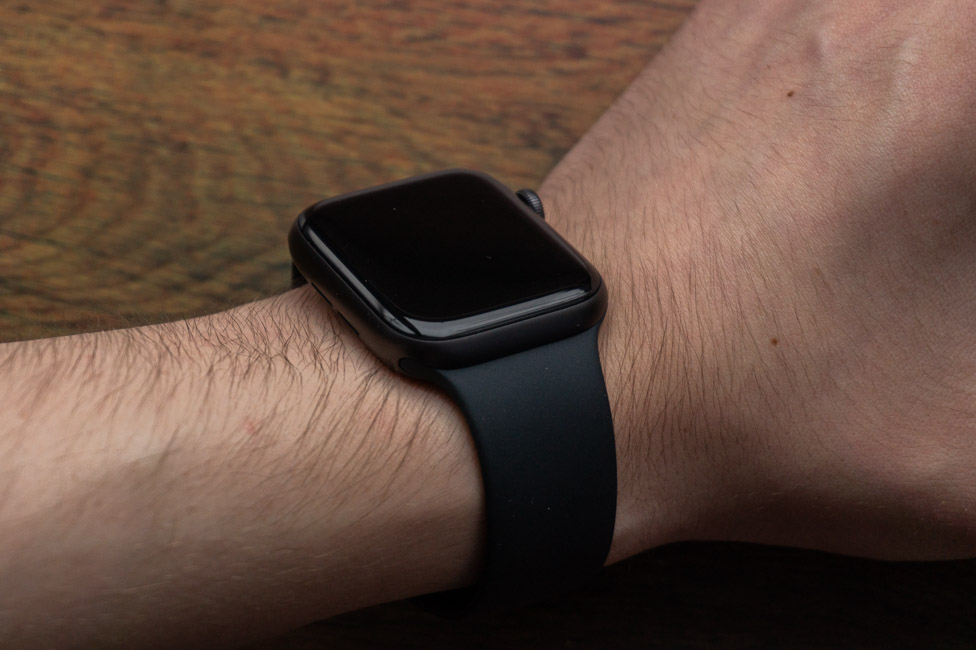 In the settings, you can select the level of automatic brightness control if you are not satisfied with how it works by default. It is possible to set the size of the text, make the font bold, and in the main parameters choose any methods of activating the screen.
Apple Watch SE Display Settings
Apple Watch SE battery life
The Apple Watch SE specs mention the same battery life as the Series 6 – that's 18 hours. But in fact, SEs will live longer, because the Series 6 worked for 18 hours with the Always-On function enabled. And here this option is not available, which means that the charge will be consumed more slowly.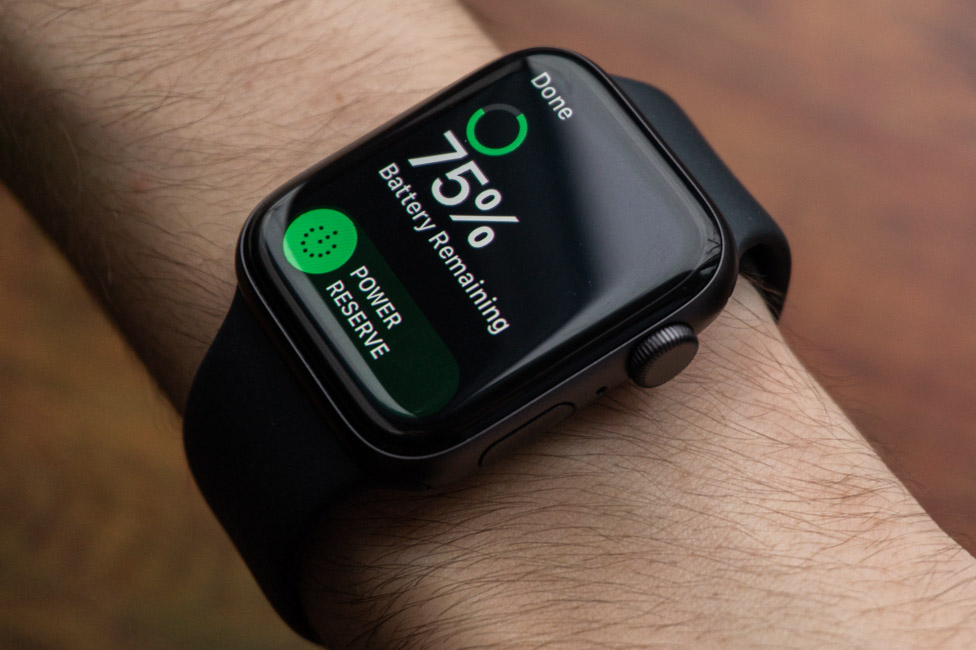 In the version with 44 mm case, I had an average of two days on a single charge. Of course, a lot depends on the use scenario, but I think it will live for the whole day in any case. That, on the one hand, has never been a record figure; it is really not enough. But I repeat that with such functionality you have to sacrifice something and this "something" is just battery life.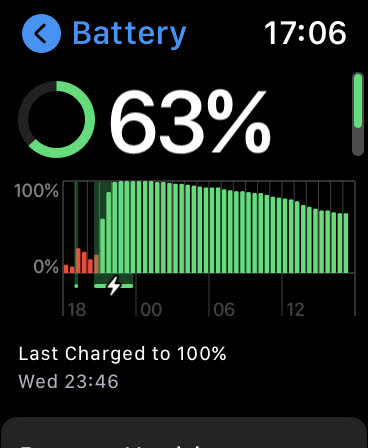 It uses the same magnetic cable for charging. But SEs didn't get the same boost in charging speed as the Series 6, and charge a little slower. Here are detailed measurements in 10 minute increments when charging with a regular 5W power adapter:
00:00 — 7%
00:10 — 21%
00:20 — 36%
00:30 — 47%
00:40 — 57%
00:50 — 68%
01:00 — 79%
01:10 — 89%
01:20 — 96%
01:30 — 99%
WatchOS 7 on Apple Watch SE
The current version of WatchOS is 7.1 for all Apple Watch models. Let me remind you that last year's S5 processor is installed in the watch and in everyday life it feels quite fast. But in direct comparison with the new S6 chip, the latter turns out to be faster by a fraction of a second.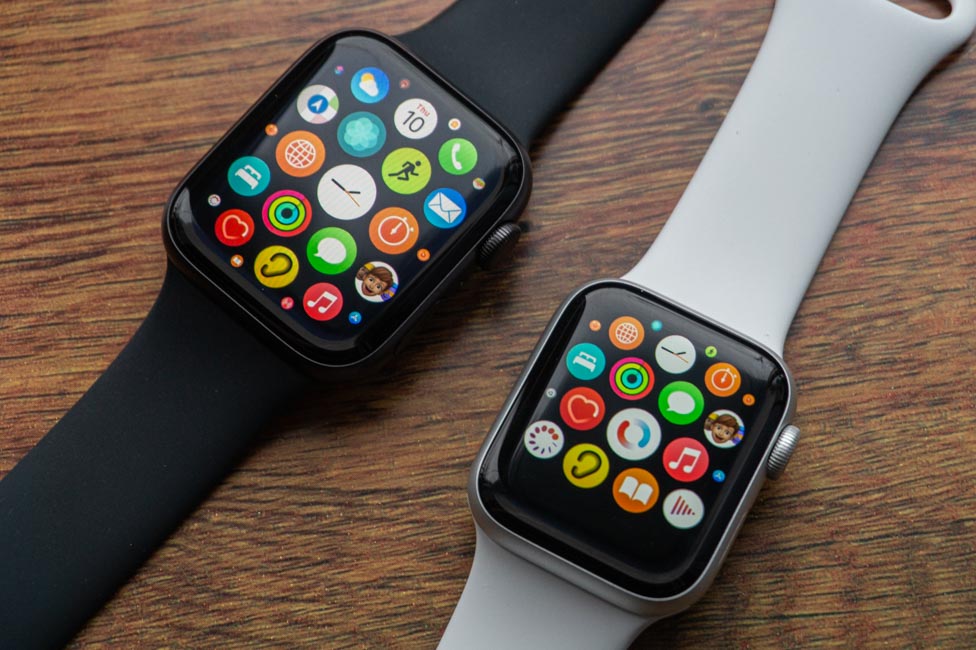 I already talked about the changes to WatchOS 7 in more detail in the Apple Watch Series 6 review and in general they all apply to SE. Except for functions such as blood oxygen measurement and ECG. Their implementation is impossible here, because there are no hardware components for their operation in this model. So if you want to know the details, go to the corresponding section of the Series 6 review:
Is it fair to say that the aforementioned features are missing from Apple's "affordable" watches? It seems to me that you can do without them. I have already talked about the operation of a pulse oximeter – the accuracy of measurements is currently under a big question, and the ECG function, for example, is still not available in many countries.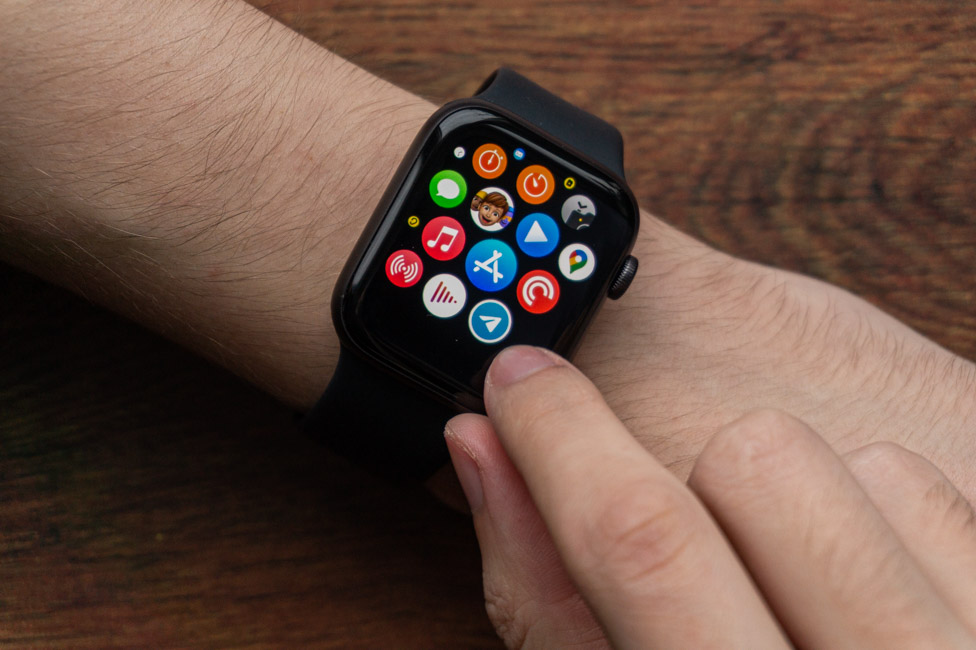 Verdict
The new Apple Watch SE can be seen as a replacement for older Apple Watch models, primarily for those users who do not need all the innovations of Series 6 and want to get an fresh wearable device at a lower cost.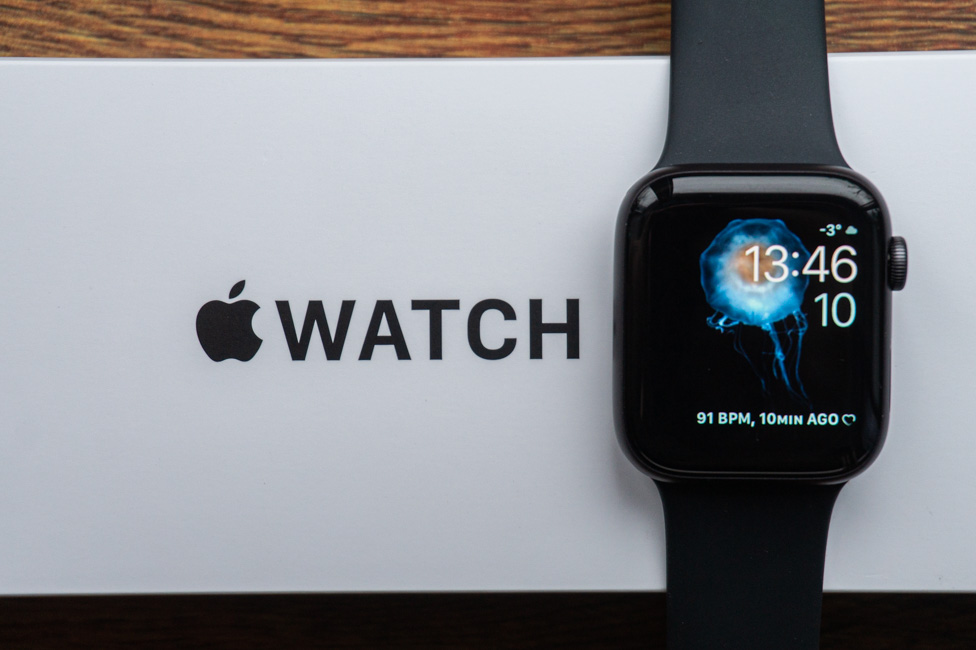 By and large, this is last year's Series 5 without a couple of features. Functional, and with mediocre batter life, but significantly cheaper than the current flagship models from Apple.
Subscribe to our accounts: