In this review, let's talk about a new device from COOMOOY. It is a compact 3-in-1 charger, which will come in handy for users of iPhone, Apple Watch, and wireless earbuds. It features MagSafe magnetic technology, which first appeared on iPhone 12. The device can be ordered on the official website of the brand, where it costs $44.50 with a discount.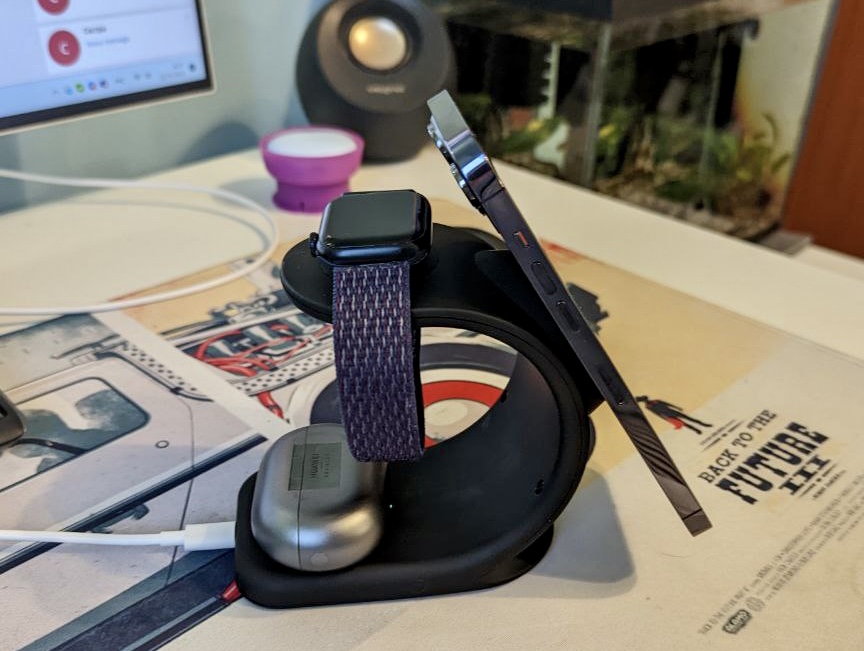 Specs of COOMOOY 3-in-1 Magnetic Wireless Charger
Compatibility: Qi-compatible devices (up to 15W)
Connector: Type-C
Number of devices you can charge simultaneously: 3
Input power: 9V/2A, 12V/1.5A
Apple watch output power: 2W (max)
Earbuds or other device output power: 3W (max)
Phone output power: 5W / 7.5W / 10W / 15W
Dimensions: 127x117x71 mm
What's in the box?
The box contains a charging station, a 1-meter-long Type-C cable, and a manual. There is everything you need, except for the power brick. It's usually missing from the box of wireless chargers, but you can always use the one that comes with your phone (or the one that you've bought because your phone also doesn't have one).
Keep in mind that the power brick must deliver sufficient power. If you charge three devices at once, you need at least 30W. Suitable adapters are inexpensive in online stores and AliExpress, so you won't have trouble finding one.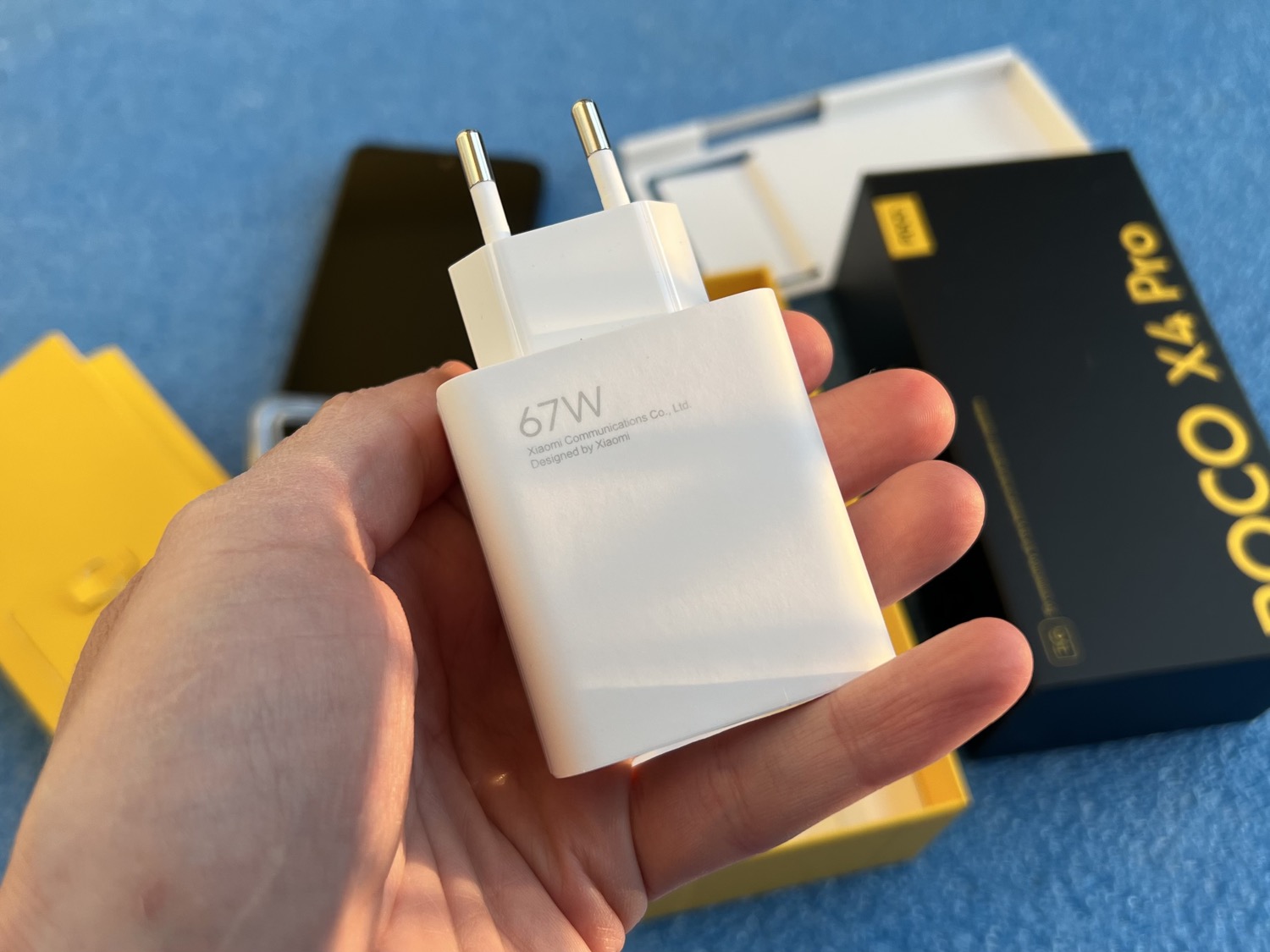 During the review, I used Baseus 45W charger.
Design
When they saw this charger, many of my acquaintances said, "They were making a Satisfyer, but it turned out to be a charger"! And indeed, there is a certain resemblance. If you don't know what Satisfyer is, just google it… or better not (please not), let's not get distracted, we're talking about something else today.
The charger is nice and ergonomic. Its main advantage is that it is small. Often 3-in-1 devices for iPhones and Apple Watch are so monstrous that they take up a lot of space on the desk or get in the way when placed on the bedside table. The COOMOOY 3-in-1 Wireless Charger, on the other hand, fits in your hand and takes up almost no space on your desk. At the same time, it has no problem holding three devices on it.
The wireless charger is made of a nice soft-touch plastic. It does not collect fingerprints and dust (I have a black charger, on which the dust would be visible immediately).
The device stands firmly on three anti-slip "legs", so you won't move COOMOOY 3-in-1 Wireless Charger accidentally, despite the lightweight body.
In the front of the device is its main feature – a MagSafe pad tilted at an angle of 60 degrees. On top of it, there is a small area for charging the Apple Watch. Under it, there's a space to put your earbuds or even another smartphone.
The COOMOOY 3-in-1 Wireless Charger has an operating indicator located at the bottom of the curved semi-circle which lights up when the charging happens. It glows with a soft light that does not interfere at night, even if the charger stands close to the bed.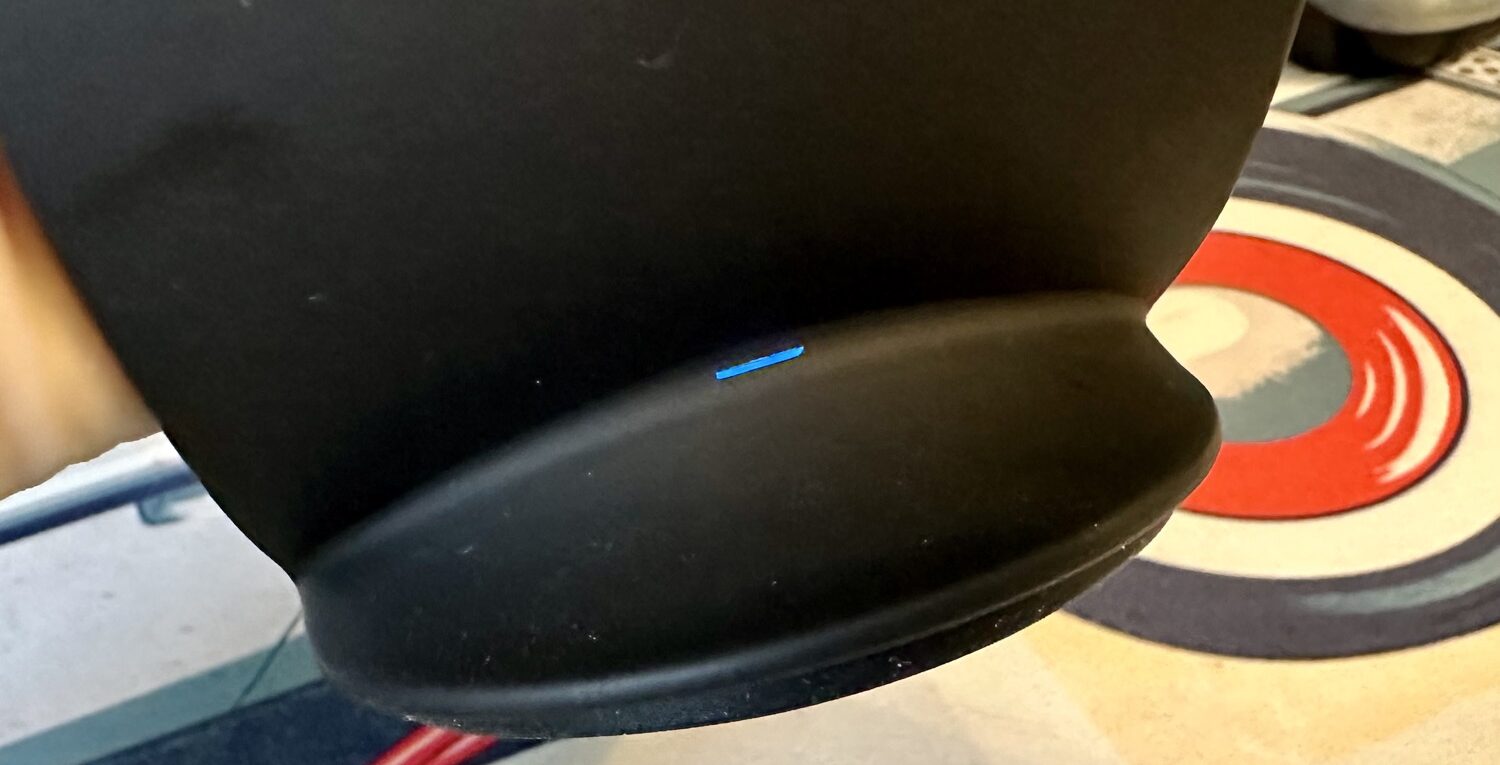 On the back of the device, there is a USB-C port to connect the charger with the power brick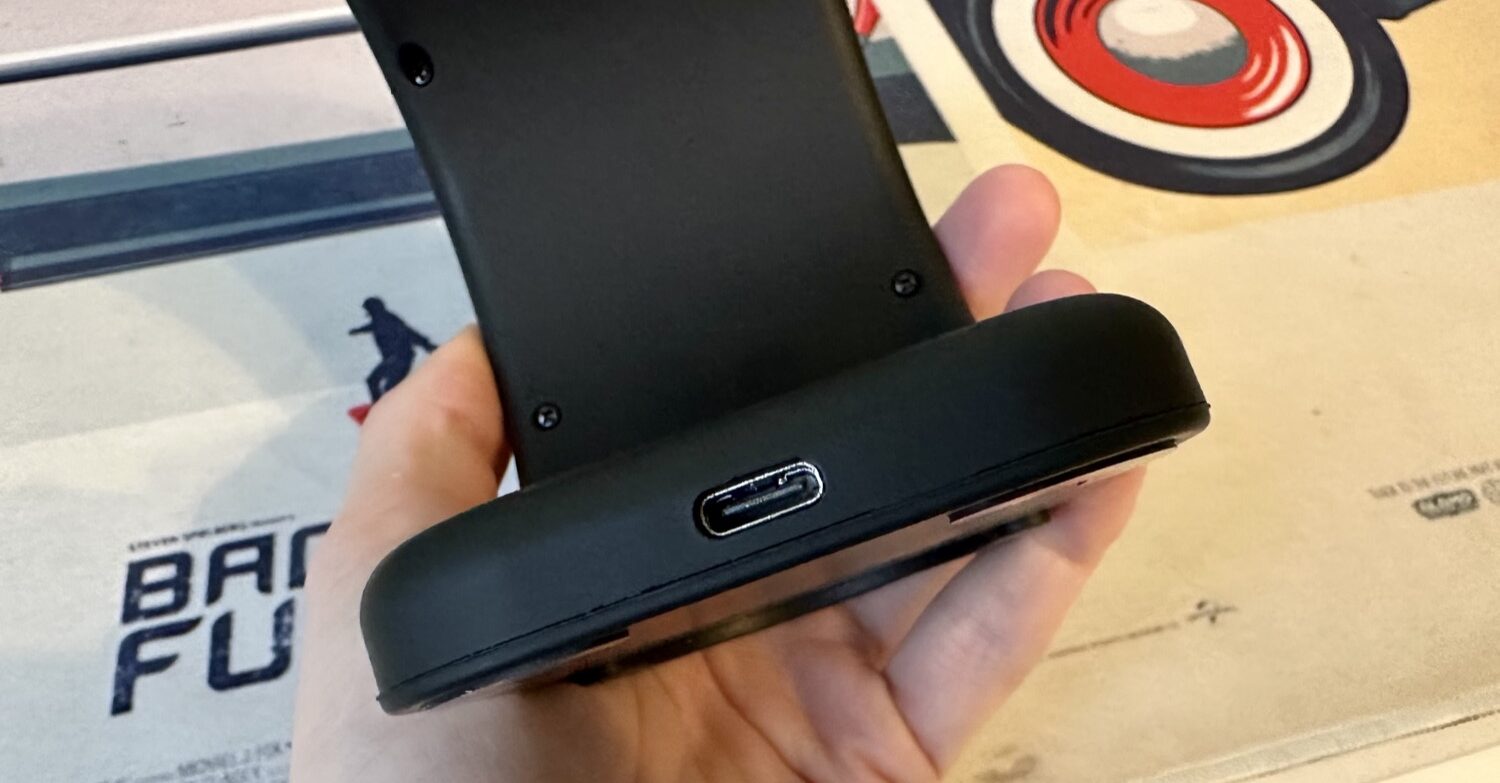 The model comes in classic white or black colors.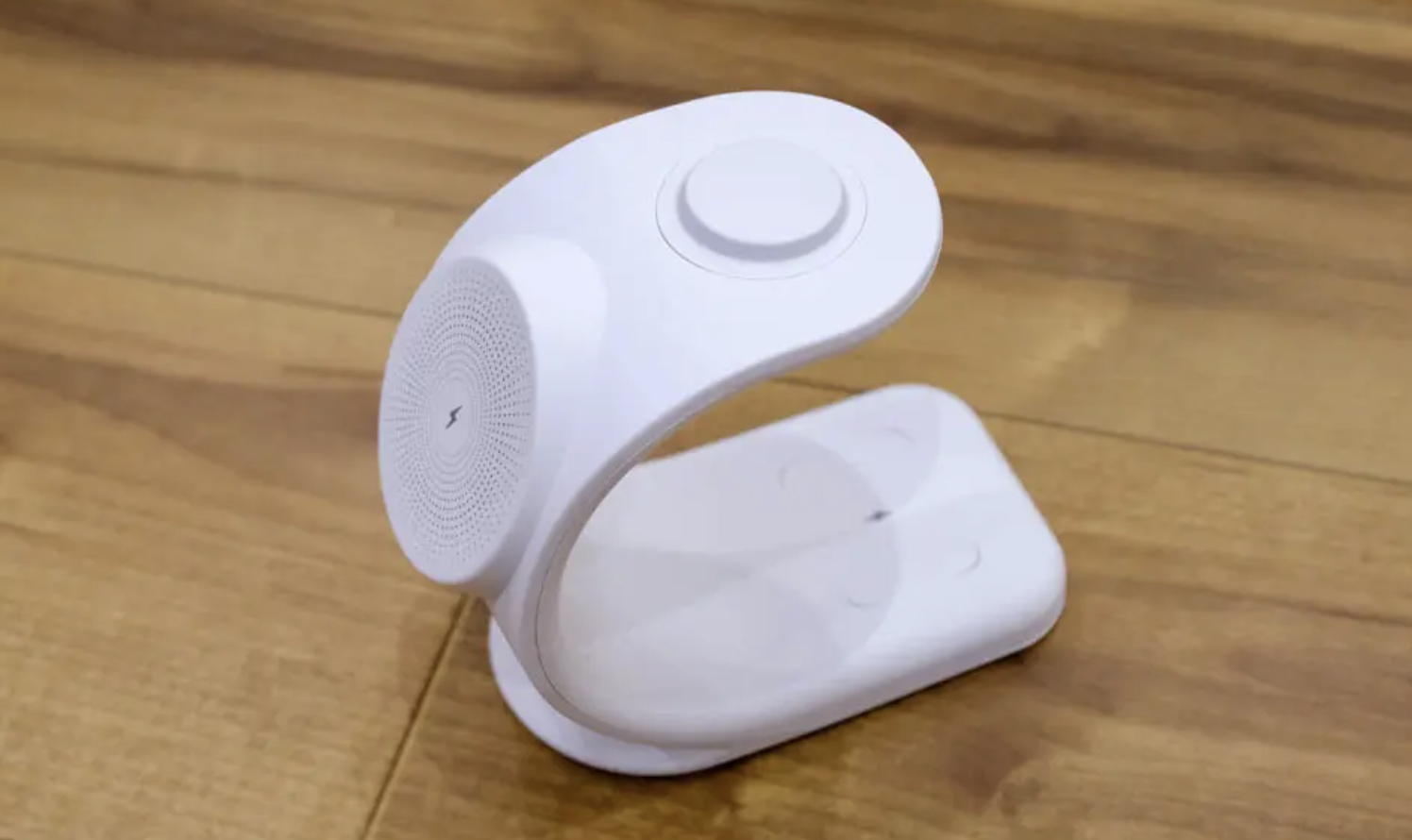 Compatibility, features
The charging station works through the widely adopted Qi wireless charging standard. It is supported by high-end Samsung Galaxy phones, iPhones, Pixels, phones from Huawei, Xiaomi, and so on. But sometimes even mid-range models, such as the Motorola Edge 30 Neo, have wireless charging. However, this charger is mostly suitable for iPhones, due to the nuance mentioned below.
The MagSafe-enabled main pad delivers a whopping (for a wireless iPhone charger) 15 watts. It takes about 1.5 hours to fully charge my iPhone 14 Pro Max. Yes, it's not fast, but wireless charging isn't super fast by design, it's made for convenience. You can leave your phone on it overnight (and the new Always On feature in the iPhone 14 Pro comes in handy as it acts as a clock) or during the working day – your smartphone will always be full of charge. Actually, iPhones and really fast charging are incompatible concepts, even the newest models charge at 27W max.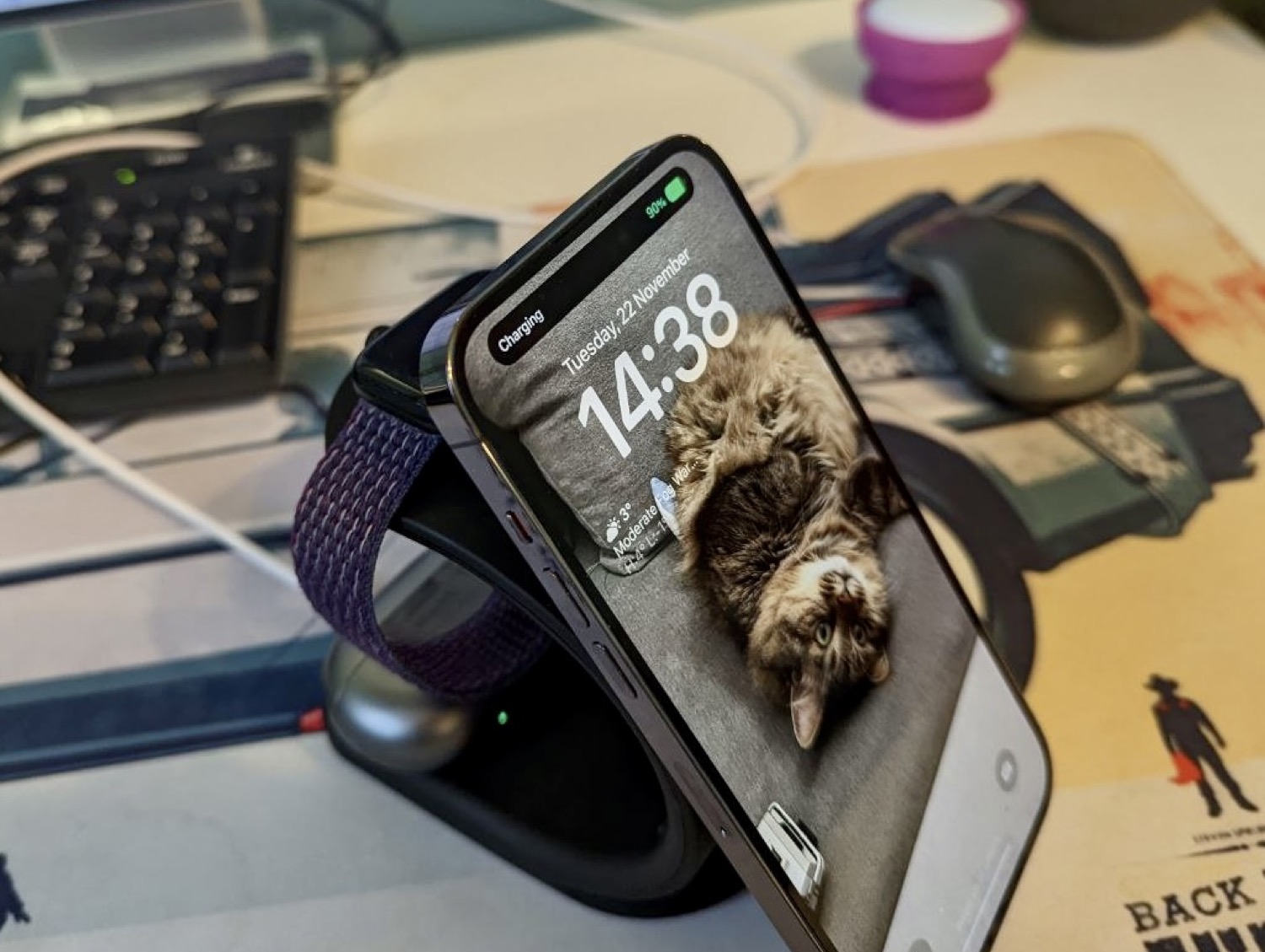 Here we should also note that to use the MagSafe Magnetic Charger your iPhone 12, 13, or 14 must either be without a case or with a MagSafe-compatible one. And this is NOT a bug in a particular charger, it's a feature. Apple itself makes MagSafe cases to use with charging accessories.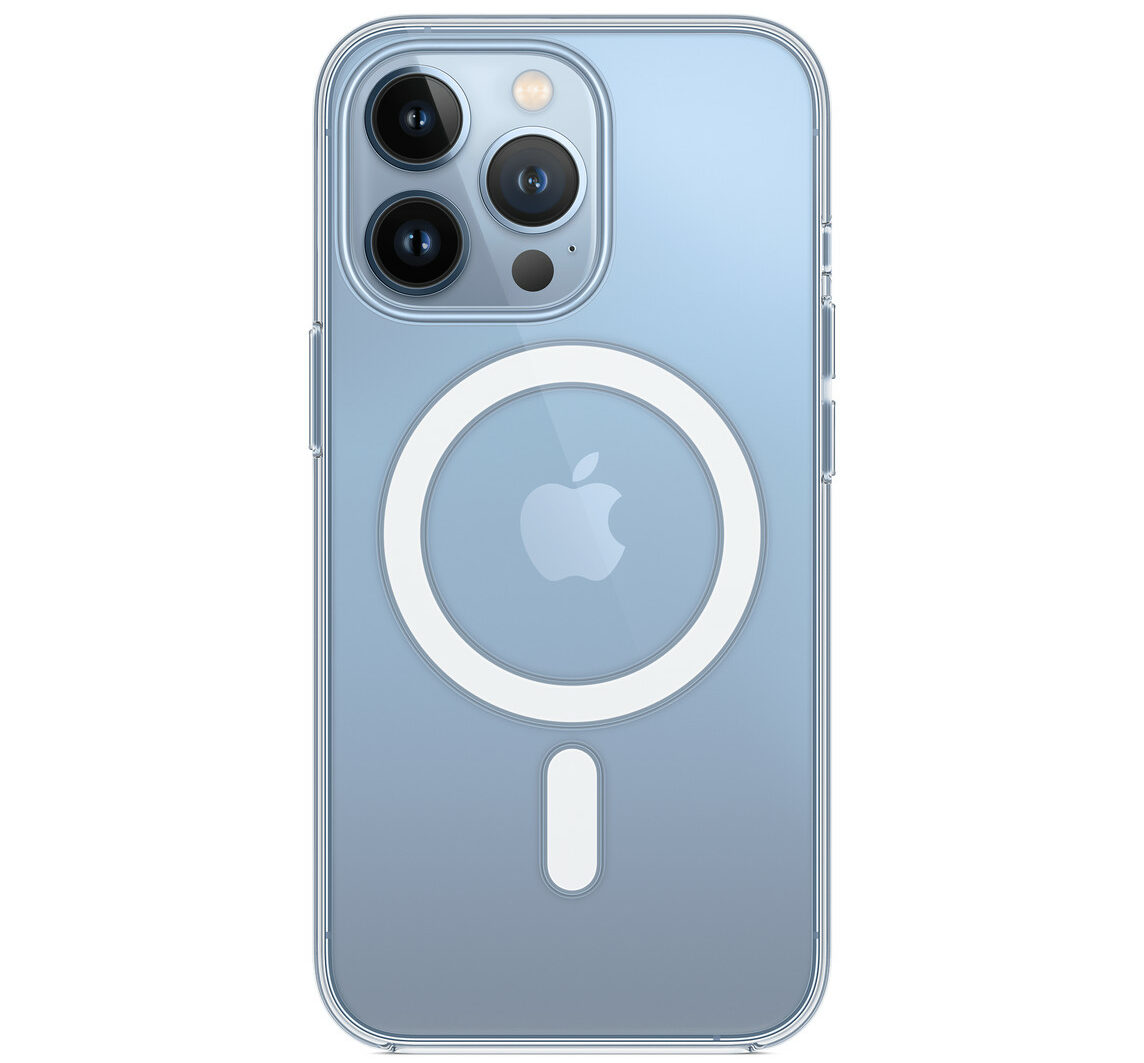 Clarification: the phone in a non-MagSafe case will charge anyway, but without the magnets, your phone will slip off the charging pad.
By the way, COOMOOY sells various accessories for Apple devices, including MagSafe-compatible cases.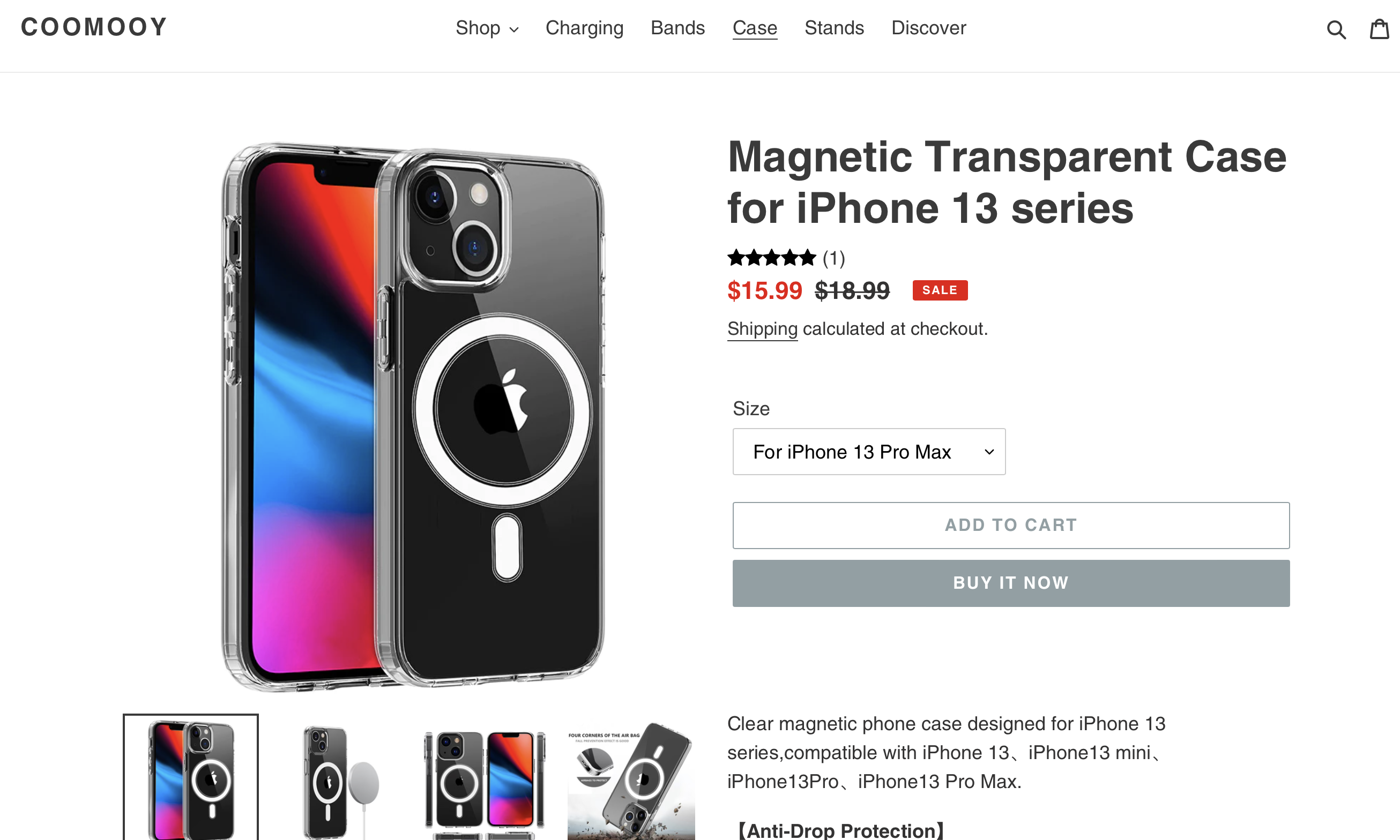 To sum up: if you want to have the best experience, that's what you have to do:
Use your phone without a case;
Use it with a MagSafe-compatible case
If you don't want to change your favorite case – do exactly as I did, by ordering cheap magnets, which can be glued to the back of the case.
And that's it, the device will be attached perfectly and will not fall off, even if you turn the charger around or shake it. For example, I'm using the magnet from ESR.
The flagship models of wireless earbuds (or rather, their cases) are also charged via Qi protocol (AirPods 2 and Pro, Huawei FreeBuds 4, Galaxy Buds, and others). I personally use the FreeBuds 4 (our review).
And the Apple Watch charging pad can be used to charge any generation of Apple Watch. The Apple Watch is magnetized and held securely.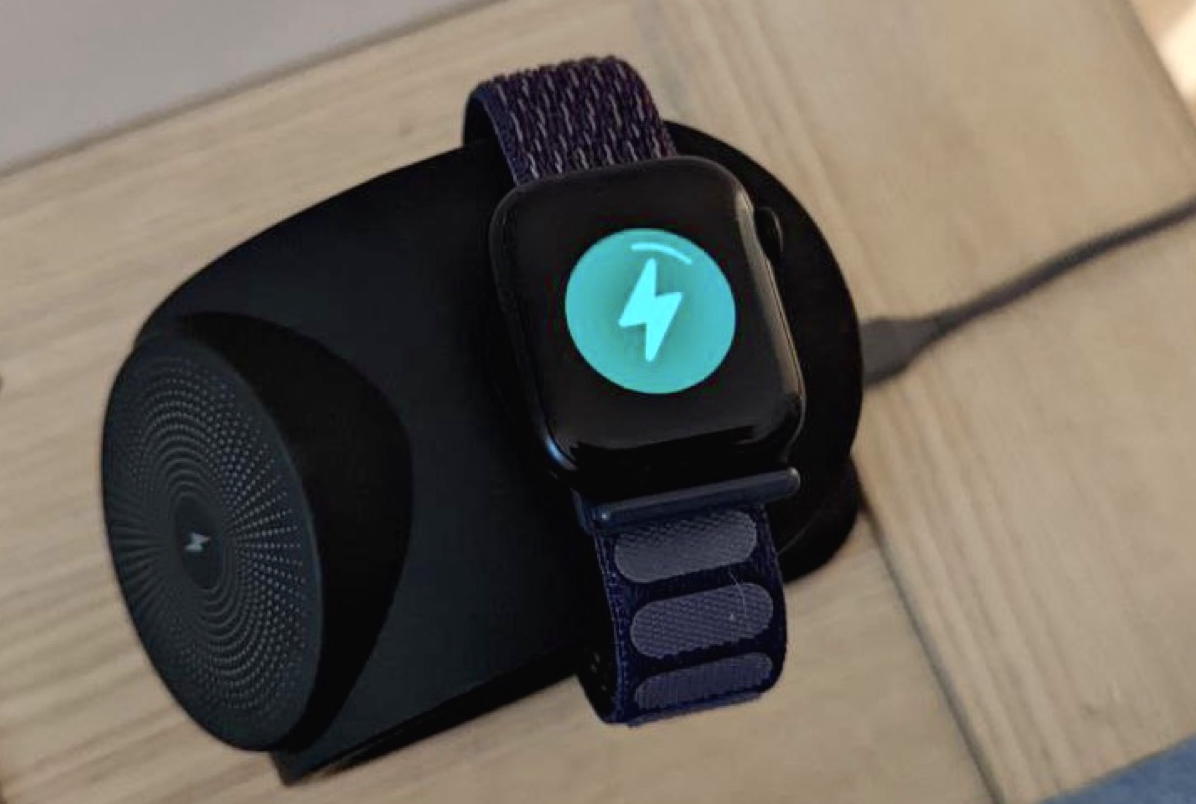 But not other smartwatches, even if they also charge wirelessly (like the Huawei Watch GT 3 or Galaxy Watch4, for example), as watches, unlike phones or earbuds, use proprietary charging protocols. For example, when I put the Huawei Watch GT 3 SE on the Apple Watch pad it shows charging… But the gadget didn't gain a single percent — just discharged over time. The smartwatch can be put on the bottom pad, meant for earbuds — it has higher power and, apparently, this is what Huawei Watch needed, and charged without problems. However, there is no magnetization, so it is inconvenient to use for watches. Inconvenient, but possible!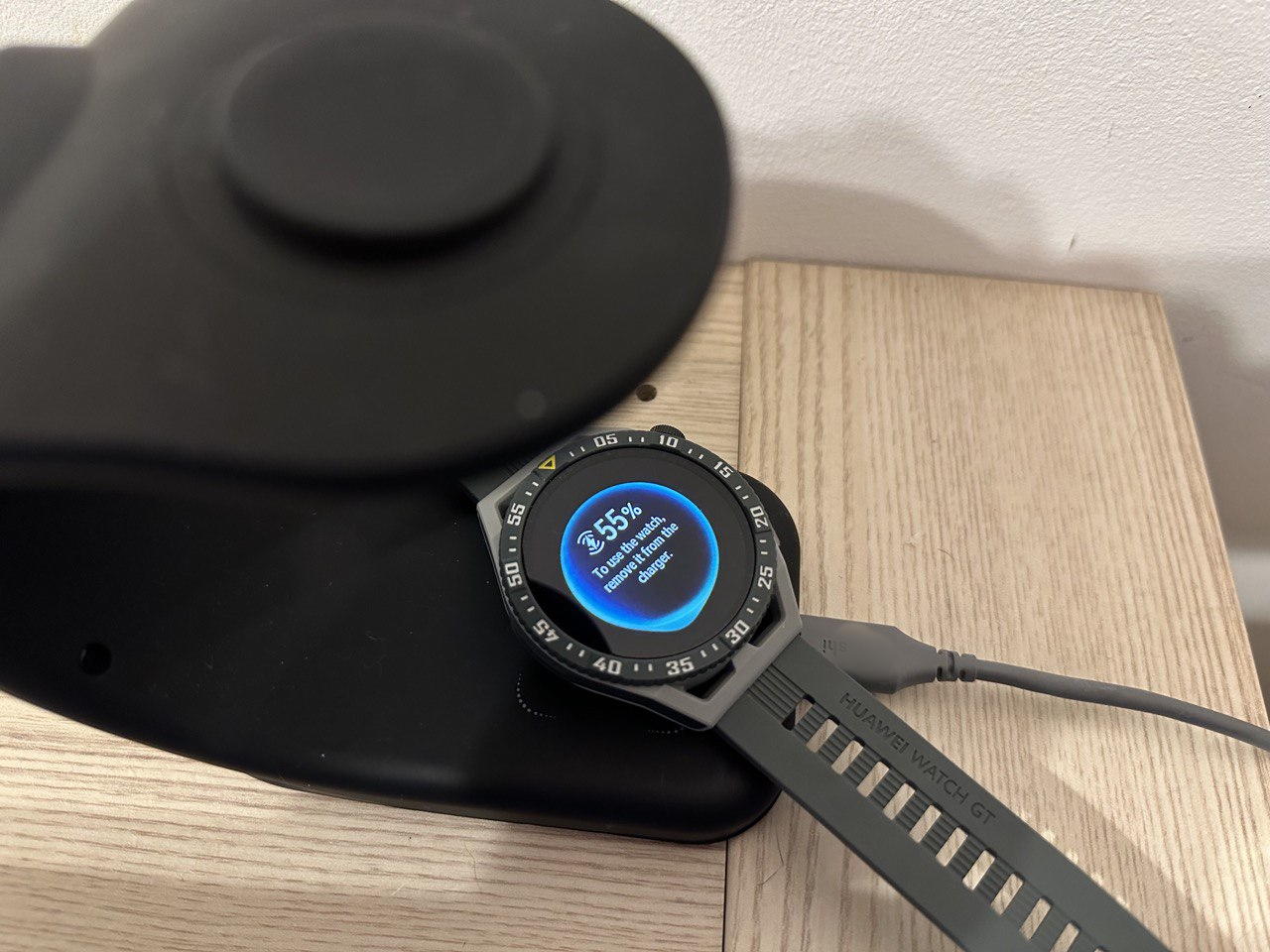 By the way, the bottom pad, which is designed for earbuds, can also be used for charging smartphones. But keep in mind: it has a maximum power of 3W, which means that charging will be awfully slow – about 5% of the charge in 30 minutes.
And, since we are talking about non-trivial ways of use, on the MagSafe pad you can put not just the iPhone but also any other phone that supports wireless charging. But keep in mind my recommendations for non-MagSafe cases – the phone will slip without a special magnet ring. I haven't personally tried it, but it should work.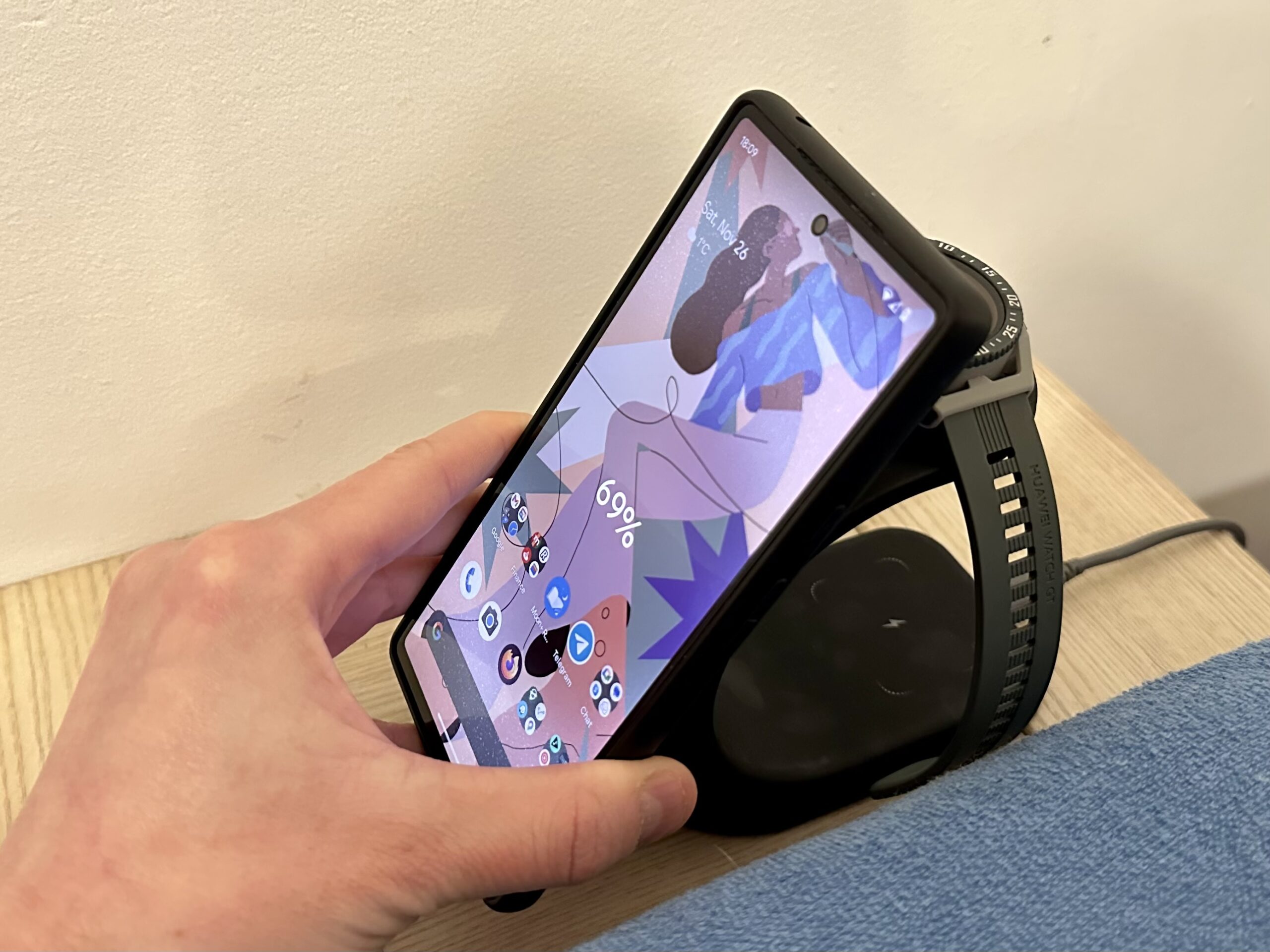 The COOMOOY 3-in-1 Wireless Charger will stop charging if foreign metal objects like keys or coins get on it. It also has overheating protection.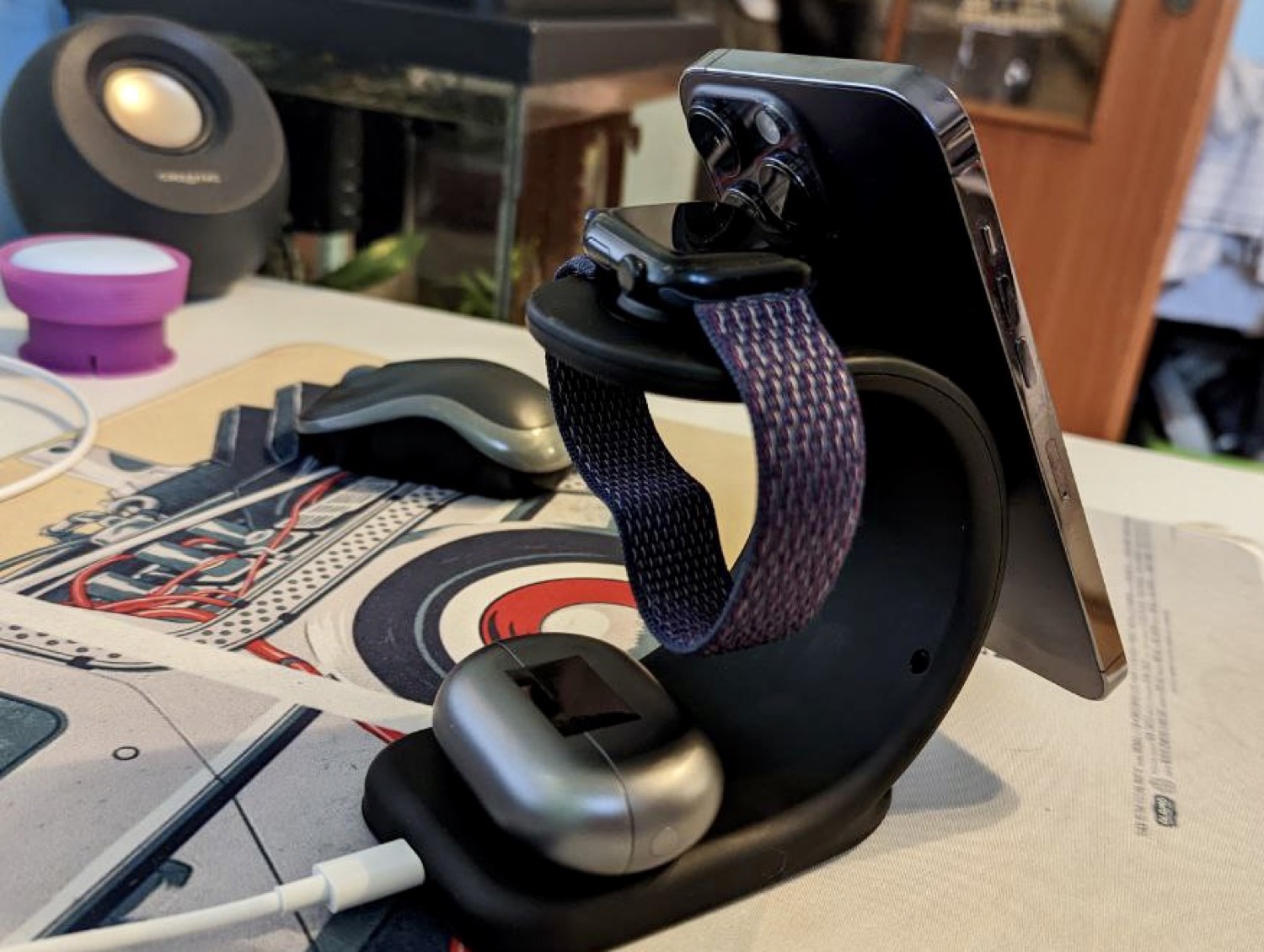 Read also:
Impressions and conclusions
First of all, charging my iPhone with MagSafe is super cool! Before that,  I used a regular wireless charger and often found my phone with a dead battery after charging it overnight. All because I put the phone the wrong way, or accidentally hit it, moving away from the charging coil. With strong magnetic contact, there will be no surprises and you can be sure that your phone will be 100% charged in the morning!
During charging the station does not heat up. Only the watch/phone/earbuds might be slightly warm – which is normal for wireless charging.
COOMOOY 3-in-1 Wireless Charger looks nice, takes up very little space on your desk, yet holds three devices securely and charges them as fast as possible. This is the perfect gadget for you if you own an iPhone and Apple Watch (other Qi-enabled phones can also be charged but with nuances). And if you use AirPods or other earbuds with a wireless charging case, there will be even fewer problems and unnecessary wires, and even more convenience. Recommended!
Where to buy COOMOOY 3-in-1 Magnetic Wireless Charger
Read also: Realme 10 Smartphone Review: A New Mid-Range Hit?
You can also help Ukraine fight with Russian occupants via Savelife or via an official page of the National Bank of Ukraine.