Every year, Realme releases its numbered series of smartphones, as well as many variations of it with the prefixes "i", "pro", "plus", "5G" and so on, to the point when it's difficult to wrap your head around it. We just finished reviewing the 9th series (with new models being added to it even now, Realme 9i 5G as an example), while the 10th is looming on the horizon. Realme 10 is the first phone in the new series. We managed to get a smartphone for a test even before the world premiere, so you see this review the day the phone goes on sale!
Read also: realme C25Y review: solid battery life and a 50 MP camera
Positioning in the series and price
There is no series as such yet, but there will be 10 Pro, 10i, 10 Pro+, and so forth. So for starters, I'll compare the new Realme 10 with the Realme 9, released in April 2022. And, there's virtually no difference.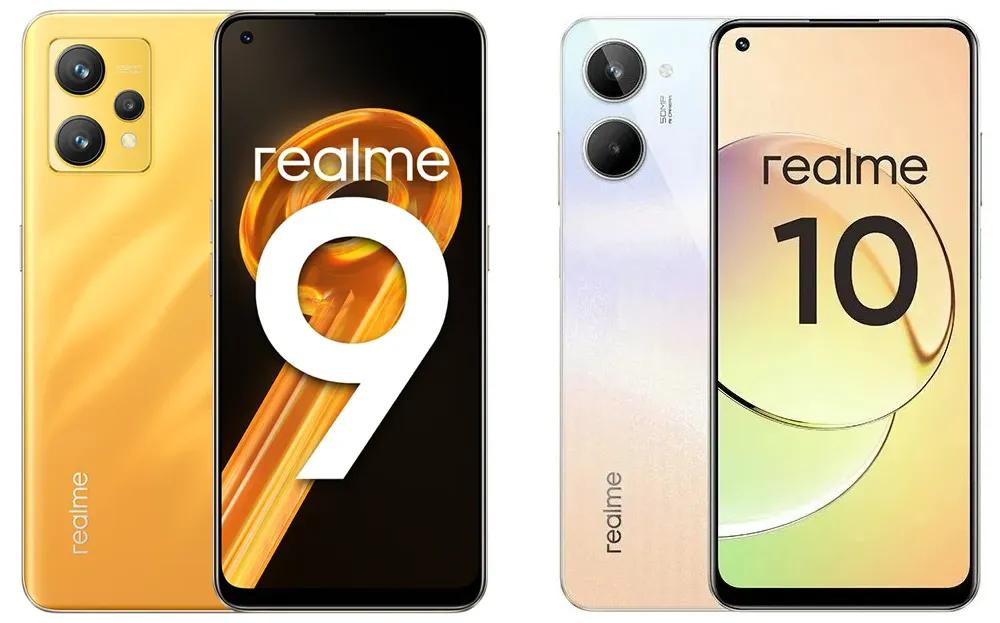 Firstly, the design has changed, as well as the placement of the fingerprint sensor: now it's on the side, rather than on the screen. Secondly, there's a different set of cameras (Realme 10 has a 50 MP main module instead of the 108 MP one in Realme 9). Thirdly, a different SoC, with MTK Helio G99 replacing Qualcomm Snapdragon 680 in Realme 10. G99 performs better in benchmarks, but the Snapdragon 680 is deemed more stable. And you will likely not notice any difference, especially if you don't play the latest advanced games. You can compare two processors, for example, here.
Read also:
In general, Realme 10 is hardly an improvement compared to Realme 9. Just a different model, released only 6 months later, but generally on the same level. It could have been called 9i, for example… Oh, but it already exists! Then maybe 9s? Realme, I'm giving you a great idea! But it's too late… So we're reviewing the phone called Realme 10.
As for the price of the new phone, it is about $280 (PLN 1299 in Poland, where we received the device for testing). That is, this is another "performance king" in the sub-$300 segment. Both the "eight" and "nine" were hits, as they offered excellent performance and affordable prices. Let's see what's good (and bad, if so) about the "ten".
Realme 10 Specs
Display: 6.4″ Super AMOLED, 2400×1080 pixels, 20:9 aspect ratio, 411 ppi pixel density, 90Hz refresh rate, 360Hz touch sampling, 4,000,000:1 contrast ratio, Corning Gorilla Glass 5 protection
Chipset: Mediatek Helio G99 4G, 6nm, 8 cores, 2×2.2GHz ARM Cortex-A76, 6×2.0GHz ARM Cortex-A55
Graphics accelerator: Mali-G57 MC2
RAM: 8 GB, LPDDR4X
Storage: 128/256 GB, UFS 2.2
Support for microSD cards: up to 1 TB
Connectivity: 4G, Wi-Fi 5, Bluetooth 5.2 (A2DP, LE), GPS, GLONASS, BDS, GALILEO, USB-C v2.0
Cameras: 50 MP main module + 2 MP auxiliary monochrome lens, ProLight night shooting
Front camera: 16 MP
Battery: 5000 mAh
Charging: SUPERVOOC 33W
OS: Android 12 with realme UI 3 skin
Dimensions: 159.9 x 73.3 x 7.95mm
Weight: 178 g
What's in the Box?
In the box with the phone, you'll find a 33W charger, a cable, a SIM ejection tool, a case, and documentation.
A factory protective film, that was initially glued to the screen, can also be considered "in the box". Although, in our case, it came aligned improperly.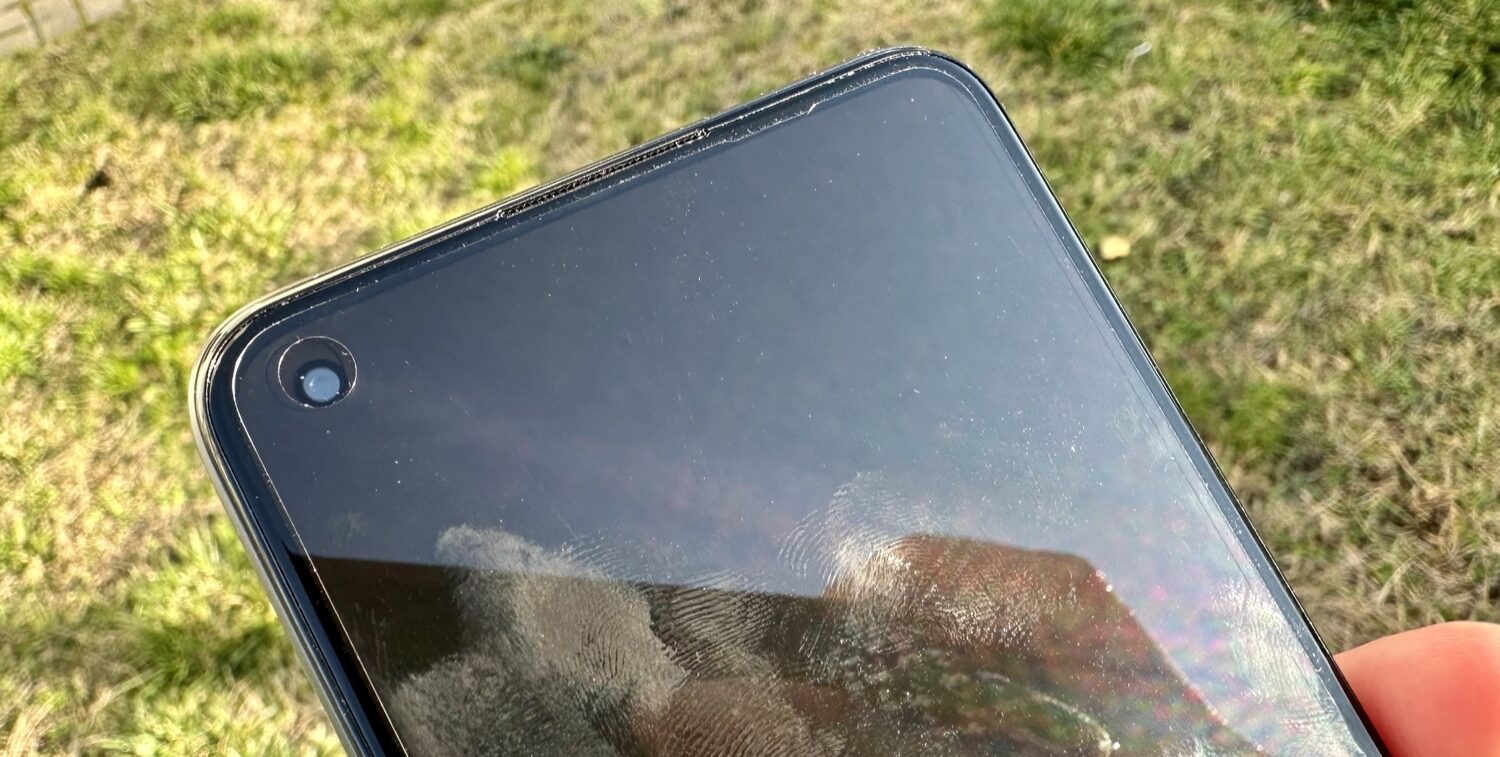 The case is gray – and this is great because it will not turn yellow, like ordinary silicone ones. It fits very tightly, protects the corners, the screen, and the cameras.
Read also: realme 9 Pro+ Review: Sturdy Middle with Curious Design
Design, materials, and build quality
Realme's new generation of design features slim bodies, flat edges, and flat, shiny backs. The cheap Realme C33 (our review is coming soon) and the new Realme 9i 5G (not to be confused with the regular 9i) look exactly the same. I guess Realme will use this design again, more than once.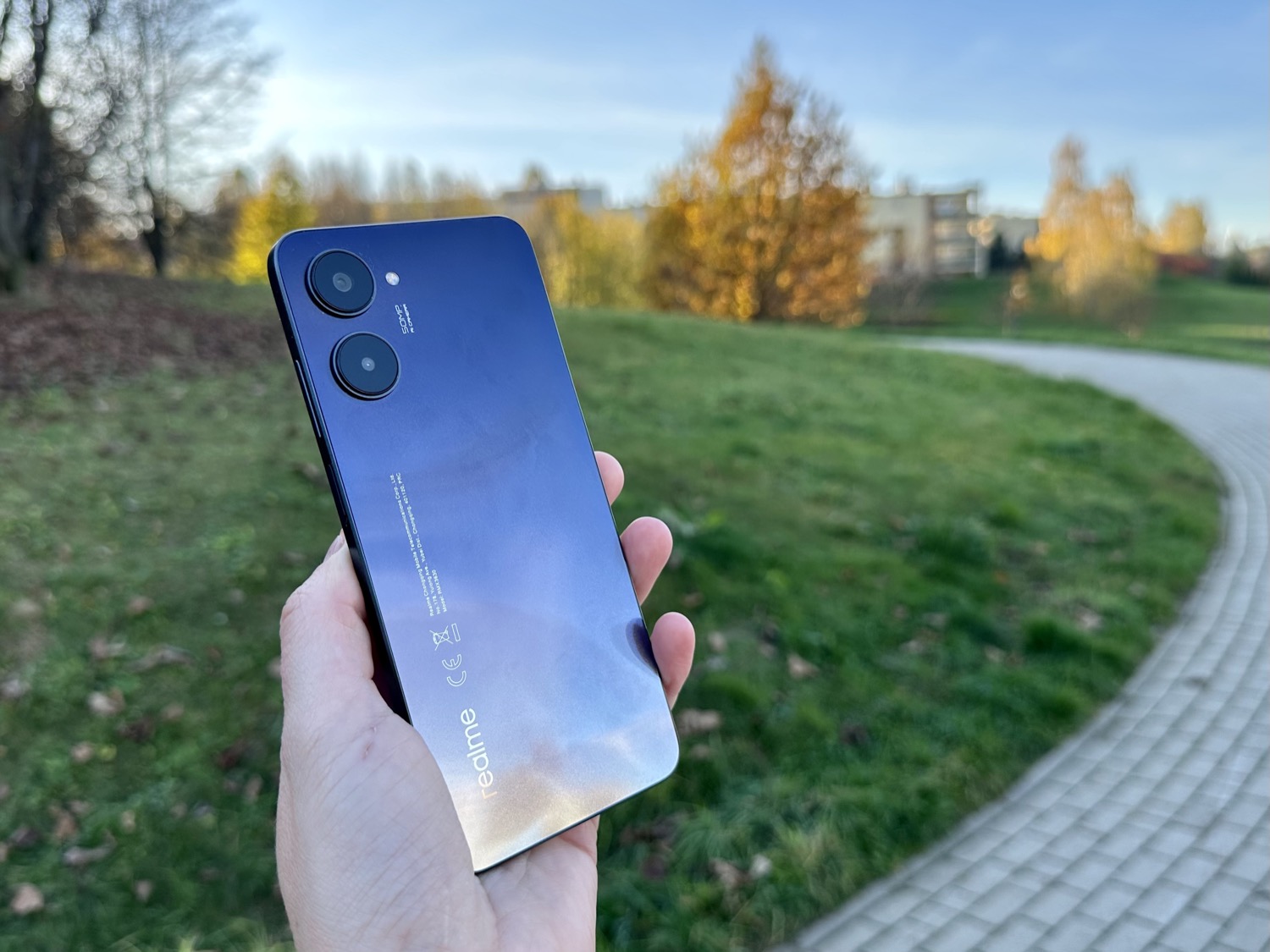 There is nothing wrong with it, it looks stylish and modern, but for me, the edges are too sharp, I prefer more rounded edges.
The device is really thin (7.9 mm), and Realme claims that it's the thinnest of all phones released by the company.
The screen has small bezels, only the "chin" stands out noticeably. Realme 10 received Corning Gorilla Glass 5 which protects against scratches pretty well.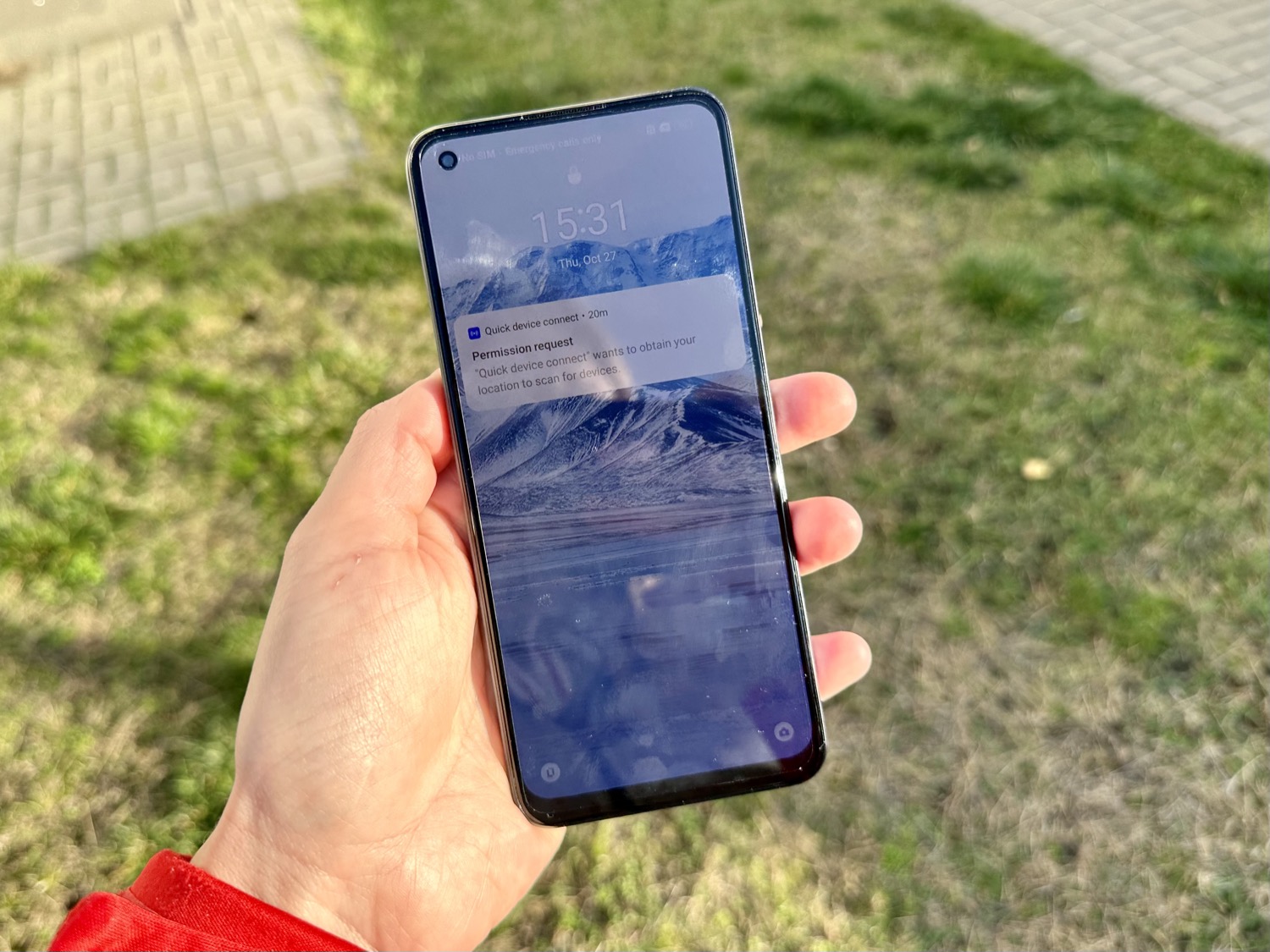 The body is entirely plastic, while the design of the back panel (made of six layers, by the way) deserves special attention – it shines like a starry sky. Someone will admire it, someone will say it's too kitschy, all in all – it's a matter of taste.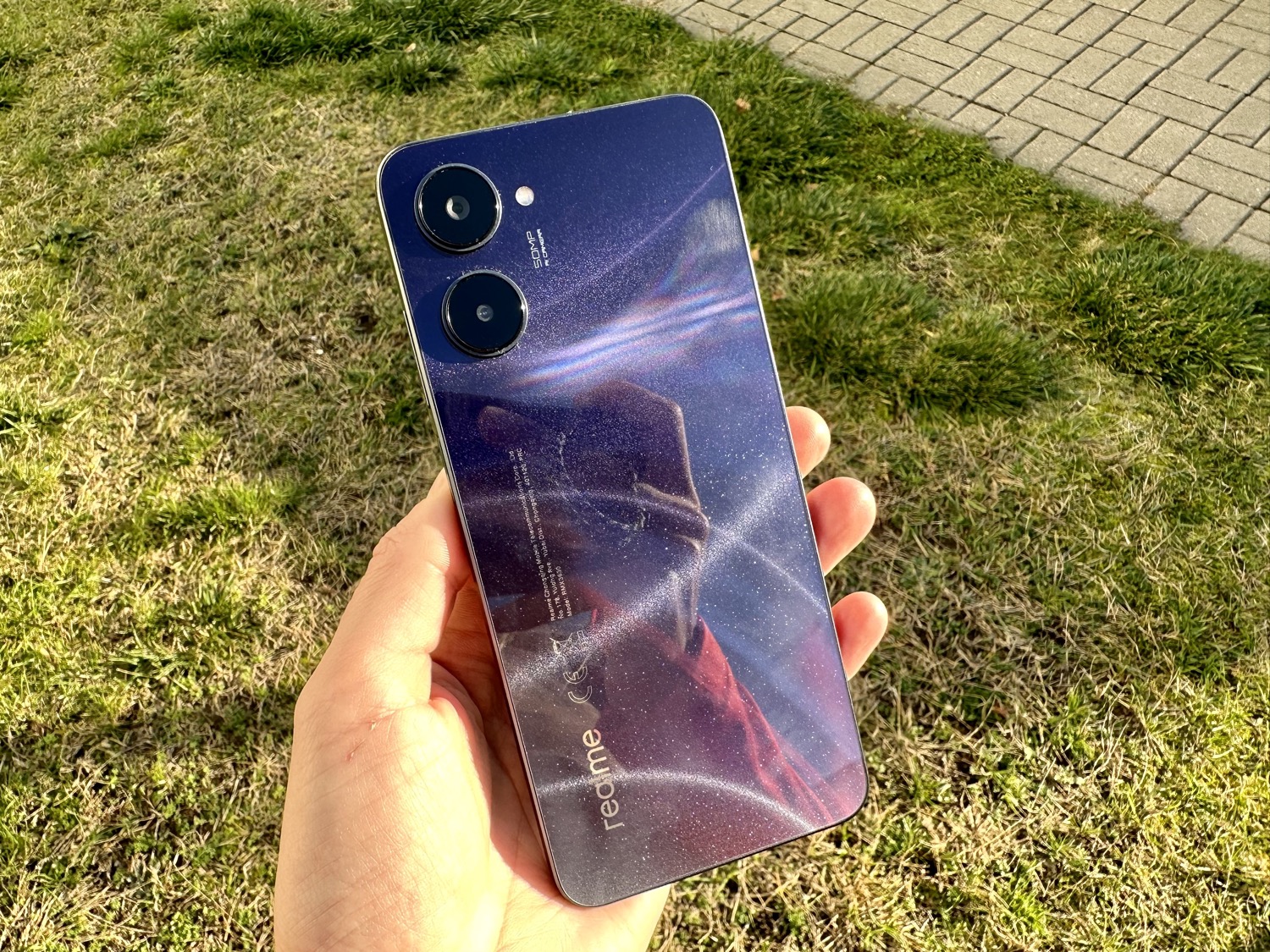 But the fact remains that this phone is a dust and fingerprint magnet. So it's better to use a case, even though it hides some of the "beauty".
Another thing catching attention on the back panel is the very large "eyes" of the cameras – almost like "black holes". Moreover, the cameras themselves are far from being as large as their sights.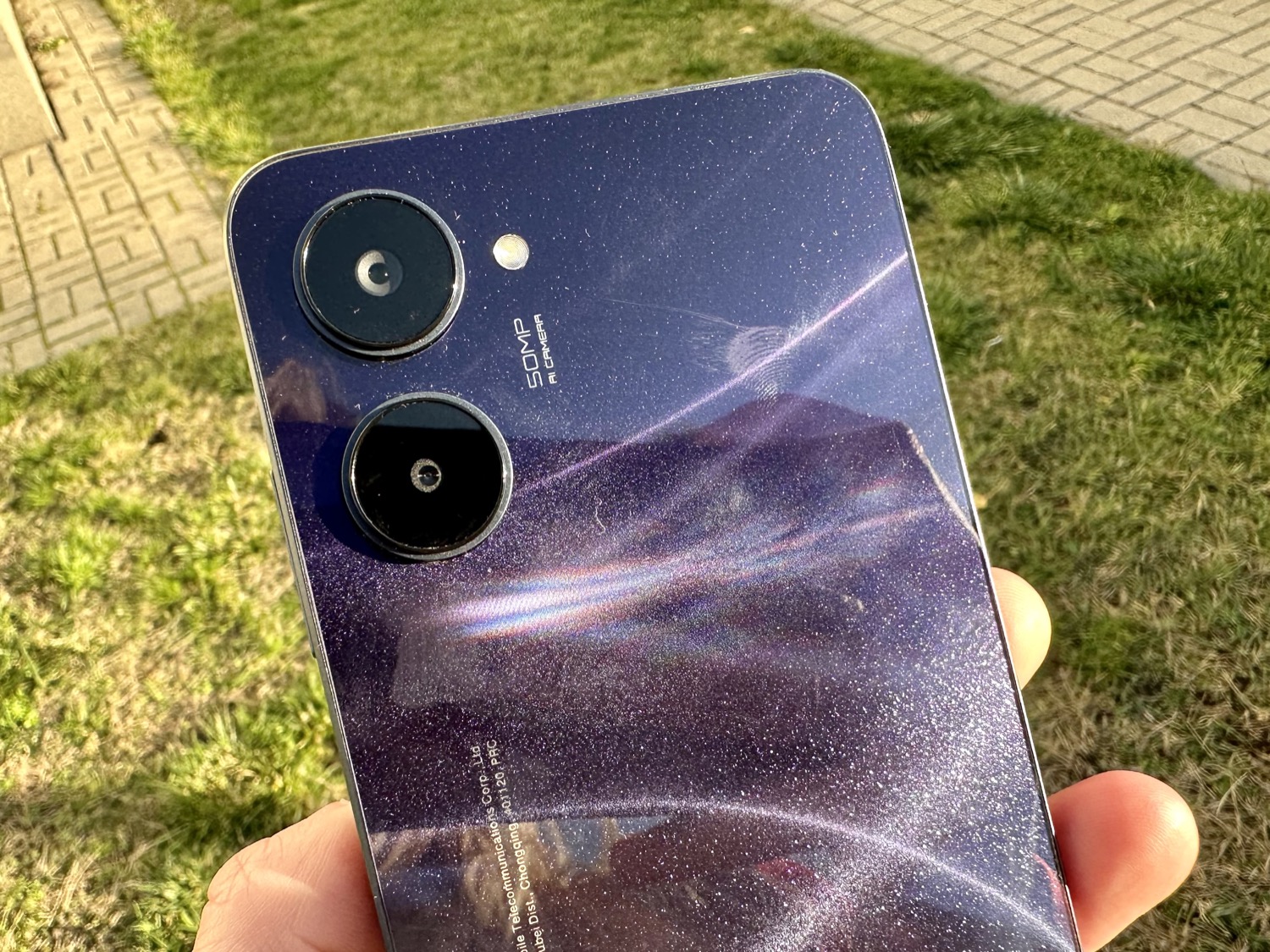 After all, there were once small camera modules, even in flagship models, for example:
And current phones fall victim to "gigantomania". Yes, I understand that top-tier smartphones may need large modules due to physics. But low-cost models obviously get huge sights of cameras just to look more solid.
On the right side of the smartphone, you will find only a slot for SIM cards and microSD (two SIMs + memory card).

On the right side, there's a volume rocker and a power/lock button with a built-in fingerprint sensor. Works quickly and accurately. Facial recognition is also available, but it is less secure. For me, a fingerprint is the best way to unlock the phone. You take it in your hands and your finger automatically falls into the right place.
On the top end, we see only the microphone hole. On the bottom, there is another microphone, a 3.5 mm headphone jack (it's good that it's still here), speaker holes and USB-C for charging.
The smartphone has a 6.4-inch display, which is not very large by today's standards, so it is relatively small, sits well in the palm of your hand, and can be normally controlled with one hand.
The Realme 10 build quality is perfect. The smartphone does not have any protection against water splashes.
We tested a Navy Blue version (called Rush Black for some reason), and a pink and blue gradient model (Clash White) will also be available.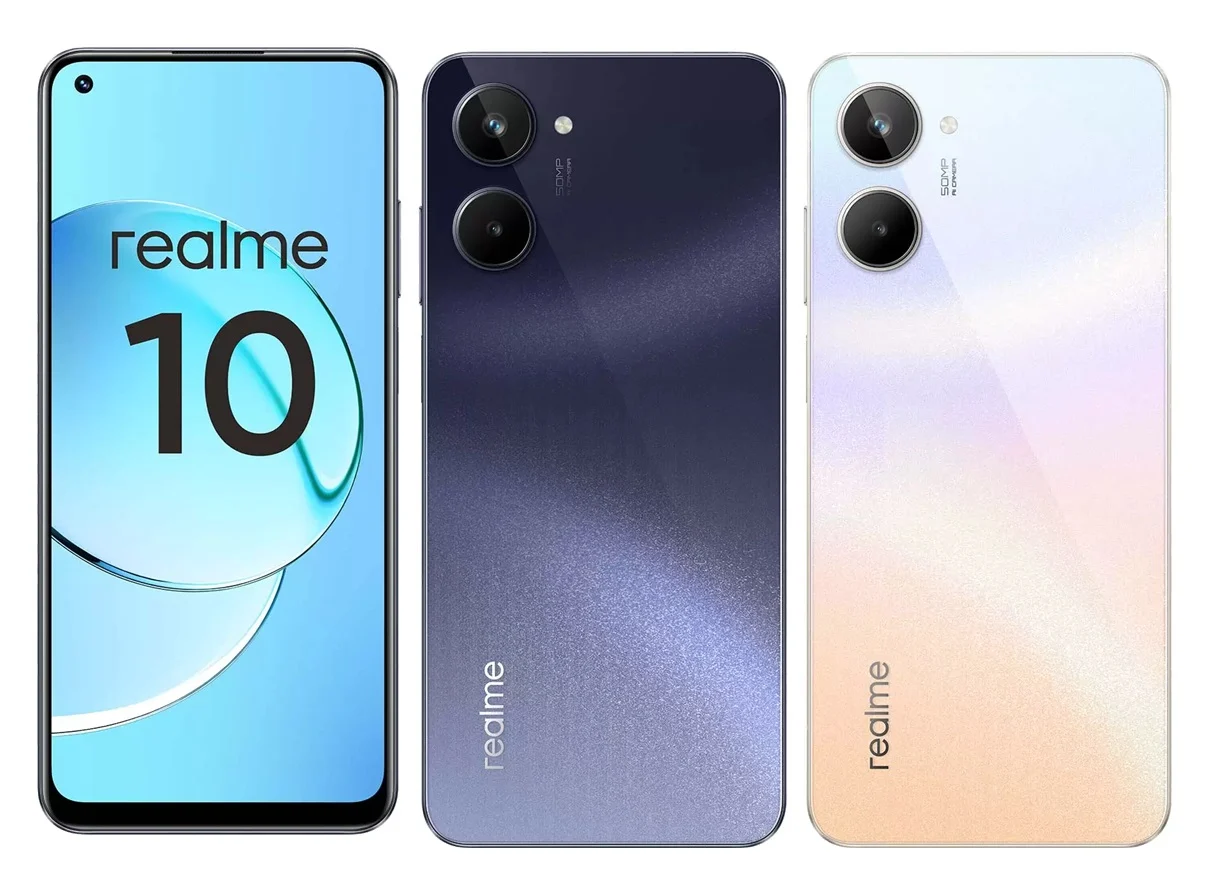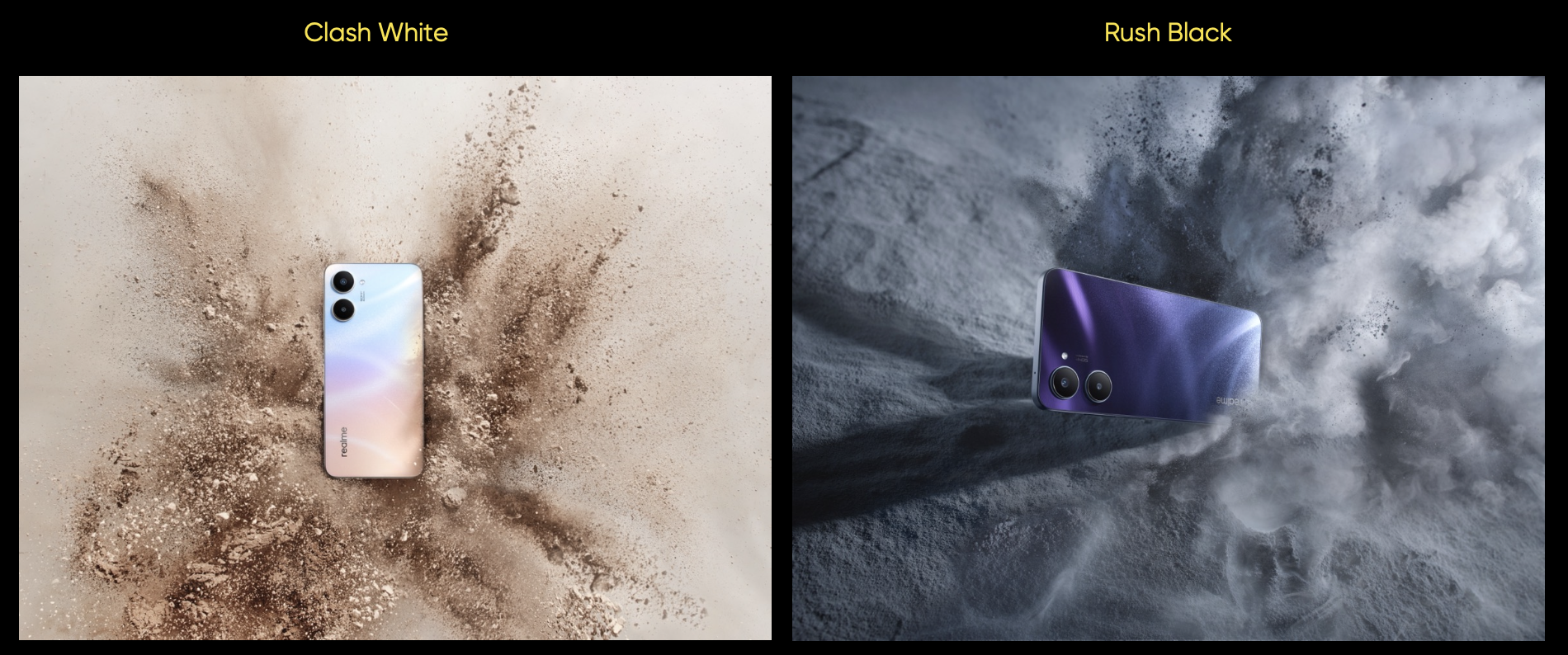 Read also: realme Pad review: First tablet from the brand
The Screen
The display of Realme 10 is as beautiful as its predecessor's. It is a 6.4″ Super AMOLED panel with FullHD+ resolution (2400×1080 pixels). The colors are bright and saturated, the black depth is maximum, the viewing angles are perfect, and the readability under sunlight is good (peak brightness up to 1000 nits).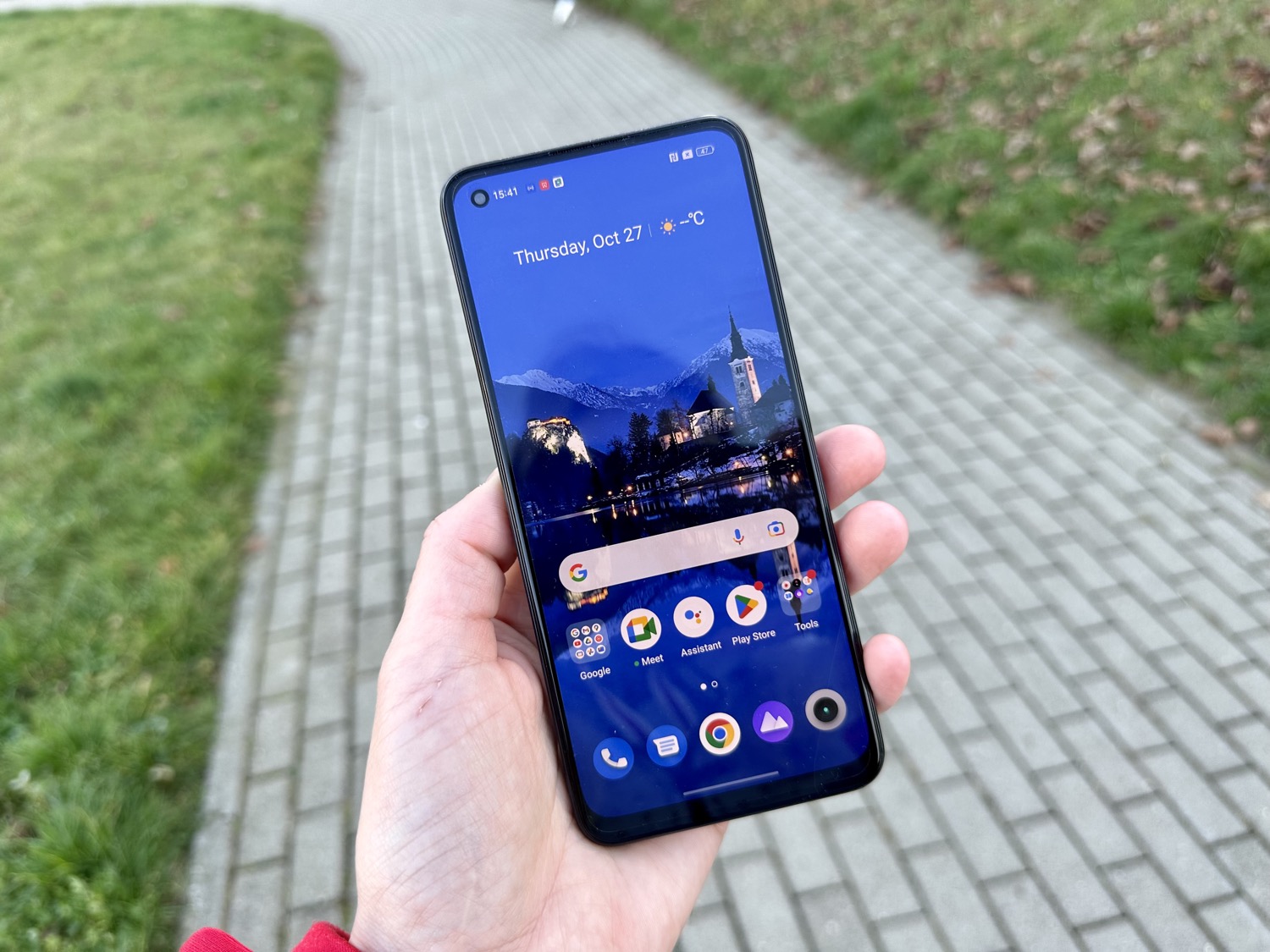 There are several color display modes to choose from Vivid, Natural, and Pro Mode. The former is close to DCI-P3 coverage, while the latter offers calmer and softer colors. In the latter, two more modes are available with more precise color reproduction settings.
The refresh rate of the screen is 90 Hz – mid-rangers sometimes can offer more Hz, but 90Hz is enough. There are three operating modes – standard 60 Hz, 90 Hz, and auto select. However, I've noticed that in auto mode 60 Hz is used more often, but it's much easier on the battery as well.
In the screen settings, everything is as usual: light / dark theme with additional settings for dark mode, screen color mode selection, eye comfort mode (warmer shades in the evening), auto-rotation, auto-off, refresh rate selection, show/hide the front camera cutout and full-screen mode for non-optimized apps.
Read also: Realme GT Master Edition vs Xiaomi 11 Lite 5G NE vs Samsung Galaxy A72: 2021's hottest mid-rangers go head to head
Hardware and performance of Realme 10
The smartphone is powered by a Mediatek Helio G99 processor. This is a 6nm chipset that saw the light of day this summer. It does not support 5G networks and consists of 8 cores (2×2.2 GHz ARM Cortex-A76 @ 6×2.0 GHz ARM Cortex-A55). It's essentially the same mid-range gaming-focused SoC as the previous generation G96, the main differences being 30% more data throughput and improved power efficiency. The SoC can be put on par with the Snapdragon 695 or 765G.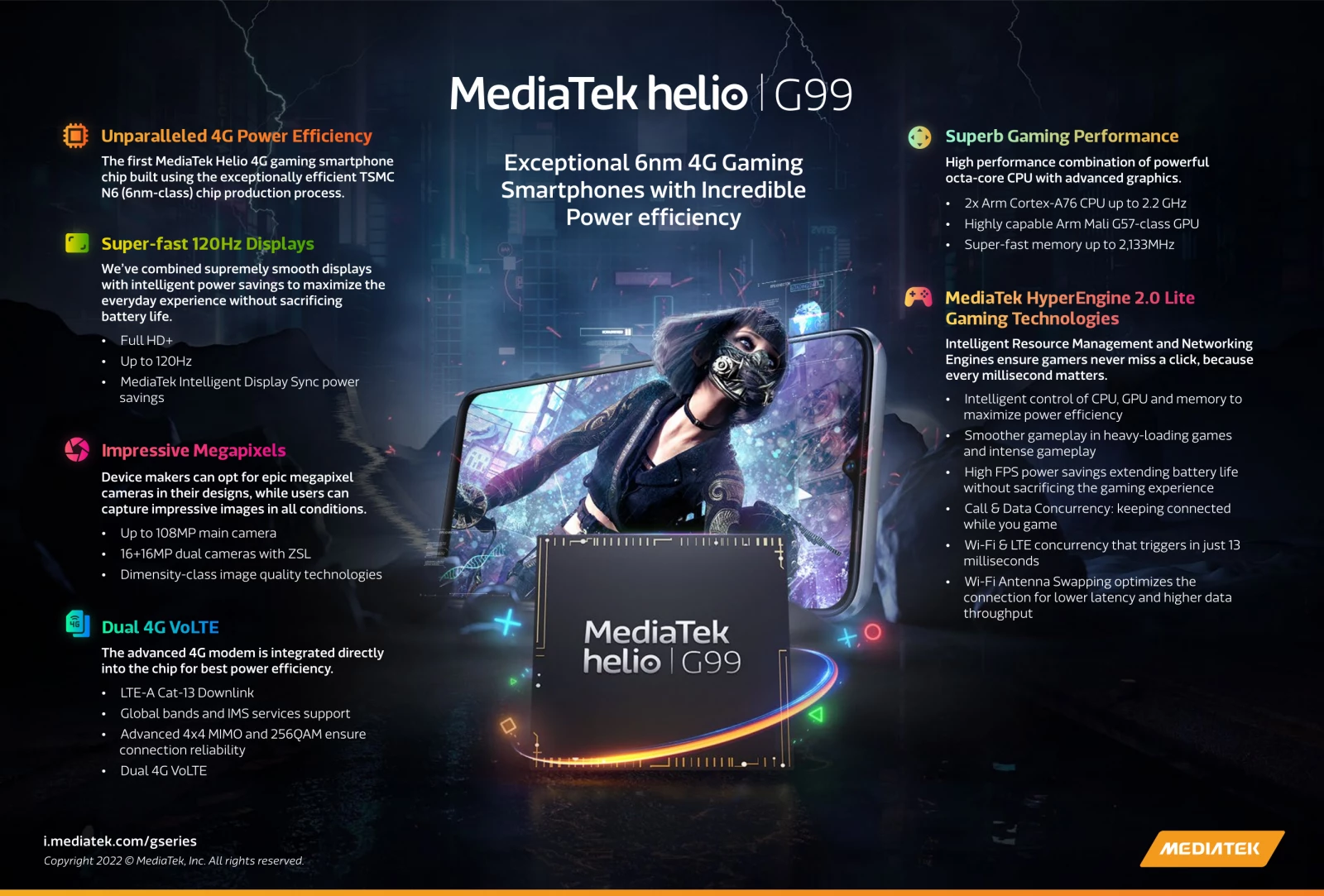 Realme claims that realme 10 is 40% more powerful than Realme 9. Truth is, this is noticeable mainly in synthetic tests.
In the popular AnTuTu benchmark, the smartphone scores 400075 points, which puts it plus or minus on a par with such models as, for example, Realme 9 Pro, Poco M4 Pro 5G, POCO X4 Pro, Redmi Note 11 Pro 5G.
The smartphone is "quick" in all basic tasks, and will launch almost any game, even the most resource-demanding one, but don't expect top performance, the graphics will often be at an average level. Realme boasts that the phone is capable of 40 fps in PUBG, I checked – this is really most often the case.
Another good thing is that even with a high load, the phone does not overheat and throttle that much.
We tested the version with 8 GB of RAM and 128 GB of ROM. An 8/256 GB variant will also be available.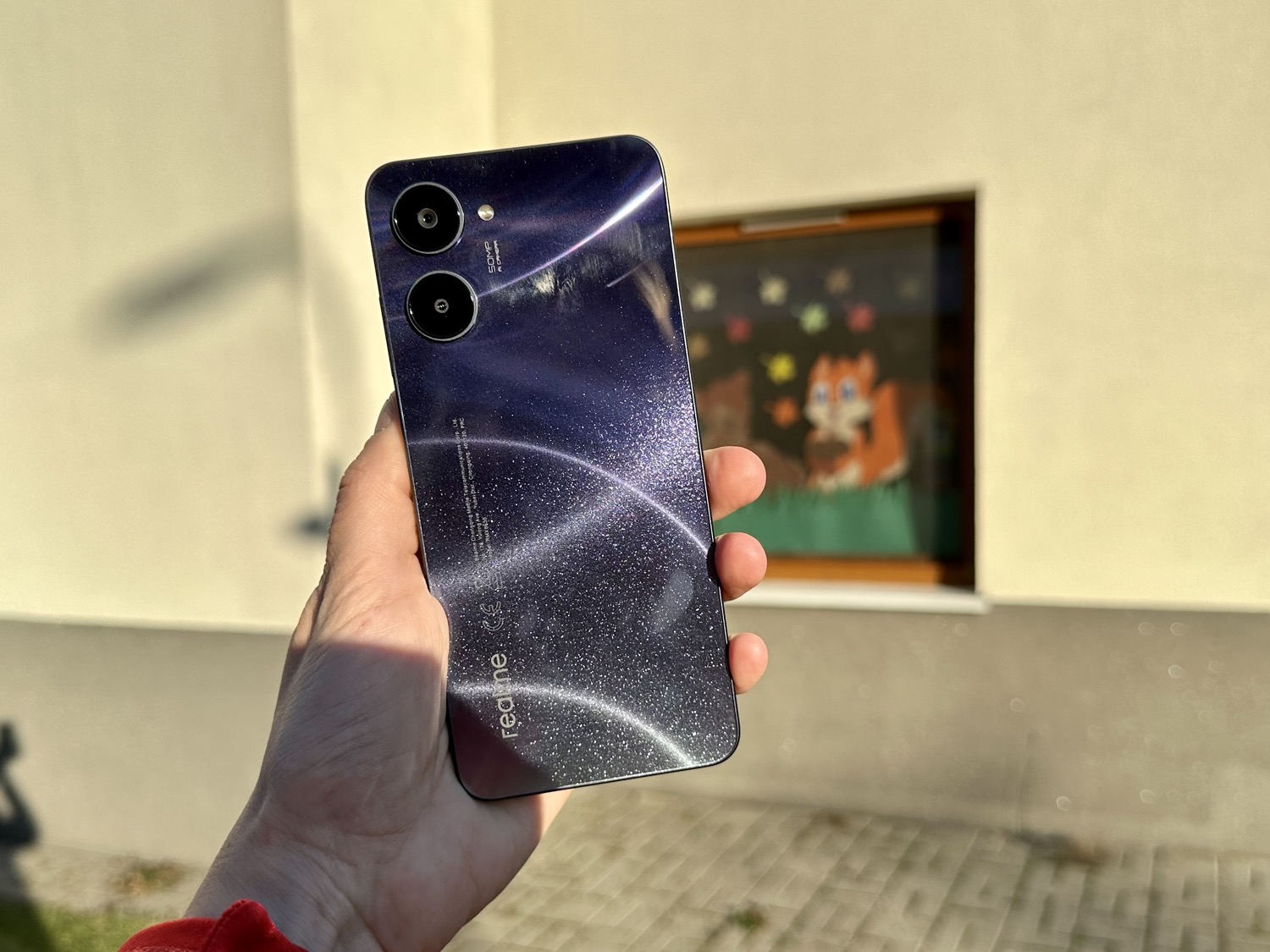 8 GB of RAM is a great amount for today's mid-ranger, there are no problems with restarting applications when switching between them. Moreover, there is a virtual expansion of RAM by 2, 3, or 5 GB at cost of free storage space.
Judging by the information on the network, an update will be released in which it will be possible to add as many as 8 GB of virtual RAM, bringing its volume to 16 GB. But I'm afraid these are just numbers for the sake of numbers.
A 128 GB drive, like our test model, is also more than enough for most, especially given that Realme has not forgotten about support for memory cards. However, if you wish, you can pay extra for a 256 GB modification. The memory modules used are very fast – UPS 2.2 + LPDDR4X.
In general, in terms of performance, realme 10 is a successful and nimble mid-ranger, its owners are unlikely to find anything to complain about.
Read also: realme C21Y review: Decent budget phone with NFC and 5000 mAh
Realme 10 Cameras
There is no wealth of choice here, but looking ahead I will say that the quality of the photos will please you. We have a 50 MP main module (Samsung JN1 1/2.76"), as well as a 2 MP auxiliary monochrome lens for the background blur effect. It turns out that there is only one useful camera. It is a pity that the manufacturer stinted on an ultrawide-angle lens, after all, it is useful. Yes, and realme 9 had an ultrawide module.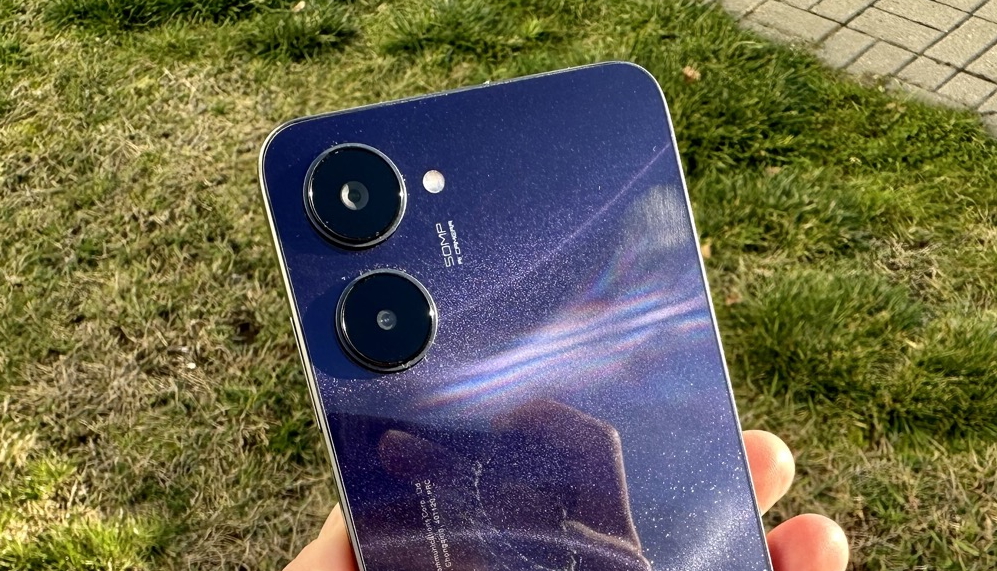 Photos from the main module are saved at 12 megapixels by default, and you can get a full 50-megapixel resolution in a separate mode. In a full resolution, the details are better, but in terms of color reproduction and white balance, the photos come out identical. For me, it makes no sense to use full resolution, since the difference is not critical, but such photos "weigh" much more.
With excellent lighting, the shooting quality of Realme 10 is at a high level, the photos are very juicy, and clear, and most users will be satisfied. I especially like close-up shots – flowers and leaves: the objects are very clear, and the background is elegantly blurred.
ALL THE PHOTOS FROM REALME 10 IN ORIGINAL QUALITY
If there is less light (for example, in an apartment in the evening), then the color reproduction is weak, the photos are often blurry, and digital noise appears. But for a mid-range smartphone, this is acceptable.
Evening and night shots by default look a little watercolor (in the sense of blurry), they have a lot of noise. In night mode, the sharpness is much better, and the photos are slightly brighter, but it cannot be said that there is less noise. In general, for an average person, the quality of shooting in the dark is acceptable, but it can be better. Below are examples, photos in night mode are on the right. And for an objective assessment, it is better to look at them in full size in our archive.
The camera interface allows you to do 2x zoom, and the quality is average (since there is no telephoto lens). Here are the examples:
ALL THE PHOTOS FROM REALME 10 IN ORIGINAL QUALITY
Realme 10 shoots video in FullHD resolution at 30 or 60 fps. Someone will complain about the lack of 4K, but for me, this is not critical. The video quality is average, there is not enough stabilization, and the picture shakes when moving. However, there are no complaints about clarity and color reproduction. It is better not to shoot at night, everything will be even more blurry than when taking a photo. Here are some examples:
Selfies on a 16 MP module are beautiful and juicy:
The camera app is endowed with a wide variety of shooting modes: Photo, Video, Street (filters and manual focus adjustment), Night, Portrait, 50 MP, Macro, Panorama, Pro, Timelapse, Slow-motion, Movies, Shift/Slope, Text scan. Manual mode, among other things, allows you to save 12 MP images in uncompressed RAW format for later post-processing.
Read also: Acer Aspire 7 A715-51G Laptop Review: Cutting Corners
Connectivity
Realme 10, like its predecessor, works in 4G networks, and also supports dual-band Wi-Fi 5, Bluetooth 5.2 (A2DP, LE), and satellite navigation (GPS, GLONASS, BDS, GALILEO). There is also NFC for contactless payments. There are no complaints about the operation of all the mentioned modules.
Realme 10 sound
The model loses to competitors in that it received only one mono-speaker, as, in fact, the Realme 9 before it. It sounds simple: the volume is excellent, and high and medium frequencies are reproduced normally, but the low ones are not enough.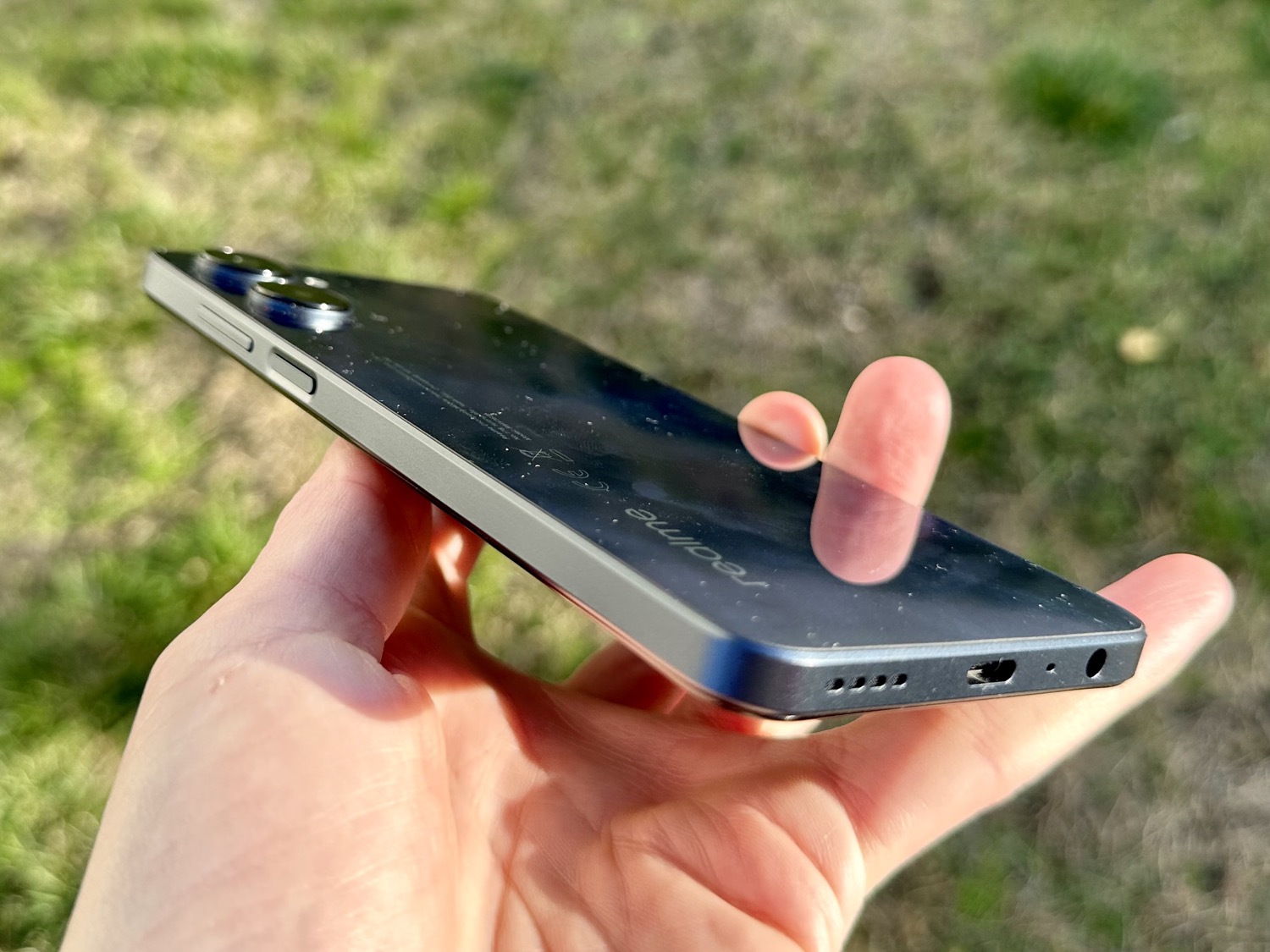 There's also an ultra-volume feature, that can increase maximum volume to 200%.
The sound in the headphones is good by default, and if desired, it can be adjusted in the settings. Real Sound technology offers four profiles: Smart, Movie, Game, and Music. In the latter, a seven-band equalizer is also available with several standard presets and the ability to manually adjust each band.
The aforementioned profiles work for the main multimedia speaker as well, but without a full-fledged equalizer in the music profile. It only appears when you connect any type of headphones and works even with wireless models.
There are no problems when talking using headphones or an earpiece – I can hear the callers well, and they can hear me perfectly as well.
Read also: Motorola Edge 30 Neo Review: Beautiful Toy With Wireless Charging
Software
Realme 10 runs Android 12 with realme UI 3.0 skin.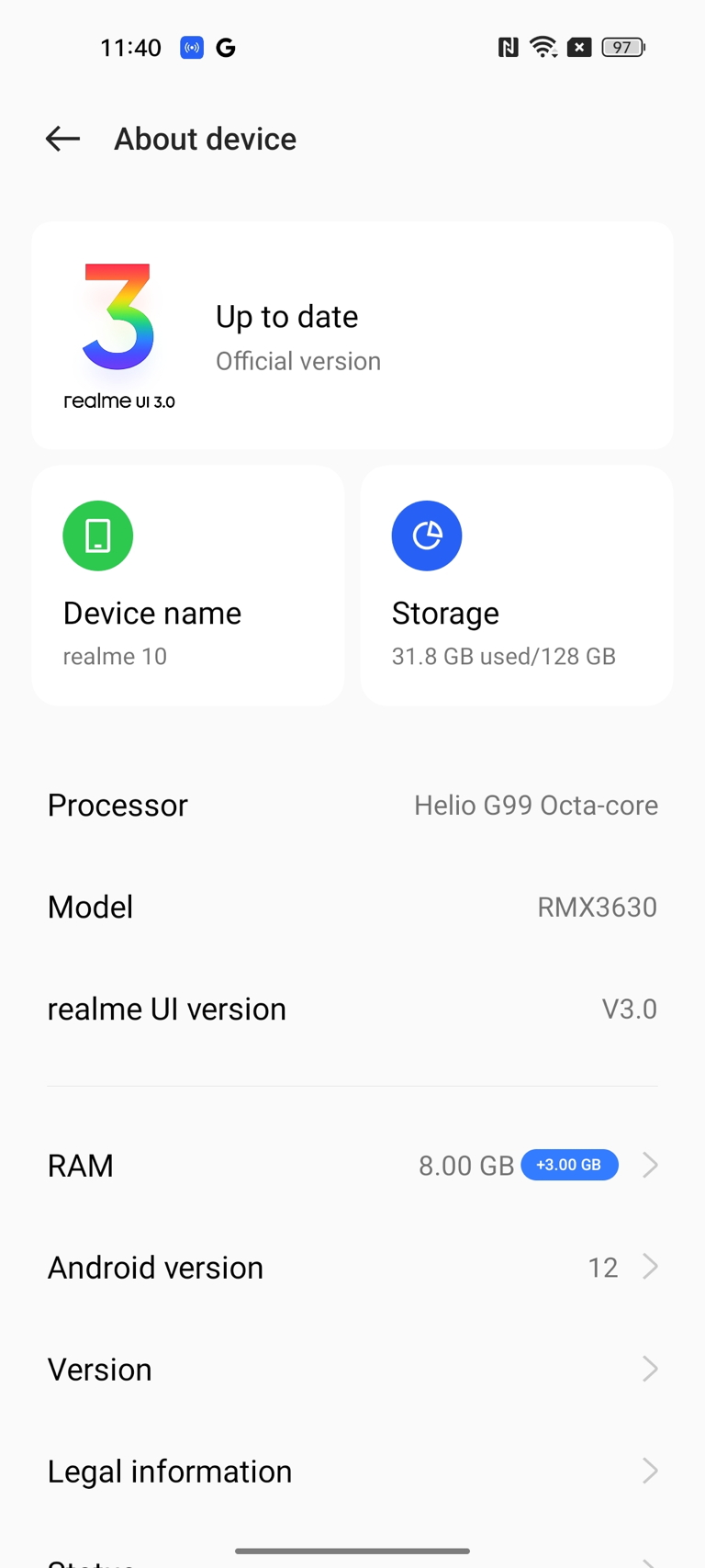 We have repeatedly talked about the UI in reviews of other Realme smartphones, and in general, this smartphone is no different in terms of software from other models released this year (Realme 9, Realme 9i, Realme 9 Pro Plus, Realme 9 Pro, and so on).
The UI has personalization tools, many useful functions that make it easier to perform certain actions, an advanced game hub, system cloning, a large set of different gestures, a simplified mode, and a children's mode.
Also available is the ability to work with a split screen (but not all programs support it), sidebar, and windowed mode.
Realme Labsoratory contains several experimental features, such as sleep tracking and DC Dimming.
Read also: Huawei Watch GT 3 SE smartwatch has been announced
Realme 10 Battery Life
The new phone received a 5000 mAh battery, and this is a good standard indicator for modern smartphones.
I actively used a device with an adaptive screen refresh rate – browsing social media, chatting in instant messengers, browsing the web, running casual games, listening to music and audiobooks, and doing a lot of photos. With all this, I easily had enough charge for the whole day and late in the evening, I had about 20-30% of the charge left. So I can say with confidence that the phone has solid battery life. On average, it gives out 10-11 hours of active screen time.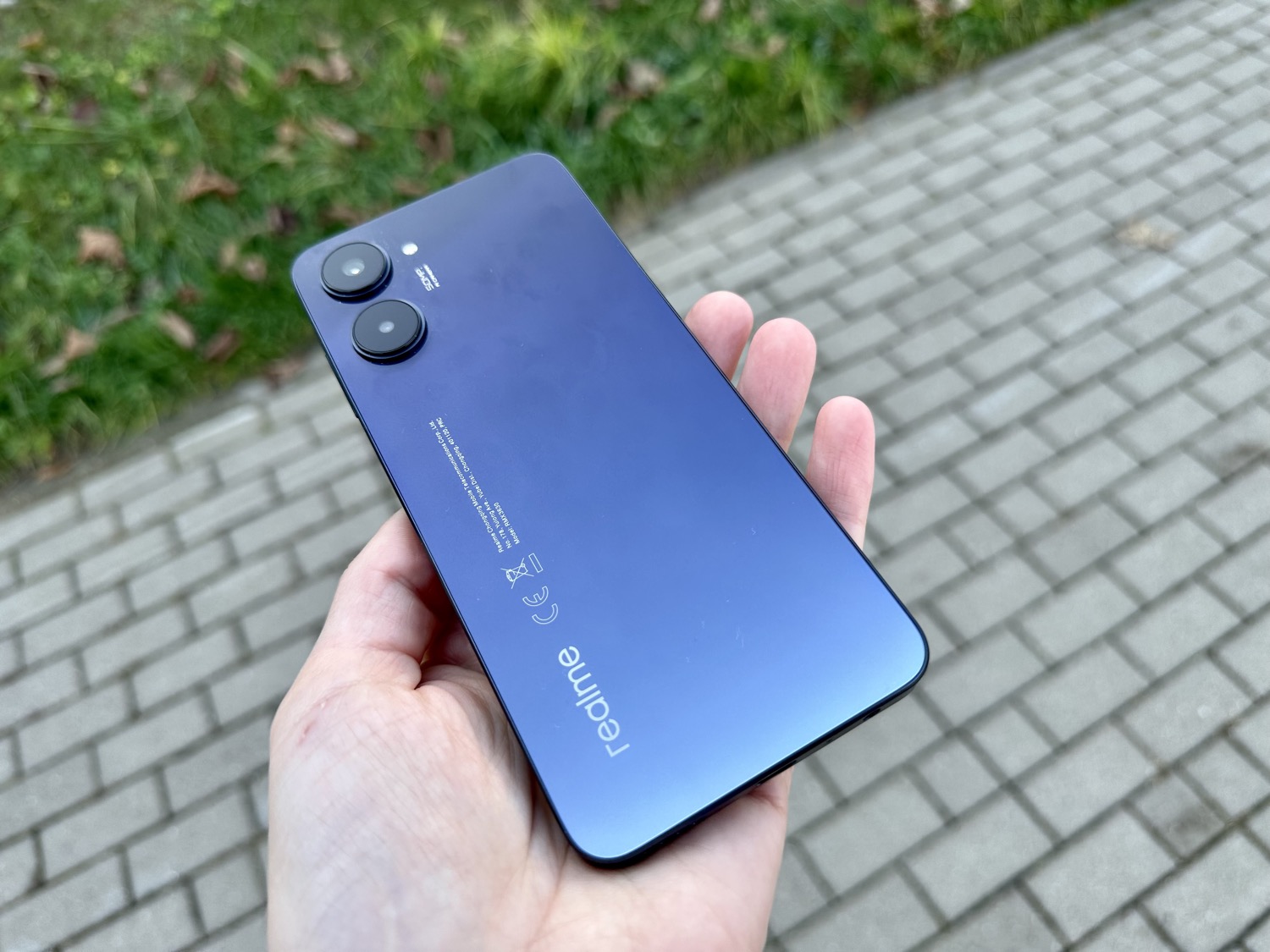 In the PCMark Work 3.0 benchmark with maximum screen brightness and 90 Hz, the smartphone lasted 8 hours and 47 minutes.
Various performance and optimization modes are available in the settings.
The Realme 10 also charges relatively quickly with the bundled 33W SUPERVOOC adapter. It will take a little less than an hour to charge the gadget from 10% to 100%. A smartphone discharged to zero gains 50% charge in 28 minutes.
Read also: Redmi Buds 3 Lite TWS Earphones Review: Cheap But High-Quality
Verdict
Realme 10 costs a little less than $280. This is an adequate price for a mid-range device with a powerful chipset and a good screen. Although, of course, you need to understand that the mid-range segment in the world of smartphones is crammed with models from various manufacturers for every taste and color, and there are many competitors.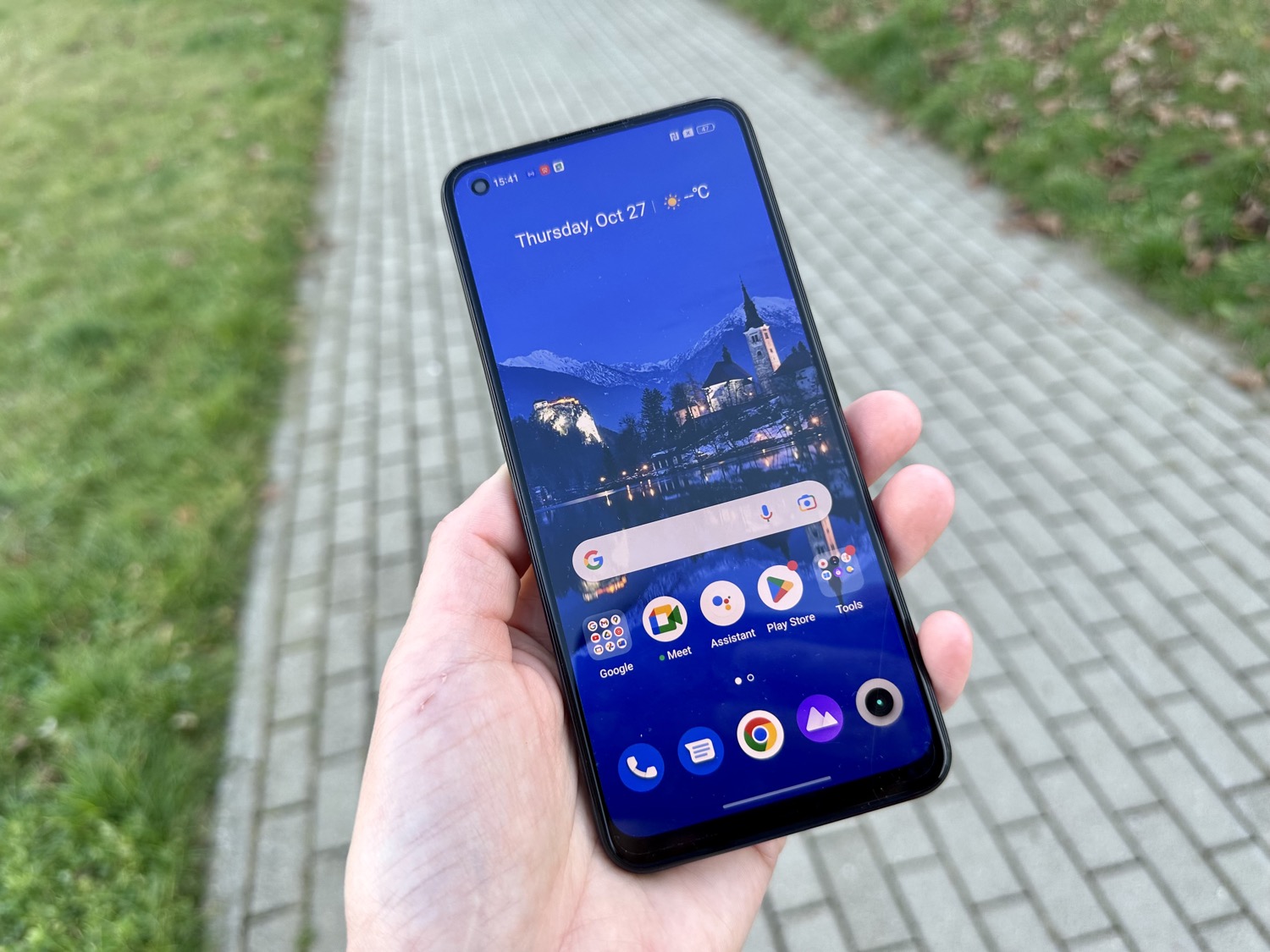 The phone features a beautiful Super AMOLED display with a 90Hz refresh rate. The main camera takes great pictures and only in low light it starts to lose ground. And let's not forget about the impressive battery life. The performance is also solid, and the phone is able to play "heavy" games. Design is a matter of taste, but definitely bright, stylish and very shiny.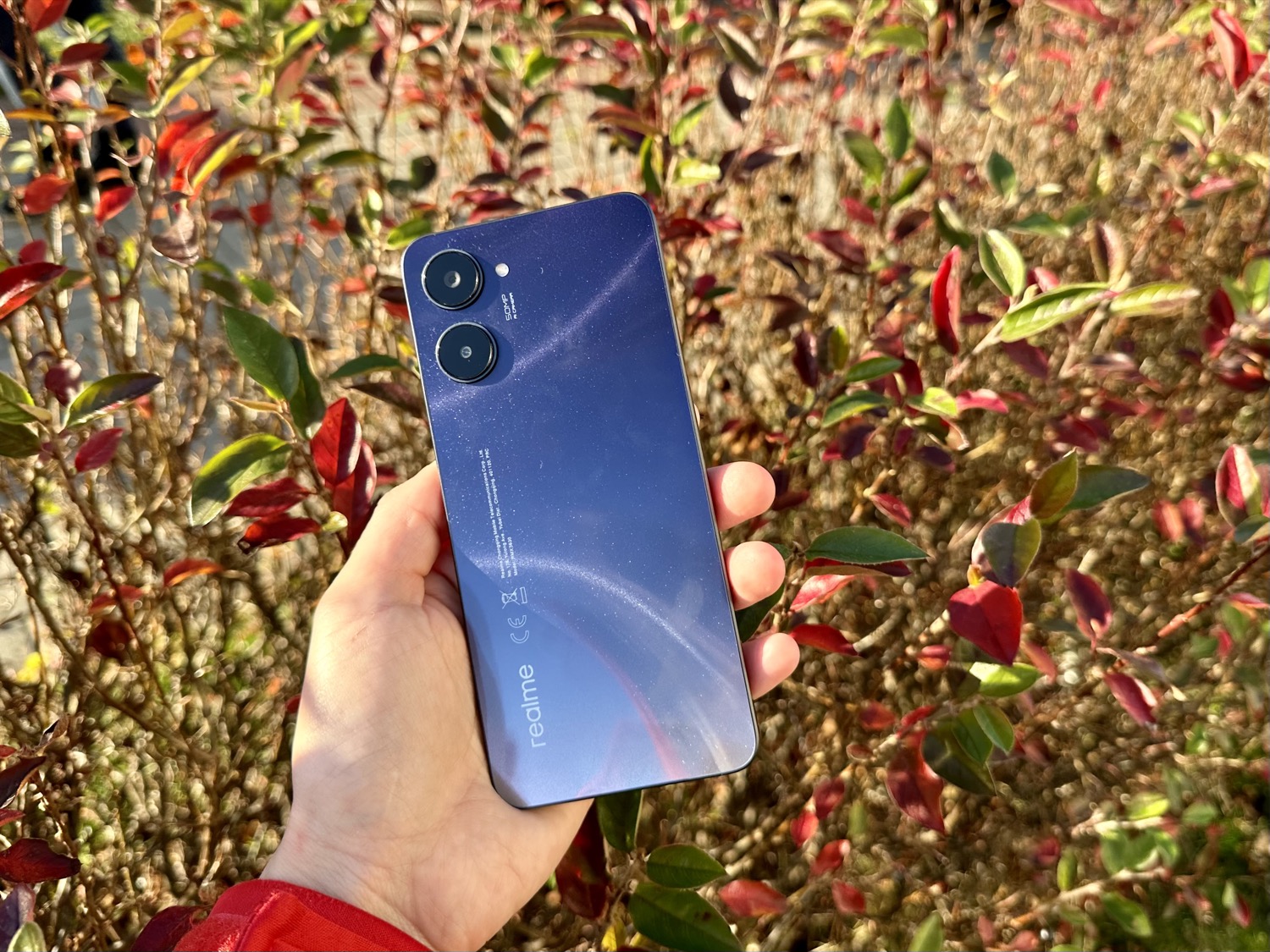 As for the downsides – no stereo sound, no wide-angle lens, and simple video shooting without 4K support. I won't call the lack of 5G a minus, since this function is not critical for everyone, LTE speeds are now more than sufficient.
In my opinion, Realme made a good "numbered" smartphone for the new generation. Another one. The fact is that it's not better than Realme 9, it's just different (and it's difficult to become much better when it comes out just six months later), but it's newer and when the "ninth" gradually leaves the market, it will become the next hit in the middle price range. One of many.
Strong competitors include Redmi Note 11 Pro, Realme 9 Pro, POCO M4 Pro, Motorola Edge 20, Realme GT Master Edition, and Xiaomi Mi 11 Lite 5G NE.
Where to buy Realme 10
Recommended reading:
You can also help Ukraine fight with Russian occupants via Savelife or via an official page of the National Bank of Ukraine.