The largest bank in Ukraine – Privatbank – was nationalized. Message about it appeared on the on the website of the Cabinet of Ministers of Ukraine in the night from Sunday to Monday. The event, which for several months has been on everyone's lips, was commented by Dmitry Dubilet in his Facebook.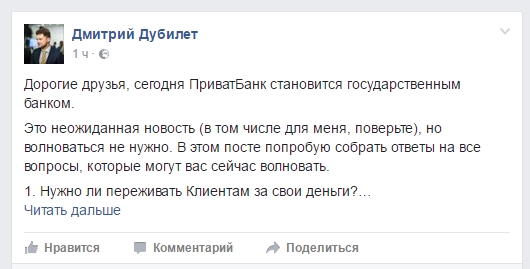 PrivatBank is now under the control of the State
«Dear friends, today, PrivatBank becomes a state bank. This is an unexpected news (including me, believe me), but do not need to worry. In this post I will try to collect answers to all the questions that may worry you now»
Also Dubilet announced his resignation from the post of Director of PrivatBank.
Source: Facebook, kmu.gov.ua