I spent much, much more time finding and reviewing an external monitor with a battery than I thought I would. I searched for almost a year before the start of the war. And when I found it, I got even more than I expected. Because I received the UPERFECT X Pro LapDock.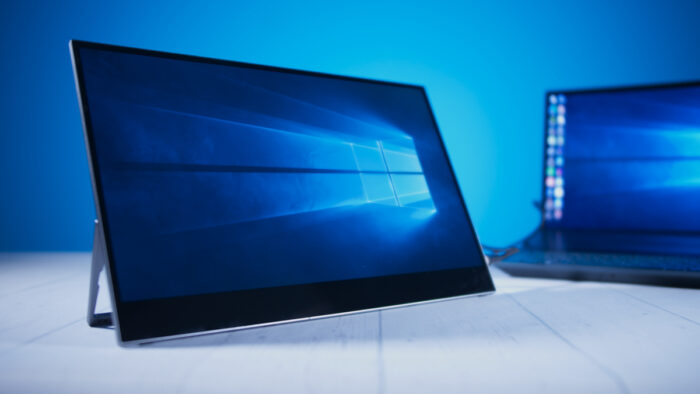 I am familiar with the UPERFECT brand through  a good hub, and also… I've just seen it, but it has probably the most versatile cable that I have ever seen.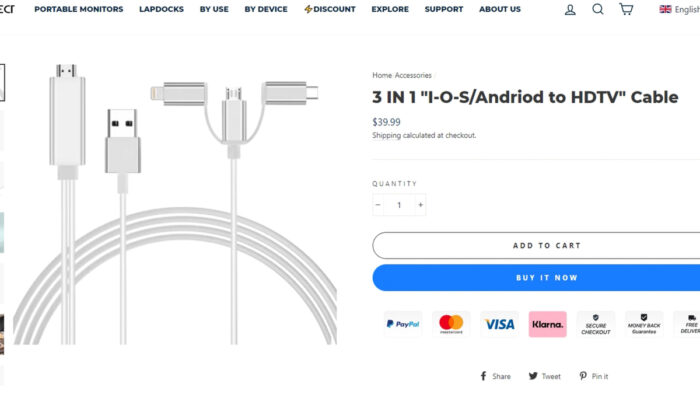 USB Type C, microUSB, Lightning, USB Type-A and HDMI. SIMULTANEOUSLY. I can't imagine either the maximum power – probably 100 W, or the length, because the specifications are not written on this page. But the cable most likely has MHL support.
Video review of UPERFECT X Pro LapDock
Brand New Channel – Brand New Beginning! Support Ukrainian:
Delivery set and price

The monitor comes in a plain box with almost no identifying marks or text. Neither nameplate with characteristics, nor excessive marketing fun.
Inside is the monitor itself, as well as a box with a VERY large number of cables and a power supply. I apologize that there is no illustration here – on the 24th I had to pack the cables anywhere I could think of.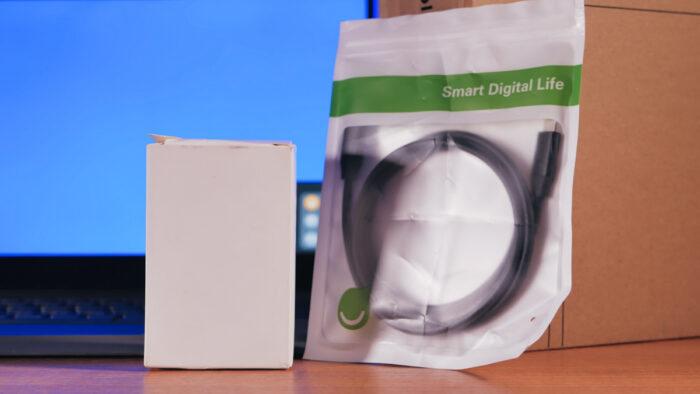 Note that the cables are all supplied in separate blisters – that's why they are 100% retail from other companies. On the other hand, there are many of them. Actually, there is one for almost every connector on the monitor case. And the power supply, by the way, is quite powerful.
This model will cost $450 on the free market, but discounts are not uncommon. In addition, there is a model with a 4K resolution, and just Full HD. The latter is $50 cheaper.
Appearance
The monitor itself looks like a 9 out of 10. It's just a candy. The body is metal, with cut corners and gray surface coating. It does not wobble or bend at all, sits comfortably in the hands, and stands securely on the table thanks to the metal leg.
The latter is tight enough to prevent the monitor from sliding, and is held on by a magnet, and covers all the connectors, protecting them from dust and moisture.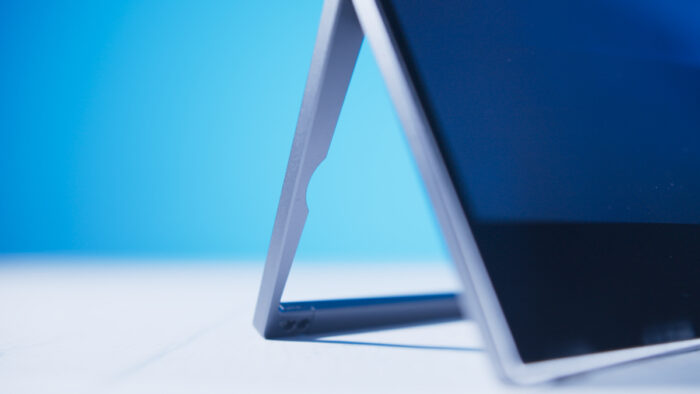 UPERFECT X Pro LapDock 15.6 weighs a little more than a kilogram. The dimensions are actually the same as for a 15.6-inch monitor, the frames are quite thin, and the thickness itself in the largest part is only 12.5 mm.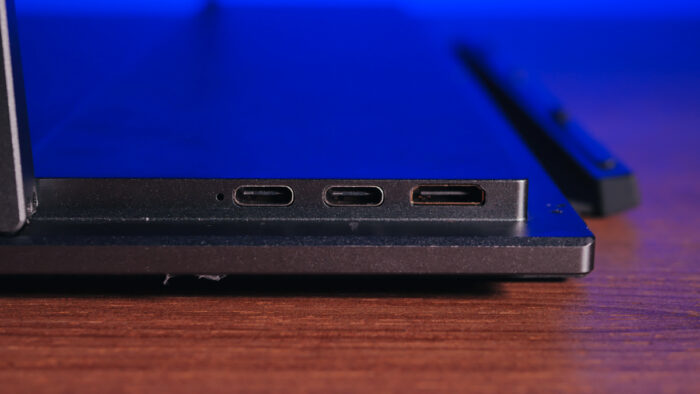 Specifications
I immediately note the 60 Hz refresh rate, 72% sRGB coverage and peak brightness of 300 nits. Actually, these are the typical specifications of a budget laptop screen. However, I have seen much worse, in much more expensive models.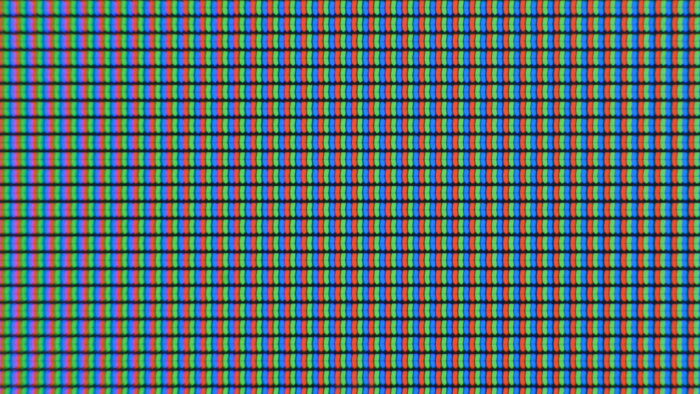 The monitor turns on automatically when connected via Type-C or HDMI. However, it can also be turned on manually using a plastic lever next to OTG Type-C.
The menu is called by the same lever, with a single press. A long press, by the way, turns off the monitor. The menu is compact, but quite interesting, mainly because it is not described in the manual.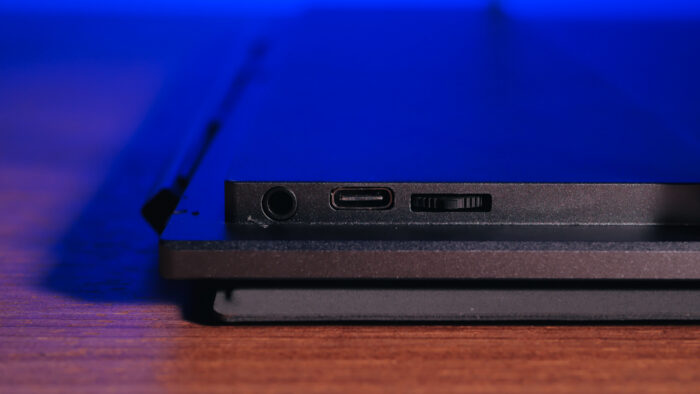 Among the surprises are AMD FreeSync monitor support, setting of image formats and HDR ST.2084, as Google hints, i.e. without metadata. Surprisingly, when connected as a second monitor, the sensor in UPERFEC X Pro works… as a touchpad for the main one. I don't know why, and the additional guide didn't help to solve this problem. By the way, yes, there is an additional guide, the link is here.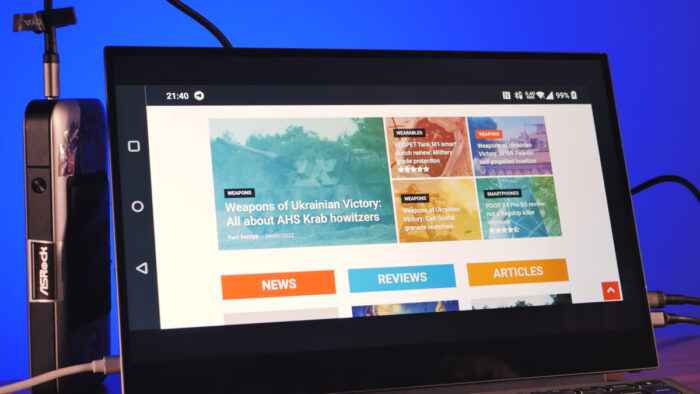 I took most of the information from there, but I note that it is a little inaccurate in places. For example, the points of the charging indicator and the charging from the monitor switch  are confused.
Read also: ASUS ProArt Studiobook 16 OLED review: a little detail that makes the difference
As for autonomy, we have 4 hours at peak brightness. The monitor charges in about an hour, and it works without problems when charging from, say, a power bank. That is, yes, the ideal setup would be a laptop like the ASUS ROG Flow X13, plus this monitor and plus the ZMI No.20 power bank – a little bit of cables, but for portable work it would be a very juicy combination.
Keyboard and touchpad
Also, as you may have noticed, the monitor is supplied with a keyboard. Unfortunately, I can only talk about its appereance. Why? Because it works only when the desktop mode of the monitor is activated.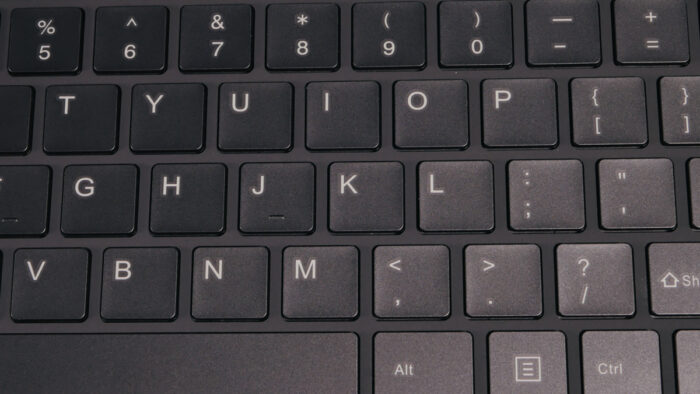 That is, when using Samsung and Huawei smartphones with it. I don't have either smartphone in my hand. I will say only for the quality of the keyboard.
In general, not bad, relatively comfortable. The touchpad is small, but wide, smooth and pleasant to press. The keys are concave, but not everywhere, as the arrows are flat, for example There is also an Fn button, the legend under it is poorly readable. There is no backlight.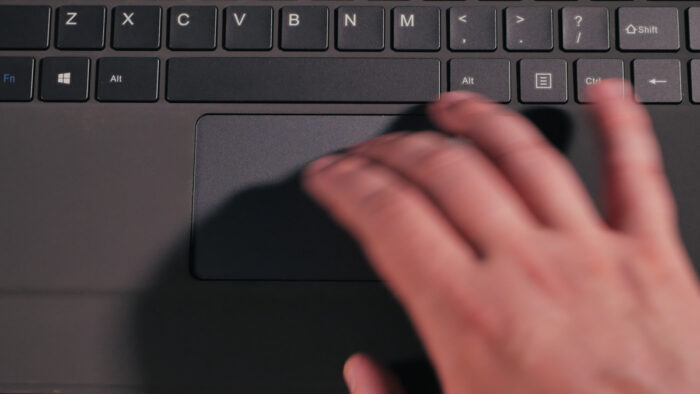 The keystrokes are quite soft, but typing is generally comfortable. Also, the legend is only in English, and I don't know if UPERFECT has Ukrainian or at least Cyrillic. A positive thing is the magnetic mount under the monitor, VERY high quality.
Interfaces
The monitor has enough connectors: three USB Type-C, one mini-HDMI and a 3.5 mm mini-jack. Two Type-C are located on the left, next to HDMI, one acts as a power supply (next to it is a diode indicator), the other is a DeX/EMUI Desktop protocol connection.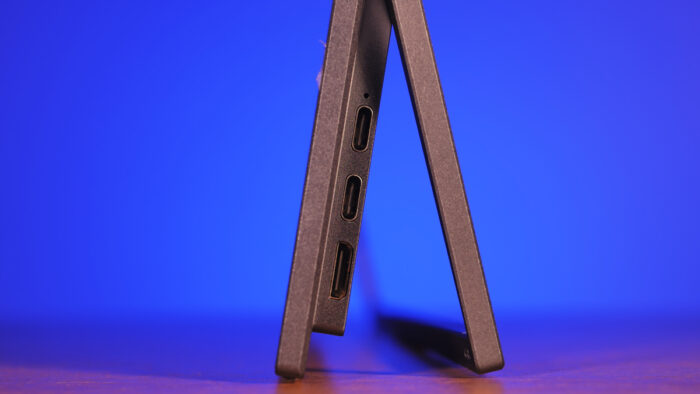 We will refer to it as the main further on.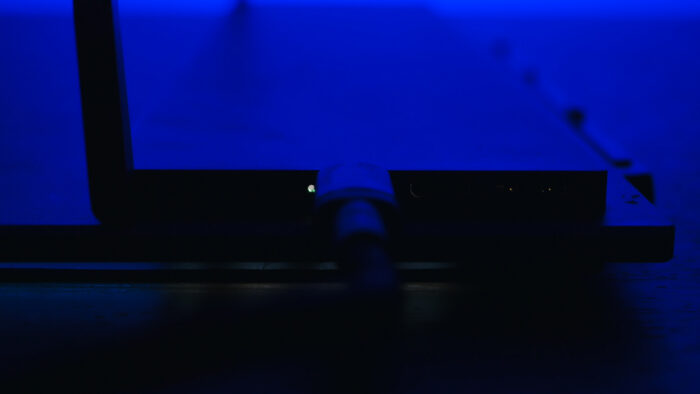 The other USB has OTG function only. More precisely, it can accept hubs, keyboards, mice, flash drives or even charge a smartphone. Because yes, the UPERFEC X Pro has a 7000 mAh battery! And charging is quite fast, 33 W maximum.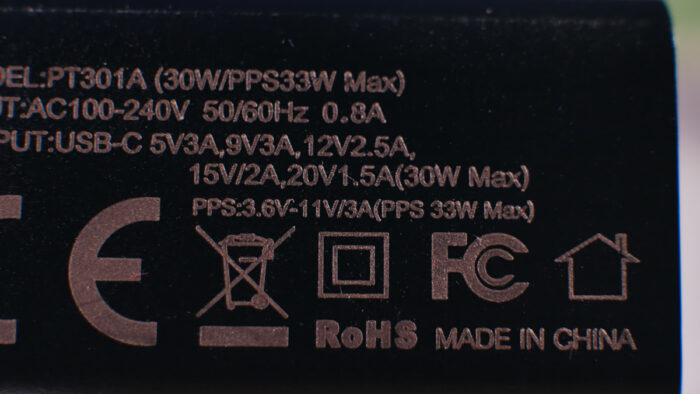 In fact, just like the power of the power supply unit. And yes, this means that the smartphone can be charged from the monitor through two connectors.
Brief testing
Almost before the publication deadline, I managed to partially test the desktop mode thanks to the OnePlus 9 Pro. Yes, it only allowed sharing images from the phone, but I was able to test the keyboard, touchpad, and everything else.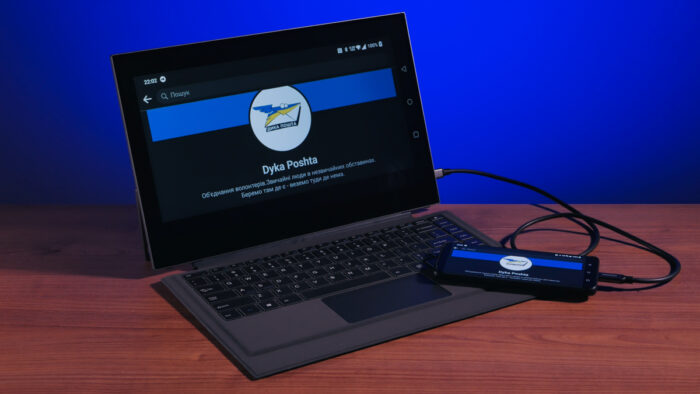 For starters, never turn on HDR mode. It simply destroys the color quality and increases the contrast to an inadequate level. Never touch the switch. Thank you.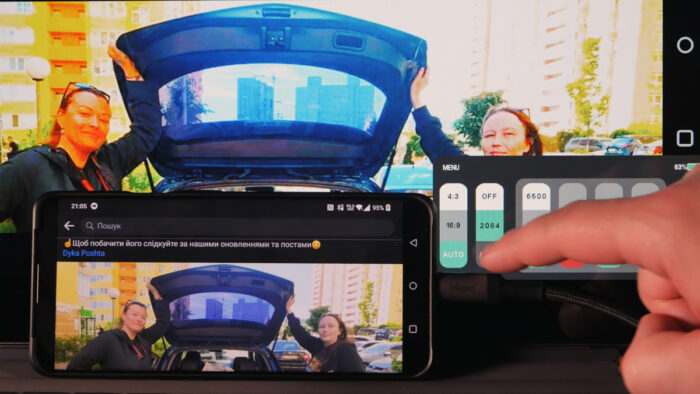 Next, the keyboard was not perfect when typing. The switches are quite soft to press, which makes it difficult to know if you hit the right letter, which adds to mistakes. But there are no questions about the touchpad.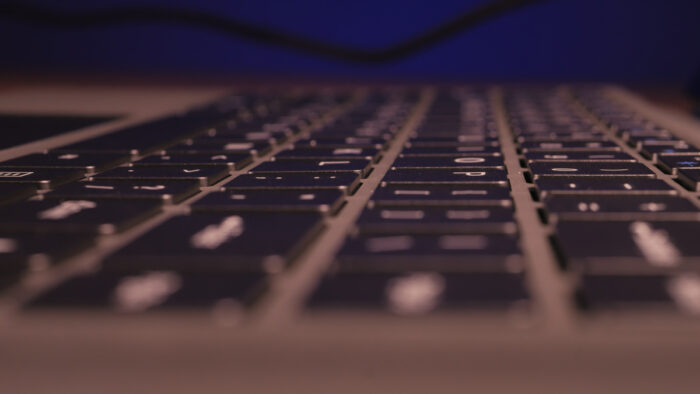 As for convenience in general, UPERFECT X Pro can look both concise and elegant, when connecting only one smartphone. Or it can be stuffed with flash drives, cables and power banks, which is optional, but who will stop you? Definitely not me.
This is what applies exclusively to the hardware component, for which UPERFECT is responsible. And then, unfortunately, come the components for which Google, OnePlus and many others responsible. First, the keyboard shortcuts for typing are… still not customizable.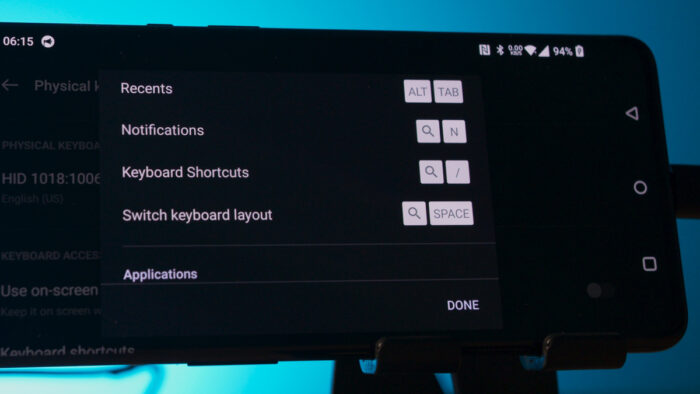 And that's about it, I think, because if you can't seamlessly transition from a Windows laptop to an Android desktop with a full-size keyboard, then you don't need a full-size keyboard at all. Forget about it.
Yes, there is a language switch combination, but it will always be bound to Ctrl + Spacebar. That is, you will either have to get used to two settings, which will surely affect the typing speed, or not use this thing at all.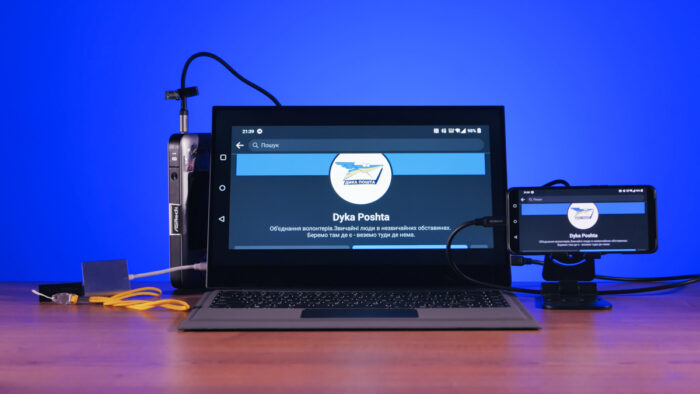 Next, acceleration of the cursor movement speed. It does not turn off, the speed is not adjustable. There is a reason why 99.9% of Windows users turn off motion acceleration – because it feels disgusting. And it doesn't feel better in Android.
This can be fixed with software crutches through Google Play, as well as the problem with the combination for switching languages. To turn off cursor acceleration, open SetEditor, System Table > Pointer Speed > change the indicator from 1 to 0.
And the keyboard will have to be configured through programs like External Keyboard Helper Pro, but in the case of the OnePlus 9 Pro, it simply stopped working. Despite the fact that it worked fine on an old hybrid tablet.
And you know what's worst of all? I don't believe that Huawei or Samsung have fixed such tiny problems. Tiny for them, but key for me and thousands of customers.
Conclusions on UPERFECT X Pro LapDock
This is a portable monitor first, and an Android desktop device second. The device is very good as an option of a portable monitor with a battery. A bit strange, and I don't agree with the specs everywhere…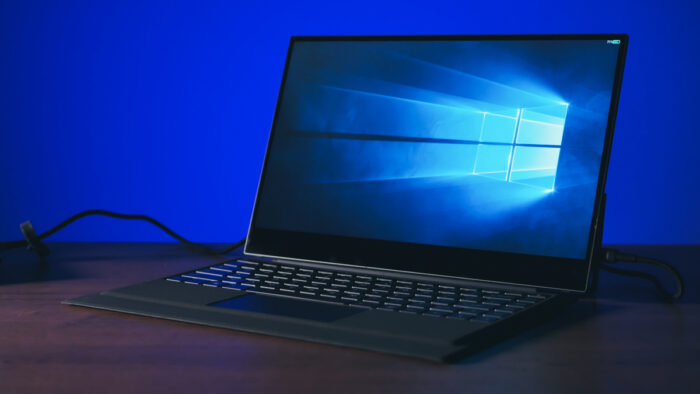 But all in all, it's not bad. As a blank for an Android laptop, the option is interesting and promising. Unfortunately, Android itself is not very promising in this regard. However, I will keep my hope on Samsung and Huawei, and I will do new tests if possible.
For now, I recommend the UPERFECT X Pro LapDock. The company has cheaper models without the DeX module, but if you have a Huawei or Samsung smartphone, then this is a great thing as a backup option.
Where to buy
You can also help Ukraine fight with Russian occupants via Savelife or via an official page of the National Bank of Ukraine.
Subscribe to our pages in Twitter and Facebook.
Read also: