Unusual, powerful, with an almost perfect OLED display – this is how you can briefly describe the new ASUS ProArt Studiobook 16 OLED laptop.
Which laptop is ideal for creative people? The answer to this question is never clear – precisely because each person has his own preferences. We usually talk about two categories of laptops: they are thin, but not very powerful devices, or powerful, but moderately mobile workstations. ASUS ProArt StudioBook 16 OLED combines both categories, and does it surprisingly well. ASUS ProArt Studiobook 16 OLED has the best display, efficient components and design elements that can facilitate work in the most popular applications. A few words about this device today.
What's interesting about ASUS ProArt Studiobook 16 OLED?
ASUS has long been attentively listening to the comments of creative professionals, and takes their opinions and wishes into account when creating its products.
Laptops of the latest ProArt series have everything that a demanding creator can expect from a computer. ASUS ProArt Studiobook Pro 16 OLED is a model that will replace your stationary PC, and that you can easily take with you to work.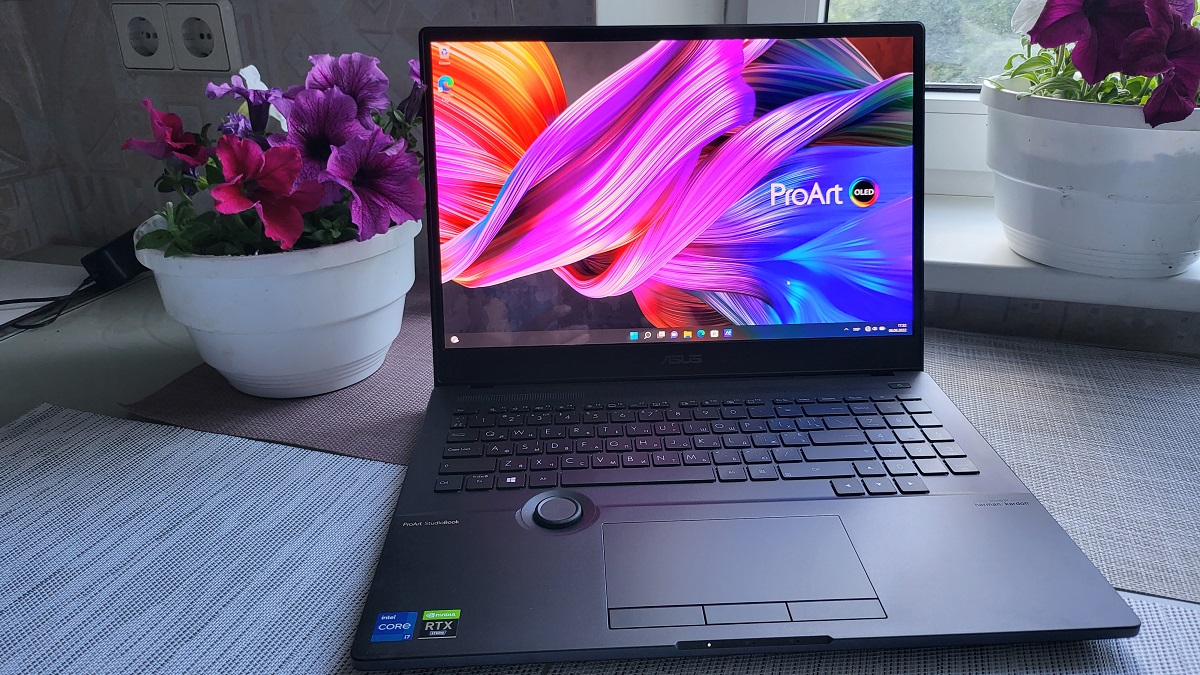 The ASUS ProArt device series is designed for creative people whose work is related to graphics, cinema and, of course, photography. The flagship ProArt Studiobooks are undoubtedly some of the most advanced laptops on the market today, and their latest generation raises the bar even higher. For the first time, ASUS offers the user 16-inch superblocks equipped with high-quality 4K screens and powerful components that provide unhindered creative work, but at the same time fit the definition of a portable laptop that we can take with us anywhere – whether on a trip or to the studio.
There is no other similar laptop for people in creative professions with such a good display. They simply do not exist. ASUS ProArt StudioBook 16 OLED is the first laptop in the world that is equipped with a 16-inch OLED HDR display with an aspect ratio of 16:10 and a resolution of 2500×1600 pixels. It covers 100% of the DCI-P3 color space and offers all the best of OLED: infinite contrast, beautiful colors and excellent viewing angles. In addition, it has been tested for Pantone compliance, guaranteeing perfect color reproduction.
The laptop weighs 2.4 kg and has a maximum thickness of 2 cm. The new ProArt laptops  are designed for most tasks in the field of photo processing and editing, which, even in a basic configuration, will be able to handle complex processes, such as working with high resolution photos or editing 4K footage.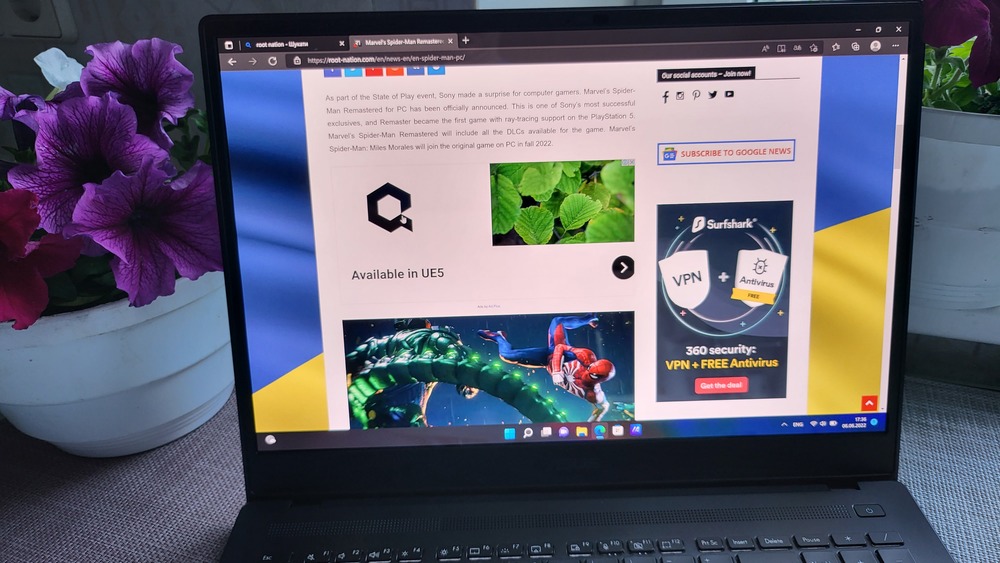 Price of ASUS ProArt Studiobook Pro 16 OLED
Of course, such a laptop cannot be cheap, this is already clear to everyone. ASUS ProArt Studiobook Pro 16 OLED costs from $2200. Yes, it is expensive, very expensive, but it is worth it.
Specifications of ProArt Studiobook Pro 16 OLED (W7600, 11th gen Intel )
OS: Windows 11 Pro
CPU: Intel Core i7-11800H Processor 2.3 GHz (24M Cache, up to 4.6 GHz, 8 cores)
GPU: Intel UHD Graphics, NVIDIA RTX A3000 Laptop GPU, With Boost up to 1560MHz at 90W (105W with Dynamic Boost), GDDR6 6 GB
Display: 16″ 4K (3840×2400) OLED, 16:10 ratio, 0,2 ms response time, peak brightness 550 nits, DCI-P3: 100%, 1 000 000:1, VESA CERTIFIED Display HDR True Black 500, 1,07 billion colors, Pantone certified, glossy display, 70% less harmful blue light SGS Eye Care Display.
Display-to-case ratio: 85%
Additional display: absent
RAM: 32 GB (2×16 DDR4 SO-DIMM). Maximum up to 64 GB.
Storage: SSD 1 TB M.2 with NVMe PCIe 3.0 Performance or 1TB + 1TB M.2 NVMe PCIe 3.0 Performance SSD
Expansion sockets: 2 DDR4 SO-DIMM, 2×M.2 2280 PCIe 3.0×4
Ports: 1x USB 3.2 Gen 2 Type-C support display/power delivery/VR, 2 USB 3.2 Gen 2 Type-A, 1 Thunderbolt 4 with graphic/power output, 1 HDMI 2.1, 1 combined 3.5 mm audio jack, 1 RJ45 Gigabit Ethernet, 1 power input, 1 SD Express 7.0 card reader.
Keyboard and touchpad: rubber keyboard with backlight and numeric block, key stroke 1.4 mm
Camera: HD camera with IR sensor to support Windows Hello with protective shutter
Audio: Smart Amp technology, built-in speaker, built-in Harman/Kardon directional microphone (premium) with support for Cortana voice assistant and Alexa voice recognition bot
Web interfaces: Wi-Fi 6(802.11ax) (Dual band) 2*2 + Bluetooth 5.2
Battery: 90 Wh, 4S1P, 4-cell Li-ion
Power supply: ø6.0, 240W AC Adapter, Output: 20V DC, 12A, 240W, Input: 100~240V AC 50/60Hz universal
Weight: 2,40 kg
Dimensions (L×W×H): 36,20×26,40×1,99~2,14 cm
Software: McAfee, MyASUS, ProArt Creator Hub, Splendid safe charging, function key blocking, WiFi SmartConnectASUS, OLED CareAI,  Noise Canceling.
Quality standard: US military grade MIL-STD 810H
Security: password-protected BIOS boot, Trusted Platform Module (TPM) version 2.0, IR webcam with Windows Hello support, fingerprint scanner built into the power button
Color: Star Black
Read also: ASUS Vivobook Pro 16X OLED (N7600) review: 16-inch laptop with OLED screen
Modern design with a set of necessary ports and connection interfaces
Style and minimalism
These two words clearly describe the modern minimalist design of ASUS ProArt Studiobook Pro 16 OLED. The all-metal body of the laptop is made in a classic black color, and the overall design has a discreet elegance. In addition, the device is made of surprisingly high quality (meets the MIL-STD810G military standard), and most of the elements are made of metal.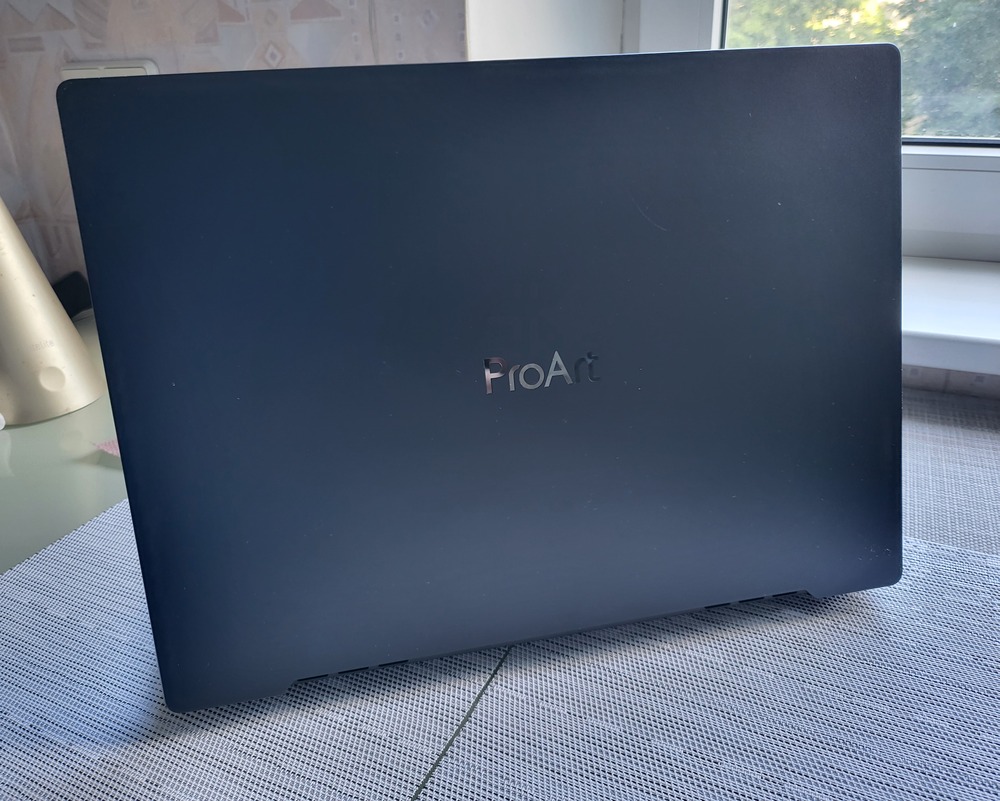 Plastic is, of course, the inside of the cover around the display, the keyboard, the "legs" on the bottom of the base, and the ASUS Dial control wheel.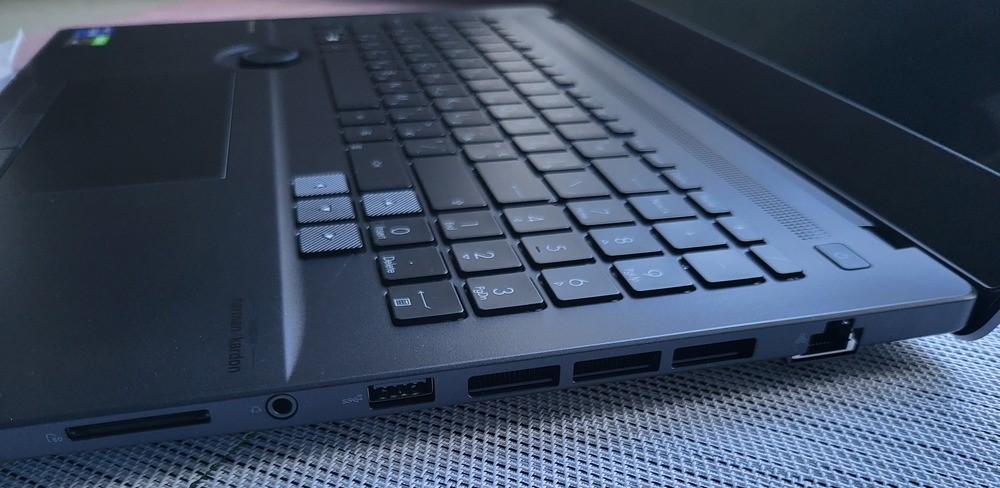 The outer side of the lid is decorated with the ProArt inscription, the bottom of the laptop is decorated with a much larger StudioBook inscription.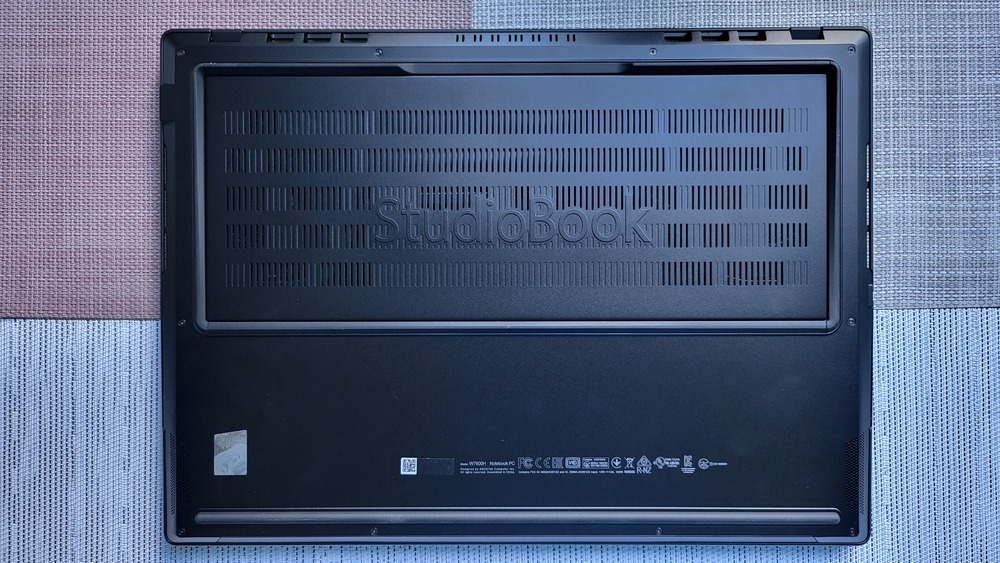 The rubber 'legs' of the base are long, located across its entire width, a strong support is also in the middle of the base under the touchpad (where many competitors bend without support).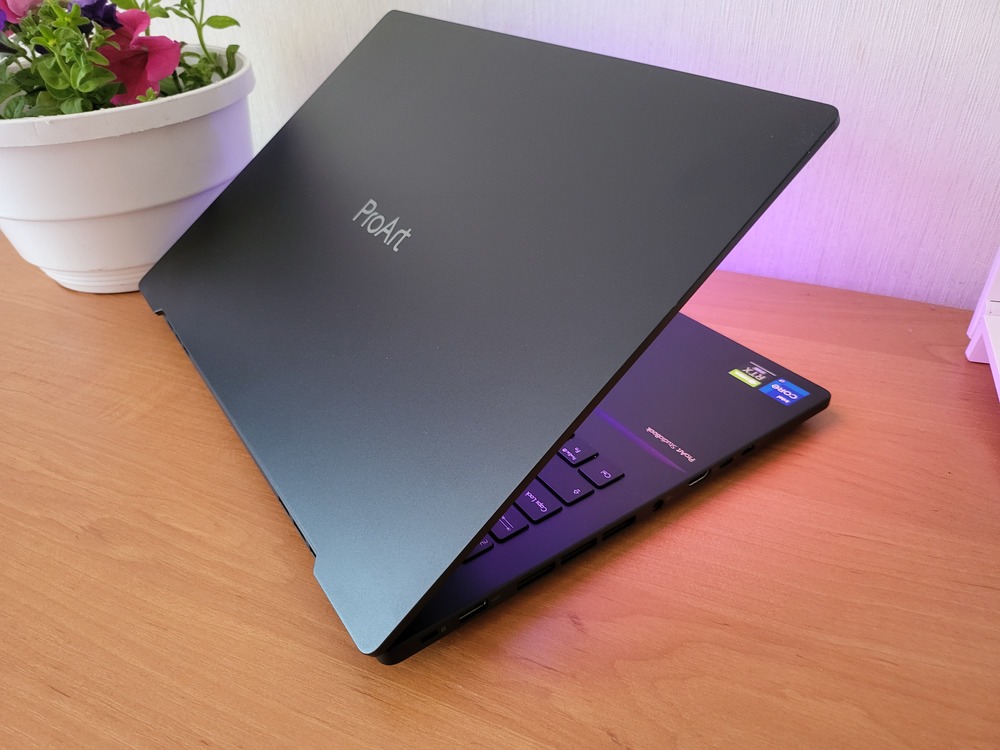 The hinges are quite stiff, but the overall weight allows you to open the laptop with one hand, approximately at an angle of 153°. The edge of the front part of the base is cut quite heavily for easier opening.
Read also: Huawei MateBook 14s laptop review: 90 Hz and premium design
Mobility, dimensions and weight
The laptop measures 362×264×20/26 mm and weighs 2,282 g, although the manufacturer claims 2.4 kg. The dimensions make it possible to accommodate massive cooling of powerful components. The size of the laptop is similar to 15.6-inch laptops, although it is actually smaller than some older models.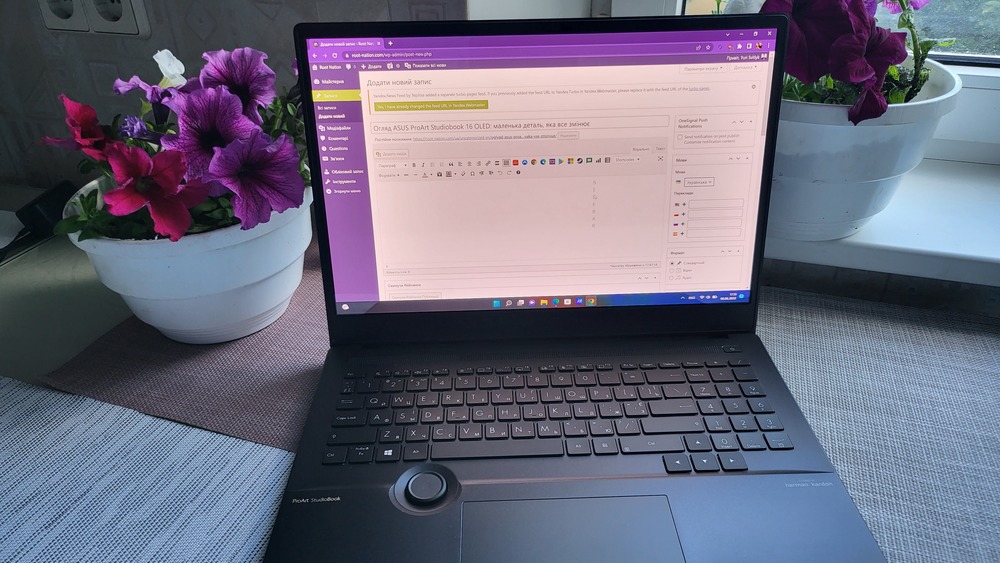 For transportation, it is desirable to have a high-quality backpack, although the design of the laptop seems dense and durable. It is designed mainly to be placed on a desk or to be carried around the workplace or at home, but I can easily imagine daily commuting between home and work or university.
Read also: Acer Predator Helios 300 (2022) gaming laptop review
Interfaces, physical and wireless
The laptop has a fairly standard set of ports. On the back left is a Kensington Lock slot, the first of two USB Type-A 3.2 Gen 2, a round power connector, HDMI 2.1 and one USB Type-C 3.2 Gen 2 with DisplayPort support and another ultra-fast Thunderbolt 4 with DisplayPort support and power output.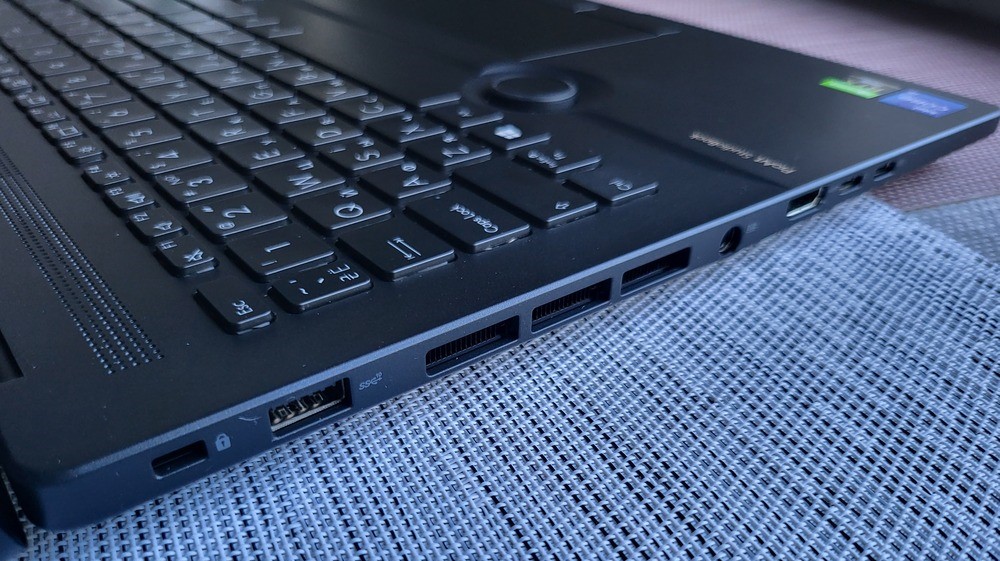 On the right rear is a gigabit Ethernet RJ-45 connection, a second USB Type-A 3.2 Gen 2, a 3.5mm audio combo jack and an SD (Express 7.0) card reader. I am sure that even the most demanding users cannot complain about such a number of ports. It should also be noted that in the version with an AMD processor, the USB Type-C ports are not Thunderbolt ports, so not all accessories will work at the maximum possible speed, and pairing the laptop will not be as easy as in machines using the Intel standard.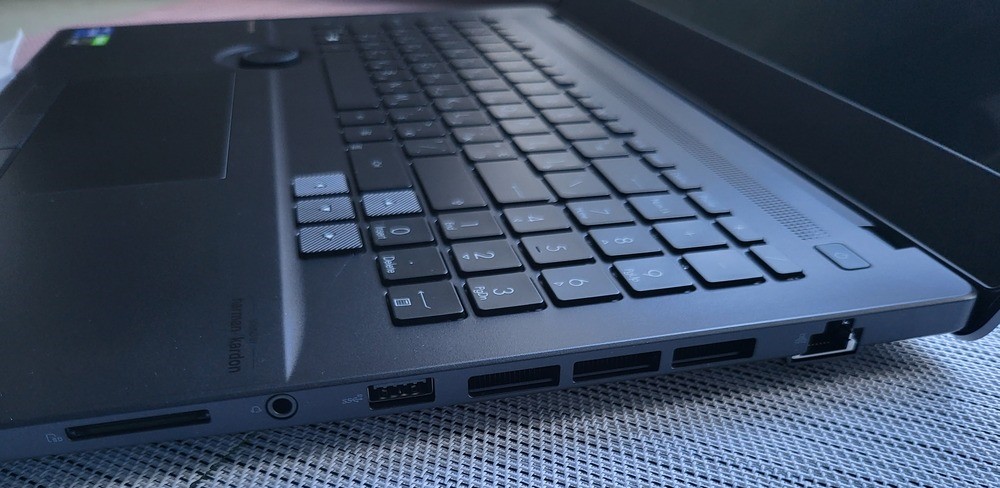 Broad and diverse connectivity options: USB 10 Gb/s and even Thunderbolt 4 40 Gb/s. A lightning mark next to the  USB port clearly indicates that it is Thunderbolt USB-4 and therefore supports the DisplayPort 1.4 video interface. Next to it is another USB-C that supports Power Delivery, a video interface, as well as VR+ compatibility. Even the card reader is on top, offering a maximum speed of 985 MB/s.
Network connectivity isn't the strongest we could find, with a 1Gbps Ethernet LAN chip from Realtek. Along with it, of course, comes the Intel Wi-Fi 6 AX201 wireless card, howevert, it's not Wi-Fi 6E, strange as it may seem in a laptop with such capabilities. As always, it offers a bandwidth of 2.4 Gbps for 5 GHz and 574 Mbps for 2.4 GHz with Bluetooth 5.1. We benefit from technologies such as MU-MIMO, OFDMA and BSS Color for better wireless quality.
Read also: Acer Aspire Vero review: Eco-Friendly Laptop
Multimedia – speakers and webcam
The laptop has two speakers, they are located on the front of the base, close the desktop at an angle of about 45°, so they are directed half forward and half down. The 'SOUND BY harman/kardon' logo is almost invisible on the laptop, to the right under the keyboard. The sound of the speakers can be rated, rather, as satisfactory, it is not some kind of high-quality sound. It is understandable, because in modern laptops, high frequencies usually prevail over depth, although the electronics are trying to significantly improve the sound quality. Traditionally, you get better sound quality with a clear audio output, so you can get pretty good sound with good headphones or an external speaker system. The maximum volume of the built-in speakers is decent, without distortion from overloading, etc.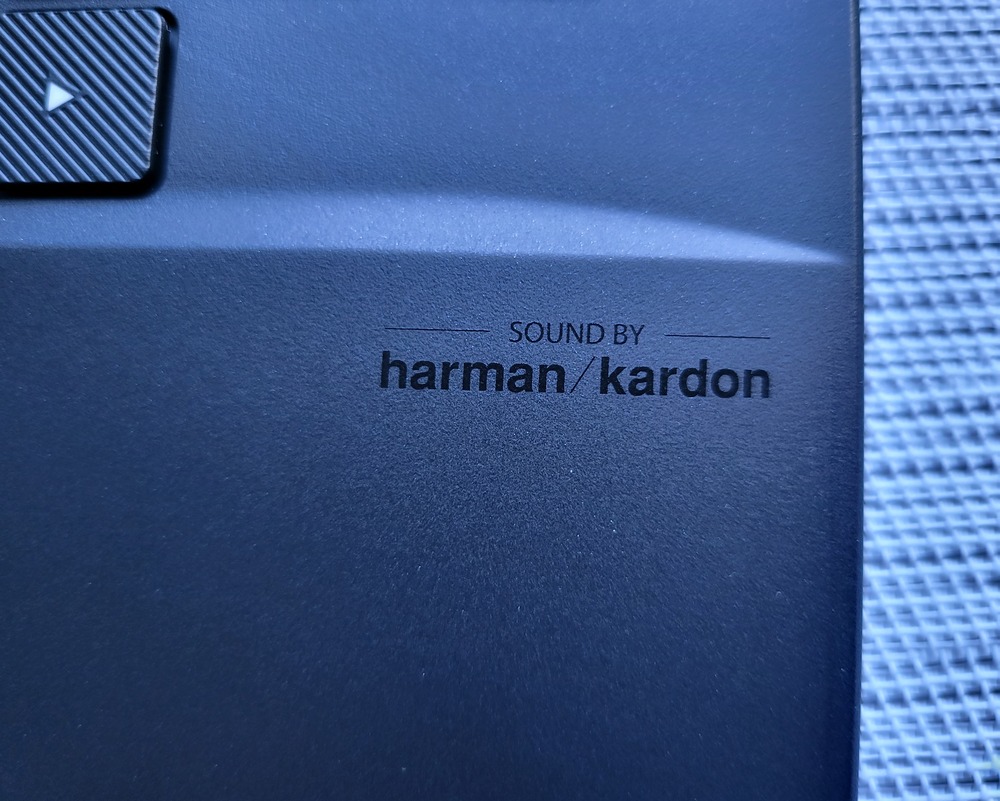 The webcam is traditionally located in the upper part of the inner side of the cover above the display. Its biggest advantage is a mechanical shutter (sliding), which can physically prevent image capture, as indicated by the white diode, which seems even too bright when viewed at dusk.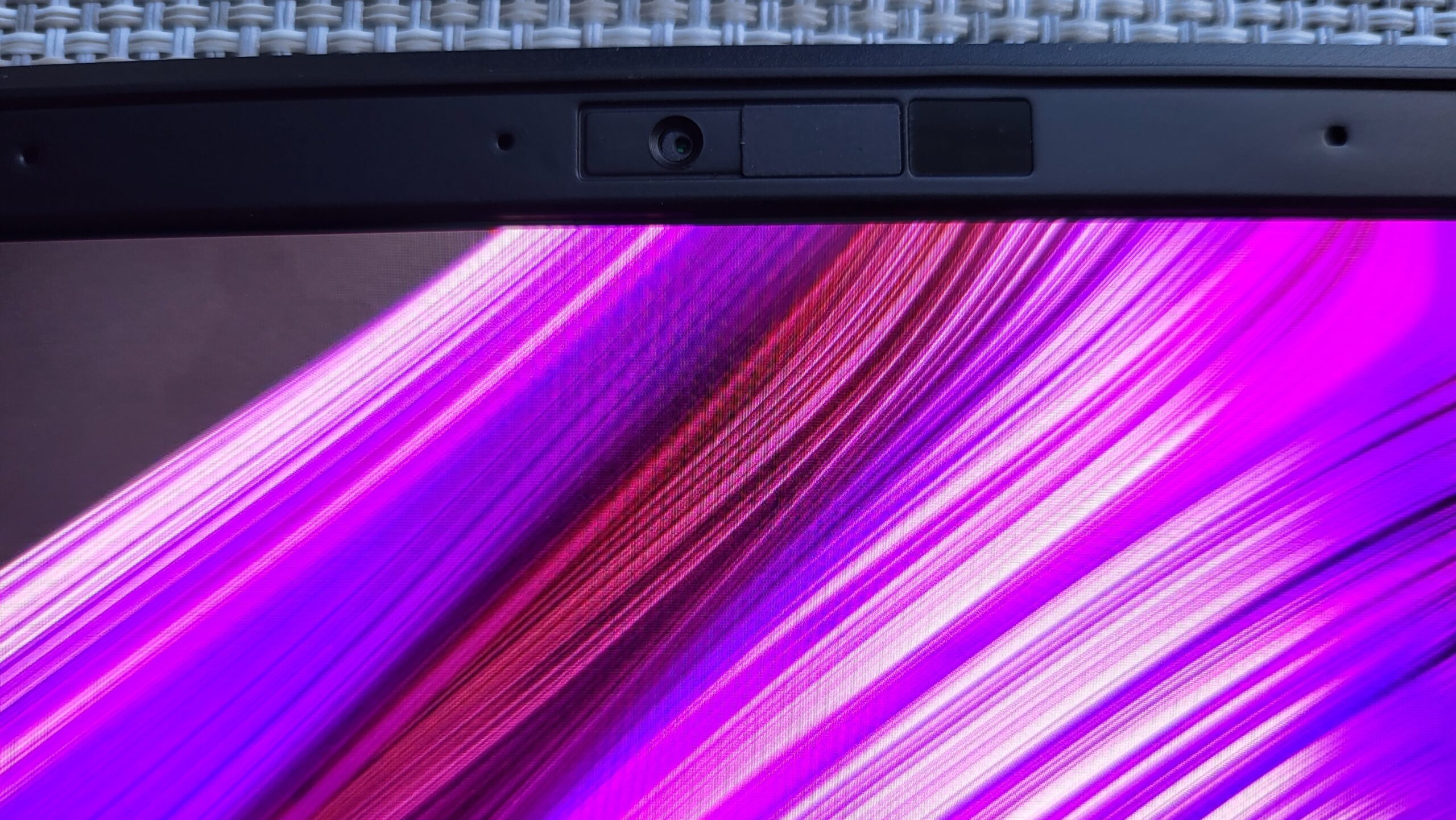 The image quality is determined by HD resolution (1280×720 px), that is, a mere average for most laptops. In addition to the classic webcam, there is another IR sensor for logging in using facial recognition. The shutter closes only the classic webcam capturing a normal image.
ASUS Dial
Do you know about Microsoft Surface Dial? It's a mouse-like peripheral compatible with select Microsoft devices and designed primarily for graphic designers. ASUS decided to go even further and implemented a similar solution directly in the laptop. I had never encountered such a structure before and was quite skeptical. Although it was unnecessary, as it turned out later. Once I noticed that the ASUS Dial can be used not only in photo and video editing applications, but also in everyday device use, it quickly became my favorite tool.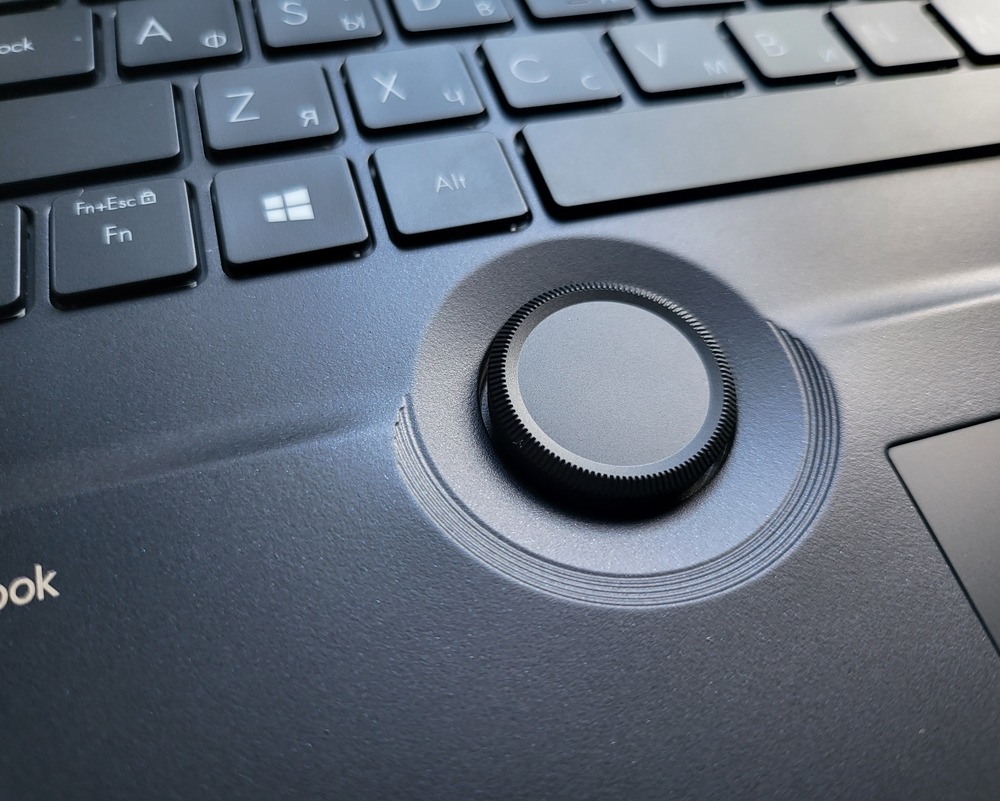 All because ASUS Dial allows you to change the brightness of the screen or the volume of the speakers without using the corresponding buttons on the keyboard or settings. But this is a small part of what this wheel can do, because this peripheral also allows you to scroll pages, switch between tabs in the browser or open applications on the laptop.
This is such a simple and, at the same time, brilliant solution that I got the hang of it very quickly. It is located just below the left thumb, so it is always close at hand.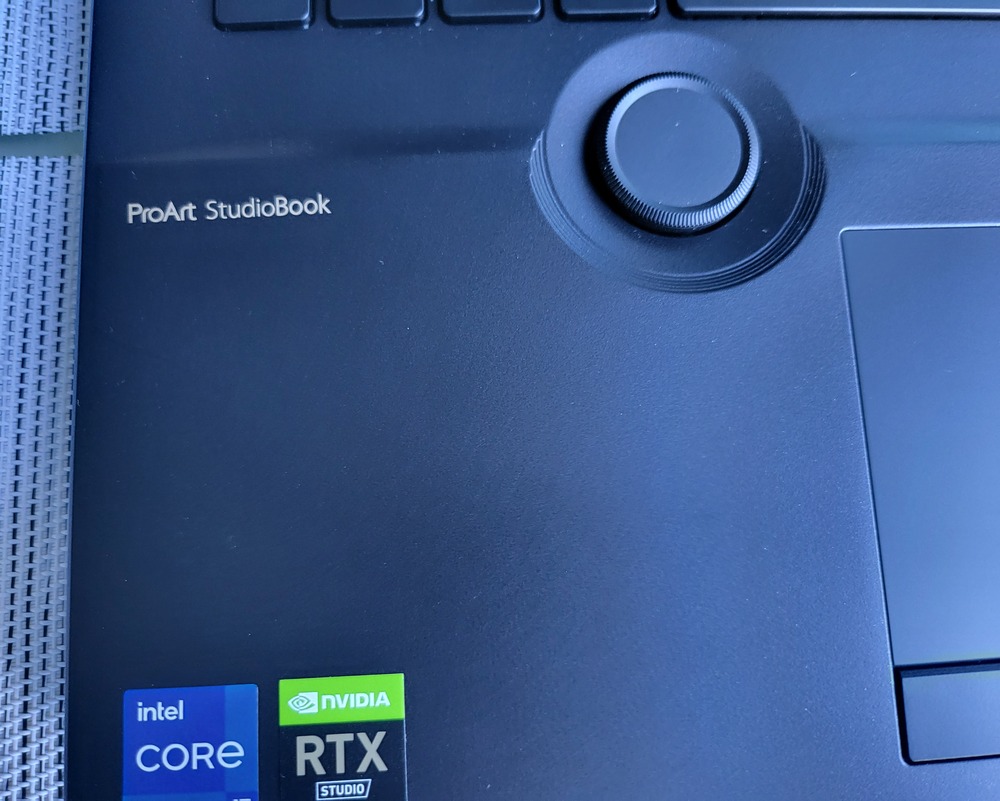 The capabilities of ASUS Dial will be appreciated by people who use Adobe's batch programs – Photoshop, Premiere Pro or Lightroom. In each of them, the available options can be freely edited, thanks to which the solution becomes adapted to the individual needs of the user. Once again: great stuff!
Read also: MSI Katana GF66 11UD review: a versatile gaming laptop
Not a very comfortable keyboard
At first, I couldn't get used to the ASUS ProArt Studiobook Pro 16 OLED keyboard at all. The thing is that compared to other laptops, the keyboard here is a little further from the user, so the edge of the laptop even cuts into the inside of the wrist. It was terribly inconvenient for me, I got the impression that, although the keyboard itself is very good, here it is only an addition, because those who are engaged in graphics, photography or other video content do not need to type much.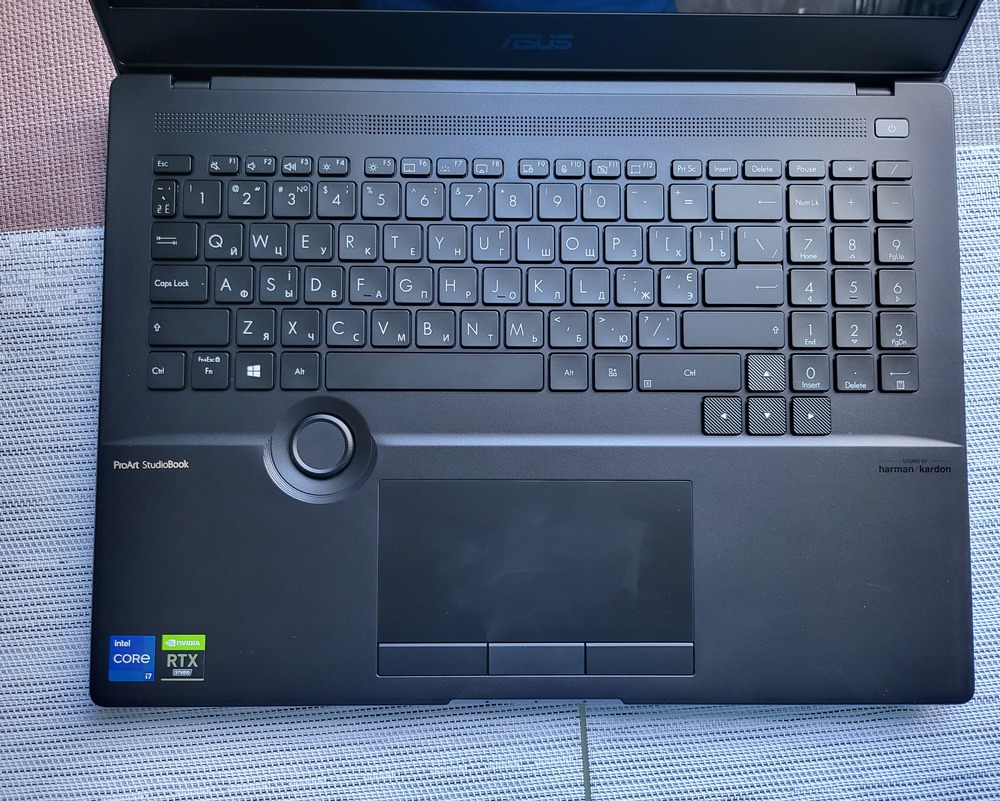 Especially since such a keyboard decision was made for a reason. ASUS engineers came to the conclusion that the location of the ASUS Dial will be optimal in the standard place of the lower rows of keys. And this, undoubtedly, was a really good hit on the target. The controller is in the perfect place, right under your thumb. But ergonomics of typing suffers from this.
Moreover, there is very little space, which initially caused me a lot of problems. Instead of Alt, I kept pressing the key between Alt and Ctrl, which is used by default to launch Creator Hub, to use diacritical marks… Trust me, it was annoying.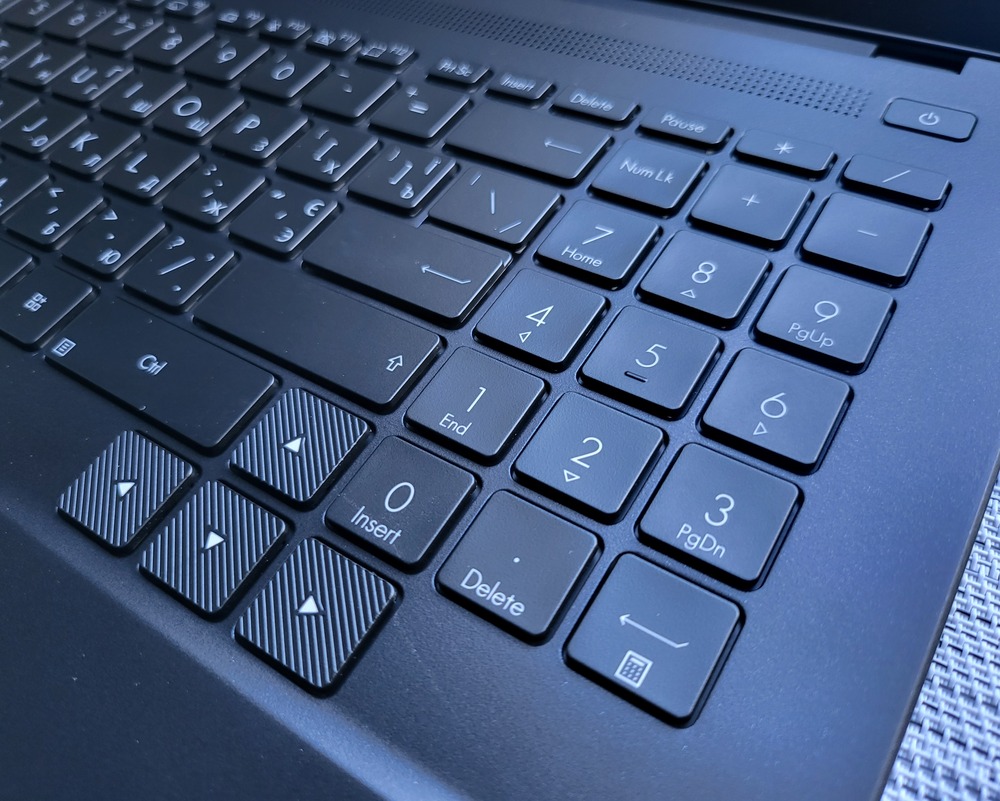 Now about the keyboard itself. It is quite convenient when you get used to the location of the ASUS Dial over time. The numeric keypad has black keys with white lettering and three levels of backlighting. Traditionally, it has several pros and cons. Let's start with what worries me. The context menu can be called only with the Fn+RCtrl keys, although a space key would not be superfluous here, but it is used to call up a special application for configuring the laptop. The numeric block has only 3 columns, as opposed to the usual four, which leads to a non-standard arrangement of the Enter, '+' and actually '–' keys. I will add that I prefer the double-decker (tall) enter key on the main numeric keypad.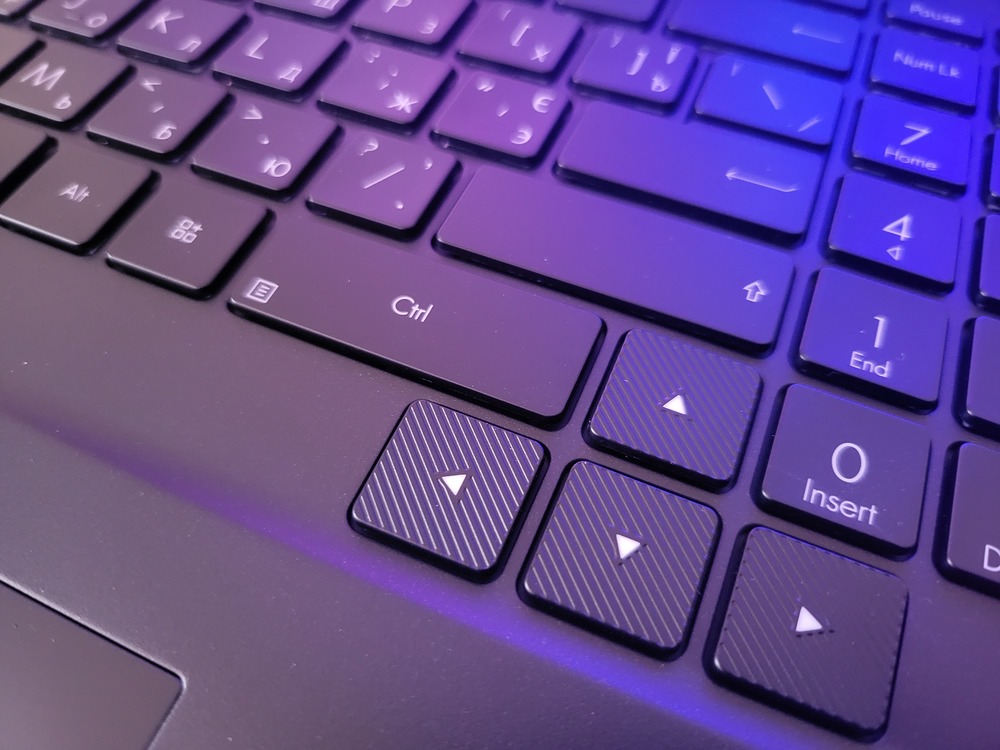 I especially like that the F1-F12 keys are spaced. This greatly facilitates quick orientation (for example, to use the Alt+F4 combination) and at the same time is a relatively rare feature of laptop keyboards. The cursor arrows are physically separated (bottom row) from the main block of keys, which, together with their rougher surface, makes it easier to find with your fingers.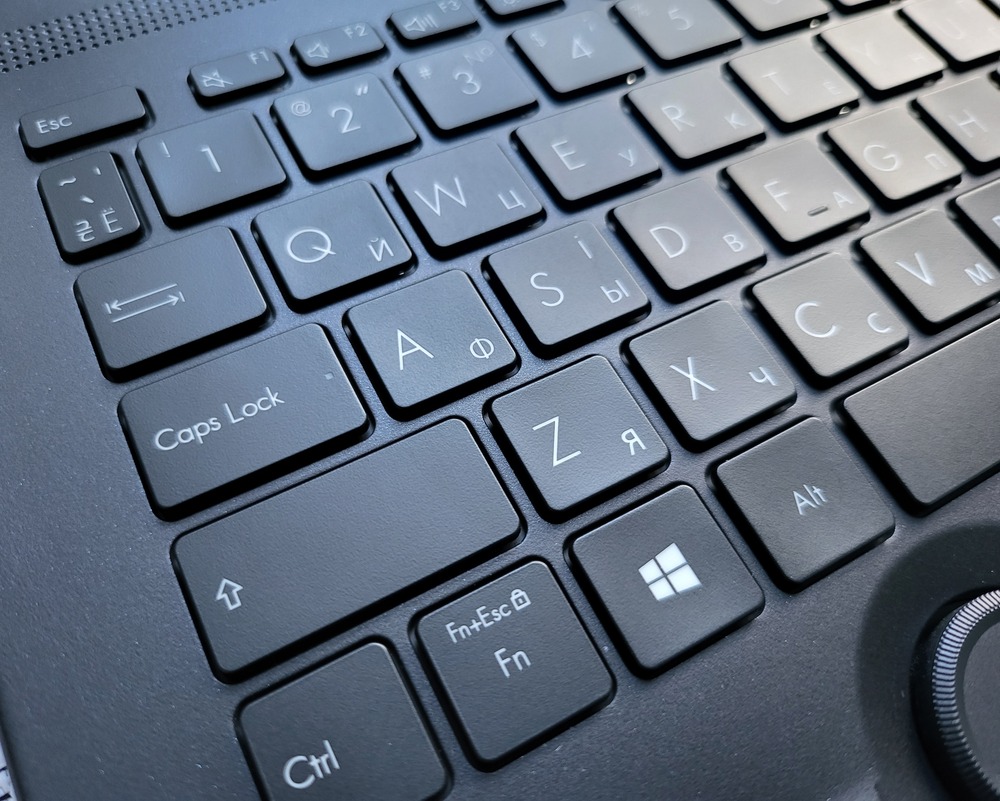 In the upper right corner, at the height of the speakers, there is a single concave button – the power switch, which is integrated with the fingerprint reader. I have no comments regarding its work. It is enough to press it with your finger so that the system correctly recognizes your identity.
Touchpad with a scrolling
The Taiwanese developers placed a large touchpad under the keyboard, which, in my opinion, is a big advantage of this equipment. What makes it special? In addition to the left and right mouse buttons, it also has the middle! That is, there are 3 buttons at the bottom, which will be properly appreciated by users of design programs. On the other hand, what bothers me is the placement of the touchpad in the center of the base, which looks good but is ergonomically bad for typing on the main keyboard unit. Here, however, it should be added that the touchpad controller quite reliably recognizes the touch of the palm and the cursor remains 'calm'.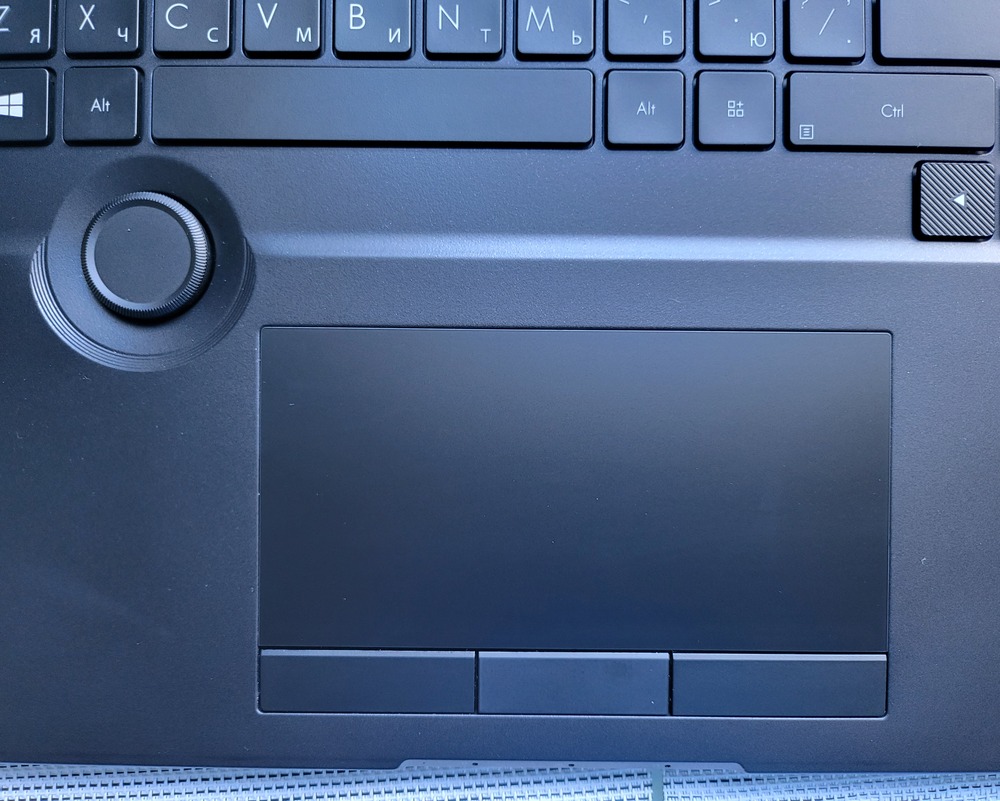 Scrolling in most mice is used by default not only for smooth vertical scrolling, but also for opening links in a new tab, and this process is no different in this case. A really great solution that will be especially appreciated when you need to use your laptop without a mouse.
The touchpad itself is sensitive, and I have no complaints about its operation. It also supports multi-touch gestures, which also work smoothly.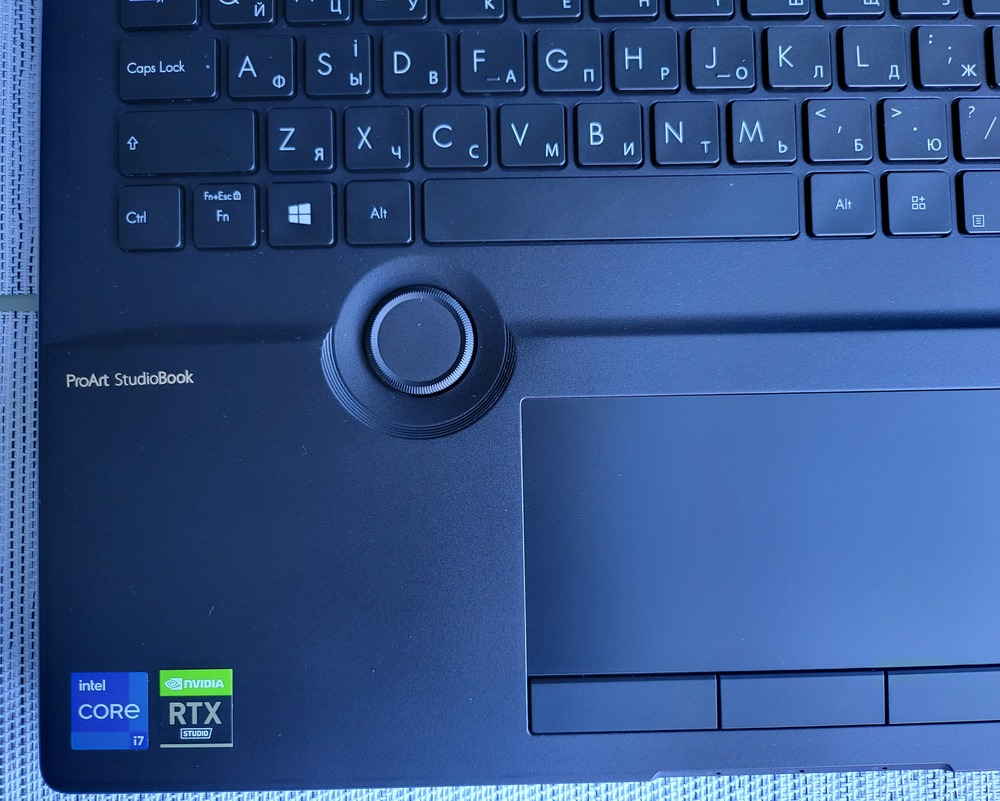 However, what is probably the most interesting from the point of view of graphic designers or architects, the touchpad can be used not only in standard way, that is, with fingers, but also much more precisely – with the help of a stylus (supports 1024 pressure levels!). Unfortunately, the corresponding stylus is not included in the package, and the S Pen from the Galaxy Z Fold3 turned out to be incompatible, so I could not test how this solution works in practice.
LED indicators and other control features
The laptop has a total of 4 indicator LEDs, all of them glow white, sometimes even too brightly. I already mentioned the first LED on the webcam above. The other three LEDs are located in a cutout (for easier opening of the cover) on the front of the base, the left one indicates sleep mode, the middle one indicates the laptop power connection (red when charging, white when the battery is charged), the last LED indicates data storage.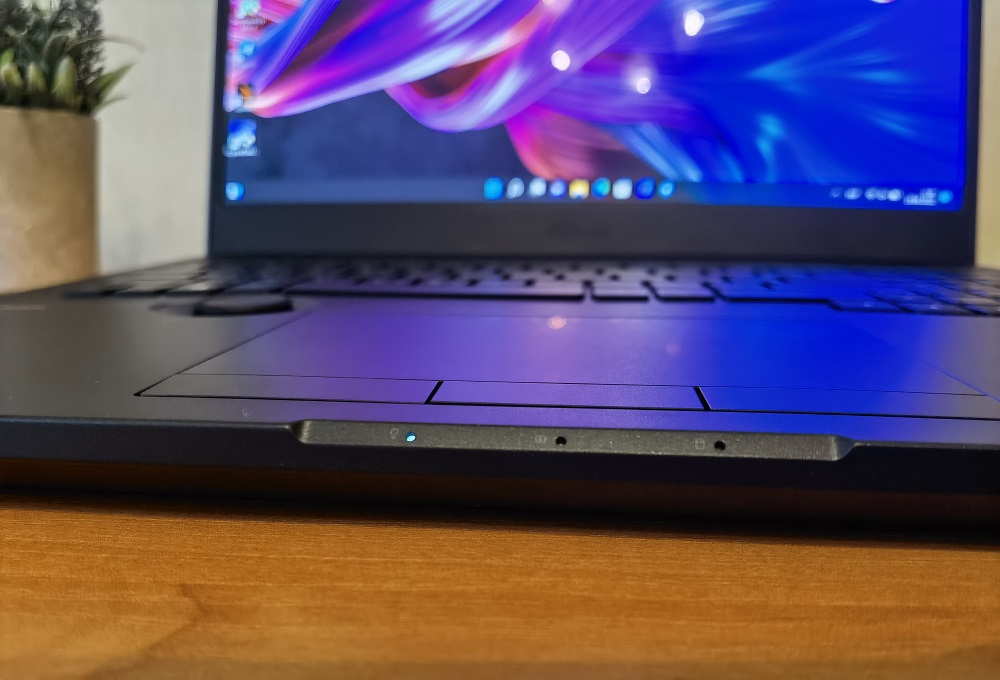 All 3 mentioned LEDs are visible even when the cover is closed, which is especially useful when recharging and for recognizing sleep mode.
Excellent 4K display
The new ASUS ProArt Studiobook Pro 16 OLED is the first 16-inch OLED screen with 4K resolution and 16:10 aspect ratio. This is one of the main factors why you should choose the new ProArt. The screen is really huge and noticeably larger than the 15-inch screens that were considered the largest on the market until recently. Thanks to this, working with it is almost as comfortable as on a stationary monitor, and in the studio you get an accurate preview – finally, you can quickly evaluate photos when you connect the camera to a laptop.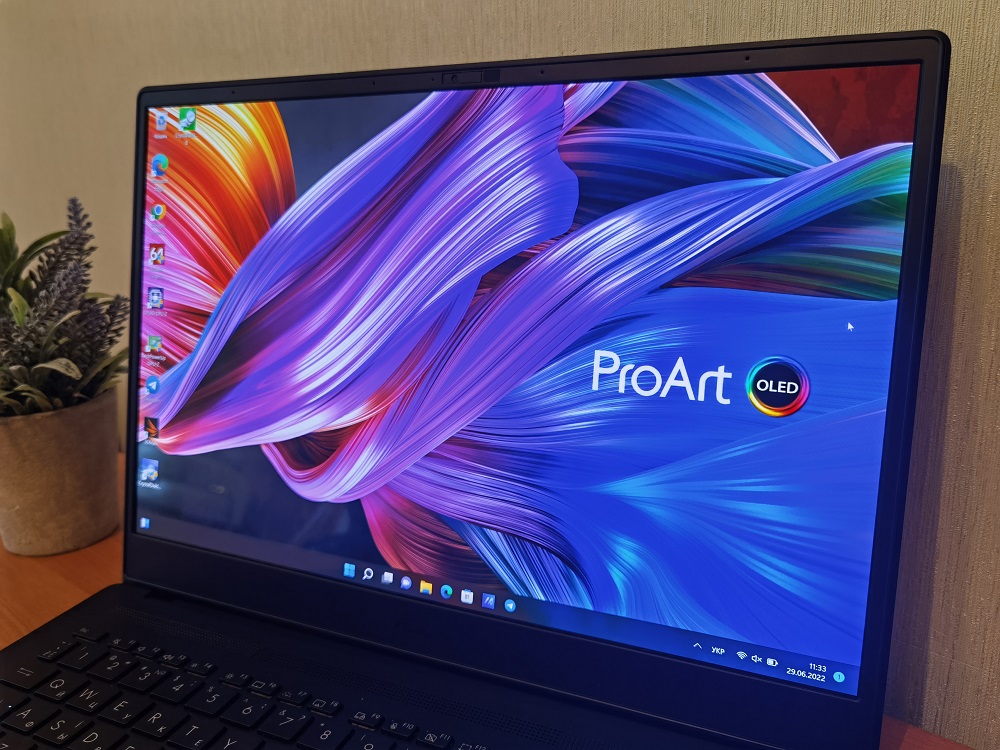 I am sure that the customers who were present at the photo shoot will immediately appreciate them on the big, bright screen. The display itself is glossy, which is considered a disadvantage for editing models, but the high brightness (550 nits) will ensure comfortable viewing in any conditions. It also guarantees correct display and work with HDR materials (VESA Display HDR True Black 500 certificate). The screen itself is ISV (Independent Software Vendor) certified. This is a certification of conformity of the products from the most important software manufacturers, including Adobe.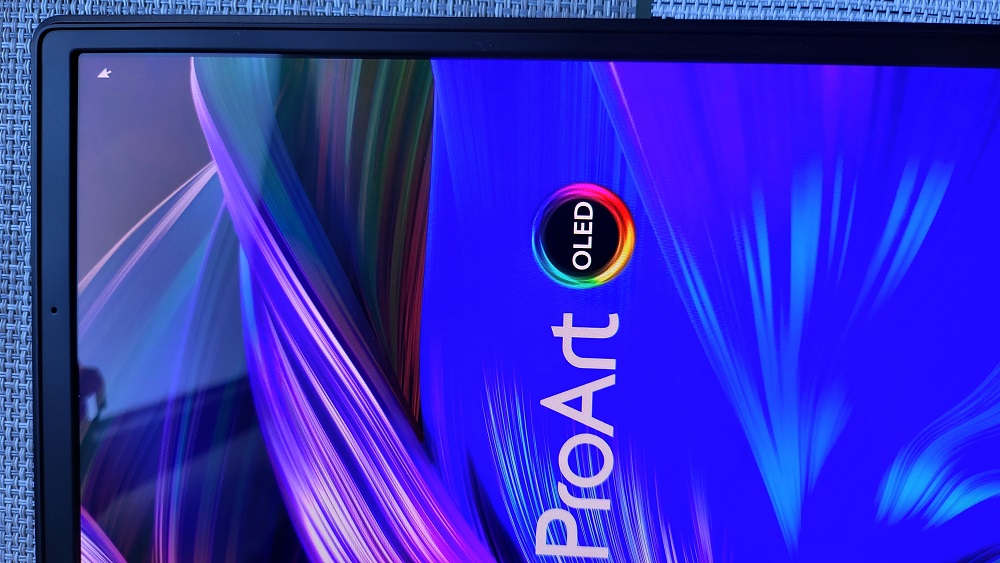 A factory-calibrated (Pantone certified) 10-bit 4K panel covers 100% of the DCI-P3 gamut and delivers a 1000000:1 contrast ratio and color reproduction at Delta E <2, creating an ideal environment for  processing and color work with both video and photography.
ASUS ProArt StudioBook 16 OLED display
The screen will allow you to evaluate materials recorded in 4K quality in full resolution, which is already becoming a standard for professional video work. Most importantly, from the point of view of people who work with images, which is mainly photographers and graphic designers, in ProArt Creator Hub we can calibrate the screen according to your own preferences with the i1Display calibrator.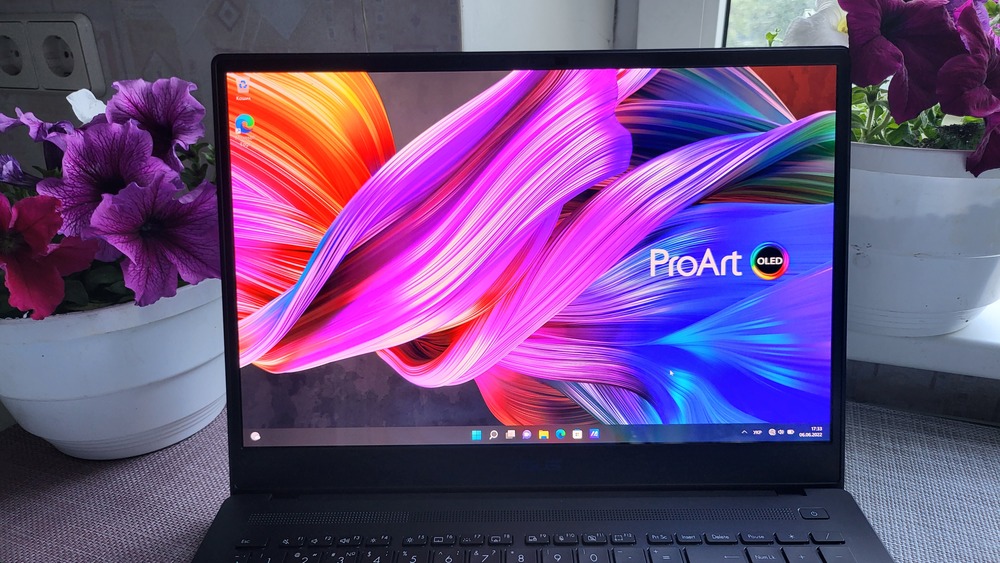 Maybe there is something missing? Probably only a higher refresh rate, because the ASUS ProArt Studiobook Pro 16 OLED only has a standard frequency of 60 Hz. Does it interfere with the processing of photo and video content? Hardly, but you should know the fact itself.
Read also: ASUS ROG Flow Z13 Review: Monster Tablet with GeForce RTX 3050 Ti and Core i9
Hardware performance
The new laptops of the ASUS ProArt series are computers designed for most tasks in the field of processing and photo editing, which, even in the basic configuration, will be able to perform complex processes, for example, working with high-resolution photos or editing 4K materials.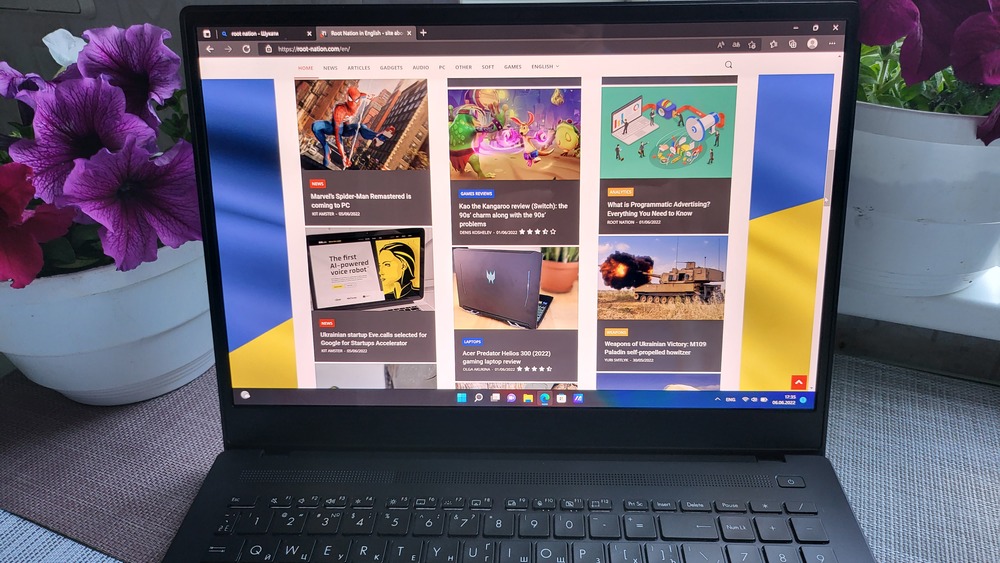 I received an ASUS ProArt Studiobook Pro 16 OLED (W7600H) model based on an Intel Core i7-11800H processor, NVIDIA Quadro RTX A3000 graphics, 64 GB of RAM and a 2 TB SSD.
In the highest modification available in Ukraine, this kit can be expanded to an Intel Xeon W-11955M or AMD Ryzen 9 processor, 64 GB of RAM and 4 TB of disk space. I am sure that you will definitely have enough computing power for any work.
Now let's move on to the hardware section, where the ASUS ProArt Studiobook Pro 16 OLED offers us the best in the market for creating and editing content. I tested not the most powerful version, but the most balanced and rational in terms of characteristics and price.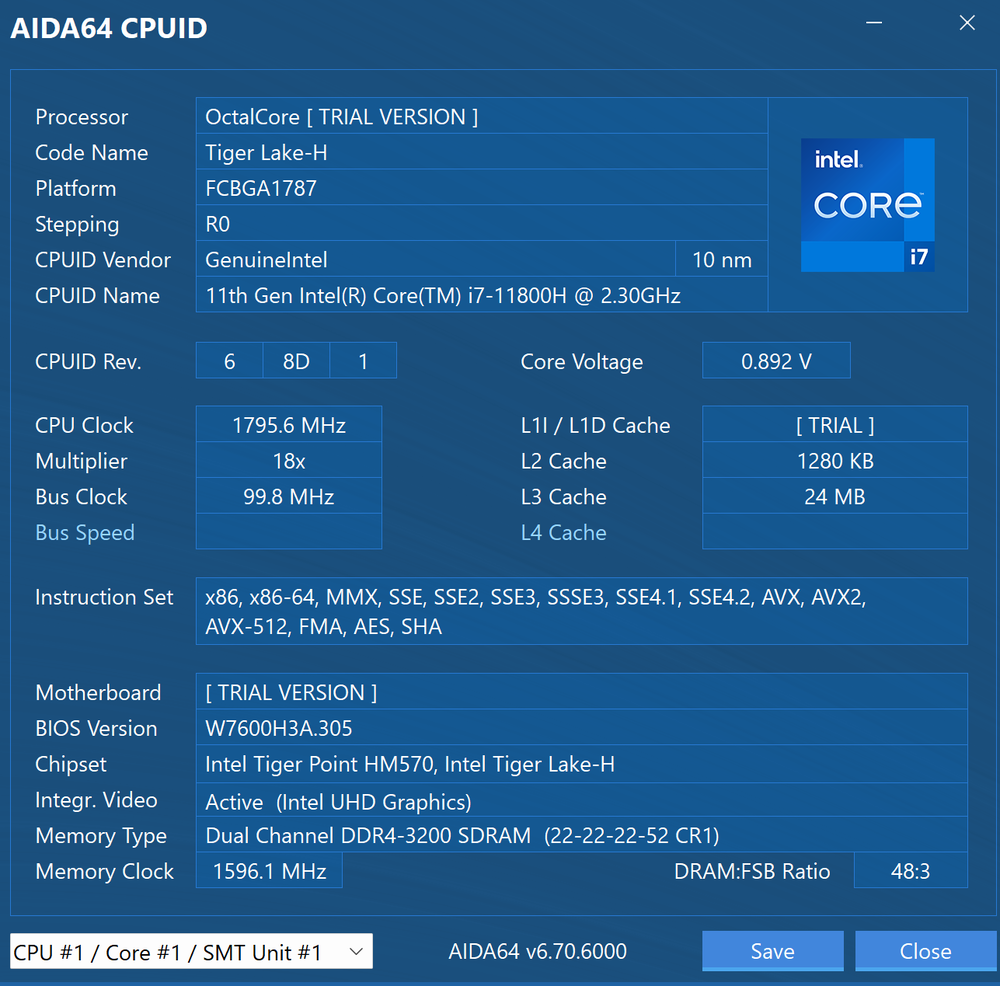 Let's start with the processor, which is the Intel Core i7-11800H in my device, based on the Tiger Lake architecture using a 10-nanometer process. This 8-core, 16-thread unit operates at a base frequency of 2.3 GHz and a turbo speed of 4.6 GHz, and its TDP is only 45 W, which ensures high efficiency. It has 24MB of L3 cache, ideal for high workloads, and integrated 11th generation UHD graphics, allowing it to be used in battery mode and save power.
In this case, the processor is accompanied by a special Nvidia RTX A3000 video card for laptops, which uses the Ampere architecture and Samsung's 8nm process. It is optimized for tasks such as 3D modeling, high-resolution video editing and rendering, and supports hardware ray tracing and the ability to accelerate artificial intelligence. Although the maximum TDP in this model is limited to 90 W with a dynamic gain of 110 W for better resource control.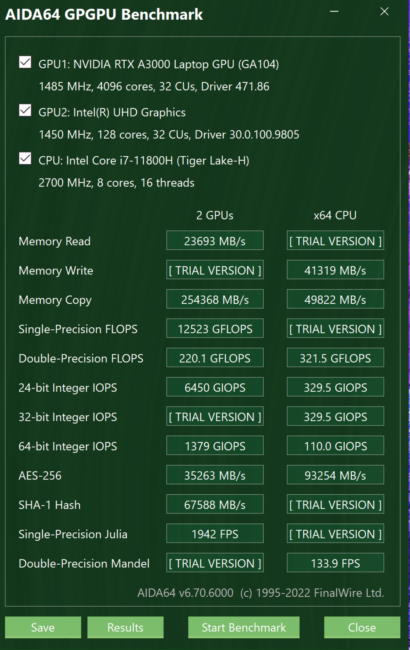 The specifications of this card are based on the GA104 chip equipped with no less than 32 SMs, which in turn combine 4096 shader blocks, 128 tensor cores and 32 RT cores to create 128 TMUs and 64 ROPs. It adds 4MB of cache and an operating frequency of 930MHz in base mode and 1485MHz in boost mode. The Nvidia RTX A3000 has 6 GB of GDDR6 memory at 11 Gbps (1375 MHz), running on a 192-bit bus and 264 GB/s. Like its gaming sisters, the graphics card supports Resizable BAR and Nvidia's technology to enable and disable said GPU while running on battery.
Now let's move on to the RAM, which is 64 GB DDR4 using two SO-DIMM modules with a frequency of 3200 MHz and using the dual-channel capacity of the HM570 platform. The storage of the tested device is 2 TB using a Samsung PM9A1 solid-state drive, with available PCIe 4.0 capacity. We can expand the space with a second M.2 PCIe 3.0 slot, compatible with RAID.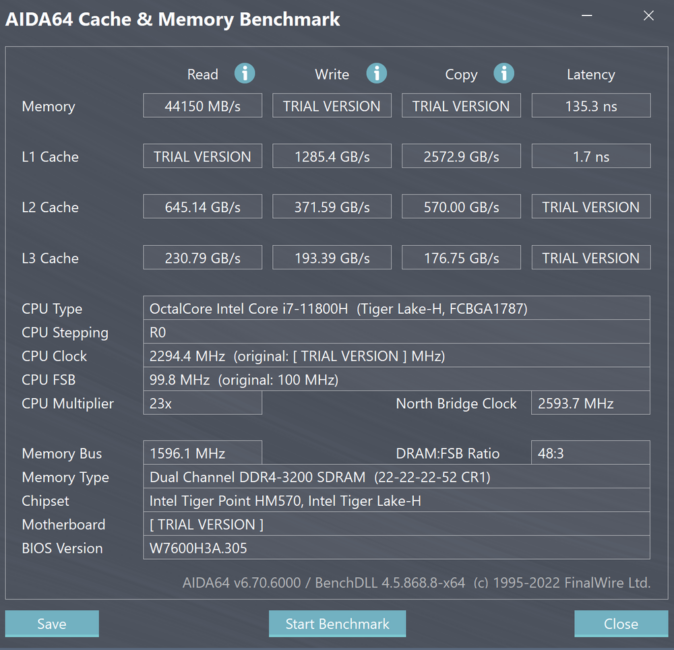 The most powerful version of the ASUS ProArt Studiobook Pro 16 OLED is equipped with an Intel Xeon W-11955M processor clocked at 2.6 GHz and an Nvidia RTX A5000 notebook GPU. Accompanied by up to 64 GB of RAM and up to 2 TB of SSD.
ProArt Creator Hub software
Before I talk about my experience with this amazing device, I want to draw your attention to a proprietary application from ASUS called ProArt Creator Hub.
ProArt Creator Hub is presented as a more professional option for creators than Armoury Crate, although it has clear similarities in interface and engine. For example, we find a summary of resources and telemetry of the laptop equipment on its main screen, which is often seen in applications of this type.
The most interesting part is coming in the following sections, where we will find all the ASUS Dial configurations that we have already seen before. This provides the ability to configure settings in desktop mode and Adobe applications with audio control mode only in the Microsoft Wheel Device tab. We can even create option groups and thus include more features, thereby making integration more complex. We can create groups of applications and improve the workflow in the WorkSmart section.
Another important section for designers is the screen calibration, where, with the help of  a compatible colorimeter, the application prompts us to use a manual calibration wizard to improve the profile of the panel. But, the fact is that the calibration does not give certain improvements, because the screen is perfectly calibrated already at the factory. The ICM profiles uploaded to the system will appear in the history on the right. We will have a factory profile with an average Delta E of 1.53 according to the manufacturer. It is also possible to see a complete digital report of the calibration processes.
Read also: Who are Anonymous? History and present
Is it comfortable to work at ASUS ProArt Studiobook Pro 16 OLED?
When you get to test such a powerful and unusual device, you try to squeeze the most out of it. For normal office work, such as surfing the Internet, communicating on social networks, writing articles, editing photos for my reviews of military equipment, the laptop did better than 'excellent'. Everything opens very quickly, runs smoothly, and you can simply admire the picture in 4K quality forever (although it will not be possible, because the Russians are firing rockets outside the window of my apartment in Kharkiv).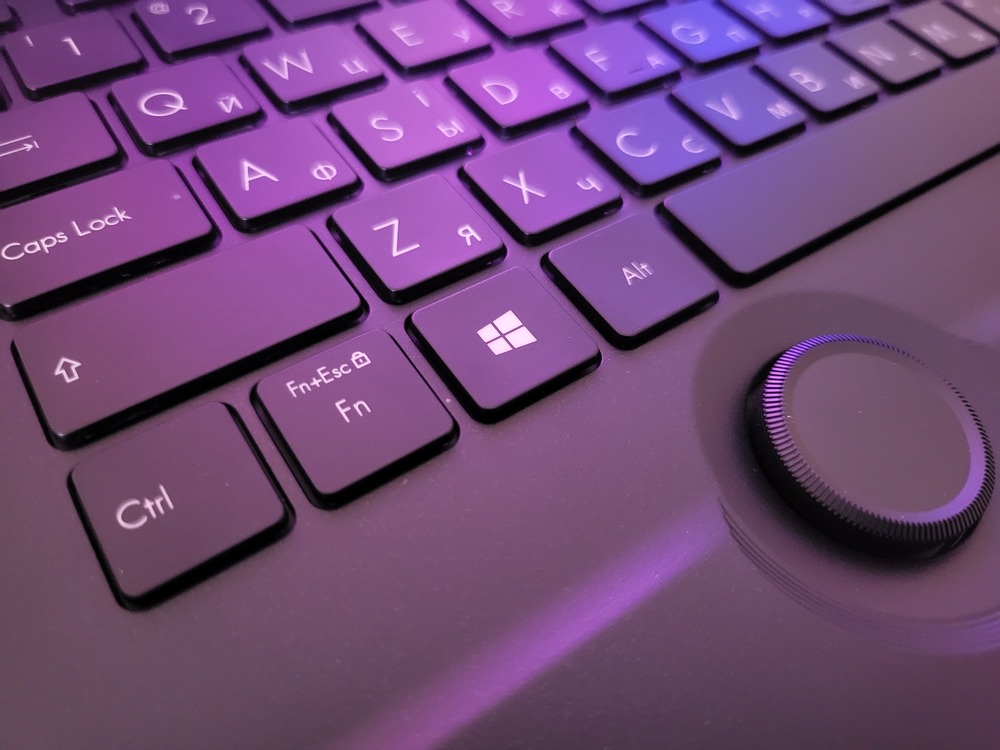 A few words about NVIDIA Studio compatibility, which plays by far the most important role here. By choosing a computer with the NVIDIA Studio logo, we can be sure that we will receive optimally configured hardware in which the graphics card and processor work together to achieve the best performance, especially in creative applications. NVIDIA offers developers an application that gives them assurance that the laptop manufacturer has put effort into customizing it. This practically means that such a computer has a processor with sufficient performance, fast RAM and storage memory, as well as a display of the highest quality that meets the highest standards of image quality. In addition, of course, there is the key element — the GeForce RTX 30xx family video card, which, thanks to specially optimized NVIDIA Studio drivers, provides the highest performance and stability.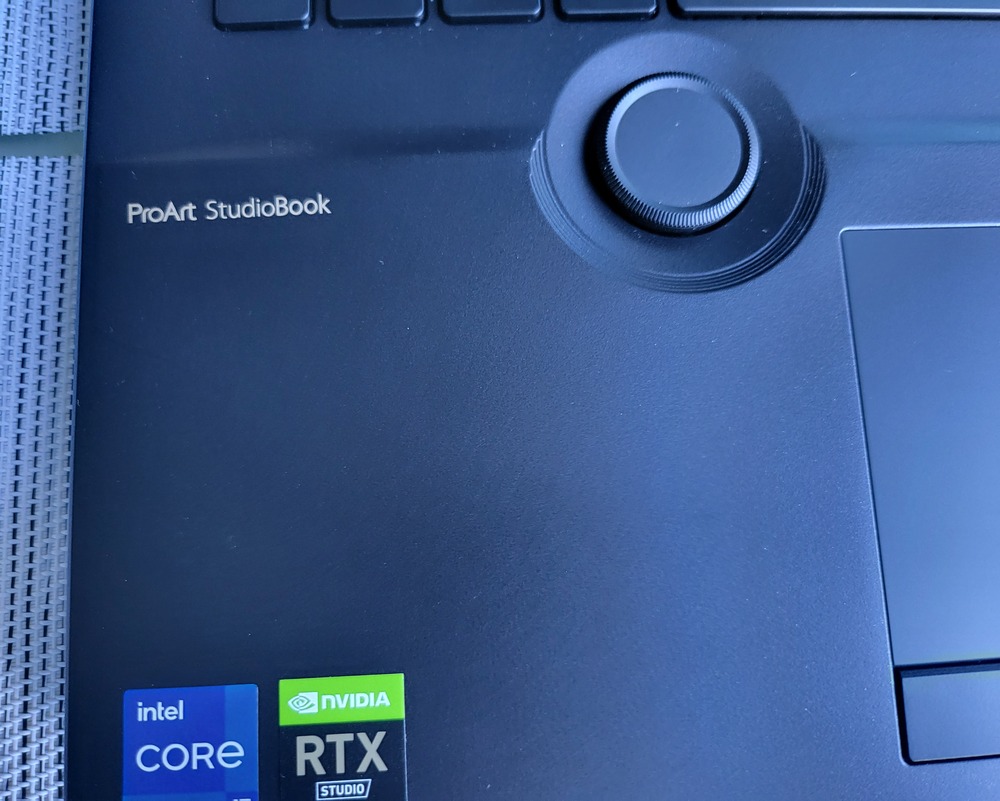 In addition, when using the latest graphics processors from the GeForce RTX 30xx family, we get support of technologies such as artificial intelligence processes, advanced rendering with DLSS 2.0 technology and access to many applications that facilitate creative work, including NVIDIA Omniverse and NVIDIA Canvas. The latter will definitely interest you if you create video content.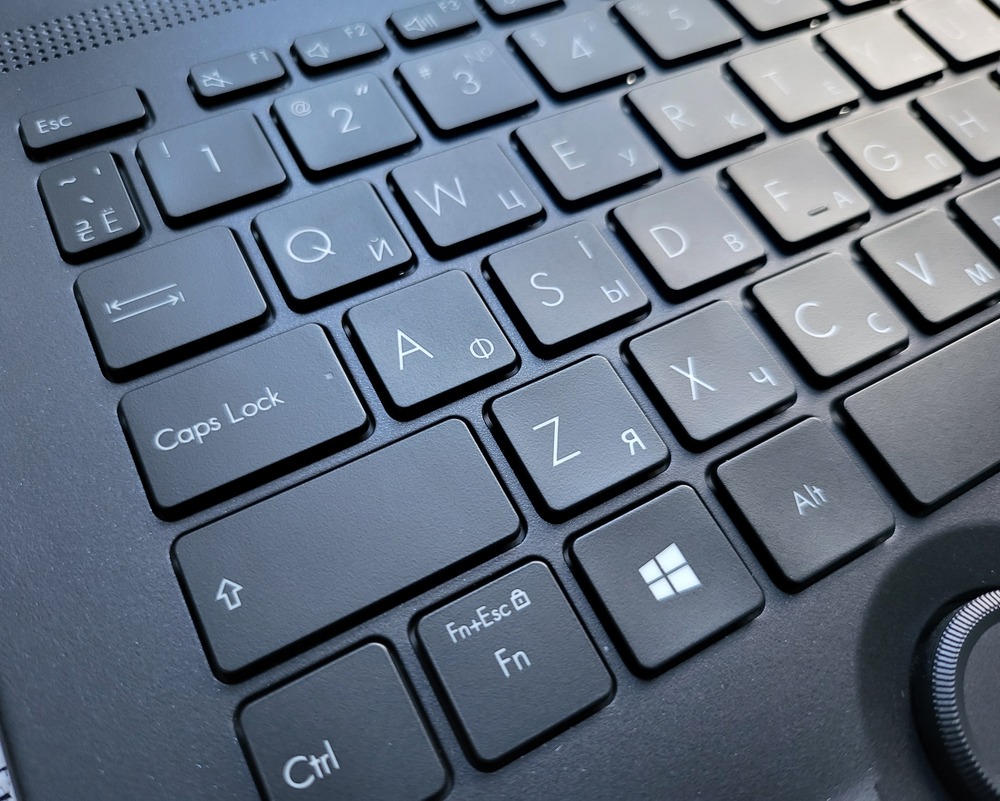 One such laptop is the ASUS ProArt Studiobook 16, which I had the opportunity to interact with for ten days. It is a device of excellent quality, based on the proven solutions of ASUS and enriched with the experience of NVIDIA in the configuration of the graphics processor. We have a great configuration based on NVIDIA GeForce RTX 30xx graphics cards, Intel processors based on the 11th generation Core architecture and  fast 64 GB RAM. All this is housed in a very discreet, but durable case made of high-quality materials. Thanks to this combination, the ProArt Studiobook 16 can offer the great mobility, long battery life and excellent performance required for NVIDIA Studio.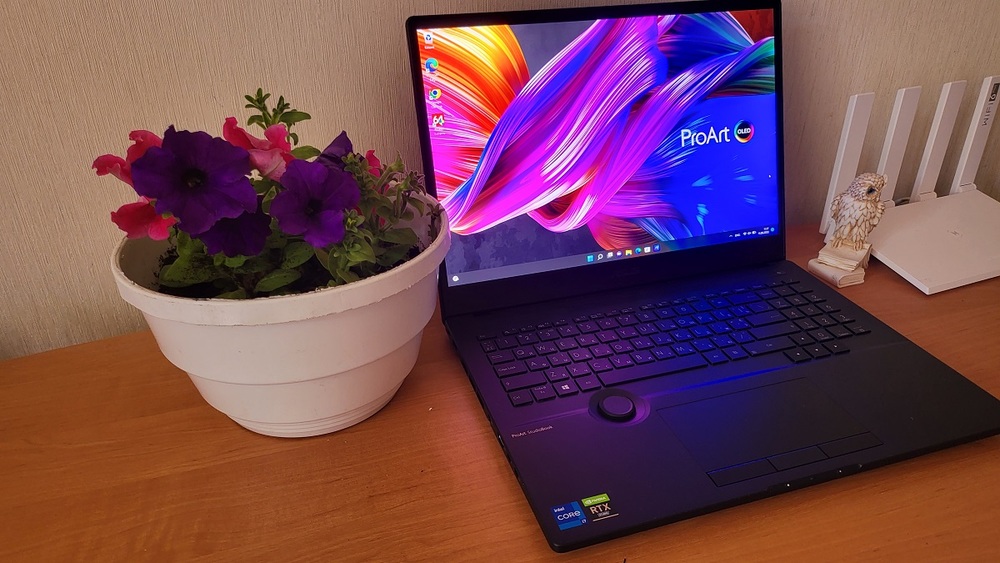 ASUS has equipped its laptop with an excellent OLED HDR matrix with 4K resolution (3840×2400 pixels), which provides perfect contrast, the greatest color depth and a wide color range, and even the initial calibration of the screen. Thanks to this, the image on the monitor will be very close to what we get, for example, in printed form. The display also supports HDR technology and is comfortable for the eyes due to the reduction of blue light emissions.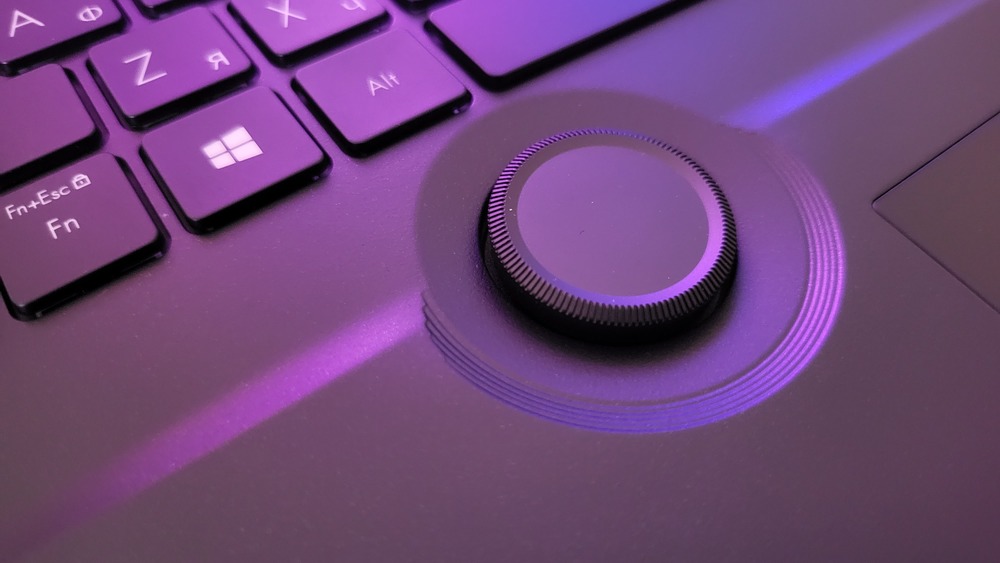 The Studiobook 16 also offers a solution called the ASUS Dial, which is a small controller that also acts as an additional button. Its functionality is freely customizable, and precise movements make it more convenient to use in many applications (such as Adobe) than a mouse or touchpad. This 'toy' especially impressed me with its performance. You get used to ASUS Dial so quickly that now I don't even understand how I will switch to working with an ordinary laptop without this amazing wheel.
After work, it's time to play
After work comes the time for fun – because life is not only work. I decided to test a few games on this hardware and see if it is suitable for gaming as well. Sure, the laptop is efficient, but is it comfortable to play on?
Ever since the ProArt got into my hands, I couldn't resist testing the gaming capabilities – you know, the laptop is designed for professionals… but even a professional needs to play sometimes.
I want to note right away that the 4K matrix is even a bit excessive for games, so almost all games were played at 2560×1600 at maximum graphics settings – after all, the laptop has an Nvidia RTX A3000, so there was no shortage of performance.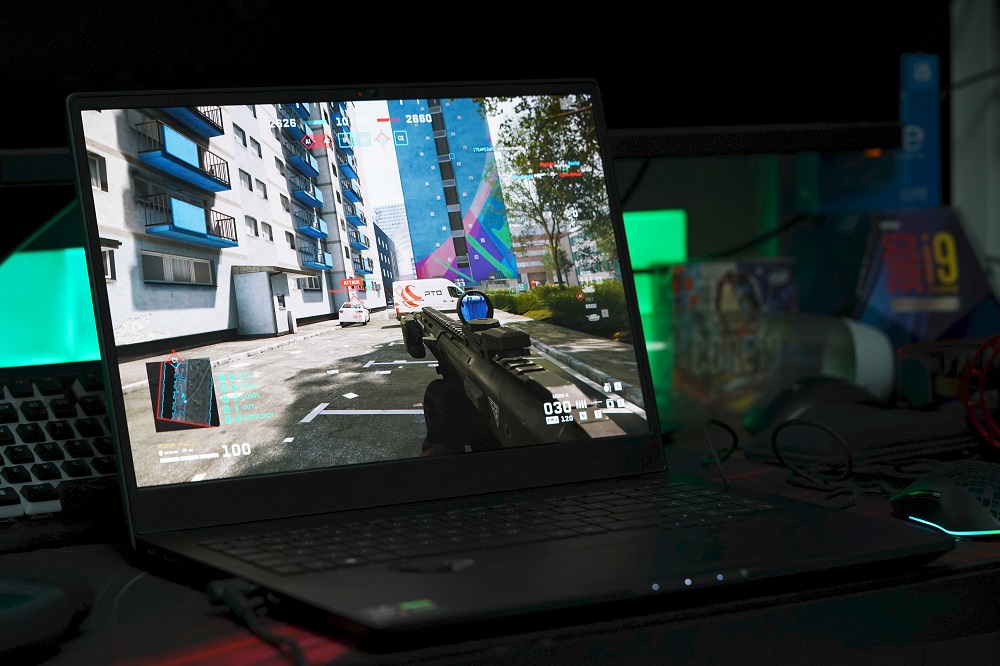 I decided to start with the classics – Counter-Strike Global Offensive. Yes, this is the granddaddy of my list, but this game is still played by millions – here we can generate between 90 and 120 FPS (unfortunately, no temperature data – Afterburner refused to work with this title).
Next up was PUBG BATTLEGROUNDS, which launched fairly smoothly and consistently ran between 80 and 110 frames per second. But pay attention to the temperature of the processor – 90º almost all the time… believe me, you can feel it.
Of course, I really wanted to try the already almost legendary game The Witcher 3: Wild Hunt. 60 to 70 fps here, but all Uber + Hairworks Max settings. Even though the game is a few years old…it still looks insane.
I made sure that the ASUS ProArt Studiobook 16 OLED is really suitable for gaming in my spare time. It should work with almost all games available in the market, and if there are minor problems with the game process, then just reduce the resolution or game settings. Then everything will be really cool!
Noise during cooling and operation
Considering such a powerful filling, I was expecting surprises related to the cooling system and noise in operation. But everything was quite standard. Yes, during the processing of video content, the fans are turned on, because part of the keyboard heats up a bit, but not critically.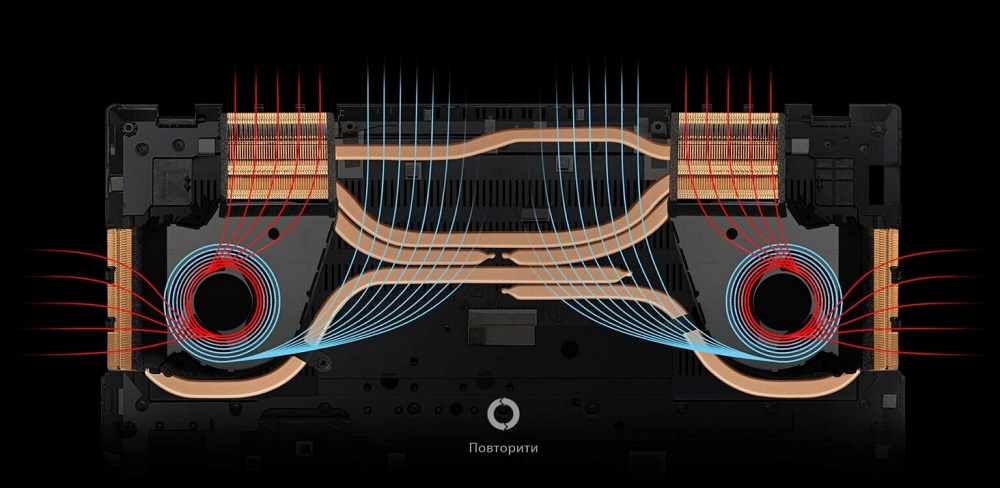 The thing is that the laptop is cooled by a reliable system with two fans and six heat pipes. The air supply is carried out mainly from the bottom of the base, where the ribs are located directly under the fans and in the space between them. Hot air is then usually (as in the case of more powerful laptops, with special graphics) discharged to the rear corners and to the sides.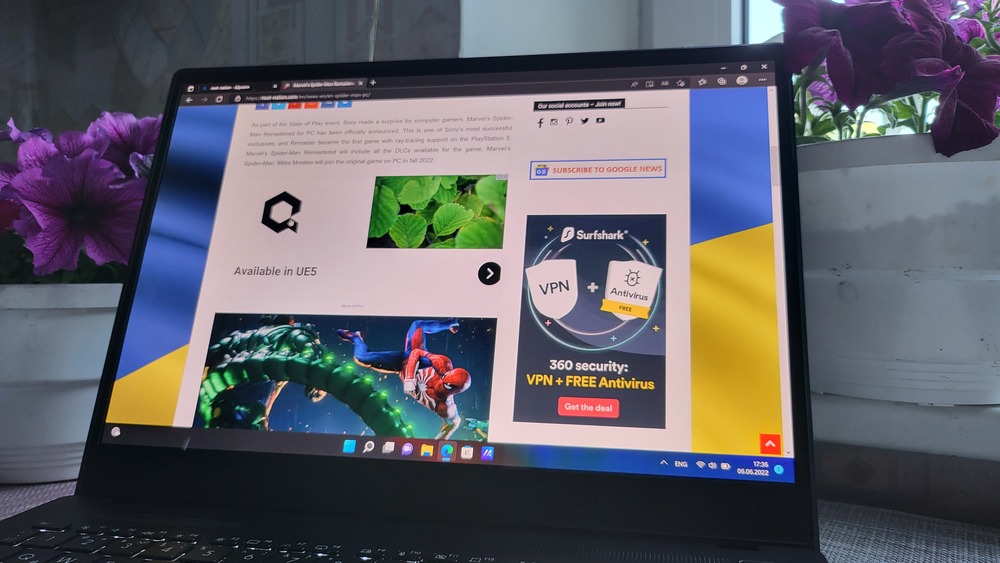 You can set 3 cooling modes in ProArt Creator Hub. The first mode is standard, it is the quietest, the fans often turn off completely, the surface of the laptop heats up the most under load, but it is best suited for working with the Internet and documents, it can be used without problems even during high-performance work, when, of course, the fans work at higher speeds, at about 4,000 rpm. Medium performance mode automatically allows you to increase the fan speed (up to about 6000 rpm) when necessary, so it cools better and can make better use of the CPU and GPU potential. The last mode is Full Speed, in which the speed of the fans increases to the maximum possible value, regardless of the load on the CPU and GPU, but this mode is very noisy and after a long time it becomes annoying.
What about the battery life?
ASUS ProArt Studiobook Pro 16 OLED has a 4-cell lithium-polymer battery with a capacity of 5675 mAh, which provides a power of 90 Wh. Without a doubt, such a battery promises us good autonomy, if we do not use very demanding programs.
During more intensive work, with a screen brightness of 30%, the laptop works for about 4.5-5 hours. While relaxing with Netflix, you can count on 6 hours at half screen brightness, and 5.5 hours at 100% screen brightness.
We get a 200W charger bundled with the laptop, which is a typical laptop charger – big and heavy. The laptop charges fast enough. The whole process from 0% to 100% takes just over 1.5 hours.
Conclusions
It is always difficult to evaluate such an expensive and niche device. Its price is really too high, it scares, it surprises.
But the ASUS ProArt Studiobook Pro 16 OLED does not disappoint in any of its elements, being a near-perfect laptop focused on design and content creation. Especially since we considered not even the most powerful available version. Excellent design, good looks, powerful equipment that cools well, and high autonomy: nothing more is needed.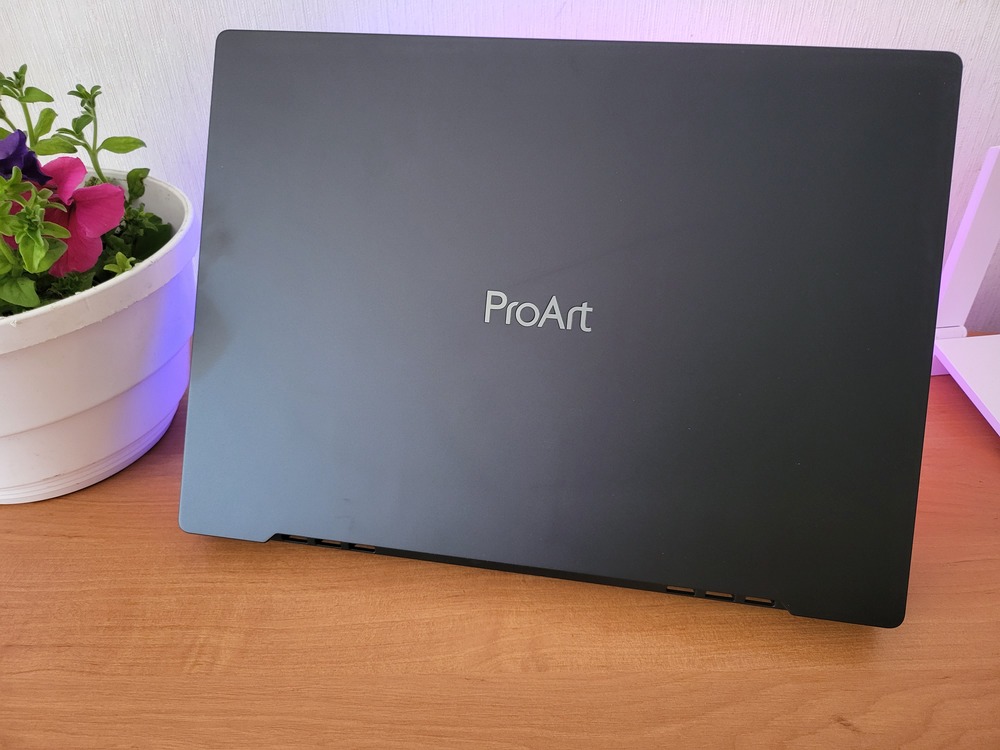 At first glance, you understand that this is a wonderful device, whose design with simple lines and strict style will make you fall in love with yourself. The laptop is only 20 mm thick, the 16:10 format is ideal for editing, and the pleasant coating is quite resistant to fingerprints.
Its hardware delivers stunning performance in any task. Despite the appearance of new processors and video cards in the future, the Intel i7-11800H together with a graphics processor such as the NVIDIA RTX A3000 will not lose its relevance for many years to come. All this is cooled well thanks to fairly quiet fans, as usual in equipment of this type.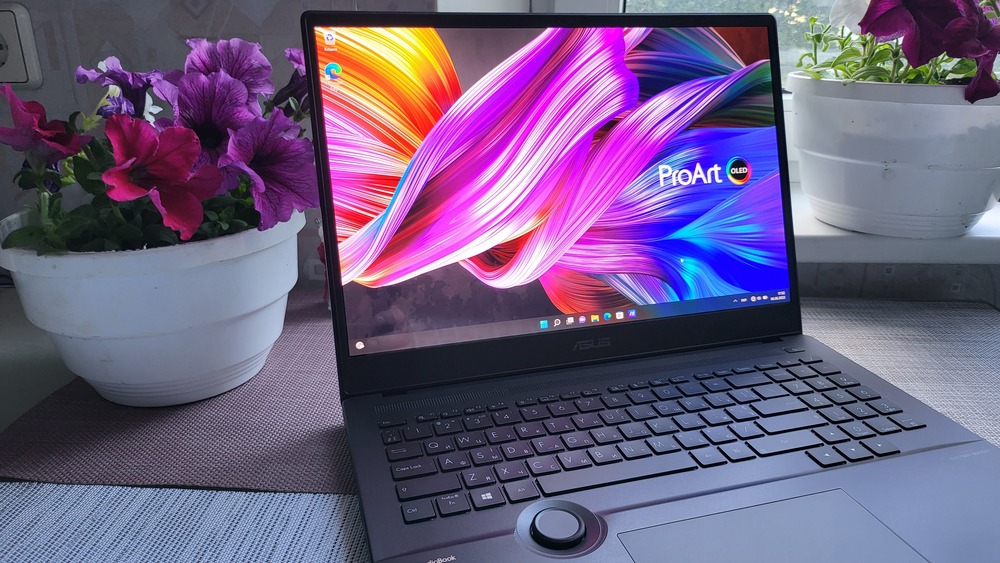 What about the price? When did it ever scare away people involved in creativity, development of video content? The price is high, but this is equipment that is a working tool – such an investment will pay off quickly.
ASUS ProArt Studiobook Pro 16 OLED is a pleasant surprise for everyone who is looking for a powerful laptop that will last for many years.
Pros
excellent design, metal body
sufficient number of ports and connection interfaces
ASUS Dial, Touchpad Pro with triple button and good keyboard
high-quality, calibrated 4K OLED display
excellent performance
hardware for 3D design and rendering
excellent autonomy
quiet operation of the cooling system
Cons
keyboard and ASUS Dial take some time to adapt
very steep price
Where to buy ASUS ProArt Studiobook Pro 16 OLED
Read also:
You can also help Ukraine fight with Russian occupants via Savelife or via an official page of the National Bank of Ukraine.