There are a lot of people who use Notepad to take notes, jot down ideas, or even write full-fledged articles or stories. However, sometimes things can go wrong and you might find yourself in a situation where your Notepad file has either been deleted or unsaved.
It may be due to sudden forclosure, power failure, or system crash. If this happens, don't panic. There are a few ways you can recover your lost Notepad file.
In this article, we'll show you how to recover Notepad files on Windows quickly and easily. Let's get started!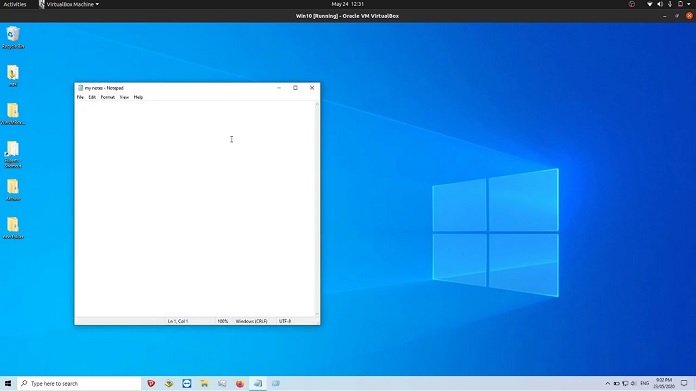 What Is The Difference Between Notepad Files and Notepad++ Files?
If we talk about the names of Notepad or Notepad++ files, these are quite similar, which does not mean they both are the same.
Notepad files are similar to plain text files and can be saved with the .txt file windows by default. Any individual can use it to write or edit text files. It supports almost all languages.
On the contrary, Notepad++ is a free source code editor for windows. It is an alternative to Notepad. Notepad++ helps to assemble the least list of tasks. Some features make it more attractive than the Notepad, including spell checker files, tabbed documents, and file comparisons. Furthermore, it supports many languages and various programming languages. We can say it is a full-blown editor that also works as a light IDE, as in Integrated Development Environment.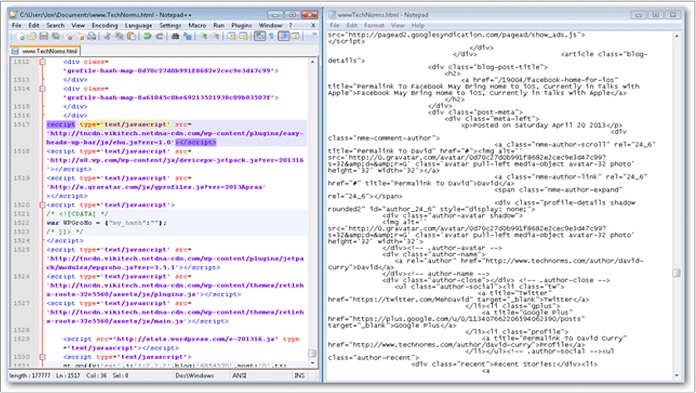 You can recover deleted notepad files using various methods. Most likely, these deleted files or documents remain on the hard disc. These files do not completely erase from the hard disc even after removing them from the Recycle Bin. Let's discuss some recovery methods you can utilize on Windows 10/11.
With The Help Of 4DDiG
Remember one thing here; temporary files can only recover unsaved files. It cannot help you recover those Notepad files that are lost or deleted. If you face the same issue, you can use 4DDiG Data Recovery. It'll help you recover permanently deleted files.
Tenorshare 4DDiG is a premier data recovery program available for recovering unsaved files. People find it very effective in recovering lost data, especially on Windows and Mac devices. In today's market, Tenorshare is the most effective data recovery software. It makes it easier for people to recover their lost data.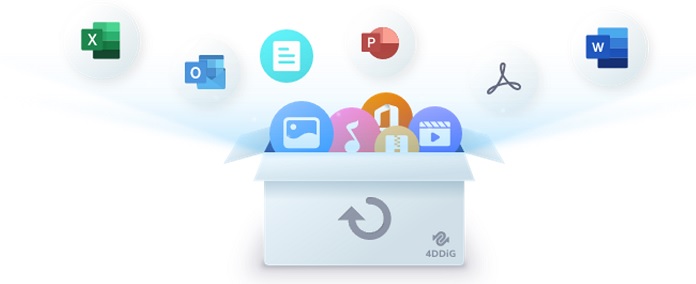 Some of the dominant features of this effective tool are as follows:
It received all the lost/deleted/unsaved data or documents, including Notepad files, Powerpoint, Word files, Excel files, and more.
It is capable of recovering data from the emptied Recycle Bin.
It can recover data from the Mac/USB flash drive/Windows/external device/SD card/digital camera, and more.
It also supports over 1000+ types of data, including documents, audio, video, photos, etc.
It offers 100% security with a free trial.
Step 1: Location Selection:
The first thing you've to do is download and install Tenorshare 4DDiG on your pc or computer and launch it. Once the program displays a list of available drives, you've to locate the location where you lost Notepad files and then hit start to proceed further.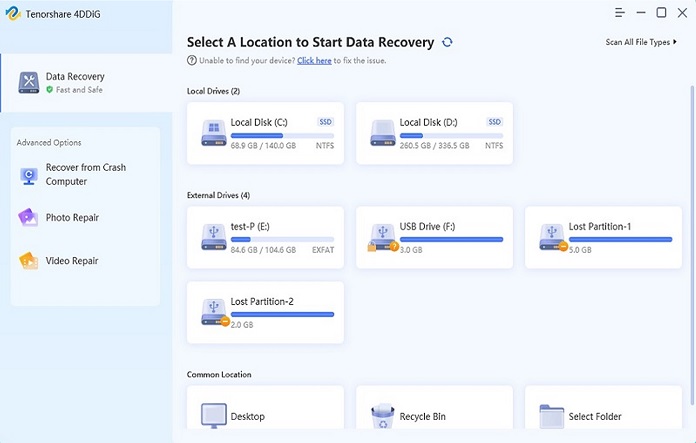 Step 2: Preview and Scan Notepad files:
When you select the location, the rest will be done by 4DDiG automatically. It'll scan the selected location files and compile a list of all recoverable Notepad files. You can now find your target files to preview before data recovery.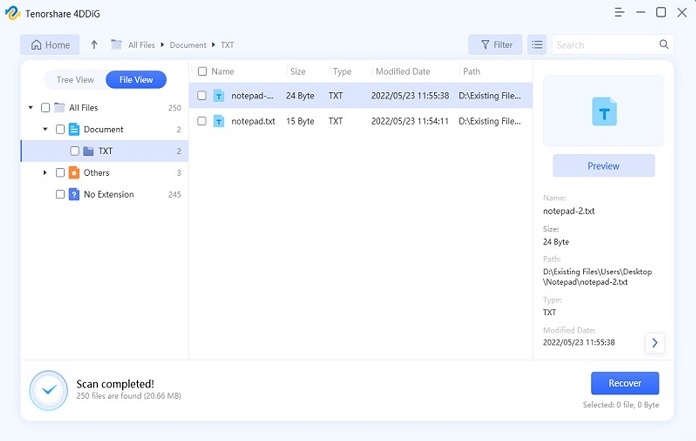 Step 3: Recover Deleted Files:
You must click Recover to save your desired files to a secure location. Remember that the path should be different to prevent permanent data loss in the future.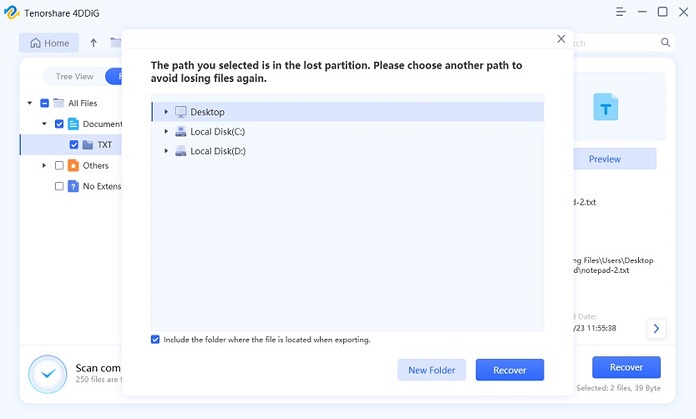 How to Recover Unsaved Notepad Files on Window 10/11?
If you use Notepad files, you must have an idea that there is no auto-save option function available yet. So, for this reason, when you exit an unsaved text document, sometimes it's impossible to get it back. However, you can still recover those unsaved Notepad files with the help of temporary files because the contents of your Notepad files have been secured in your pc or computer but not permanently.
Here are the steps you need to follow to recover unsaved Notepad files.
Step 1:
Tap on the search button on your Windows. Type "AppData" and click on the "Enter" key. Doing so will open the Roaming folder.
Step 2:
Type .txt in your Windows search bar and look for the Notepad files. See there if you can recover the unsaved Notepad file.

Bonus Tip: How to Recover Unsaved Notepad++ Files?
As we have mentioned, the Notepad is a plain text editing software that saves files in. text format. However, Notepad++ is quite similar to it, but it is more complex or powerful. Notepad++ provides you an option to recover unsaved files that you lost, whether by accidentally closing or application closes.
How To Turn On The Automatic Backup Feature In Notepad++?
Go to "Settings > preferences > Backup > Now check out the Enable session snapshot and periodic backup.
Here are the few steps to recover Notepad++ files.
Step 1:
Direct to the Notepad++ unsaved files location: C:\Users\USERNAME\AppData\Roaming\Notepad++\backup.
Step 2:
Look out for the files you need and preview them. You can also type on the search bar to locate all ".txt" files at once. Now you can restore lost or deleted Notepad++ files but make sure to locate them in different locations. It'll prevent losing them permanently in the future.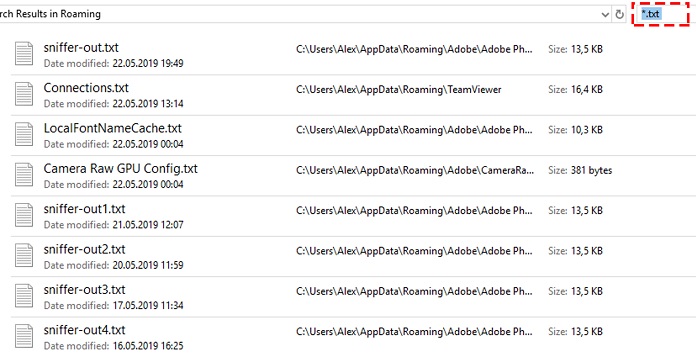 Conclusion
Various reasons can damage the Notepad files, including accidental deletion or system crash. However, you can recover unsaved or deleted Notepad files by using the listed instructions in the article. You can use Tenorshare 4DDiG Data Recovery Software to recover your lost files. People find this software very effective. We hope this article will help you in recovering your corrupted notepad file or unsaved notepad documents. Let us know in the comments below.