Apple's macOS is one of the digital world's most secure and highly desired OS. MacBooksare known for being secure and fast with great and high-spec chips and graphic cards. Now Apple has decided to replace Intel processors with its own Apple Silicon processor M series. MacBooks with M1 and M2 processors are currently available in the market. If you are a Mac lover and user and have a great passion for photography, you might be plagued with the problem of blurred photos.
If you are wondering about finding an excellent solution to how to fix blurry pictures and your first preference is a great and secure online tool. Wondershare Repairit – Online Photo Repair is a great tool that you can use to repair photo.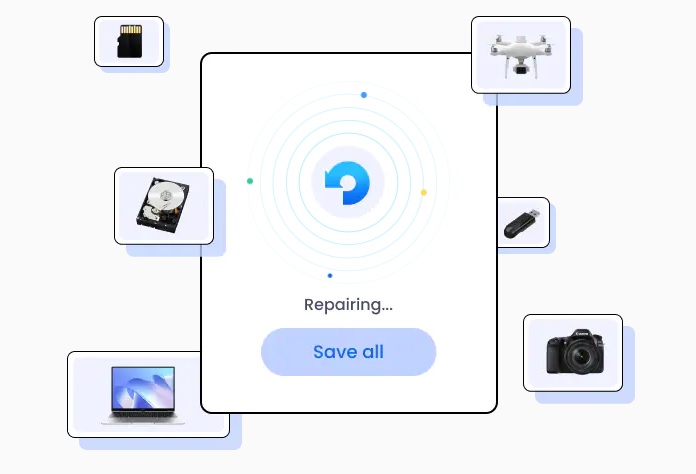 Part 1: Why do Your Photos Get Blurred in First Place
The blurriness of photos is not a problem specific to the general public, but professional photographers can also face such a problem. There is no short answer to why photos get blurred, as there are many factors behind it. The reasons may range from faulty camera configuration to low-quality camera lenses. Below are a few main reasons discussed in short detail to giveyou a general overview: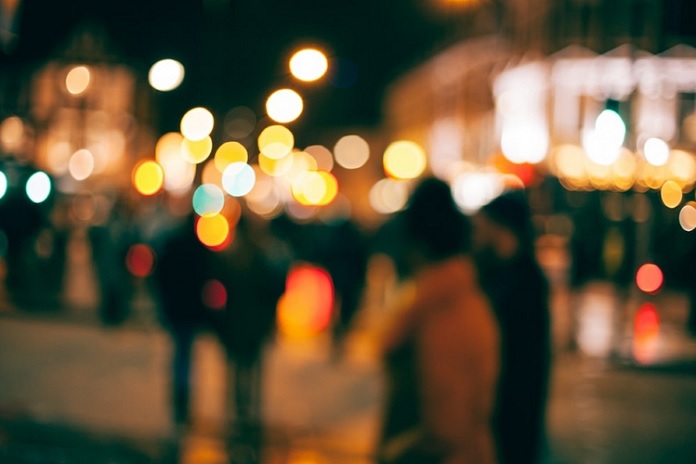 1. Camera Shaking and Shutter Speed
Probably the main reason behind blurred photos is the camera shaking when clicking pictures. There can be a lot of reasons behind that, like bad camera holding technique, uneven or unbalanced standing platform, pressing the shutter button too hard, etc.The reason why photos get blurred due to camera shake is that the shutter speed is too slow.
The camera mustn't move in the slightest when the shutter is open. Either secure the camera or use a fast shutter speed to minimize the shaky effect. The rule of thumb is that your shutter speed should always reciprocate the focal length of your camera lens. For a 60mm camera lens, the shutter speed should be 1/60s; likewise, for a 500mm camera lens, it should be 1/500s.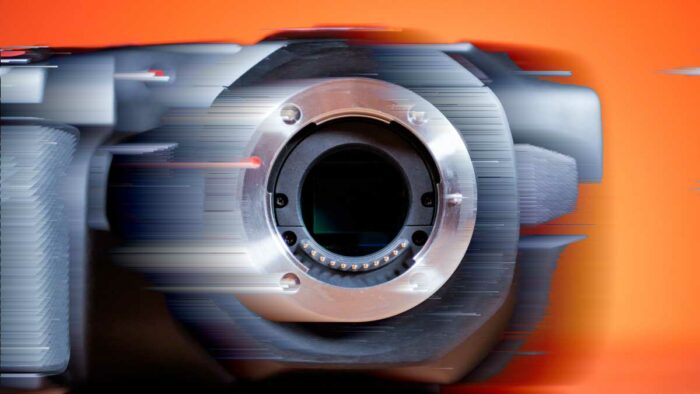 2. Subject Movement and Focus Issues
You can be taking pictures of a moving target, or there could be unexpected movement in still targets. For example,sudden wind can disturb the focus when taking photos of natural scenery like a forest. Similarly, the focus must be continuously adjusted if the target is constantly moving, like running persons or movingvehicles. Photos will be blurred if the focus is not right.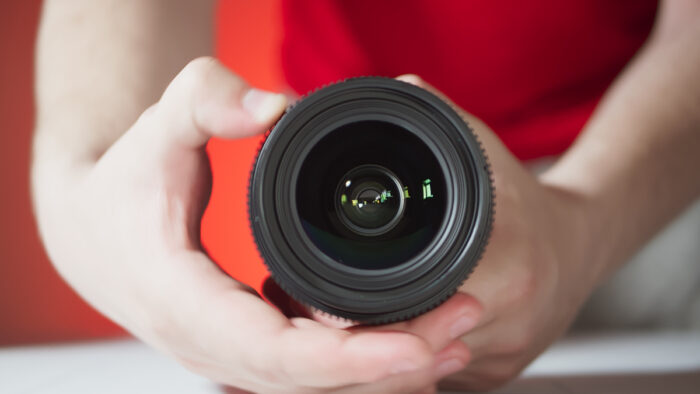 Autofocus is the one most important and helpful feature in modern cameras. There are three modes available in autofocus for different situations. Automatic Autofocus, also called AF-A, is the default mode of autofocus. For still objects, you should use Single-Shot autofocus (AF-S); for moving targets, useContinuousAutofocus (AF-C). Manual focus is also needed in some situations, like when using a tripod or monopod.
3. Absence of a Tripod or Monopod
It is difficult to control the camera's shakiness if you handhold the camera. The problem could exacerbate when you are on an uneven surface or tired. In these situations, tripods can help you a lot. You need to secure the camera on a tripod and ensure that the tripod is firmly attached to the surface. If using the tripod is impossible, you can also use a monopod. When using a tripod or monopod, change autofocus to manual and turn off the auto-stabilization feature.
4. Low Quality or Unclean Camera Lens
Unclean or scratched camera lenses can also result in blurred photos. Always ensure that your camera lenses are properly cleaned and kept safe so they don't get scratched.There is also a possibility that the reason behind your blurred photos is your low-quality camera lens. Similarly,when using filters made of cheap plastic, the resulting images can get blurred.
Part 2: Introduction and Benefits of Repairit – Online Photo Repair
For whatever reason, if the photos you have captured end up being blurred, the main question is the solution to this problem. If you do a Google search, you'll find a lot of links claiming to be the solution to your problem. But you have neither the time nor patience to go through and test all of them. So, we have decided to find the best tool for you, and we recommend Repairit – Online Photo Repair.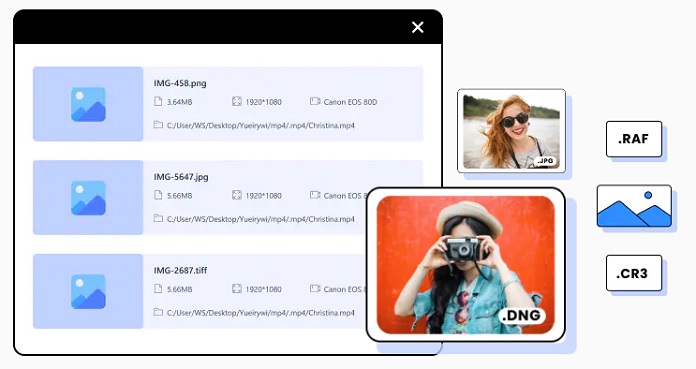 The tool supports over 13 photo formats and can repair even the most damaged photos. It maintains images' original quality and integrity, and data transfer is also encrypted for security. The process is simple and consists of a few easy steps.
Part 3: Walkthrough of the Process of Fixing Your Blurred Photos Using Online Photo Repair
When using Repairit – Online Photo Repair for fixing your blurred photos, you need to follow these simple and easy steps:
Step 1: Upload Your Blurred Photos
When you have opened the Repairit – Online Photo Repair tool, you will see the "+Add" button on your screen. You can upload your blurred photos using this option or drag and drop blurred pictures in the box on the RepairitOnline window.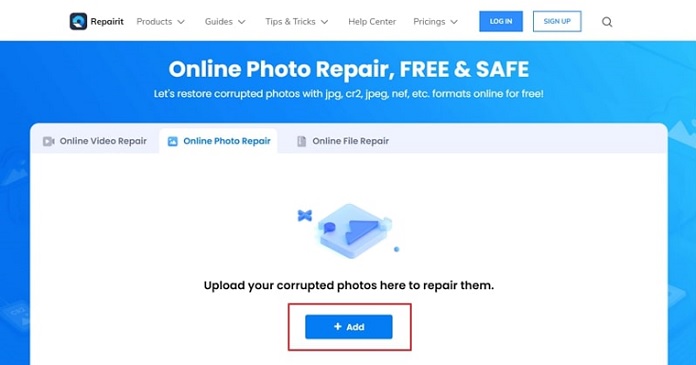 Step 2: Start the Repair Process
You can see your uploaded photos on the screen containing information like file size, resolution, and recording device. Next, click on "Repair" to start the process, and you will receive a notification once the process is finished.
If some photos fail to be repaired, you must initiate the Advance Repair process. For Advance Repair, upload a sample picture with the same format taken by the same device as the blurred photo. Now press the "Repair" button again to start the process.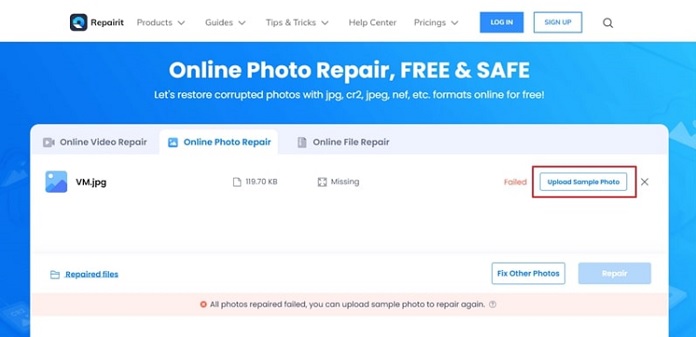 Step 3: Download Your Repaired Photos
Once the process is done, check the "Results" section to confirm that the photos have been repaired properly. When you are satisfied, download the photos back to your system. Ensure a fast and stable internet, so the images don't get corrupted during downloading.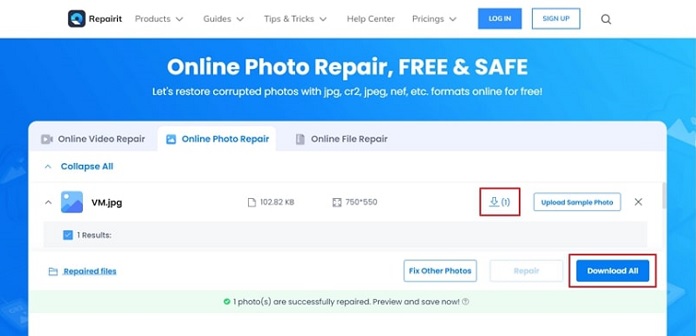 Final Thoughts
Photos can get blurred for many reasons, some because of your mistakes and others simply due to sudden situations or bad luck. Though your important images are blurred now, it is not the end of the world. There are many ways available for you to salvage the situation and fix your essential data. Repairit – Online Photo Repair is an example of such a solution that can be your problem solver regarding blurred or damaged photos.