The new era of video games is finally upon us, and PlayStation 5 is now (kinda) available to everyone. And the wait was worth it: the new console is significantly more powerful than its predecessor. It offers 4K and 3D sound, and a completely new UI, as well as an innovative controller.
Like any other console, the PS5 experienced a lot of problems at launch. Unpolished OS is a traditional weak link of almost any fresh console, and nothing changed this generation. For this reason, many users encountered nasty bugs almost immediately. We will try to collect in one article all the most common problems.
Read: Sony PlayStation 5 review: 4K Gaming and a Mind-Blowing Controller
Read also:
I turned on the console, but I cannot connect the controller
Each PS5 comes with a fresh DualSense controller. But no matter how much you press the button, it will not work without synchronization. In order to pair with the console, connect a USB-C cable to it (also included, or any from a smartphone) and connect it to the console. Click on the Home button (in the form of the PlayStation logo), and… the console will see it. That's all, you can disconnect and hide the wire.
Doesn't work anyway? Try charging your controller and try again later. No? Try updating it. Still doesn't help? It looks like a defect.
The controller shuts down by itself
If your controller turns off by itself, then this is most likely not a bug, but a feature. In the sense that this is how it should be – the PS5 is simply saving its power. To ensure that it never turns off, go to the power saving settings and set the value that suits you.
Settings – System – Power saving – Set Time Until Controllers Turn Off > Do not turn off
And if the controller turns off during the game, then it either has a low charge or problems with the battery. This shouldn't happen. But before you sound the alarm, you need to try updating the controller firmware. If this does not help, you probably won't fix anything by yourself.
My TV is flickering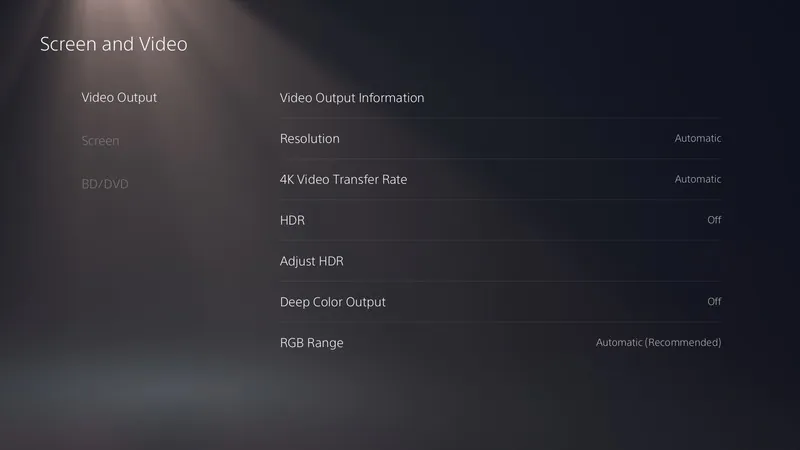 Flickering is a common problem. But it is easy to solve.
Go to Settings, and then to the Screen & Video section. Then go to Video Output, and 4K Video Transfer rate.
Here you can configure the transmission of the image. If the screen flickers, try decreasing the value.
Did not help? Check your HDMI cable. Use the one included with your console, HDMI 2.1 or later. To check, you can reduce the resolution in the settings.
I'm tired of constant notifications
You can easily turn off PS5 notifications. Just go to Settings and find the notifications settings there. Here you can immediately see which notifications you need and which only interfere. Here's a complete list of items:
When friends go online
Game notifications
Invitations
Trophies
Events
Friend requests
Posts
Voice chat
Multiplayer rewards
New Song (Spotify)
Downloads and Installs
Uploads
Wishlist updates
PlayStation News
Subscriptions
I can't find the browser
You can stop looking. It's not there. More precisely, it is hidden somewhere. And it even supports JS and everything else! How do you use it?
We use YouTube as an example. In messages (to a friend, or to yourself) write "youtube.com" and open the link.
The YouTube will open. You can log into your account, and it will even remember it. But that's not all: the video can be pinned to the side so that it plays in the background. This is convenient if you want to listen to a podcast.
Turn on the video and select the Pin to Side option. Done.
The controller sound is too quiet/loud
The sound function in the controller is very useful in some games like Sackboy: A Big Adventure. But if it's not loud enough, that can be changed. Go to Settings, find Sound and then Volume.
PS5 download speed is very slow
In our observations, PS5 download speeds are much faster than the PS4. This applies to both wired and wireless connections. Still not satisfied with the speed? First, check the PSN service status. Everything is fine? Moving on.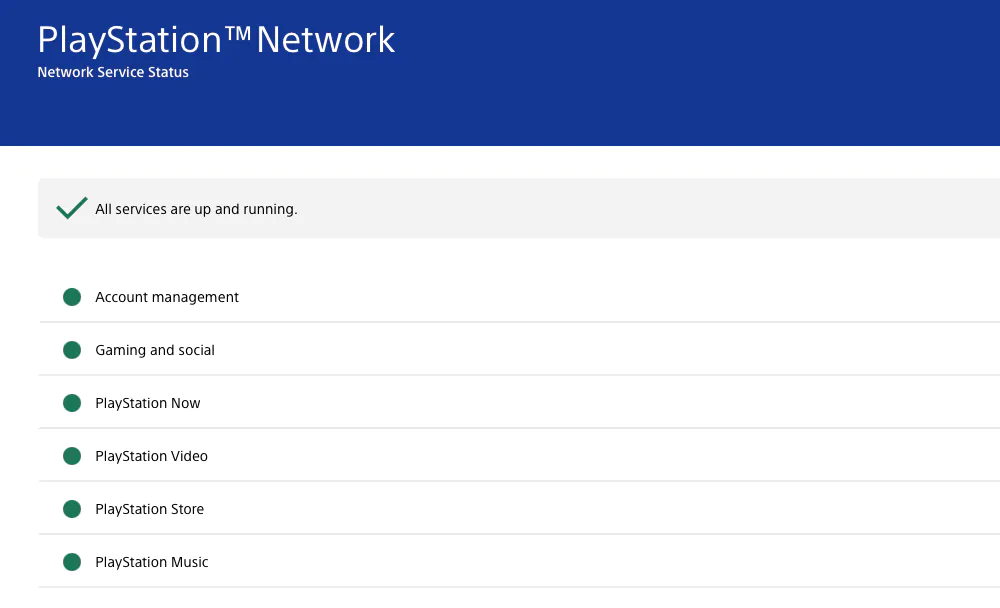 My advice is not new, but I always recommend using wired connection. And it doesn't matter if the system itself shows a low download speed, real downloads are always as fast as possible. It doesn't hurt, of course, to check your own router. Try restarting it. If it is quite old, don't expect lightning speeds, especially if many devices are connected to it. It wouldn't hurt to take a closer look at modern routers with Wi-Fi 6+ support, like the Huawei WiFi AX3.
I can't turn off DualSense adaptive triggers. I don't need them in FIFA!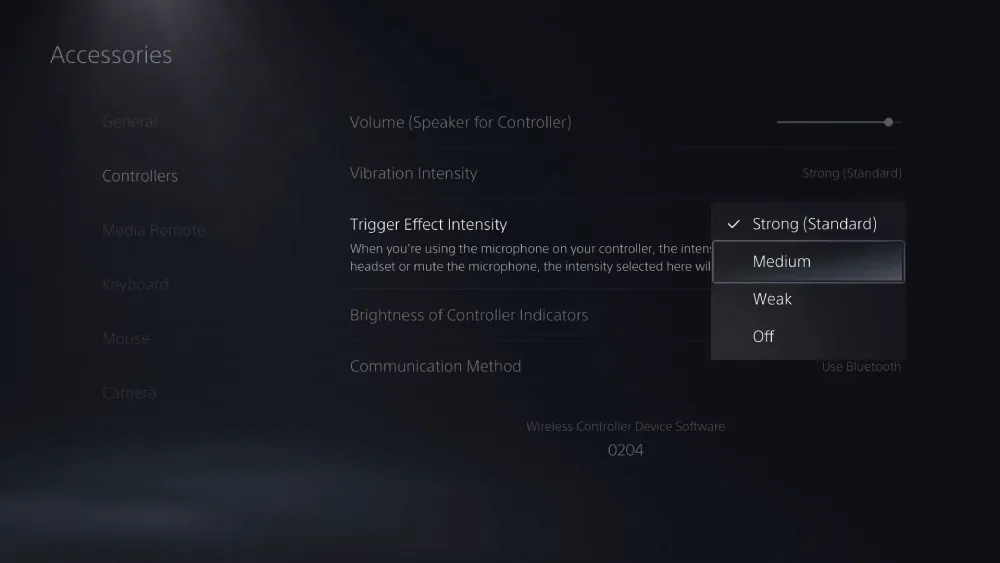 Some developers immediately began using all the new features of the DualSense controller. In particular, there are massively improved vibration motors and adaptive triggers. The latter are especially impressive in games like Astro's Playroom, but they are not always welcome. For example, FIFA 21 players were outraged that the triggers were impossible to turn off in-game. This can only be done in the system settings. To do this, go to Settings – Accessories – Controllers – Trigger Effect Intensity.
I downloaded my games from the PS4, but I can't find my save
The PlayStation 5 offers almost 100% compatibility with PS4 games, but your saves are still on your old console – or on the PS Plus cloud if you pay for the service. Still, you will have to take several steps. Unlike the Xbox Series X, this process is not automatic.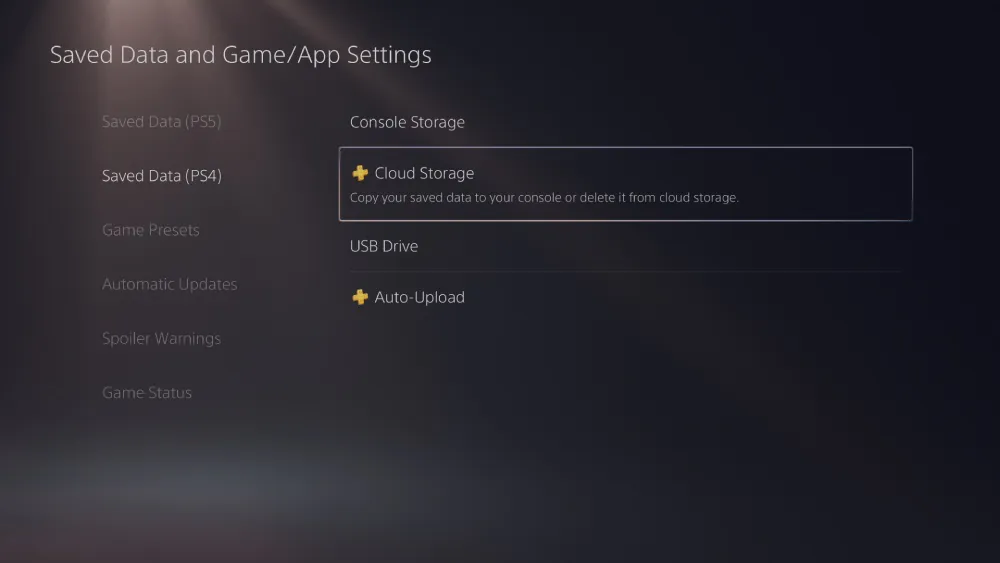 Method one: Go to the settings, find the Saved Data and Game/App Settings, and then the Cloud storage, and from where you can download the necessary save. Everything is quite simple and straightforward, but not very convenient if there are a lot of games.
Method two: All PS4 saves can be backed up to removable media. For example, a USB flash drive. Turn on the PS4 and go to Settings – Application Saved Data Management – Saved Data in System Storage and select Copy to USB drive. Then turn on the PS5, find Settings – Saved Data and Game/App Settings – Saved Data (PS4), select USB device and then Copy to Console Storage.
Method three: If both consoles are connected to the same network, a save (or saves) can be transferred over the air. To do this, you need to turn on both consoles, and on the PS4 select Settings – System – System software – Data transfer – Continue. After the you see Preparing to transfer data text pop up, you will need to hold down the PS4 power button for a little more than one second. Then select the desired save and click on "Start Transfer". Attention: this is a slow process.
| | | | |
| --- | --- | --- | --- |
| Data category | Extended storage | Cloud storage | USB drive |
| Game data (PS5 games) | – | – | – |
| Game data (PS4 games) | ✓ | – | – |
| Saved data (PS5 games) | – | ✓ | – |
| Saved data (PS4 games) | – | ✓ | ✓ |
| Screenshots and videos | – | – | ✓ |
I can't backup my save files to a USB flash drive
PS4 allowed backing up saves to both the cloud and removable media. But PS5 does not give such freedom: only the far from ideal cloud option remains. This means you need a PS Plus subscription. This may change in the future, but so far this is the only option.
I see there was a free game on PlayStation Plus, but the store asks me to pay, what's going on?
PlayStation Plus benefits
Access to online multiplayer (free games can be played without it)
Cloud storage
Share Play
In-Game Help (PS5)
PlayStation Plus Game Collection (PS5)
Exclusive discounts
Free Games of the Month
PlayStation Plus has been around for a long time, but new players continue to get confused about it. We explain point by point how to get a free game:
New free games are added to the subscription every month. As a rule, there are three of them. Some are only available on the PS4, and some are only available on the PS5.
A game remains free for one month. After that you have to pay for it.
If you managed to "pick up" a game for free, it will forever remain "yours" for the duration of the subscription. If the subscription has ended, then the game becomes unavailable. If you pay for your subscription again after a while, you will get back access to all your games.
If you then buy the game separately, on disk or digitally, all your saves will be compatible with it.
I cannot access digital content (games, DLC, virtual currency). Something with the license. What can I do?
Sometimes licenses need to be restored in order to regain access to digital content. For this:
Go to Settings > Account Management > Restore Licenses.
Click Restore and wait for the process to complete.
Internet not working on my PS5
Without internet the PS5 is helpless, so the first step is to set up a wired or wireless connection. With wired one, everything is simple: connect the cable to the Ethernet port on the back, then go to Settings > Network > Settings > Set Up Internet Connection > Set Up Wired LAN.
In order to set up a wireless connection (Wi-Fi), go Settings > Network > Settings > Set Up Internet Connection.
A list of possible access points will appear. Select the one you want and adjust the settings.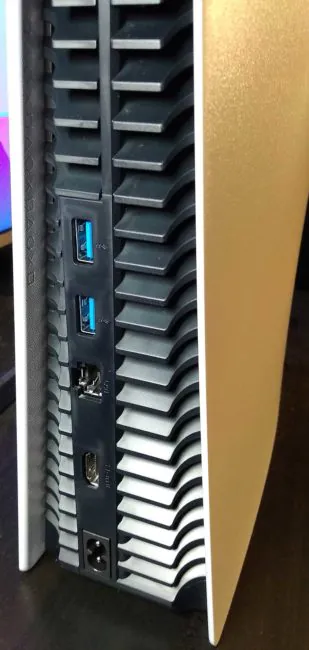 If your network supports WPS, select WPS option for an even easier and faster connection.
Doesn't work anyway? Try restarting your router (wait a few minutes, then turn it back on) and reconfigure the connection. Warning: if the console finds the Internet, but refuses to connect to the PSN, then you most likely do not have the latest software installed. Go to Downloads and install the update there.
I bought the game by mistake and would like a refund
PlayStation's refund policy is known to be much stricter than other services like Steam or EGS. But it is possible to return a game if you really want to.
You can cancel your purchase of digital content within 14 days of the purchase date. Full refunds are only available if you have not started the download yet. Any digital content can be returned only if it does not work correctly (and we are not talking about typical bugs).
You can cancel a pre-order at any time before the release. The funds will be returned to you immediately. If the title is released, you can still cancel the purchase and request a refund within 14 days from the date of purchase, provided that you have not started the download yet. If you started downloading or, God forbid, playing, then a refund becomes an almost impossible task. There are, of course, exceptions. For example, Cyberpunk 2077.
You can unsubscribe within 14 days from the date of purchase, even if you have already started using it. You will be deducted the cost of the subscription for the period used.
How do I request a refund?
To request a refund, fill out the form and select 'Refund Request' from the list under PlayStation Network and Account. Be sure to include your PSN Online ID, email address, date of birth, and the name of the game or content you want to return.
How do I refund Cyberpunk 2077?
If you bought the physical edition, then contact the store. If it's digital, then everything is simple: log in to the official website and make a request. After the purchase of the game is confirmed, you will get your money back.
I cannot pay for the game in the PS Store – some problem with my credit card
If you receive an error message stating that your billing information has been "updated too often in a short period of time," it means your account has been locked out for security reasons. You will have to wait exactly 24 hours before trying to update your billing information. Don't try to do this earlier – or you will have to wait even longer.
Before sounding the alarm, check if your card is supported. Here is a list of supported payment methods:
Visa
Mastercard
JCB
PayPal
Also make sure the region of your card matches the region of your PlayStation Store account. The American store require an American card.
I can't transfer PS5 games to extended storage
Although the PlayStation 5 supports the use of USB media, you cannot transfer your PS5 games to it yet, but you can transfer your PS4 games. If you use removable media with your PS4, you can connect it to your PS5 and it will immediately recognise your installed games. Handy.
Expanded PS5 storage requirements
SuperSpeed USB 5Gbps or higher
Capacities from 250 GB to 8 TB
It should not be connected via a USB hub.
It is impossible to connect more than one storage at the same time.
The new USB drive must be formatted beforehand (Settings > Storage > Extended Storage > Manage USB Drives > Format as Extended Storage).
There's crackling in my headset
Several users have reported issues with various headsets. Depending on the situation, the headphones emit crackling and other unwanted sounds. Most likely, this is due to the operation of another device via Bluetooth. Consider what is connected nearby and turn off that device while you're playing.
How to auto-download all PS4 games to USB media?
Go to Settings > Storage > Extended Storage. Then select Install PS4 games to extended storage.

The PS5 is overheating
If your console is not working as it should, it may be overheating. This almost always happens due to incorrect placement: due to the impressive dimensions of the console, many find it difficult to find a place for the PS5, and put it upside down, fit into tight spaces, etc. We strongly recommend that you only put your PS5 in a roomy space with enough space on all sides. And do not put anything on it or cover it with anything. You can also try to get rid of the dust inside.
My PS5 crashed and won't turn on anymore
Some games crash quite often. At best, the console just closes the title and shows the home screen. Sometimes, it turns itself off completely. At worst, it refuses to turn on. What to do?
Restart your PS5 manually. If the console won't turn on, hold the power button for 15 seconds. The console will restart and you will see a warning message.
Try inserting a game disc. If you have a standard PS5 and there is nothing in the drive, then try carefully inserting it. If the PS5 accepts the disc, your console may turn on normally.
Disconnect the power supply. Unplug the PS5 for 30 seconds. Reconnect the power supply, then try turning on the console. This is one of the most effective ways to revive it.
Turn your PS5 off and on again. If the console turns on but won't start, hold the power button until the flashing LED turns off. Unplug the power supply and leave the console for 15-20 minutes, then plug it back in and try turning on the system.
Use a different power cord. PS5 uses the same standard IEC C7 power cable as PS4 and PS3. If you have one of the older consoles, unplug the power cords and see if that solves the problem. You can find the cable at any electronics store if needed.
Use a different outlet. The problem may be related to an extension cord, surge protector, or UPS. If other devices don't work from the same outlet, try connecting your PS5 to a different source.
Restart your PlayStation 5 in Safe Mode. If the console can turn on, turn it off, then hold the power button until you hear a second beep to enter safe mode. From here, press the PS button on your controller and choose to restart your console.
Manually update the PS5 system software. If you can boot into Safe Mode, try downloading the latest system software to a USB stick and installing it manually.
Restart your PS5 in Safe Mode. Resetting your console will restore your system to factory settings and delete your save game data, so it's best to leave this method for last.
Remove dust. It can get inside the console and cause overheating or other malfunction, so use compressed air to clean your PS5. The PS5 case is relatively easy to open.
The PS4 game won't start
As we know, PS5 is compatible with 99% of games from the previous console, but it happens that for some reason a game refuses to launch. Before you panic, remember if a particular game was purchased from a digital store or bought disc? Because even if you have a title in your library, it won't start without a disk. Then (this will help in the case of PS5 games as well) go to Settings > Users and Accounts > Other > Restore Licenses. Still not working? Check if the game is supported. A complete list of unsupported games can be found online. Also if once you downloaded the demo version, played it and forgot, it will display in your library just like the full version.
I can't update a game – there's some kind of mistake
While the PlayStation 5 is still "young", it gets a lot of these unpleasant errors without a reason. Like it often happens that some game just plain refuses to update. Why? "An error has occurred" is all we get. What can we do?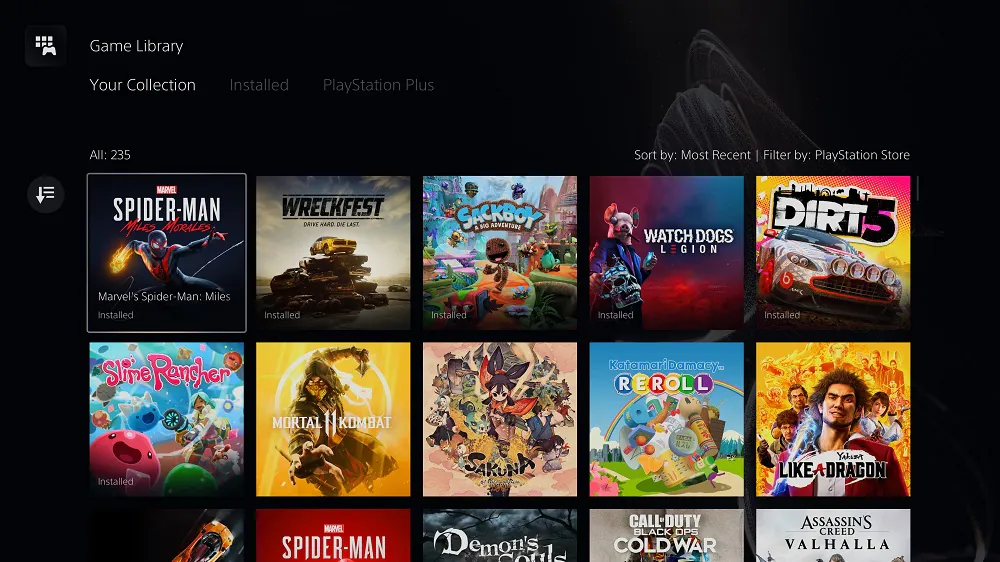 It is not so easy to answer this question, because the reasons can be different. But these methods often help:
Try to log out of your account and log in as a guest.
Check the status of the PSN service at this address.
Try uninstalling and downloading the game again. Yes, it's inconvenient, but it does help.
In Downloads select the update and cancel it. Then select the game you want and click the Options button, and then find try checking for an update It will most likely load without issue.
If all else fails, reset to factory settings.
Known errors
Type of errors
Types of errors for the first two letters
CE – Common error
NP – PlayStation Network Error
NW – Network error
WS – Web Server Error
WV – Web View Error
Error CE-105799-1/CE-113212-0
This error is related to the previous point; it tells us that "something went wrong" with the file download. As a rule, it refers to updates. She does not have a clear solution, but there is a traditional fix: restarting the router, checking the server status, restarting the console, and so on. We advise you to refer to the previous point for other tips.
Error CE-111161-1 (the camera doesn't work)
If you don't have an camera that is sold with the PS5, then you can use a camera from the PS4. But for this you need a special adapter that Sony sends free of charge. To get it, contact the support service. Also try to set up your camera in a well-lit room.
Errors NP-103111-7, NP-103117-3, NP-103105-0, NP-103107-2, NP-103109-4, WV-109146-1/ WV109153-9/ WV-109166-3, WS-116420-4/ WV-109144-9/ WV-109145-0
All of these errors indicate problems with the server. Maybe something is wrong with your internet, or maybe something went wrong at Sony. Try restarting your router and check the status of the PSN service at this address.
Error NP-102944-0/ NP102945-1/CE-108889-4
This error occurs during a console update. In this case, try restarting your router and PS5. Did not help? Try to install the update in another way – for example, using a USB flash drive or even a disc with a fresh game.
Error NP-102942-8
This error appears when the user tries to open content that is prohibited by age restrictions. Check for any restrictions in your profile and try again.
Error NP-102955-2
You are entering incorrect information for your account. Make sure you haven't mixed anything up.
These, of course, are not all the errors – there are a lot of them. If you cannot figure out something, write to us, and we will try to help. But before you panic and do something yourself, it is always best to contact support first.