There is a belief among Apple fans that no phone is able to compete with the iPhone. But is it true? The OPPO Reno 6 is a proof that's it's not as easy. In many ways this device is better, while still being affordable. Let's try to see what makes it so interesting.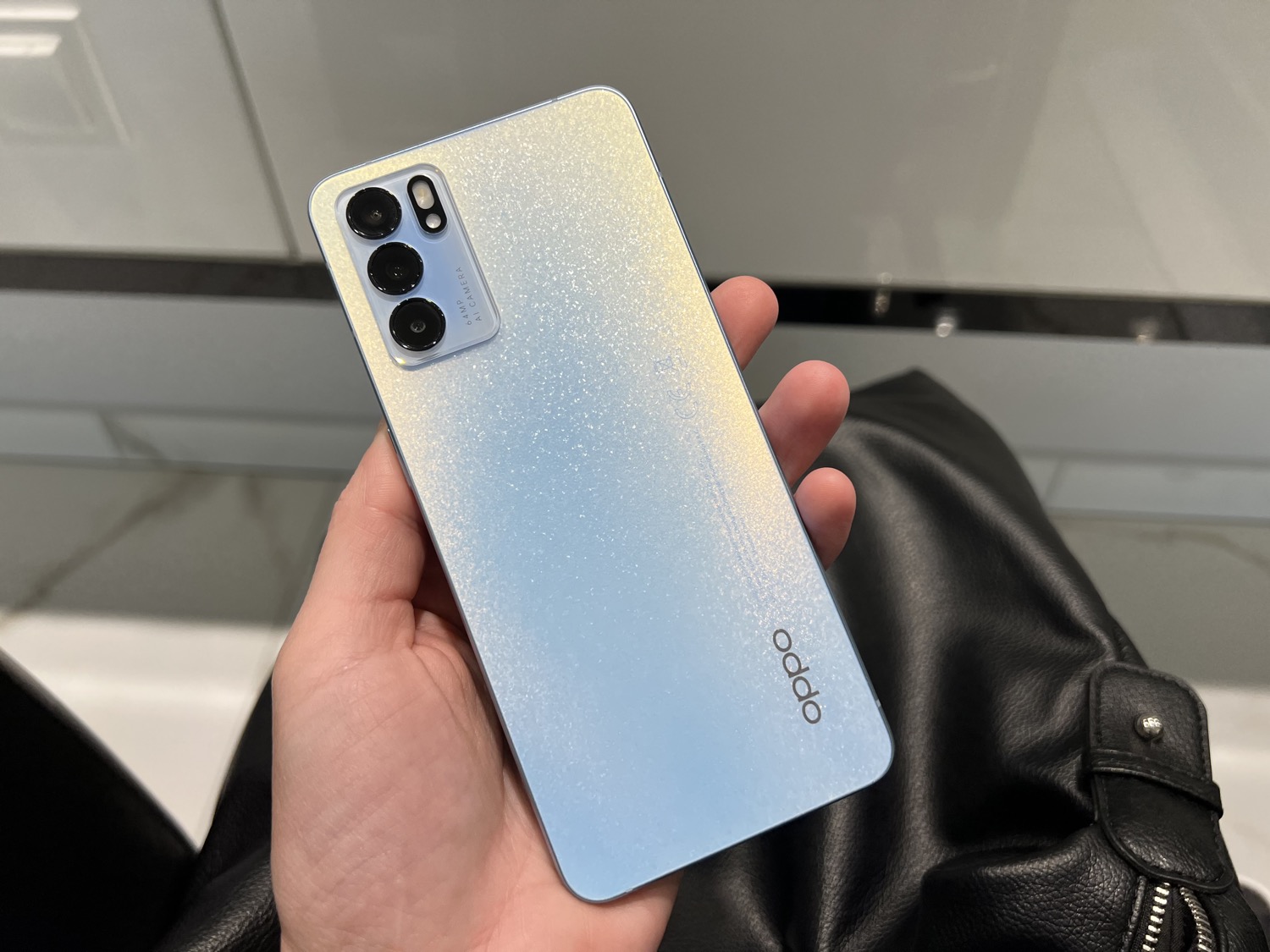 The OPPO Reno 6 reveal event took place in September this year. The phone comes in blue-gray, blue and black colors.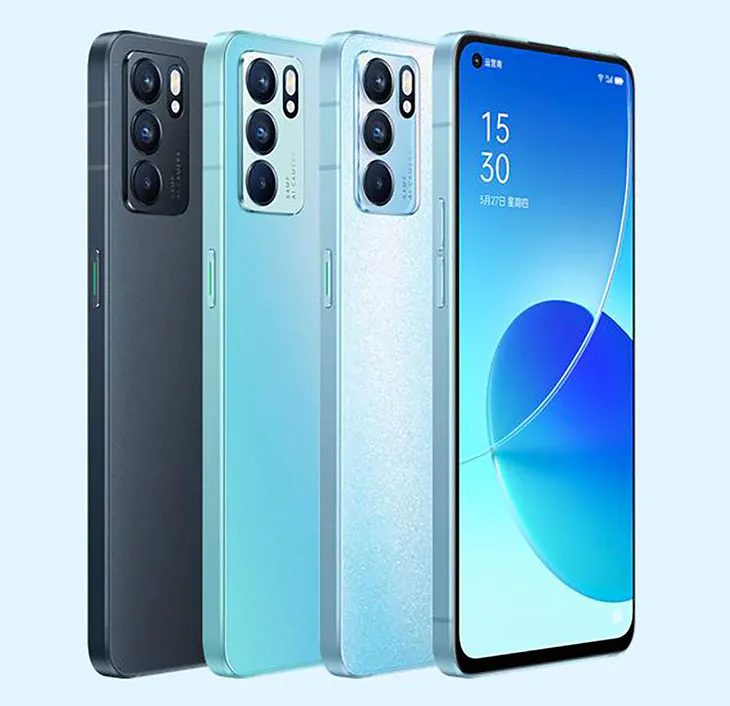 The retail price of OPPO Reno 6 is $625.
Full specifications of the OPPO Reno 6
Display: 6.43″ AMOLED, 1080×2400 pixel resolution, 20:9, 409 ppi ratio;
Chipset: MediaTek MT6877 Dimensity 900 5G (6 nm) (2×2.4 GHz Cortex-A78 and 6×2.0 GHz Cortex-A55); Mali-G68 MC4;
Storage: 128 GB, microSD card slot;
RAM: 8 GB, 256 GB 12 GB RAM; UFS 2.1;
Firmware: Android 11, ColorOS 11.3;
Rear camera: Wide (main): 64 MP, f/1,7, 26 mm, 1/2,0″, 0.7 μm, PDAF;
Ultra-wide-angle module: 8 MP, f/2,2, 119, 1/4,0″, 1.12 μm; Depth: 2 MP, f/2.4;
Front-facing camera: 32 MP, f/2.4, 26 mm (wide), 1/2.8″, 0.8 μm;
Battery: 4300 mach, fast charging 65 W, SuperVOOC 2.0;
Additionally: fingerprint scanner (optical, in the display);
Data: NFC, Wi-Fi 6 ax (2.4 and 5 GHz), Bluetooth 5.2, GPS (and GLONASS, Galileo, Beidou, QZSS), 5G, USB type C (2.0);
Dimensions: 156.8×72.1×7.6 mm;
Weight: 182 g.
What's in the box
The set is quite impressive this time, Out of the box we get not only a phone, but also other equally useful accessories. Such as: a charger (65W). Already an impressive addition considering the latest trends.
We also get headphones with a USB type C tip, a SIM eject tool, a user manual and a protective case. Like any silicone case, this one will turn yellow over time, but it's nice to have minimal fall protection.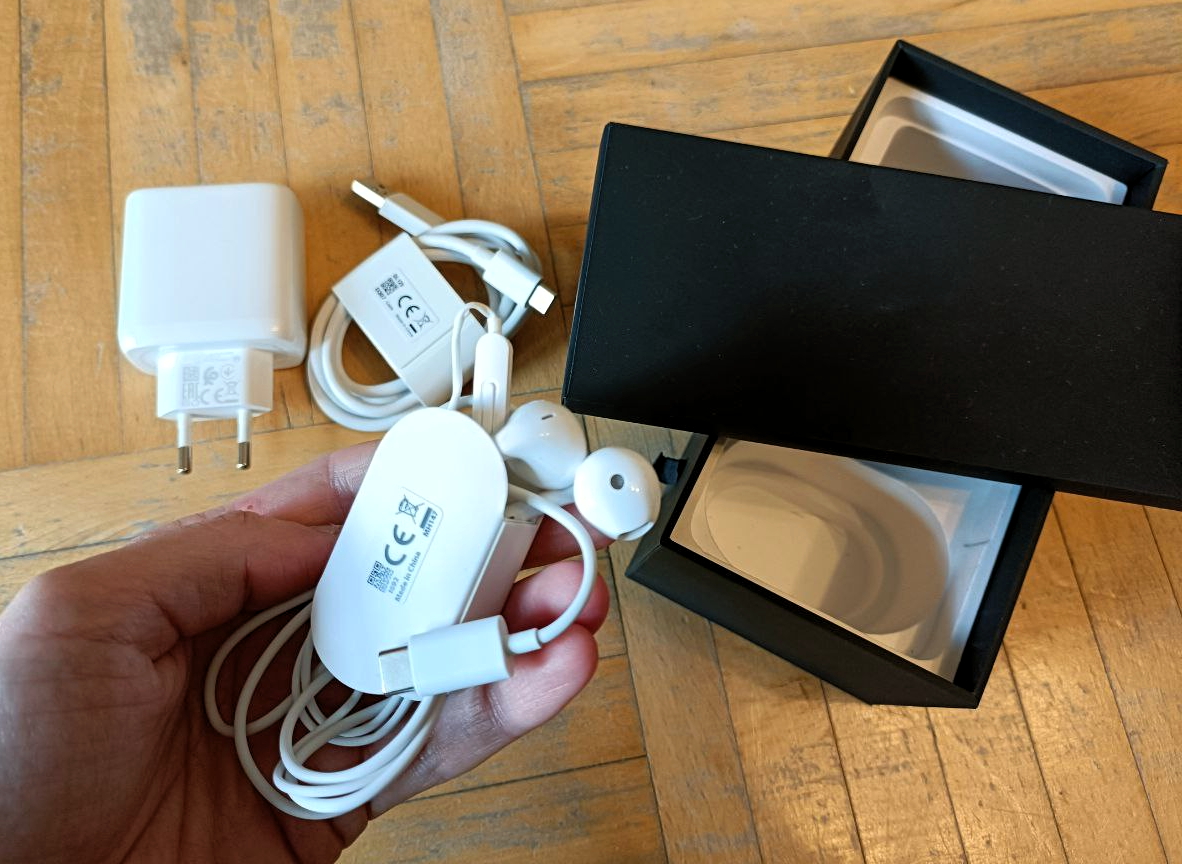 Read also: OPPO X 2021 first impressions: Technology of the future?
Layout
Now to the main attraction, namely the OPPO Reno 6 design. Especially the back plate. I couldn't stop looking at the beautiful design that shimmered in the sun. It looks like dry ice. It is pleasant to the touch, it does not collect fingerprints at all.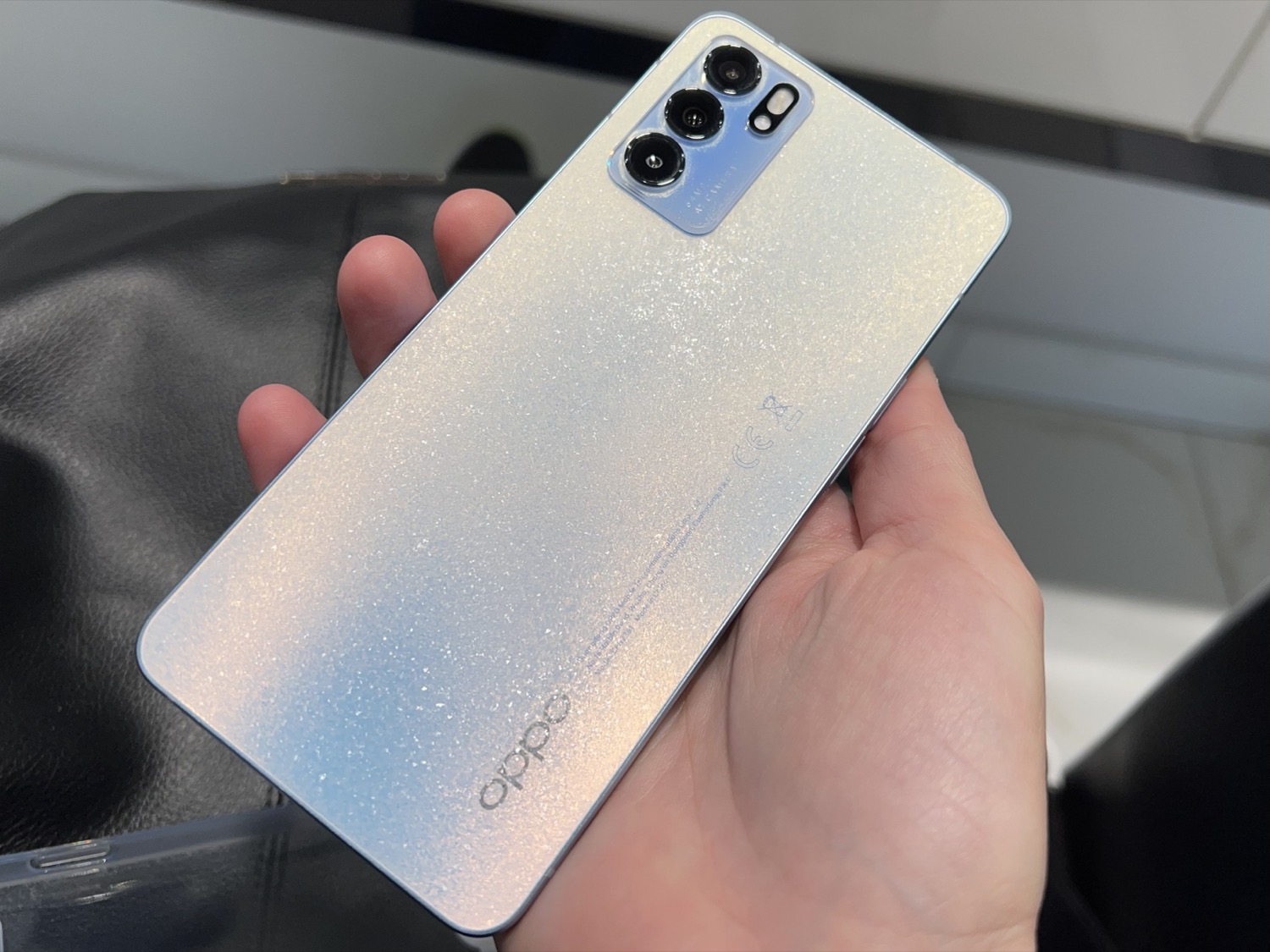 The plastic back of the Reno 6 5G has a metal frame around the perimeter. It looks stylish, and expensive. And it actually looks like metal.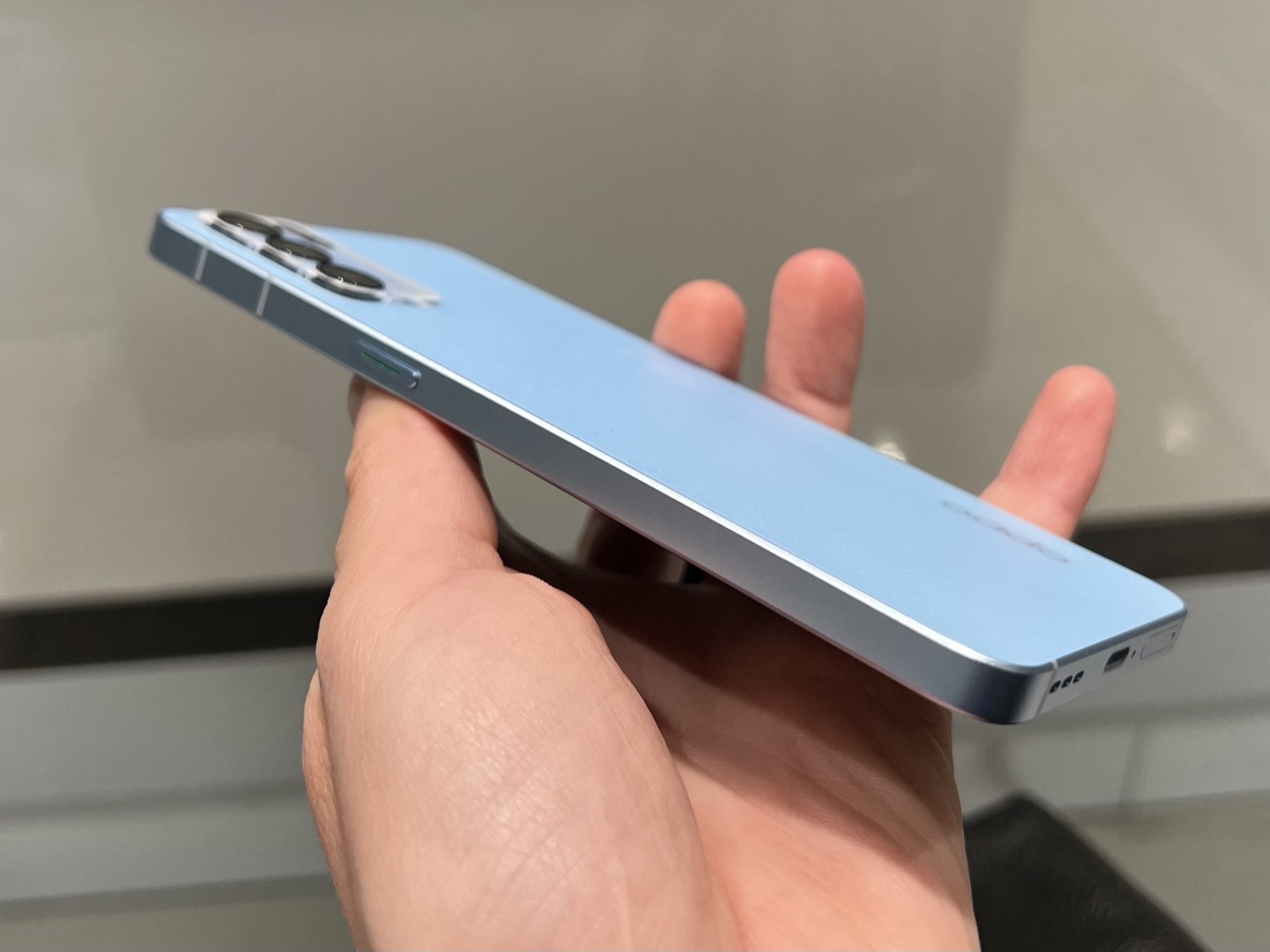 The color is reminiscent of the Northern Lights or the gleam of the sea on a sunny day. It's certainly impressive.
In addition, clear rectangular edges are striking.
At the same time, the device is thin (less than 8 mm). And thanks to its light weight and feather-flat back cover, it feels very good to use it.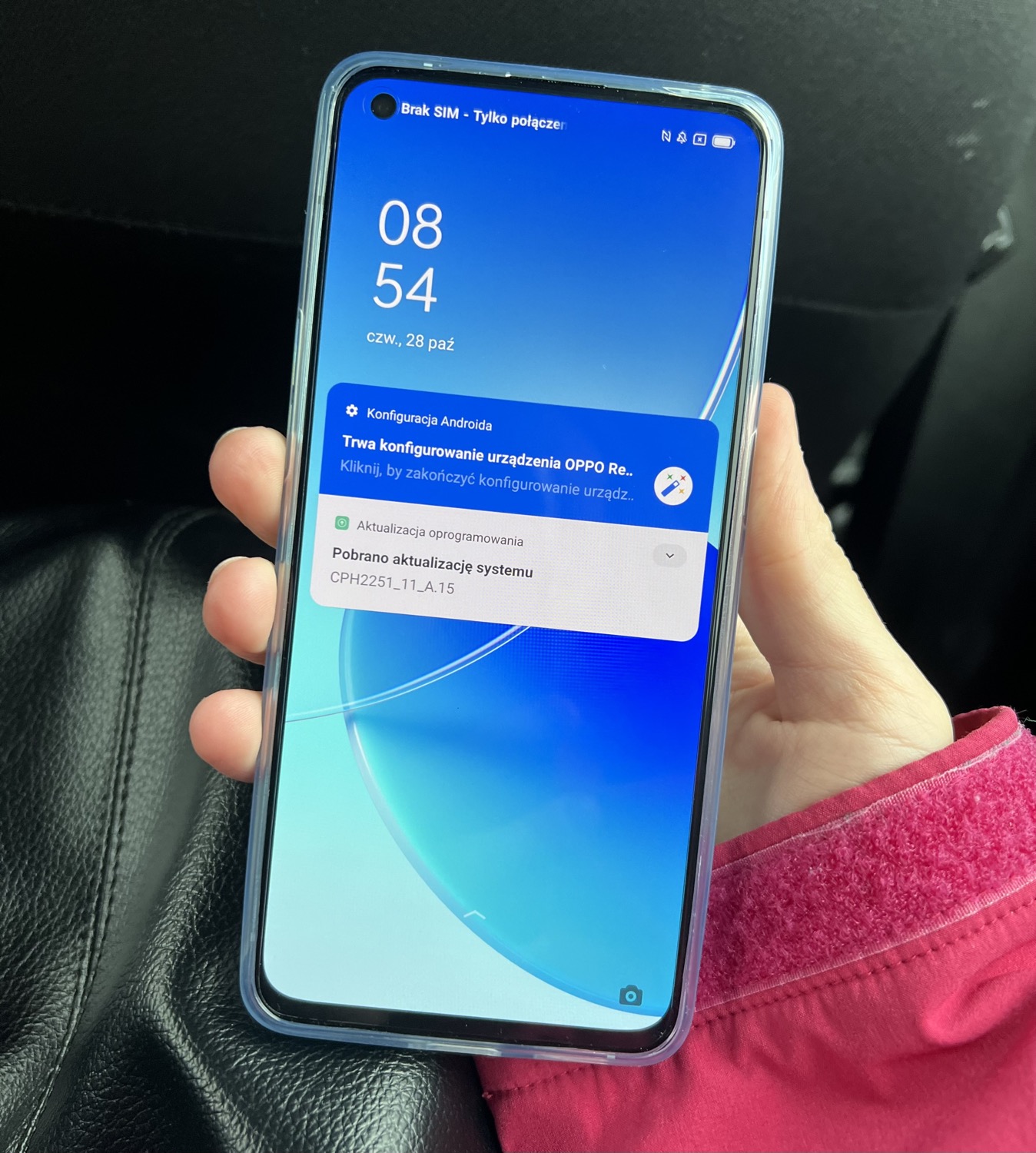 When it comes to the layout, everything is standard. In the upper left corner we see the front-facing camera, a bit lower is the volume button.
The most important elements are the SIM card tray and the power button on the right side. At the bottom, there is a speaker, an additional microphone, a Type-C connector and a 3.5mm headphone output. On the back you can see a block of three cameras.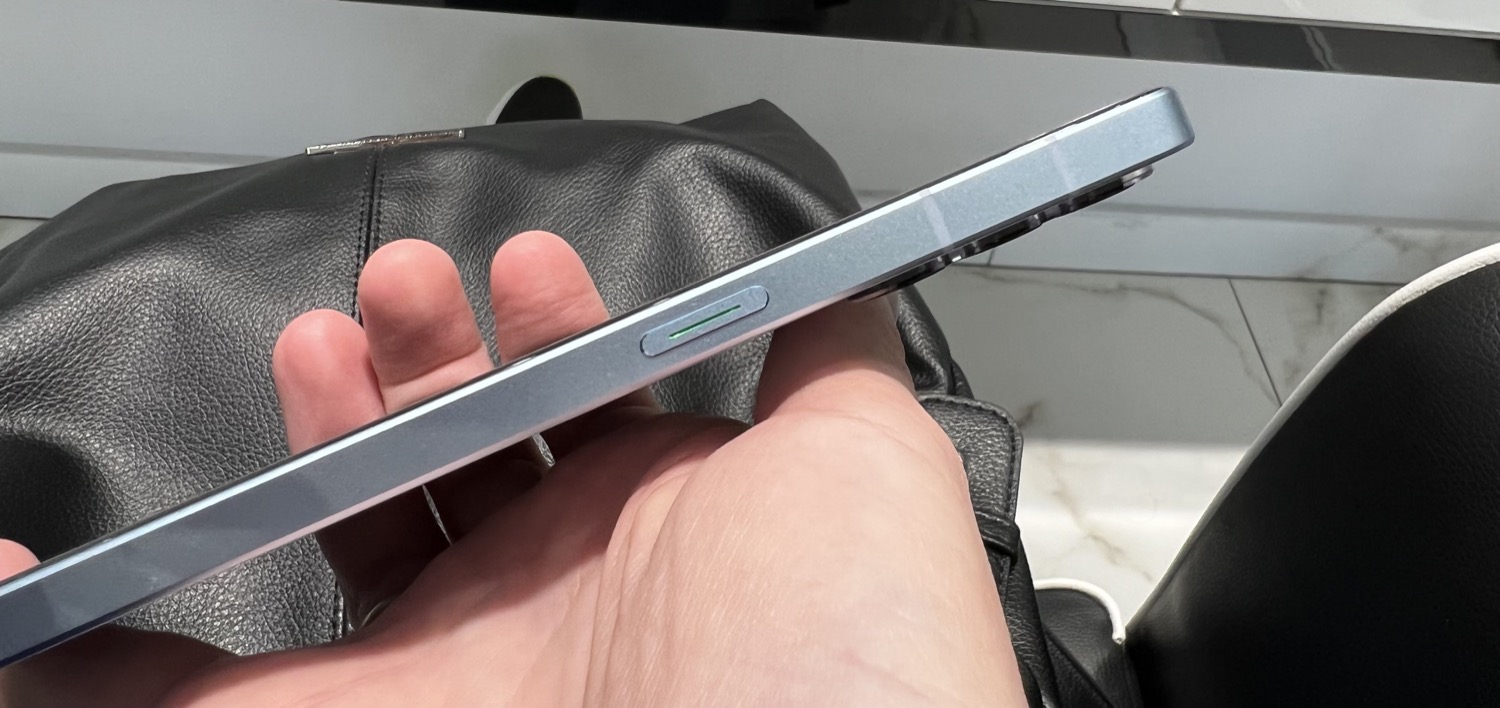 Read also: OPPO Reno5 5G review: Strong mid-ranger with 5G
Screen
6.43" AMOLED Full HD+ screen is more than enough for clear and juicy image. And the colors aren't overly saturated, like it usually happens. They are natural and calm, pleasant to the eye.
The bezels are small, almost nonexistent.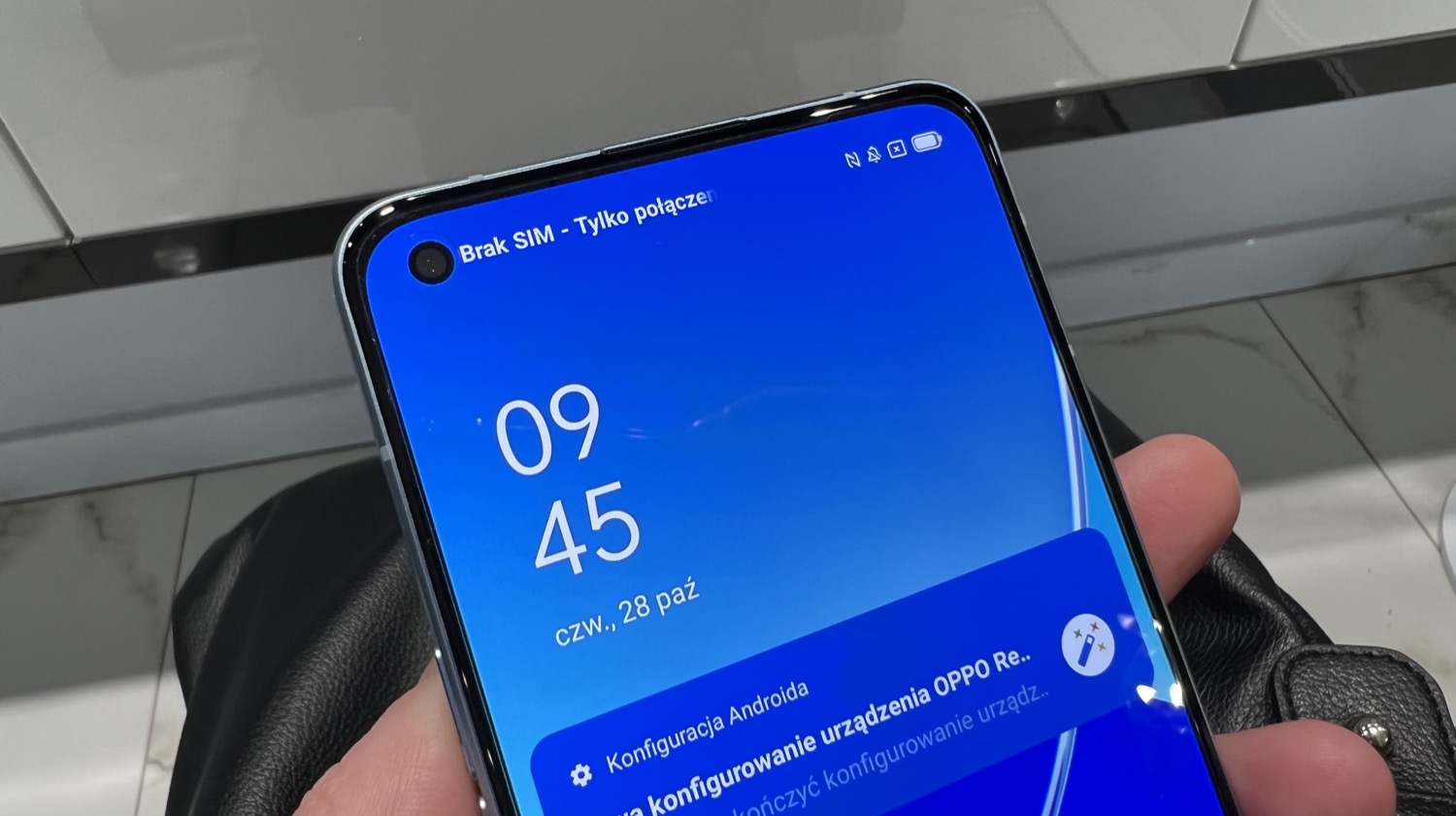 There is an "Eye Comfort" feature useful for people who spend a lot of time in front of the phone. In the settings, there is an adjustment of the color temperature of the display.
Another new addition is 90 Hz refresh rate. Thanks to it the smartphone feels faster and smoother. Standard 60 Hz can be selected to save battery life. Of course, there are models with 120 Hz and more, but 90 is also ok for a mid-ranger.
I would like to add that the screen has a protective film from the very beginning. It's not amazing, but it helps.
Hardware and performance
The heart of OPPO Reno 6 is the efficient medium-budget 8-core MediaTek MT6877 Dimensity 900 chipset with the Mali-G78 MC4 graphics card. As you can see, it's more than capable.
All tests show decent results. For example, 2131 points in GeekBench 5, 430765 points in AnTuTu 9.
From my point of view, the smartphone is fast, without lags and slowdowns. Games work maintain high FPS, and titles like Call of Duty: Mobile or PUBG look great.
There's 8 GB of RAM. The flash memory itself (128 GB) is UFS 2.1. Nothing has changed from the previous generation, which is a pity.
Read also: OPPO A54 5G smartphone review: It's all good, but is it cheap enough?
Cameras
I would like to point out that the cameras cope well with various lighting conditions, the photos are juicy and natural. But there is an issue.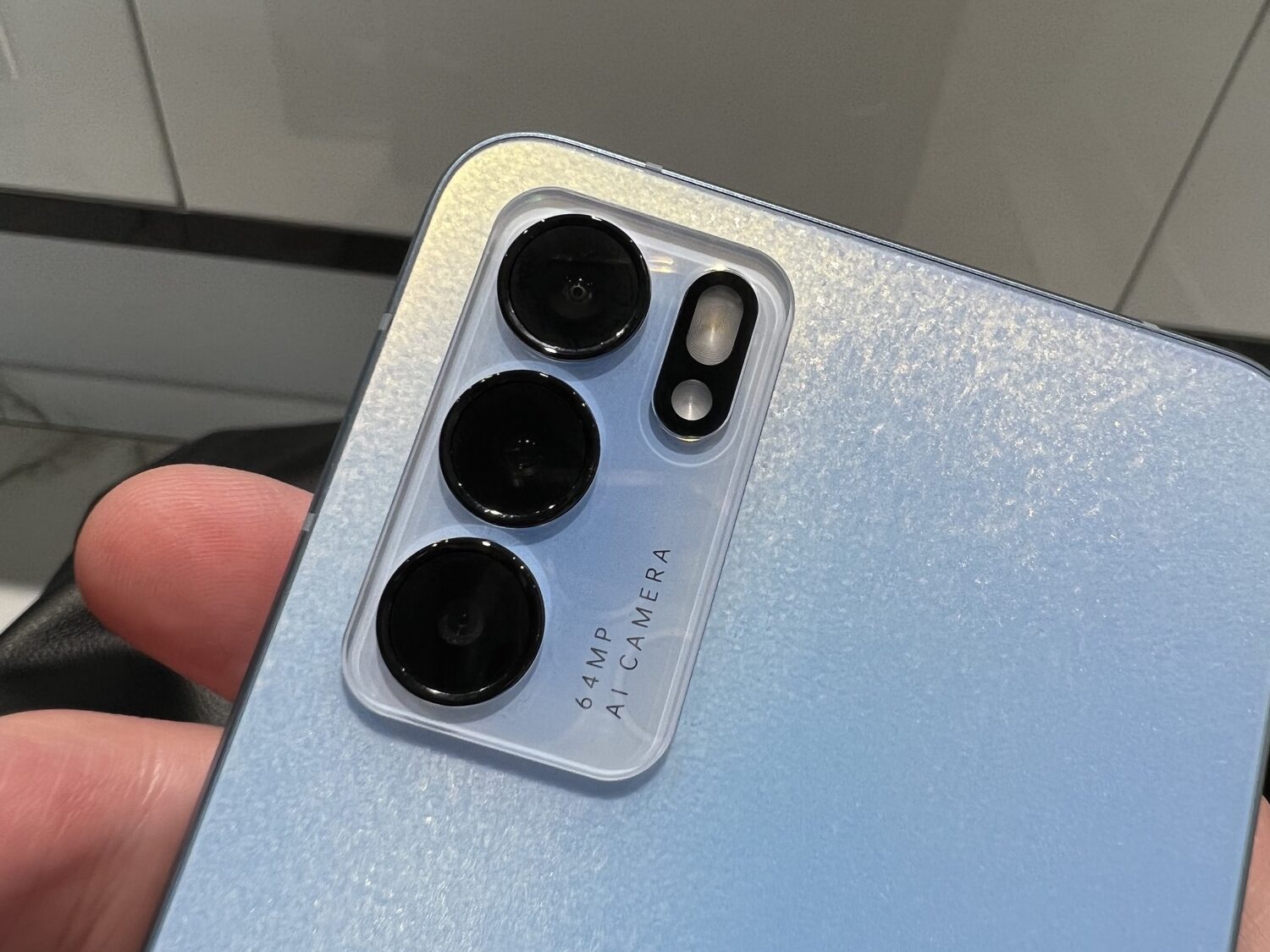 The OPPO Reno 6 5G model has four cameras:
64 MP, f/1.7, 26mm (wide), 1/2.0″, 0.7µm, PDAF
8 MP, f/2.2, 119˚ (ultrawide), 1/4.0″, 1.12µm
2 MP, f/2.4, (macro)
32 MP, f/2.4, 26mm (wide), 1/2.8″, 0.8µm
The daytime shots are almost perfect. In artificial home lighting conditions, they are just as nice, in my opinion.
Various levels of zoom (digital) are available. x2 offers very good quality. x5 and x10 are a maybe. Here are examples (1x – 2x – 5x – 10x):
Night photos are not the best. The lens catches little light, there is noise, the image is rather blurry if you look closely on a big screen (and not on the phone screen).
You can always use the night mode (ultra night), which brightens the image. Anyway, if there is any light, the use of the night mode does not make much sense, because the phone is picking up enough light anyway. Example of the night mode is on the right:
But if the light is low, this mode is fantastic! However, it is worth noting that the clarity of the photos is not the best. Examples, "ultra night" mode on the right:
It is worth noting, however, that when using the night mode, the whole process takes 6-7 seconds. That's why you have to stand still for this time and patiently wait for good shots. OIS is missing so won't help.
The macro lens is another matter. Understand that this is just a lens that is suitable for close-up shooting (about 4 cm). It cannot be used, for example, to zoom in on objects (not to be confused with a telephoto lens). Like with the night mode, you need to be patient and stand still while taking photos or it will all be wasted. Here are some examples:
The ultra-wide angle lens has a large field of view. However, there is an issue. Everything would be fine if it were not for 8 MP in this module. It's simply not enough. The level of detail is only average. Wide-angle photos are on the right:
The good thing is that the model tries to choose the right parameters when taking pictures from the two most important lenses at the same time. It doesn't always work out as we'd like, but sometimes there are good examples of how this feature works.
There is a portrait mode with background blur and all the usual features. There are fun filters, emotes, and modes to play with.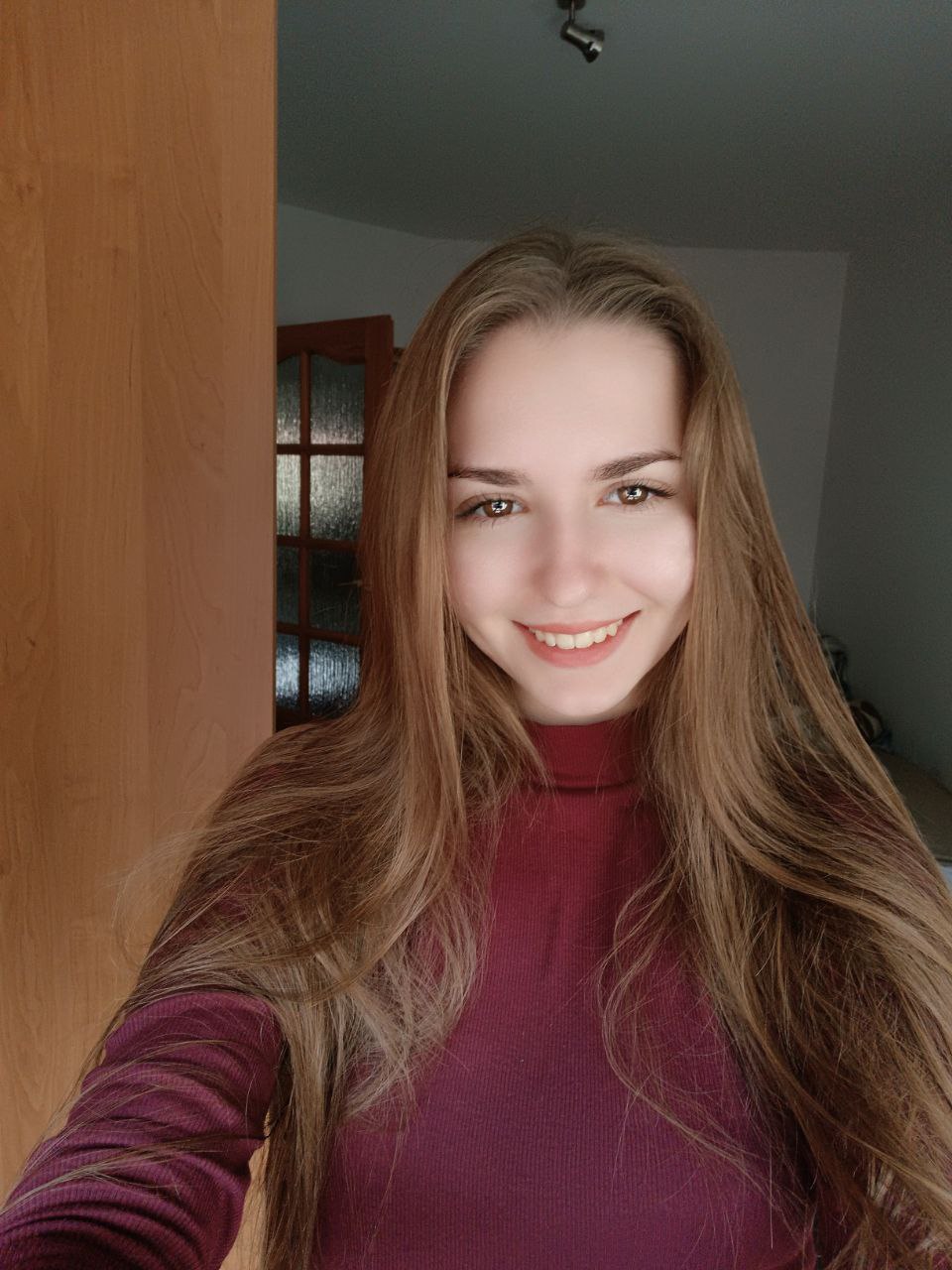 There is 4K video recording at 30 fps or Full HD at 60 fps. There is no optical stabilization. Quality is okay but nothing outstanding.
There was also no problem getting used to the camera UI. It is simple, everyone will be able to find everything they need.
Read also: TWS OPPO Enco X Review: Almost Perfect + ANC
Unlocking methods
The most convenient option to unlock the screen is the fingerprint scanner. It works quickly and without errors. This way I don't have to wait for the phone to "recognize" me. The area where you need to place your finger is highlighted, which is convenient. It is worth saying that a mode will not work if you have wet fingers.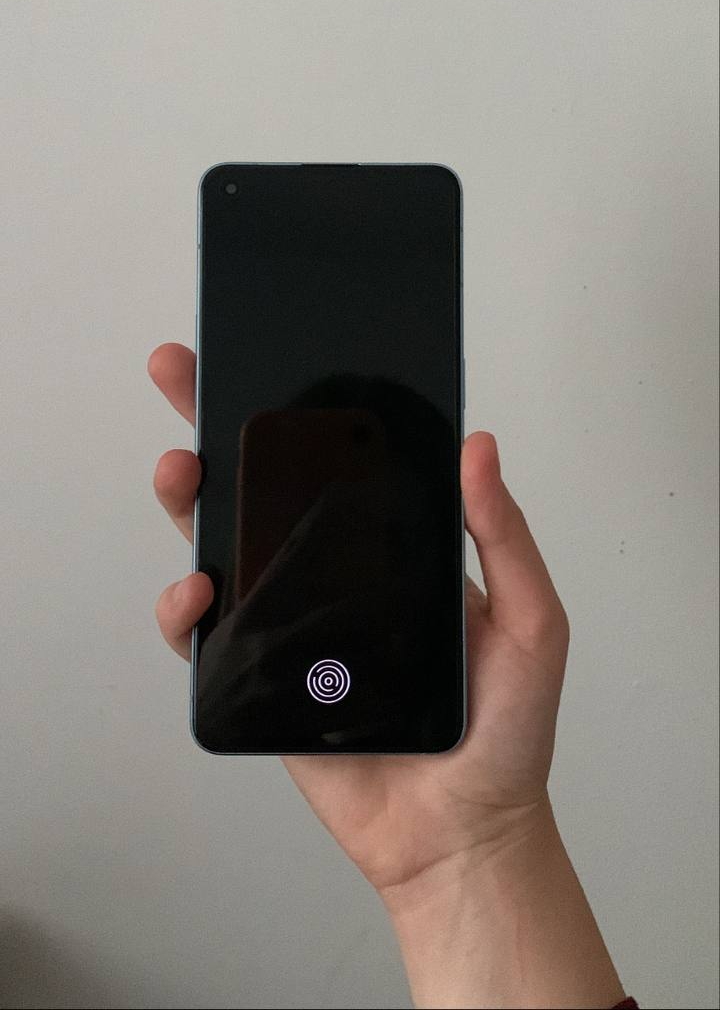 The other methods, such as face recognition or PIN, are also fine. Everyone can choose the one that suits them best.
Sound
In headphones, the sound is loud and clear. Unfortunately, there is no minijack (3.5 mm), so you have to use wireless or USB-C.
The speaker is monaural. The sound is loud, high quality. Dolby Atmos is supported as well as HD audio on Netflix and Amazon Prime Video.
For me, the average user, only the result counts, not the technical parameters, because I am not an audiophile and it is difficult for me to say more about it. The sound is fine, that's about it.
Read also: Xiaomi Mi Smart Band 6 review: A new fitness tracker with SpO2 Sensor
Battery life
I admit that the battery is not the best. It has a capacity of only 4300 mAh, which is not a lot when the competition usually offer 5000 mAh.
Our device has a 90 Hz AMOLED screen, a powerful processor and 5G. As a result, 6-7 hours of active screen time is the maximum (even if you don't use 5G) you can count on.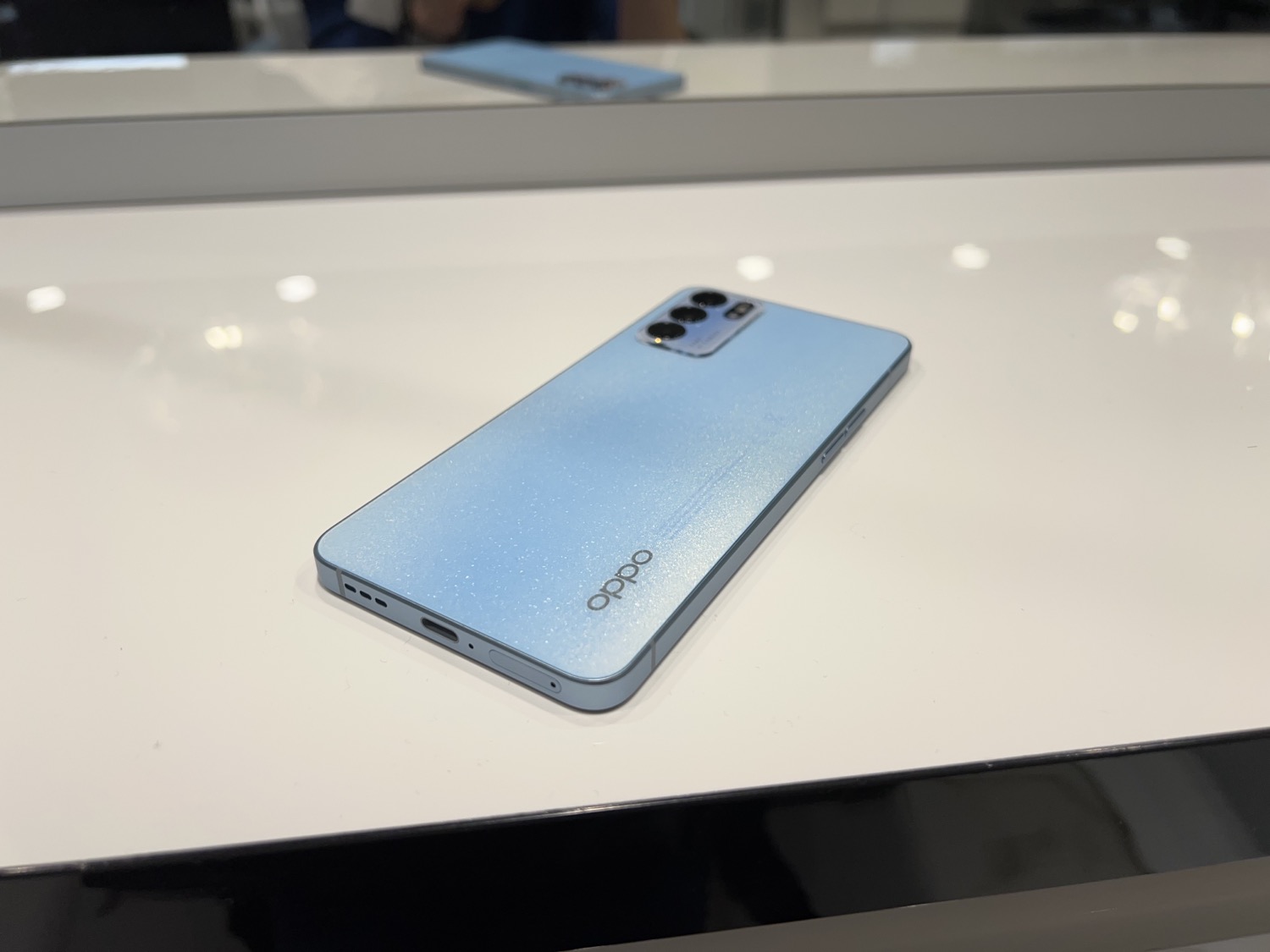 My device worked almost all day until late at night, and I was actively using all possible features and apps.
But charging is super fast thanks to SuperVOOC technology and a 65W charger:
5 minute – 25%
10 minute – 42%
15 minute – 60%
20 minute – 75%
25 minute – 85%
30 minute – 95%
38 minute – 100%
The smartphone can act as a power bank, but unfortunately there is no wireless charging.
Software
The shell on which OPPO Reno 6 works is ColorOS 11.3 (will will update to version 12 in November). Android 11. As you probably guessed, I had no issues using the phone. The ColorOS shell is well-designed and up-to-date shell.
I found out that this shell has a nice and rather unusual "clone" feature. You can duplicate both the system and the apps.
In addition, you can use a software method to expand the RAM memory and add up to 5GB. Of course, this doesn't work like regular high-speed memory, but it can come in handy when you need to work with several applications at the same time.
Gesture control is available, for me this function has also become the most intuitive. You can split the screen into two parts, optimize the the device, and so on.
Additionally there's compass, file manager, calculator, weather, voice recorder, gallery, video player, etc.
Verdict
I believe that the OPPO Reno6 5G is a beautiful smartphone with standard technical parameters and dimensions, and a great AMOLED screen. Another advantage is fast charging, great cameras and a convenient fingerprint scanner located in the screen. The smartphone works very fast.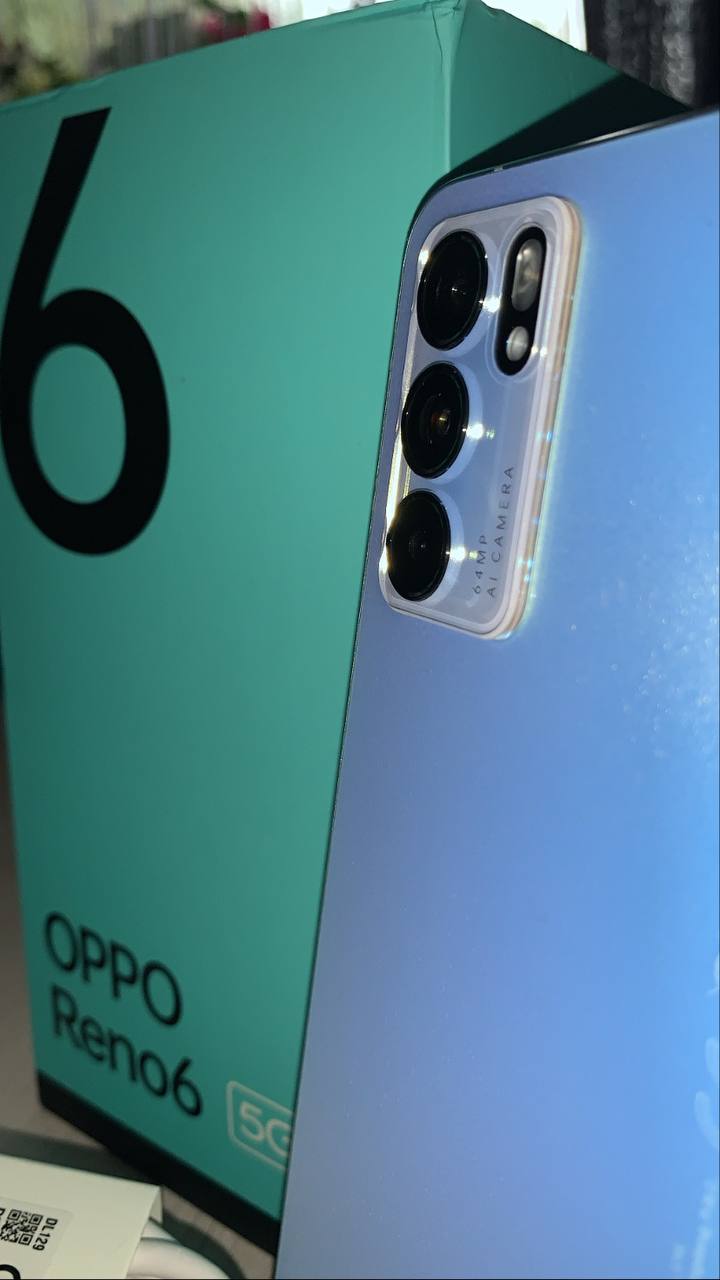 But not everything is great. The battery is not impressive, and the camera is weak in low light. There is also no optical stabilization, and no slot for memory cards and stereo speakers. 90 Hz screen refresh is fine, but competitors have more. The plastic back should have been glass, but it is not slippery and does not get dirty.
There are many other competitor models in this price range. For example, the cheaper and more powerful OnePlus Nord 2 5G or the slightly more expensive but more powerful Xiaomi 11T. Or the Realme GT 5G based on the top Snapdragon 888. The Moto Edge 20 Pro is also nice and has similar flat shapes. Even the Samsung Galaxy A52s has the new efficient Snapdragon 778G chipset. To compete, the OPPO Reno 6 5G should be cheaper.
And now I will answer the question of whether an Android phone can compete with iOS and iPhone. It's a very subjective question, but the fact that OPPO Reno 6 is objectively a good phone leaves no doubt. It even looks a bit like the iPhone. It has great cameras, a good display, and it works fast. And at the same time, it is much cheaper!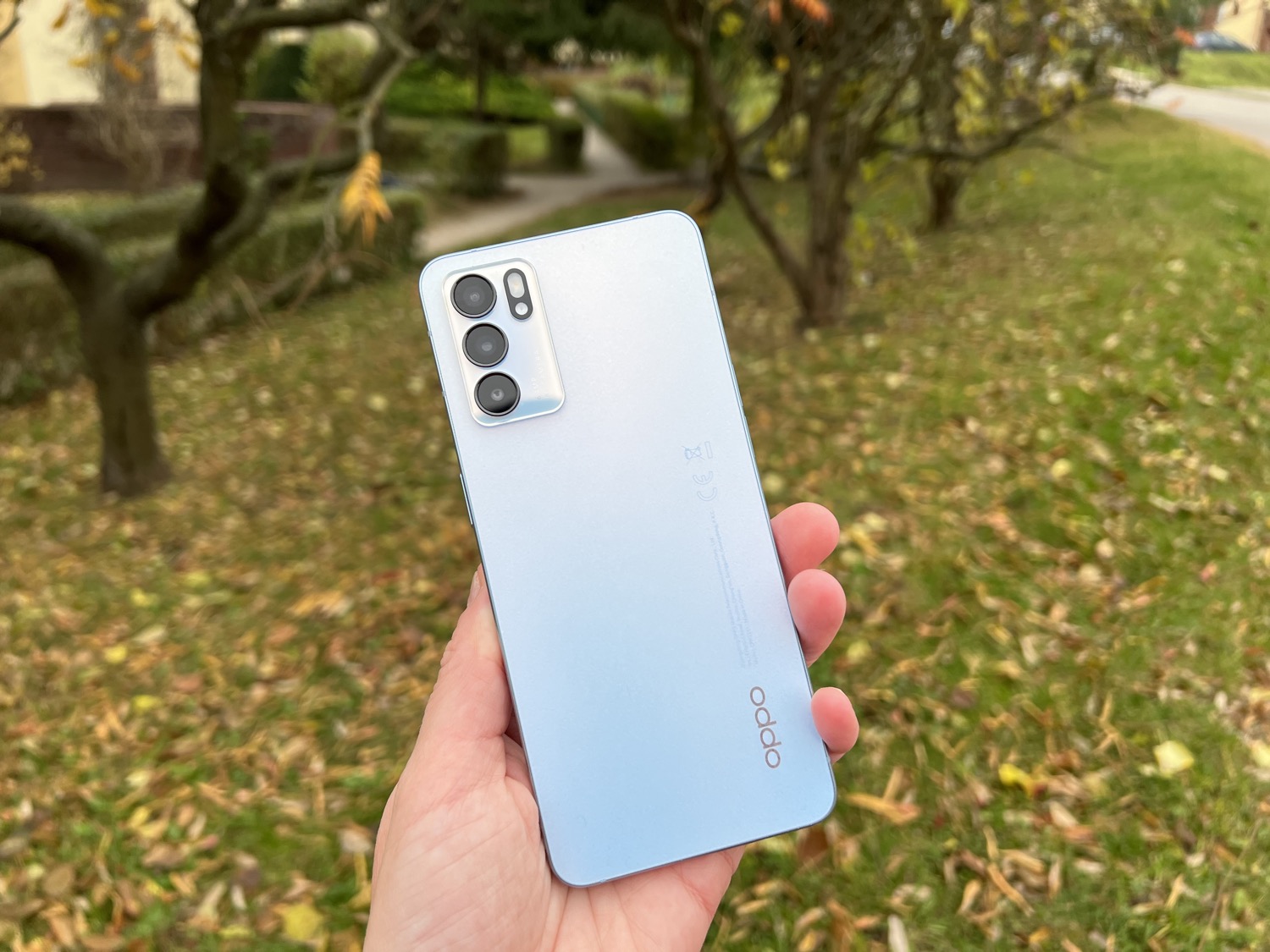 Subscribe to our accounts: