This spring, a relatively young and actively developing OPPO brand presented a couple of budget devices with 5G support: the A54 5G and the Reno5 Z 5G. The first smartphone is the most affordable, even though it has 5000 mAh battery, 90 Hz display, and quad cameras with a 48 megapixel main module. Let's take a look at the device in detail and find out if it is worth the money.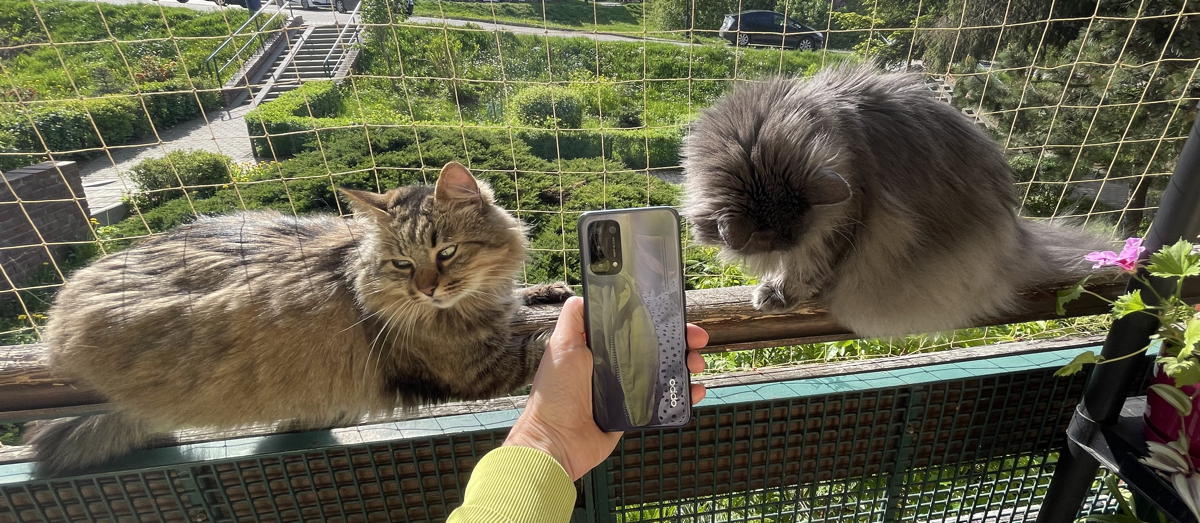 Positioning and price
The device looks like last year's OPPO A53 (my review), except that the fingerprint scanner was placed in the side button, and not on the rear panel, the screen resolution has grown to Full HD, and, of course, the processor is fresher and the cameras are better. Don't forget  5G support, which is a must in 2021.
At the same time, it's not the cheapest option, as it costs 260 euros. Perhaps one day, support for new generation networks will become the default standard, but so far you can find a lot of 4G models that are cheaper. There is no point in overpaying for 5G if your country doesn't have it yet.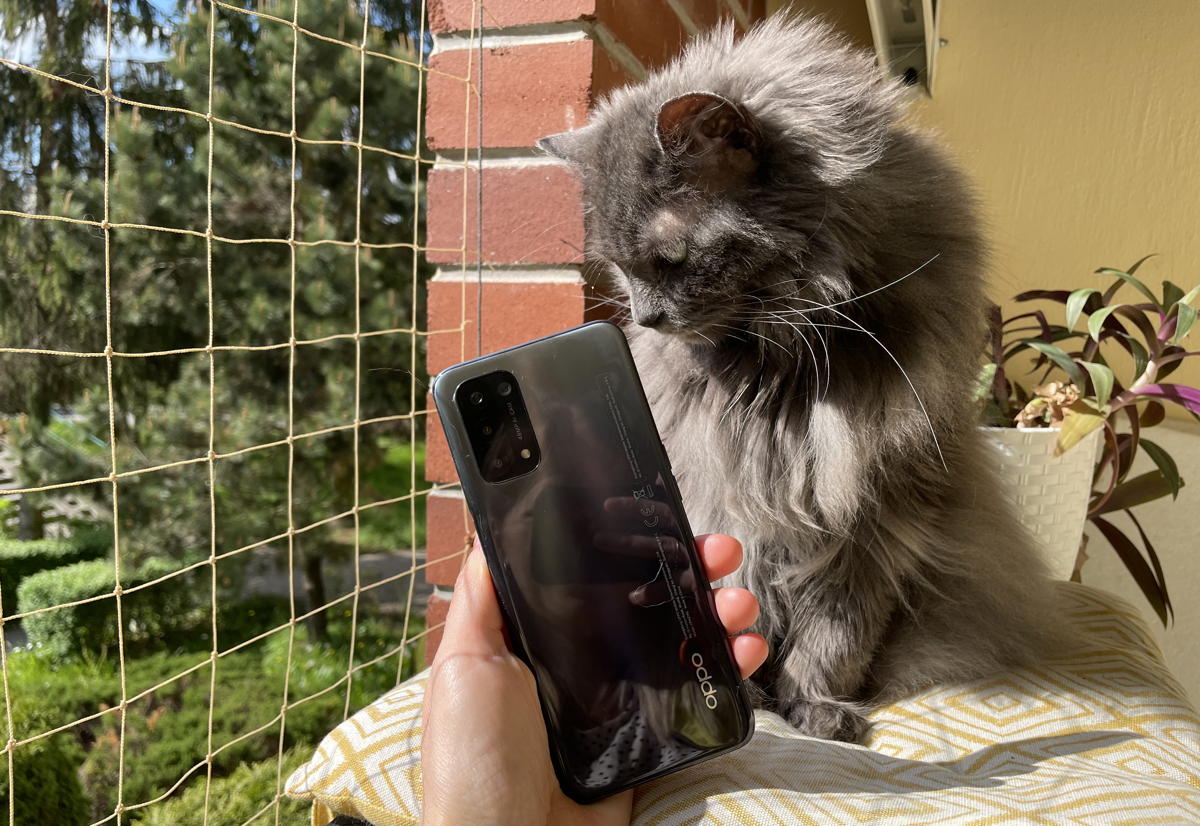 Another important note: do not confuse the OPPO A54 and the OPPO A54 5G models. Although they were released almost simultaneously and differ only in the 5G prefix, they are two completely different phones. Their design is not identical, as well as the characteristics. A comparison is available here. In short, the 5G version has a higher display resolution, a different processor, more megapixels, and the rest is hardly important. At the same time, the price is almost twice as high. In my opinion, the manufacturer should have named the models differently in order to avoid confusion, since they are far from being twins in terms of hardware.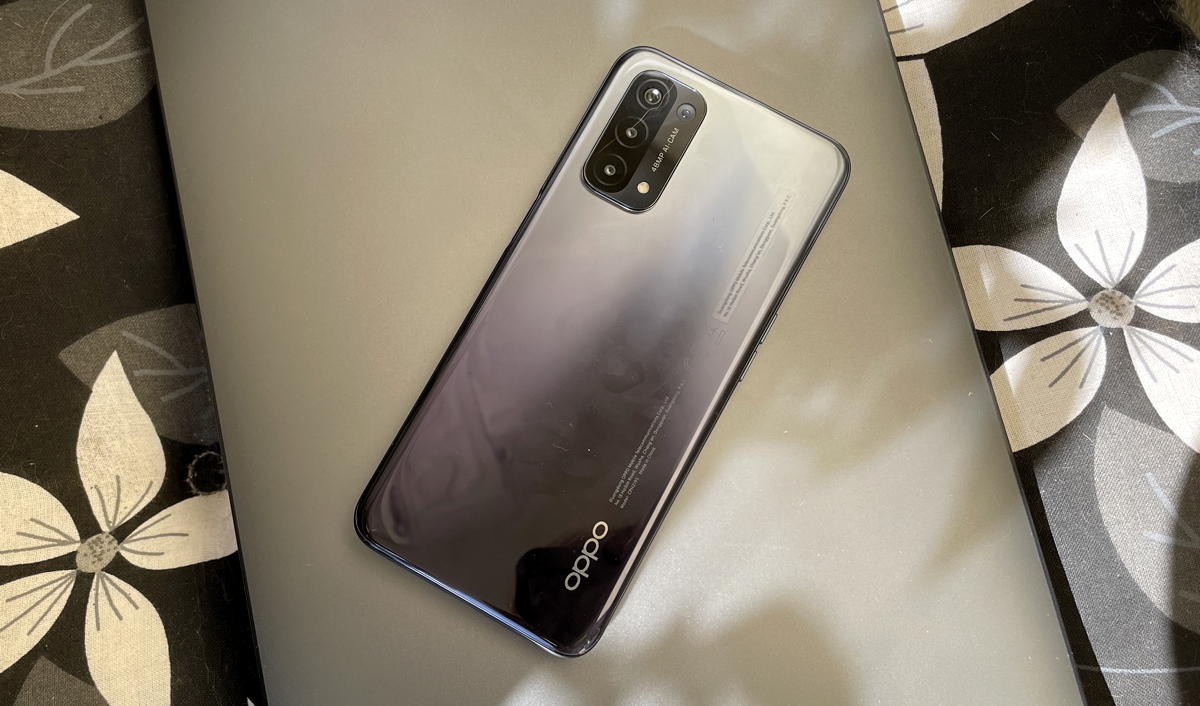 Read also: Huawei Band 6 review: It goes with everything
Технические характеристики OPPO A54 5G
Screen: 6.5 inches, 2040×1080, LTPS, 90 Hz refresh rate
Processor: Qualcomm Snapdragon 480 5G, up to 2000 MHz, 8 cores
Video chip: Adreno 619
RAM: 4 GB
Storage: 64 GB + microSD card slot up to 256 GB (you can use both two SIMs and a memory expansion card)
Main camera: 48 MP, f/1.7, 79° main module; 8 MP ultra-wide-angle module, f/2.2, 119°, fixed focus; 2 MP macro lens, f/2.4, 88.8°, fixed focus; 2 MP depth sensor for background blur , f/2.4, 88.8°, fixed focus
Front-facing camera: 16 MP, f/2.0, 79.3°, fixed focus
Battery: 5000 mAh, 18W fast charging
Operating system: Android 11 with ColorOS 11 shell
Communications: USB Type-C, Wi-Fi, Bluetooth 5.1, GPS (in company with A-GPS, BeiDou, GLONASS and QZSS), LTE, 5G, NFC, 3.5 mm for headphones
Dimensions: 74.7×162.9×8.4 mm
Weight: 190 g
What's in the box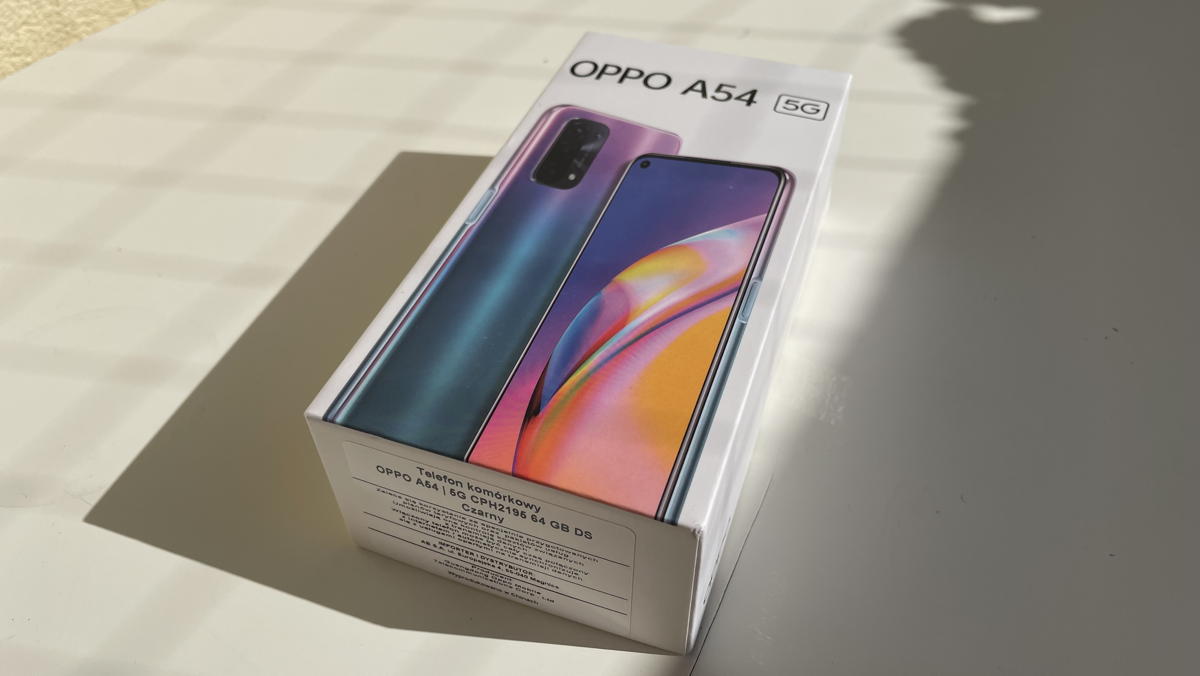 In addition to the A54 5G itself, you will find in the box a silicone case, a USB-C cable, an 18-watt charger, a SIM eject tool, documentation, and wired earphones.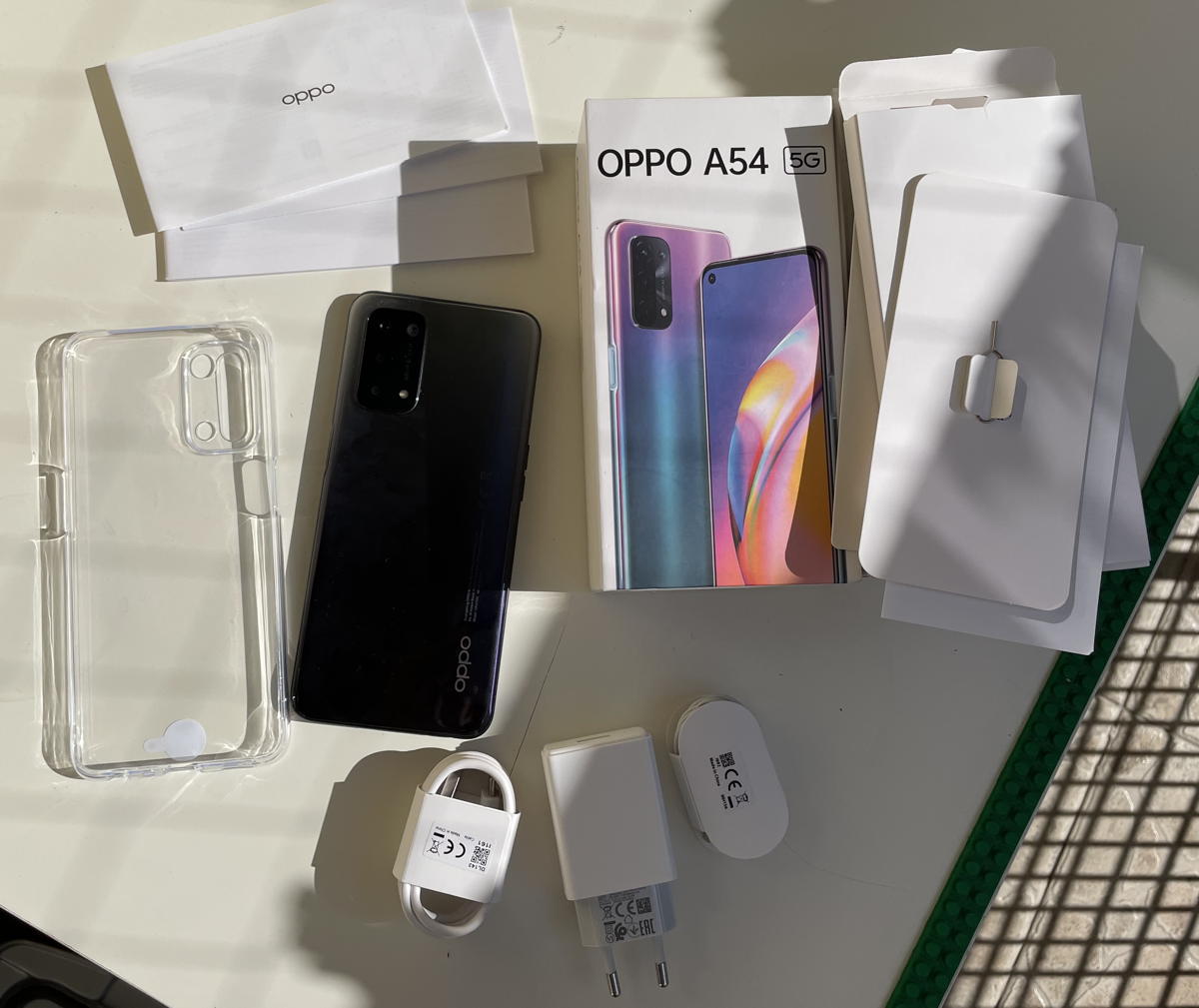 The case is nice, dense, with reinforced corners, and bumpers above the screen and cameras.
The earphones are similar in format to Apple's EarPods, and they are quite comfortable. A 3.5mm audio jack is available.
Also, a protective film initially glued to the smartphone screen is quite good; it does not spoil the color rendition and readability. If the phone is in a case, the gestures still work fine. The film actively collects fingerprints, but the screen itself is more resistant to them.
Read also: OPPO Reno5 Lite review: stylish and modern mid-ranger
Design
The new OPPO Reno5 5G I enthusiastically praised for the original approach to the rear panel. In comparison, the A54 5G is not very original. It looks the same as dozens of other Oppos, Xiaomis, Redmis, and so on.
But it shimmers beautifully in the sun.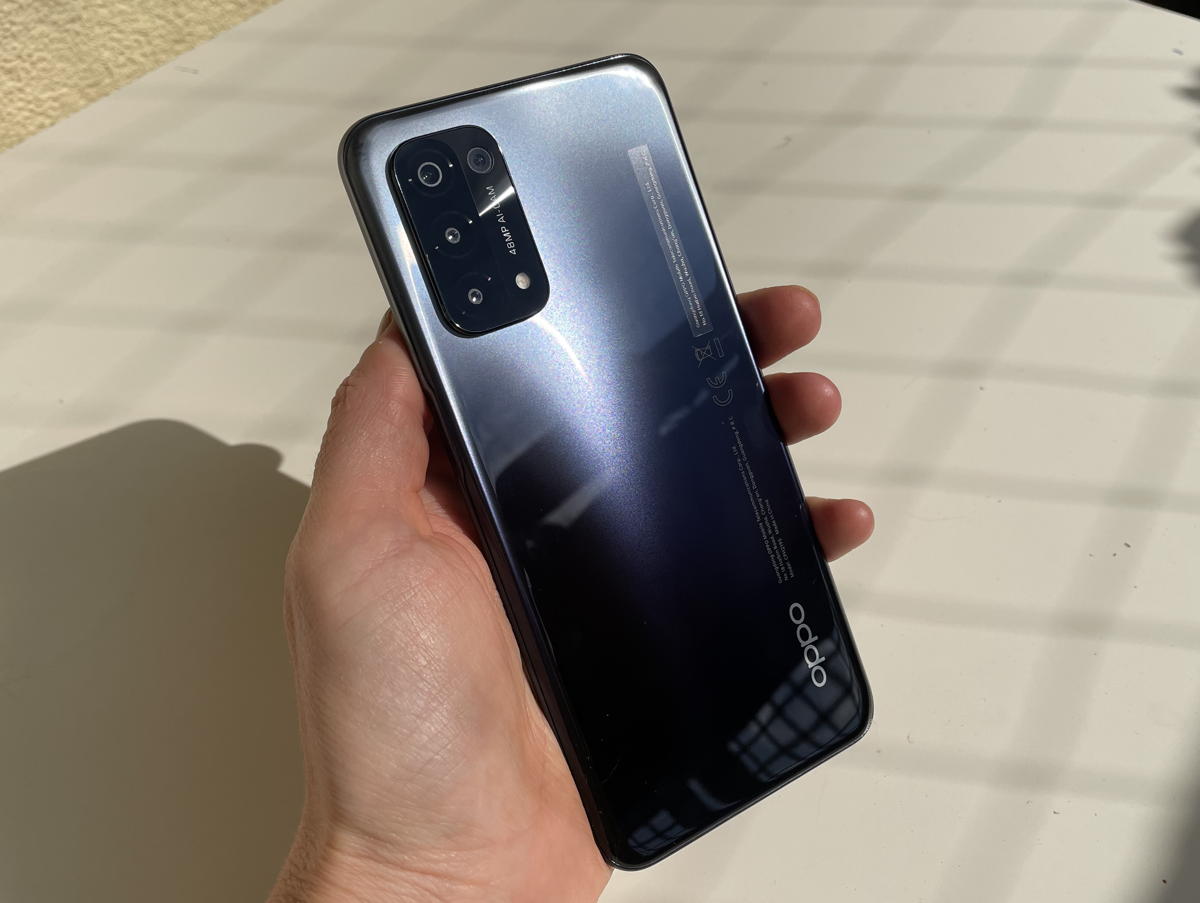 The body is entirely plastic. The front panel is occupied by a display with an elegant notch for the front-facing camera in the left corner. The bezels are minimal, even the "chin" is not wide.
The rear panel contains a slightly protruding camera block.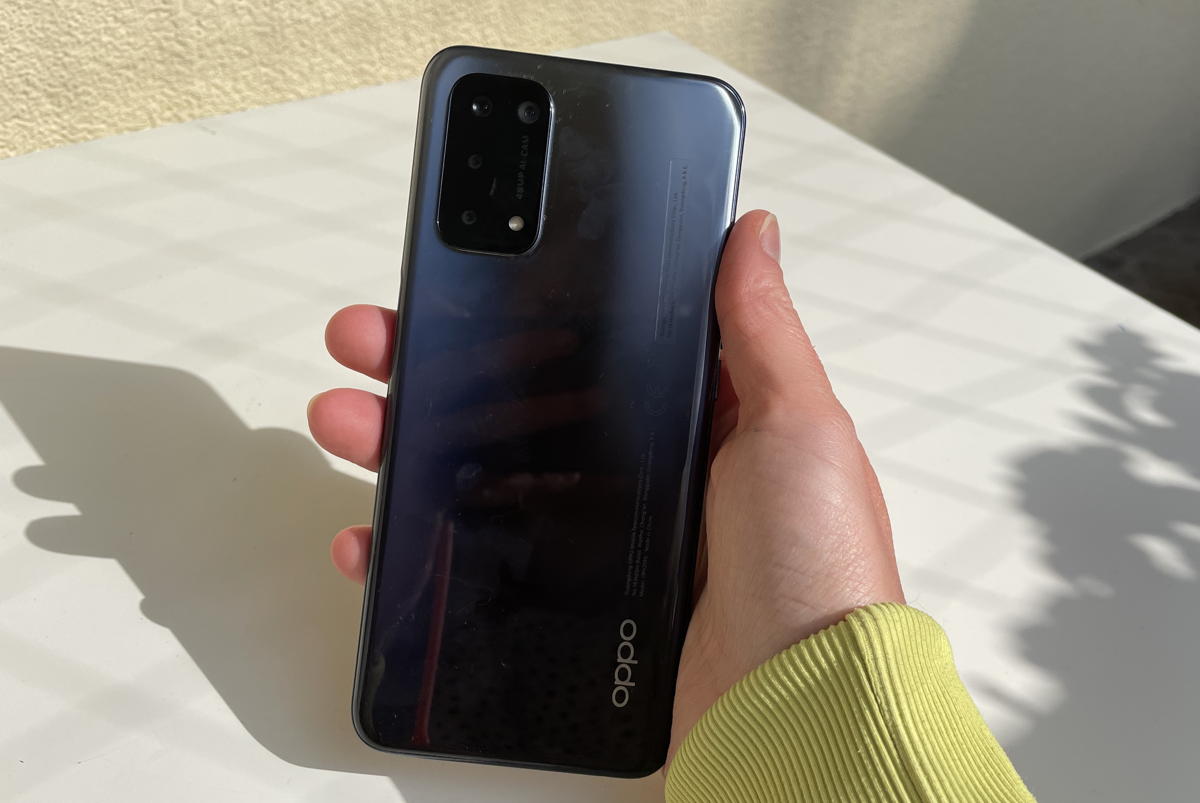 The model is available in two colors – purple-green gradient (Fantastic Purple) and classic black (Fluid Black). We got the second option for testing, and it is not black at all, but a gradient that goes from light gray to dark gray with a bluish tint. Not too bright, and quite classy.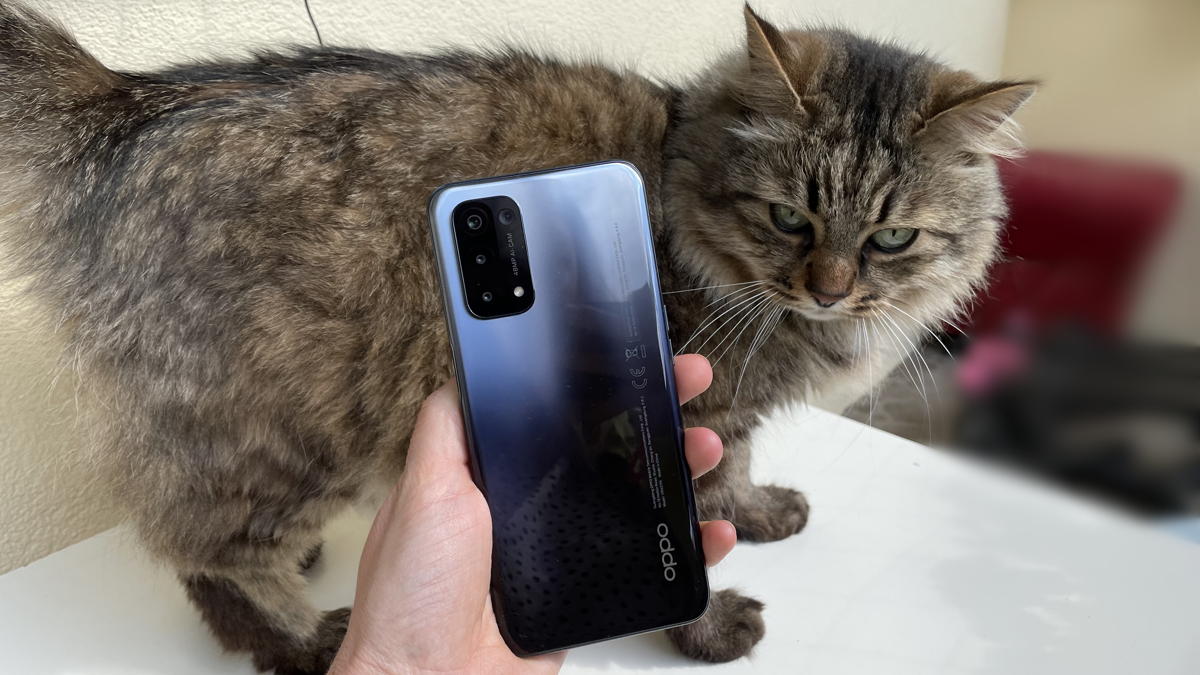 There's another version for those who like it brighter. Note that the edges are also painted in gradient colors.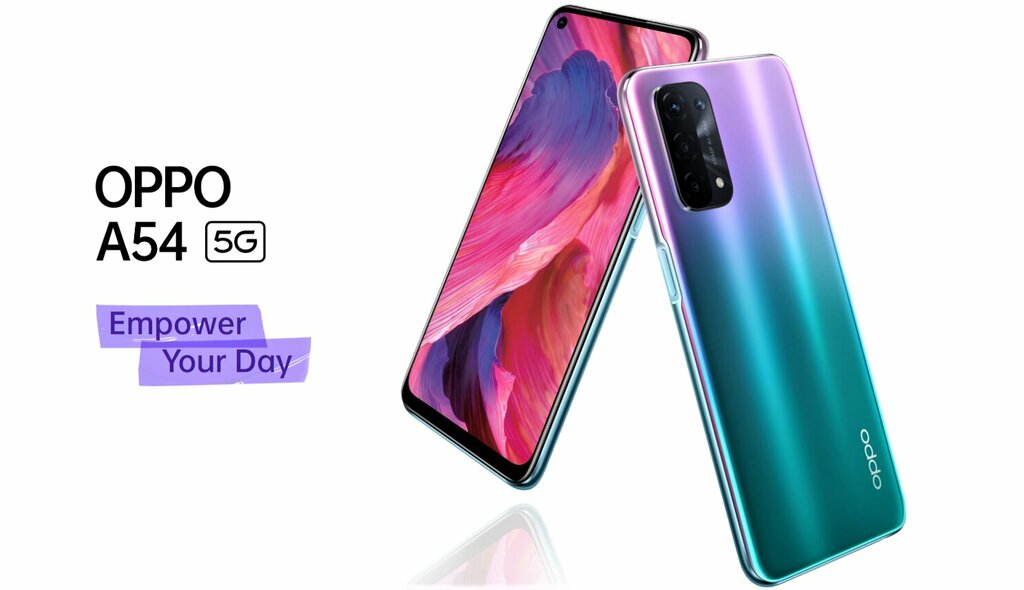 The edges are partially matte, partially glossy, imitating metal. Here, take a closer look: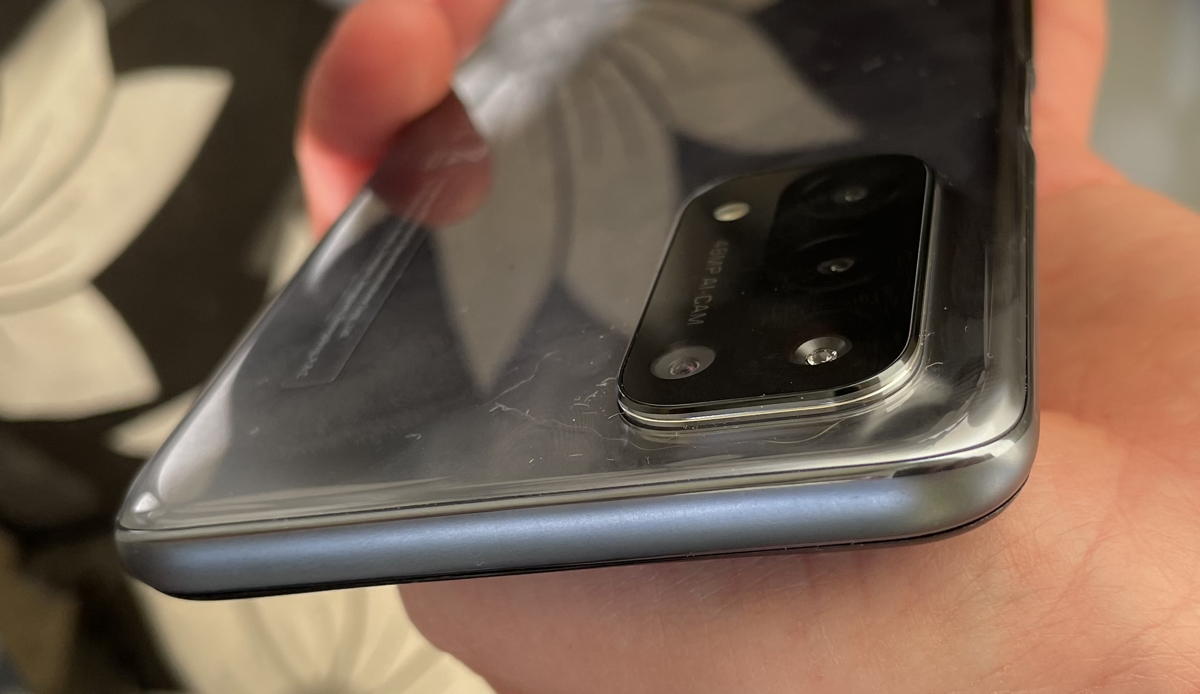 The back panel is glossy and actively collects fingerprints. Only a case will save you from that.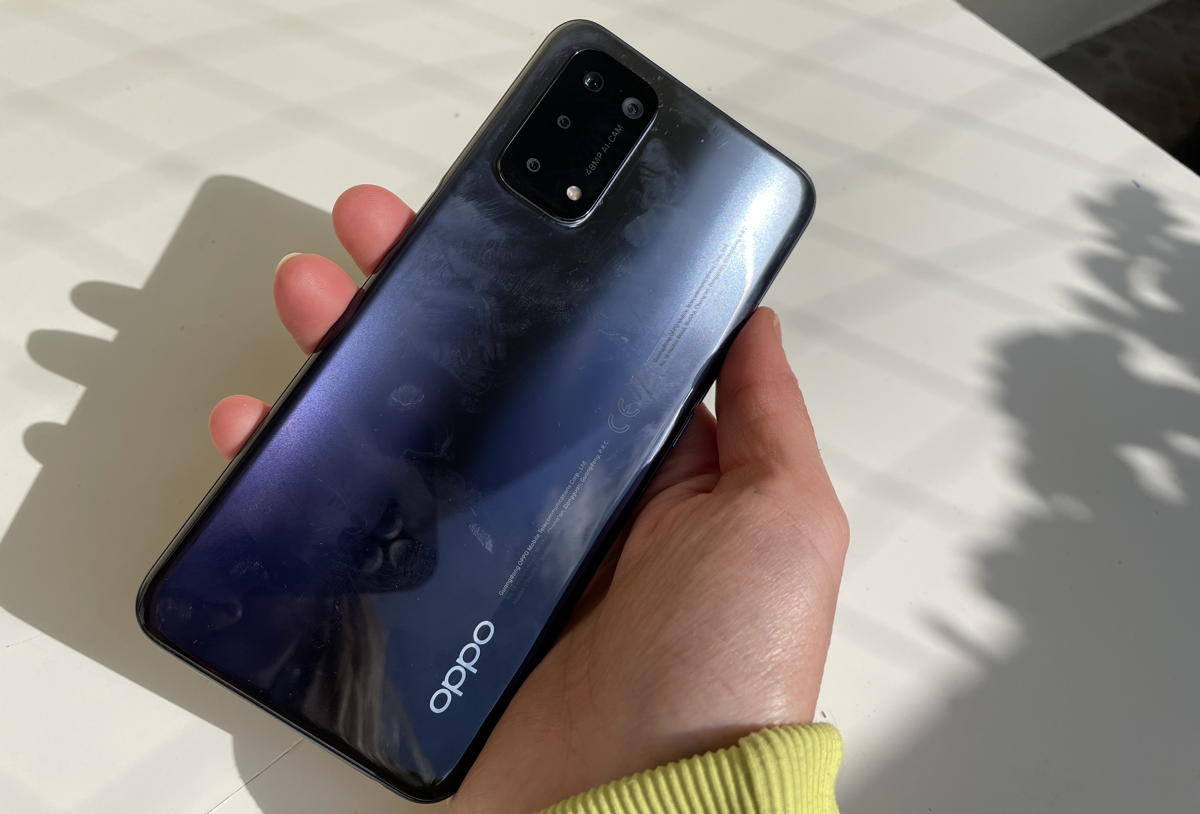 The OPPO A54 5G will appeal to those users who do not like very large smartphones. With a screen size of 6.5 inches, the device is relatively compact and thin (8.4 mm), not too wide, and lightweight. The device is convenient to use even with one hand thanks to the rounded edges, and it fits comfortably in the palm of your hand.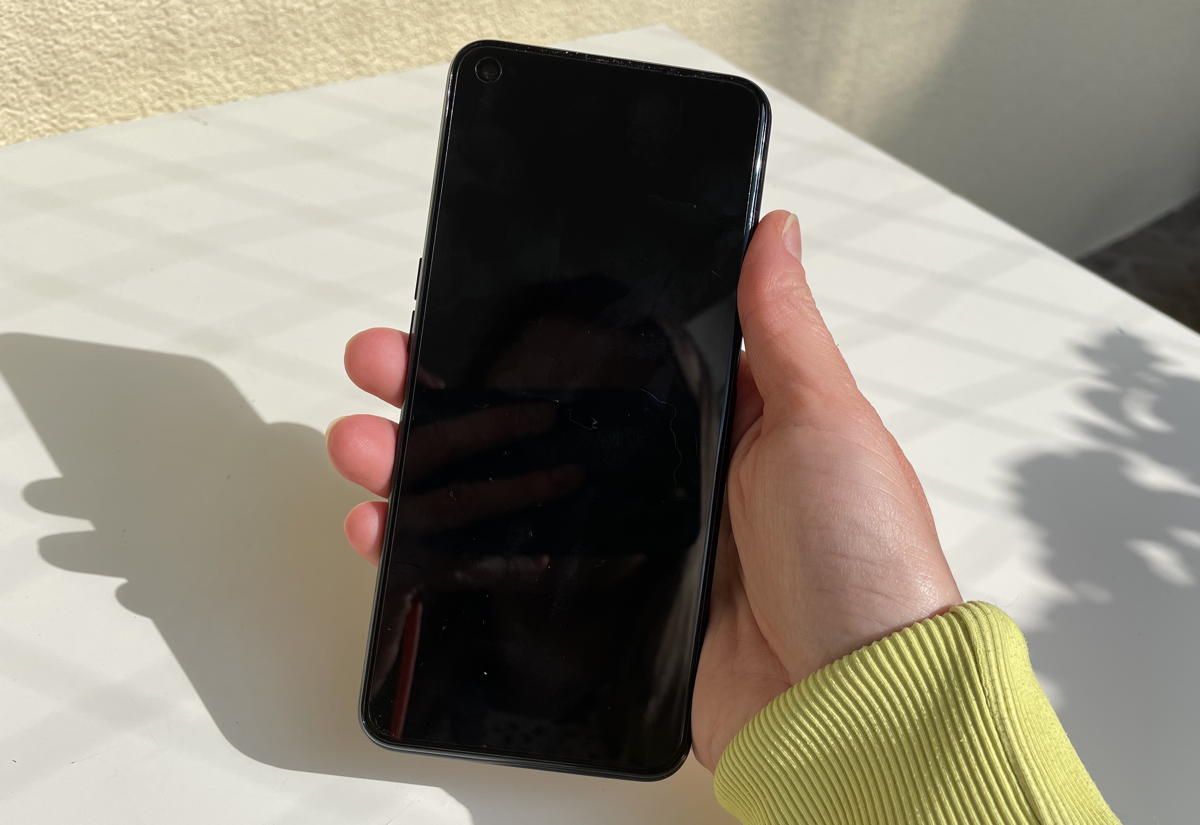 Let's look at the device from all sides. There are no elements on the upper edge. At the bottom there's a speaker (mono), microphone, Type-C connector and 3.5mm headphone output. Thankfully, someone still loves the minijack.
On the left side there is a SIM slot (two separate slots for SIM cards and a dedicated one for a memory card) and volume keys. The keys are located in a good place.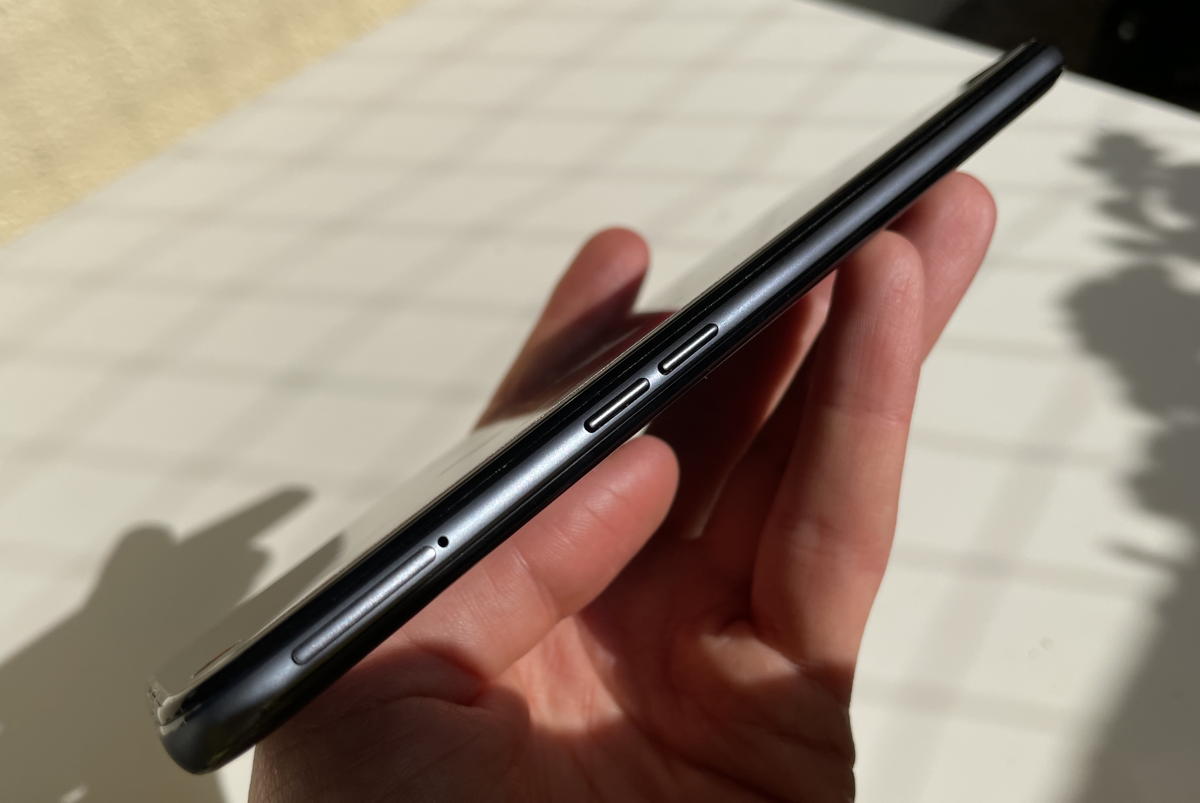 On the right we have only the power/lock key combined with a fingerprint scanner. In my opinion, this is the best solution (on a par with the module built into the screen), the finger rests comfortably on the button slightly recessed into the body, reading is fast and without errors. The phone supports face recognition, but it makes no sense to use it if you have such a good fingerprint scanner.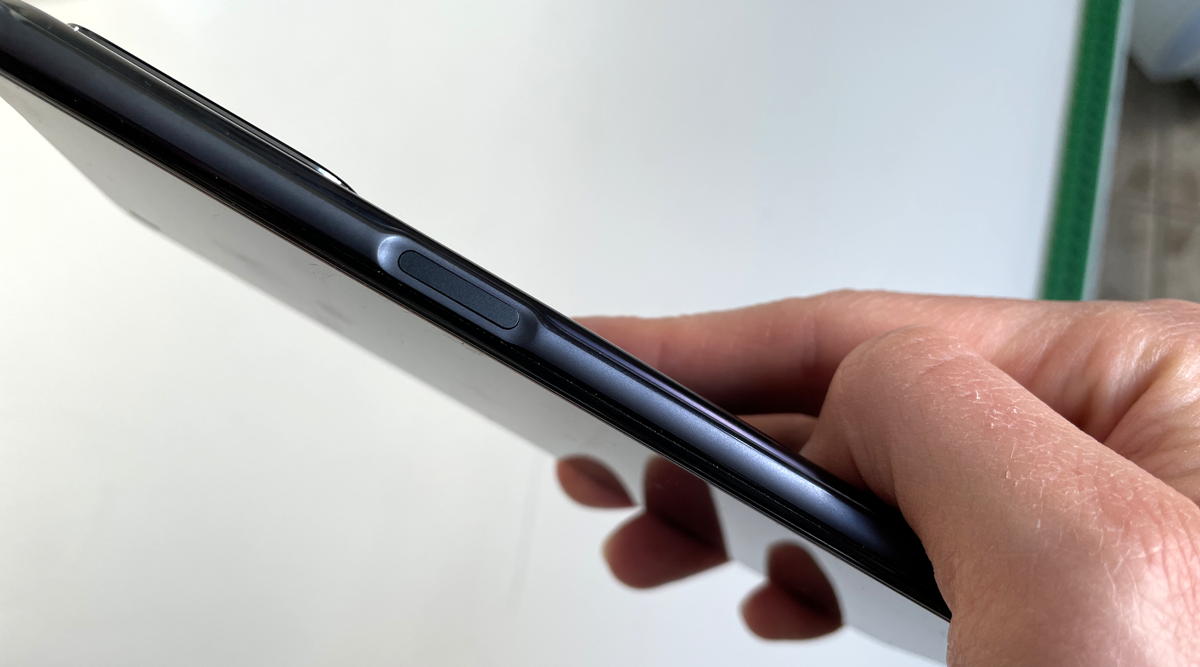 The build quality is excellent, not surprising for this price range. There is no protection against moisture (at least against splashes), although competitors in this price range already have it, like the Moto G50.
Read also: OPPO Reno5 5G review – Strong mid-ranger with 5G
Screen
The OPPO A54 5G uses a 6.5-inch LTPS screen. Don't be afraid of the word, it's just one of the variations of IPS. For an relatively inexpensive model, the screen is good, with rich color reproduction and good viewing angles.
However, readability in direct sunlight is poor.
The 90 Hz  refresh rate has become a common thing even in cheaper models, and the difference with the standard 60 Hz is noticeable. If you turn on 90 Hz, the picture becomes smoother and easier on the eyes.
The increased refresh rate works in menus and standard apps, but in games it is not supported. But the polling frequency of the sensor layer reaches 180 Hz, which is a plus for dynamic games.
You can select the standard 60 Hz in the settings, which will save battery power.
The OPPO A54 5G has a screen temperature setting. It is called Eye Comfort, when the shades turn into pinkish. At first, it seems a bit too warm, but the eyes really do feel better. This setting is recommended to be used before going to bed so that the blue color does not irritate the nervous system.
Read also: TWS OPPO Enco X Review: Almost Perfect + ANC  
Hardware and performance
The device is powered by the Qualcomm Snapdragon 480 5G processor. This is the simplest and most affordable chip with, as the name implies, support for 5G. The chipset was introduced earlier this year and is the first in Qualcomm's 400 series targeting budget 5G Android devices. The amount of RAM is the minimum by today's standards (4 GB).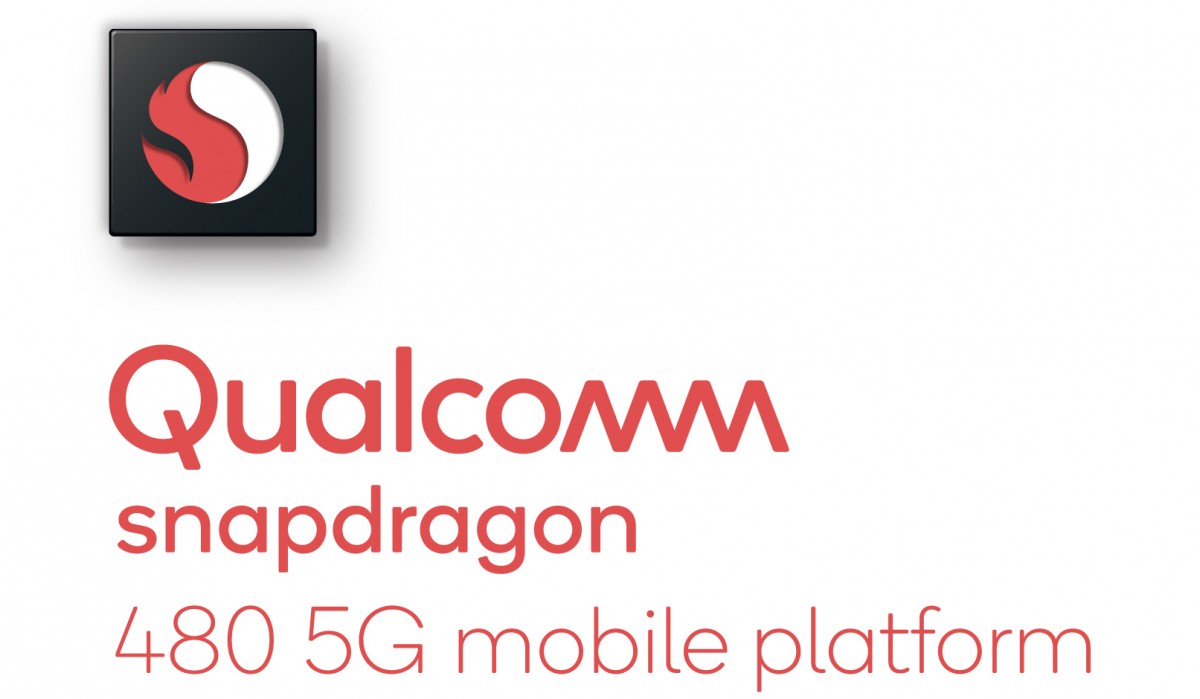 The hardware is the most basic. If you only use built-in apps such as calls, SMS, calendar, etc, and you  only need a browser and instant messengers in your phone, then everything will be fine. Although there are slowdowns even in the standard software. In reviews, I usually write that "the phone just flies", but here nothing flies, but rather floats. Even the cheap Moto G50 that I recently tested is faster for a lower price (€220)! And the processor is the same. That's software optimization for you.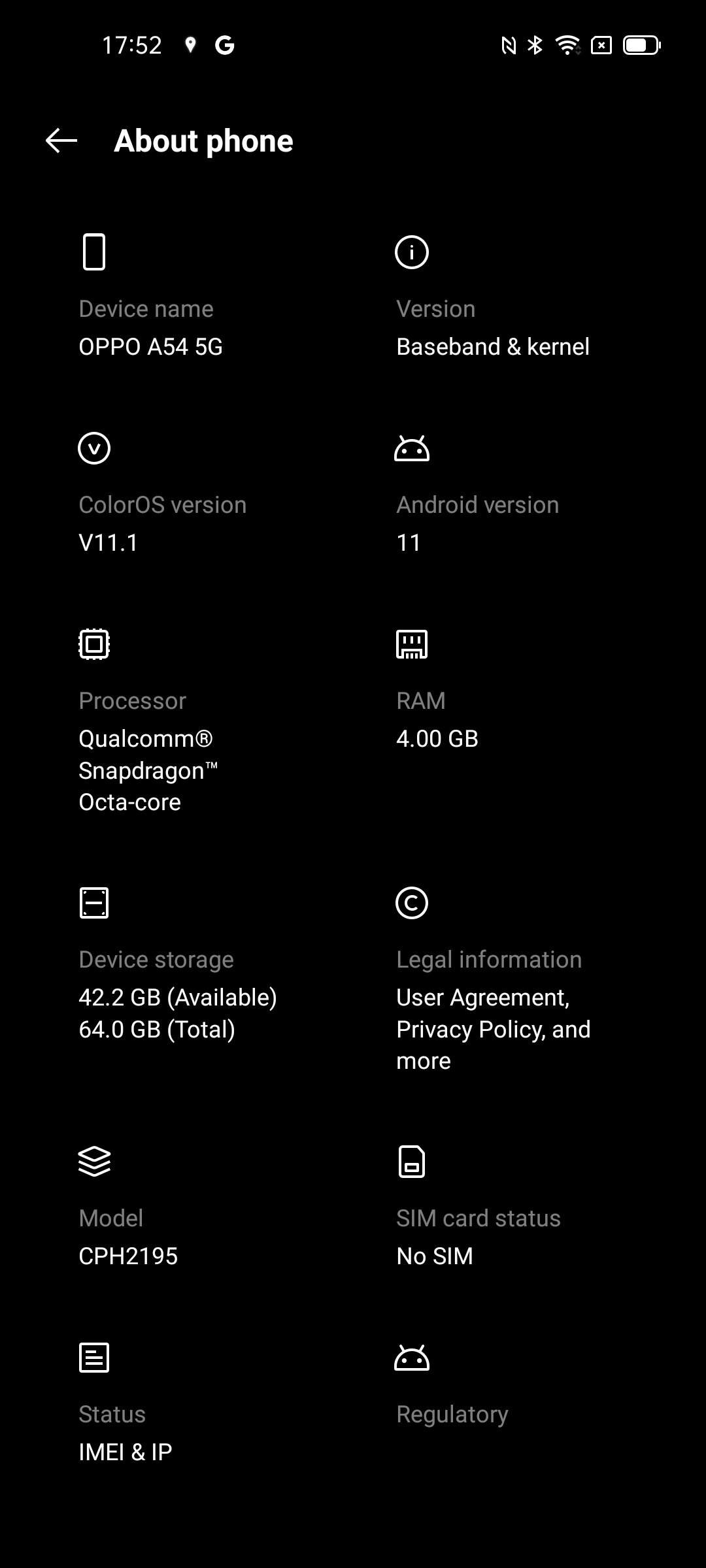 Can you play on it? The OPPO A54 5G runs any games (I checked Call of Duty: Mobile, PUBG, NFC No Limits), but on low graphical settings. The ever popular Pokémon Go is quite slow, which affects the operation of the smartphone as a whole. I would assume that the device does not have enough RAM. It often happened that I minimized the game to check notifications in social networks or write a message (literally for half a minute), and the game stopped working in the background.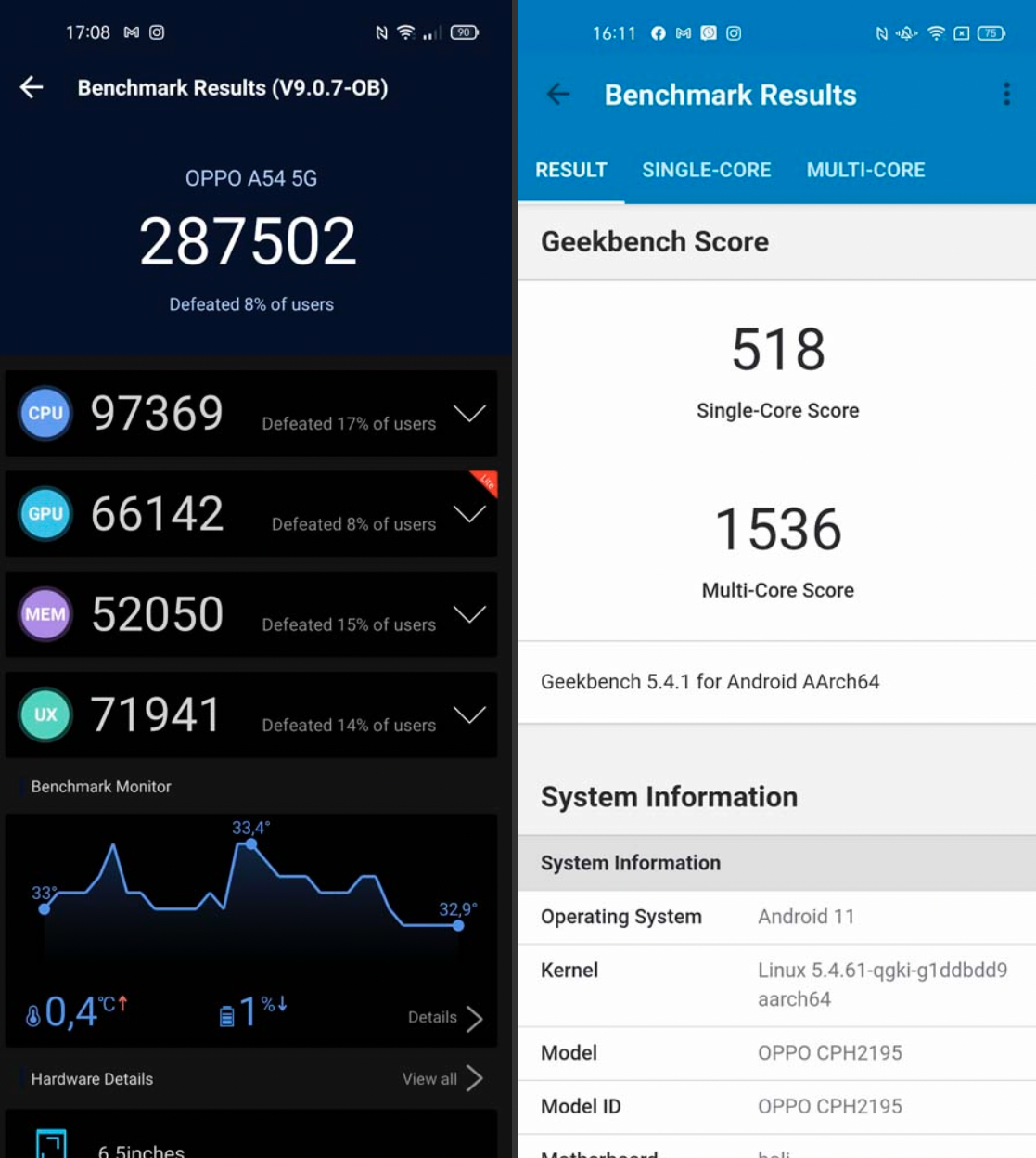 Of course, no one expects super speeds from a budget phone, but we have a device for 260 euros, which is not particularly cheap.
The phone has 64 GB of storage. There is a slot for microSD cards up to 256 GB. As already noted, the slot is NOT a hybrid one, so you can use both two SIMs and a memory card, which is a rarity. By itself, flash memory is UFS 2.1, quite slow.
Read also:
Cameras
If performance is not the strong point of the OPPO A54 5G, then the cameras are worth the praise. They are quite good, even when compared with the others.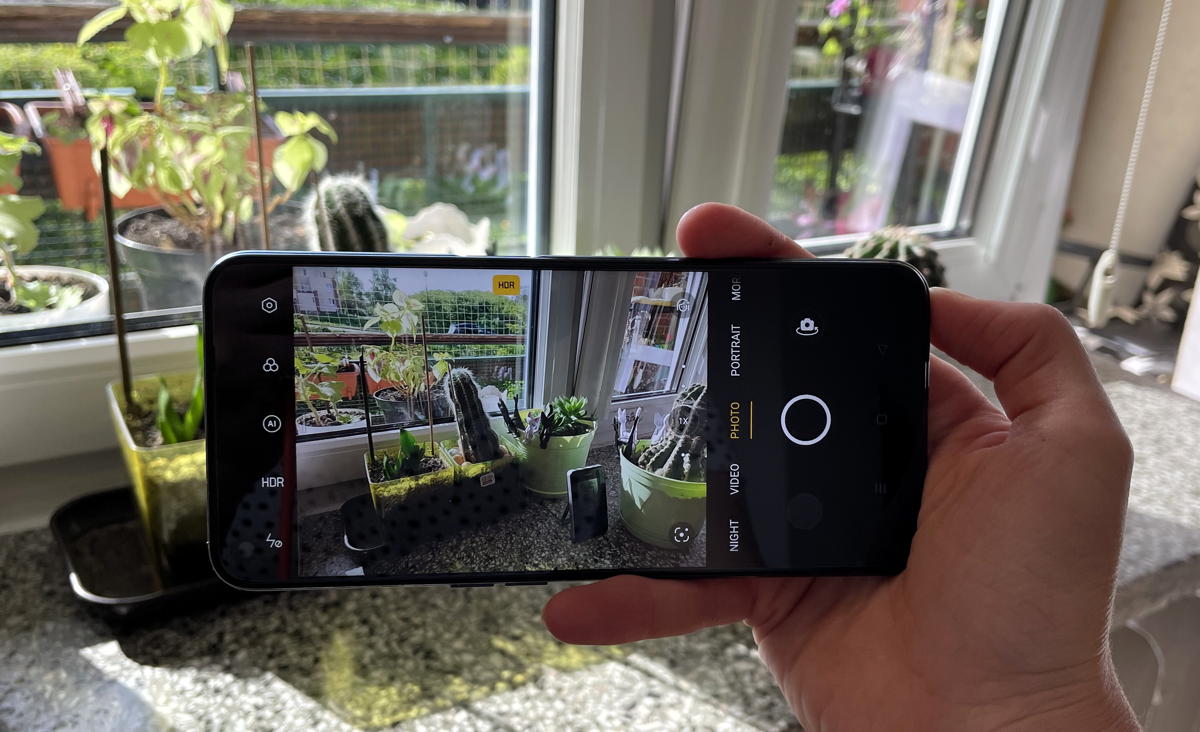 The cameras:
basic 48 MP, f/1.7, 26mm, 1/2.0′, 0.8μm, PDAF autofocus
wide-angle 8 MP, f/2.2, 119 ̊, 1/4.0′′, 1.12μm
macro 2 MP, f/2.4
depth sensor 2 MP, f/2.4
front-facing 16 MP, f/2.0, 26mm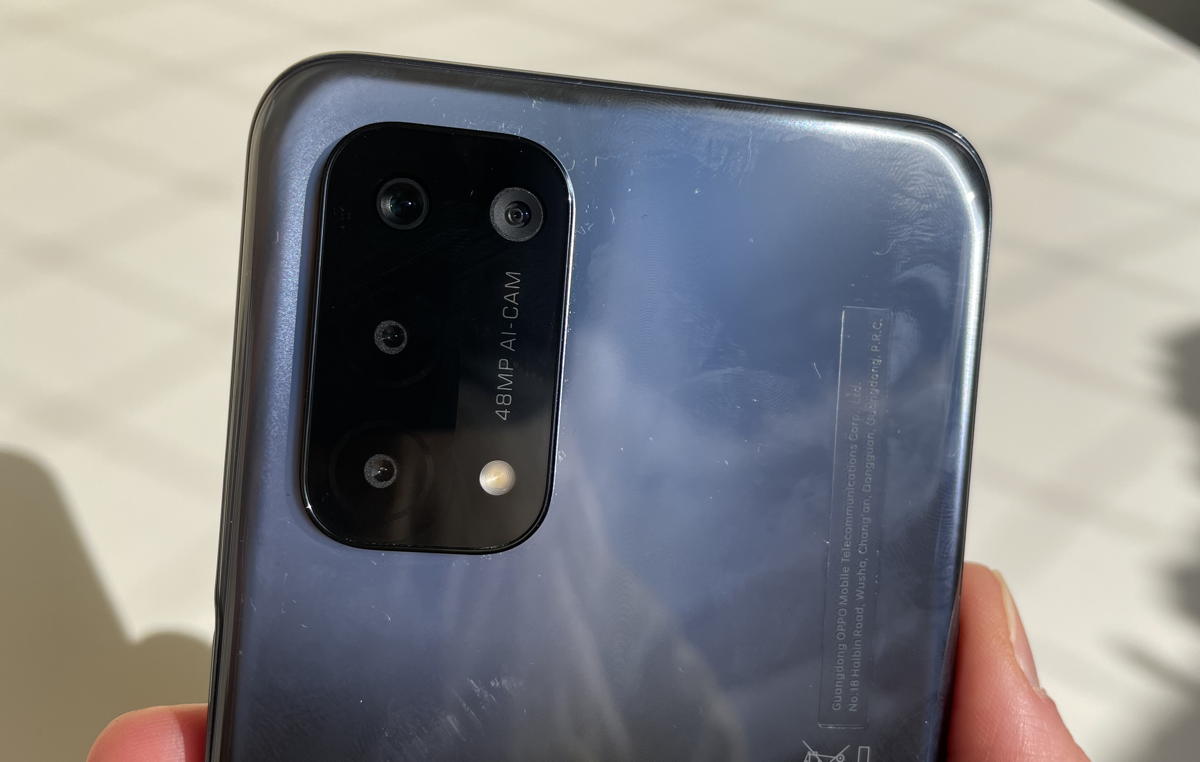 In good lighting conditions, the main camera produces excellent pictures: they are bright, juicy, and with natural color rendition. Not like the flagships, but good enough. If the lighting is less than ideal (for example, indoors), noise appears, as well as blurred moving objects, but this is not a big problem. Here are examples, and you can see them in their original resolution.
5x digital zoom available. Oftentimes such a zoom is useless and spoils the quality a lot, but the OPPO A54 5G is surprisingly good. The pictures are tolerable, you can put them in stories. An example with two zoom levels (1x, 2x, 5x, see full size here):
The main lens takes a photo with a resolution of 12 megapixels, not 48 megapixels, because to improve the pic, several pixels are combined into one (Quad Bayer technology). There is also a shooting mode with "honest" 48 megapixel, but the quality is not so different that you can use this mode all the time. The photos are available here.
Shooting in the dark has always been a sore spot for cheap phones. The A54 5G tries its best, and if there is some kind of lighting (signs, lights), you get quite nice pictures. If there is very little light, then the photos will be dark, noisy, and poorly detailed.
There is a night mode, but it has the same problem as most inexpensive models – the pictures are too embellished by the software, and they look unnatural, noisy, and grainy. In addition, night photography takes time; you need to hold the phone as steady as possible for a few seconds. Of course, we are talking only about the main lens, there is no point in shooting in low light with macro or wide angle, since the quality is deplorable. Here is a comparison between normal and night modes, in original resolution.
By the way, about the wide-angle camera. It's for show here, since even in good lighting conditions the color rendition suffers and there is a lot of distortion at the corners. However, if you need to fit more into the frame, this option is better than none. All examples of photos taken from a wide-angle lens in original resolution can be found here.
The 2-megapixel macro lens is also hardly needed. Yes, it will allow you to take interesting close-up shots (fixed focus about 2 cm), but they offer weak resolution (even on the phone screen it does not look the best), as well as bad color rendition. And to get clear photos, you need to hold the device steadily and it is desirable that the object does not move as well (this is difficult in the case of flowers/leaves). The examples are below, and the original files, as usual, are available here. Be sure to check out the originals, as the quality might seem good on thumbnails, but in reality it is not.
Video is recorded in Full HD or HD resolution at 30 frames per second. For 2021, it's just not good enough. The quality is hardly excellent, the video is jerky, there are problems when changing the lighting. Watch a sample video from the OPPO A54 5G.
The 16 megapixel front-facing camera produces good shots in sufficient lighting, which is great for social media.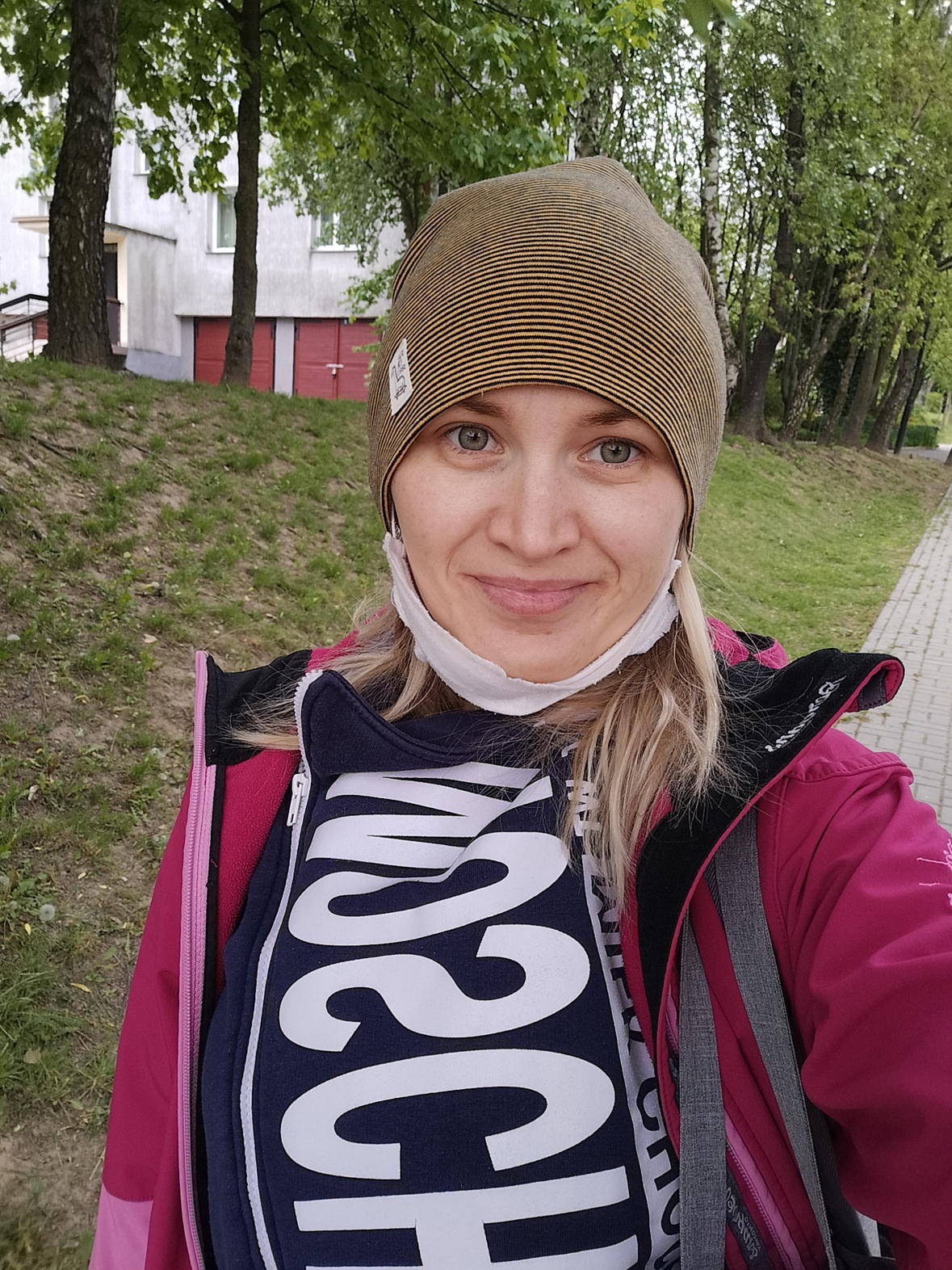 Read also: OPPO Reno4 Lite review: Fantastic Design, Good Cameras, Average Performance
The camera UI was described by Yuri Svitlik in the ColorOS review, and it has a huge number of settings and even a good PRO mode.
Data transfer and sound
The phone has an NFC functionality, which is quite usual for modern budget devices. What's rare is a 3.5mm headphone jack. The speaker is mono and loud, and although the sound is rather flat. The sound is quite good both in wired headphones and in wireless ones.
As we already know, 5G is supported (all current bands: n77/78/38/40/41/1/3/5/7/8/20/28), and by both SIM slots, even though some reviews indicate otherwise. There is also Wi-Fi 5 (802.11ac), 802.11a/b/g/n/, fresh Bluetooth 5.1 (audio codecs SBC, AAC, APTX HD, LDAC), USB Type C, GPS (A-GPS, BeiDou, GLONASS, QZSS).
Software
The OPPO A54 5G runs on fresh Android 11 with a proprietary ColorOS 11 shell.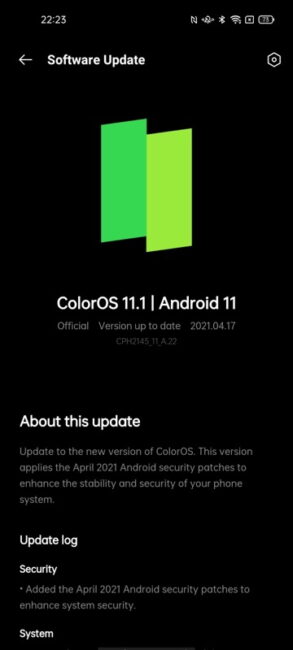 The shell is positioned as bright, simple and highly customizable (what can I say, even the in-screen fingerprint sensor icon can be replaced). It's a matter of taste, but I prefer the usual "pure" Android or OneUI from Samsung. But ColorOS is a bit gaudy.
Nevertheless, there are many interesting features that you will not find in competitors. For example, creating clones of apps. This can be useful for instant messengers if you want to use two accounts.
Even more interesting is the option to create a second system (System cloner). This way, another "clean" OS is being created, which you can set up from scratch as a new phone, set up other accounts, a set of software, and so on. And, for example, use the same smartphone for both personal affairs and work.
There is a slide-out side panel that can be customized for quick access to the functions you want.
Desktops, their logic and design are highly customizable.
A built-in game mode is provided. When you start games, the phone automatically clears RAM. You can also customize it so that nothing distracts you during the game. There are three performance game modes: Low power mode, Balanced mode and Pro Gamer mode.
Thoughtful gesture control is available, as well as the option to split the screen into two parts, and a separate utility to optimize the device and much more.
There are additional apps from OPPO like compass, file manager, calculator, weather, voice recorder, gallery, relaxation tunes, video player and others.
Battery
Low performance is never good news, except for when we discuss battery life. With a 5000 mAh battery, the device turned out to be very tenacious. Two days of work for it is not a problem. During the test, I actively used instant messengers, GPS navigation, calls (10-15 minutes a day), the browser, listened to music, and launched casual games. If you play heavier games like Pokémon Go, then with the screen at maximum brightness the battery will lose about 7-10% per hour. As a result, 10-12 hours of screen is a reality.
90 Hz does not waste much battery life. The video looping test showed us about 28 hours at 90Hz and 30 hours at 60Hz.
The bundled charger is 18 watt. It takes about two hours to fully charge, 40 minutes is enough for 50%, so we are not talking about quick charging in the modern sense.
Verdict and alternatives
The OPPO A54 5G is a really good BUDGET phone. It has a high-quality display, good ergonomics and reasonable dimensions, a convenient fingerprint scanner, a 5000 mAh battery, NFC, and the main camera makes excellent shots in good lighting. What's bad is performance, basic processor, minimum RAM, and unoptimized software. It's all fine for a cheaper smartphone, but this here device is anything but cheap. This is probably due to support for 5G networks, but not everyone even need it.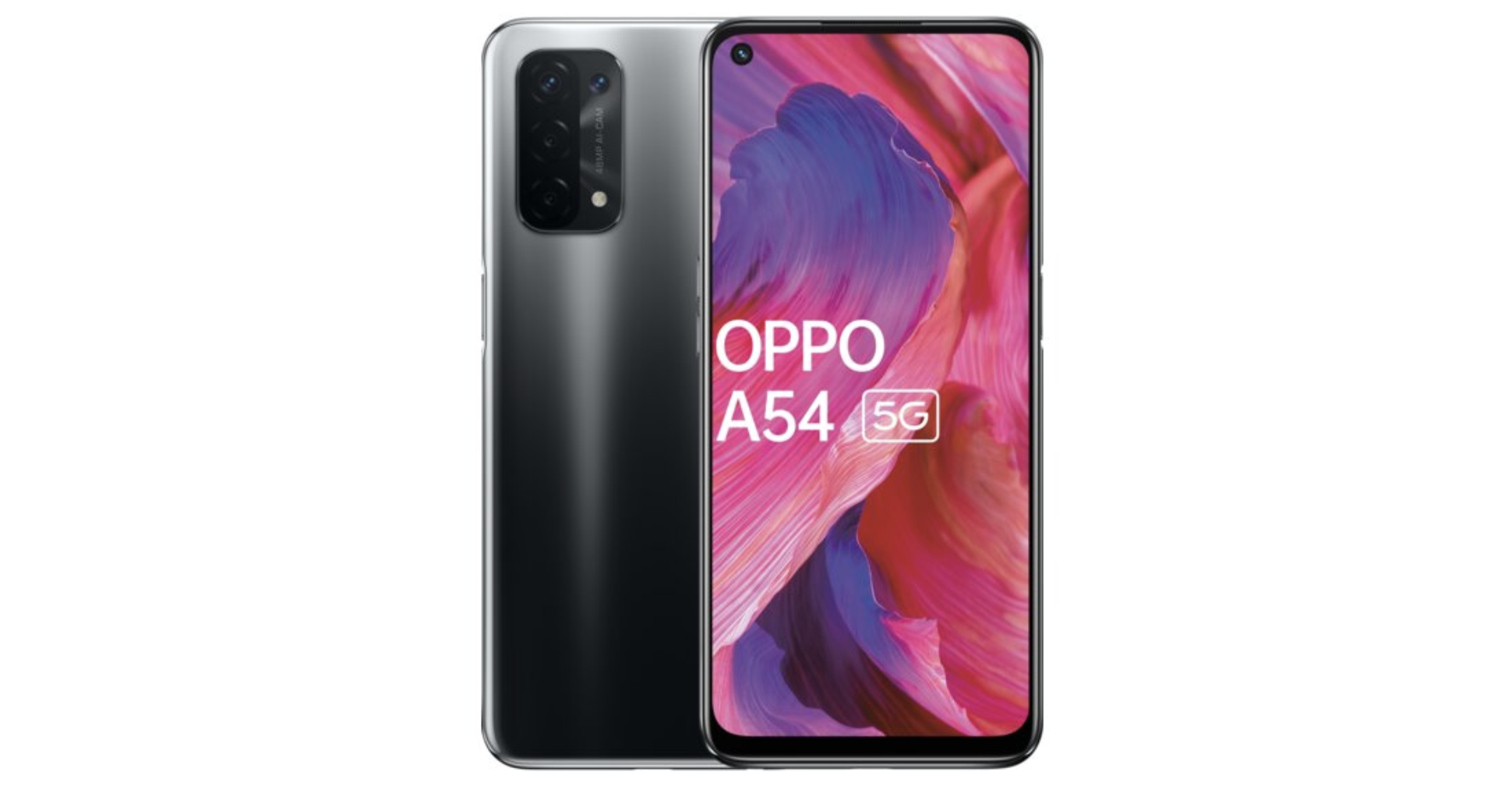 There are many alternatives to OPPO A54 5G. If 5G support is important, then you can pay attention to the Moto G 5G, which is cheaper, has a more powerful processor and more memory. The equally interesting realme 8 5G also costs less, has more RAM and a powerful chip from MediaTek. Also worth noticing are the more affordable Xiaomi Redmi Note 10 5G and Xiaomi Mi 10t Lite 5G.
If 5G is not needed, then for 260 euros or less you can buy many much more powerful smartphones with good specifications: Moto G9 Plus, POCO X3 Pro, Redmi Note 10 Pro, Xiaomi Mi 11 Lite, realme 8 Pro, and the Samsung Galaxy A71.
In general, the model is not bad, but something needs to be done with the price. Perhaps, in the coming weeks, it will drop to an acceptable level, because Xiaomi, OPPO, realme and Motorola are actively competing in the market.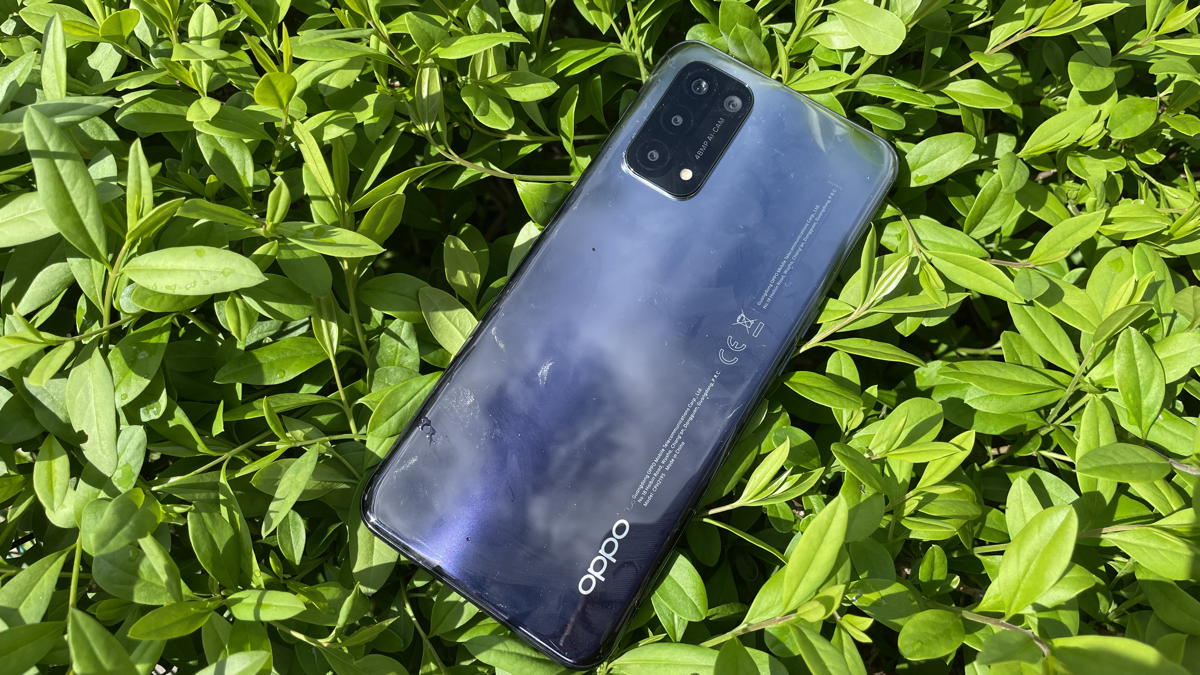 Where to buy the OPPO A54 5G?
Read also:
Subscribe to our accounts: