At the end of March, a new series of the OPPO Reno5 smartphones was presented in Europe. The most interesting model was the Reno5 5G – a powerful and beautiful device that stands out thanks to 5G support. Even very inexpensive models have 5G now, let alone the middle price range. However, even if the OPPO Reno5 5G did not support the new generation network, it would still be interesting. Why? Let's figure it out in detail.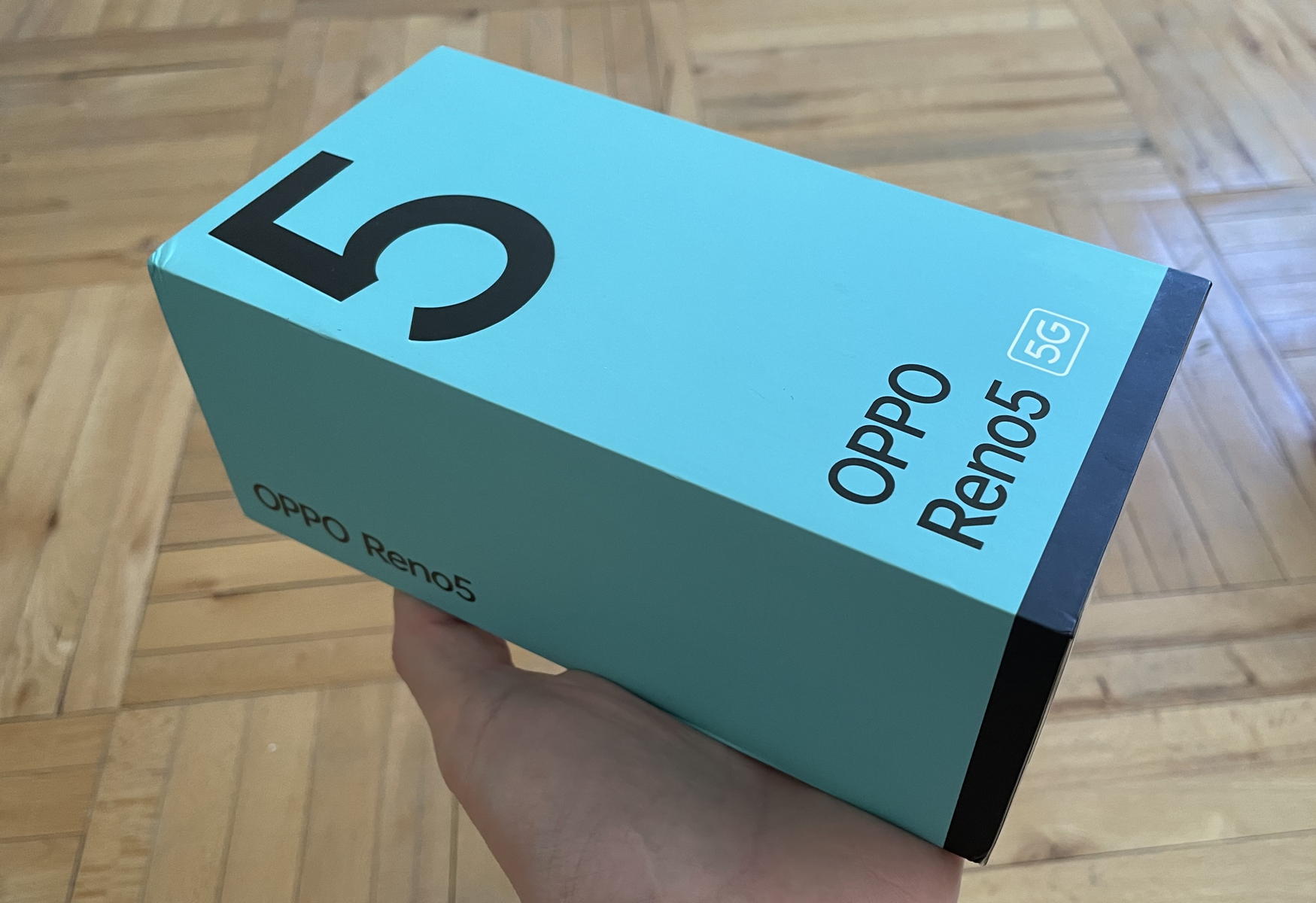 The OPPO Reno5 5G costs about  $515).
Read also: OPPO Reno5 Lite review: stylish and modern mid-ranger
Full specifications of the OPPO Reno5 5G
Screen: AMOLED, 6.43 inches, 2400×1080 resolution, 90 Hz update
Processor: Qualcomm Snapdragon 765G
Video accelerator: Adreno 620
Memory: 8 GB of RAM, 128 GB UFS 2.1 drive
Battery: 4300 mAh, fast charging 65W SuperVOOC 2.0
Main camera: 64 MP f/1.7 Sony IMX686 + 8 MP f/2.2 ultra-wide angle (viewing angle 119 degrees) + 2 MP f/2.4 macro lens + 2 MP f/2.4 depth sensor
Front-facing camera: 32 MP f/2.4
Communications: LTE, 5G (only in SIM1 slot), NFC, Wi-Fi ac (2.4+5 GHz), Bluetooth 5.1, GPS (A-GPS, BeiDou, GLONASS, Galileo, QZSS), USB Type-C
OS: Android 11 with ColorOS 11 shell
Dimensions and weight: 159.0×73.4×7.9 mm, 172 g
Price: about $515
What's in the box
The box is relatively large. This is because the box is not quite ordinary. Inside there's the phone itself (where can we go without it), a SIM eject cool, documentation, and a cable.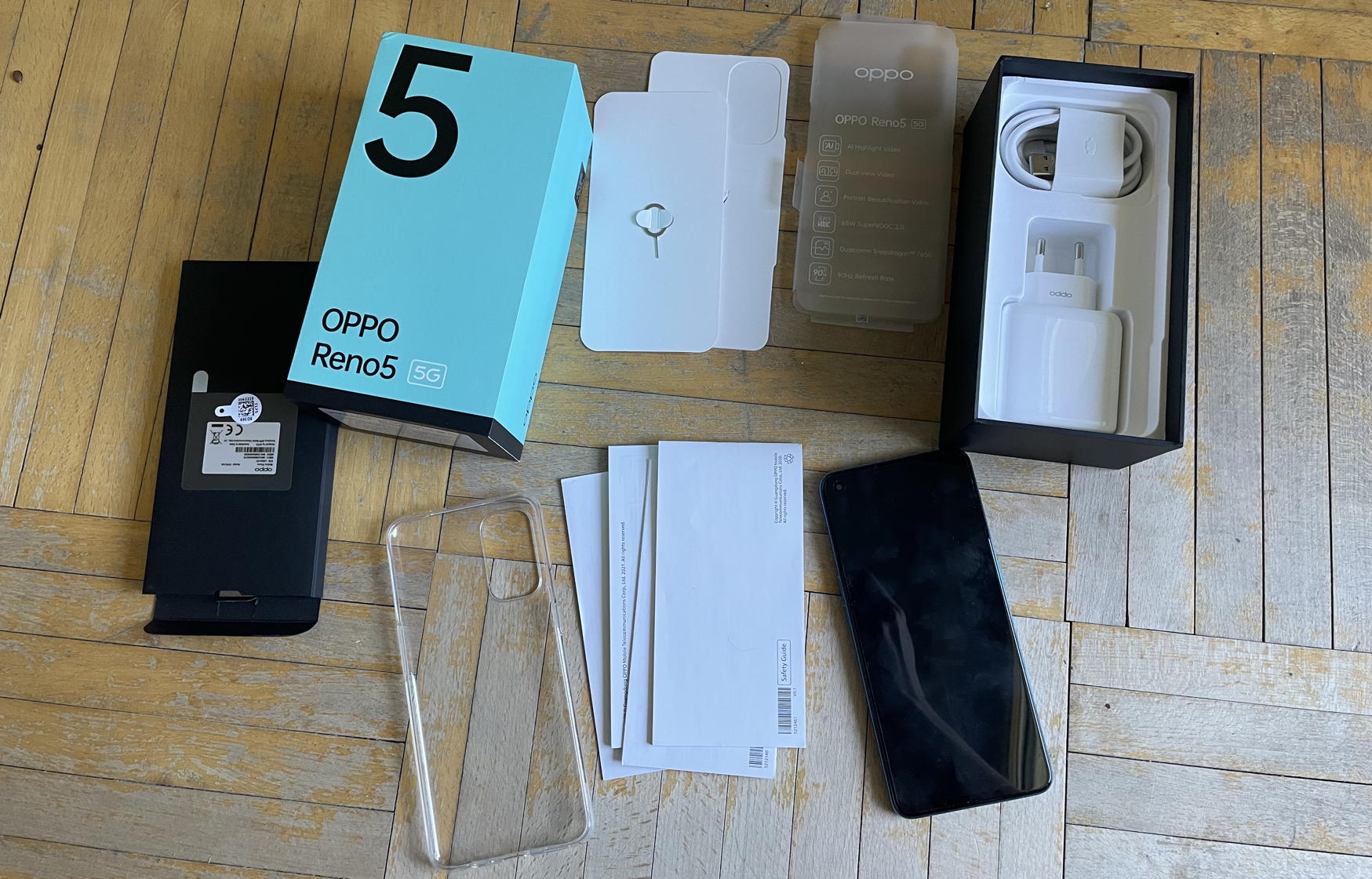 The standard for many self-respecting manufacturers has become the addition of a protective covert. The Reno5 5G also has it, and it's great, with good protection of cameras, screens, corners. See for yourself.
However, it should be noted that the case significantly increases the dimensions.
The charger is worth paying attention to – it is twice as big as what I'm used to. It's powerful, too – 65 watts.
The cable also looks serious – denser and thicker than the usual ones that can be found in the basic set of smartphones.
In the box there are also white wired headphones in in-ear format (like Apple EarPods). I have already forgotten about the times when headphones in boxes with new phones were commonplace. Actually, I forgot about how to use wired ones, I switched to TWS a long time ago. But it may be useful to someone. There is a 3.5 mm audio jack on the case, of course.
Also, there's a protective film initially glued to the screen. It is of high quality, does not flake off, does not spoil the color rendition and readability. But it actively collects fingerprints, without a film the screen is more resistant to them.
Read also: Xiaomi Mi Smart Band 6 review: A new fitness tracker with SpO2 Sensor
Design
I'll skip the preludes and go straight to the back panel. Many phones have passed through my hands, but such have never been.
The plastic rear of the Reno5 5G is not glossy, but matte and rough. Very pleasant to the touch, and not slippery in any way. And it shines very, very beautifully in the sun.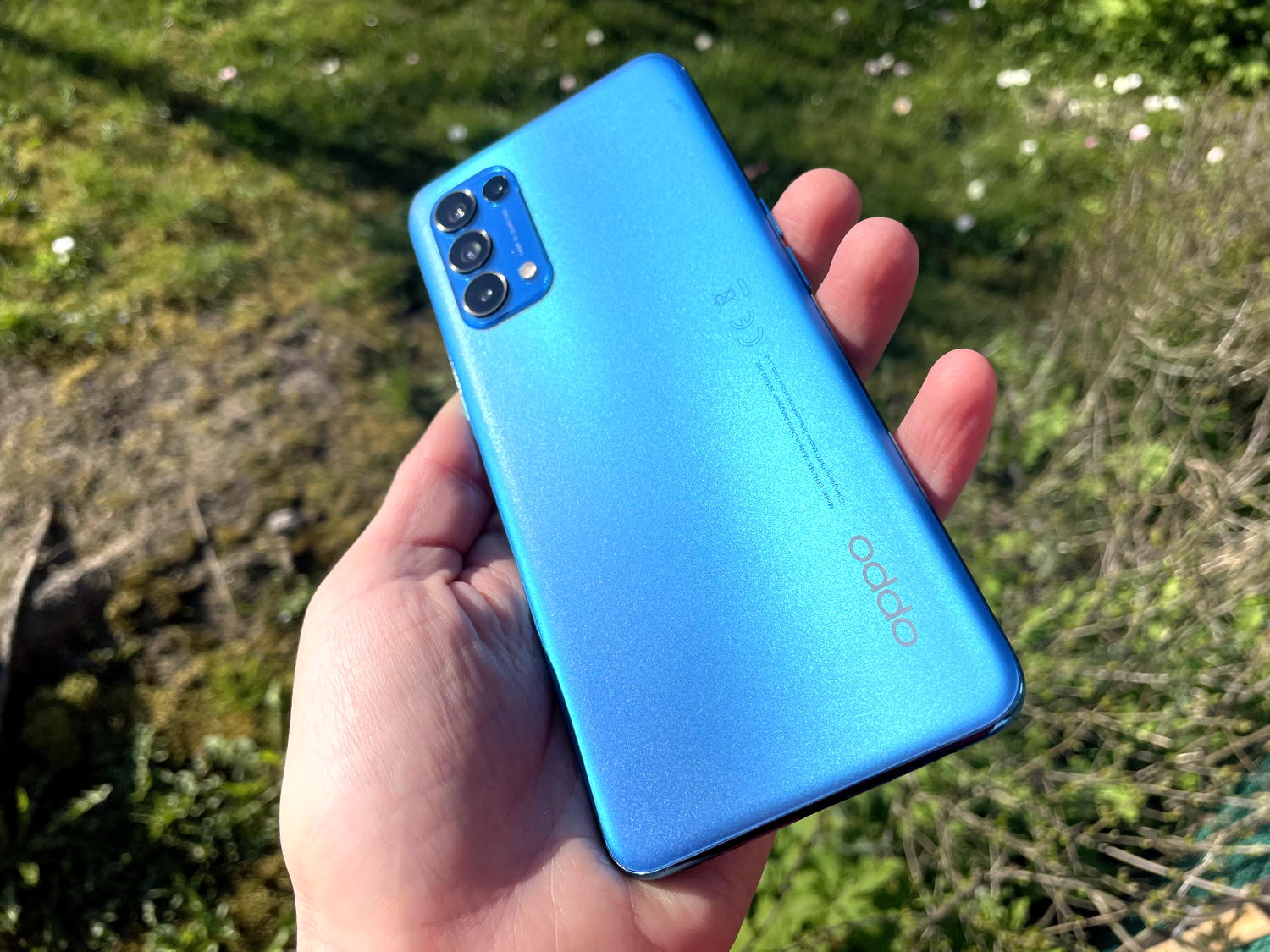 I think a lot of buyers will choose this smartphone just because of the design. There are a lot of similar models in the middle price range, so OPPO Reno5 5G stands out. It's even a pity to put on a cover on such a case.
Three colors are available – blue, silver (gradient, shimmers from bluish to pink) and black. Moreover, black does not sparkle like the others.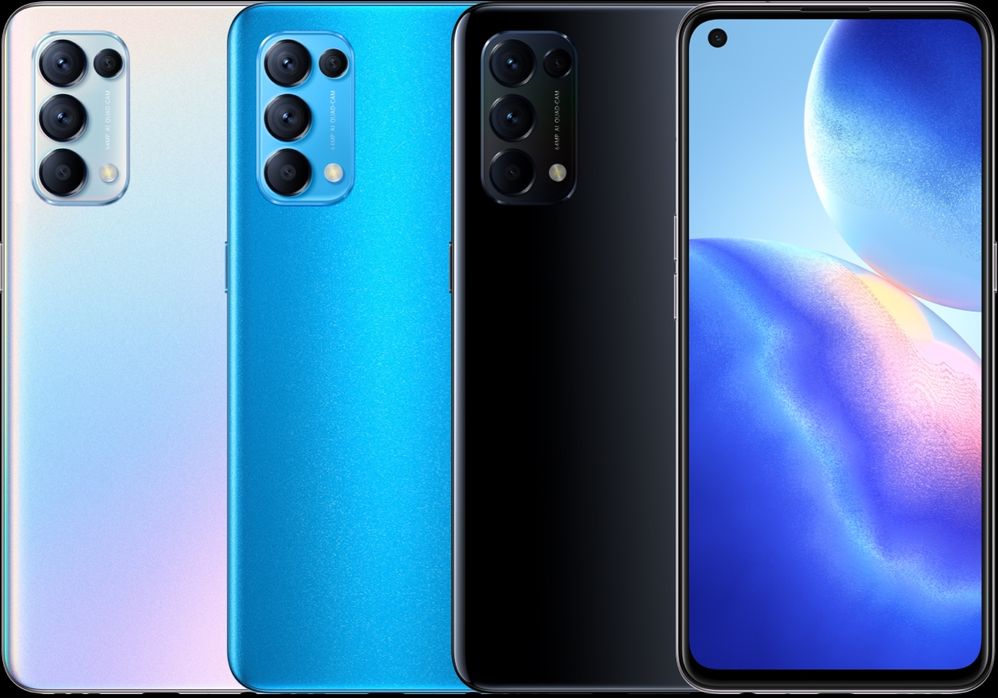 The smartphone itself is relatively small (6.43-inch screen with an elegant notch of the front camera in the corner). So if you're looking for a moderately sized phone, look at the Reno5 5G. The device is not only compact, but also thin (7.9 mm) and lightweight. During the test, it was convenient to use and operate with one hand.
The camera block is similar to that in the Motorola Moto G50 and protrudes slightly above the body. The display has small bezels, there is practically no chin. The screen is protected by Corning Gorilla Glass 5.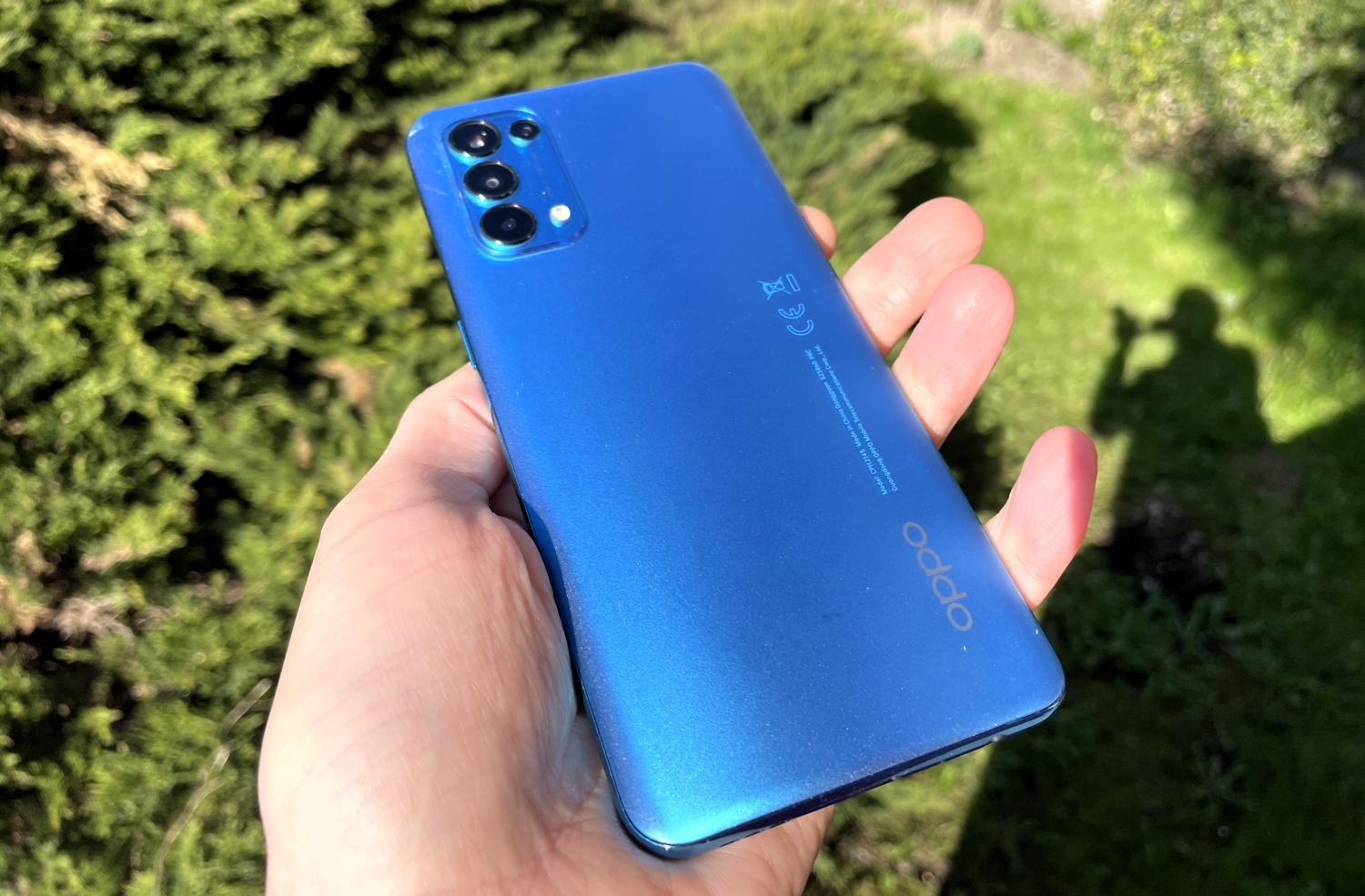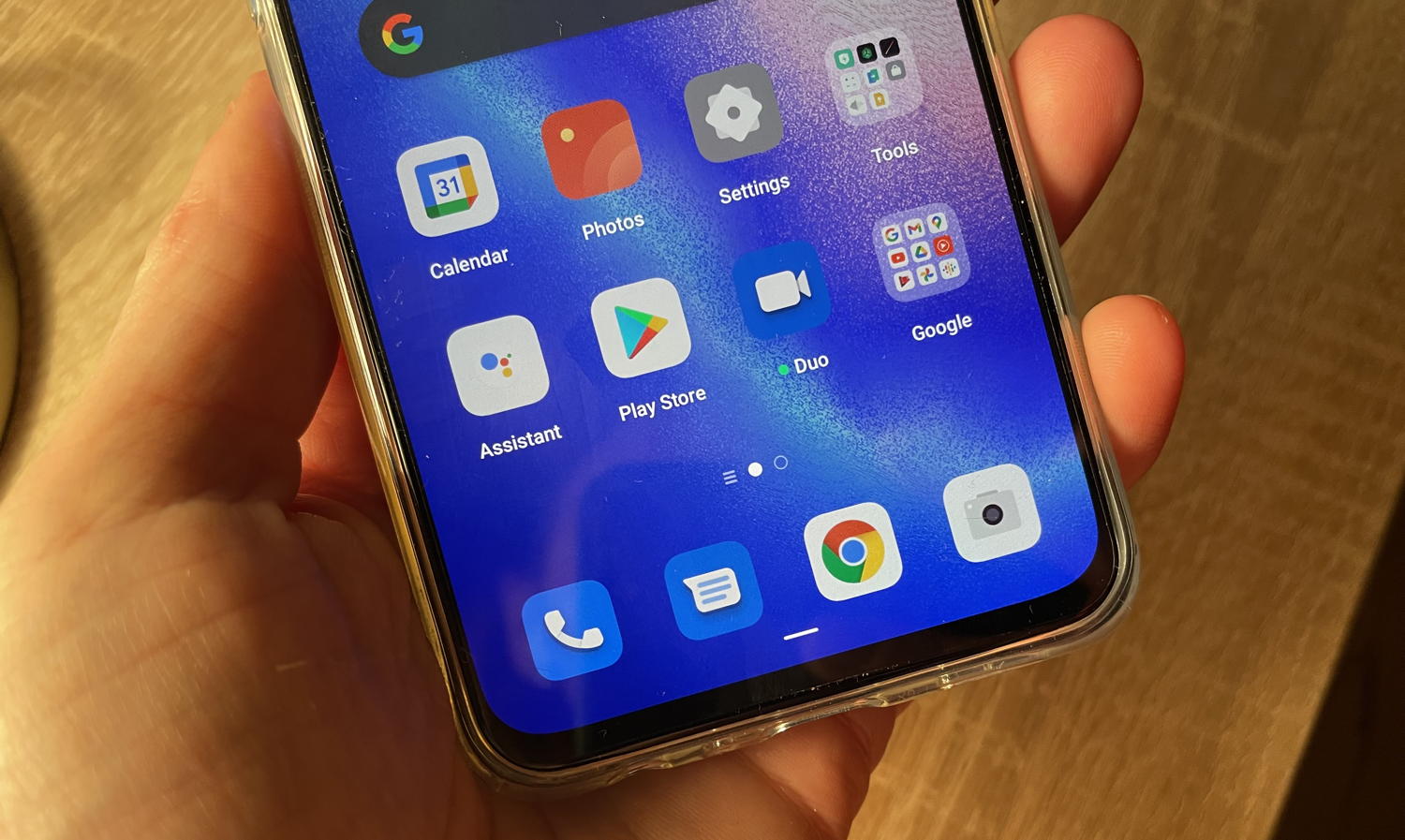 At the top there is only one element – a noise reduction microphone. On the bottom is a speaker (mono), another microphone, a Type-C connector and a 3.5 mm headphone output. It's good that not all manufacturers refuse the minijack.
Read also: Samsung Galaxy A52 Review: A New Smash Hit?
On the right side there is only a power/lock key, it's thin, in the color of the case, but with an unusual green stripe. It looks stylish.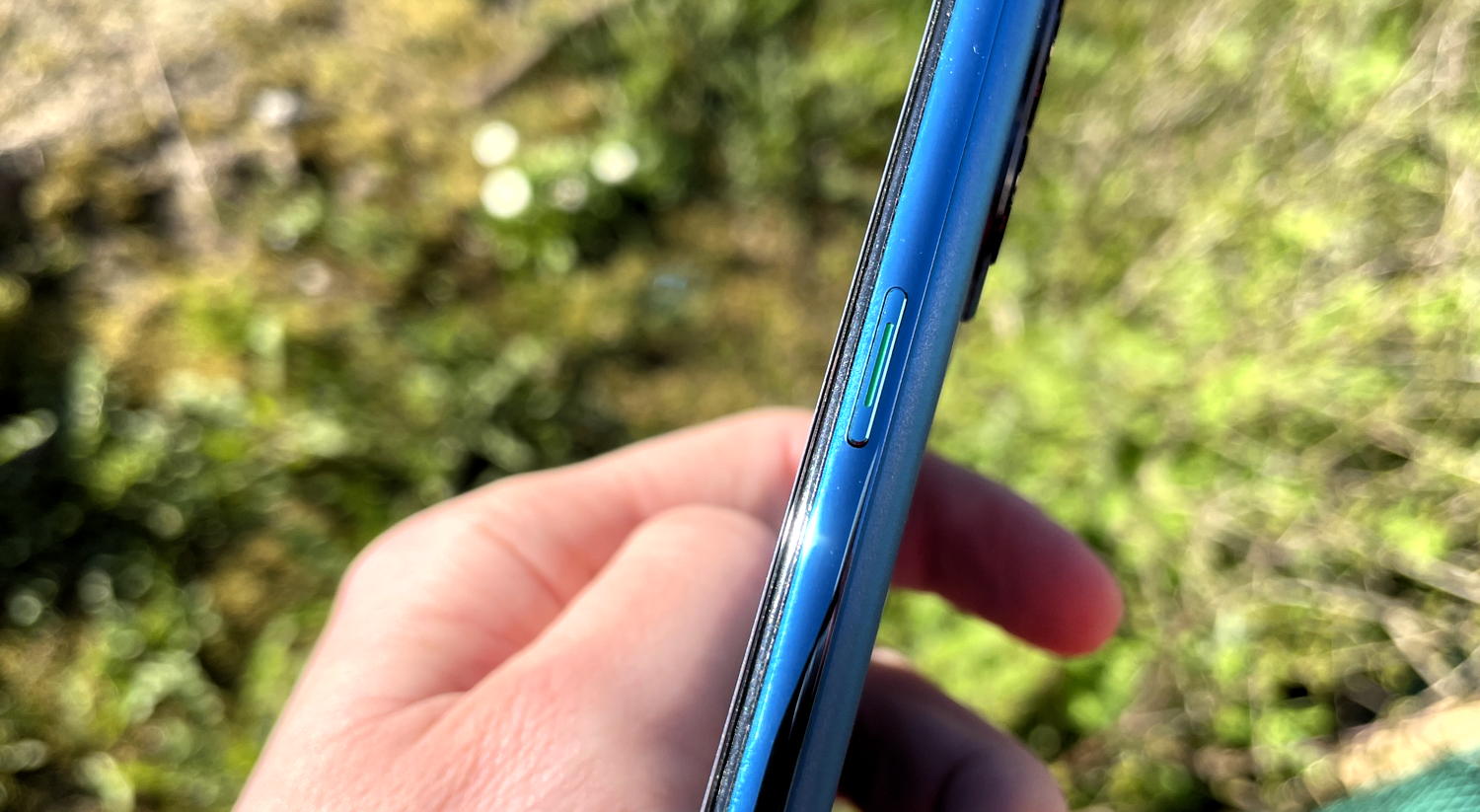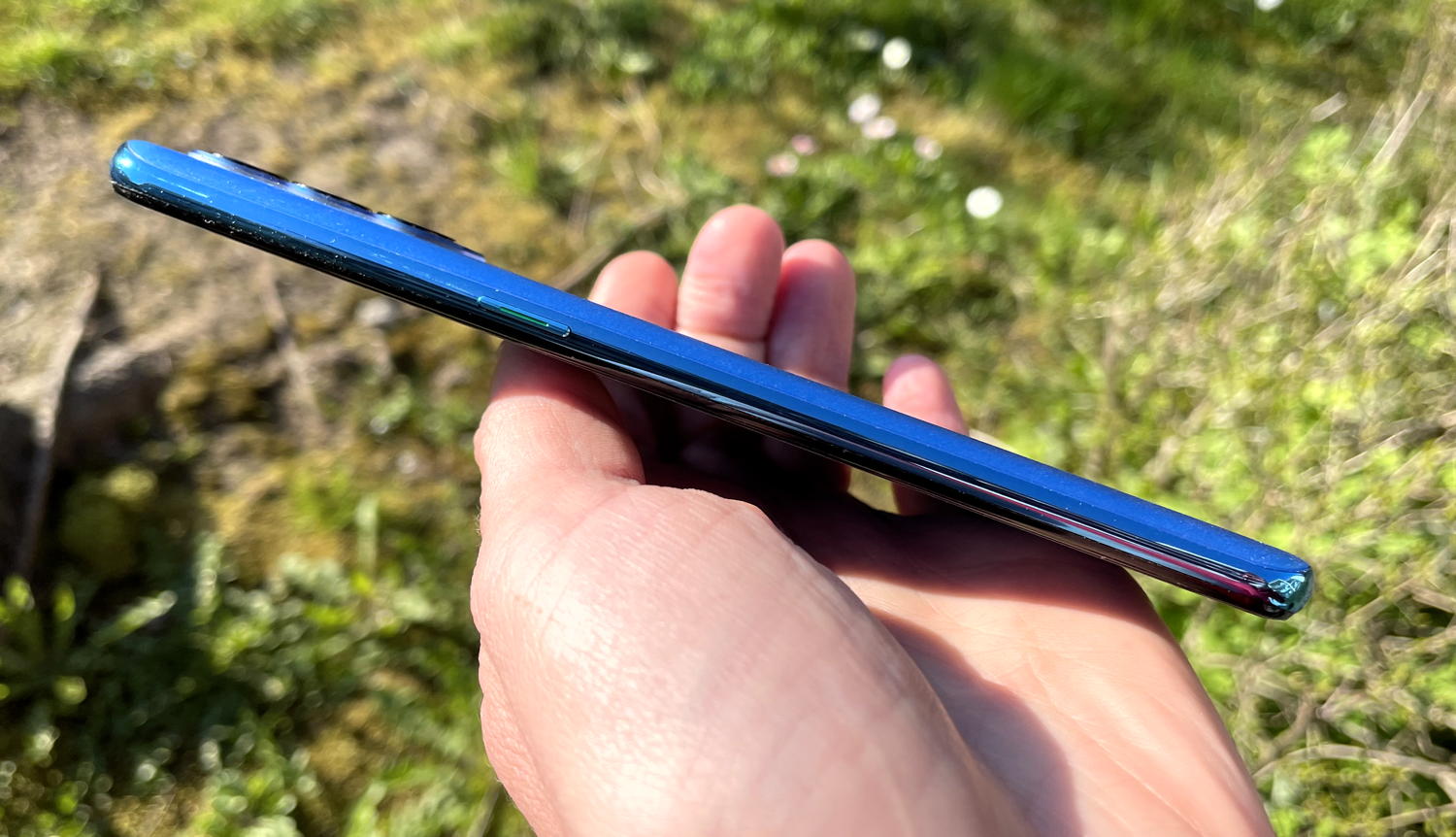 On the left is a SIM slot (only for SIM, there is no support for memory cards) and separate volume keys.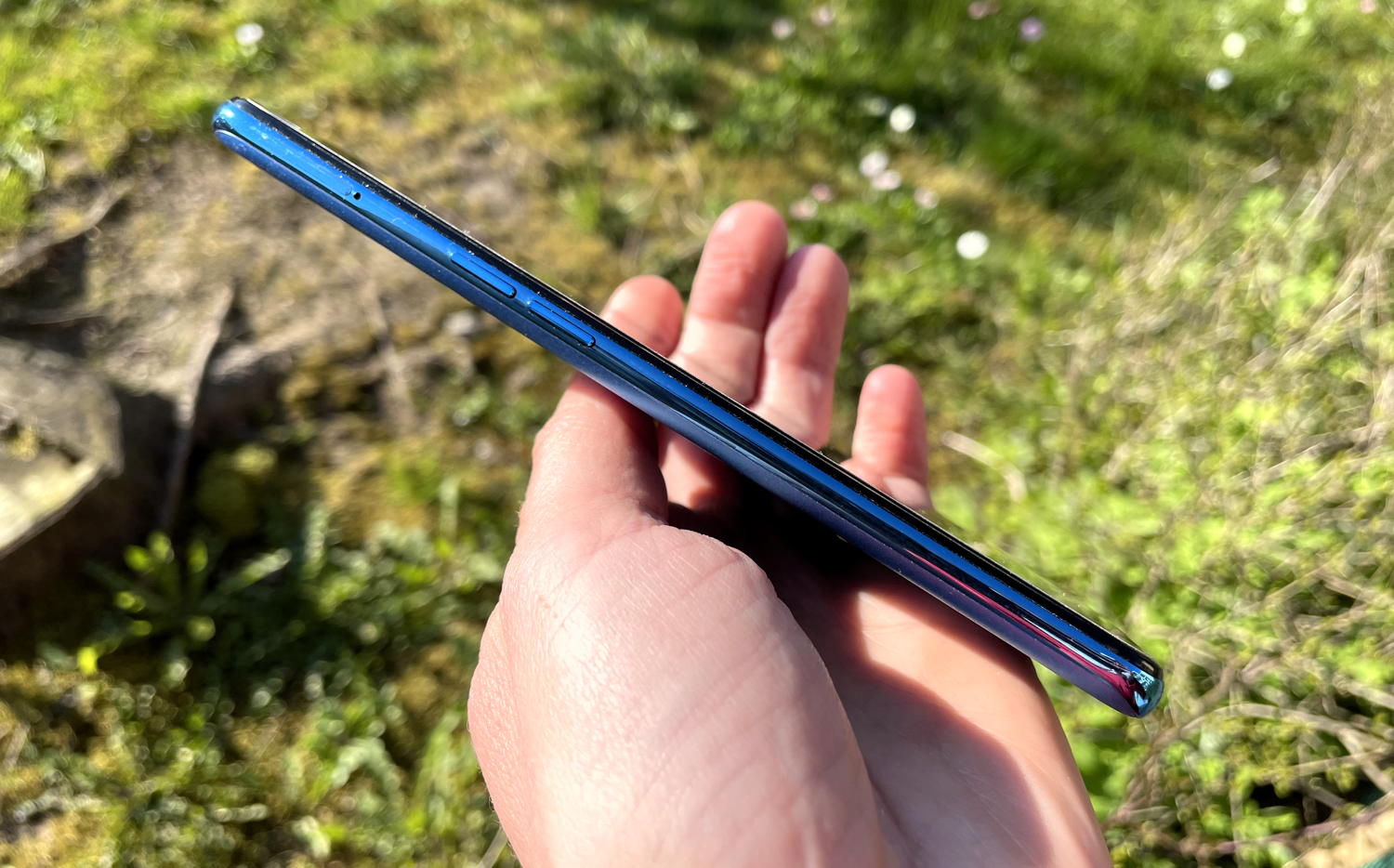 There is no moisture protection, even from splashes, although there are competitors in this price range (remember the Moto G100 and the cheaper G50). And full water protection in the mid-budget segment is still the prerogative of the Samsung A52.
The fingerprint sensor is located right in the screen, this is the best solution, but more on that later. Overall, the Reno5 5G's design makes a very good impression.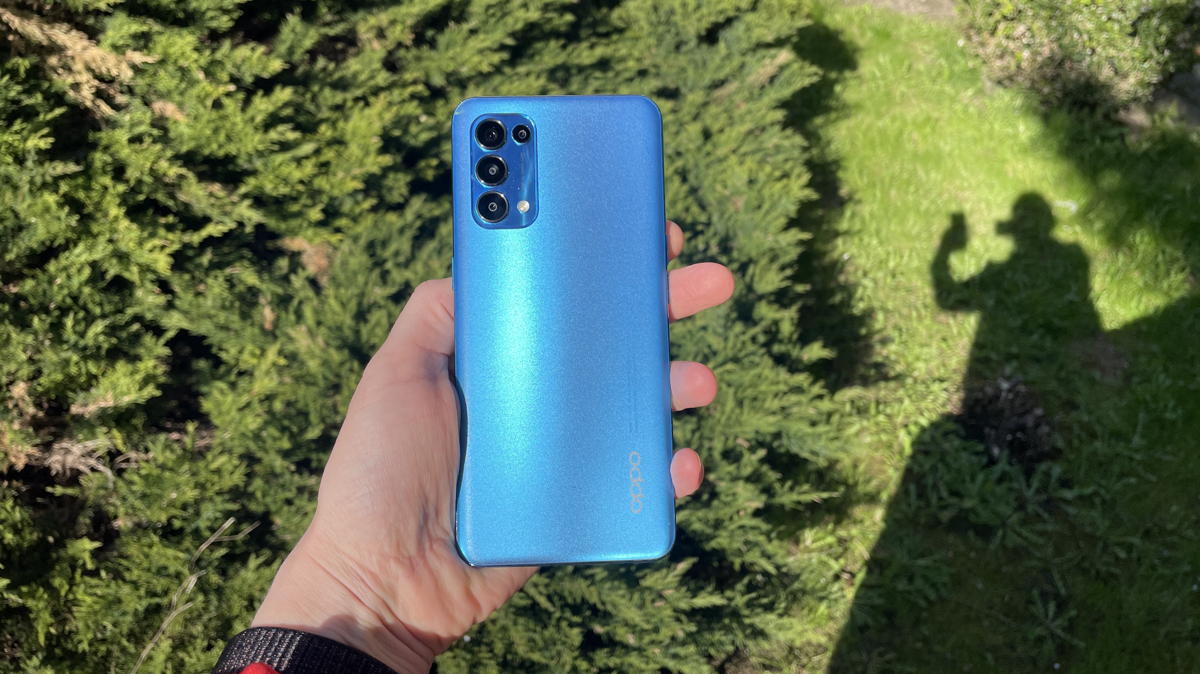 Read also: TWS OPPO Enco X Review: Almost Perfect + ANC
Screen
I tested budget smartphones with IPS screens for quite some time. I have nothing against high-quality IPS, but still picking up a device with an AMOLED display is like a breath of fresh air! At the same time, in my personal opinion, the AMOLED matrix of OPPO Reno5 5G is better than that of competitors. The colors are not excessive, but at the same time juicy and rich.
I would especially note the Eye Protection function. This is a good old blue tint filter and is recommended for use in the evening to reduce irritation to the nervous system. However, the implementation of the filter is so nice that I did not turn it off. In the settings there is an adjustment of the color temperature of the display and the inclusion of protection on a schedule. Also, as usual, there are dark and light themes, which can also be activated depending on the time of day.
There is also an OSIE item in the screen settings. I had to google to find out what the trick was. OSIE stands for "Object & Semantic Images & Eye-tracking". Judging by the description, the phone somehow monitors your eye movements and uses artificial intelligence to adjust the hues and saturation in the video. This does not work in every application, but TikTok, YouTube, Instagram, and MX PLAYER are supported. However, not all users can see the difference. This feature also affects battery life.
Overall, the Reno5 5G display has excellent color reproduction, high definition, excellent black depth and maximum viewing angles. Everything is at the top level.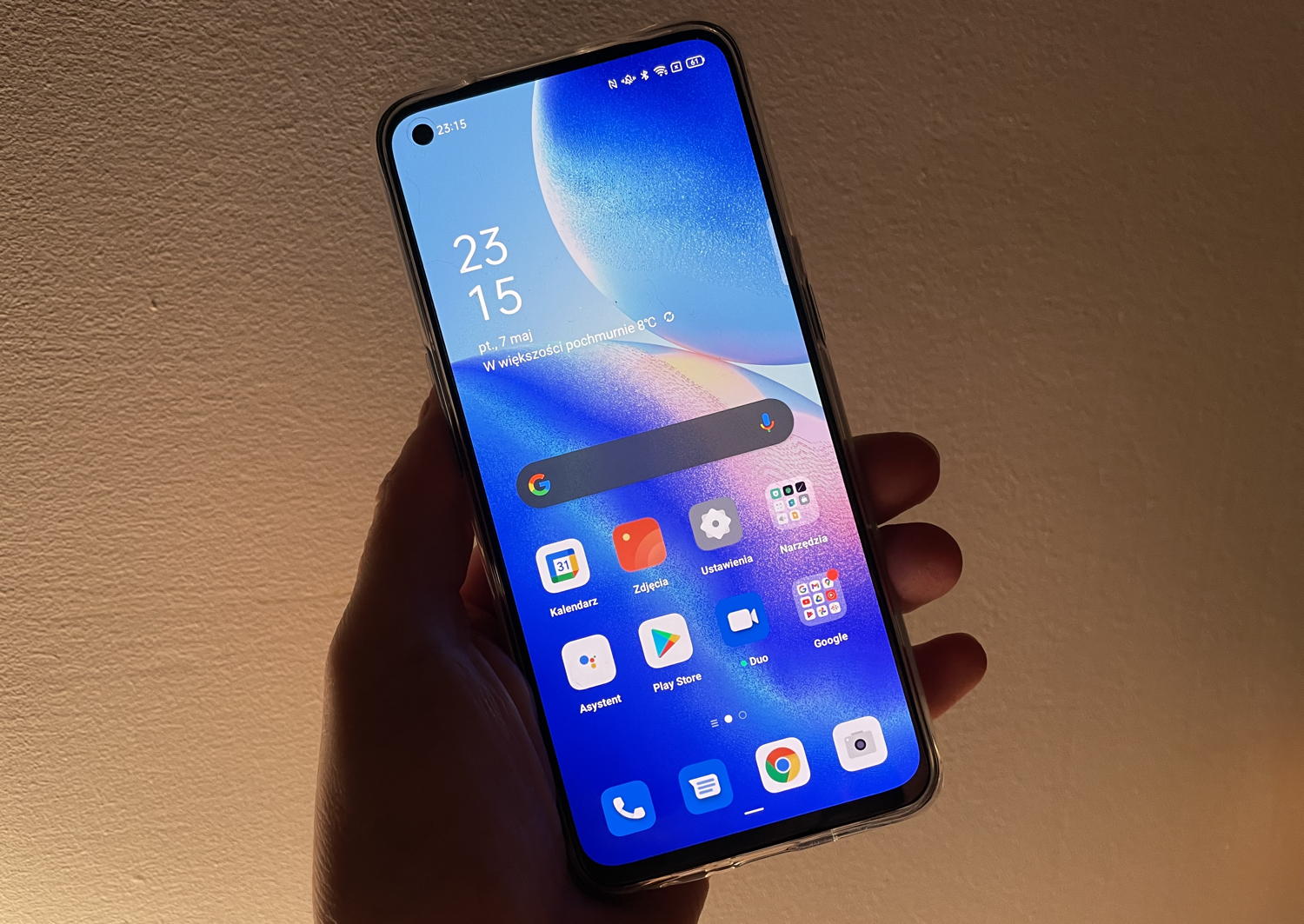 And, of course, the increased refresh rate – 90 Hz, which has become almost a standard in the middle price range. The picture is smoother and there is even a feeling that the smartphone works faster compared to 60 Hz models. If desired, you can select the standard 60 Hz in the settings, which will save a little charge.
Automatic brightness change works without problems. The maximum brightness level is excellent, the display is readable even in bright sunlight.
Read also: OPPO A53 smartphone review: Good battery and tons of compromises  
OPPO Reno5 5G hardware and performance
In terms of performance, everything is fine. The model runs on the Qualcomm Snapdragon 765G sub-flagship solution (8 nm process technology, 8 cores from 1.8 to 2.33 GHz, advanced AI computing). The processor is not the freshest, but relevant and powerful. The Adreno 620 is overclocked in comparison with the usual Snapdragon 765.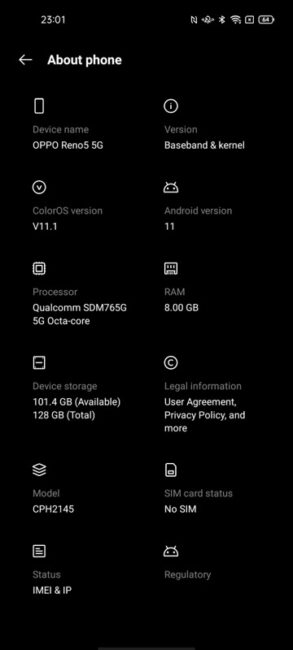 I am not a fan of setting benchmarks, I think that these numbers do not always reflect the real picture. But I did a few:
On my own behalf, I will say that the device works quickly, there are no slowdowns. Games run at maximum graphics and keep high frame rates, for example, resource-demanding Call of Duty: Mobile or PUBG.
The amount of RAM is 8 GB, at the level of competitors in this price range. Storage is 128 GB. This will be enough for most users, but someone will still be upset that the OPPO engineers did not provide for the memory expansion slot. A 256GB version of the Reno5 5G is theoretically available, but it hasn't officially arrived in Europe.
The flash memory itself is UFS 2.1. Again, it's a pity that they saved money and didn't install faster modules.
Read also: OPPO Reno4 Lite review: Fantastic Design, Good Cameras, Average Performance
Cameras
So how good is this mid-rangers when it comes to photos? All in all, very good. But, as always, there are nuances.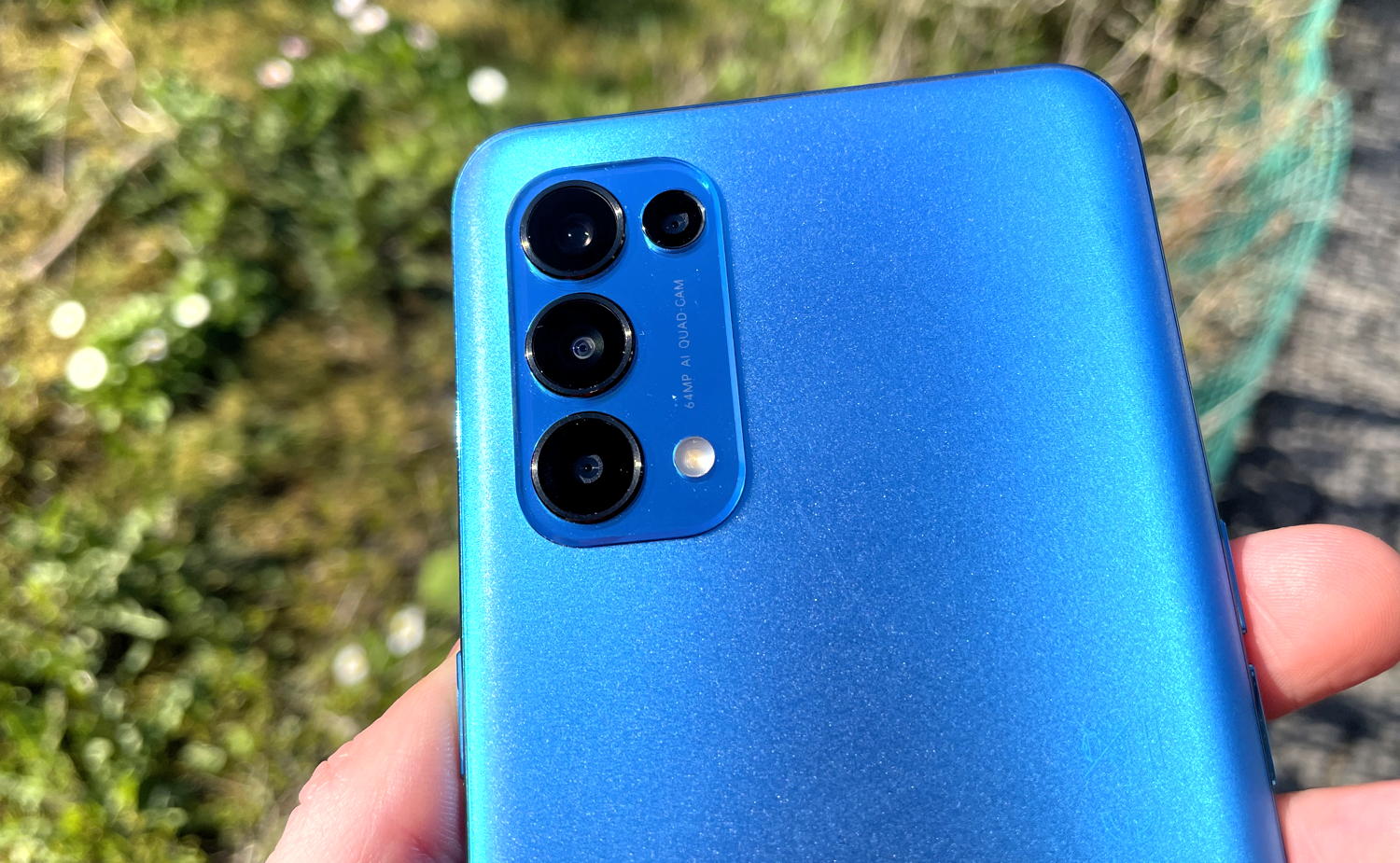 The main sensor is 64 Mp, 1/1.7", f/1.7, with phase detection autofocus, without optical stabilization. There is also a wide-angle module – 8 Mp, 1/4.0″, f/2.2, without autofocus. The third camera is macro, 2 Mp, f/2.4. The fourth is a 2 Mp monochromatic depth sensor.
In good light, the main camera produces great pictures. If you look at the monitor under a microscope, there will be something to complain about, but in general not worse than the flagship models. Even indoors.
There are questions about night shots – the lens picks up little light, the photos turn out to be too dark, darker than in reality. However, you can always use the night mode, which will brighten the picture, but not too much. And the detail will be at the level, there is not a lot of noise. However, it is worth noting that for shooting in night mode, a series of images is taken, the whole process takes 7-8 seconds. You need to hold the phone steadily, preferably without breathing.
In the examples below, the normal mode is on the left, and the night mode on the right.
SEE ALL PHOTOS FROM THE OPPO RENO5 5G IN ORIGINAL RESOLUTION.
The main lens takes a photo with a resolution of 16 megapixels, not 64 megapixels, because several pixels are combined into one (Quad Bayer technology). There is also a shooting mode with "honest" 64 megapixels, but the quality is not so different that you can always use this mode.
5x digital zoom available. Often this zoom is useless and spoils the quality a lot, but the Reno5 5G has a surprisingly good one. The pictures are not perfect, but quite alright, you can put them in stories.
Example with three zoom levels (1x, 2x, 5x):
Normal Photo and 5x Zoom:
There's a portrait mode with a beautiful background blur and "beautifier". There are interesting color filters for portraits.
The wide-angle camera is, so to speak, normal. The color rendition is worse than on the main one, there are problems with sharpness and detail, but in general it is useful if you need to shoot some large-scale object. On the left is a photo in normal mode, on the right from the wide-angle lens.
The 2MP macro lens is there for show. Color reproduction and clarity are poor. Also, the main camera captures great close-ups on its own, check out:
Video recording is possible in 4K at 30 fps or in Full HD at 60 fps. There is no optical stabilizer, but there is a good digital one. The quality is acceptable for the $500 price range.
VIDEO TAKEN FROM THE OPPO Reno5 5G
The front camera has a high resolution – 44 megapixels. The background is beautifully blurred, there is a customizable beautification and color correction filters. The pictures are of high quality.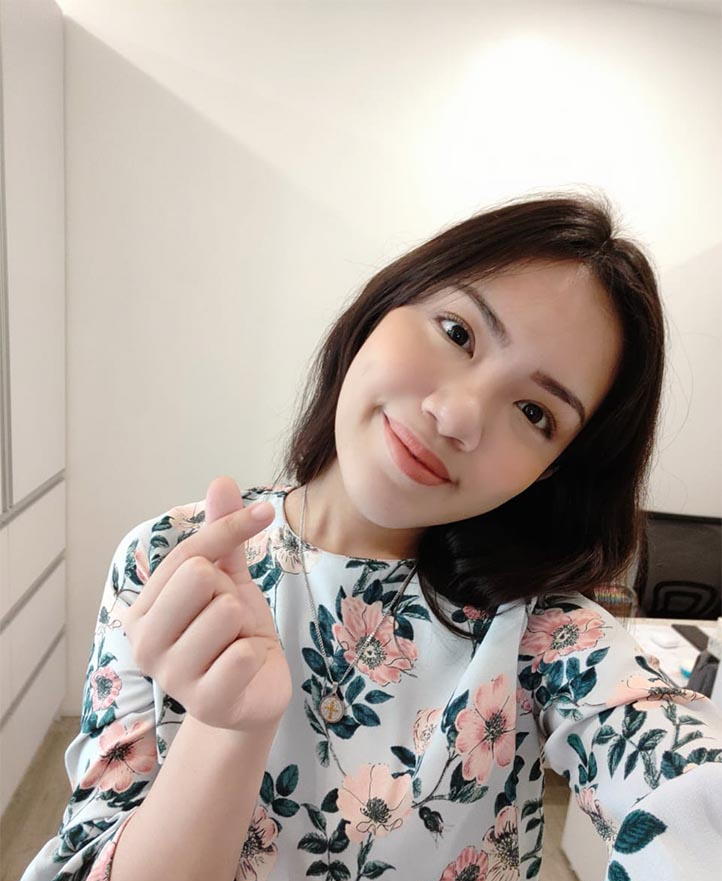 The camera interface has a huge number of settings, and everything is quite intuitive, with  a good PRO mode.
Read also: OPPO Watch review — First Usable Smartwatch on WearOS
Unlocking
The fingerprint scanner is located in the screen – in my opinion, this is the most convenient option. The sensor is optical and quick (although more expensive models are faster). It will not work if your fingers are wet or wet.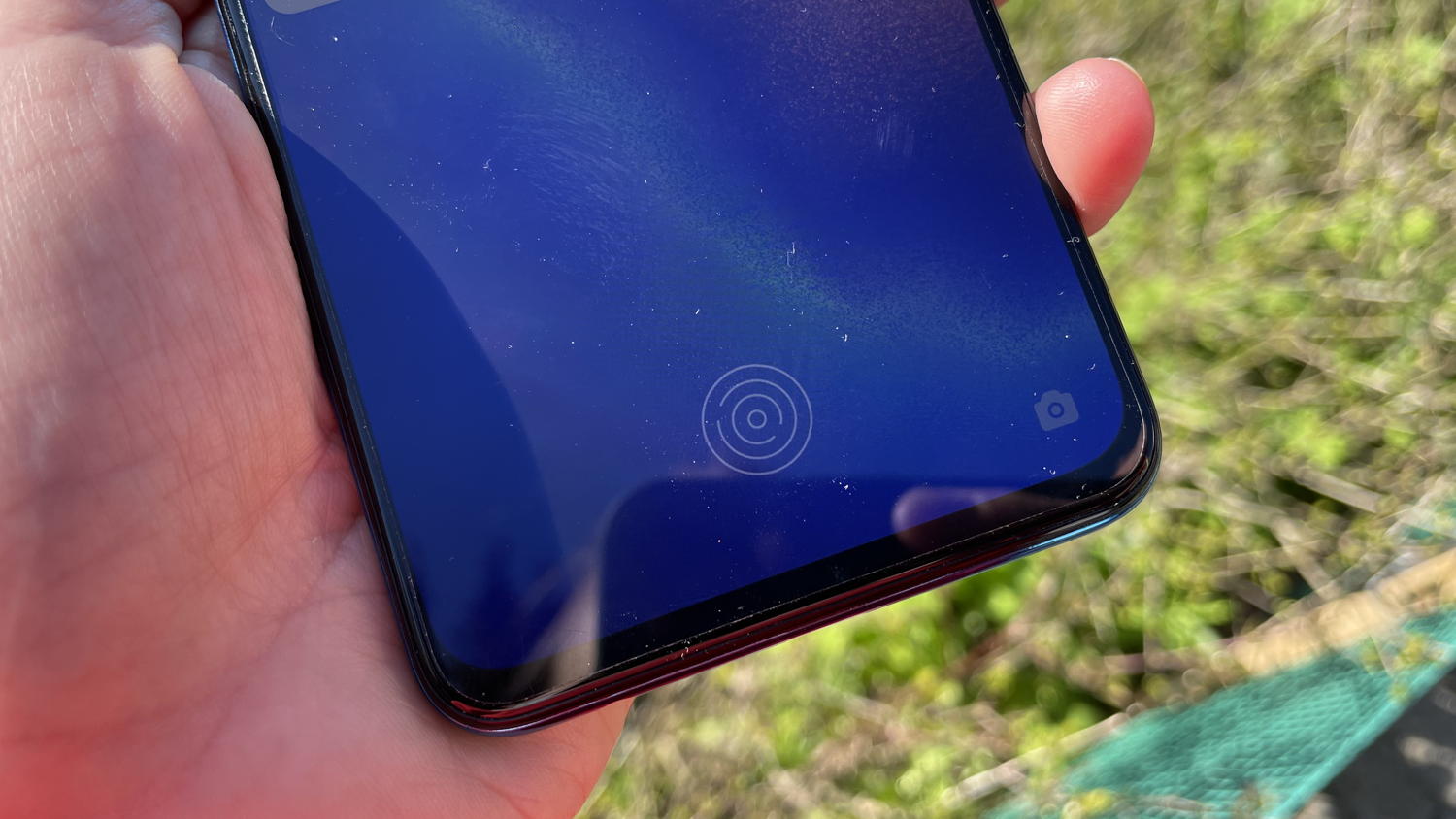 To unlock, you can simply put your finger on the screen on the locked phone. But if you touch the display, a highlighted area for your finger on appears, which makes things easier. Some people argue that the sensor is too low, but I had no problems.
As with all Google phones, there is also an option to unlocking with a face. I checked it – it works. But I didn't use it, because I don't think there is anything more convenient than an in-screen fingerprint scanner. Face recognition is for iPhone users, it's good that on Androids you can do without it.
Read also: Moto G100 Review: Not a Computer, But It's Close 
Sound
The speaker is mono, it is a pity that they saved money and did not install stereo. The sound is loud, high quality. Dolby Atmos is supported, as well as HD sound with Netflix and Amazon Prime Video.
The sound is excellent in the headphones, although I do not consider myself an audiophile.
OPPO Reno5 5G battery life
There is nothing to praise here. Want a slim body? That means weak battery. The capacity is 4300 mAh, while 5000 mAh has become the standard for many competitors. At the same time, there's a bright 90 Hz screen, a powerful processor, and even 5G (if your operator supports it). As a result, 6-7 hours of an active screen is a max. In the test, the Reno5 5G lasted one day (about 12 hours) on a single charge with heavy use. It could be better.
But charging is super fast – proprietary SuperVOOC technology and a 65 W charger help with that. Look at the results:
5 minutes – 25%
10 minutes – 42%
15 minutes – 60%
20 minutes – 75%
25 minutes – 85%
30 minutes – 95%
38 minutes – 100%
The charging standard is proprietary, but compatible with the Warp Charge from OnePlus and Dart Charge from Realme (all these brands belong to the same BBK holding from China).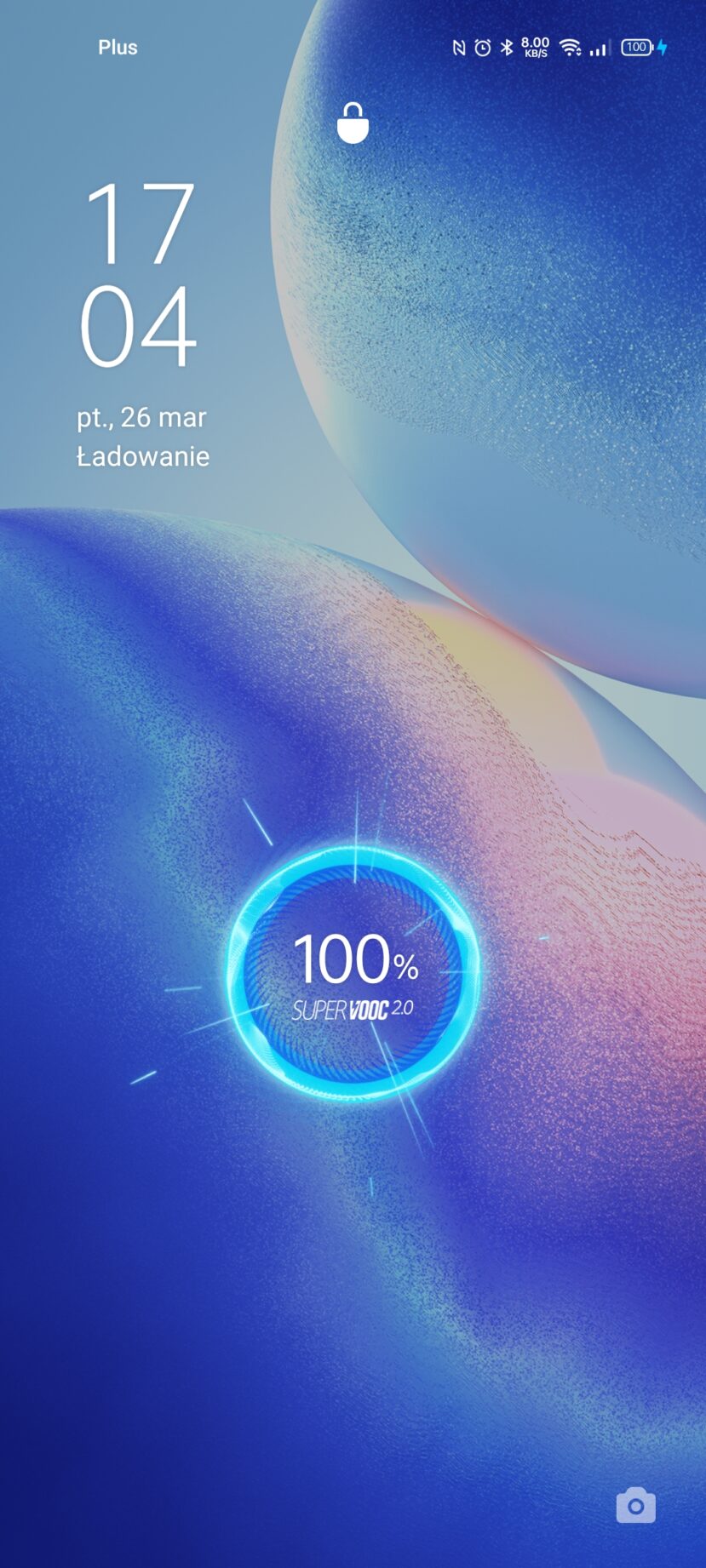 Wireless charging is not supported (it is still a rarity in the middle price range), but there is a reversible wired one, which means the smartphone can act as a power bank.
Read also: Realme 7 5G review: Mid-Ranger with 5G support
Software
The OPPO Reno5 5G runs on fresh Android 11 with a proprietary ColorOS 11 shell.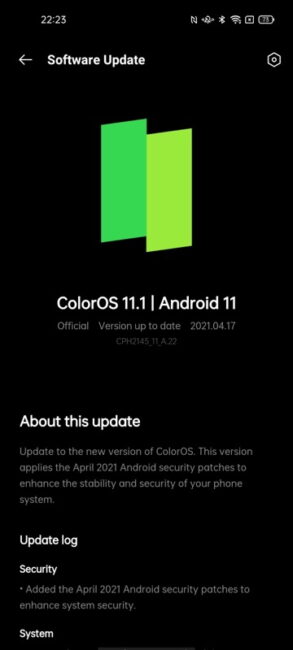 The shell is positioned as bright, simple and highly customizable (what can I say, even the in-screen fingerprint sensor icon can be replaced). It's a matter of taste, but I prefer the usual "pure" Android or OneUI from Samsung. But ColorOS is a bit gaudy.
Nevertheless, there are many interesting features that you will not find in competitors. For example, creating clones of applications. This can be useful for instant messengers if you want to use two accounts.
Even more interesting is the option to create a second system ("clone the system"). Yes, another "clean" OS is being created, which you can set up from scratch as a new phone, set up other accounts, a set of software, and so on. And, for example, use the same smartphone for both personal affairs and work.
There is a slide-out side panel that can be customized for quick access to the functions you want.
Desktops, their logic and design are highly customizable.
A built-in game mode is provided. When you start games, the phone automatically clears RAM. You can also customize so that nothing distracts you during the game. There are three performance game modes – Pro, Balanced, Economy.
Thoughtful gesture control is available, as well as the option to split the screen into two parts, and a separate utility to optimize the device ("phone manager") and much more.
There are dditional applications from OPPO like compass, file manager, calculator, weather, voice recorder, gallery, relaxation tunes, video player and others.
Read also: Samsung Galaxy A72 review: Getting Closer to Flagships
Verdict
The OPPO Reno5 5G is a beautiful smartphone with "humane" dimensions, a beautiful matte back plate, a gorgeous 90 Hz AMOLED screen, a powerful near-flagship processor, a 3.5 mm headphone jack, very fast charging, decent cameras and a fingerprint scanner in the screen.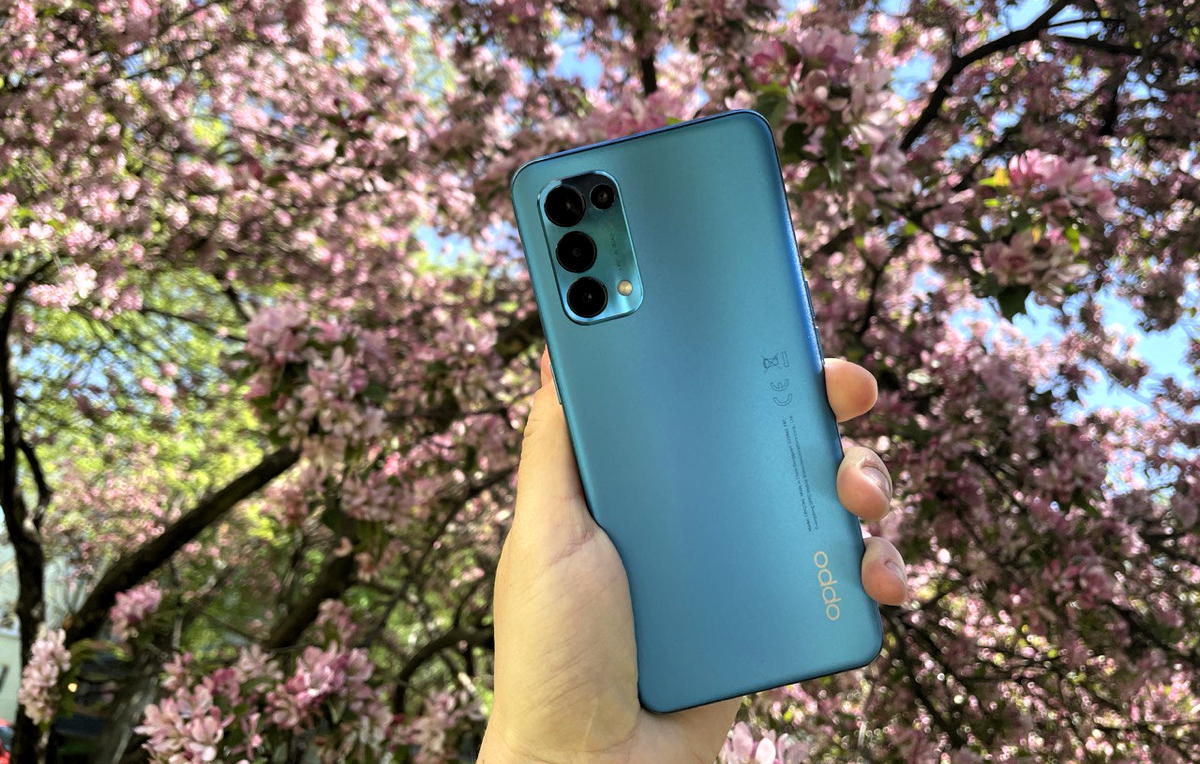 Though the battery could be better, and the cameras aren't any good in low light, there is no optical stabilization, and no slot for memory cards.
Is the OPPO Reno5 5G any good? Yes, you should pay attention to it. But… among other models in the mid-budget segment, the competition is high. And 510-530 dollars is not such a low price. There are models that offer more options for the same or less money (Xiaomi Mi 11 Lite 5G, Xiaomi Poco F2 Pro, OnePlus Nord, realme X3 SuperZoom). And then there are ex-flagships that are now available at very tasty prices (OnePlus 8, Huawei Mate 20 Pro, Huawei P40, Samsung Galaxy S10e, Samsung Galaxy Note 9). Or more affordable models from famous brands (for example, the Samsung Galaxy A52 5G).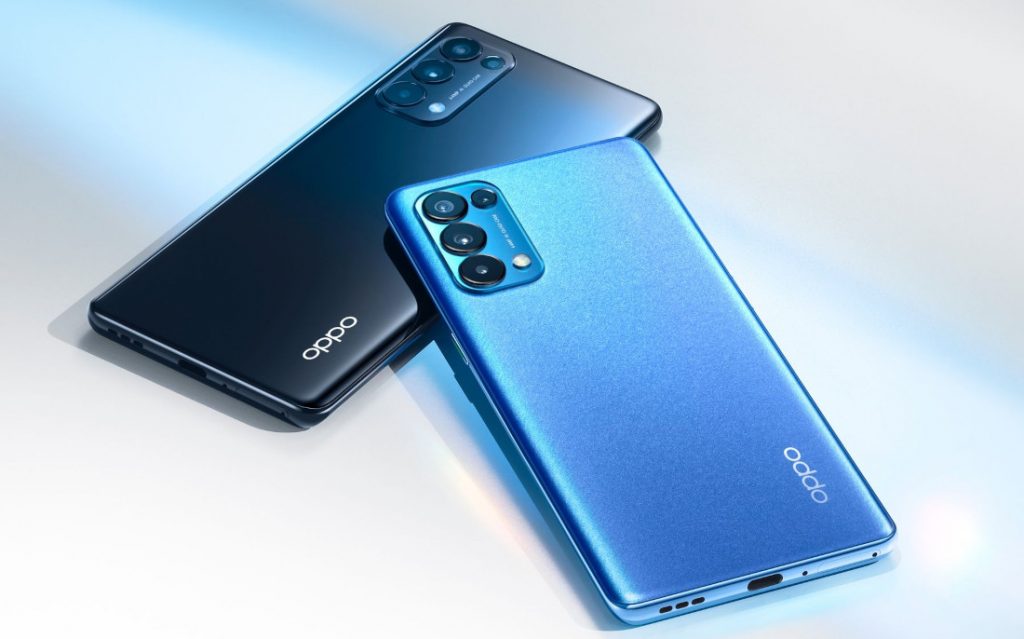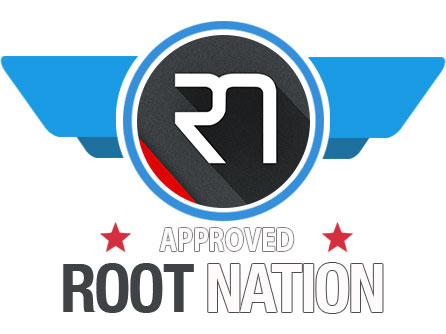 Subscribe to our accounts: