At the end of March, Xiaomi rolled out a whole string of smartphones in its flagship Mi 11 line (the Mi 11 itself, if you remember, was introduced in China at the end of 2020). It includes the top Mi 11 Pro, Mi 11 Ultra, Mi 11i, as well as a pair of mid-budget Mi 11 Lite and Mi 11 Lite devices in the 5G version. And today we will get acquainted with the most affordable model in the series – the basic Mi 11 Lite.
Full specifications of Xiaomi Mi 11 Lite
Display: 6.55′′, FHD+ AMOLED DotDisplay, 2400×1080, 402 ppi, 90Hz, 20:9 aspect ratio, brightness up to 800 nits, HDR10, DCI-P3, sample rate 240 Hz, Gorilla Glass 5
Chipset: Qualcomm Snapdragon 732G, 8 nm, 8-core (2×Kryo Gold at 2.3 GHz, 6×Kryo Silver at 1.8 GHz)
Graphic accelerator: Adreno 618
RAM: 6/8 GB, LPDDR4X
Storage: 64/128 GB, UFS 2.2, support for microSD up to 128 GB (hybrid slot)
Wireless networks: Wi-Fi 5, Bluetooth 5.1, NFC, GPS, GLONASS, GALILEO
Main camera: master module – 64 MP, f/1.79, 6P lens, 4K video shooting (30 fps), wide-angle module (8 MP), viewing angle 119°, f/2.2, telephoto (5 MP, f/1.4)
Front-facing camera: 16 MP, f/2.45
Battery: 4250 mAh
Charging: fast wired 33 W
OS: Android 11 with MIUI 12 interface
Dimensions: 160.53×75.73×6.81 mm
Weight: 157 g
Read also:
Positioning and price
So, as mentioned at the very beginning, the Mi 11 Lite is the most basic smartphone in the entire Mi 11 line. From a technical point of view, it is connected only by the name and design elements with the flagships, as its hardware is medium-budget at best, and there are almost no flagship features. With such success, the Mi 11 Lite would feel great in the ranks of Redmi smartphones, because Redmi specializes in good mid-rangers. But Xiaomi, which distributed different lines and classes of devices by individual subbrands, for some reason decided to leave the mid range device in the flagship line.
Despite the fact that the smartphone has 3 modifications (6/64 GB, 6/128 GB and 8/128 GB), only the first two are available in certain markets. At the time of writing, the price for the version 6/64 GB was about $300 (the price without discount is $315), and for 6/128 GB  $333 (normal price $350).
What's in the box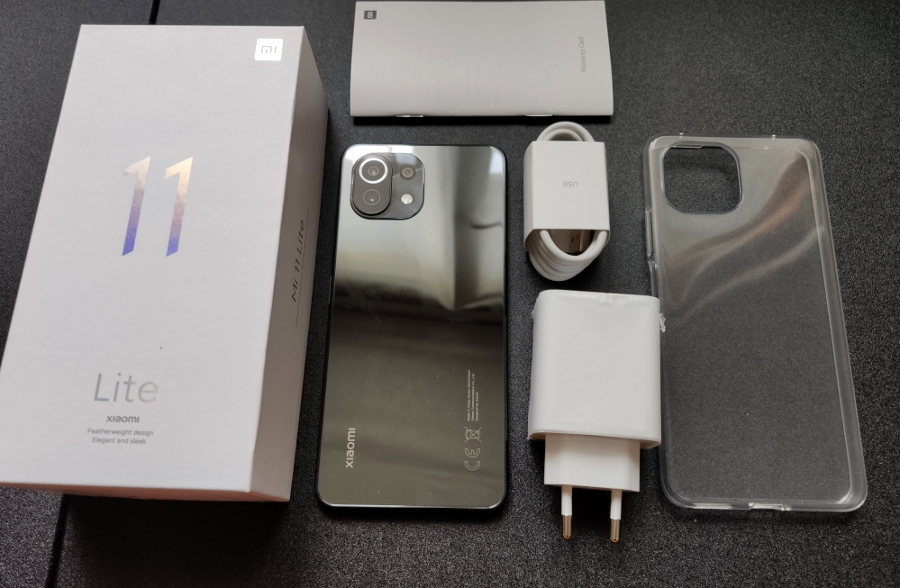 The device comes in a recognizable box made of white dense cardboard with the name of the series and model. And the Mi 11 Lite's set is quite pleasant. In the box with the smartphone you can find a 33W charger, a USB-A-USB Type-C cable, a SIM eject tool, a 3.5 mm Type-C adapter for wired headphones, a transparent silicone bumper case and a warranty card.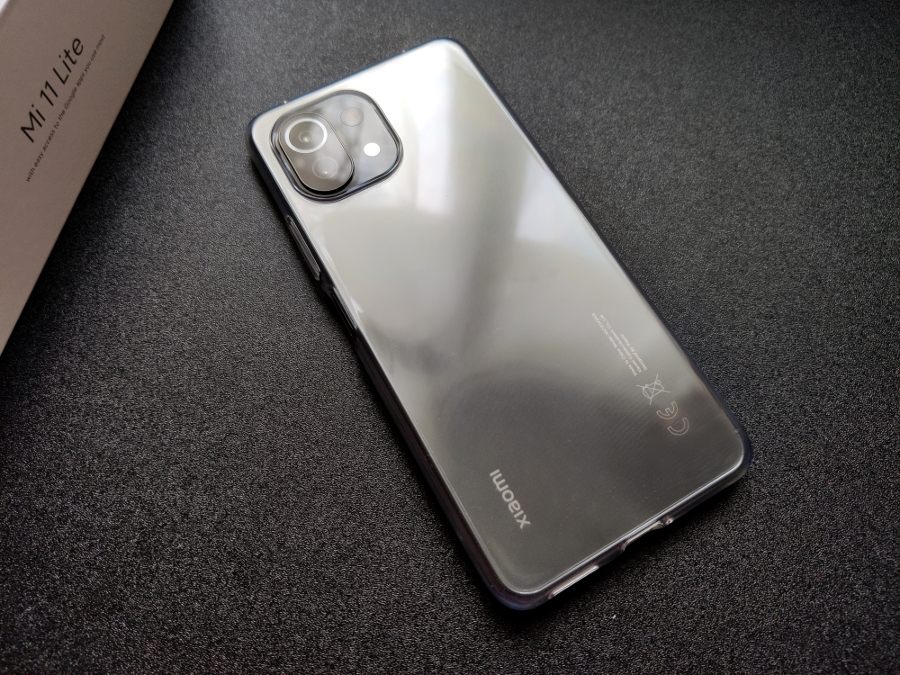 The bumper, which was to be expected, is quite simple. But at first it will do – it will protect the main elements, including the mirror surface of the case and the camera unit. But in the long run, of course, it's better to change the case.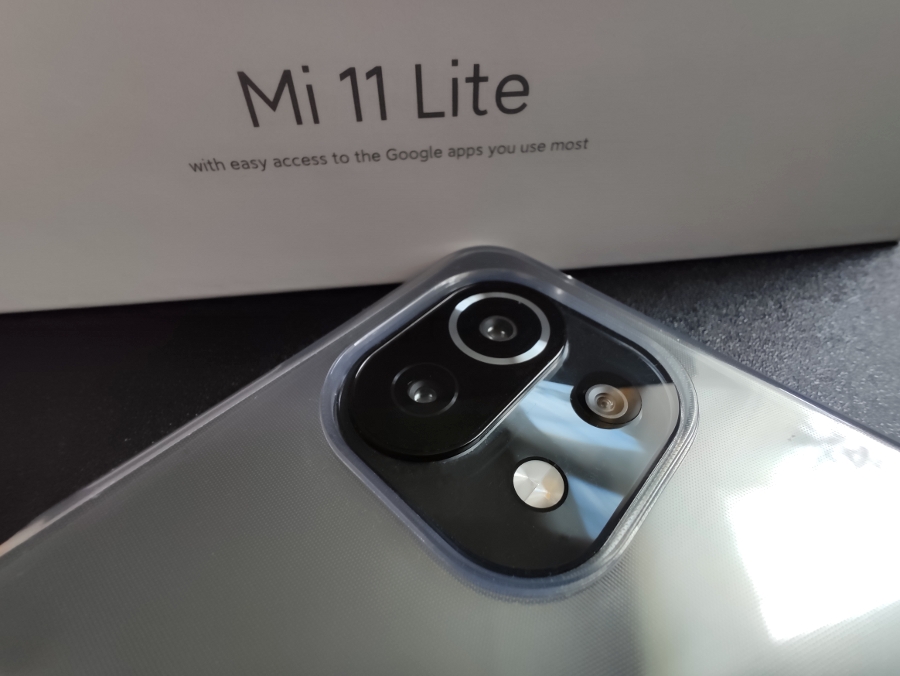 As for the 3.5 mm Type-C adapter, I think it will be useful only for those who use decent wired headphones and refuse to go wireless. My previous experience has shown that this is not so much an alternative solution as a completely useless addition. At one time, the purchase of a smartphone without an audio jack forced me to switch to wireless earbuds, which I did not regret at all. However, everyone probably has their own opinion on this matter and for someone the adapter in the set will be very useful.
Design, materials, build quality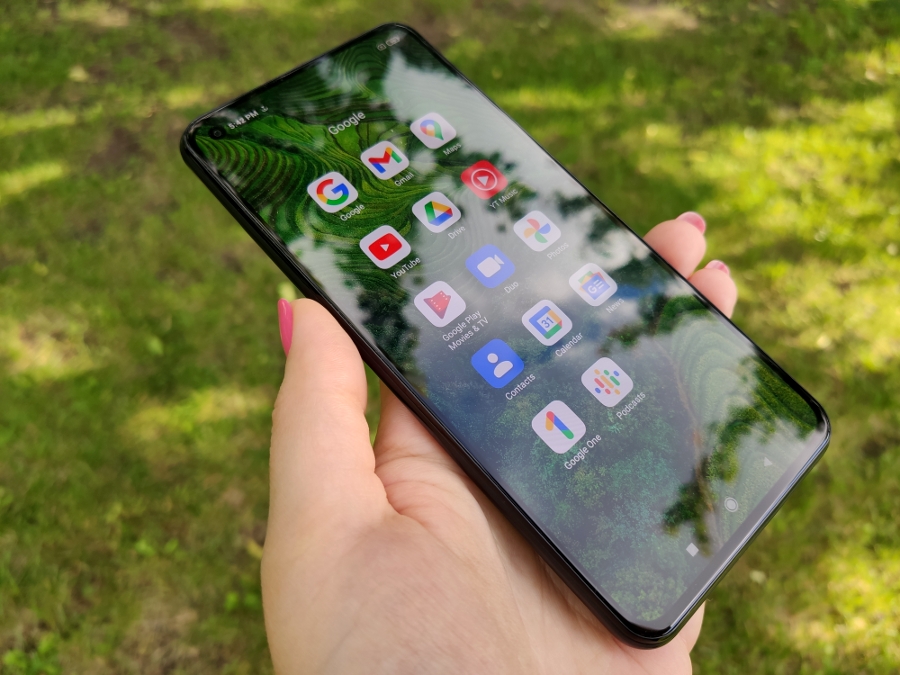 Despite the fact that the Mi 11 Lite does not reach flagship levels in many respects, its design is very interesting and echoes the more expensive models of the series. In the budget version, one of the most recognizable elements of the line was preserved: the camera unit with an outstanding main module. In our case, with 64 megapixels. The camera unit consists of a square base with rounded edges, on which the width and flash are placed, and the second panel with the macro camera and the main sensor. In addition to the camera, you can see the brand name and technical info at the back.
Mi 11 Lite is available in 6 colors.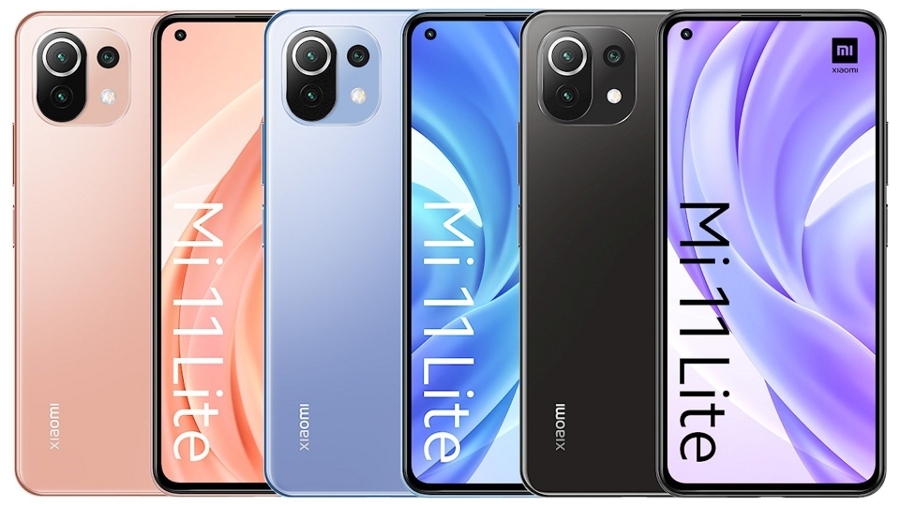 The black model has a perfectly mirrored surface. So mirrored that you can easily correct your hairstyle or powder your nose. I won't argue, it looks really cool and premium to some defree, but the mirror is a mirror, oleophobic coating or not. I really don't want to hide such a spectacular design in the case.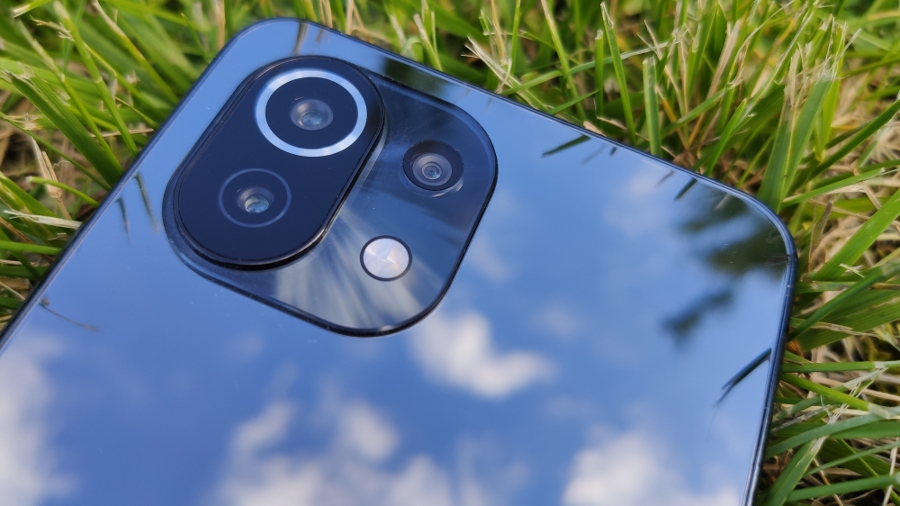 In addition to the mirror back, the smartphone is notable for its lightness and slim body. With a 6.55" screen, the Mi 11 Lite weighs only 157 g and is less than 7 mm thick. The smartphone is quite rectangular (not counting rounded corners), but the device lies comfortably in your hand.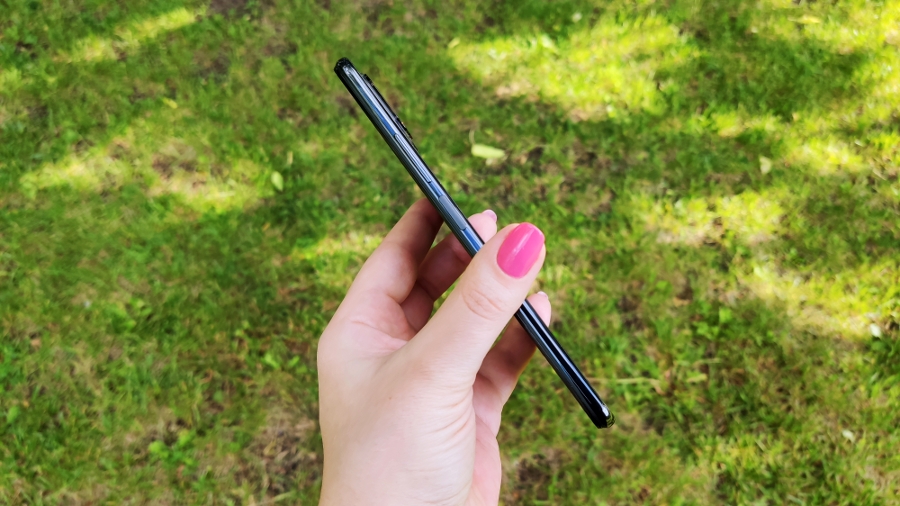 The front panel is occupied by the display. The bezels around are small (only 1.88 mm) and uniform ("the chin" finally does not stand out), and the front-facing camera is located in the upper left corner in a neat hole. Despite the fact that the smartphone is glass at the front and back, its edges are plastic. They are glossy, but nthere is nothing "flagship" about plastic. And, yes, no protection against water and dust, even the classic Mi 11 doesn't have it.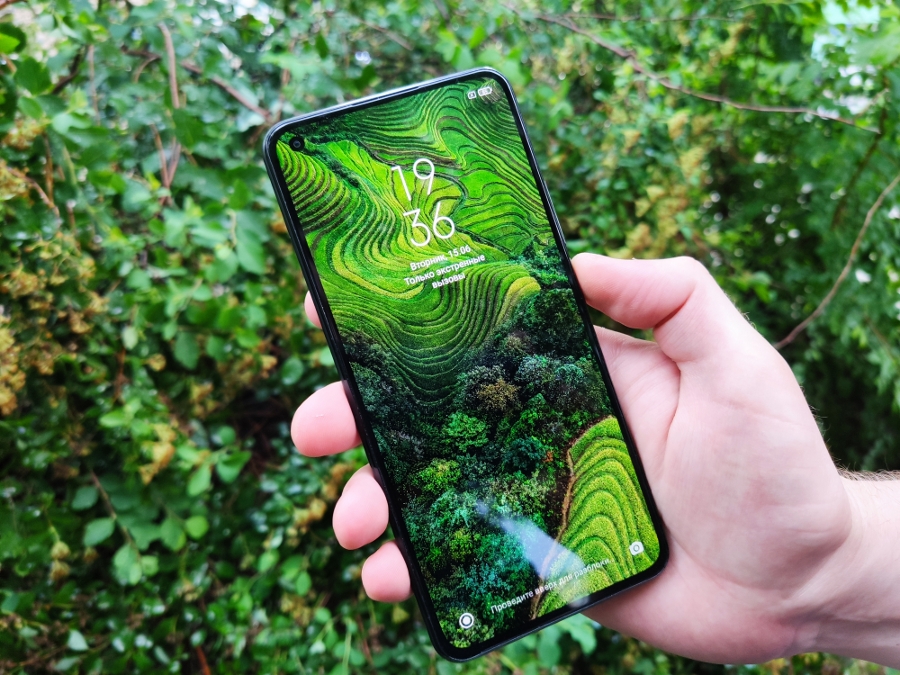 The Mi 11 Lite is a good and even attractive medium-budget smartphone. However, plastic edges are never welcome. Plus the case, although beautiful, is catastrophically branded. Otherwise, the Mi 11 Lite is really not bad – the mirror back plate attracts attention and the smartphone probably looks more expensive than it really is.
Element layout and ergonomics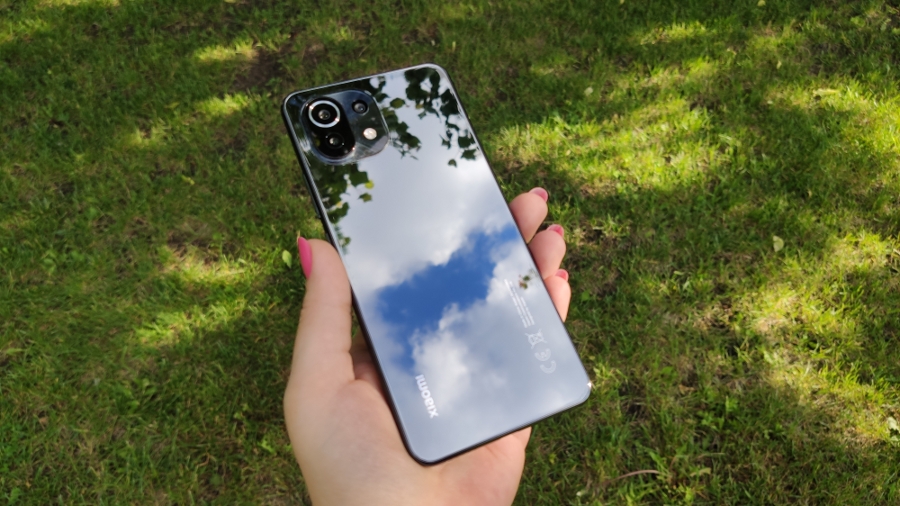 The smartphone is arranged as follows. On the top edge there is only a microphone hole and a miniature infrared port window – in case you want to turn your smartphone into a remote control. Today, this is more of an archaism, but Xiaomi persists, from generation to generation, and continues to equip its smartphones with such functionality.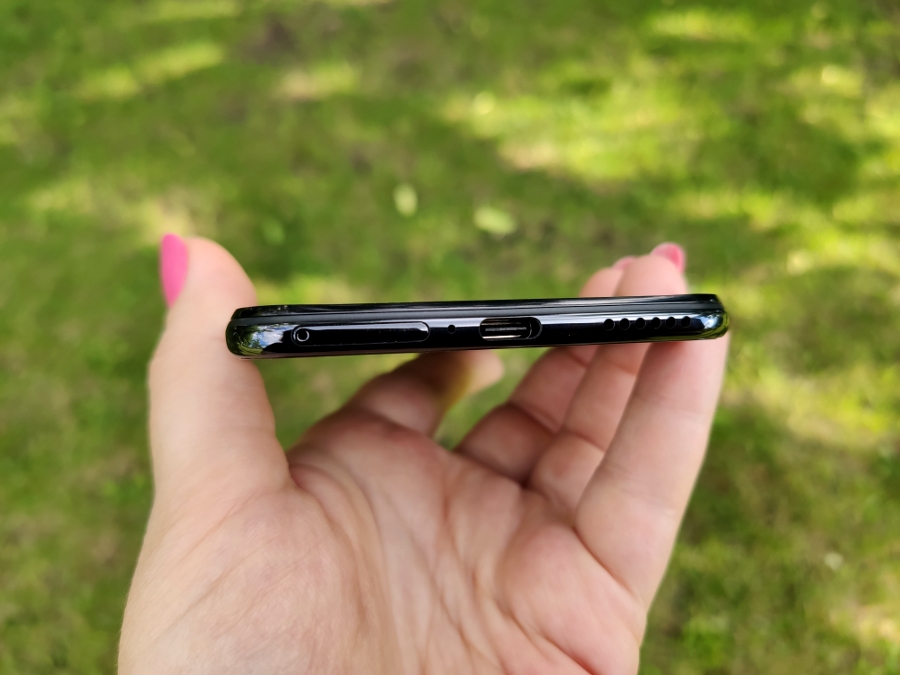 On the opposite end there is a combined slot (for a pair of SIM or one SIM and microSD), a hole for an earpiece speaker, a USB Type-C connector and a main speaker grille.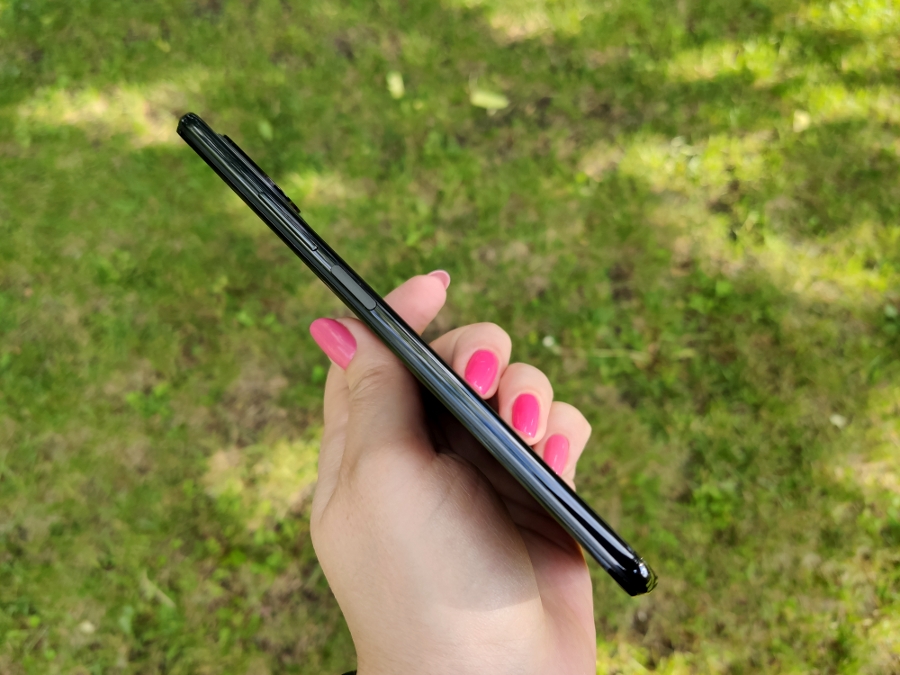 There is nothing to the left of the display, and on the right, as always, there are volume buttons and a power button combined with the fingerprint scanner. On the facade, at the junction of the display and the top edge, you can see a neat grille of the earpiece speaker.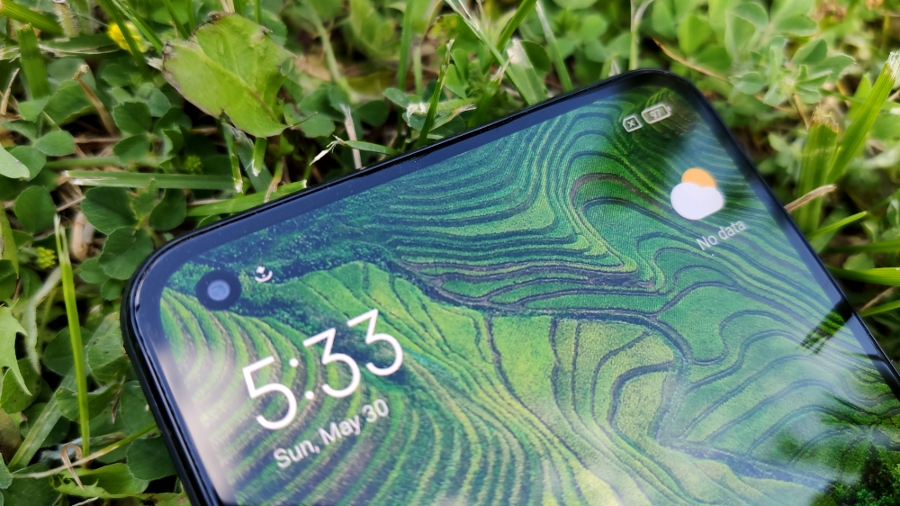 Speaking of ergonomics, the smartphone is quite convenient to use. Of course, it is not created to work with one hand, but holding the device in your right hand, you easily reach the scanner with your thumb. If you want, you can add a left hand index finger fingerprint to unlock the smartphone with both hands. In addition, as already mentioned, the Mi 11 Lite is quite light and thin, so it really fits comfortably in your hand.
Mi 11 Lite display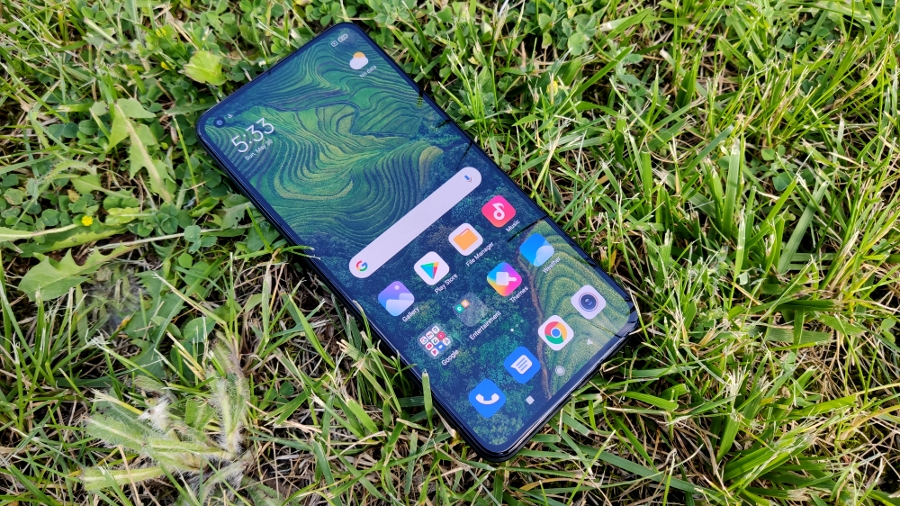 Speaking of the Mi 11 Lite screen, let's start with the fact that here we have a 6.55-inch FHD+ AMOLED DotDisplay with 2400×1080 resolution, 402 ppi, 20:9 aspect ratio, 90 Hz refresh rate and 240 Hz touch sampling rate. Display protection is entrusted to Corning Gorilla Glass 5. Contrast is decent: 5,000,000:1. The peak brightness is 800 nits (up to 500 nits in normal mode) which mean that the screen is perfectly readable on a sunny day.
The characteristics talk about support for HDR10, TrueColor and DCI-P3 color space coverage, however, how much the Mi 11 Lite display covers is not actually specified. The manufacturer is also talking about improved reading and a day mode, as well as 360° lighting sensors – probably for a more accurate assessment of the situation when using autobrightness.
In the display settings, you can turn on or set it on a schedule, adjust the brightness for day and night modes, hide the camera notch, activate reading mode and set the text size. There are two refresh rates – 60 Hz and 90 Hz. At 90 Hz in general, the UI becomes smoother, but compared to flagship smartphones that support 90 Hz, it's not as impressive. But it's all subjective.
There are several color schemes available to choose from – auto, saturated and original. For automatic mode, you can change the color tone from warm/cold to manual adjustment. There are a number of standard settings for Always-On, but there are questions about its mode of operation. The Always-On only works for the first 10 seconds after locking the screen, and the other modes are missing. Sometimes Always-On spontaneously turns on at half the brightness. And sometimes it doesn't happen. Go figure.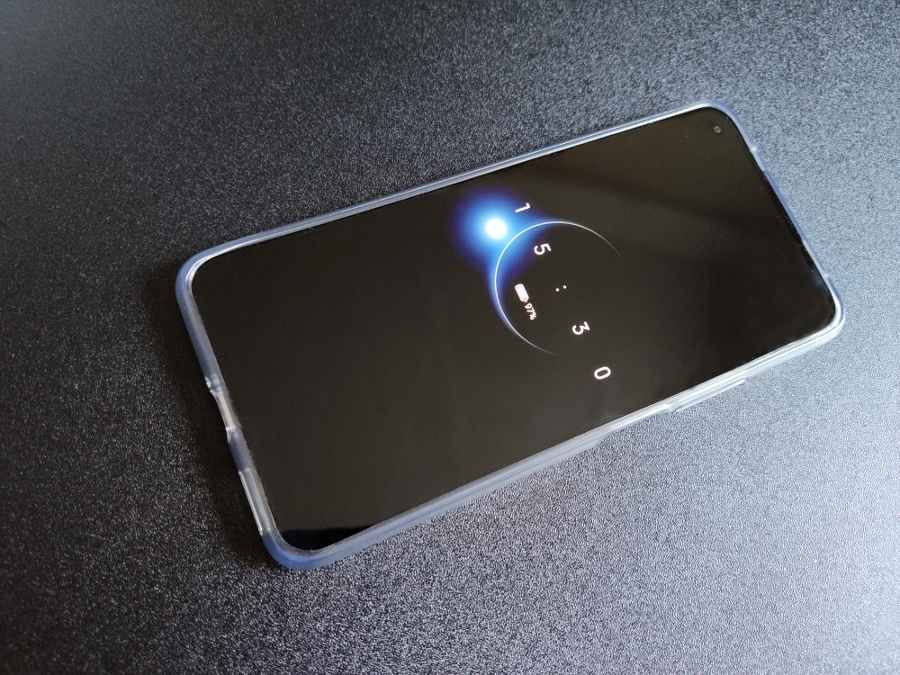 The Always-On allows the phone to display time even when the device isn't in use.
Except for the strange Always-On mode, the display itself is really pleasing. It is pleasant to interact with, and the settings provide the necessary basis to adapt the display to your liking.
Mi 11 Lite performance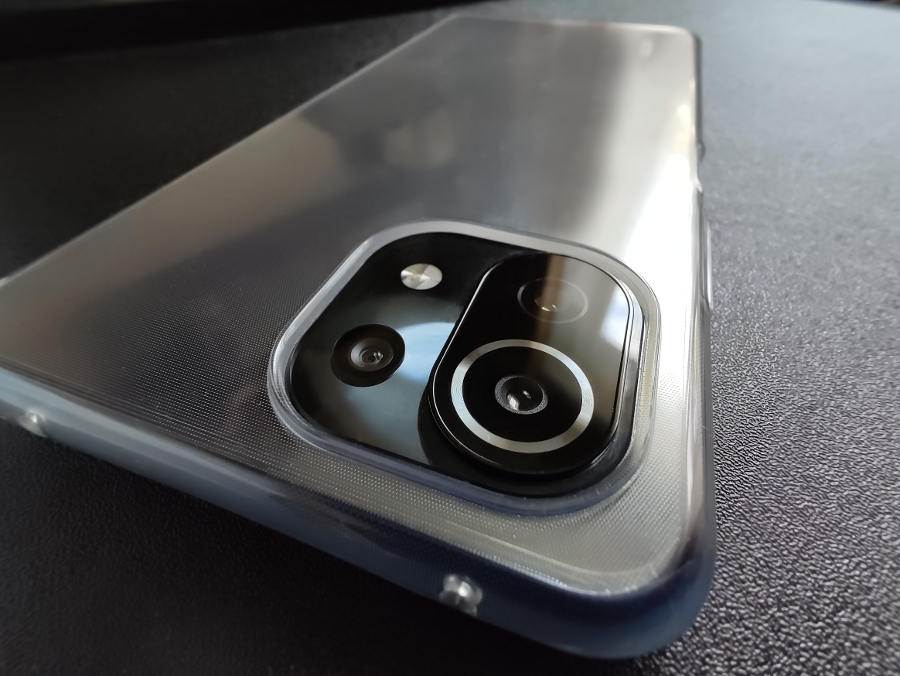 The Mi 11 Lite works on the 8-core Snapdragon 732G, which provides a pair of high-performance cores (Kryo Gold) with a clock speed of 2.3 GHz, as well as 6 Kryo Silver cores with a clock speed of 1.8 GHz. The graphics are supported by the Adreno 618 accelerator. There is support for memory cards, but you will have to sacrifice one SIM to install it.
Xiaomi Mi 11 Lite характеристики
There were no issues with the performance of the Mi 11 Lite during testing. The device is fast, it perfectly copes with multitasking and supports heavy mobile games. For example, PUBG runs at 34-37 FPS, and Asphalt 9 at maximum graphics settings runs at 30 FPS. Games start heating up the top of the device in the camera area quite quickly. I couldn't drive my smartphone to the "can fry eggs" state, but the heating becomes noticeable after 20-30 minutes.
Read also:
Firmware and software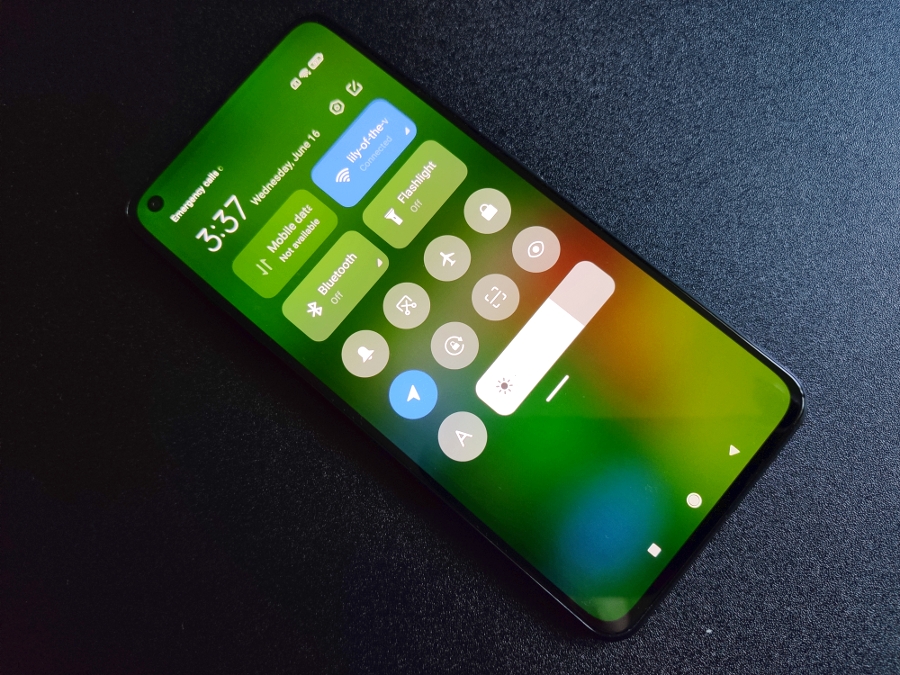 Mi 11 Lite runs on Android 11 with a "native" MIUI 12 interface for Xiaomi smartphones. During the testing, an update arrived, in which the control center was improved and the ability to shoot photo timelapses, new video modes and some filters for the camera were added.
There are a lot of settings, of course, but the set is not as extensive as the flagship Mi 11. Here you can adjust the view of the desktop, notification curtains and control center, enable gesture or button control, activate the full menu and adjust the display of icons. There is Android Auto, a branded store with free wallpaper and themes, Mi Share tool for quick file sharing between Xiaomi smartphones, broadcast function to an external monitor, acceleration for games with advanced settings. You can duplicate apps to use two accounts (especially relevant for social networks and messengers), as well as create a second space on your smartphone with your own set of settings. Anyway, there are a lot of opportunities, there's no point in listing everything. However, they consist mainly of functions inherent in mid-range devices, there is nothing flagship here.
Cameras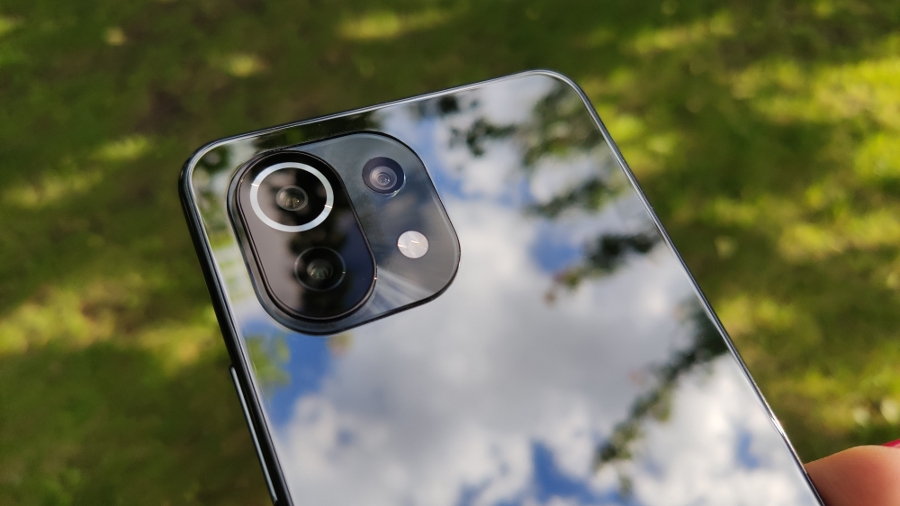 The Mi 11 Lite has three camera modules: 64-megapixel main one with f/1.79 light intensity, an 8 megapixel wide-angle with a viewing angle of 119° and f/2.2 light intensity, as well as a 5 megapixel macro camera with f/1.4.
The following shooting modes can be found in the camera app:
for photos – Pro, Photo, Portrait, Night Mode, 64 MP, Panorama, Document and Macro;
for video – Video, Video clip (15-second shooting for Stories), Video blog (for short videos with various effects), Slow motion, Timelapse, Double video (simultaneous shooting on the main and front-facing module), Movie effects (tripod required), Long shutter speed, Object tracking and Cloning.
Let's start getting acquainted with the main module. If you do not switch to "64 MP" mode, the photo is taken at 16 MP by default; Quad Pixel technology is used for the main sensor. In practice, the difference between 16 MP and 64 MP modes is almost invisible and sometimes images at 64 MP look even worse, so shooting at standard mode, in my opinion, is more versatile. Pics from the main sensor have high detail and good contrast. Background blur works perfectly, however, the edges of the photo suffer a little because of this, but, in general, daytime photos are at a quite decent level. Of course, only this module is suitable for night shooting. Yes, photos in low light are prone to blurring and loss of clarity, you can see how the smartphone tries to artificially improve light, but still the image quality from the main sensor is the best, as you can see below.
Xiaomi Mi 11 Lite фото основной модуль
Examples of photos from the main sensor in full resolution
Double zoom, which is available for quick switching in Photo mode, can be very useful. However, in the case of the Mi 11 Lite, zoom is provided with a software rather than a hardware part. During the day, it can be used, but at night… hardly. Although you can try it in good lighting. But if you shoot a lit object at night, the light source turns simply into a bright spot.
Xiaomi Mi 11 Lite фото с двукратным зумом
Examples of photos from the main sensor with double zoom in full resolution
The wide-angle module at a viewing angle of 119° suffers the same problems as most of them: a "lose" perspective (albeit smaller than many medium-budget smartphones, as the Mi 11 Lite uses software distortion smoothing) and the lack of details at the edges of the photo. As usual, in daylight you can get quite clear shots, but with night shooting everything is quite sad.
Xiaomi Mi 11 Lite фото на широкоугольный модуль
Examples of photos from a wide-angle sensor in full resolution
And finally, a macro shooting module. Here we have a 5-megapixel sensor with a focal length of 3 to 7 cm, which is very demanding for lighting. Nothing outstanding should be expected from it, but you can use it for periodic shooting of flora, fauna or some small objects and textures.
Xiaomi Mi 11 Lite макро фото
Examples of photos from the macro module in full resolution
A few words about video features. Let's start with the fact that the maximum resolution for video for the main module is 4K at 30 fps. There is no optical stabilization, but there is a digital analogue, so it is better to rely on your steady hands or tripod to shoot decent content. There is a lot of modes for shooting video. And, importantly, a preview and, in some cases, a brief guide or recommendations, are offered for each unusual shooting mode. There is also a built-in video editor with which you can overlay music, filters, add text, etc.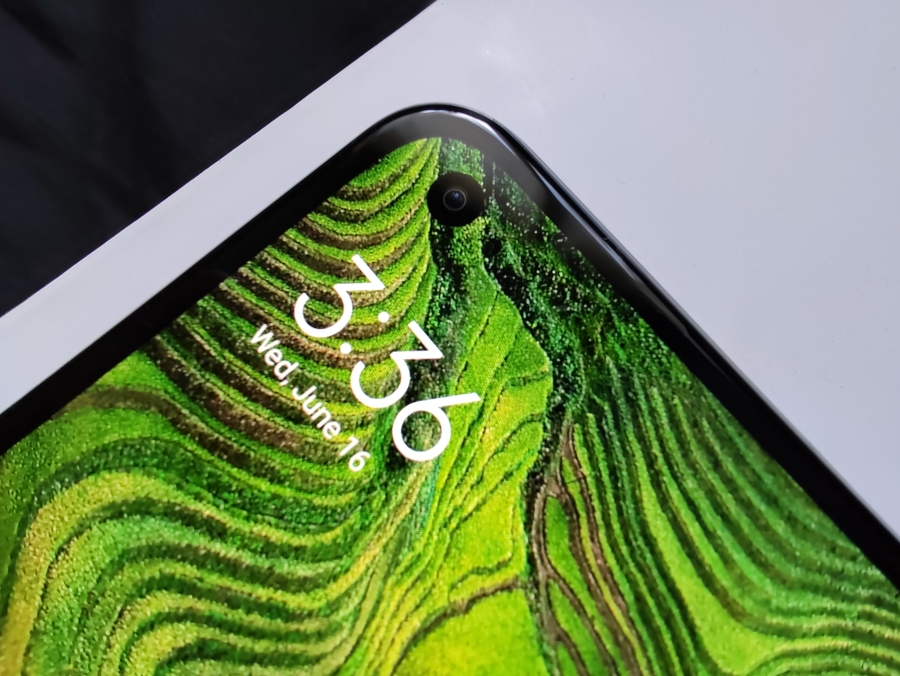 The front-facing camera is represented by a 16-megapixel sensor with f/2.45 light sensitivity. The video is shot at a maximum resolution of 1080p, 60 fps. In good light, you can take quite decent selfies or use it for video communication, and what else do you need from it?
Read more:
Mi 11 Lite unlocking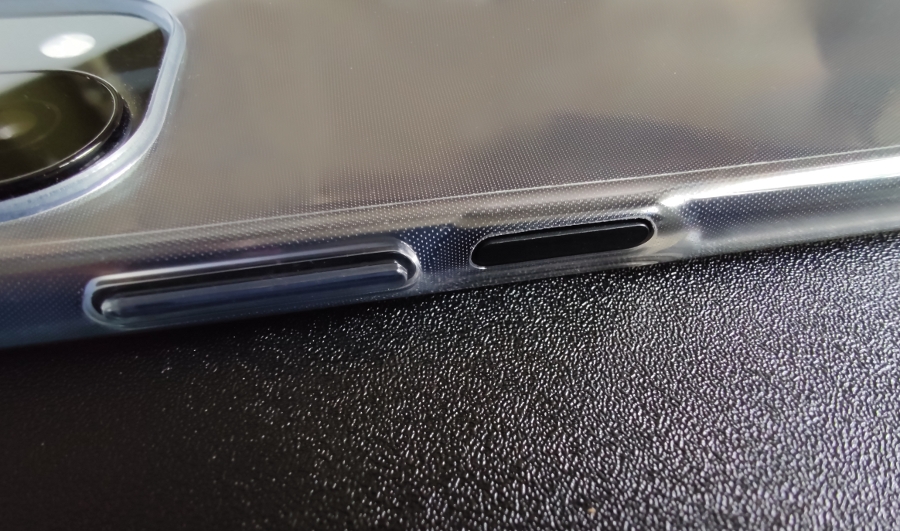 Despite the fact that the Mi 11 Lite uses an AMOLED sensor, the fingerprint sensor is not in-screen, but built into the power button. It would probably be inexcusable for a flagship, but for the average mid-ranger it is okay. The scanner works fine.
Actually, the face scanner works perfectly. Face unlocking works quite quickly in almost any lighting conditions.
Sound and communications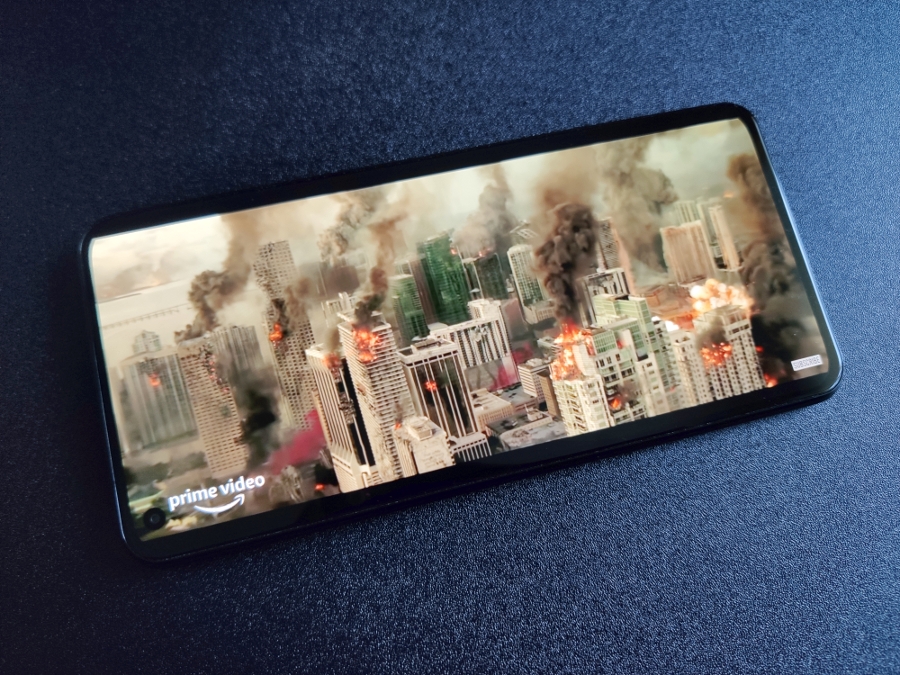 What the Mi 11 Lite inherited from flagship models is stereo sound.  If the Mi 11 provides two equivalent speakers, which are at the top and bottom, in the case of the "light" model, the stereo here is provided by the main and the earpiece speakers. The thing is, the main speaker sounds louder and cleaner than the other one.
If we talk about the sound quality, everything is so-so. It lacks volume and clearness, the sound seems a little plastic. At maximum volume, the speakers sound bad, so it is most comfortable to listen to them at 80% of the volume. In terms of wireless connections, the set, except for 5G, is complete: Wi-Fi 5, Bluetooth 5.1, NFC, 4G+ and GPS (GLONASS, GALILEO) is supported.
Mi 11 Lite battery life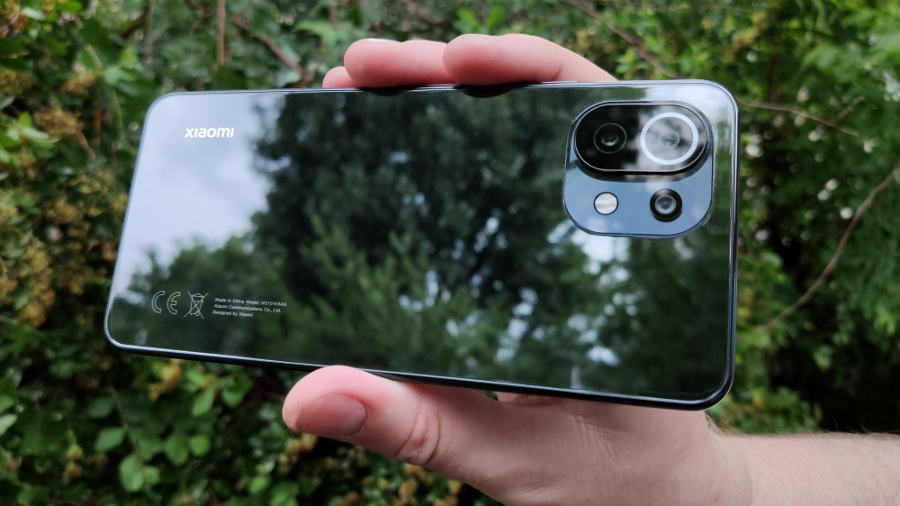 The Mi 11 Lite 4250 mAh battery is a kind of average for a modern smartphone. It survives for a day, and that's the most important thing. Most of us are used to charging smartphones every day.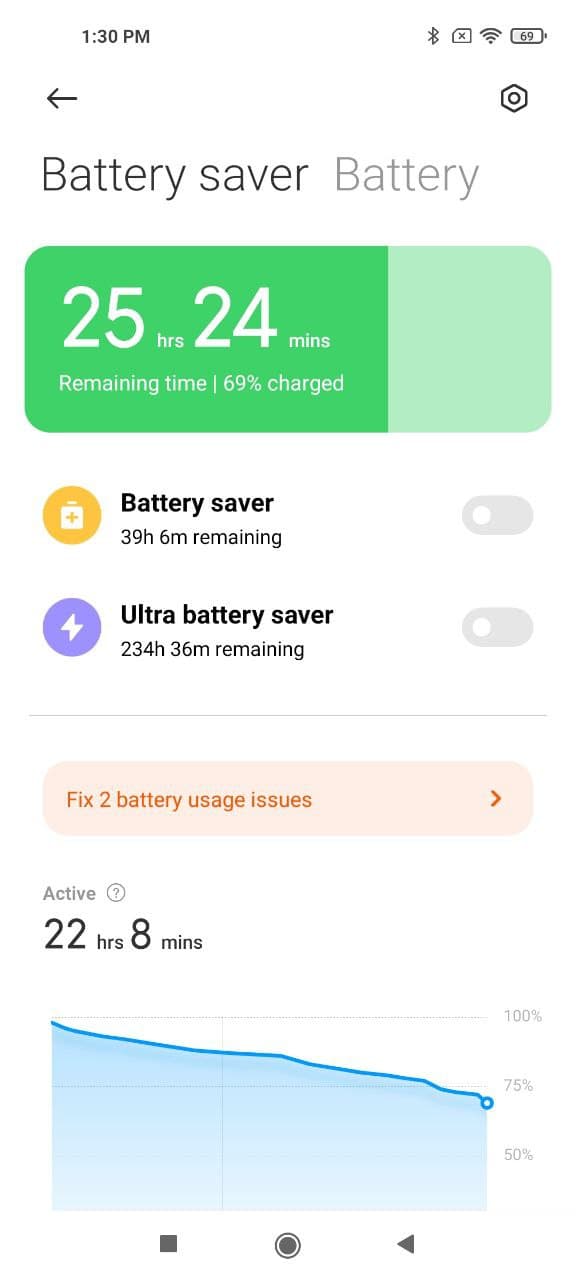 There is support for fast 33-watt charging here, and the bundled charger outputs all 33 watts. If we talk about speed, it takes a little more than 1 hour to charge from 19% to 100% – it could be better. Of course, wireless charging is out of the question.
Verdict
Although the Xiaomi Mi 11 Lite has the name of the flagship series, it has little to do with the bit hitters. The smartphone has a nice design, slim case, a good display and stereo speakers – its main features. Among the less obvious advantages are quite good cameras, sufficient battery life, nice hardware and adequate price tag.
Only the incomprehensible Always-On is ruining the overall impression. Seeing the name "Mi 11 Lite", many customers will be sure that this is a simplified version of the flagship, but in fact it is a mid-ranger similar to the Redmi Note 10/Redmi Note 10 Pro. Still, the model is quite promising. It will surely appeal to those who care about decent performance, all relevant technologies and, of course, an interesting design that doesn't cost an arm and a leg.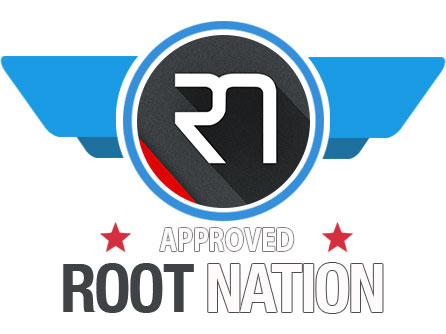 Subscribe to our accounts: