Xiaomi Mi 11 was revealed at the very end of 2020 and around the same time Xiaomi announced a specific date for the global launch of its new flagship in February 2021. In late February and early March, the smartphone appeared in various European markets. Let's see for ourselves just how good it really is.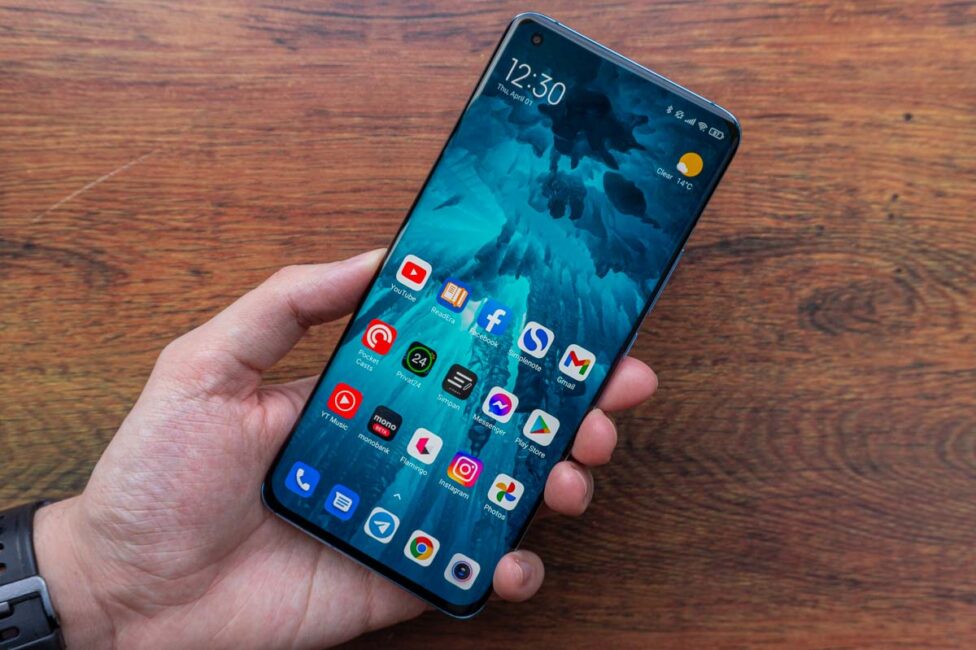 Xiaomi Mi 11 speficiations
Display: 6.81′′, AMOLED, 3200×1440 pixels, 20:9 aspect ratio, 515 ppi, 1500 nits, 120 Hz, HDR10+
Chipset: Qualcomm SM8350 Snapdragon 888, 5 nm, 8-core, 1 Kryo 680 core with 2.84 GHz, 3 Kryo 680 cores with 2.42 GHz, 4 Kryo 680 cores with 1.8 GHz
Graphic accelerator: Adreno 660
RAM: 8/12 GB, LPDDR5
Permanent memory: 128/256 GB, UFS 3.1
Support for microSD cards: not supported
Wireless networks: Wi-Fi 6, Bluetooth 5.2 (A2DP, LE, aptX HD, aptX Adaptive), GPS (A-GPS, GLONASS, GALILEO, BDS, QZSS, NavIC), NFC
Main camera: triple, main module 108 MP, f/1.9, 1/1.33′′, 0.8μm, PDAF, OIS, 26 mm; ultra-wide-angle module 13 MP, f/2.4, 1/3.06′′, 1.12μm, 123 ̊; macro 5 MP, f/2.4, 1/5.0′′, 1.12μm
Front-facing camera: 20 MP, f/2.2, 1/3.4′, 0.8μm, 27 mm
Battery: 4600 mAh
Charging: Fast Wired 55W, Fast Wireless 50W, Reversible Wireless 10W
OS: Android 11 with MIUI 12 shell
Dimensions: 164.3×74.6×8.1 mm
Weight: 196 g
Positioning and cost of Xiaomi Mi 11
If you have not followed Xiaomi and its approach to pricing over the past year, then the cost of the new item may shock you a little. But I want to remind you that the pricing of the flagships of the Mi series changed dramatically and significantly last year, when the Xiaomi Mi 10 and Mi 10 Pro smartphones were presented. At the same time, it became clear that it was no longer worth waiting for those inexpensive top-end Xiaomi Mi smartphones.
Read also: Xiaomi Mi 10T series explained: All The Differences Between Models
The company has several very popular sub-brands, which release cool and not very expensive devices. And the Mi-series, according to the general idea, should compete with the top smartphones of other famous companies. From personal experience with last year's Xiaomi Mi 10 Pro, I can confidently say that Xiaomi has succeeded. The smartphone was not cheap, but the quality really came close to the flagships from the market leaders. But let's get back to the Mi 11 and its cost.
The basic version of Xiaomi Mi 11 for 8/128 GB in Europe is about €749, and the top-end 8/256 GB version is about €799.
What's in the box
Now, the box is already quite interesting, I think that it is not news to anyone that some manufacturers decided to take care of the environment and stopped equipping their flagships with power adapters. And Xiaomi, of course, also partly succumbed to this trend. And yet they did the right thing in my opinion. In China, a smartphone can be bought both without and with an adapter. And what is most interesting is that the buyer won't have to pay extra in the second case, which is hella cool on their part.
Let me reassure (and maybe disappoint) potential smartphone buyers in other countries – you have no choice. You will receive the Xiaomi Mi 11 with everything you need. In a large white cardboard box with copper accents, in addition to a smartphone, there is the 55 W GaN power adapter, a USB Type-A/Type-C cable, a transparent silicone case, a Type-C to 3.5 mm adapter to connect your favorite wired headphones, a SIM eject tool and some documentation.
The cover is quite simple, and it's good that it's there, but I recommend that you immediately find a replacement for one simple reason – it does not protect the cameras well. It covers the main wide area, closes the second protruding one with two cameras, but does not cover the main one – the round module of the main camera, which protrudes strongly above the rim of the cover. But the adapter in the box, while powerful, lacks USB-C output. And an adapter from Type-C to 3.5 mm is also a rarity these days and it's cool that it is included.
Design, materials and build quality
Xiaomi Mi 11 definitely looks very interesting, stylish and sometimes even unique. Some kind of design continuity from the previous generation of flagships has remained, but there is not much of it. The back plate is decorated in a rather unusual way, but the front side has some questionable elements to it that I personally disliked.
The bezels around the screen are thin, there is a slight curve on the right and left, which makes the side bezels appear even thinner than they actually are, and the front-facing camera takes up a little space in the upper left corner. But with the rounding of the corners of the screen something went clearly wrong. The rounding radius is too large, and these corners are thicker than the bezels. It looks not very aesthetically pleasing and in some places it may not hide small elements of apps.
The back plate, in turn, is distinguished by two things, which, however, are quite familiar. Namely: a block of cameras and colors. The block of cameras turned out to be quite massive and consists of several elements. Its base is made of glass (metal edging) in the shape of a square with rounded corners and an iridescent blue tint. It has a dual-tone flash, one camera and a vertical lettering with some camera features. On this "pedestal" is the second oval with two more modules. The lower one, which is smaller, is slightly recessed, and the upper large, on the contrary, protrudes noticeably.
Of course, I don't really like this layout with a "three-story" block because of the increased likelihood of somehow damaging (scratching or even breaking) the glass of the main module. The glass there is most likely durable and scratch-resistant, but it protrudes too much and, as I have already noted, the bundled case does not save the situation at all. You constantly have to remind yourself to ba careful and put the phone screen down. In short, it looks beautiful, but it's not as practical as we would like.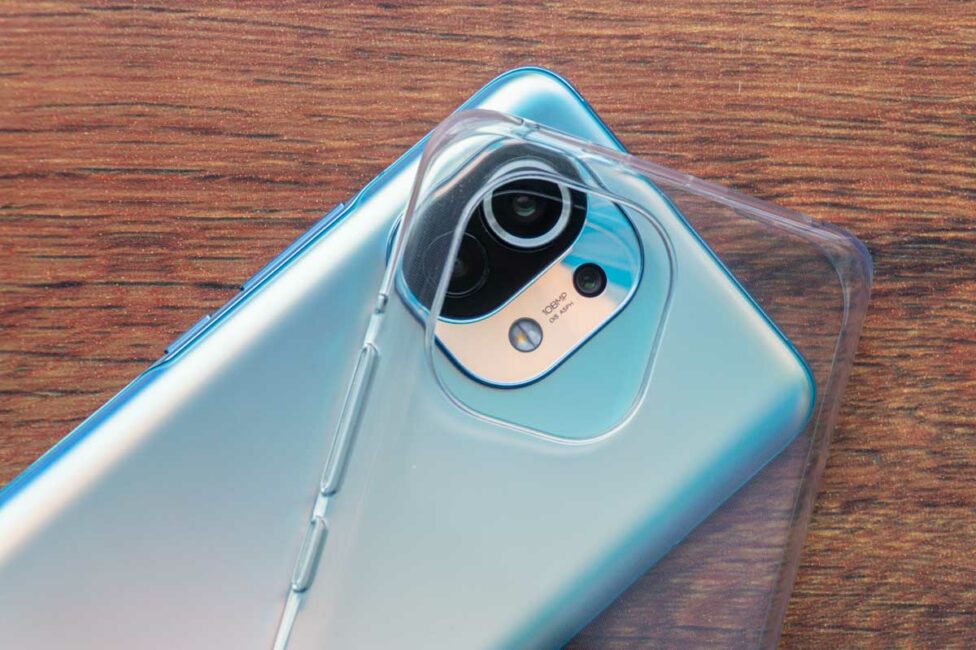 Now, the colors. I had the Horizon Blue model, which shimmers very, very well and is highly dependent on the light around. It's a very interesting gradient-chameleon which looks great. So great in fact that you really don't want to hide in in a protective case.
In addition to it, there are several more colors, such as black and white, but there are also different versions of the design, such as Mi 11 Lei Jun Special Edition with the signature of Lei Jun (CEO of Xiaomi) and a 3D texture in the form of vertical waves, or other materials for the back of the smartphone, like eco-leather, for example. The availability of this or that design option also depends on the region. But the choice is still very wide.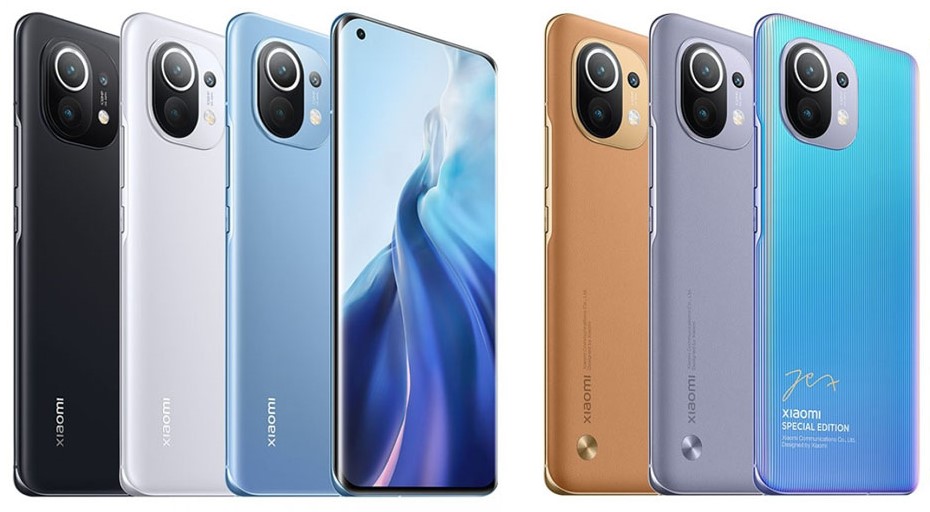 The materials of the case are flagship level the front uses the latest Gorilla Glass Victus with an excellent oleophobic coating. The back material is simpler, Gorilla Glass 5, and the edges are aluminum. The glass on the back is matte, very pleasant to the touch, although it gets a little dirty. The edge has a standard glossy finish, which gets dirty fast, and is painted in the main color of the smartphone body. Since the glass behind the edges is curved, they have different thicknesses in different places. It is very thin on the right and left, slightly thickened in the area of ​​the buttons, and the top and bottom edges are  standard width.
The build quality is just wonderful, as it should be. But what Xiaomi continues to save on is IP certification, which means there's no official protection against water and dust. It is an omission on the part of the manufacturer. It is clear that this is the basic device of the line and the recently announced Mi 11 Pro and Mi 11 Ultra already have IP68, but why not certify the entire series?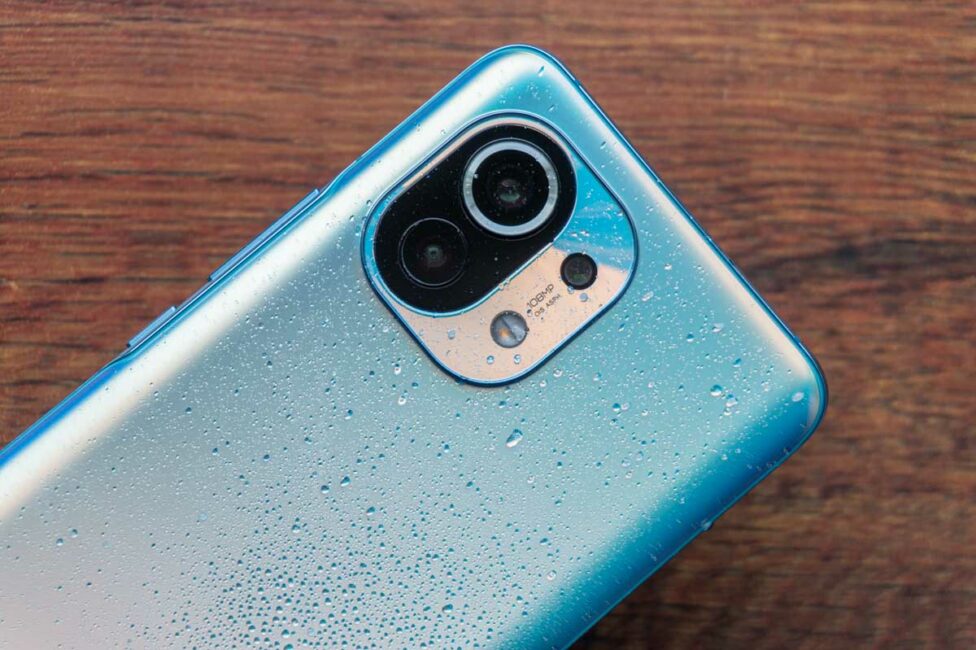 The layout
In front, at the top of the screen, there is a selfie camera, light and proximity sensors, and at the junction between the frame and the glass there is a very thin, almost invisible, earpiece speaker slot.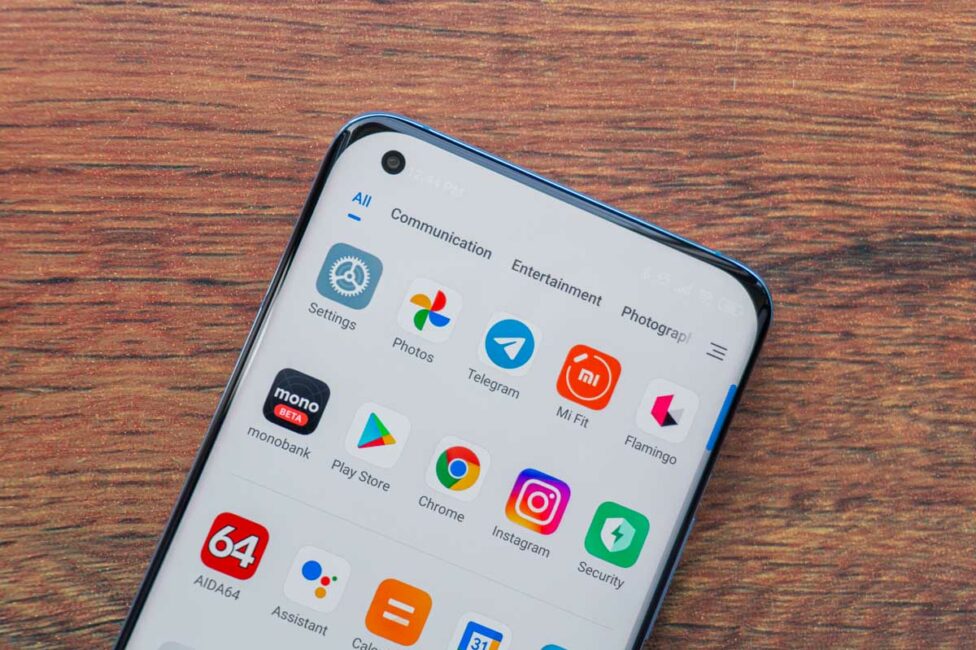 On the right side there is a small power button with a slightly corrugated surface and a double volume rocker. There is nothing on the left, except for a lonely antenna outlet, which abound on all sides.
At the top there is an infrared port for controlling household appliances, an additional microphone for noise cancellation, four round holes for the second multimedia speaker and the inscription SOUND BY harman/kardon.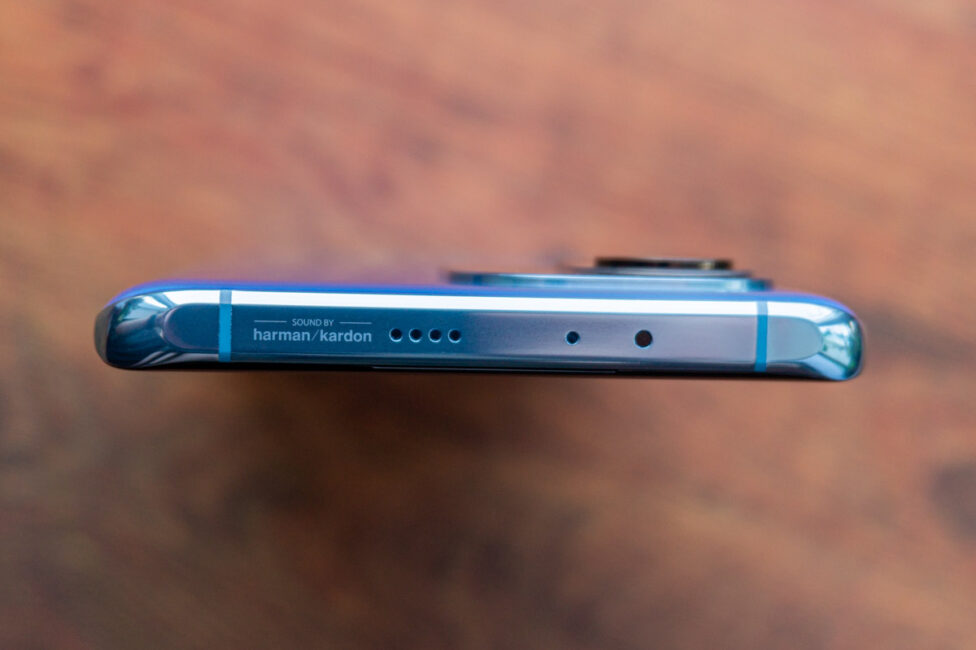 At the bottom there is a slot for two nano-format SIM cards, a USB Type-C port, a main microphone, as well as slots for the first (main) multimedia speaker, which are made in the form of sound wave.
Behind are the already mentioned block with cameras on top in the left corner, a vertical Xiaomi logo with a 5G icon at the bottom of the smartphone and opposite is some technical information.
Ergonomics
Xiaomi Mi 11 is a long, but relatively narrow smartphone and, as for a device with a 6.81″ display, it has quite acceptable dimensions: 164.3 × 74.6 × 8.1 mm; it weighs 196 grams. Using it with one hand is hard, and not only because of the rather big size, but also because of the slippery body.
As for the location of the controls, it is quite comfortable – the power key seems to be in an ideal place. I also note the comfortable location of the fingerprint scanner pad. You don't need to make any unnecessary movements, the height of its position was chosen very well.
Let me complain once again about the protruding block of cameras. When a smartphone is lying on a flat surface of the same table, it will wobble, which is quite unpleasant.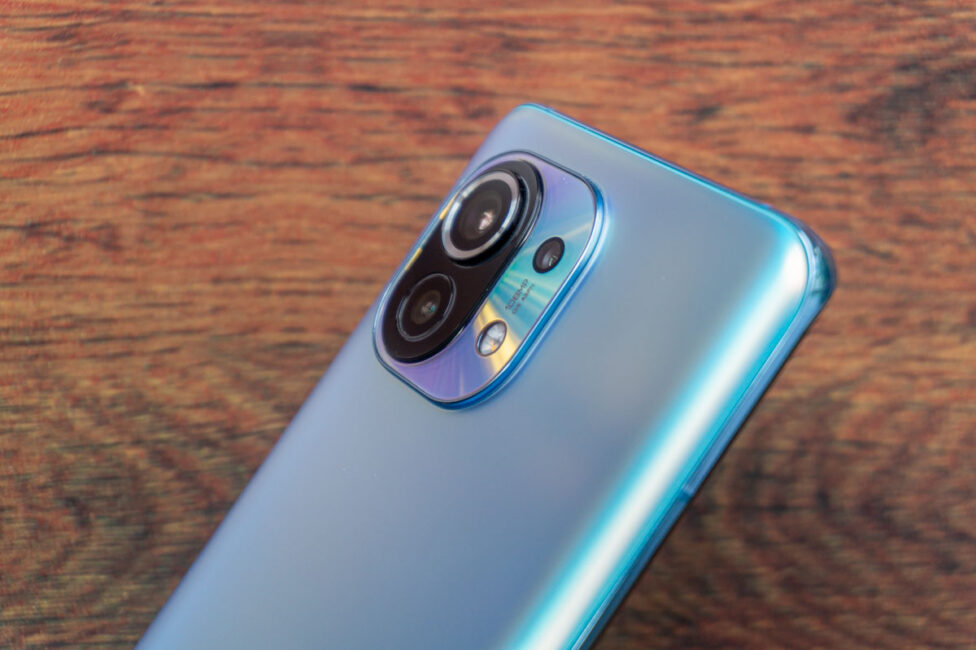 What's interesting, there's a hardware sensor that detects accidental touches. Previously, the Mi 10 Pro had a similar feature, but at the software level. The user could choose the thickness of the "frame" around the screen, which would not perceive touch, and this was done so that when using the smartphone there were no false touches due to the curved screen. In the new product, they went further and I do not know how this is implemented, but the point is that now the size of these areas can change automatically depending on the grip.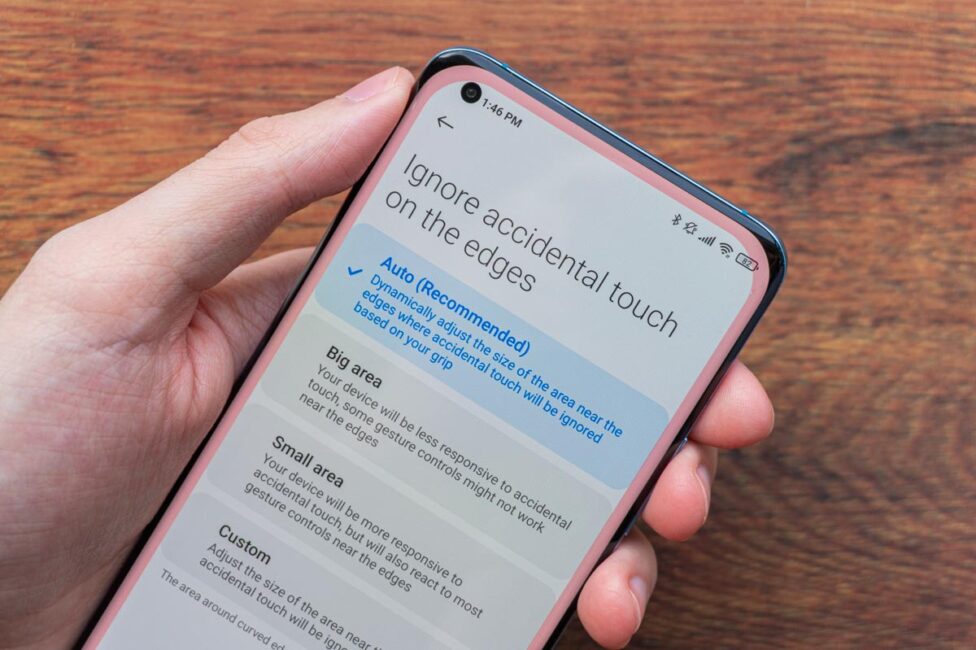 In reality, this works really well. Only when I deliberately tried to do this for experimental purposes, the system started failing. Maybe two or three times out of ten attempts, but generally speaking, the function works well. But again, I will repeat that there was no reason to bend the screen at all.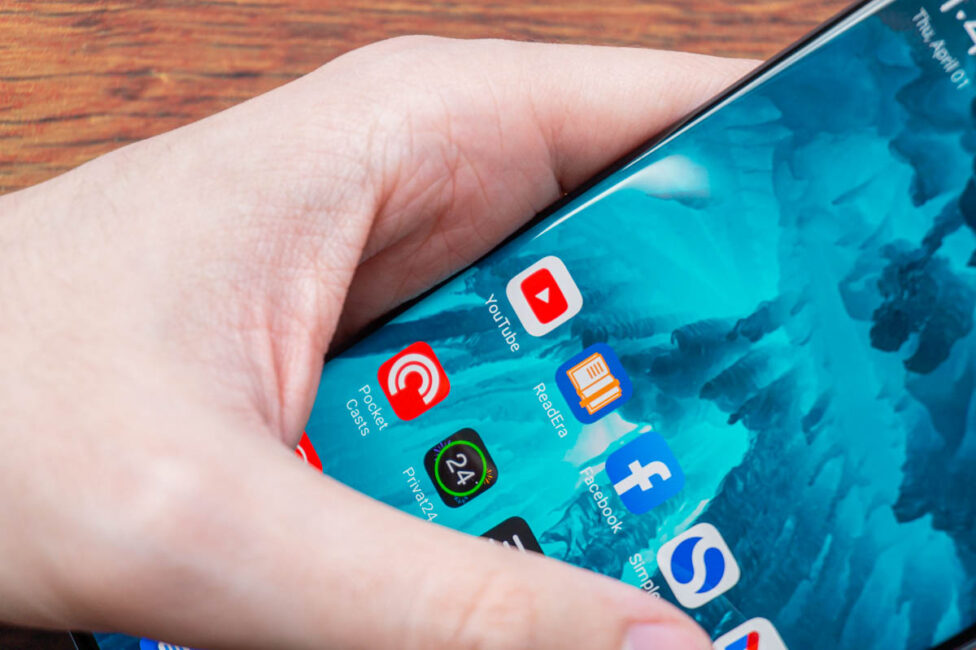 Xiaomi Mi 11 display
Xiaomi says a lot about the display of Mi 11, and for a reason, because it is really good. This is a 6.81-inch AMOLED matrix with a WQHD+ resolution (aka 3200×1440 pixels), an aspect ratio of 20:9, a pixel density of about 515 ppi, a peak brightness of 1500 nits, support for an 120 Hz adaptive refresh rate, a sampling rate of 480 Hz, HDR10+ support, 10-bit color, 100% DCI-P3. It has DisplayMate A+, SGS Eye Care and Seamless Pro Motion Speed ​​certifications, whatever that means, and supports a wide variety of modes, some of which are AI-powered. The specs and features are definitely impressive!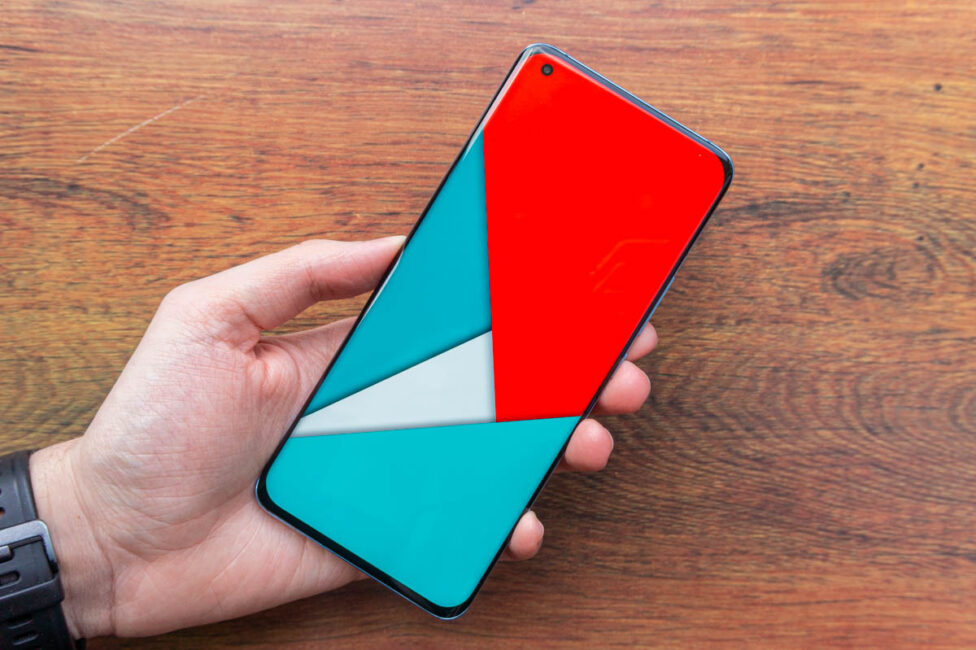 In real life it's as cool as they say. Sufficiently large screen, high resolution, excellent brightness even for bright sunny day. Color reproduction is superb, and very customizable, and it's hard to tell if anyone else offers such a wide range of color choices.
The image is naturally very high-contrast – 5,000,000:1. Viewing angles are traditionally the widest and only white color is distorted under certain angles, acquiring a slight greenish tint. There are also slight shading on the bends with a light background, but there is no escape from this. But these are all the nuances associated with the display type.
The high refresh rate of 120Hz supports WQHD+ resolution, so you can enjoy both very smooth and clear pictures at the same time. But you can change any parameter at your discretion and use, for example, a lower FHD+ resolution at 120 Hz in order to save battery power, or even 60 Hz, although why would you. The sampling rate is 480 Hz, which is a lot.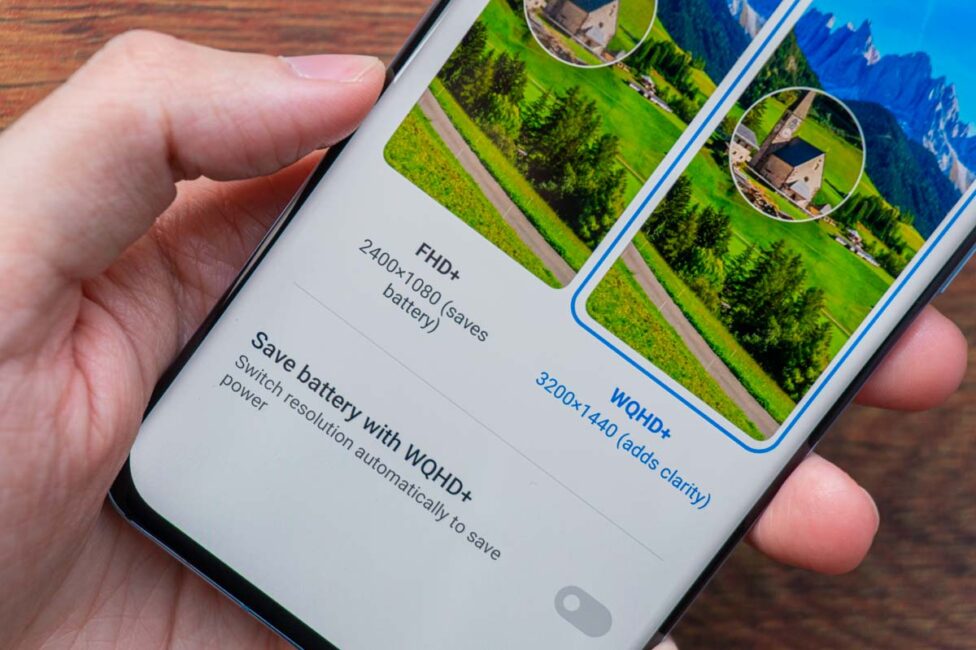 There's support for AdaptiveSync and, depending on the specific type of task being performed, the phone can change the frequency in steps of 30 Hz: 30/60/90/120 Hz. This is done primarily to save battery power whenever possible, and a similar approach, by the way, is practiced by other manufacturers. For example, the Samsung Galaxy S21 Ultra also has a dynamic refresh rate, but with a minimum value of 10 Hz. The frequency is supported in the interface, system and third-party apps, as well as in some games.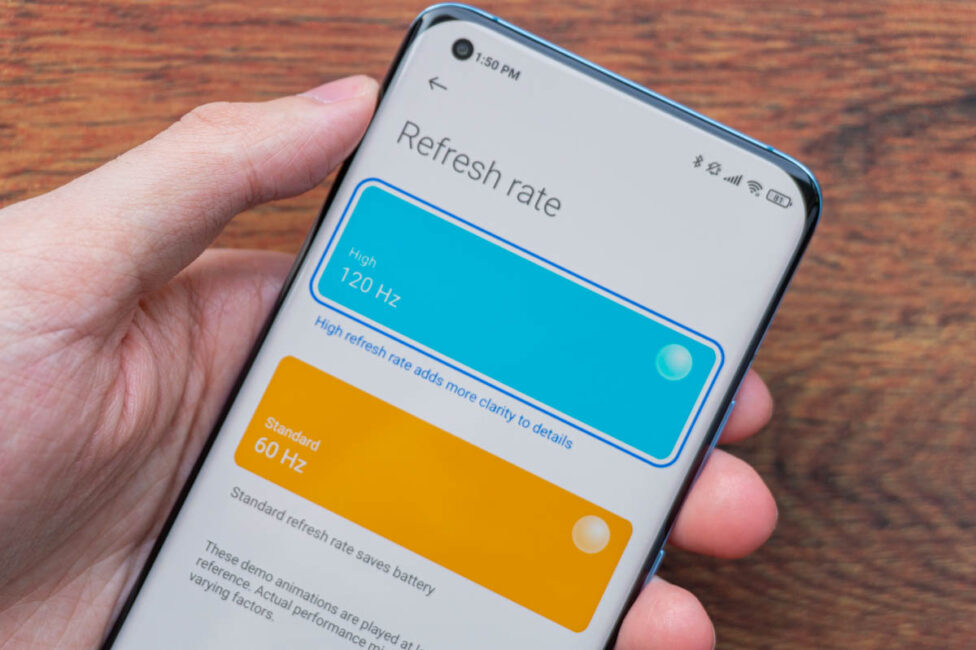 Now about the AI. In the smartphone settings, there is a separate item for the AI ​​imaging system, which includes as many as 4 options: super resolution, image enhancement with AI, HDR enhancement with AI, and MEMC. Super resolution is actually upscaling for video if its resolution is 720p or less. Image Enhancement means Scene recognition and corresponding optimization of photos when viewing them in the standard gallery. AI HDR Enhancement enhances the detail of light and dark areas in video. MEMC adds additional frames to a video to increase its smoothness.
Also in the display settings there is a dark system mode with advanced parameters: special adaptation of wallpapers and fonts, forced display of selected apps in dark colors (even if the dark theme is not supported by them), as well as a standard schedule. There is a reading mode, DC dimming, the already mentioned advanced color rendering settings with three presets and manual adjustment. You can select resolution between FHD+ and WQHD+ with automatic downscaling option to save power and refresh rates between 60 and 120 Hz. Plus other, less important parameters: text size, screen behavior when the device is in VR mode, full screen mode, and auto-rotation of the screen.
In a separate item, there are settings for the Always On Display mode (aka the active screen). You can set how it works: always, according to a schedule, or within 10 seconds after touching. The choice of watch faces is also quite large and there are both analog and digital options, as well as with a picture, a kaleidoscope and text. In addition, you can create a watch face yourself by choosing any image from the gallery, the color of the text, the location of the clock and the display of other elements.
Xiaomi Mi 11 performance
Xiaomi Mi 11 became the world's first smartphone based on the latest Qualcomm SM8350 Snapdragon 888. This chipset is based on 5nm standard and has 8 processing cores at its disposal, divided into three clusters: 1 core Kryo 680 works at maximum clock frequency up to 2.84 GHz, 3 Kryo 680 cores with a clock speed of up to 2.42 GHz and 4 more Kryo 680 cores with an operating clock frequency of up to 1.8 GHz. The Adreno 660 graphics accelerator  works in tandem with the CPU. Naturally, it shows great results in all kinds of tests.
Xiaomi Mi 11 - Benchmarks
In throttling tests, the Snapdragon 888 performs averagely. In 15 minutes, performance drops by 20%, but without sharp jumps. A half-hour test shows approximately the same results, but the losses are already slightly higher – up to 22%. Unfortunately, I did not have the opportunity to measure the temperature of the smartphone body during the test, but I can say that it is warming up.
The RAM in the smartphone can be 8 or 12 GB, the memory type is LPDDR5. My pre-sale model has 8 GB of RAM and this is more than enough for today. During the period of using the smartphone, I have not encountered any difficulties in this regard. It is only logical that the top version will not have them either.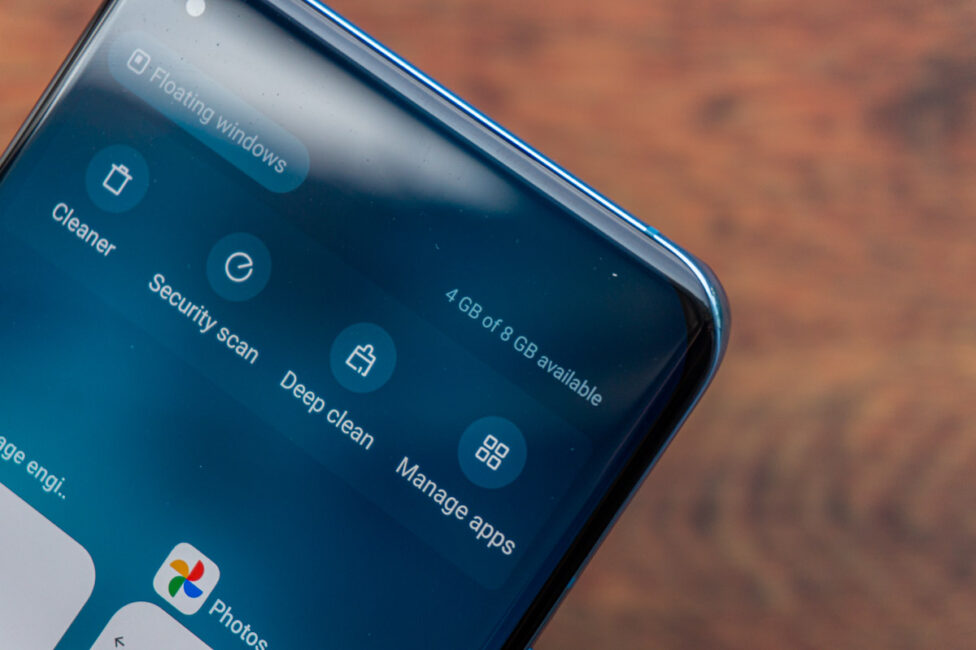 The storage capacity can be represented by 128 or 256 GB of UFS 3.1 storage. The drive is fast, in the 128 GB version, 105.41 GB were free to use. But let me remind you that if something happens, expanding the strage will not work – there is no slot for microSD.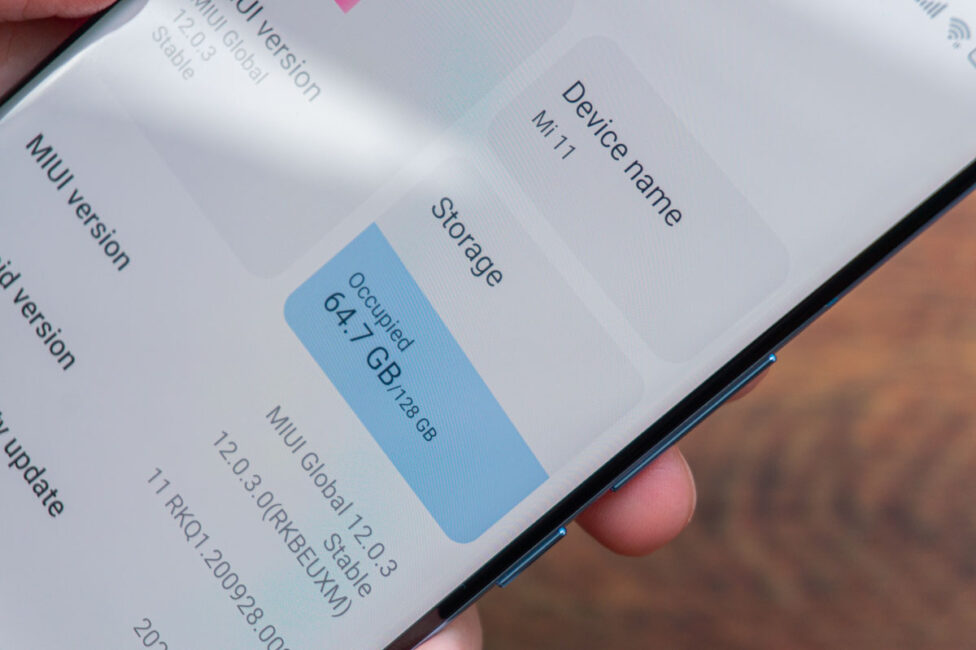 In everyday use, Mi 11 is responsive, speedy and smooth. The shell just flies, all third-party apps as well. After all, this is a flagship device, which means it works accordingly. The smartphone copes with games perfectly, but I repeat – it gets very hot. Here are the average FPS measurements taken with GameBench:
Call of Duty: Mobile – very high, all effects are enabled (except for reflections), ~ 60 FPS; Battle Royale ~ 60 FPS
Genshin Impact – maximum graphic settings with all effects, ~ 59 FPS
PUBG Mobile – ultra graphics settings with anti-aliasing and shadows (no reflections), ~ 40 FPS (this is a limitation of the game itself)
Shadowgun Legends – ultra graphics, ~ 61 FPS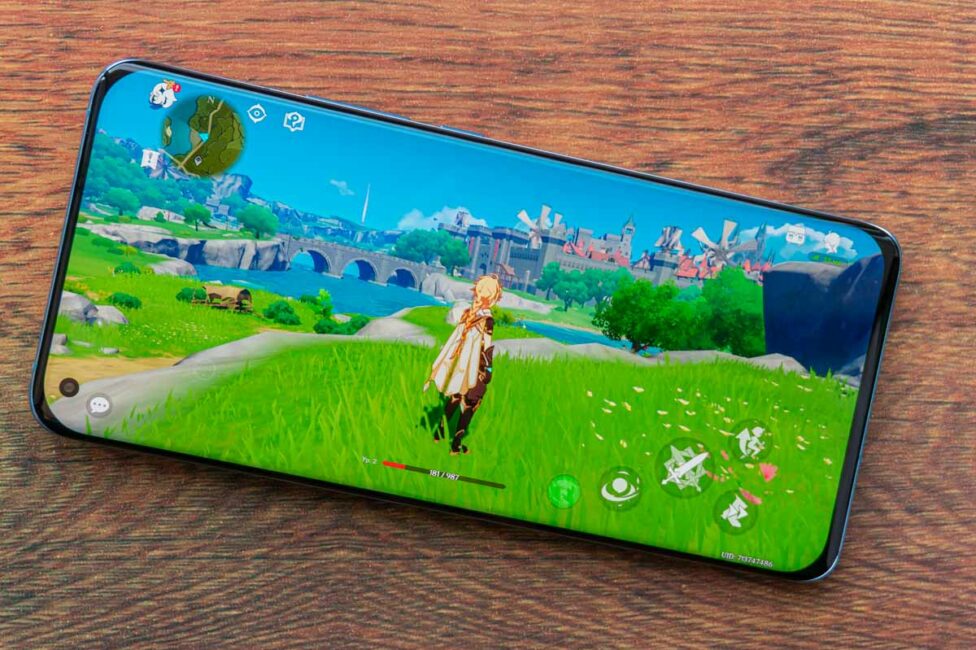 Xiaomi Mi 11 cameras
With Xiaomi Mi 11, the manufacturer did not focus on the number of cameras, so there are not so many of them by modern standards. Moreover, they are all quite useful and have a purpose. There are simply lower quality sensors, but in any case, I like this approach more than when there are a lot of cameras, and half of them seem to be unnecessary. In total, there are three sensors in the main camera block of Mi 11:
Main wide-angle module: 108 MP, f/1.9, 1/1.33″, 0.8µm, PDAF, OIS, 26mm;
Optional ultra-wide-angle module 13 Mp, f/2.4, 1/3.06″, 1.12µm, 123˚;
Additional module for macro: 5 MP, f/2.4, 1/5.0″, 1.12µm, AF
Traditionally, let's start with the first, the main module. By default, pictures from it are saved at a resolution of 27 megapixels, and 108 megapixel photos are available in a separate shooting mode. Speaking about the difference between them, I would note that full resolution does not always look better. The pictures will be a little lighter, but there will be a little more digital noise as well, and the detailing is not better, and therefore, in general, I think that standard definition is optimal.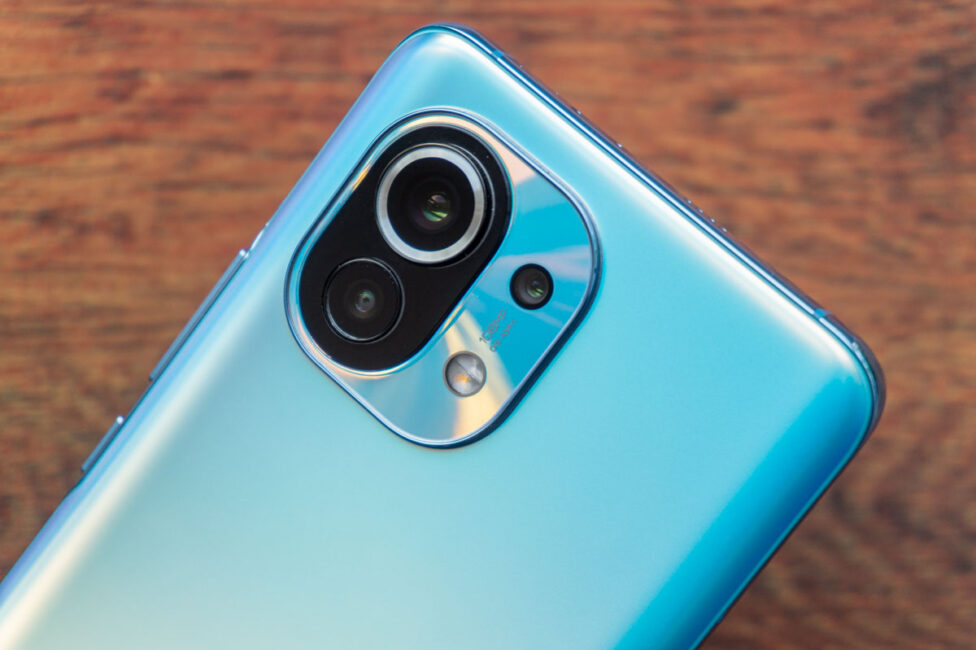 As for the quality of the photos, it is good. Not a bad dynamic range, decent detail, but as is often the case with sensors of such a high resolution, the edges are blurred when shooting something close. Sometimes it looks good, but the opposite effect is also present, of course. Night shots, even in automatic mode, look good enough if we talk about general details, but in the dedicated night mode information is additionally saved in dark areas. So if you have the opportunity, desire and time to use this mode, do so, but the process itself is not fast.
Xiaomi Mi 11 Photo Samples
EXAMPLES OF PHOTOS IN FULL RESOLUTION FROM THE MAIN UNIT
The ultra-wide angle does not differ much in color rendering from the main module, which is undoubtedly its big plus. But the quality of the photos is worse. The angle is quite wide – 123˚ and automatic distortion correction works great. As usual, only daytime shots are good, but evening or night pictures are so-so, even in night mode, which works with this module as well. It also lacks autofocus.
Xiaomi Mi 11 Photo Samples
EXAMPLES OF PHOTOS FROM THE ULTRA WIDE ANGLE
A dedicated macro module can be used for macro photography. It does not have the lowest resolution and 5 megapixels is not 2 megapixels, but this did not greatly affect the final quality. Yes, it is better than 2 megapixel modules, but the low resolution is still noticeable. But the module has autofocus and you can shoot from 3 to 9 cm. This feature somewhat unties your hands, but in general, nothing special should be expected in any case.
Xiaomi Mi 11 Photo Samples
EXAMPLES OF PHOTOS IN FULL RESOLUTION FROM A MACRO CAMERA
The smartphone can record video at a maximum resolution of 8K and 30 FPS – this is on the main sensor, but it is important to remember that this mode is still only suitable for recording static scenes, because there is such a phenomenon as rolling shutter. Simply put, with a sharp change in the scene, the image, or rather the objects, will be distorted. I find 4K and 60 FPS to be the best option, but the smartphone absolutely does not know how to work with exposure. The slightest change from a bright area to a dark one (or vice versa) results in a very sharp overexposure, which is extremely unpleasant to observe.
Alternatively, fix the exposure by holding your finger on the screen while recording and adjusting to the desired value, but then what to do with autofocus? After all, it is also fixed together with the exposure. The quality itself may be quite good, but with such a problem you won't go far. Therefore, what is cinematic about it all I no idea. There are many shooting modes, I agree, but are they appropriate when there are such problems in simple ordinary shooting? The question is, of course, rhetorical. Ultra-wide can also shoot in 4K, but at 30 frames per second. The results are average, but at least the exposure is working fine.
Front-facing camera has the following parameters: 20 megapixels, f/2.2, 1/3.4″, 0.8µm, 27 mm. It shoots well overall, but I would not say that it can compete with the selfie cameras of other flagships. There is no autofocus nor the ability to record video in 4K – only a maximum of 1080p and 60 FPS.
There are many modes in the camera app: photo, video, Tilt-Shift, 108 MP, manual, night, video clips, panoramas, documents, slow and fast shooting, simultaneous recording on the main and front-facing cameras, cinema effects, long exposure and even Super Moon for shooting, obviously, the moon.
Unlocking
The fingerprint scanner built into the screen has some peculiarities, but first, I'll tell you how it works in general. The optical type scanner quite quickly recognizes the finger and the smartphone is almost instantly unlocked. At the same time, the number of errors was minimized and the scanner made a mistake twice out of 10 tries. In everyday life, I have practically no issues with the response speed or to its stability. Although subjectively, it is more primitive than the ultrasound scanner in the Samsung Galaxy S21 Ultra, for example.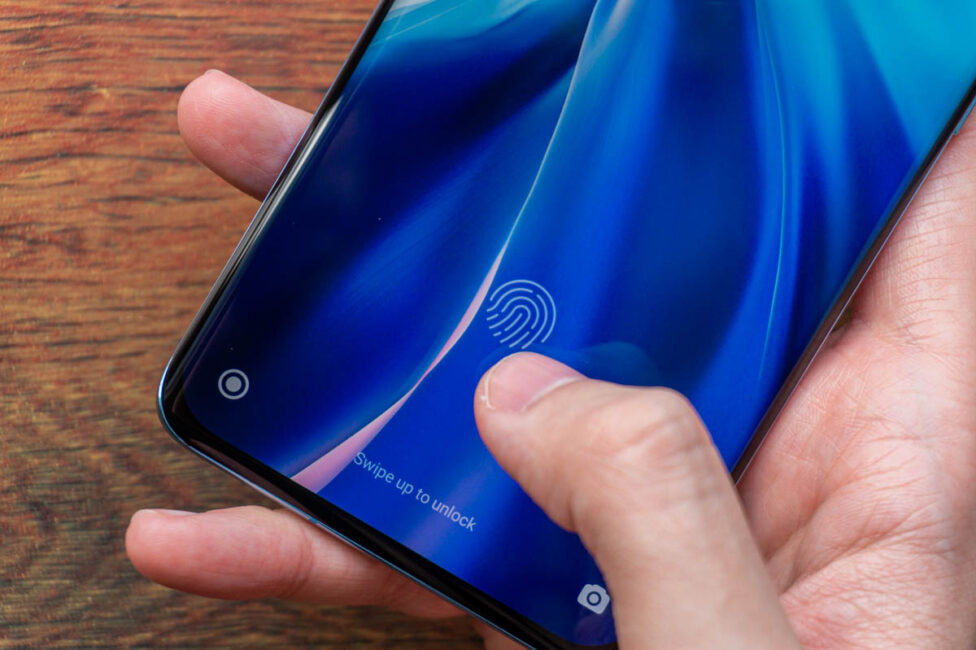 Curiously, measuring the heart rate is supposed to be possibly via the fingerprint scanner. But in the current firmware version it is not supported – it will be added later.
In the settings, you can reduce the intensity of the sensor glow when you apply your finger in low light conditions. In theory, this is done so that in the dark the bright light of the scanner does not blind the eyes – it sounds quite reasonable. However, in practice,  there won't be bright light anyways. In addition, with this option, the very speed of fingerprint recognition will decrease. You can add up to 5 fingerprints, and quickly launch some shortcuts if you continue to hold your finger on the scanner, and you can also choose one of four animations.
The second method of unlocking by face recognition works just fine here – fast, clear, stable and in almost any conditions. Of course, in complete darkness with the minimum brightness of the display backlight, it is unlikely to work, but in general, very often it works even in low light.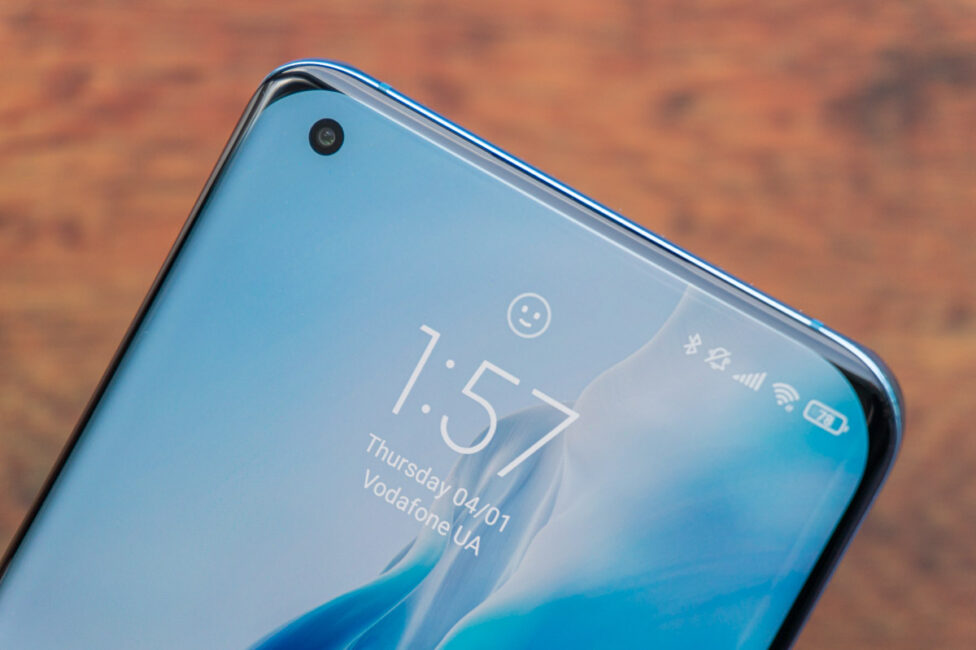 The settings are limited: an alternative face view, stay on the lock screen after unlocking, show notification details after verifying face data, and recognize each time the screen is turned on. The latter function will slightly increase the drain on the battery, but the method will work even a little faster.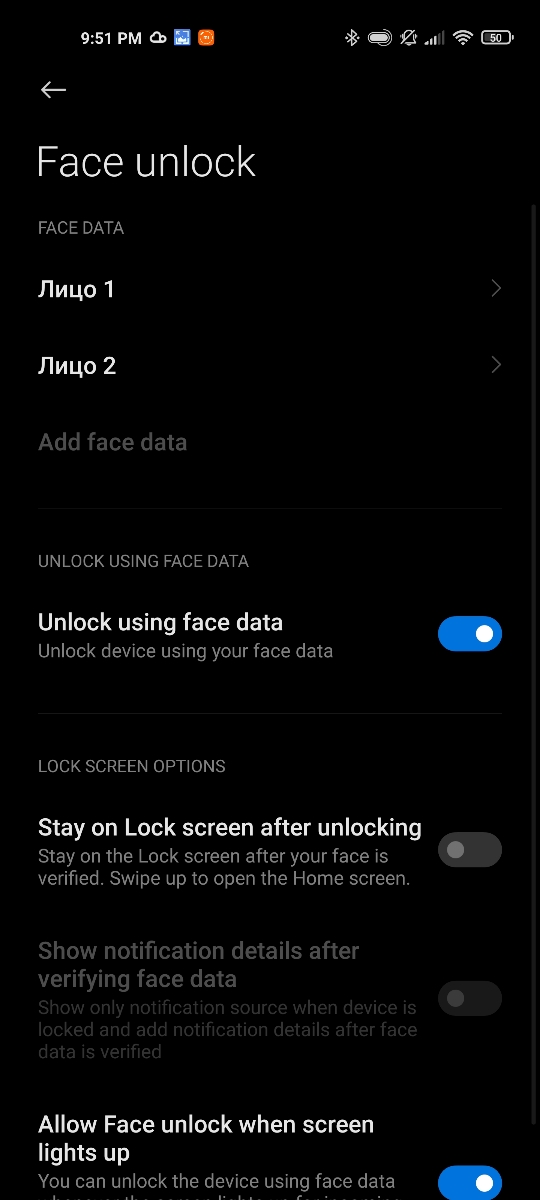 Xiaomi Mi 11 battery life
The battery of the Xiaomi Mi 11 has a capacity of 4600 mAh, which is quite a good, but the smartphone still does not set any records in terms of battery life. This is a typical average level for a feature-rich flagship, because there are a lot of things that consume energy.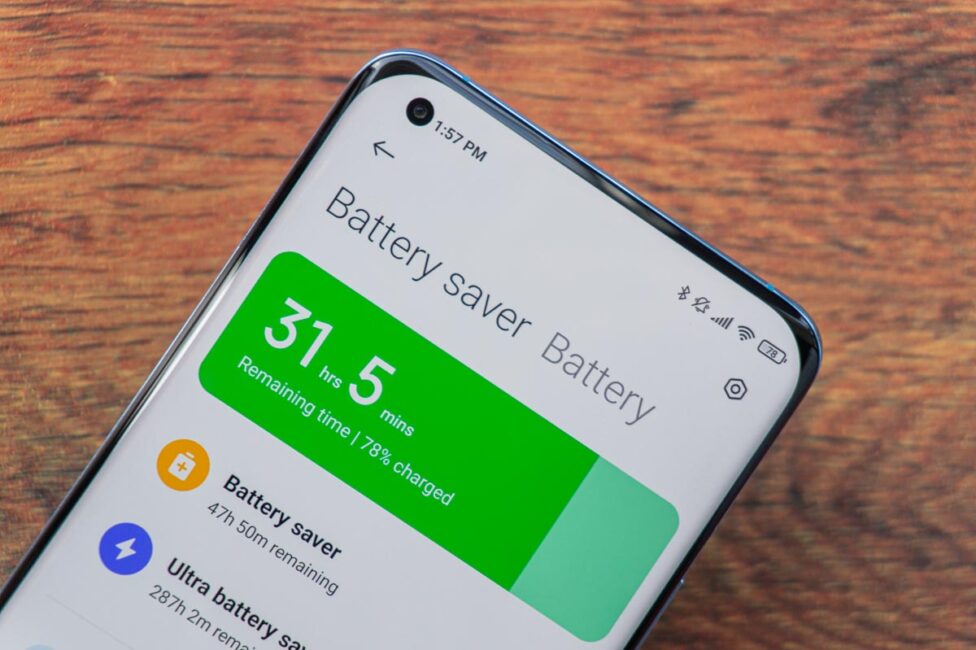 I tested the smartphone constantly with the maximum resolution and refresh rate, so WQHD+ and 120 Hz, and from 8:00 to 20:00 the Always On Display was active. In this mode, the smartphone survived the whole day with a total of 5-6.5 hours of the screen on and in the general sense it is not much, of course. But if you want to achieve better results, you can lower the resolution. Although there won't be much sense in this anyway, because according to the battery tests from the PCMark benchmark, the difference between FHD+ and WQHD+ at maximum brightness is almost nonexistent: 5 hours 40 minutes versus 5 hours and 45 minutes, respectively.
The smartphone supports 55W fast wired charging and 50W compatible wireless charging. They have not forgotten about the latest modern trends – the device can also share energy with other gadgets through a reversible 10W wireless charging. The manufacturer claims that the smartphone will fully charge in 45 minutes over the wire, and over the wireless in 53 minutes. I checked the first – with the standard adapter and cable, the smartphone charges very quickly! Here are the detailed measurements:
00:00 — 15%

00:10 — 50%

00:20 — 73%

00:30 — 90%

00:40 — 99%
Sound and communication
The sound of Xiaomi Mi 11 was also given a lot of attention and there are three speakers in the smartphone. Namely: an inconspicuous earpiece speaker and two full-fledged speakers at the top and bottom, which play in stereo. Xiaomi worked on the sound together with Harman Kardon specialists, as evidenced by the logo on the speaker on the top edge. Among other things, Mi 11 received an advanced vibration motor and the smartphone reacts to various actions in the system with very pleasant feedback of varying intensity.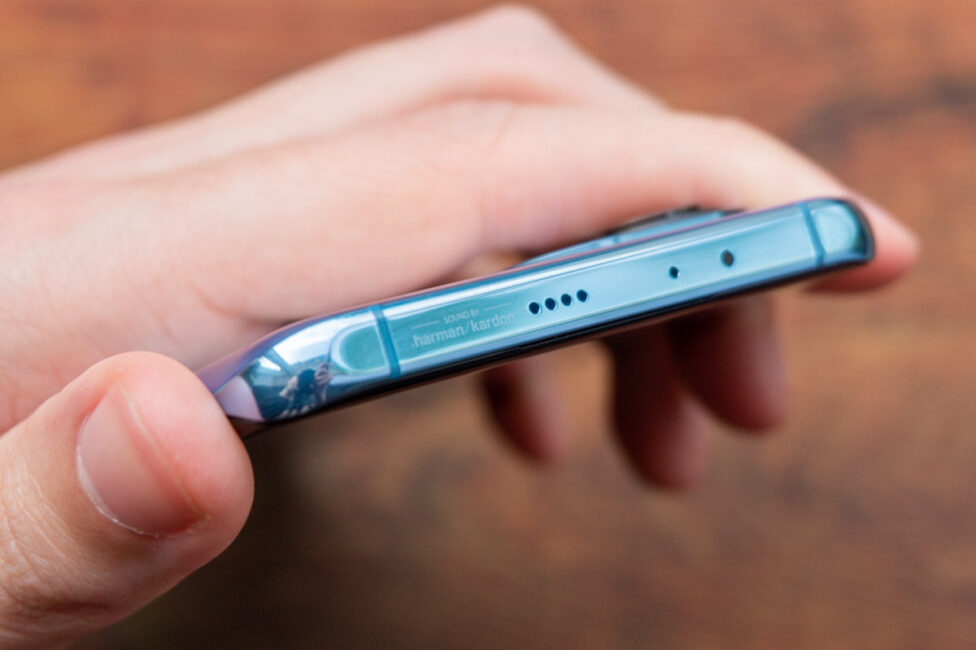 The earpiece speaker in the device is excellent: the sound is loud and clear. Stereo is also very good – excellent volume headroom, normal bass and detail. Even at maximum volume, there is no distortion at all, and if you evaluate the sound as a whole, it is one of the best in smartphones, for sure. There are also no nuances in the headphones when listening to any content – there is enough volume, the quality is excellent and there are many different sound effects.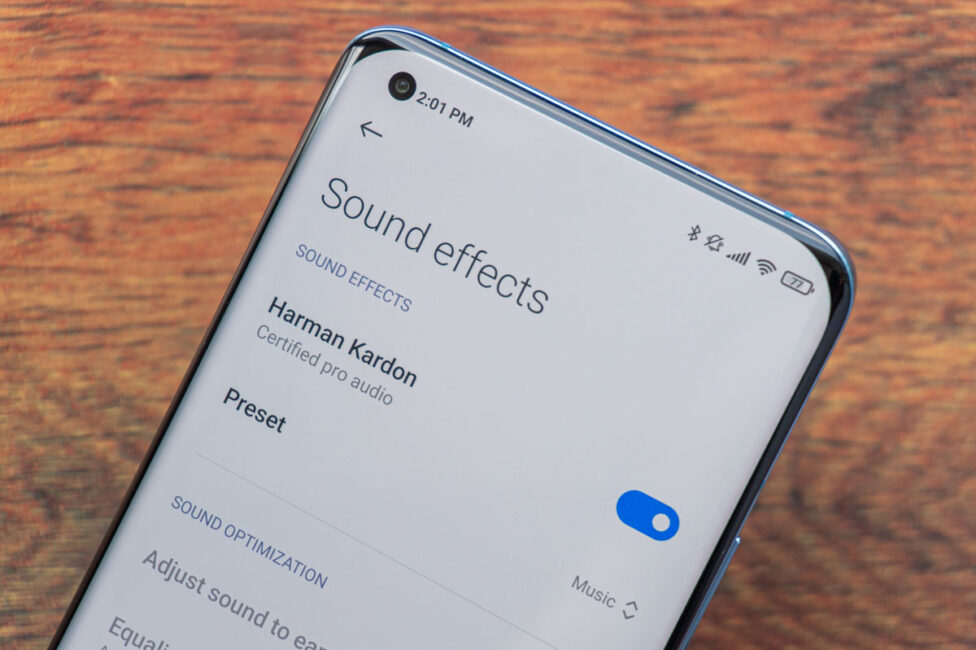 You can turn Harman Kardon Sound Optimization on or off and choose from four presets for both speakers and headphones. But the equalizer and profiles for different headphones, obviously, become available only when they are connected. But they work with both wired and wireless headsets, which is good news.
The set of wireless networks here is the most complete. The smartphone can work with 5G networks, there is a dual-band modern Wi-Fi 6 module and the current Bluetooth 5.2 (A2DP, LE, aptX HD, aptX Adaptive). GPS (A-GPS, GLONASS, GALILEO, BDS, QZSS, NavIC) and NFC module are supported. All modules work as they should.
Firmware and software
Inside the OS is Android 11 with a proprietary MIUI 12 shell, which boasts good customization tools and functionality. Of the interesting, two styles can be distinguished for the control center with the ability to display options for controlling smart home. There is a choice of the type of desktop (classic and with an app menu). You can turn off the automatic edge protection against false touches and define it yourself. Many different gestures are available. In addition, you can assign actions to double and triple touches on the back plate.
Verdict
Xiaomi Mi 11 is a good flagship smartphone with a cool design, an equally cool display and hardware. It has decent photo cameras, great sound, and a fast fingerprint scanner. Also one of the advantages is very fast charging and support for all current networks and modules.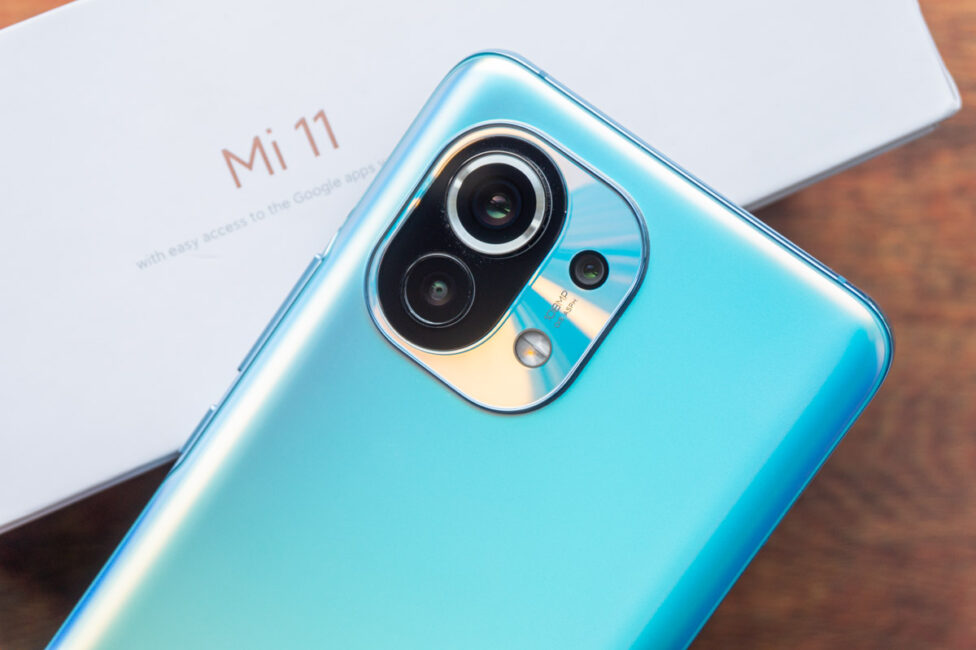 However, the smartphone didn't turn out perfect. No officially declared dust and moisture protection is frustrating, the battery life is average and I would like some kind of telephoto module instead of a camera for macro shots. Video shooting leaves much to be desired as well. Nevertheless, this is a good device for anyone who doesn't care too much about the cons I described above.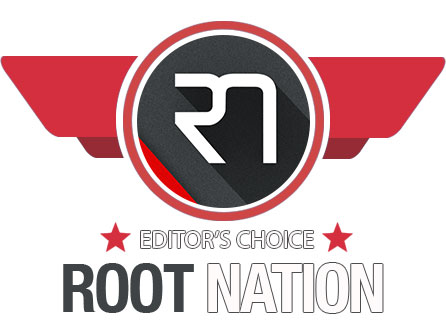 Subscribe to our accounts: