We all know how Honor smartphones come to be. Sometimes they get features that Huawei devices lack – and vice versa. The same happens with wearables. Meet Huawei Watch GT… almost. I mean Honor Watch Magic.
Main features and price of Honor Watch Magic
Display: AMOLED, 1.2″, 390 × 390, 326 ppi
Wireless modules: Bluetooth 4.2, GPS (GLONASS, GALILEO)
Battery: 178 mAh
Dimensions: 42.8 × 42.8 × 9.8 mm
Strap: length 203 mm, width 22 mm
Weight: 32.5 g (without a strap)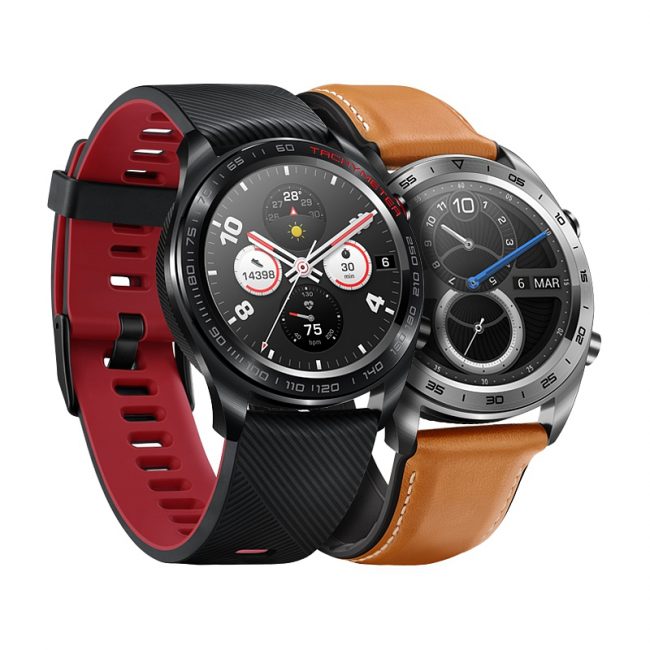 Honor Watch Magic costs about $208. There are two colors – lava black and moonlight silver.
Main features
First we start with a list of features. There is activity monitoring, which is usual for this class of devices. The watch counts the steps, the distance travelled and the number of calories burned. Of course, it measures the heart rate – manually from the menu or in real time. You can track the quality of your sleep with Huawei TruSleep technology.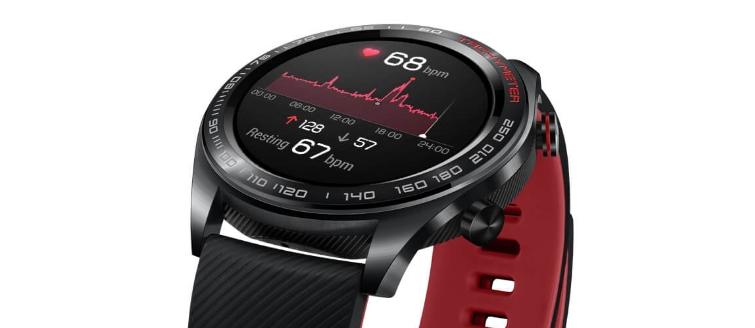 A large number of options are reserved for fitness. These are jogging on the street or treadmill, walking, hiking, cycling, exercise bike, swimming, triathlon, and also "free training." When running outdoors, the GPS module is turned on automatically and a route is drawn on the smartphone in the companion application. Additional data is collected with an altimeter and a barometer.

In addition, the interface provides applications: barometer, compass, weather, stopwatch, timer, alarm clock, flashlight and phone search. Next, I will tell and show you how it all looks. Of course, there are notifications from the smartphone – applications, SMS and incoming calls. However, with one caveat – you can view these messages, but nothing else. You can refuse a call – that's it. Not impressive at all.

All these functions work properly, but I will tell you about their implementation and some other nuances a bit later.
What's in the box
Honor Watch Magic comes in a large dark blue cardboard box. Under the lid we are greeted by a watch, and by pulling the tongue we get access to another "door" with compartments with all its contents.
This is a compact round cradle (docking station) for charging, a USB/Type-C cable (1 m.) and a user manual.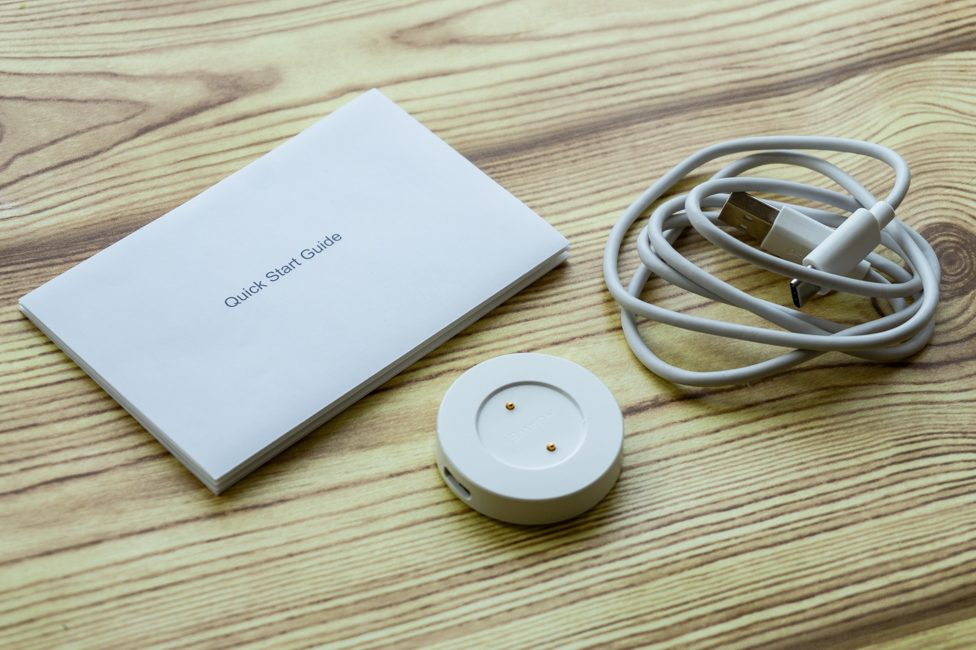 Charging dock has a small recess, two powerful magnetic points through which the watch is powered and Huawei logo (but why not Honor?). On the right side is a Type-C port, which is very good. If your smartphone comes with the same connector, you can take one cable on your trip, which is convenient.
Design, materials, ergonomics and elements' configuration
Honor Watch Magic looks like a classic watch with a round case. Their design is somewhat strict, at least in silver color. The main part of the case is steel (316L), including the strap attachment area.
In general, I like this design very much – the watch looks solid, thanks to the bezel with engraved marks and two metallic physical buttons on the right side. The watch is neat and does not feel heavy or bulky on the arm. Without a strap, it weighs 32.5 g, with it – about 50 g.
Of course, this option is not suitable for absolutely any clothes. The second option is in black and red. In this case, the bezel has a tachymeter scale, and the strap is different.
The lower part of the body is plastic. The fit is perfect, as befits a quality product. Especially with the declared water protection at a depth of 50 meters. You can safely count on short-term immersion under water. No wonder that there are corresponding modes here.
Materials are of high quality. I didn't find any scratches on the protective glass, but it would be difficult to leave them there, because it is recessed and protected by a bezel. Also oleophobic coating is applied on the glass. On the steel itself there are small scratches, barely noticeable, but it's nothing critical.
Behind are two contacts for charging, glass windows of the heart rate monitor and some service information.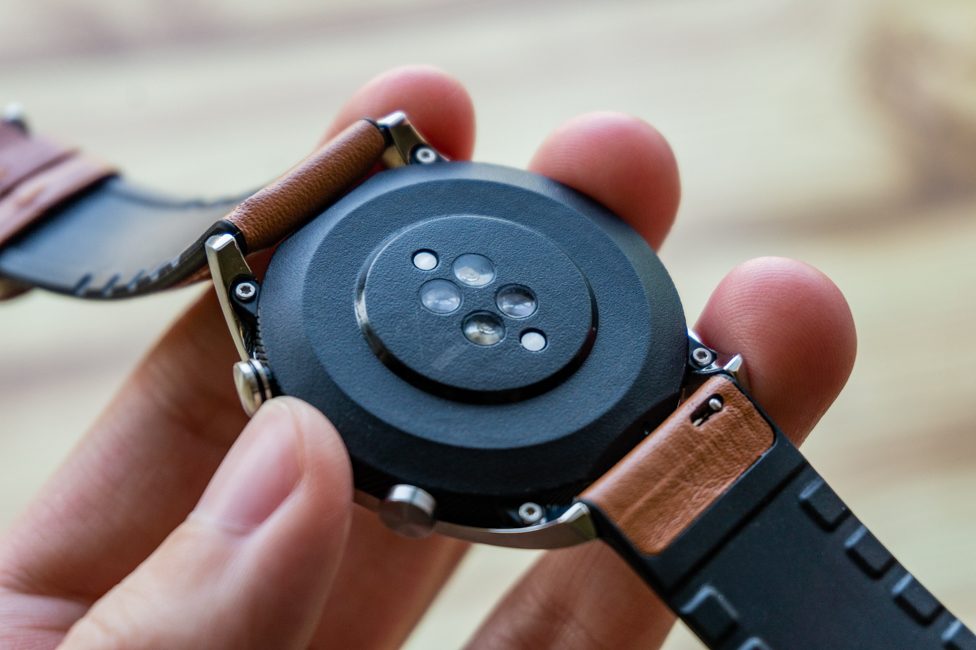 The strap is removable, 22 mm wide, with a standard mount. You can easily replace it with any other one. In our case, it is made of Italian cowhide with fabric stitching.
The inner surface of the strap has a silicone coating for ease of use – the wrist does not rub. The buckle is likewise made of steel, with Honor embossment. The quality is not bad, but the strap has a trace from the clasp.
Honor Watch Magic Display
Honor Watch Magic got a round display with a diagonal of 1.2″ with a resolution of 390 × 390. The matrix is ​​AMOLED, the pixel density is 326 ppi. For such a small screen there is enough of this resolution – the sharpness of the fonts is excellent, there's no pixelation.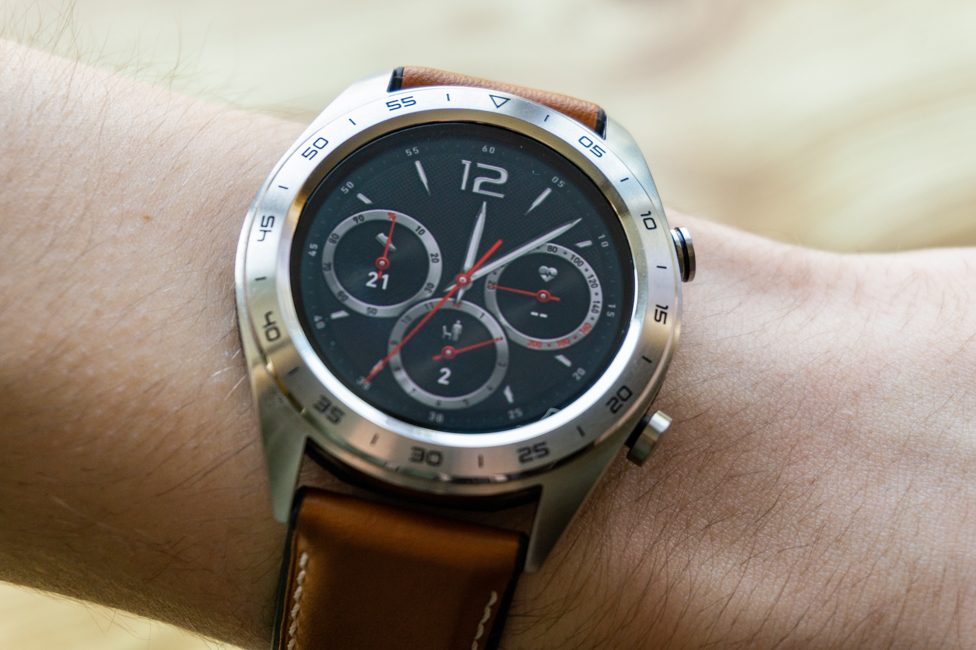 Brightness is also enough for almost any conditions and excellent viewing angles. In short, with readability, the situation is good in all senses. Talking about the traditional parameters of the matrix does not make much sense, the display is obviously not made for browsing photos.
Brightness can be set to fixed – there are 5 degrees of adjustment. Or you can select automatic. I used it throughout the test, no complaints about it.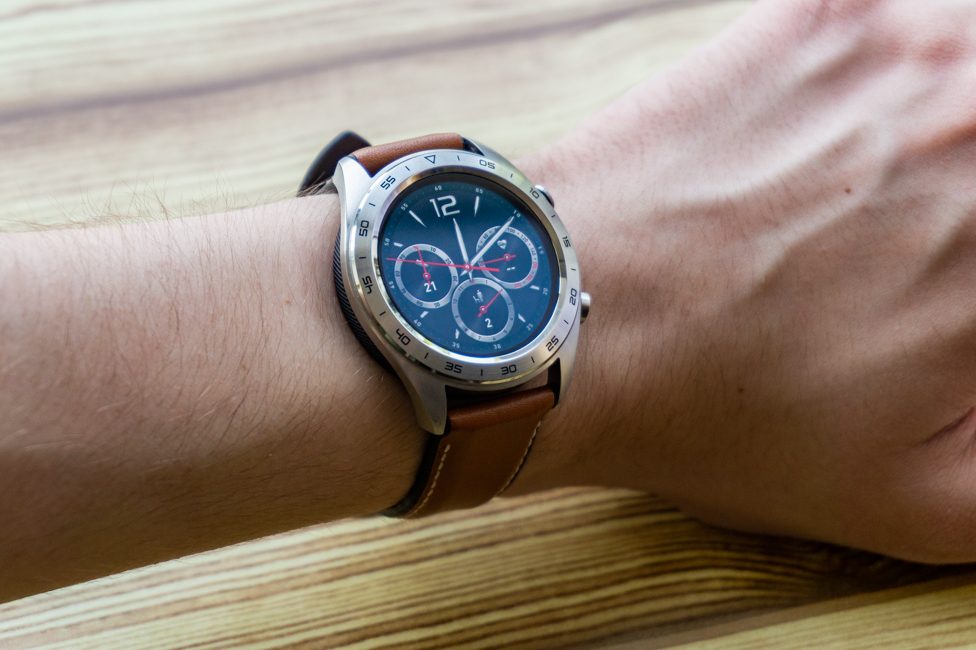 The screen does not know how to show the contents constantly (maximum 5 minutes in the special mode) and to activate the display you need to raise your wrist or press one of the physical buttons. The uplift gesture works in the majority of cases, but there are also some misfires. For example, the screen may turn on when I am actively typing on the keyboard. Or it wouldn't work when it is really necessary. But this happens rarely.
Honor Watch Magic battery life
Probably one of the most important parameters in this class of devices is battery life. Honor Watch Magic has a 178 mAh battery installed and, as the company assures us, this will be enough for 7 days of operation from a single charge. And in fact, you can achieve one week of work. However, in this case, you will have to drop some functions.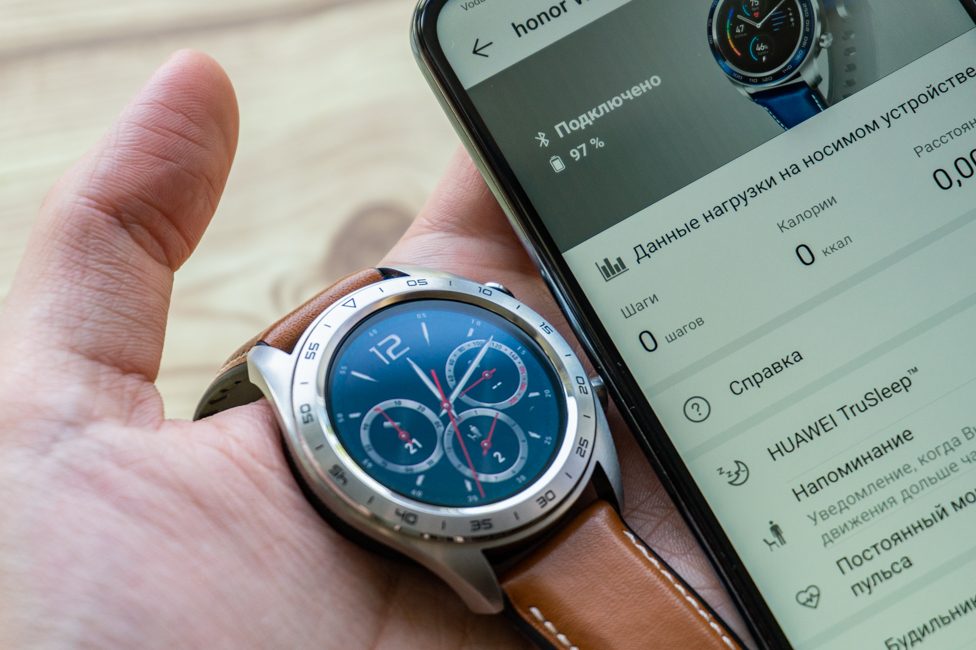 First, for the whole time I used automatic brightness, my pulse was measured around the clock and sleep was tracked. Sometimes I used an alarm clock and, of course, checked notifications. In this scenario, I had enough batteries for full 4 or 5 days.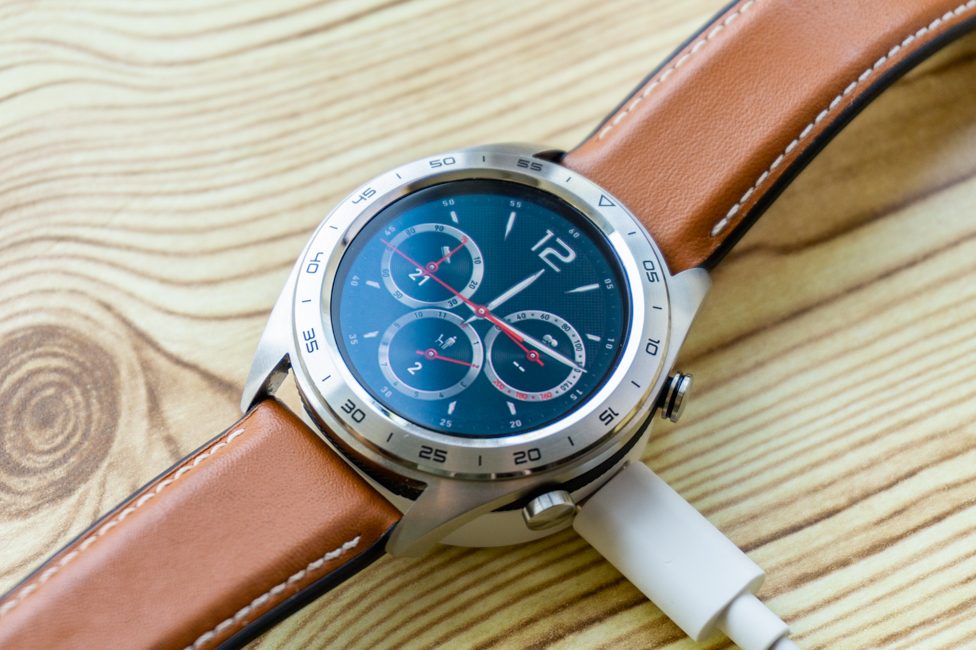 Want to squeeze more? You can turn off the constant monitoring of the pulse; that way we get much nicer numbers – up to two weeks of battery life. That way the numbers in the manual look more than realistic. The device can survive for even longer. However, one time there was an unpleasant glitch – when I went to bed, there was a little more than 50% of the charge left, but when I woke up, the watch turned out to be completely dead. But I had the older version of the software, so I think these nuances have already been fixed. At least I did not come across them again.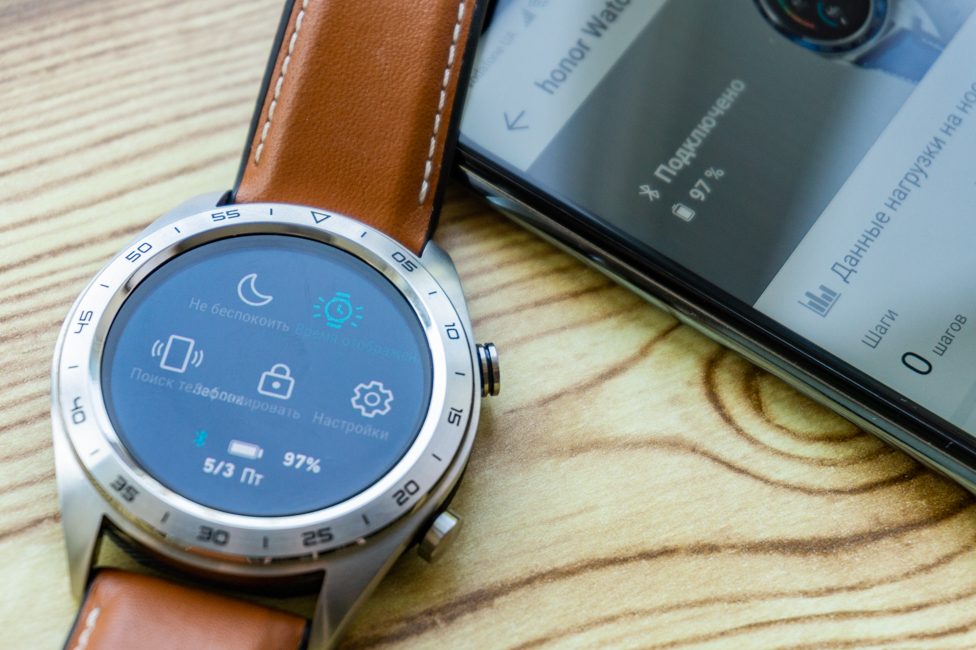 Of course, you can starve the watch very quickly if you use different training modes. Especially those that are tied to the use of the GPS-module – with it the battery consumption increases significantly. So here we are counting on personal preferences and use cases. You can charge the device from 10% to 100% in just over an hour.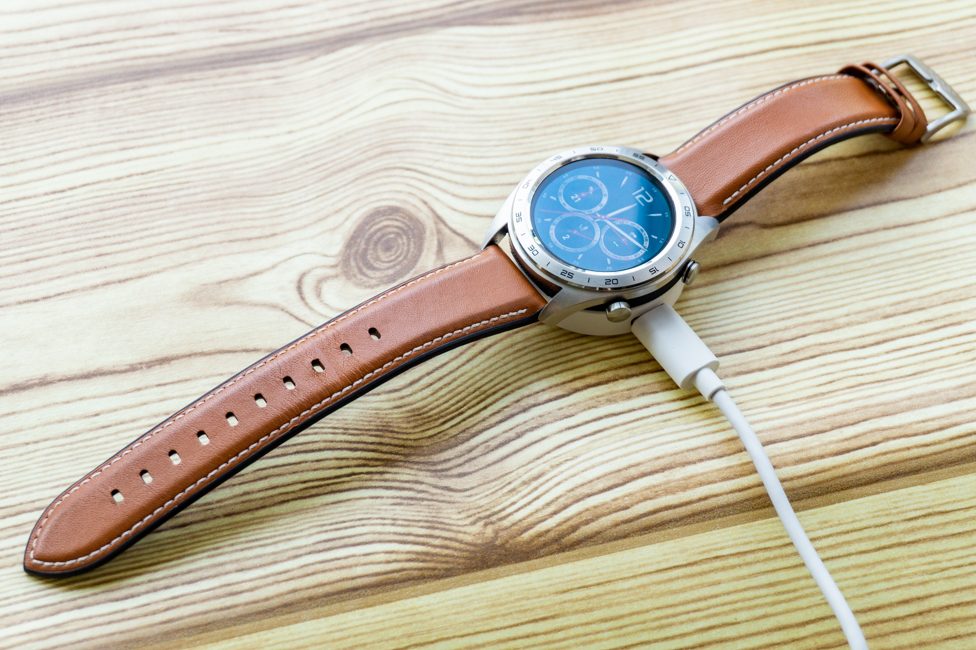 Huawei Health
Huawei Health is a companion app for wearable electronics from Huawei and Honor, and for other devices on Android and iOS. However, there is no need for a constant pairing via Bluetooth with a smartphone. They have a built-in memory, closed from the user, but training information can be recorded there as well as another kind of data.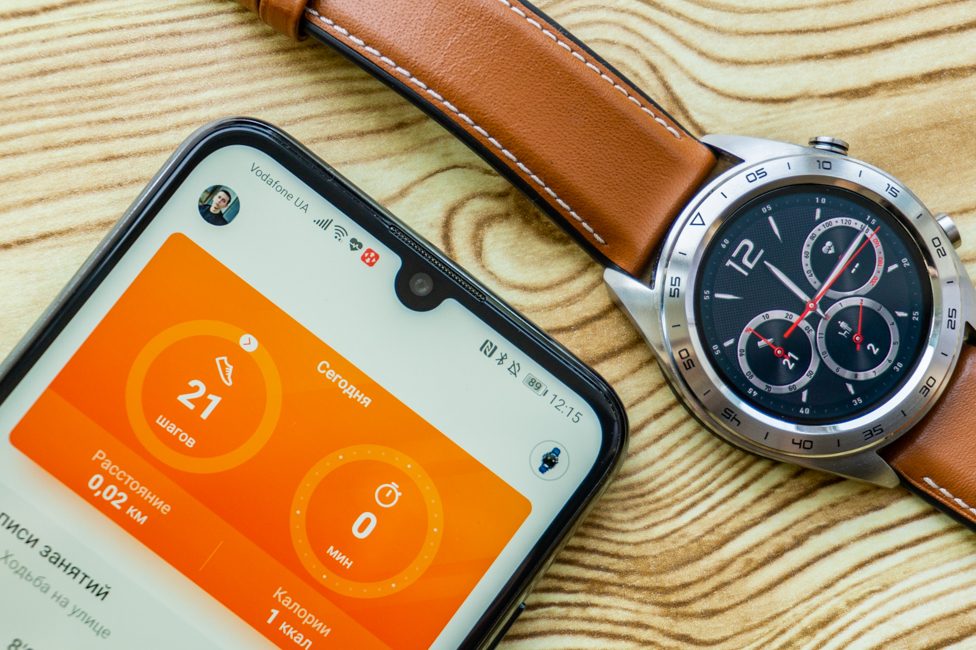 Android:
iOS:
The main tab contains information cards. The first one consists of steps, distance, workout time, calories burned during the day. Below there is information about activities and mini-cards with data on sleep, pulse and weight. At the very bottom of the main tab is a graphic chart with the number of steps taken over a certain period. In the corners there are small icons with a profile and a watch – in the first one you can manage your own Huawei account, or you can check the settings of the connected device.
When you click on the blocks, more information appears, in the same place you can view data for past days. There is an opportunity to share them — a long screenshot is automatically created, which you can save to the gallery or send directly through application.
The second tab is called "Exercise", and it has many modes: running, walking, cycling, training. They can be launched directly from the application. There, you have the map, workout goals, and audio notifications about the results being played on the go and with a certain frequency. You can also activate automatic pause.
In the "Me" tab, you can set goals for the number of steps per day or weight, personal data (height, weight, and so on). There is also a menu called "Messages," but I did not understand what it does.
Further we have records of all classes, general statistics and all achievements, as well as monthly/weekly statistics reports. Also more: different medals for achieving certain goals. Below is a list of your devices and data. You can also enable synchronization with other applications like Google Fit and MyFitnessPal. There are also some other settings.
When you click on the watch icon, it displays all the information about it and the available settings. You can activate certain features: TruSleep (sleep tracking), reminders so that you can move if you sit for more than an hour and constantly monitor your heart rate and weather. You can enable/configure alarms. There is a "smart" alarm, but it will be waking you up in advance, and you set the time. Then we have notifications where you can choose the applications from which you want to receive them. And there's a couple of other features – notifications about disabling Bluetooth, activating the screen by raising the wrist, updating the software and resetting the clock.
Since recently, you can install additional watchfaces. You can chose it directly in the clock settings submenu, under the data block. The menu is divided into two windows – "Recommended" and "Me". In the first and there are new, previously not available watchfaces. At this stage, there are 11 of them – these are more restrained analog solutions, as well as colorful sports digital ones.. If you click on the watchface itself, it opens information about it – the file size, the number of downloads and a description. There you can either install it or delete it from the watch's memory.
The second tab contains pre-installed watchfaces. They cannot be deleted. In addition, after installing new ones, they are duplicated here. The currently active dial is highlighted.
This is one of those functions that Honor Watch Magic lacked on old firmware. But watchfaces are starting to appear, and this suggests that their number will gradually increase. It is even possible that some kind of toolkit will be developed, with the help of which users will be able to independently create and share their work. At one time, Amazfit Bip was also very poor with standard solutions, but then third-party applications for installing them appeared, and now the choice is huge.
Honor Watch Magic runs on proprietary Lite OS, just like Huawei Watch GT.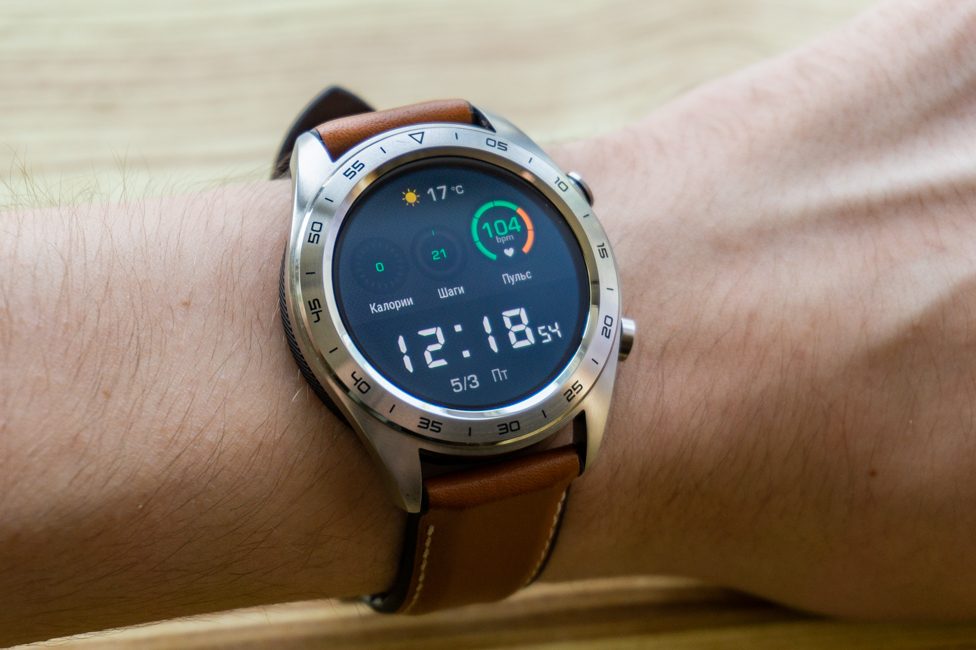 Until recently, the shell used to slow down a bit, and sometimes the inscriptions crawled over each other. It disappointed some reviewers. The thing is, the test samples could not be updated and worked on old firmware. Simple manipulations with the search engine and comparison with our chief editor's Huawei Watch GT made it clear a number of bugs and flaws have already been fixed in the new software. That's why the watch was returned to the office of Honor and after some time returned again. So if you saw some negatives about the OS (slowing down, problems with fonts, notification problems) most likely, these watches were tested on the old firmware. In our case, it was originally 1.0.2.11, and after the replacement – 1.0.7.40.
The screen, as we found out, can be activated in two ways – by a gesture of lifting the wrist or by pressing one of the mechanical buttons. The control is tied to the buttons themselves and the touch screen (swipe and touch). You go "back" by swiping right to exit the submenu. The top button opens the list with functions. The bottom button opens the list with workouts and with another click can launch the selected one.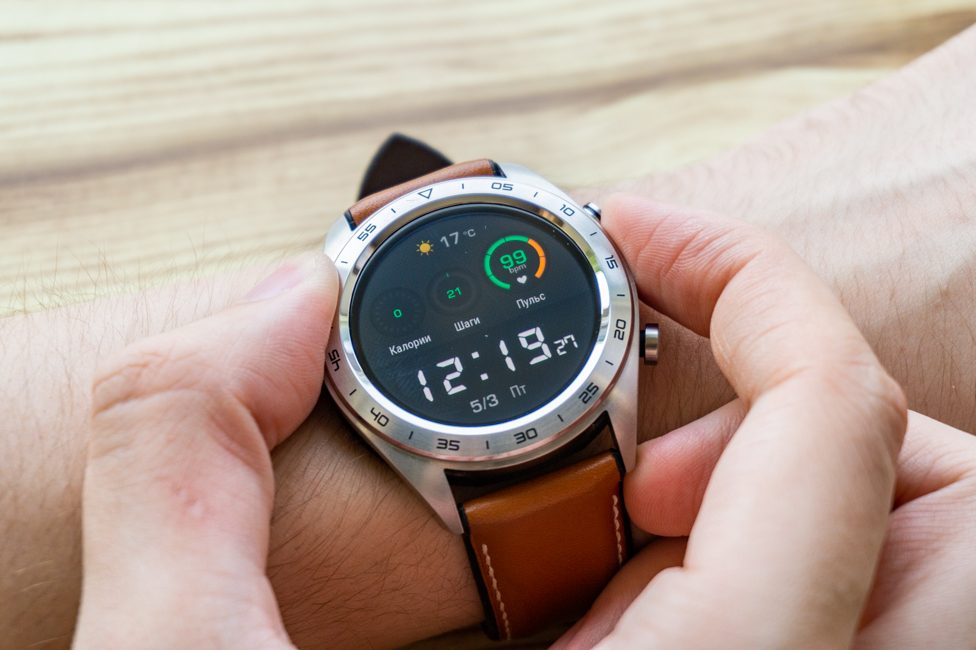 The home screen is a watchface. By holding on it, you can quickly replace it with one of the built-in or downloaded options.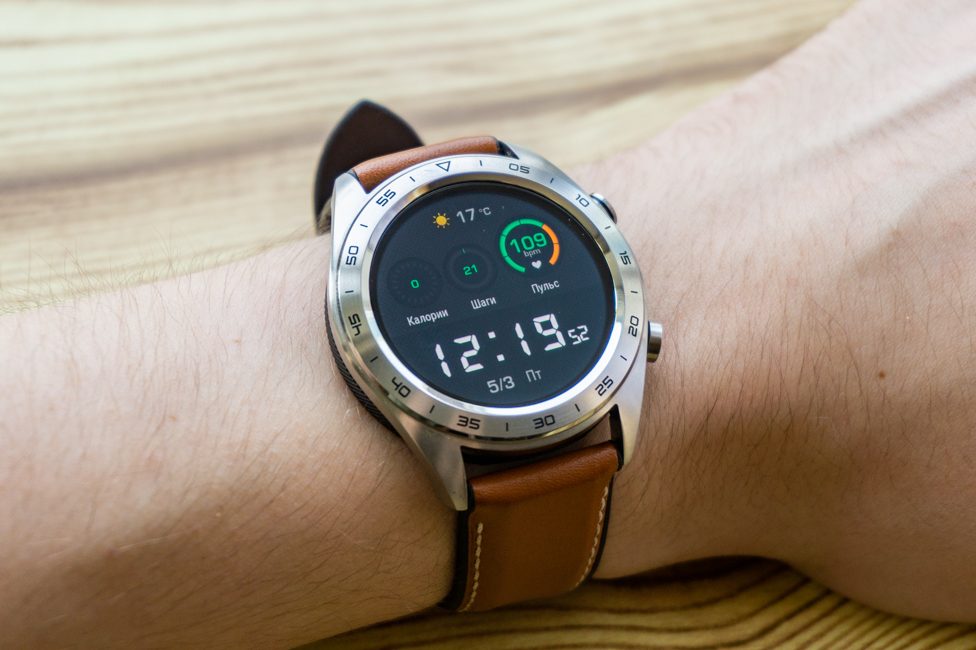 There are both analog and digital watchfaces. Again – the list of available skins will be expanded with updates and some of them must be pre-installed from the Health app.
Swipe left or right, and you can view other main points: heart rate statistics, rings with steps and other activity, and an animated weather icon. But why is only one day displayed (maximum, minimum and current temperature)? This is no good at all, even Amazfit Bip shows 5 days.
Let's go back to the main screen and look at other actions. By swiping up you launch notifications; you can scroll through them, and if in some there is a lot of text – click and open it in full screen. Scrolling through the very end of the list, you can clean them in one fell swoop.
Another unpleasant personal snag to me is that the notification icon is the same for all applications. Now the watch is understood by some, for sure – Gmail, Messenger, Instagram and maybe something else. Viber and Telegram notifications are displayed with standard icons. I hope this list will also be replenished. But unfortunately, no interaction with notifications is possible. No prepared answers, nor Emoji (Honor Watch Magic doesn't know those), no voice input or keyboards.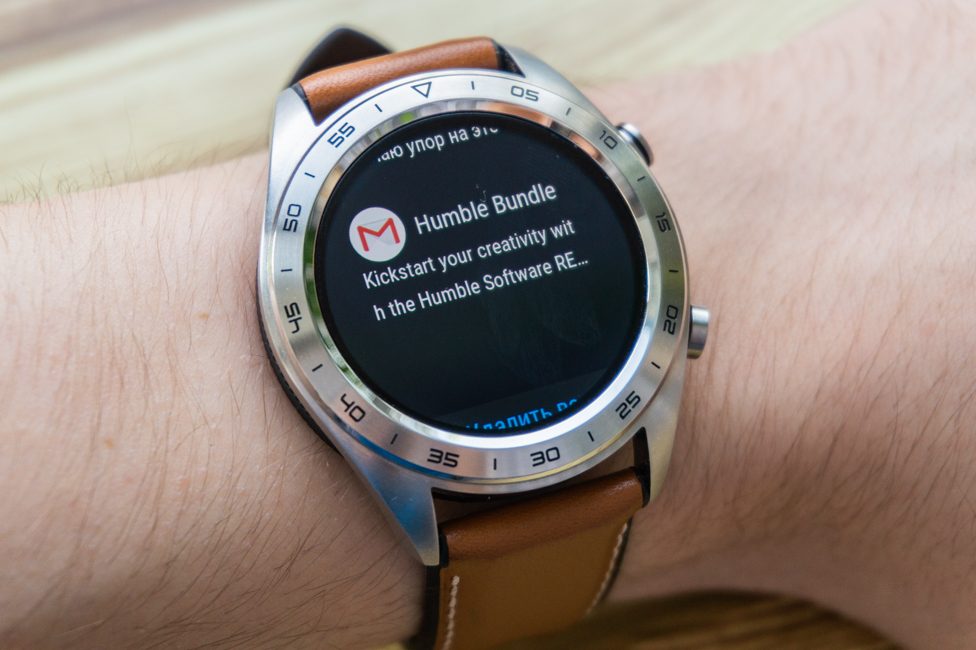 An interesting feature is that when the message arrives, the watch vibrates, but the screen does not turn on (if it was turned off). To see the text you need to turn on the display. So yes, you have to do an additional action, which is not great. But there is a plus – in public transport nobody will read your message.
The watch notifies about the incoming call and displays the name and number of the contact, and if it is not in the contact list, just a number. You can simply reject this call or ignore by pressing the button – the watch will not vibrate, but the call will not be reset on the smartphone.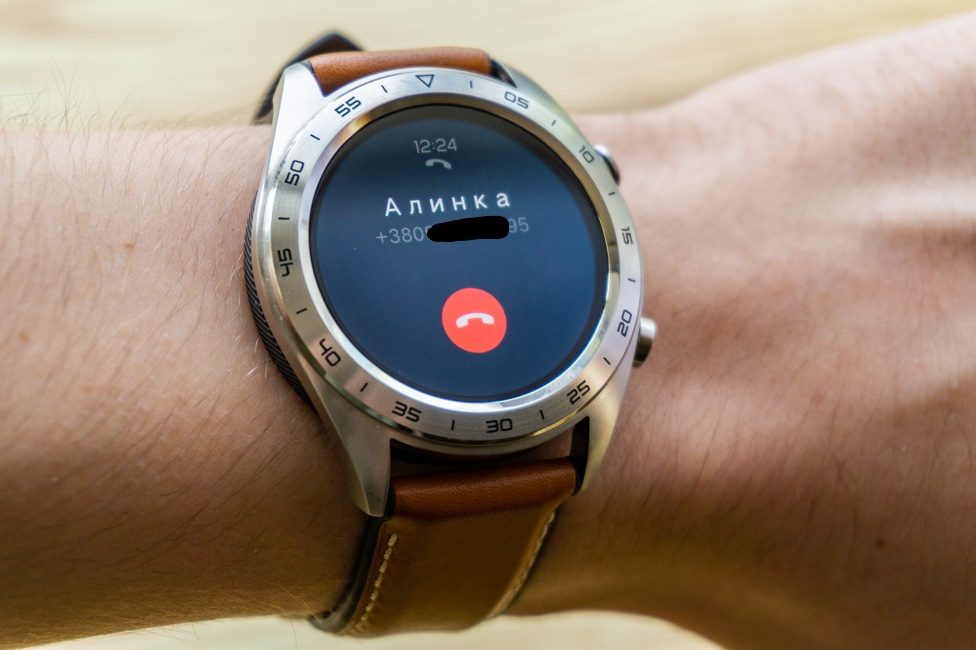 But back to the other elements and menus of the interface. Swipe down to open some kind of a notification curtain. There is a Bluetooth icon (blue – connected, gray – no connection with a smartphone), the icon and the number of the battery charge, as well as the month, day and date. Do not disturb – the watch will stay silent. It will not vibrate, and the screen can be turned on only by pressing a button. Display time – the screen will be lit continuously for five minutes. Searching for a phone is simple; a relatively loud melody starts playing on a smartphone. Block – the screen will not respond to touch. To exit this mode, hold down the lower physical button for a couple of seconds. And onto the last button with the settings.
There are only 4 points. The first with a screen – you can select the watchface or set the brightness. Do not disturb – the on/off toggle switch, and plan – with the active toggle switch, additional items will appear in which you can specify the start and end time of the mode. It is useful: at night you do not want the vibration of the notifications to wake you up. System – three buttons that do not need an explanation: reboot, shutdown and reset. The last item of settings is the menu with information about this gadget.
Now go to the main list of functions. The first are training: running courses, then running on the street or a treadmill, walking, hiking, cycling, exercise bike, swimming, as well as triathlon and "free training."
Each of these items (except the first) has settings: for example, goals (time, calories, distance and similar things), and also in some you can turn on or off additional pages with specific data that may not fit on the main screen running training. All settings are specific and depend, among other things, on the type of activity. Plus – there are a lot of them and it will take even more time to describe everything. So, we'll close the issue with trainings, but believe me – here it's all right. The second item with records contains information about the last workouts. You can watch some data right on the clock after playing sports and you do not need a smartphone for that.
Pulse – when pressed, it is immediately measured and the result is displayed on the screen, or the information is simply displayed if round-the-clock monitoring is active. Activity – in fact, the same rings that are in the main menu next to the watchface. You can swipe up for more information. Sleep – everything is also clear, minimal information.
The barometer is simple and straightforward; a swipe up opens the altimeter screen. The compass is obvious. The stopwatch includes the current time as well, which is convenient. The timer is correctly implemented – 1 minute, 2 hours or manual setting. Alarm clock – enable or disable ready-made presets that are installed in Huawei Health app. By the way, the vibration in Honor Watch Magic is good, never failed and woke me up on time.
Flashlight – white screen at maximum brightness.
Verdict
At first I wanted to create another chapter about my time with Honor Watch Magic, but all that's already been said is enough already. Now let's decide who should get this smartwarch – or the advanced fitness tracker, if you wish.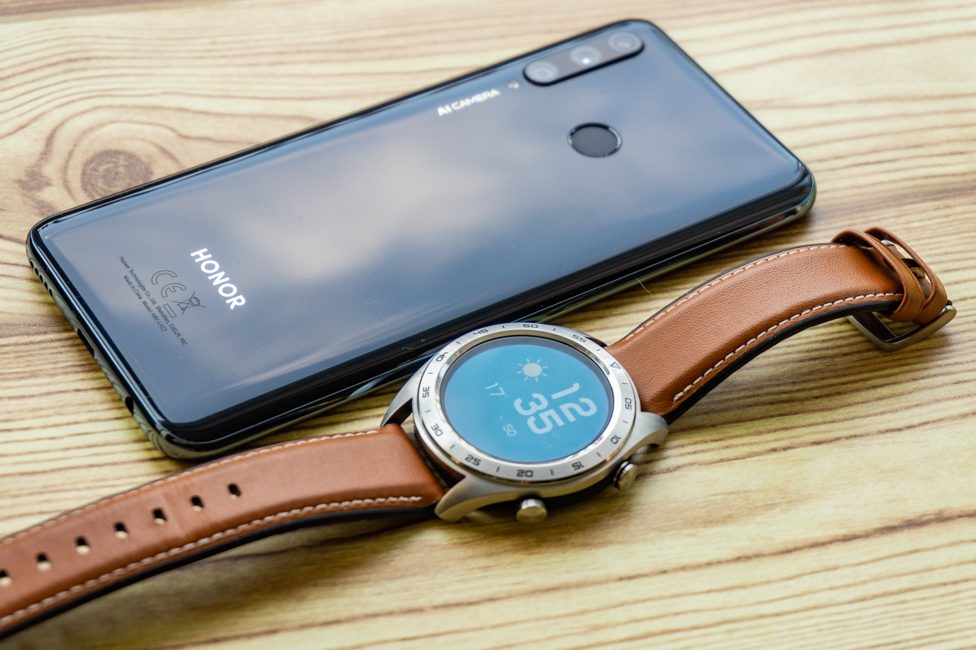 First, the design. It certainly makes you want to buy Honor Watch Magic. The watch looks fantastic and classy, has good build quality and is comfortable to wear. The fitness features are also pronounced. If these things all matter, you can surely buy the watch. Honor Watch Magic also has good battery life.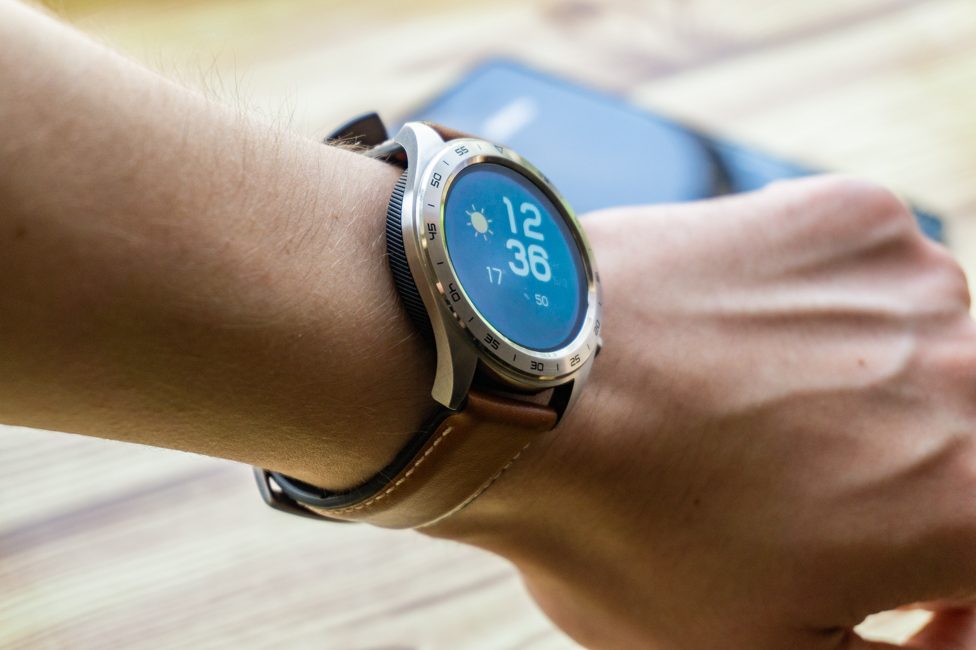 But if you look for a functional complement to a smartphone, Honor Watch Magic is not the best choice. A lot of features are lacking: no weather forecast, no way to react to notifications. You can't do a thing without the phone. Controlling the player or the camera? There's nothing.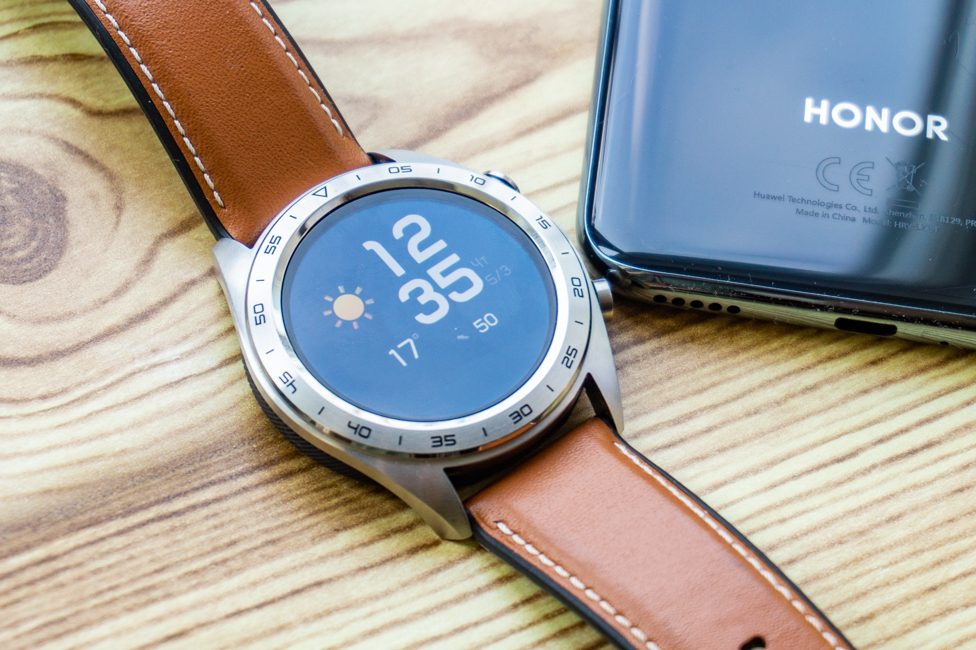 So, the watch has problems with functionality. There's certain potential, but right now we can only guess what Huawei will implement next.