In order to develop their bodies, athletes and just fans of healthy lifestyle wear weights on each of their limbs, from 2 to 5 kilograms. And due to the fact that the weight is evenly distributed throughout the body, the muscles develop, but with almost no fatigue. You know, Huawei Watch GT for a week has become my weighs. It was a burden, which is now very difficult to part with. And now I will tell you why, and what you need to know before buying it.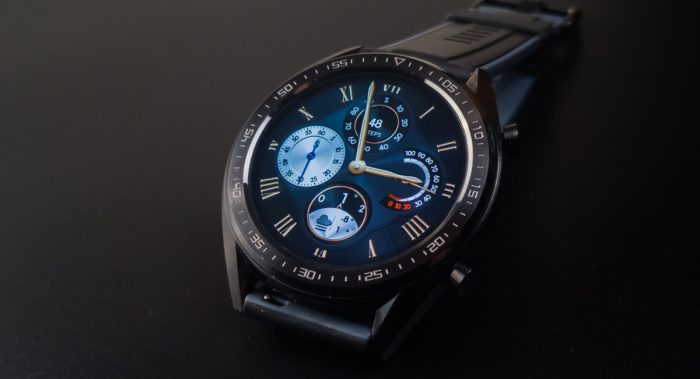 Positioning
If you are a person who appreciates first of all relevance and/or prestige, then at the time of writing the review, Huawei Watch GT will be ideal for you. This is one of the most, if not the most expensive model from the company, which costs about $250. It was introduced along with Huawei Mate 20 and Huawei Mate 20 Pro, and these are the current flagships. Prestigious, stylish, fashionable.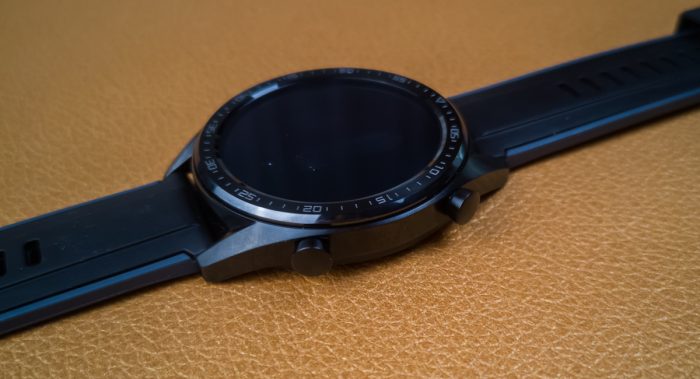 What's in the box
I will not say anything about the box, since the review copy was bundled only with a charging stand, even without a cable and a power adapter. For the sake of fairness, I'll say that the stand is pocket-friendly and convenient and is powered via the USB Type-C connector.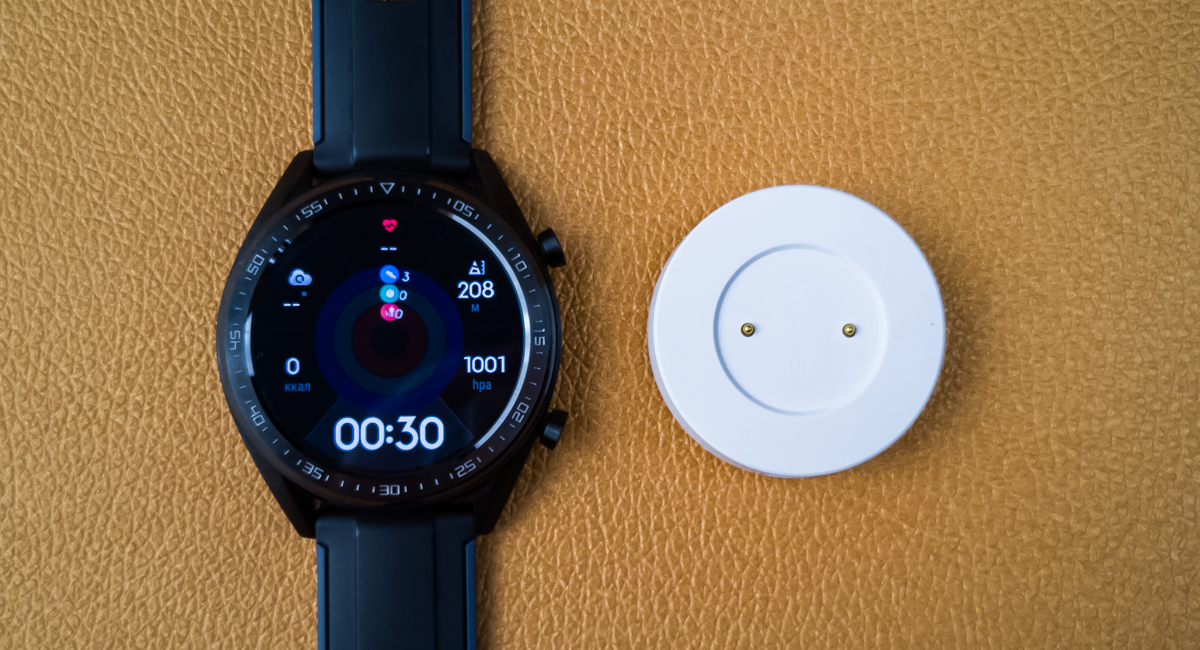 Therefore, if you carry a powerbank with a Type-C cable everywhere, your Huawei Mate 20 Pro will always be fully charged to let you mock the owners of the iPhone as much as possible.
Appearance
Next, the look. In terms of design, Huawei Watch GT is no joke. Traditional in form, style, with two control buttons on the starboard side. No unnecessary details.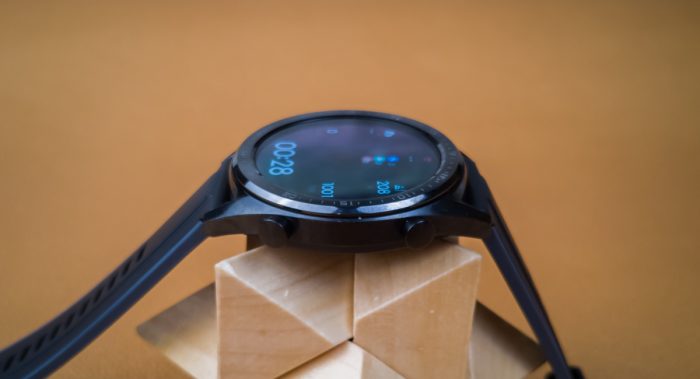 The watch case is made of 316L hardened stainless steel. The frame is ceramic with a diamond-like DLC coating. No, not the one which requires extra money, but Diamond Like Carbon. Of course, the case is resistant to scratches and other potential issues. And everything looks wonderful, and if business style is what you want, this is not the worst option.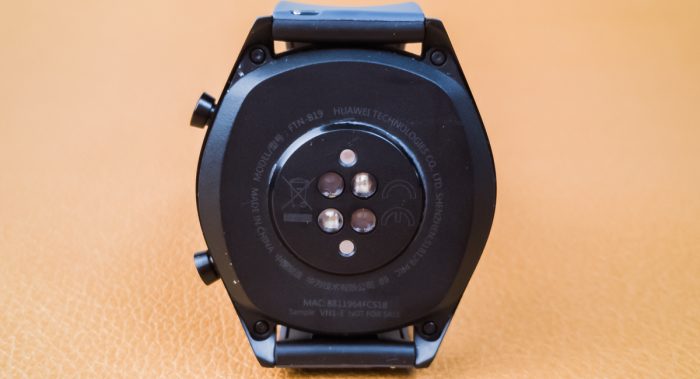 Display
The screen also does not disappoint. I speak as a person who compared it with MyKronoz ZeTime, even if comparing the juicy, crisp SuperAMOLED (1.39", 454×454) in Huawei and the granular TFT in MyKronos is not entirely fair. But given that the price for both models is almost the same, it's not illogical.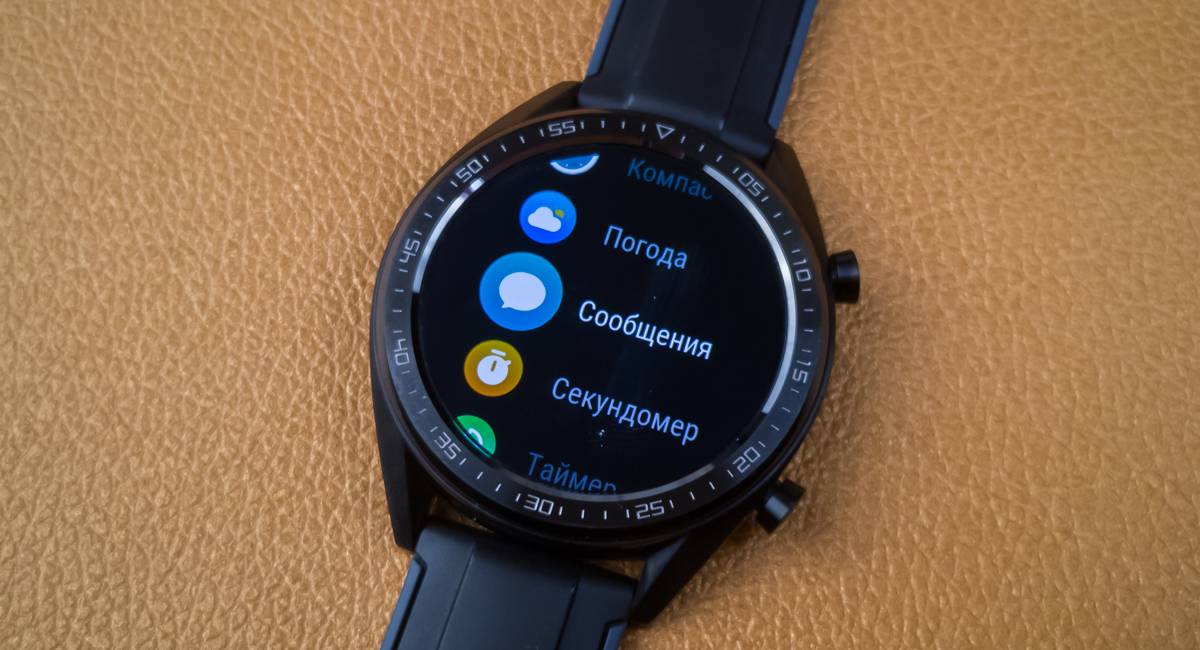 Specifications
In terms of features we have the whole package. A complete set of activity monitoring, with the exception for, perhaps, ECG. Sleep monitoring (TruSleep system), monitoring of various activities, including several types of running, climbing, walking, cycling/exercise bikes and two kinds of swimming… and did I mention IP68 protection?
There is pulse measurement, an altimeter (measurement of height above sea level), and GPS/BDS/GLONASS. The watch can work as a timer, stopwatch, a weak flashlight, a separate alarm clock, a digital compass and even a barometer!
Battery life
If you, like many before you, were frightened by the weak battery life of such devices, namely, one or two, a maximum three days of work without recharging, then do not worry. Huawei Watch GT with adequate use can survive on one charge for a whole week. Well, this is in my experience, although Huawei representatives say about 12 days of active use, and not a day less. Well, I'll reveal a secret – I personally sucked the charge out of the clock with the help of black magic and the Chinese mafia. If you won't fool around like me, you'll be able to get the whole two weeks.
How this is possible? With the combination of a battery with a capacity of 420 mAh and OS Lite operating system, of course! By the way, the watch can be charged in 1 hour and 20 minutes, if you use the standard Huawei P20 charger.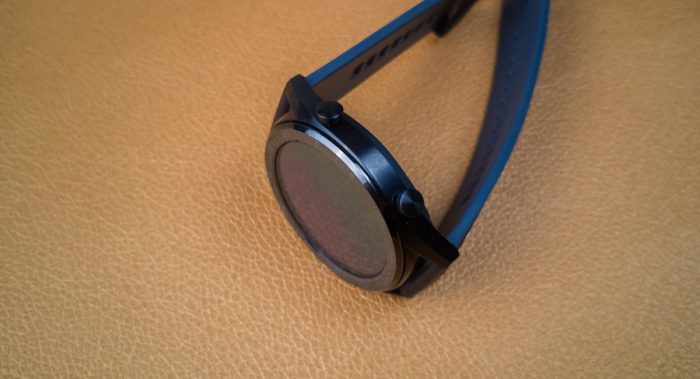 Shell and Software
By the way, about the system. OS Lite is a lightweight OS for smartwatches, optimized for energy saving, but not to the point of being completely featureless. It supports changeable dials, smartphone notifications, weather, incoming call notifications. It can double as an alarm clock.
Read also: Huawei P smart+ (Nova 3i) review – Stylish flagship-like mid-ranger
If you sit too much, Huawei Watch GT will vibrate periodically to remind you to warm up. Raising a hand to view the time also works, and flawlessly. This is in contrast to many of my other wearable devices, like Xiaomi Mi Band 2, which required very elaborate movements on my part.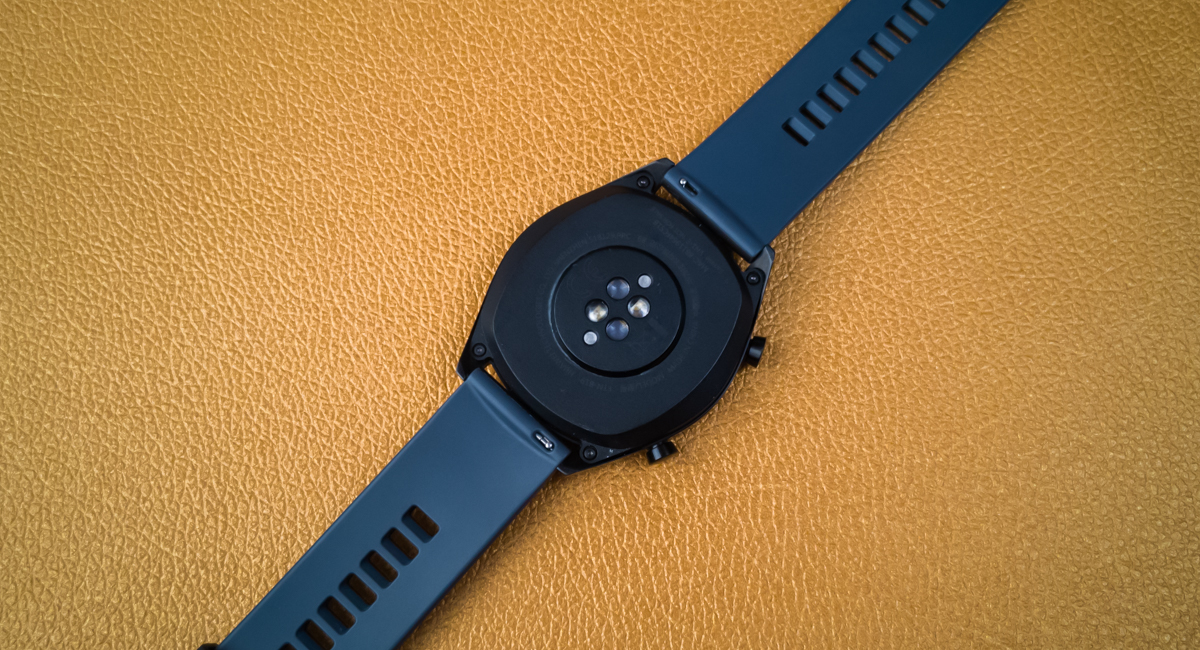 Separately, I was pleased with alarm synchronization, although the vibration could be better. Again, previous experience with similar devices was… unsatisfactory, to say the least. There is also a notification of sync loss with vibration, when the watch loses Bluetooth connection with the smartphone. The smartwatch can help you find the phone if you happened to lose it. Little things like notifications of messages and incoming calls are here too.
Disadvantages
Now the question is – what is missing in Huawei Watch GT? I mean, for the time being. Huawei representatives assured me that OS Lite and the watch itself will get more functions, even those required by the journalists and users themselves! Managing your music player, for example. This is not very useful to me, but my boss needs the feature ASAP.
So feel free to write in the comments what useful features you would like to see in Watch GT.
In addition, working with notifications leaves much to be desired. It's pretty primitive and even the icon at the top is the same for all applications, so it's not quite clear where the notification came from. There are also problems with hyphenations.
In general, it is worth noting that the software is not the final version yet. We have the engineering sample of the device and many things will be fixed by the time sales start.
Huawei Watch GT: Verdict
Huawei Watch GT does it all. It's stylish, smart, attentive, convenient and sturdy. It can be your companion in anything you want, be it mountaineering or a business meeting. The platform will evolve and become even better. I can recommend it to anyone.