As a European living in Canada, I rate football (or "soccer") higher than most things in life. It was never easy for us to enjoy the beautiful game in North America, but in recent years the situation has been changing for the best. As the number of American and Canadian star players started growing, so did the number of fans, and the TV companies took notice. As a result, we now have quite a few streaming options for the fans of EPL, Champions League, La Liga, and everything in between. But when it comes to quality, it… differs.
In my life, I've been to a few countries and tried a few ways to enjoy soccer. The situation is rarely (if ever) perfect, and countries like the UK often offer quality content for a completely unreasonable price. And you can say whatever you want about Sky, but they nailed the presentation and quality long ago.
In Canada, the situation is different.
Two Fubos
As a fan of Manchester United, I am faced with a conundrum. On the one hand, I want to watch all their games live without any issues. On the other, they play so badly that I feel like I should be paid to watch their matches instead (god, I hope that sentence stops being relevant in the future). FuboTV sounded like a good preposition: the streaming service offers every single EPL game with the original British commentary.
Let me start the review by clarifying that FuboTV in Canada is not the same deal as Fubo in the US. While in the States, it aims to replace your cable service, in Canada, it's more of an additional subscription service for soccer-obsessed folk. And while they do offer quite a few channels, most of them are either beIN Sports or their own network. Other than that, there's not much left.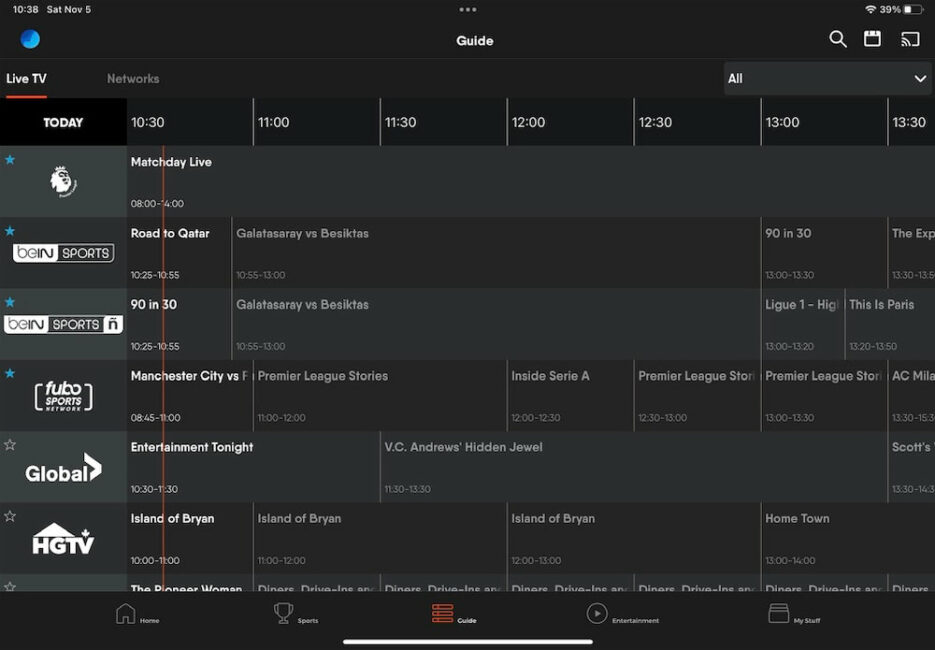 As I said, I was primarily interested in EPL, but in addition to that, I also got the ability to watch all Serie A games (nice) and some matches of the Turkish championship (okay). There's no Champions League, Europa League, or anything like that (DAZN has those). The Essentials Monthly package costs C$24.99/mo and gives you 250 hours of DVR space and the ability to stream on three devices at once. The Premium tier costs C$34.99/mo and includes more channels but nothing for sports enthusiasts. 
Your (only) source of English soccer
Anyways, let's start with the main course. After all, I imagine that most people will buy into the service because of the English Premier League. They have the rights, and if you want to enjoy the best club soccer out there, you don't really have a choice. Fubo has the rights for the 2022-23, 2023-24, and 2024-25 seasons.
First impression? Quite good, honestly. I mainly used FuboTV on my Apple TV, but I also tried it on my iPad Air. The app, first of all, is fantastic. Many local streaming companies offer subpar experiences software-wise (Telus' Pik TV is the worst app I've used in 2022), but FuboTV does not mess around. 100% optimized for use with Apple's distinctive remote, it's fast, smooth, and intuitive. It supports gestures, allows you to watch two channels simultaneously, and the DVR feature works as intended. Honestly, using it has been a blast, especially compared to some of the alternatives.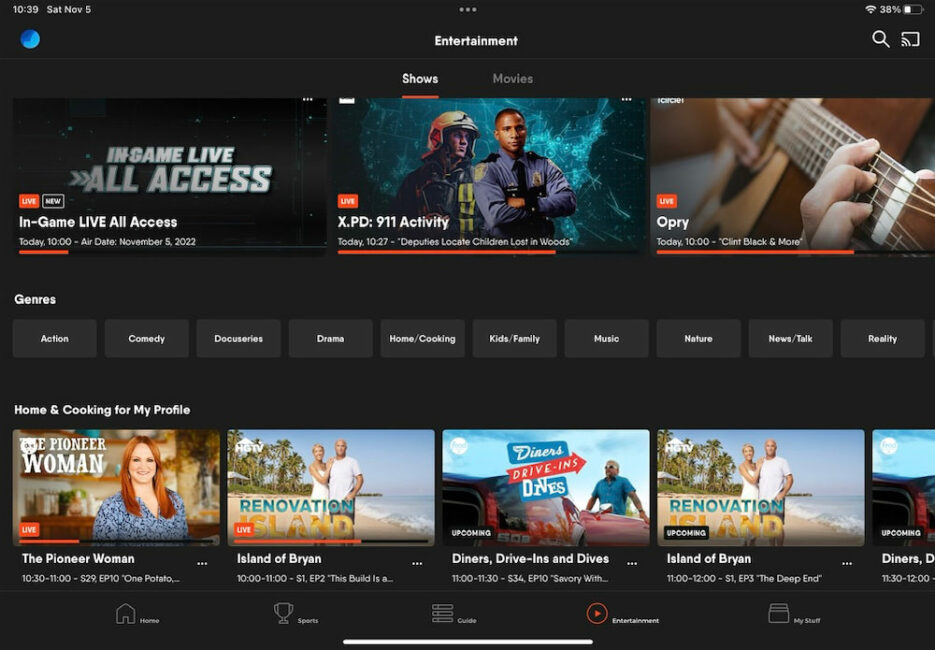 Now, concerning the broadcasts themselves, the situation is direr than I expected. First of all, the quality. In short, it's unacceptable. The resolution barely reaches the 720p mark, and that's about it. Not once did I encounter the FHD broadcast, and you can be sure there's zero UHD content. 
Compared to most countries in Europe, it's a pitiful situation. In most countries, FHD streams became the norm seven or more years ago, and UHD matches stopped being a novelty a few years back as well. And in the US, FuboTV does offer some games in UHD. But not in Canada. And honestly, since we don't even get 1080p, I don't expect 4K to make an appearance any time soon.
Everything else is as you might expect: safe for some rare glitches, and games never had any interruptions or issues. Sometimes something strange happens with the audio, but the glitch never persists.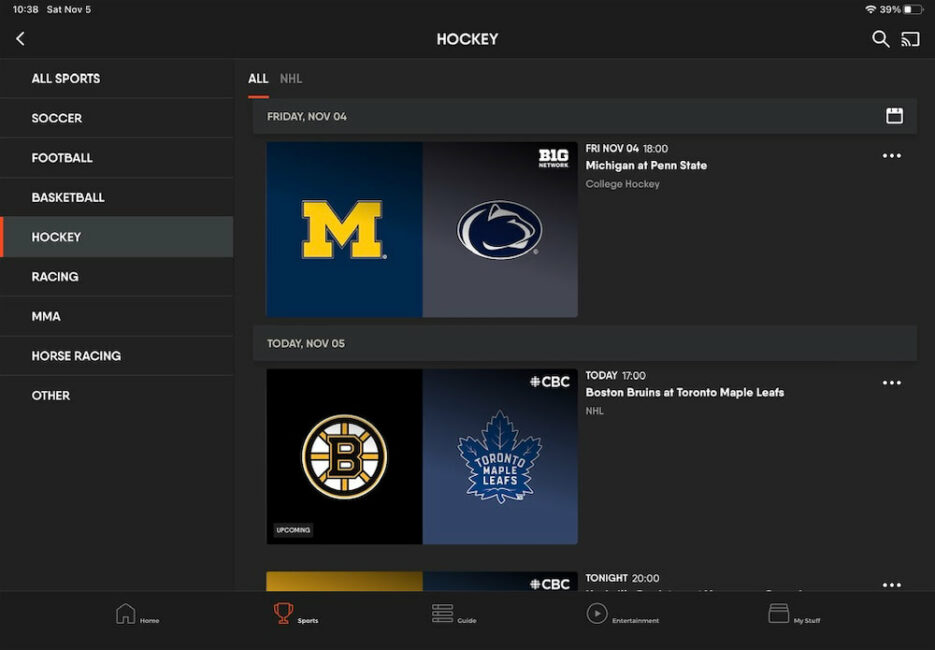 I discovered a funny new development last week: the betting ads started appearing during the games, and those were put by FuboTV themselves. Unacceptable, really, for a service that offers the bare minimum for a price. Remember that there is no half-time analysis (except for the Matchday Live channel), no studio, and no extra content. The service simply relays the official PL feed with no changes — well, except for the additional ads.
Will it get better? Quite possible. FuboTV is still relatively new at this, and its American counterpart offers a lot of the stuff that the Canadian one is missing. But something tells me that better quality will result in higher prices.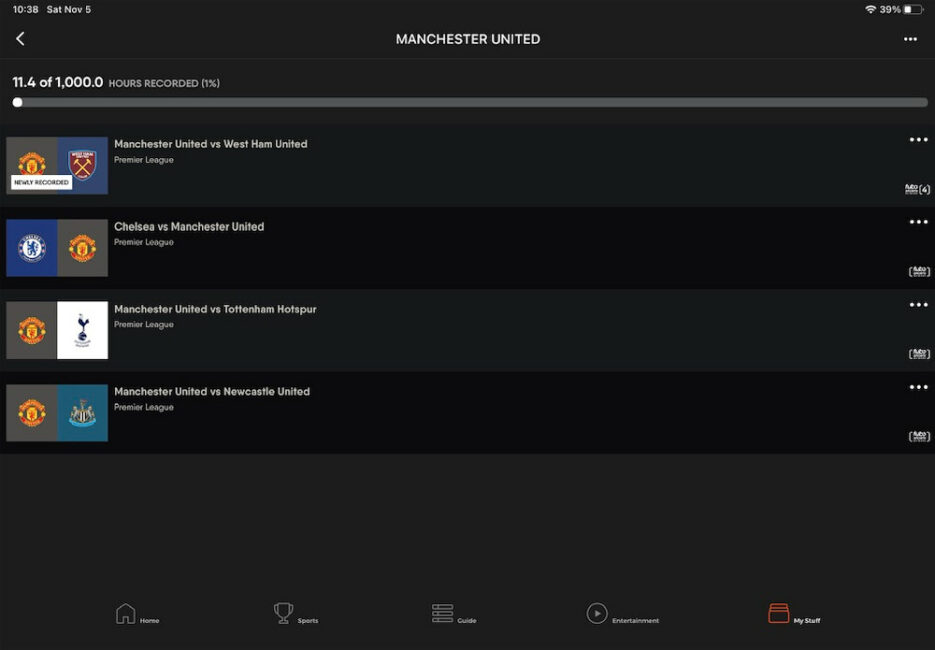 Verdict
FuboTV does some things right: the app is excellent, the stability is impressive, and the price could be worse… if you pay by the year. But the thing is, EPL takes a break in the summer, and this year, the World Cup in Qatar will make a mess of things even more. This means that you will be paying less than for some of the other services, but you'll also get less out of that money.
Overall, it's not the worst option if you want peace of mind and have disposable income. But if we're being frank, the quality just doesn't cut it: watching 720p broadcasts on a 65-inch TV is just not fun. 
You can also help Ukraine fight with Russian occupants via Savelife or via an official page of the National Bank of Ukraine.