On YouTube, the speed of growth is one of the vital characteristics that impact the success of a blog. And along with this fact, comes the question – how to get more subscribers on this platform?
As a matter of fact, the one who wants to increase the number of followers has to think also of retaining the subs that he or she already has. Don't get too excited about buying subscribers as well – this action only serves for attracting new real people, and doesn't substitute them. Thus, grossing more subscribers becomes a complex task. But worry not! In this article, you will learn the essential hacks and tricks for getting note followers in a quick and effective way, even if you have a zero in your channel by now! In addition, you will get some tips for holding on to the audience that you have gained.
BE CONSISTENT
Even the most interesting and engaging content will be a failure if you do not have a proper and regular schedule for posting it. User's patience is not much of a flexible matter, so you will have to find a way to produce new pieces within a certain time period. Usually, it should not exceed a week. Creating two or three videos of different themes or genres within one week is a perfect posting schedule. With this timing you will be able to increase the number of subscribers very fast, as the attention to your channel will be constant. YouTube algorithms like persistence as well. The more posts you upload, the better is the chance to get your videos in the Recommendations.
MAKE VIDEOS LONGER
Around ten to twenty minutes is an optimal length for a YouTube video. This characteristic is affected by the many factors, like the industry that you are occupying, the genre of your videos, your style, and personal preference. However, posting videos that are longer than thirty minutes is not a crucial mistake, but in this case, you should mix your content with shorter films, in order to keep the count of your subscribers growing.
WORK ON QUALITY
Despite the previous tip that claims to make videos often, you must still keep your focus on the quality of your content. Without it, nothing else will save your channel from falling down in ratings. The subscribers that you could get, will leave if you will not take care of what you are producing. As you are beginning the process of gaining followers, you should concentrate on making the best videos rather than on making them on time. Consistency and quality can only work together. Uploading videos on a regular basis is nothing without the hard work that you must do to please your audience.
WRITE A FINE DESCRIPTION OF YOUR CHANNEL
The channel description is a huge instrument to attract more subscribers. Luckily for you, not too many bloggers know about it. The text that you put in that field is a promotion, that helps an occasional user to become your follower.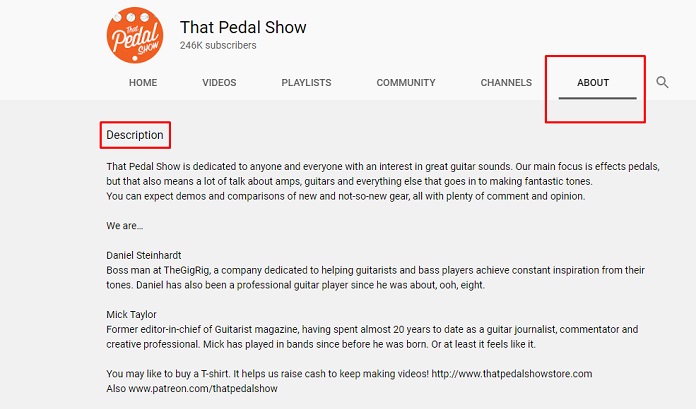 The majority of descriptions that you can find on the platform are short and really boring. Like, "Hi, I am John Doe, and I make videos". Duh! Nobody will feel interested in that. Instead of writing something just to fill in the blank space, you better think of creating a good presentation of your channel and persona. Here are the basic rules for writing a good text, that would help you to gain a bigger audience:
Start with an overview of your channel. Try to fit into one or two sentences.
Proceed with naming your prominent topics. This block can expand to three phrases.
Define who is your average viewer and why would they be interested in your channel. This block is also limited to one or two sentences.
And finish your text by adding a Call To Action to subscribe. You will be surprised by the result of a direct query.
PUT YOUR VIDEOS INTO BUNCHES
Or, in other words, make playlists that will divide your videos into groups by topic or type. This hack may sound a bit strange, but it really helps to gain more followers. The fact is that people prefer neat channels with categorized content. Making a series of content helps to embrace more genres and subgenres of videos, thus expanding the target audience. As a result, we have a fine number of subscribers who wait for a fresh piece of their favorite format.
Hint: use powerful grouping for your playlists. For example, you can make separate playlists for your how-to's and product reviews. This way, it will be easier for people to find what they prefer the most.
BE PROACTIVE WITH YOUR AUDIENCE
In times of high competition, the best idea is to put some effort into communication. YouTube is a social media after all, so engagement is a big power in your hands. People like bloggers who are friendly and open-hearted to their viewers, and they will eagerly become followers to support the creator and not miss his updates. So here's how you can increase engagement on your channel and get more subscribers:
Reply to all the comments that you get
Keep the positive vibe in your communication
Avoid engaging into arguing with your haters
Talk to your viewers, not at them
Be polite
Do not discuss controversial topics, like religion or politics
MAKE IT PERSONAL
Just like any other social platform, popularity on YouTube is based on the personal charm of the blogger. The best way to gain more subscribers who will become a strong community of your fans is just to be yourself. Share your experience, express your opinions, showcase your accomplishments, and do it all in your own manner, the way you like it.
Producing content that you like by yourself, will drive the interest of other people and they will be willing to know more of you. Of course, it is not possible to be a golden coin that everyone will like. But being unique and sincere is what makes an interesting personality that many users will follow.
USE CTA'S
The easiest way to get more subscribers, really. Just ask your viewers to subscribe. But make that not a plea, but an offer. Calls To Action can and should be used in every video you upload. Encourage your viewers to follow you and show their support with that. Celebrating the goals with your followers is a good idea too. You can make up a contest or a giveaway for your subs when you reach a certain number, or add a new format of content as your channel grows. You can ask your followers directly in:
Videos
Description to them
Channel description
Comment section.
Also, don't forget the cross-platform promotion. Use CTA's on other networks that you have as well.
MAKE A TRAILER
Channel trailers are a wonderful tool for promotion and increasing the number of subscribers. With this short video, you can easily pick the interest of occasional users, and even the ones who clicked your profile accidentally. However, remember that this is only a trailer, and your task is to keep the intrigue on. Highlight what your channel has to offer, but don't reveal too much. Also, try to squeeze everything you want to say in two minutes or even less.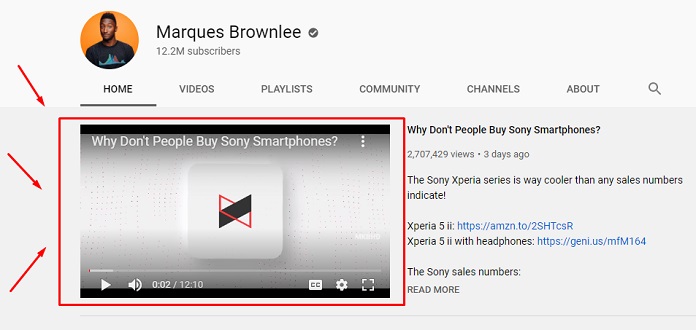 Hint: create a tagline for your channel. Include it into your trailer, along with a CTA to subscribe.
CONCLUSION
Remember that whatever strategy you pick and whatever tips you would like to use, the major part of your success is your personal flair. And the amount of work that you put into the development of your channel on YouTube matters too. Be yourself, invest in gear and editing skills, be attentive to your audience – and you will reach your goal to get more subscribers pretty soon!