Screen capturing tools have made our lives easier in many ways. Students can now handily take screenshots of notes during online lectures or record screens for future references. Business personals can share or cast screens to induce better understanding at any point of online meeting.
The Best Screen Capture Software for PC and Mac in 2021
In a world where Covid-19 has locked us up in four walls and the only mode of connectivity is the internet, screen capture software has proven to be of great significance.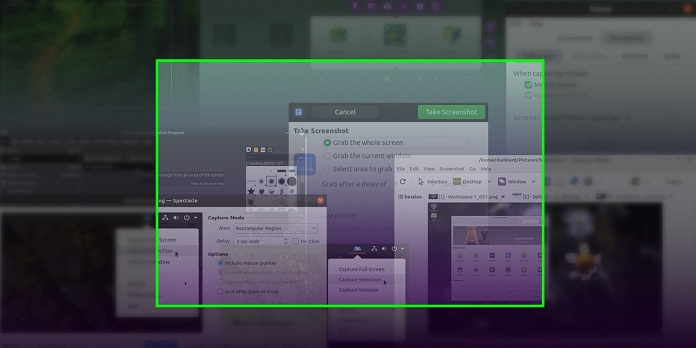 All the PCs offer a prtscn button to take a screenshot anytime but it has limited application. Adding text, arrows, highlighting or quick sharing of images will need extra effort and time if you are using the traditional methods. On the other hand, a screen capture app will allow effortless screen animation and still image capture accompanied by numerous editing features.
The best part is – these software are not priced high and offer regular updates from time to time. With the usage of any of these apps, you will be able to share a personalized picture and video without any hassles.
Best Screen Capture Tools For PC And Mac
Let's explore some of the best screen capture software available out there.
1. Wondershare DemoCreator
Released by Wondershare, DemoCreator is a powerful PC screen recorder for teachers, workers, vloggers, and gamers to create their video projects easily. DemoCreator comes with real-time screen drawing features that allow you to write and draw on the recording screen in real-time.
DemoCreator also embedded AI face recognition technology for webcam recording, automatically recognizing your face and melting it into the screen to make your recording lively. You can also schedule the recording and set your frame rate and resolutions.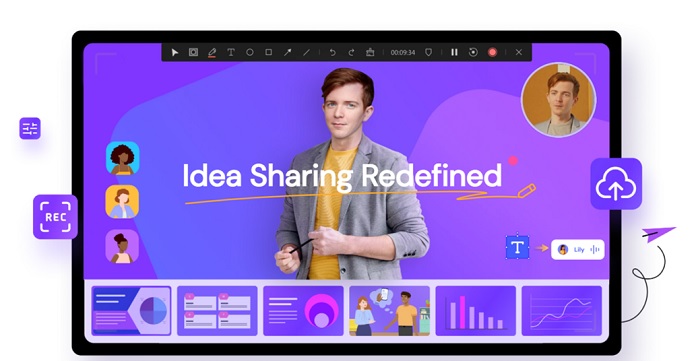 The screen recording software has enhanced game recording mode that automatically detects the gaming application on your computer. DemoCreator now combines DemoAir online recorder and animated explainer video maker Anireel so that you can enjoy the three products in one package at a very reasonable price.
Pros
Set the capture area to Fullscreen, HD, 1:1, custom area, or a specific application window
Support screen recording up to 24 hours
Real-time screen drawing while recording
One-click to capture screen and webcam with audio
Edit video and audio in separate tracks
50+ animated effects on the video clips and 1000+ stunning built-in video effect packs
Cons:
Not compatible with mobile devices
The free version has all DemoCreator features, but the recording time is limited
2. Snagit
Offered by TechSmith, Snagit is an extremely reliable screen capture tool that has survived the market for decades. It is not only flexible but also convenient to use. Equipped with OCR( optical character recognition), it will allow the user to edit tests in the screenshotted image.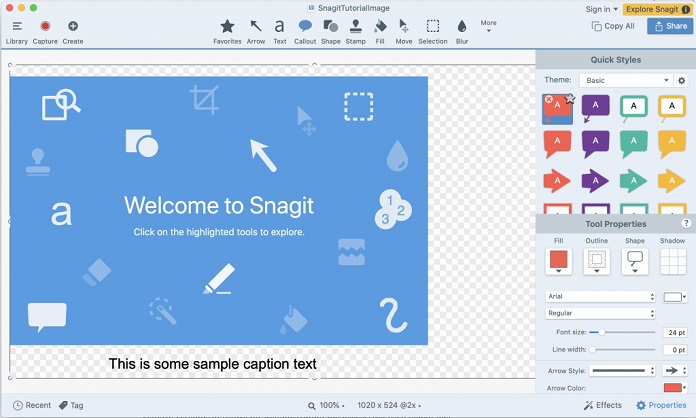 If you are worried about the size of the resultant file, be assured, that too is editable with the help of this software. Some people might question its high price when compared to other competing software but the versatile features and quality outcomes make the software worth every penny spent.
Pros
Supports both mac and windows operating system
Available in multiple languages including Japanese, German, Korean, and English
Capable of taking scrolling screenshots of the full page, both horizontally and vertically
Is easy to use for direct capturing or screen recording task
 Allows using audio with the recordings
Cons
Advanced functions are a little too complicated and might need you to watch tutorials for understanding
Full page screenshot might not provide the optimum clarity if your work requires continuous scrolling
3. Movavi Screen Recorder
Movavi screen capture software is truly an all-rounder tool for all your screenshotting and editing needs. You can schedule recording the screen as per requirement and capture audio and video separately. The best part is, you won't need to look into a tutorial before using this app as it is designed for being super friendly with the users.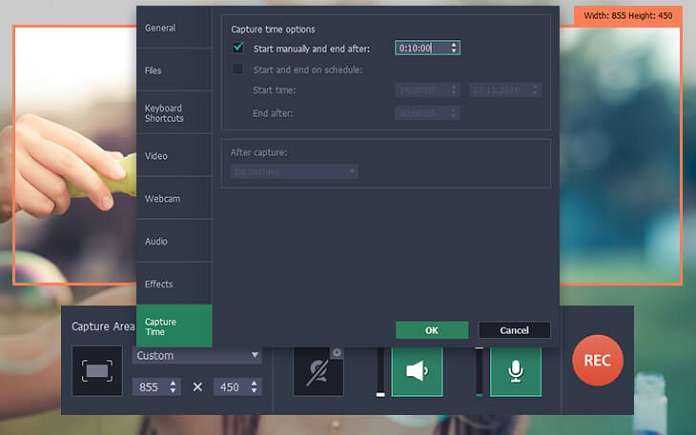 The apps with advanced technology come with a lot of complicated features which at times, do not even seem to have practical utility, but the same is not the case with this Movavi Screen Recorder.
If you are worried about the price, be assured, Movavi offers innumerable discounts from time to time and is definitely worth every penny spent. Perfect for professional use, the purchase will land you a good deal. You can get to know more here.
Pros
Conversion of captured video is convenient and speedy
Multiple editing tools for screenshots
Capable of recording audio and video separately
Date and time setting for initiation of the recording process
You can save clips in 4k or HD quality
Regardless of experience, any user can effectively use this software
Cons
Not compatible with Linux
Purchasing of the full version will unlock more advanced features
4. Tiny Take
Developed by MangoApps, this tool comes free for Mac and Windows. With Tiny Take you can capture screens, cast them and view your history for future requirements. Coming with an effective zoom-in, zoom-out, you can assign custom keys for the screen record and shots.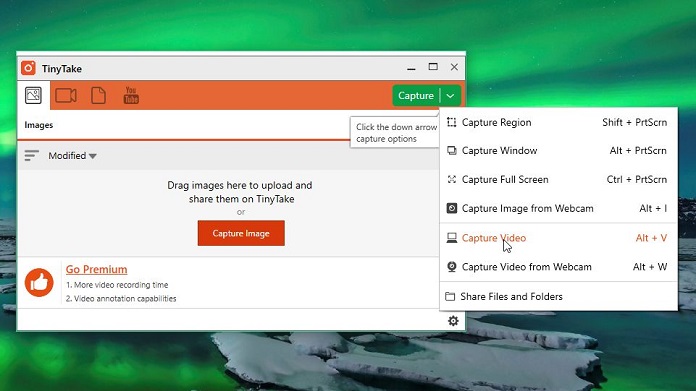 Whether you want to capture the entire screen or only a region of it, Tine Take will allow you the performance of any task without hindrance. The software doesn't hitch like the others and won't need to get shut down frequently to work without lags.
Pros
Allows screen recording up to 120 minutes
You can use the webcam to screenshot or record screen
The tool is safe for proxy servers
Advanced picture editing features are offered
Easy sharing of files created with the help of Tiny Take
Cons
The app is not compatible for Windows OS which came prior to Windows 7 and requires a minimum of 4 GB of physical system memory (RAM) to work
5. Snipping Tool
Snipping tool is a default software that comes built-in the windows visas and other windows OS versions. It has been used for many years now but due to the presence of more advanced screen capture apps, its popularity has lessened. The captured pictures are automatically copied and could be converted into other image formats.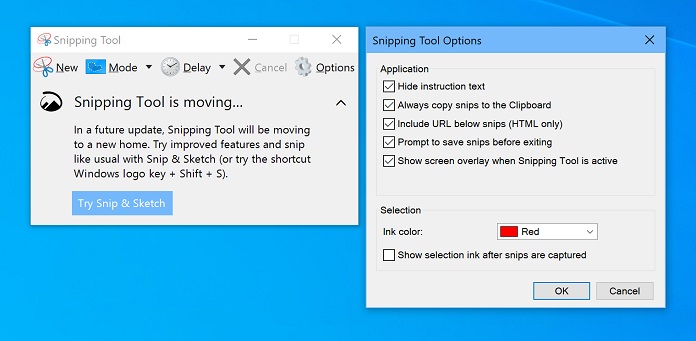 If a simple, easy to use, free screen capture app is your jam, snipping tool might be the best option for you. There are no excessive adverts or updates for this app, making it less complicated.
Pros
4 modes for capturing are offered in this tool
Easy to use
Comes installed in the windows operating systems
Free to use
User can add notes on the screenshots
Cons
Delays the capture to few seconds
Editing options of the captured screen are limited
6. Skitch
Compatible with all Windows and Mac PCs, Skitch is again free of cost capture tool. Manufactured and developed by EverNote, it has a very user-friendly interface. Available for Android and iOS, now you can easily capture screens on mobile phones too.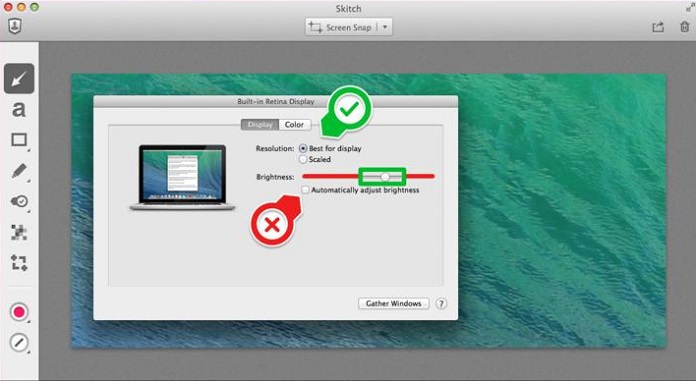 The user is allowed direct upload of captured files on mails and other apps. You can highlight content, insert shapes and arrows and manipulate the image as much as you want with the help of this tool.
Pros
All editing options are given under one menu to find the required tool easily
Comes for Android and iOS too
Easy to install and use
 You can transfer images directly from your device's storage and use Skitch to make alterations.
The software is free of cost and will not deceive you into expensive updates without permission
Cons
More advanced apps are present in the market at the moment, and skitch has a little less functionality as compared to them
Limited number of screenshots available per user
7. Snap
Turn your images into self-speaking masterpieces with the help of Snap. Ashampoo is a well-known company for providing advanced internet-based software to its users. Snap is one such tool that offers ease of capturing screens for their conversion into personalized images or videos.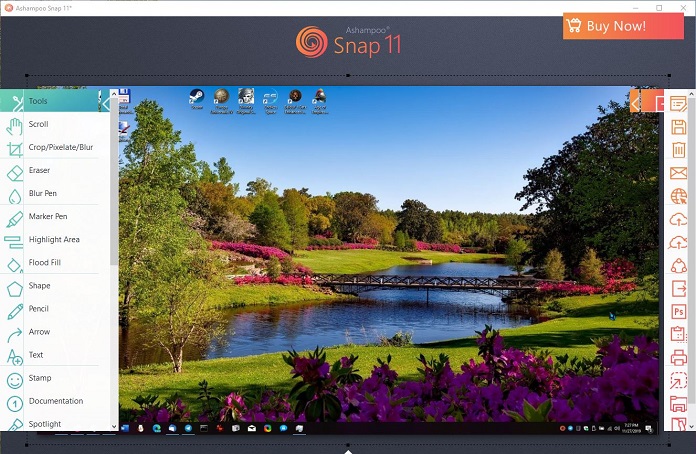 With the user-friendly interface, you get a pixel precision for capturing. With the other tools, it might take you a little extra time in exporting them to other platforms, but Snap makes it all easy and fun. With a single click, you are all set to capture any screen and share it with any audience in no time.
Pros
You can add narration to the captured animation
 Features like highlighting, blur, crop, the addition of comments, and reshaping are on tips.
Safely transports the captured files to any platform
Doesn't use much PC storage
Works for any kind of display and adapts to your settings
Cons
Develops stability issues
The cost might be a little over the budget
Conclusion
Screenshots are not limited to sharing error messages anymore. From sharing memes you find on social media feed to enhancing understanding with personalized images and videos, screen capture has become a vital tool for us.
Above were some of the best-rated screen capture tools for your day to day requirements. However, the list is not exhaustive. Look into the specifications, features, compatibility, file format types, pros, and cons to dredge out the most suitable screen capture software for yourself.