At the end of September, ASUS introduced a new Zenbook Pro 14 Duo OLED laptop with two screens in Ukraine. It features an additional ScreenPad Plus screen that is larger than the previous generation, and it is also the world's first dual-screen laptop with a 2.8K OLED display at 120 Hz. And today we have the opportunity to get to know this interesting device more closely.
It is worth noting that ASUS Zenbook Pro 14 Duo OLED is offered as a solution for artists, so it stands out not only for its screens. Here we have a 12th-generation Intel Core i9, GeForce RTX 3050 Ti for laptops, 32 GB of RAM, 2 TB SSD, and Intel Evo certification. Does it sound intriguing? Yes, it is. Then let's get started.
Specifications of the ASUS Zenbook Pro 14 Duo OLED
Main display: 14.5″, 2.8K (2880×1800), touch, OLED, 120 Hz, 16:10 aspect ratio, 0.2 ms response time, 550 nits maximum brightness, HDR support, DCI-P3 100%, TÜV Rheinland certification, VESA HDR True Black 500, PANTONE Validated, Dolby Vision, SGS, stylus support
Additional display: 12.7″, 2880×864 resolution, IPS, 32:10 aspect ratio, brightness up to 500 nits, 120 Hz, stylus support, matte finish
Operating system: Windows 11 Pro
Processor: Intel Core i9-12900H, 14 cores (2.5-5 GHz), 10 nm, 20 threads
Graphics: Intel Iris Xe Graphics + NVIDIA GeForce RTX 3050 Ti (GDDR6 4 GB)
RAM: 32 GB, LPDDR5, 4800 MHz
Storage: 2 TB SSD (M.2, NVMe, PCIe 4.0×4)
Interfaces: dual-band Wi-Fi 6E (802.11ax) 2*2, Bluetooth 5.2
Camera: up to 1080p, IR camera with ALS/RGB and ToF sensor and support for Windows Hello and AdaptiveLock
Ports: 1×USB 3.2 Gen 2 Type-A, 2×Thunderbolt 4 (with image/power output), 1x HDMI 2.1 TMDS, 3.5 mm audio jack, power connector, MicroSD Express 7.1 card reader
Sound: Harman/Kardon stereo speakers with Dolby Atmos and amplifier, built-in 4-microphone array, intelligent noise cancellation
Battery: 76 Wh, four-cell lithium-ion, 180W charger
Dimensions: 32.35 × 22.47 × 1.96 cm
Weight: about 1.7 kg
Positioning and price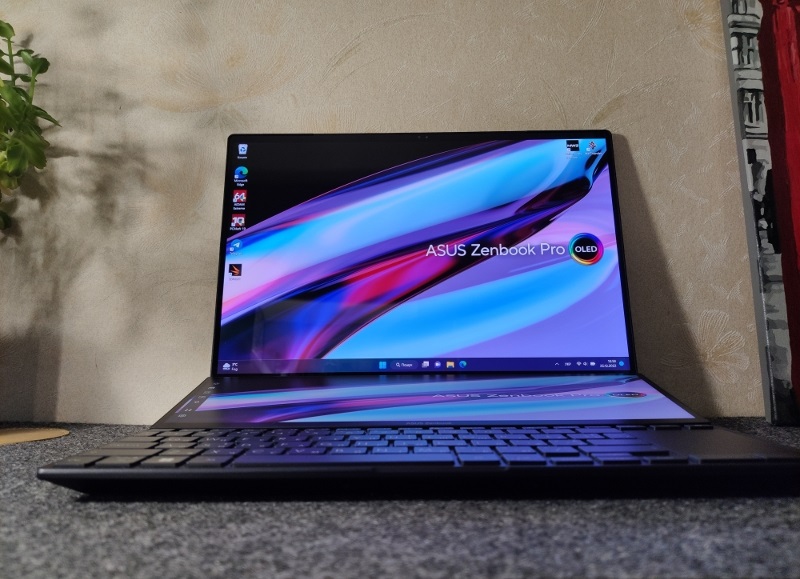 The ASUS Zenbook Pro 14 Duo OLED is positioned as an advanced workstation for creators and anyone who works with multimedia content and resource-intensive tasks. The hardware here is up to par – powerful Intel Core up to i9 of the 12th generation, RTX 3050 Ti, up to 32 GB of RAM and up to 2 TB of storage. And let's not forget about the two touch screens, one of which is OLED 2.8K, and the rather compact body for such a filling. Therefore, the price of such a device is appropriate – we reviewed the most advanced modification and you can buy it for about $3,400. Of course, there are more modest versions and they will cost less, but the order of the numbers is clear.
Package contents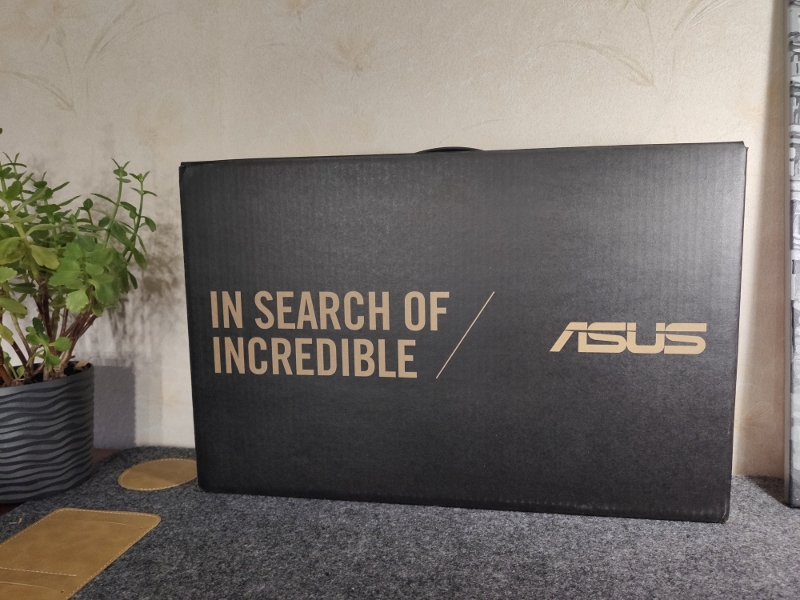 The ASUS Zenbook Pro 14 Duo OLED arrived in a neat cardboard "suitcase" that almost doesn't reveal what's inside without looking closely. Opening it, you can find a more refined package with the main elements.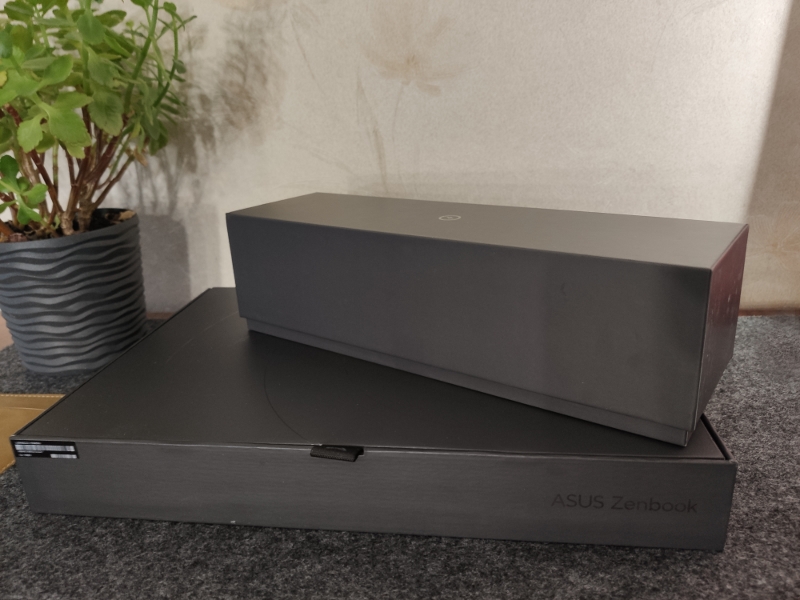 The box with the laptop, documentation, and additional feet looks attractive, and when you open it, the laptop lifts slightly to make it easier to remove. It's impressive, but also convenient.
Another elongated box contains a charger. The power supply here is quite large, as it delivers 180 watts.
There is also an ASUS Pen 2.0 stylus with a charging cable and three removable tips of different "hardness" – H, HB and V. It distinguishes between 4096 pressure levels and supports fast charging via USB Type-C.
The laptop case found its place in the box separately. There are inscriptions with the series name on the front side. It closes with Velcro, and there is also a place inside for attaching a stylus.
Read also: ASUS ZenBook 14 Flip OLED (UP5401) Review: Transformer Laptop With OLED Display
Design
ASUS Zenbook Pro 14 Duo OLED is a dual-screen ultrabook in a matte-polished all-metal case, presented in the universal graphite Tech Black color. It is worth noting that, despite the presence of mobile elements (such as raising the screens when you open the laptop), the design is sturdy and complies with the American military-industrial standard MIL-STD-810H.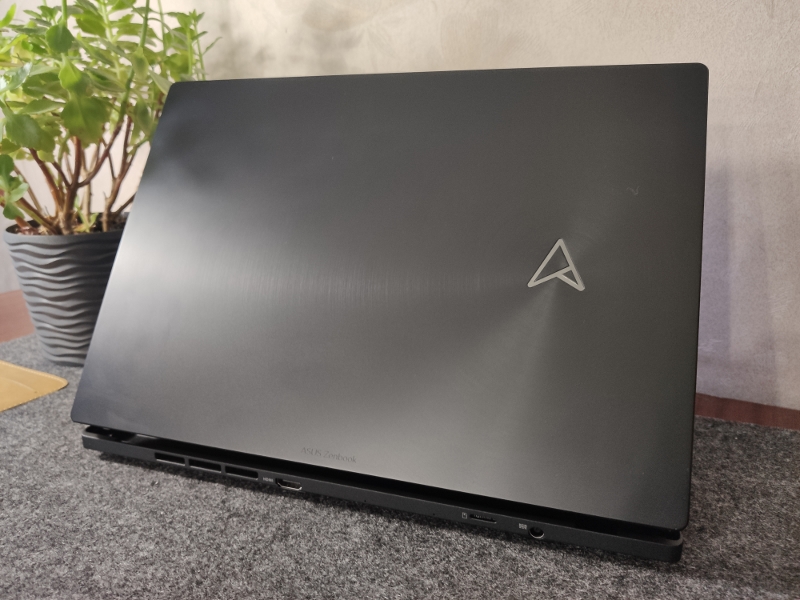 The back cover has an updated logo, which depicts either a stylized letter "A" or an upward arrow (or both). A polishing ring spreads out from the logo like a ripple on water. There is also a barely noticeable name of the line – "ASUS Zenbook". Although it is stated that the case material does not collect fingerprints, in practice you will have to wipe it quite often.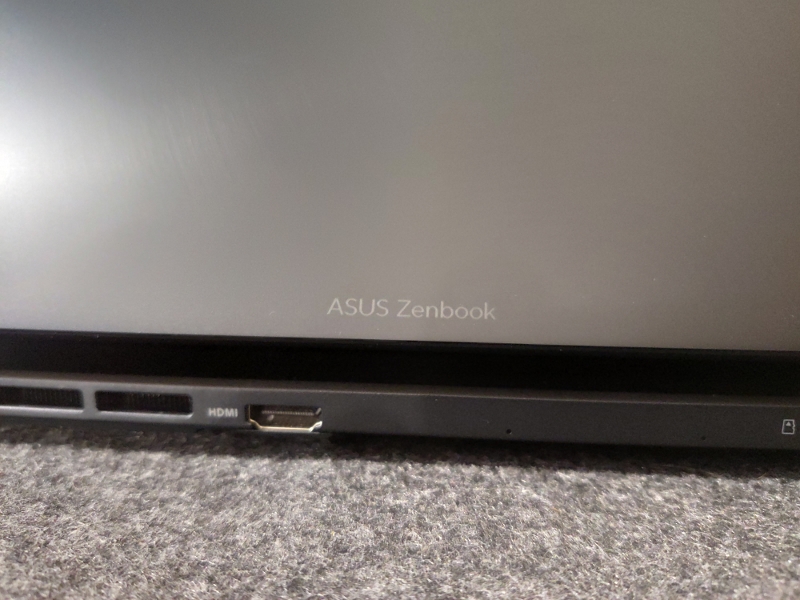 Turning the laptop over, we see neat perforations for the cooling system. Around the grille there is a protruding frame that serves as legs, which is complemented by another leg almost the entire length of the laptop from below. By the way, this frame is there for a reason. It comes with a pair of additional legs, which can be used to raise the back of the laptop a little more and make the angle more comfortable for the user. According to the instructions, they are attached to the double-sided tape within the same frame, on both sides of the air intake grille.
You can also see symmetrical speaker grilles, technical markings and inscriptions "Sound by Harman/Kardon" and "Dolby Vision Atmos" on the bottom and side.
And now let's open the ASUS Zenbook Pro 14 Duo OLED. First of all, of course, the two screens and the location of the keyboard with touchpad attract attention. The additional ScreenPad Plus screen conveniently tilts towards the user with the help of hinges that allow the panel to be raised by 12°. The main screen is not attached to the laptop base, but to the same hinges.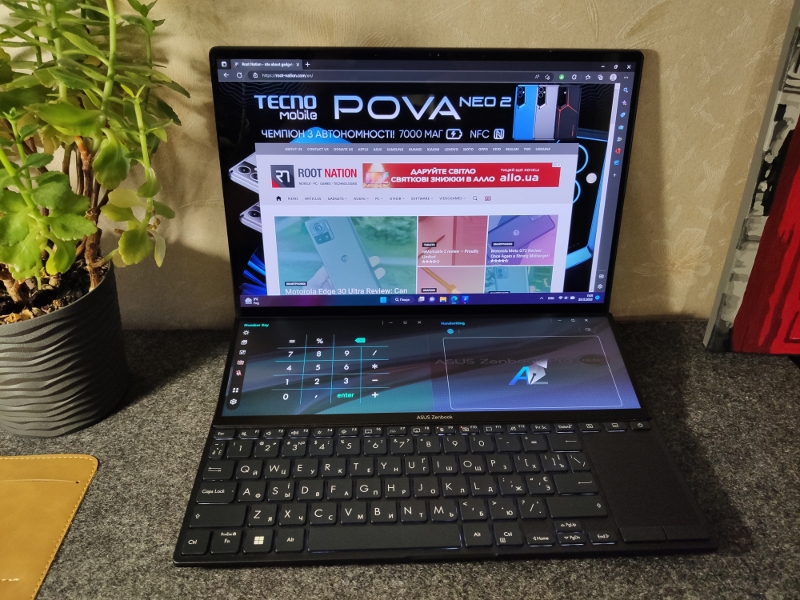 This allows, on the one hand, to slightly raise the main screen, on the other hand, to reduce the distance between the main and secondary displays, and on the third hand, to improve the cooling system by increasing the distance between the computing part and the screen.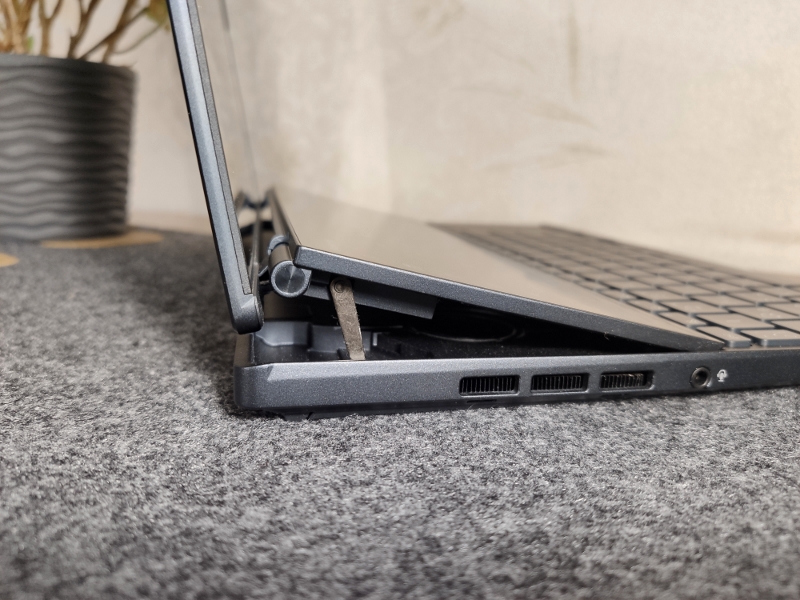 This mechanism is called Active Aerodynamic System Ultra. However, the disadvantage of this design is the possibility of foreign objects getting under the screen, so you need to watch out for this before closing the laptop. And dust will also collect there over time.
The hinges have a relatively tight stroke and perfectly fix the screen at the right angle. In general, the design is reliable, there is no backlash, no creaking – everything is as it should be in a top-end device.
The additional screen takes up almost half of the bottom panel. The bezels around it are neat, the lower one is slightly wider and has the name of the line on it. The keyboard and touchpad take up all the remaining space. The touchpad with additional buttons is moved to the side, under the right hand. In fact, this arrangement is very successful and I liked using the touchpad very much, but we will return to this in the corresponding section of the review.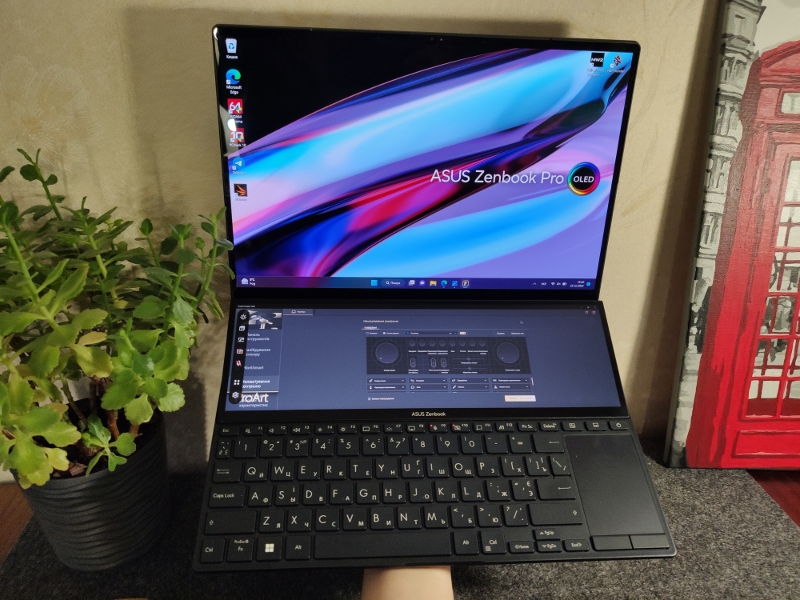 It remains to take a closer look at the main screen. The display occupies 93% of the panel, so there are really thin bezels on the sides and slightly wider at the top and bottom. On top you can see a number of sensors (light and ambient color/temperature), microphone holes, and camera modules – the front-facing and IR sensors with Windows Hello.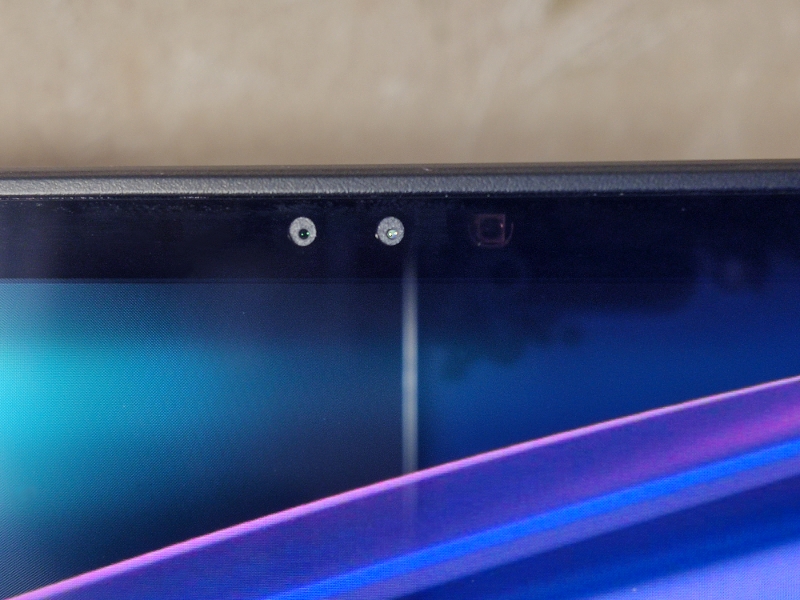 Connectors
On the left side, there is a triple grille for warm air outlet and a 3.5 mm audio jack.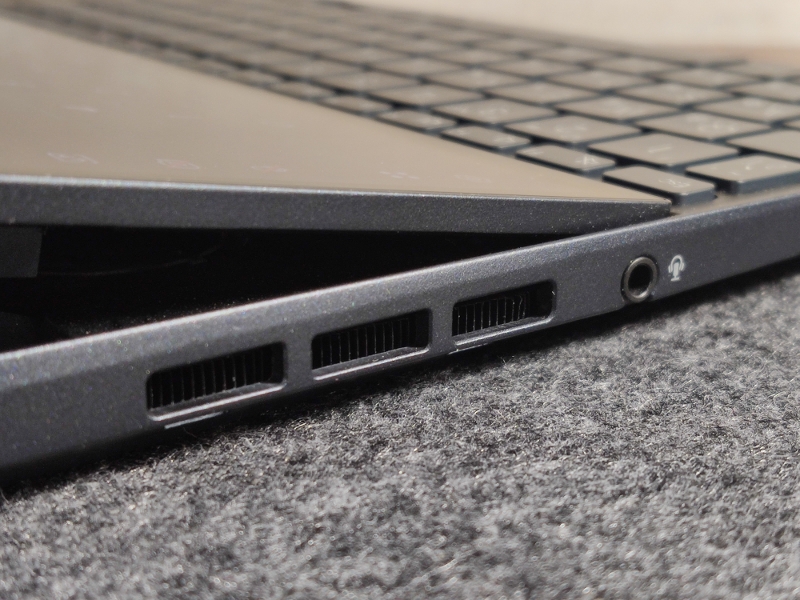 On the right is a charge indication, a pair of Type-C Thunderbolt 4 and a single USB-A.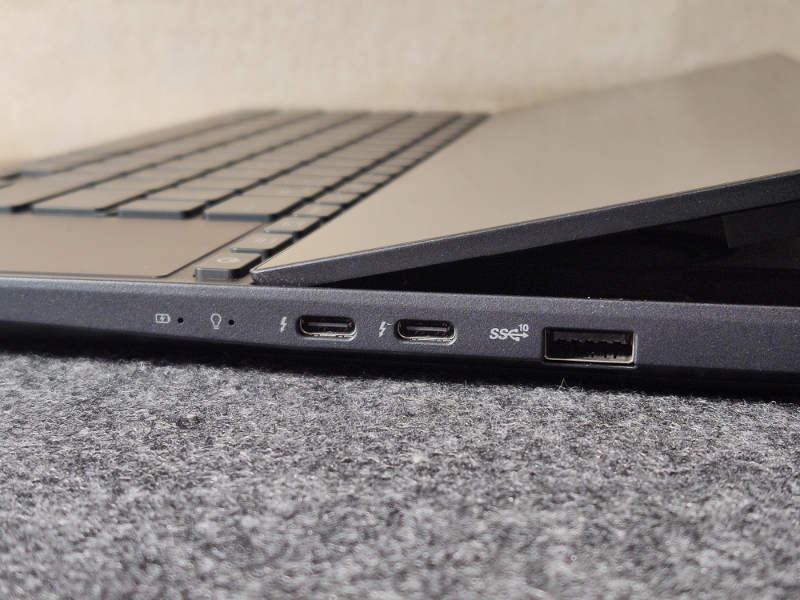 There is nothing on the front except a small step that makes opening the laptop more convenient. At the back is the main cooling grill, HDMI, a pair of rear microphone holes, a microSD slot, and a charging port.
Читайте також: Asus ROG Strix SCAR 17 SE (2022) Review – The "You Can" Laptop
ASUS Zenbook Pro 14 Duo OLED displays
It is so unusual to write about a laptop and talk about the display in the plural. But, yes, we have two screens here and this is one of the key features of the review model. So let's start with the main screen.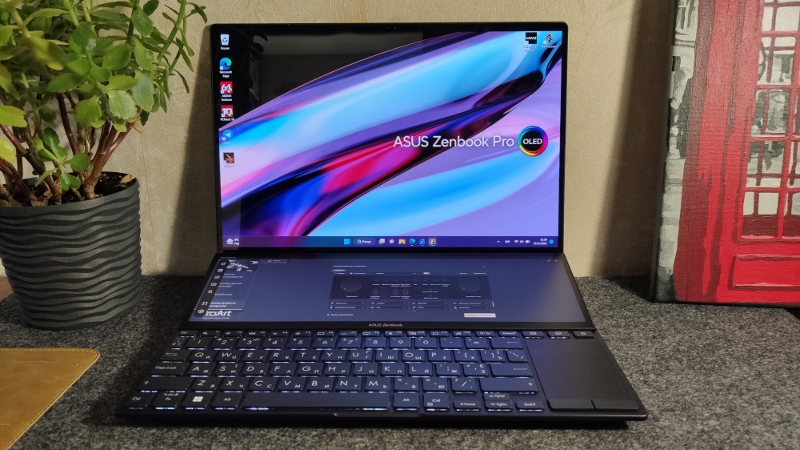 Here we have the world's first 14.5-inch OLED touchscreen with a resolution of 2880×1800, a refresh rate of 120 Hz and a response time of 0.2 ms. Perhaps 120 Hz is not a very impressive figure in our realities, but the secret lies in the screen technology and response speed. According to ASUS, 120 Hz OLED will provide a smoother picture in dynamic scenes than 165 Hz on IPS. Unfortunately, I have nothing to test this on, at least visually, but when it comes to smoothness, the ASUS Zenbook Pro 14 Duo OLED screen is incredible. When watching videos or playing games, the physics of the image is so natural that sometimes you forget that you are actually looking at the display. And then there's the contrast and color depth that is inherent in OLED matrices… What can I say, after such a screen, it's not just sad, it's very sad to go back to my IPS with a basic 60 Hz. The display here is simply out of this world.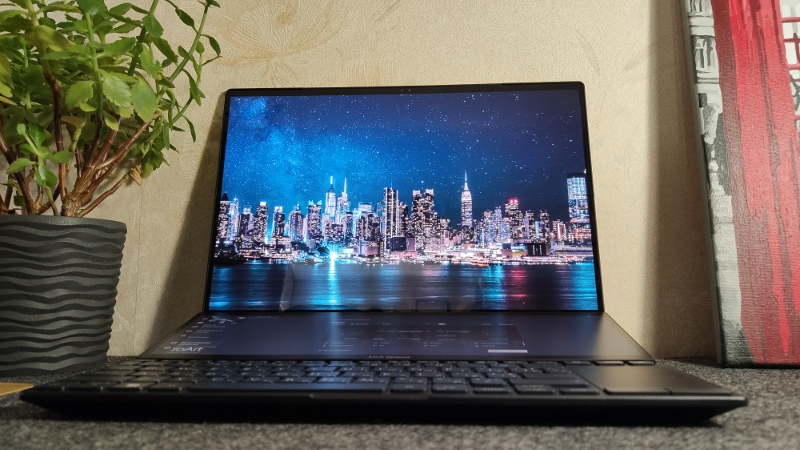 Let's get back to its other parameters. In addition to the fact that the color reproduction and frame rendering speed are excellent, the screen is also touch-sensitive, supports stylus operation, has an aspect ratio of 16:10 and a maximum brightness of 550 nits. I haven't used the device outdoors, but it's bright enough for indoor use with a good margin. I also liked the fact that at minimum brightness the OLED matrix is barely illuminated at all. It happens that you need to run some long process on a laptop and, so that the screen does not interfere, turn the brightness to the minimum. With IPS, the minimum backlight is still not dark enough, but here it's perfect. The laptop can stand right in front of your nose and not distract you from other activities, and you can still watch the progress on the screen out of the corner of your eye. And the adaptive brightness and color temperature feature is just top notch.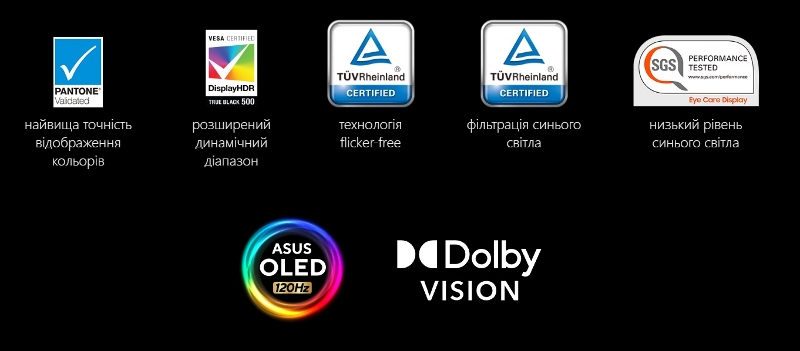 There is support for HDR and 100% coverage of the DCI-P3 color space. The display has collected a whole stack of certificates. TÜV Rheinland and SGS certification testifies to the reduction of blue radiation, Dolby Vision and PANTONE to color accuracy, and VESA HDR True Black 500 to color depth and "true" black. In short, the main display is top-notch and sets a really high bar for competitors.
ScreenPad Plus
The additional panel is a 12.7-inch IPS screen with a resolution of 2880×864, IPS, and an aspect ratio of 32:10. It also has a 120 Hz refresh rate and supports stylus operation, its peak brightness reaches 500 nits, and it has a nice matte finish.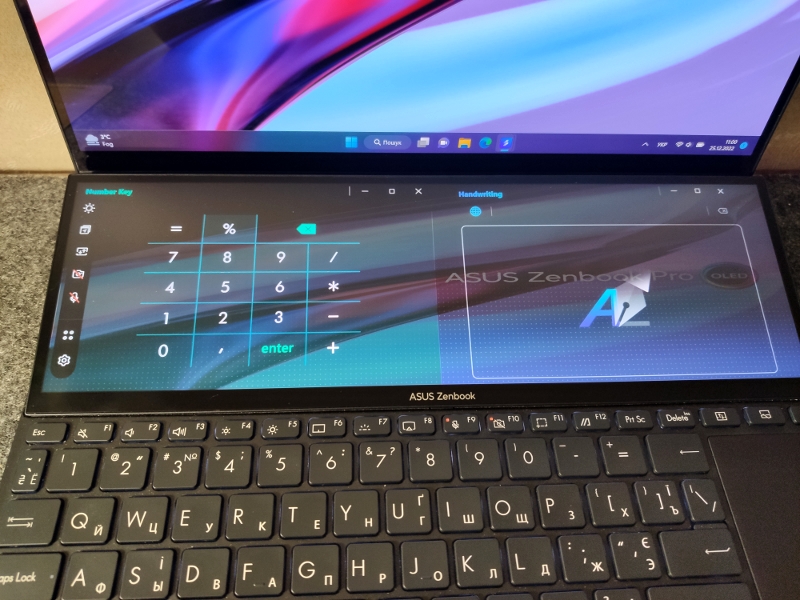 The screen is equipped with ScreenXpert 3 software and has a number of pre-installed tools that allow you to adapt the display to a variety of tasks. Thanks to the software, you can conveniently divide both screens as you need at the moment. The maximum number of windows for ScreenPad Plus is three. And it is really very convenient.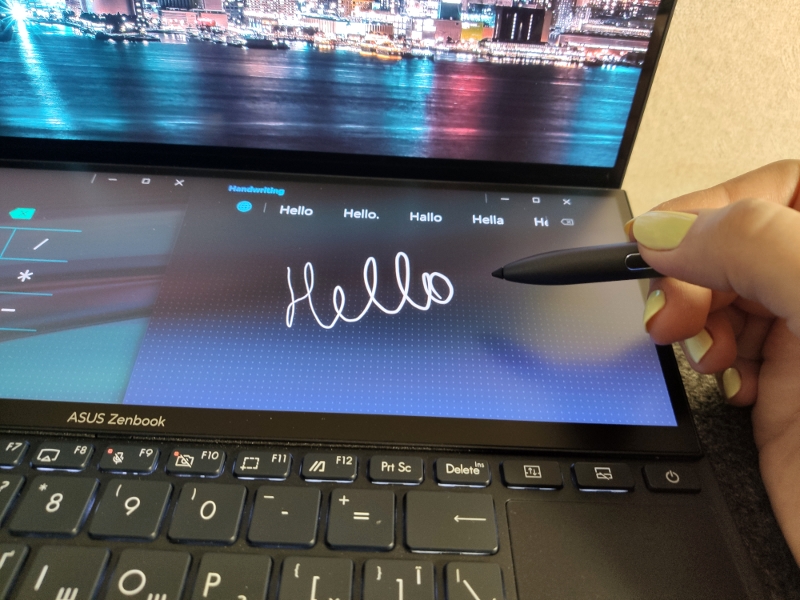 While you're working on the main screen, you can flip your messenger and music app to the lower screen to split your work and leisure time between screens. You can turn ScreenPad Plus into an additional touchpad, a digital pad, or a place for handwritten notes, use it to view the front-facing camera during a video call, display a timeline when editing or processing video, or use it as a toolbar for working with music or graphics editors. By the way, the control panel is currently compatible with such popular tools as Photoshop, Illustrator, Lightroom Classic, Premiere Pro, and After Effects, and the number of tools will only increase in the future.
The use cases for dual screens are endless. For those who are used to working with two (or even more) monitors, this device is a great option to make the multi-screen experience mobile and take it with you.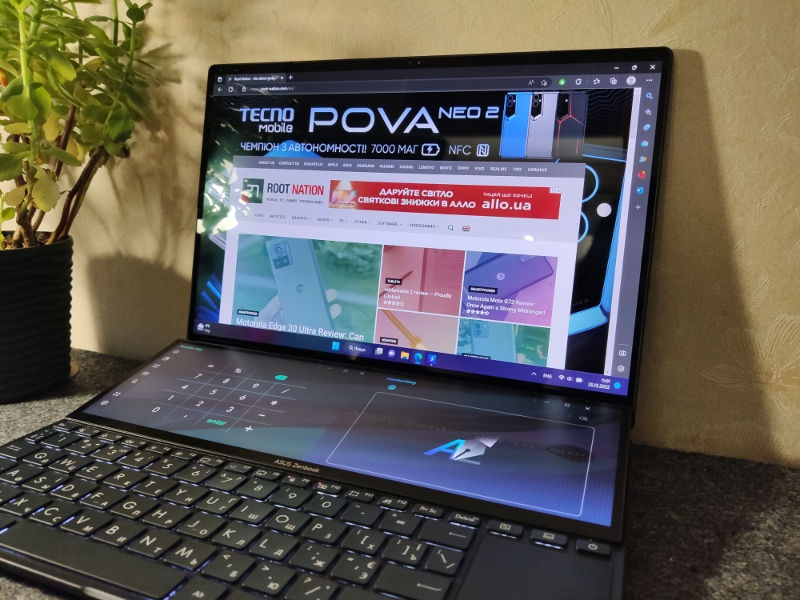 Read also: ASUS ROG Cetra True Wireless Review: Gaming TWS Headphones
Keyboard and touchpad
Due to the presence of an additional screen, the keyboard has been moved down, and the touchpad has been placed to the right of it. It's a very logical and comfortable arrangement that only avid gamers might not like. And, most likely, those who are used to working with a keyboard on their lap. But if you use touch screens in your work, the lap position won't cause any problems at all.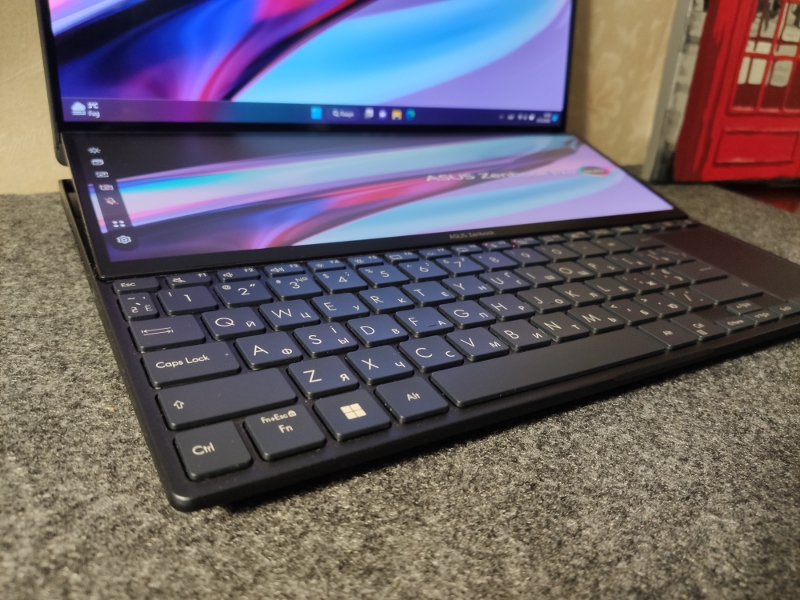 The keyboard here is of island type with a trilingual layout and has a white backlight, which has 3 degrees of brightness. The keys are slightly curved in the center, to match the shape of your fingertips. The buttons have a relatively deep travel (1.4) mm and a pleasant tactile feedback that differs from other laptop keyboards. This is because there is a domed rubber element under each key, which works quieter, but at the same time, more pressure is felt tactilely.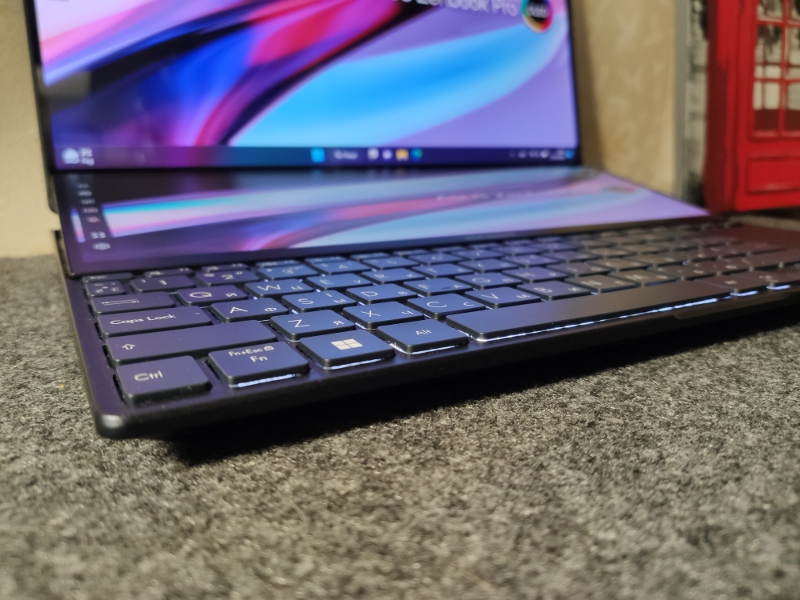 Only the power button is different among all the buttons – it is mechanical and makes a characteristic clicking sound when pressed. This is especially convenient when you try to turn on the laptop in the dark by touch – its "click" cannot be confused with anything else. Next to the power button, there are two additional buttons that can be used to turn ScreenPad Plus on/off or swap windows between the first and second screens.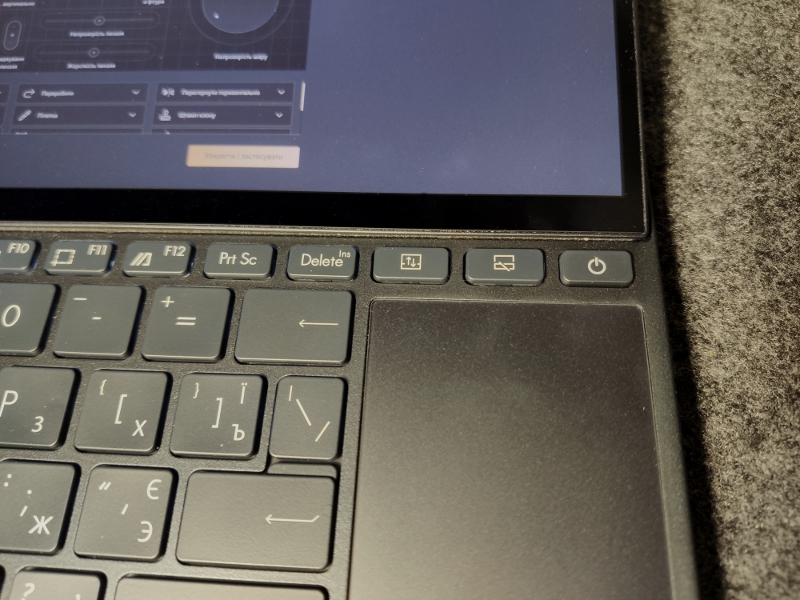 The ErgoSense touchpad is compact and elongated. It has a matte finish and is very pleasant to the touch, and there are no fingerprints on it. Below it are two buttons that function as mouse buttons – left and right, respectively.
The touchpad is located under my right hand, and for me, as a right-handed person, it turned out to be more convenient than the standard location of the touchpad in the middle under the keyboard, as in most laptops. If the mouse was too far away for me to reach, I could easily replace it with the touchpad and didn't feel any discomfort. But it's an open question whether the panel layout will be convenient for left-handed users.
"Hardware" and performance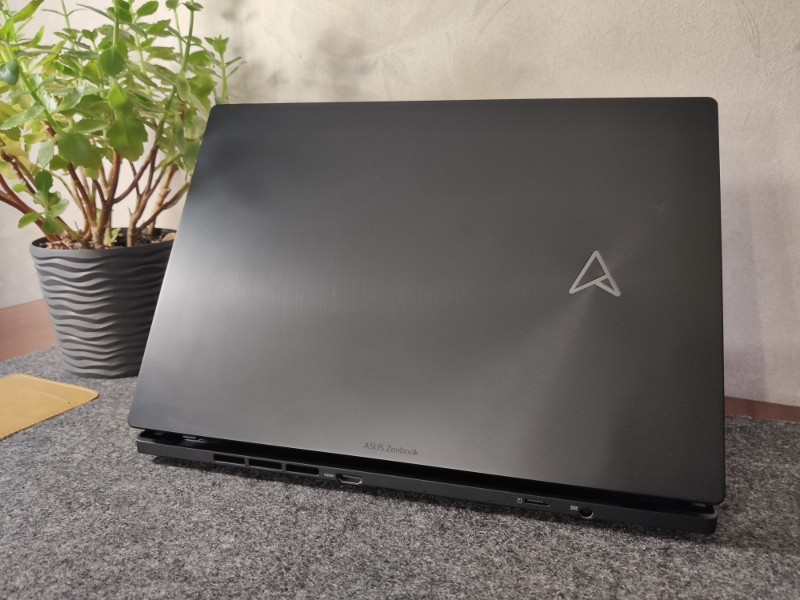 The review modification is the most powerful in the model and its capabilities are really impressive. The ASUS Zenbook Pro 14 Duo OLED is powered by a powerful 14-core Intel Core i9-12900H processor. It is made using the 10 nm process technology, has 6 high-performance dual-threaded cores and 8 energy-efficient single-threaded cores, which gives us a total of 20 threads. The base clock frequency is 2.5 GHz, while in Boost mode it accelerates to 5 GHz. In addition to the built-in Intel Iris Xe Graphics, the laptop is equipped with a discrete NVIDIA GeForce RTX 3050 Ti laptop graphics card (GDDR6 4 GB). The modification provides 32 GB of RAM (LPDDR5, 4800 MHz), and the SSD (NVMe PCIe 4.0) is 2 TB. Wireless connectivity is represented by dual-band Wi-Fi 6E and Bluetooth 5.2, and the laptop in our case runs on Windows 11 Pro.
Even a cursory glance at the device's specifications is enough to understand how powerful the laptop is and how well it matches its positioning. And it is positioned as a mobile workstation for content creators. In addition, the Zenbook Pro 14 Duo OLED has received Intel Evo certification, which further indicates impressive performance, excellent performance, data protection, and support for the fastest interfaces (both wired and wireless), which together provide maximum comfort in work and leisure.
Let's not even talk about office workloads – if you use a laptop in this scenario, its power will be enough for years to come without losing performance. However, it is designed for more complex tasks and it makes no sense to buy such a machine just for normal use. With such a filling, ASUS Zenbook Pro 14 Duo OLED will perfectly cope with creating 3D content, rendering video, mixing and creating music, working with graphic editors and voracious programs used by, for example, architects and designers… In general, this is a very successful combination of hardware and software for all content creators, no matter what kind of content they create.
With games, the ASUS Zenbook Pro 14 Duo OLED is also very good. And even if not all AAA games on it will "fly" at ultra-highs: for example, Red Dead Redemption 2 at 1440p will give out less than 30 fps, and GTA V – about 35 fps. However, projects like Apex Legend can reach 65 fps. And if you lower the graphics quality a bit, there will be no problems at all.
Here you can see the results of some tests.
ASUS Zenbook Pro 14 Duo OLED PCMark і 3DMark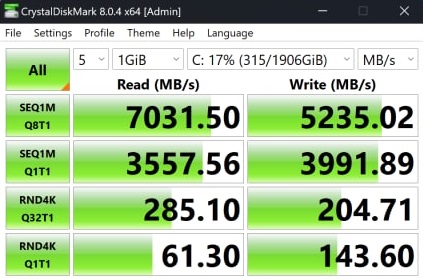 ASUS Zenbook Pro 14 Duo OLED CPU-Z
But there is one thing here – this is not a purely gaming machine. That is, of course, in between work processes on a laptop, you can easily spend an hour or two playing your favorite games, but for long-term gaming, in my opinion, ASUSZenbook Pro 14 Duo OLED is far from the most convenient choice. Just like choosing a laptop like this is more for gaming than for working with content. Still, the laptop format, the presence of two displays, and the keyboard that has slid down because of this are not exactly designed for gaming.
However, it is possible to adapt a laptop for both work and leisure. For example, you can work on it in a mobile format anywhere (at home, in an office, coworking space, etc.), and you can use it more stationary for games by connecting an external display and a gaming keyboard. This, in my opinion, is the best compromise so that you don't have to choose between work and leisure.
Read also:
Cooling system
Great performance requires a high-quality cooling system, and ASUS Zenbook Pro 14 Duo OLED certainly has it all figured out. The cooling system consists of two coolers equipped with 97 embossed blades, whose task is to cool the heat pipes leading to the processor and video card. The same AAS Ultra mechanism is used to exhaust the warm air, which raises both screens by 2 cm. The increase in the area of warm air outlet (by 38%, according to the manufacturer) ensures greater efficiency of the entire cooling system.
In normal use (surfing, working with texts and other simple tasks), the fans are almost inaudible. You start to feel their work when you run "heavy" programs and play games, but we can't say that the noise of the coolers is a nuisance. It's worth noting that the cooling does an excellent job. No trotting or freezing was observed under serious and prolonged loads.
Camera, sound and microphones
The camera's resolution is not declared, but it can transmit images in FullHD. And this data is enough to understand that it will cope with video communication perfectly. Additionally, it supports ASUS 3D Noise Reduction technology, which allows you to improve the image and get rid of noise and blur, and through MyASUS you can blur the background during video conversations in real time.

In addition to the webcam, there is another one with an infrared sensor and AI, which is responsible for security. It supports not only Windows Hello, but also AdaptiveLock, an algorithm that locks the laptop when the user moves away from it.

For clear voice transmission, ClearVoice technology (intelligent noise reduction) and 4 microphones are provided. Two are located on either side of the camera and "listen" to the user, while the other two are located behind the laptop, near the connectors. They are obviously designed to recognize external noise and cut it off. The microphones will also help you communicate with Cortana and Alexa voice assistants.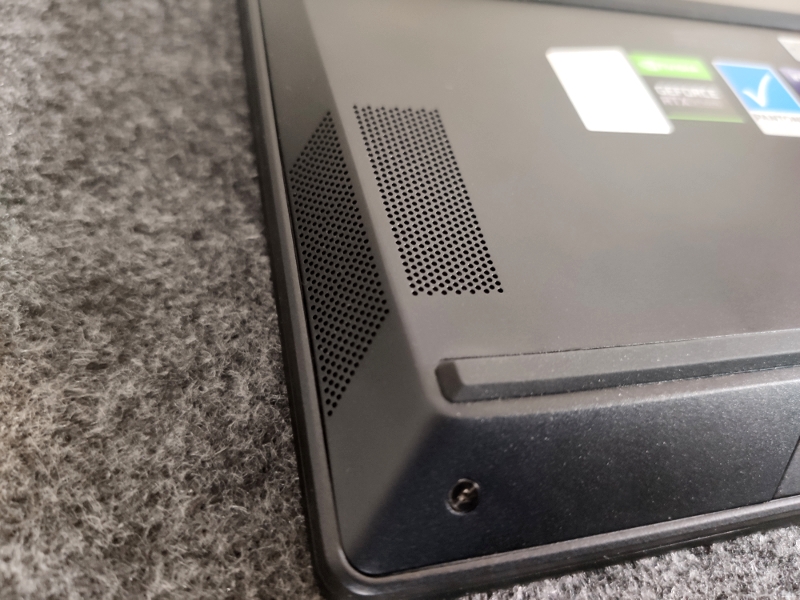 The stereo sound is really on top. Despite the fact that there are only two speakers on the sides (yes, from Harman Kardon and with Dolby Atmos, but only two), it seems that the sound comes from somewhere inside the laptop. The sound is spatial and surround, but at the same time clear and transparent, without unnecessary sounds or noise.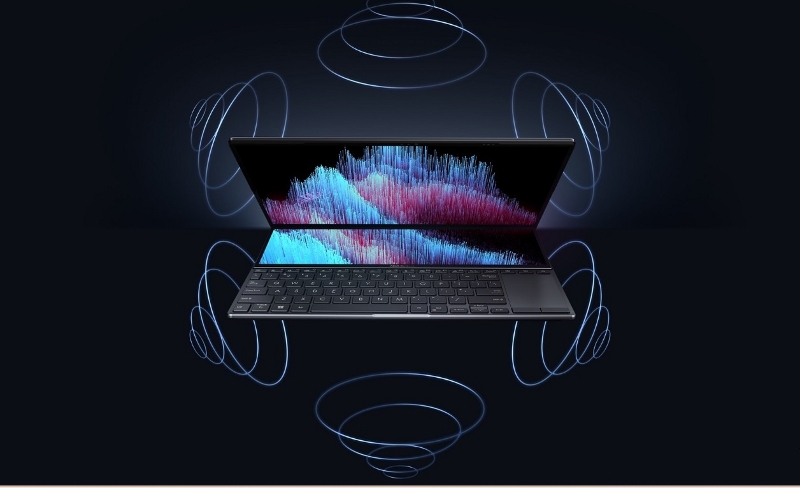 Probably, the two-channel intelligent amplifier also contributed to this, thanks to which we managed to get rid of distortion at high volume. But the fact remains that only two speakers are capable of providing unexpectedly high-quality and clear sound, which you won't find in laptops on a day like this.
Read also:
ASUS Zenbook Pro 14 Duo OLED battery
The battery here is a four-cell lithium-ion with a capacity of 76 Wh and is equipped with a 180 Wh charger. The manufacturer claims an autonomy of up to 9.5 hours. The company took measurements on a junior modification (16 GB RAM, 512 GB SSD) with the main screen on at less than half the brightness (200 nits) and at 60 Hz, with the secondary screen off and Wi-Fi enabled. Perhaps under such circumstances, you can count on a pleasant battery life, but in reality, this figure will be much lower. In everyday use, you can count on 4-5 hours of active work (depending on the load), and for the tasks the laptop is designed for, the charge will last for an hour and a half. So, like it or not, ASUS Zenbook Pro 14 Duo OLED has a fairly average battery life and for serious tasks it is useless without a power outlet.
Conclusion
ASUS Zenbook Pro 14 Duo OLED is a great tool for creators of any kind, impressing with its capabilities and attention to detail. Musicians and designers, architects and programmers, bloggers and SMMers, photographers, retouchers and video editors, game or app developers – these are just a small fraction of those for whom this laptop will become a functional and trouble-free workstation.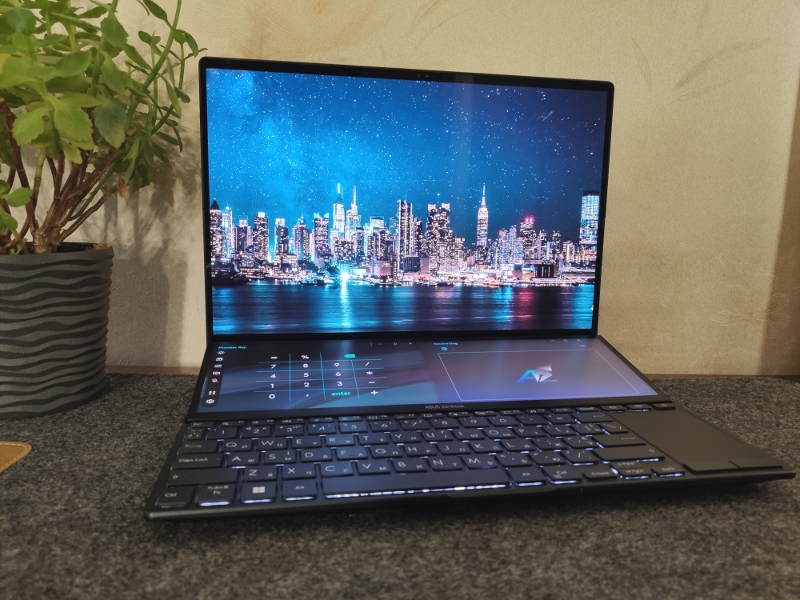 Its performance, powered by a powerful 12th-generation Intel Core i9 processor, RTX 3050 Ti graphics, 32 GB of RAM, and an efficient cooling system, is designed for serious computing or graphics workloads, so it can handle any resource-intensive task.
The dual-screen tandem significantly expands the range of uses and makes interaction with the laptop even more convenient. While the large display serves as the main workspace, the additional screen can be used to supplement any program or application with the tool you need at the moment: a control panel, settings, a place to record, or leave it for background music and instant messengers. There are endless options for using it, including thanks to high-quality software.
In addition, the screens themselves are great. They're touch-sensitive, have a 120Hz refresh rate, and are stylus-compatible. The main OLED 2.8K display impresses with its richness and contrast, excellent viewing angles, adaptive brightness and automatic image temperature adjustment, and lightning-fast responsiveness in dynamic scenes.
Despite the placement of the keyboard and touchpad, they are very convenient for desktop use, and the right-handed touchpad shift is a godsend for right-handed people. We should also mention the high-quality audio system, a well-designed set of noise-canceling microphones, a reliable all-metal case that meets the MIL-STD-810H standard, stylish design and excellent packaging.
To be honest, I'm sorry to part with this laptop – it's unsurpassed in every aspect. Objectively, there is nothing to criticize ASUS Zenbook Pro 14 Duo OLED for. For a body that still shows a little bit of "fingers", an average level of autonomy, or problematic work on your lap? It's just ridiculous. So, yes, this is an almost perfect laptop (almost, because there are no ideals) that will come in handy for both work and leisure.
Читайте також: