I'm 100% sure that the ASUS ROG Strix Flare II Animate is a flagship keyboard, but I'm not sure that the company hasn't released anything more expensive. At least in the last 5 months, because that's how long the keyboard has been lying idle at home.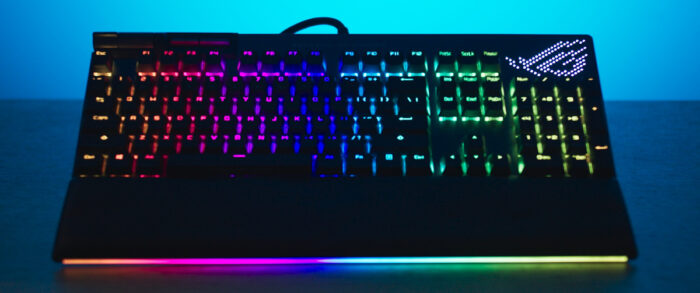 And it is doubly sad, because this model proved to be very pleasant. And, in fact, you can almost immediately see all the advantages of the keyboard, right from the first photos.
ASUS ROG Strix Flare II Animate video review
There will also be the sounds of tapping keys:
Market positioning
The price tag is not among the advantages, and they ask $220 for the keyboard. Which, don't be surprised, is not so much for a flagship from ASUS, because I was anticipating for $300 at least. However, this is, of course, completely unacceptable for 99.9 percent of the gaming population. And it's not really necessary.
Delivery set
The box with the keyboard contains a set of stickers, as well as prestigiously packaged tongs for caps… and another tongs for switches.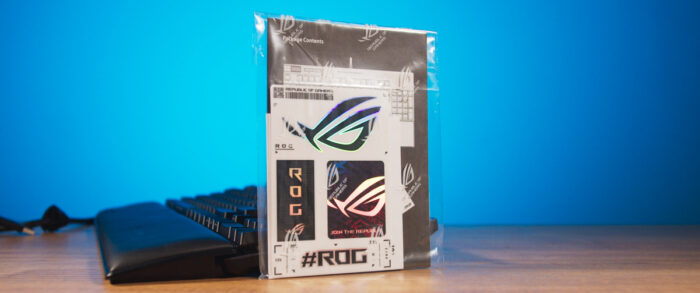 Because yes, ASUS ROG Strix Flare II Animate allows you to replace the latter with something more pleasant to you.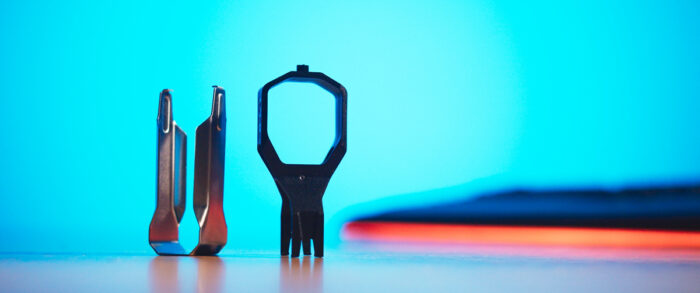 Main advantage
I'll start with switches, because they can be either my beloved Cherry MX Red or ASUS NX Red. Which, in fact, is almost the same thing. As I understand it, changing the switches allows to use any ASUS NX or Cherry MX, as well as oiling them for some extra… clicking fun, shall we say.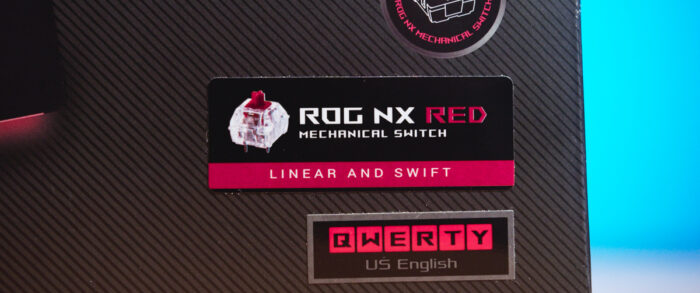 Actually, this very much justifies the price of the keyboard, because it will be your faithful friend even after the switches start to die – because the latter can be replaced! This cannot be done with a cable that is fixed and with additional controls.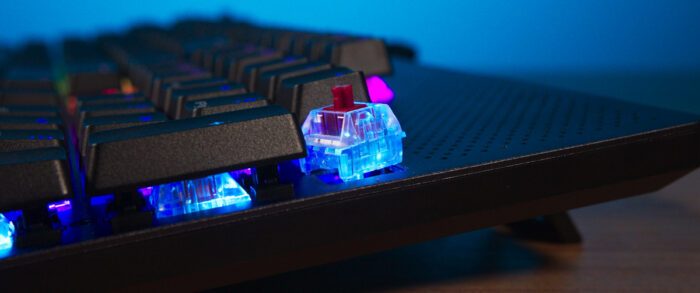 Also, some reviewers would like the caps to be slightly thicker. Despite the fact that they are double-cast PBT, durable as hell, and thanks to the Cherry MX profile, they are easily replaced with almost any custom ones.
Backlight
And not only RGB, but also a module with a set of white LEDs, a la ROG G14/G15 laptops and, it seems, M16, I can't say for sure. I will say that thanks to the proprietary ASUS Armory Crate application, you will be able to customize the picture, either static, or  animated.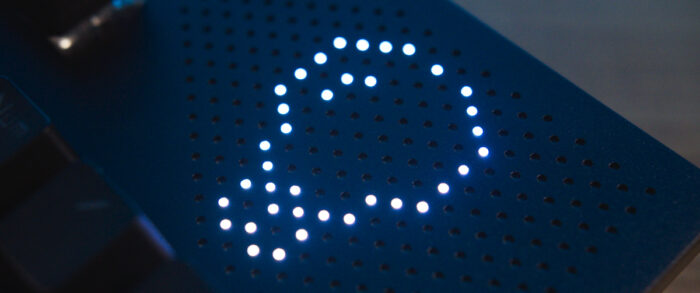 I note, however, that before changing or synchronizing RGB, you will most likely need to update the keyboard microcode first. This is done not in the AuraSync window, but in Devices, which is one step higher.
In general, AniMe Matrix reminded me of how Xiaomi adapted the Mi Band screens to the Mi11 Ultra smartphone. That is, the company already has a proven and very high-quality technology that can and should be used everywhere, because why not? In addition, the animation preset reacts to a change in settings, and even for each work preset that is recorded on Fn+nuttons1-5, its own animation is played.
And this module does not distract from the RGB illumination of the caps at all. Especially since you can even force the wrist pad to vomit rainbows. Which is also configurable through the corresponding application.
Additional features
The wrist pad itself is soft and helps a lot when working, and it is securely held in place, although there is a problem with its softness – it can get squeezed in the box.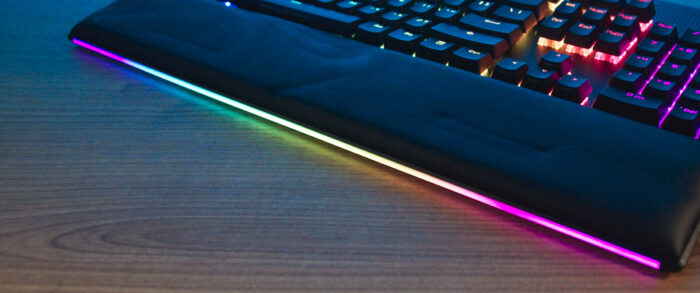 This is, in fact, the disadvantage of hyper-soft things, including the seats of armchairs – it is simply difficult for them to keep their shape for a long time.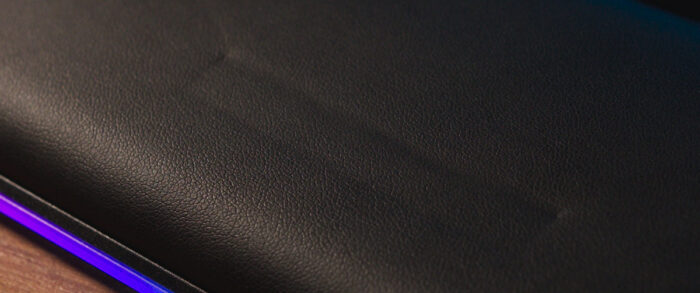 The keyboard is also capable of macros, including recording recent taps without being connected to a PC, and multimedia keys, which include song switches, volume, pause, Win key lock and backlight brightness.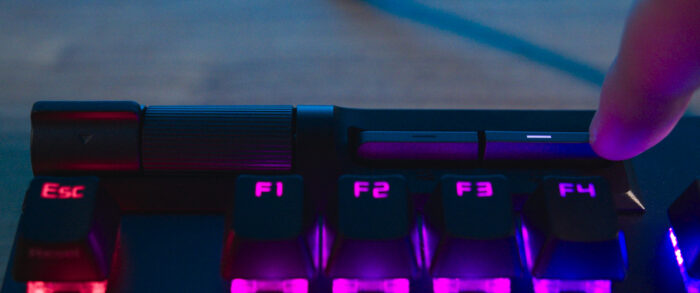 I also note the USB Pass-through speed of 480 Megabits per second. However, I remind you that the cable here, although high-quality and thick, and even nylon-coated, but is not removable. On the other hand, I have never seen a removable USB with Pass-Through.
Switches
As for the pleasure of use – ASUS ROG Strix Flare II Animate is extremely close to the perfect model both for a simple gamer and for a custom connoisseur. Because the platform is all-aluminum, weighing more than a kilogram, everything is high-quality and solid.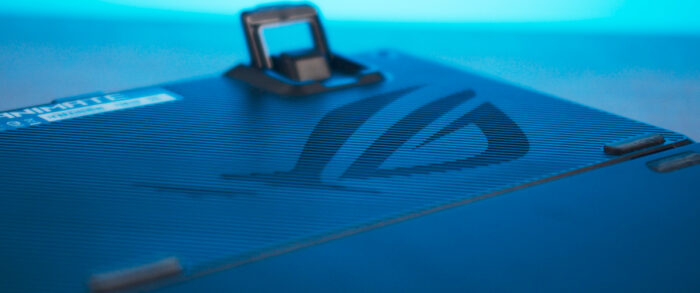 And those who are not satisfied with the switches, or the type, or the quality, are offered the option of finalizing the keyboard with their own hands. And this, in my opinion, is the main advantage of the review hero as a concept. Apart from very soft switches, AniMe Matrix and RGB in general, of course.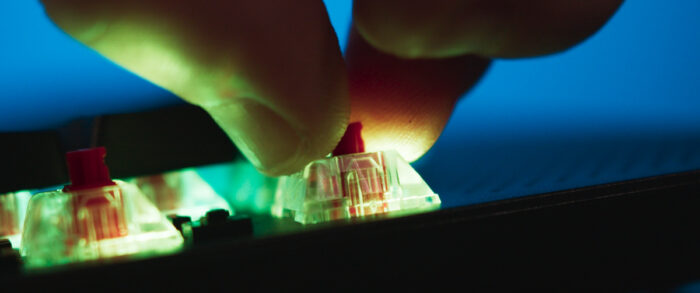 For many, this keyboard will be the beginning of a hobby, because the platform for creating your own typewriter is quite good. Pros build keyboards from scratch, buying EVERY component separately, from cables and boards to different switches for different areas.
Here the platform is already ready, you can already play with it, it is from a well-known manufacturer and costs… in any case less than any handmade model from Japan or Sri Lanka. And this is important, because the more accessible the first dose, the easier it is to enter the flow.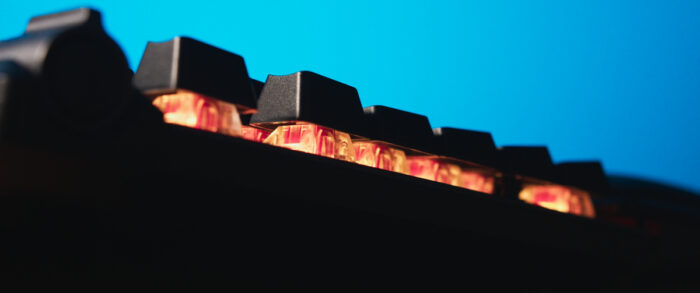 Besides, you can change nothing here. If you want loud or tactile rather than linear, ASUS makes three options. Unfortunately, there are no ASUS switch sets available for sale.
Conclusions on

ASUS ROG Strix Flare II Animate
I don't see this keyboard as just a gaming keyboard. And I do not advise you to do so. This is as much a ticket to a new world, where lubricated switches sing lullabies, and a single cap can cost more than an inexpensive membrane keyboard.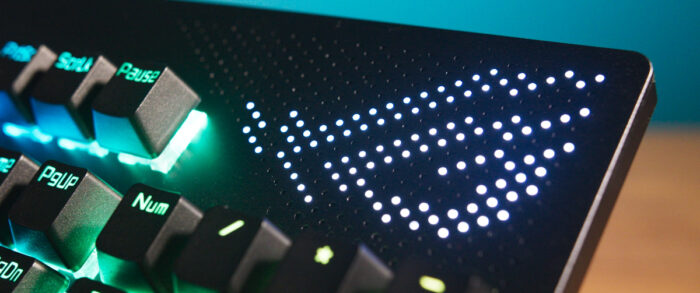 And in itself, ASUS ROG Strix Flare II Animate is high-quality, unique and worth the money. Not everyone will need it, but it's very easy to get excited about.
Read also:
You can also help Ukraine fight with Russian occupants via Savelife or via an official page of the National Bank of Ukraine.