Gaming routers are increasingly attracting not only gamers but also ordinary users. Today I will introduce you to the ASUS ROG Strix GS-AX5400.
ASUS has always had a large selection of network equipment for every taste and for every audience. Their routers are popular not only among ordinary users, but also gamers. We recently tried the powerful ASUS ROG Rapture GT-AX6000 EVA Edition, which impressed me not only with its interesting design and colors, but also with its power and stability.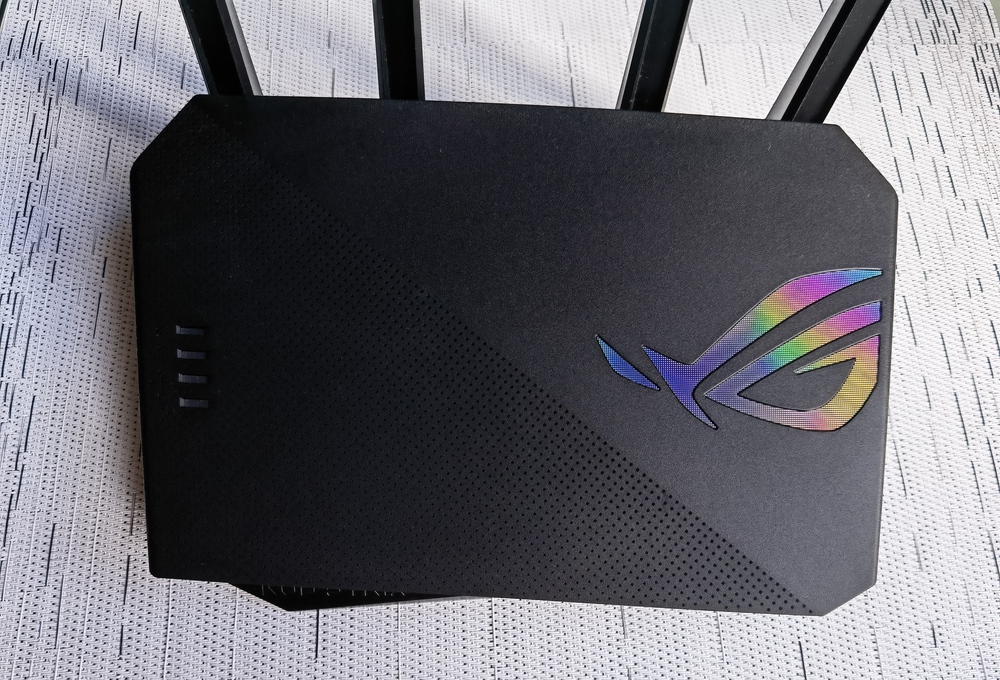 Now we're testing the ASUS ROG Strix GS-AX5400. As you may have guessed, it belongs to the ASUS ROG Strix series, which includes graphics cards, monitors, motherboards, and even laptops specifically focused on gaming. Now ASUS wants to further expand the range of this segment and releases the first gaming router of this family. Soon we will also see other routers designed for the most demanding gamers.
What makes ASUS ROG Strix GS-AX5400 stand out
This is one of the most interesting Wi-Fi 6 gaming routers from ASUS, and at an attractive price. The ASUS ROG STRIX GS-AX5400 is part of a wide range of models that the brand already has in the network equipment market. This router stands out from the crowd with a new aggressive front RGB design and a significant expansion of gaming-exclusive features such as Mobile Game Mode, Gear Accelerator, Gaming Port, Adaptive QoS, and PS5 compatibility. All this with a total bandwidth of 5400 Mbps and a 4×4 connection capacity at 5 GHz.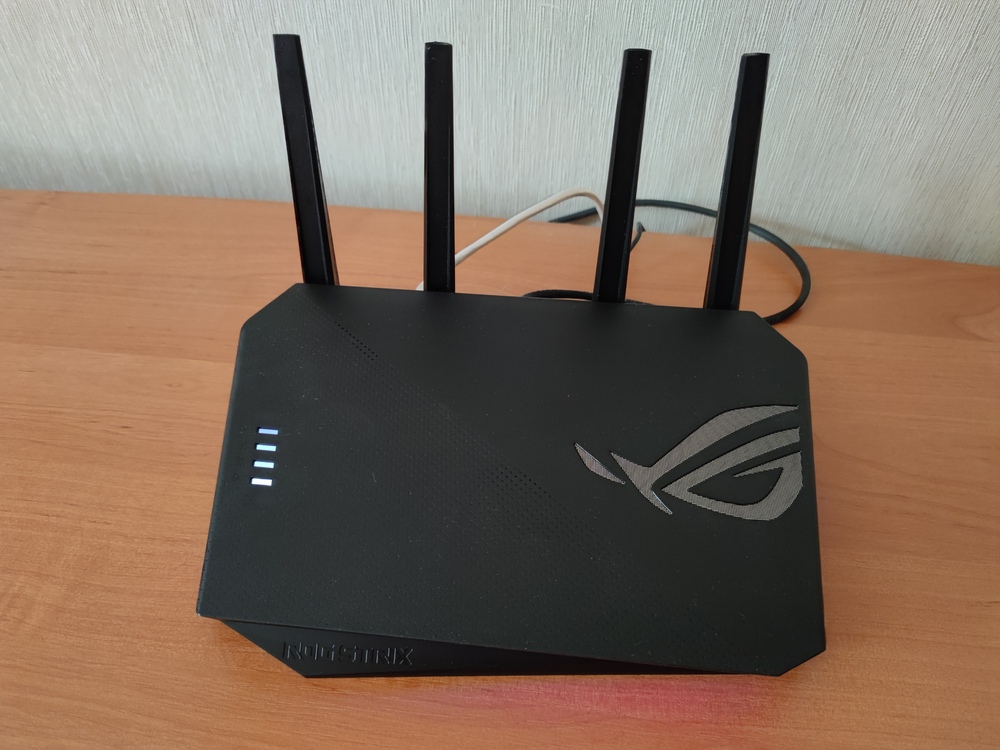 The ASUS ROG Strix GS-AX5400 is a fast Wi-Fi 6 dual-band router that delivers speeds up to 4804Mbps on 5GHz and 574Mbps on 2.4GHz. This router supports up to 160MHz channel width at 5GHz, allowing fast desktops and laptops to connect at up to 2402Mbps.
True gaming looks
This router has a discreet, elegant design. It's immediately clear that it's geared towards gamers, as we find the popular ASUS ROG logo on the front. The materials of this router are premium. The first thing that catches our attention is very pleasant plastic case of this router. The plastic is of high quality, matte, although it still collects dust intensively.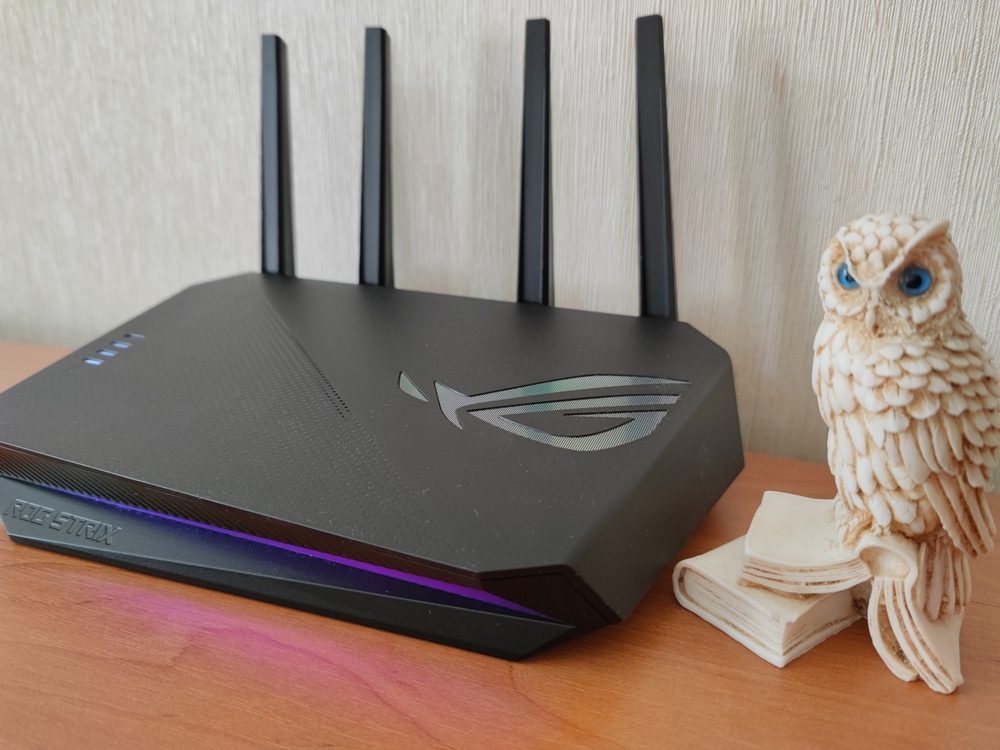 What's inside
There are two things that make any router powerful: chips and software. ASUS Networking Division has a good reputation for using the latest and most powerful chips in its networking products. The Broadcom BCM6750 found in the ASUS ROG STRIX GS-AX5400 is a 64-bit, tri-core chip clocked at 1.5GHz. It combines many things in one chip with the help of SoC, i.e. system on a chip, like in mobile phones. Wi-Fi 6 OFDMA is a fairly powerful WLAN solution. In addition, there is a Broadcom BCM43684 4×4 Wi-Fi 6 AP chip. It responds to the wireless needs of many users simultaneously with 4 streams of dual-band OFDMA. All this is complemented by 512 MB of RAM and 256 MB of flash memory.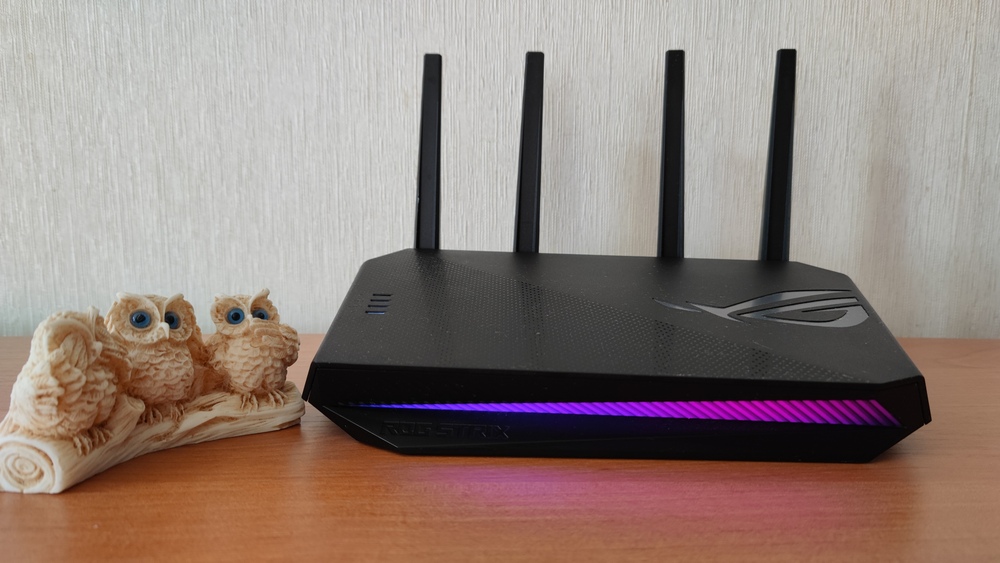 The ASUS ROG STRIX GS-AX5400 has prioritized gaming features which, together with many mechanisms, allows us to prioritize game data traffic.
When you connect an AiMesh-enabled system to an ASUS Mesh fabric, you can use it as part of the same network without any installation, meaning no further configuration is required.
Setting up and using ASUS ROG STRIX GS-AX5400
The initial setup of the router can be done using either a PC connected to the router or a smartphone, as well as the ASUS Router mobile app available for iOS and Android. In most cases, I configure the router using the web interface. This allows you to fine-tune it to your needs. I do use the mobile app though. I will also talk about it below.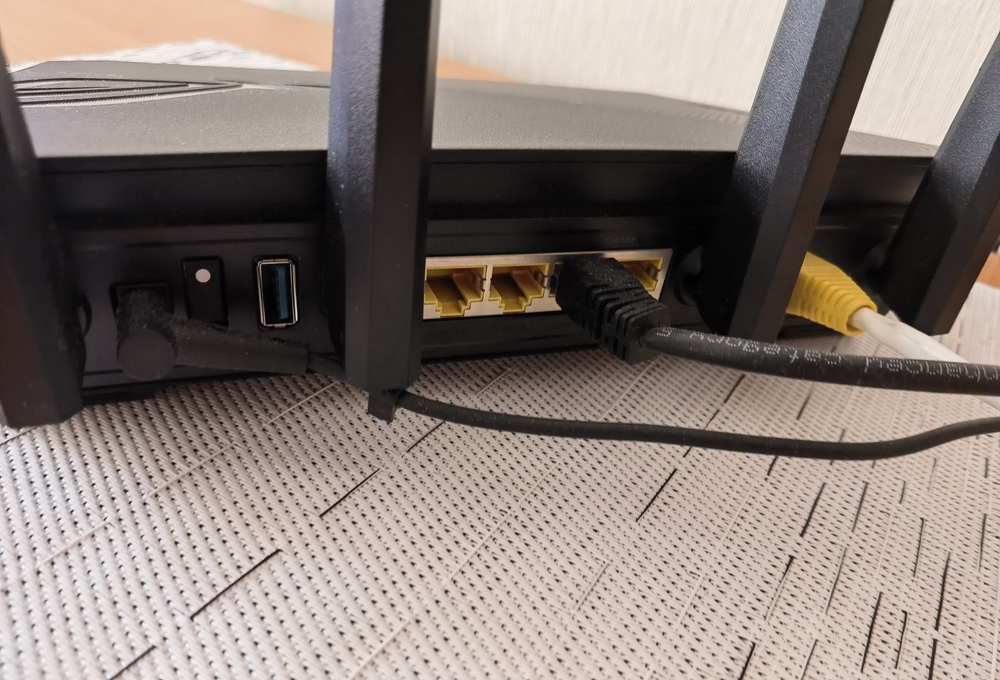 The process includes identifying the type of Internet connection you are using, providing the necessary connection information, choosing a Wi-Fi name and password, and making the necessary configuration decisions. The process itself is so simple and clear that even a beginner can handle it, so be bold in this matter.
The router also checks for firmware updates, you should install the latest firmware with the latest enhancements and bug fixes.
You can then connect your computers and devices to the network and access the router software for finer tuning. The interface is easy to use, logically organized, and available in 25 languages. There are many settings you can control, so both casual and more advanced users will be satisfied with the options available.
After completing the initial setup, you will be greeted by the main screen where you can access the main settings. The ROG Strix GS-AX5400 has a gaming background unlike standard models like the ZenWiFi XD6, but the UI is otherwise the same. The home page shows which devices are connected. Details can be expanded by clicking on different parts of the map. On the right is a three-tab box showing a Wireless tab for quickly configuring wireless settings. The Status tab displays information such as CPU, RAM, and Ethernet port usage, as well as live graphs.
Aura RGB is where you can configure or disable the RGB LEDs located on the front of the router. Available effects are static, breath, wave, frame, gradient, evolution, and rainbow.
All in all, ASUS firmware is very good in terms of options and configuration options available to users. If you don't want to dig into very specific settings, then you don't have to use the web interface at all. The standard settings will be enough.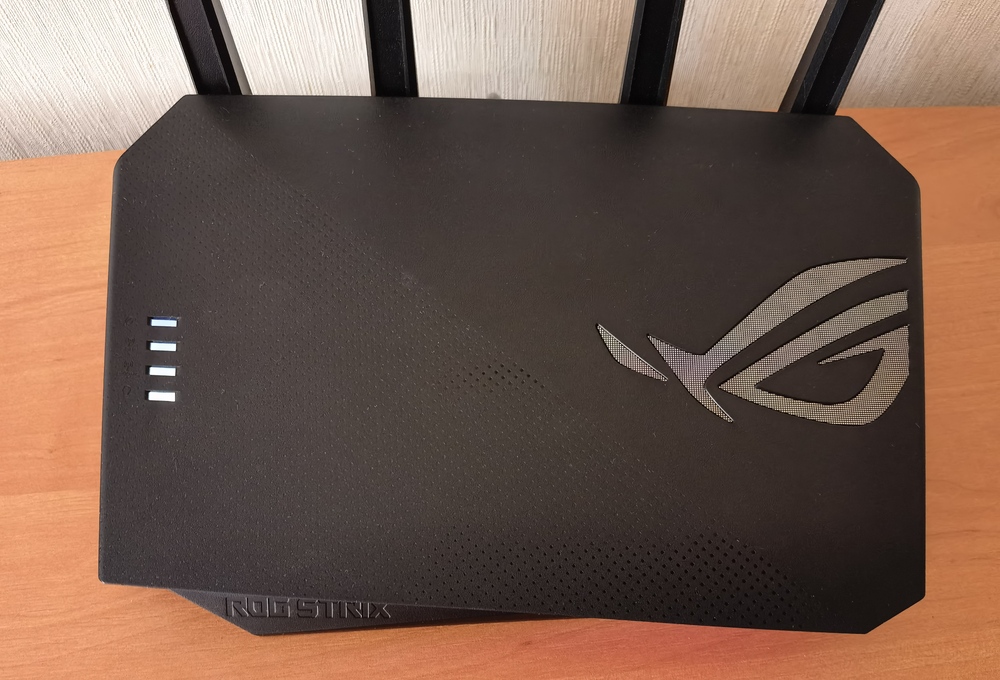 The user interface is very well-designed, visually appealing, and easy to navigate, and the sections are logically laid out for quick access, making it intuitive for both the novice user and the enthusiast user.
What's ASUS Router app for
The ASUS Router app can also be used to set up the router's initial settings. This process is also quite simple and straightforward.
The ASUS app itself is usually quick and responsive, and it's the quickest way to turn on gaming mode since the router doesn't have hardware buttons.
Parental control is available with simple settings thanks to user profiles and created filters for different age ranges. Alexa support is also included for those who wish to control their router with voice commands. You have the option to set up guest networks right from your smartphone if you have visitors who need to be online but don't need access to LAN devices.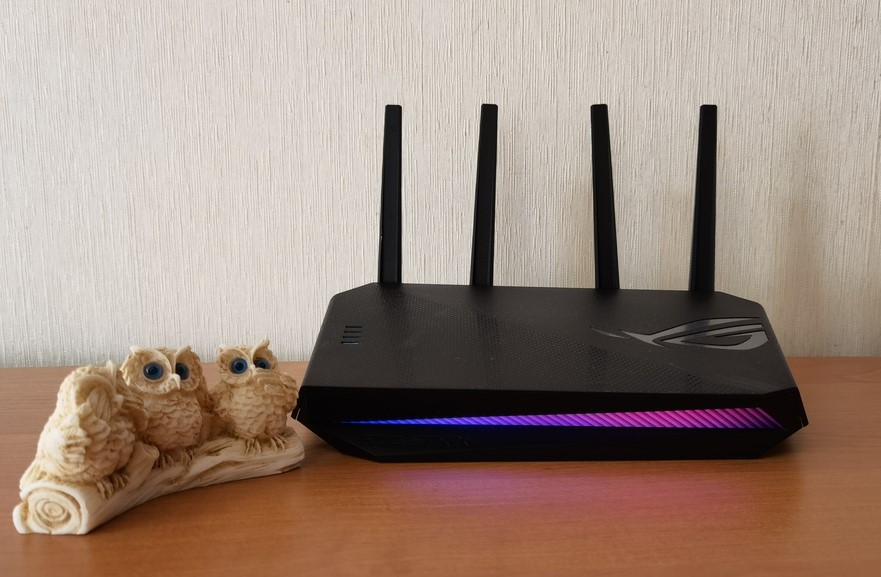 AiMesh can also be configured from the app. AiMesh allows you to use other ASUS routers to create a custom mesh network in your home. You can also use ZenWiFi nodes in a grid. This allows you to combine the functions of a gaming router with the compact nodes of a mesh system. If you're sharing your Wi-Fi with others, this is a great way to prioritize access to your gaming LAN port without compromising Wi-Fi coverage in the rest of your home.
You will need AiProtection Pro security software powered by Trend Micro. It is free for the entire life of the device and allows you to protect the network from the router.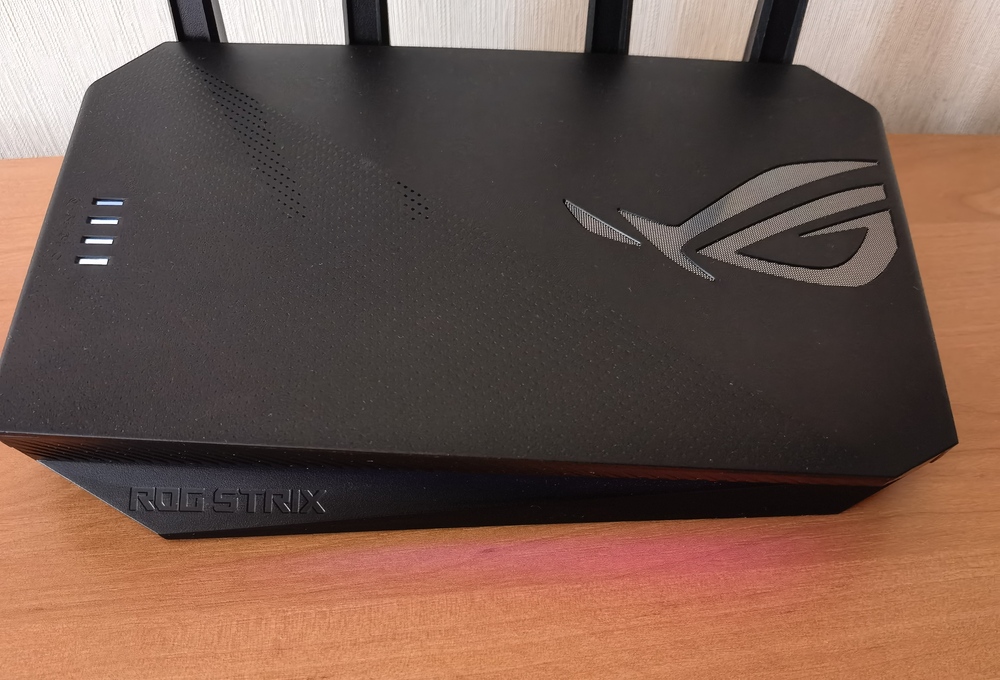 Finally, Instant Guard can be enabled to provide an easy VPN connection to your router at home. This is great if you want to make sure your connection is secure when using public Wi-Fi, as it creates a secure tunnel directly to your router. This can be set up using the Android and iOS app, although you'll need to be connected to your home Wi-Fi to set up, so be sure to set it up before you travel.
How does it really perform
Of course, I test all routers in my Kharkiv apartment, located in an ordinary nine-story panel building. And this means that I have to live with all the typical obstacles, like reinforced concrete ceilings and thick concrete walls that can interfere with correct work. But this certainly does not apply to such powerful routers as the ASUS ROG STRIX GS-AX5400. For this network equipment, it is as if all this interference does not exist. The signal is strong and stable everywhere, there are practically no dead zones. The entire area of ​​the apartment is evenly covered with stable Wi-Fi. The main thing is that all connected devices worked stably, without problems and failures. And I have enough of them: a security system, a 55-inch TV, smartphones, laptops, and a game console.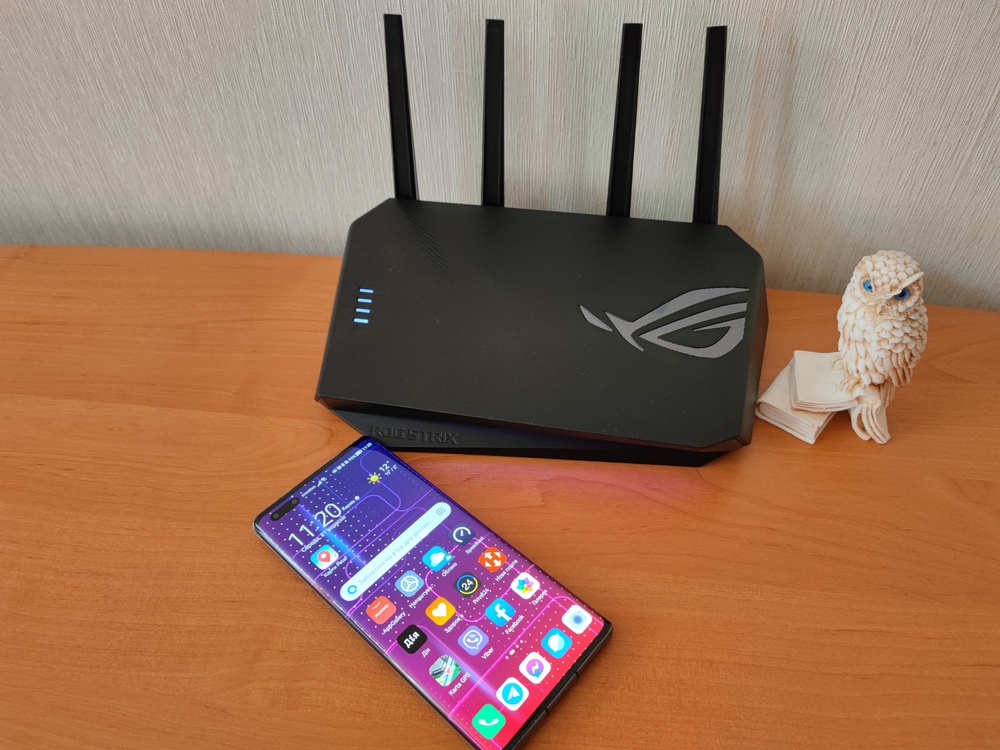 First I decided to test the wired connection and found that the performance is almost the same as declared by my provider. There were practically no problems with such a connection. Perhaps someone will miss the 2.5-gigabit WAN port, but this is not critical.
Usually, to test the signal and its power, I choose five control points in my apartment, so I did not make an exception for the hero of my review:
1 meter from ASUS ROG STRIX GS-AX5400 (in one room)
3 meters from ASUS ROG STRIX GS-AX5400 (with 2 walls along the way)
10 meters from ASUS ROG STRIX GS-AX5400 (with 2 walls on the way)
15 meters from ASUS ROG STRIX GS-AX5400 (with 3 walls along the way)
on the stairwell 20 meters from ASUS ROG STRIX GS-AX5400 (with 3 walls on the way)
The router did an excellent job. I was pleasantly surprised by the test results, although it was clear that I was now testing one of the most powerful gaming routers.
ASUS ROG Strix GS-5400-WIFI-Analyzer
Not surprisingly, the signal was stable everywhere, the speeds were quite high. There were no connection problems. The screenshots will speak for themselves.
ASUS ROG Strix GS-5400-SPEEDTEST
As for the USB port, download speeds are also in order here. There shouldn't be any complaints either. Yes, there are no records here, but these results are quite enough, even to use the ASUS ROG STRIX GS-AX5400 as a kind of NAS. I just regretted a little that the USB port is solitary; in gaming network equipment, two USB ports should become the standard.
I want to say a few words about the stability of the ASUS ROG STRIX GS-AX5400. You often hear, or read that sometimes you have to reboot the router for correct operation. Over the entire testing period, the hero of my review has always worked stably, without failures. Once I had to install an update. Everything went quickly and without a hitch.
Verdict
During my tests, the AX5400 was able to deliver consistent wireless performance in all locations. All real results were in line with its performance class.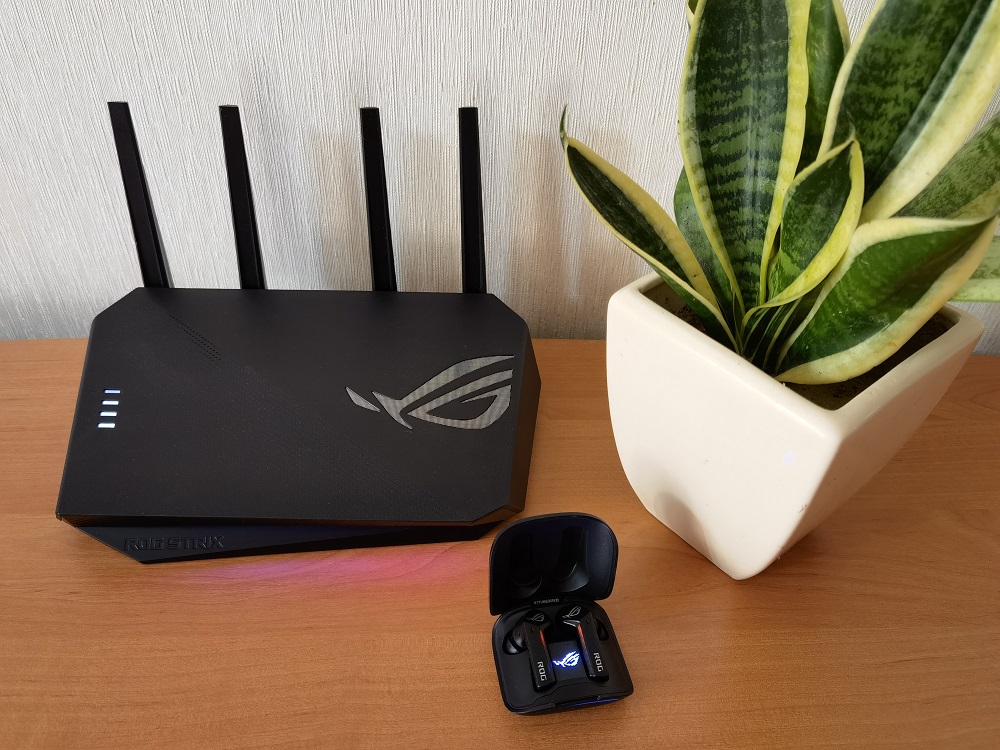 Also, gamers will definitely be attracted by the unusual design with RGB backlighting. For some, this is also a plus when choosing gaming network equipment. Although the design is really quite neat and discreet, so the ROG Strix GS-AX5400 will fit into any interior. Its processor and memory are enough to meet all today's needs. The software is also at the highest level. Everything you need in a modern gaming router is here.
While more advanced gamers may be a little surprised by the lack of a 2.5 Gigabit WAN port and a second USB port, this is not very critical. In addition, it should be noted that the ROG Strix GS-AX5400 has a pretty attractive price for a gaming router.
So if you're looking for a reasonably priced gaming router with all the bells and whistles in this segment, then the ASUS ROG Strix GS-AX5400 is the best choice.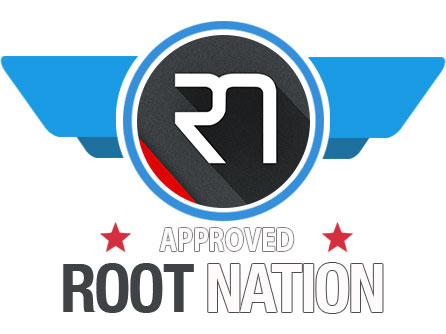 You can also help Ukraine fight with Russian occupants via Savelife or via an official page of the National Bank of Ukraine.