Huawei P40 lite E is a smartphone that absolutely does not fit into the new flagship P-series. It is slightly discouraging at first, so I collected my thoughts for a while before proceeding with the review. The device has little to do with Huawei P40 lite, not to mention the older models. But in many ways, everything fell into place when I went to the settings menu and saw the "real" name of the model in the device information – Huawei Y7p. Now everything is clear! Another marketing move to attract attention to an inexpensive device.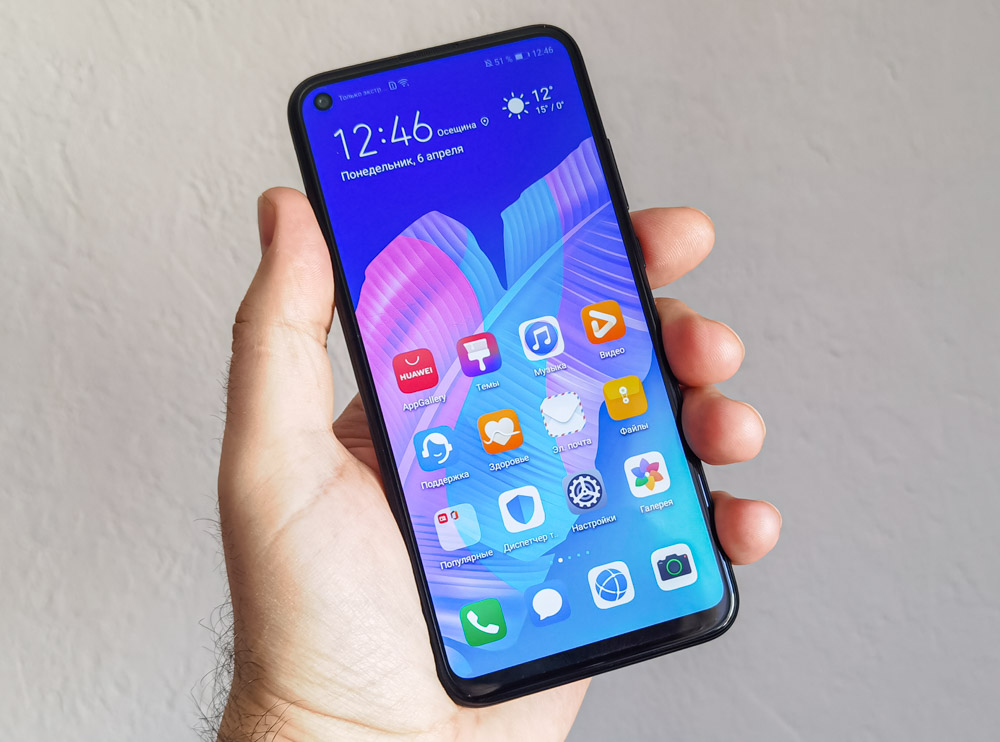 All photos in the review are made on Huawei P40 Pro
In short, now we will find out whether Huawei P40 lite E (aka Huawei Y7p – call it what you want) is worth the attention of buyers.
Positioning and price
Actually, "on paper" the deal looks pretty sweet. For about 140 you get a modern-looking smartphone with a 48-megapixel camera and optimal 4/64 GB memory. It's an unprecedented generosity from Huawei, whose similar smartphones are usually about $100 more expensive.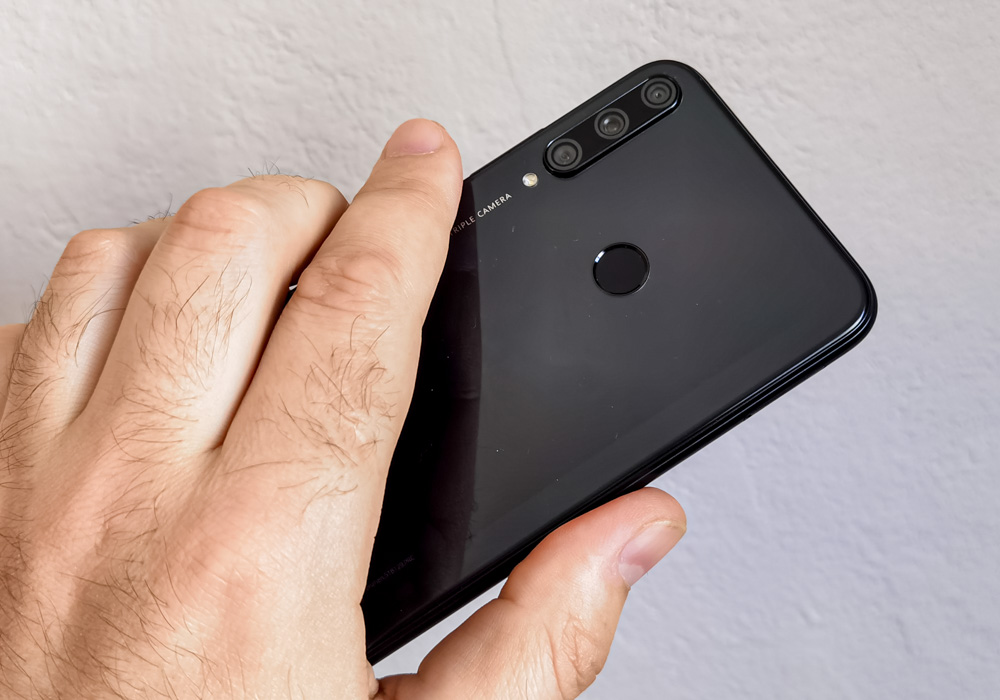 But of course, an experienced buyer will immediately feel the catch in the form of the outdated SoC Kirin 710 (OK, 710F) and Android 9. But people in the know remember that Google services are missing on this smartphone. Although, are there people who know? I do not take you into account. Reading our reviews make you knowledgeable by default. But in general, the awareness of the bulk of buyers leaves much to be desired, I agree. Most of them, in principle, will not understand the difference between GMS and HMS and they will certainly not be able to distinguish Google Play from AppGallery at first glance.
In general, the essence of the section is different. Huawei clearly decided to compete for the hearts of customers at the very bottom of the market in the ultra-budget segment. At the same time, the company comes here with a very strong offer. Want a NEW OFFICIAL P40 (no matter the letters next) for 140 bucks? Our people will easily agree to much more dubious proposals without a shadow of doubt! Nevertheless, I personally believe that real buyers are unlikely to be disappointed with Huawei P40 lite E. Let me tell you why.
What's in the box
In my test, as usual, a sample without a box and anything else. But buyers of commercial devices, in addition to a smartphone, will find in the box: 10 W charging, cable, and a SIM card eject tool. A protective film is glued to the screen from the factory.
Design, materials, build quality
I understand that you most likely don't see anything particularly attractive in the design of Huawei P40 lite E. But really – it is all right. No more, no less.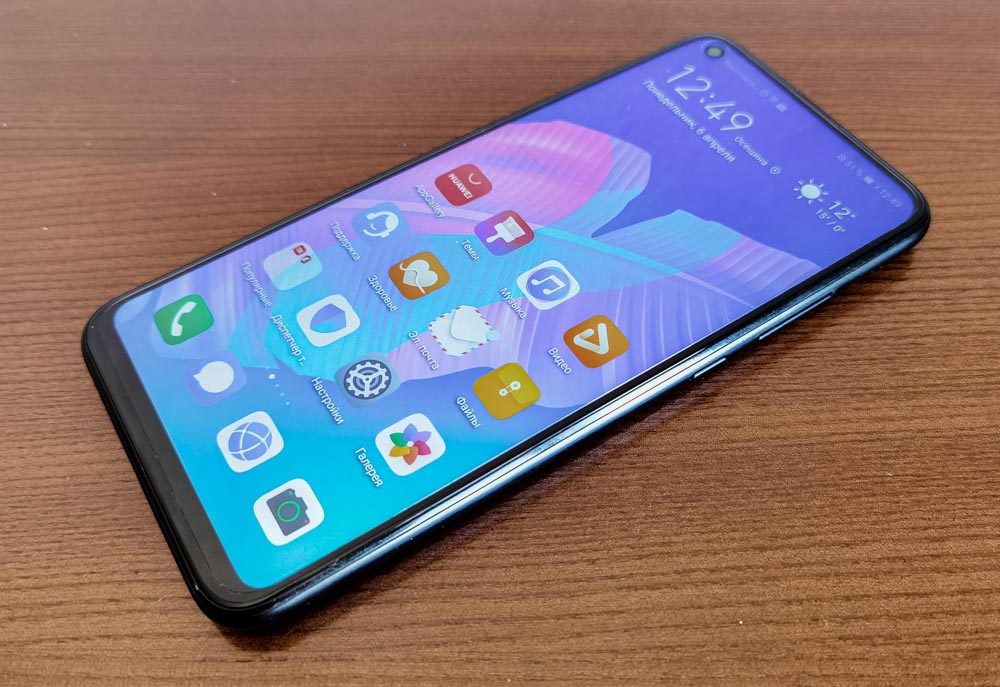 First of all – a small eye of the front camera embedded in the hole in the screen on the left. A trendy decision.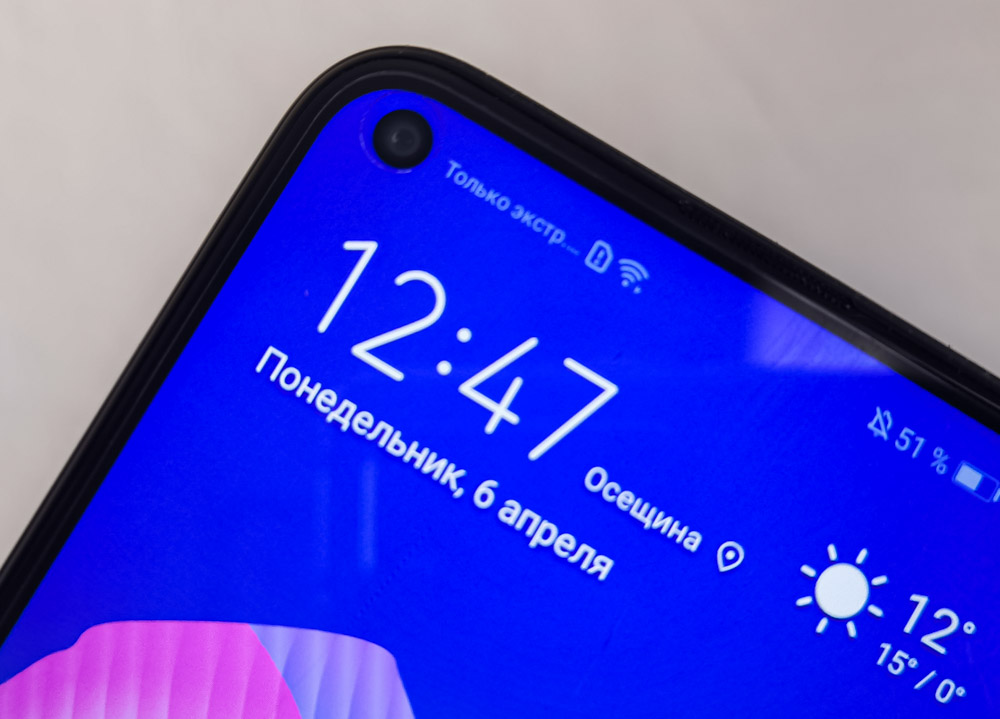 The main camera block on the back is standard. Three cameras look like serious business.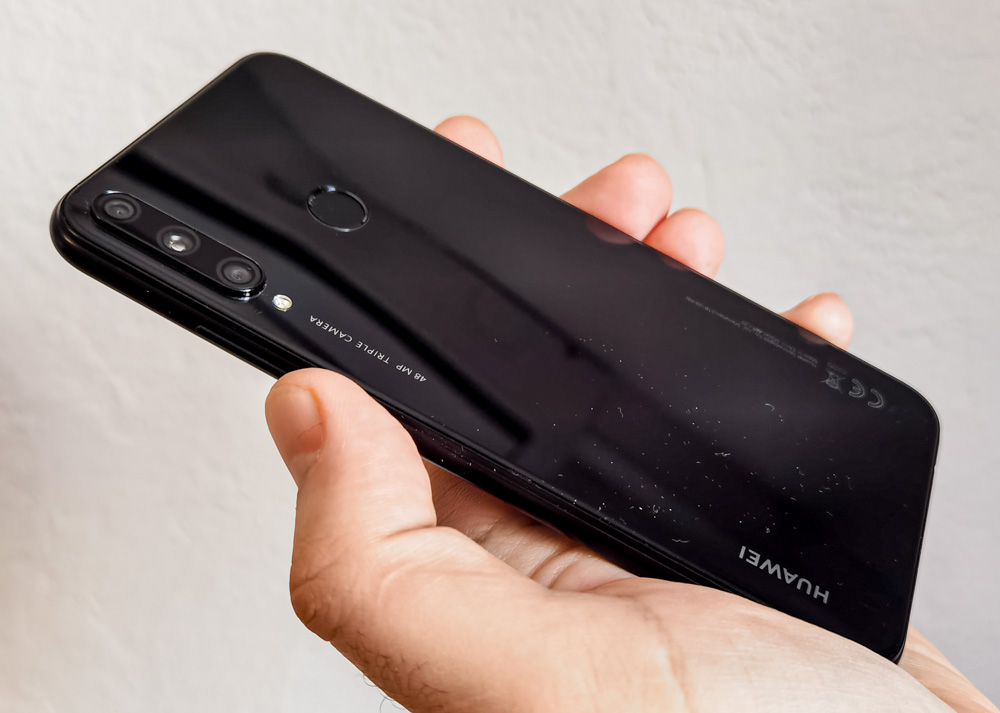 In addition, there is a unique pattern at the back – an iridescent holographic rectangle inscribed in the glass around the entire perimeter. It looks fresh and cool. Especially in the popular (still) Aurora color. I have a boring black version on my test. But it's not bad. Although, the cover will still jide this beauty. But at the stage of purchase this "decor" will play its part.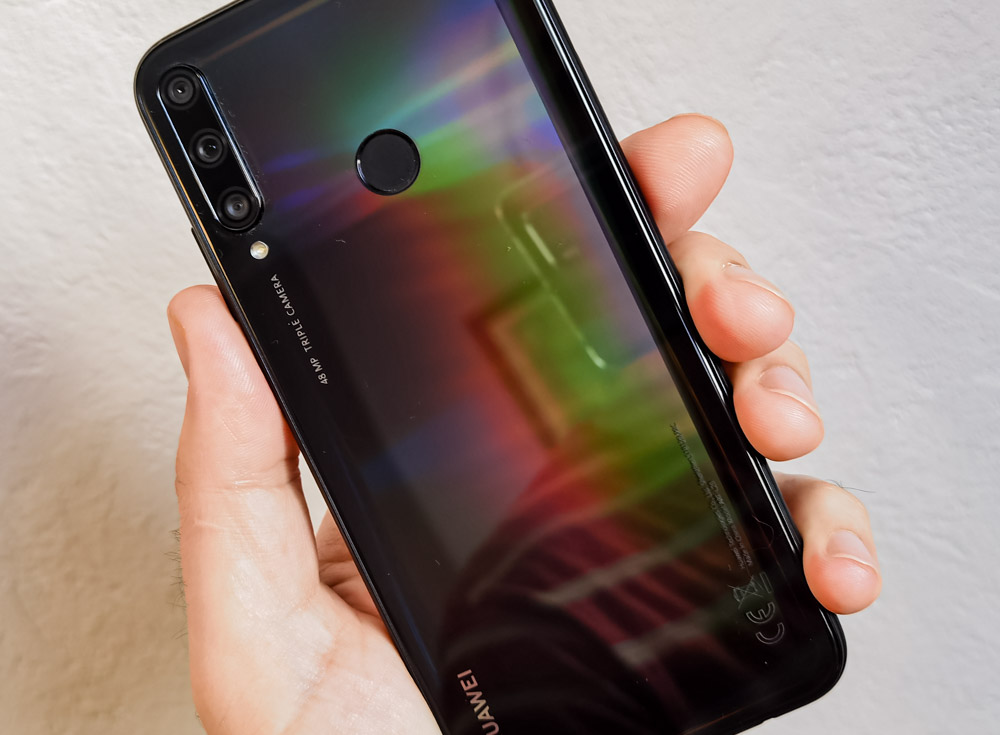 As for the materials, this is an all-plastic smartphone, safe for the front glass, but I'm not sure, because I have a film pasted here. But apparently, inside the smartphone there is a metal frame around the perimeter under a plastic frame. At least a shiny metal shines through the slot for SIM. But maybe it's just a reinforcement of the structure specifically in this place. The frame has a simple matte finish. And it looks almost metal-like. But the absence of a characteristic coolness betrays it.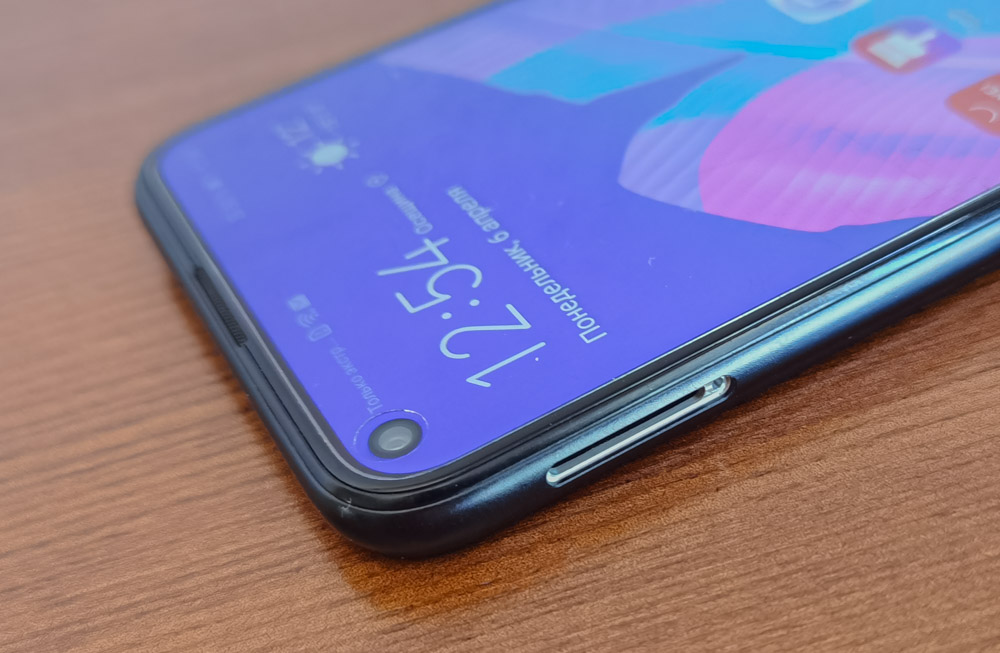 The bottom line is that the smartphone is assembled perfectly. The case is strong, monolithic, does not creak, does not bend. It feels good in the hand.
Element configuration
The screen has a camera eye in the left corner. Bezels around the screen are relatively small, given the price of the device.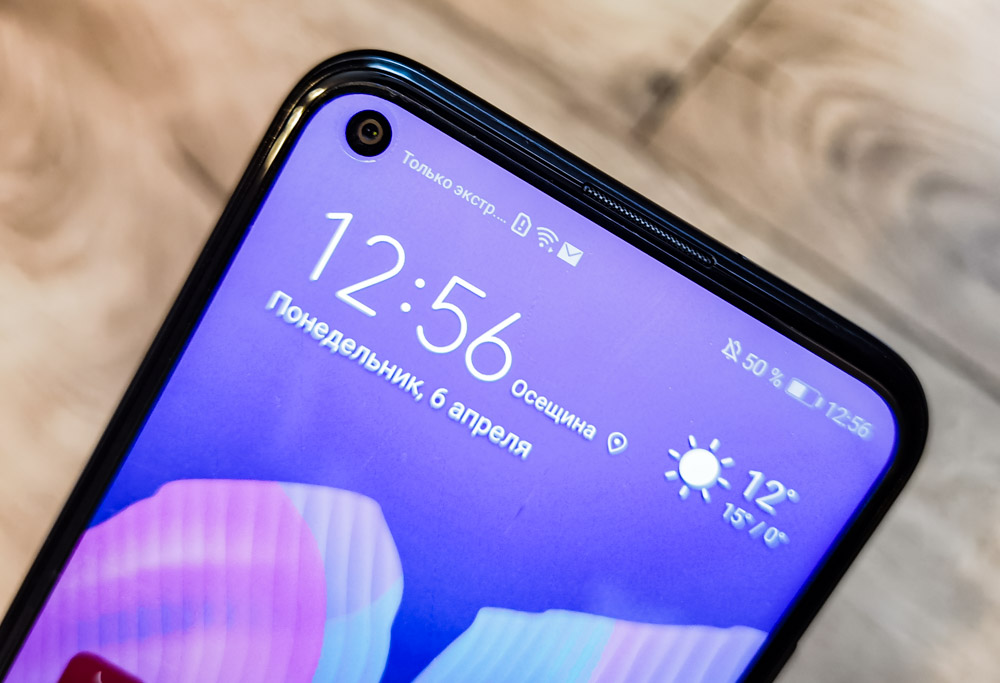 The lower area is wide. Above the screen is just an earpiece speaker and somewhere near it are light and proximity sensors.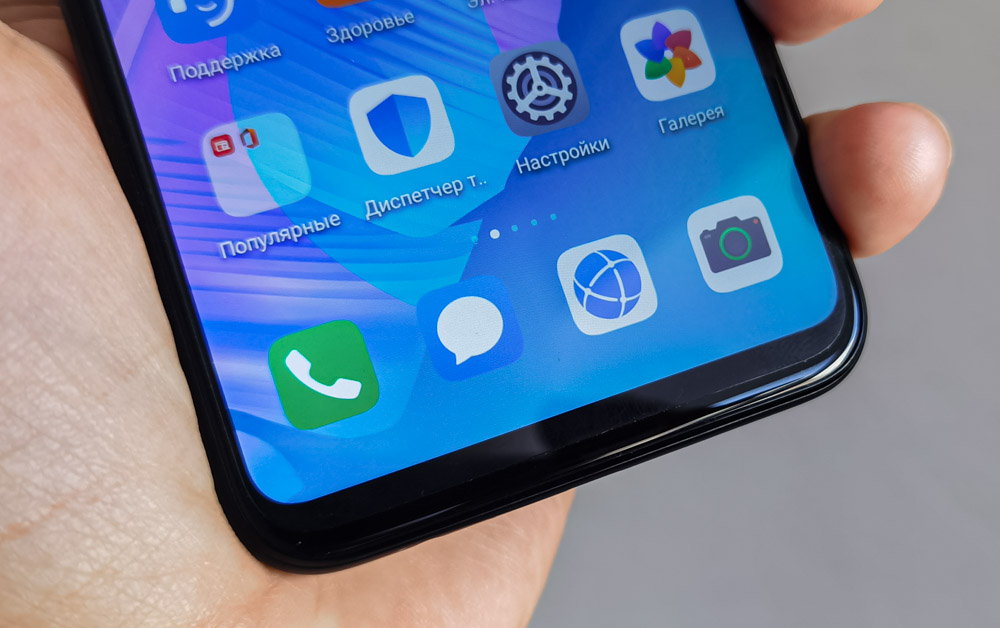 On the right is the power button and volume key. On the left is a slot for 2 SIMs in Nano format and a separate seat for a microSDXC memory card.
On the bottom is a 3.5 mm jack, a microphone, a microUSB port, and the main speaker. Above is just an extra microphone.
On the back to the left is a vertical unit with three cameras, and a single flash underneath. In the middle is a round fingerprint scanner.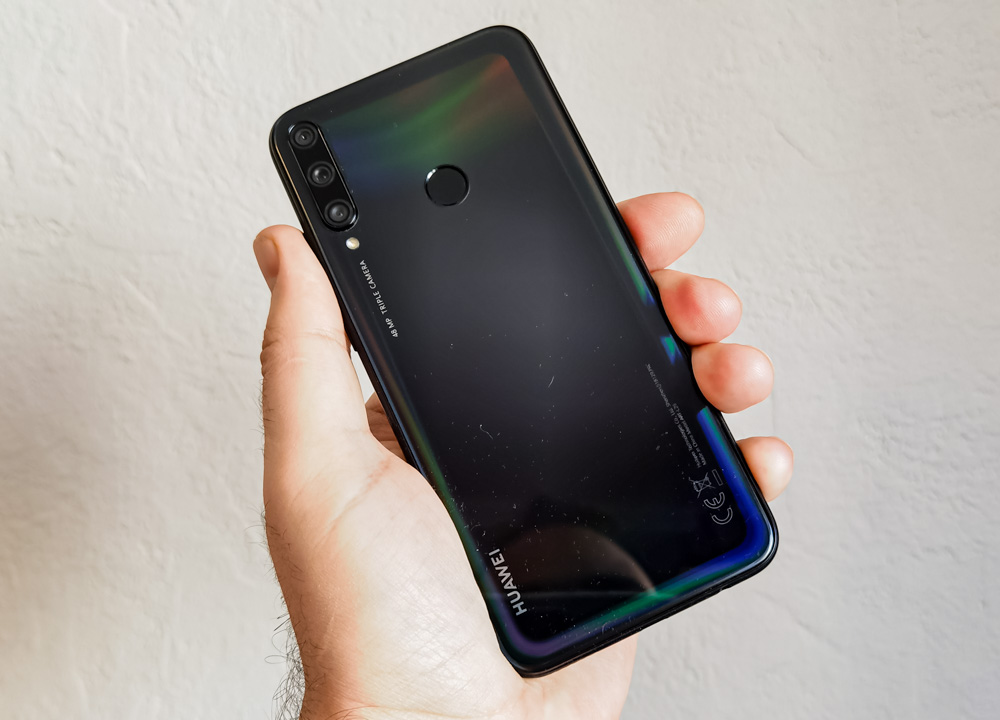 Ergonomics
The smartphone is large, the screen is almost 6.4″, hence the ensuing consequences. Using one hand is possible. The buttons are conveniently located, as is the fingerprint scanner. But getting to the top of the screen without intercepting the device is impossible. Actually, this is a standard situation in the modern smartphone market.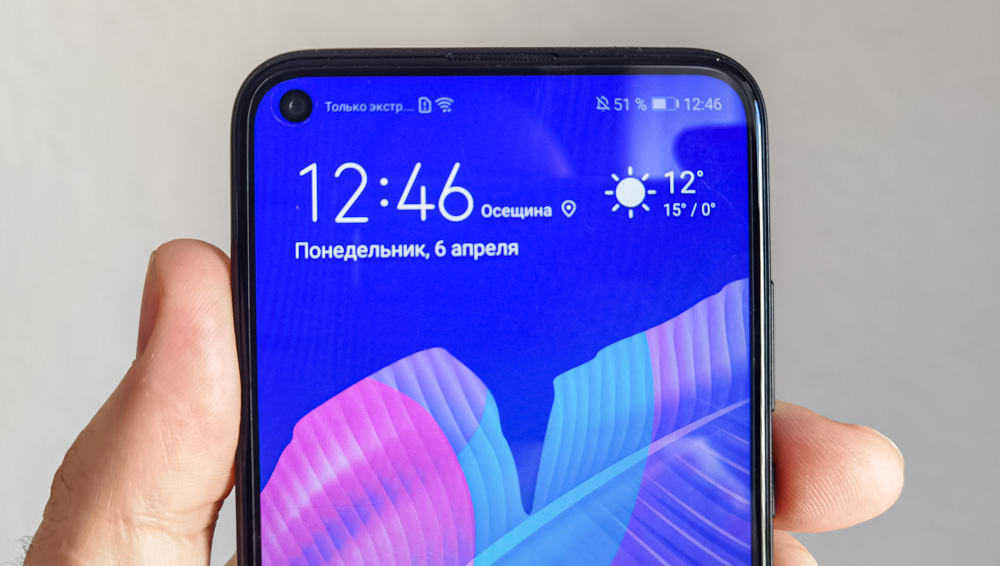 Screen
Huawei P40 lite E uses a 6.39-inch diagonal IPS screen (most likely LTPS) typical of the budget line, with an aspect ratio of 19.5:9 and a resolution of 720 x 1560 pixels. The density, respectively, is decent 269 ppi.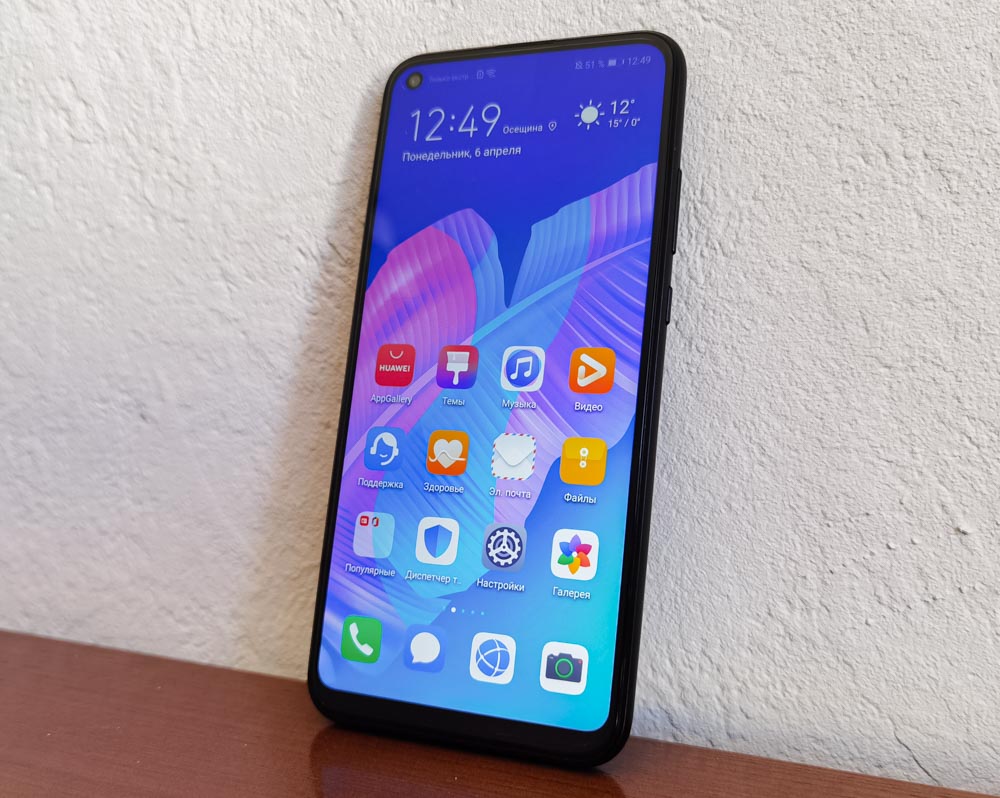 Again, considering the cost, the screen is not bad in terms of brightness and viewing angles. The color rendering is nice. Although low resolution is expressed in a slight blurring of fonts, if we switch from the flagship for $800. But we understand that this is an unrealistic scenario.
Of course, the screen settings have all the typical features of Huawei smartphones – setting the color temperature, night mode, filling the upper area to hide the hole.
Hardware and performance
First, we have Kirin 710F system-on-chip. I don't even know if it should be described in detail, but I'll have to say at least something. This chip was introduced back in mid-2018. Just a moment! Most the mid-range Huawei and Honor phones over the past few years has been built on its. Here's a short list of reviews of smartphones on this platform (from relatively recent ones); go straight to the "performance" section, it's mostly the same for all these models, and you will also find results in benchmarks there:
Please note that all of the above smartphones are 1.5-2 times more expensive than P40 lite E. Now you understand what is its main feature?
In short, Kirin 710F SoC provides the user with sufficient basic performance. And even in modern games run just fine, but not on the highest settings. The chip supports proprietary graphics acceleration technology in games – GPU Turbo 3.0. Actually, launch the games through a proprietary application and the processor will work in overclocking mode, like a video accelerator. You get a small increase in FPS or a smoother and more stable picture without sagging frames (compared to the standard mode).
I'm glad that in such an inexpensive smartphone there are 4 GB of RAM and 64 GB of internal memory. These are the minimum parameters for comfortable use of a modern smartphone. Less than that I do not recommend. More will be much more expensive.
In addition, it is worth recalling that Huawei P40 lite E has support for microSD cards, rather than the expensive and rare Nano Memory. In addition, the slot is not combined, which means you don't have to sacrifice a second SIM card. A good solution for a budget smartphone. Storage will be used to install applications, and on the card I recommend storing personal files and music, as well as setting up saving photos and videos from the camera to it. After all, you will shoot a lot. Why? We proceed to the next section.
Cameras
First of all, this is what I understood about the main cameras, comparing the characteristics of different smartphones. In Huawei P40 lite E we see the same modules as in last year's Huawei P30 Lite, which at the start of sales cost as much as 360 dollars! Even now, it is sold for about 220 dollars. So, pretty cool camera modules migrated to the budget segment. This is the most important point that you should know about P40 lite E. cameras.
Huawei P40 lite E contains the following modules:
48 MP, f/1.8, 27mm (wide), 1/2.0″, 0.8µm, PDAF
8 MP, f/2.4, (ultrawide), 1/4.0″, 1.12µm
2 MP, f/2.4, (depth)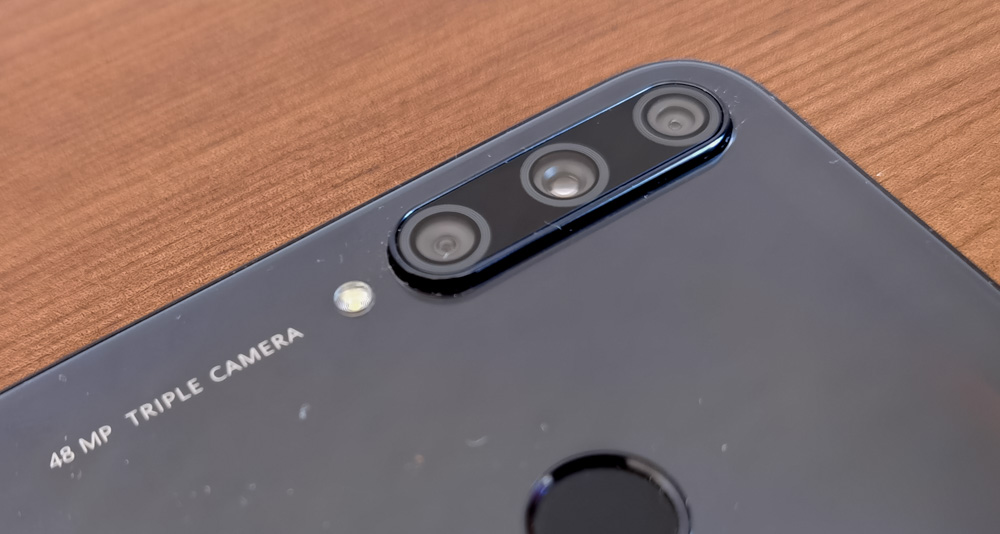 And I must say that the 48-megapixel model shoots well (remember the more expensive P30 Lite). Especially in good light. And even if there is not a lot of light, it behaves quite good. The software with artificial intelligence support is trying to pull out a photo in any scenario. But the detail of the pictures begins to deteriorate in proportion to a decrease in the level of lighting. Noise appears in the dark. Although no one is probably expecting photos of the flagship level here.
The main thing is not to delude oneself. Of course, you will not get any high-resolution photos. The camera produces 12 megapixels pics (4000 x 3000 pixels). It's just that 4 physical pixels are used to create each image pixel. And that means more information and more light. That is, the emphasis is not on size, but on photo quality.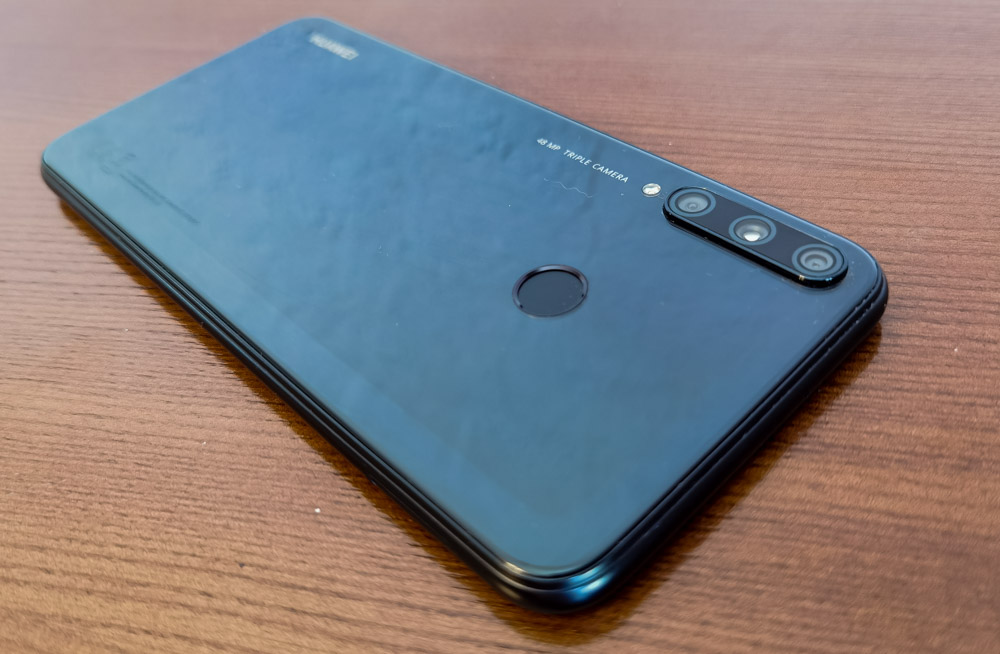 The ultra-wide module is as "standard" as they get. Quality and color reproduction in good lighting do not differ much from the main module, although the deterioration in detail is, of course, noticeable. But in general, the module fulfills its purpose – it captures more of the surrounding space in one photo. He takes pictures have the resolution of 3264 x 2448 pixels.
The 2MP depth module… just creates depth in the photo. It's good, deep enough. The background is blurred perfectly.
The selfie camera (8 megapixels, f/2.0) is also not bad for its class. There are HDR and beautifiers of your beloved face. It writes video in 1080p/30 fps.
As for shooting video with the main camera, the quality is quite decent (of course, compared to competitors in the same price class). Although the clips are only Full HD/60 fps. And there is no stabilization. The picture is shaking – this is a minus.
The camera interface is standard for EMUI 9.1. There are a bunch of modes and effects, night and pro-modes, variable aperture, HDR. There is still digital zoom up to x5.
SEE EXAMPLES OF PHOTOS AND VIDEOS IN FULL RESOLUTION
Note: the photos are arranged in order of approximate worsening of lighting conditions. The latter is just in complete darkness, there is only light from the PC monitor, which is located 1.5 m from the object.
Sound
In budget smartphones, manufacturers often don't care about this question. But in Huawei P40 lite E, the main speaker is fantastic. Very loud and the sound is not nasty even at the maximum level. The earpiece speaker is also normal. And the sound in the headphones is good, which is facilitated by Huawei Histen software.
Communications
Here we have the whole (albeit budget) enchilada. Wi-Fi 802.11 b/g/n module is dual-band, which is OK. Bluetooth 5.0 is fine too. Geo-positioning: GPS, GLONASS, GALILEO, BDS. There is an FM radio. But microUSB 2.0 port is a minus, but what can you do.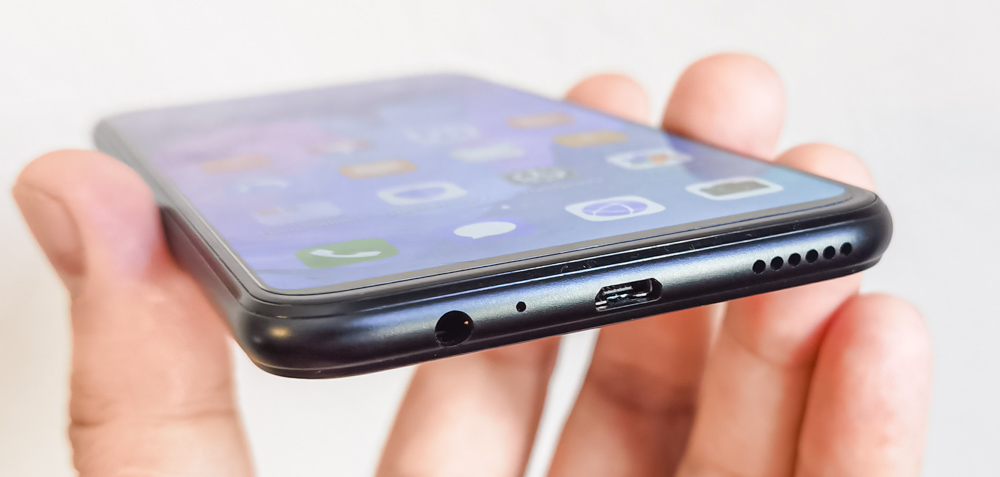 What is not here is the NFC module. But it is currently useless in the new Huawei smartphones due to the lack of Google Pay.
Battery life
A 4000 mAh battery at this stage can be considered the industry standard for smartphones. But the energy-saving chip and the low-resolution screen, combined with the missing Google services (which are famous for active battery-guzzling) do their job. The smartphone survives the day with active use and a day and a half to two days with moderate use.
Unfortunately, Huawei P40 lite E was not equipped with fast charging. We have a standard 10 W block that fills the battery with a charge in about 2 hours.
Security
Huawei P40 lite E uses the classic lightning fast fingerprint scanner. Located in a convenient place at the back.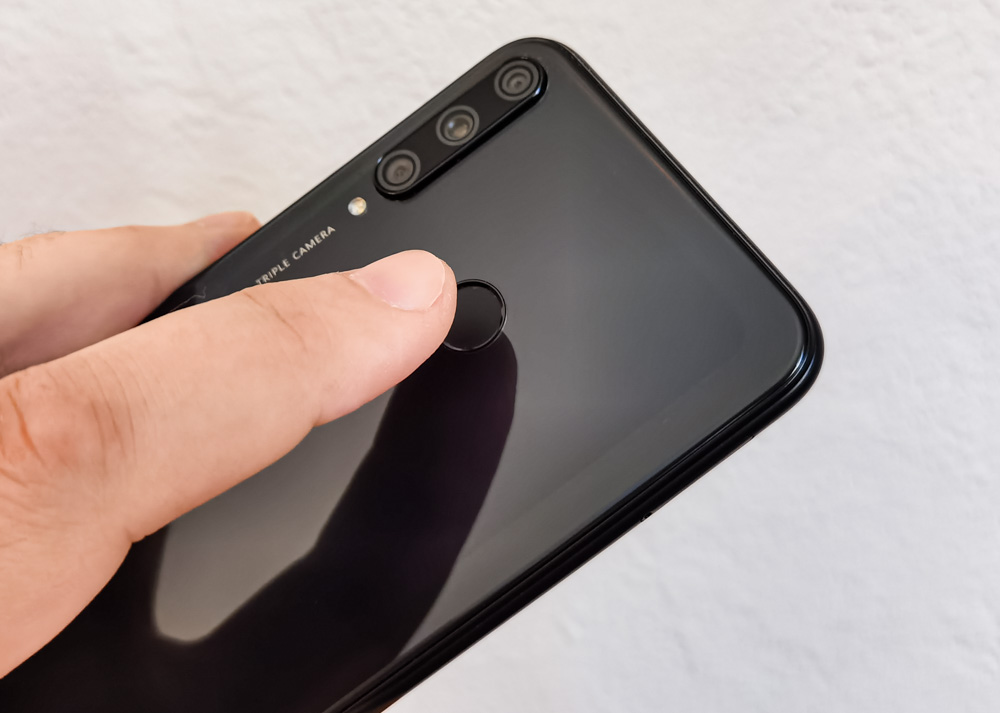 Face recognition is also there and it works quickly in normal lighting conditions.
Firmware and software
In the EMUI 10 review some users complain that they do not like the new version of the shell and ask to return the 9. If you support them, I have "good news" for you. Huawei P40 lite E is currently running EMUI 9. Although an upgrade to 10 is expected very soon, but you may ignore it and enjoy … I don't know … the old version of the system. Although, personally, I still advise you to upgrade to the new firmware version. It is better than the old in everything. But there are other opinions, mostly from a certain category of people who stubbornly resist any changes.
Probably the main question about the software, which excites most potential buyers of Huawei P40 lite E and other AG smartphones (AppGallery is the Huawei branded application store) is what to do with a smartphone without Google Mobile Services. It turns out that everything is the same, only you have to keep using Huawei Mobile Services and alternative application stores like APKPure. I will say only the most important thing – Instagram works, do not worry!
In general, this issue is covered in sufficient detail in two of our other recent reviews of P40 smartphones. In the case of P40 lite E, the situation is completely similar, so I will not paint it again. Read this:
I myself am now in a similar situation, quite successfully using Huawei P40 Pro. I am going to tell in more detail about my experience on the pages of our site. Honestly, after receiving the smartphone, I immediately installed Google services on it. It is relatively easy to do, on the Internet there are a lot of instructions on the topic. There are several implementation options with different results and different limitations, but the main thing is the issue to be solved, if you can't live without GMS at all.
But a few days later I made a complete reset of the smartphone and now, in order to get a new experience, I'm learning to live without Google (actually not really, but these are the nuances that I will discuss later in other articles). In general – a fascinating experience, I will gradually share it with readers, stay tuned.
Verdict
Price, price and again price! And also decent quality of all components. And this is probably the main thing in the context of the economic crisis, which is inevitable.
Huawei P40 lite E (also known as Huawei Y7p) is a basic budget smartphone for undemanding users, which offers an attractive design, decent screen, and excellent cameras that were only recently possible only on smartphones 2-3 times more expensive. Battery life is also up to par. And there is enough memory, and 2 SIM cards + microSD, and what else… Yes, everything except NFC is available here.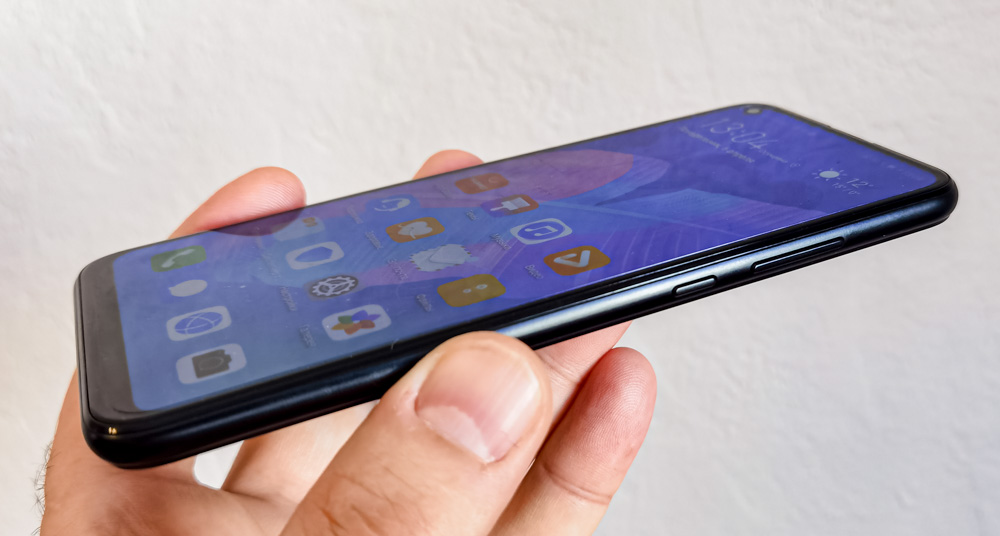 Basically, this smartphone is one of the best for this price, if not for the lack of Google services out of the box. Think, decide. If you really need to, you can install the services yourself. I will not recommend anything, as well as dissuade. I will say one thing – pay attention to this smartphone. It's worth they money Huawei is asking.
Subscribe to our accounts: