In September 2022, Motorola decided to add a new model to its budget moto g series – the Motorola Moto G72 with a 108 MP camera, a 6.6-inch P-OLED display with more than a billion colors, stereo speakers with Dolby Atmos technology, and TurboPower 30W fast charging technology. The price of the smartphone is about $300-320. So, let's take a closer look at what we get for this price, and how does the Moto G72 compare to its g-series siblings launched in 2022?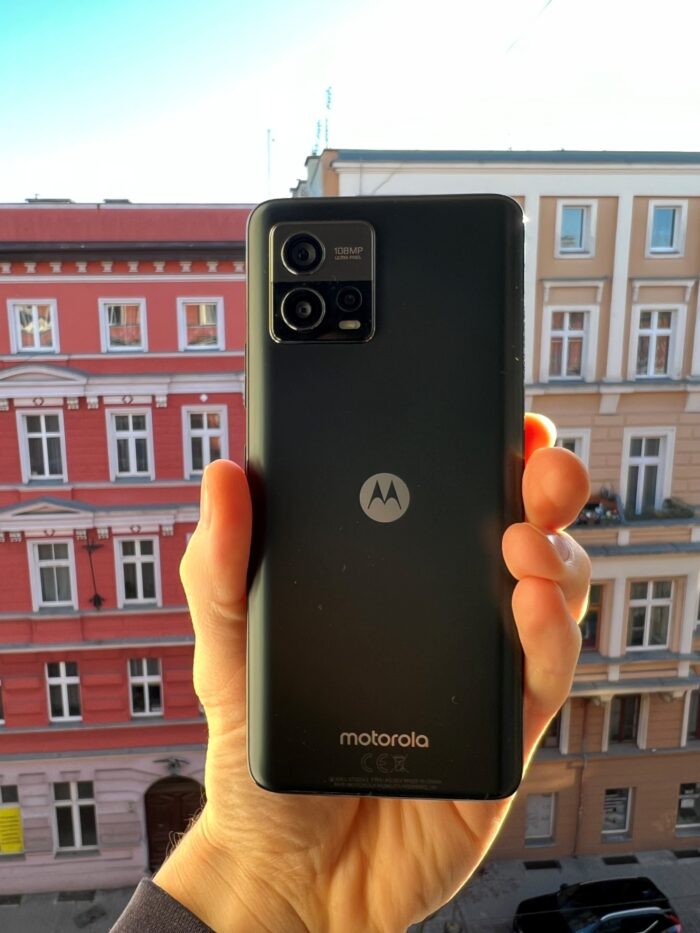 Motorola Moto G72 Specs
OS: Android 12
Screen: 6.6″, P-OLED, Full HD+, 1080×2400, 120 GHz
CPU: MediaTek Helio G99 (2×Cortex A76 cores, 2.2 GHz, + 6×Cortex A55 cores, 2.0 GHz)
Storage: 128 GB, MicroSD slot (up to 1 TB)
RAM: 8 GB
Rear cameras: 108 MP, 8 MP (ultrawide), 2 MP (macro)
Front camera: 16 MP
Camera features: Depth sensor, Macro mode, Interval shooting, Portrait mode, Professional mode, Sports mode, Gesture shooting, Night shooting, Burst shooting
Battery: 5000 mAh, TurboPower charging
Other: 4G, USB-C, Wi-Fi AC (2.4 and 5 GHz), Bluetooth 5.0, satellite navigation (A-GPS, Galileo, GLONASS), fingerprint sensor, FM radio, Dual SIM, connector 3, 5 mm, NFC, IP52, stereo speakers
Dimensions and weight: 160×74×8, 166 g
Price: ∼$300
Read also: Motorola Edge 30 Neo Review: Beautiful Toy With Wireless Charging
Positioning in the Series & Price
The Motorola Moto G72 looks similar to the new Edge 30 Fusion, and unlike last year's G71, it doesn't have 5G support. However, Motorola aims to compensate for this with other features, for example, by introducing a 120 Hz P-OLED screen with 10-bit color, capable of reproducing a billion shades for the first time in the midrange.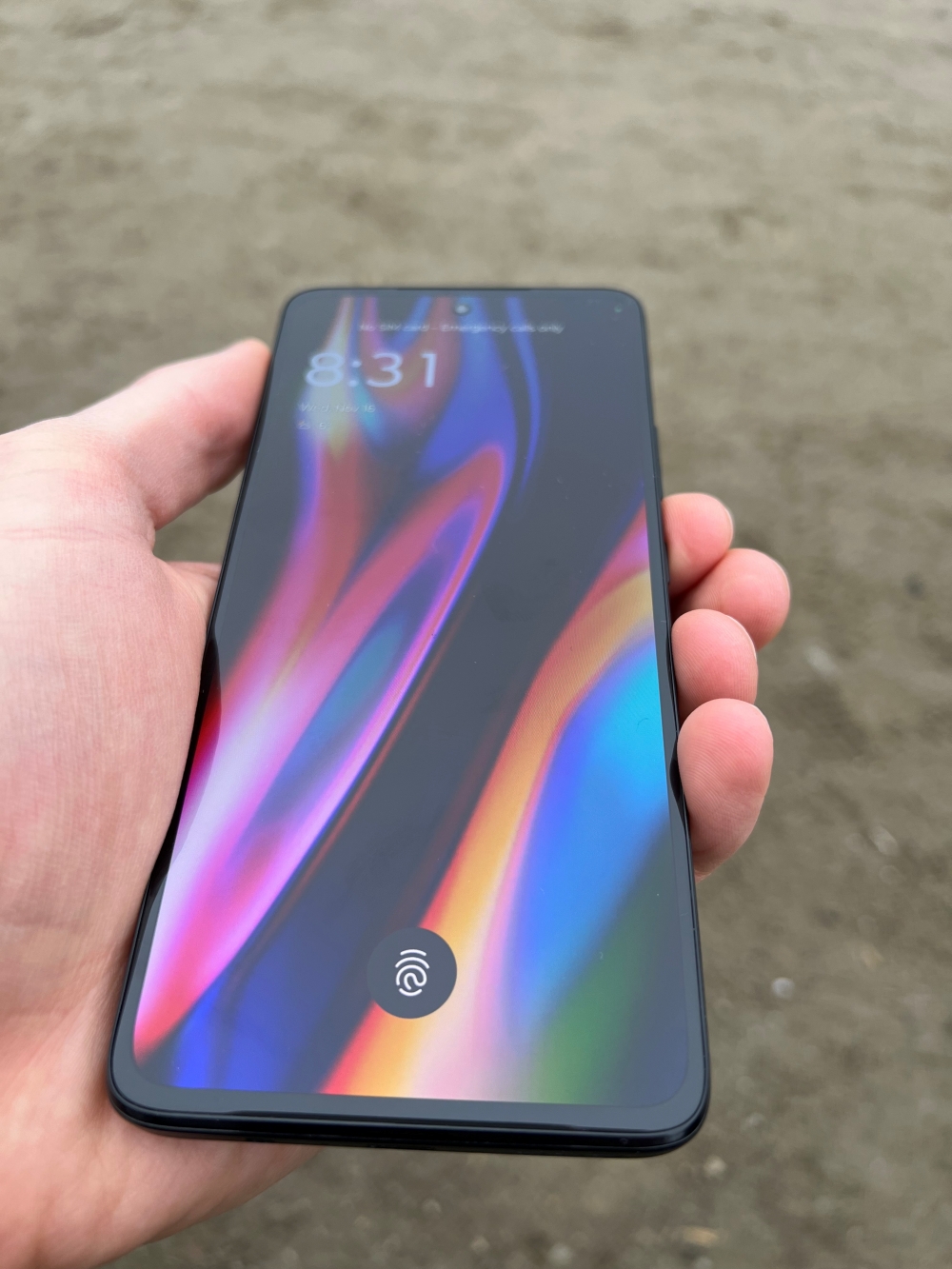 In addition, the Moto G72 is equipped with a 108-megapixel primary camera. According to the manufacturer, the new module captures 9 times more light, combining nine pixels into one powerful ultra pixel. This makes photos brighter even in low light. Other models of the G-series offer only ordinary cameras with up to 50 MP resolution.
The relatively inexpensive Motorola Moto G72 provides performance that will satisfy even demanding users. The MediaTek Helio G99 processor allows you to watch videos in high resolution, play games, and run many apps in the background without breaking a sweat. The new 6nm chip has 20% better productivity in games and is energy efficient even under maximum load. In terms of performance, it is on par with the Qualcomm Snapdragon 695 installed on the Moto G82, which is considered a higher-tier model.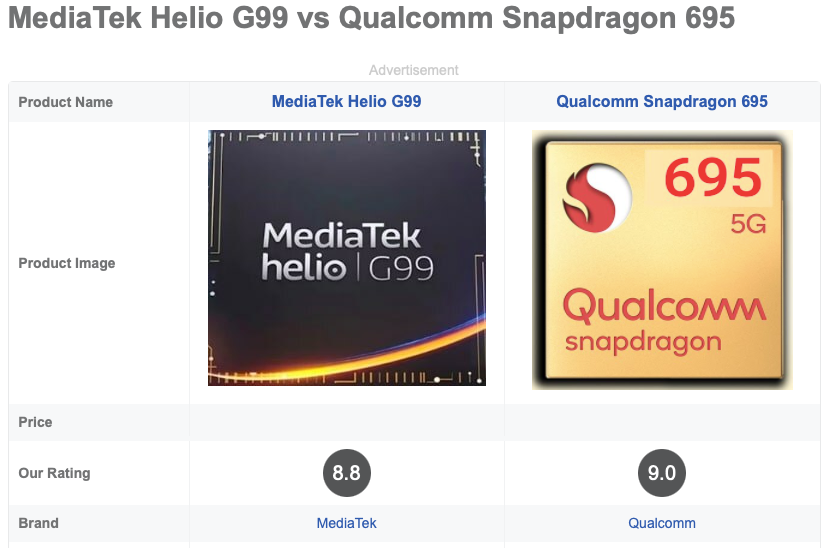 See a more detailed comparison of the specs of G-series smartphones, such as the G52, G72, and G82, here.
Recommended reading: Comparison Of Moto G52 And Moto G62 5G: So Similar And So Different
After considering all the advantages of this smartphone, one cannot but talk about its price. Today, the phone costs about $300. For this reasonable money, you will get a high-quality product with a good camera. And, in terms of specs, it is almost the flagship of the g-series. Well, now let's take a closer look at this smartphone.
What's in the Box
In the updated series, Motorola emphasizes eco-friendly packaging. No plastic bags, just biodegradable cardboard and soy ink.
In a compact package, you will find the phone itself, a 33W charger, a cable, a clip for the SIM slot, a case, and documentation. The case is made of silicone with the addition of plastic to protect the phone from falls on the edge and is very comfortable in the hand.
Read also: Motorola Moto G32 review: Balanced and affordable
Motorola Moto G72 Design
The entire series, introduced in 2022, has rounded edges and an island on the back that houses the cameras. But in the case of the Moto G72, things are different. A less protruding and more squared-off camera island with rounded corners and bisected in two shades of the main color. The edges on the back have a visible curve on the sides.
The design of the rear part is similar to the "stylish" Motorola Edge 30 Fusion series. The smartphone fits perfectly in the hand, and the matte plastic back of the device is pretty resistant to dirt and scratches. The frame is also made of plastic. Everything fits so well that there is not a single gap. And there is clearly no feeling of "cheapness", which is often found in the sub-$300 smartphones.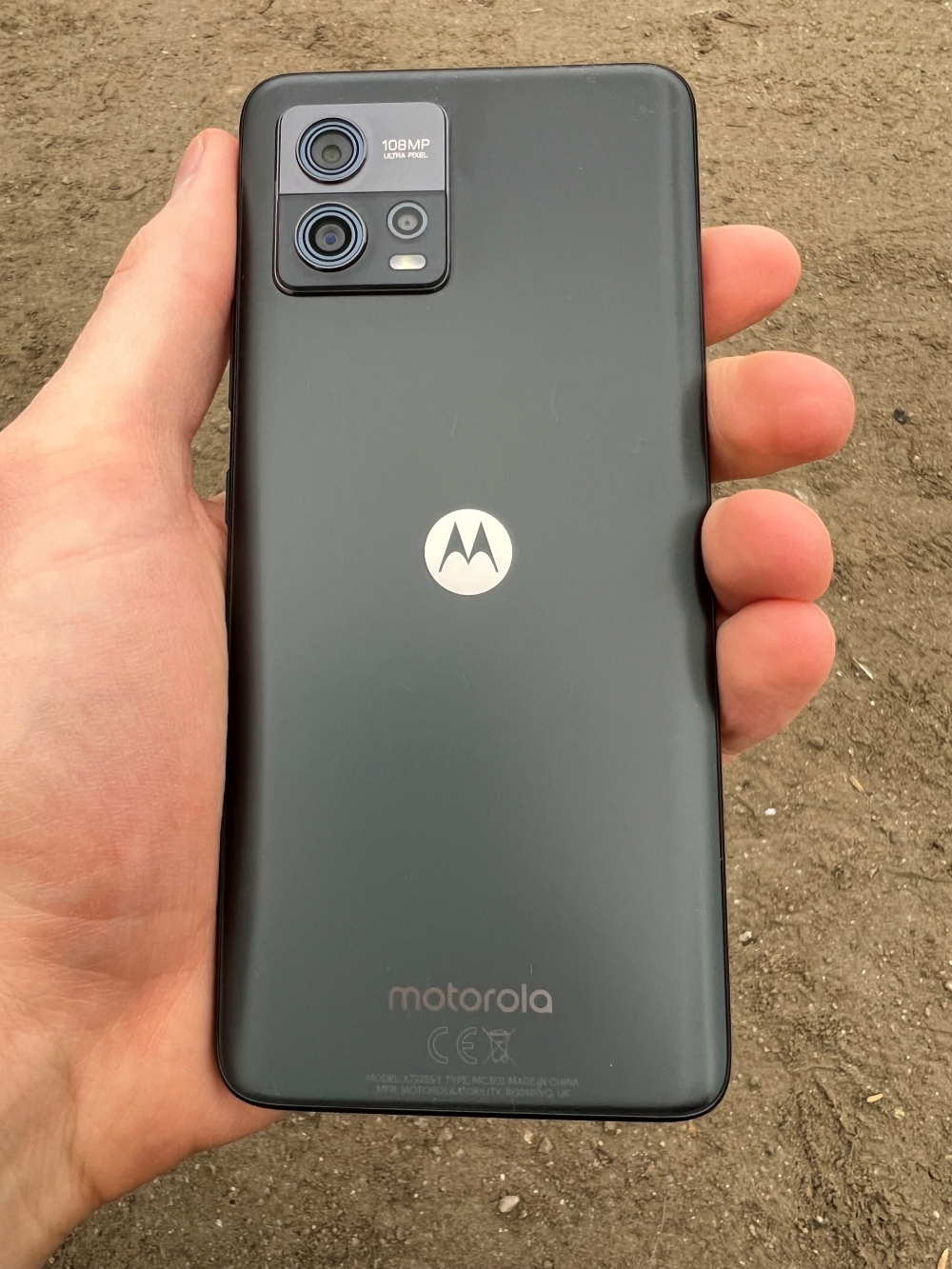 I really like the way the front panel of the device looks – the small hole for the front camera, minimal and neatly rounded bezels, and the fingerprint scanner built right into the display – it's very convenient.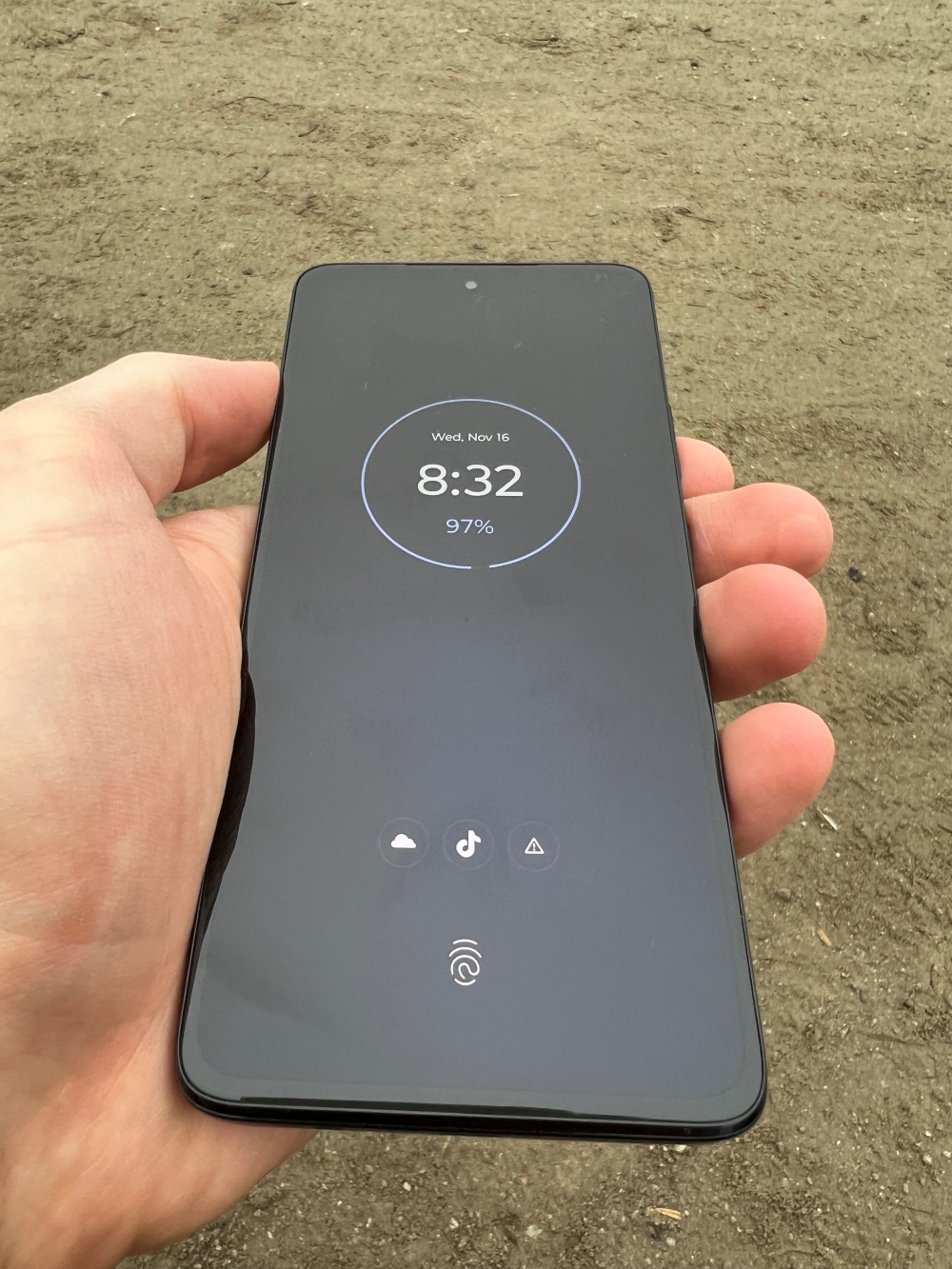 Available colors are "Meteorite gray" and "Polar Blue". There isn't a wide variety, but the available versions look good and will suit the vast majority of the users.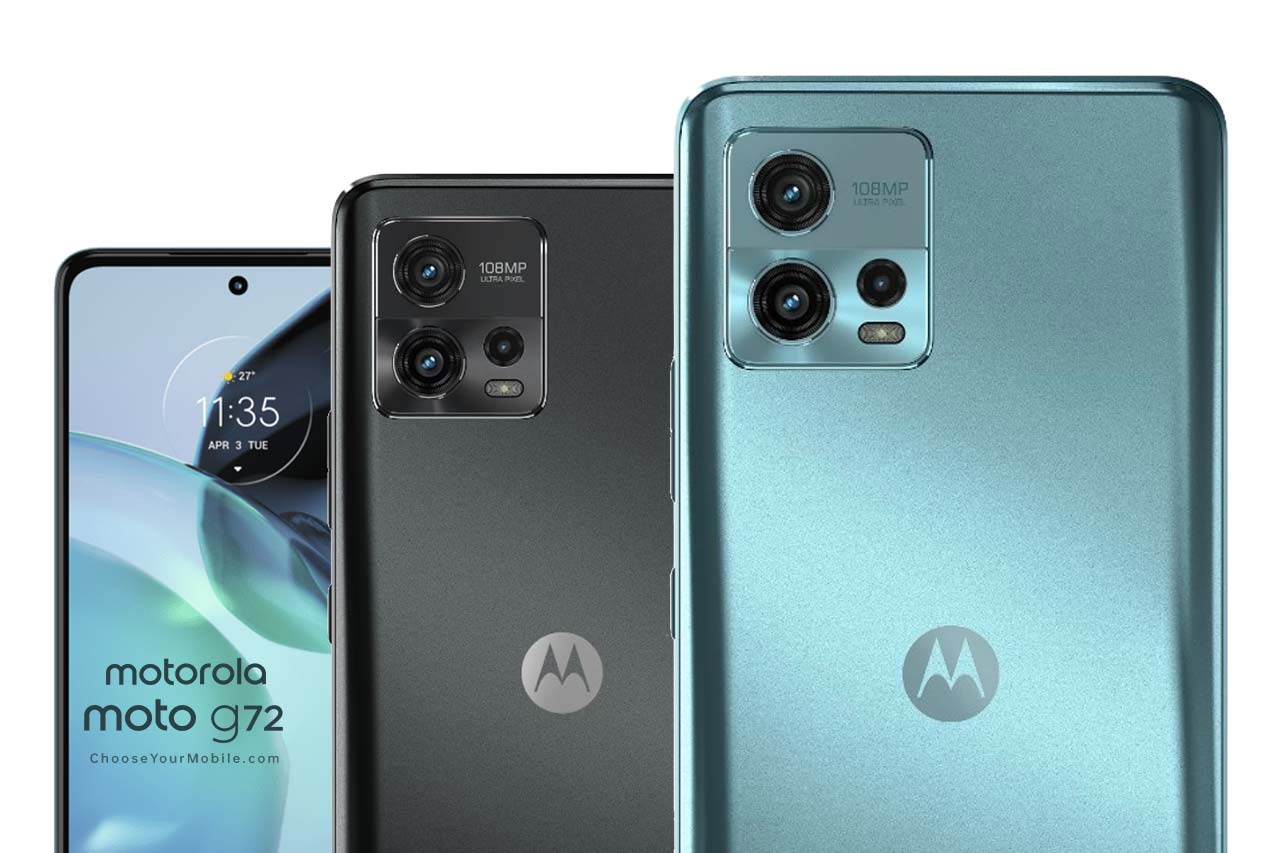 The side frame is made of plastic and colored the same shade as the back pane. It is matte with glossy edges.
On the left side, there is a slot for a SIM card – which is hybrid, as usual. We have to choose whether we want two SIM cards or perhaps only one, but increase the memory with a microSD card.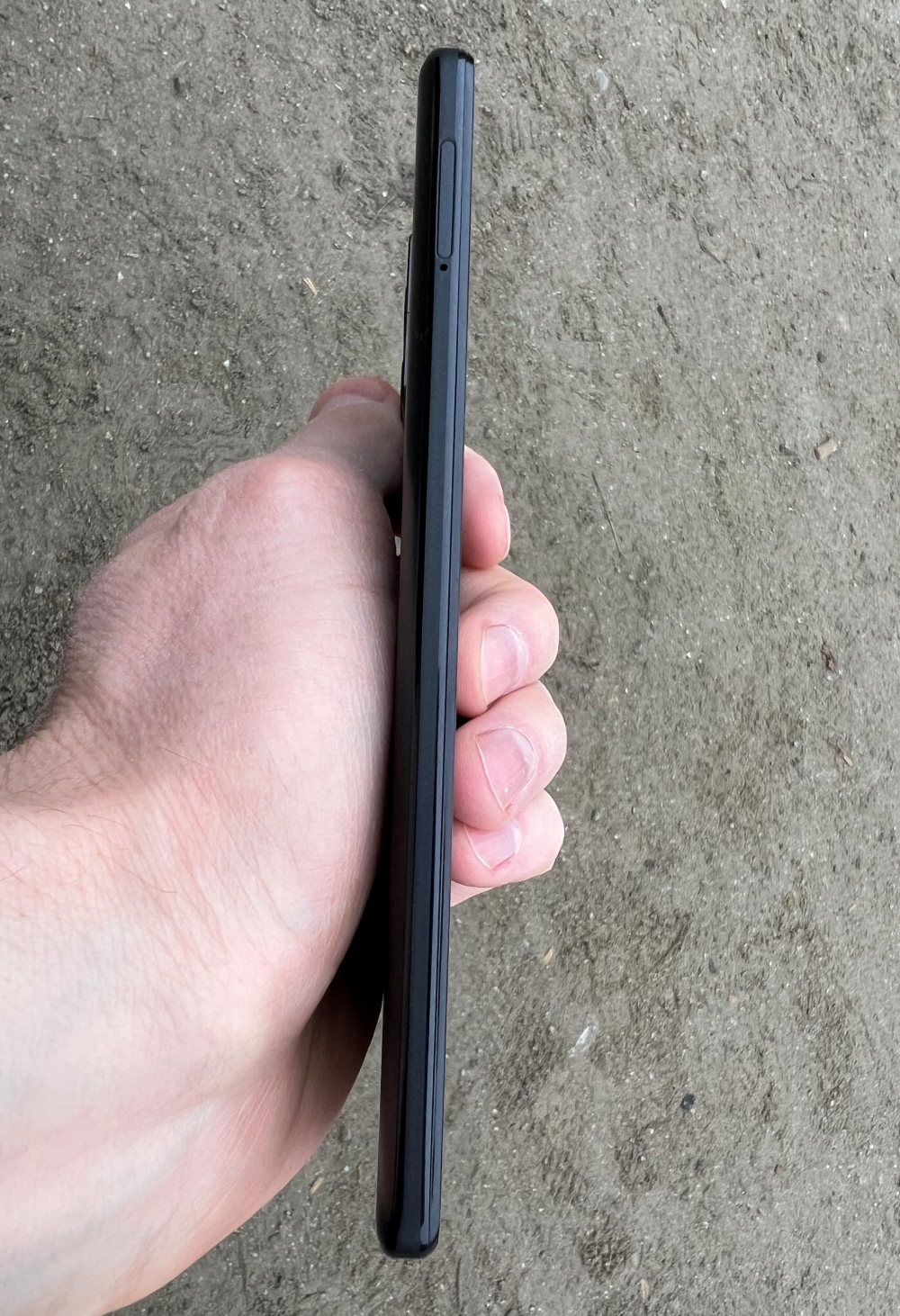 On the right side, you'll find a volume rocker and a power/lock button. The buttons are at a comfortable height and firmly sit in their places.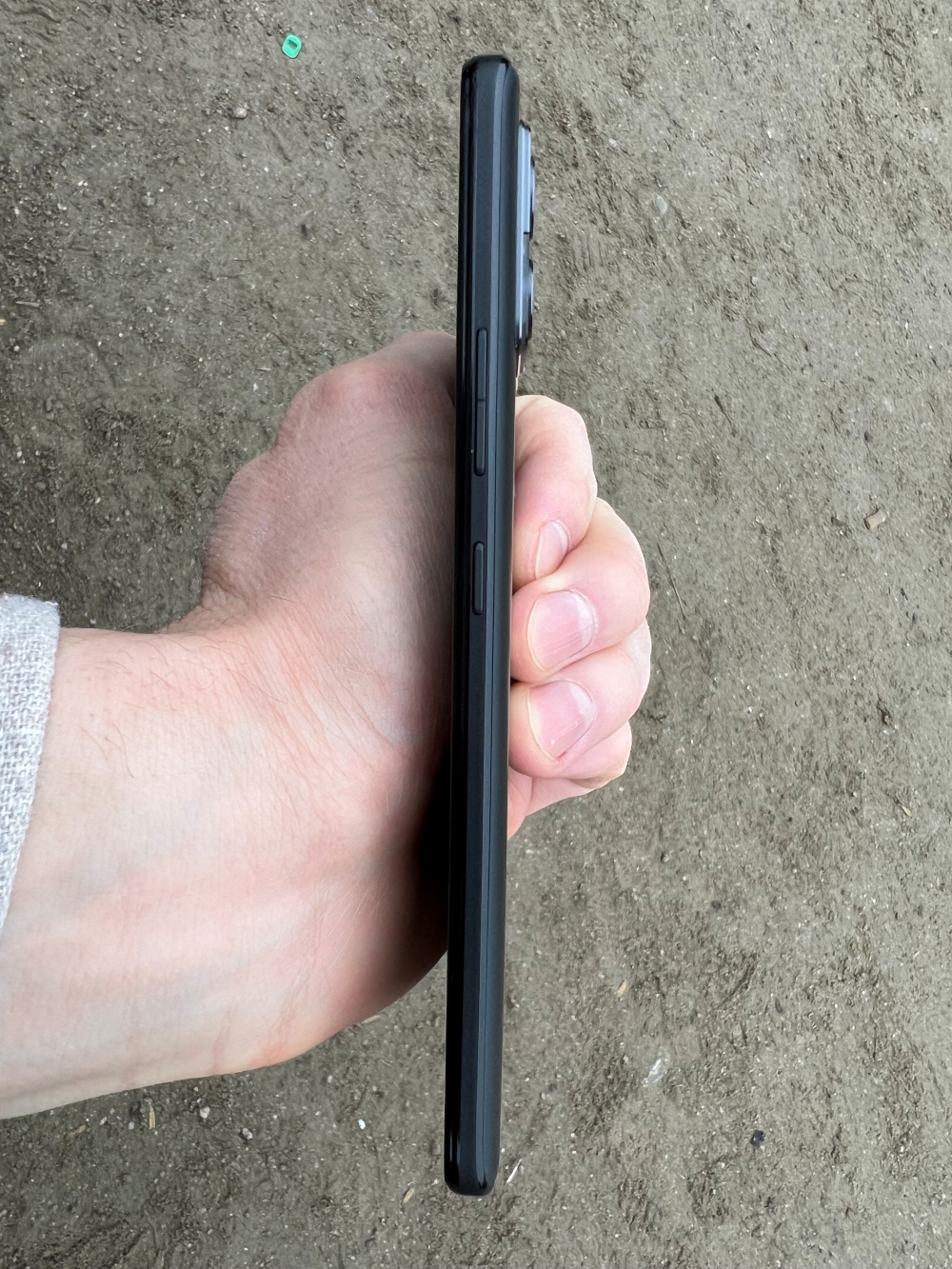 On top are a noise-canceling microphone and the Dolby Atmos text, which indicates the presence of good stereo speakers. One speaker is at the top of the screen, the other is classically near the bottom edge of the device.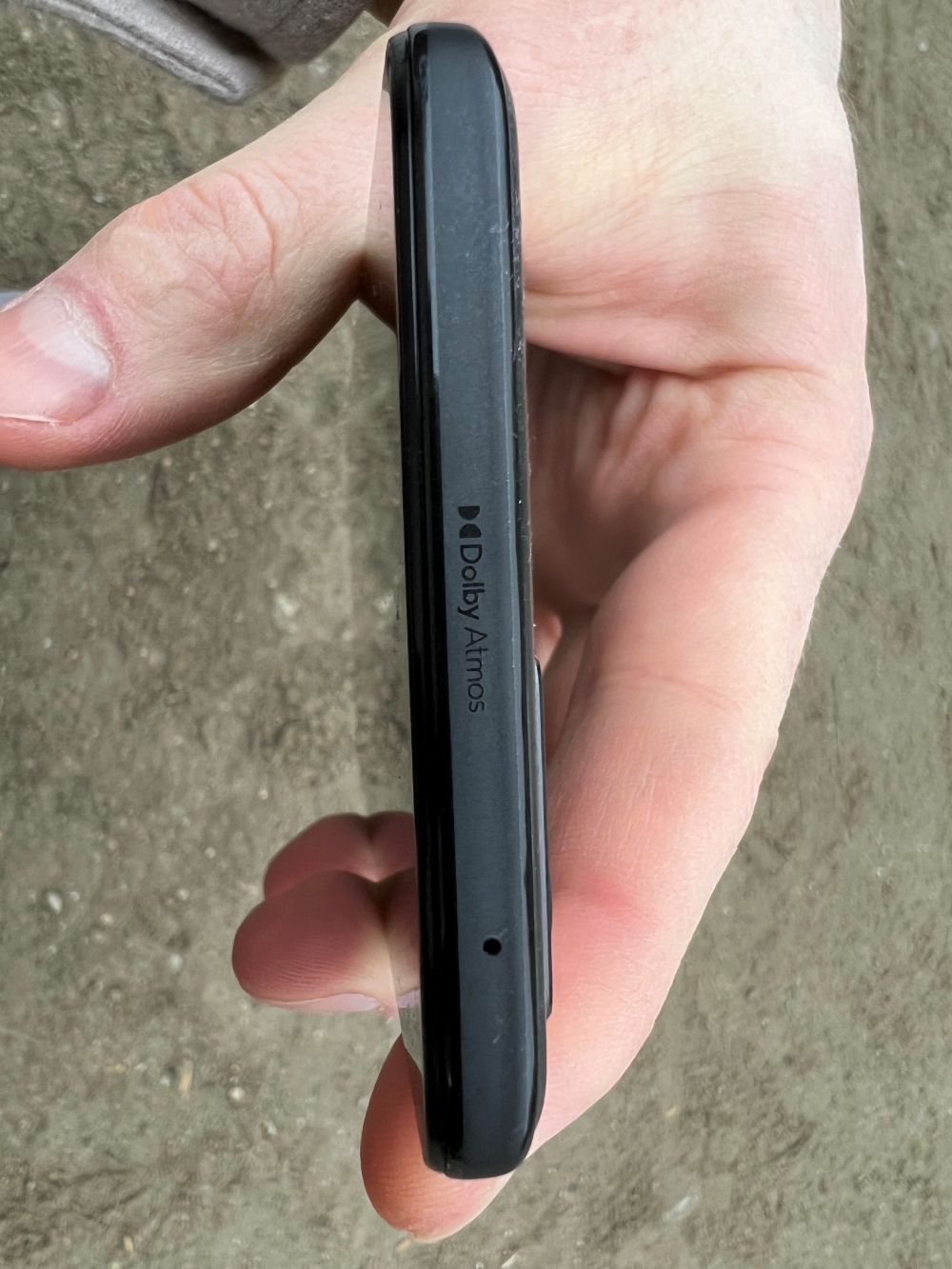 On the lower end, there is a 3.5 mm headphone jack (it's good that not all smartphone brands ditched it), a USB-C port for charging, a microphone, and three speaker holes.
It is important to note that the build quality of the device is perfect, and also that the G72 has a feature common to Motorola models – basic protection against splashes and drops of water (IP52), which will allow you to safely use the phone during light rain.
Recommended reading: Motorola Edge 30 Review: Balance At Maximum
Motorola Moto G72 Screen
The phone received a 6.6-inch P-OLED display with a 2400×1080 resolution and a 120 Hz refresh rate. The screen also offers HDR10+ support. P-OLED is now considered an advanced technology, which not only allows for excellent color reproduction but is also easy on the phone's battery.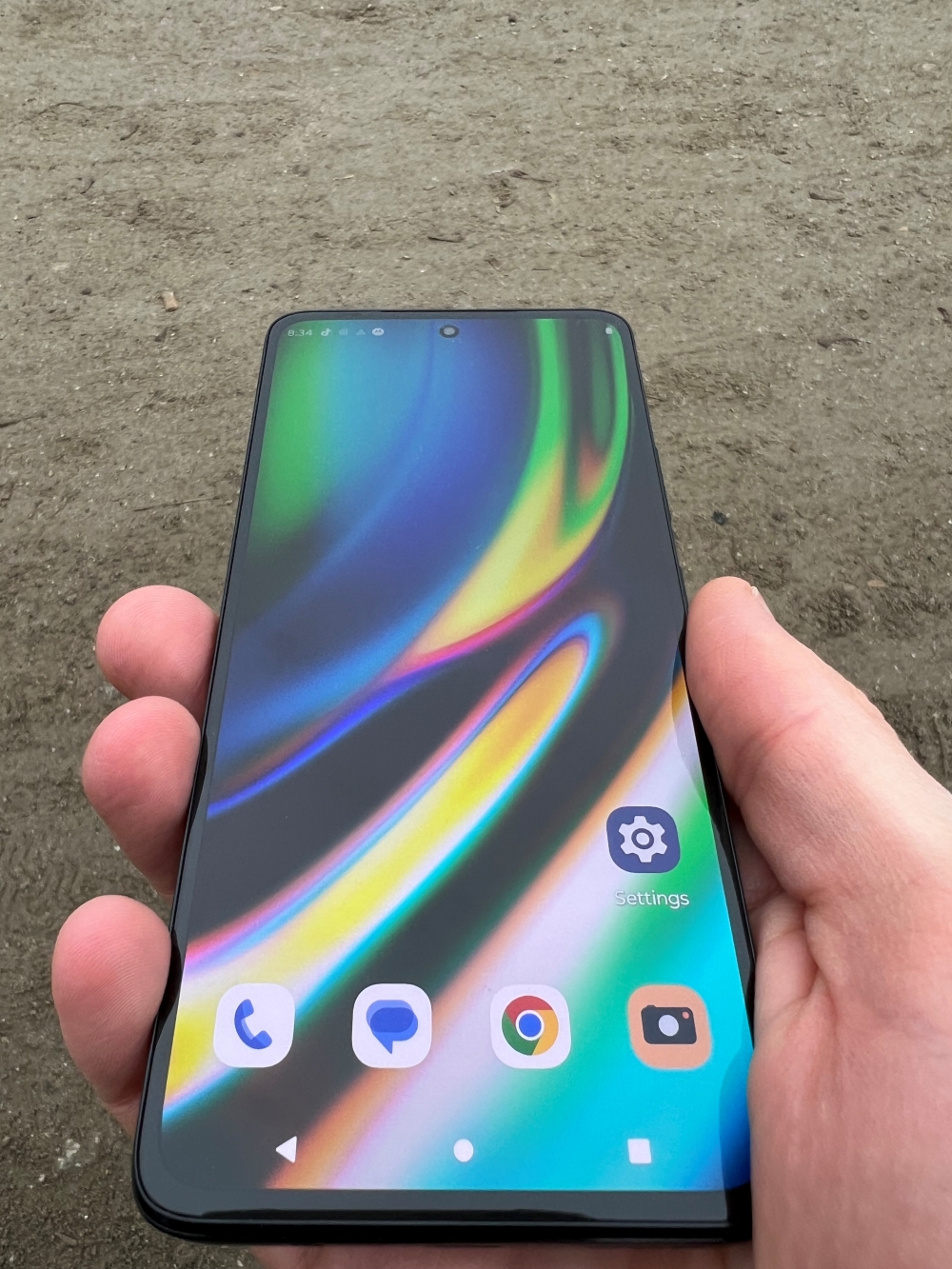 The display is gorgeous, as if straight from a more expensive phone, which is also why the smartphone makes a particularly pleasant impression when it is turned on for the first time. Eyes do not get tired after a long period of use. It is also not particularly large, so the clarity is very high. The picture is juicy, and viewing angles are maxed out, with no color distortions at any angle. Black depth is high.
The screen refresh rate of 120 Hz provides a smooth and eye-pleasing experience when scrolling, for example. Three are three display modes available – auto, 60 Hz, or 120 Hz. I recommend using Auto when the phone itself switches between different options – a compromise between smoothness and battery life.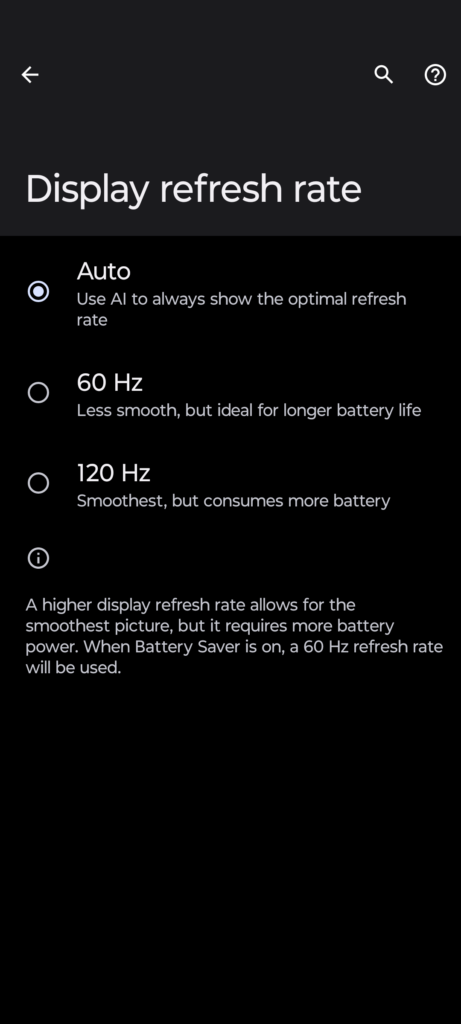 The "extra dim" feature, which is here to reduce the minimum brightness of the display (which is important for bright OLEDs), can be found in the quick settings shade. I like to watch something on my phone before going to sleep, and thanks to this feature, the bright light does not harm my eyes.
A Motorola version of AoD is available – when time and messages are shown on the lock screen with the quick preview option (Peek Display). This screen activates itself for a few seconds when you pick up the device, touch the display, or wave your hand over it, with a dark background and minimal brightness to save power. This feature appeared in Moto long before other manufacturers invented a full-fledged AoD.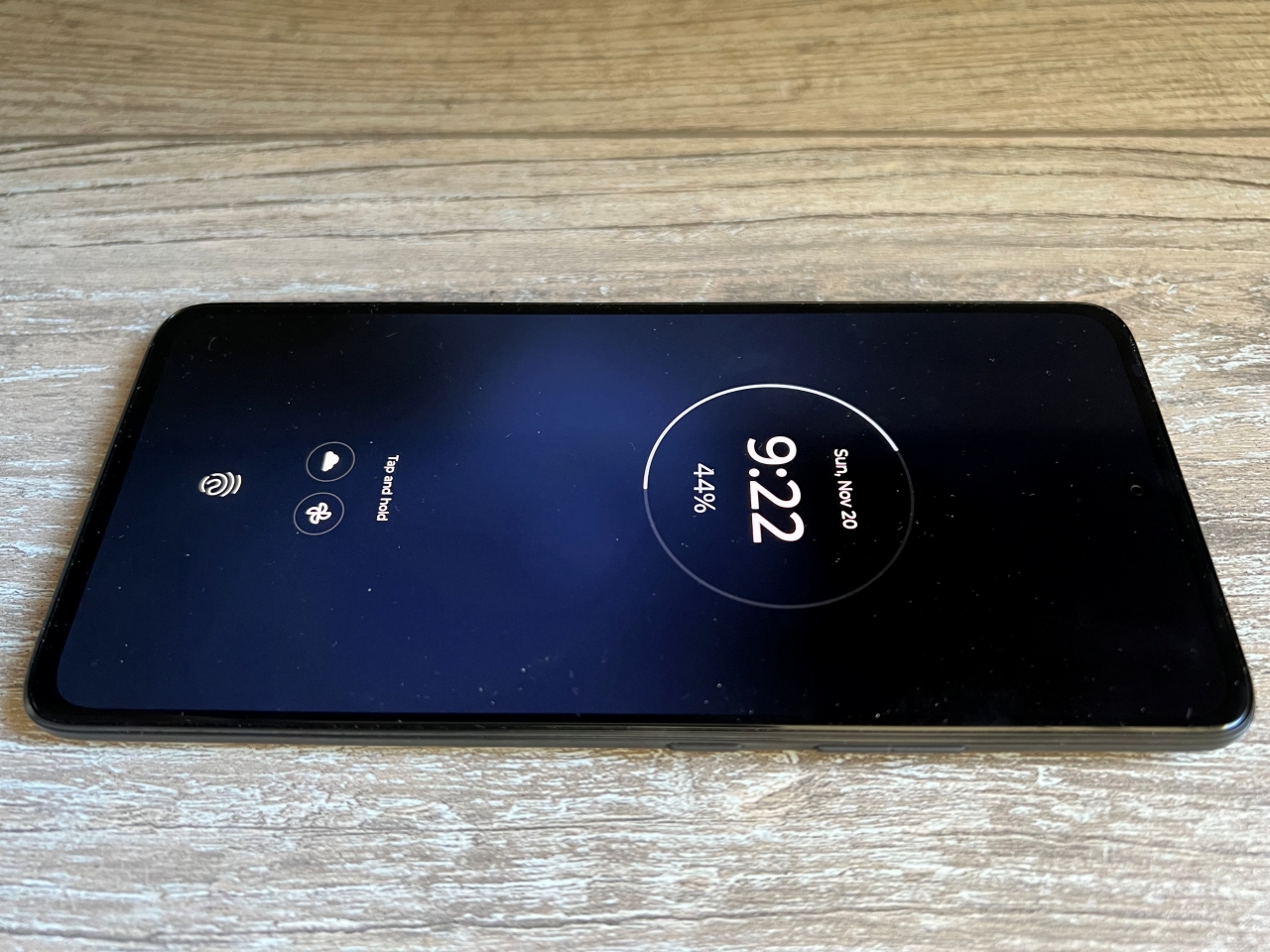 Recommended reading: Moto G82 5G review: inexpensive smartphone with OIS and AMOLED
Motorola Moto G72 Hardware & Performance
The moto G72 smartphone is powered by a MediaTek MT8781 Helio G99 SoC. The chipset was updated using the TSMC N6 (6nm) process, which allowed it to be more energy efficient and give device manufacturers the opportunity to create less power-hungry gaming smartphones. The MediaTek Helio G99 contains 8 cores in total with two high-performance ARM Cortex-A76 clocked at up to 2.2 GHz and six ARM Cortex-A55 clocked at up to 2.0 GHz.
The ARM Mali G57 is responsible for the graphics. LPDDR4X RAM with up to 2133 MHz and UFS 2.2 storage allow fast data access. The chipset, among other things, allows you to use a 108-megapixel camera.
8 GB of RAM is an excellent amount for an average person, there are no problems with restarting applications when switching between them.
In general, the smartphone seems to work as fast as the flagship models. It is not afraid of any tasks, including new 3D games. However, not all of them will run with ultra-graphics settings, but it is not necessary.
Read also: Motorola Moto Edge 30 Pro review: is it really a flagship?
Motorola Moto G72 Cameras
The camera, in my opinion, is the main feature of this smartphone. The camera unit consists of three modules: the main 108 MP (still a rarity for a midrange smartphone!), an 8 MP ultrawide, and a 2 MP macro camera. Optical stabilization allows you to shoot smooth videos and improve the quality of photos in low light.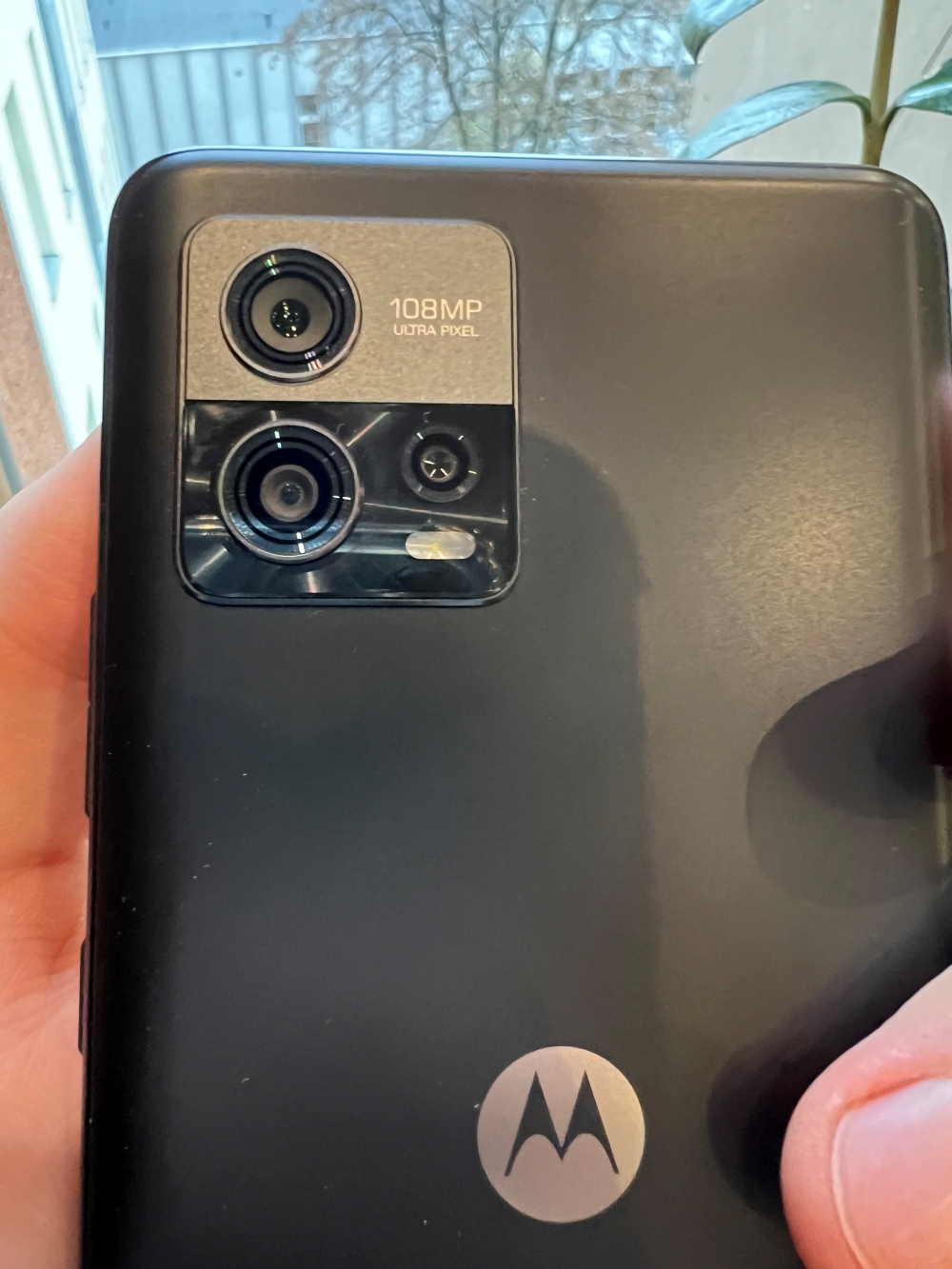 Ultra Pixel technology works magic with your photos. With its help, nine pixels merge into one large one, and the photo does not take up much space on the device, but the image remains full of colors and preserves important details.
Of course, this is not a flagship, so, as in all midrange smartphones, in low light, detail and clarity are slightly reduced, and moving objects can be a little blurry – after all, miracles do not happen.
PHOTOS SHOT ON MOTO G72 IN ORIGINAL RESOLUTION
The night mode allows you to take juicy photos that are as clear as possible, which is not what you expect from a $300 smartphone. The software and cameras in the Moto G72 work harmoniously together. Of course, when activating the night mode, the camera "hangs" for a couple of seconds to take a series of photos and then skillfully process them, but as a result, we get a neatly lit and not blurred image with almost no digital noise.
The wide-angle camera is not bad, the image is high-quality, with decent contrast and dynamic range, and the corners are almost not distorted. The only downside – the photos will be a little darker than the ones shot on the main camera. Below is a photo from a wide camera compared to a photo from a wide angle camera.
There is also a macro lens. In mid-range smartphones, it is installed to say that "there are more cameras". Often the pictures came out blurry. Maybe I didn't understand the way focusing works, but there were also decent ones. Of course, to have a complete picture, it is better to look at examples of photos in the original resolution. All photos from the G72 are in this folder.
Selfies from the 16 MP front camera are clear, with good color reproduction, but I personally would like to see more details in the frame in night mode. You can select an additional filter during or after shooting.
There's an option to illuminate the screen with a white frame, but it won't do much to improve how your face looks in the dark. The smartphone takes both a normal picture and one processed with the help of AI – to your choice. The "beautifier" works quite aggressively, but it can be turned off if desired.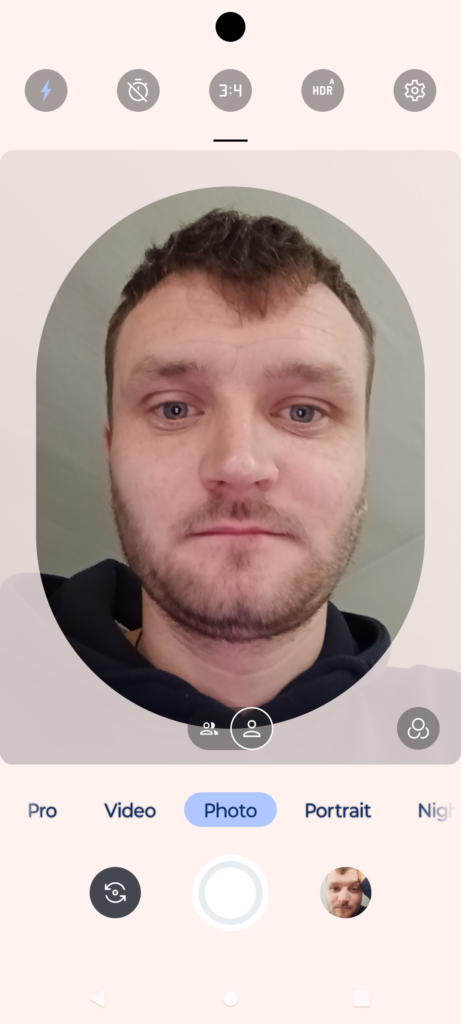 The smartphone records video in 1080p at 30 or 60 fps. To my surprise, there's no 4K mode. The video quality is good and smooth – no dropped frames, fast autofocus, and stabilization works great. The only thing is that autofocus is always jerky in 60 FPS mode. For video, available modes are slow-mo, "selective color" (highlighting one specific color in the video), time-lapse (a video created from a series of photos taken with a still or a smoothly-moving camera over a long period of time), as well as dual recording, which allows you to simultaneously record video from the front and rear cameras. You will find all the sample videos taken during the G72 test in this folder.
The interface of the camera application is standard for Motorola. It is simple and convenient. There is a Pro mode that gives you almost complete control over camera settings (such as white balance, ISO, autofocus, exposure, and shutter speed), selective color (leaves one color in the photo), panorama, live photos, live filters, RAW and so on.
Recommended reading: Motorola G51 review: another budget smartphone from Motorola
Connectivity
The phone comes with the standard set for wireless connectivity: Wi-Fi 802.11 a/b/g/n/ac 2.4+5 GHz, Wi-Fi Hotspot, Bluetooth 5.0, NFC for payment in stores, GPS, GLONASS, and Galileo. There is also a compass (magnetic sensor). You can connect your TV via Wi-Fi while watching YouTube. During the test, all modules perfectly coped with their task.
Sound
In low and mid-range smartphones, stereo speakers are a rarity. But the G72 comes with stereo speakers, a 3.5 mm headphone jack, and Dolby Atmos surround effects, which you can adjust with ready-made presets or by independently setting the necessary tonal range.
The Motorola Moto G72 speakers sound good. Both in terms of sound quality and volume. Imperfections can be heard only at maximum volume, which is not surprising. I was pleased with the presence of a headphone jack. As always, a lot in terms of sound depends on the headphones used. As for the speakerphone and mic quality, it was perfect during all the tests, even a strong wind did not interfere.
Read also: Motorola Moto G71 review: the best of the rest
Motorola Moto G72 Software
The OS is still not very outdated Android 12. I would like to see the 13th version "out of the box", but what we have is what we have. The appearance and UX are as close as possible to "pure" Android. I think the operating system will be one of the deciding factors when choosing a phone for those users who don't like 3rd-party interfaces.
I like that Moto has exclusive features that Google doesn't offer its users. They are all grouped together in the Moto app. There are interesting design themes, gesture control (there are many options, for example, turning on the flashlight by double shaking the phone, activating the camera by turning the wrist twice, taking a screenshot by touching the screen with three fingers, silent mode by turning the smartphone screen down, etc.) and others:
Moto Display: display time and notifications on the lock screen with the ability to quickly view them with a touch. Activates for a few seconds when you pick up the device or wave your hand over it, with a dark background and minimum brightness to save power
Active display (if you're looking at it)
The option of dividing the screen into two parts
Ability to launch apps and other tweaks for gamers in a separate window during the game.
A double-tap gesture on the back panel activates the recorder, but you can assign it to start any program, start/pause while listening to music or take a quick screenshot.
I would also like to note that in the new version of the Motorola OS, the icons of its apps have been updated (by the way, there are only three of them, no bloatware, that competitors suffer from). Fonts, clock and weather widgets for the desktop, and time on the lock screen have also been updated. The shell now looks more modern, which is cool.
Recommended reading: Moto 360 3rd gen smartwatch review: long term experience and positioning
Battery Life & Charging
If the battery life is important to you, then you should consider buying the Motorola Moto G72, which has a 5000 mAh battery. Do not forget about the energy-efficient processor and battery-saving, but high-quality display. I am not an active user, but during the test, I easily had enough battery life for 2 days of using social networks, browsing, maps, conversations, and periodically shooting photos.
The manufacturer treats the buyer honestly and adds a 30W charger to the box. And here we can feel that the smartphone is a mid-ranger (although 30W is objectively not a slow charging). But other phones, in particular cheaper ones, can please the user with 45W or even 60-120W solutions.
How does this affect real-time charging? The 5000 mAh battery will be charged from zero to one hundred percent in an hour and a half. Nothing too critical.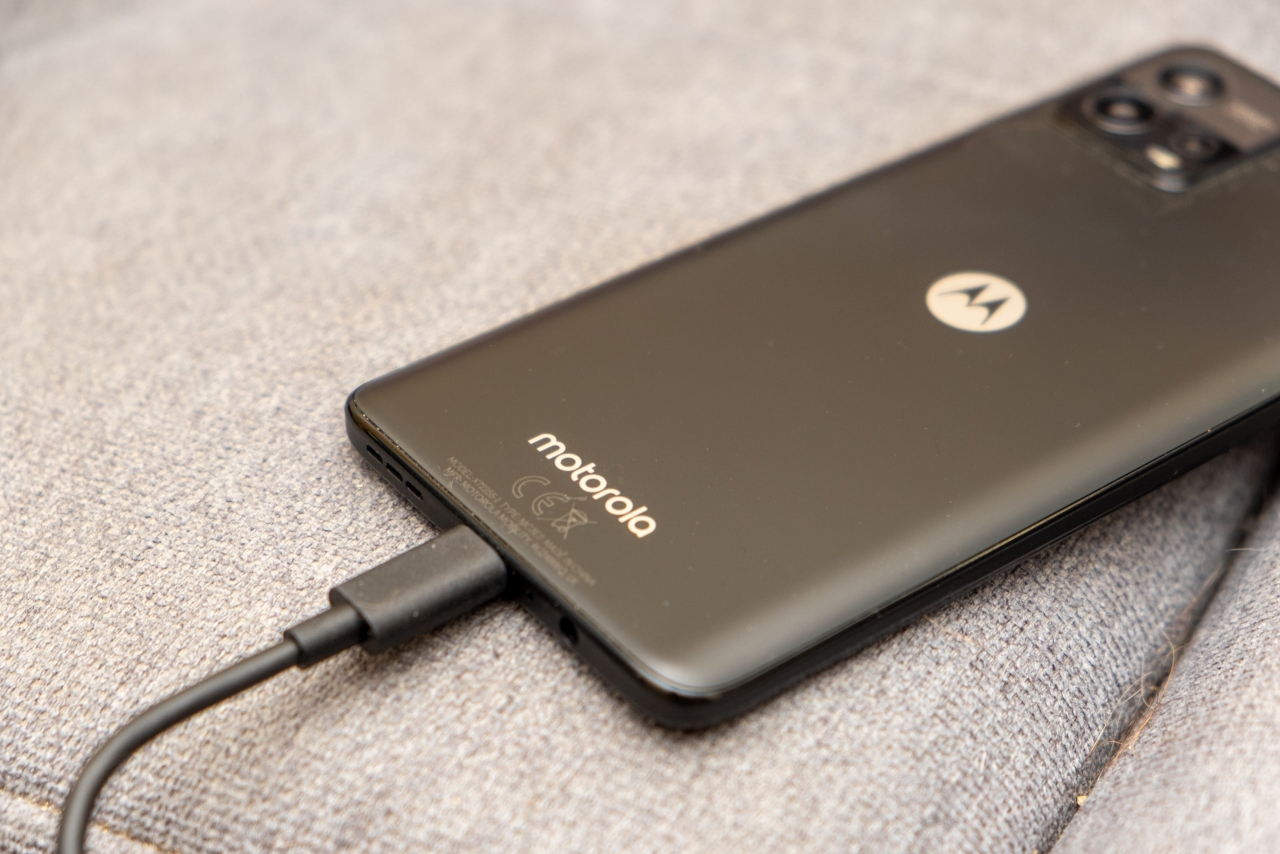 Conclusions & Competition
In general, Motorola Moto G72 is a very convenient mid-range smartphone. An excellent screen, good performance and energy efficiency, juicy photos from the main module, stereo speakers and Dolby Atmos, a headphone jack, good battery life, and high build quality are all big advantages for the manufacturer. Of course, there are some downsides as well: the lack of a 5G module, weak auxiliary camera modules, and only 30 W charging.
Along with the rest, pure Android with very useful features from Motorola is a plus. But is that enough to convince as many customers as possible or can you find something more interesting for that $300+? Let's look at the competitors.
The first will be the Realme 9 8/128GB smartphone, which is cheaper, also lacks 5G, and has a 108MP camera. The advantages include  Bluetooth 5.1, and that's it. The model is worse in performance, because the Qualcomm Snapdragon 680 is already outdated, and the screen refresh rate is just 90 Hz. Otherwise, smartphones are almost identical. You can consider the slightly more advanced Realme 9 Pro, which is also slightly cheaper than the Moto G72. And the Realme 9 Pro+ will be a little more expensive, but also more powerful.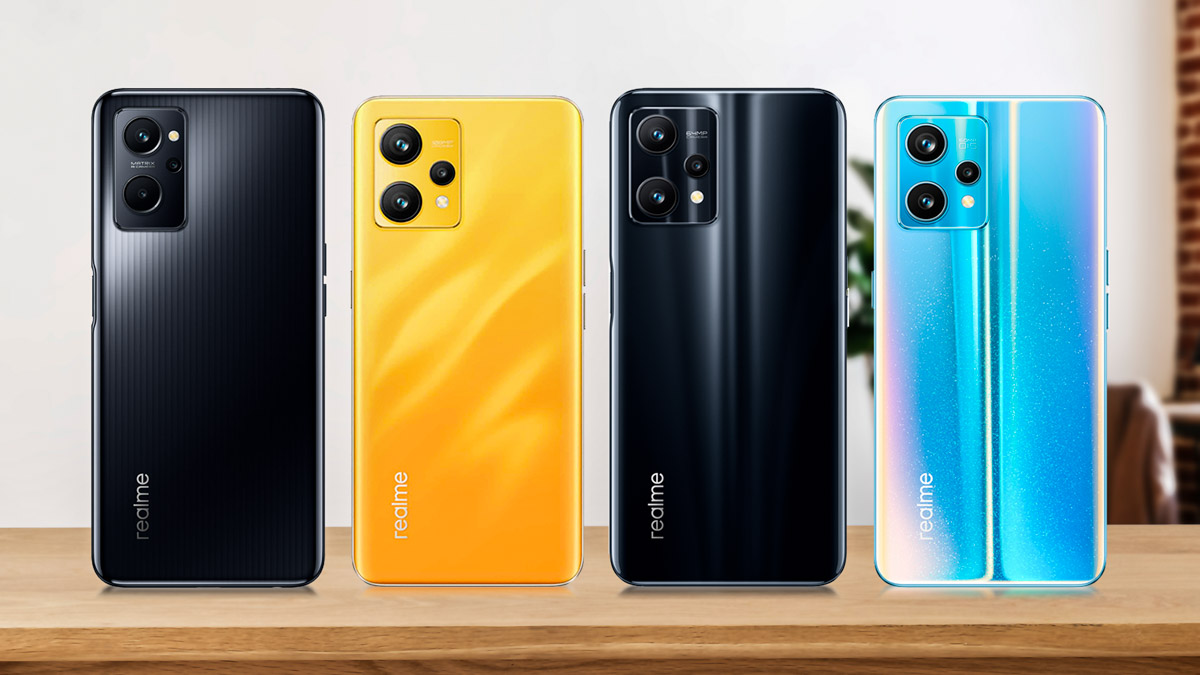 The OnePlus Nord CE 2 8/128GB is also slightly cheaper. Its advantages are the ability to shoot videos in 4K, and a more powerful MediaTek Dimensity 900 SoC. Compared to the Motorola Moto G72, the phone is inferior in terms of the main camera, we also have a smaller display (6.4 inches) with a refresh rate of 90 Hz, and a battery of only 4500 mAh — this is the most frustrating.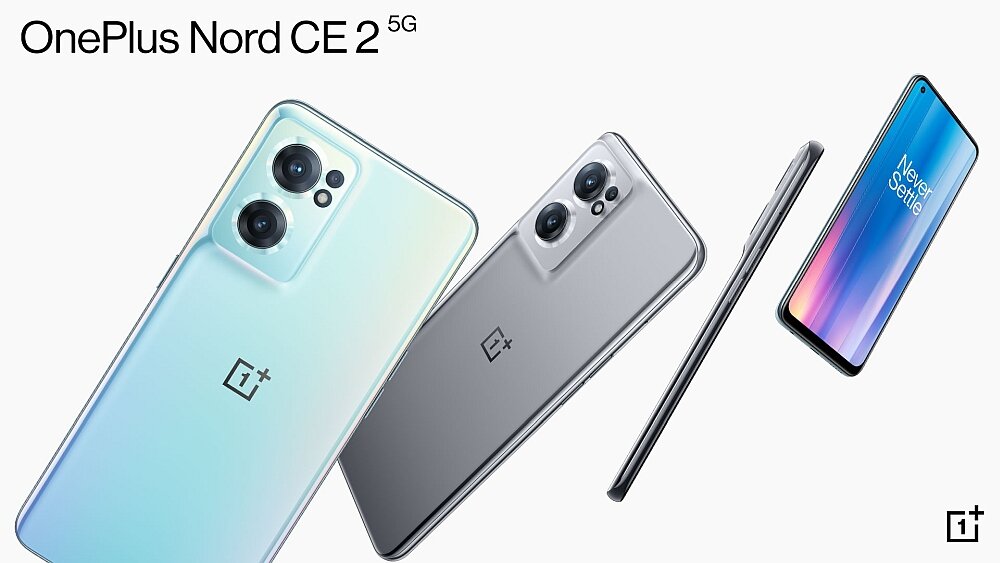 Available at the same price as our Moto, OPPO Reno7 8/128GB sole feature is the 64 MP front camera. Otherwise, it is not so interesting in terms of screen, battery, and SoC.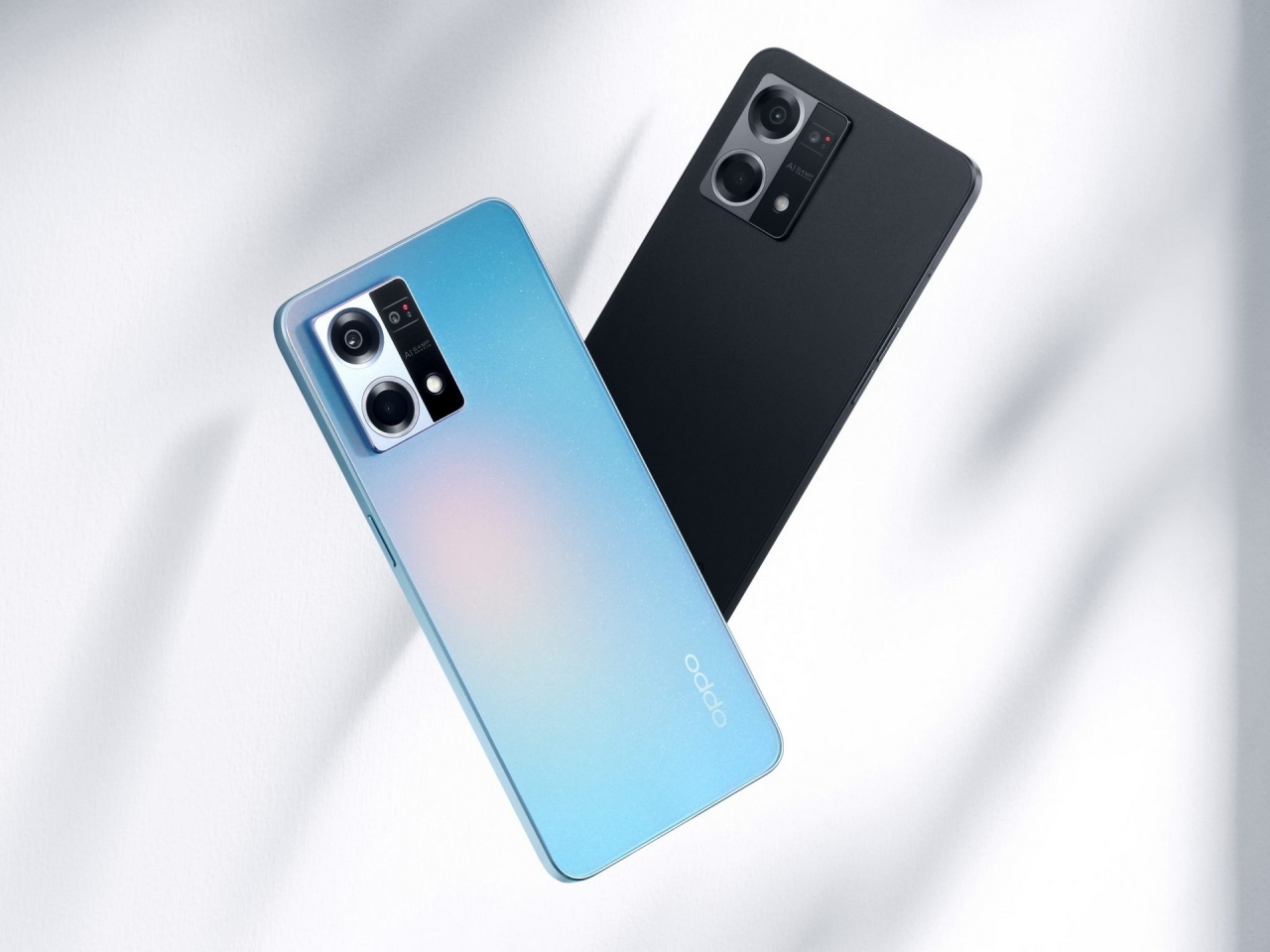 From the Xiaomi side, there is an interesting POCO X4 Pro 5G 8/256GB, which costs a little more than the G72 but can be found on sale for the same price. It has a bright and interesting design, an equally cool 120 Hz display, a productive Snapdragon 695, 67W charging, and support for 5G networks. The main camera is 108 MP and is also very decent.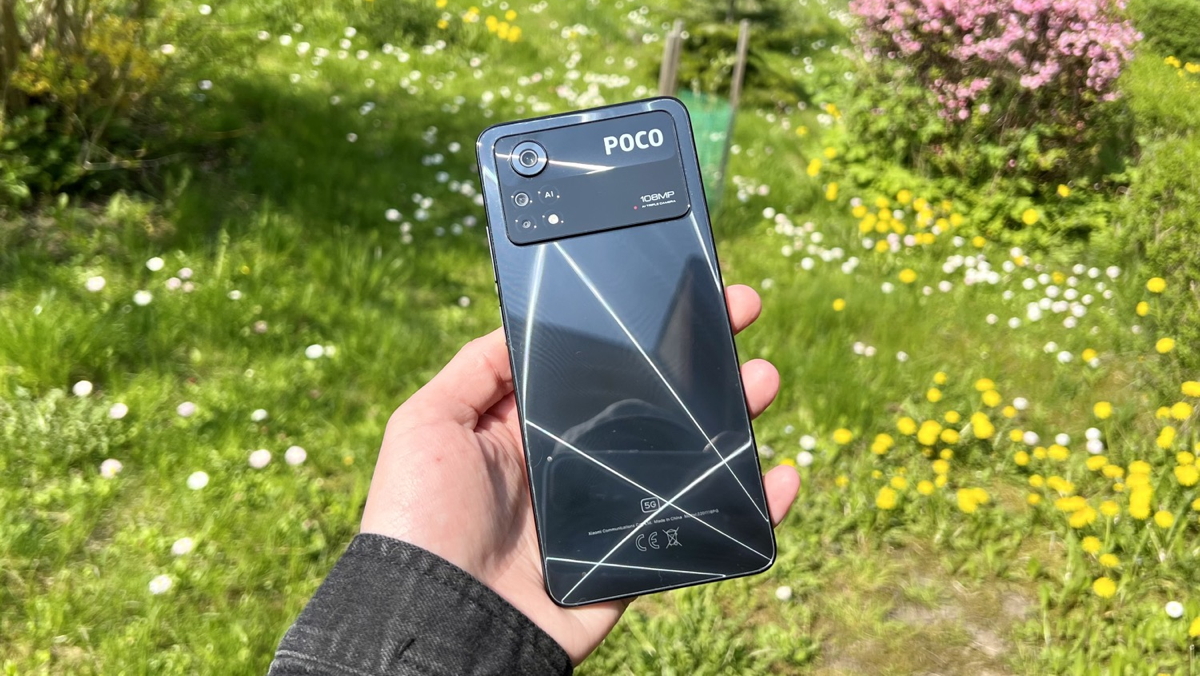 In the mid-range price category, the Motorola Moto G72 certainly has competitors. But many models that I have not mentioned here, have the same or even higher price and are weaker in a number of key specs. So Motorola can be called a clear winner.
Read also: