In the text below I will try to tell about my experience with Moto 360 3rd gen smartwatch after a certain period of use. I will explain my choice, what I liked about this smartwatch, what I would change in it, and whether am I satisfied with my choice. So do not hesitate to comment and share this material, it will be my pleasure.
Some background
I'll start from afar. My first smartwatch back in 2015 was the Moto 360 1st gen in a polished steel case. They lived with me for as long as any smartwatch could live – about 4 years.
I loved its design. And couldn't get my eyes off the watch every time it was on my wrist. It was such a heavy metal puck, sans the lugs on the outside ring to attach the strap. The strap connection was almost inside the case – neat! And if you have a thin wrist it allowed the watch to fit just right.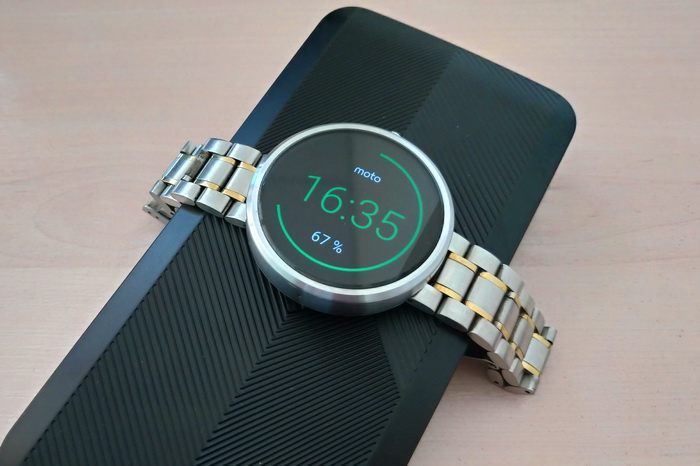 A few months after not so careful battery replacement, my smartwatch hit the bucket, so I was forced to replace it. Which one should I pick? Of course, they must've been round, and made by Moto. Thankfully, the second generation was sold for quite a long time.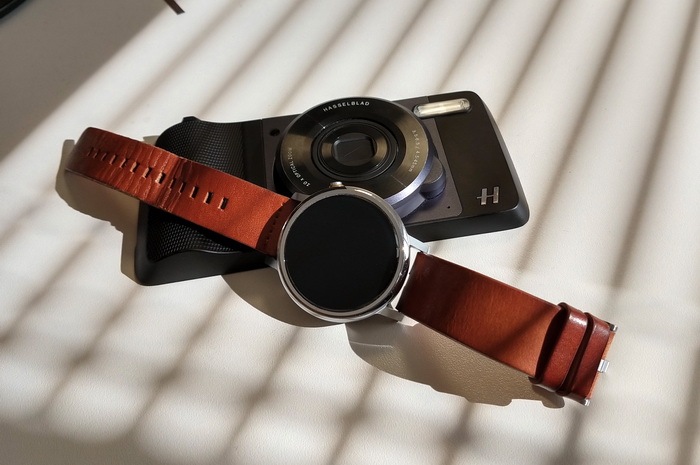 I bought it… and sold it in six months. With Snapdragon 400, the relatively fresh version of Wear OS was running even worse under load than the old version on the 1 GHz TI OMAP 3. The last straw was failed Strava training – the smartwatch overheated and cleared the app out of memory literally in the very end, at my doorstep, without saving progress. And even though I loved the design very much, such a screw-up could not be forgiven.
Read also:
At that moment, a colleague was selling a Moto 360 1st gen in a black case for a purely symbolic price. I bought it and was happy wearing it until literally the end of 2021 until the battery problems reminded me that the watch is ticking is old enough to be replaced.
As is often the case, gadgets start failing at the very "right" moment. There is a war in the country, you try to donate to the army regularly, you need to finish the kitchen at the same time because in a few months your family will become larger… And here is my favorite Moto 360 1st gen with a few pixels burnt out with age, which makes its last sigh. What shall I do? I can't imagine myself without a watch, and now it's less of a stylish accessory (who cares about image during the war?), but more of a security measure – after February 24 I started sleeping with a watch on my hand, so as not to miss air alerts and other important messages. (Yes, from the bottom of my heart I wish the whole "northern neighboring country" ran scared at night from loud sounds and bring sleeping children to the shelter several times at night).
But I was distracted. So what should I do? Take something completely inexpensive as a replacement, eff & jeff, become upset, and in the end, be forced to save some money for a normal watch. Or take something normal and adequate, but for a reasonable price. There was an idea to order Moto 360 1st gen on eBay, again, as it has a very cool design, but… delivery from abroad is quite problematic now, there is a lot of uncertainty about how and how much the parcel will go, so I decided to look for the watch in Ukraine. The budget was limited to $185-205, so after considering all the pros and cons, I decided to take something adequate on Wear OS again. Ironically, Moto 360 3rd gen is a perfect fit for the money here in Ukraine, although at first, I did not want to buy them for a whole range of reasons.
Why this watch? Why not another on Wear OS? I will tell you everything below.
Design & key specs of Moto 360 3rd gen
As you can see from the above, I'm a fan of metal round watches in a polished silver case, although I'm also OK with a black case. Moto 360 3rd gen has no problems with this. The watch can be in three versions, all of which suited me, except for the gold. Of course, I love colorful things, even my sunglasses colored like the Google logo, but that's too much.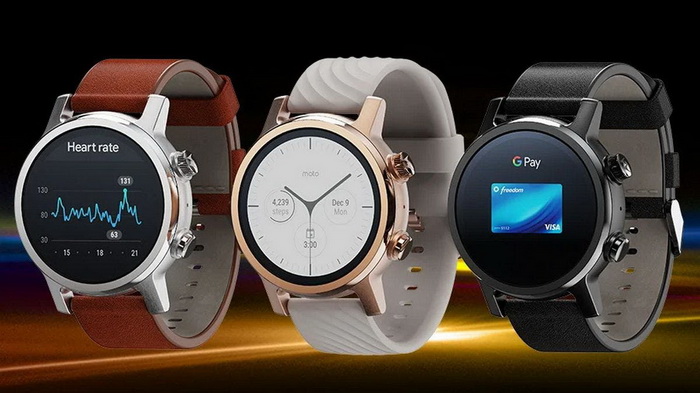 So it's made of metal, and has two buttons, with the top one having a rotary for scrolling lists, drop-down settings, and everything else scrollable, and the bottom one can be a hotkey for any desired app. The most convenient option for me was Google Pay activation because I'd been using contactless payments well before Google Pay officially arrived in my country. You know, from a time when you were considered sorcerer supreme when paying with a smartphone.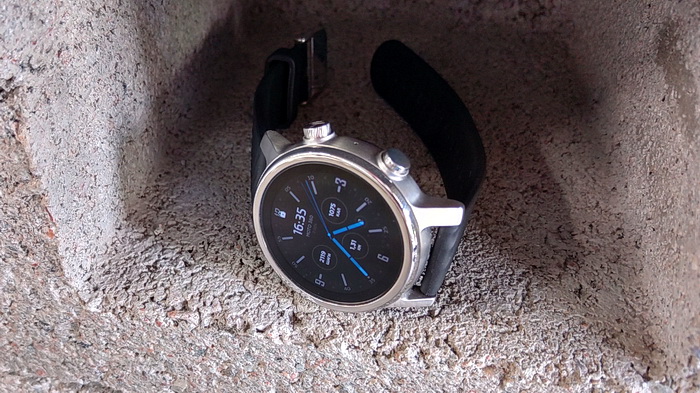 By default, the watch comes with two straps (leather and silicone), a charging dock, and documentation. Dock has one negative moment and a positive one. The downside is that it is not wireless, that's where the owners of the Moto 360 of the first two generations will understand me. Wireless charging is not only more convenient but also more beautiful. But the magnetic "plate" has one significant plus – fast charging, which in the case of Wear OS is a solid benefit.
You can learn the key specs down below:
OS: Wear OS
RAM: 1 GB
ROM: 8 GB
Display: AMOLED, 1.2", 390 × 390
Battery: 355 mAh
Dimensions: 42.80 × 11.68 mm
Weight: 52 g
Wireless modules: Bluetooth, Wi-Fi
Water protection: 3ATM
NFC: Available
Why Moto 360 3rd gen and not other Wear OS smartwatch?
Because it ticks all the boxes at the desired price range: no complaints about the quality, round body, made of metal, has a nice design, and NFC.
Samsung Galaxy Watch 4 does not fit within the budget, and the choice between Motorola and Mobvoi with tons of compromises (plastic body, too large, non-AMOLED display, etc.) is an obvious one.
Read also:
Moto 360 3rd gen in use
The watch coped with a bang with all the necessary tasks, I was right. It looks great, is really neat and compact on the hand, Google Pay works stably, Strava does not fail, and with Sleep as Android app, sleep tracking works like a charm, it also allows you to listen to music without a smartphone – what else do you need? Ah, and you can wash it in tap water just fine – in case someone wonders about this. Well, sleeping in it is also comfortable – unlike wearing some giant Diesel watch. Special respect for the rotating button – it helps a lot when working in gloves.
What's more, is an ability to fully interact with messages – only Watch OS can compete with Wear OS in this regard. I do not need to constantly get the phone to answer someone in the messenger. Yes, I really dictate the message, and it's always correctly recognized and sent back to the receiver. And I know, how difficult for owners of all kinds of "smart" watches on other "OS" to accept it, because I usually hear the standard "It is not necessary". It is very nice to justify the absence of any function by the fact that no one needs it, especially when it is actually used. By the way, some Huawei watches have recently been able to respond to messages with templates. Wait a bit, and the "unnecessary" normal response feature will appear in one of the updates.
Read also:
What about battery life?
This is almost the only compromise when choosing a watch on a "proper", smart OS. Here I'm unlikely to surprise anyone – the standard for Wear OS is 1.5 days of average use. This is when you interact with the watch during the day, read notifications, respond to them either by voice or by typing from the clock (what a perversion, the voice is much easier and faster), control music playback, and other little things. If the clock shows 95-100% in the morning, then about noon the next day you need to put it on a charge, thankfully fast charging delivers – and the clock is fully charged while you having dinner.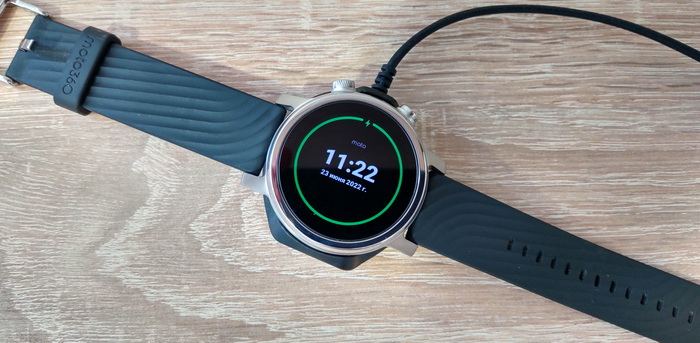 Personally, I got used to charging the smartwatch in the morning while having breakfast, then all day and all night it's on the wrist, and the next morning I'm throwing them on the dock again to charge while I have breakfast – so convenient, as I'm always sure that there's enough charge, it makes no sense to wait for a battery to drop to zero.
Conclusion
I rarely write this in the conclusion, but I really like the watch. I'm really happy with the way the Moto 360 3rd gen behaves in everyday use, I have no complaints about it, even the relatively low battery life is offset by the very fast wired charging. Are there any alternatives? Yes, but if you can afford to increase your budget a bit. Let's say for $50-150.gen behaves in everyday use, I have no complaints about it, even the relatively low battery life is offset by the very fast wired charging.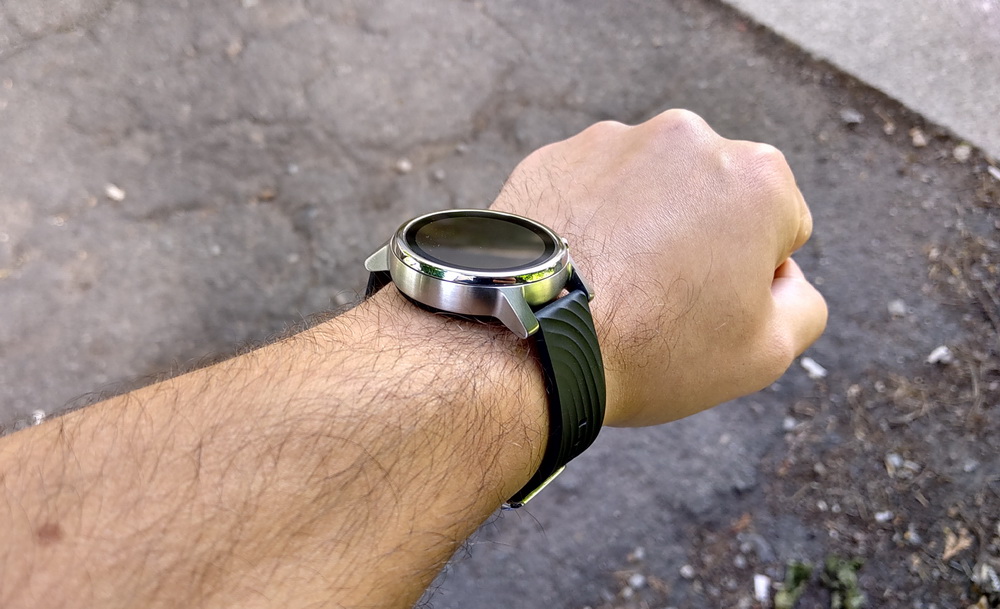 Are there any alternatives? Probably so, but if you can afford to increase your budget a bit. After about $240 you can look in the direction of the Samsung Galaxy Watch 4 40mm if you don't mind that they look small on the average man's wrist. Got some more – go with the 44mm version for about $380. You can also consider Mobvoi TicWatch, but, as I said – the perfect ratio of all the specs will lead you to an increased budget of $250, and I'm not sure that it's worth it. And this is it. Of course, if you don't need a round form factor, contactless payment, AMOLED, and a metal case – a huge number of options are available at once, but then why did you read all this? We are discussing a good smartwatch, not "how to compromise less with a lower price"
Also interesting
You can also help Ukraine fight with Russian occupants via Savelife or via an official page of the National Bank of Ukraine.