Back in 2018, Xiaomi released its first Pocophone F1, which became a hit. It was a smartphone with a top-end processor at that time, but with some simplifications, such as not the best cameras and a plastic case. In any case, an inexpensive model on a top-end chipset, running smoothly any top-end games, caused a sensation. Since then, POCO has been separated into a separate brand and the product line has grown very much, but, as they say, everything is not so obvious. Today we will get acquainted with the new product – the POCO X4 Pro.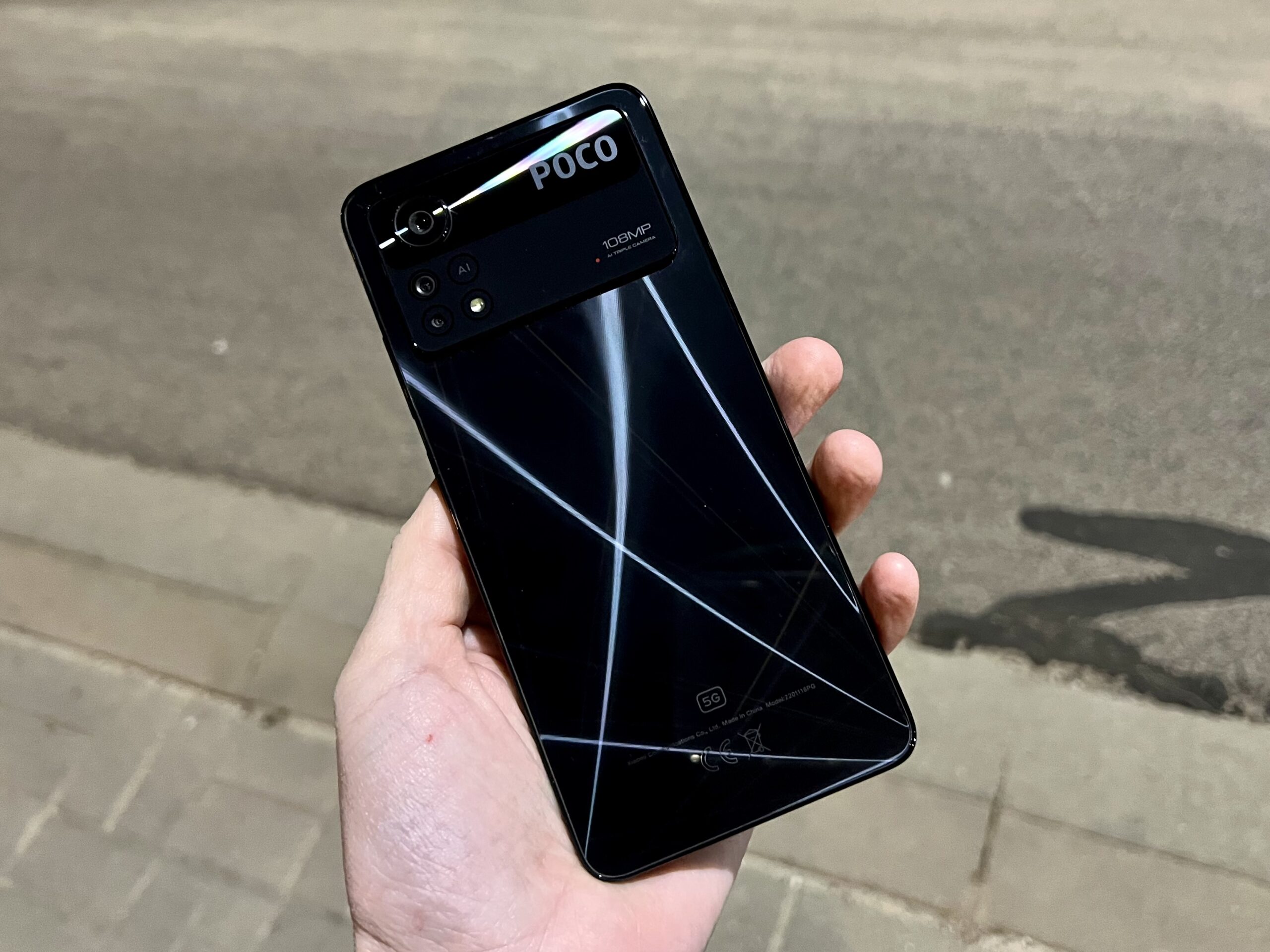 Range positioning and price
POCO X4 Pro is not the exact same 'pocophone' that features a top-end processor. We have in front of us, in fact, another 'strong middling', while the flagship in the lineup is the  POCO F4 GT. And in fact, the X4 Pro is one of the Redmi models that has been overhauled externally, in particular the Redmi Note 11 Pro 5G (such 'tricks' have happened more than once). The specificatons of smartphones are identical (in fact, only the weight differs by 3 grams). But the design is definitely more interesting for POCO.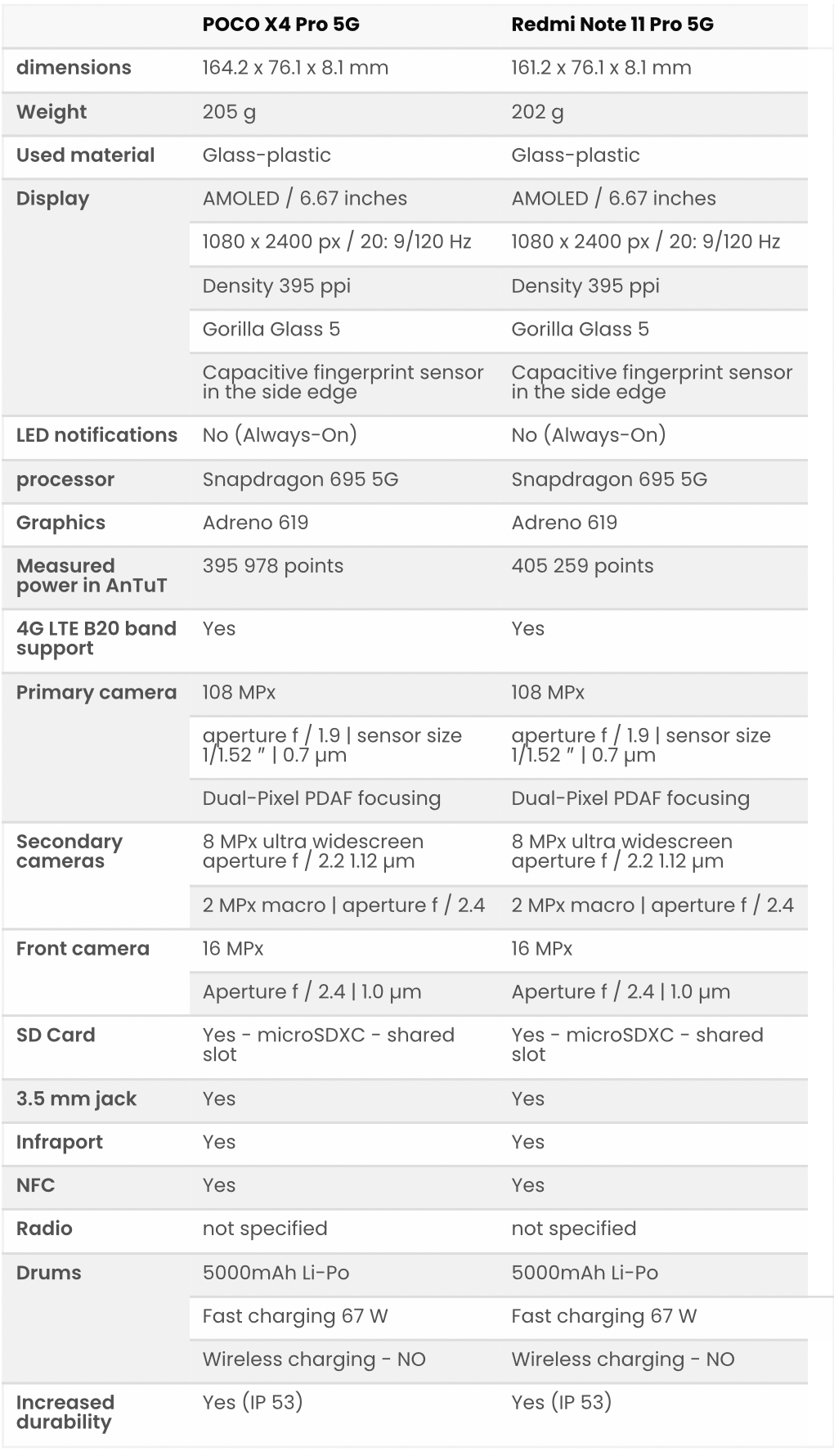 Poco X4 Pro 5G and Redmi Note 11 Pro 5G
Read also: Redmi Note 11 Review: Classical Budget Phone by Xiaomi
Also, don't get your hopes up that the Poco X4 Pro is an improved replacement for the Poco X3 Pro. In fact, the new product is more of a development of the simplified Poco X3 NFC model. But the Poco X3 Pro from 2021 still has a much more powerful processor (Snapdragon 860) than the Poco X4 Pro (Snapdragon 695 5G).
In general, the model looks interesting – a bright AMOLED screen, a triple camera with a main 108 MP module, a 5000 mAh battery with 67 W charger, stereo speakers, a 3.5 mm jack, a microSD slot and even an infrared port for controlling home appliances.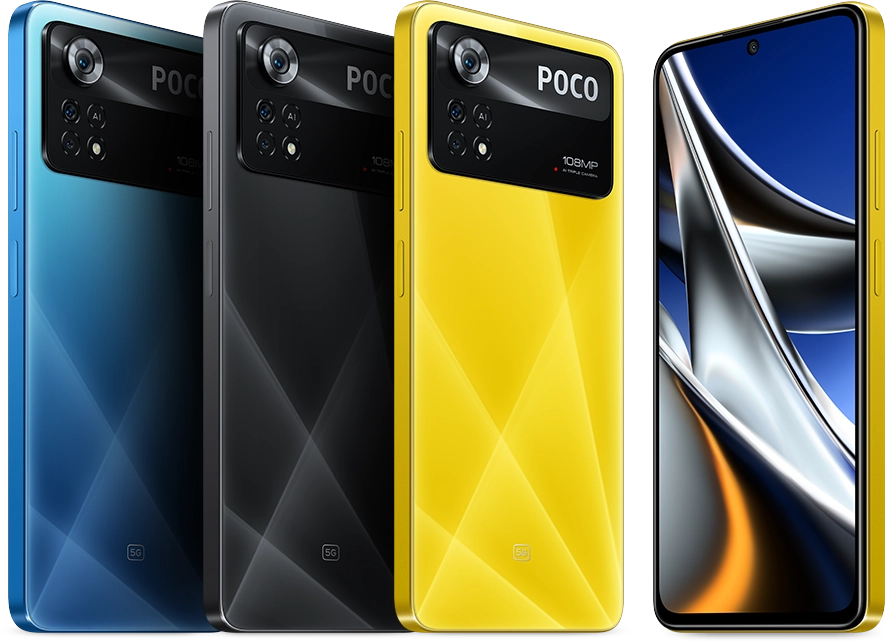 The shell is a new version of MIUI 13 for Poco, but it looks unusual it was put on top of not the newest version of Android 11 as of today. However, we saw this in the Redmi series, the update is certainly going to happen in the coming weeks.
As for the price, the new product in the basic 6/128GB version is sold for €299, and the  8/256GB – for €349. It should be noted that last year's Poco X3 Pro (which, let me remind you, is more powerful and not worse in terms of camera quality) cost starting from €250. On the one hand, this seems unfair, on the other hand, wars, sanctions, inflation, the consequences of the pandemic, the ongoing shortage of chips… Everything is getting more expensive, and smartphones from Xiaomi too. So you need to understand that the new X4 Pro is definitely not a 'flagship for almost nothing'. This is a middle phone at a price that is not the lowest, but adequate, if you consider today's realities. With a decent screen, good performance and support for fifth generation networks.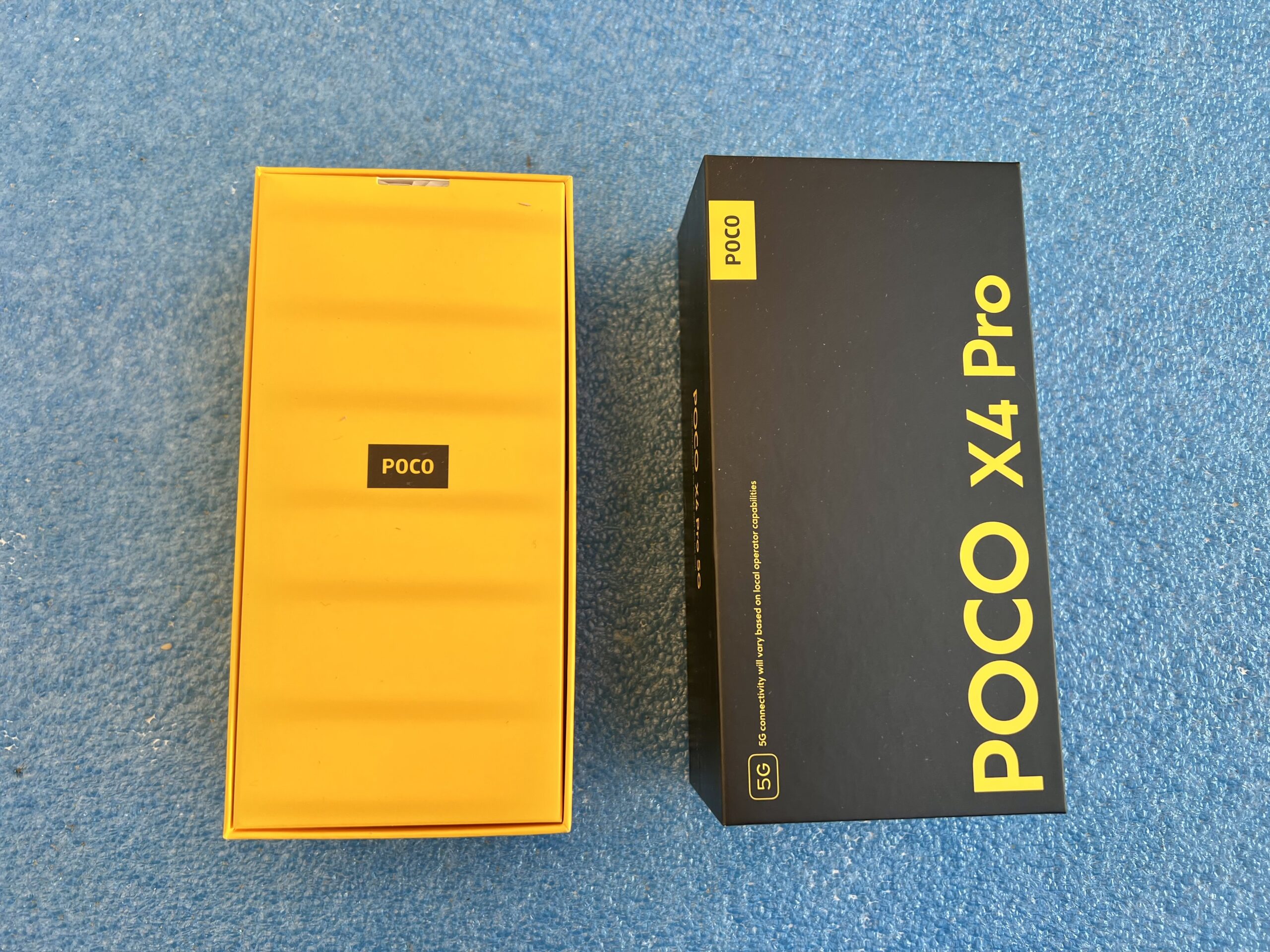 Read also: Vivo V23e review: blast from the past
Specifications of Poco X4 Pro
Display: 6,67″, Super AMOLED, resolution 2400×1080, ratio 20:9, pixel density 395 ppi, 1200 nits, 120 Hz refresh rate, HDR10
Chipset: Qualcomm SM6375 Snapdragon 695 5G, 6 nm, 8-core, 2 Kryo 660 Gold cores with 2,2 GHz, 6 Kryo 660 Silver cores with 1,7 GHz
Video accelerator: Adreno 619
RAM: 6/8 GB, LPDDR4X
Storage memory: 64/128 GB, UFS 2.2
MicroSD support: up to 1 TB
Wireless interfaces: 5G, Wi-Fi 5, Bluetooth 5.1 (A2DP, LE), GPS (A-GPS, GLONASS, GALILEO, BDS), NFC
Main camera: triple, wide angle lens108 MPx, f/1.9, 1/1.52″, 0.7µm, Dual Pixel PDAF, 26 мм; ultra wide angle module 8 MPx, f/2.2, 118˚; macro lens 2 MPx, f/2.4
Front camera: 16 MPx, f/2.4
Battery: 5000 mAh
Charger: fast 67 W wired charger
ОС: Android 11 with MIUI 13 shell
Dimensions: 164,2×76,1×8,1 мм
Weight: 205 g
What's in the box?
The delivery set, on the one hand, may seem standard, but  if compared to many expensive flagships, it is even abundant. In the budget segment, few manufacturers allow themselves to refuse a stock charger, for example, so the very fact of its presence along with the Poco X4 Pro did not come as a surprise.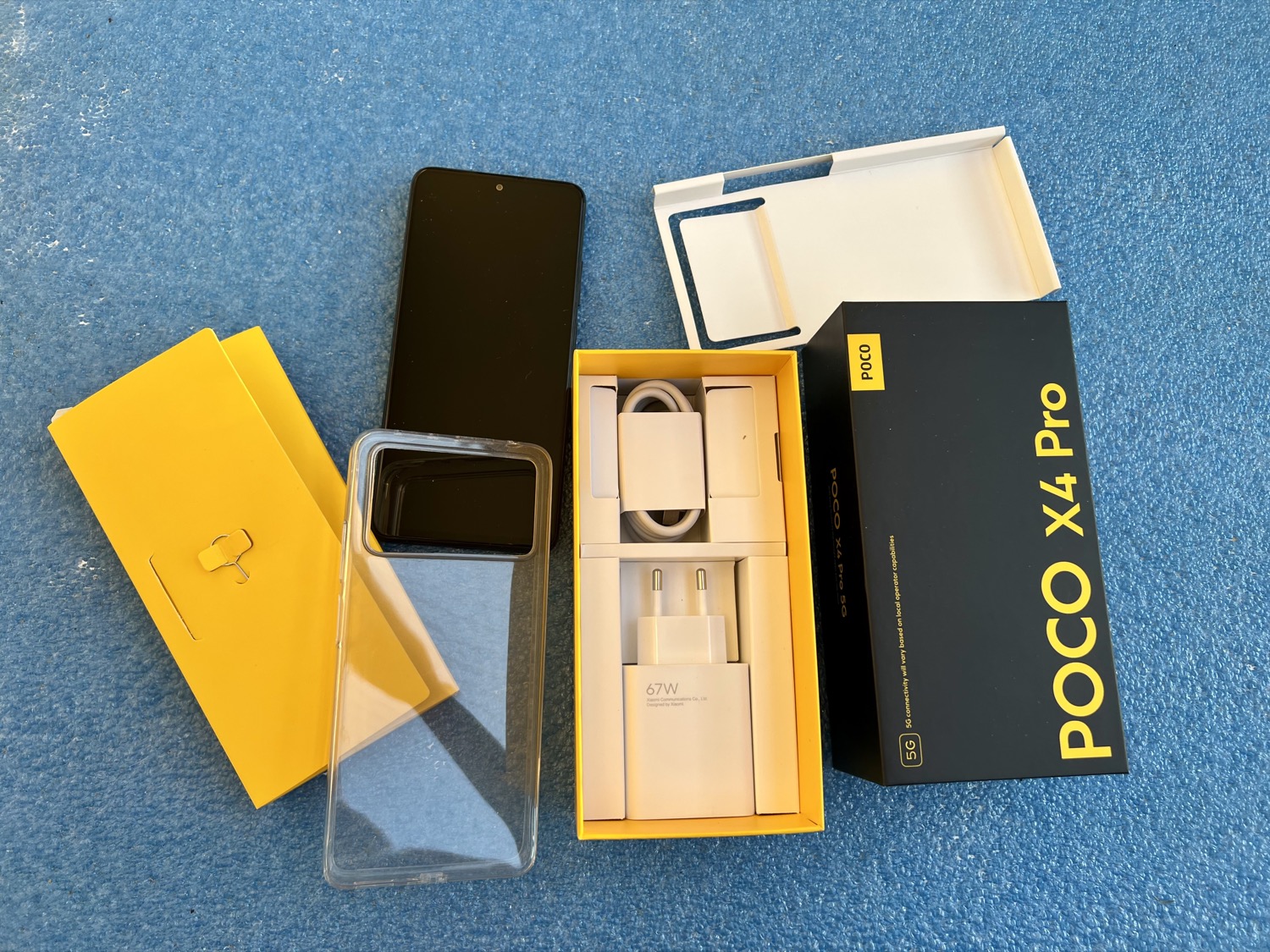 The phone comes with a heavy 67 W power adapter, a 1-meter USB Type-A/Type-C cable, a transparent silicone case, a key to remove the card slot, and accompanying documentation.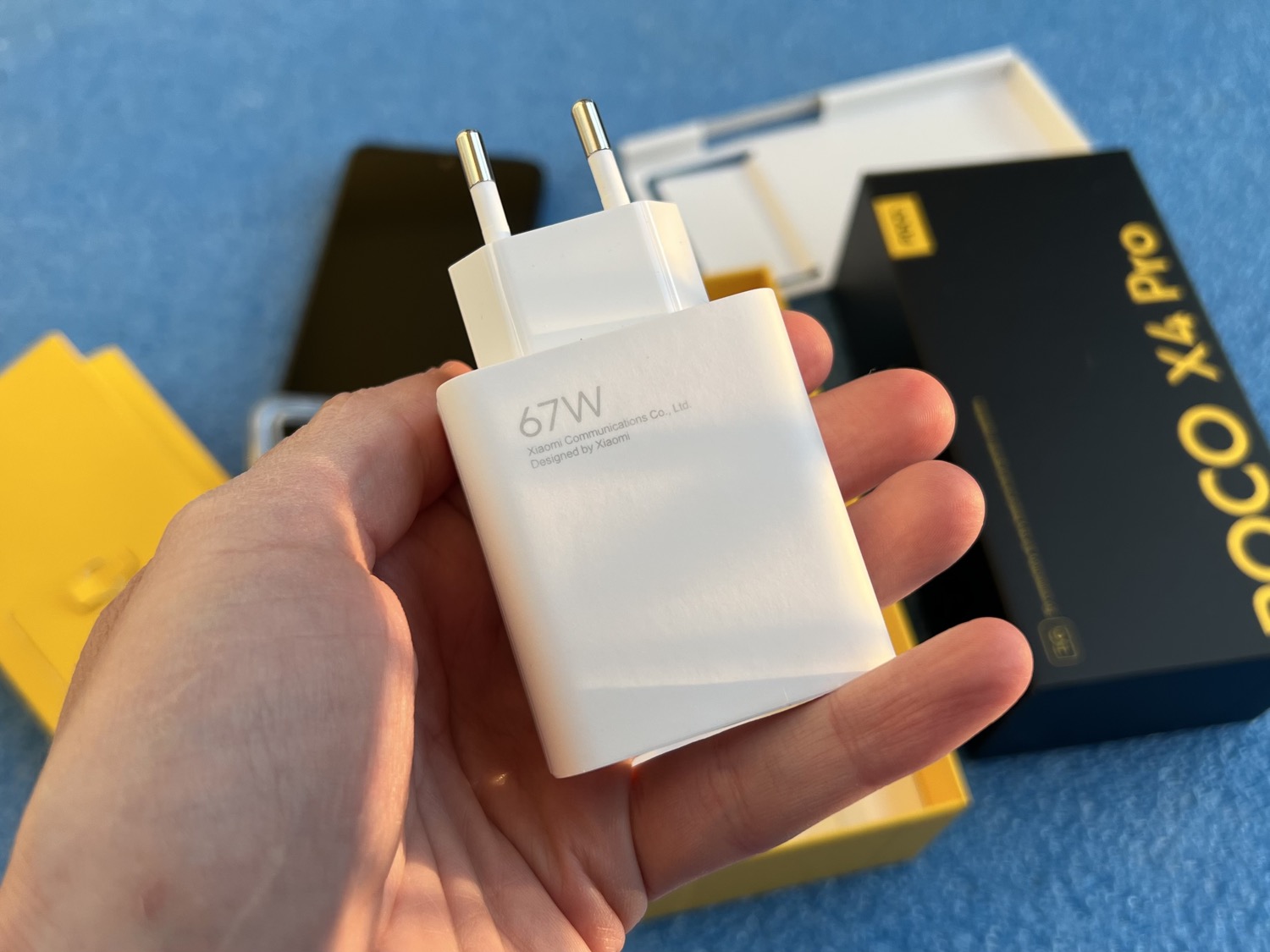 I liked the out-of-the-box case. There is a solid edge around the main camera unit, an excessively high edge above the screen, all the necessary openings for keys, a duplicate volume key, and a cutout for the Type-C port even has a protective cap, which is a rare thing.
Read also: Motorola Moto Edge 30 Pro review: is it really a flagship?
Design, materials and assembly
In 2022, Xiaomi puts an emphasis on the now fashionable flat design in all its own and subsidiary lines. Flat side panels, flat back covers… It looks impressive, nothing else to say here.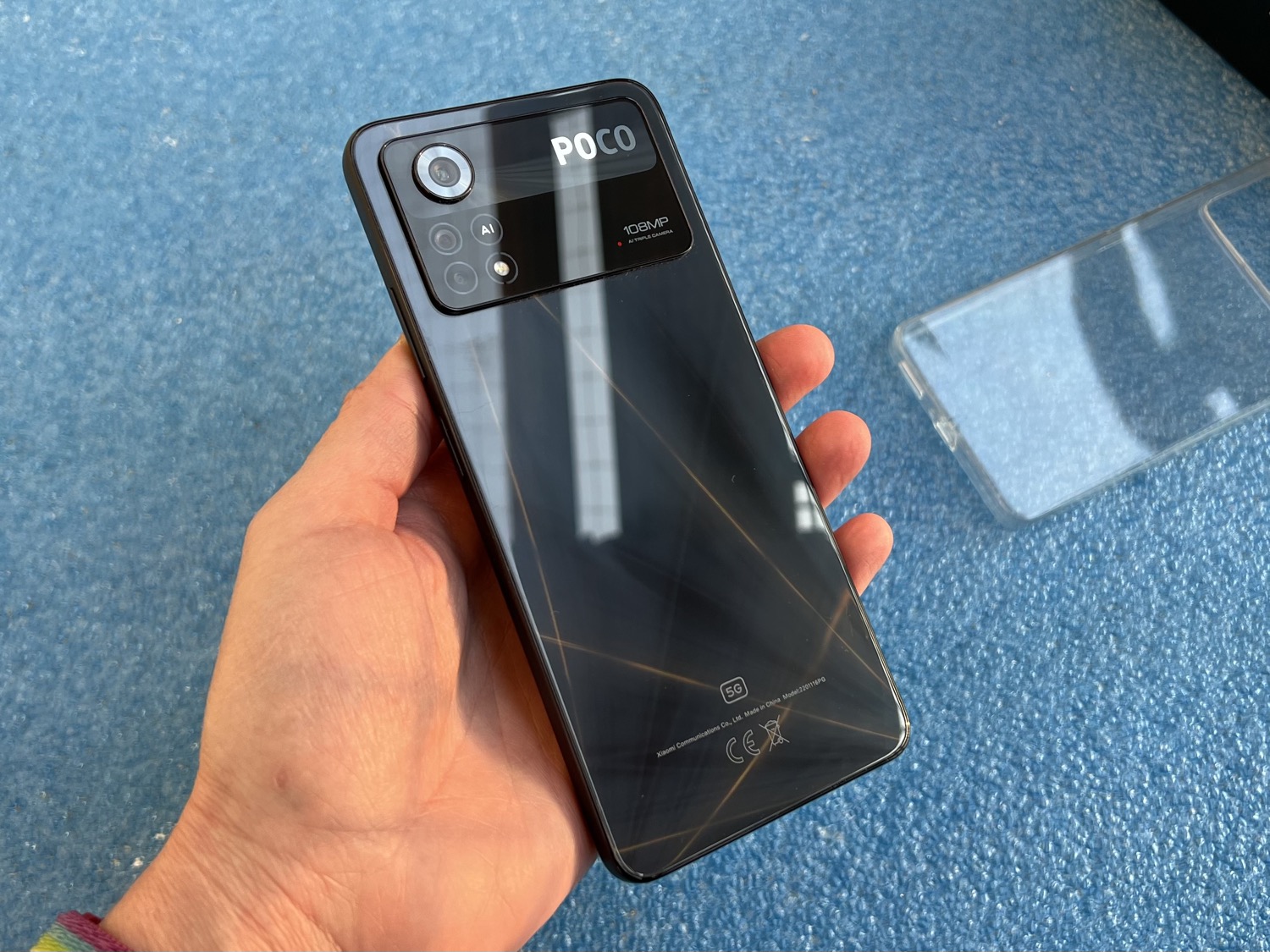 The design of the rear panel is also impressive – a large 'pedestal' for the camera block  at almost the entire width of the phone, gorgeous glares in the light, which you can see in the photo and video below. They are like laser beams, they look great, can't look away. And even the cover does not spoil this beauty.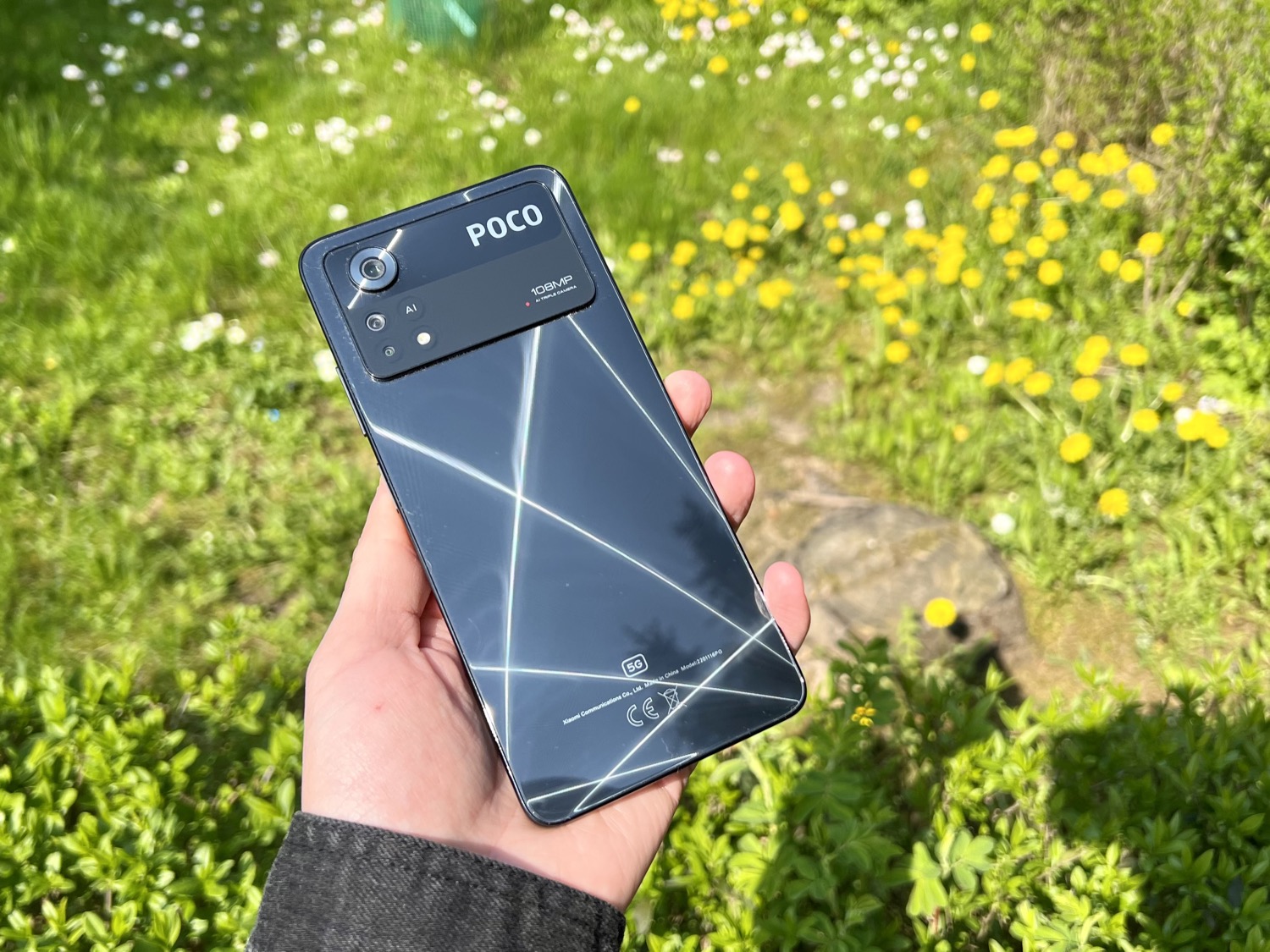 In terms of rear panel design, the novelty is definitely different for the better from its twin Redmi Note 11 Pro.
Available colors are black, blue and yellow. They all come with those beautiful highlights in the form of straight lines. We tested the most strict black (rather gray) option, but personally I would go for  a bright yellow.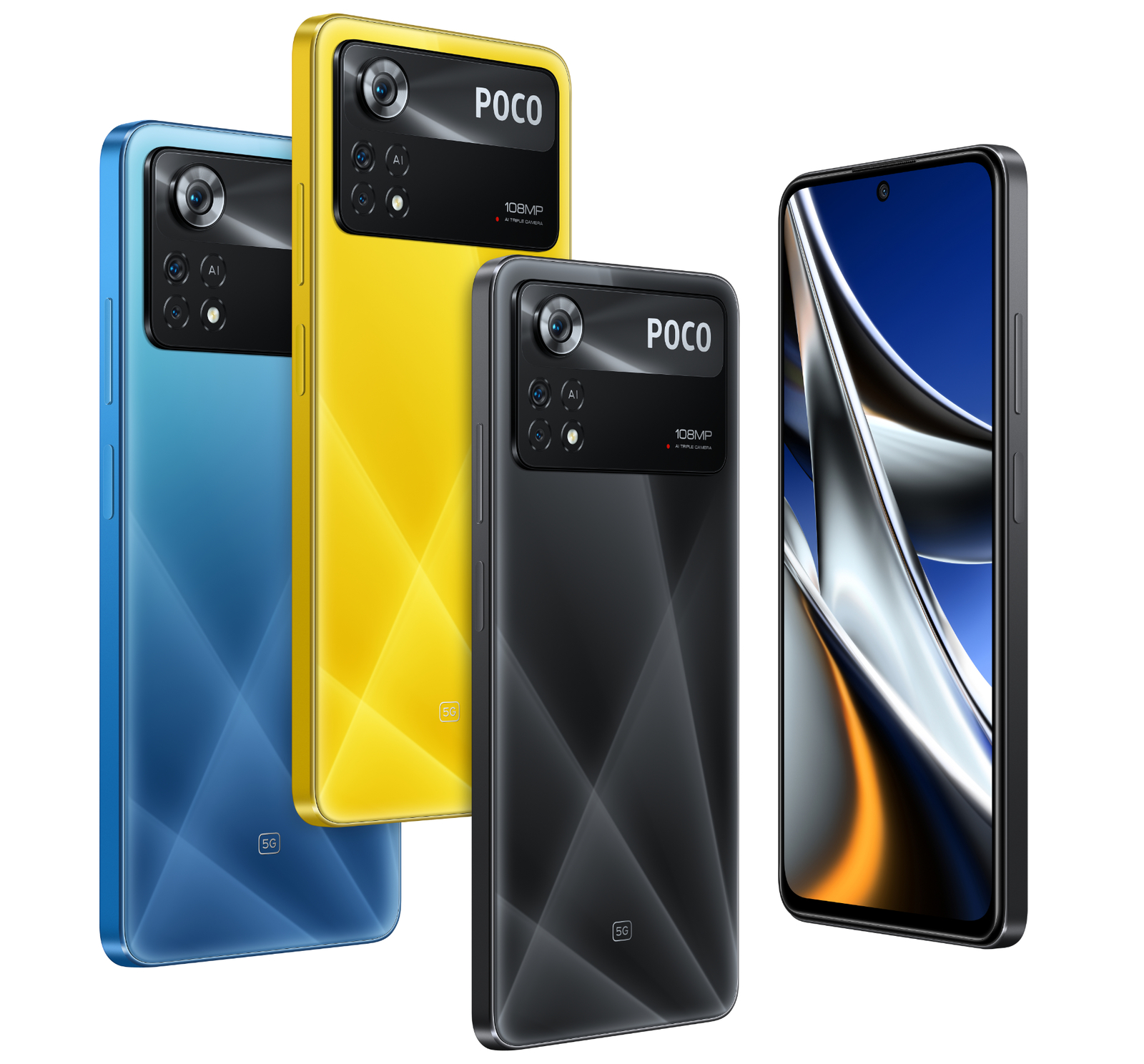 The panel is, by the way, glass, glossy. The manufacturer does not specify what type of glass is used. But its oleophobic coating is decent, fingerprints, of course, are noticeable, but they are not conspicuous and don't spoil the look of the phone.
But I can't say the same about the front panel with protective glass Gorilla Glass 5 – it was substantially smudged.
The smartphone looks good from the front – minimal side frames, a neat cutout for the front camera in the center, and even the 'chin' does not stand out much.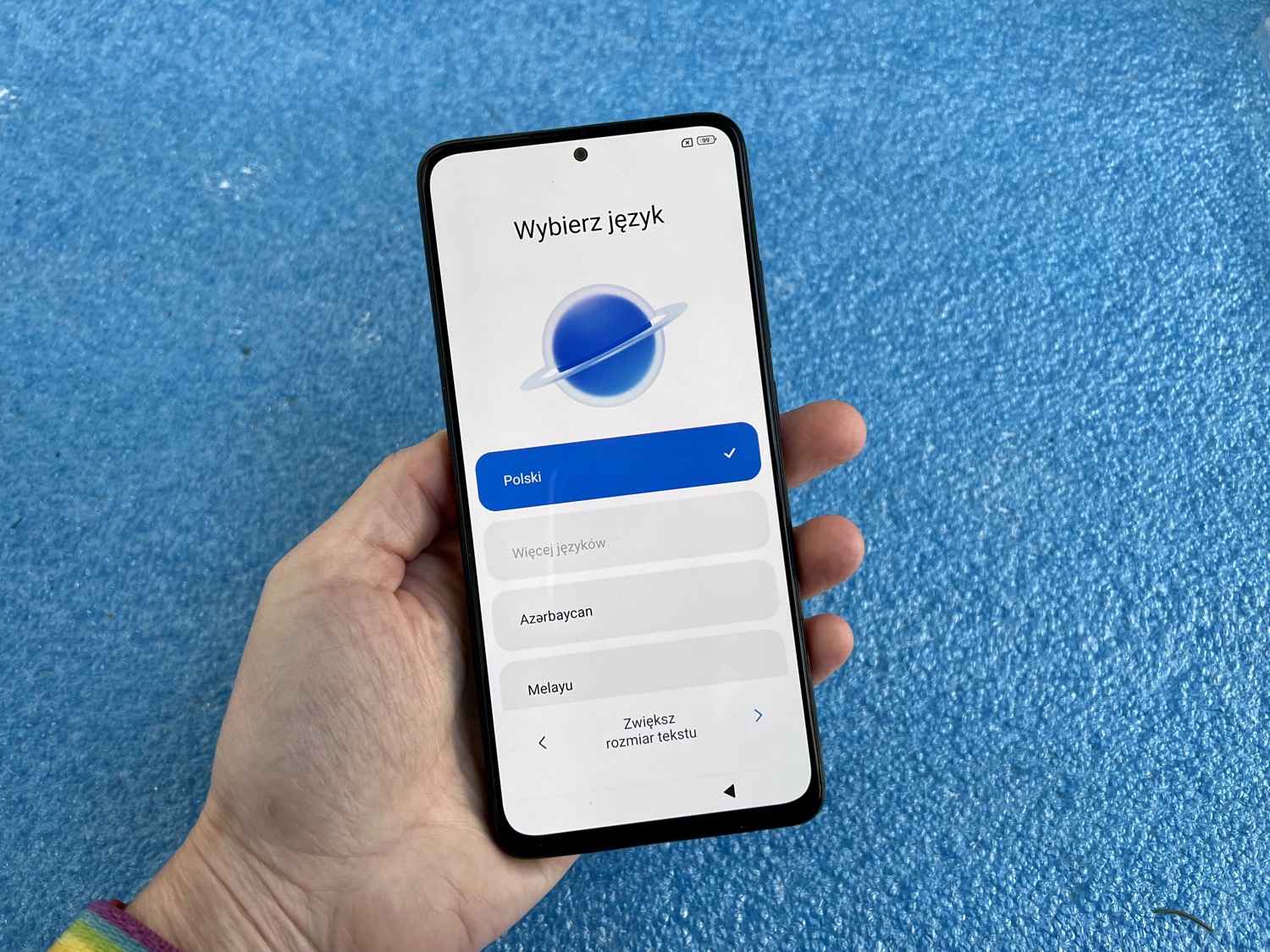 A distinctive feature of the fresh Redmi and POCO design is present here as well – the silver edging of the front cameras. I don't quite understand why this is necessary.
The side frames are pastic and matt.
The camera unit protrudes noticeably above the rear panel, plus the main lens itself protrudes even higher above it. In general, there is no need to talk about special grace and harmony when the phone is lying on the table – it will lie crooked and sway when touched. Well, unless you put on a case with a high rim around the camera module.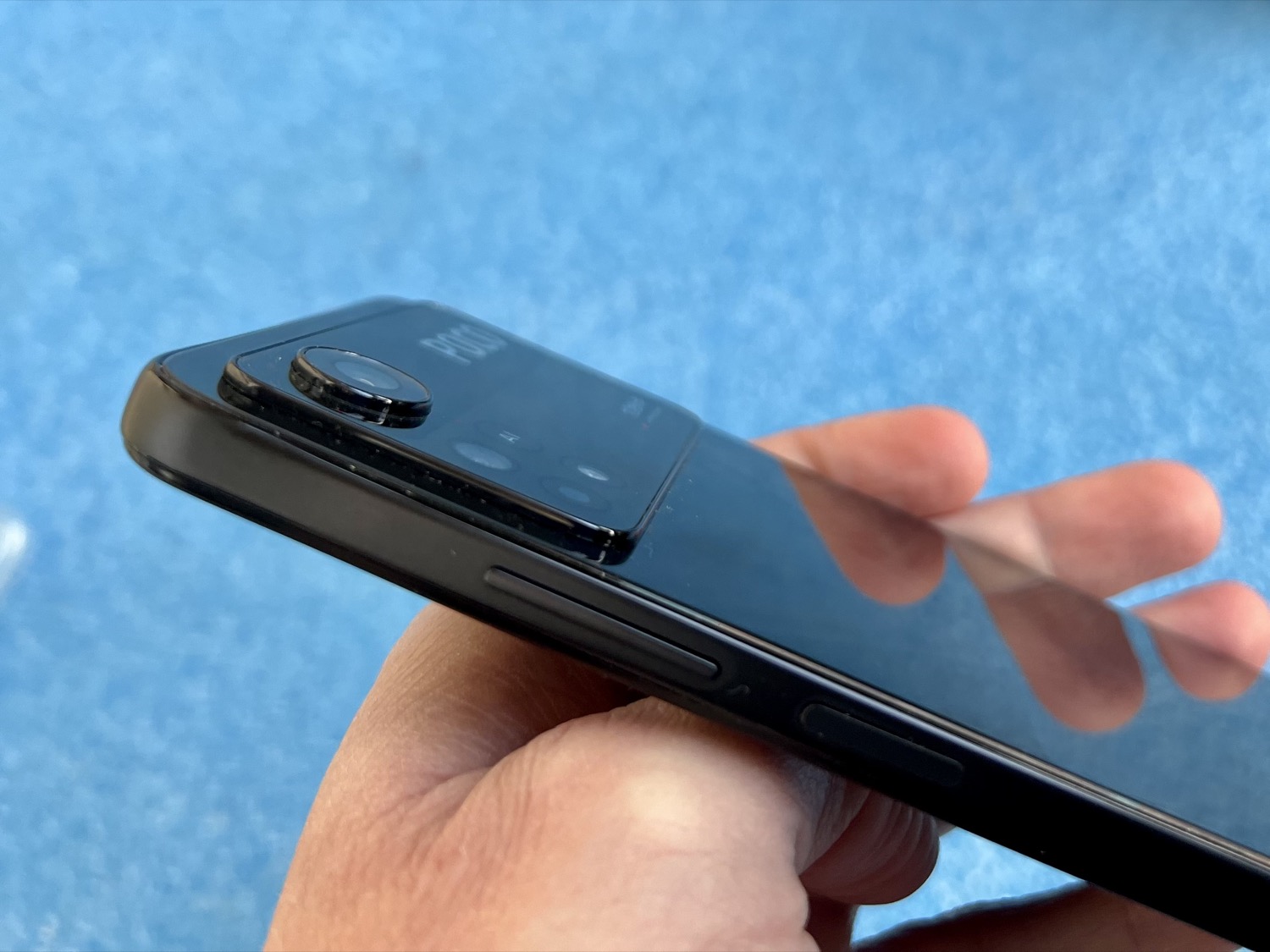 The device can not be called miniature, it is a classic modern modern smartphone with a large 6.67-inch screen. However, it is thin, not too heavy, and generally fits well in the palm of your hand.
Let's look at the location of the elements. In front, above the front camera, there is a speaker slot, next to which is a light sensor. The proximity sensor is also available, but it is a new generation virtual sensor, it works without problems.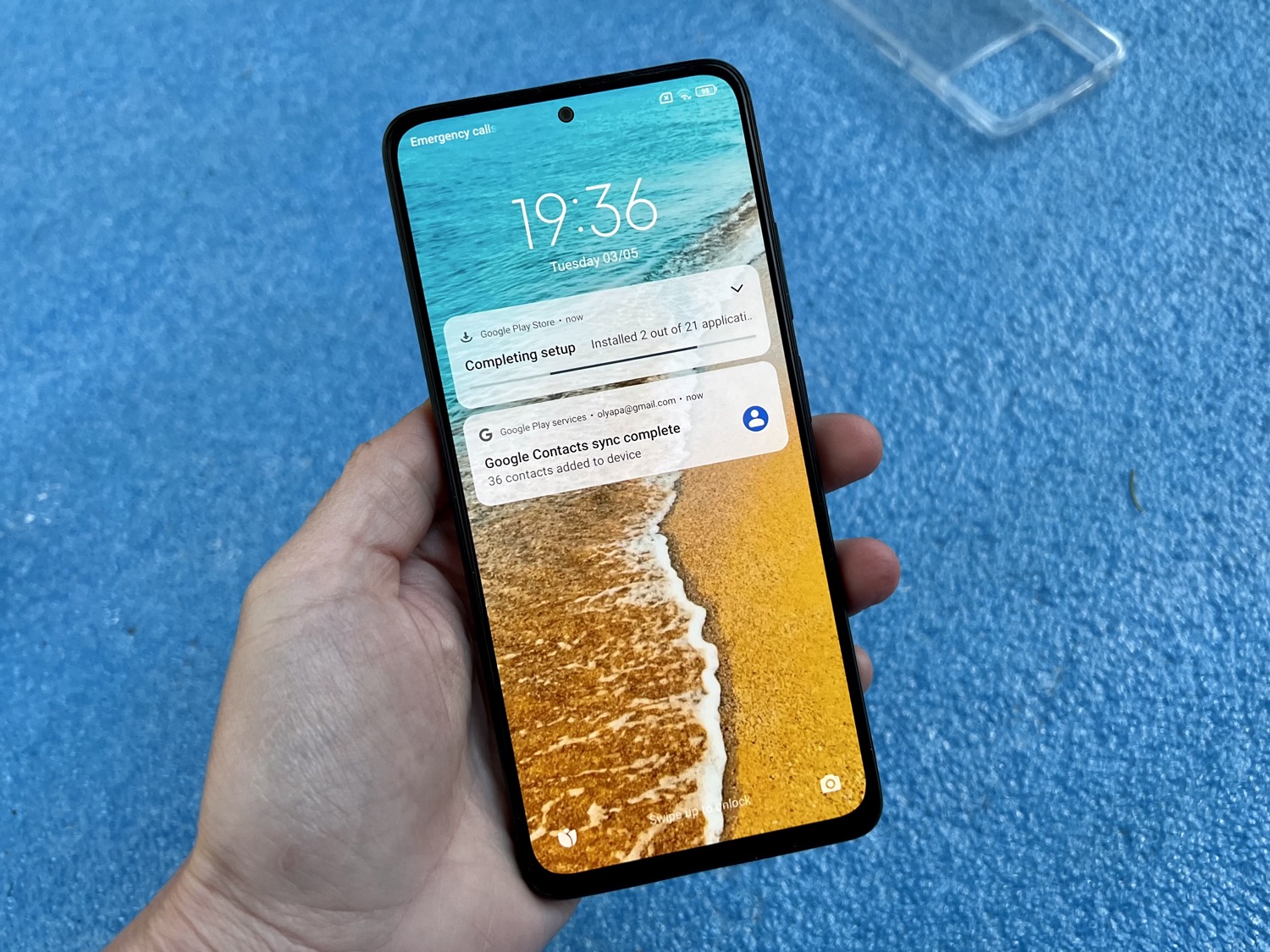 The right edge has a volume control button and a power button, which also acts as a fingerprint scanner.

The button is not recessed in the side wall, looks like a standard key. Of course, there could have been an on-screen fingerprint sensor on the OLED display, but for some reason the manufacturer has saved on this. However, the capacitive scanner in the side key is not bad at all. Reading is fast, error-free. There is, of course, face recognition, but I prefer to unlock by fingerprint.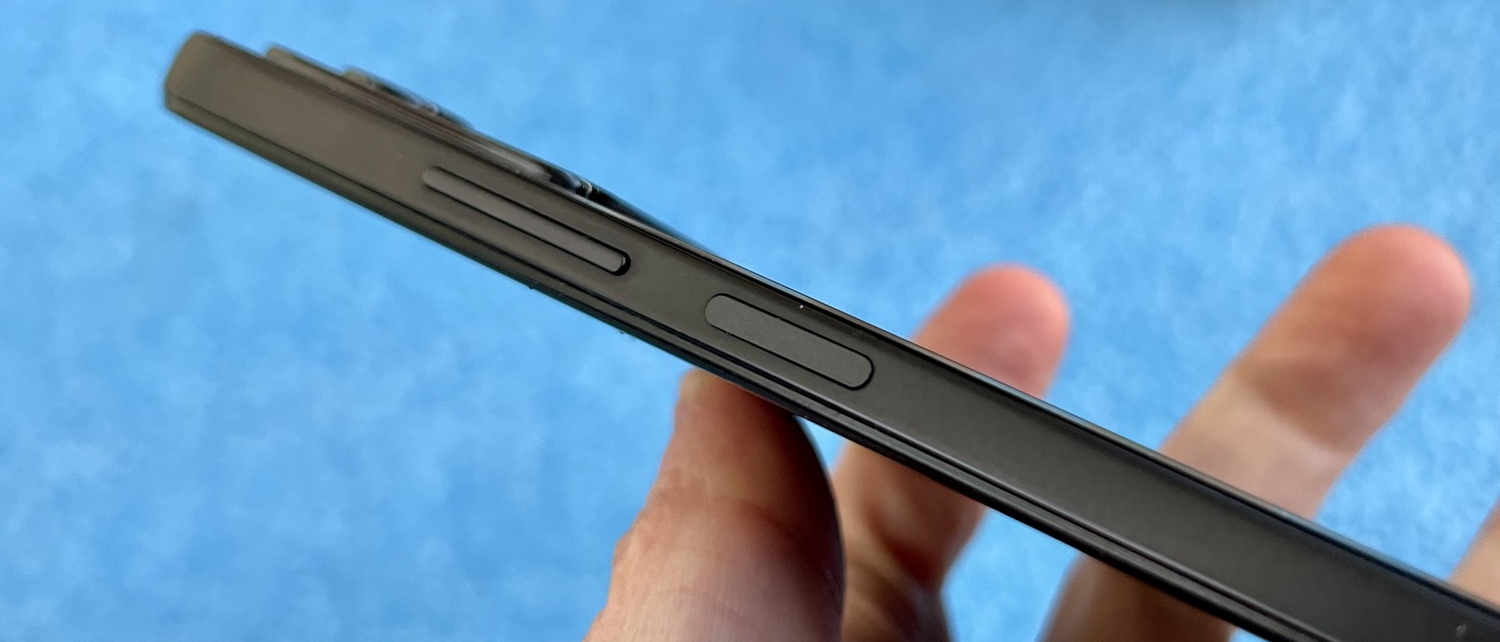 There is nothing on the left side of the phone.

The upper side wall of the Redmi Note 11 has a 3.5 mm audio jack, slots for a second multimedia speaker, an additional microphone, and an IR port for home appliances.
Below is the main multimedia speaker, main microphone, USB Type-C port, as well as a slot for two SIM cards and a memory card. The slot has the sandwich format – the first SIM is on top, the second SIM or a memory card is underneath. You can't use both SIMs and a memory card at the same time.

The smartphone is perfectly assembled and protected from dust and splashes of water according to the IP53 standard, this is a plus, although not the biggest one.
Read also: Moto G51 review: another budget smartphone from Motorola
Display of Poco X4 Pro
No wonder Poco X4 Pro shares the same screen as Redmi Note 11 Pro – 6.67-inch AMOLED DotDisplay with FHD+ resolution (2400×1080 pixels), 120Hz refresh rate, HDR10 support and high brightness: 700 nits standard and 1200 nits peak.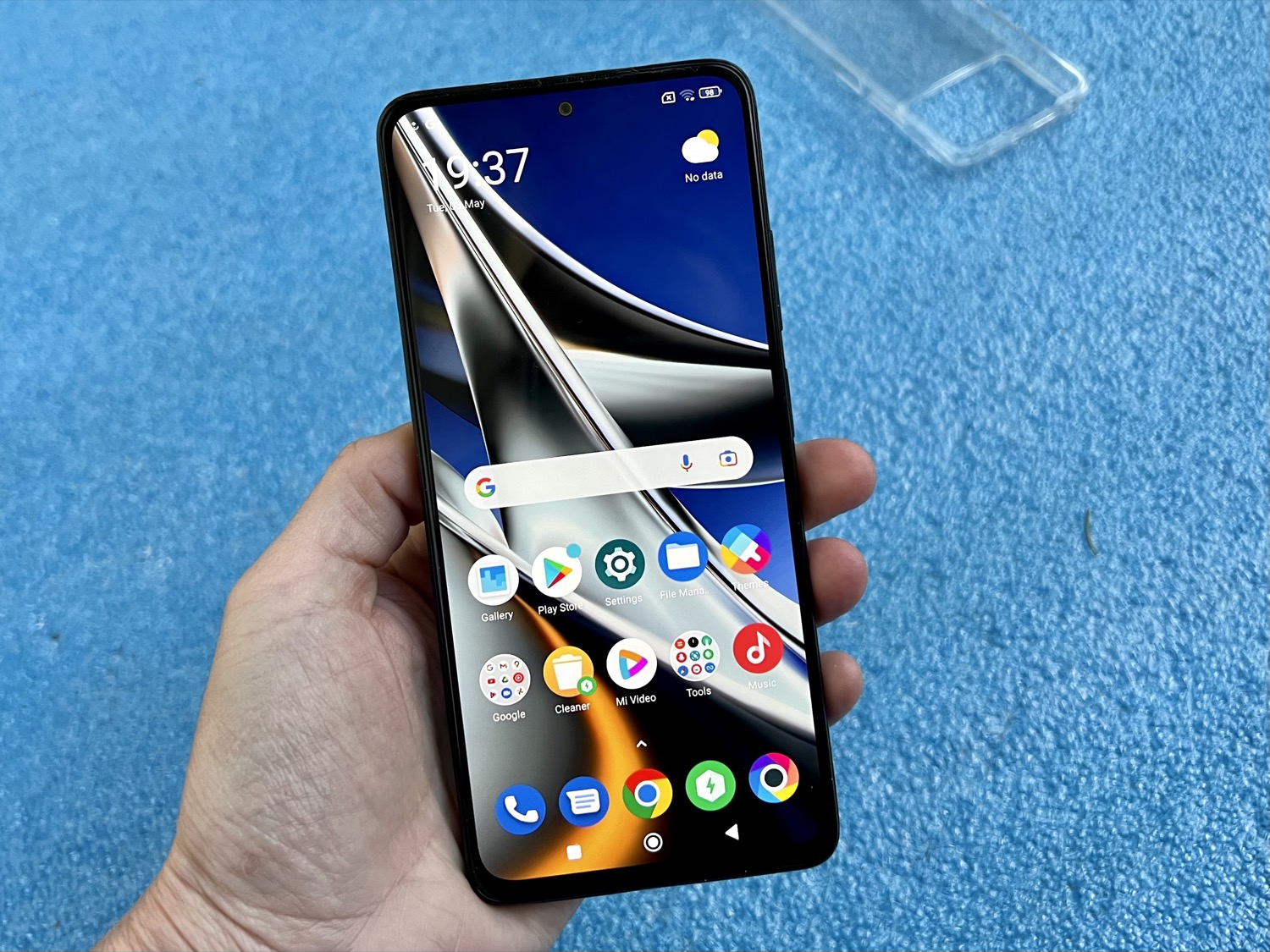 This is a very cool display for a mid-range smartphone. With a contrast ratio of 4,500,000:1, DCI-P3 color gamut compliance, high refresh rates, and a high maximum brightness level for perfect sun visibility, you can't ask for more. In addition, the minimum brightness turned out to be very comfortable and in complete darkness you can look at the screen without any discomfort.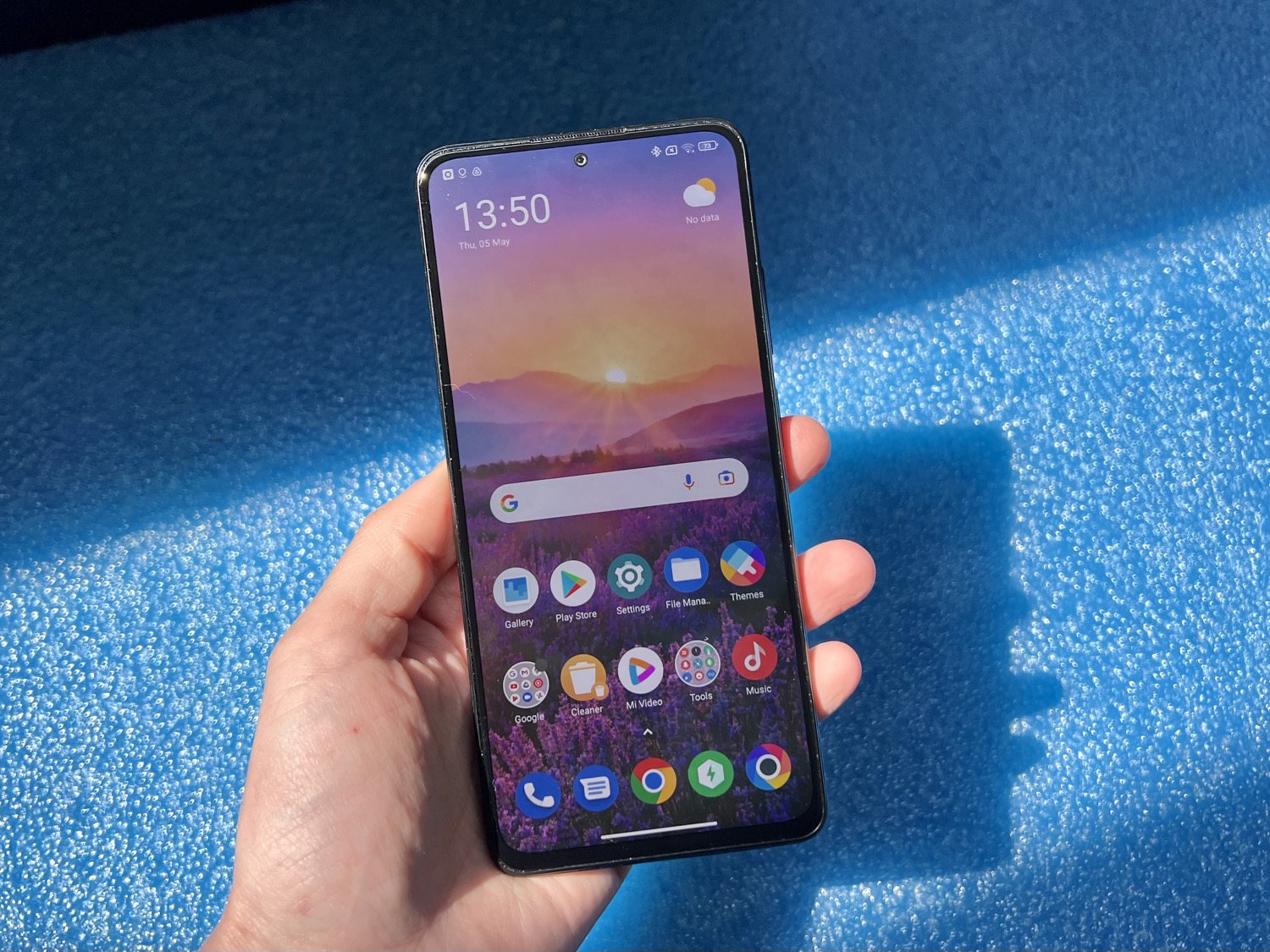 Viewing angles are traditionally very wide, but the 'sore spot' of AMOLEDs in the form of green-pink white tints at strong deviations from the usual viewing angle has not gone away.
The color reproduction of the display directly depends on the selected mode and can either automatically adapt to the content, or always be saturated or more natural and neutral.
The 120Hz refresh rate is also a huge plus. All system animations, scrolling in standard and many third-party applications, as well as the interface look as smooth as possible on this screen.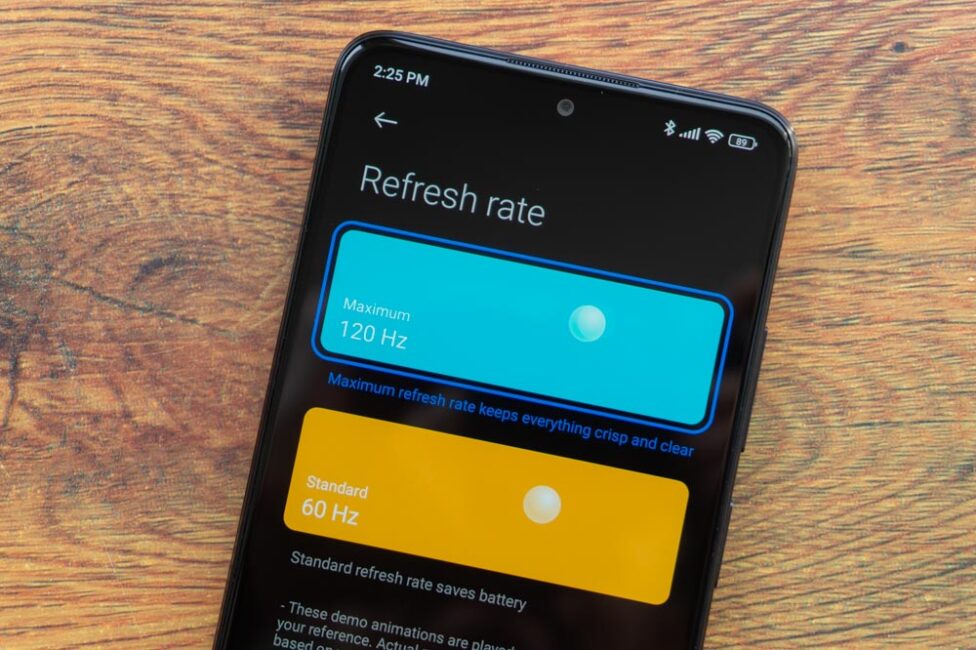 It is worth noting that only two modes are offered to choose from: either 120 Hz or classic 60 Hz. There is no intermediate option in the settings, but the first one is dynamic. So some of the applications will be displayed at 60 Hz even in 120 Hz mode. For example, it could be some kind of static state. Let's agree that an increased frequency when viewing a photo or video is not needed at all, and here everything works exactly this way.
The settings include changing the system theme (light dark), reading mode, color scheme with three profiles and the ability to correct the color temperature, select the refresh rate, text size and auto-rotate. The Always On Display function is configured separately: display of clock, date, messages on the switched off screen.
It's nice, of course, that AoD is present in the smartphone and can widely customized, only it can be displayed for only 10 seconds after touching. There is no scheduled mode, no permanent display, so it's not completely 'always on display'.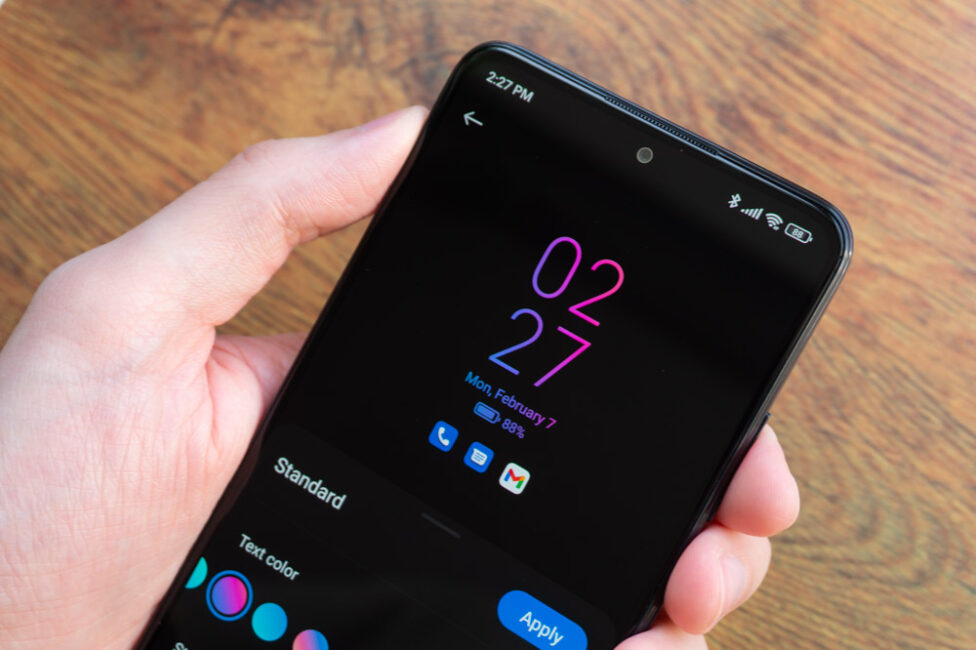 Performance of Poco X4 Pro
The Poco X4 Pro 5G is powered by the Snapdragon 695 5G chipset. As it was already noted, compared to the Snapdragon 860-based X3 Pro model, this is a considerable simplification, there are quite a few limitations. Redmi Note 11 Pro 5G runs on the same processor, for which Dmitry Koval criticized it in his review. Probably, the reason for this  is the shortage of chips, now the parts to be installed in smartphones are chosen from what is available, and not what is desired.
The 6nm Snapdragon 695 platform includes 8 processor cores: 2 Kryo 660 Gold cores operate at a maximum clock speed of up to 2.2 GHz, and the remaining 6 Kryo 660 Silver cores operate at a clock speed of up to 1.7 GHz. As Adreno 619 plays the role of the graphics accelerator.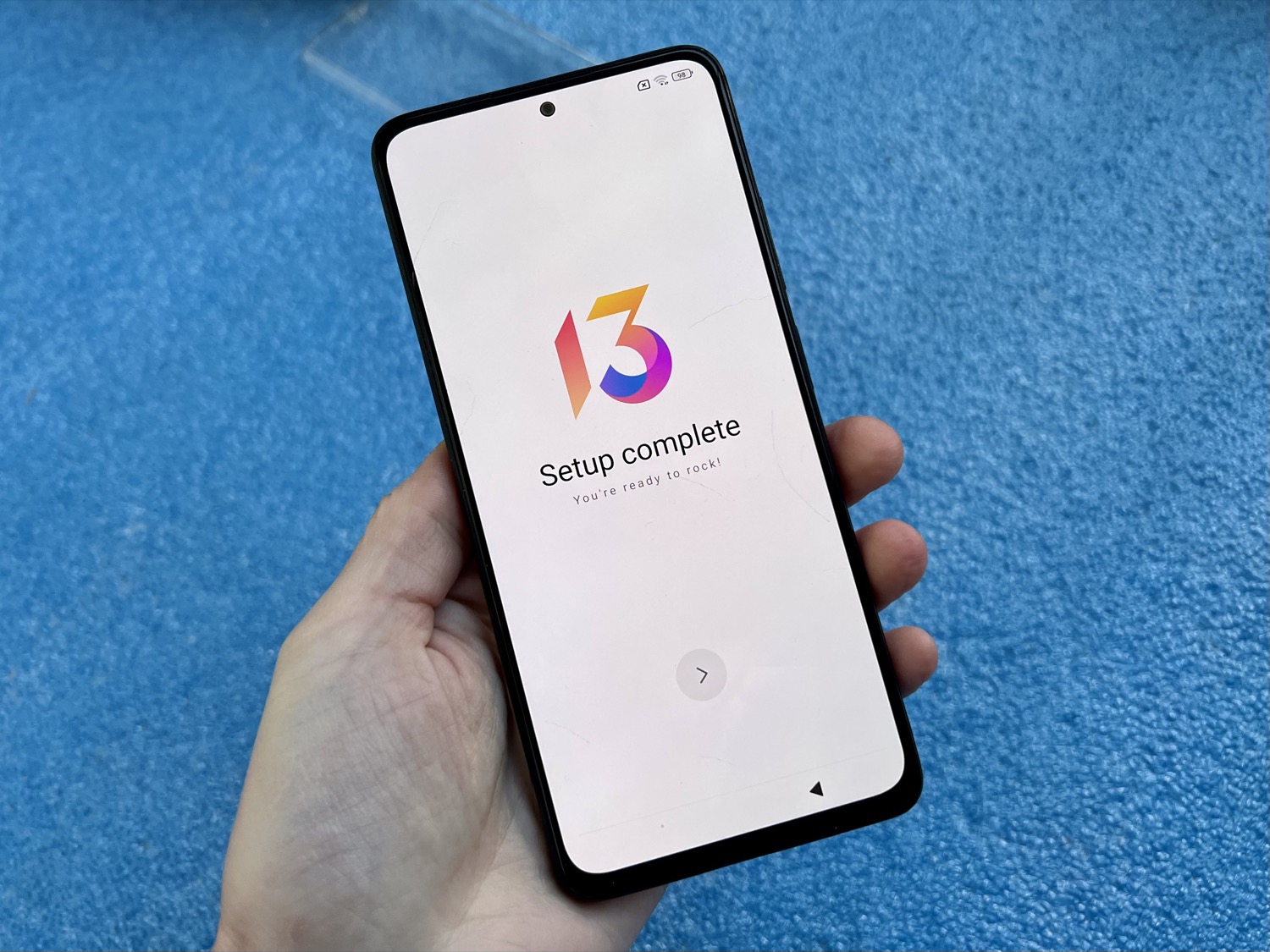 There may be either 6 or 8 GB RAM of the LPDDR4X type in the smartphone. To date, any of the presented volumes will be enough for the normal operation of the device. In the 8 GB version, there are no problems with restarting applications when switching between them. Moreover, there is a function of virtual expansion of RAM by 3 GB with the free storage space.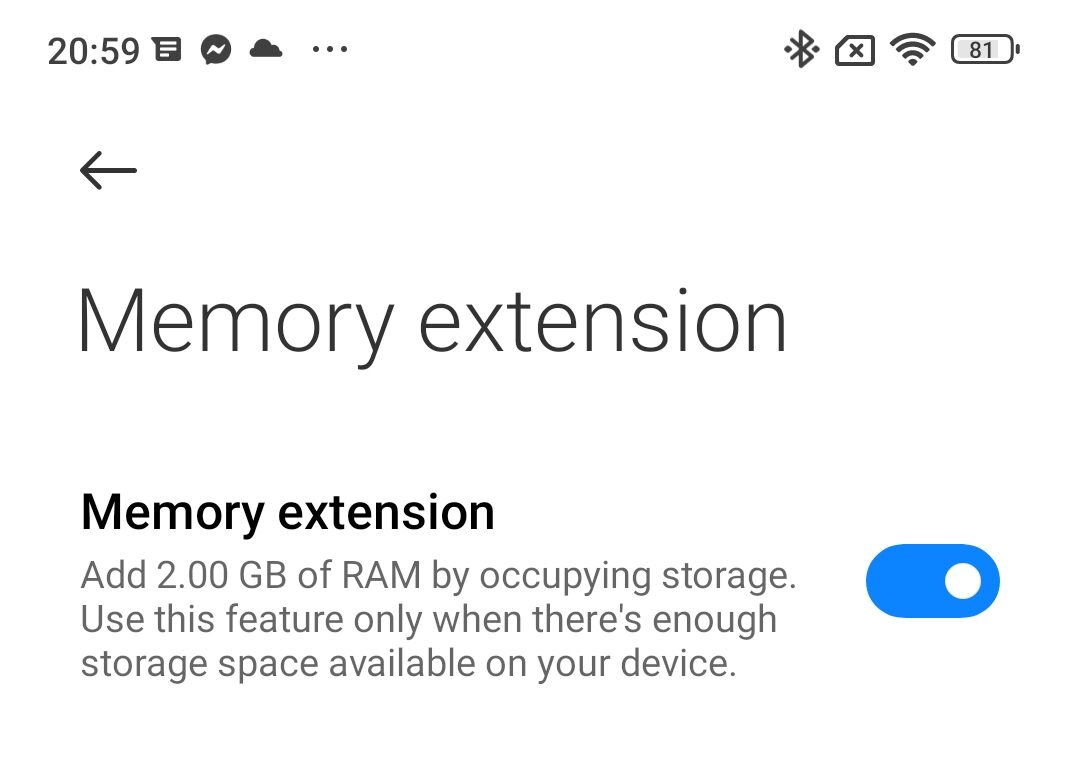 Internal storage options are 128GB or 256GB, UFS 2.2 type. We tested the 6/128GB version.
Storage can be expanded with a microSD card up to 1TB. However, let me remind you that the slot in the smartphone is combined and the user will have to choose between extended memory and a second SIM card.
Benchmark test results:
Geekbench: single core – 687, multi core – 2045
AnTuTu: 383641
3DMark Wild Life Vulkan 1.1: 1211
Judging by the tests, the new Poco X4 Pro did not get any performance boost compared to last year's Poco X3 NFC. The Adreno 619 graphics chip generally shows itself poorly. In this price range, many phones have much better graphics capabilities.
We also conducted throttling tests (stress tests for overheating). The X4 Pro proved to be stable, maintaining up to 74% peak performance for an hour. The video chip delivered 99.6% stability at 100% load.
In basic tasks, the phone works without any delays, the MIUI 13 shell is also smooth, applications do not crash when they are in the background – there is nothing to complain about. However, if you like to play games on your smartphone, then the performance will be low. Of course, all modern 3D games will run, because now game engines are flexible and adapt to almost any hardware. But still, do not expect a pleasant game and good user experience. If games are a priority for you, it is better to choose another smartphone.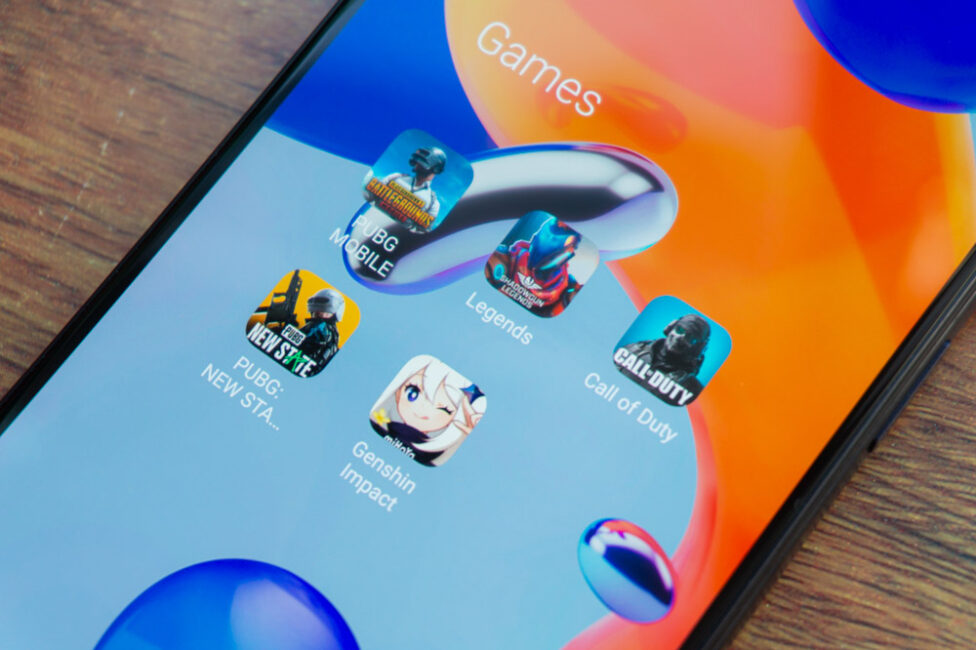 And in general, you need to understand that we have a Poco X4 Pro, which costs more than the X3 Pro last year, but it turned out to be weaker. Although still quite usable for everyday affairs.
Read also: vivo V23 5G review: Neat smartphone with a unique back side
Poco X4 Pro cameras
The main camera unit of X4 Pro turned out to be impressive. However, there are only three specific cameras. And two more circles – a flash and AI inscriptions (a hint to a smart camera). Other models with a similar design (Redmi Note 11, for example) may have an auxiliary depth sensor in place of the AI inscription, although there is really no sense in it.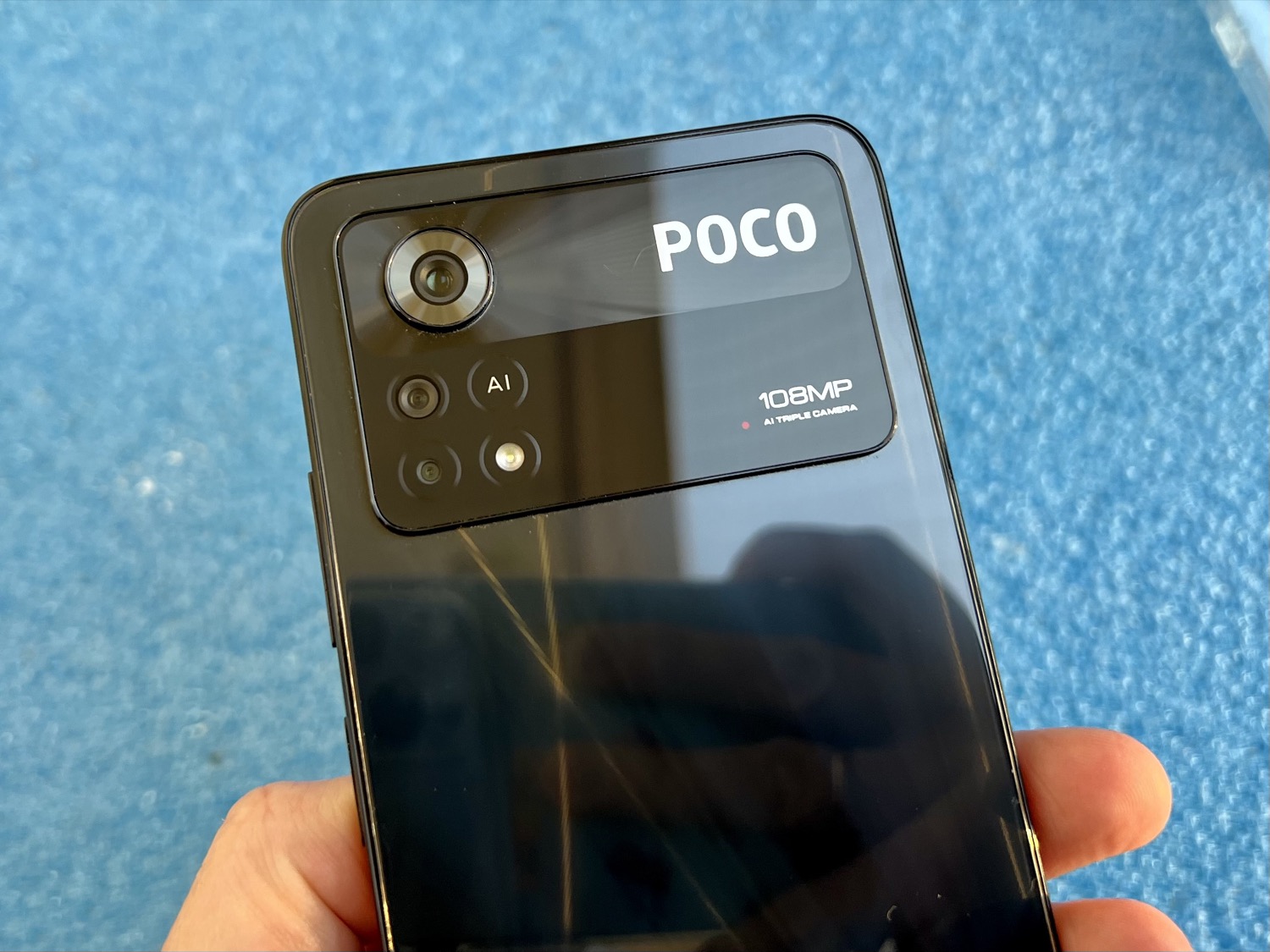 The sensor specifications are as follows:
Wide angle lens: 108 MPx, f/1.9, 1/1.52″, 0.7µm, Dual Pixel PDAF, 26 mm
Ultra wide angle lens: 8 MPx, f/2.2, 118˚
Macro lens: 2 MPx, f/2.4
In general, everything is the same as in Redmi Note 11 Pro. And the same ones that were a year ago in Redmi Note 10 Pro. So don't expect much progress in terms of cameras. And there is even a downgrade due to not the best capabilities of the processor.
By default, the main module takes pictures in 12 megapixel resolution and in excellent conditions they turn out to be quite good: clear, sometimes even too sharp, but with natural color reproduction and without embellishments.
VIEW ALL POCO X4 PRO PHOTOS IN ORIGINAL RESOLUTION
At an average level of lighting, digital noise already appears in the pictures in a small amount and detail drops, although in general the pictures still look normal.
As for night scenes, the smartphone is not very strong in this regard, but you can shoot in night mode. With it, there will be less noise, pictures will be brighter and bright light sources will look more neat.
Here are examples of pictures taken in the dark:
And here's how the night mode works (it's on the right):
Shooting in full resolution of 108 MPx is available through a separate mode in the camera application. First of all, photos differ in white balance when compared with standard resolution. By default, they are more 'warm', and in 108 MP mode they are more 'cold'. It is also noticeable that the photos in this mode are less sharp, but it's hard to say whether it's good or bad.
The ultra wide angle module shoots with an angle of 118 ° and the colors of the pictures from it do not differ much from those made by the main wide angle module. But there are fewer details, and there is noticeably more digital noise in the shadows. During the day on the street, this module shoots quite normally, but it is pointless to use it at night or in poor lighting. Here is a comparison, wide angle on the right:
The macro camera is the most primitive 2 megapixel module without autofocus, it may not have been here at all. Photos are poorly detailed (in full resolution it is more noticeable than in miniatures, examples are here), but at least the color reproduction does not fail.
And now about the very limitations that I mentioned in the performance section. The Snapdragon 695 processor does not support video recording at resolutions higher than 1080P, nor at 60 FPS. So no 60 FPS, no 4K either. If you go into details, 60 FPS with this chip could be available if the smartphone had one main camera, but this is not our case.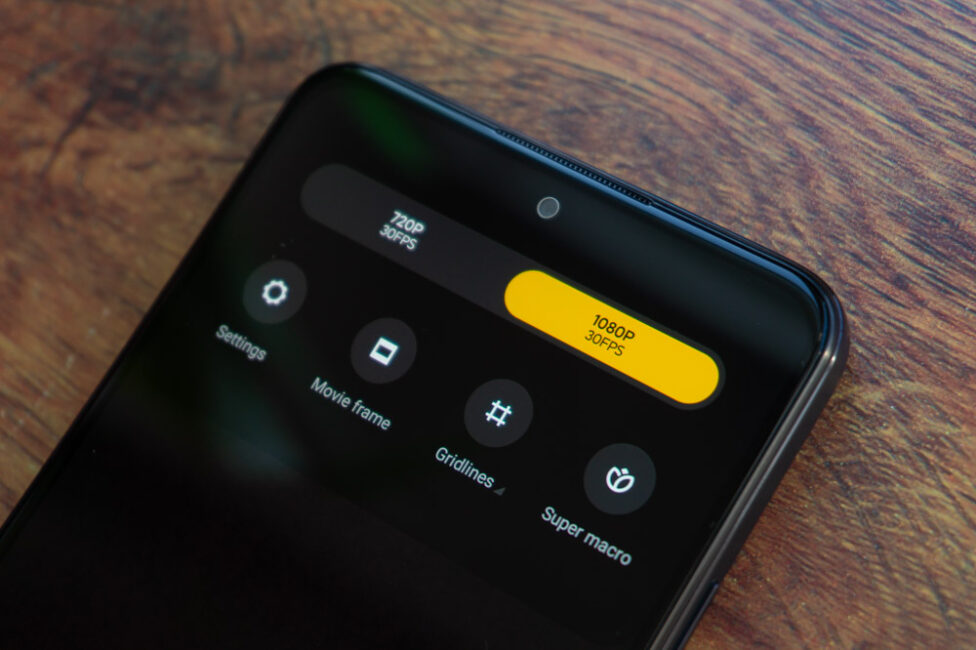 As for the quality of the video, the detail is not high, the shades are adequate, there is electronic stabilization, but you still won't get far on this. An example is available at the link.
The front camera is 16 MPx with f/2.4 aperture. During the day and in good light, it takes sharp photos with natural colors. But you can't say the same about video shooting with the front camera. First, the viewing angle is greatly reduced. Secondly, electronic stabilization does not work in the best way and the picture 'floats'.
The camera application is standard, as for MIUI, and with all the necessary shooting modes: photo, video, portrait mode, manual, night, 108 MP, video clip, panorama, documents, slow motion, time lapse, long exposure and double video. Manual mode works with both the main module and the ultra-wide angle, but there is no way to save pictures in RAW format. Night mode, in turn, works only with the main module.
Unlocking
As usual, there are two ways to unlock: a fingerprint scanner and unlock with face recognition. Xiaomi smartphones have long had no problems with both methods, and the Poco X4 Pro is no exception. The scanner works quickly and accurately. As for the settings, there is a choice of recognition method: when simply touched or physically pressed.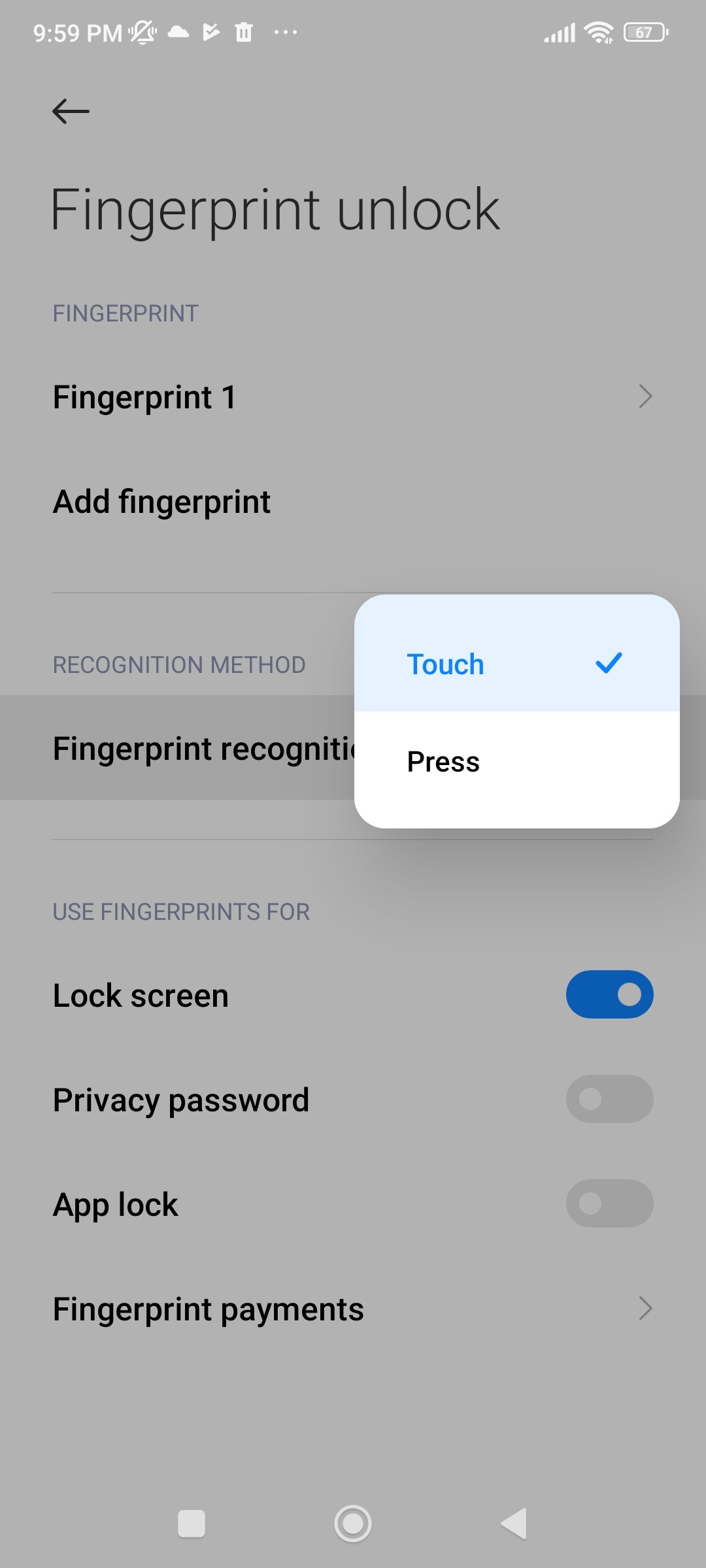 All is well with unlocking through face recognition. Works quickly and in almost any environment, except in complete darkness. There is no screen backlight for the face on the smartphone, so this method will not work if there is no additional light source.
As for the special settings, you can add another face, stay on the lock screen after successful recognition, show the contents of messages only after face scan, and recognition immediately after turning on the screen for even faster unlocking, but this may slightly increase battery consumption.
Read also: Samsung Galaxy S21 FE 5G review: Now definitely a fan flagship
Battery life of Poco X4 Pro 5G
The battery in the smartphone is large as always, 5000 mAh. This figure will not surprise anyone today, especially when it comes to a smartphone from Xiaomi. And yet, it is safe to say that such a battery is more than enough for any activity throughout the working day. The chipset is also quite energy efficient and despite the large display with a high refresh rate, the smartphone lasts relatively long on a single charge.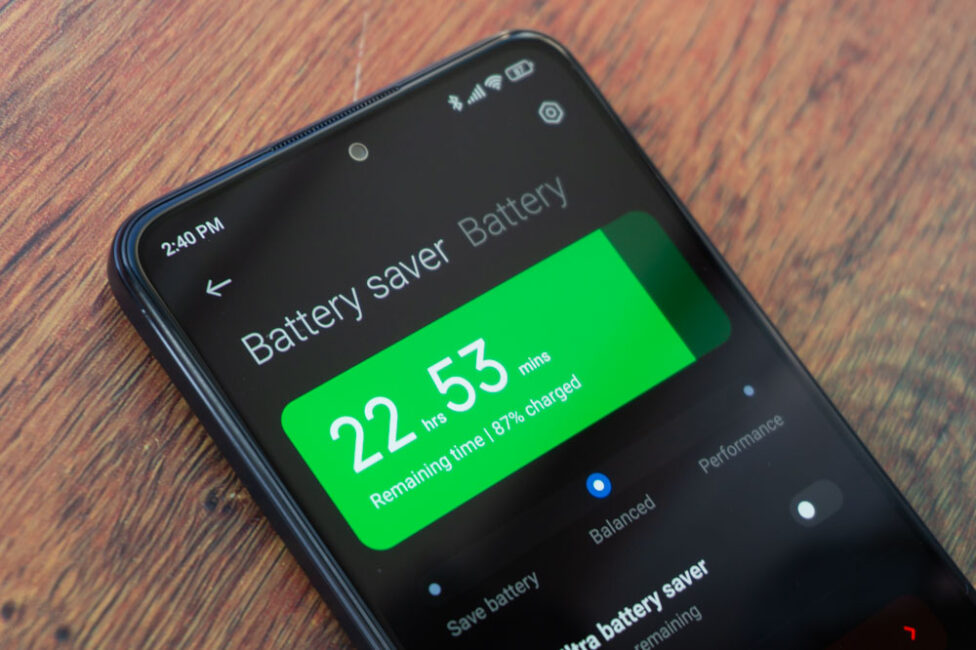 I used Poco X4 Pro 5G with an always-on dark system theme, no Always On Display, but a 120Hz refresh rate. With normal everyday use without games and frequent access to the cameras, it lasts an average of 25-27 hours with 8.5-9 hours of screen on, these are excellent results. The hero of the review lasted 7 hours 58 minutes in the PCMark Work 3.0 autonomy test with maximum screen brightness  – not a record, but a decent result.
Curiously, according to tests, Poco X4 Pro 5G is a little (3-5%) more long-lasting than Redmi Note 11 Pro 5G, although these smartphones are twin brothers.
You can't do without fast charging today, and even in the middle class there are quite powerful chargers that not all last year's flagships can boast of. The power of the included X4 Pro power adapter is 67 W. According to the manufacturer, the novelty is fully charged in just 42 minutes.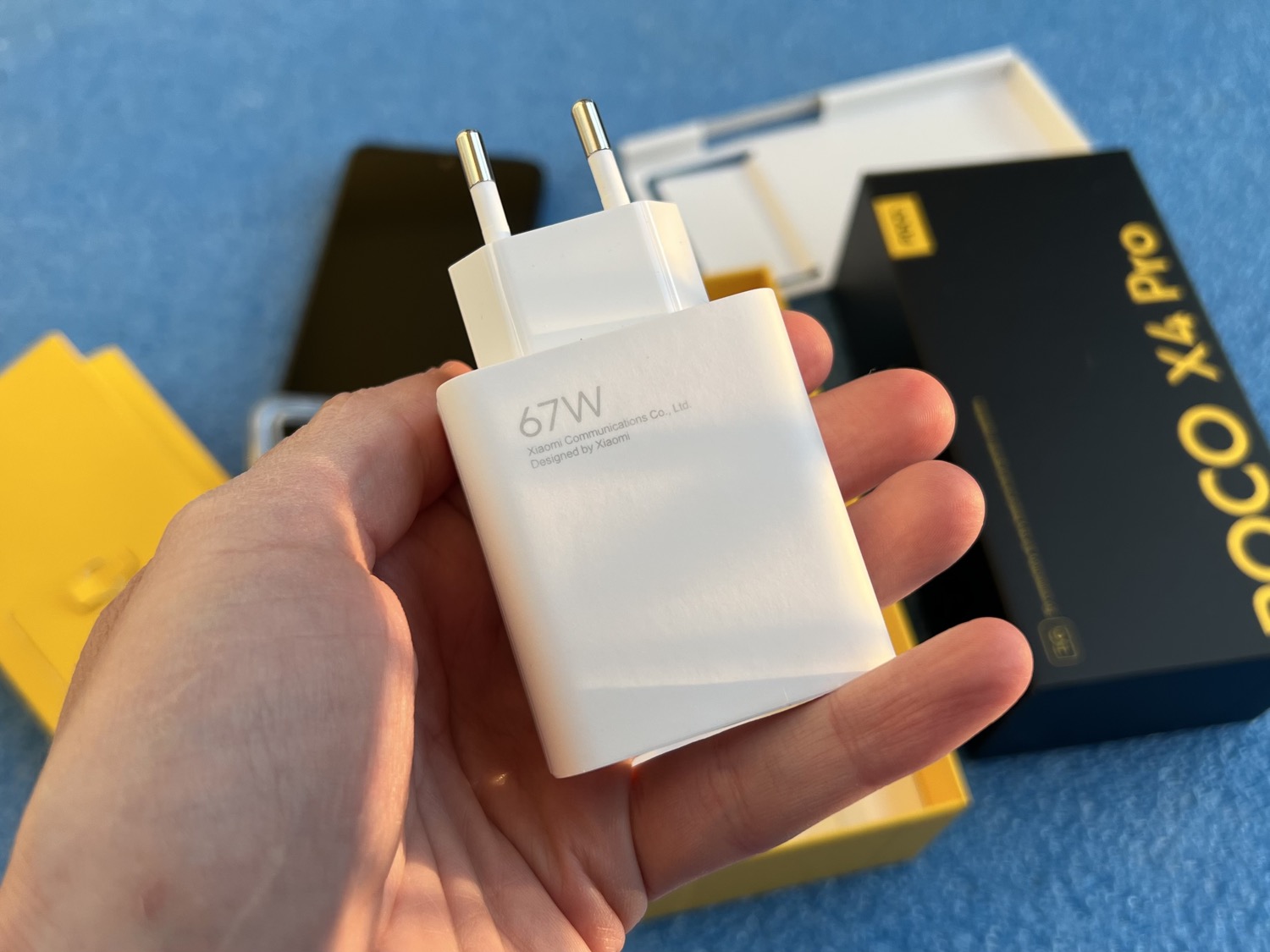 In reality, the results turned out to be slightly different and it will take about 50 minutes for the smartphone to fully charge from 10% to 100%. Charging is really fast at first, but after 80% it slows down.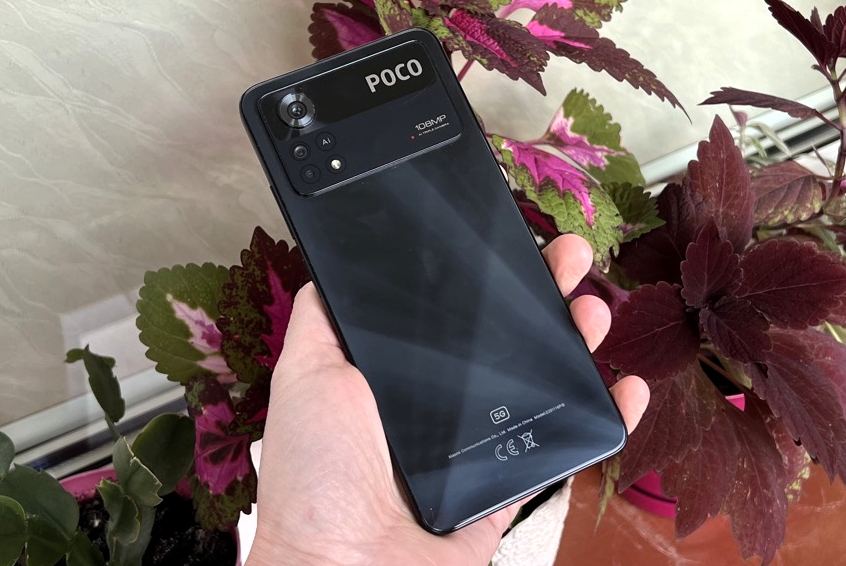 Read also: Motorola Moto G71 review: the best of the rest
Sound and communication
There are no comments on the smartphone's speakerphone: there is enough volume and the interlocutor can be heard perfectly. There are two multimedia speakers in the smartphone: one at the top, the other at the bottom. And together they offer a full stereo sound: surrounding, loud, decent quality. Such speakers are well suited for watching movies, listening to music and games.
Dolby Atmos sound effects with four presets (dynamic, video, music, voice) and a full-fledged 10-band graphic equalizer with 8 presets and a user profile are available for the speakers. So, even if the default sound does not suit you, you can always adjust it to your liking.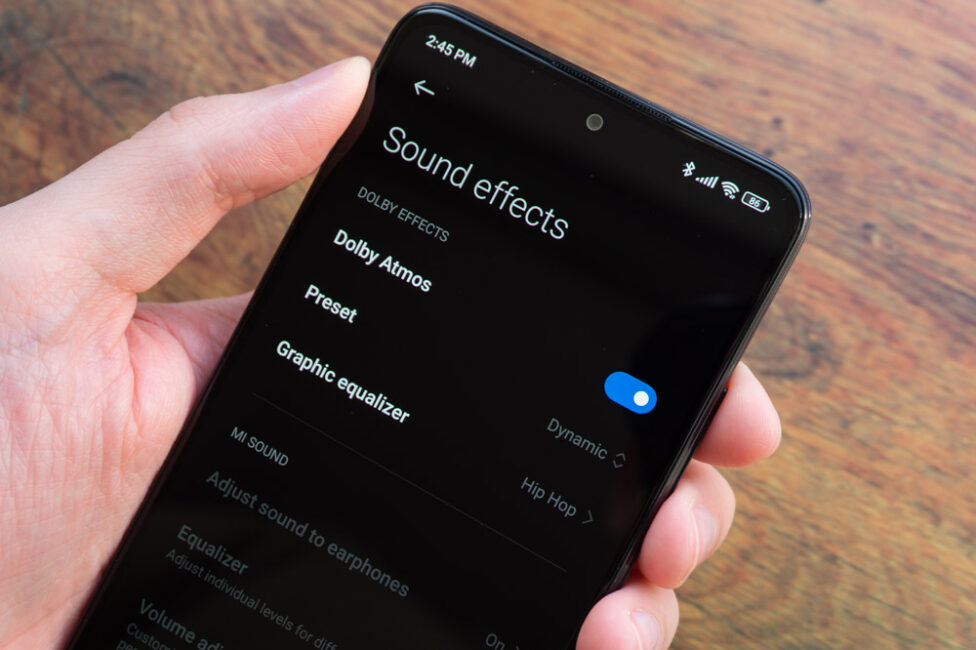 There are no problems with playback in the headphones. Both wired and wireless have good sound quality and a large volume margin. The aforementioned Dolby Atmos effects also work with wireless/wired headphones, but if you turn them off, you can get Mi Sound settings with volume control for specific Xiaomi headphones and a 7-band equalizer, as well as adjust the volume according to auditory perception. However, the latter option is already designed only for some wired headphones, while others work with wireless models.
Also, one of the small but very nice features of the Poco X4 Pro is the high-quality and pleasant vibration output, which is accompanied by various actions and gestures both in the system itself and in many standard (but not only) applications.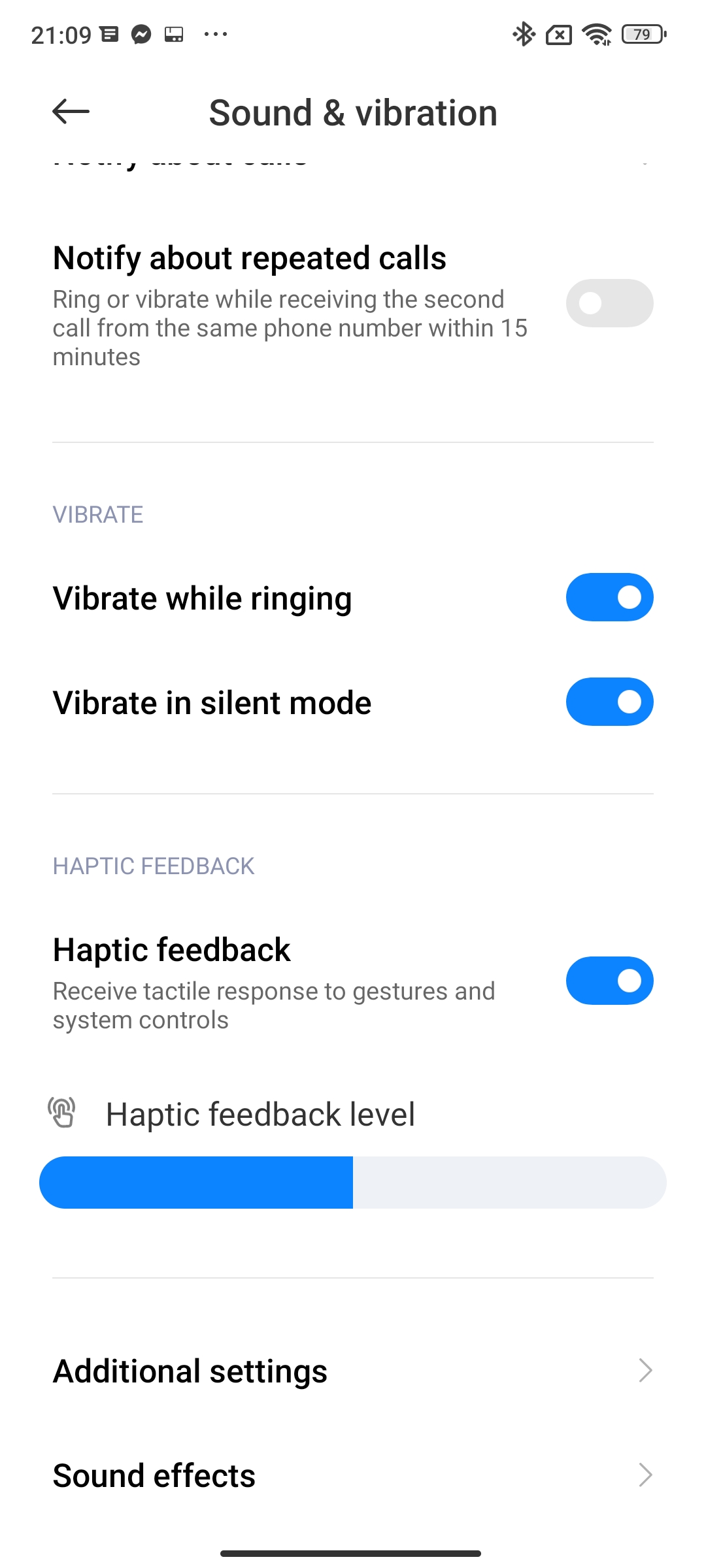 Everything is fine with networks and wireless modules. The smartphone can work with 5G networks, which is clear from the corresponding prefix in its name. The Wi-Fi module, however, is the 5th version with support for two bands, although Wi-Fi 6 would be useful. But again, it's due to the chipset's limitations. There is Bluetooth 5.1 (A2DP, LE), GPS (A-GPS, GLONASS, GALILEO, BDS), as well as NFC.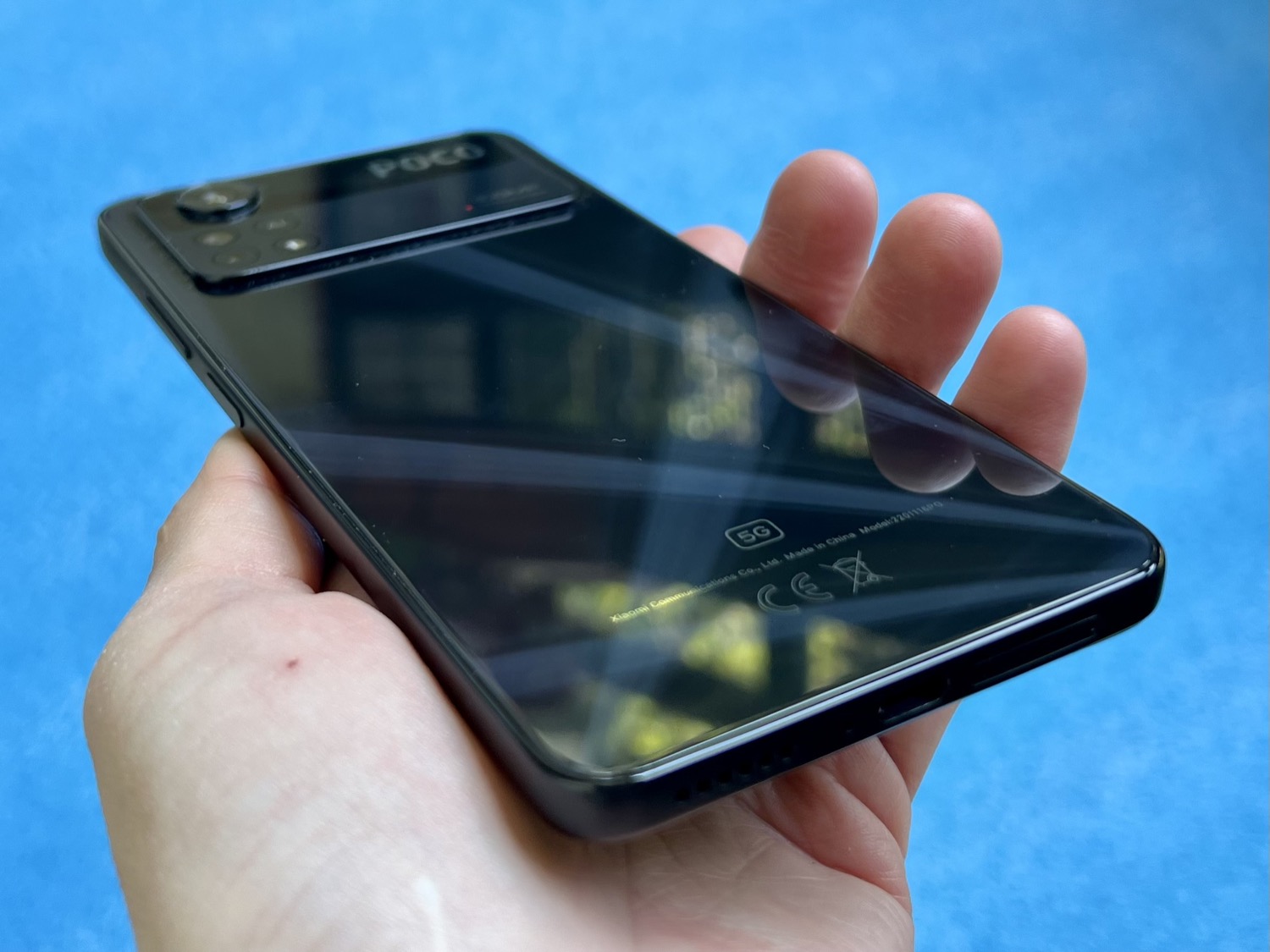 Traditionally, the IR port has not forgotten about, through which you can control home appliances, and there is a built-in program to configure this feature.
Read also: Huawei nova 9 review: phone that could have been a hit 
Poco X4 Pro software
The Poco X4 Pro 5G operating system does not use the latest version of Android 11, but with an updated version of the proprietary shell – MIUI 13. And this is not the usual MIUI, but 'MIUI for Poco'. An update to Android 12 has been promised, but it's not yet clear when it will arrive. Accordingly, there are no new features of the 12th version – updated widgets, expanded control panel, new privacy settings, an improved file manager, improved camera application, as well as improved one-handed mode (like in iPhones) and so on.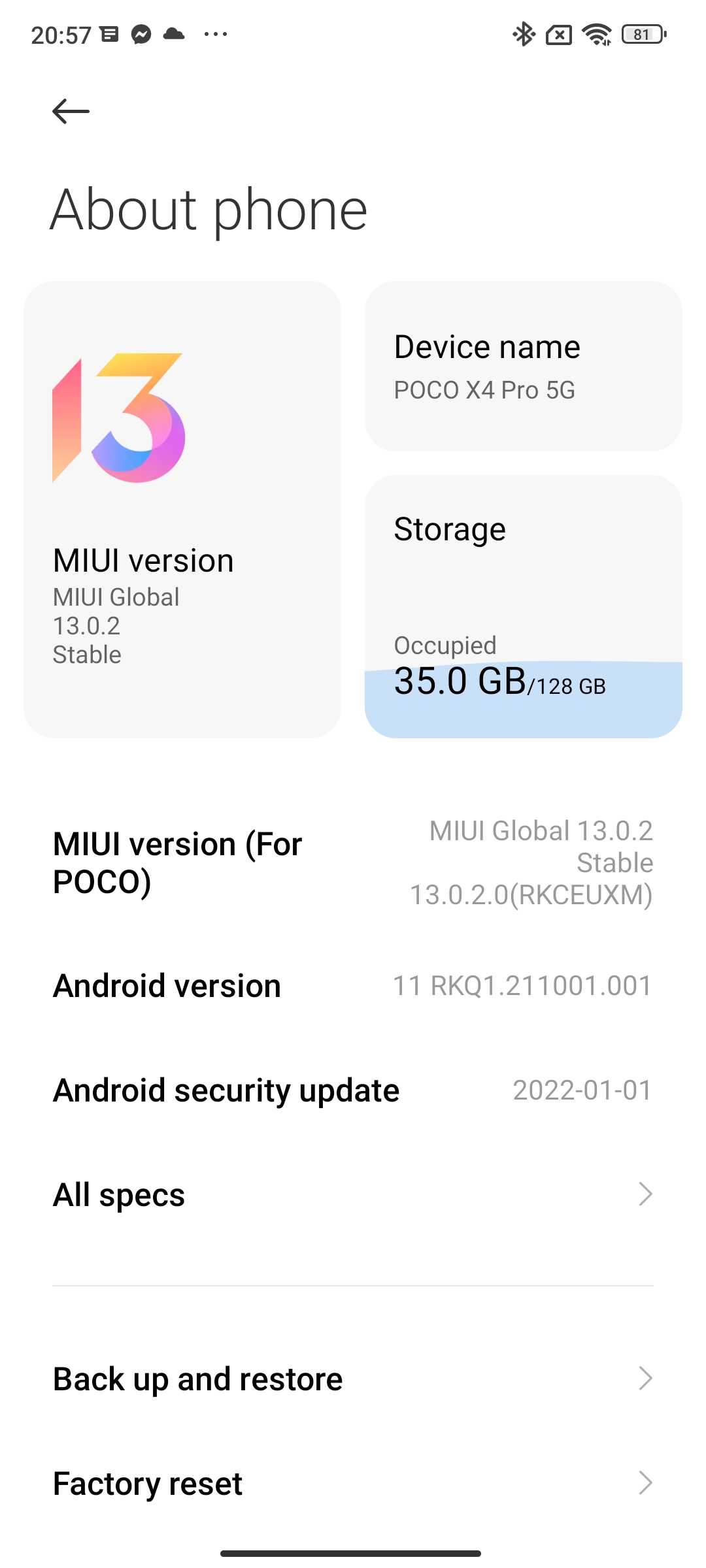 It is also important to understand that the POCO version is the same MIUI, only with updated round icons (quite nice). Another difference from a typical MIUI assembly is the app drawer (a slide-out menu with all applications), which cannot be disabled. That is, applications can be placed in this menu, and you can bring the ones you need to desktops. Whereas in other versions of the shell there may be both a drawer and the ability to work without it, when all applications are on desktops (the iOS principle).
The application catalog in MIUI for Poco automatically divides all content into categories – communication, entertainment, photos, utilities, business, new. Categories can be edited or disabled.
Otherwise, you should not expect any serious visual or functional innovations from the MIUI 13 version. Basically, all changes in MIUI 13 are under the hood and they are aimed at optimization. The manufacturer himself distinguishes the following among those:
Liquid Storage — optimized file storage system, increases reading and writing efficiency by up to 60%
Atomized Memory — optimized RAM performance, RAM efficiency increased by 40%
Focused Algorithms — optimizing processor priorities, increasing overall performance and process speed
Smart Balance — automatic determination of the balance between performance and charge usage, the total battery life increased by 10%
As for the more mundane things for the user in the new version of the popular shell, I can note, for example, a message when the screen is off, when the edges of the display are carefully highlighted for some time. You can choose a color.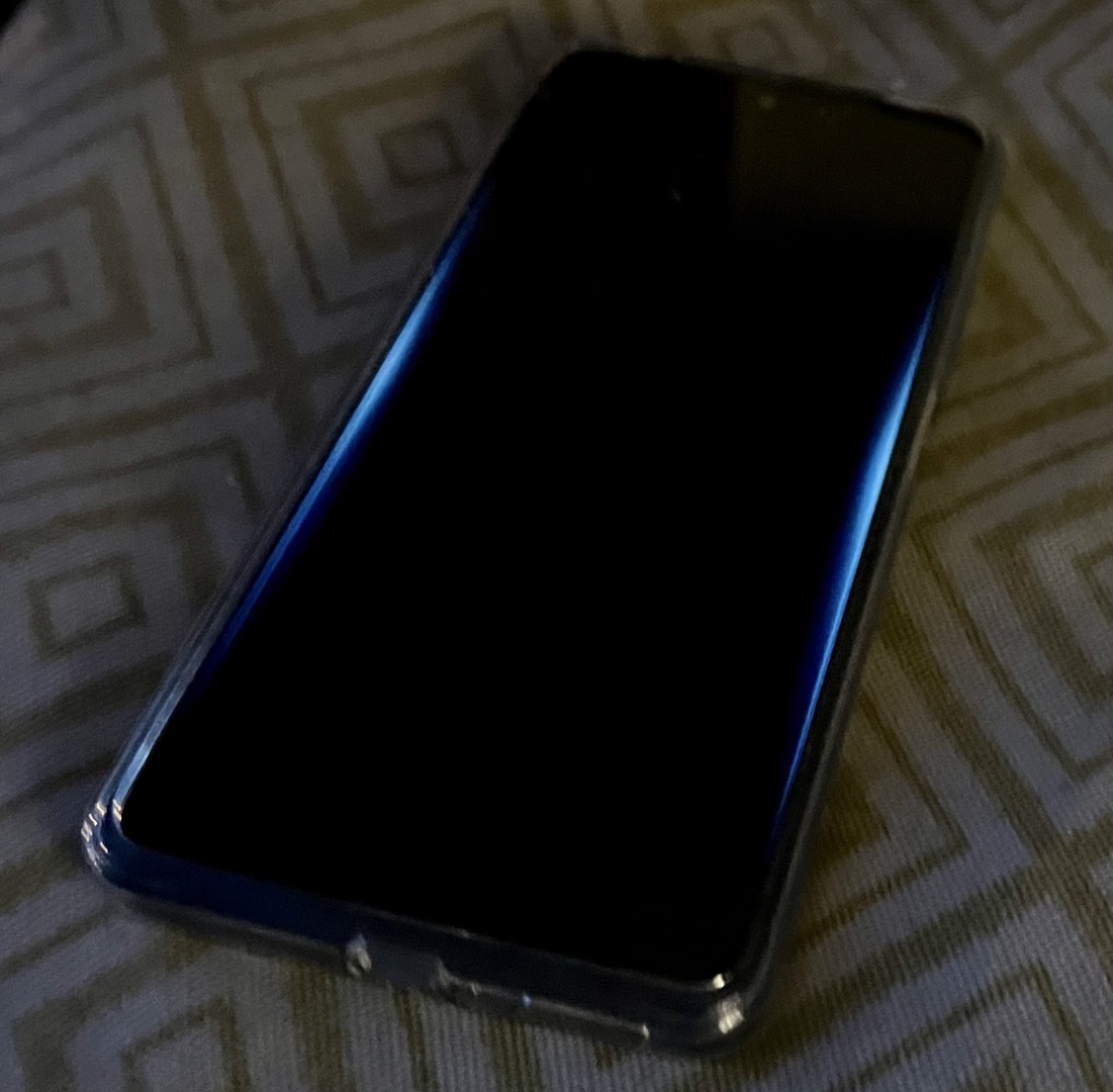 Also MIUI 13 got an improved screenshot editor, an updated battery information page with high performance mode, and the ability to record video with the screen off.
And it is also worth noting the  Smart Sidebar side panel. You can customize its display scripts and add up to 10 applications that can be quickly called from this sidebar right on top of the active window. Moreover, these applications fully retain their functionality. You can resize floating apps, open apps in full screen mode or minimize them to a compact state by moving them to any corner of the screen, and continue using the main window while maintaining access to the app running in the floating window. We get, in fact, multitasking in the form of windowed mode.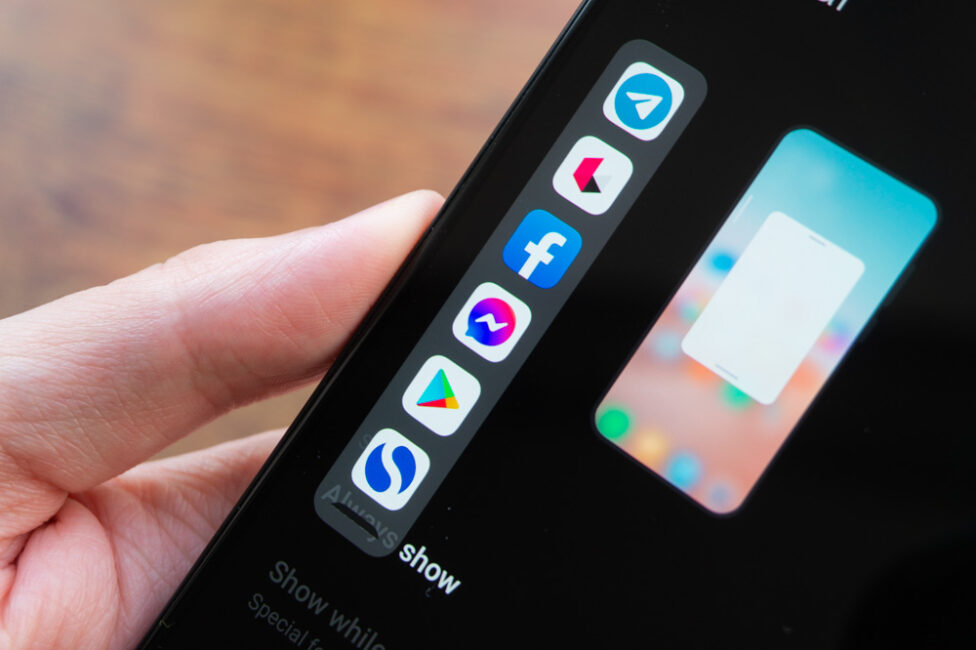 There is also a separate mode of 'floating windows', this is also a windowed mode, but it only opens from the 'curtain' of notifications.
And the rest is as usual – a double 'curtain' divided into a list of notifications and quick settings (if you don't like it, you can turn on the classic view through the settings), a list of running applications in the form of 'tiles' with two windows, a huge number of themes, icons, wallpapers, handy gestures.
There are also quite a few pre-installed applications, many of which duplicate regular Android, in particular, the gallery, music, video, clock, calculator, file manager, and so on. There are also applications for cleaning memory, testing the security level of the device.
It is worth noting that the Poco X4 Pro 5G has the same feature as other models of the Xiaomi family – built-in software advertising in branded applications, which is neatly called recommendations. You can disable it, but in each application separately in the the settings. For example, in the file manager, this is done in the 'Settings' – 'About the application' section.
In general, the shell works quickly and smoothly, looks nice and leaves the feeling of a standalone operating system, so it does not look like standard Android. Everything is thought out in detail, for example, in the information about the phone in the block with free memory, the indicator of this memory sways when the phone is tilted like water in a glass. A trifle, but impressive!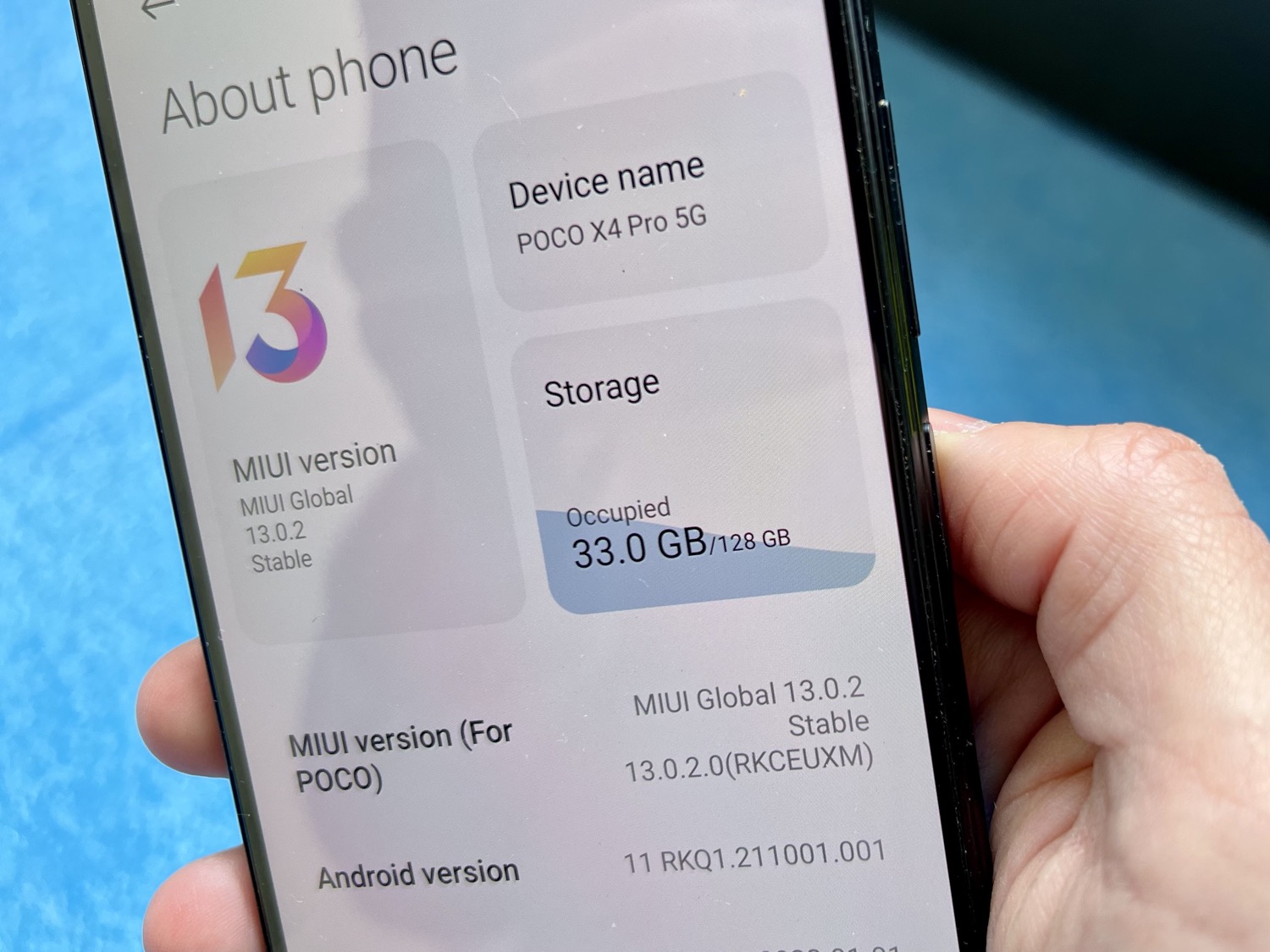 Read also:  POCO M4 Pro 5G review: mid-ranger with 90 Hz and stereo
Conclusions
The Poco X4 Pro 5G is a nice smartphone that comes with balanced specs. Very very beautiful (the back panel in the light simply shimmers with 'laser' beams), protected from water splashes, stands out with a bright AMOLED display with a refresh rate of 120 Hz, and a 5000 mAh battery is more than enough for the whole day, and 67 W charging is very fast, just in case. The quality of shooting and performance, although not outstanding, are acceptable for the price category. Prices from 299 euros can also be called acceptable.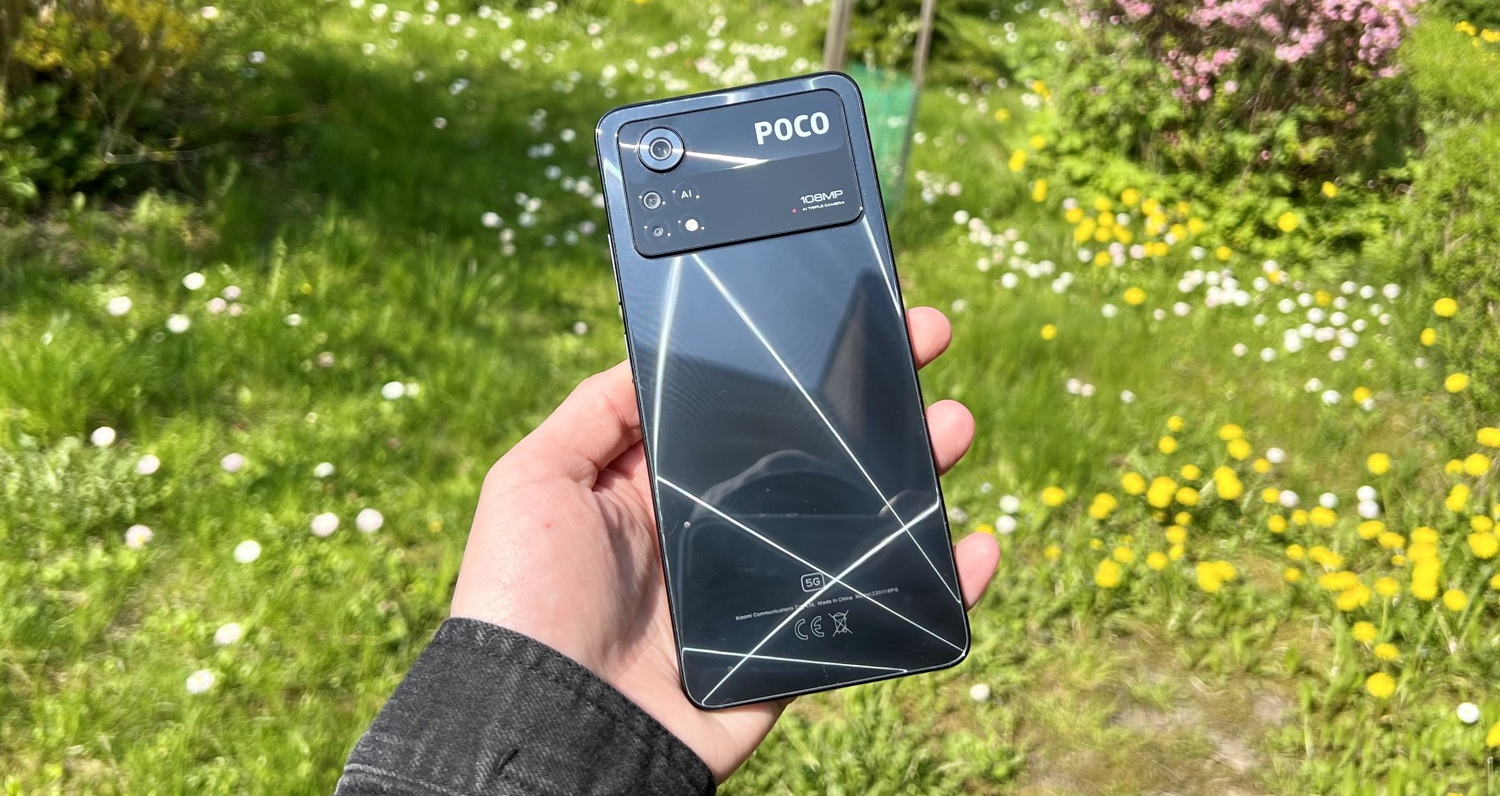 But you need to understand that we have a simplified model in front of us, which should not be compared with last year's Poco X3 Pro, which still remains more powerful. Cameras do not shoot as well as they could, despite having the impressive 108 megapixel sensor. Well, a long-out-of-date Android 11 is hiding under the new version of the MIUI 13 shell,  although the update will not keep you waiting.
Let me note once again that the Poco X4 Pro 5G is a redesigned version of the Redmi Note 11 Pro 5G. This is the same smartphone with a different back panel design. And yes, it is by 70 euros more affordable (Xiaomi pricing is such a thing). Thus, I see no reason to buy the Redmi version if you can take Poco. It's also cuter, in my personal opinion.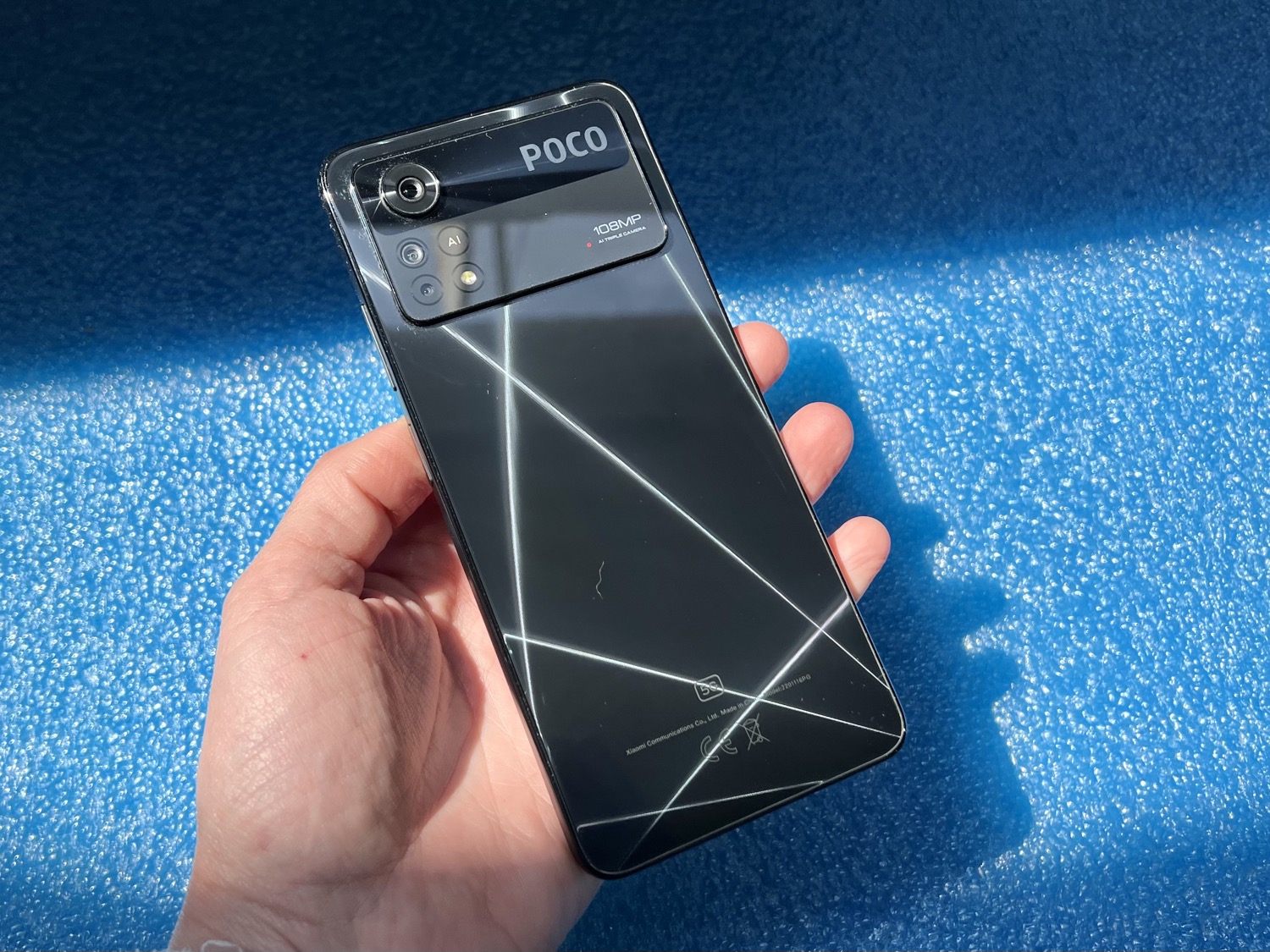 If we talk about competitors, no less interesting models are available on the market for about 300 euros and a little more. For example, the official price of last year's flagship Motorola Edge 20 8/128GB is almost 500 euros, but in most online stores the model is sold for a little more than 300 euros. The device has a chic design, a lot of RAM, a powerful Snapdragon 778G chipset, strong cameras. One drawback is not the most capacious 4000 mAh battery.
If you pay a little extra, then the Motorola G200 8/128GB will be an interesting option from Moto. The model has the top-end Snapdragon 888+ processor of last year, a durable 5000 mAh battery, and decent cameras. Except that the screen is IPS, it's not bad, but not as good as AMOLED.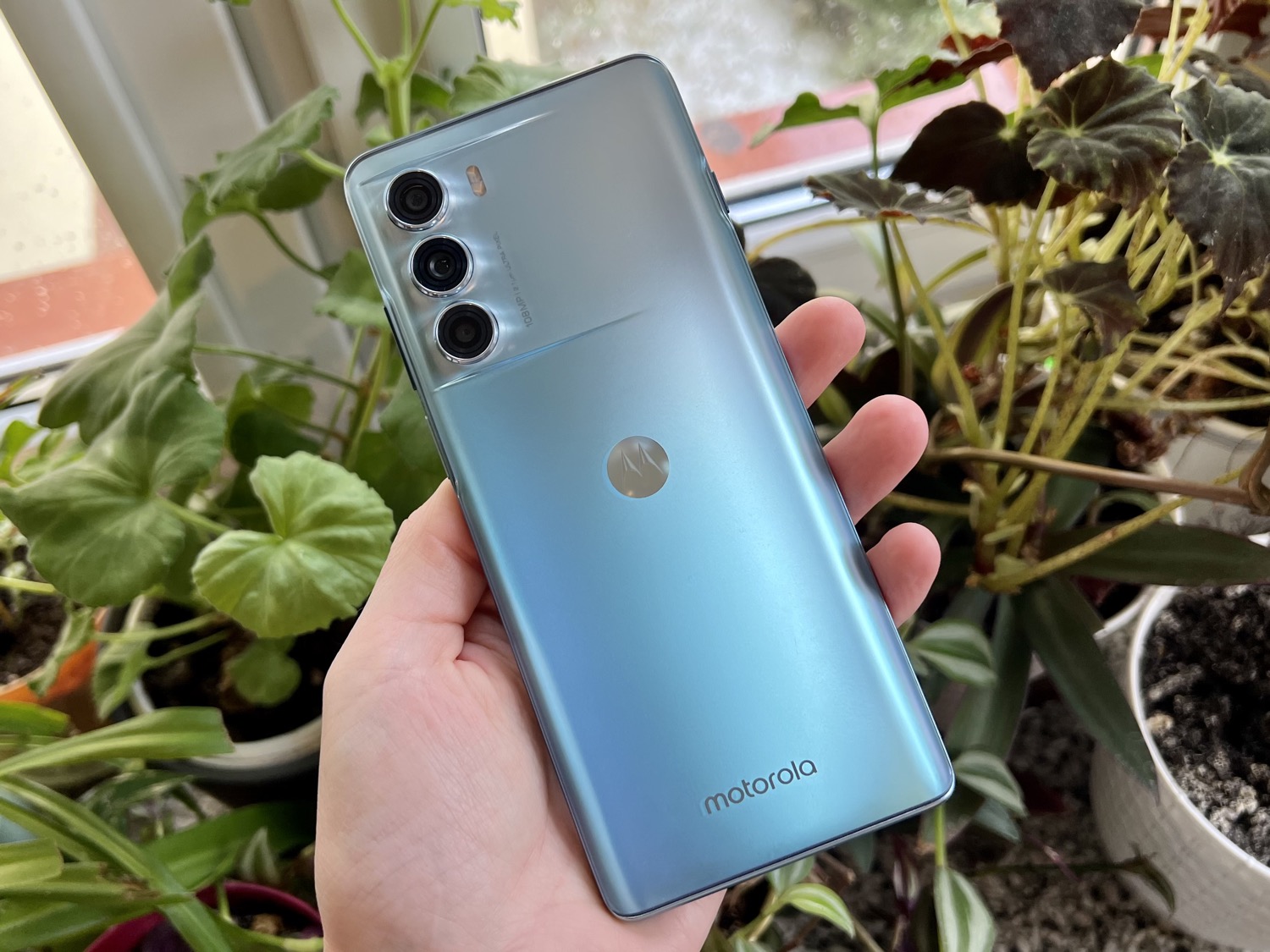 Read also:
We must not forget about the Poco X3 Pro/Poco X3 NFC, which are not very easy to find on sale, but still available. The first now costs as the Poco X4 Pro and, given the same cameras and faster processor, looks like a more interesting option. Well, the second one is pretty much the same as the X4 Pro, only much cheaper. Just keep in mind that the X3 displays are IPS, not OLED.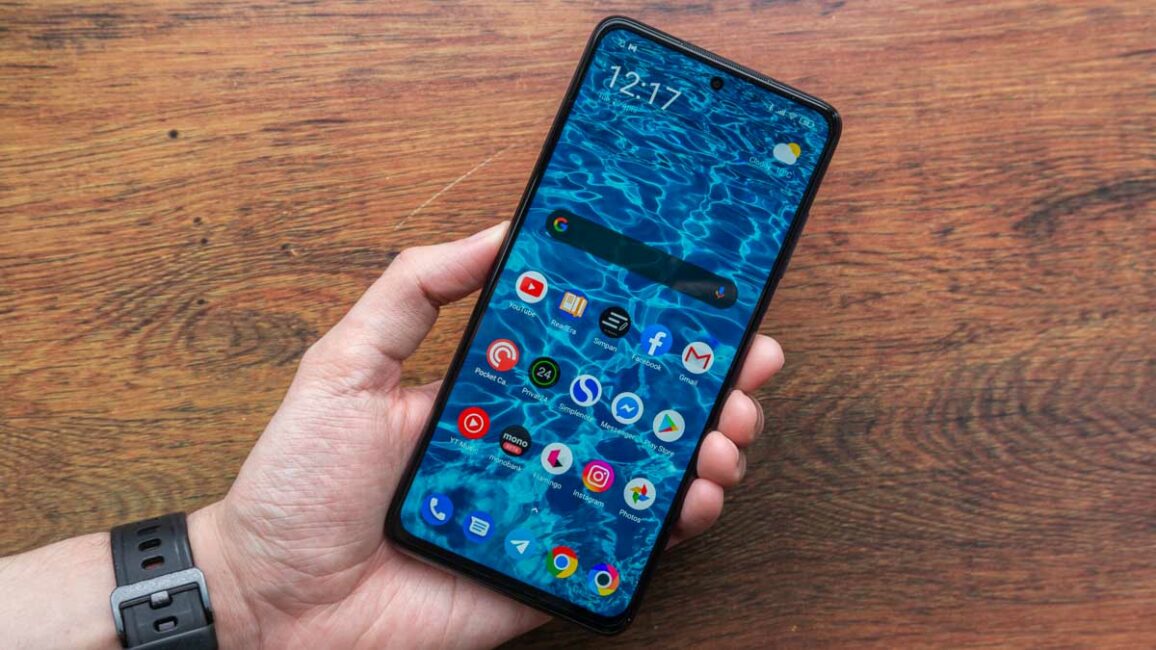 Poco F3 in the 8/128GB version is a little more expensive than the hero of the review, but the 6/128GB version is even cheaper. This is a model with a good Snapdragon 870 5G processor, HDR10 + 120Hz AMOLED screen, photography is at the level of Poco X4 Pro. F3 will definitely do better in games.
Read also:
Realme GT Neo 2 8/128GB could be a slightly more expensive but worthy alternative. Excellent AMOLED screen, powerful Snapdragon 870 processor, decent cameras. For the same 'around 300 euros' you can buy Xiaomi 11 LITE 5G NE 8/128GB with a better Dolby Vision AMOLED screen, fast Snapdragon 778G 5G, smart cameras and excellent video quality.
The new OPPO Reno7 8/128GB, similar to the Poco X4 Pro in price, is worth considering. It is also bright and handsome, it has a great screen (but 90 Hz) and cool cameras, but the chipset is also not the most advanced (Snapdragon 680), and the battery could be more powerful (4500 mAh).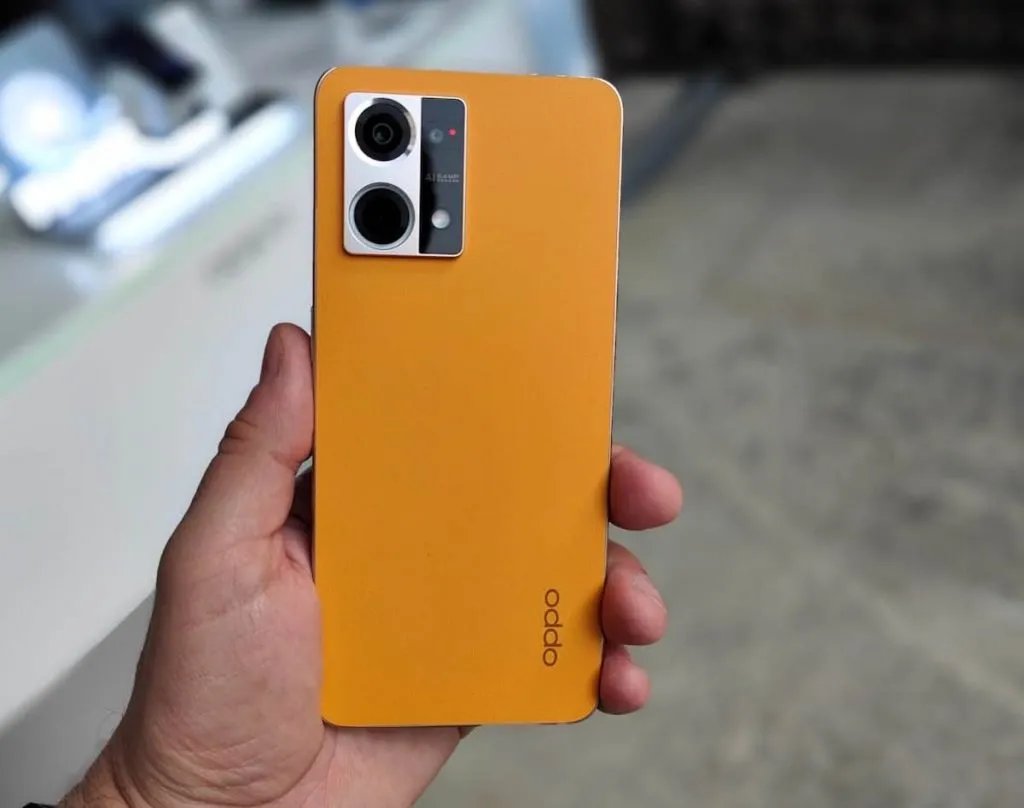 Finally, you can pay attention to the Samsung Galaxy A53 5G in the 6/128GB version, although it is somewhat more expensive than the hero of the review. It has a chic AMOLED display, IP67 water resistance, good cameras with optical stabilization, decent performance. And, of course, the wonderful One UI shell. The only fault you can find is not the fastest charging.
Read also: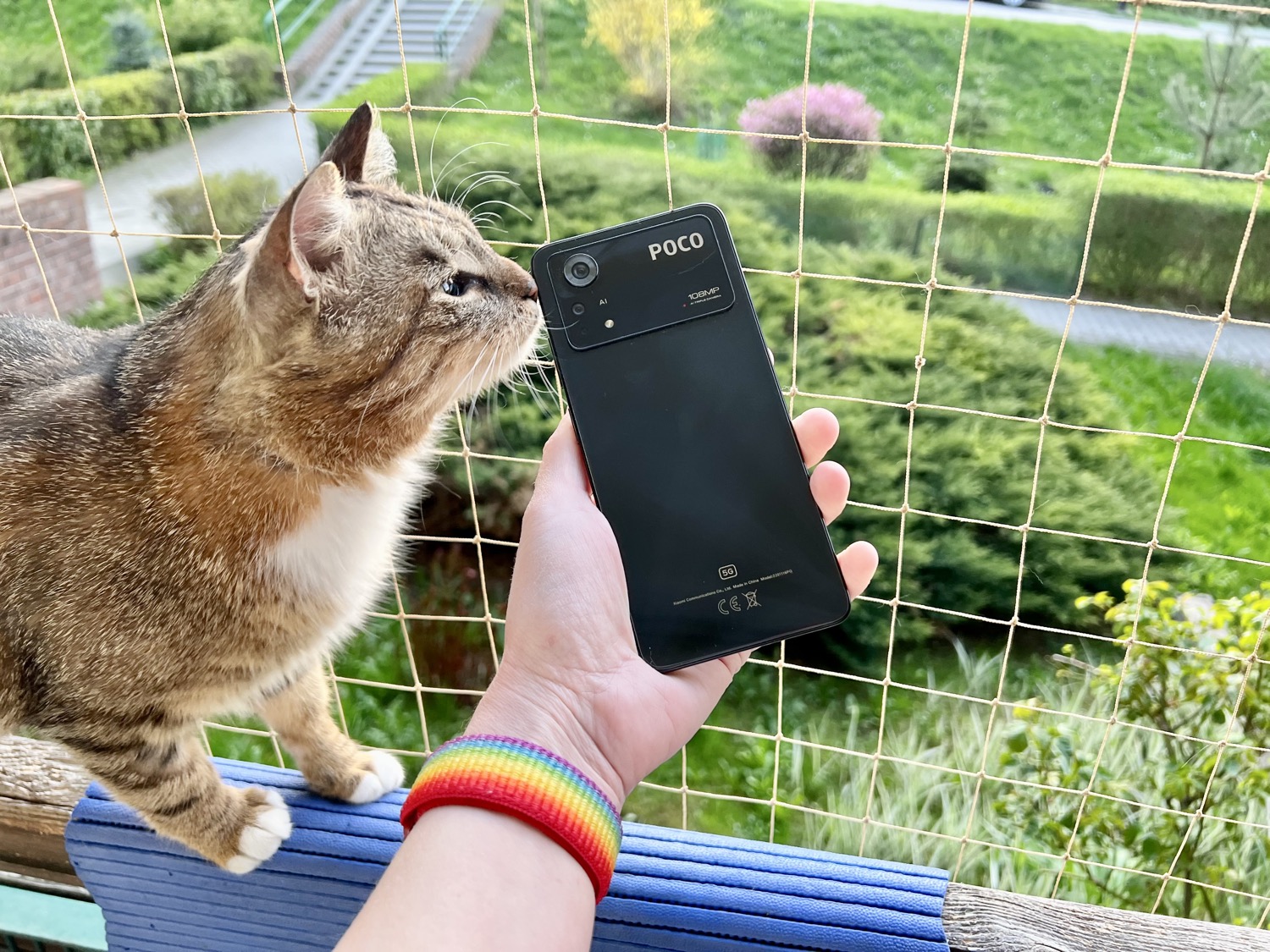 Let's round up: Poco X4 Pro 5G is Redmi Note 11 Pro 5G in a different case. Its advantage is the lower price. It's not as powerful a Poco as we've been used to, but worth considering if you're looking for a great display, good battery life, and good speakers. But if you are interested in power and gaming, as well as outstanding cameras, you definitely need to look for something else, there are many competitors.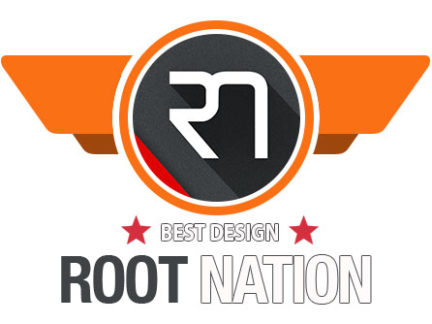 Where to buy
Read also:
You can also help Ukraine fight with Russian occupants via Savelife or via an official page of the National Bank of Ukraine.