When Huawei sent me its most advanced novelty, the Mate XS 2, for a test, I put aside my iPhone to use the folding smartphone as my main one for several weeks. The goal was to answer the question – are such gadgets convenient and practical? The experience was interesting. In the review, I will share my impressions of using the "clamshell" in detail Huawei Mate XS 2.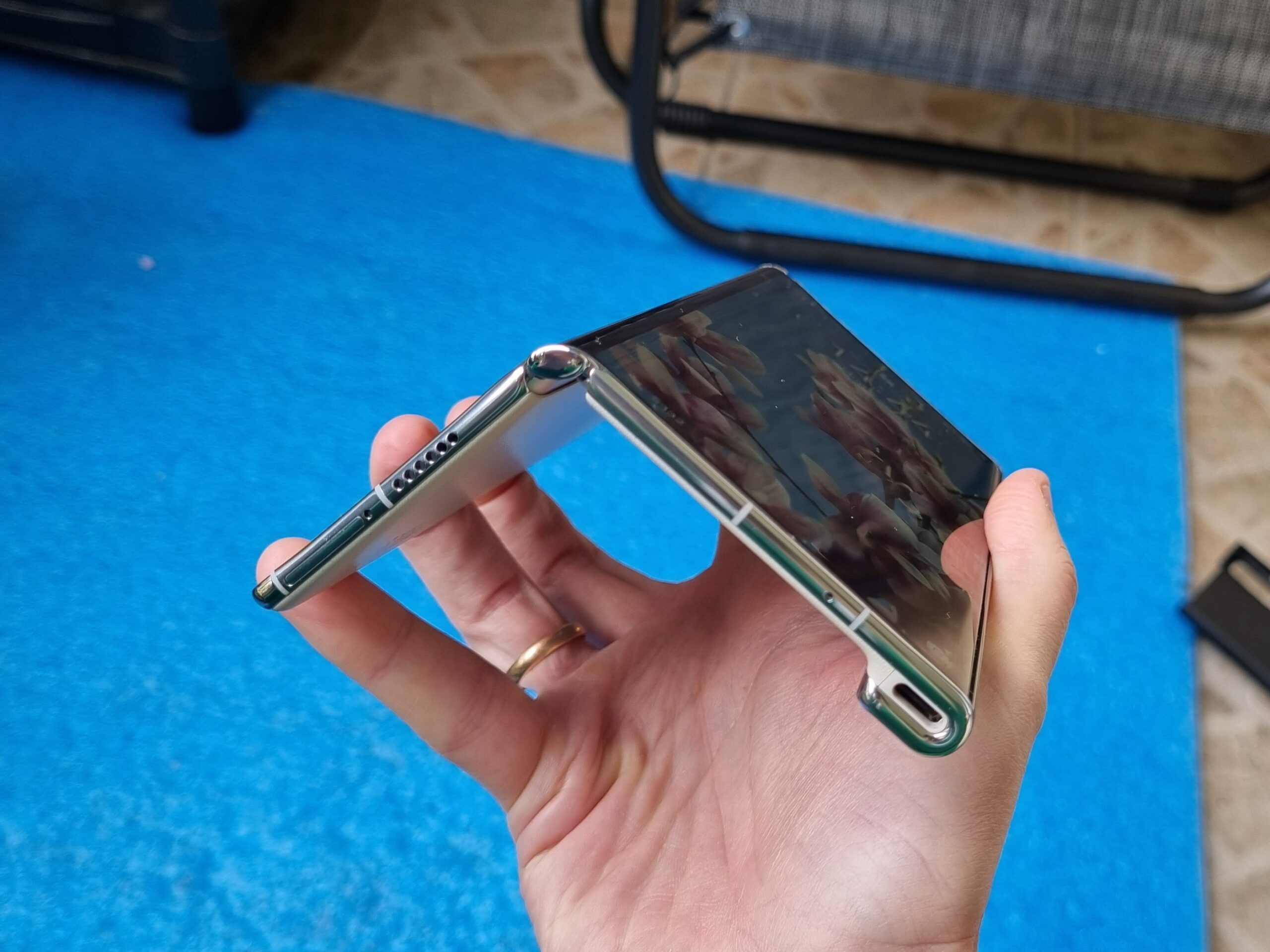 Read also: Huawei nova 10 Pro Review: Curved Screen, Super Cameras And 100W Charging
Market positioning and price
Only a few manufacturers today dare to release folding smartphones. For some (OPPO Find N, Xiaomi MIX Fold 2, Vivo X Fold), such models are still very early days. In fact, serial "folders" with flexible displays are no longer in the first generation produced only by Samsung and Huawei. Both manufacturers consider themselves to be in the premium segment and for them such non-standard solutions are not only a way to sell a lot of expensive phones and earn money, but also to show their technological leadership in the market. Especially for Huawei, which, as you know, has not the best situation with the mobile division due to the sanctions imposed by the United States.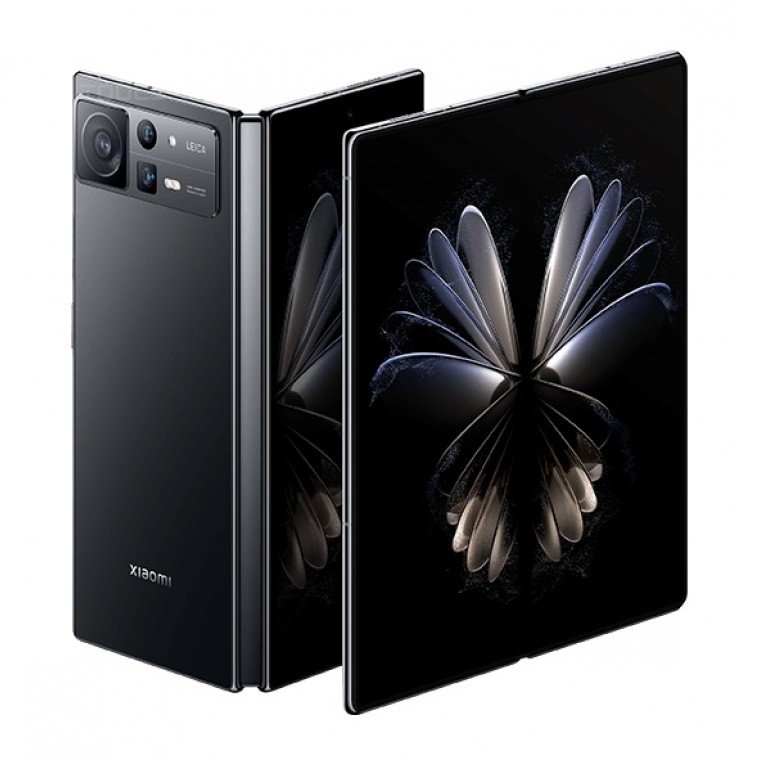 In general, bright and very expensive " clamshells" seem to shout – we are cool, we can do it, we are developing the technologies of the future. And it should be admitted that Huawei is doing a good job. Despite the problems due to sanctions, the company produces smartphones of the highest quality (both top models like P50 Pro or nova 10 Pro, and budget models like nova Y70). Moreover, our test experience shows that even without Google services they are quite usable. And if desired, Google services can be installed in a couple of clicks.
To sum up: for Huawei, the new Mate XS 2 is a way to demonstrate their leadership and ability to create advanced innovations. A device worth 2000 euros is not for everyone. It is rather for a few techno-geeks who are ready to part with a large amount of money without blinking an eye out of curiosity.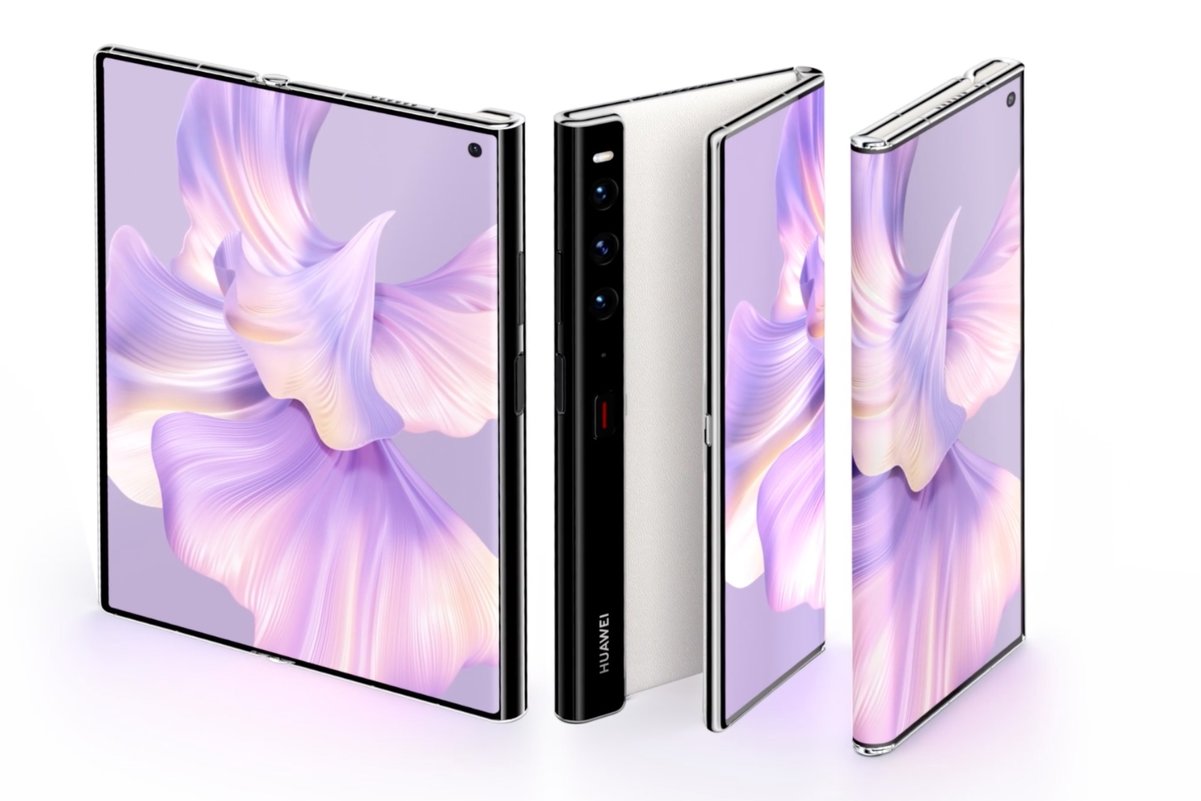 I would like to note here that Mate XS 2 has replaced the first Huawei smartphone with a flexible display Huawei Mate XS. Moreover, it came 27 months after the release of the first model, that is, engineers had a lot of time to refine it. The device has become much lighter and more compact, received a more advanced folding and unfolding mechanism, an improved display with an invisible folding strip, cameras, a newer chipset (however, it lost 5G due to the same sanctions).
I will add that Huawei Mate XS 2 is the only folding smartphone on the market with the screen facing out. Unlike competitors who offer two displays – external and folding internal. It looks more interesting and more convenient due to the wider display when folded, on the other hand, it is less protected. However, there is a case, moreover, included in the package, so let's take everything in order.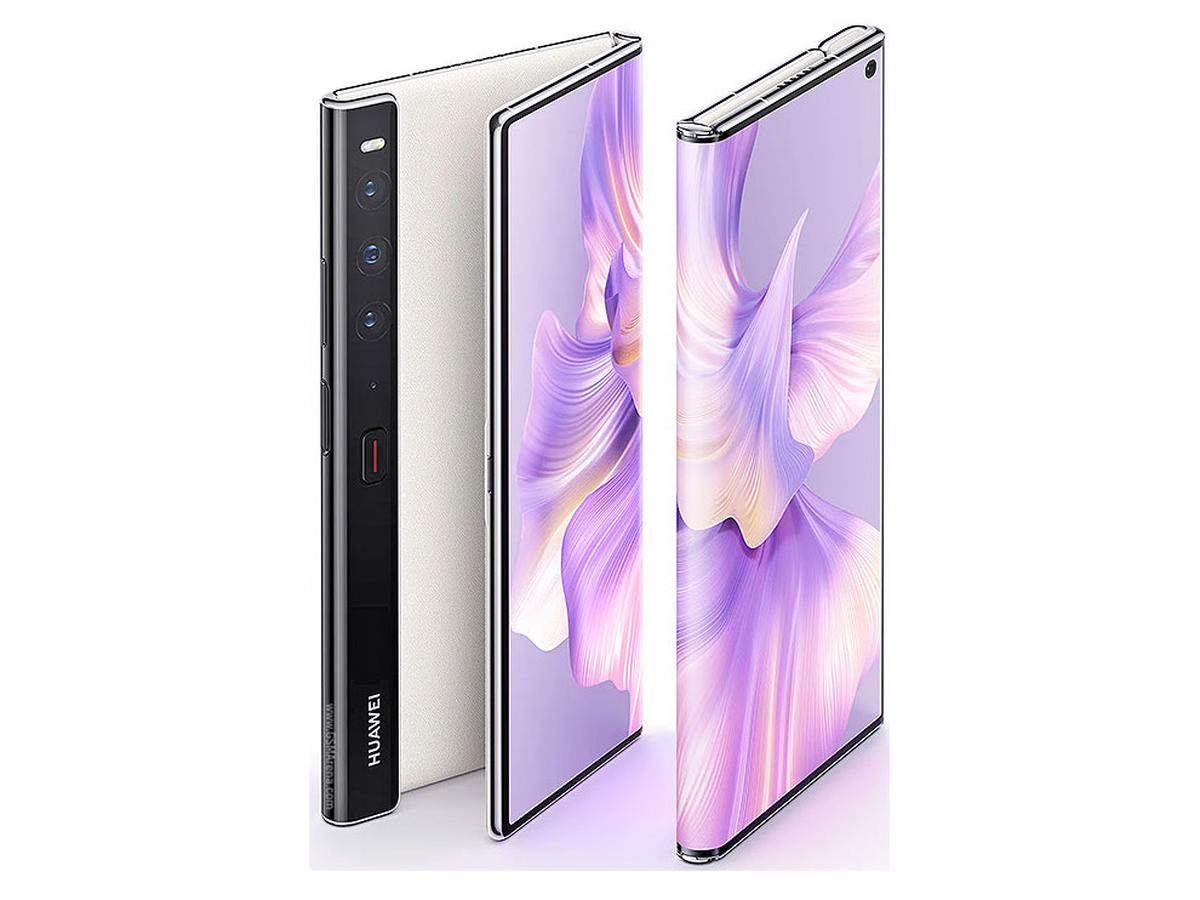 Read also: Samsung Galaxy Z Fold3 5G review: Addictive foldable smartphone
Specifications of Huawei Mate XS 2
– OLED, 7.8 inches 2480×2200 unfolded (8:7.1, 425 ppi)
– 6.5 inches 2480×1176 folded (19:9, 422 ppi)
– occupies 89.9% of the front panel
– HDR10+ support, 10-bit palette (1.07 billion shades)
– refresh rate 120 Hz, touch layer polling rate 240 Hz
– Snapdragon 888 4G, 5 nm (1×Cortex X1 up to 2.84 GHz, 3×Cortex A78 up to 2.42 GHz, 4×Cortex A55 up to 1.8 GHz)
– Adreno 660 video accelerator
– 8 GB OF RAM
– 512 GB of UFS 3.1 permanent memory
– slot for proprietary NM memory cards (up to 256 GB, combined – either two SIM or SIM + memory card)
– Main module 50 megapixels (f/1.8, PDAF)
– 8 MP telephoto lens (f/2.4, PDAF, OIS, 3x optical zoom)
– 13 MP wide-angle (f/2.2)
– Front camera 10.7 MP (f/2.2)
Battery: 4600 mAh, 66W fast charging, wireless charging not supported
Communications: 4G (Dual SIM), Wi-Fi 6 (802.11ax), Bluetooth 5.2, NFC, USB-C (3.1)
OS: Android 11 without Google services with EMUI 12 shell and Huawei Mobile Services
Extra: fingerprint sensor in the side key, stereo speakers, IR port for controlling home appliances
Dimensions: Unfolded 156.5×139.3×5.4 mm (side protrusion 11.1 mm); Folded 156.5×75.5×11.1 mm
Weight: 255 g
Materials: aluminum and titanium alloy frame, polymer screen protector, glass camera unit
Colors: white, black, lilac (the latter is not available in Europe).
Delivery set
This is obviously not an ordinary phone. This is evident from its packaging – a large box (opens like a jewelry box) with gold embossing hints that we are holding a premium device.
In the package you will first of all see the unfolded Mate Xs 2. There are two little boxes under it. One of them contains a charger (66 W) and a cable, the other one – documentation and a polyurethane case. In general, it is not an easy task to create a case for a folding device. And it is thought out so interestingly that we will devote a separate chapter to its description after the story about the smartphone design.
By the way, in other reviews I saw that with a white phone comes a white case. For some reason we had a black one.
Design of Huawei Mate Xs 2
As already mentioned, we have a folding smartphone, made according to the principle of "screen outside". That is, one and the same flexible screen can be both huge unfolded and halved – folded.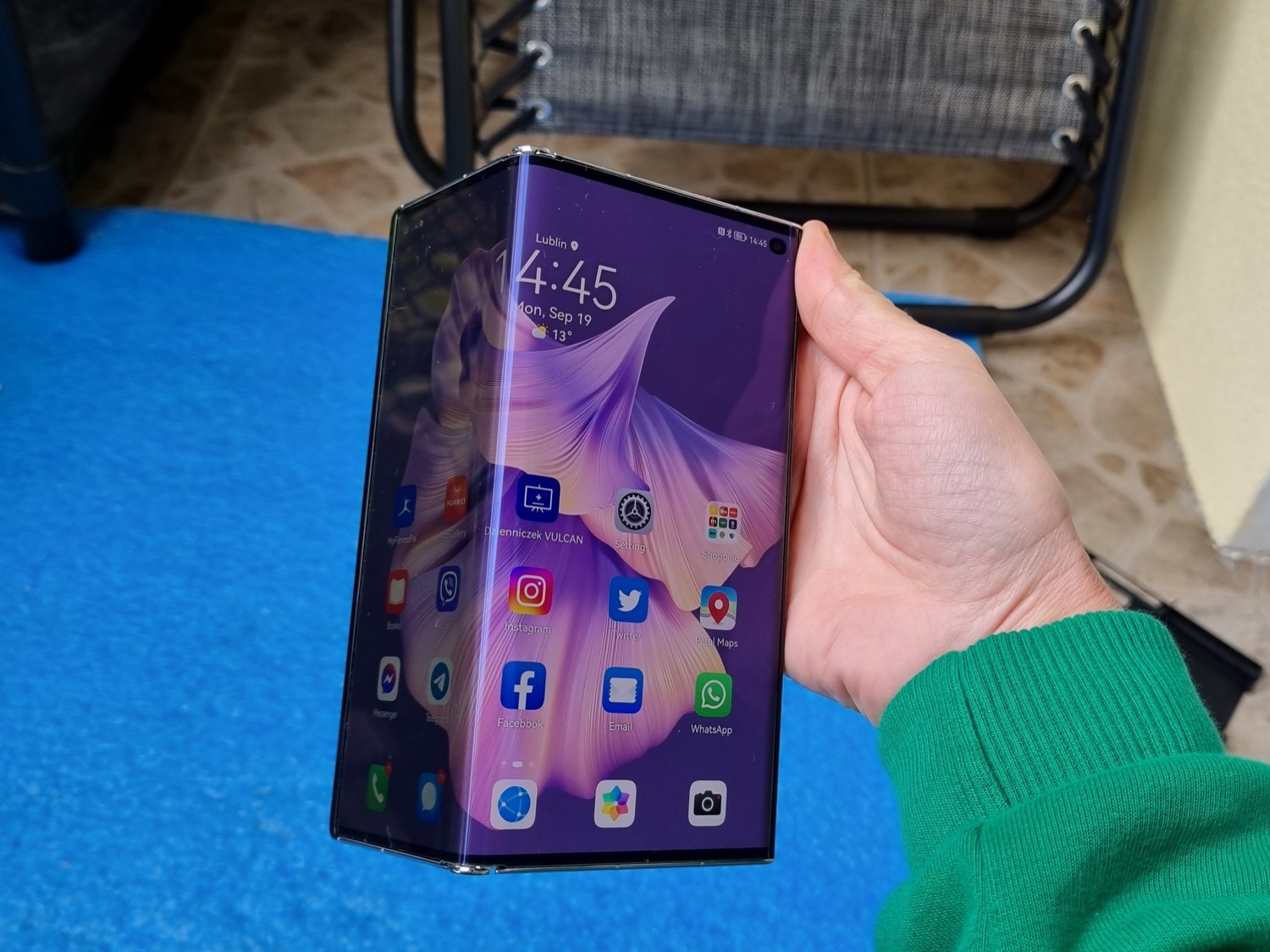 The hinge plays the main role in this kind of devices. In this case, it is called Falcon Wing (just like the door in Tesla Model X) and is made of very light and super-strong steel, there is no gap between the halves. For comparison: in Galaxy Z Fold 4 the gap is very noticeable:

Of course, Huawei assures that the mechanism will last a long time. It is scary to open and close the device at first, but over time you get used to it.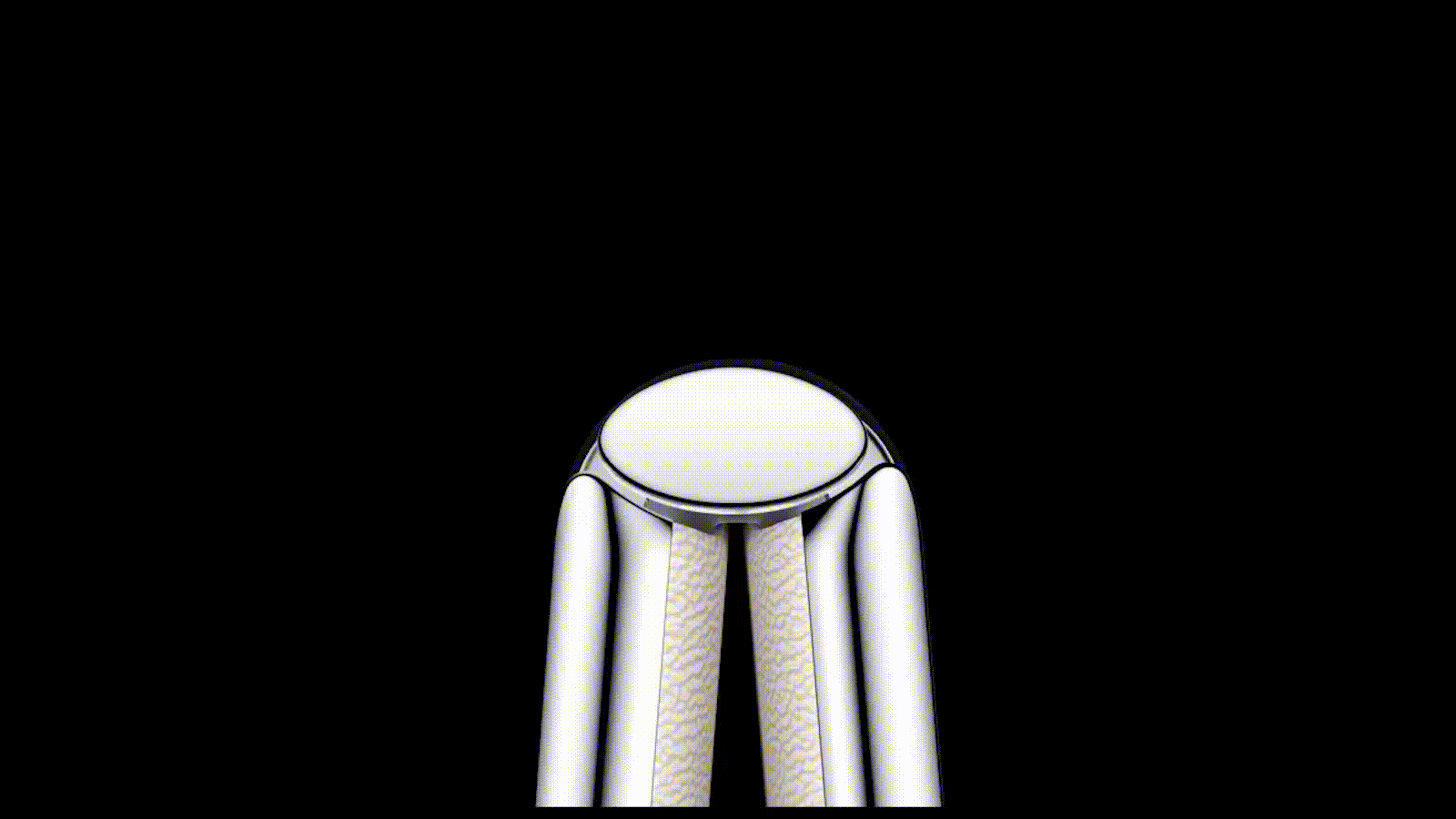 To open the smartphone, you need to press the button on the back, under the camera block. Then the device will open slightly, and the rest of the work will have to be done by hand.
Thus, you will not be able to open the phone with one hand. You will need something to help – at least to bend it against your stomach. I note that during unfolding the hinge seems to resist. When folding, it does not want to fold either. Again, at first you are afraid to bend this miracle of technology, but then you get used to it and do it automatically.
Interestingly, when the display begins to fold, it disables the touch layer so that you do not make false touches.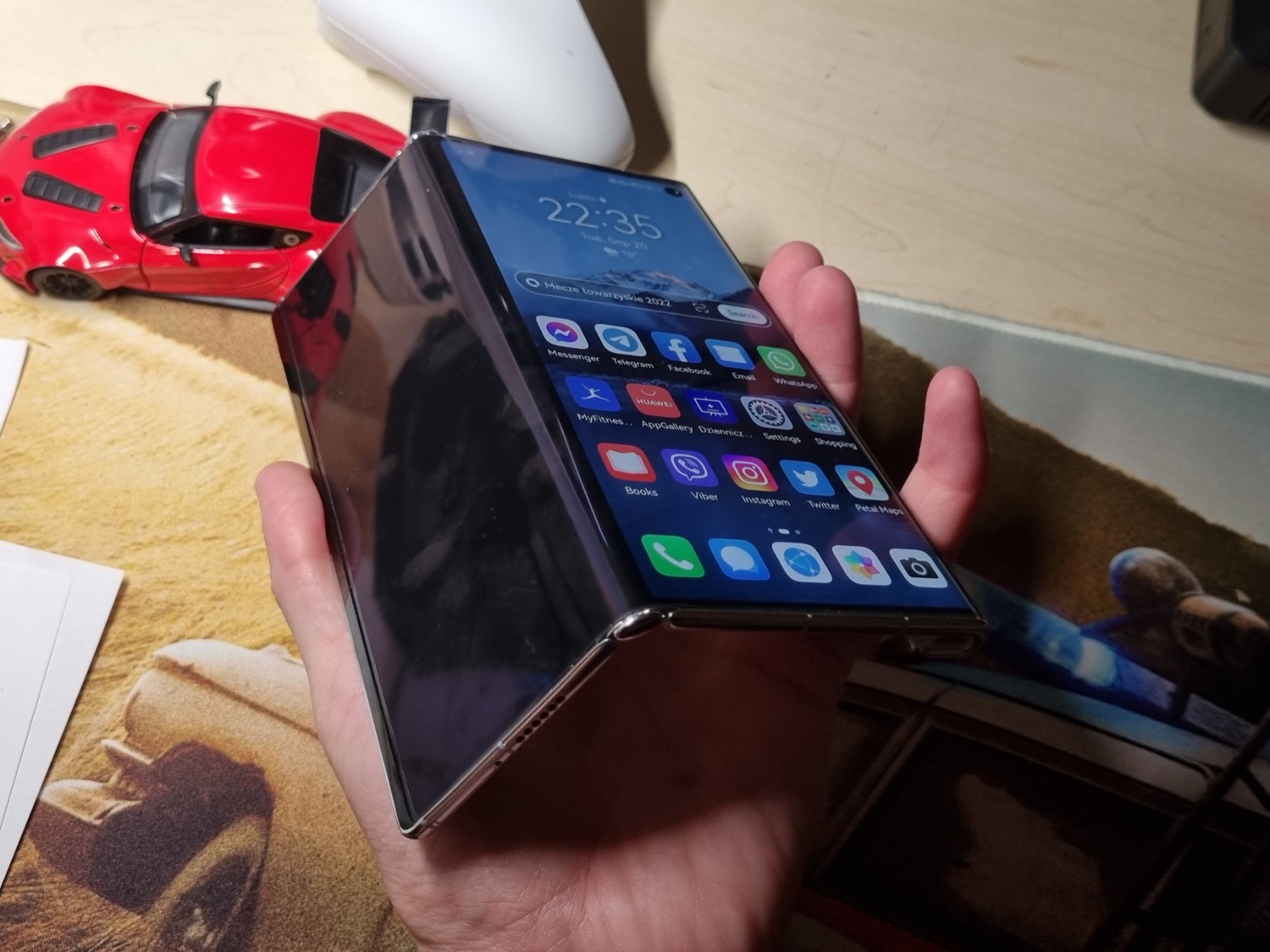 As already mentioned, there is no visible gap between the halves in the folded state. Is there a trace of bending in the unfolded state? Almost none! And this is what makes Huawei Mate XS2 stand out from the competition. The fold strip is almost impossible to feel with your fingers. And it is not visible at all, no matter what theme is on and what is on the screen.
You can see this very bend only if you look at the display at a certain angle in bright light. Otherwise, it is a really gorgeous flat screen.
When folded, the phone is symmetrically curved on both sides, so it resembles models with rounded edges of the display. Of course, the gadget, like all glass, turned out to be streamlined and terribly slippery, which is also why it's scary to use the folded Mate XS 2 without a case.
However, Huawei is trying in every possible way to dispel the doubts of users, assuring that the display is protected by a multilayer composite and withstands drop tests better than competitors.
Of course, all surfaces are covered with fingerprints. And this time we have a screen both outside and inside, so we have to accept it.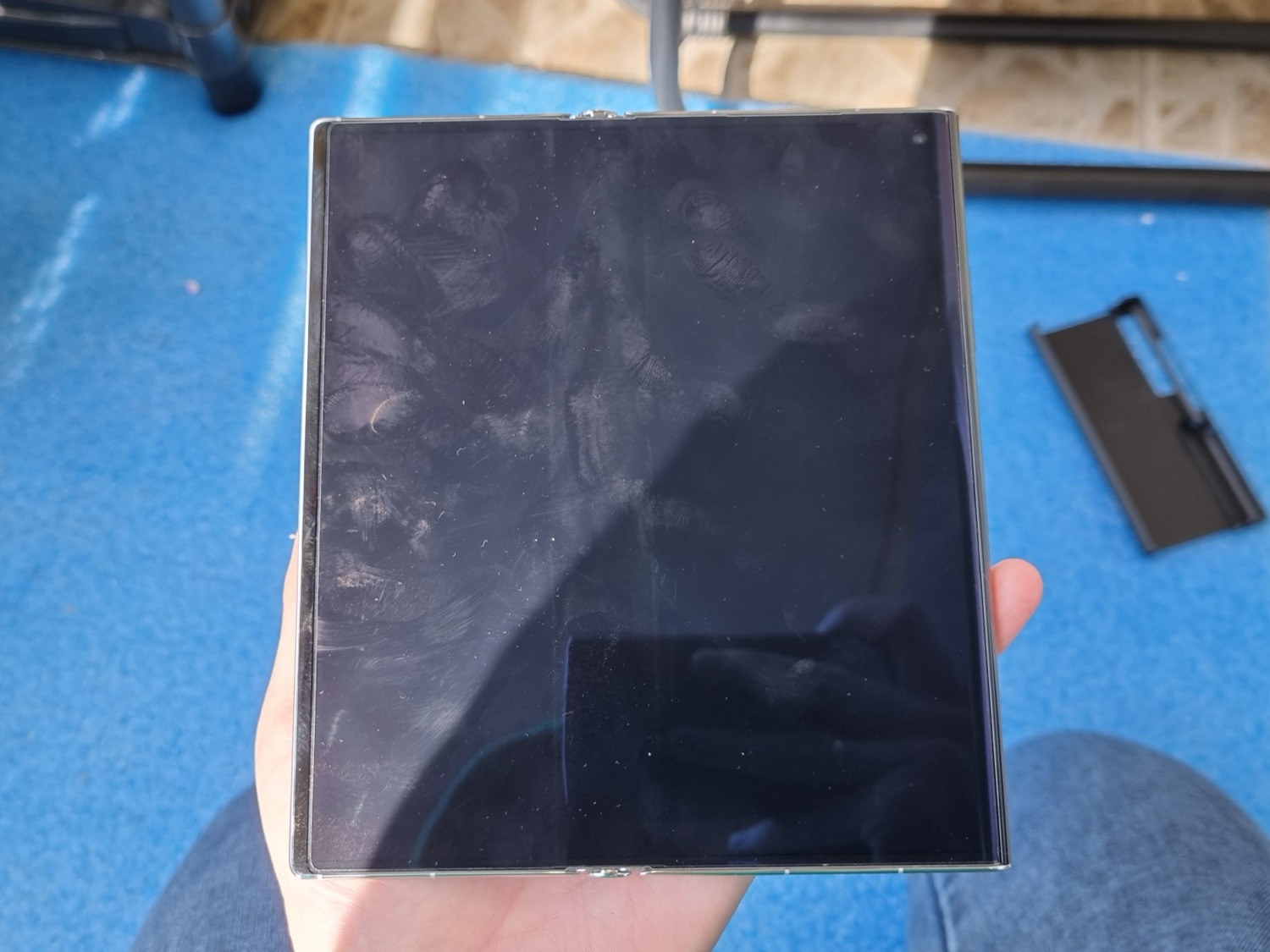 The display is covered with a special protective film, which must not be removed (as warned at the stage of switching on).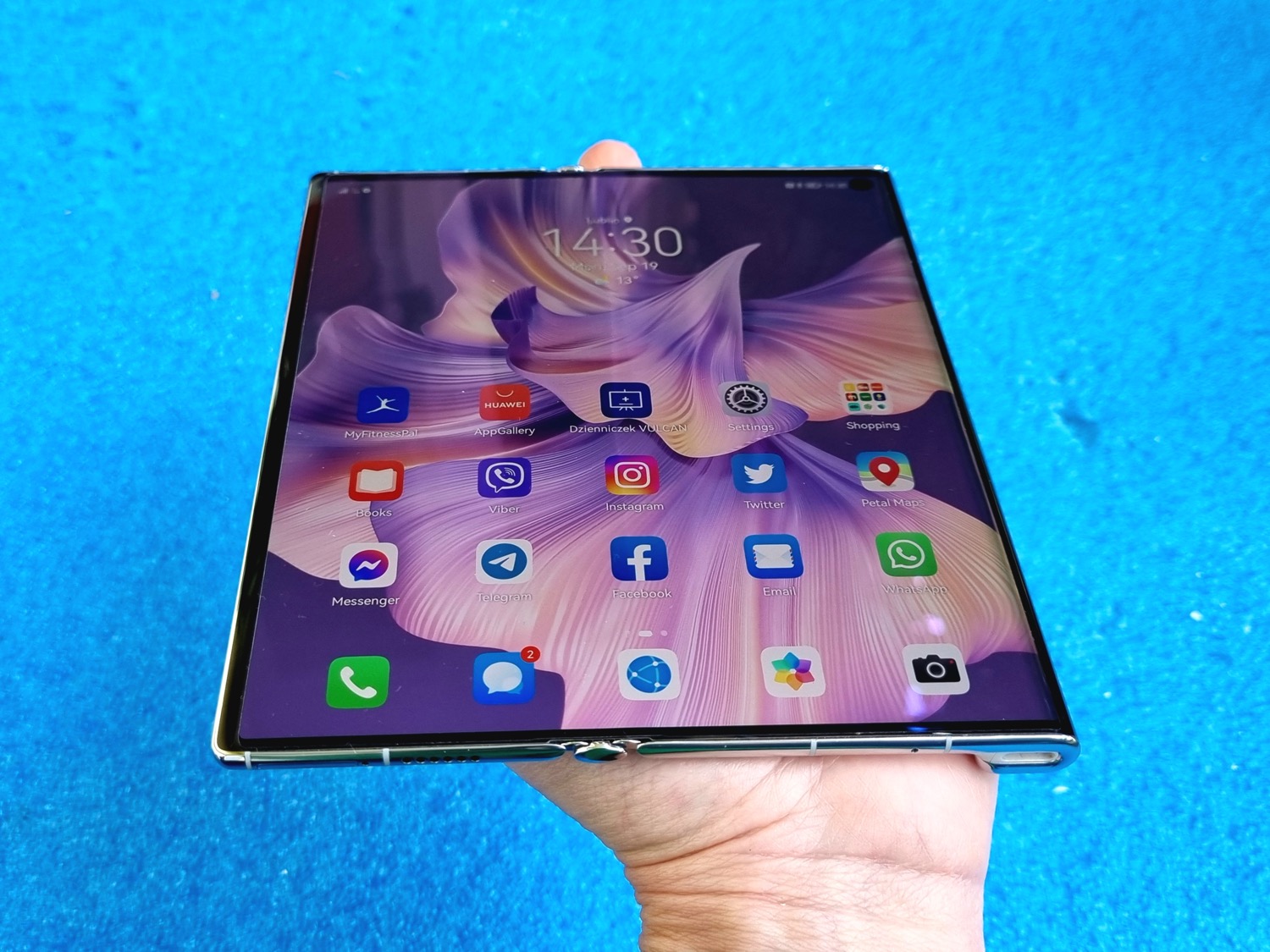 What is interesting, this film moves! For example, in the photo below you can see a small gap between the case and the film (where, by the way, dust can clog).
But if you unfold the screen, the film "moves" and the gap is almost gone. And thanks to this, there are no visible creases or protrusions either. The film itself is durable, although under unfortunate circumstances it may get some small strips or dents, rather than scratches. So I would beware of putting the smartphone on some surfaces that can damage the screen. Again, it is safer in a case, because with it the screen rises above the surface.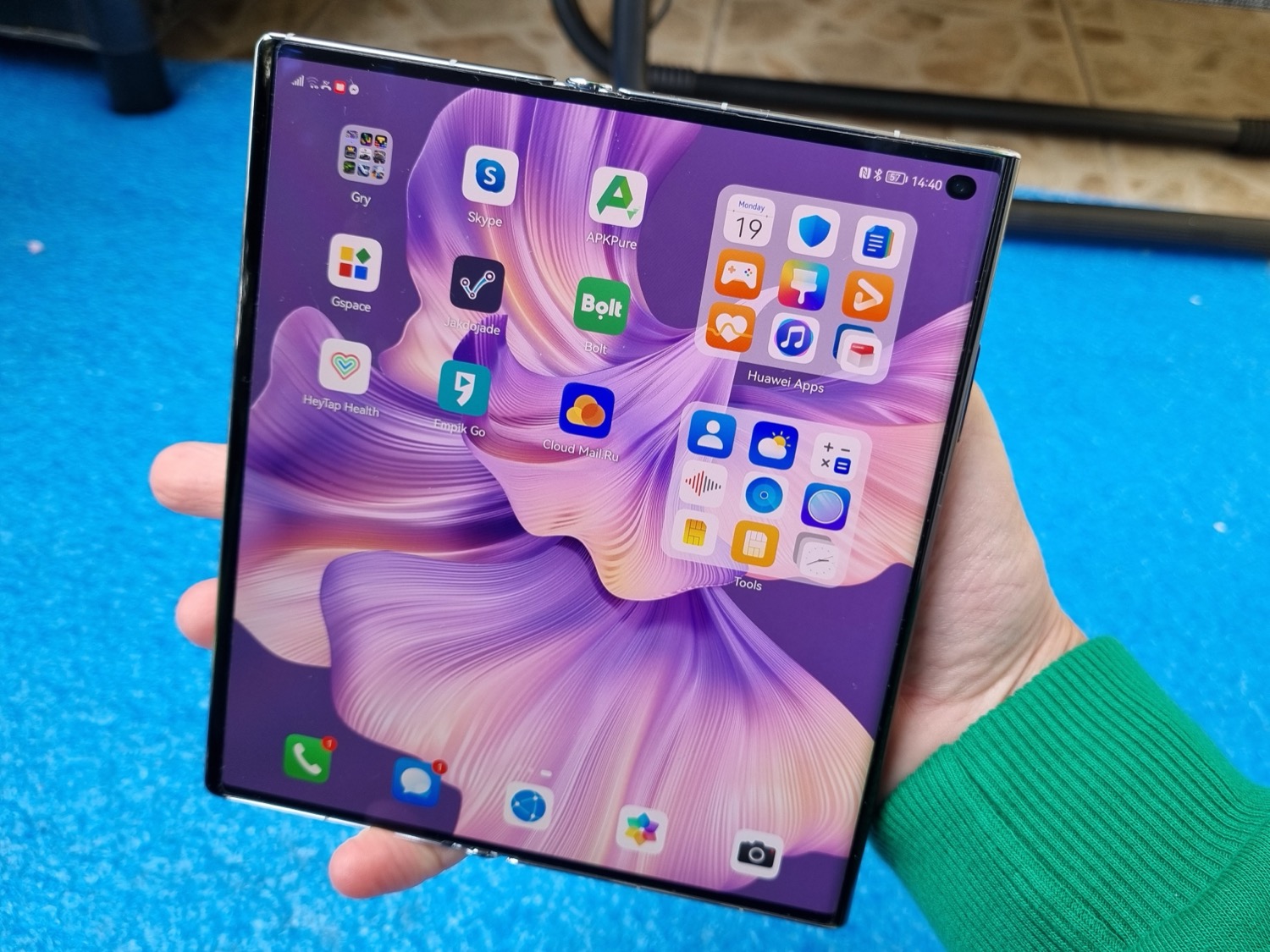 Let's talk about the dimensions. Of course, the phone is large (don't let the name XS mislead you), you wouldn't expect anything else from a folding "clamshell". But it is not too big either. It is almost comparable in size to any other large smartphone with a 6.5+ inch screen.
My hand did get tired of the Huawei Mate XS 2, though. Since it is still quite "thick" when folded up. Add a case and the hand is already noticeably strained, especially if you are constantly staring at the phone on the go, as I like to do. Seriously – my shoulder joints are even starting to hurt.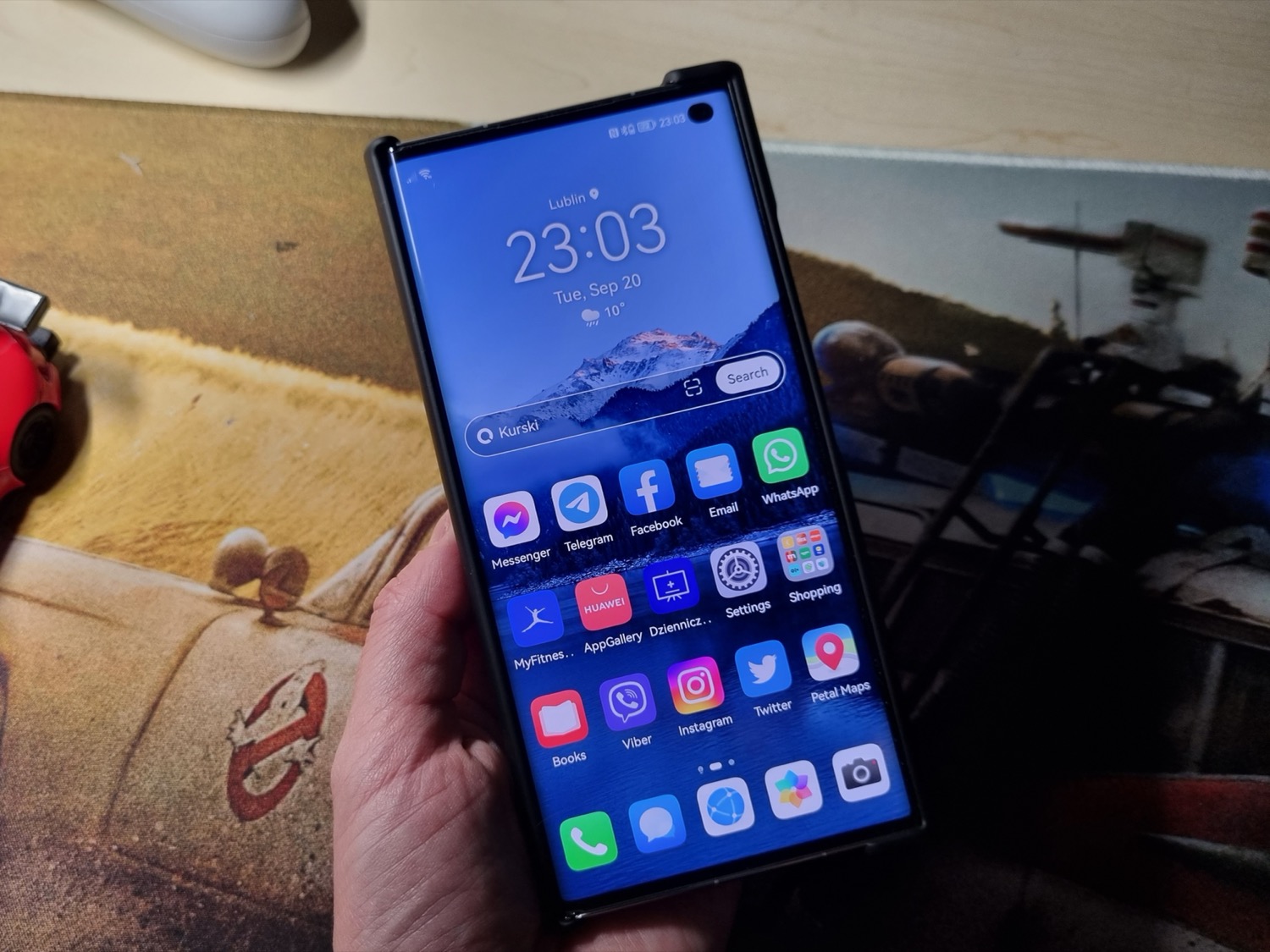 As for the weight of the device, 255 g is not so much. For example, my iPhone 13 Pro Max is only 15 g lighter, which is not very significant.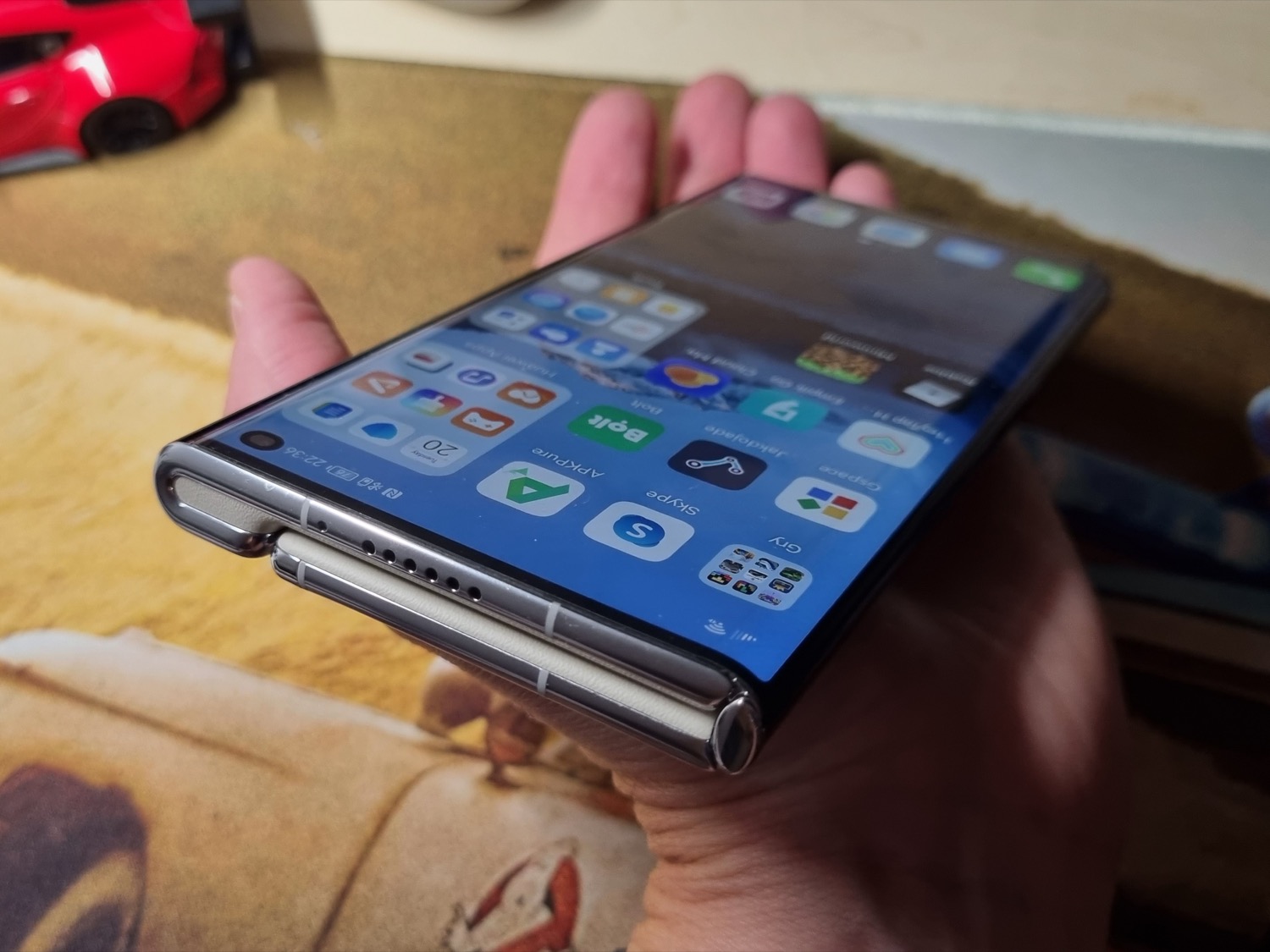 When unfolded, you are surprised at the elegance of this "tablet" – only 5.4 mm! It is convenient to hold it by the side protrusion with cameras. If desired, the device can be unfolded so that this protrusion was on the top or bottom, it is up to you. And the image, of course, will rotate.
Let's look at the location of the elements. On the front side in the corner there is a fairly wide front camera eye.
On the right side there are volume and power/lock keys. The power button also has a built-in fingerprint sensor. It is wide, convenient, the fingerprint is read instantly. There is also face recognition (it works without problems), but I prefer fingerprint scanning.
On the rear panel of the smartphone we see a glass protrusion, on which there are three cameras (they do not protrude from the body, which is good), a flash, a microphone and a button to open the screen.
On the upper end there are stereo speaker holes and a microphone. At the bottom there are more speaker holes, an additional microphone, a charging connector and a slot for SIM cards and memory cards.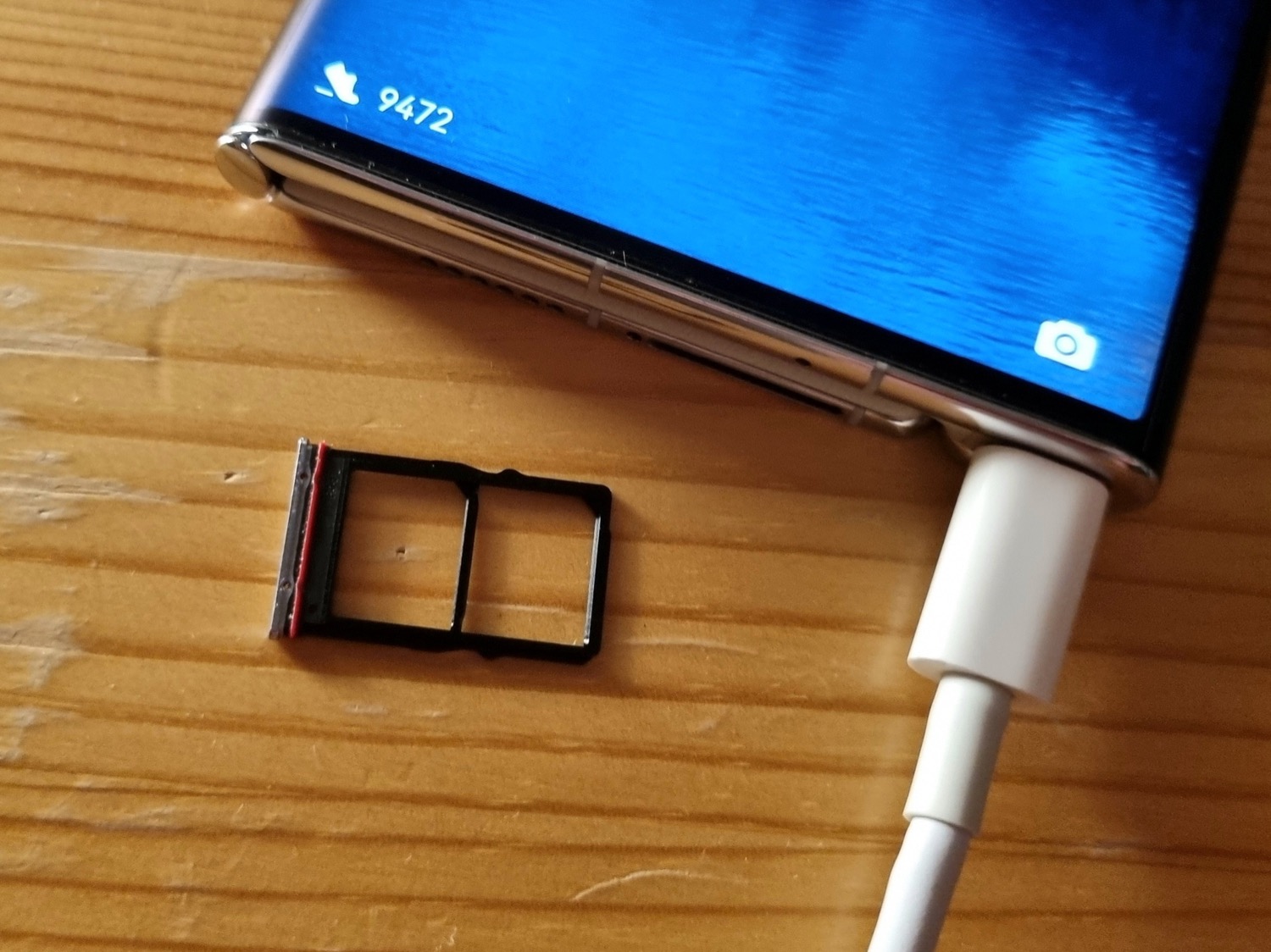 We have received a white model for the test (there is also a black one), with white finish on the back panel, which is not visible when folded. Finishing is with a pleasant leather-like texture.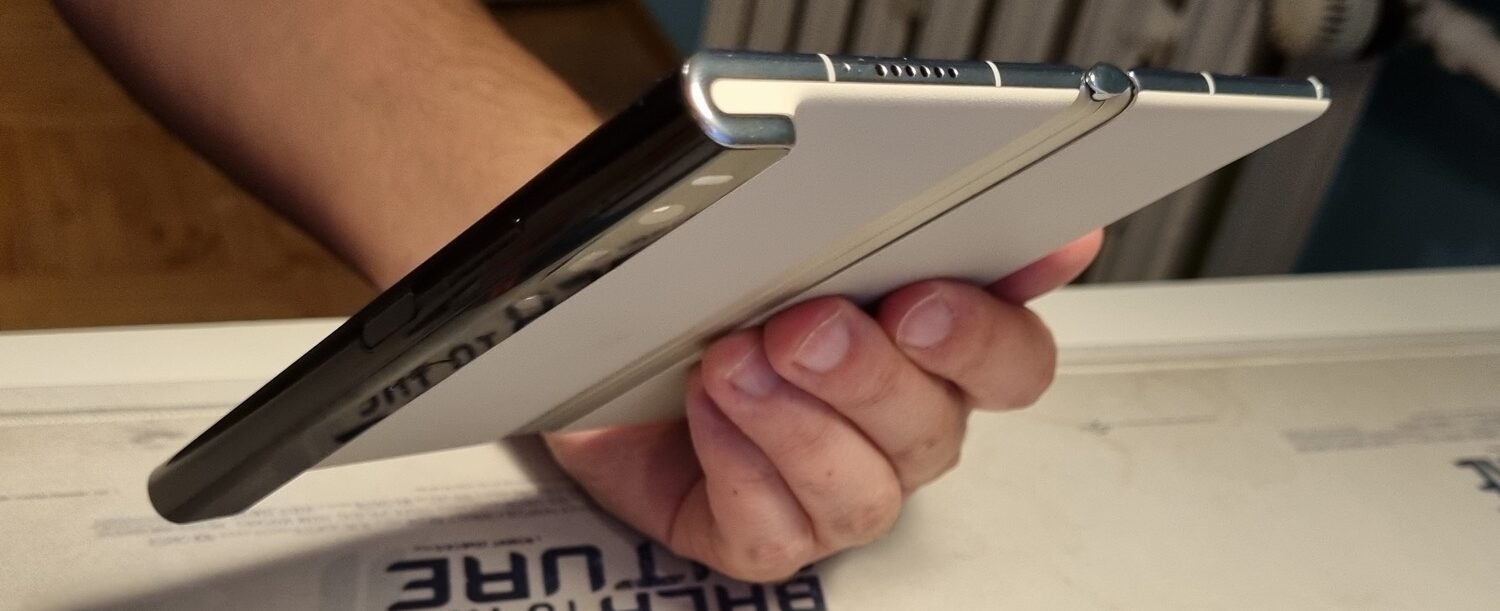 Read also: OPPO Find N review and user experience
Branded case
When I told in social networks that I started testing Huawei Mate XS 2, the first two questions that I was asked were whether the fold strip is visible and whether there is a case for it. I have already told about the first, and the answer to the second is yes! And the case is included. And it is not a penny silicone case, as in budget models (however, it is impossible to make such a case for a "clamshell"), but a well-thought-out case with a premium design, which is not a shame to put on an expensive smartphone.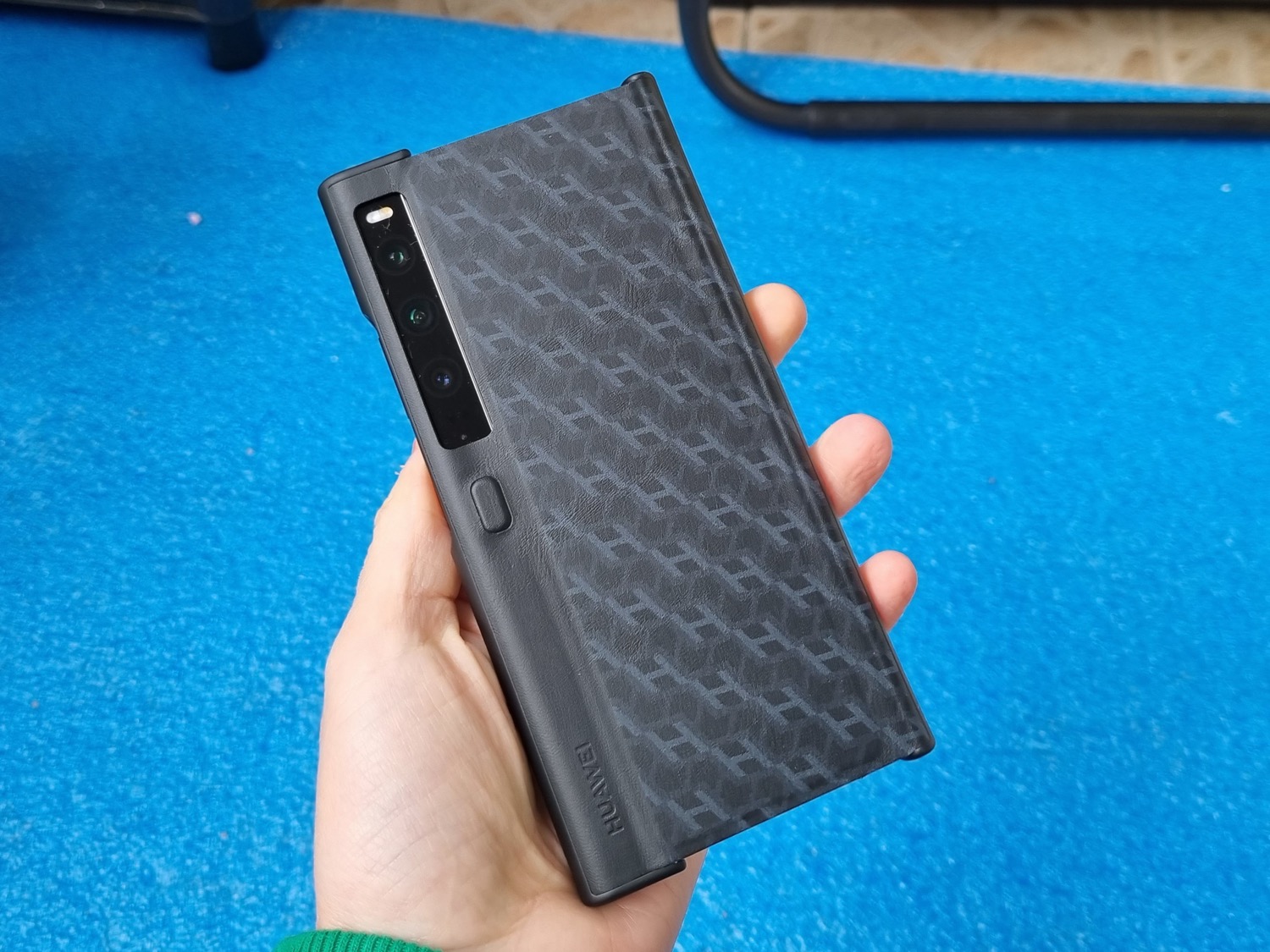 It is difficult to describe how exactly this case is put on, but the main thing is that you can unfold the phone in it. Although it becomes a little more complicated. You bend one half of the case, press the key, open the screen, and the remaining part of the case on the back side can act as a grip for hands.
The case protects the vulnerable glass sides of the smartphone, the back of the flexible display (less fingerprints), raises it above the surfaces on which the phone lies. And in general, it is pleasant to the touch, the phone in it feels much more secure in the hand.
Yes, it becomes even more cumbersome and heavy, but that's the way it is.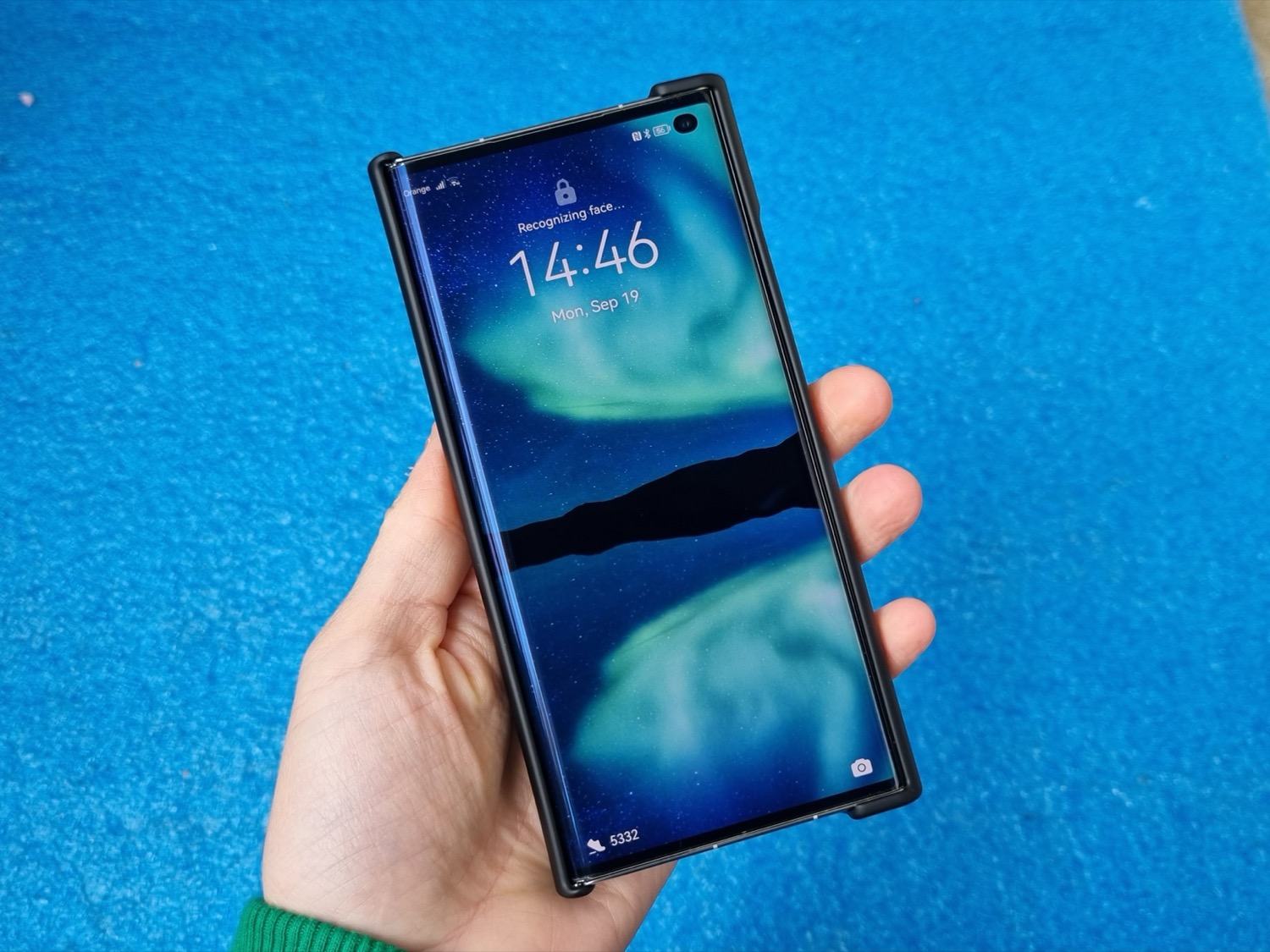 The case holds the phone perfectly, because it has adhesive strips on the right side. They can be easily peeled off and glued again without traces.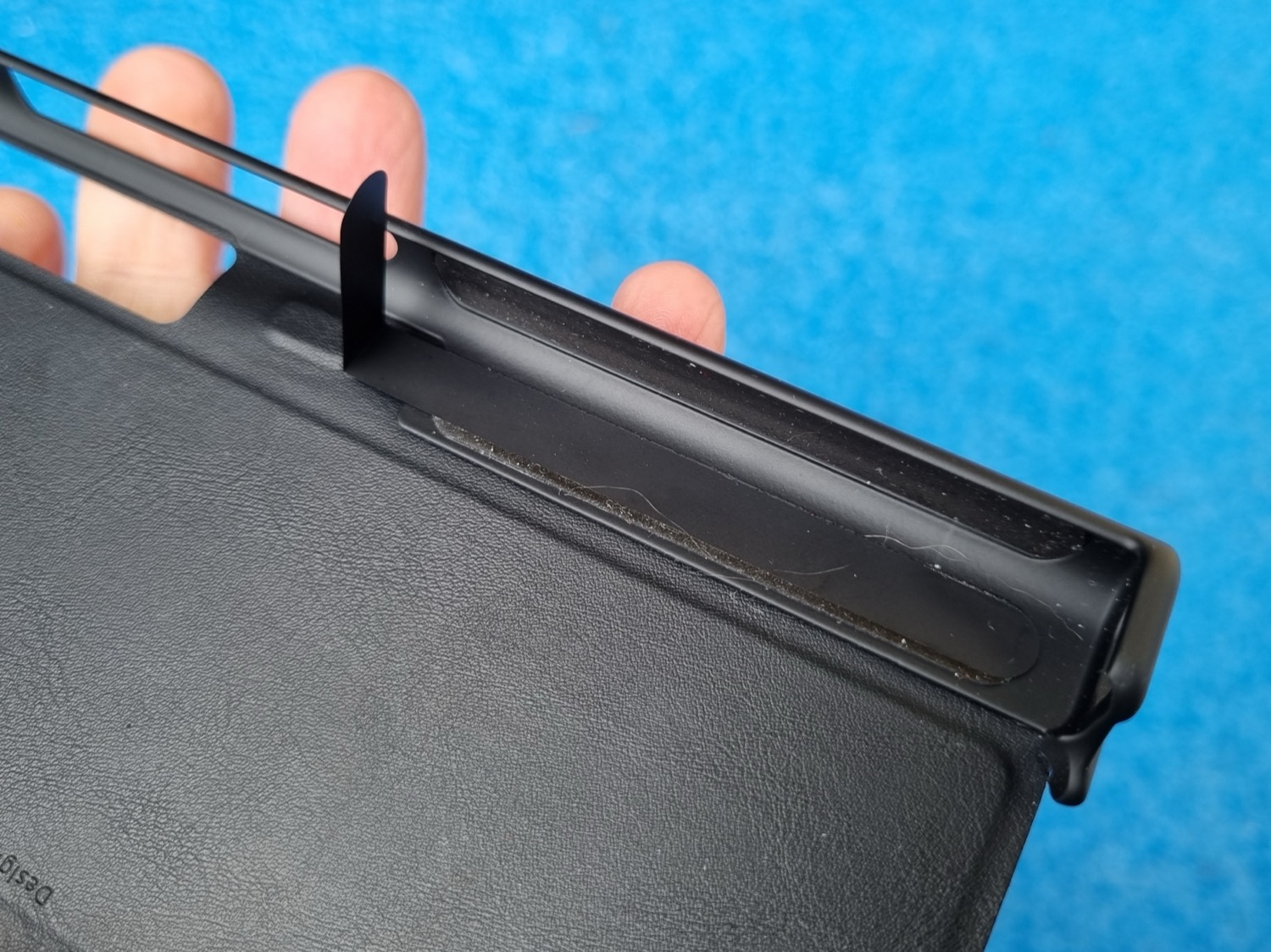 Conclusion about the design of the clamshell
Huawei has made a successful flexible smartphone. I specially visited the communication salon and spun the main competitor Galaxy Z 4 Fold in my hands. I did not really like its external display which is narrower than that of Huawei Mate XS 2. Folded Mate XS 2 can be comfortably used as a regular smartphone, there is no feeling of lack of space. The quality of the hinge and its implementation are also better in Huawei. In addition, the folding strip on Samsung is simply eye-catching, and on Huawei Mate XS 2 it is invisible.
Yes, when folded, the phone is large and thick, but still it is not far from other large flagships. And in the unfolded form, on the contrary, it impresses with an ultra-thin body and a huge display.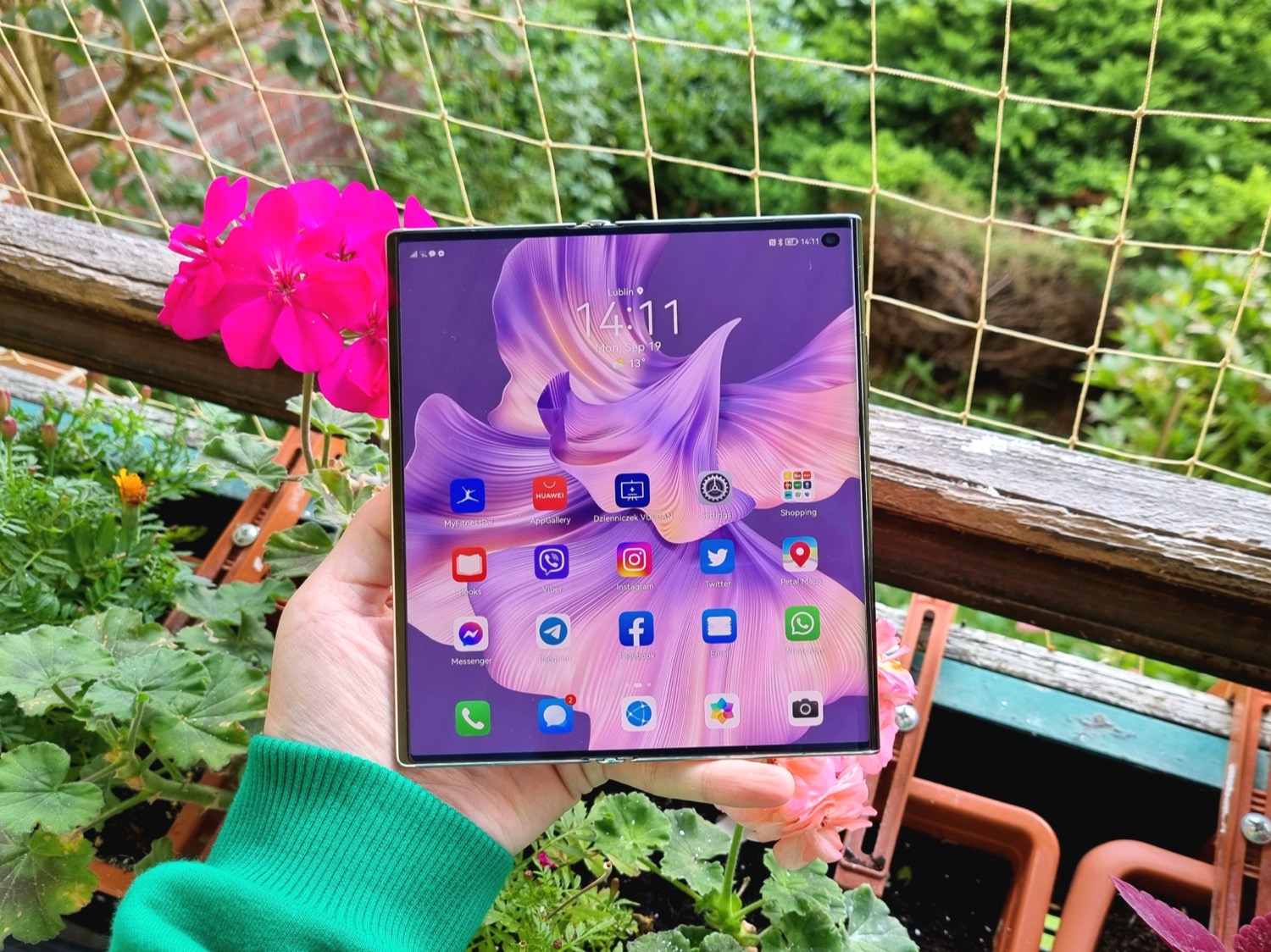 I am very pleased with the lack of gap when folded and the almost invisible folding strip. And in general, nice appearance and premium materials. And perfect assembly. And even a quite convenient case in the kit.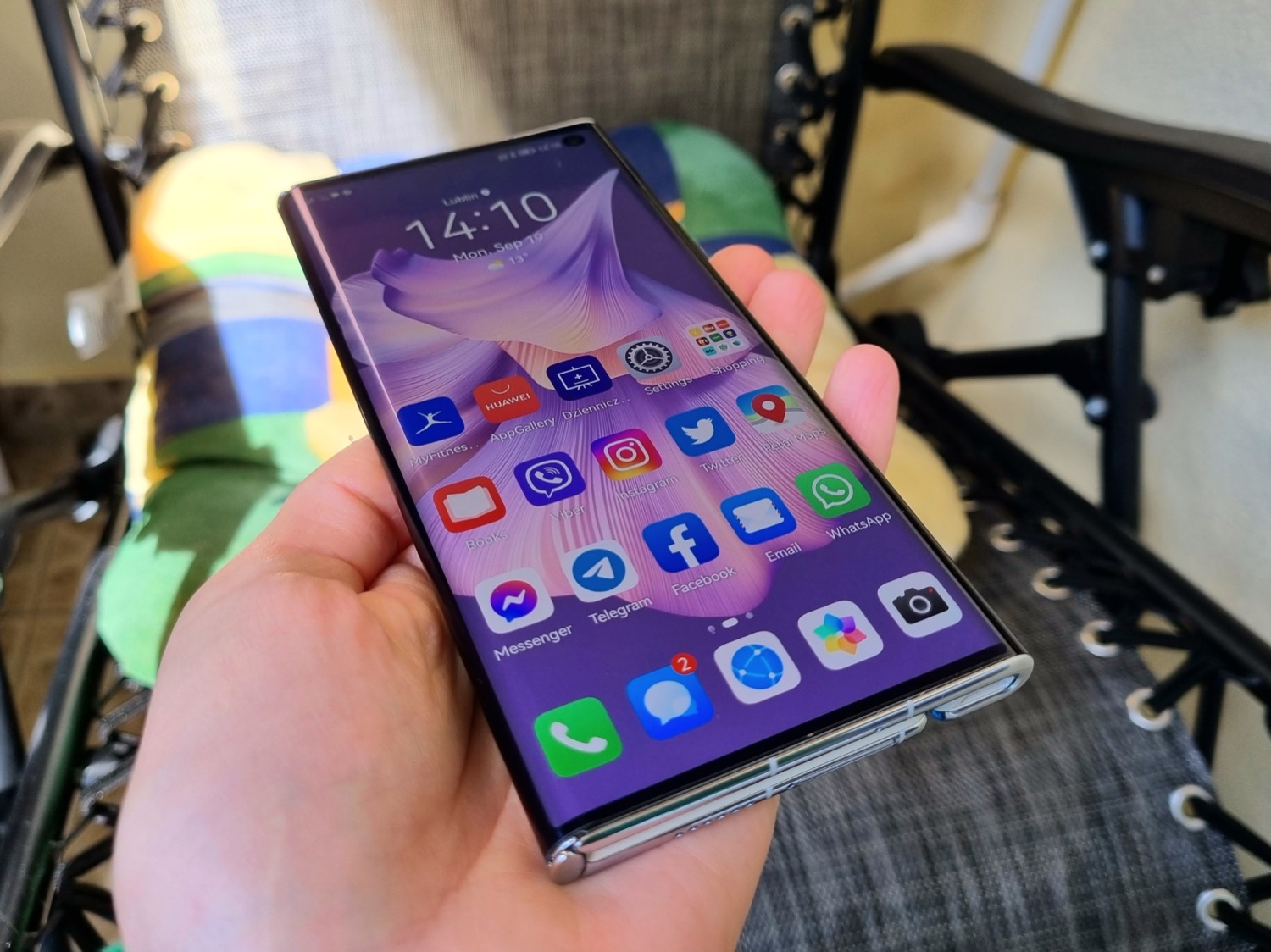 And the folding mechanism, although it resists, but at the same time gives the impression of solidity and reliability. However, I still used Huawei Mate XS 2 90% of the time in folded form, but more on that in the general conclusions.
Here I would like to note one more point, which is already unusual for flagships, but usual for "clamshells" – there is no protection against moisture and dust. Therefore, it is better not to drop or wet this phone for 2000 euros. But the folding competitors from Samsung have water protection!
Read also: Huawei P50 Pro review: fantastic flagship that no one will buy
Huawei Mate XS 2 display
The most important thing in a folding smartphone is a large flexible display. Of course, in a phone for this price this screen should be of the highest quality, at the flagship level. And so it is. We have an OLED matrix with a color palette of 10 bits (1.07 billion shades) and a refresh rate of 120 Hz. The resolution is 2480×2200 when unfolded and 2480×1176 when folded (i.e. typical Full HD+).
The screen is impressive even in the folded state (by the way, then 53% of the whole display remains working) – excellent color reproduction, juicy shades, high brightness even on a sunny day, maximum viewing angles, perfect clarity of even the smallest elements, and in the unfolded state it is absolutely speechless. The screen refresh rate by default is 120 Hz, so everything looks very smooth.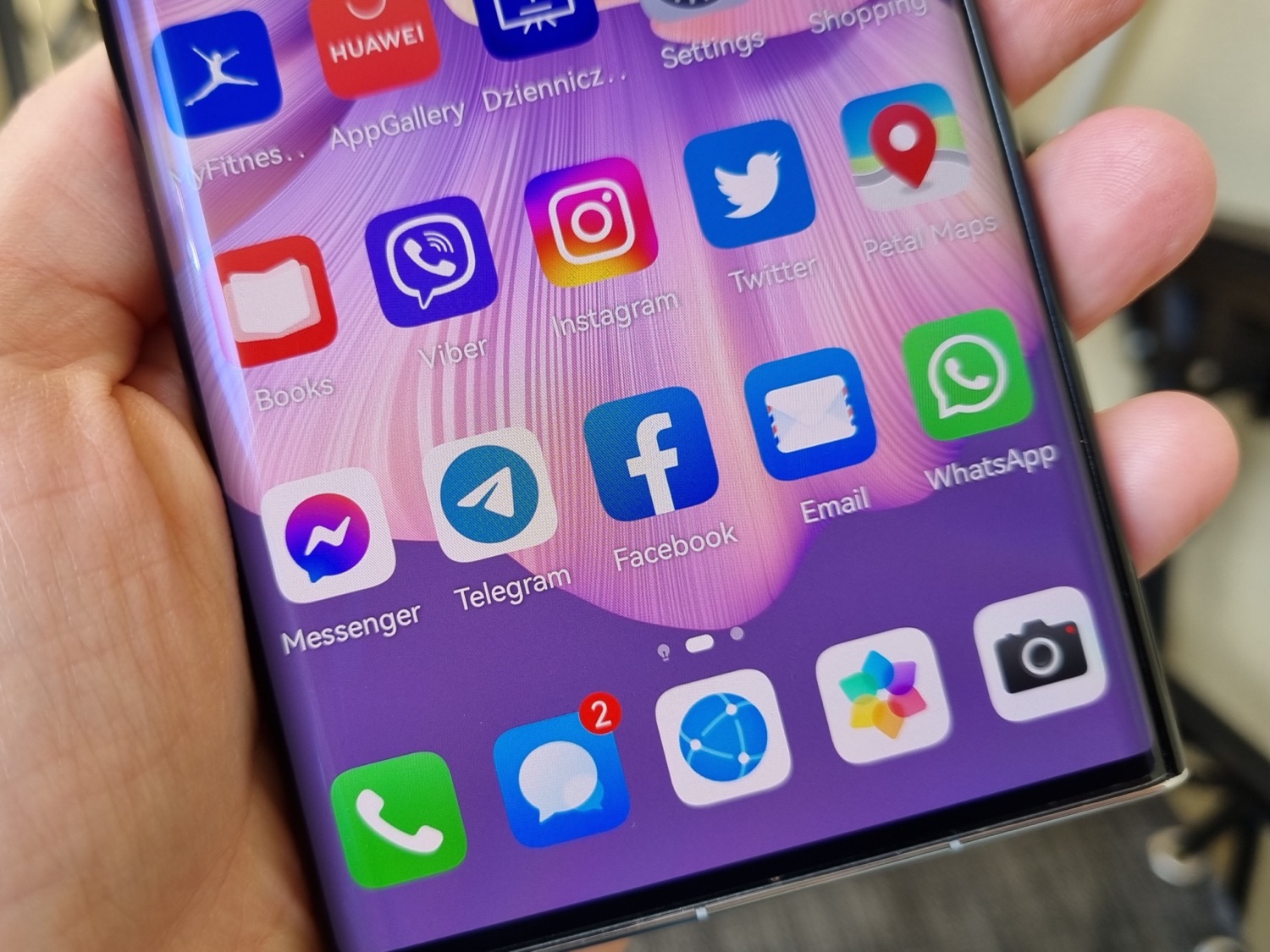 Standard settings are available – dark theme, vision protection (minimum blue glow), color mode and temperature. The refresh rate is also customizable – dynamic (the phone will automatically select the frequency depending on the application used), high (always 120 Hz) or standard (60 Hz). The resolution can also be maximum, lower or automatic.
Huawei Mate XS 2 supports full AoD mode ("always on display"). Its design is easy to customize to your taste, there are plenty of options, and it is also able to work on a schedule or for some time after touching the screen – to save battery.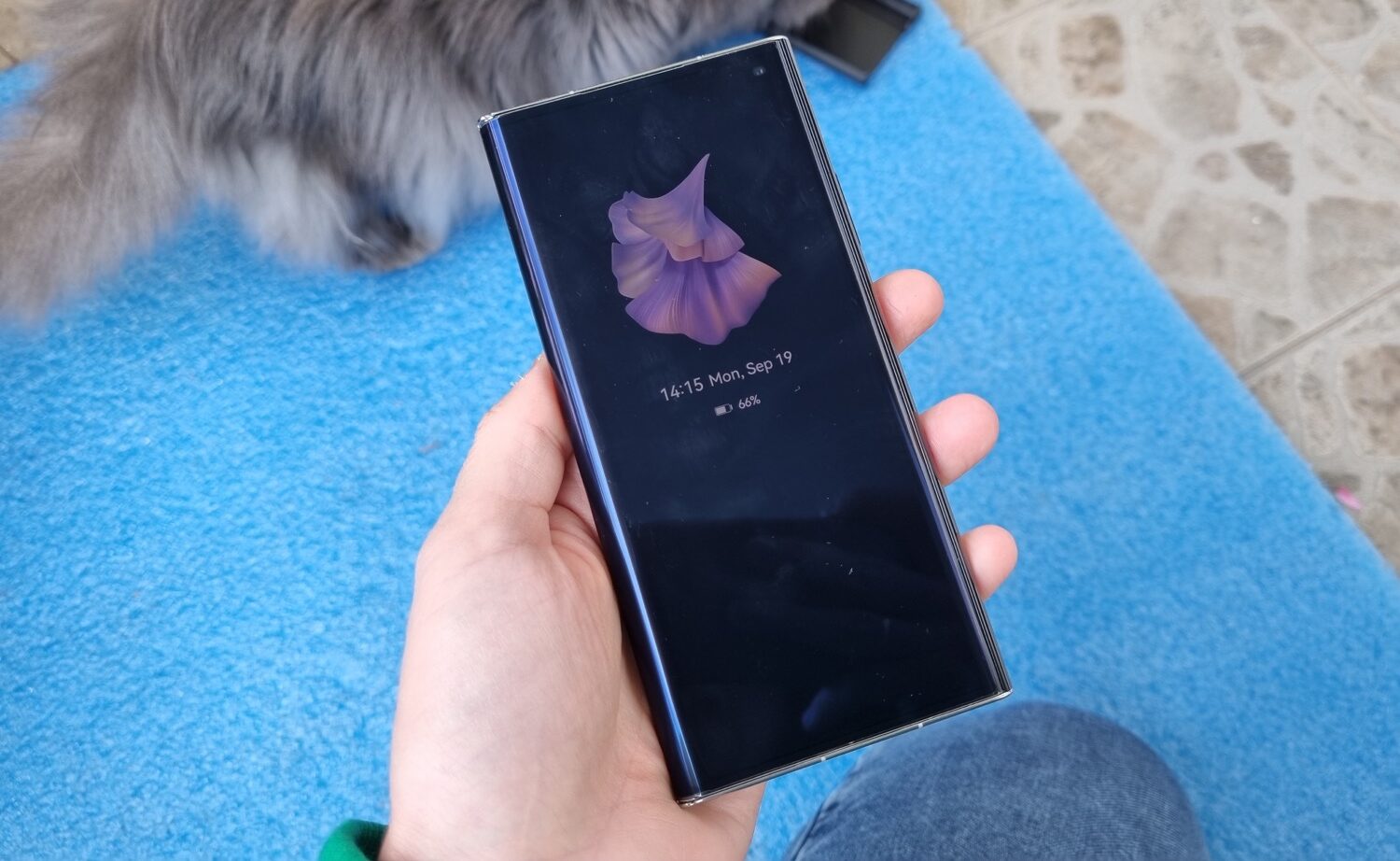 In the unfolded form, the Mate XS 2 display has a non-standard aspect ratio of 8:7.1, whether it is convenient – we will discuss in the software section.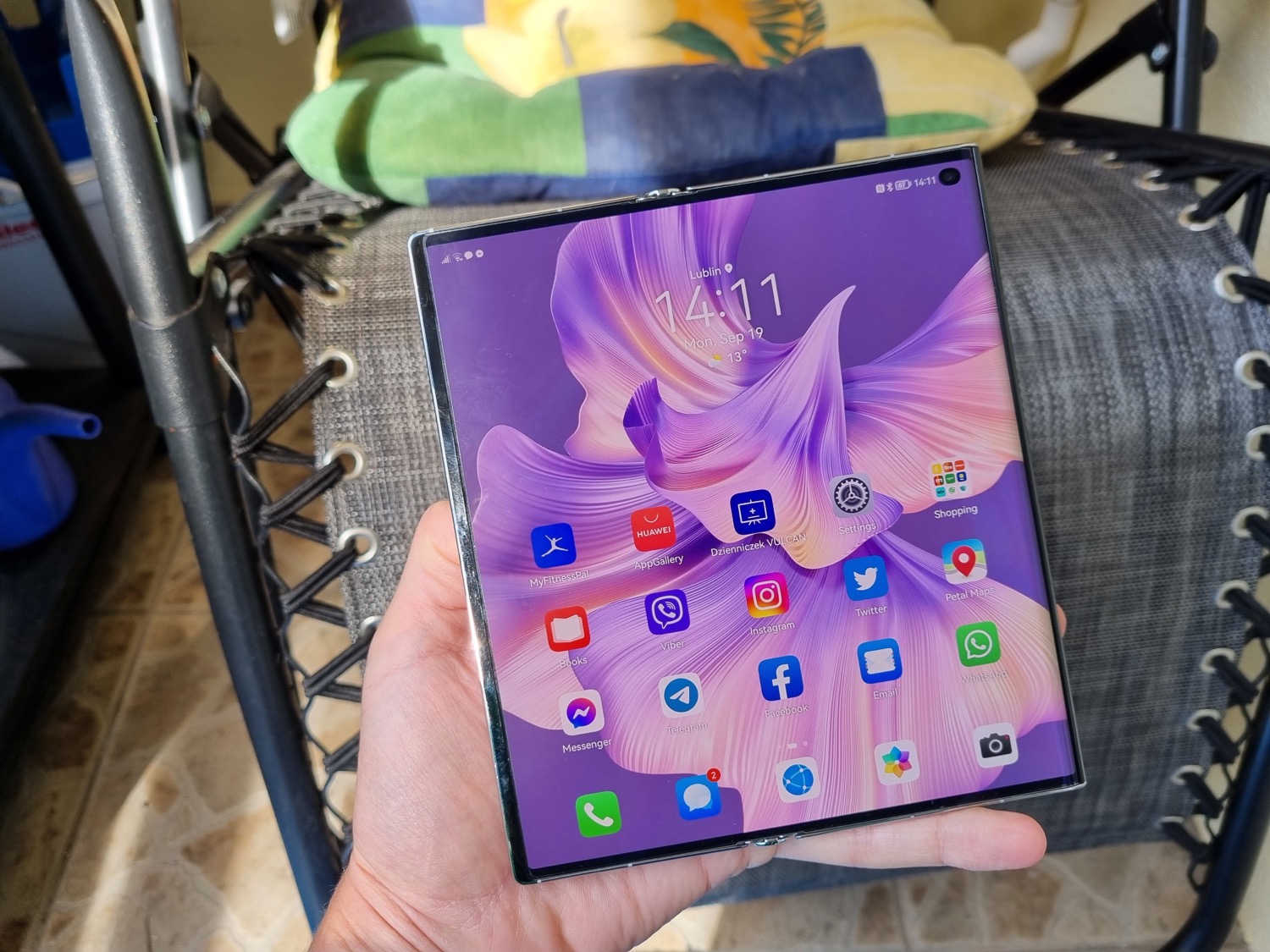 Read also: Huawei MateBook X Pro 2022 Review: The Promised MacBook Killer?
Hardware and performance of Huawei Mate XS 2
The "clamshell" is based on the top chipset of the beginning of 2021 Qualcomm Snapdragon 888. This is not even an "overclocked" SD 888+. And certainly not the Snapdragon 8 Gen 1 Plus, which is not relevant today, or at least "just" Snapdragon 8 Gen 1. Thus, we have a very expensive smartphone with an almost last year's chipset and with 5G blocked due to sanctions. Is it bad? Subjectively – no, the 888 is very productive and its power reserve will last for a long time. You do not have to worry that something in the smartphone will work slowly. For example, in the Antutu benchmark, the device gives more than 820,000 points.
Unless, Snapdragon 888 suffers from excessive heating, but I did not notice cases of severe overheating even in games. Yes, the smartphone becomes noticeably warm, but nothing critical.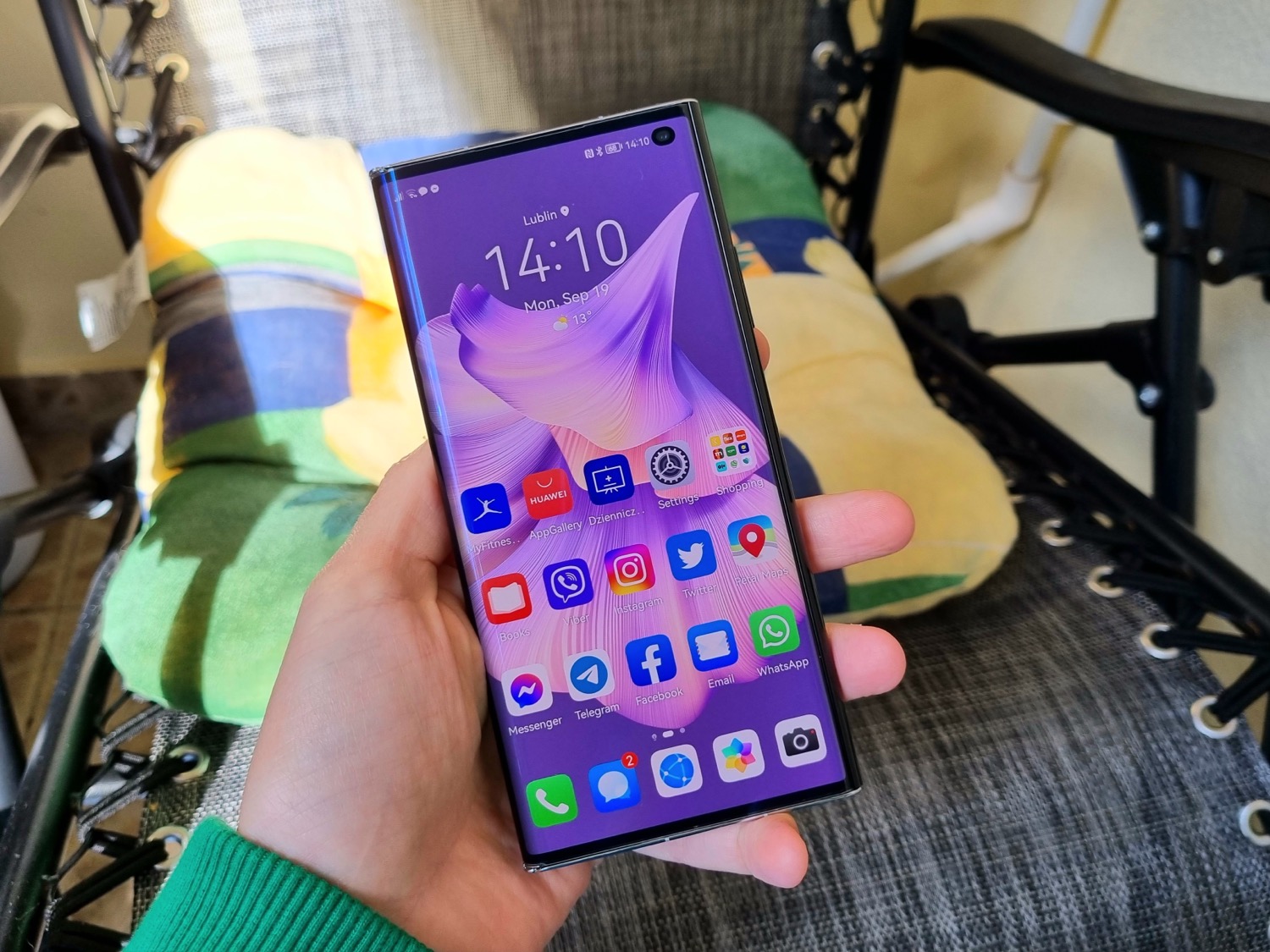 The amount of RAM is 8 GB. This is enough for any tasks, but still in such an expensive phone I would like to see 12 GB of RAM (such versions exist, but only in China).
The storage is 512 GB (UFS 3.1). In one of the SIM card slots you can install a memory card of NM format, which is used only by Huawei. Such cards are rarely sold and are expensive. However, 512 GB of memory should be enough for everyone. Both memory modules are very fast.
Data transfer
The latest version of Wi-Fi 6, Bluetooth 5.2, NFC, all current types of satellite navigation. Only 5G is missing, because Huawei now has no access to the relevant patents. But even in those countries where 5G has long been developed, this is not critical. In my opinion, 4G speeds are more than enough for the tasks performed on a smartphone. Although objectively it is, of course, a minus, the rest of the flagships, and, what can I say, some budget phones for $ 200 have it.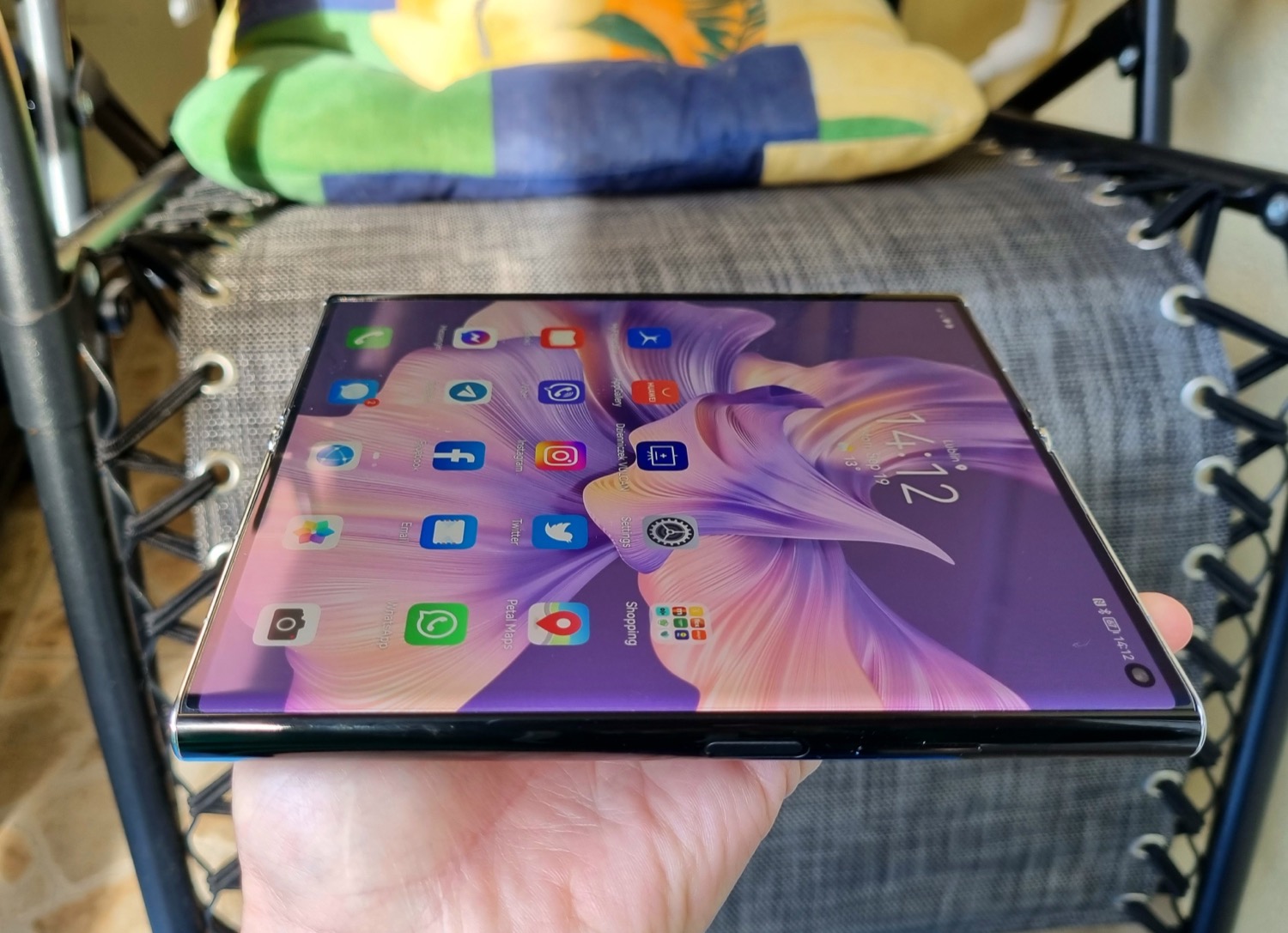 In general, there are no complaints about the operation of data transfer modules.
Read also: Huawei nova Y70 Review: Decent Budget Phone with 6000 mAh
Cameras of  Huawei Mate XS 2
Unlike the photo flagship P50 Pro, the Mate XS 2 has a simpler set of cameras. This is understandable, there was not so much space in the "hump" on the side of the smartphone to place really outstanding modules. So I will say right away: our "clamshell" shoots well and most users will be more than satisfied, but it does not reach the current flagships.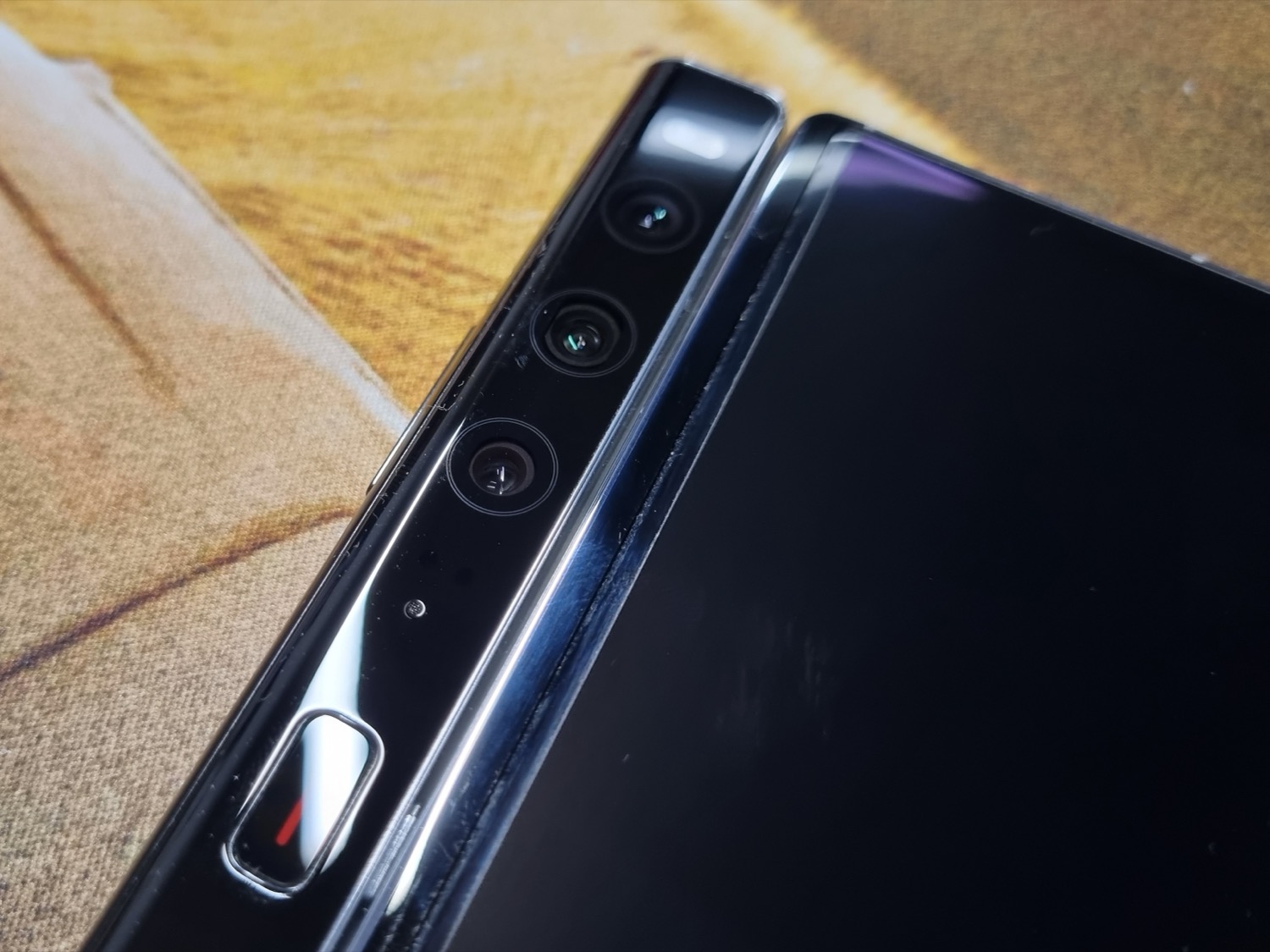 The modules are as follows:
50 megapixel main (f/1.8, PDAF)
8 MP telephoto lens (f/2.4, PDAF, optical stabilization)
13 MP wide-angle (f/2.2)
10.7 MP front camera (f/2.2)
The main module creates beautiful and natural images. The frames are of high quality and detailed, with pleasant color reproduction.
ALL MATE XS 2 PHOTOS IN ORIGINAL RESOLUTION
At night everything is also decent as there is practically no noise, the lens captures a lot of light. Of course, there is a night mode, and I recommend using it. And the point is not that it makes clearer and brighter pictures, but that in this mode there is a countdown when the phone should be kept motionless (usually a couple of seconds). And this allows you to get the most clear, not blurry photos. In normal mode, I often could not stand the necessary time and got blurry photos (I think the lack of an optical stabilizer still matters here). Here are examples for comparison, night mode on the right:
And here is just a selection of night photos from Mate XS 2:
ALL MATE XS 2 PHOTOS IN ORIGINAL RESOLUTION
The quality of photos from the wide-angle camera is good (even at night), only slightly deteriorating color reproduction. For comparison: photos from the basic module (left) and wide-angle (right):
The wide-angle lens with autofocus allows you to shoot macro from a distance of about 3-4 cm. When you get close to the subject, the camera automatically switches to macro mode, helping you to take a picture of, for example, a beautiful flower. Examples:
The telephoto lens allows you to bring objects closer without loss of quality. At high magnification, digital zoom is activated, which is quite adequate in quality, and the optical stabilization of the module helps in this. Here are examples: 1x, 3.5x, 5x, 30x:
ALL PHOTOS FROM MATE XS 2 IN ORIGINAL RESOLUTION
Of course, 30x zoom is rather a trifle, but you can still get readable texts and expressive faces.
There are no complaints about the video quality – good clarity, excellent color reproduction, everything is smooth (thanks to optical stabilization). The maximum resolution is 4K at 60 fps. In this folder you can see several examples of video in different formats and conditions. 
The front camera has a resolution of 13 megapixels and is equipped with autofocus. It has a good viewing angle, photos are clear, sharp, color reproduction is adequate. Here are some examples:
If it is completely dark indoors or outdoors, the camera will automatically turn on the super backlight – a wide white frame on the screen combined with peak brightness. I won't say that this significantly improves the way you look, but at least you will be visible.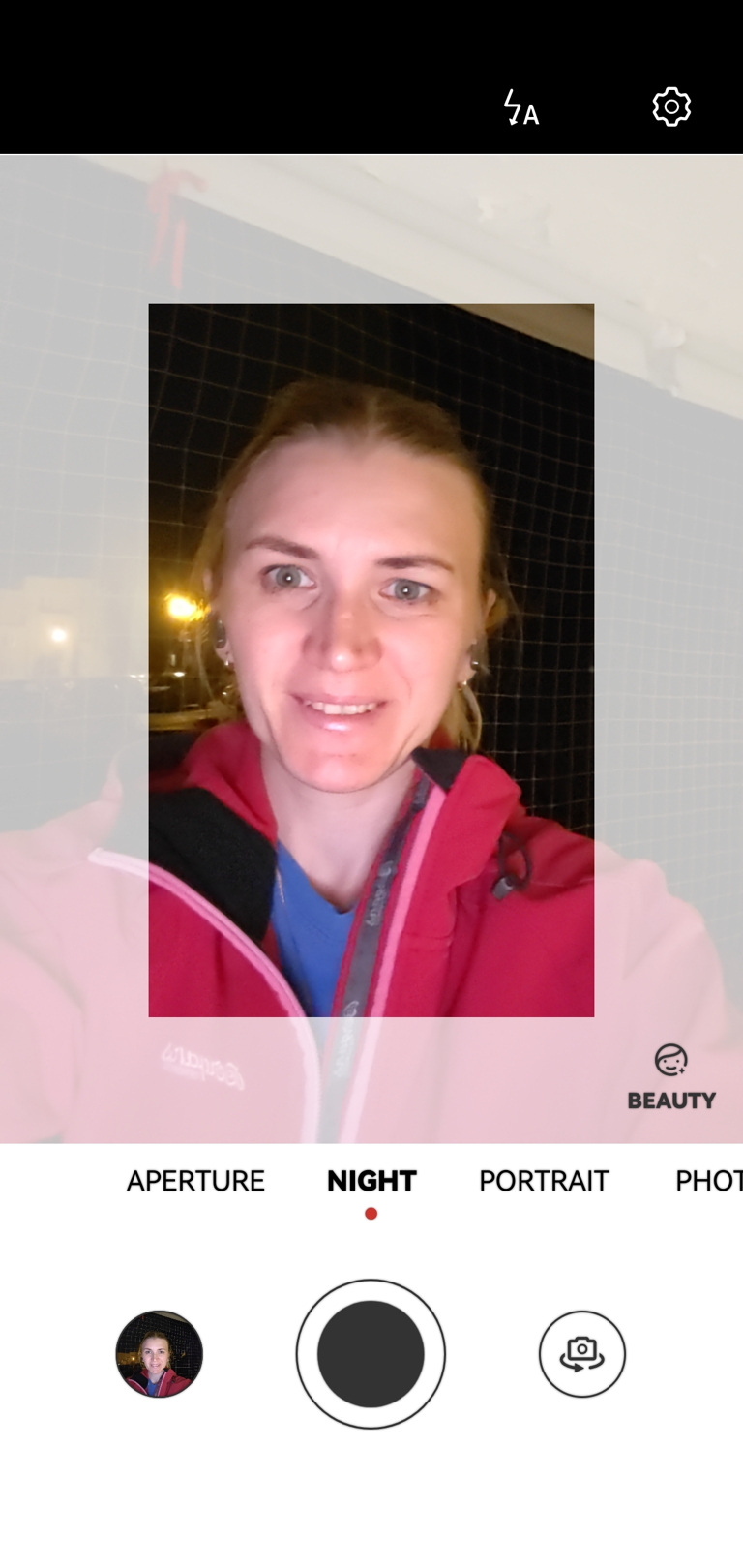 There is an interesting feature unique to the folding Mate XS 2 – when the screen is folded, you can activate the mirror mode and shoot yourself on the main camera (in particular, on the wide angle). However, in this case, the screen works only as a viewfinder – there are no menus, settings, even a shutter button, you need to use the volume button, which can sometimes lead to shaking of the device and a blurry picture. It seems to me that the mirror mode is designed not so much for selfies, but as a preview – for the people you are taking pictures of.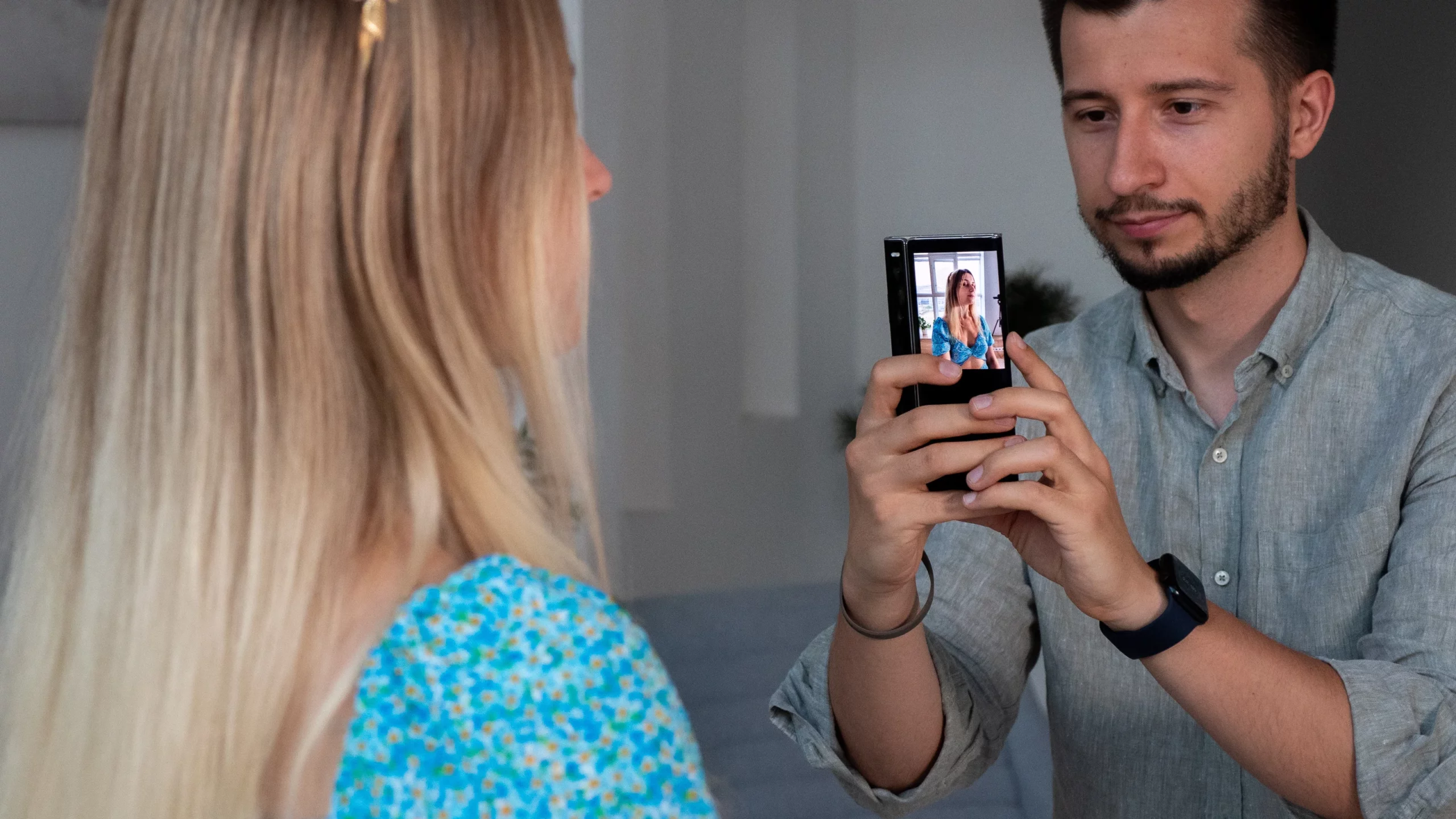 I will not describe the camera application in detail, because I did it in the P50 Pro review, you can read it. In general, it is simple, there are different modes, filters.
Read also: HUAWEI FreeBuds Pro 2 TWS Earphones Review: Love At First Touch
Huawei Mate XS 2 software
The smartphone runs on Android 11 with EMUI 12 shell. Yes, Huawei has its own HarmonyOS, but smartphones based on it are available only in China, and stripped-down Android is available in Europe. However, believe me (I tested devices on HarmonyOS), there is no difference, at least visually. And Huawei's own OS is based on Android.
I will not describe the software in detail, because it is familiar to us from Huawei P50 Pro, Huawei nova 10 Pro and so on. In a nutshell, the Huawei shell is thoughtful, beautiful, smooth, in many ways resembles "polished" iOS from Apple.
Life without Google services
Of course, many people wonder how to live without Google services. Easy! There is similar software for video, music, backups to the cloud, route planning, etc. Sometimes there are ads, but what can you do?
The proprietary AppGallery software catalog is full of useful applications (banks, taxis, deliveries). Applications that are not available through the same AppGallery can be installed as .apk.
If you need Google utilities, no problem. Install free Gspace, which imitates another smartphone and allows you to run Gmail, YouTube, Maps, Drive, Photos, Google Docs, etc. In fact, there are no differences from a smartphone with Google services.
Google Pay cannot be imitated, but in Europe there are applications that support contactless payments (Curve, Revolut, bank applications).
What is a large flexible display good for
In this review I want to focus not on the software itself, but on how it is adapted for a phone with a large flexible display. And here it is worth saying – so far not as well as we would like.
Let's start with the multitude of built-in apps. Most of them look like they would look on a folded phone, just stretched out.
The only exception is the Petal application (search, news, shopping, in general – a hodgepodge), which can be divided into two independent parts. The same principle is in settings, SMS, mail.
Such a mode would be ideal, for example, for messengers, but of all the available ones, only Telegram is more or less adapted to the tablet mode. The rest (WhatsApp, Viber, FB Messenger) are simply stretched.
As for the third-party software – there is nothing to catch, especially if this software is not adapted for Huawei AppGallery.