People often ask me what inexpensive Android phone I would recommend for fast and comfortable work, expecting me to give an immediate and unequivocal answer. But the fact is that there are many gadgets that are worth buying. Many users do not know which one to choose. In this review, I will tell you about a modern and very stylish phone that has many useful features. Let's talk about the OPPO A96.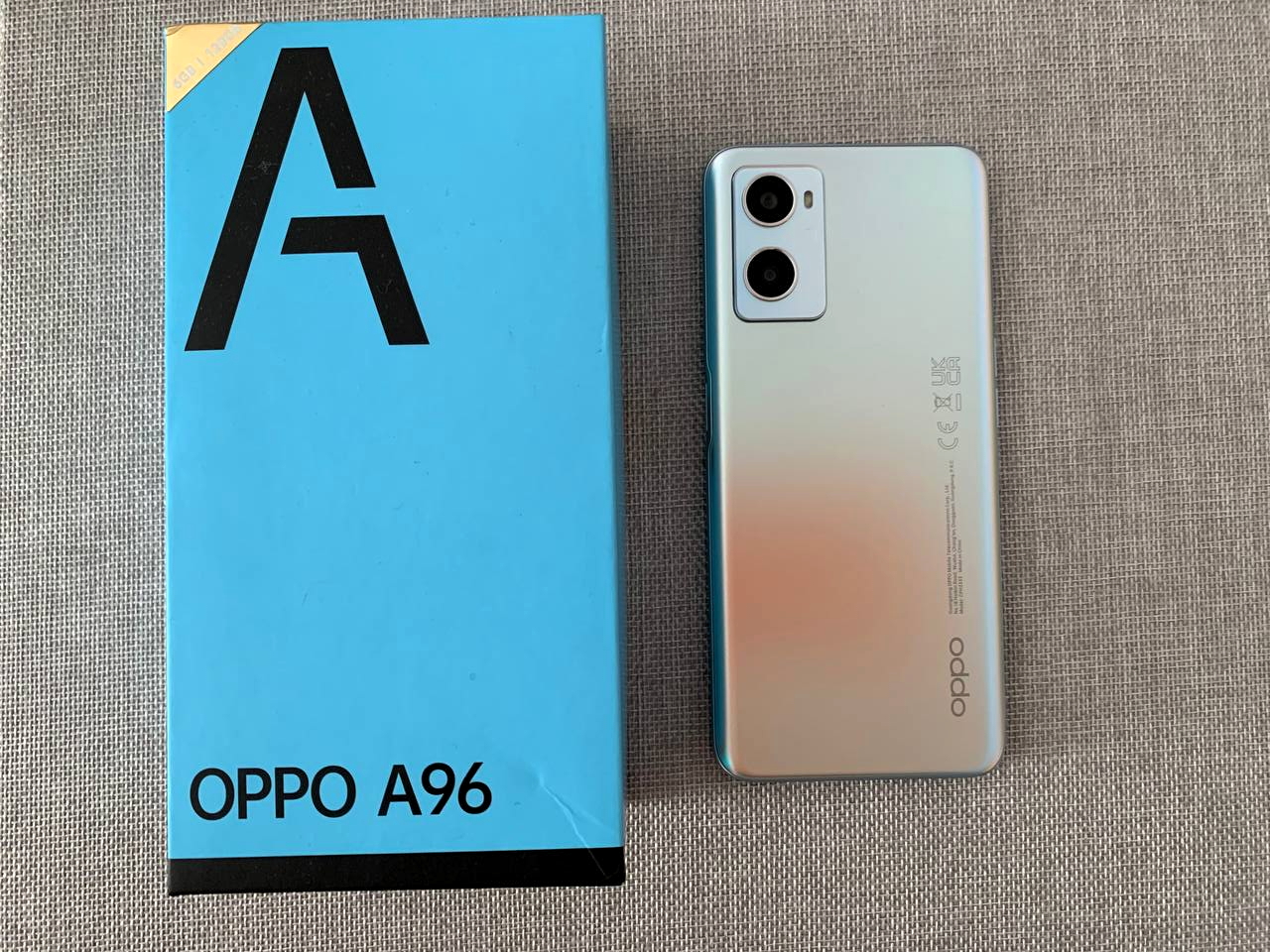 As you can see, the company focuses on unusual appearance and color variety. The buyer can choose the color that suits them: Starry Black and Sunset Blue (our test model). The price starts from 250 USD.
Read also: OPPO Find N review and user experience
OPPO A96 specs
Display: 6.59″ IPS, 2400×1080 pixels, 90Hz refresh rate
Chipset: 8-core Qualcomm Snapdragon 680
Storage: 128 GB
RAM: 6/8 GB
OS: Android 12 (update available), ColorOS 12.1 shell
Cameras: 50 MP + 2 MP
Memory card support: yes, expandable up to 1 TB
Battery: 5000mAh, 33W SUPERVOOC fast charge
Optional: fingerprint scanner (built into the power button)
Data transfer: NFC, Wi-Fi 5 ac (2.4 and 5 GHz), USB-C (2.0)
Dimensions and weight: 164.0 × 76.0 × 8.5 mm, 191 g.
What's in the box
OPPO makes sure the smartphone is "usable" right after you take it out of the box. All the necessary elements are in place: a SIM eject tool, a manual, and a protective case, which, although not of the highest quality, will protect the smartphone to a certain degree.
Of course, there is a cable and a charger, for a budget device this is still the norm, but users of flagship models have already forgotten about such a luxury. On the one hand, it's great – just take it out and start using it. And yet, who doesn't have a similar charger or two by this point? Maybe they are redundant by this point.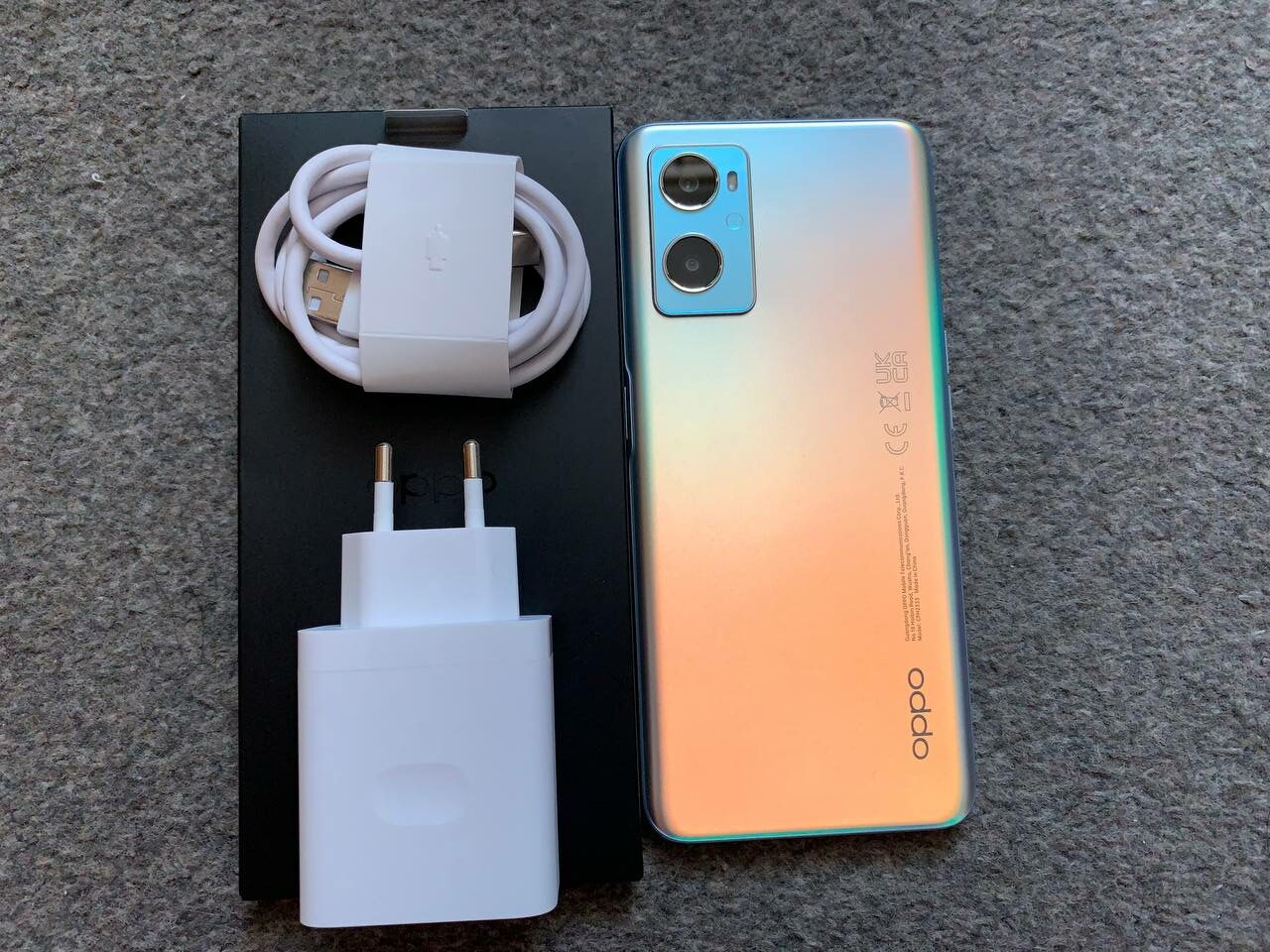 A protective film is pasted on the screen of the device. It's flimsy, but thanks, I guess?
Read also: Huawei Watch Fit 2 Review: Stylish and Hi-Tech
OPPO A96 design
OPPO A96 is striking. Just take a look at the back panel. That is just nice.
Sometimes it's difficult to say what color the gadget is, it shimmers in the sun with all the colors of the rainbow; or rather, from red-pink to turquoise-blue, it's not for nothing that the color is officially called "sunset." Hiding this beauty in a case is a crime.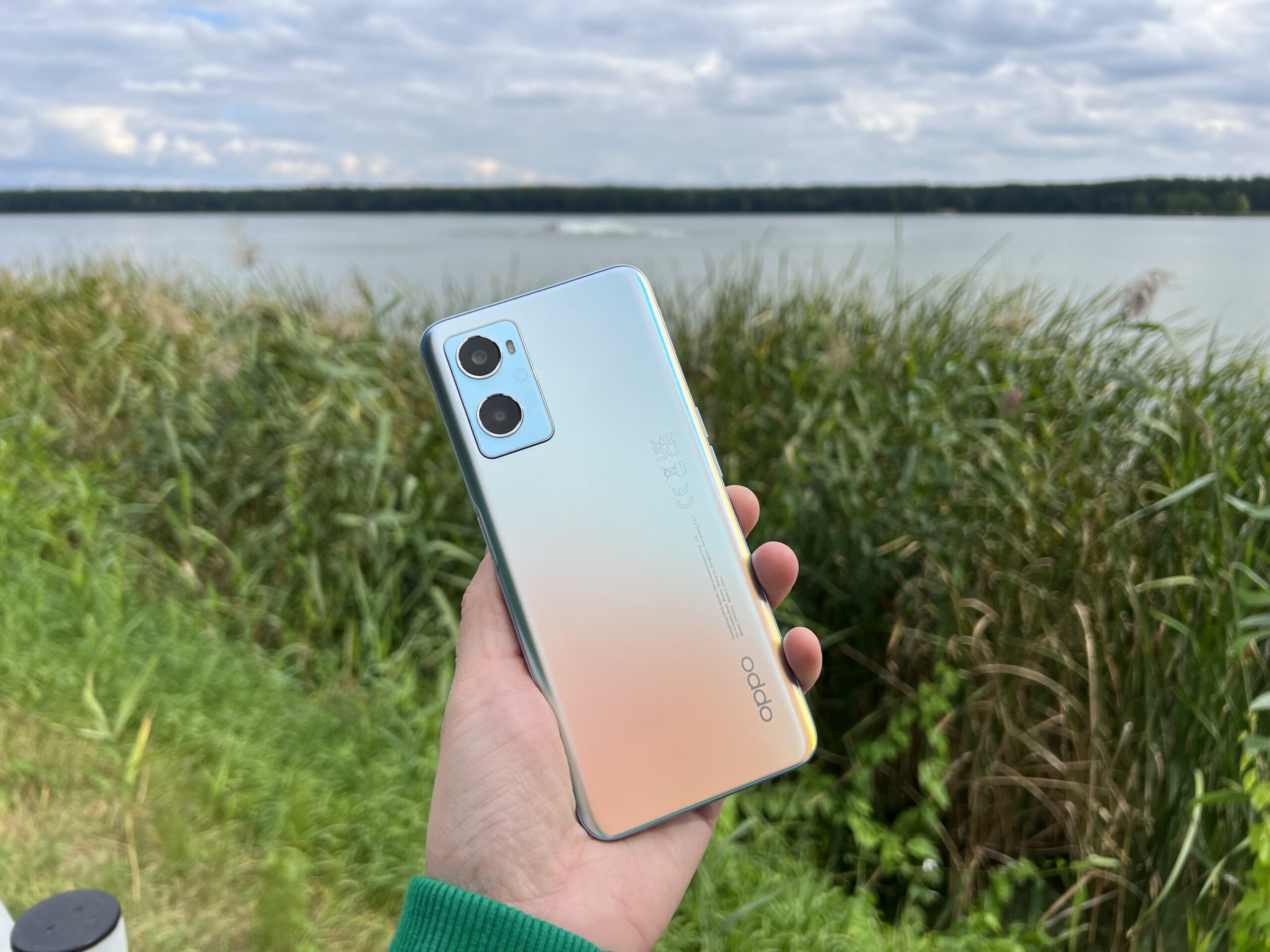 The back of OPPO is plastic. In defense of the smartphone, this nuance does not greatly affect the build quality and does not create additional inconvenience. You also need to remember that we are not talking about a flagship, but about a segment where a glass back panel is a rare sight. However, it would be nice to have a glass version, it adds a certain class.
I will add that the panel in the photo seems rough (like the OPPO Reno 6), but in reality, it is more than smooth, the phone strives to slip out of hand. So if it is dear to you, I advise you to use a case.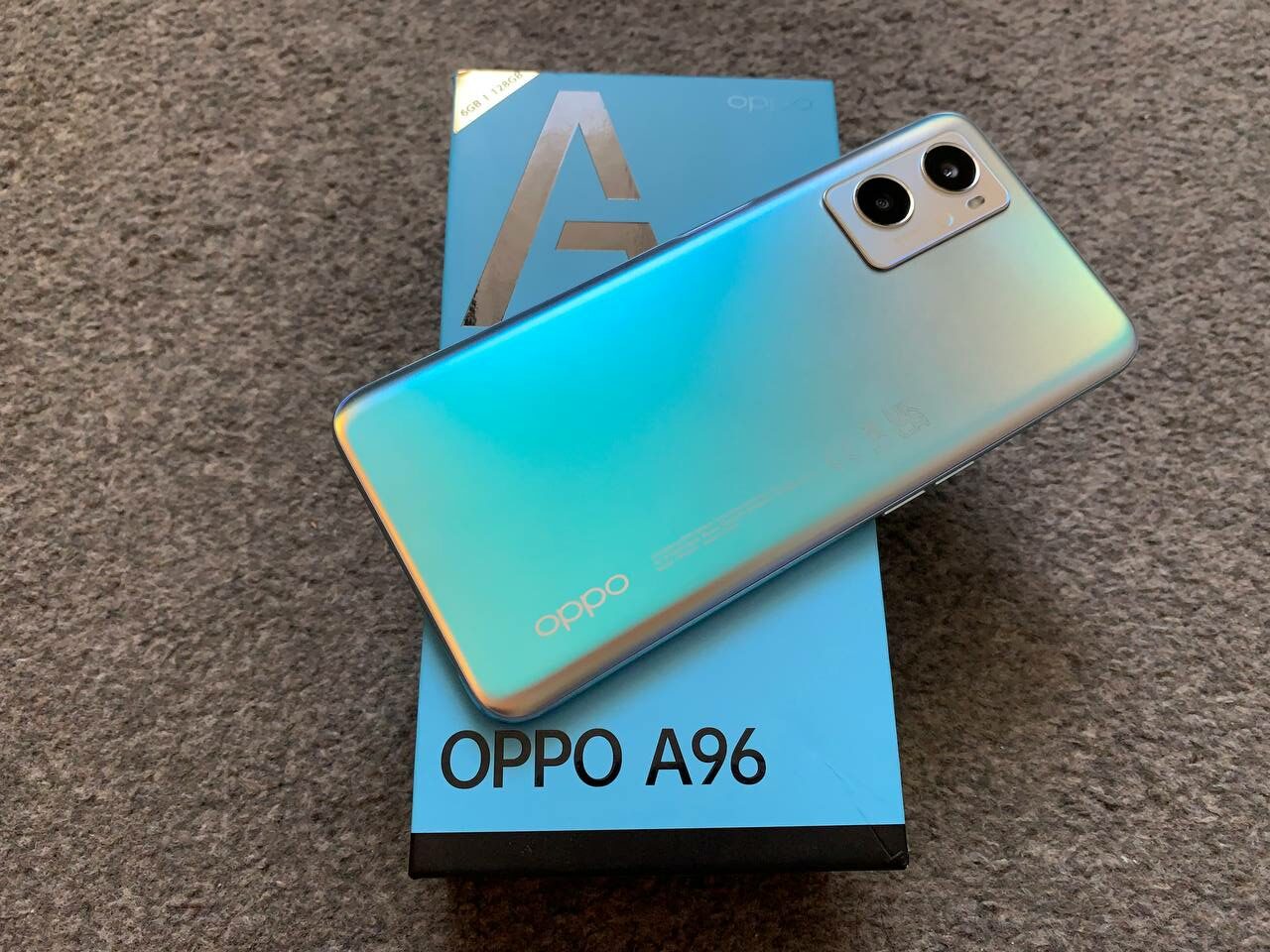 The screen bezels are minimal, except that the notch stands out noticeably. The A96 is what you might call a long smartphone. Frankly, I'm used to such devices, so I did not have to get used to its size. Yes, and it is much more convenient to have a large screen that fits a lot of elements.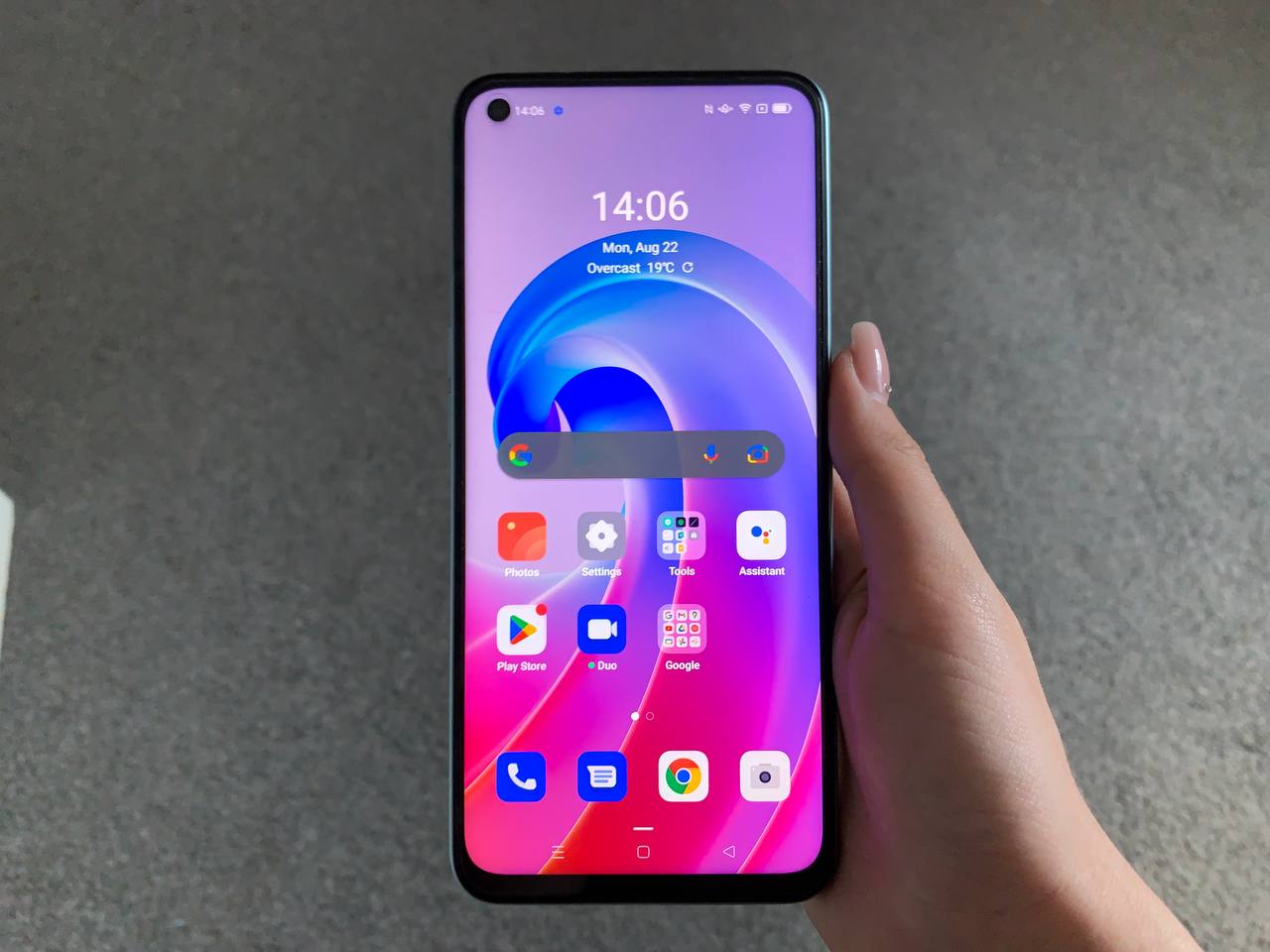 The weight of the OPPO is 191 g. As you can see, it's not the lightest, but I never get tired when using it, even with a case.
The layout is standard here. In the upper left corner, we see the front-facing camera, below the volume button. On the right side is the power button with a built-in fingerprint reader, which is very convenient, but the button itself could be placed a little lower.
There is a slot for two SIM cards + memory card, at the bottom, there is a speaker, an additional microphone, a Type-C port, and a 3.5 mm headphone jack. On the back, there's the block with two cameras, as well as a flashlight.
The build quality of the smartphone is excellent. The OPPO A96 is IP54 certified, which means it's not afraid of splashes and drops. And also, according to the manufacturer, it should withstand a fall from a height of 1 meter without consequences, but I did not check.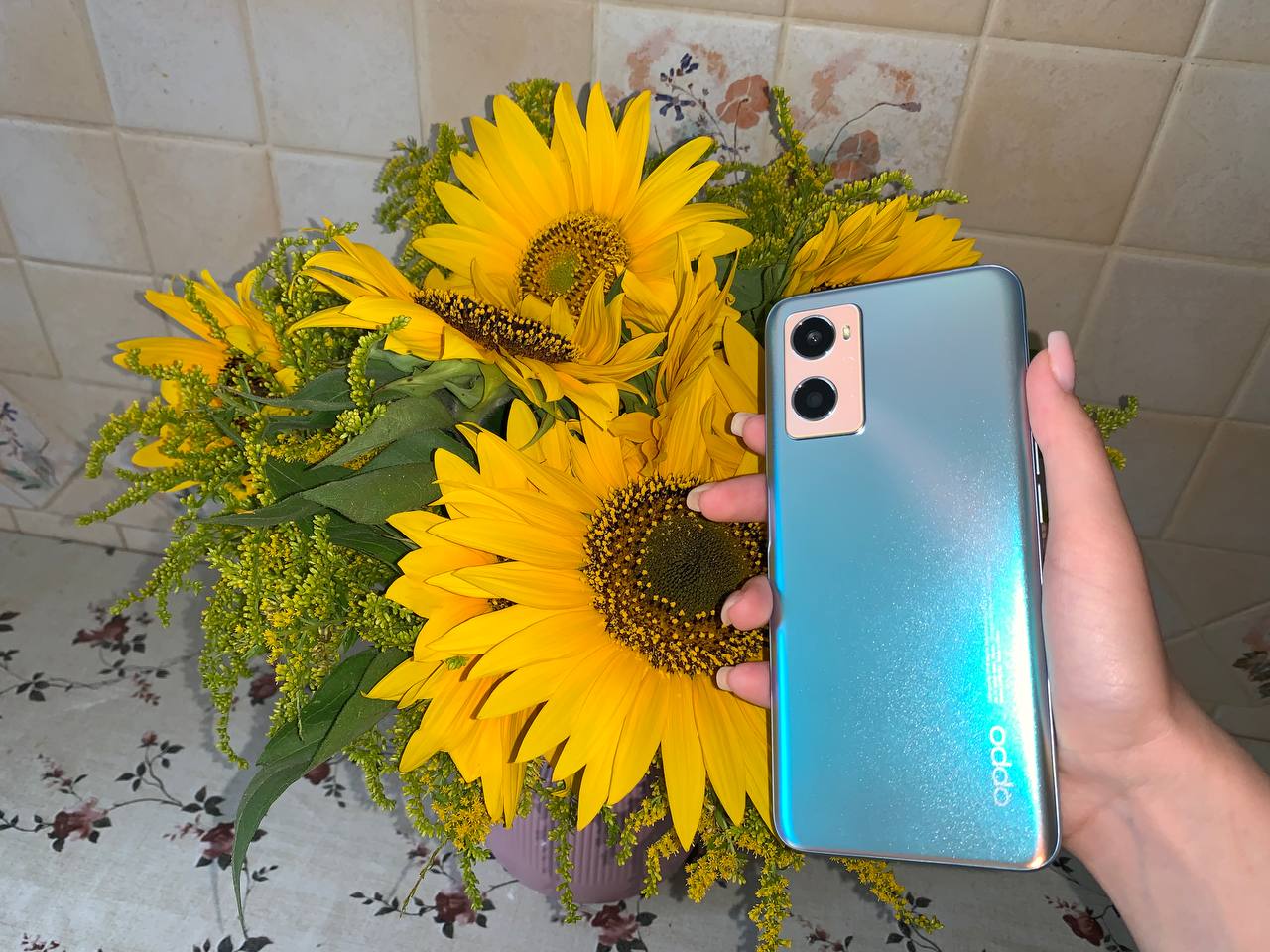 Read also: OPPO Find N review and user experience
Screen
The 6.43-inch Full HD+ display does its job well, delivering high-quality, clear, and crisp image. No overly saturated colors here. The matrix is IPS, but it's near indistinguishable from AMOLED. Just a great screen.
At first, I was worried that the screen won't be legible in the sun, but the culprit is the protective film. Take it off and dump it somewhere.
There is an Eye Comfort feature (calmer warmer shades in the evening), it has become almost a standard in modern gadgets. In the settings, there is an adjustment of the color temperature according to the schedule and time.
Another feature that also directly affects our perception of content is the refresh rate, which here is 90Hz. The image is really smooth, the scrolling is not twitchy. In the settings, you can choose either the standard 60 Hz or 90 Hz. But in the second case, the frequency will still be adaptive to save battery. The choice is yours.
Read also: Redmi Buds 3 Lite TWS Earphones Review: Cheap But High-Quality
Performance
The heart of the OPPO A96 is the time-tested Qualcomm Snapdragon 680 processor with the Adreno 610 video chip. The smartphone will work great in everyday tasks and even in heavy games (any will run, but not all with maximum graphics settings, I tried PUBG and COD Mobile). I think that the smartphone is powerful enough, there are no lags or freezes. Feels like a more expensive model.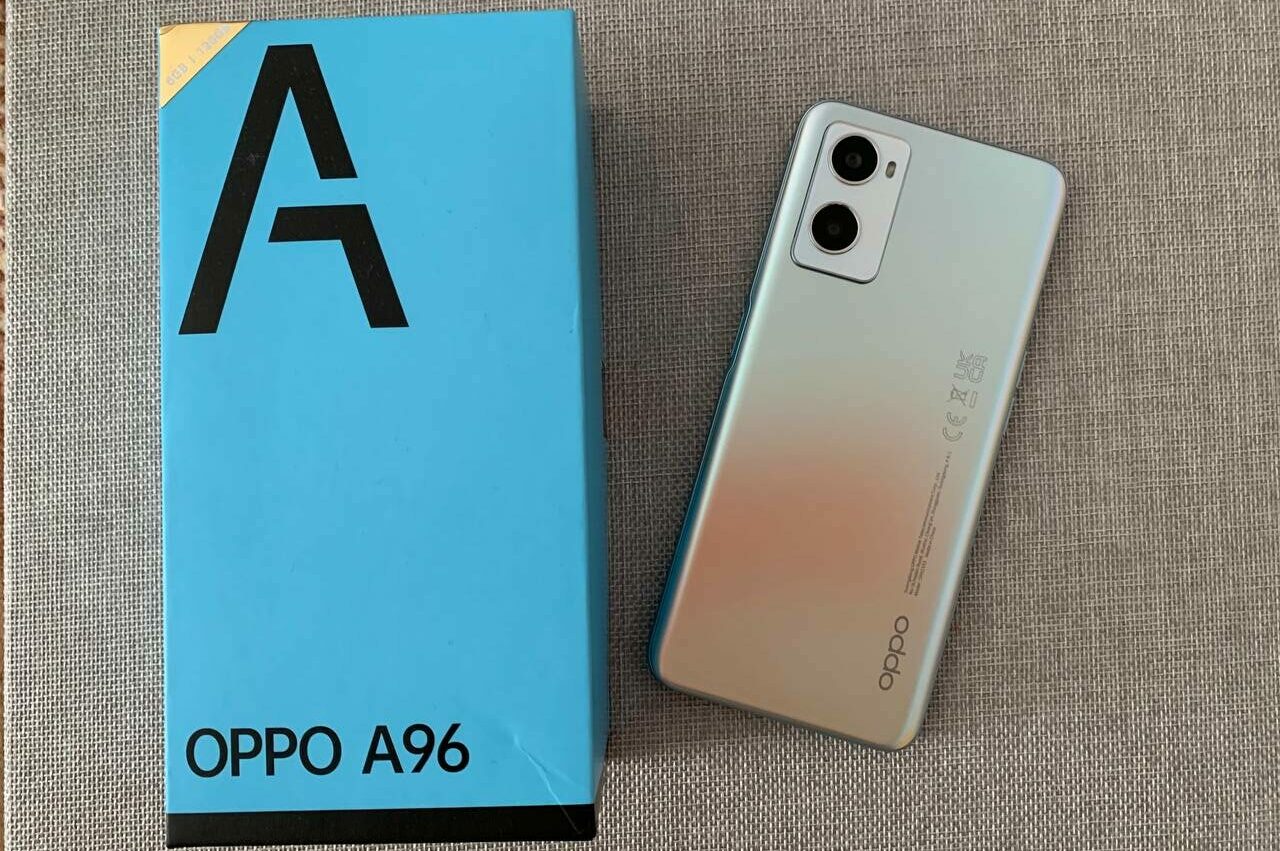 During the test, I answered calls, edited documents, and installed various applications, and the phone not only did not slow down but carried out my commands quickly and without delay. The amount of flash memory (in my case) is 128 GB UFS 2.2.
I will add that OPPO has the ability to increase the RAM by adding 2-5 GB of virtual to the physical RAM.
For lovers of numbers, the results of benchmark tests. Geekbench – 382 points in single-core mode and 1671 points in multi-core mode. AnTuTu – 275735 points. Even in stress tests, the smartphone does not overheat.
Read also: OPPO Reno 6 Pro 5g review: So good I want one now
OPPO A96 cameras
As for the cameras, everything is fine here, nothing unusual. The photos are of good quality, sometimes details are distorted when zoomed in, but first things first.
The OPPO A96 received the following camera modules:
50 MP, f/1.
2 MP depth sensor
front-facing 16 MP camera
The set, so to speak, is basic, there is no wide-angle lens, so you won't be able to fit more into the picture than the main module sees.
The photos that I took are good quality, contrasty, and color reproduction is fine. Everything is good for the A96 price range.
FULL RESOLUTION
Various zoom levels (digital) are available. x2 is very good quality. x5 and x10 are worse, not all elements differ in detail.
An unpleasant feature of the OPPO A96 cameras is that moving objects are often blurry. Sometimes you have to stand still for a couple of seconds to get a clear picture. And your cat will ideally have to stand still too!
Ночные снимки нельзя назвать лучшими. Объектив ловит немало света, но присутствует цифровой шум, изображение размыто. Конечно, вы всегда можете воспользоваться ночным режимом, который высветляет изображение, но не слишком сильно, как у моделей конкурентов. И детализация будет на хорошем уровне. Примеры, ночной режим справа:
FULL RESOLUTION
If you want to take pictures for Instagram, the 16 MP front camera is definitely be enough.
Unfortunately, this smartphone does not have optical stabilization when recording video. The quality is ok, but nothing more. The quality is 1080p@30fps only. An example video is available at this link.
The interface is intuitive unless this is your first phone.
Read also: OPPO X 2021 first impressions: Technology of the future?
Unlocking
I already mentioned the fingerprint scanner, which is built into the power button. In my opinion, this is the best option, as it is fast, the finger rests comfortably on the button and the phone is immediately unlocked.
I do not deny that other ways to unlock, such as face recognition or PIN code, are also convenient. Everyone can choose the way that suits them. Sad thing is, the face unlocking feature is only 2D. It's not the most reliable and fast and does not work well in the dark.
Sound
A96 is equipped with good stereo speakers. In headphones, the sound is high-quality, deep and voluminous. The model has a mini-jack (3.5 mm). Nice!
Read also: Huawei nova Y70 Review: Decent Budget Phone with 6000 mAh
Battery life
The battery in this model is good even on paper. During the two weeks of the test, I actively trained, checked social networks, took pictures, played games, listened to music, and each time I did not have to charge the phone until late in the evening. The declared capacity of the battery, let me remind you, is 5000 mAh.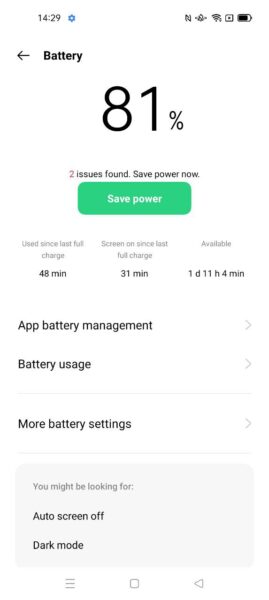 There is a fast charging function, which is 33 watts. This is not the largest indicator, but it's good that there is such an option. A full charge takes about 1 hour 20 minutes, 50% takes a little less than half an hour.
Software
Out of the box, the phone has an old version of Android 11. But as soon as you go into the settings, the system itself offers an update to Android 12 and the ColorOS 12.1 shell version. Of course, the update is worth installing, as the new system from OPPO is faster and smoother. But that's not all, the improved version of the software provides the user with greater security and privacy.
It provides fast and convenient functions for online communication, including quick notifications, and replies to messages. Instead of all the usual gestures, there are others – one-handed operation, dynamic widgets, convenient data search, and easy hotspot settings.
I liked these improvements, some may prefer pure Android without shells, but I don't agree. I say let everybody have a go!
Read also: TECNO Pova 3 Review: Large and Lasting Mid-Level Phone
Verdict
I think that the OPPO A96 is interesting primarily because of its unusual design. The iridescent panel is truly mesmerizing. Another advantage is an impressive screen, a big battery and fast charging (33 W), good quality cameras, and a convenient fingerprint scanner inside the power button. The smartphone is fast thanks to decent hardware and the new ColorOS 12.1 shell based on Android 12.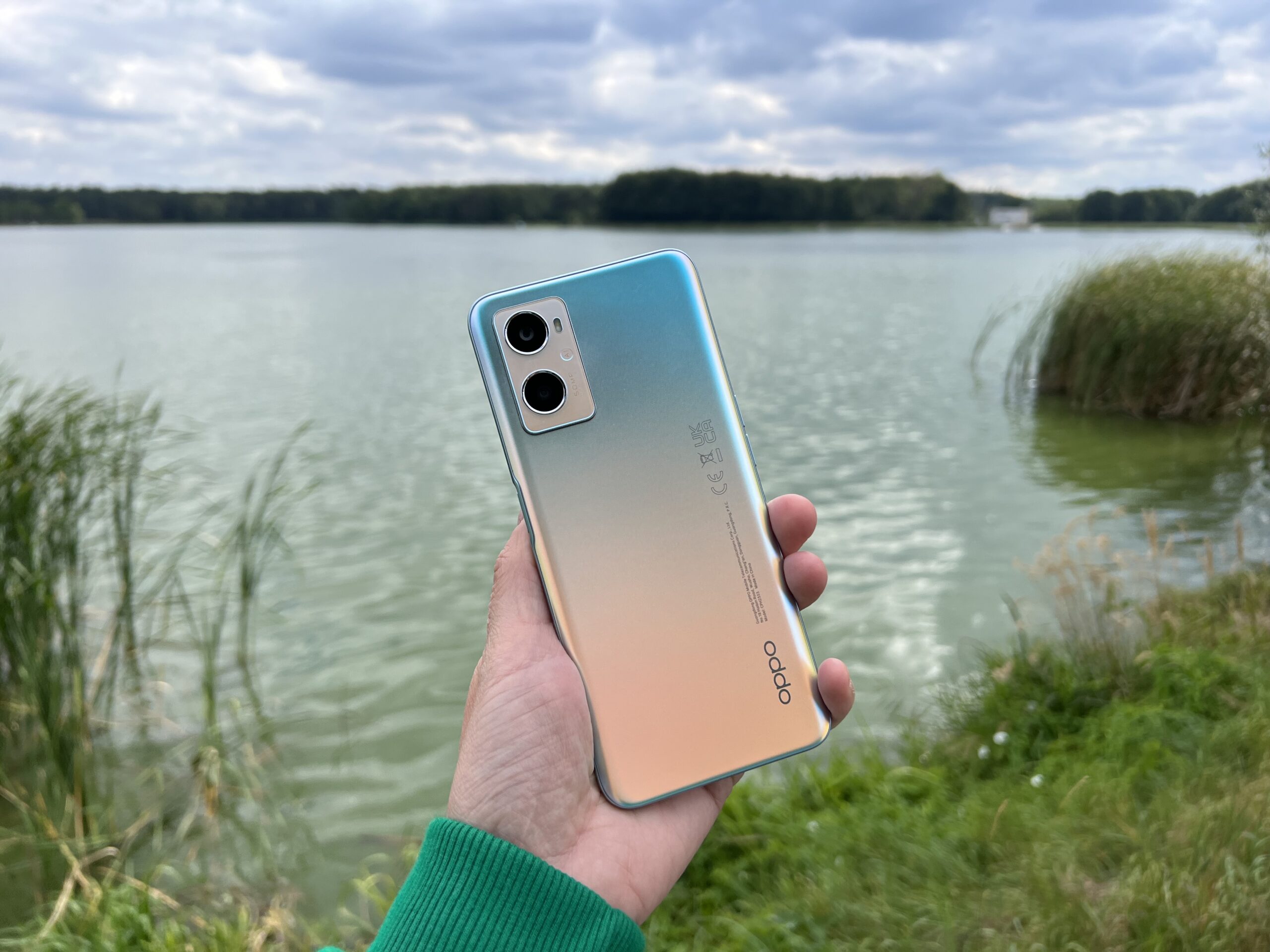 There are also cons because nothing is perfect. The plastic back panel might irritate some. There's no optical stabilization for better results when shooting photos and videos, as well as a wide-angle lens (I often need it). There is no 5G support as well.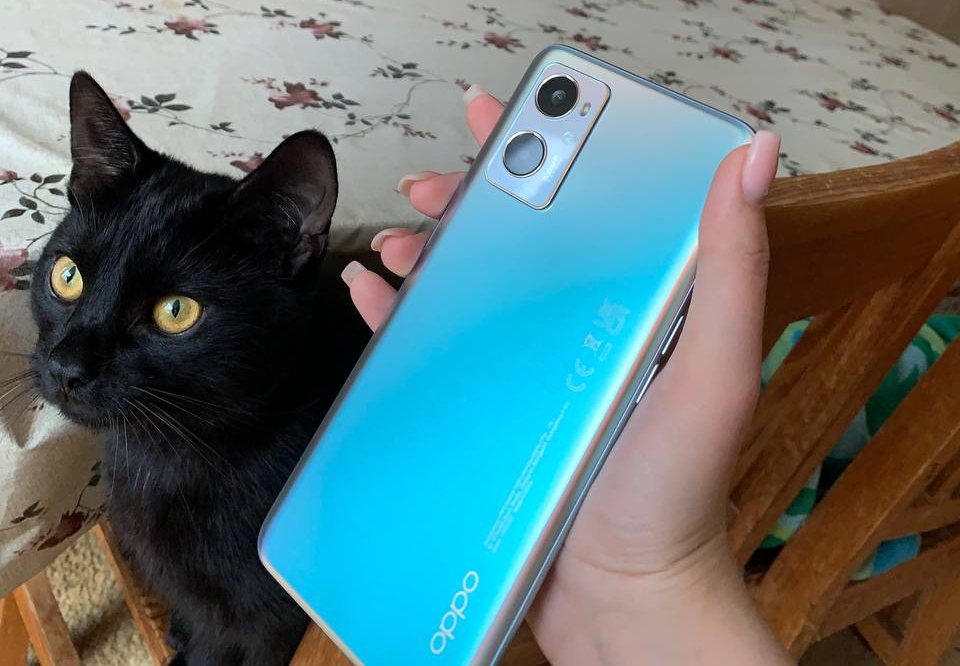 In general, I recommend the OPPO A96, the model has more advantages than disadvantages. This is really a good model for daily work, chatting, and entertainment. Do you like the OPPO A96? Share your impressions in the comments.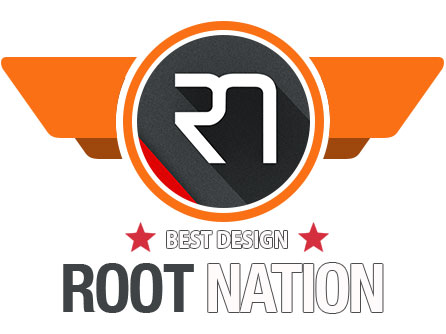 Read also: