This is no longer science fiction. PD-100 Black Hornet is the name of a tiny drone, smaller than a sparrow, which will soon be available to military units of the Armed Forces of Ukraine.
It became known that Norway and Great Britain will jointly provide Ukraine with Black Hornet microdrones manufactured by the American company Teledyne FLIR, designed for reconnaissance and identification of targets on the battlefield. This was reported by the Ministry of Defense of Norway, which was quoted by the Reuters agency.
The estimated cost of the microdrones that will be delivered to Ukraine is approximately 90 million Norwegian kroner (over 9 million US dollars).
Read also: Comparison of F-15 Eagle and F-16 Fighting Falcon fighters: pros and cons
What can PD-100 Black Hornet do?
Even ten years ago, drones were not as well known to the masses as they are today. If you've heard of them, it's most likely in the context of the military, which has been using drone technology for reconnaissance for quite some time. Amazingly, militaries around the world seem to have found the perfect reconnaissance tool in the Black Hornet micro-drone. Let's take a look at the Black Hornet and see how it has evolved over the years.
This little guy is the world's smallest unmanned aerial vehicle (UAV). It was developed by FLIR Systems. Such a UAV will allow the Armed Forces of Ukraine to monitor potential threats and the movement of enemy units. I am confident that this small remote-controlled drone will help save the lives of our defenders on the front lines.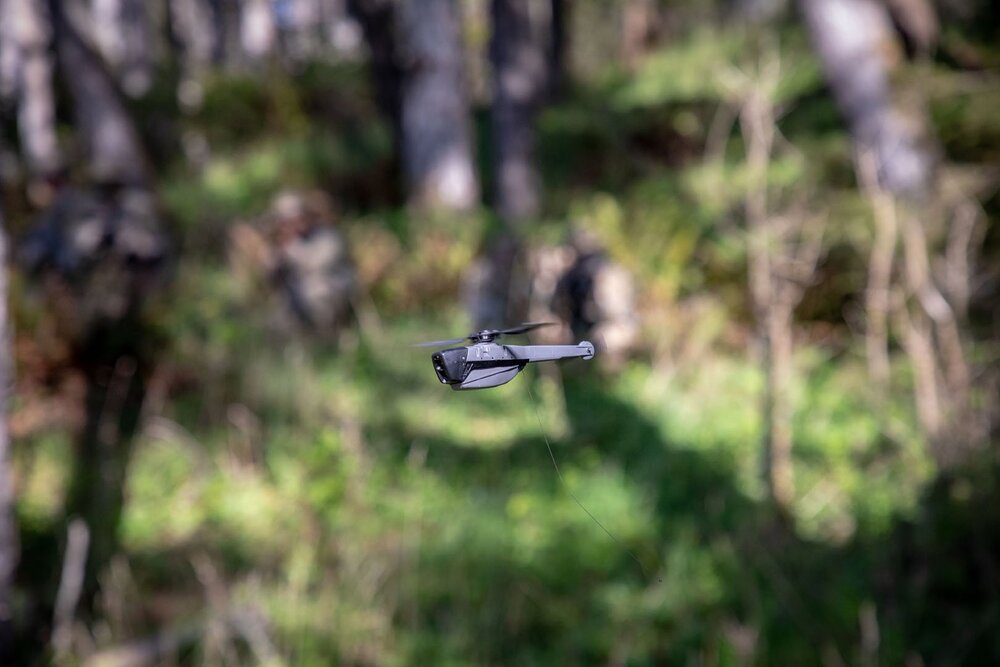 The microdrone offers surveillance and intelligence support to the armed forces in critical operations. The UAV provides access to remote locations and provides military situational awareness on the battlefield.
Drones are a more advanced and safer technology for the military and law enforcement alike.  We should admire and respect those who fight for us. Challenge coins are symbols of honor as well as meaningful gifts. We can express our gratitude to them with custom challenge coins such as Custom Air Force Challenge Coins, Army Challenge Coins, and Firefighter Challenge Coins, etc. You can see more at GS-JJ.com.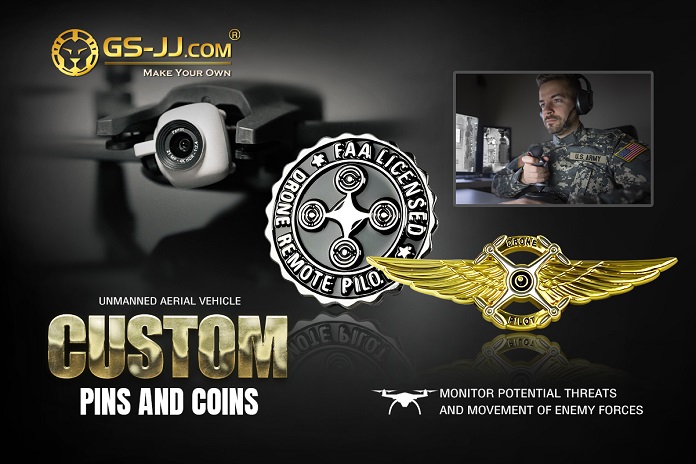 It should be noted that the PD-100 Black Hornet is nothing more than an individual (that is, attached to a specific operator) miniature unmanned aerial vehicle (UAV) designed for close reconnaissance.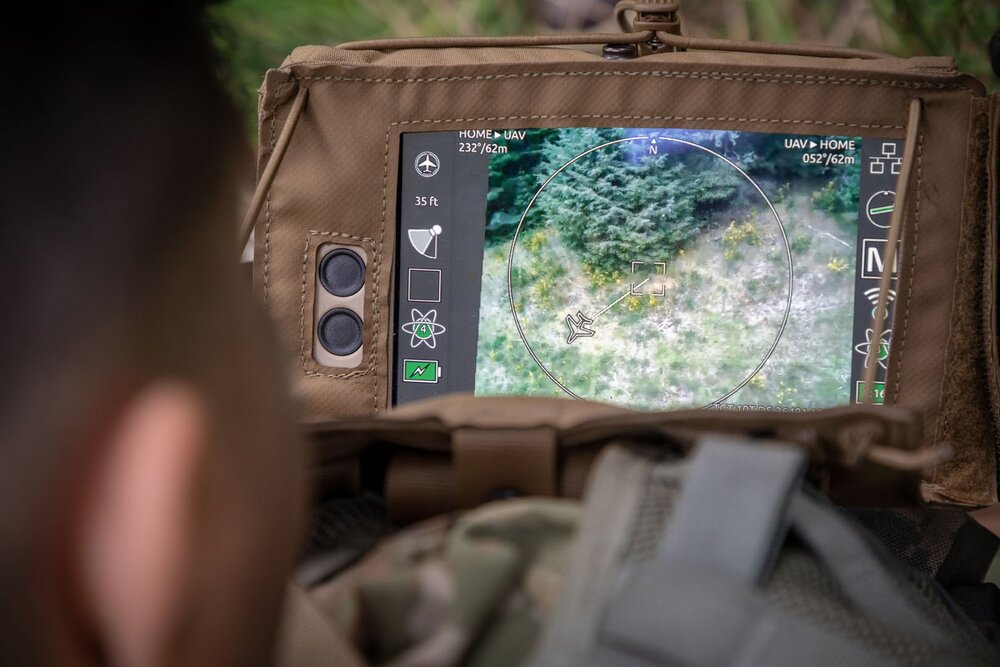 Thus, its primary mission is to enhance the situational awareness of an individual operator or a small unit such as a regiment, company, or platoon. Microdrones are used for day and night operations. In June, Teledyne FLIR management announced that the company has already delivered more than 12,000 such devices to the armed forces of various countries around the world. And now our defenders will receive this amazing device.
Read also: Silent killers of modern warfare: most dangerous military UAVs
History of creation and use of the Black Hornet microdrone
It all started with Petter Murren, a Norwegian inventor who developed the world's smallest remote-controlled drone. On December 1, 2007, Murren founded Prox Dynamics, a company that designs, manufactures, and markets 'the world's smallest and most advanced unmanned aerial systems.' In 2008, Murren began to focus his efforts on the development of the Black Hornet project, with the goal of releasing the first series in 2009.
The company Prox Dynamics sought to create a nano-UAV, the weight of which would be less than 20 g. This is how the PD-100 Black Hornet appeared, which is so small that it can fit even in a pocket, but at the same time it is equipped with a video camera. At the time, it was the world's smallest remote-controlled reconnaissance drone. It weighed only 18 g, and its speed reached 10 m/s. The kit included three drones, a charger and a remote control with a built-in LCD screen to display the image from the microdrone's camera.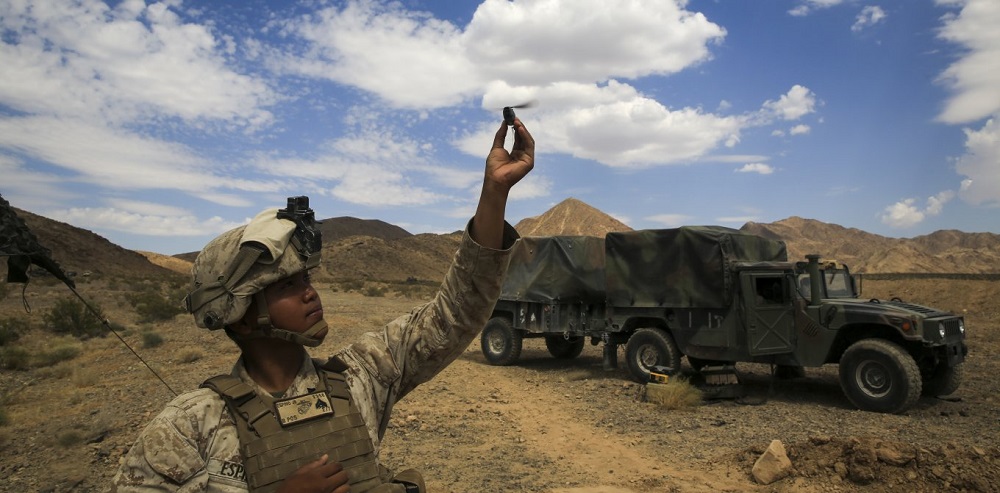 The drone's camera had electro-optical sensors that convert light into an electronic signal and an advanced digital thermal sensor from FLIR Systems Inc. All this provided more stable night flights and target tracking capabilities.
In 2015, a new version of the PD-100 Black Hornet 2 was developed specifically for the Pentagon, which could fly for up to 25 minutes, also had a range of 2 miles and housed both conventional and thermal cameras.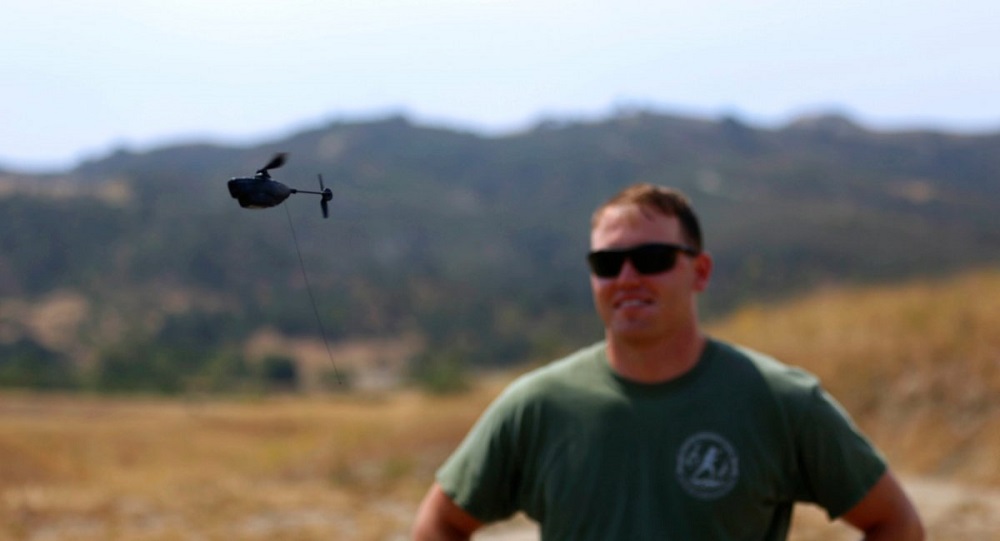 On November 30, 2016, FLIR Systems, Inc. announced the acquisition of Prox Dynamics. In two years, FLIR announced the new Black Hornet 3. The latest version of the Black Hornet, which has been in service with more than 30 countries for the past seven years, has received several significant improvements. FLIR points to the Black Hornet 3's top five features: its ability to fly in GPS-prohibited areas, a flight speed of over 21 km/h, sharper image processing, modularity that allows quick replacement of batteries and sensors, and an improved monitor with an updated software. It is now the Black Hornet's Personal Reconnaissance System (PRS), which is controlled by a Ground Control Station (GCS), which includes a base station, a controller and a display module. The base station accommodates two Black Hornet 3 nano-UAVs.
Read also: Saab JAS 39 Gripen as an option for Ukraine's Air Forces: what kind of plane is it?
PD-100 Black Hornet structure
The case of the PD-100 is made of durable plastic. The aerodynamic shape of the nano-UAV can withstand stormy winds. The tiny drone is equipped with three surveillance cameras. The complete Black Hornet system includes two UAVs and a base station.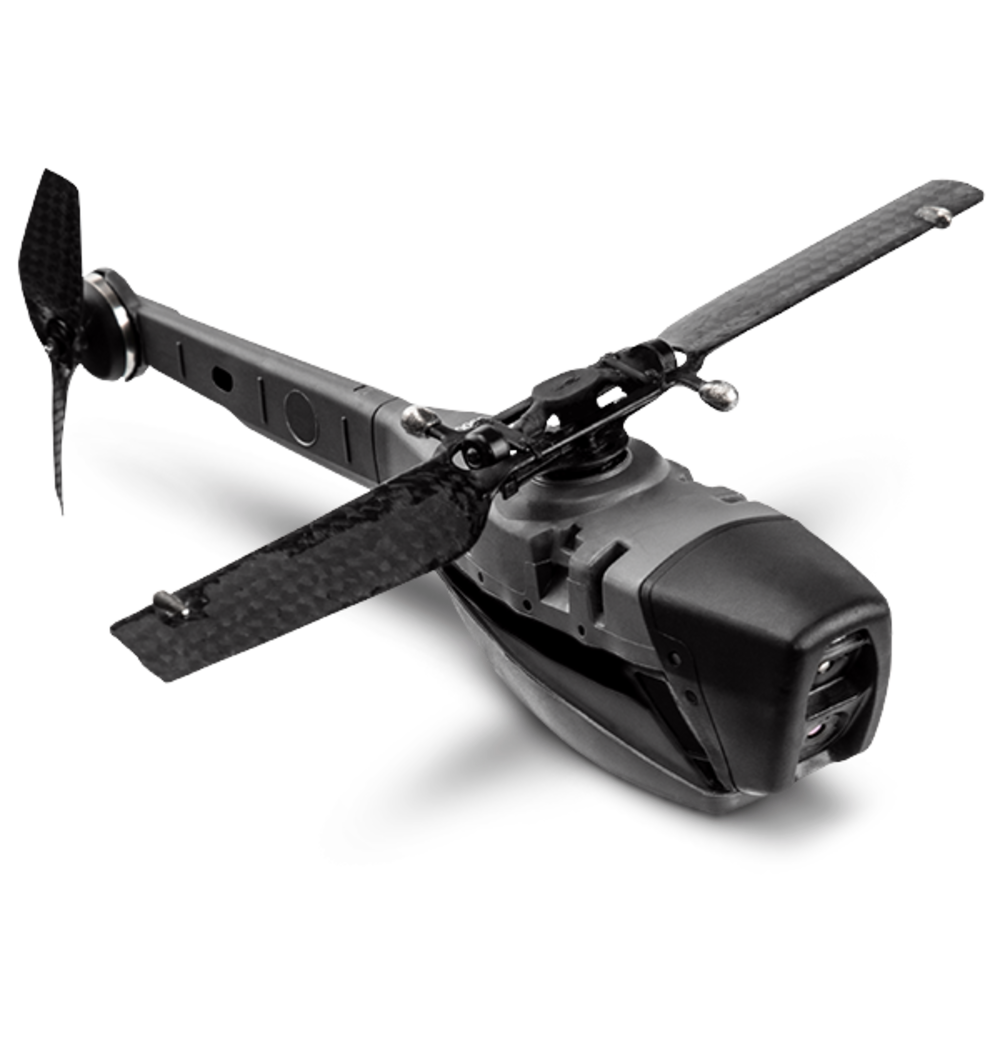 The UAV has a length of about 100 mm and a rotor span of 120 mm. It weighs 16 g with the surveillance camera, and the total weight of the system without the display is less than 1 kg.
Read also: All about the 155mm M777 howitzer and M982 Excalibur guided projectile
Black Hornet features
Black Hornet is adapted for convenient transportation. And the entire system fits in a pocket, so the operator can carry the PD-100 Black Hornet unmanned aerial system along with his equipment.
The ultra-compact dimensions of the PD-100 allow the operator to effectively use it in congested and dangerous areas. The system generates very little noise, making the drone virtually invisible and reusable. The small UAV is ready to fly and takes less than a minute to take off. That is, it is enough to take it out of a special container, start it and release it from your hand.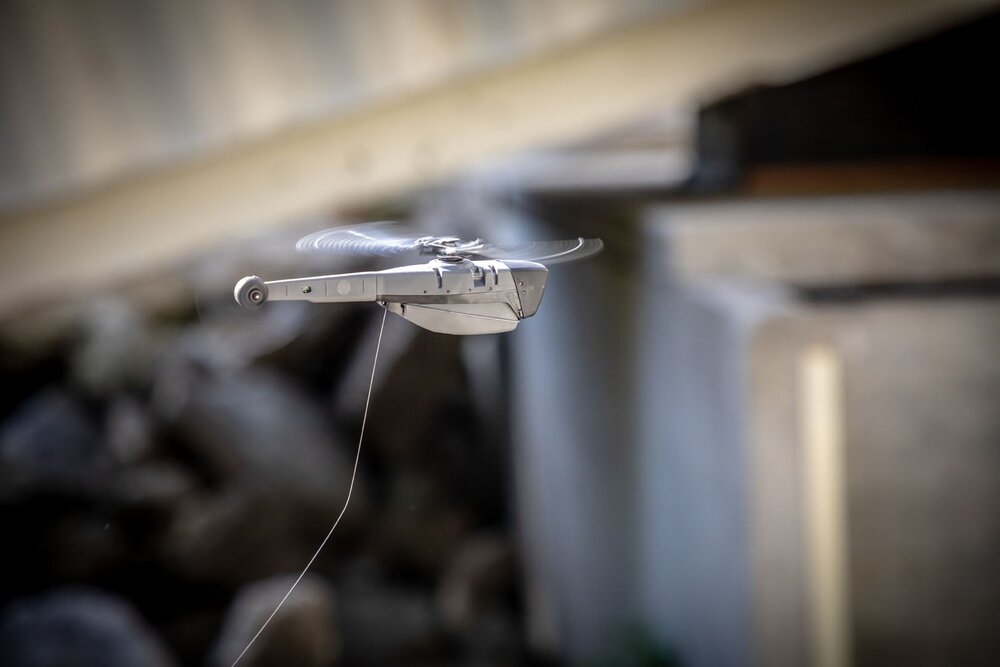 The Black Hornet can operate both during the day and at night. It flies at a speed of about 21 km/h. The manufacturer guarantees that it will hold the course even in winds of up to 20 knots (10 m/s).
The PD-100 uses GPS for outdoor flights and the Vision Base navigation system indoors.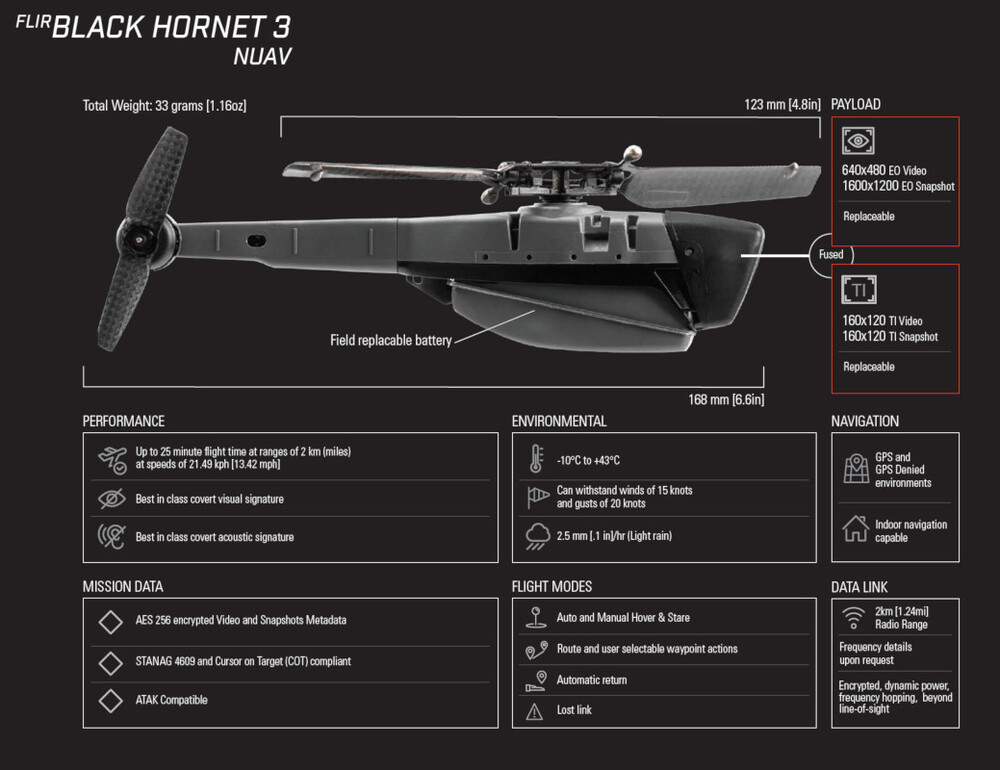 The latest Black Hornet 3 weighs 32g and offers enhanced features such as the ability to fly in non-GPS environments.
Read also: Weapons of Ukrainian Victory: Iris-T SLM for Ukraine from Germany
The Black Hornet is equipped with a steerable electro-optical (EO) camera capable of producing both still images and real-time video displayed on a handheld device. The camera is equipped with a zoom for a clearer image.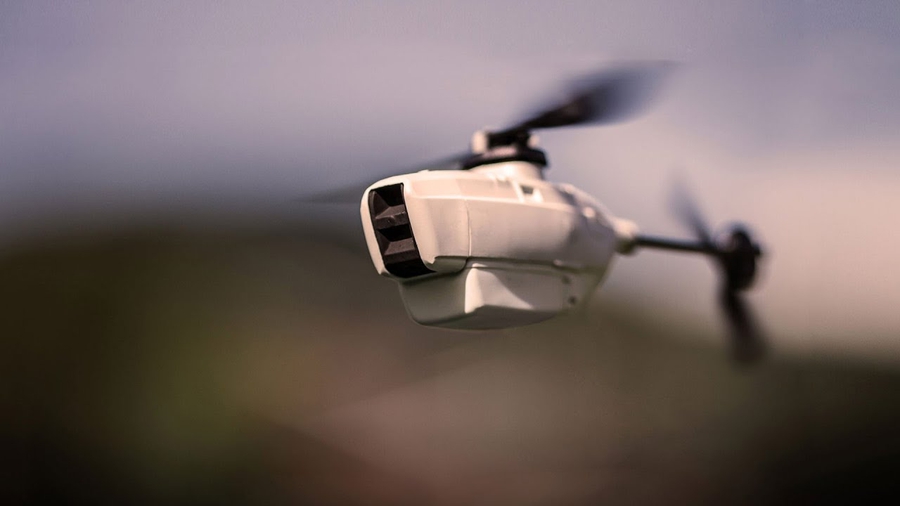 The autopilot system, which is installed on board the PD-100, allows the operator to control the drone in two modes. The drone can be controlled either directly or programmed to follow a predetermined route using an internal GPS system. The drone can also operate in semi-autonomous mode, following set waypoints, and can return to the user by program or on demand. The digital data transmission channel allows the operator to control the UAV within a direct line of sight of 1000 m.
Read also: 'Neptunes' knocked out 'Moskva' cruiser: All about these anti-ship cruise missiles
How does PD-100 work?
The drone can fly for 25 minutes, and during this time its cameras collect data for the operator, live videos or HD photos.
The PD 100 Black Hornet has an RGB camera with a video resolution of 640×480 pixels and a thermal imaging camera of 160×120 pixels. The microdrone takes pictures with a resolution of 1200×1600 pixels.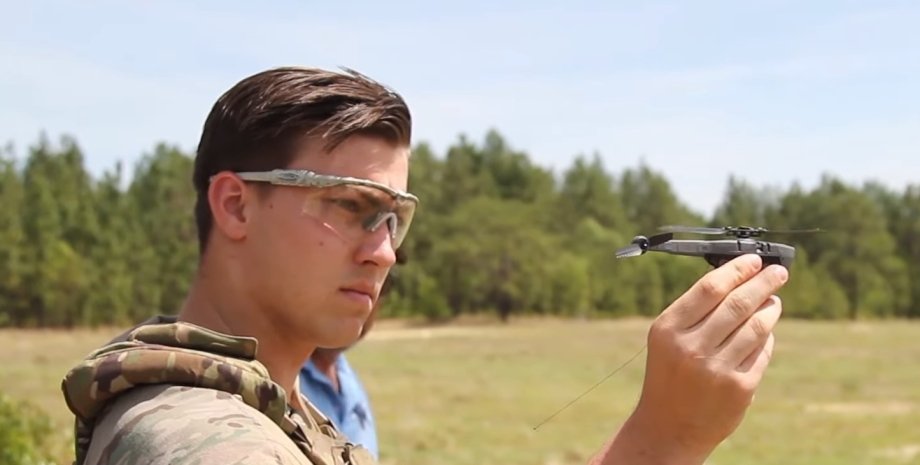 The data from the unmanned aerial vehicle is sent over an encrypted communication channel at a distance of up to 2,000 m. This provides the fighter with a high level of security. The PD-100 is powered by a very small rechargeable battery. The battery provides rotation of the horizontal and vertical rotors installed on the drone.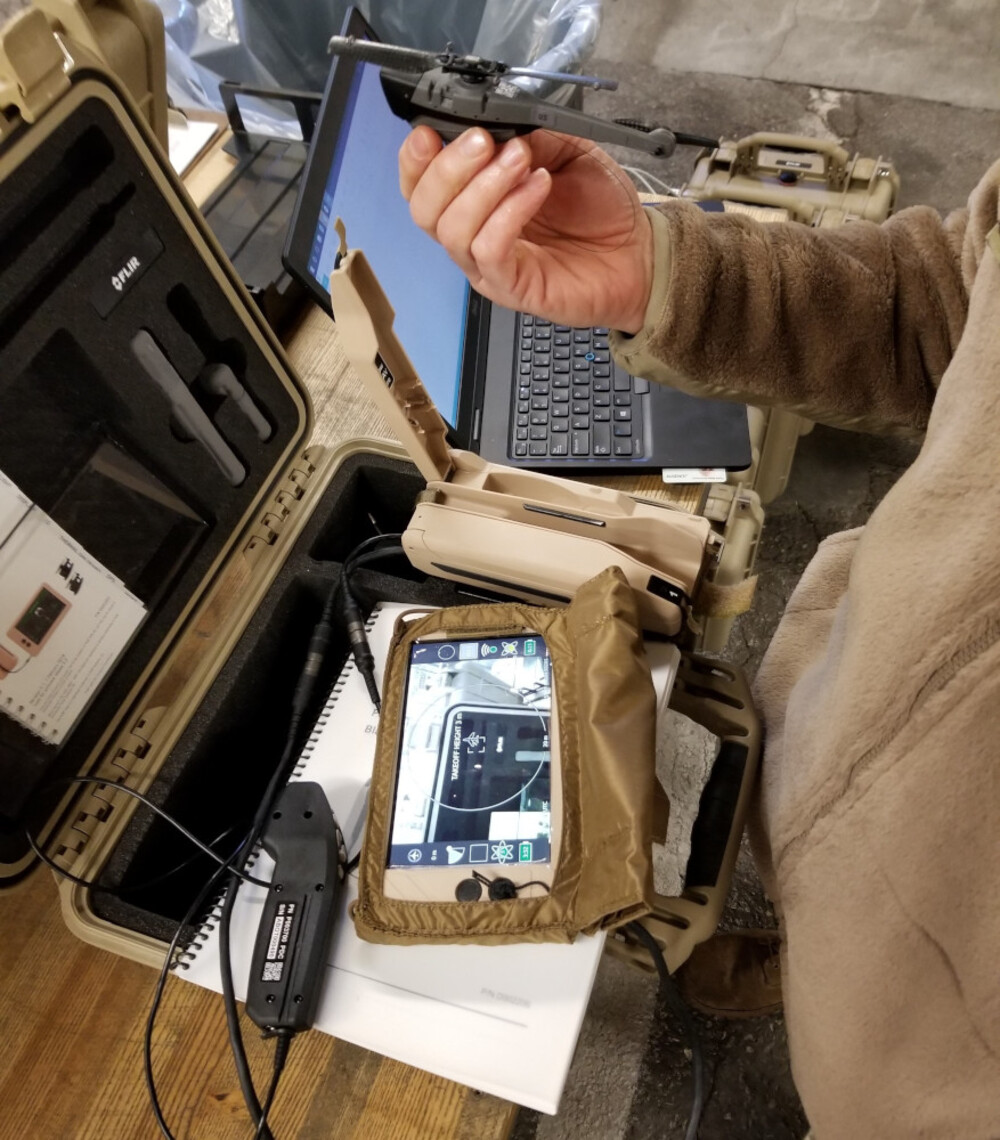 Black Hornet Nano is controlled by the operator from the ground using a joystick-like device, the technology allows the drone to be controlled from a maximum distance of 1000 m. The base station offers the operator planning, execution and analysis services. It includes the display and the control system itself.
Read also: All about the General Atomics MQ-9 Reaper
Black Hornet – additional eyes for the fighter
As we noted above, the PD-100 is an element of the Black Hornet personal reconnaissance system.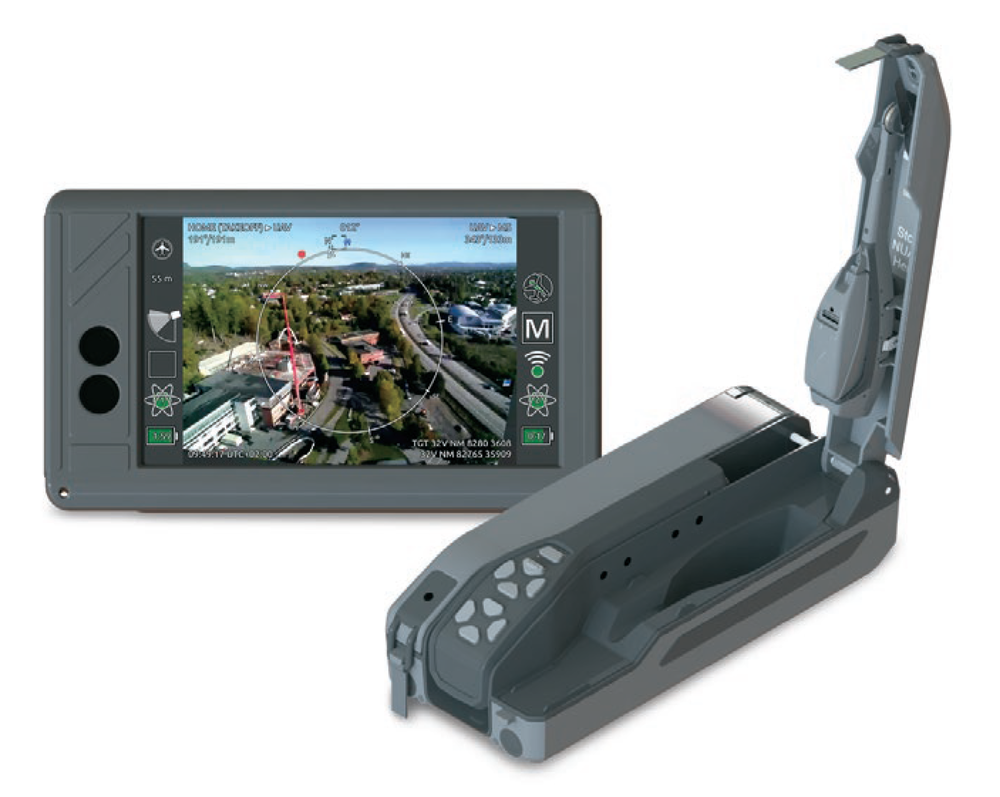 As part of the system, each operator receives:
two Black Hornet UAVs
a container for their transportation that can be attached to a tactical body armor
a charger for a battery removed from an unmanned aerial vehicle (charging takes 25 minutes)
manual control system (the drone can also perform tasks in autonomous mode)
a small tablet (7-inch monitor) used to control a miniature drone and take videos and photos
backup batteries
The whole set weighs about 1.5 kg and is very easy to use. Preparing the drone for flight takes no more than 2 minutes.
The PD-100 is useful, for example, during battles in populated areas or in difficult terrain with many obstacles that limit the soldier's field of vision. Much greater awareness of the environment allows for more effective actions and defeating opponents.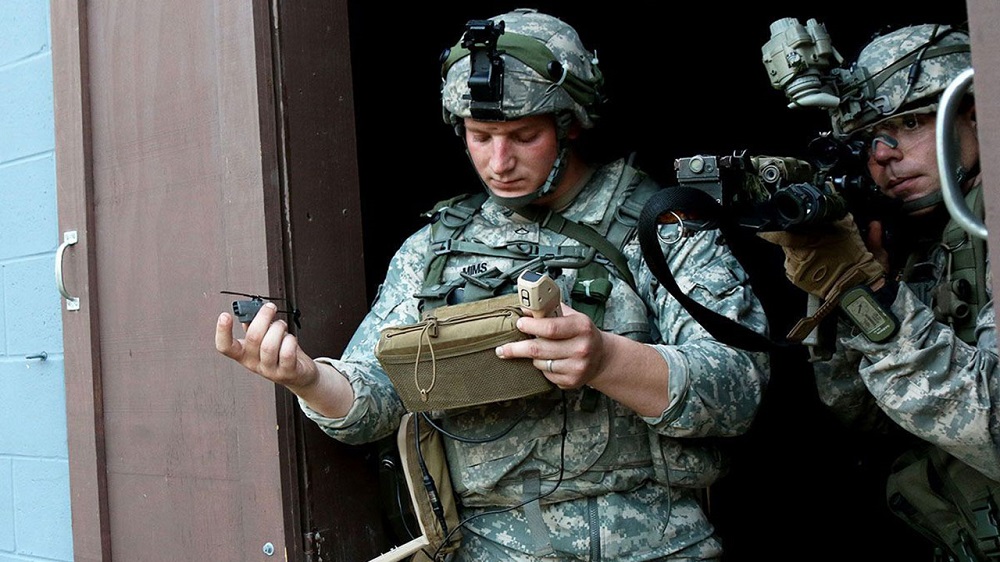 The Black Hornet also offers the ability to reduce vulnerability to a variety of threats, including ambushes, explosive devices, and on what may be lurking on the roof or on the other side of a wall. It can also help small units more quickly and accurately assess the impact of artillery or air strikes and determine whether additional fire support is needed, etc.
That is, this is an additional pair of eyes that can be sent to places where the soldiers' eyes can't look, even in rooms, basements or bunkers.
Read also: How can M142 HIMARS and M270 rocket systems change the course of war in Ukraine?
Specifications of PD-100
Wingspan: 120 mm
Weight (including camera): 16 g
Maximum speed: 10 m/s
Flight duration: up to 25 minutes
The digital data transmission line exceeds 1,000 m line of sight
GPS or visual video navigation
Autopilot with autonomous and controlled modes
Can follow pre-planned routes
Controlled electro-optical cameras
Online videos and photos.
Read also: Weapons of Ukrainian Victory: ATACMS missiles for HIMARS and MLRS
The main emphasis in modern combat should be directed to the situational awareness of the personnel of army units.
The fighter and his commander must know what the enemy is doing, where his positions are, what forces and resources he has accumulated. With this knowledge, they will be able to plan an effective defense or counterattack.
The Black Hornet has already been tested on the battlefield. For example, British and American paratroopers used it in Afghanistan. Australian special forces have also tested microdrones in combat conditions.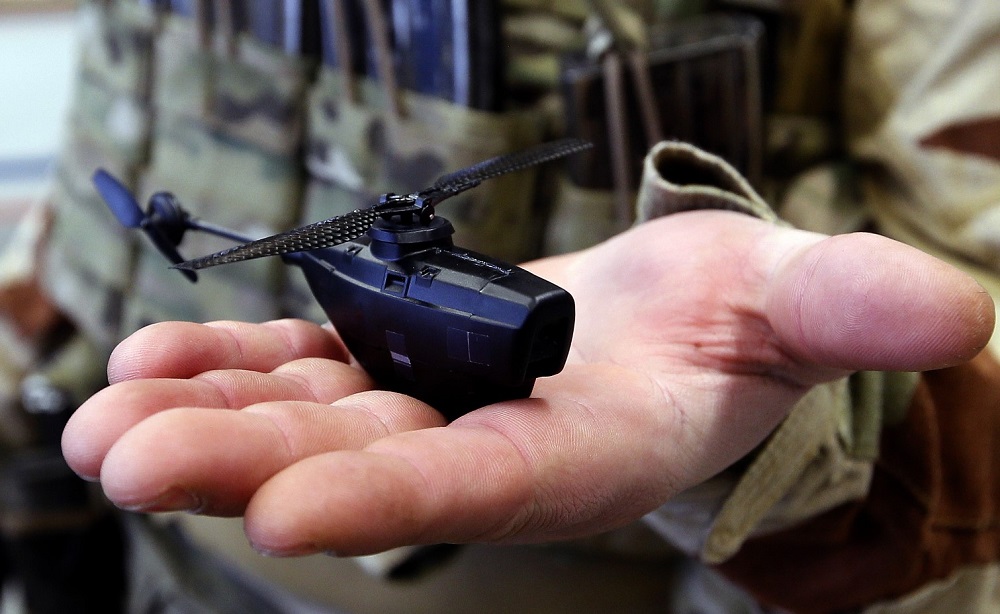 Drones are one of the extremely useful tools used in Ukraine in reconnaissance missions, including data collection for artillery. Ukrainians usually use cheap civilian drones for reconnaissance, and now, we hope, they will also have this state-of-the-art micro-drone in their arsenal. However, it is not yet known how many such drones the Ukrainian military will receive.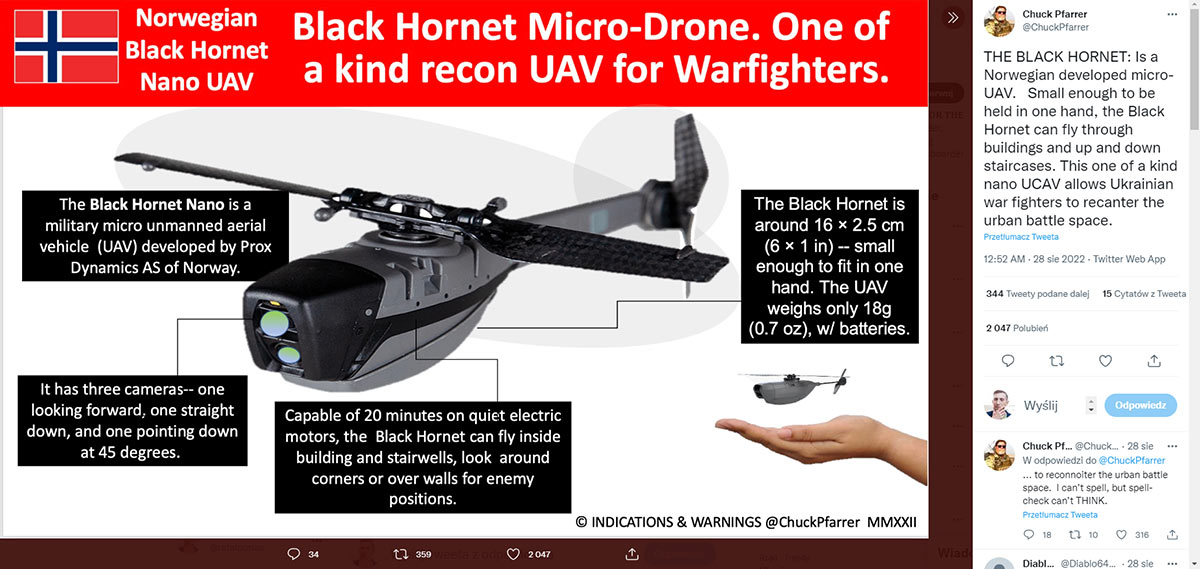 That is, our defenders receive a personal intelligence system that will allow them to conduct combat operations even more effectively, inflicting maximum damage on the enemy. We believe in our defenders! Everything will be Ukraine! Death to enemies!
You can also help Ukraine fight with Russian occupants via Savelife or via an official page of the National Bank of Ukraine.
Read also: Weapons of Ukrainian victory: ATGM Stugna-P – Russian tanks are in trouble