Despite serious problems due to disagreements with the US government and the inability to use the Android OS, Huawei does not give up and continues to produce smartphones. Moreover, even trying not to depend on Google, it has its own OS, its own ecosystem, its own similar software. Some time ago, you and I got acquainted with the successful middle Nova 9, as well as with the super-flagship Huawei P50 Pro. It's time for a fresh new product — the budget nova Y70. What is good about this model, are there any disadvantages, is it worth choosing Huawei if you are looking for a reliable inexpensive smartphone?
Specifications of Huawei nova Y70
Screen: IPS, 6.75 inches, resolution 1600×720, refresh rate 60 Hz
Processor: HiSilicon Kirin 710A (up to 2 GHz)
GPU: Mali-G51
Memory: 4 GB of RAM, 128 GB of internal storage, microSD slot up to 512 GB
Battery: 6000 mAh, fast charging Huawei SuperCharge 22.5 W
Main camera: main module 48 MP f/1.8, ultra-wide-angle 5 MP f/2.2, depth sensor 2 MP f/2.4
Front camera: 8 MP (f/2.0)
Communications: Dual SIM, LTE, Wi-Fi b/g/n (2.4 GHz), Bluetooth 5.1, USB-C 2.0, NFC
Navigation: GPS, GLONASS, Galileo, Beidou, QZSS, magnetic sensor (compass)
OS: Android 11 with EMUI 12 shell
Colors: blue, white, black
Dimensions and weight: 168.3×77.7×8.98 mm, 199 grams
Additional: fingerprint sensor in the side button, Face ID, FM radio, 3.5 mm jack
Price: about $190
Read also: Huawei nova 9 review: phone that could have been a hit
Range positioning and price
I will immediately note here that you can find the nova Y70 and nova Y70 Plus models on the network, and the first version is available on the European market. Well, in fact, these are identical devices.
The lineup also includes a senior model, the Huawei Nova Y90, which has faster charging (but a smaller battery capacity), more advanced cameras, a more powerful processor, more RAM, and higher-resolution cameras. But it also costs more, then everything is clear here.
The device costs about 180-200 dollars, which is, of course, not much. Let's find out whether it is worthy of our attention.

Read also: Huawei P50 Pro review: fantastic flagship that no one will buy
Delivery set
The box with the phone contains a charger, a cable, documentation, a clip for the SIM slot and a silicone case.

The cover is ordinary, it protects the screen and the camera unit, because it rises a little above them.
A protective film is glued on the nova Y70 display from the very beginning, so it can also be considered an element of the kit. The film clings to the finger and makes it a bit difficult to make gestures from the edge of the screen, but this is not a problem if you use the cover.

Design of  Huawei nova Y70
We have a large device in front of us, this must be kept in mind. A 6.75-inch screen plus almost 200 grams of weight is a lot. In addition, the phone is not thin – 9 mm, but the 6000 mAh battery had to fit somewhere. I am personally used to large phones and love large screens (convenient for reading social networks, watching videos), but not everyone will like such dimensions.
The screen frames are relatively thin, except for the lower 'chin'. The cutout for the frontal camera in the form of a waterdrop is already a somewhat outdated solution, but it is still an inexpensive model in front of us, so we will forgive it.
The mirror back panel can be perceived as glass in appearance, but to the touch it is plastic, metal in a budget model is a rarity.
Moreover, terribly glossy plastic, which collects all possible fingerprints. But there is also a plus – the back panel does not slide in the palm of your hand. On the other hand, you will still most likely put a cover on the phone, and with it, fingerprints are no longer scary.

There's a white and black Y70 in addition to the blue, but all things considered, either version is a fingerprint magnet.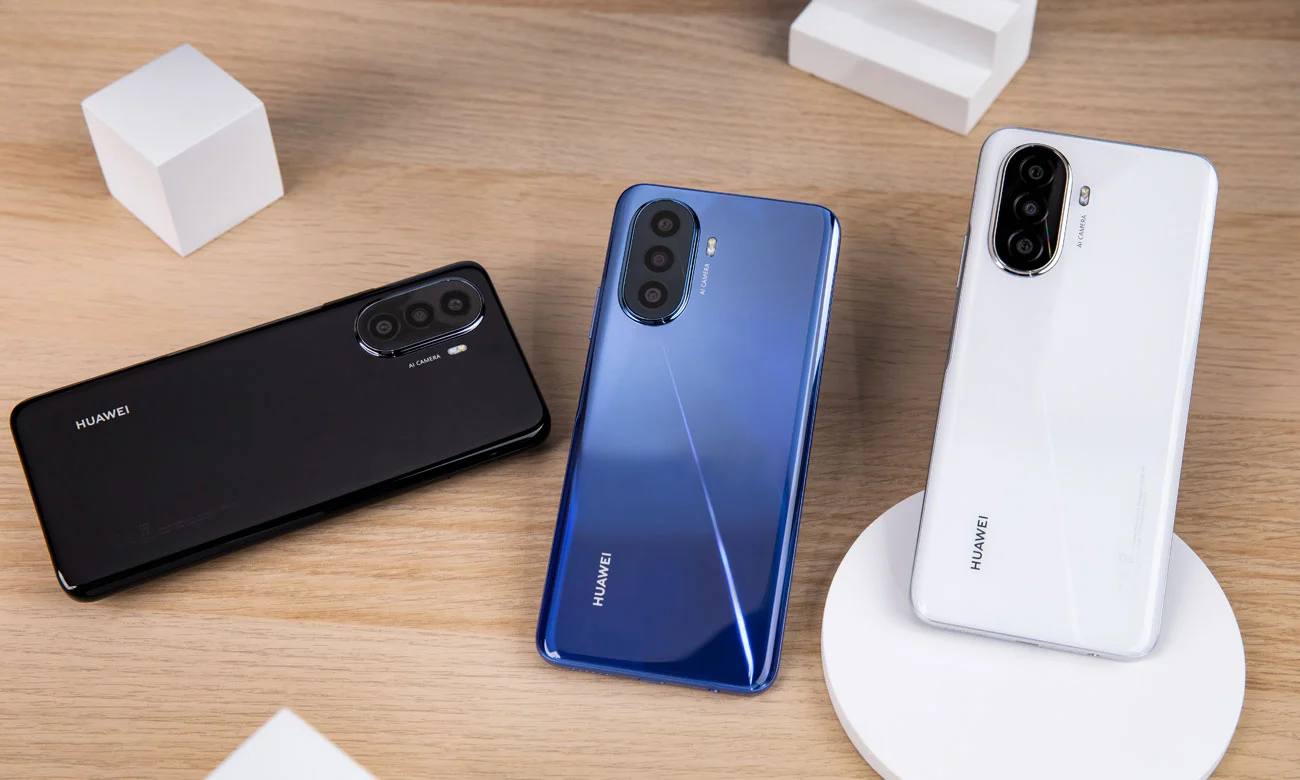 The camera block looks massive (in my opinion, even too much), noticeably rises above the body and consists of three 'eyes' of the same size.

The side frames of the smartphone are matte, matching the color of the case. On the top end there is nothing but a microphone, on the bottom there is a 3.5 mm minijack, another microphone, a charging port and speaker holes.
On the left side, there is only a slot for two SIM cards and a memory card (combined, that is, you have to choose either a second SIM or memory expansion).

On the right, there is a double volume control key located at a comfortable height, as well as a power-lock button with a built-in fingerprint sensor.

The button has a clear stroke, and prints are read instantly and without errors, even if the fingers are slightly wet.
Read also: HUAWEI FreeBuds Pro 2 TWS Earphones Review: Love At First Touch
Display
This is probably the weakest point of the novelty, because there is absolutely nothing special here – the minimum resolution is 1600×720 (HD), the standard refresh rate is 60 Hz. Competitors for the money have 90-120 Hz, and Full HD by default. So Huawei decided to save here.

But is it worth discarding the Nova Y70 because of the display? Not at all. Until recently, even flagships did not have an increased refresh rate. Yes, it gives visual smoothness of work, but an undemanding person, who falls into the target audience of this model, most likely will not notice the difference. The same applies to the HD screen – as a professional, I can see that the fonts and small details of the images are not perfectly clear, but an ordinary person who just needs a good and inexpensive smartphone will not pay attention, even if a model with Full HD is shoved under his nose for comparison .
The screen matrix is IPS. I can't find fault with it – considering the price, the color rendition, contrast, and viewing angles are excellent. And even readability in the bright sun is quite acceptable.

Standard display settings are available – dark theme, eye protection (minimum blue light), color mode and temperature. You can also adjust the hiding of the "drop" of the front camera, the font size, the scale of the elements on the screen. There is also an interesting e-book mode, when the display switches to monochrome mode and in this way the eyes are less tired.
Read also: Huawei Watch Fit 2 Review: Stylish and Hi-Tech
Performance of Huawei nova Y70
The smartphone is powered by the proprietary Huawei HiSilicon Kirin 710A processor. This is an 8-core chipset based on the outdated 14 nm technology with Cortex-A73/A53 cores with a maximum frequency of up to 2 GHz. The amount of RAM is also minimal, only 4 GB. In general, you can not expect flagship performance from nova Y70. However,  it is quite good as a budget phone, as there were no complaints during the test. Menu, built-in apps, browser, messengers… And the smartphone works quite quicklyin other basic tasks.

As for games, we are not dealing with a gaming smartphone, but a budget smartphone. However, regular casual apps, which the AppGallery catalog is full of, also work without problems and without delays. And more productive games like PUBG or Asphalt 9 also start and run, although not with maximum graphics.
Read also: Huawei Sound Joy Bluetooth speaker review: bass is pumping!
Data transfer
The new product does not support 5G for obvious reasons – Huawei does not have access to this technology due to sanctions. However, I personally do not consider this a disadvantage, 4G-LTE speeds today are sufficient for any tasks. And 5G is the future for smart transport, 3D holograms, etc. There is also WiFi, Bluetooth 5.1, NFC. Regarding the latter, the nova Y70 does not have Google Pay for obvious reasons, so the phone can be used for payment only after installing applications that support contactless payments. In Europe there are some (Curve, Revolut, bank applications), in Ukraine it is still more difficult.

There is support for all modern satellite navigation systems, as well as a magnetic sensor (compass).
Read also: Huawei MateBook 14s laptop review: 90 Hz and premium design
Cameras
The set is as follows: the main module 48 MP f/1.8, an ultra-wide-angle sensor 5 MP f/2.2, an auxiliary depth sensor 2 MP f/2.4. There are things which I can criticize the Huawei nova Y70 for, but the cameras are definitely not on that list.
Photos with sufficient lighting are juicy and accurate. The depth sensor is also here for a reason, close-ups with a blurred background are great.
All photos from Huawei nova Y70 in full resolution
If there is not enough light (for example, in the apartment in the evening), then the colors become faded, the clarity decreases, but this is not so critical considering the cost of the smartphone.
I recommend always using the night mode for photos in the dark. It may take a few seconds to take a picture in this case (it is important to keep the phone as still as possible), but it will come out clear. And without night mode, 90% of the footage is blurry. A couple of examples (night mode on the right, full-size photos are at the link):
Night mode in Huawei Y70 even allows you to see in the dark! Example:
Other photos from Huawei nova Y70 taken in night mode:
The wide-angle camera takes pictures with worse quality than the main one – darker, less sharp. However, in any case, it will come in handy if you need to fit more into the lens than it sees by default. Examples:
Selfies from the 8 MP front camera are not of the best quality, but it will be more than enough for video calls.
As for video quality, 720p or HD 1080p at 30 or 60 fps is supported. The quality is average, it lacks decent stabilization (at least electronic), there is very strong shaking on the move, so it's better not to shoot while on the move. An example video is available at the link.
I will not describe the camera app in detail, because I did it in the P50 Pro review, you can read it. In general, it is simple, there are different modes, filters.
Read also: Huawei Watch GT 3 Elegant review: Smartwatch with HarmonyOS on board
Huawei nova Y70 software
The device works on the basis of Android 11 with the EMUI 12 shell. Yes, Huawei already has its own HarmonyOS, but smartphones based on it are available only in China, and in Europe it is a stripped-down Android. However, believe me (I also tested devices on HarmonyOS), there is no difference, at least visually. And in general, Huawei's own OS is based on Android.
However, Android in EMUI is difficult to recognize. Different logic (much similar to iOS), different animations, fonts. The first impression, as with all Huawei devices, is very good software! And it's also very smooth and smooth, which also reminds Apple products.
I described the shell and built-in software in detail in the review of the Huawei MatePad 11 tablet. If you want to look specifically at the example of a smartphone, here is a link to the section about software in the Huawei P50 Pro review. So in this review I will not dwell on the software in detail.
Unless one cannot help but dwell on what is of interest to all potential Huawei buyers – how can you live without Google services? You sure can!
Huawei has done everything to make the lack of GMS (Google Mobile Services) not seem like a problem. There is all similar software for video, music, reading, backups to the cloud, building routes on the map, etc. AppGallery's own software catalog is already full of programs, including those useful for certain countries/regions (banks, taxis, deliveries). Programs that are not available can be installed through the same AppGallery by downloading them as .apk. Some programs can also be launched as web applications from AppGallery. There are basically no problems.
But, it is obvious that someone still wants to use Google services. There are no problems with this either, even no root (access to the file system) is needed. There are special programs (the most popular is Gspace) that simulate another smartphone and allow you to run the vast majority of Google programs – Gmail, YouTube (there are no problems with premium mode and working in the background), Maps, Drive, Photos, Google Sheets and Docs. Of course, this is a 'crutch', but in practice there are no differences from a smartphone with Google services. The only thing is that the application has ads, if you use it constantly, you will have to pay for it. I will not go into details, Vladislav Surkov has written well about the use of Google services on Huawei smartphones.
Read also: How to use Google services on Huawei smartphones and tablets in 2021
As an interim conclusion, I would like to say the following. On the Internet, from time to time there are tips that, for example, you should give your mother-in-law or child a laptop with Linux, configure everything there, install the necessary software – and no more problems, no more crashing systems and viruses. The main thing is that it works, and what's inside is of no importance to a less experienced user. The same with Huawei. The inexpensive nova Y70 can be bought for a relative (aged, or simply not very familiar with mobile technologies), a child. It offers good and convenient software, it initially has a minimum of necessary software, the necessary programs and games can be easily installed at will, there are practically no restrictions.
In general, Huawei is not as terrible as it is portrayed. And you can also use Google software!
Sound
The smartphone has one speaker, that is, mono. Of course, it tries its best, produces a clear and loud sound, but it is still not stereo, the sound is quite sharp and flat. But the sound quality does not cause any complaints in headphones. Moreover, there is a minijack, so you can use good old wired 'ears'. If headphones are connected to the nova Y70, in the sound settings you can find Huawei Listen with effects with presets like '3D sound', 'authentic' or 'standard' (to save battery).
Read also: Huawei MateView monitor review: Good looks, and what else?
Battery of  Huawei nova Y70
The pride of the smartphone is a battery with a capacity of 6000 mAh. As a rule, the most durable budget phones are equipped with 5000 mAh batteries, so 6000 mAh gives you even more options. For example, the model produces about 11 hours of screen operation at almost maximum brightness.
If you take into account the not the most powerful hardware platform and the low-resolution screen, it is not difficult to guess that the device is very lasting. Three days of not the most active workload is easy. Two days of medium load is very likely. And even I, a very active user, never managed to drain the device until the evening, there was always at least 50% left.
Fast charging is supported, although it's not so fast by today's standards – 22.5 W. It takes just over two hours to fully charge the 6,000 mAh battery. 50% is charged in about an hour. I would not write this moment down in the minuses, since the device lives for a long time on one charge.

Huawei nova Y70: conclusions
So, should you buy a budget smartphone from Huawei in the form of nova Y70 in 2022? I'd answer, why not. If you like the design and the price is right. Yes, this is an Android-based device, devoid of Google services, but Huawei, in fact, created its own OS with similar software and services. In addition, any Android application can be easily installed in a couple of clicks, and Google services themselves can also be used if desired, there are completely legal solutions for this. At the same time, the EMUI shell from Huawei is really worth paying attention to – it is beautiful, smooth, convenient, and the user experience is similar to iOS from Apple.

Among the main advantages of the nova Y70 are decent cameras, a very durable 6000 mAh battery, adequate performance, a smart fingerprint sensor in the side button. Disadvantages — screen resolution could be higher, monophonic speaker.
I think that eventually the price of the nova Y70 will come down a bit, and then it will become a particularly attractive deal in the 'under $200' price category.

And what do you think about the new product from Huawei?
Read also: