In mid-September, the C-series of realme smartphones added another model, the realme C25Y. The main features of the budget device are a 5000 mAh battery, a 50-megapixel camera, a full-fledged slot for two SIM and a microSD, and, as usual, a very loyal price tag. Let's see what the realme C25Y is and who might be interested in it.
Read also:
Full specifications of the realme C25Y
Screen: IPS, 6.5 inches, 1600×720 pixels, 270 ppi
Processor: Unisoc Tiger T618, 8 cores, 2×Cortex-A75 (2.0 GHz) + 6×Cortex-A55 (2.0 GHz)
Graphics processor: ARM Mali-G52 MP2
RAM: 4 GB, LPDDR4X
Storage: 64/128 GB
Support for microSD: up to 256 GB
Wireless networks: Wi-Fi (2.4 GHz), Bluetooth 5.0, GPS, A-GPS, GLONASS, Galileo
Main camera: 50 MP (f/1.8), 1080p video shooting, 2 MP macro (f/2.4), 2 MP (f/2.4) black and white sensor
Front-facing camera: 8 MP (f/2.0)
Battery: 5000 mAh, support for fast charging 18 W
OS: Android 11 with realme R Edition shell
Dimensions: 164.5×76.0×9.1 mm
Mass: 200 g
Positioning and price
The C-series of smartphones from realme presents basic devices without bells and whistles and at a pretty nice price. So, the realme C 25Y 4/64 GB version costs $170, and the 4/128 GB modification costs $185. What do we get for this money?
What's in the box?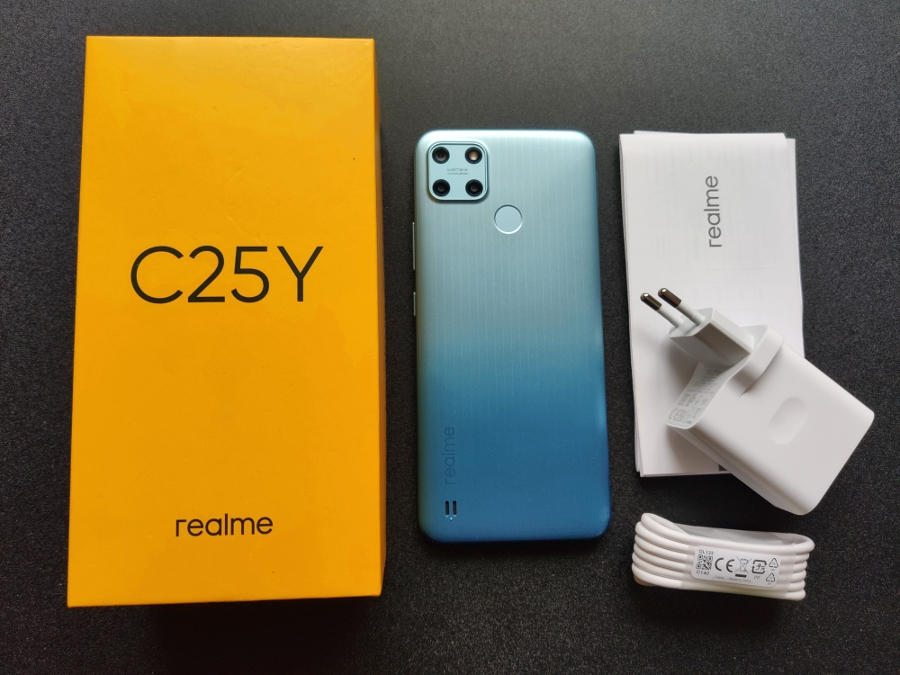 The C25Y box is decorated in realme's signature color – rich yellow. There are no images on it, there is only the name of the model and brand, a list of some characteristics and that's about it. Inside it is the smartphone itself, a charging cable (USB-A – microUSB) and an 18-watt charger, as well as a SIM eject tool and some papers. The smartphone is not bundled with a case, but there's a protective film.
Read also:
Design and materials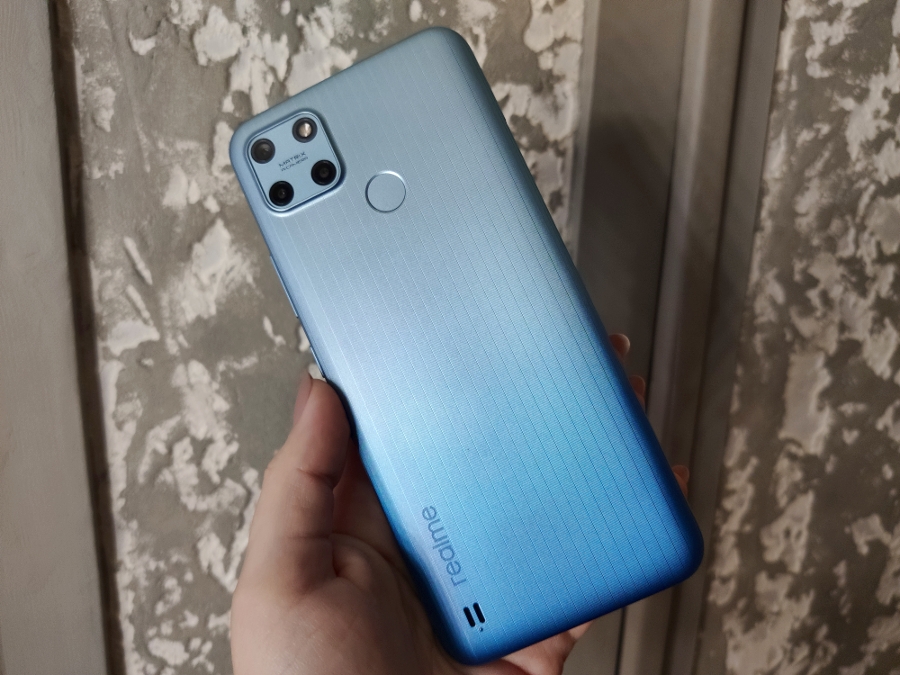 The realme C25Y is very similar to the C21Y, which I managed to get acquainted with a few months ago. However, this is not surprising, since both smartphones represent the same line. The case here is also made of textured matte plastic, only instead of sectors with a radial texture there are vertical stripes.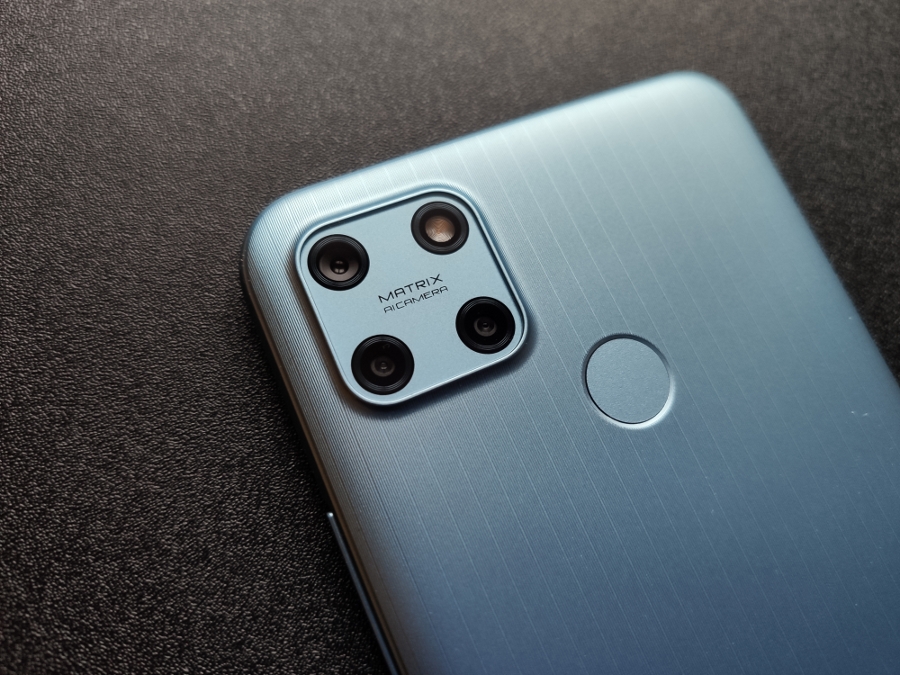 The colors of the C25U are identical – dark gray and gray-blue, as in our review, only now with a gradient in saturated blue. The design is somewhat retrospective, and, in my opinion, a monochrome back plate would look nicer. But this, of course, is a matter of taste.
The cameras are combined into a square block. There are three camera modules here, and the fourth window has a flash. The fingerprint scanner is in the center. In the lower right corner, you can notice an opening for an external speaker. And the last element is the brand logo. It is placed along the left end above the speaker. I want to note that there is no technical marking on the case and this is great. I think that a variety of pictograms and small inscriptions is clearly superfluous on such a small device as a smartphone.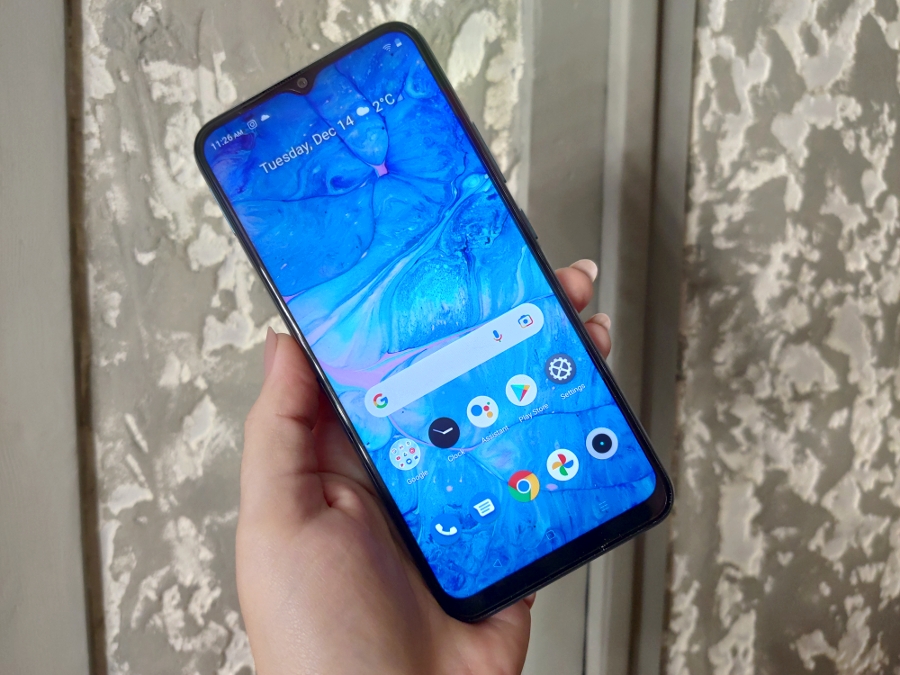 The screen occupies almost 89% of the front panel area. The bezels are small, but uneven – as always, the notch stands out. It is teardrop-shaped here.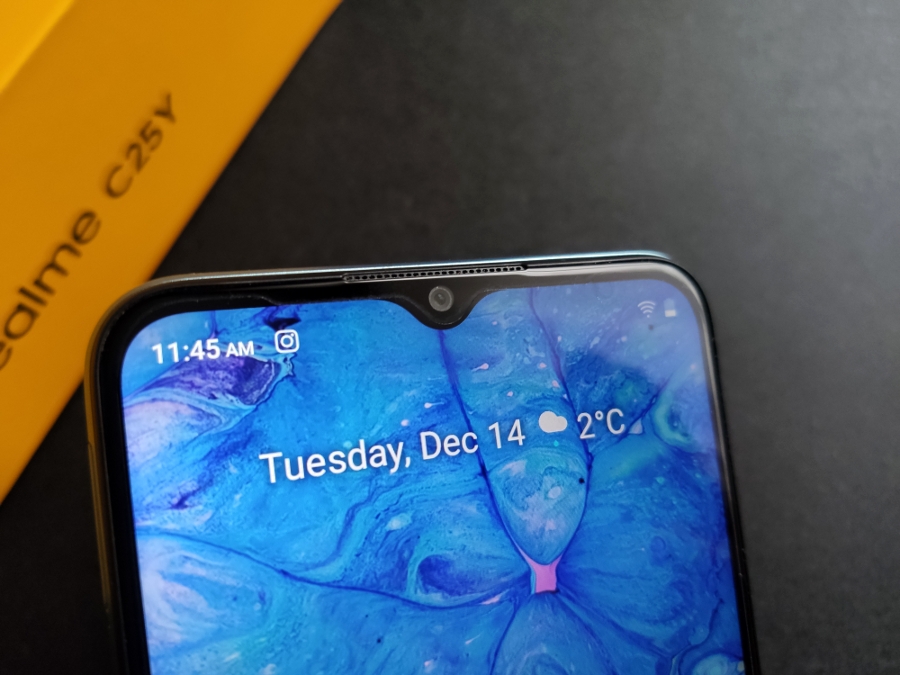 If we talk about the design, then, in general, the realme C25Y looks like an average affordable smartphone. But despite the fact that we are talking about a budget device, the build quality is perfect. Yes, it's all plastic, but it doesn't feel cheap at all.
The layout
In the placement of the main elements, everything is quite predictable. The upper area is empty, while the bottom has a charging connector (microUSB), a 3.5mm audio jack and a pair of microphone holes. There is no speaker below – it is placed on the back of the case.
To the left of the screen is a triple slot for a pair of SIM and a microSD. On the right is the power button and volume buttons.
Being a 164.5×76.0×9.1 mm phone, the realme C25Y is hardly compact and it is not too adapted for one-handed control. But, thanks to the slightly flattened sides and rough texture of the case, the device fits nice in your hand. The key elements, like the fingerprint scanner and the power key, are conveniently located. Regardless of which hand you hold your smartphone in.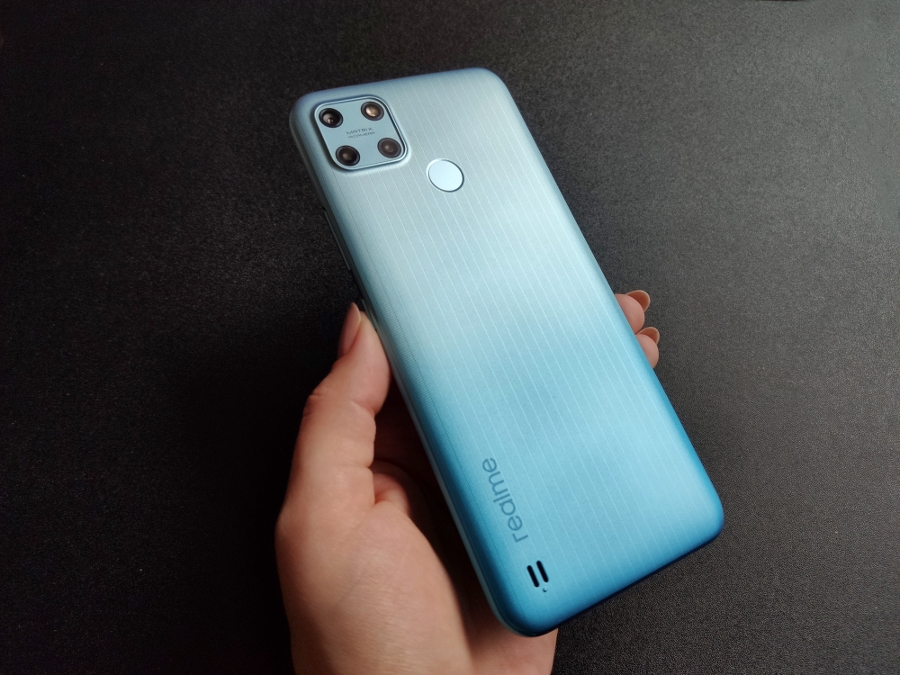 Read also:
Display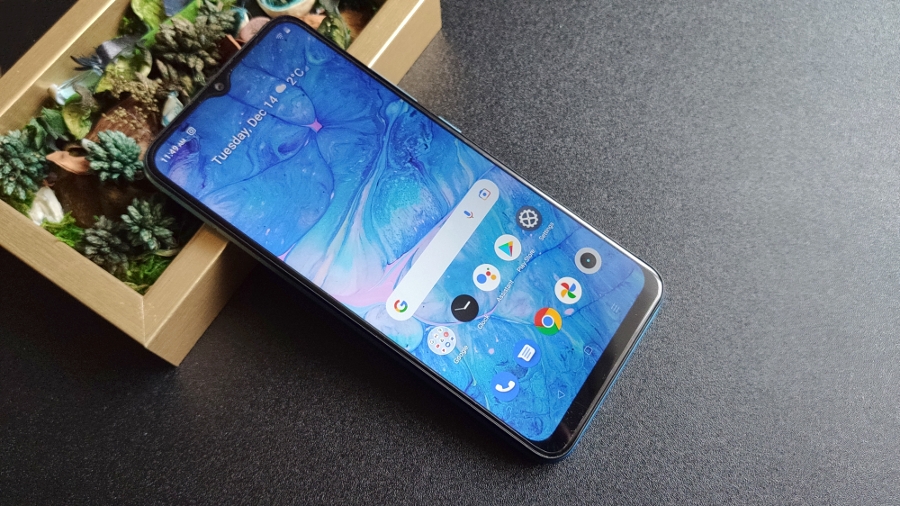 In fact, the matrix of the realme C25Y is the same as that of the aforementioned C21Y: a 6.5-inch IPS with a resolution of 1600×720 and a pixel density of 270 ppi. The screen has a pleasant natural color reproduction, soft contrast, and a sufficient supply of brightness, which ensures good readability on the street. Of the nuances, the viewing angles are not the best and pixelation is also noticeable on some icons and interface elements as a result of low pixel density.
Going to the screen settings menu, we see a completely standard set of functions. Here you can switch to a dark theme or  reading mode, change the wallpaper, adjust the locked screen and, of course, color rendering. There are three color display modes: Auto, Increased Contrast and Standard. For the first mode, temperature adjustment is also available, both manually and using preset presets.
Hardware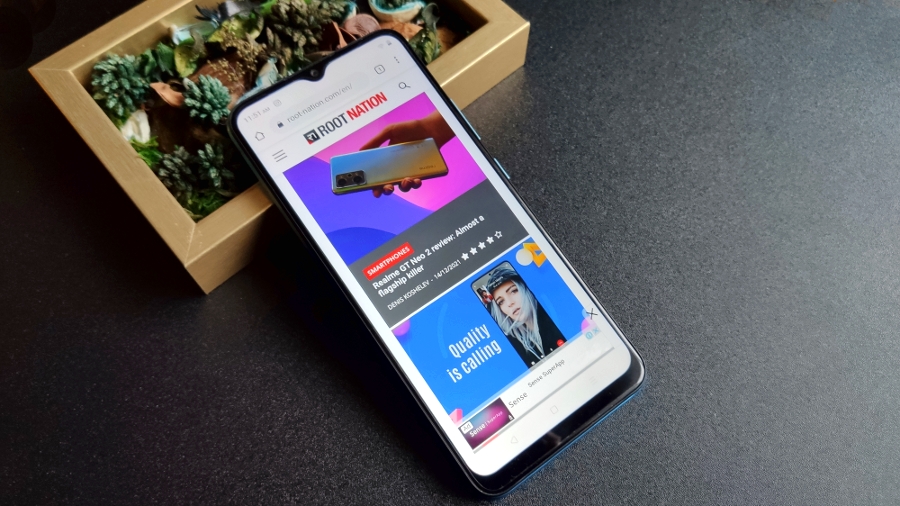 Inside we have a Unisoc T618 processor based on a 12 nm process technology and consisting of eight cores, including two Cortex-A75 2.0 GHz and six Cortex-A55 with the same 2.0 GHz. The Mali-G52 handles the graphics. The smartphone has two modifications – 4/64 GB and 4/128 GB with a price difference of $15. In both cases, storage can be expanded with the help of a microSD up to 256 GB. And, best of all, you don't have to sacrifice a SIM card in the process.
If we talk about performance, then, of course, you should not expect miracles and super-results from the realme C25Y in heavy games, because the Unisoc T618 is more focused on energy efficiency than on performance. But for everyday work, which includes surfing, instant messengers, watching videos, social networks, working with applications, etc., its performance is more than sufficient. Everything works fine, no problems with multitasking. As for games, the smartphone is not hopeless. The main rule is that the heavier the game, the lower the graphics settings should be.
The phone supports Wi-Fi, Bluetooth 5.0 and a number of geolocation services – GPS, A-GPS, GLONASS and Galileo. But there is no NFC which is a big issue. After all, even the same C21Y, which is cheaper than C25Y in a similar modification, has NFC module.
Software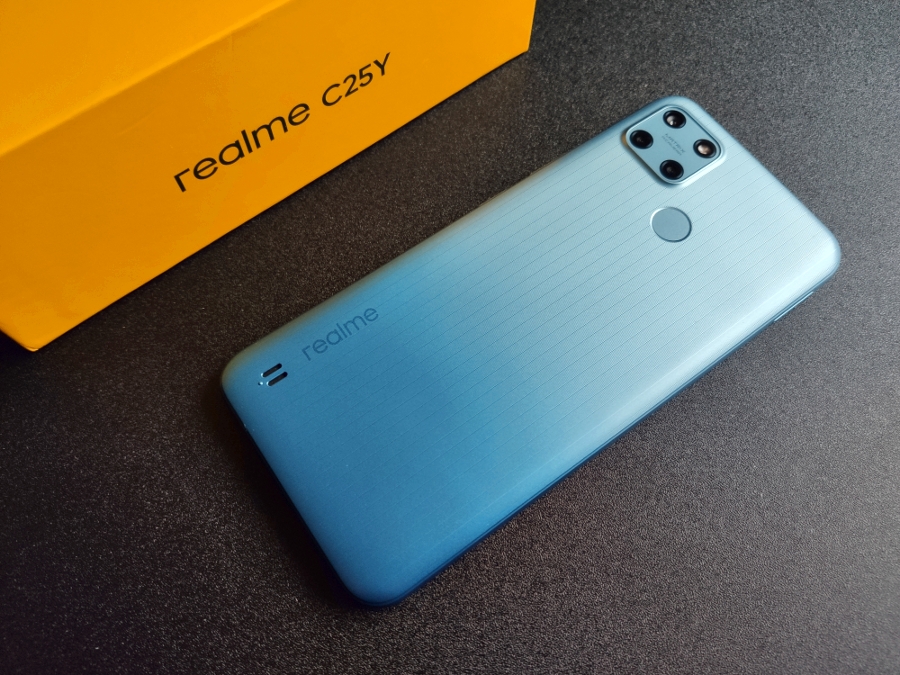 The realme C25Y runs on Android 11 with the proprietary realme UI R Edition shell.  Just like the C21Y. There is no difference between them – the same gestures, the same functions, a minimum of pre-installed apps and clutter. The shell is simple and quite utilitarian. It does not stand out in any special way, neither in design, nor in any unique features, but it is convenient.
Read also:
Unlocking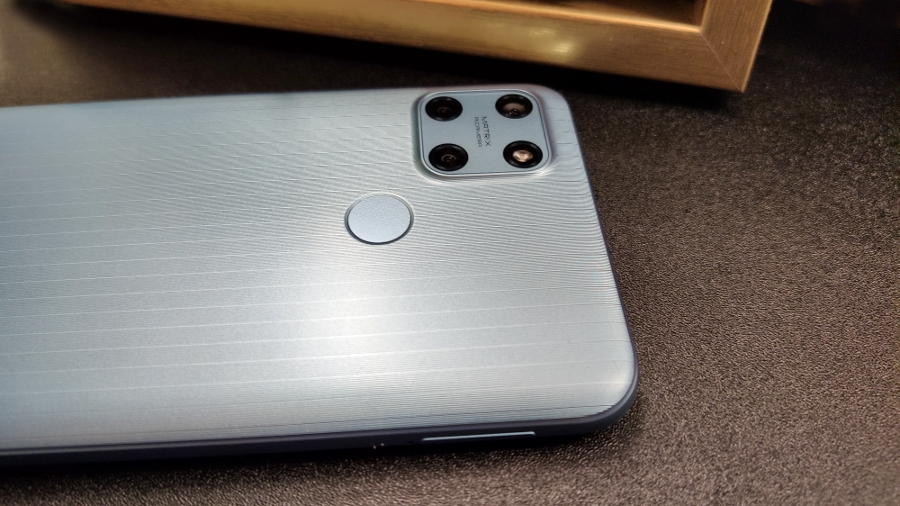 The smartphone has a face scanner and a fingerprint scanner. The fingerprint sensor, which is located on the back, works perfectly – it's lightning fast. It is also very well located – when you take a smartphone in your hand, the scanner appears right under your index finger.
The face scanner is good and fast in sufficient light. In low light it's much slower. But the smartphone is not designed to recognize you in dark, especially if the screen brightness level is low. Some devices increase the brightness of the screen to highlight your face, but there is no such feature in the realme C25Y.
Cameras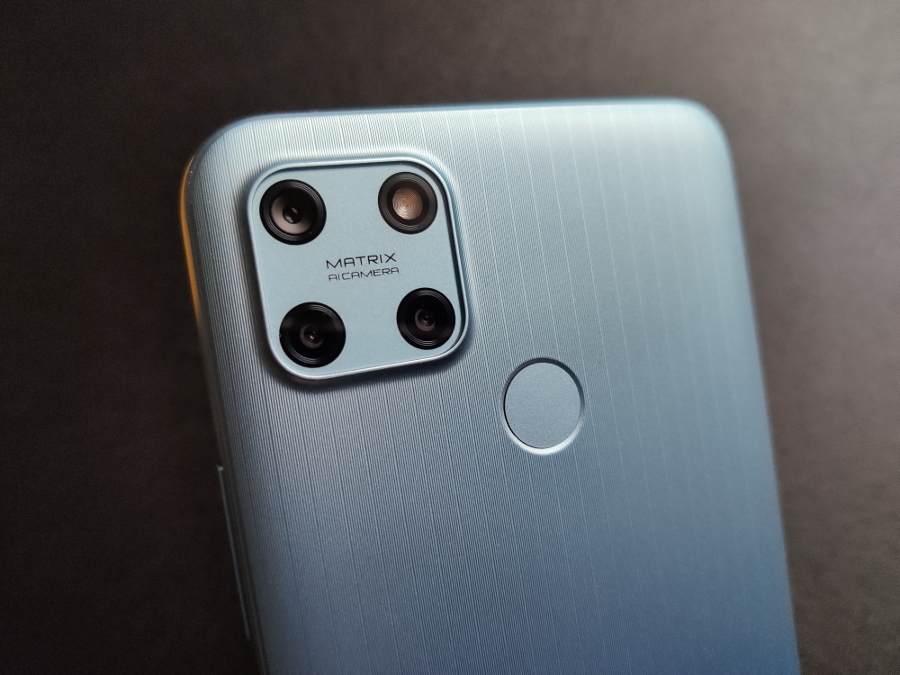 The main camera consists of three modules: a 2-megapixel macro camera (f/2.4), a 2 MP black-and-white sensor (f/2.4), and, drum roll, a 50 MP main sensor with an aperture of f/1.8. Of course, cameras with tens of megapixels are no longer uncommon in the budget segment, but 50 MP? Just comparing the C25Y with the C21Y, which has a 13 MP main module, we can see a vast difference in specs.
What do we have in practice? In my opinion, the realme C25Y shoots a little better than the C21Y, but I can't say that the difference is significant. With daytime photos, everything is pretty decent – good, albeit slightly unnatural AI color reproduction, soft contrast, good detail and clarity. When shooting at night, there is a minimum of sharpness and contrast, the textures are blurred, and no details.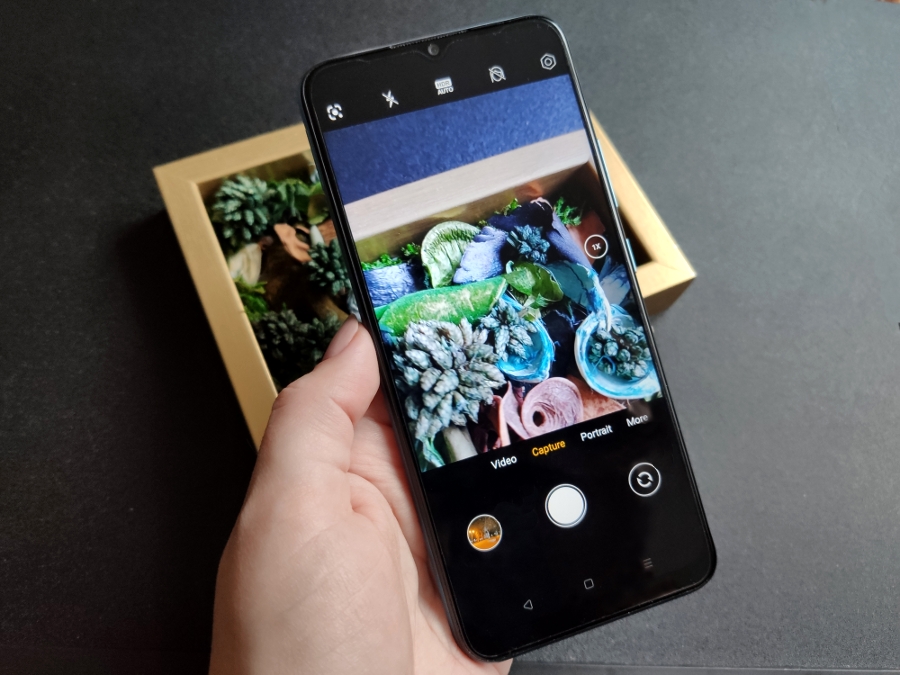 Night mode copes well with sharpness and contrast. Thanks to this, you can see more details in the pictures and overall the result looks better, but it's certainly far from a high-quality night photo. Although on the smartphone screen, pictures in the evening (both in night mode and in normal mode) look very good. I suggest comparing night photos to standard and night mode. Night mode, as always, is on the right.
And some more photos on the main sensor in normal mode. As you can see, night mode in the evening is preferable.
Examples of photos from the main module in full resolution
As for the video, you can shoot videos in 1080p resolution on the main sensor. For video, the camera app has a standard Video mode and Timelapse. For photos, there are Auto, Portrait, Panorama, Manual mode, Serial, 50 MP, Macro, Night Pro and images using filters.
Nothing flattering can be said about the 2-megapixel macro sensor. If provide good light, you can use it to convey some textures or small elements. But even in this case, the detail and clarity are weak, since 2 MP is just bare minimum. I doubt you'll use this one.
Examples of photos from the main module in full resolution
The 8 MP front-facing camera with an aperture of f/2.0 is quite modest – the detail is weak, and the contrast leaves much to be desired. I would say that for the most part this camera is okay for video communication, and even selfies aren't that good. And even if there is enough light, it does not always guarantee a good result. Do not forget about the beatification here, but the videos can be shot in a maximum resolution of 720p.
Read also:
Sound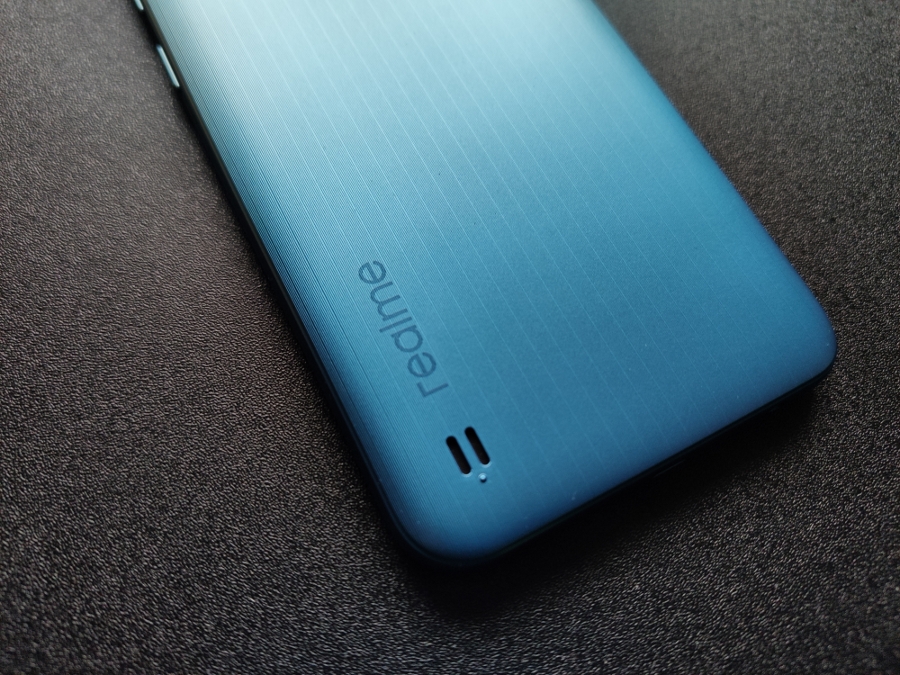 There's only one speaker and it is located on the back of the case. It is loud and clear, but nothing to get excited about. When the smartphone is lying on a horizontal surface, the sound is muffled, but this is due to the location of the speaker itself. But you definitely won't miss the call as it's fairly loud. It's no good for listening to music though. And, thanks to the fact that there is a 3.5 mm jack here, you can use wired headphones.
Battery life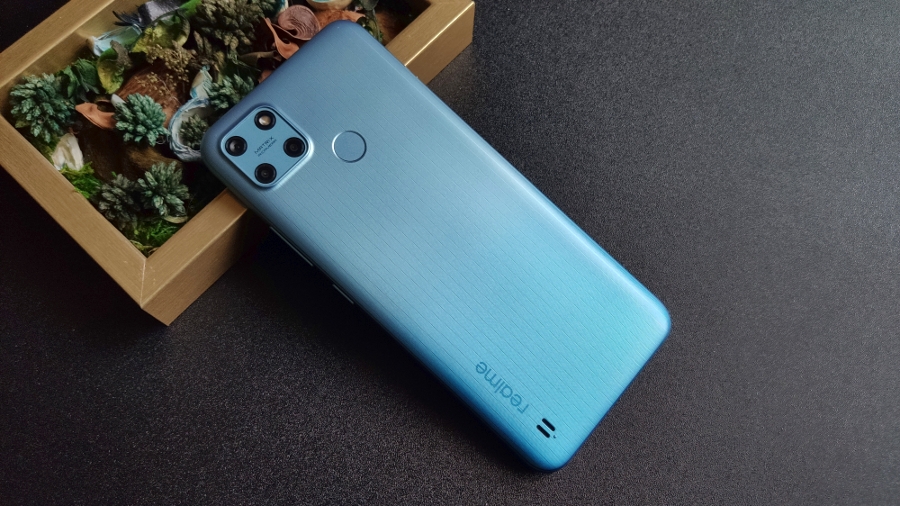 So, here we have the same 5000 mAh as the C21Y, but there is support for fast charging – 18 watts versus 10 watts. However, this does not mean that the smartphone charges almost twice as fast. If it took about 2.5 hours to fully charge the C21Y, then, in the case of the realme C25Y, it will take 2 hours. But I often charged my smartphone with about 20-23%, so charging took an average of 1 hour and 40 minutes.
18 watts sound fast (not compared to the 65-watt monsters, but still), but charging a smartphone for 2 hours is not fast at all. Although you need to understand that the battery here is 5000 mAh, which is a lot.
The smartphone easily lasts 2 days on a single charge. There are a number of tools in the settings that will help optimize battery consumption. The smartphone, by the way, has a super-energy saving mode, which restricts access to resource-intensive applications; it is able to give out another 6 hours of music playback at 5% of charge. In standby mode at  5%, it can last more than 2 days.
Read also:
Verdict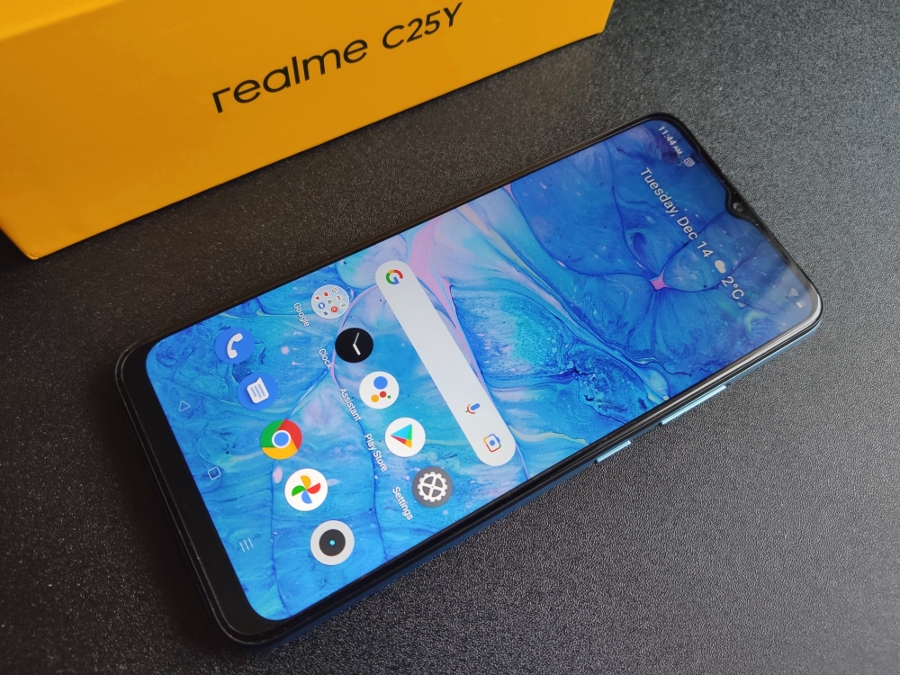 The realme C25Y offers great battery life and looks quite nice, albeit with a touch of retro (I'm talking about the gradient). You get good performance for its segment, a nimble fingerprint scanner, a full-fledged triple slot and a user-friendly UI. The display is also not bad, but I would like a larger pixel density and better viewing angles.
Despite the fact that the main camera module is 50 MP, the photo quality is far from ideal (especially when shooting at night),and  the selfie camera is weak. Also, there is no NFC and the main speaker at the back is inconvenient. But still, considering the cost and the set of features, the realme C25Y will satisfy the needs of an undemanding user who is looking for a basic device with decent battery life.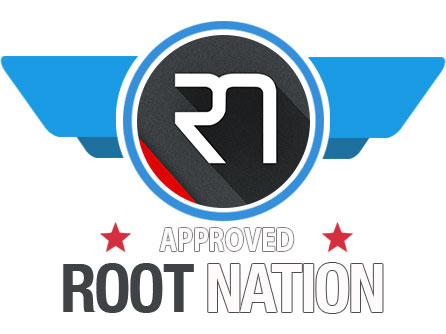 Subscribe to our accounts: