120Hz Screen, longest battery life in any iPhone ever, sierra blue, 3x zoom, macro mode, photographic styles, cinematic video mode, ProRess video support, smaller notch. What is that I see on the field? That must be one of your iPhones 11/12 turning in to the pumpkin. Let me tell you what I have learned after spending almost one month with iPhone 13 Pro Max.
Design: more of just the same
Immediately it feels there's not much can be sad about this year's new iPhone release. External design is left unchanged, available colors are for the most part the same, only the new "hero color" Sierra Blue has replaced last year's Pacific Blue. So why we need be excited if changes are only incremental?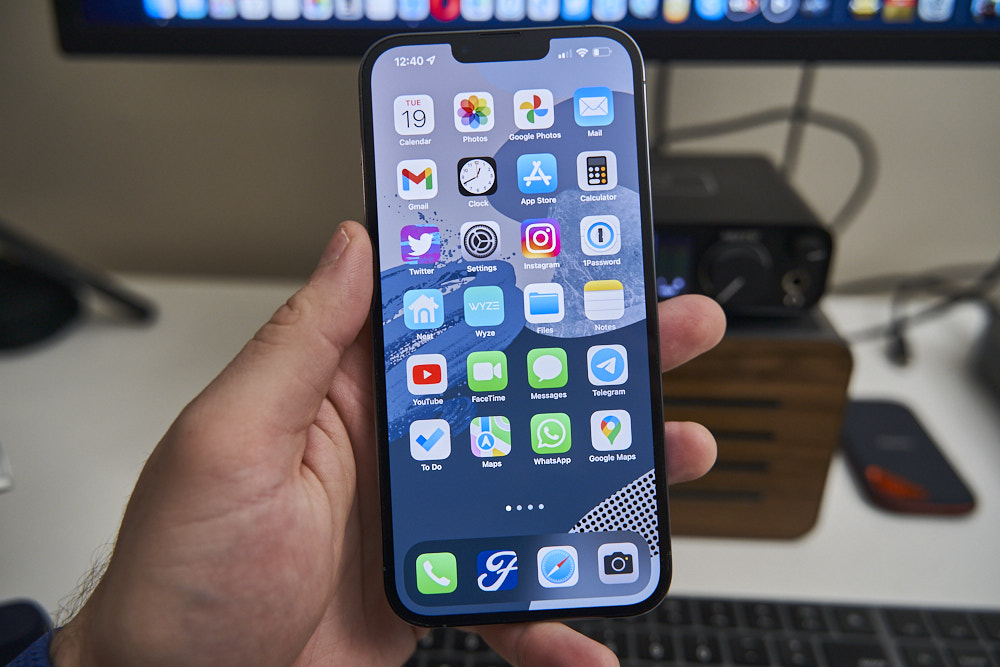 After using iPhone 13 Pro Max for a week, I can confidently say that it the small things that can change our perception entirely. Last year's iPhone 12 Pro Max had obvious visual changes and looked new but not exactly felt new. Where's iPhone 13 Pro Max is exact opposite of that: it looks old but feels every bit as new after using it for some time. But it's worth mentioning it has gained some wait (238g vs 226g), became 0.3mm thicker than the 12 Pro Max and infamous notch became 20% smaller. All the above is only noticeable when you look for it closely. I do however like the new Sierra Blue color. It has polarizing appeal that makes it special (some like it and some don't). 128Gb iPhone Pro storage has become standard since last year. iPhone 13 Pro maxes out at 1Tb storage.
Packaging: enviromental path of samurai
The packaging changed once again. There's now no plastic wrap at all. Just peel away two strips that release the lid and now iPhone is effectively unboxed. The inside of the box lacks charging brick just like last year but USB-C to lightning cable is still there. I honestly think that whole obsession with packaging should have never been a thing. Hopefully steps that Apple takes each year will take us to a place where we would be able to walk away from the store with just a device in our pocket bypassing packaging completely. We should have packaging strictly for the shipping and not for the show.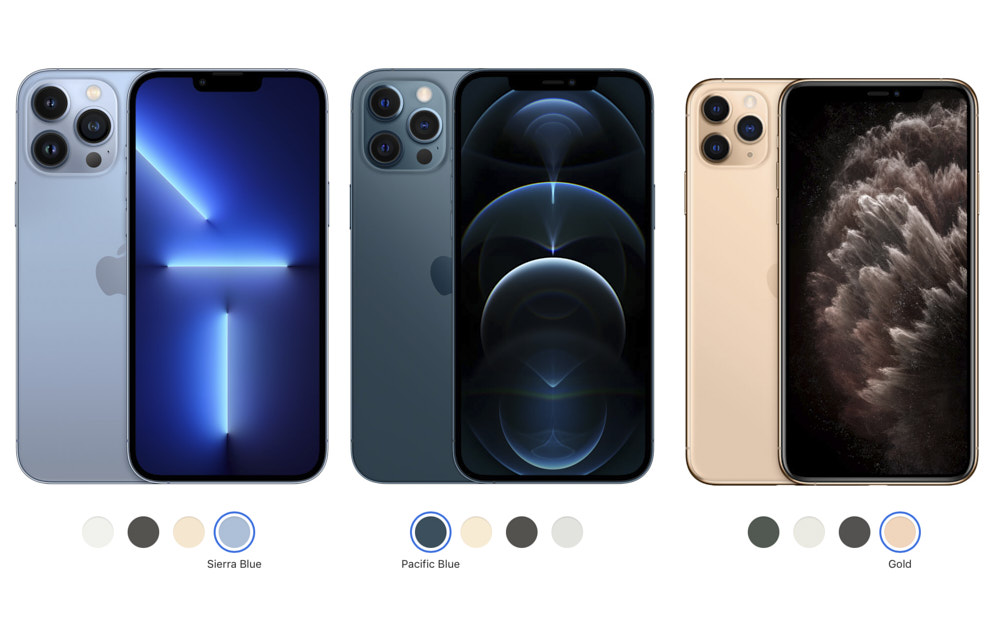 Screen: perfection 120 times per second
People who review gadgets for living will tell you that 120Hz screen was the most anticipated feature in an iPhone since it has debuted in Android smartphones (2017 Razer Phone). It was rumored to be a part of iPhone 12 Pro Max list of features but instead it took Apple another year to implement it. What does it all mean for an average person? Absolutely nothing. People who don't know what to look for, don't share the excitement.
However, once they start using the screen of this quality, they will most definitely feel the benefits of the new ProMotion display Apple used in iPhone 13 Pro Max. Keeping the screen size and resolution the same as last year (6.7 inches, 1284x2778px, 458ppi, Super Retina XDR) Apple have perfected the color accuracy and brightness once again. The screen easy outputs 1000nits in auto brightness settings when viewed in direct sunlight. At the same time automatically managed variable refresh rate keeps battery drain under control without having compromise the fluidity of motion. The screen can be capped at regular 60Hz by the setting hidden under accessibility menu.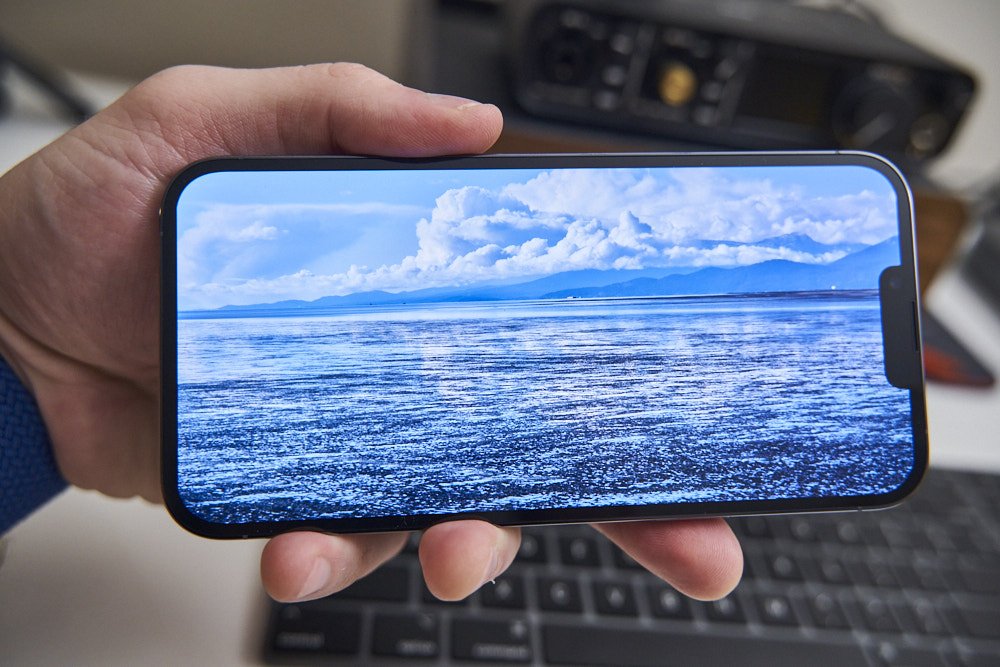 Previous years iPhone 11 Pro Max and 12 Pro Max both suffered from color shifting when viewed under extreme angles and black smearing while scrolling when brightness was set to minimal. Apple creatively masked some of these problems with introduction of dark themes across all their devices, but this year's iPhone 13 Pro doesn't need it, low brightness is not followed by a drop in image quality. All these small changes result an extremely comfortable reading from the screen during day or night. One more thing, the infamous notch became smaller and now is less in the way, yet still present. The display is covered with Ceramic shield that was introduced with iPhone 12 last year. After using iPhone 12 Pro Max for a year without screen protector I can say it is indeed stronger then on iPhones before it.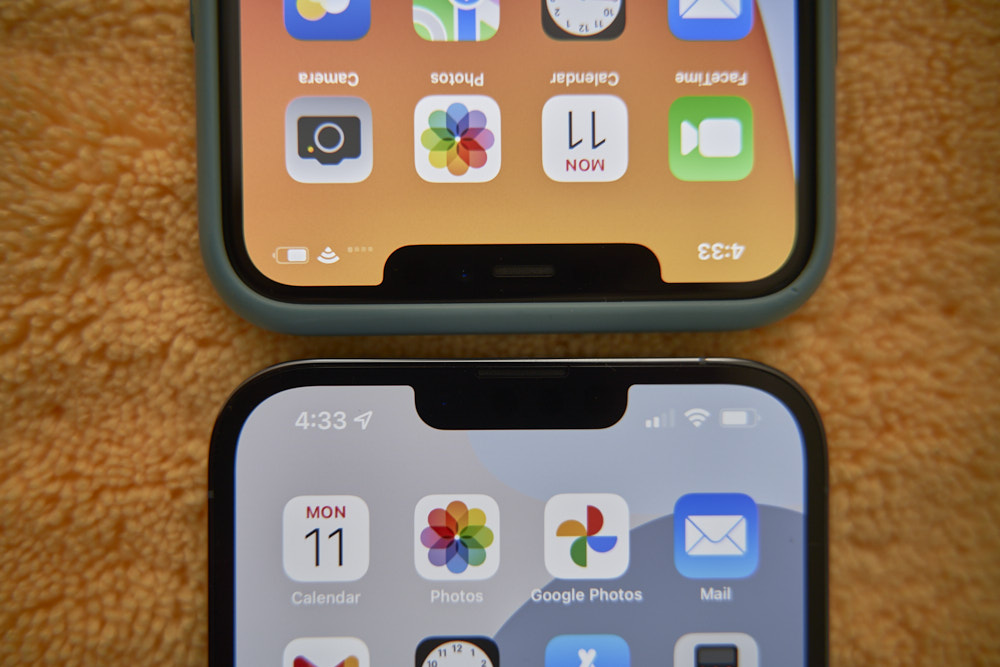 SoC: sleeper upgrade
On the processing power I have two theories of what may have happened this year. Apple figured the competition hasn't even reached the performance levels of A14 and decided to focus on improving battery performance versus cranking up the horsepower and changing the underlying ARM architecture. The second theory is due to pandemic ARM's own architecture upgrade was not ready and Apple had to focus on perfecting excysting design.
So, it is essentially an A14 with 6-core CPU (2 performance and 4 efficiency cores), 5 GPU cores and 16 neural engine cores under the hood. Apple would not be Apple if along the way they didn't improve performance just a tad by fixing a few deficiencies here and there inside A14's architecture. As a result, A15 received about 28% boost of performance for efficiency cores, something that is hard to demonstrate with any of modern benchmarks but noticeable during normal use.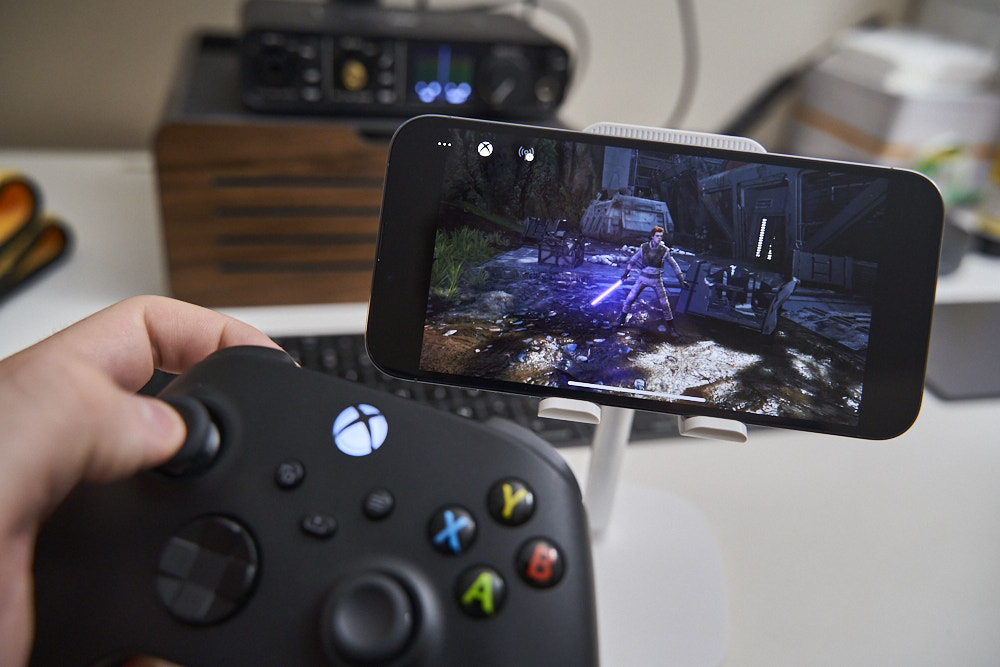 Compared to the last year's A14 overall performance boost is around 10% but the device is now less often switches to performance cores, running on efficiency cores for longer with less battery consumption and less heat. The result is that iPhone 13 Pro Max stays almost cold to the touch during normal daily use and it takes much longer for it to get hot and potentially throttle under prolong heavy gaming sessions.  All storage and size models of iPhone 13 Pro come with same 6GB of RAM.
Camera: the big picture of tiny worlds
Apple did a much-needed cleanup in the lineup and now the camera module is the same for both iPhone 13 Pro models. Pro Max doesn't stand out like last year. All though the size of the camera system module looks a bit comical on the back of the smaller 13 Pro. But in this case bigger means better. I would go as far as calling iPhone 13 Pro camera the best package on the market for both photo and video. It's a bold statement and let me break it down.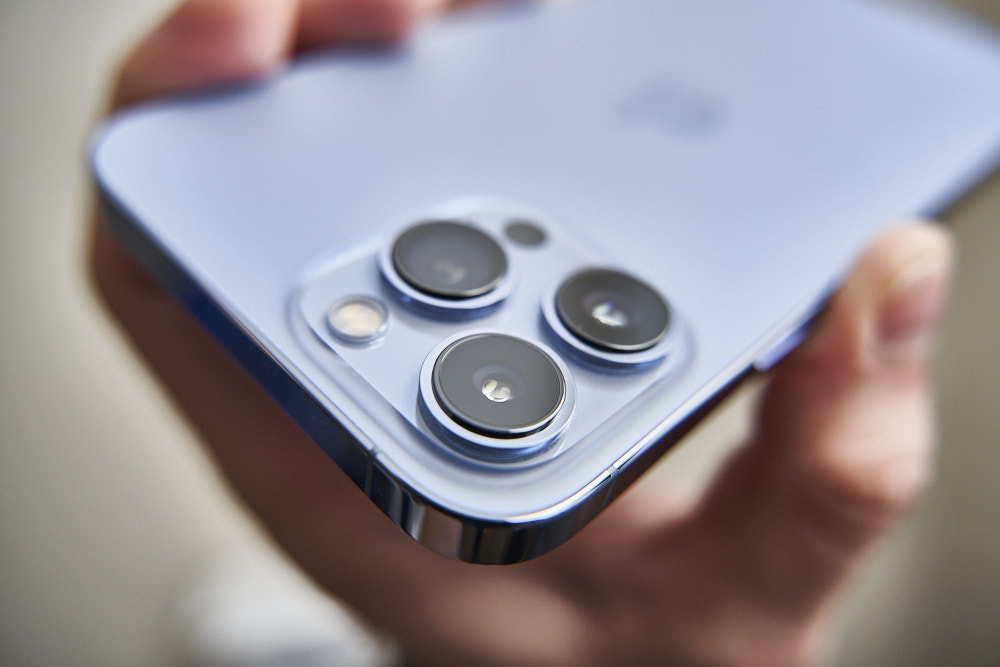 I believe many of you can come up with one or two phones that can do a better a job then iPhone 13 Pro Max in some way or another. Yet having everything inside one package is something Apple has most likely achieved this year with the camera update. There are several layers of improvements: pure specs, new camera software and new features.
The specs. All three lenses have 12MP sensors under them. The mane (wide) camera has opens to f/1.5 has 26mm, 1.9µm pixel size, dual pixel PDAF and uses sensor-shift image stabilization (IS). Portrait camera (telephoto) has f/2.8 aperture, 77mm, PDAF, Optical IS and provides 3x optical zoom. The third 120˚ camera (ultrawide) is the one improved the most. It has much brighter aperture f/1.8, 13mm focal range and finally supports PDAF, allowing for a new macro mode. TOF 3D LiDAR scanner (depth) is still present and technically is a 4th camera lens. The front facing camera hasn't changed from last year and it is a 12MP module with f/2.2 aperture and 23mm focal length.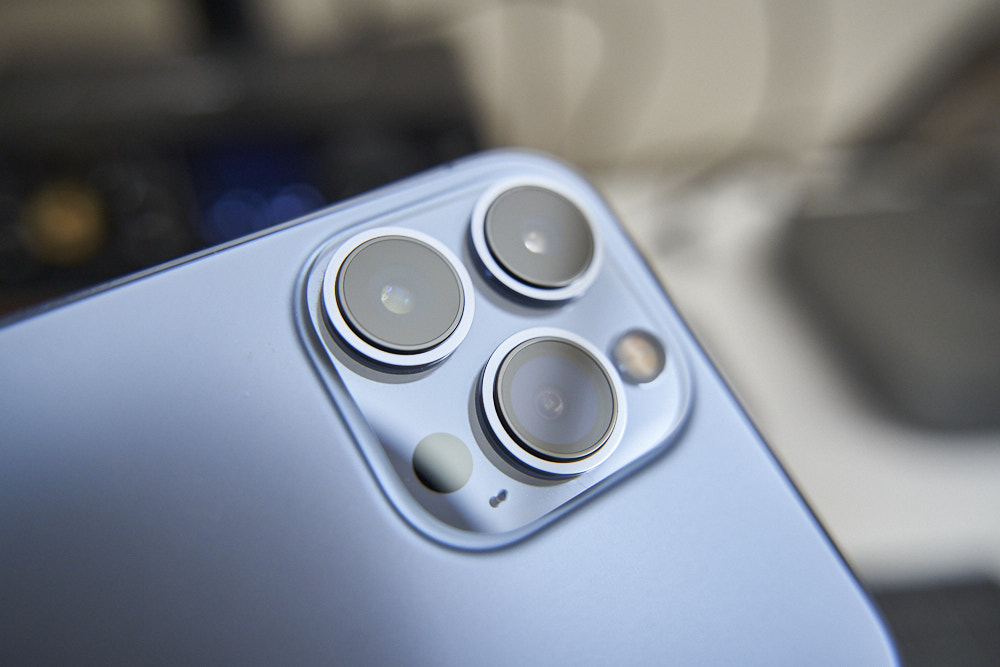 Camera app is slightly different for an iPhone 13 in iOS 15. You can pick Photographic Style by swiping the viewfinder. Choose one of the 5 rendering modes that will alter how Smart HDR 4 neural engine processes your photos. Modes are – standard, rich contrast, vibrant, warm and cool. All modes except standard have extra settings for the tone and the warmth, and can be tweaked even more. Once picked, those can't be edited after the shot is taken so choose wisely. In Apple ProRAW this feature is disabled, and it makes sense, since in RAW the image is not considered finalized and it's up to the end user to process it to his liking. I also noticed that White Balance calculations by default are now processed way closer to my liking.
Two most exciting new iPhone camera features are: Macro Photo and Cinematic Video modes. Macro mode speaks for itself, allowing to fill up the frame almost entirely with an object as small as 24mm, using new ultrawide lenses AF capabilities. In previous iPhones ultrawide had fixed focus and in general was the worst lens out of all. Now the Ultrawide is a quite capable lens that I use the most on my iPhones and I can't be happier with this update. Worth mentioning that ultrawide is not available in a portrait or in the new cinematic mode.
The other new feature is called "Cinematic Mode" for the video. It allows to take videos in 1080p at 30fps with some shallow depth of field, focus can be either locked on the object or someone's face, or the AI will shift focus based on subject movement. After the footage is taken, focus can be still altered inside the editor after the fact. So far, the results from this mode are on the verge of usability but sometimes footage can end up really nice  despite some visible artefacts. I'm ok that we have only 1080p for this mode due to technical complexity and my only concern is the framerate Apple picked for this mode. 30 fps does not associate with cinematography in my books, and I expected to see 24 frames that allows for more cinematic motion look, but Apple knows better (or not).
Other video modes are left unchanged. Video still maxes out at [email protected] HDR with HEVC codec as a container. Support for ProRes video codec is announced but will be only available later as a software update (up to 4K at 30 fps, but only 1080p at 30 fps for 128GB storage models). I suggest you never buy features based on promise of the delivery, but we are speaking of Apple's own promise here, so you decided for yourself. They already did it once with Portrait mode shipping later with an update.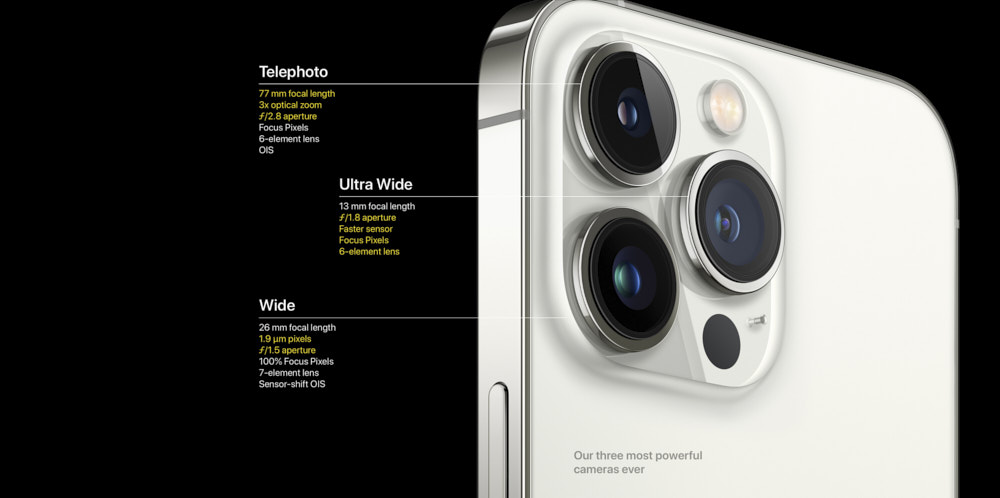 Read also: Samsung Galaxy Z Flip3 review: Better, cheaper and… for everyone?
My personal perception of the new cameras upgrade can be described as – the excitement returning to mobile photography again. The new macro is and interesting mode to explore the world in the way unseen to naked eye. The cinematography mode is also cool despite its limitations and imperfections. Updated Smart HDR 4 produces colours much more aligned with my personal liking. The new 77mm portrait lens got even closer to a golden standard of portrait photography 85mm and looks better to my eye. Inspiration is coming back to me with this year's iPhone camera update and the only grain of salt here is that at night, artificial lighting artifacts are still present and may look distracting on some photos and videos. Is this the best mobile camera system ever on a smartphone? No, but it's the one that most people will enjoy for sure.
Apple iPhone 13 Pro Max shots
Battery life: leave your powerbanks behind
Battery life on the iPhone 13 Pro Max is where it should have always been for a modern smartphone, but since our standards are so low now, having two-day battery life with over 10 hours of screen on, is something we all should be genuinely excited about. That's exactly what iPhone 13 Pro Max delivers with its 4352mAh battery capacity increased from last year's 3687mAh. I honestly never thought I will be writing "great batter life" and "120Hz screen" under the same review, yet here we are. Apple effectively broke the vicious cycle "120Hz screen equals poor battery life" with its clever engineering and some extra battery capacity.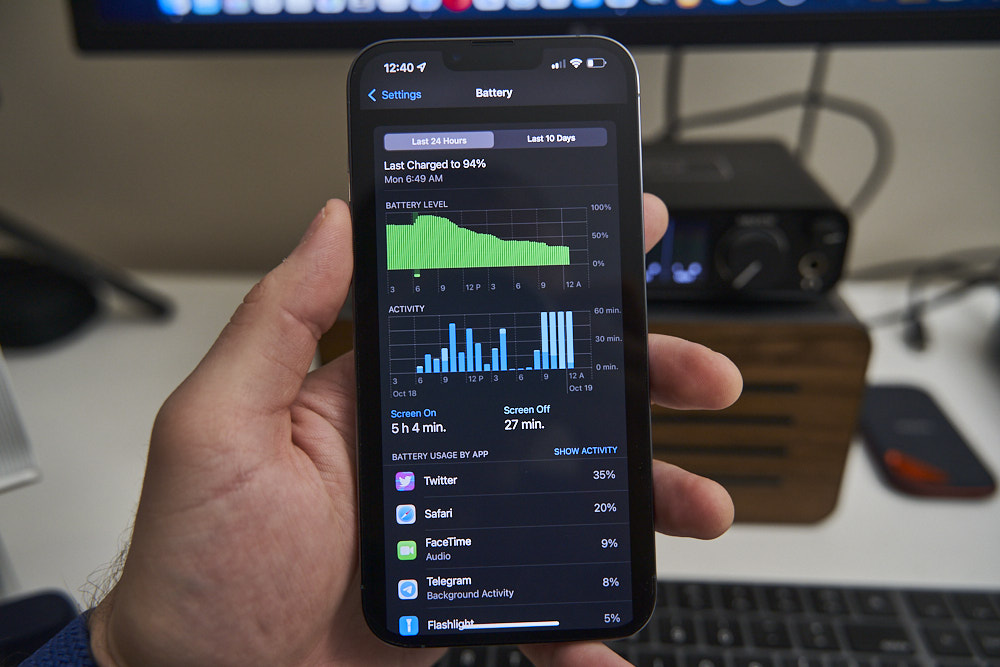 Read also: Poco X3 Pro Review: Most Powerful In Its Class?
Charging is happening either wirelessly through a 15W MagSafe that was introduced last year, or at a "whopping" 27W through Lightning to USB-C cable with charging brick of your choice (assuming its output is anywhere from 27W and above). Both methods are nothing exciting and would not even be mentioned on average Android device specs sheet. It does the job but not in a way you would want to tell your friends about.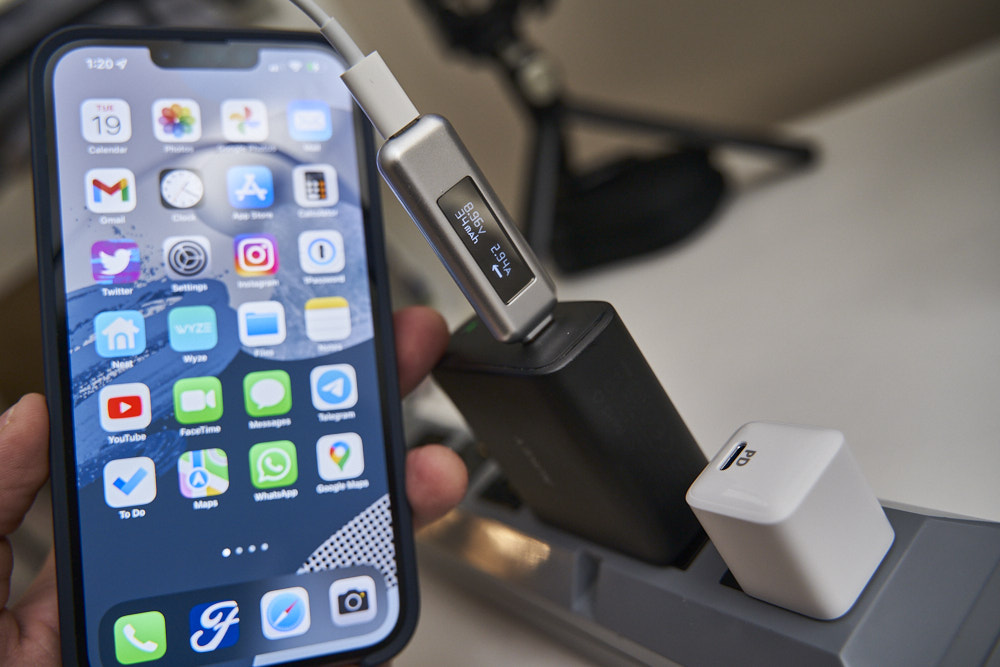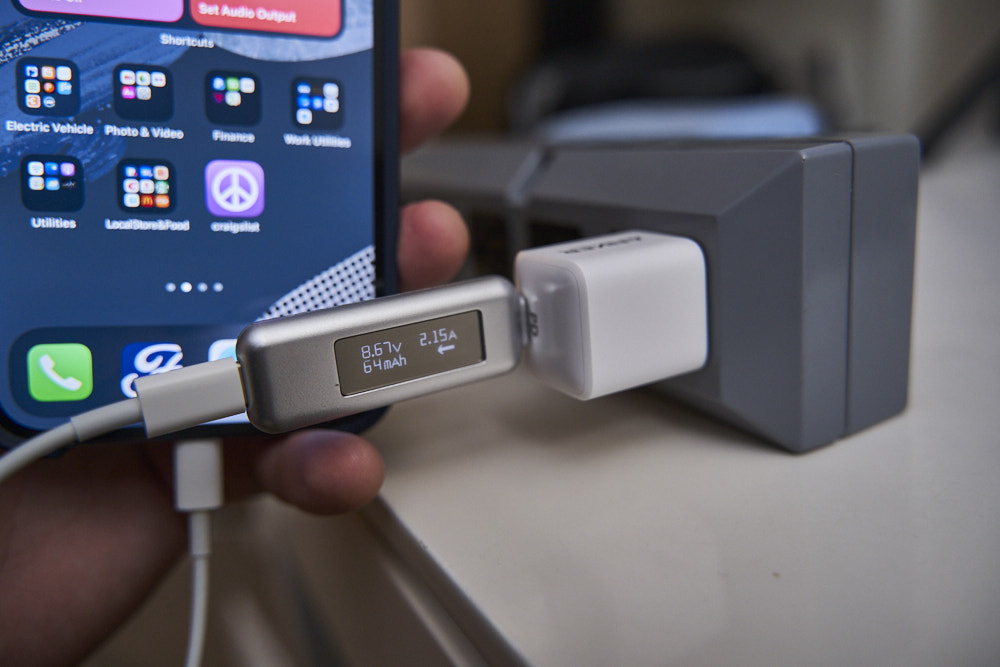 Speakers: nothing changed and it's a good thing
We have same dual speakers setup as last year and the year before it. Bottom firing driver assisted by the ear peace. The sound is full and rich, pretty much as good as it gets for this type of devices.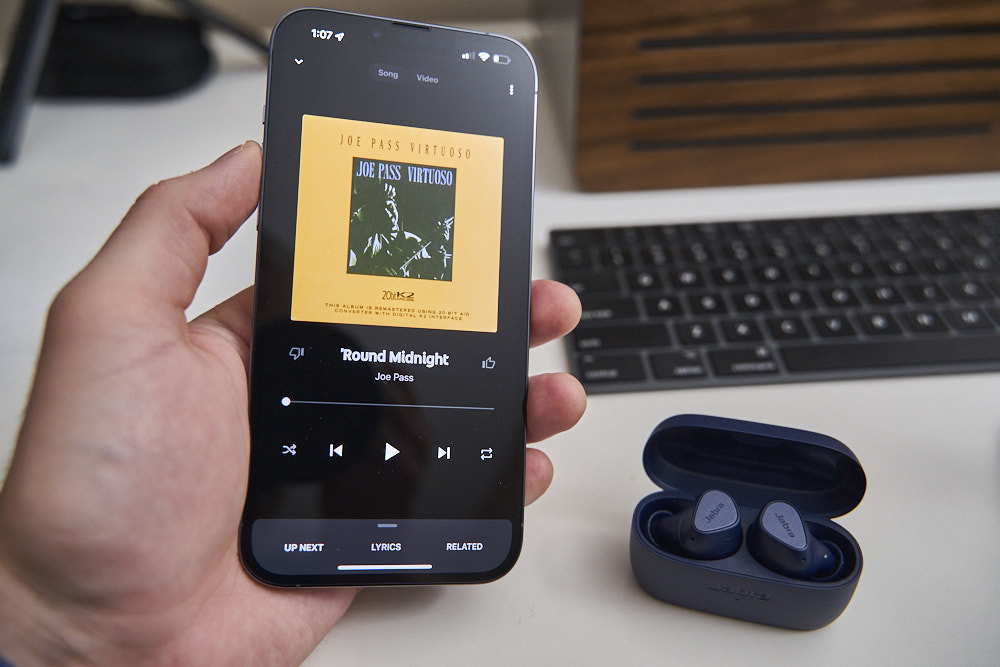 Conclusions: one lightning port away from perfection
Apple apparently cannot deliver fresh look and advance internals at the same time stretching the delivery over two-year cycle. Whether it is the RDN or inventive business model to blame, we must deal with it. The state of technology is accurately delivered to us in small, controlled portions for a lot of money. I don't think we can expect any major breakthroughs under current regime. What we can do though is accurately plan our budget around this steady flow of improvements. Last year we paid for the looks and this year we are offered to pay for the hardware improvements. Apple used to be open about it when they had a refinement model year – "letter S upgrade". Apparently, this naming is not good for the marketing and it's now up to customers to decide which year is an S-year for them.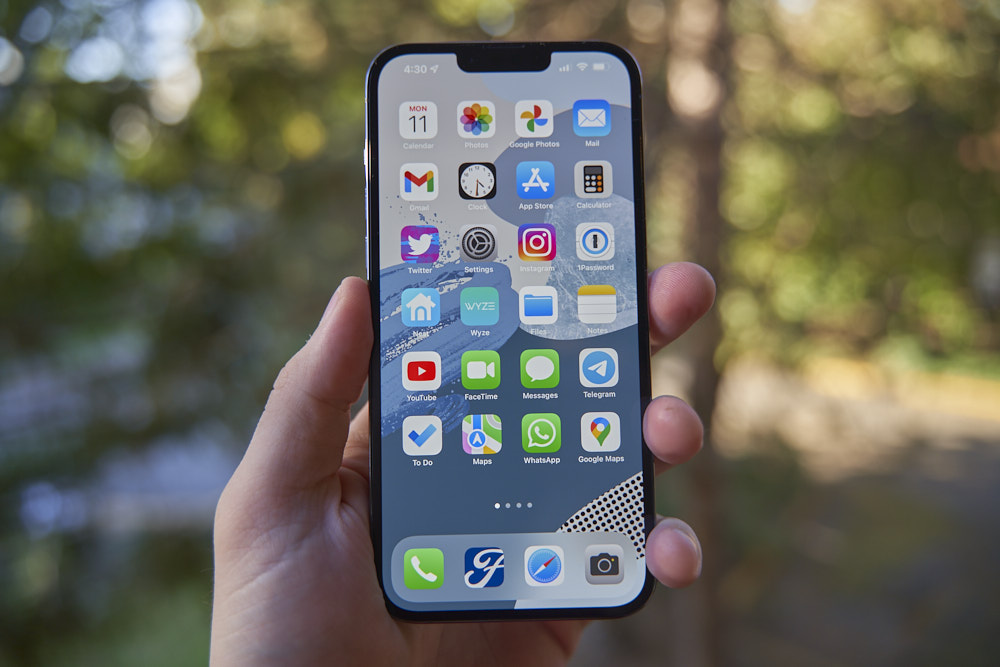 I personally, like everything about the new iPhone 13 Pro Max except this archaic charging port we have been dragging for a decade now. It just can not keep up with all the modern improvements industry has to offer. ProRess support alone screams: "USB-C!". Lightning Connector needs to be put to rest and it looks like it will take a whole government of EU to make this happen.
As for those who should upgrade? I think if you have iPhones XS or any iPhone 11 the list of features is already making it a worthy upgrade. If you are on any of the iPhone 12 and you could wait, I would suggest waiting for Lightning port to go away and then upgrade.
Read also: