I think I began to understand, how the average Chinese day passes. He wakes up in the morning, has his breakfast, and thinks, "Why not to make a smartphone?". How else to explain such a number and variety of phones from China.
I do not have enough fingers to enumerate all these brands. Some still remain in the vast of Chinese online stores, and some formally enter the Ukrainian market. ZTE company is here for a long time, but only at the end of 2016 she decided to be present also in the smartphone market. Following the presentation in Kiev, I did not miss the moment and took the best of the device – ZTE Axon 7 – to the test.
ZTE Axon 7 design
Let's start with something to be proud in the ZTE. While the development of the smartphone designers were inspired by the best cars in the world. Designworks company, which is part of the BMW Groups, engaged in design Axon 7. But I think in this case they are, how shall I say, took a little rest. For example, Giorgetto Giugiaro, when he created Lanos, also took a rest. But this man has received the award "Car designer of the Century" and has created such masterpieces as De Lorean DMC-12 and Bugatti Veyron.
Why did I decide that designers took a rest? Becfuse ZTE Axon 7 was created almost the same way, how students make their courseworks. Something was taken from here, something from there, tweaked a little – and done. On the rear this is a typical Xiaomi with a little tuning. On a front it is either Lenovo X3, or HTC One m8. But even so, the smartphone looks original, though it reminiscent of some existing ones.
Smartphone is almost symmetric – only sensor buttons under the display break the symmetry. Either above the screen and below it there are the dynamics, and the top speaker has front camera in it. Returning to the touch keys. In the settings menu there is an item with which you can swap the buttons "Back" and "Recent Apps", but I have this function does not work for some reason.
At the rear, in addition to all kinds of labels are: protruding camera module, flash and recessed fingerprint scanner. The top and bottom have plastic spacers that act as antennas. On the left side – the combined slot for two NanoSIM and a microSD memory card. On the right side – the volume and power buttons. On the top manufacturer has placed microphone and audio output, on the bottom – USB type C and one more microphone.
ZTE Axon 7 is made of anodized aluminum. This gives the smartphone a weight, due to what he is confidently lies in the hand. Axon 7 is represented in two versions: gold and dark gray. And as for me, the smartphone looks more attractive in gray.
Display
Since ZTE Axon 7 – the company's flagship, it is equipped with all the best. The screen is one of the best on the market: 5.5-inch AMOLED with a resolution of 2560×1440 pixels, the pixel density of 538 ppi. That's all you need to know about the display.
Not enough for you? Okay, listen further. AMOLED-matrix has excellent color reproduction, greater viewing angles and good contrast. But if you do not like the color saturation and color temperature – no problem, all of this can be corrected in the settings. Also in the settings you can set the desired level of brightness, or entrust it to the Auto Brightness Sensor.
Interface and software
ZTE Axon 7 runs on Android 6.0.1, with MiFavor 4 firmware. This radically changes the smartphone interface, and adds a necessary and unnecessary features. The interface has no menu, all located on the desktop. Do not like the look of icons, they look like "Greetings from the 2012-2013". The manufacturer wanted to have all the icons of the same style, but not all icons are beautifully and succinctly fit into a square that ZTE has done. You can change the appearance of these little icons: make them flat, or add volume to them.
In the settings, in addition to changing the navigation keys, it is possible to activate and configure additional sensor key on the screen (which can perform action "Home" or "Back"), set up fingerprint scanner, set the voice unlock, adjust the control by gestures, and turn on the "In gloves" mode.
In the fingerprint scanner you can store up to 5 prints. With their help, you can not only unlock the phone, but also assign a specific finger to launch the desired application. And also you can take a photo and answer a call when you touch the scanner. But unlocking have never worked on a voice. But, theoretically, it should work like Google Now. You write the phrase on which the smartphone is unlocked, and that it will do, but only when the phrase uttered by you.
Axon 7 focuses on men, and because in China know that every man has to raise a son, plant a tree and build a house. With the first two smartphone will not help, but to build a house … How else to explain the existence of such an application as "tools"? There are a compass, flashlight, calculator, noise meter, ruler, protractor, level and plumb. Another problem of firmware – translation. Everything is translated, but sometimes not entirely correct, or with incorrect hyphenation and truncated text.
Sound
Sound – is a separate and important topic in Axon 7. In addition to the presence of two speakers and Dolby Atmos technology, a smartphone has two dedicated audio chip. Speaking correctly, the two digital-analog converter from AsahiKASEI: AK4961 for sound recording an the AK4490d for sound reproduction.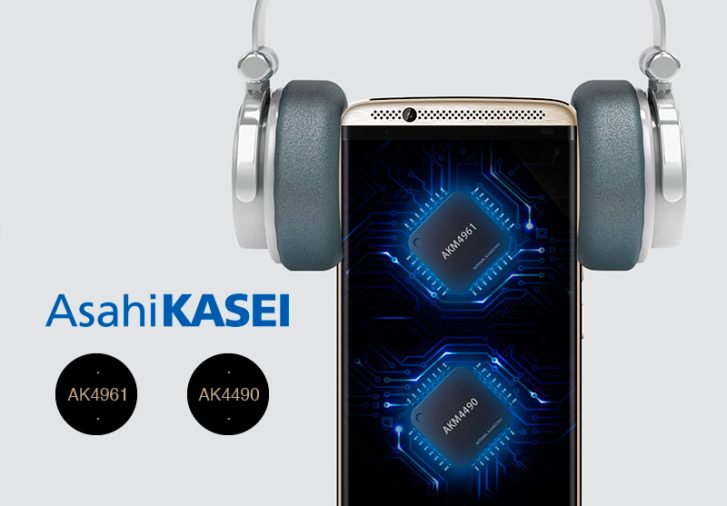 It is because of these DACs I was waiting for a meeting with Axon 7, but what was my disappointment when I turned on a favorite song. Of course, the sound is good, but there was nothing outstanding. It was only later I realized that I listen to music via streaming services, and the DAC is revealed using Lossless Audio.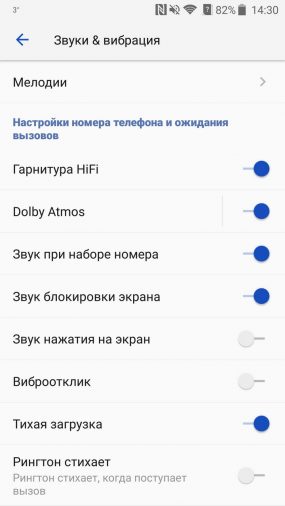 The most popular format is a Lossless Audio FLAC. After downloading the same song, but in FLAC, I got a completely different sound. After this it is very difficult to return to the mp3. All of your favorite songs will play with new colors, you will hear in a new way each instrument and vocal. An important factor is the headphones, with which you will listen to music. Complete with Axon 7 are good earplugs, which reveal the possibility of a DAC pretty good. But a pair of good, expensive headphones will play your audio collection on all 200%.
Technical characteristics
ZTE Axon 7 has a flagship set of characteristics. 4-core CPU Qualcomm Snapdragon 820 with a frequency of 2.15 GHz and a GPU Adreno 530. 4GB of RAM, 64GB of state memory, also microSD-card up to 128 gigabytes can be installed. There is support of Wi-Fi, Bluetooth 4.1, GPS, GLONASS, Beidou, and NFC.
In synthetic tests, everything is standard for these characteristics: more than 143 thousand in Antutu, 1224 and 2754 points in the CPU-benchmark Geekbench 4, 6059 points in GPU-benchmark Geekbench 4. Any game runs at maximum graphics settings without any problems.
I'll tell you about a funny bug. Perhaps it was only with my test phone and in versions for sale that does not happen, at least I hope it doesn't. So, as soon as the outside temperature drops to -3 C and below – touch navigation keys stopped working.
Cameras
The main has a matrix of 20 megapixels with an aperture f/1.8 and phase autofocus. Front – 8 megapixels with an aperture f/2.2. Before we talk about the quality of cameras itselves, I talk about the chips in the application. In addition to the modes "Video", "Photo" and "Manual" (manual tuning of photo) there are "Panorama", "Night mode", "Multiple exposures", "Slow shutter speed", "Slow" (time laps) and «Slow Motion ".
Axon 7 makes good pictures with excellent detailization. Auto white balance correctly identifies. But all of this takes place during the day and when there is sufficient light. In the evening or at sunset picture quality falls, and even more so at night. All this applies to both main and front cameras.
ZTE AXON 7 PHOTO EXAMPLES IN FULL RESOLUTION
Battery life
Axon 7 is equipped with a battery capacity of 3250 mAh, which will be enough for a day of active work. Actually smartphones are now rarely live longer than a day. At least with my regime of use, which is: a constant internet connection, 4-5 hours of screen, music, social networking. But it is worth noting the existence of possibility of rapid charging via the included charger. With it in just 30 minutes you will be able to charge a smartphone with a 0 to 80%.
Conclusions
As a result, for $ 610 you get a flagship smartphone that is not deprived of the problems of the low-cost models. This is a bad adaptation of the firmware, and the problems themselves of MiFavor, and bug with touch keys. However, there are merits in Axon 7, such as sound. And ZTE has given to Axon 7 extended warranty package, which is quite a powerful argument, if you like to make a crash-test of your smartphone.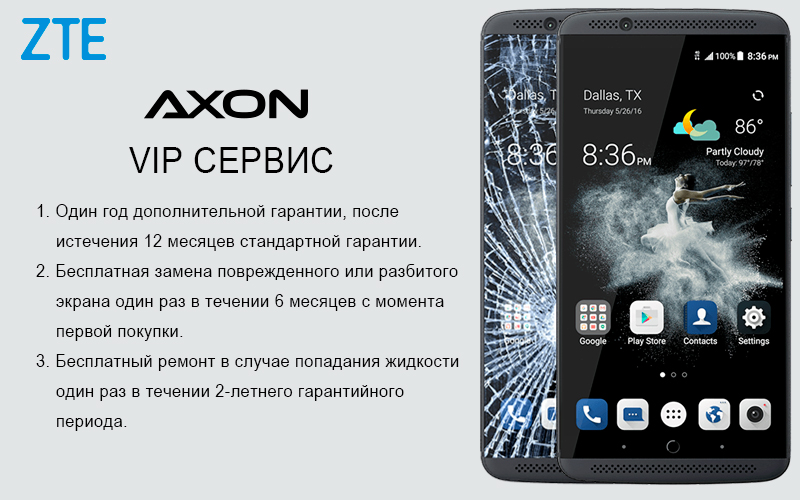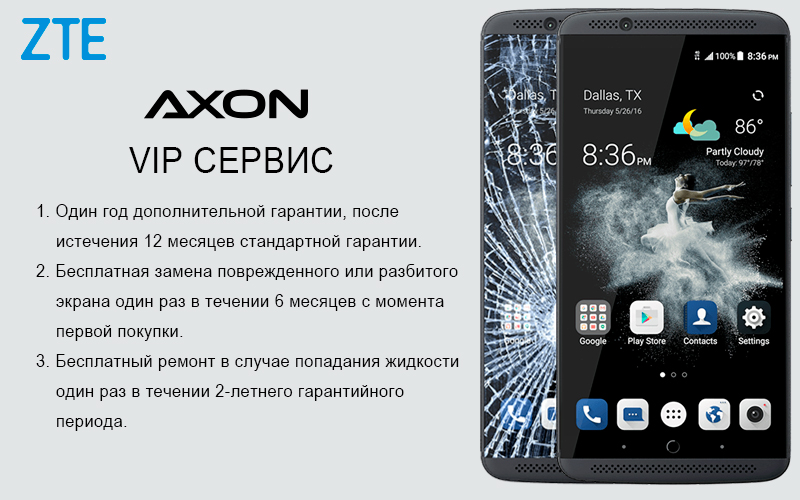 Prices
Other models could be displayed, if this is not in catalog for your region.
[socialmart-widget id="IWiijFTY" search="ZTE Axon 7"]
[freemarket model="ZTE Axon 7"]
[ava model="ZTE Axon 7"]