By a happy coincidence, I was one of first who was able to test the new "smart" Samsung Gear S3 Classic watches in Ukraine and today I want to share with readers my impressions about the new product.
Samsung Gear S3 Classic – novelty or restyling?
The new flagship smartphone released once a year; despite the changes, the new model gets a new digital index. But in the automotive industry are all a little different. For example, BMW are not releasing a new 7 every year. They do this every 6-7 years. Of course, during this time a lot of new technologies are developed and implemented in the automotive industry and in the BMW understands that 7 needs to be upgraded, but it is not yet a new index. So there is a restyling model. Slightly improved here, a little corrected there, and voila – a new car. But in fact it is the same old 7.
Here is an analogy I see towards the gadget on which we are now going to look. Manufacturer assures everyone that it is a new model, but it seems to me that this is just a restyling last year's unit. So it or not – it's up to the buyer. And I remain only perform the testdrive of a novelty – Samsung Gear S3 Classic – today in our review.
Design and ergonomics of Samsung Gear S3 Classic
Unfortunately, I did not get to compare Gear S2 and Gears S3 directly because I tested the regular version of the previous generation, and now I have to test a classic watch. Nevertheless, the differences are visible. Watch has become larger. If Gear S2 Classic was 40 millimeters in diameter, the Gear S3 Classic increased to 46 millimeters. Now, the previous generation can be called feminine, as now, watch have become truly masculine, big and heavy. And if the size increased, accordingly weight increased. Now it's 57 grams instead of 42 grams excluding strap.
The main part of the watch case, as before, is made of stainless steel. Externally, they resemble high-quality Swiss watch. Materials are selected very well, and leather strap complements this beauty. It is removable and has a standard mounting for watch. So you can use any 22 mm strap with S3 Classic.
As before, the main part of a watch is the display. Since the size of the watch increased, the display is also increased. He became 15% larger. Controls are the same as before. Around the display is the rotating ring. On the right side there are two mechanical buttons "Back" and "Home", as well as the microphone, on the left side – the speaker. The bottom side of the watch covered by black plastic, on which the sensor for measuring the heart rate and connector for wireless charging are located.
Display and controls
I said that the display has become 15% more, but now let's talk about this element in more detail. The diagonal increased from 1.2-inch to 1.3 inches. But the resolution has remained the same – 360×360 pixels. pixel density dropped to 278 ppi. But even with such a density it is impossible to see pixels. Matrix is AMOLED, nothing was changed. If you know a characteristics of AMOLED matrix, then you understand that the screen is good. Contrast, brightness, color saturation, viewing angles – everything is on high level.
Gear S3 Classic features 10 levels of backlighting. I, as before, use the 7th level. I'm comfortable with it at any time. And for those who can not decide on the level of brightness or frequently switches it depending on the situation – there is Auto Brightness Sensor, which behaves quite correctly and does not cause problems. Special protective glass Corning Gorilla Glass SR + provides display protection.
As in the flagship smart phones Samsung, the watch has Always On Display function. Your display will be always turned on in the clock mode. For example, my main dial is made is yellow with black accents, and when the clock is moving in Always On, then the colors are inverted. The dial is black with yellow numbers and arrows. And because black color AMOLED-matrix is implemented by switching off the pixels – the battery charge is almost not consumed. What is it for? For example, I am driving or typing on a laptop, the watch is in field of vision and, looking at them, I see the time. And before I had to make a characteristic gesture to activate the screen.
Control remained the same. You have a rotating ring that provides even more features, touch screen and mechanical keys.
Interface
In terms of interface, everything remains much the same, only cosmetic changes were done. The main screen is watch, it is logical. On top is the bar, in which is the battery level, brightness, sound profiles, including the mode "Do Not Disturb" and "Airplane", as well as the launch of a music player.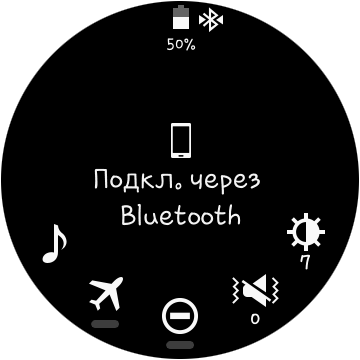 To the left of watch all notifications are going, widgets are going right. By clicking on the "Home" you get into the main application menu. The Samsung have focused on the sport in its third generation Gear S. The Gear S3 Classic installed GPS and GLONASS modules. Thanks to them, you will be able to monitor the activity during training, and such things as a barometer, altimeter and speedometer will determine the level of atmospheric pressure, altitude and your speed while jogging or cycling. So now you do not have to take your smartphone to the training.
Continuing the theme of sport. S Health app is well integrated with that on smartphone. You can measure heart rate, steps, time, obtain information about jogging, riding a bicycle and so on. Surprisingly, watch measures the heart rate quite accurately, although the error is still there. Also, using the watch you can observe a number of cups of water or coffee you have drunk.
The clock is also has the NFC chip, so you can make purchases using Samsung Pay.
It is worth noting the presence of moisture and dust protection of IP68 standard. You can not only wash your hands, but also take a shower without removing the clock. But 3G module in the classic version of the device is not present. Gear S3 Classic can only be used as a headset for your smartphone.
Alas, I have not been able to test the integration of watch with Connected service from BMW. The Samsung claim that using the firmware application from BMW, you can get a notification about upcoming trips, information about the fuel level in the Gear S3, open/close the car with the help of watch and a lot more.
Connections and notifications
In this regard it's pretty usual for wearable devices from Samsung. To connect Gear S3 Classic you need a smartphone with Android 4.4 or later versions, the presence of 1.5 gigabytes of RAM and Bluetooth 4.1 or Wi-Fi to connect remotely. Samsung Gear app also received cosmetic changes, but the functionality is not affected. In the application, you can see brief information about watch: battery power, and information about state memory and RAM. Below is a selection of dials, and applications from the store. The second tab is all for the watch settings. The selection and styling of dials, notifications and applications management, sending files to Gear and many other functions.
With watch it is possible not only to read and delete notifications but to interact with them. For example, you can answer an SMS with the voice, ready-made phrases, or the built-in keyboard. You can also interact with email-clients, instant messengers, and many other applications.
Battery life
Compared with the previous generation, the Gear S3 Classic received a higher capacity battery, but operation time is almost not affected. The battery of 380 mAh is installed in watch and autonomy depends on your usage behavior. My S3 Classic operated 2 days with activated Active Display, but without GPS. If you also turn on GPS, autonomy falls to 1 day. But if you disable both GPS and Active Display – you can count on 3-4 days of work.
It remains to tell you about the power-saving mode. As previously, Gear S3 Classic shut off all the smart features, the display will be black and white and a smart watch will turn to normal watch. To activate this mode Gear S3 is proposing when the charge drops to 15%. Then again reminding at around 10% and 5%.
Conclusions
Summarize. I still have not managed to use the Apple Watch, and may be why I still think Samsung Gear S line is the best "smart" watches on the market. I used to say so about the second generation, and now about the third. If you want to join the world of smart wearable devices, if you need high quality and beautiful watch, if you're willing to pay about $380 for them – Samsung Gear S3 Classic is exactly what you need. But if you already have a Gear S2, there is no special need to buy a new watch. As I said in the beginning, Gear S3 is just a restyling of Gear S2. And if it was called, for example, Gear S2s – it would have been reasonable.