Are there still people that doubt smartwatches' usefulness? Well, probably, but Huawei Watch GT 2 Pro has a chance to reduce their number. If you don't care that much about functionality, this device might win you over with class and elegance.
Sports watches have become frequent visitors on our wrists. Thanks to them, we can at least for a moment look away from the smartphone screen, check messages during a meeting, and spend some time productively. However, modern fitness trackers or typical sports watches are often don't go with formal wear. And in more formal situations, we usually have to gravitate towards classic watches.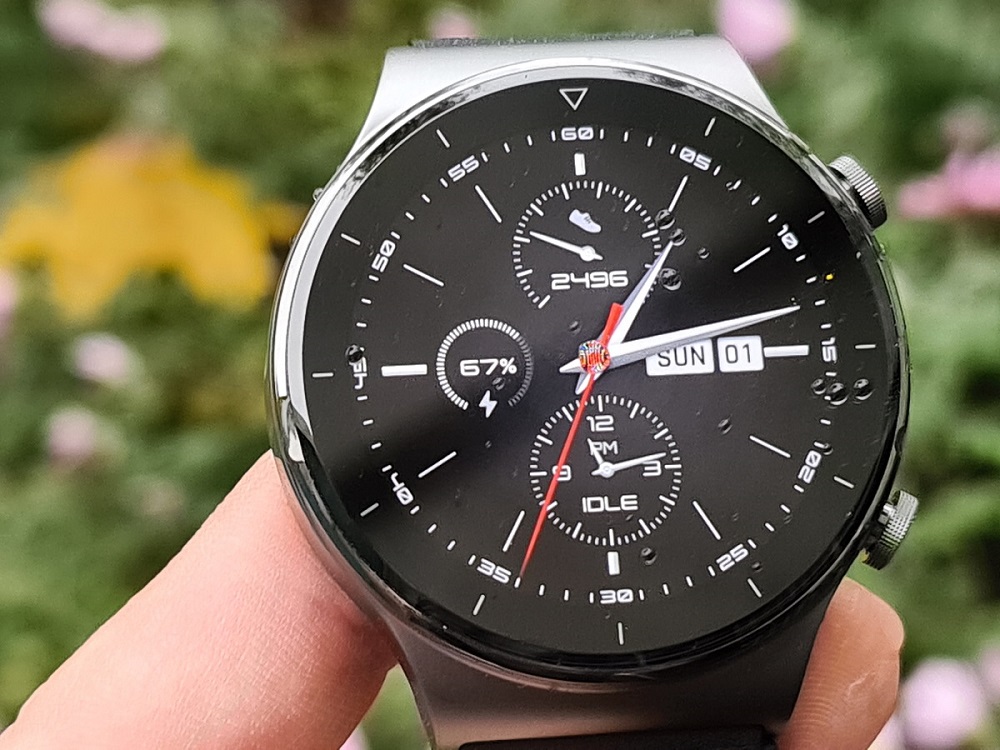 The Huawei Watch GT 2 Pro smartwatch finally overcomes this problem. The device perfectly combines the functionality of a smartwatch with a high-end design and build quality.
Where to buy: Huawei AliExpress Official Store
Pro in everything
Huawei is focusing more on a wide range of wearable products this year than ever before. The company's latest offering in this segment is the Watch GT 2 Pro, which is a part of the Watch GT 2 (46 mm), Watch GT 2 42 mm and Watch GT 2e series. Let me remind you that the Huawei Watch GT 2 Pro was revealed in September this year. The watch got a surprisingly apt name. Yes, this is an improved version of the Huawei Watch GT2, which has proven itself very well in the smart device market. And the addition of Pro in the name of this watch means that it received excellent build quality and some new features.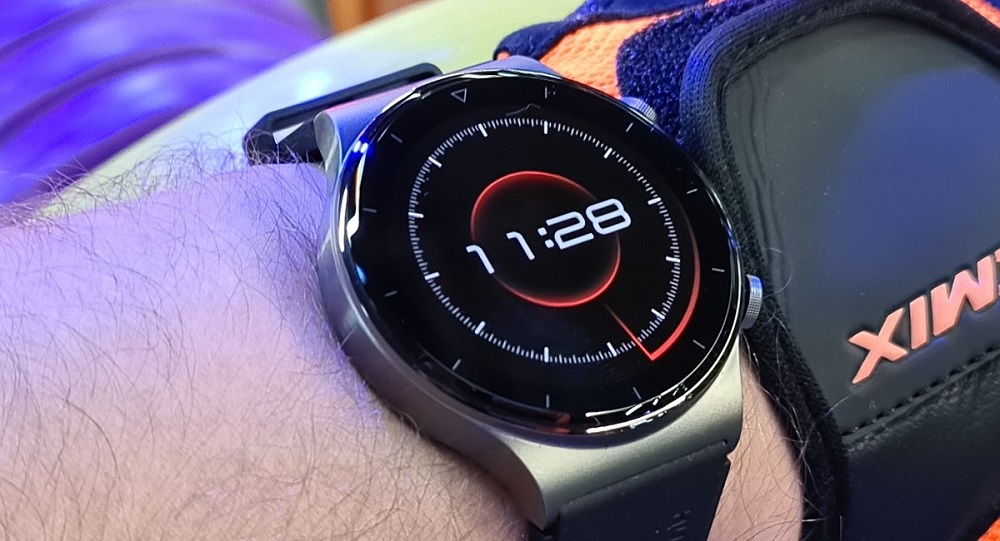 Don't get me wrong, I consider the existing Huawei watch to be one of the most nice-looking models on the market. Their shape and watch faces are reminiscent of classic wristwatches, but when you use them, you feel like you are dealing with a modern electronic gadget. The case is made of titanium, the bottom is ceramic, and the display is covered with sapphire glass, not even Gorilla glass or anything like that. In addition, the color of the leather or rubber strap matches the color of the watch exactly. The Huawei Watch GT2 Pro is a very nice fashion accessory that can finally replace the traditional watch.
The watch shows excellent battery life, in addition, for the first time in a series, there's support for wireless charging – a very useful addition. Of course, like other watches in this series, it has a set of built-in apps, but, unfortunately, the ability to add new ones is limited.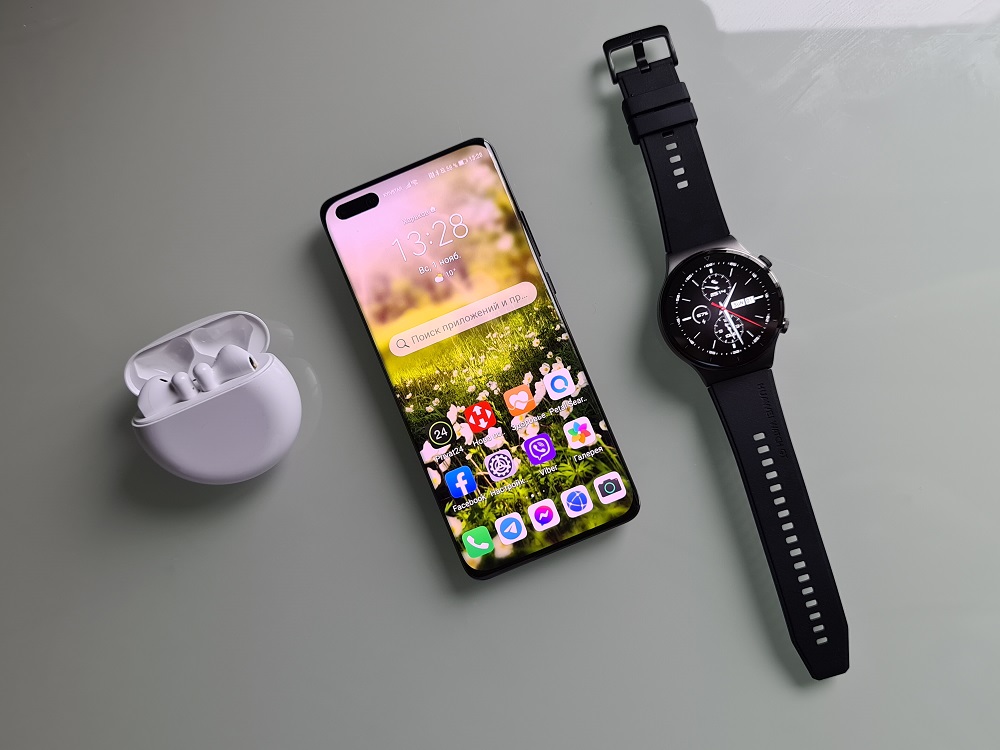 Of course, I wanted to get to know this amazing gadget as soon as possible. Today I will tell you about my own experience of using this very elegant and at the same time technologically advanced device.
Read also: Huawei Watch Fit review: Your Own Portable Fitness Instructor
What's in the box?
Huawei Watch GT 2 Pro comes in an elegant black cardboard box. From the very first second you begin to understand that this is a premium product.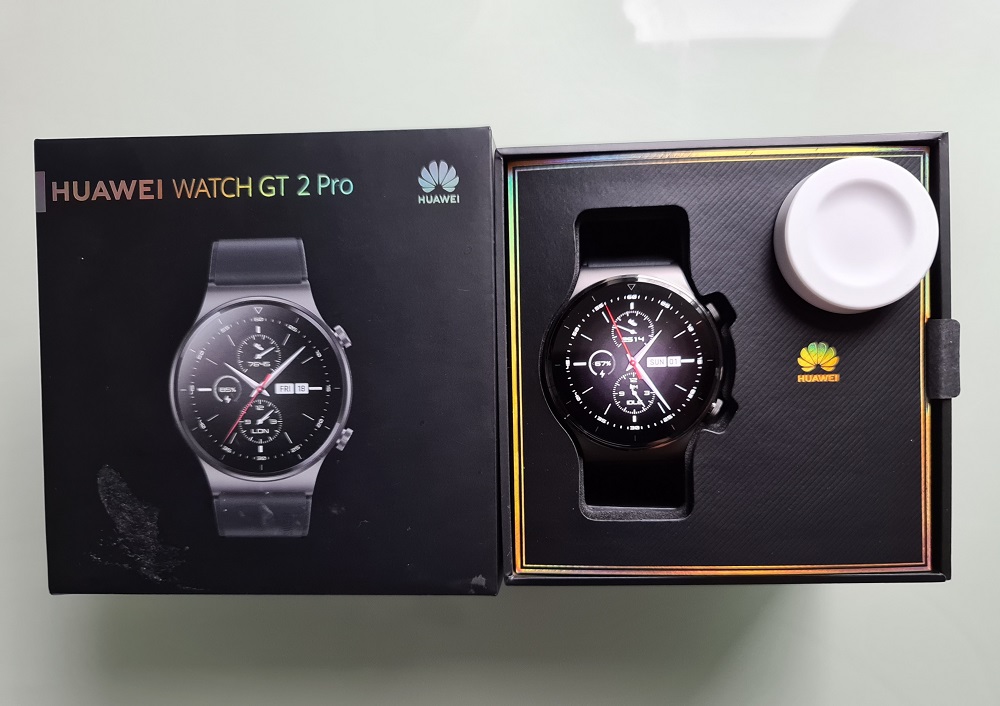 In addition to the watch itself, the set also includes an inductive watch stand with a USB Type-C connector (input current 2A / 5V), a white USB cable, a quick user guide and a warranty card. Yes, there is no charger, but you can use the one from your own smartphone.
Serious design and elegant design
Many people might think that the addition of Pro in the name of the new Huawei watch is limited to only a significant addition to its functionality. No, Watch GT 2 Pro is, first of all, a stylish watch. Their case is made of titanium alloys, the lower part of the case, which is in contact with the wrist, is an anti-allergic and very durable ceramic, and the elegant and readable screen is protected by a scratch-resistant sapphire crystal used in the best classic watches.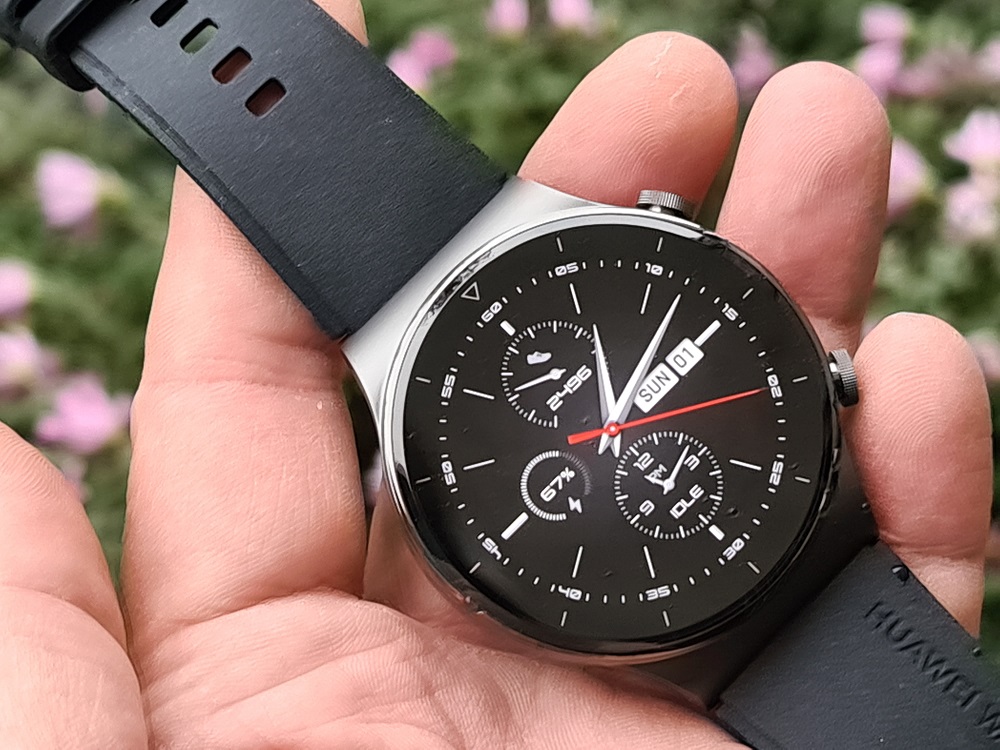 The material from which the watch is made looks very elegant, and without even taking the device in hand, you just know that this is a premium watch. In fact, the titanium hue on the watch is definitely more graphite than silver, as shown in the marketing material. This graphite color matches perfectly with the black watch strap and the black screen itself.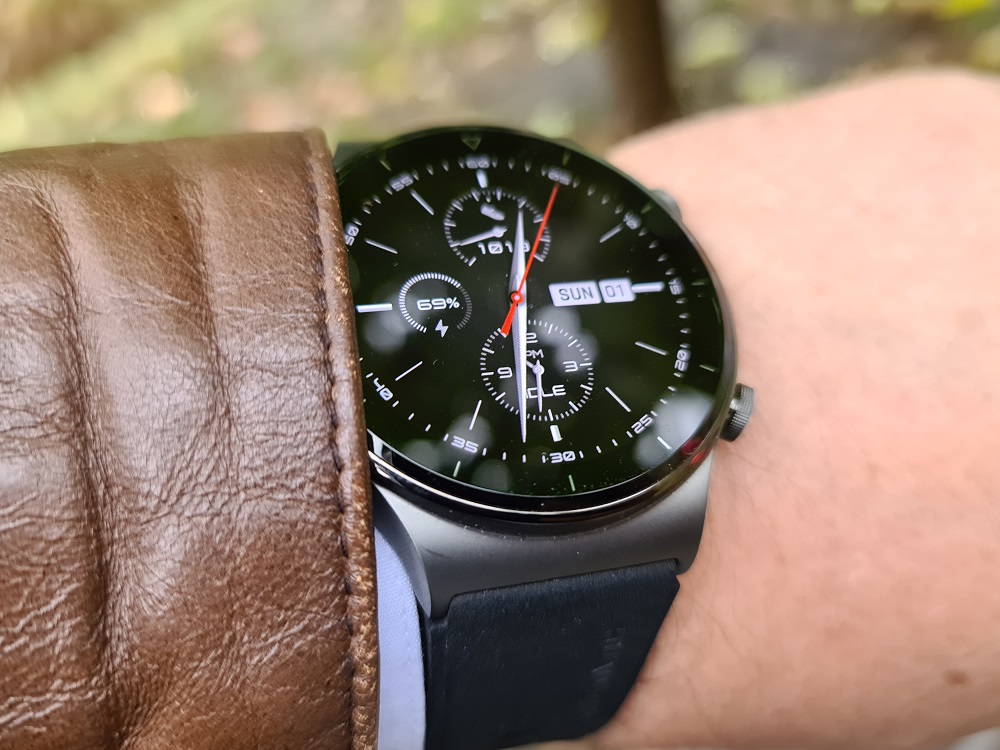 The Huawei Watch GT 2 Pro retains some of the characteristic features of the Watch GT 2, but at the same time has some innovations. Now it is available only in one "men's" size (46 millimeters) in two varieties – sports and classic.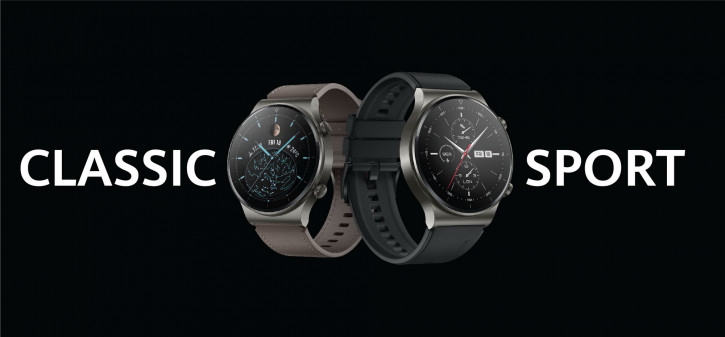 They differ primarily in the variants of the bundled strap, which can be either rubberized or made of artificial leather. In my case, it was a sports option. I am very attentive to the quality and tactile sensations when wearing the watch, but the rubberized strap of the Huawei Watch GT 2 Pro pleasantly surprised me. It is very nice to the touch and also really durable.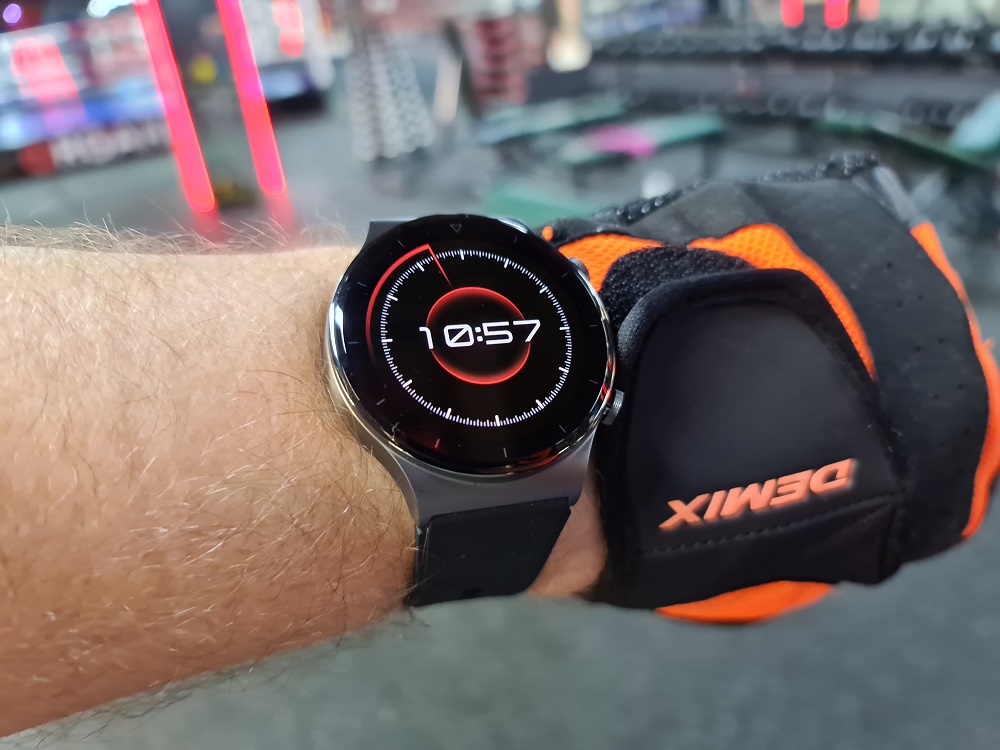 It's nice that Huawei designers also paid great attention to the processing of even small structural details. The buttons are refined and finely textured to make the Huawei Watch GT 2 Pro look like a traditional watch. The bezel and edges of the sapphire crystal are adorned with subtle bevels that smooth them out and add certain gracefulness to the entire structure, for a lack of a better word.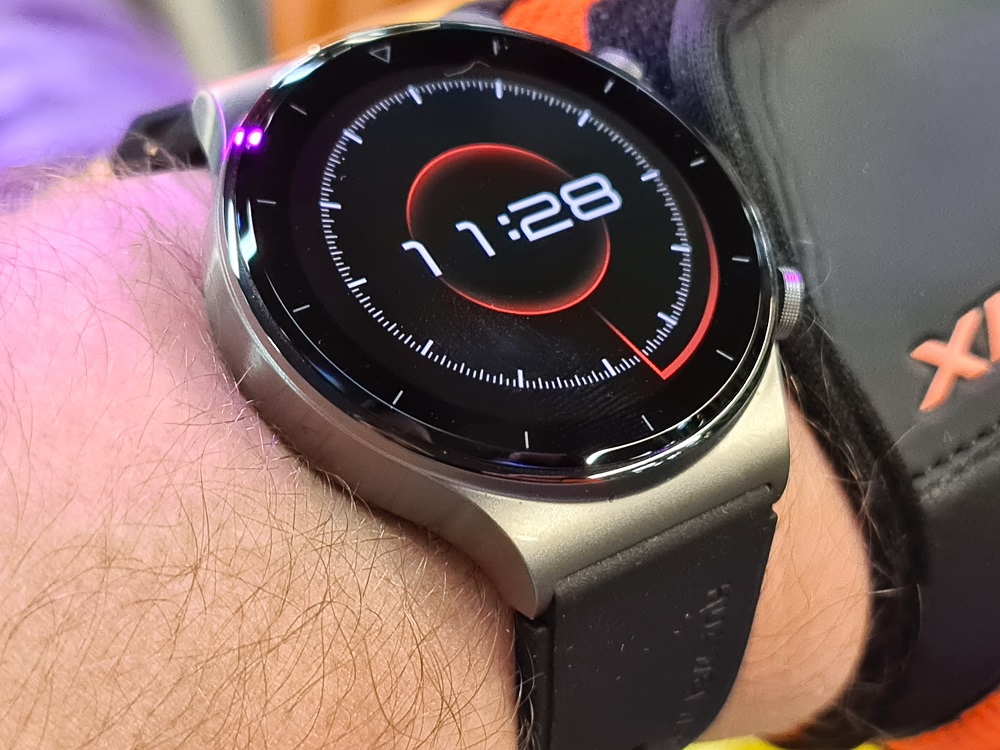 The watch is made in such a way that it goes with both a sports sweatshirt, a tourist jacket and an elegant formal outfit. And besides, it's very reliable.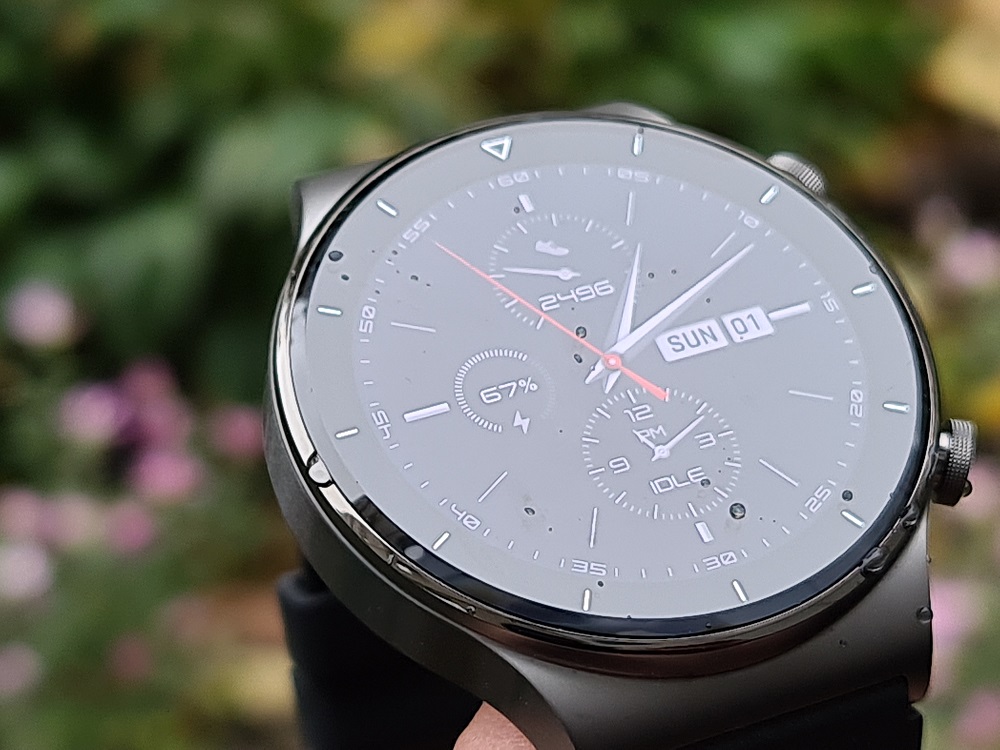 Their housing is waterproof, which may not allow you to dive to a depth of 50 meters, but they will definitely withstand, for example, a sudden rain.
Read also: Huawei MatePad Pro review – One of the best Tablets for Work and Entertainment
Ease of operation and ergonomics
Control, as in the previous version of Watch GT 2, is carried out using two buttons located on the right side of the watch. They are so similar to the buttons in classic wristwatches that I even wanted to twist them. But they have a completely different purpose.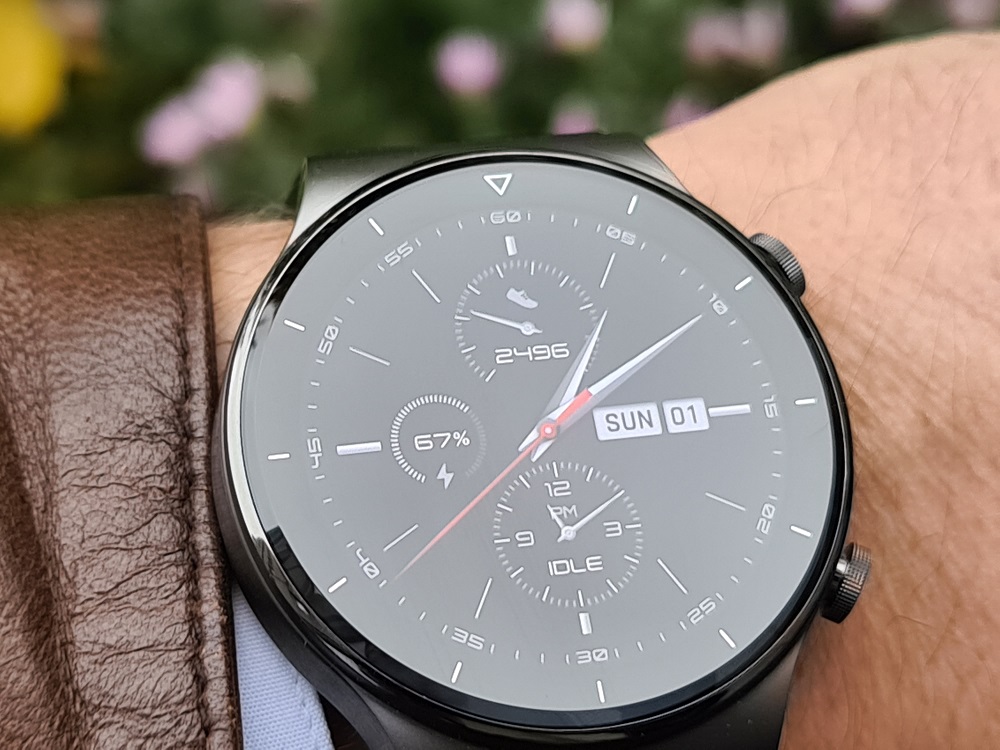 Thus, the upper button is used to switch between the main screen and the menu with a list of apps, while the lower button can be assigned any function from the menu of your preference. Usually I put music control there, which is practical and convenient.
It is also possible to use the touch screen. From the start screen, you can scroll through some menu functions with a swipe of your finger. Among them are a report on your activity, the management of music tracks I have already mentioned, viewing the weather, and you can also check your heart rate and stress level.
To be honest, I really want Huawei watches to have a movable bezel, like the Samsung Galaxy Watch3. This would greatly improve the usability.
The left side of the watch is almost empty except for the microphone hole, which is almost at the bottom.
Interesting changes have taken place on the bottom of the watch. The back panel has a ceramic coating for wireless charging, and contains built-in sensors and LED sensors for measuring heart rate. By the way, there is the very sensitive optical heart rate sensor called TruSeen 4.0+ with higher light transmittance than its predecessors and with more accurate measurements. It actually combines sensor data using artificial intelligence algorithms to measure different values, classify them correctly, and predict the course of events.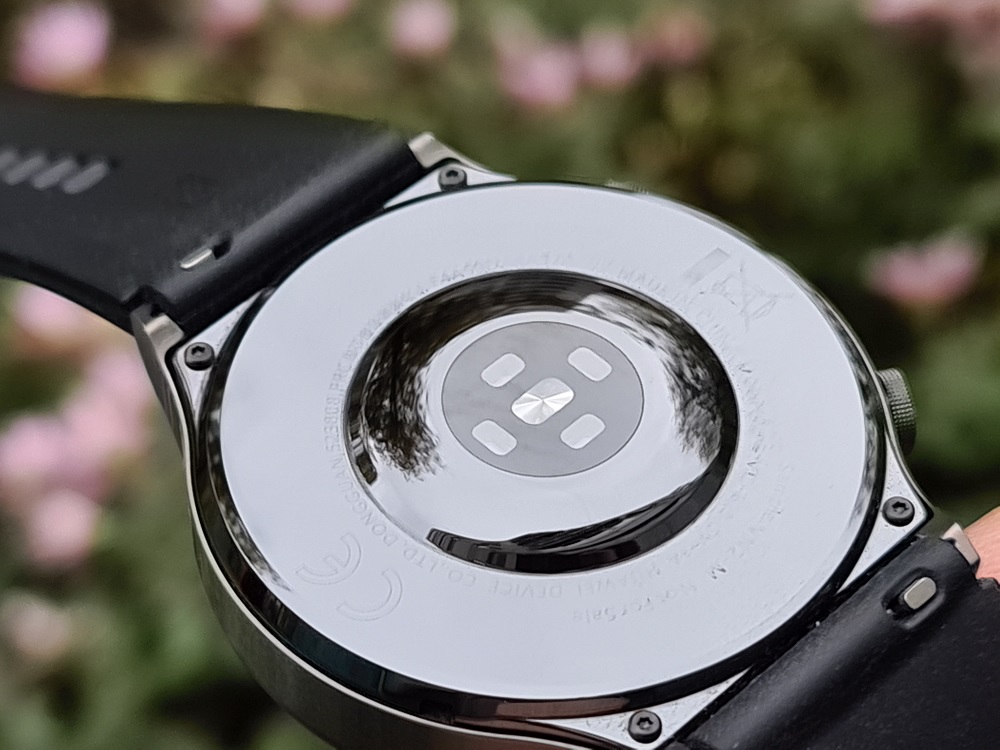 Yes, the new Huawei Watch GT 2 Pro is large and heavy, measuring 46.7 x 46.7 x 11.4 mm and weighing about 52 g (without the strap), but quite comfortable to use. The device is compatible with standard 22mm watch straps, so you can easily replace your strap with a new one.
Read also: Huawei WiFi AX3 review: Affordable router with Wi-Fi 6 Plus
Display and image quality
The display size has not changed from the Watch GT 2 version, and the new Pro version again offers a 1.39-inch AMOLED panel with a resolution of 454×454 pixels. The dot density on the screen is sufficient to ensure that the displayed image is clear and legible in almost all conditions. There is automatic brightness control. It automatically changes depending on the brightness of the environment, but we can also set it manually using a five-level scale.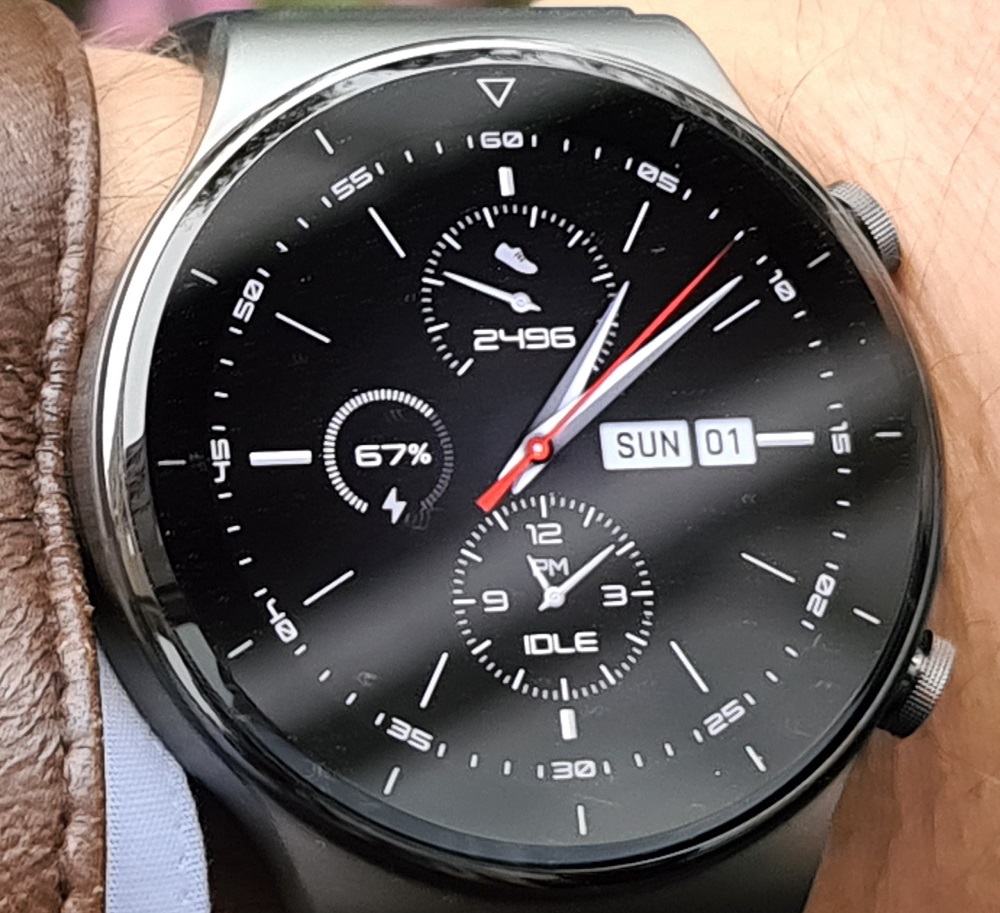 The image quality on the screen is very high. The colors are pleasingly rich and the black, thanks to the display technology, are truly black. As befits AMOLED, the display has good contrast, which means a high readability of the screen.
Like its predecessor, we get Always on Display, but remember that it drains energy and reduces battery life.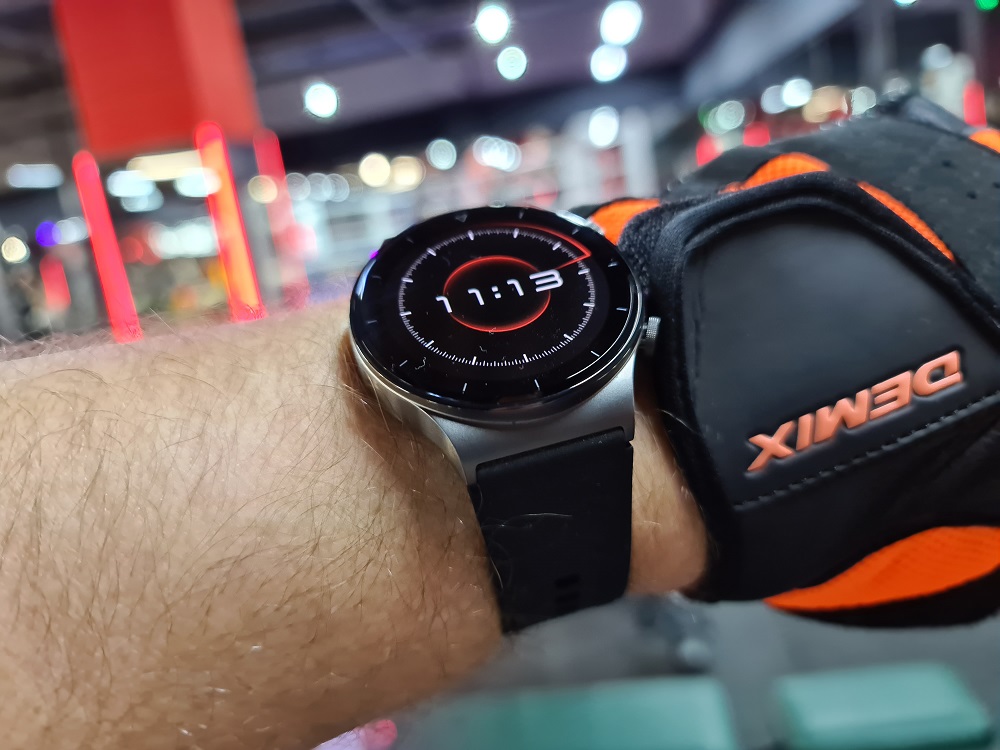 Speaker and sound quality
Huawei Watch GT 2 Pro is equipped with a speaker that can be used for phone calls (use the watch as a hands-free headset for a paired smartphone) or listening to music stored in the watch's memory. By the way, the watch has a music player for playback through the built-in speaker or connected wireless headphones.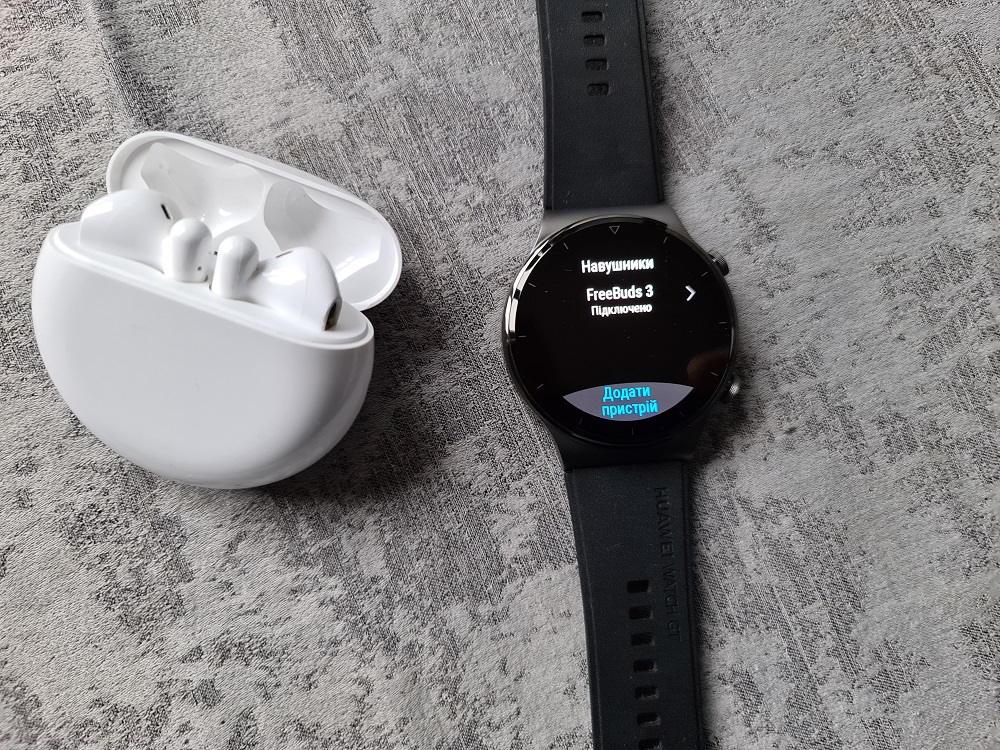 This way, for example, you can listen to music and exercise without your phone. Also, you can control the music playing on your phone from your watch. Unfortunately, there is no way to install Spotify. But if you use it on your smartphone, you can at least see the name of the track and change it if necessary. You can only download music to your watch using the Huawei Health app.
However, you shouldn't rely on the sound quality of the built-in speaker. Although it is enough to answer a phone call, listening to music is almost impossible. Not only is the music playback quality not very good, but the speaker is also quiet. The maximum volume level that I recorded at a distance of about 50 cm from the watch was 77.1 dB.
Fortunately, we don't have to settle for the quality of the built-in speaker when listening to music. The Bluetooth connection allows you to pair wireless headphones such as the Huawei FreeBuds 3 (pictured above) to your smartwatch. I do this a lot in training. It's convenient because hands are free and the sound quality is amazing. In addition, you can easily answer a call. The watch can also be connected to an external wireless speaker.
Read also: Huawei FreeBuds 3i review — Mid-range TWS headset with flagship features
Specifications and equipment
I have already started talking about the capabilities of the watch, but I forgot to tell you just how it all works.
The basic hardware of the watch remains unchanged compared to the Watch GT 2. That is, we again have the familiar Kirin A1 processor, 32 MB of RAM and 4 GB for data transfer, 2 GB of which are dedicated to music. To this we add a 455 mAh battery, Bluetooth 5.1 and GPS/GLONASS, as well as a microphone and speaker.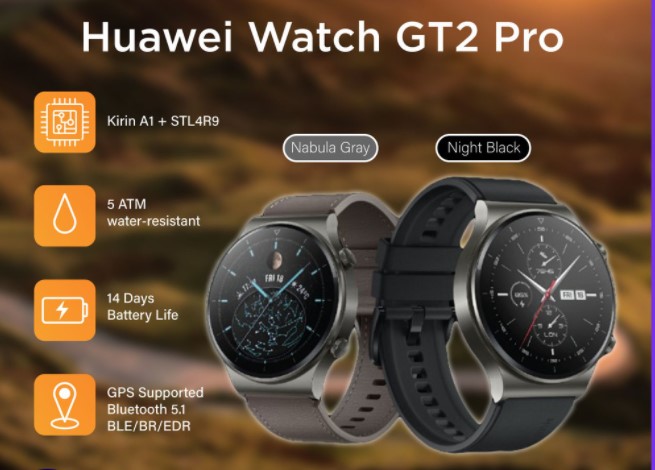 All this is controlled by Lite OS, the company's creation. This operating system has both advantages and disadvantages. If you own a Huawei Watch GT 2, then all of this is familiar to you. The system's UI is very easy to use, but also very limited if, for example, we compare it to Google's Wear OS or even Tizen from Samsung. The main limitation is a limited list of apps. The watch has a small storage (about 2 GB) for downloading music files.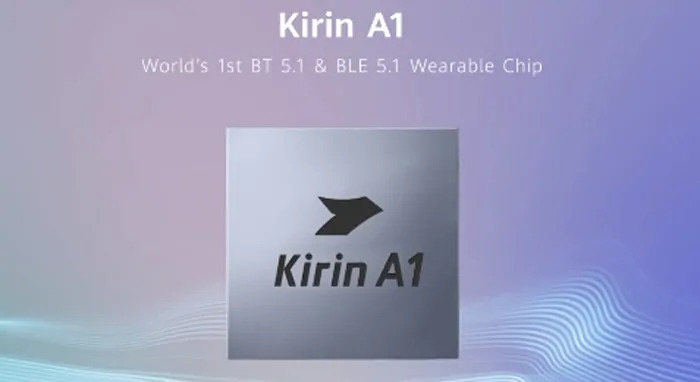 It is worth noting that there a possibility, albeit very limited, to install additional apps. At the moment, these are only two games. They promise that soon we will have access to notifications from our phone, but without the ability to interact with them.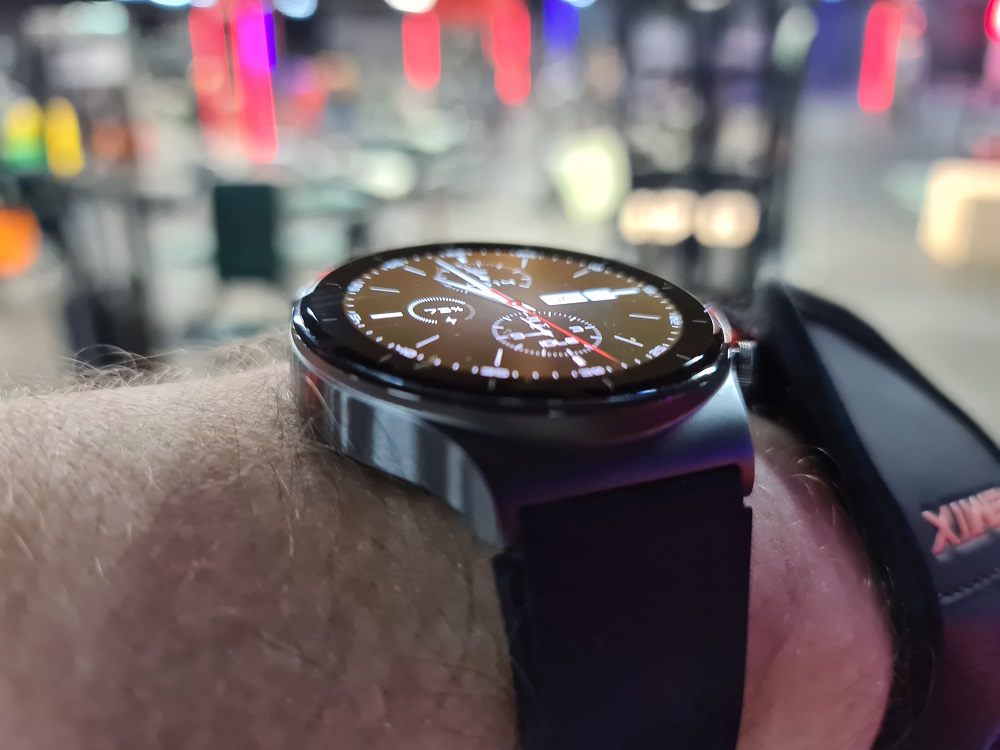 What apps are available from Huawei? These are primarily tools for recording condition and physical activity. The GT 2 Pro watch can track nearly 100 different sports activities, including swimming. This is where water resistance comes in handy. Some activities are automatically recognized, such as walking or running.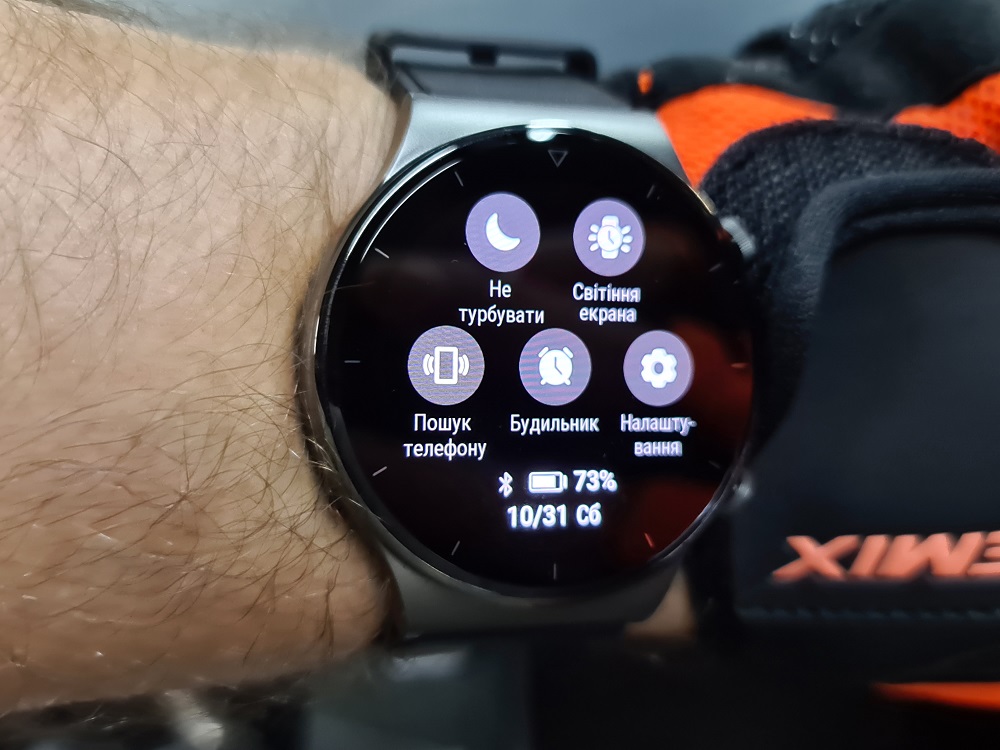 The watch also contains apps that monitor and display heart rate, oxygen saturation, stress levels and sleep quality. They also track the menstrual cycle.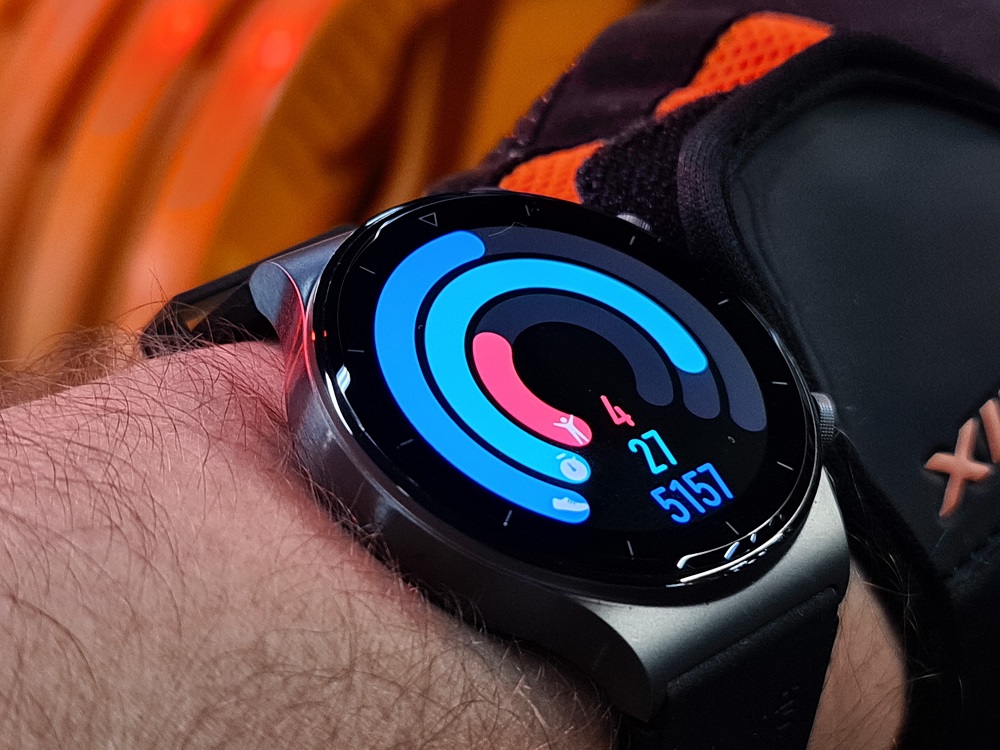 The GT 2 Pro has a variety of sensors to detect physical activity and sleep quality. In the list of functions we find an accelerometer, gyroscope, magnetic sensor, heart rate sensor, blood oxygen level monitor, GPS, and sensors for outdoor lighting and barometric pressure. And if we lose our smartphone, we can use the Find My Phone app.
As I mentioned earlier, the watch can be used as a speaker for a paired smartphone. When someone calls us, there is an opportunity to answer the call from the smartwatch and chat. We can add selected contacts from the smartphone to the watch, and call from the watch. Unfortunately, the quota of up to ten contacts in the speed dial phone book remains unchanged. It is also a pity that you are not able to reply to messages directly from the watch.
How to contact the phone and the outside world?
To connect the Huawei Watch GT 2 Pro, it needs to be paired with a smartphone using Bluetooth. But for this to be possible, you need to install the Huawei Health app on your smartphone. If you have a Huawei or Honor smartphone, then this app is already installed in it, while everyone else needs to visit the Play Store and find it there. What is Huawei Health for?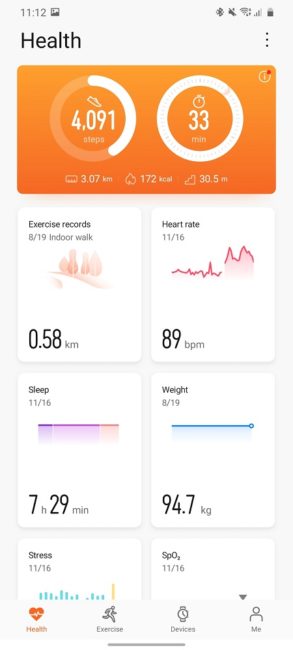 Yes, the watch can run on its own, but by connecting to your smartphone, the information collected by the sensors on your wearable device will be synced to your Huawei account. In addition, Watch GT 2 Pro will expand the capabilities of the mobile device itself.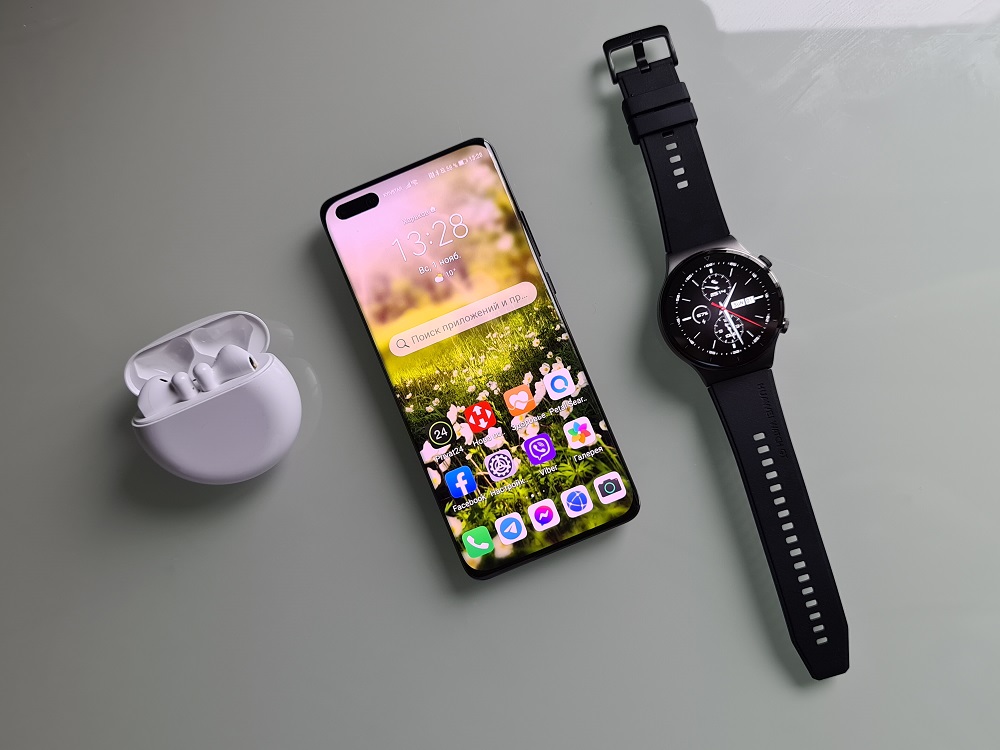 Huawei Health also gives us the ability to change settings that we cannot access from the watch. For example, only with the help of the app we can enable the notifications, as well as update the software of the watch itself.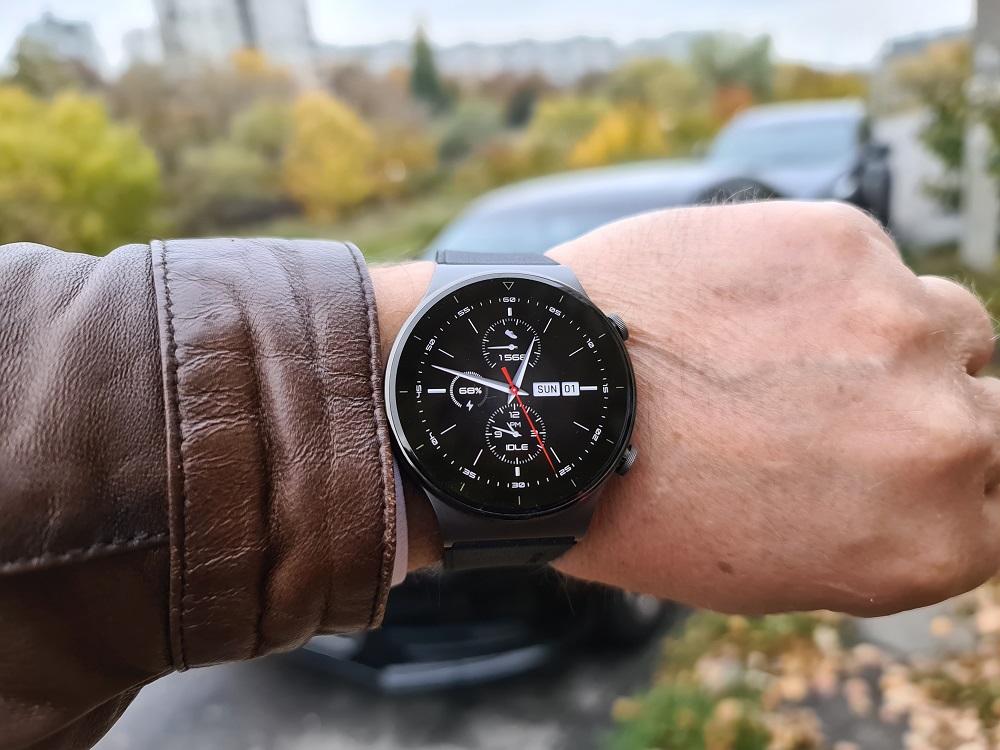 By the way, after a quick setup, you don't need your smartphone at first, since most of the actions you can do directly on the device itself, like in other smartwatches, be it measuring your heart rate, changing the UI design, tracking sleep, listening to music through speakers or headphones. Bluetooth and the like. But if you want to find out all the details about your activity, your health and well-being, as well as download watch faces and music tracks on your watch, then this is what you need the Huawei Health app for.
New sports modes and sensors
I talked a lot about the appearance of the watch, because its functionality, interface and principle of operation are very similar to those of the predecessors.
The sporting features of this watch were highlighted in detail in the Huawei Watch GT 2 review.
A workout buddy like no other
The Huawei Watch GT 2 Pro has a few new sports modes. It is not for nothing that a Chinese manufacturer focuses on winter sports or golf in its new ads. Snowboard mode notifies the user of the incline of the slope or the average speed of descent. In the case of golf, users get an advanced mode that shows the speed and pace of the swing of the golf club. But out of over 100 sports watch modes, only 17 of them are professional, or advanced, just like golf or snowboarding.
Another interesting addition is the ability to record your route while hiking in the mountains, and return the same way, which can be very helpful if you get lost. In addition, the Watch GT 2 Pro can show alerts of expected major weather changes using its built-in barometer.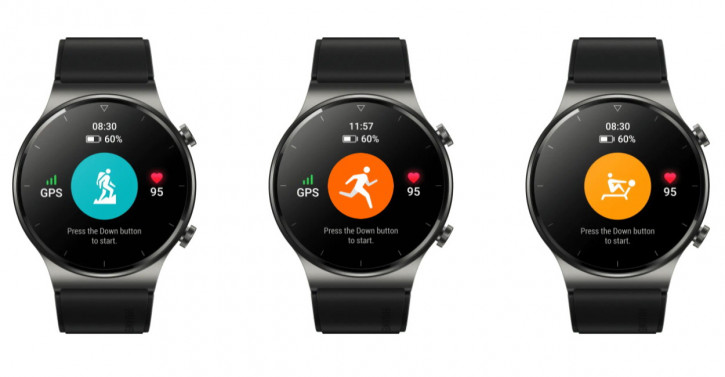 The watch automatically detects the start of six workouts – indoor and outdoor running, indoor and outdoor walking, rowing and cross trainer. All you have to do is start one of these workouts and the device will recognize it without starting the corresponding mode in advance.
The other 85 modes are mainly activities that control only parameters such as heart rate, calories burned and activity time. Therefore, they can be viewed more as elements for recording a specific physical activity and well-being, rather than for detailed monitoring and analysis.
SpO2, or how much oxygen is in my blood?
Huawei Watch GT 2 Pro, unlike its predecessor, has the ability to measure the amount of oxygen in the blood, the option called SpO2. By the way, Watch GT 2 got this option after the update. This is a very useful option for those who may get lost in office work, or who  rarely spends time outdoors.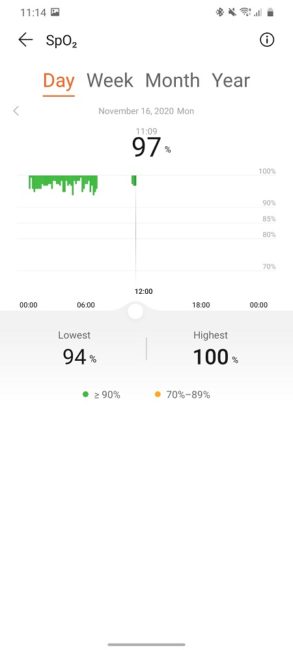 It's also helpful given the nasty coronavirus pandemic. Don't forget that a result below 90% is not normal and is a clear signal that it would be nice to go outside to breath some fresh air.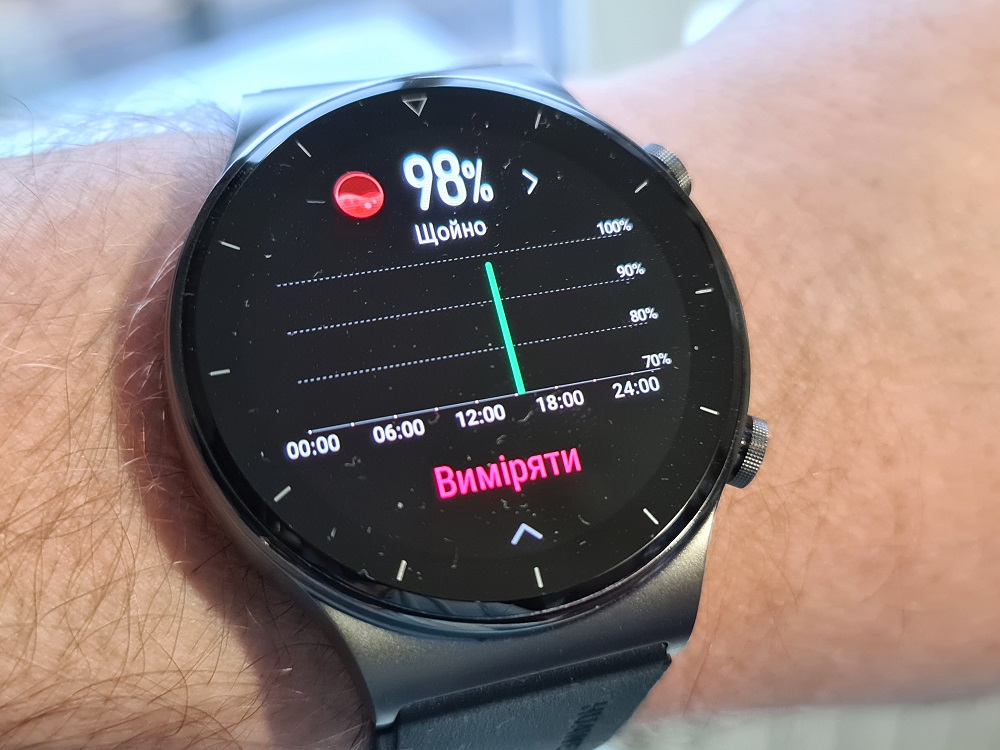 Unfortunately, there is no active SpO2 measurement function. Ideally, the watch itself should tell us to get some extra oxygen. And at the moment, until we decide to measure the oxygen level, we will not get the information.
What sensors does the Huawei Watch GT 2 Pro have?
In addition to the sensor for measuring the level of oxygen in the blood, the Watch GT 2 Pro also has:
heart rate monitor,
activity meter,
sleep quality analyzer,
level determination,
barometer,
altimeter,
compass.
The Huawei Watch GT 2 Pro is also equipped with a GPS receiver, which is useful when tracking our physical activity. There is no NFC module, so contactless payment with this watch is not possible.
Heart rate monitor as a sixth sense
I liked the simplest sensor, the heart rate monitor. Thanks to this sensor, I began to perceive physical activity in a different way. Before, when I was walking, cycling, working out in the gym or playing basketball, I didn't think about my heart rate. Now, lying under a heavy barbell, I want to check my heart rate. It is important that in case of overload and increased heart rate, the watch will instantly warn you about this.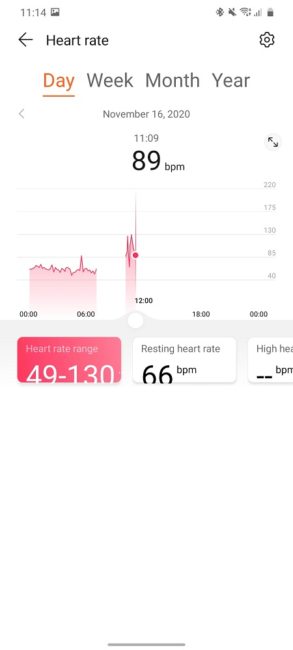 However, training is not the best time to test your own body parameters. Fortunately, the Huawei Health app comes to the rescue paired with a smartphone, where you can accurately track your heart rate and any other information collected about the state of your body.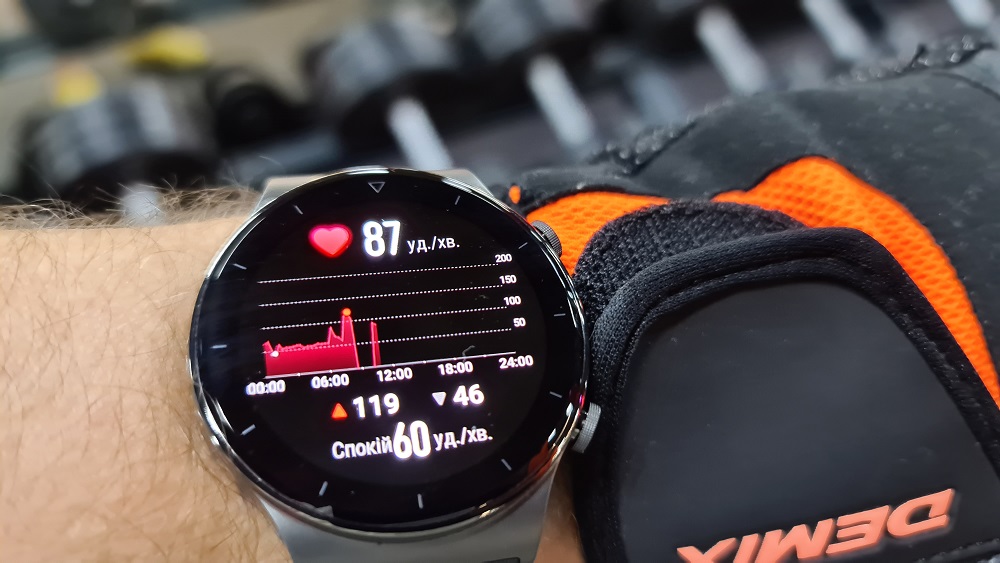 As you can see, at the peak of my workout, the heart rate was 130 beats per minute, and indeed, sometimes I felt that my heart began to beat too much. Therefore, this and other similar measurements are very useful. Plus, the heart rate monitor is rarely wrong. But remember that this is not a medical device after all. Therefore, if you really have a problem with your heart, it is best to see your doctor. But the watch can definitely control and warn about possible issues.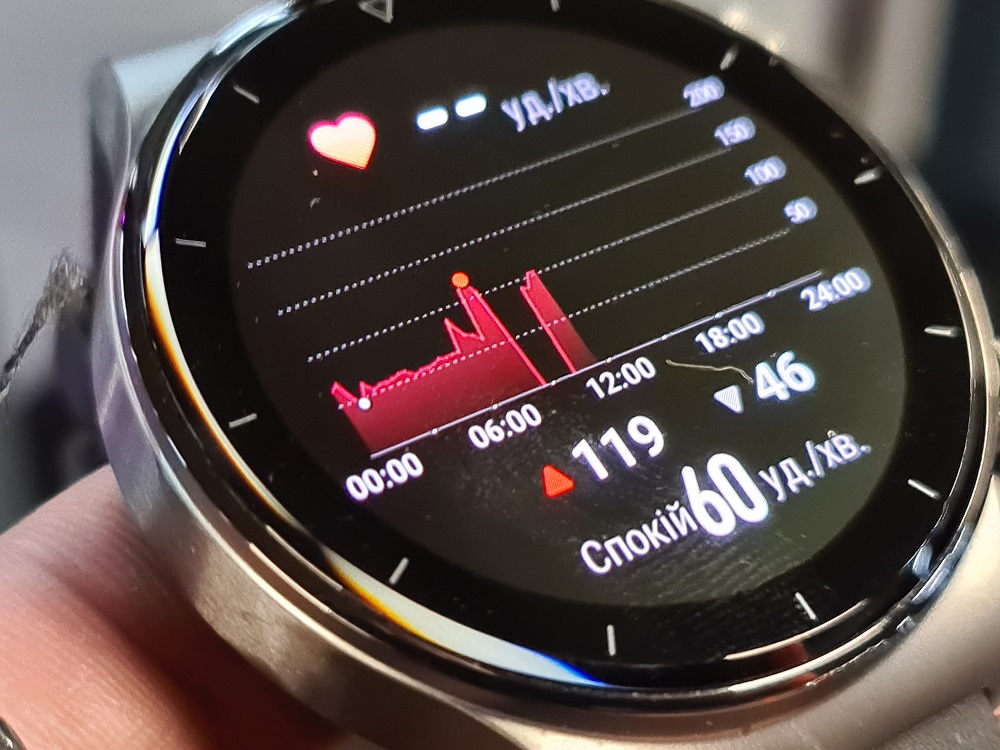 The sensors of the watch somehow become an extension of your own organs or senses, as if they help you to read your body, which means that you can better understand it. This is the magic of Huawei smartwatches.
Stress meter helps you relax
The same applies to the stress level meter. Thanks to this sensor, I could consciously experience moments of tension and notice moments of relaxation.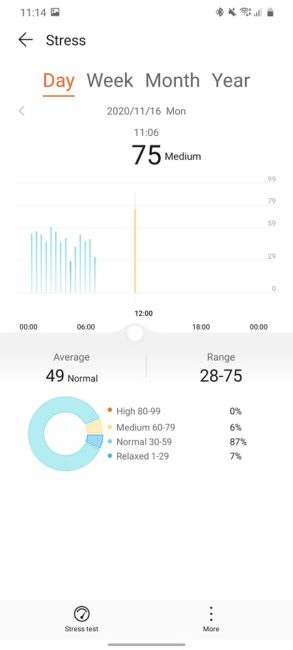 When I received information that I was relaxed, I noticed that I somehow subconsciously stopped worrying about the future, did not think about the past unnecessarily, however, it is difficult to say how much the placebo effect was in all this.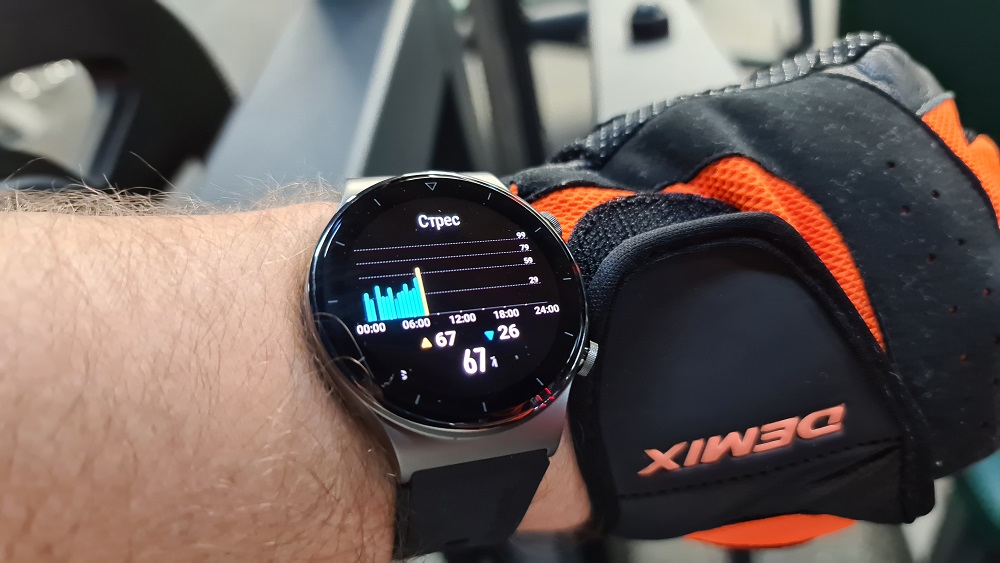 Sleep monitoring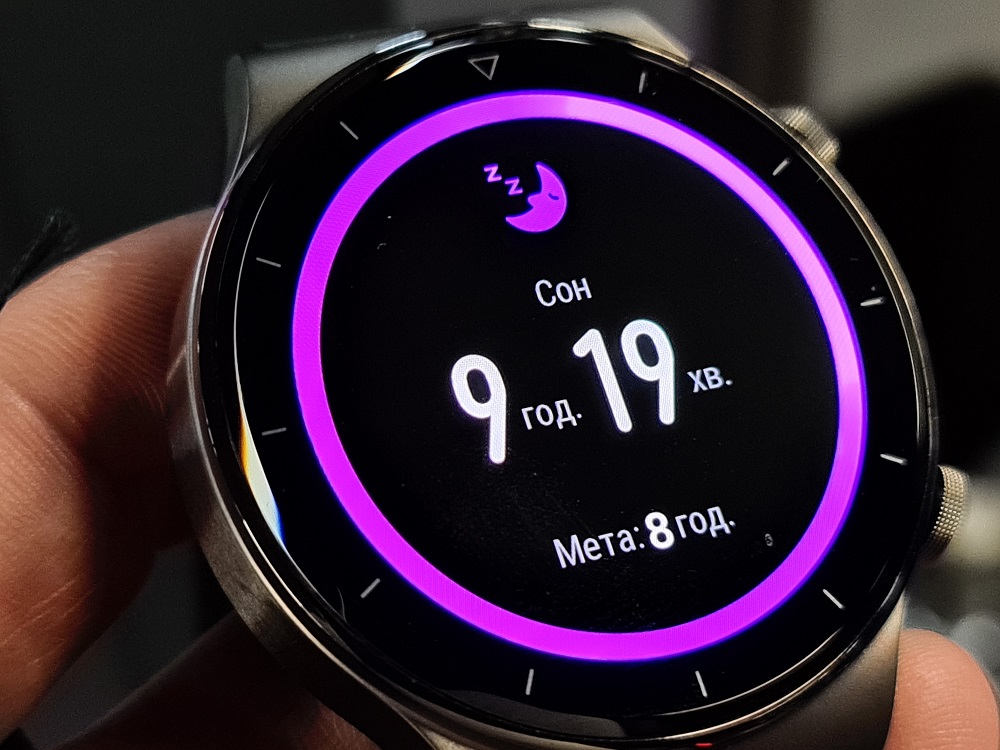 Sleep monitoring here is one of the most accurate I know of. The watch shows you how long you slept last night (night sleep + naps), and the Huawei Health app graphs an in-depth analysis of your sleep.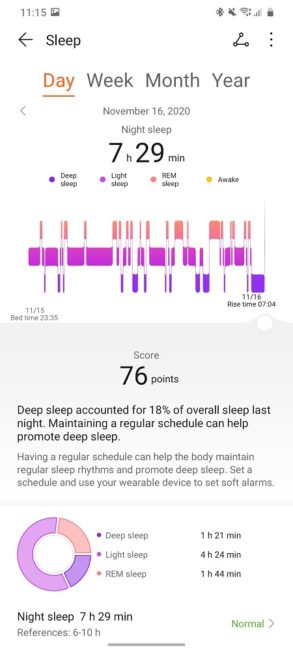 You will find out at what time you fell asleep, when you woke up, what was the quality of sleep and the quality of breathing. How long the deep, short, or REM sleep lasted. From each point, you can move on to detailed explanations and tips on how to improve your sleep quality.
Read also: Huawei Mobile Services (HMS) review – Just How Good is It and What's Been Done in the Last Year
Battery and wireless charging
The Huawei Watch GT 2 Pro has a capacious 455 mAh battery. According to the manufacturer, it should be enough for two weeks of normal use. I managed to get a maximum of 10 days of work. This time depends on how you use the watch. If you often attend workouts, use GPS, listen to music through headphones paired with a watch, then of course the watch will work less on one charge.
The main innovation here is the ability to charge wirelessly using Qi technology. The watch comes with a magnetic wireless charger, but you can also use other compatible chargers and even smartphones. Charging an empty battery takes about 100 minutes, reaching the 50% level in 40 minutes. To anyone interested, here is detailed information about the recharging process itself.
| Charging speed | Time |
| --- | --- |
|   10% █ ░ ░ ░ ░ ░ ░ ░ ░ ░ | 6 min |
|   20% █ █ ░ ░ ░ ░ ░ ░ ░ ░ | 11 min |
|   30% █ █ █ ░ ░ ░ ░ ░ ░ ░ | 18 min |
|   40% █ █ █ █ ░ ░ ░ ░ ░ ░ | 29 min |
|   50% █ █ █ █ █ ░ ░ ░ ░ ░ | 40 min |
|   60% █ █ █ █ █ █ ░ ░ ░ ░ | 52 min |
|   70% █ █ █ █ █ █ █ ░ ░ ░ | 64 min |
|   80% █ █ █ █ █ █ █ █ ░ ░ | 78 min |
|   90% █ █ █ █ █ █ █ █ █ ░ | 89 min |
| 100% █ █ █ █ █ █ █ █ █ █ | 100 min |
Huawei watch has one major advantage over the competition – no proprietary inductive charger is required to recharge it. During the tests, I could charge it with any inductive charger I have at home.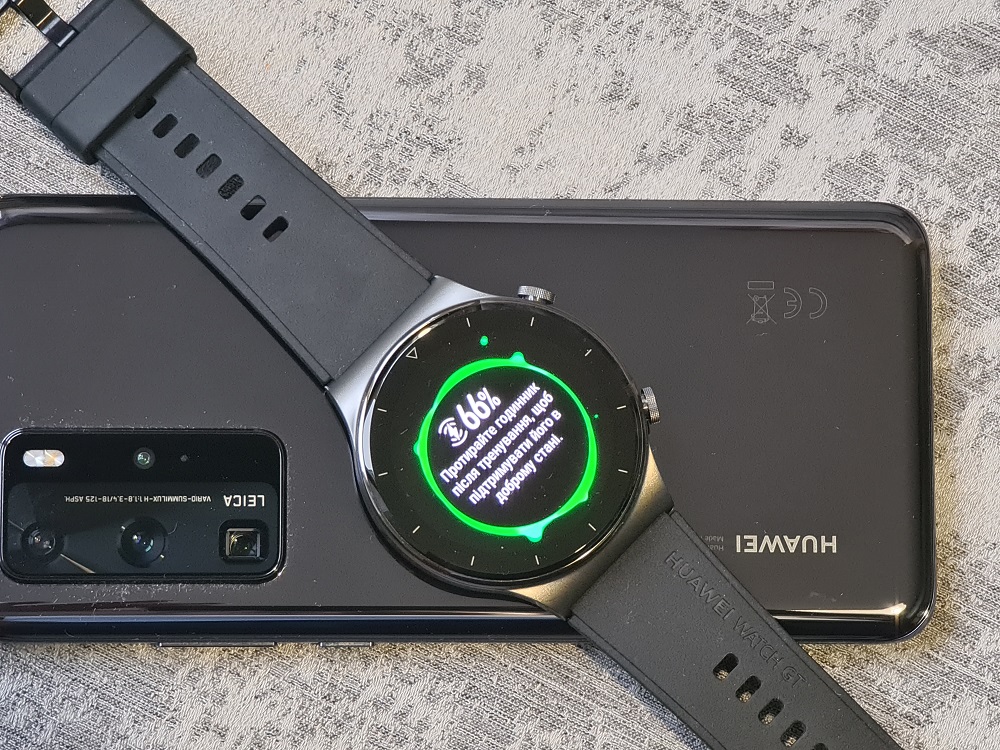 In the case of the Samsung Galaxy Watch3, I could only use the original charger, the Samsung wireless power bank, and the Galaxy S20 Ultra smartphone with wireless reverse charging. This innovation is very useful as you do not need to carry a charger with you when traveling if your phone supports wireless charging of other products.
Should you buy the Huawei Watch GT 2 Pro?
The Huawei Watch GT 2 Pro is an elegant device that looks like a classic wristwatch made from high-quality materials such as titanium, ceramic and sapphire crystal. Under this shell is a modern smartwatch that offers a large number of functions for monitoring the user's condition and tracking physical activity. The case is waterproof, and swimming is among the nearly 100 different activities it tracks.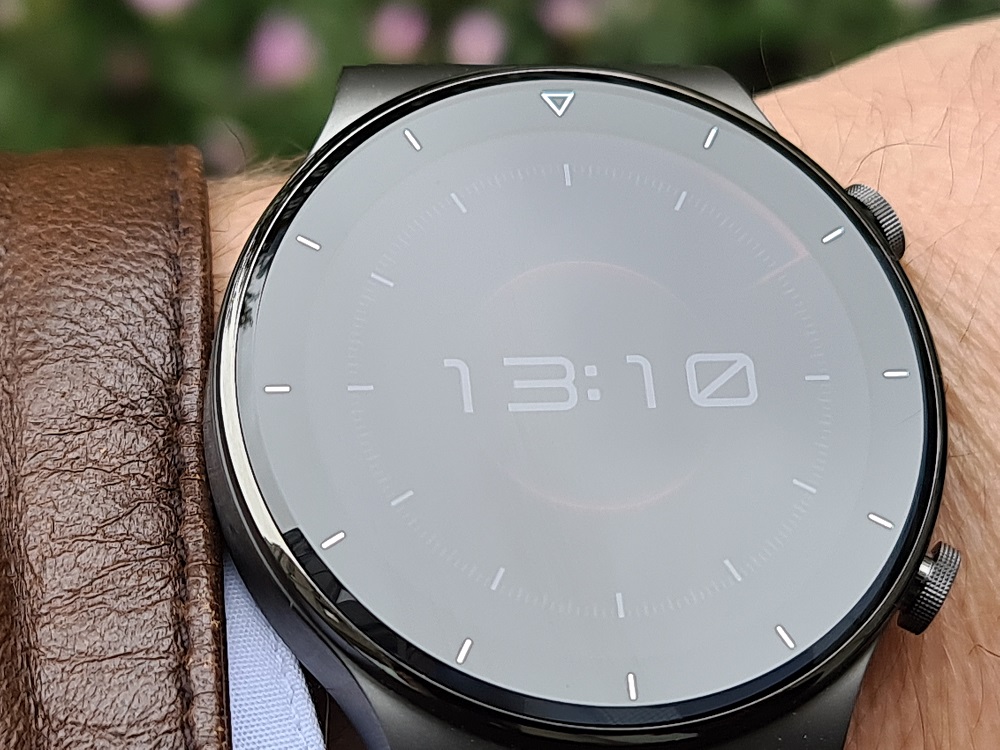 The watch is equipped with an AMOLED display that is readable in any conditions, as well as a speaker and microphone. Thanks to the latter, the device can act as a hands-free system for a paired smartphone. You can also listen to music from the watch, although it's better to use headphones connected via Bluetooth.
The battery is also great, thanks to which the Huawei Watch GT 2 Pro can last up to 9 days (according to the manufacturer, even 14). Unfortunately, this long working time is not only due to the efficient battery, but also to the limited software. The test watch uses proprietary software with a limited number of apps and functions, and, as in many other smartwatches, there is no possibility of installing additional apps. Also no contactless payments. Another disadvantage is the relatively high price.
But even if this smartwatch has its drawbacks, it is worth ignoring it and enjoying the workmanship and elegant minimalistic design. It is clear that the Huawei Watch GT 2 Pro is a prestigious alternative to the Huawei Watch GT 2.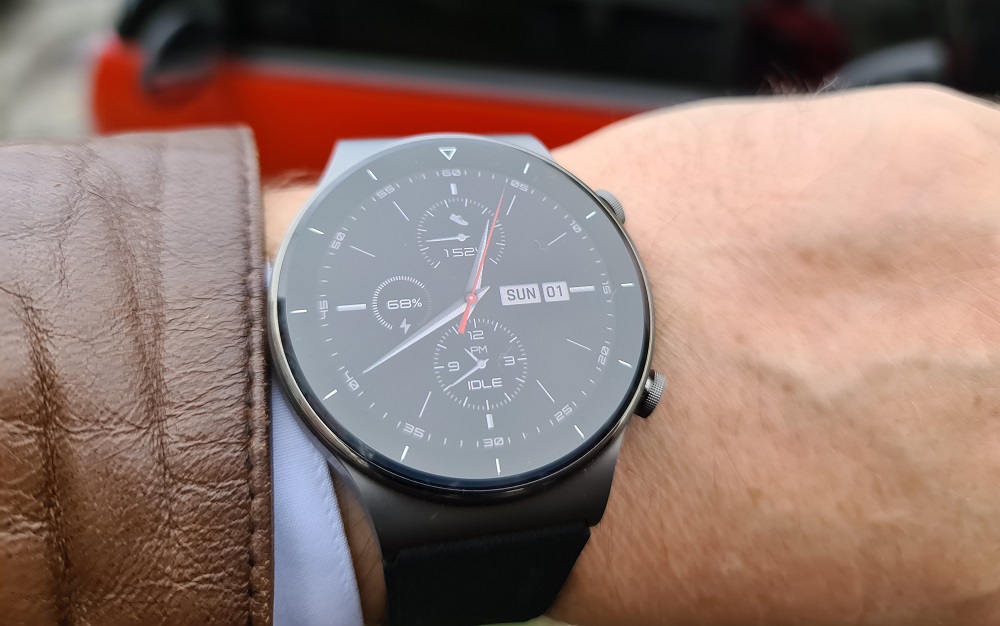 But is it worth buying it to replace its predecessor? This is a matter of personal taste. I cannot impose my opinion on you, so try to answer four questions:
Do you want some bragging rights?
Do you like the convenience of wireless charging?
Do you need more resistance to external factors than the Huawei Watch GT 2 has?
Does the fact that internally it's still Huawei Watch GT 2 bother you?
So, is it worth it? The price of the Huawei Watch GT 2 Pro is much higher than the Watch GT 2.
I would definitely recommend this wonderful smartwatch to those who need a device to monitor their sports activities and those who value long battery life. Plus, if you want to buy smartwatch made from high quality materials, you probably won't find a better deal.
Pros
great build quality;
sapphire crystal, titanium case, ceramic bottom;
greater resistance to damage than its predecessor Watch GT 2;
comfortable strap;
good display;
very long working hours;
wireless charger;
the ability to activate the watch face in standby mode;
the ability to listen to music from the watch via Bluetooth headphones;
phone calls from the watch;
more than 100 sports disciplines in the exercise database;
modern set of physical activity sensors;
built-in GPS;
versatility that will appeal to a wide range of users.
Cons
limited operating system and a list of available app and functions;
almost the same features compared to the cheaper version of Watch GT 2;
high price.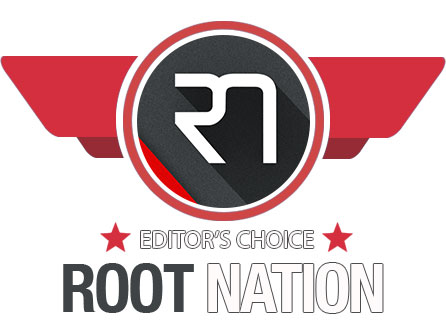 Where to buy Huawei Watch GT 2 Pro
Subscribe to our accounts: