On a tight budget but looking for a compact smartwatch with a large display and rich sports features? Pay attention to Huawei Watch Fit.
Huawei has been in the smart device market for a long time. The manufacturer's wearable gadgets are very popular, and recently the company has released a new rather interesting smartwatch. Though it's probably more of a hybrid of a smartwatch and a fitness tracker. Even its name is unusual – Huawei Watch Fit.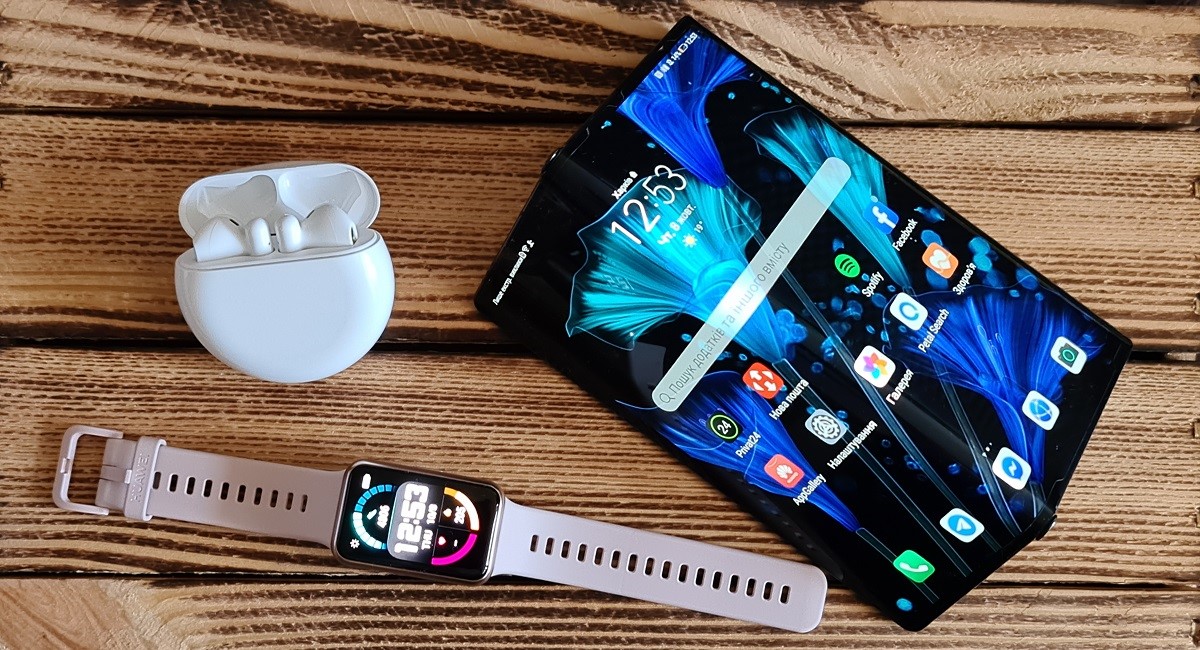 "Take care of your health and fitness with the new smartwatch," shout Huawei's ad banners. So I decided to check if the latest watch from this manufacturer have a chance to become my personal trainer, assistant and faithful companion who will adapt to my lifestyle and current mood. I was wondering who the watch is for and is it worth investing in Watch Fit, or maybe it is worth looking elsewhere?
For testing I decided to take a smartwatch of an unusual color for us, men, which is pink. The exact name is "pink sakura". Why this color? I am tired of the classic black, and for some reason did not like the green model. So, let's begin. But first, check out the technical specs of the Huawei Watch Fit.
Huawei Watch Fit specs
Display

Matrix type:
AMOLED
Display material:
Strained glass
Display size:
1.64″
Display Resolution:
456 × 280
Touch screen:
Yes
Pixel density:
326 ppi
Memory

Flash memory:
4 GB
Memory card slot:
No
OS

Compatibility:
iOS, Android
Operating system:
Proprietary
Wireless technologies and connectors

Wi-Fi:
No
Bluetooth:
5.0
NFC:
No
ANT:
No
GPS:
Yes
LBS:
No
microUSB:
No
Camera

Camera availability:
No
Communication

SIM card:
No
Calls and alerts:
App Messages, Call Messages, SMS Messages, Vibration, Calendar Events, Social Media, Email
Sensors and functions

Sensors:
Light sensor, accelerometer, gyroscope, calorie counter, pedometer, optical heart rate sensor, heart rate monitor
Functions:
Smartphone camera control, fitness tracker, phone search function, listening to music, sleep tracking, activity time tracking, calculating the distance traveled, location tracking
Nutrition

Charging method:
Magnetic connector
Operating time (normal mode):
10 days
Body

Case material:
Polymer composite
Body color:
Golden
Strap color:
Pink
Moisture protection:
Yes
Protection standard:
5 ATM
Weight:
21 g
Dimensions:
46 x 30 x 10.7 mm
Additionally

Additionally:
Band size: 13 ~ 21 cm
Working time:
Active use 7 days
GPS mode: 12:00
Quick charge: after 5 minutes of charging, the battery lasts for a whole day,
96 training modes
Country of manufacture:
China
Complete set:
Smart watch
Charger (contains the charging cable)
Instruction
Warranty card
Where to buy:
What's in the box: everything you need
In a neat white box we find the watch itself, a cable for charging the device and a set of necessary manuals. Standard stuff.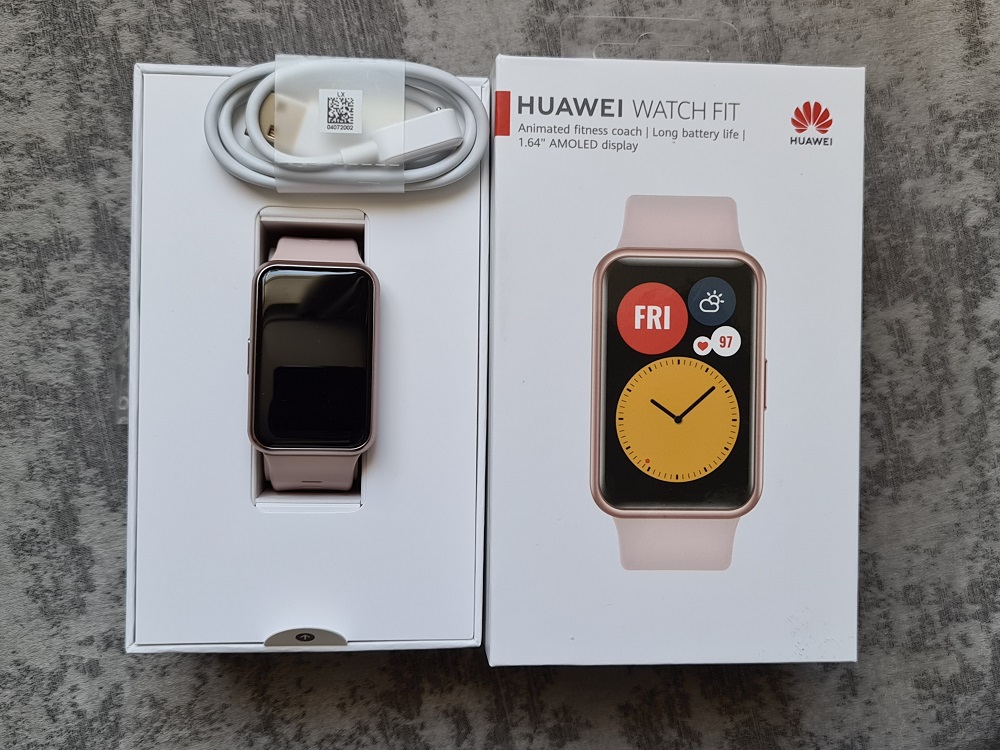 A new design for Huawei
The first thing that attracts attention about the Huawei Watch Fit is the design – a completely new shape. Now it is not round (as in all previous models), but rectangular. To be honest, the new product from Huawei looks vaguely similar to the Apple Watch, but the display is longer. In the pink color I have chosen, they look rather unusual on a man's wrist, but on a woman's hand everything is fine.
Thanks to its smaller dimensions and light weight (only 21 g without the strap), you can comfortably wear the watch all day. They do not interfere with daily activities and are very comfortable to sleep with.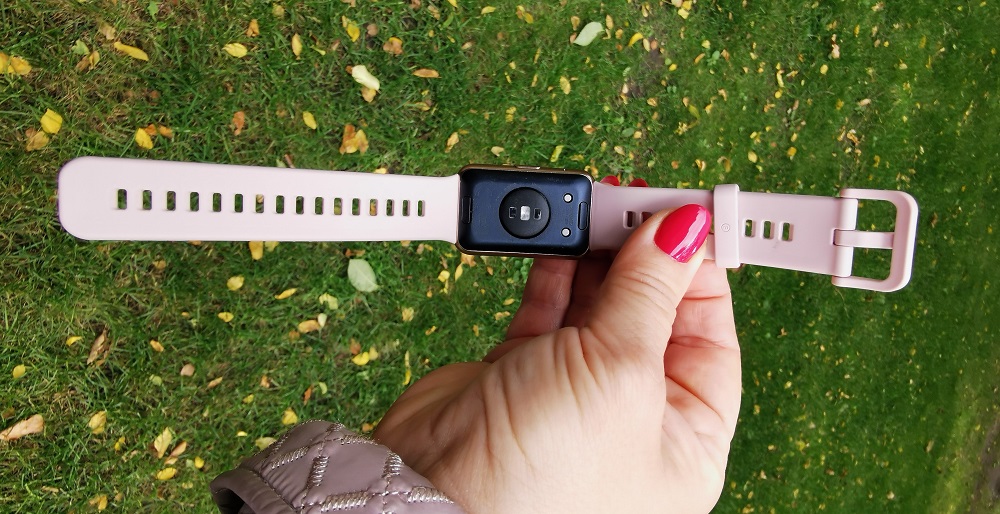 The strap, like everything else, is plastic, but it is non-allergenic, flexible and has a wide range of adjustments.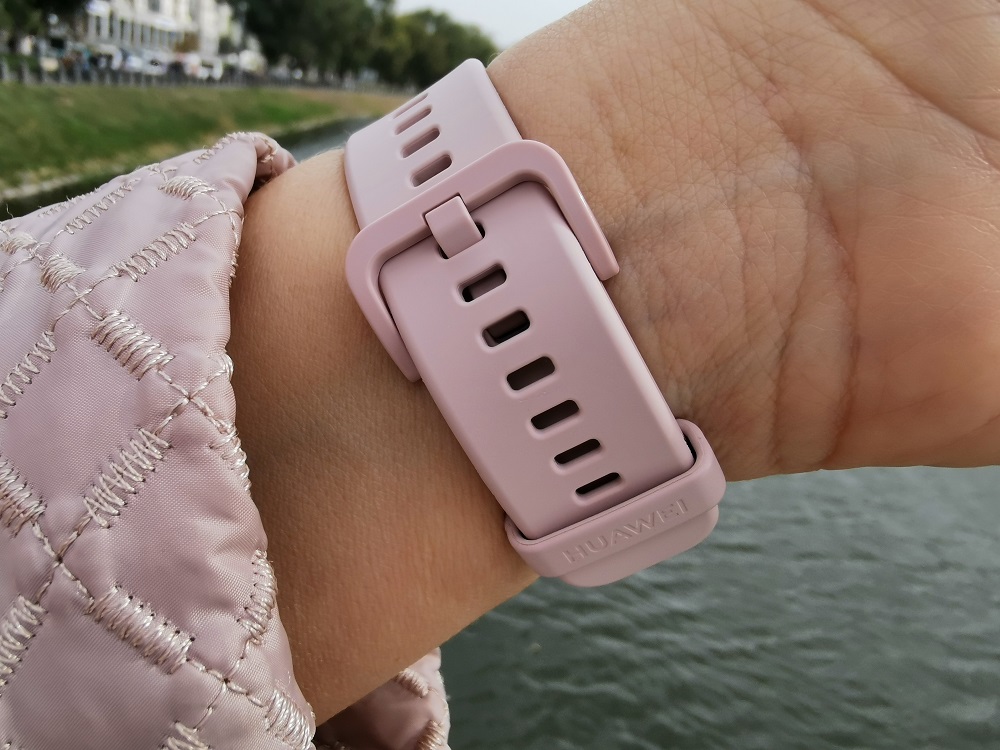 Also, you can replace it. However, this is not very convenient to do. First you need to slide out the small plastic holders from the bottom. To be honest, I managed to do it on the third try. In addition, one must be careful not to lose them.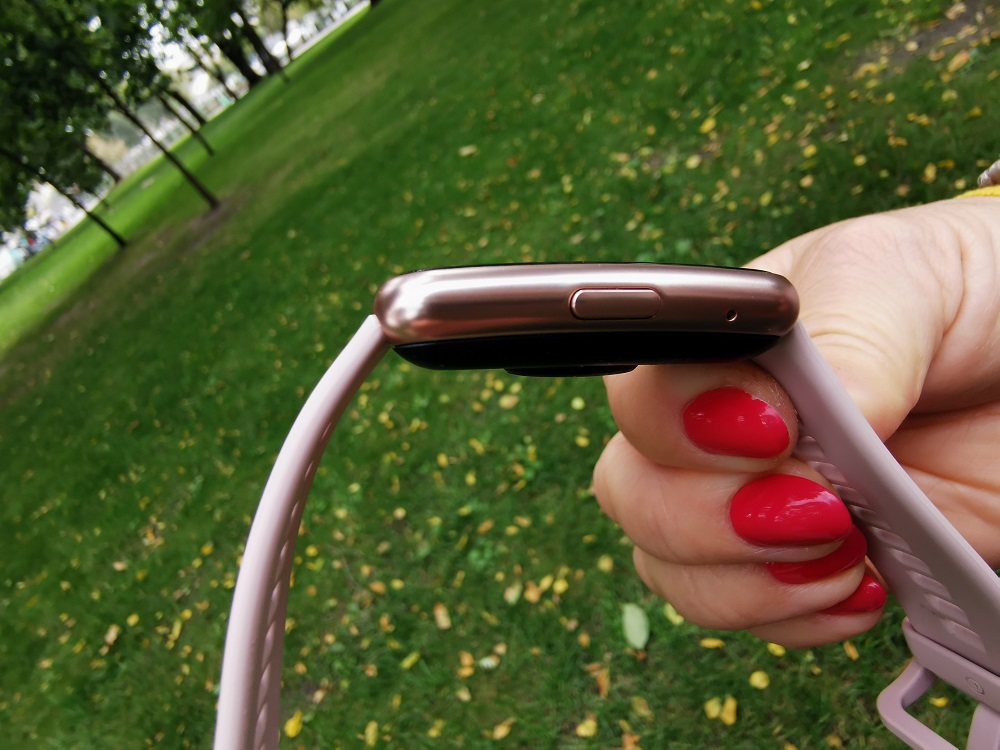 On the side, on the right, there is a single analog Home button that worked flawlessly throughout the testing period. It can be used to go to the home screen, open a menu, or lit up the display. A long press brings up a menu to turn off/restart the clock.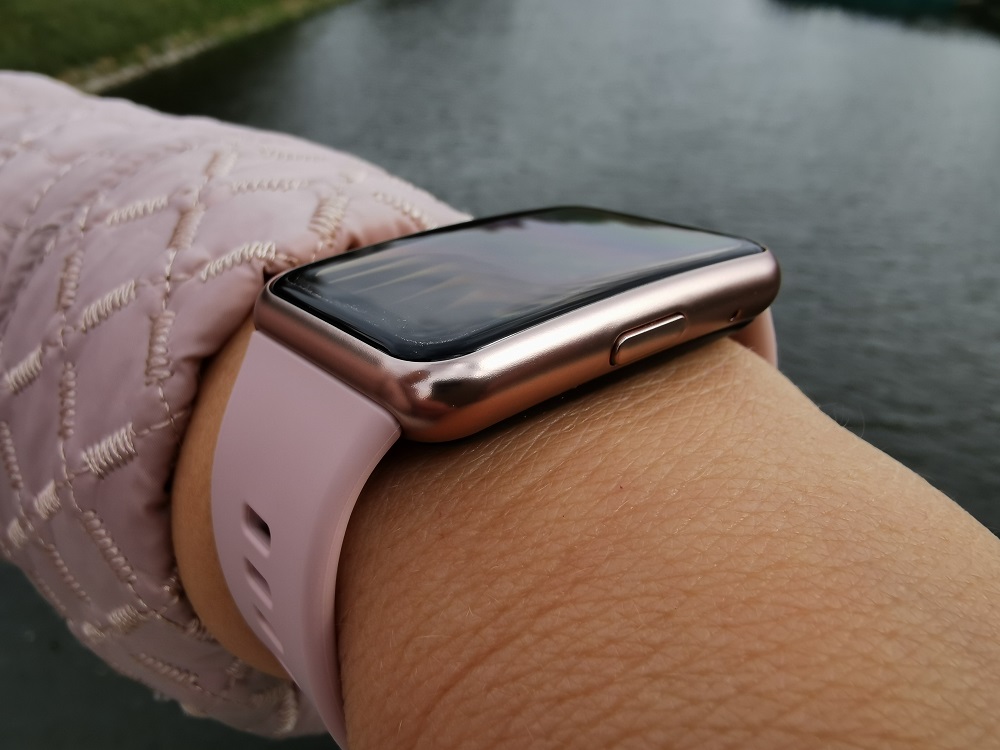 On the inside there is a place for a heart rate monitor and an SpO2 blood oxygen sensor. There are also a pair of pins here for convenient inductive charging. However, you will look in vain for a speaker or microphone. Unfortunately, they are not here.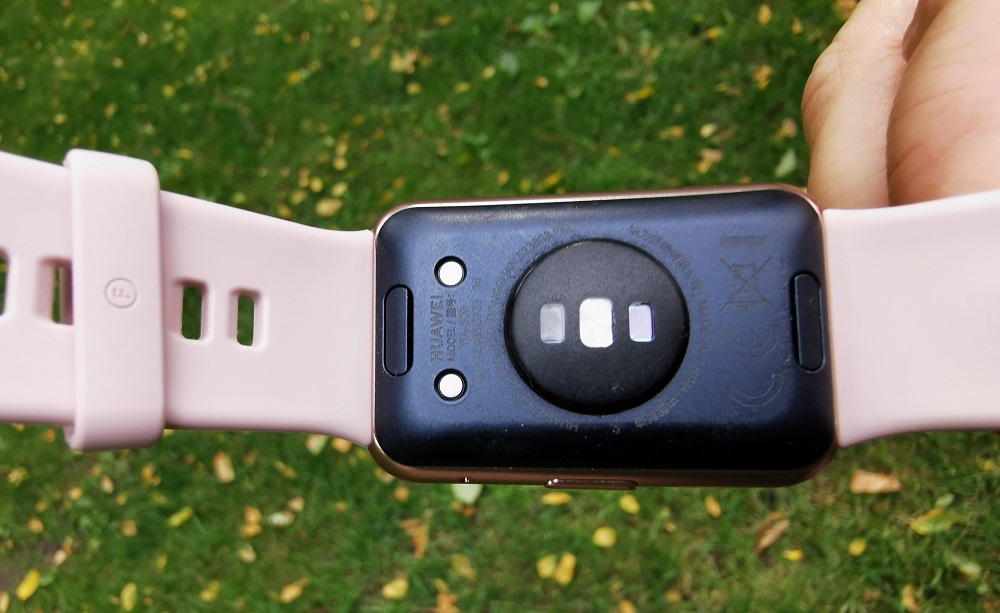 The Huawei Watch Fit also can withstand up to five atmospheres. In practice, I showered and washed my hands without any harm to the watch.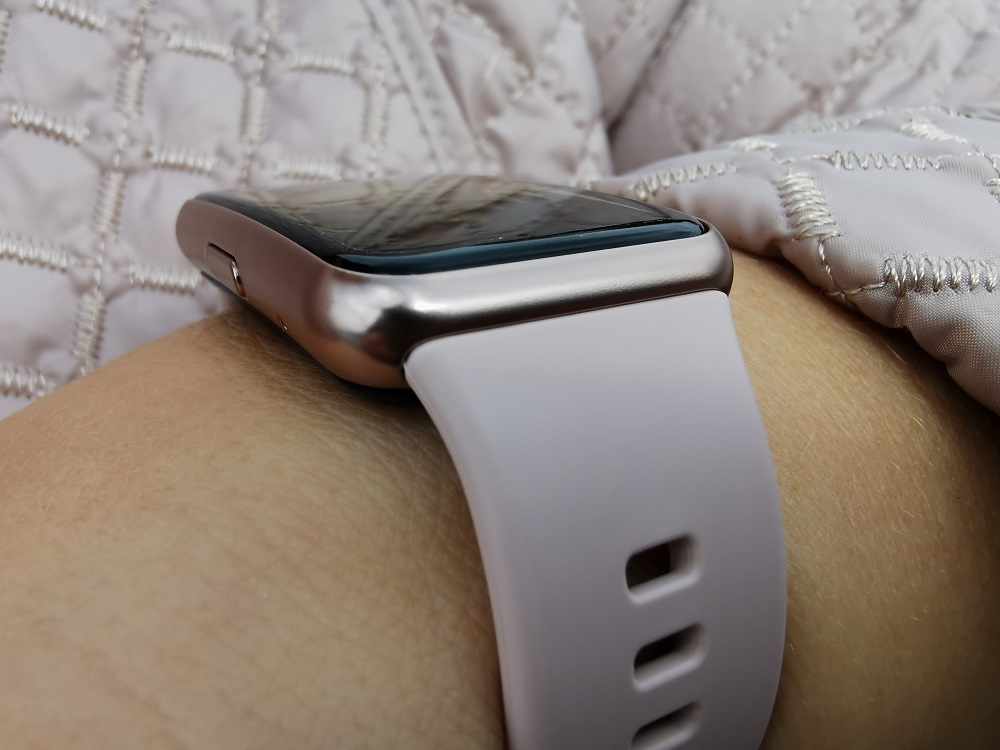 In conclusion, I note that in addition to pink, there will also be green and black options on the market.
AMOLED color screen
So, let's move on. The front panel of the Huawei Watch Fit case houses a 1.64-inch AMOLED touchscreen with a resolution of 280 × 456 pixels. And this is an element that impressed me the most.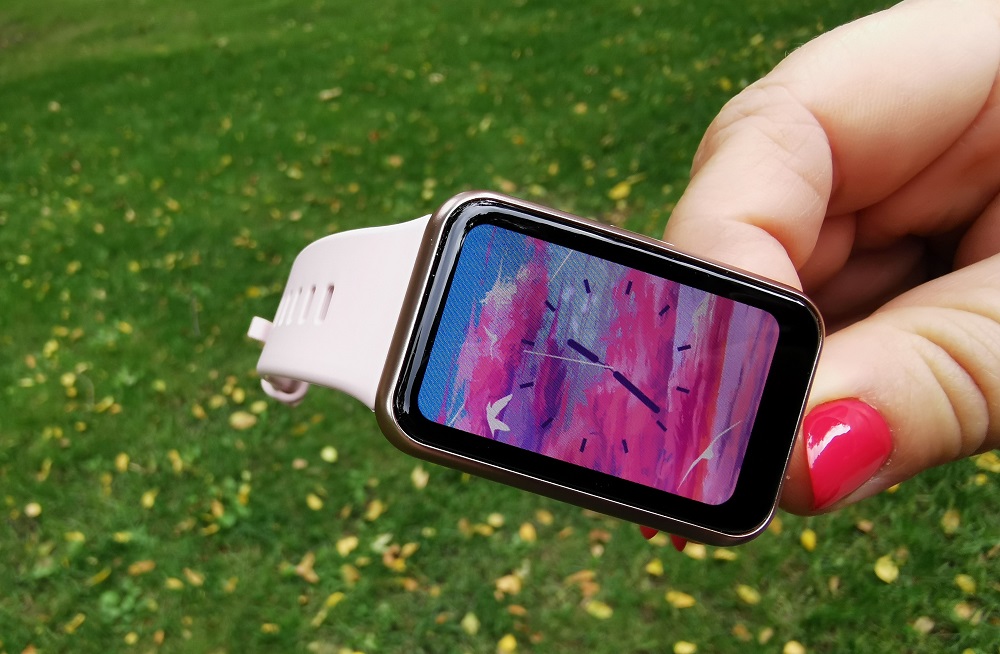 The screen is very readable and the colors displayed on it are very rich. This is noticeable at first glance. Huawei engineers covered the display with 2.5D glass, which simulates the effect of depth, and further enhances the visual experience when interacting with the device.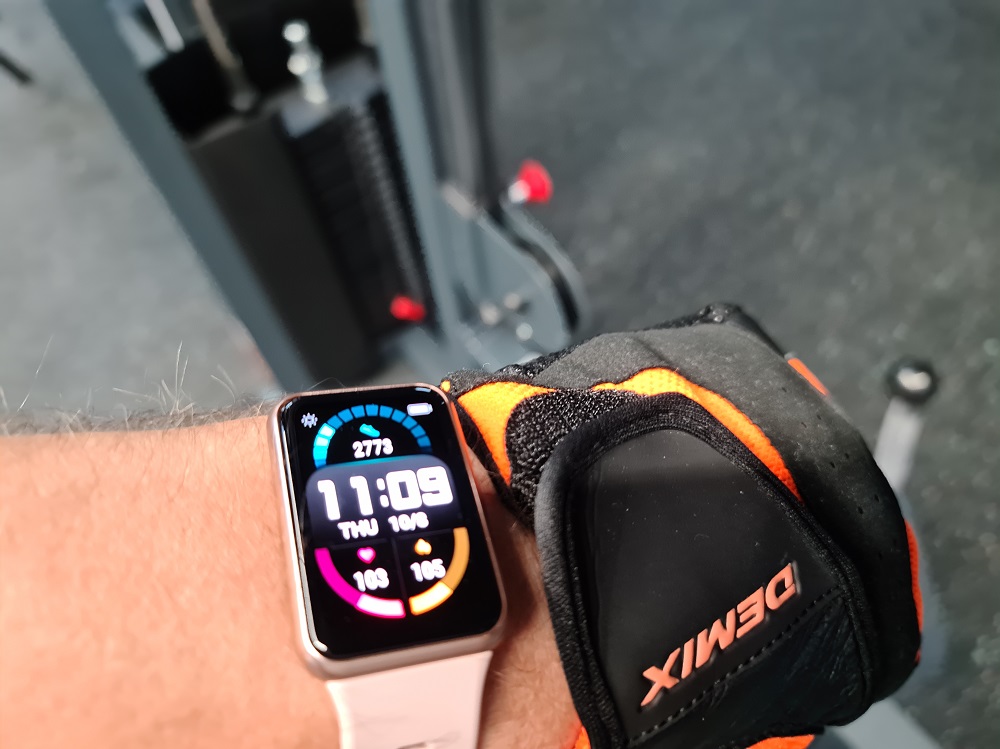 Contrasts are sharp here as well, so reading was not a problem for me. Moreover, the display in Huawei Watch Fit adjusts its brightness according to weather conditions and time of day thanks to the ALS function. In practice, this works phenomenally, and I think this is its big advantage. Brightness control can be manual.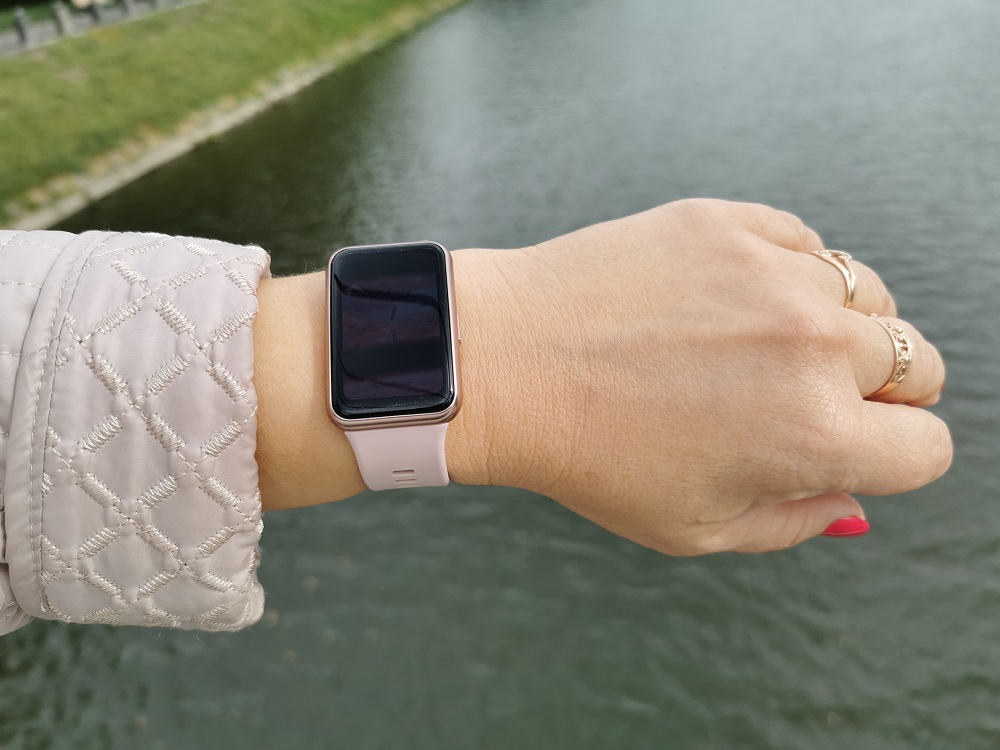 Always on Display
The cherry on the cake when it comes to the Huawei Watch Fit screen is the fact that it implements Always on Display (AoD) technology, which uses a special sensor to make the screen respond to raising your hand and reflects critical information. If we are in a gym, these will be the current training parameters, and during daily activities, the display will show the basic information that is available on the watchface we have chosen.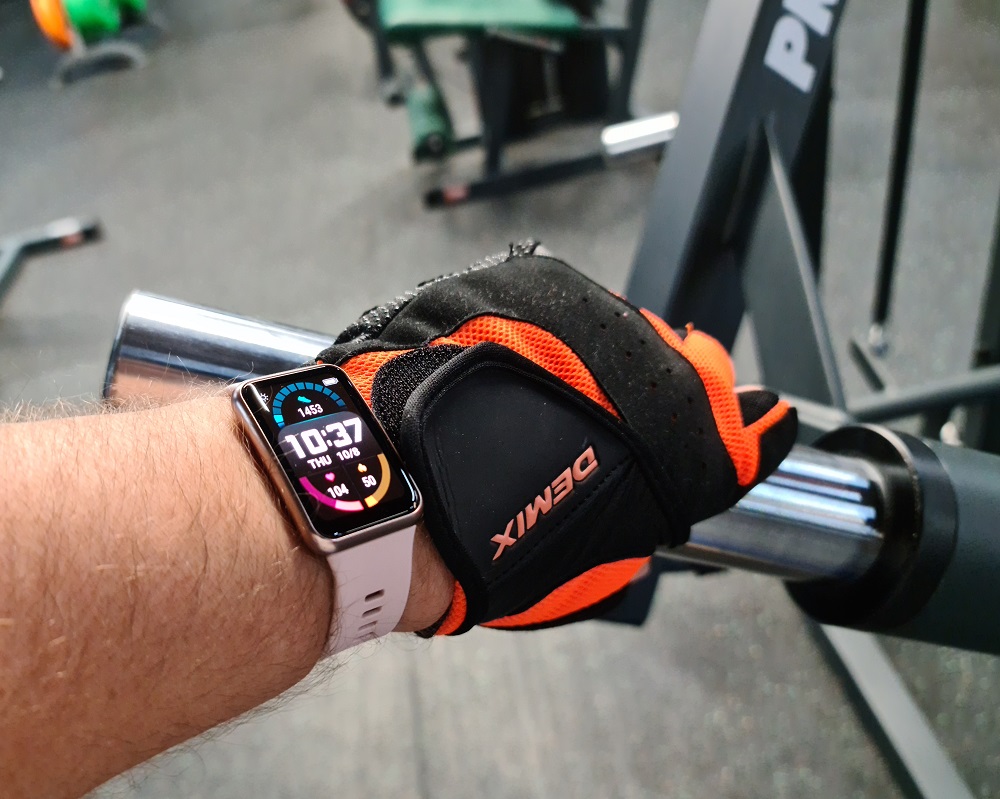 I appreciate this functionality, especially while cycling, when the menu navigation is significantly limited. All I had to do was raise my hand with the Huawei Watch Fit, and I already knew how many calories I had burned so far, or how much distance I had traveled. That's great! The same happens during workouts in the gym.
It should be noted that you can install any themes on the Huawei Watch Fit display, and there are over 200 of them here, so there is plenty to choose from. It is also possible to select an original photo from your gallery. You can do this with the help of Huawei Health app, which I will mention below.
System and performance: a classic from Huawei
The Huawei Watch Fit OS is identical to the Huawei Watch GT2 or the new Huawei Watch GT 2 Pro. This is Lite OS, which is great in terms of power consumption but less attractive in terms of features. Although this is a smartwatch, it is impossible to reply (even with the help of predefined responses) to messages, and additional programs can not be installed. All the advantages and disadvantages of the system have already been mentioned several times in our reviews, and Huawei has not improved the system in this regard.
But what you can rely on are classic features like timer, alarm, stopwatch, flashlight, phone search or weather function. There is also a remote shutter, but it only works with Huawei devices. There is no internal storage memory, so you won't be able to download files to the watch.
Huawei Watch Fit works with Android 7.0 or later and iOS 9.0 or later. Device configuration is quick and easy. The basic settings of the watch are available in its menu, while a larger and more accurate personalization possible thanks to the special Huawei Health app for the smartphone, with which we can connect via Bluetooth version 5.0.
Huawei Health App
As I promised, now I'll tell you more about this app, which is easy to find on the Google Play. And if you have a Huawei/Honor smartphone, then Huawei Health is already installed on it.
The Huawei Health program unlocks a range of options and information that the user needs. First of all, we can completely personalize the device according to its capabilities: from watchfaces to individual notifications. Second, we get a complete picture of our activities, exercise, stress measurement, sleep parameters and oxygen saturation levels.
It should also be noted that the Huawei app is very accessible. Here you will find tips and suggestions not only for training, but also for a healthy lifestyle in general. Huawei Health's UI is simple, visually pleasing and accessible, as well as understandable for people who are just starting their acquaintance with the device.
Huawei Watch Fit for workouts
The looks aren't the only benefit of the new Huawei Watch Fit. If someone is looking not only for a beautiful accessory, but also for a truly sporty watch, they will not be disappointed. The premium device from Huawei offers 96 (!) sports modes, including exercise in the gym, jogging, cycling, swimming and yoga. 12 fitness courses are also available here.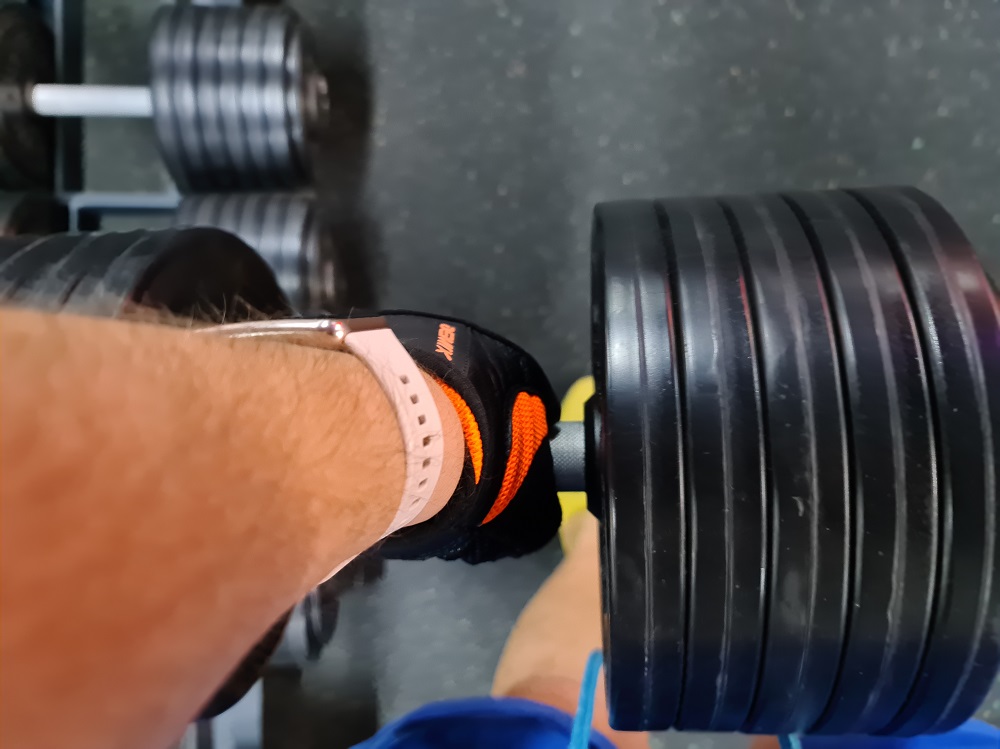 As the name suggests, Watch Fit is geared towards athletes and active users who want a basic overview of their sports activities. This is a real personal fitness trainer who surprised even me, a person who has been going to fitness club for many years.
Advanced measurement of body parameters
First of all, I really liked that the new Huawei Watch Fit allows you to monitor the body's work in detail – both in everyday life and during exercise. It tracks, among other things, the distance traveled (thanks to a built-in GPS module), calories burned and pace.
Several times I compared the number of steps that the Huawei Watch Fit counted with a watch from another company (Samsung Galaxy Watch3), and the values ​​were almost the same. On the other hand, the distance during a bike ride was measured by the clock just like it was on a bike computer, so with a clear conscience I can say that the Huawei device in pretty accurate.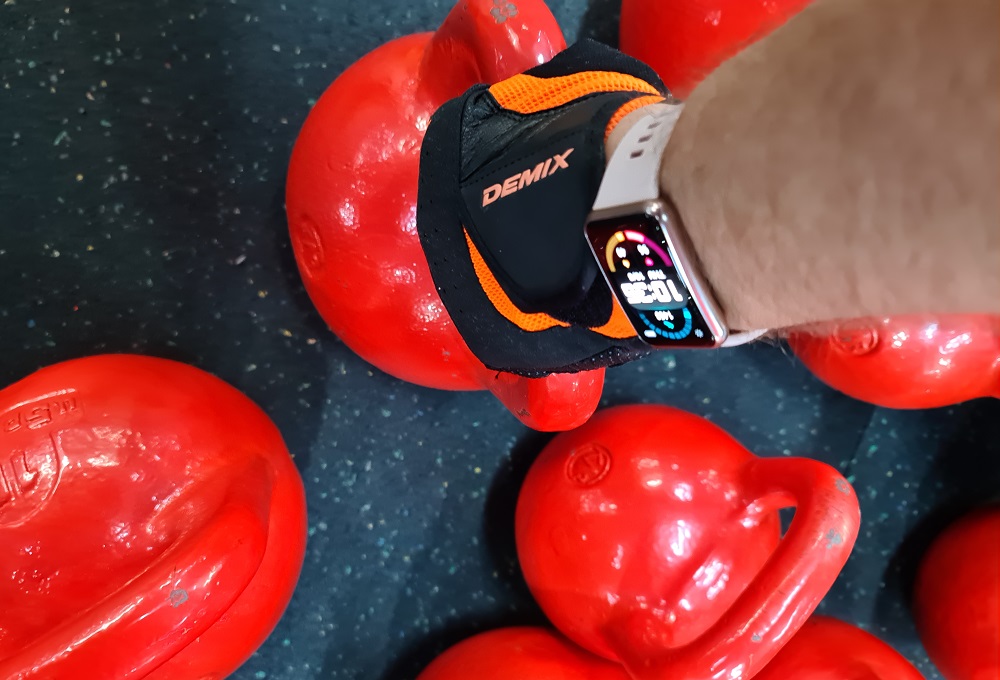 The smartwatch also provides practical advice during exercise, such as warning you when your heart rate is starting to rise too quickly. After completing the exercises, it reports on the time required for full recovery, how intense the training was, whether the user's physical form changes. Based on this data, you can easily create and modify training plans. Great, isn't it?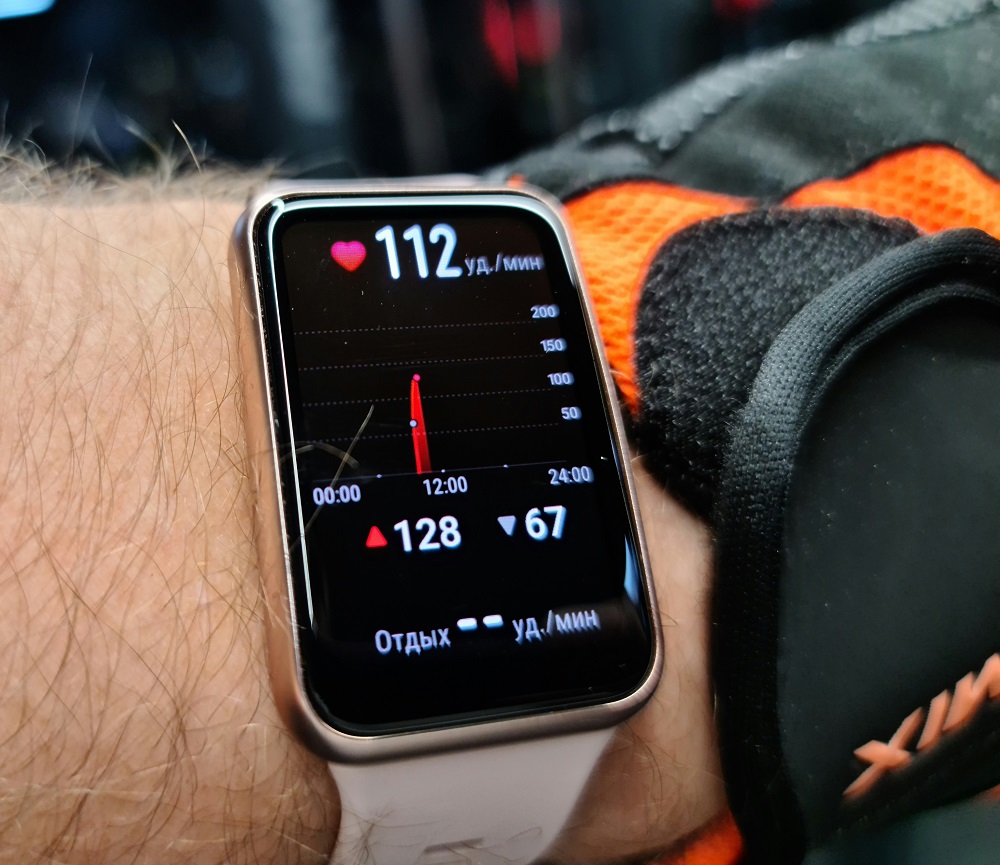 But that's not all. Every entry and success is recorded and rewarded continuously. Most steps? Distance record? The Huawei Watch Fit will notice and display a distinctive chart with prizes and congratulations on its colorful screen. I find it very encouraging.
Workout details at your fingertips
Interestingly, after selecting any sport mode, a dedicated panel divided into five parts will appear at the top of the smartwatch screen. Each of them is marked with a different color.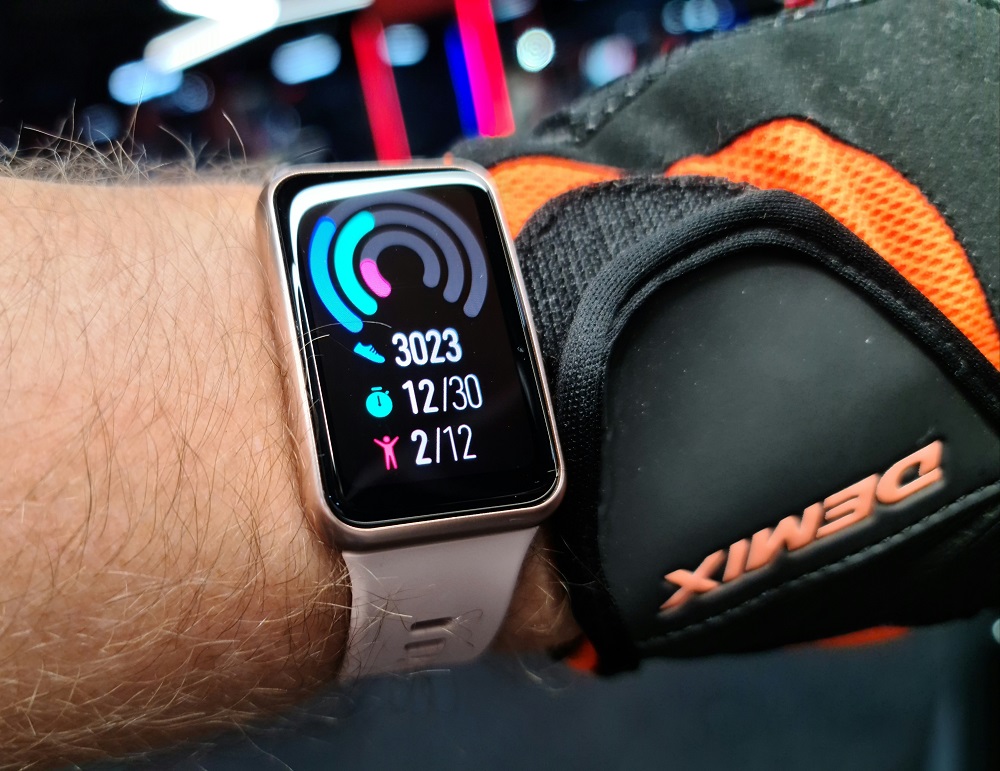 They match the training stage and current effort, from warm-ups to highly demanding aerobic exercises. There is an arrow that shows what is happening to our body at the moment. Therefore, you just need to look at your watch to see how effective your workout is.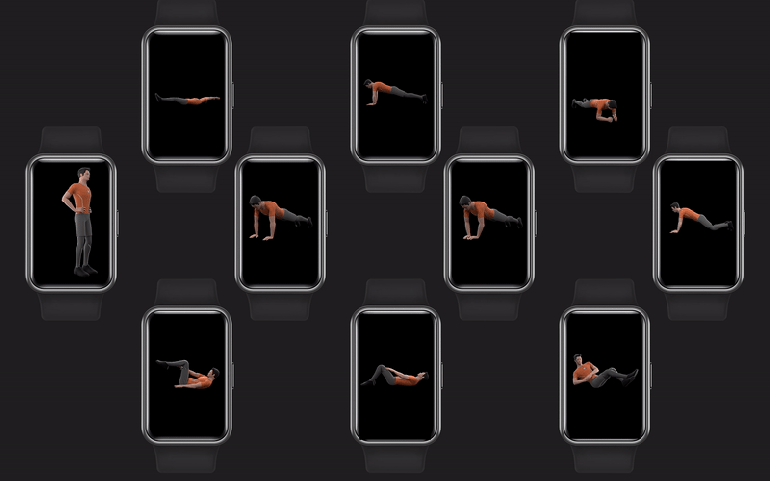 Control your heart rate, sleep, stress, blood oxygen, etc.
In addition, the Huawei Watch Fit is equipped with an advanced optical module that allows you to constantly monitor your heart rate. Measurements are taken not only during training, which allows you to determine the difficulty of the exercise, and the state or the time it takes to fully recover. With accurate heart rate data, you can monitor and analyze your sleep quality and stress levels. When your heart rate is too high, several breathing exercises can be done to decrease it.
Simply put, Huawei Watch Fit will analyze in detail the quality of rest and sleep in different phases. In fact, the watch only displays sleep time, but after connecting to the Huawei Health app we will be able to see specific data and graphs regarding each sleep period. It also describes possible causes of deviations and tips on how to correct them, if necessary.
Another interesting function is controlling the level of blood saturation, or the actual amount of oxygen in the blood. All you have to do is select the SpO2 function in the watch menu and the measurement will be performed immediately.
This is especially important for people who experience shortness of breath during exercise or, for example, cannot catch their breath. Now, thanks to the functionality of the Huawei Watch Fit, they can monitor proper blood oxygenation and tailor personal workouts. The Huawei smartwatch also calculates VO2MAX – the maximum amount of oxygen your body can consume during intense exercise.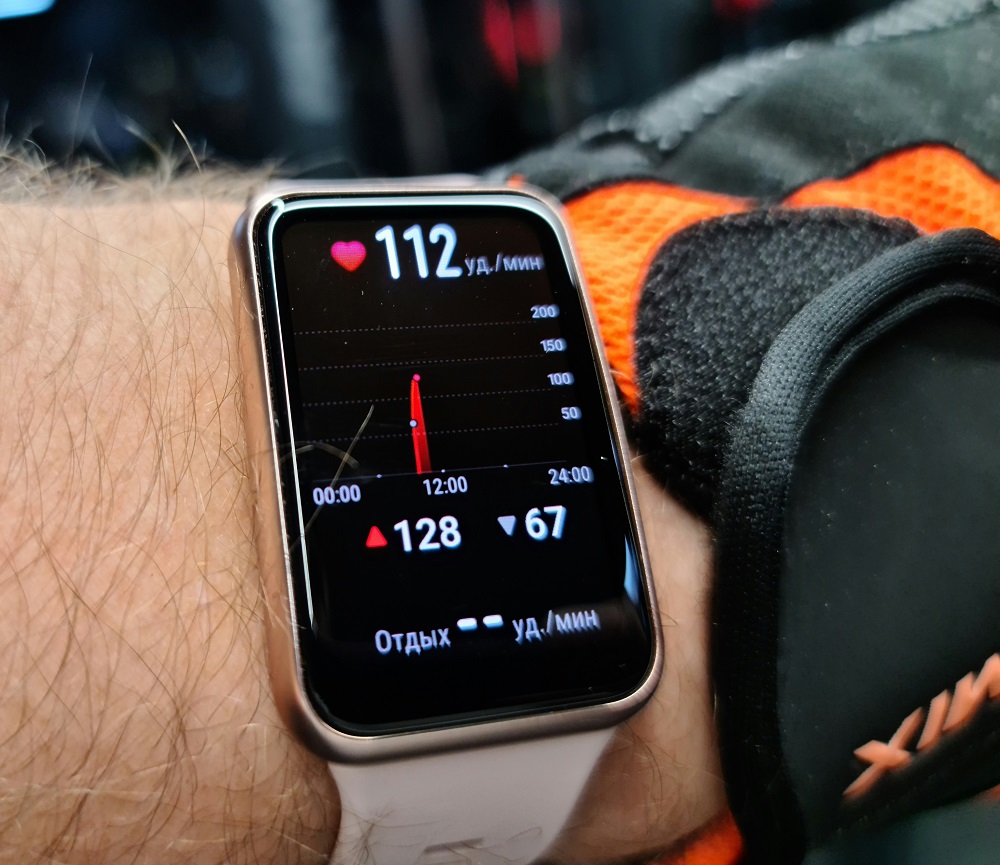 Women will also appreciate Huawei watches, as they allow extremely intuitive and effective control of the menstrual cycle.
Automatic activity detection
But it's not over yet. It is also worth mentioning that there are exercises that Huawei smartwatches identify by themselves. I mean running, brisk walking, orbital exercises and rowing activity. All we need to do is start one of the aforementioned actions and a message will appear on the screen to activate training recording. However, you must first enable this option in the menu.
Something for swimming enthusiasts
Importantly, the Huawei Watch Fit has received 5 water resistance certifications. This means that it can be a great companion when you are covering the next distance in the pool or swimming in the sea. And don't worry about damage. After finishing your pool workout, the watch will send all distance, pace and performance information to the mobile app, so checking your progress won't be a problem.
Multimedia and phone functions
Control music and camera shutter
Exercising with the Huawei Watch Fit is not only enjoyable because it is a personal trainer: during workouts (and not only), you can use it to control music. All you have to do is connect it to the app on your phone via Bluetooth, put on your headphones and you're done.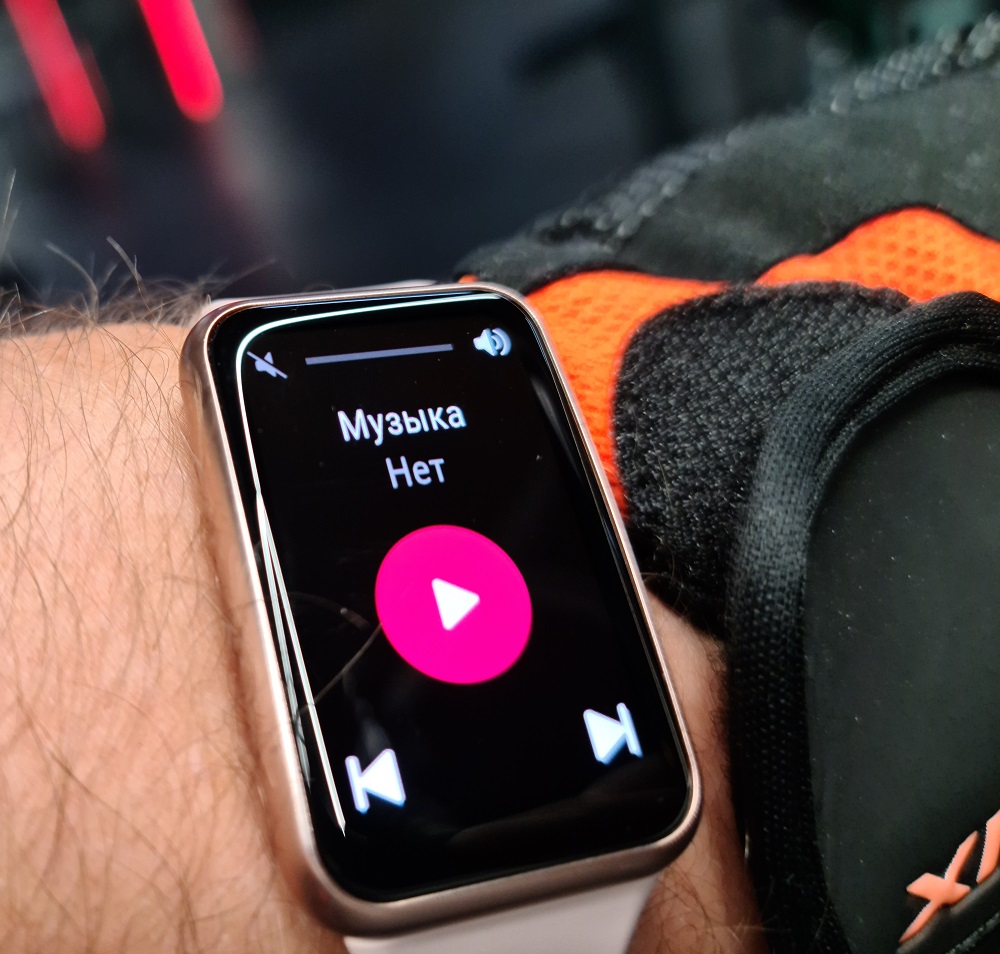 The second multimedia feature that is available on the Huawei Watch Fit is the smartphone's camera shutter control. This feature is very useful, for example, during group photos on trips, because the entire command center with the camera is on your wrist.
Expanding the functionality of a smartphone
The Huawei smartwatch will also instantly alert you of new text messages, emails or social media messages. However, if it is necessary to limit the flow of information, for example, while studying, this can of course be done. It is enough to disable notifications from selected applications in the menu.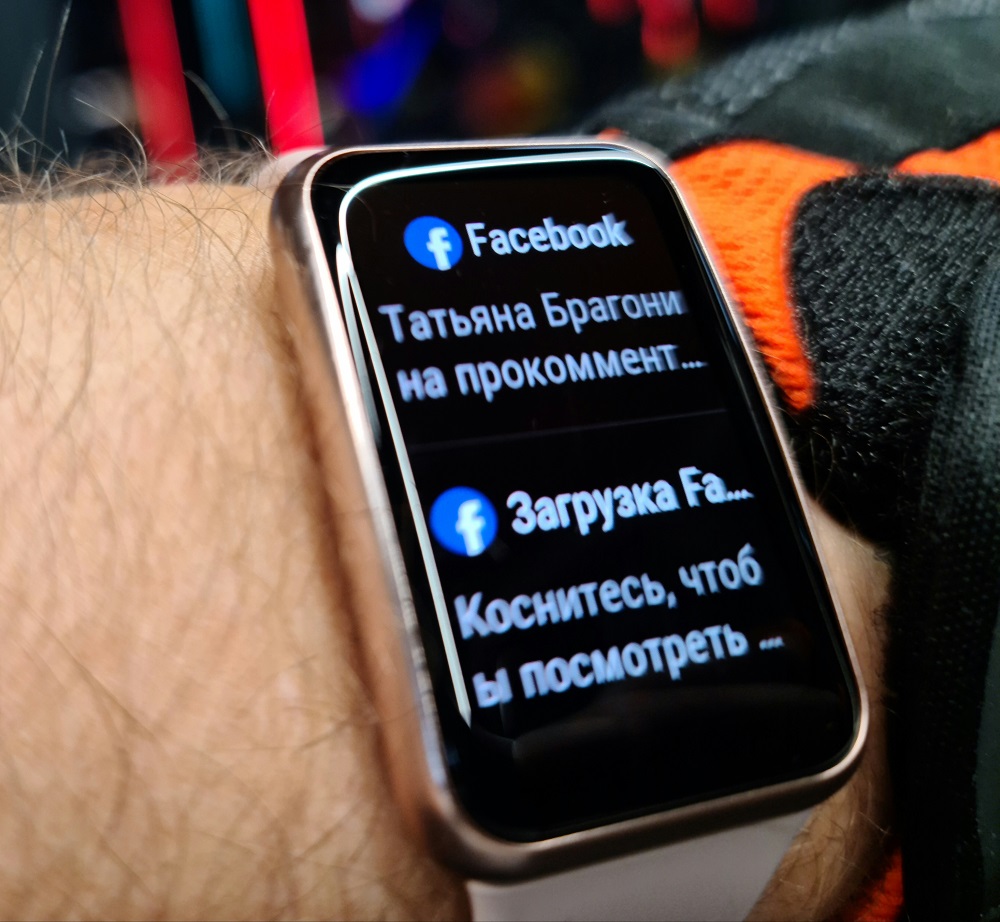 The Huawei Watch Fit also features Find My Phone, a feature known from previous devices. In addition, the watch offers an alarm clock, stopwatch, countdown timer, flashlight and other essential tools to make everyday life easier.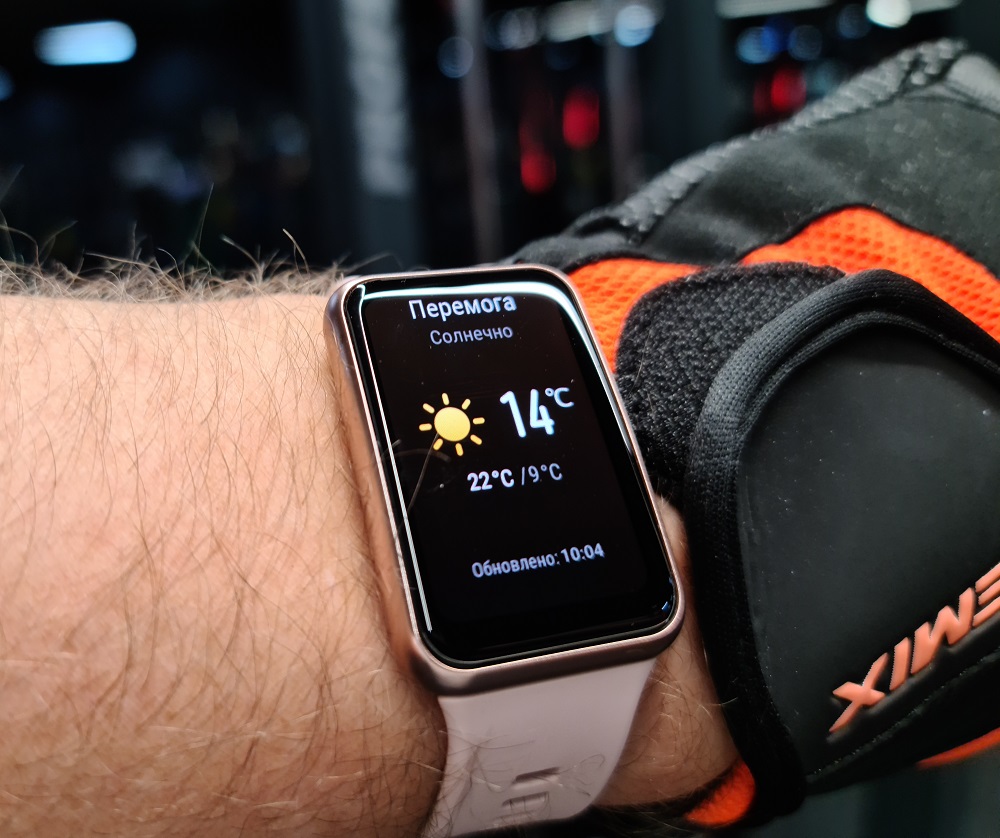 Battery life: enough juice for anything
Thin and lightweight smartwatches are also impressive in their performance. The manufacturer claims that after fully charging the 180 mAh battery (it takes about an hour and a half), it can last up to 10 days. It only takes 5 minutes to charge it for another day. But how is it in practice?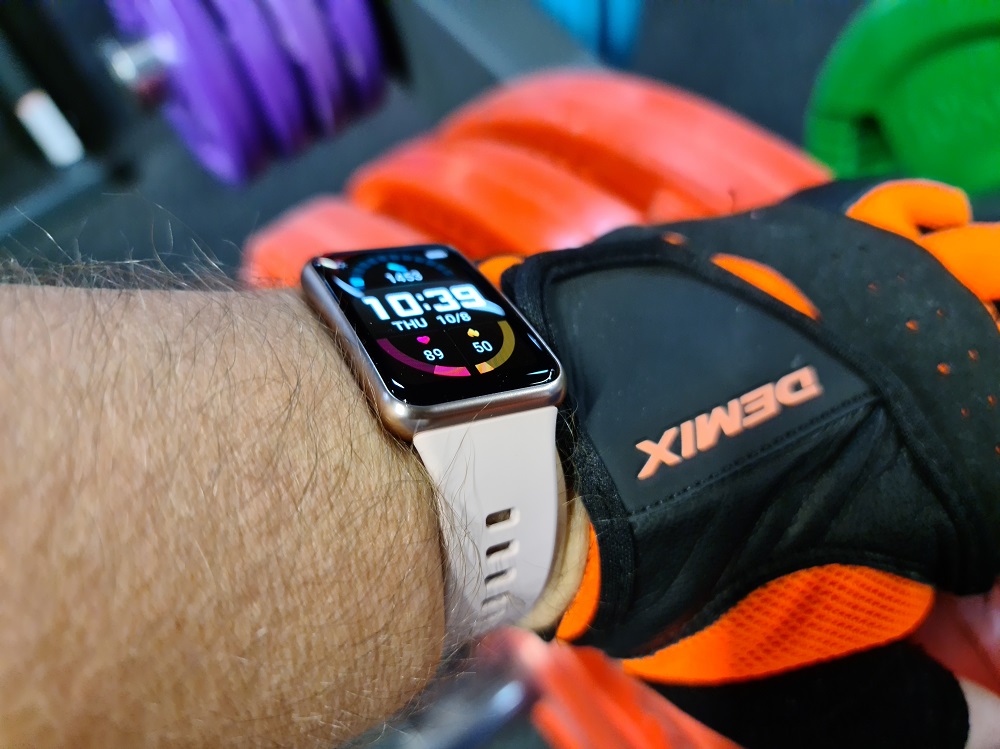 If you're used to the two-week endurance of a classic Huawei watch, then you'll be disappointed with the Watch Fit. Since the smaller battery is installed in a smaller case, autonomy is now at best 8 days. It's also possible if you only use the watch for notifications and as a heart rate and sleep monitor, or sometimes turn on the SpO2 sensor. When observing sports activities, the autonomy is even worse. Then the watch lives for a maximum of 5 days. However, this is far from a bad result, especially in comparison with smartwatches, the autonomy of which lasts a maximum of a day or two. However, I was unable to reach the manufacturer's promised target of 10 days.
Should you buy the Huawei Watch Fit in 2020?
Summing up, I must admit that it is difficult to find a better device for this price. You get great screen and reliable battery, as well as the sports, media and phone options that more espensive models would not be ashamed of.
Moreover, GPS measurements are based on actual distance, as well as counting steps or heart rate.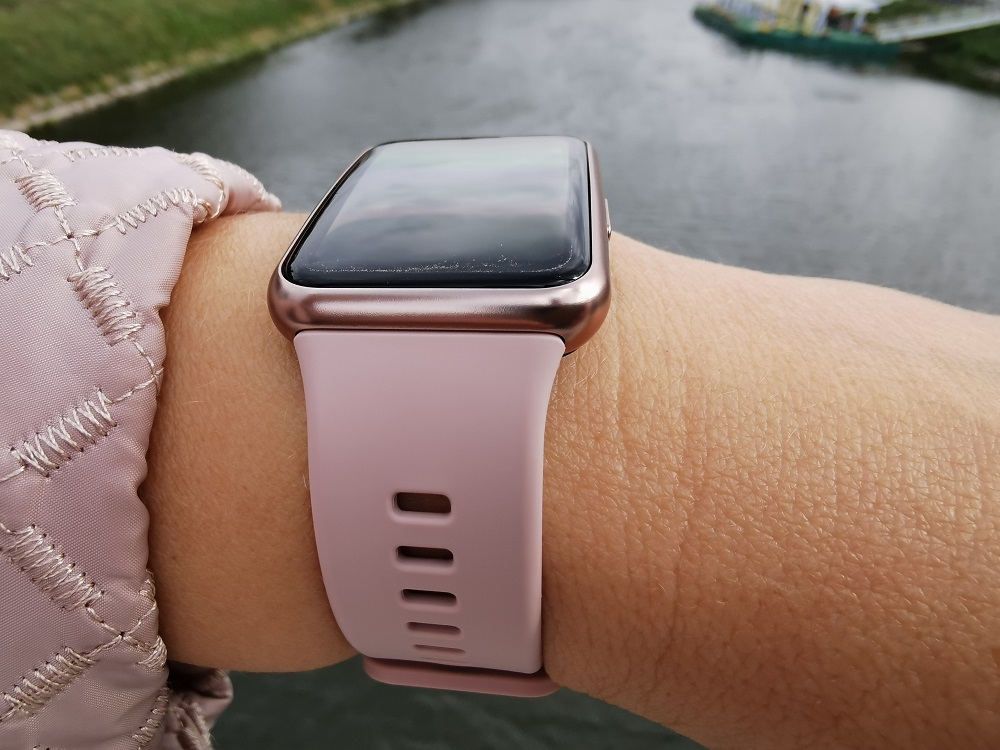 I personally consider the Huawei Watch Fit to be a combination of a fitness tracker and a smartwatch. Honestly, the new Huawei has only one small flaw that you can complain about. We are talking about system restrictions that prevent you from installing apps and responding to notifications. If you have no problem with this, then I can advise the device with a clear conscience. Sometimes things really can be both good and affordable.
Pros
efficient AMOLED display with 2.5D glass
advanced sports modes
excellent measurement of daily activity and body parameters
automatic activity detection
built-in GPS
analysis of sleep, stress levels and blood oxygenation
breathing exercises
music control
smartphone camera shutter control
a wide range of additional functions
powerful 180 mAh battery
Intuitive Huawei Health app
Cons
no compass and altimeter
OS limits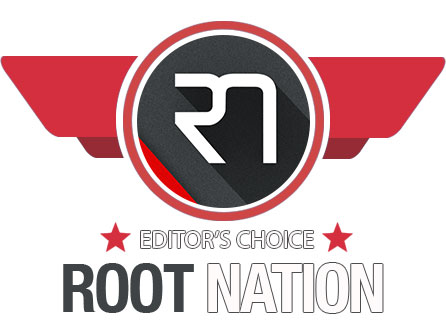 Where to buy
Subscribe to our accounts: