The Huawei Watch 3 Pro is the first smartwatch with the new HarmonyOS operating system. In addition, it looks really luxurious and expensive. Should I give it a chance? Let's find out.
Huawei, unfortunately, is still at war. The Chinese manufacturer wants to prove that there is a world outside Google services, so it is constantly expanding its portfolio of devices. There's also a smartwatch among them.
Thanks to interesting design, Huawei smartwatches have confidently taken their place in the global market of wearable devices. Even when it was still running on the Android Wear operating system, Huawei watches were among the leaders in this regard. They look great on the wrist, and thanks to their classic shape and quality materials have become almost the standard in the world of such devices. The new Huawei Watch 3 Pro model continues these trends. The new watch from a Chinese company is a phenomenal gadget with excellent design and excellent quality of execution.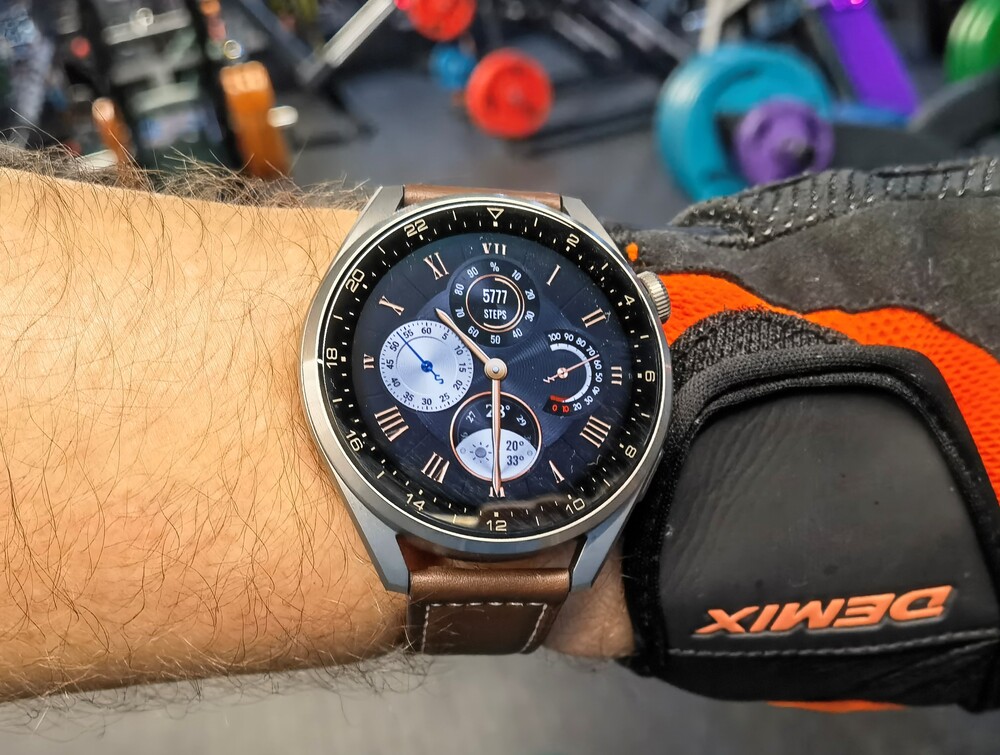 I am quite familiar with Huawei's smartwatch. I have been using the wonderful Huawei Watch GT 2 for a long time, which have really won me over not only with their appearance and quality materials, but also with functionality. The watch has become my indispensable assistant both during training and in everyday life. But I'm interested in the new HarmonyOS, which I've heard about, read about, but haven't used yet.
What's interesting about the Huawei Watch 3 Pro? First impressions
I am always pleasantly surprised by the excellent quality of Huawei devices, whether it be a smartphone, laptop or smartwatch.
This premium product, I'm not afraid of this word, is just amazing. Titanium case, excellent display covered with sapphire glass, ceramic bottom, water resistance at the highest level. What else do you need? Compared to the Huawei Watch 3 Pro, the Apple Watch looks like toy. Huawei's device resembles a classic Swiss watch, which is the standard around the world.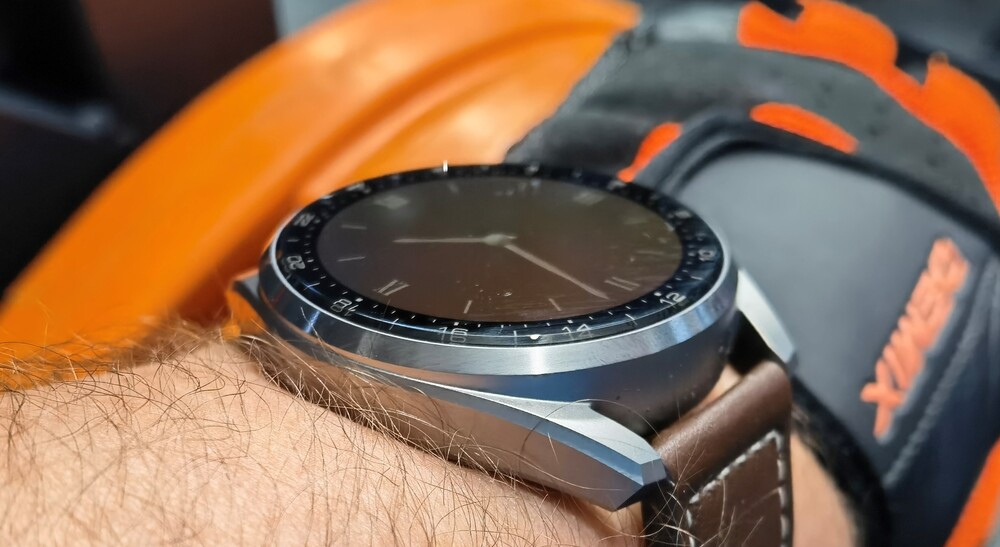 The company continues to please in terms of battery life. The Huawei Watch 3 Pro can work on one charge for up to 5 days in standard mode and up to 21 days in energy-saving mode. There's also wireless charging, dual GPS module, blood oxygenation measurement (SpO2), temperature sensor and monitoring of up to hundreds of sports. Among the features, there's also support support for Wi-Fi and eSIM, which is pleasing to users.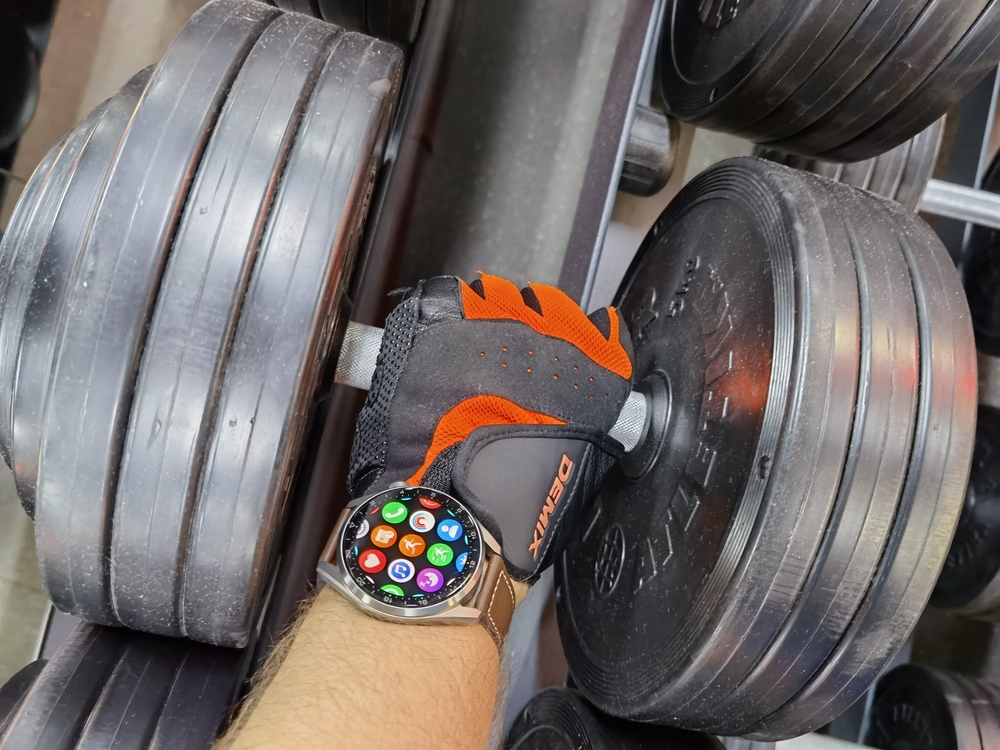 The watch is traditionally equipped with a round AMOLED display and two crowns on the right side, one of which rotates. The Huawei Watch 3 Pro has an excellent speaker and support for the new HarmonyOS operating system.
In most markets, the watch is available in two versions: Huawei Watch 3 and Watch 3 Pro. I got the Pro version for testing.
Read also: Huawei Watch GT 2 Pro smartwatch review: Live It Like a Pro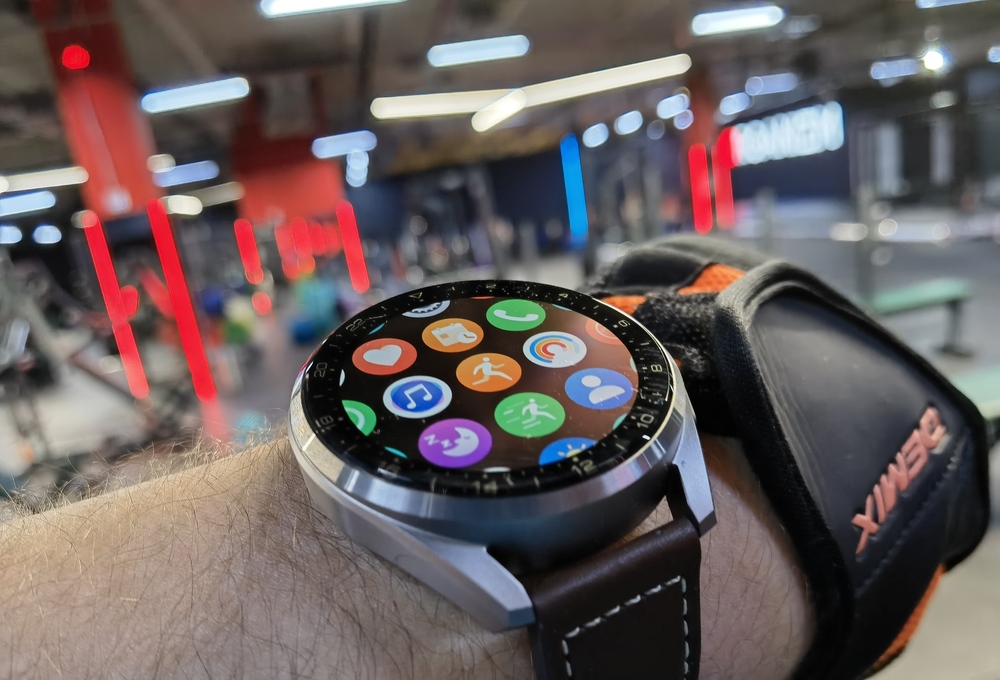 What's in the box
The set is almost the same as the well-known previous GT series models. Huawei has packed the new watch in a fairly large square box, in which the user will find all the necessary accessories.
In addition to the watch itself, of course, you will find a quick user manual and a cable with a docking station for charging in the form of a "puck". The cable is one meter long and unfortunately it is already connected. It's a little strange, in my opinion, because it's not very convenient to transport it like that.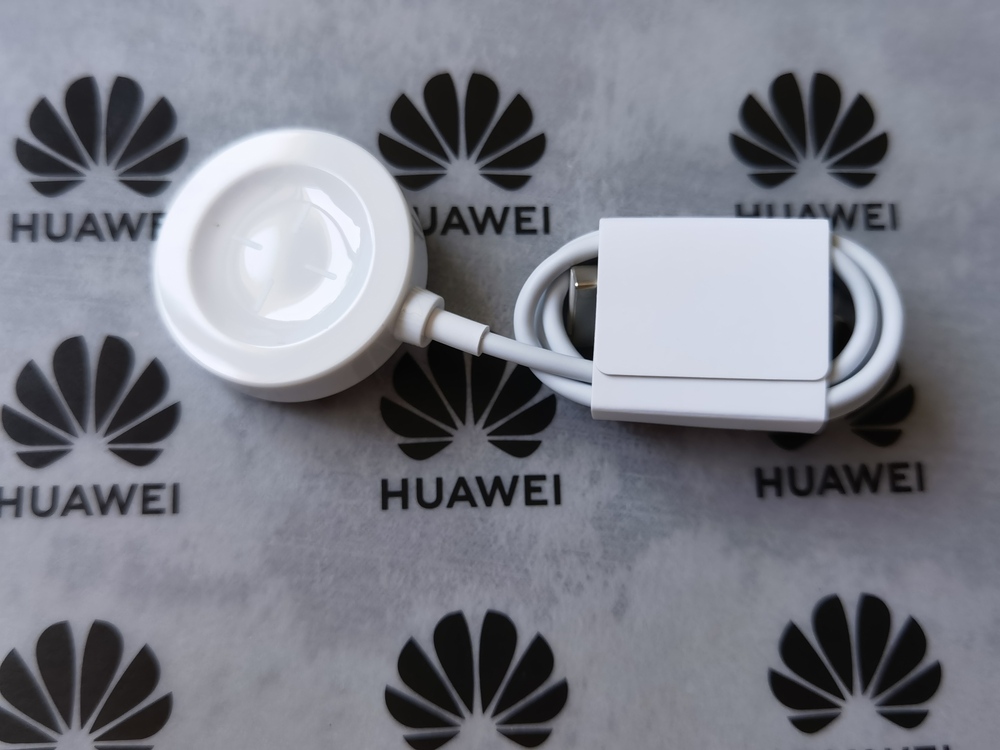 It's also a pity that the manufacturer did not add a spare rubber band to the kit, which would personally be useful to me for training. Thankfully, my Watch GT 2 band fits (the connectors stayed the same).
Read also: ASUS ROG Zephyrus G14 2021 laptop review: Great, but not mind-blowing
Premium design and excellent finish
Huawei is not a beginner in the wearable device market. The company's previous smartwatch models have always been among the most elegant on the market, and the Watch 3 Pro only confirms this. The design has changed quite a lot, compared to the previous generation of the watch looks more mature.
TheWatch 3 Pro is made from premium high quality materials. The body is made of titanium, which is very durable and at the same time lightweight. It is worth noting that the case of the base Watch 3 model is two millimeters, although the display and internal equipment are almost the same. The cheaper version has more rounded edges and a stainless steel case. But we're talking about the Pro version.
The round display of the Watch 3 Pro is covered with sapphire glass. It's very scratch-resistant. Despite the fact that the degree of hardness of synthetic sapphire is lower than that of diamond, it has greater impact resistance. I like that the front panel is clean, without bezels. The protective glass reaches straight to the edges, where it connects smoothly to the metal ring. It is located just below the screen and smoothly transitions into a titanium case, but still stands out and looks nice.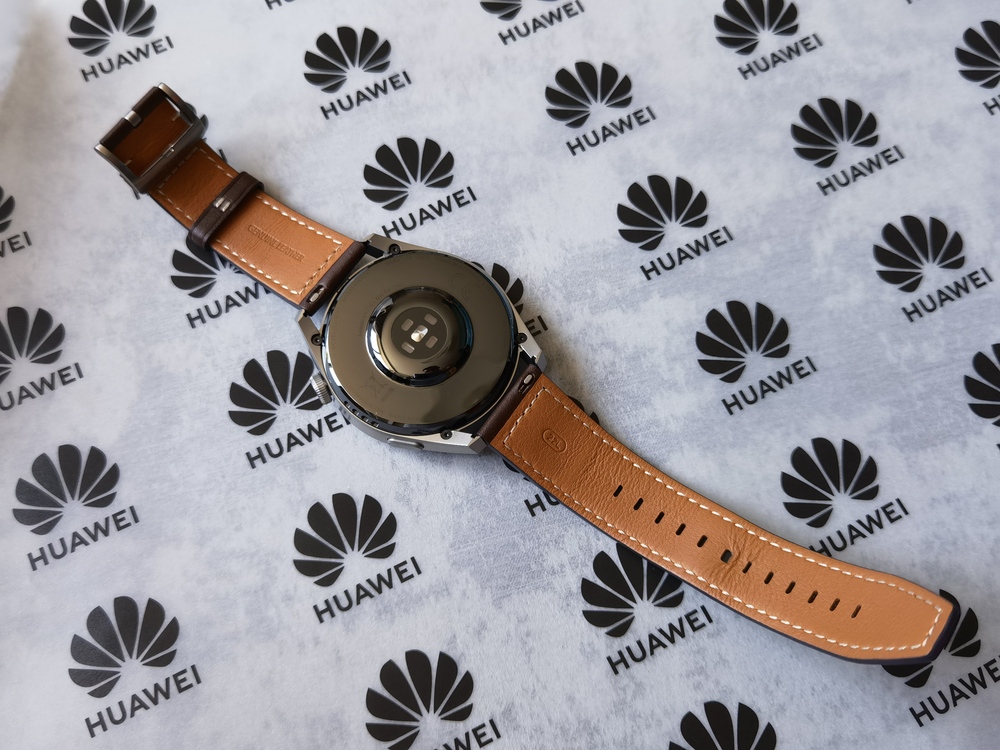 The bottom of the watch is ceramic, attached to the body with four screws. There's a large heart rate sensor at the bottom. The ceramic side feels a bit cold (it can be a little uncomfortable in winter), but it is easy to clean, which is especially appreciated by athletes.
On the right, there are traditionally two buttons for navigation, although one of them rotates, so it is better to call it a crown. This button visually likes like a crown in a classic watch. It is designed to go to the settings and at the same time helps to navigate the system. This crown here replaces the bezel, even the tactile sensations from flipping are similar.
Sometimes I just wanted to flip through the settings sections to feel those nice clicks. With this crown, we can zoom in or out on the screen and scroll it up and down. The second button is classic and flatter, and by default it takes us to the exercise menu for training, but its function can be freely changed. For example, I use it to easily access music. The idea with a rotating crown is very good, it makes it easier for you to navigate the system. Although it's not quite new, because we can see something similar in the Apple Watch 6.
Between the buttons there are speaker grilles, and they are quite loud. You'll definitely hear it. It's not very suitable for playing music, but you can use wireless headphones that are easy to connect to the Huawei Watch 3 Pro.
The band mount has undergone structural changes compared to its predecessors. Now it's more like what we saw in the Huawei Watch GT 2 Pro. I really like this similarity to a classic watch.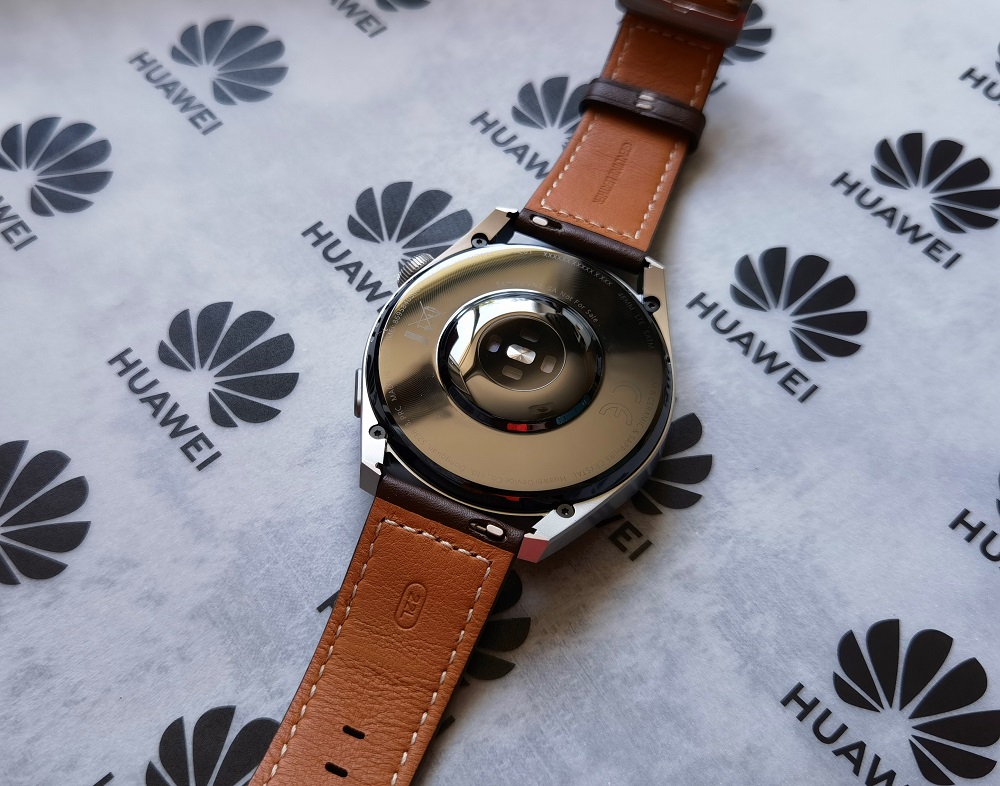 Standard rubber and leather straps
The mounting width is standard 22 mm, so it will not be difficult to buy any other strap of this width. For example, as I said, my rubber strap from Huawei Watch GT 2 Pro works just fine, which gave me the opportunity not to worry about the strap during training. The Watch 3 Pro leather strap looks good, but not quite suitable for training. Leather and sweat are often incompatible things.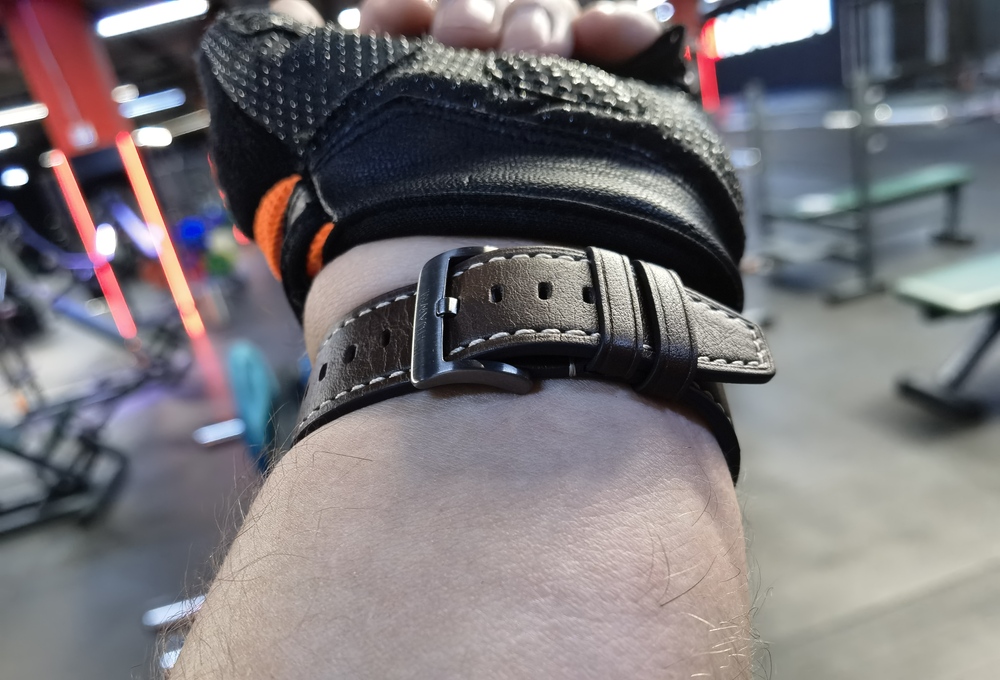 The original straps are easy to replace thanks to special studs in the fastening design, and the replacement process lasts only a few minutes. By the way, Huawei Watch 3 comes with one rubber strap, its width is also 22 mm.
Huawei Watch 3 Pro is comfortable
When I first took out the new Huawei watch out of the box, I noticed how massive it is. It is very beautiful, has a modern look, and I liked it right away. However, the Watch 3 Pro is quite large and will definitely not suit everyone. In addition, the device has a relatively large thickness of 14 mm, a watch width of 48 mm, and a height of 41.6 mm. It is clearly not designed for small wrists, such as women's, although I have seen a massive watch on fragile girl's hands lately. It's a matter of taste.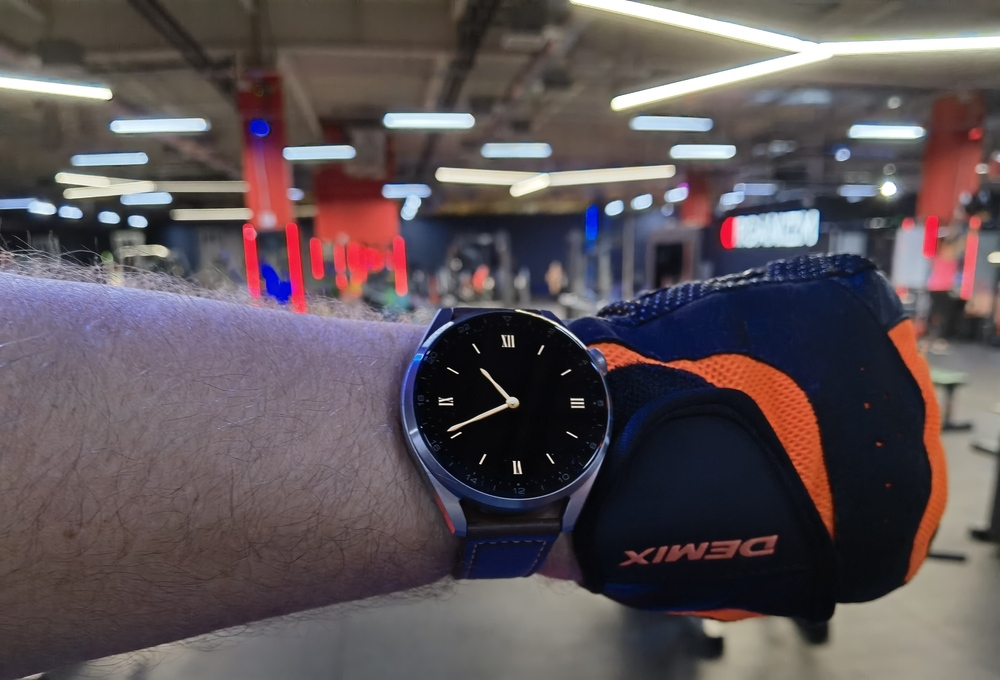 The Huawei Watch 3 Pro weighs 63g without a strap, which is not that small, so if you are not used to a large watch, it might be a problem. Perhaps not everyone will be comfortable wearing it while doing sports. I had no problems with this and would call them very comfortable due to ergonomics. The design of the watch goes well both the official suit and gym clothers. Even a biker with his leather jacket won't be ashamed.
Marvelous Huawei Watch 3 Pro screen under sapphire glass
The Huawei Watch 3 Pro AMOLED screen has a diameter of 1.43 inches, 466×466 resolution, 326 ppi density and brightness up to 1000 nits. This level of brightness guarantees good legibility of the image under direct sunlight, which is one of the key requirements for wearable electronics. Combined with sapphire glass, the display provides excellent image quality. The colors are bright and perfectly reproduced, the black color is deep and saturated. The image is very clear and smooth, 60 Hz, unlike previous models with a 30 Hz refresh rate. Thanks to this screen, the impressions of using the watch are very positive, I have nothing to complain about.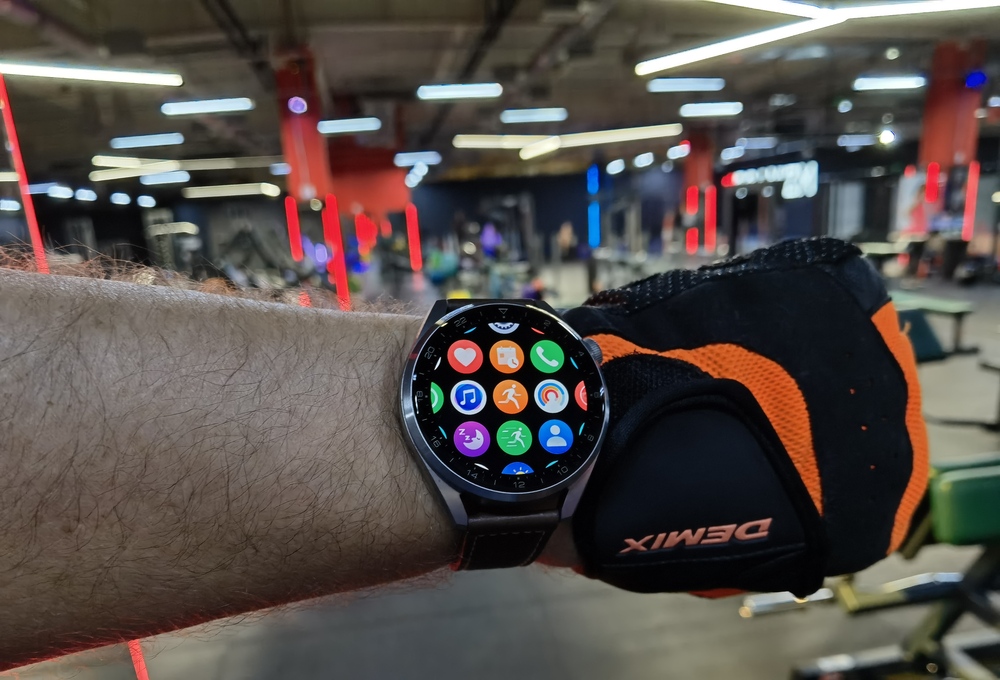 The watchfaces, as well as menus and multimedia elements, also look great. Compared to the previous generation watches, Huawei has expanded the capabilities of watchfaces. First of all, there is a real AoD mode. Previously, there were only two standard AoD screens to choose from. By the way, not all watch faces are compatible with AoD, but the vast majority are. The display can be controlled with thin gloves. Oleophobic coating should also be praised, as the display gets less dirty.
Good hardware
The driving power of the watch is the Kirin A1 chipset, which is supplemented with 2 GB of RAM (Watch GT 2 Pro has only 32 MB) and 16 GB of storage, which quadrupled memory compared to previous models in the series.
Huawei Watch 3 Pro has better communication features than any other Huawei watch today. In addition to the standard Bluetooth 5.2 and Wi-Fi connections for smart watches (802.11 b/g/n), we also get the ability to receive and make calls over the phone, eSIM and NFC support is (although it is not yet possible to make payments contactlessly).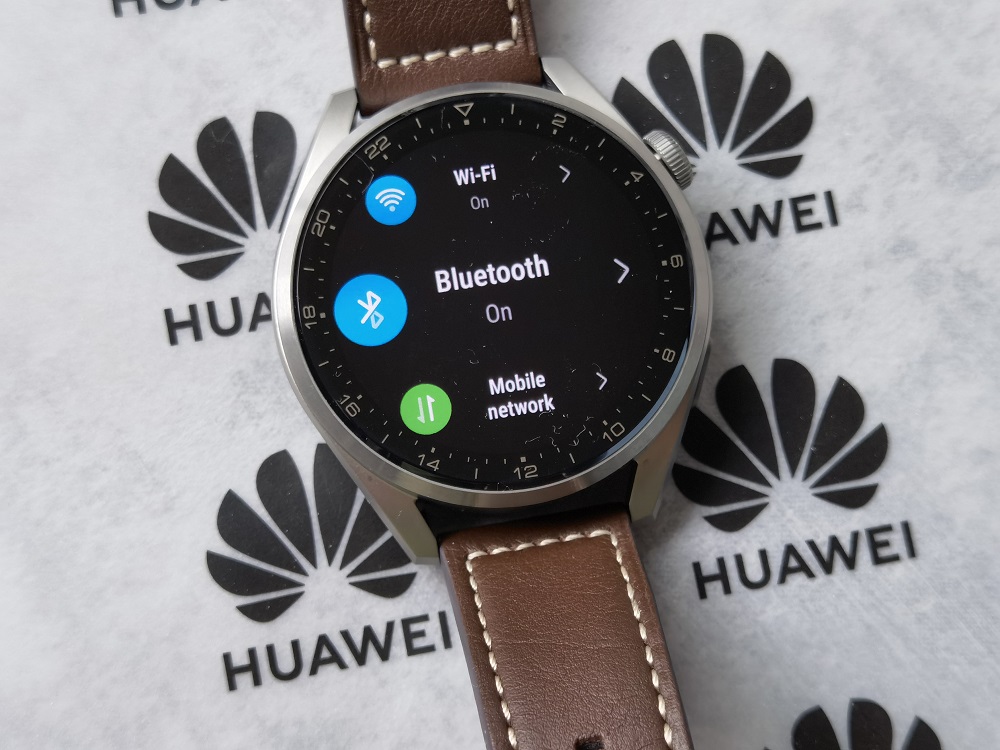 As for voice calls, there are two options. First of all, it is the ability to make and receive incoming calls to a connected smartphone. Conversations through the built-in speaker are loud enough that you can talk at home or in a closed car, but in noisy conditions you can't do it.
eSIM support can also be a significant advantage, so that the watch can theoretically work independently of the smartphone. eSIM is configured in the Health application on your smartphone.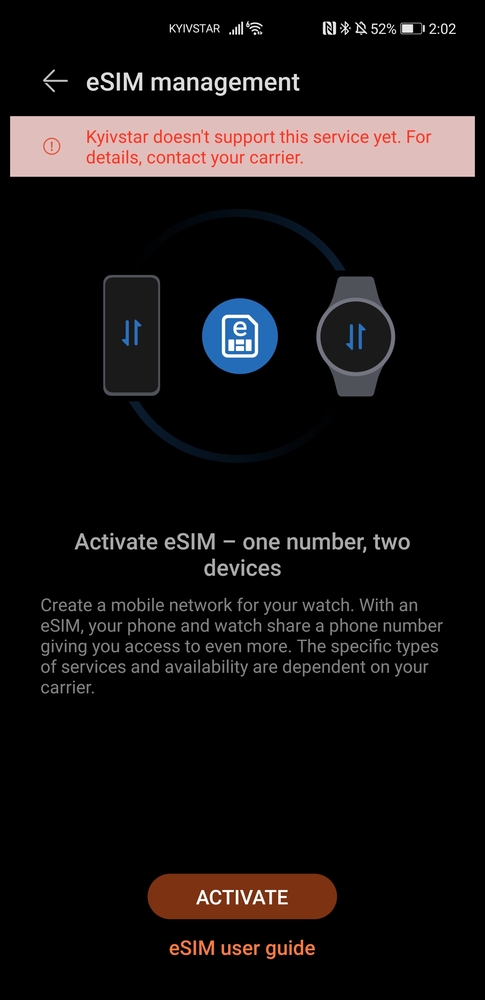 The watch makes it easy to find contacts thanks to the full synchronization of contacts with your smartphone, you do not need to add them manually or select them from the call list.
Using Bluetooth, we can connect not only to a smartphone, but also, for example, to headphones, regardless of the phone settings. This allows you to use the Huawei Watch 3 Pro as a standalone device, such as listening to music while running. Unfortunately, music files can only be transferred to your watch from Huawei phones and tablets through the manufacturer's own program called Music. It is also possible to play music online or download them separately to storage.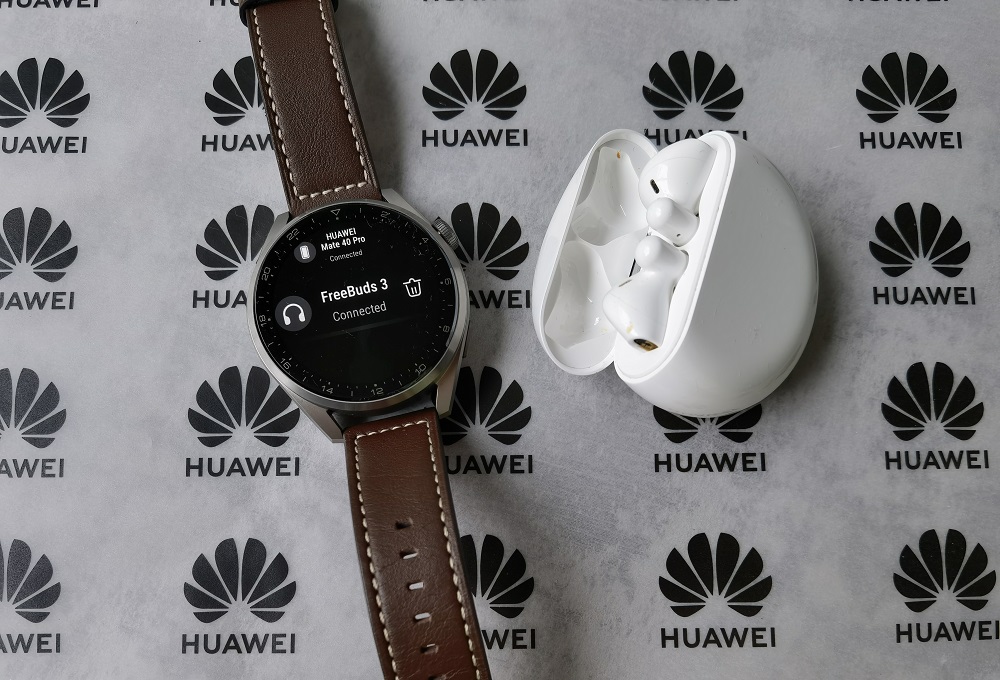 The Huawei Watch 3 Pro is equipped with an NFC module, but unfortunately its use is very limited. We are not talking about contactless payments, but you can use this module to establish communication with the manufacturer's devices using Huawei Share OneHop. This allows, for example, to send a photo to your watch. However, this is only possible between devices connected via Bluetooth.
Read also: Huawei Watch Fit review: Your Own Portable Fitness Instructor
Huawei Health is indispensable
Connecting and managing your watch, again, is only possible through the Huawei Health app. The app allows you to download updates, install the other apps on them, change watch faces, activate sleep tracking, enable constant heart rate monitoring, set an alarm clock or turn on alerts for individual programs, etc. Of course, the app is primarily designed to track sports activities.
Huawei Health app with Watch 3 Pro works just like it does with older models, so there's almost nothing new here.
Huawei Watch 3 Pro-Heath-1
The first tab contains all the most important information about the activities collected from the watch. During the tests, I mainly used a Huawei Mate 40 Pro smartphone, but I tested it with Xiaomi Mi 11i for several days, and in both cases I noticed that although the synchronization of notifications and the number of steps was flawless, sometimes syncing the results took quite a long time.
You can customize notifications from each app, as well as a wide range of watchfaces. The last tab contains additional settings and measurement results.
Huawei Watch 3 Pro-Heath-2
Except for the above-mentioned delays, the use of Watch 3 Pro with smartphones did not cause any problems. It is a pity that, introducing a new generation of watches, the manufacturer did want to increase in the number of content management options on the watch, and add additional settings like the synchronization with Strava.
Large selection of Huawei Watch 3 Pro watch faces
By implementing HarmonyOS, Huawei has slightly changed its policy regarding watch faces. The full choice, as always, can only be found in the smartphone app. Also, the manufacturer fully opened up to the creators, giving them the opportunity to earn money as well. As a result, we get hundreds of watchfaces to choose from. Finding the perfect watch face has become a little more complicated. It's good that the authors of dials can make money, because it stimulates the ecosystem, but there is no way to try watchfaces without buying them. Payments also require HMS Core and appropriate permission to grant it. This software can be installed on other brands of phones if you download AppGallery.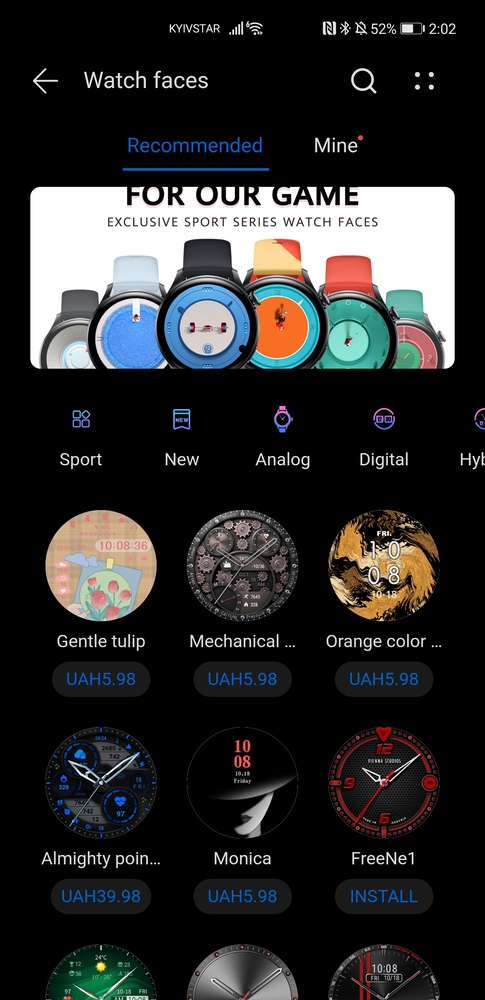 The choice is quite large, and the advantage is that many of them have their own AoD mode. Dials can also be animated and interactive, i.e. consist of short video sequences or photos. You can use your own photos, and on Huawei phones you can prepare a watchface with your own video.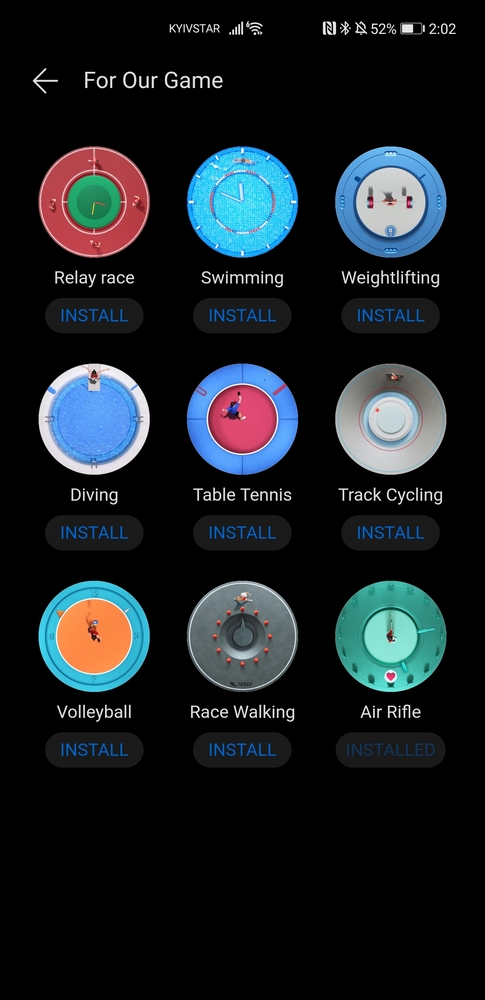 HarmonyOS
The new Huawei Watch 3 series run on the latest HarmonyOS 2.0 operating system. This is not exactly what the manufacturer installs on its smartphones, but the watch version retains many features adopted from its previous embodiment, i.e. the LiteOS platform known from Huawei's previous watch.
The watch UIs are almost identical: the watchface set is similar, the activity pie chart is the same, the control panel shifts from above, as well as icons in the menu and settings. The general principles of work have also not changed – by swiping, you can open the weather widget, activity tile, heart rate measurement, blood oxygen saturation and skin temperature. Swiping down, in turn, opens up notifications.
The main context menu is the default grid, resembling something we saw in the Apple Watch. But if you are uncomfortable using your watch in this way, you can go to the layout of the list.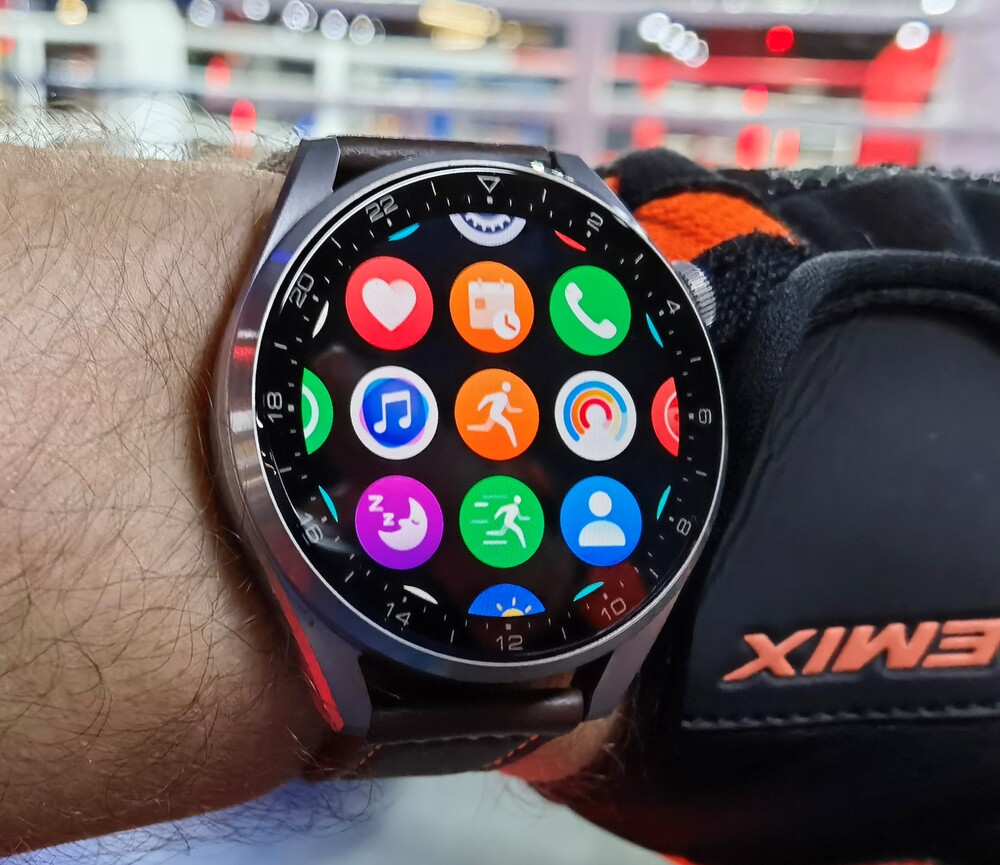 Visual similarity to the old LiteOS is not a disadvantage – although a few little things have changed, most things remain in place, which is convenient. App icons and virtual buttons look clear, they are intuitive, and the watch is easy to use. Small slowdowns happen, but I suspect there is still room for further improvements and software updates. Health monitoring app graphs look beautiful and allow you to quickly see the state of your body and training process.
Unfortunately, HarmonyOS 2.0 in the Huawei Watch 3 Pro inherited some of LiteOS weaknesses as well. It's a little disappointing because I was hoping for more. For example, in addition to the widgets mentioned, nothing new can be added to the side of the home screen, such as a timer, a compass or playback controls. The latter is displayed dynamically on the left panel after playback starts (e.g. Spotify from a smartphone), so everything works properly, but I would like to have more freedom.
Restrictions on messages have also not changed. They can only be read and deleted, but you cannot view the full content of a larger message (e.g. an email) and even more so reply to it.
However, in general, the watch works quite well in everyday use. The menu with programs includes apps for training and activity analysis, in addition, there are such options: phone, contact, music, pulse, sleep, SpO2 measurement, stress measurement, skin temperature, breathing exercises, weather, alarm, stopwatch, timer, compass, barometer, notebook, settings and AppGallery.
Huawei Watch 3 Pro-HarmonyOS-5
Thanks to AppGallery, we can add more apps, and this is one of the biggest advantages of the Watch 3 Pro. After all, it's a real smart watch! Of course, the list of apps is not very large at the moment, but the manufacturer is working to increase it. In fact, we are gradually getting new features, almost every day. For example, popular Petal Maps recently appeared on watches from the Watch 3 Pro series. Thanks to HarmonyOS, we can use our watch almost like a phone. Knowing Huawei's ambitions, I'm sure that the number of useful applications will only grow.
How does the Huawei Watch 3 Pro work in practice?
To be honest, I don't really like to talk theoretically about devices like smartwatches. Let's just see how it really works.
Activity monitoring
On the second day I took the Huawei Watch 3 Pro with me to training. This is a very sporty watch, but keep in mind that the watch is not quite designed for professional athletes. Although by default, Watch 3 Pro offers 19 modes of sports activities, and it is not a problem to add more, up to 85. You can choose from more than a hundred sports or fitness exercises. Among them there are outdoor running, walking, hiking, swimming outdoors or swimming in the pool, cycling outdoors or on a simulator. These modes are also simply indispensable in the gym when engaged in martial arts and other sports, even the most unusual, such as jazz dance, darts or kendo. Automatic exercise recognition works for the 6 most common types of exercises.
Huawei Watch 3 Pro-monitoring
For each sports training session, you must specify the goal you want to achieve (time, duration, calories burned, or lack of goal). Even a simple pedometer is very accurate, and it can count steps in real time. I changed the pace several times during classes, and the watch always reacted adequately. Although there were some nuances during training. For some reason, the watch automatically detected outdoor biking, although I was training on a simulator. Sometimes the calculation of the exercise results was also inaccurate.
I was very pleased with the appearance of Petal Maps in the watch. Now the jogging and walking routes have become more accurate. During outdoor training, the watch provides a dataset: pace, distance, duration, steps, rhythm, calories, height, training load, and in the case of running training, you can even compete with a virtual sparring partner. A very useful solution, also known from Huawei watches, is a clear ring around the dial, reflecting the colors of the achieved heart rate zones – warming up, hot, aerobic, anaerobic and extreme zones. Thanks to this, you can assess the course of the training and control its intensity.
The results of measuring sensors and pedometers are accurate, and you can use them to analyze your progress. Of course, you shouldn't compare the Watch 3 Pro with a typical Garmin or Polar sports watch, but it shouldn't compete with it either. It's a watch both for sports and everyday use.
Accuracy of measurement of the body's condition
Here in this component, few can compete with the Watch 3 Pro. Huawei's smartwatch is equipped with many health monitoring features. The built-in heart rate sensor provides constant heart rate monitoring, you can set a constant measurement of blood oxygen saturation as well as skin temperature – these three parameters are visible on widgets available at any time. A few words about measuring skin temperature. It's a new feature. It should be remembered that this is a measurement of the temperature of the skin, not the body, with a medical thermometer. Usually in a healthy person, the normal skin temperature ranges from 31° to 35° C. Yes, the watch cannot be considered a medical device, but it is very useful for monitoring health. In addition, of course, the watch provides automatic measurement of sleep parameters and stress levels.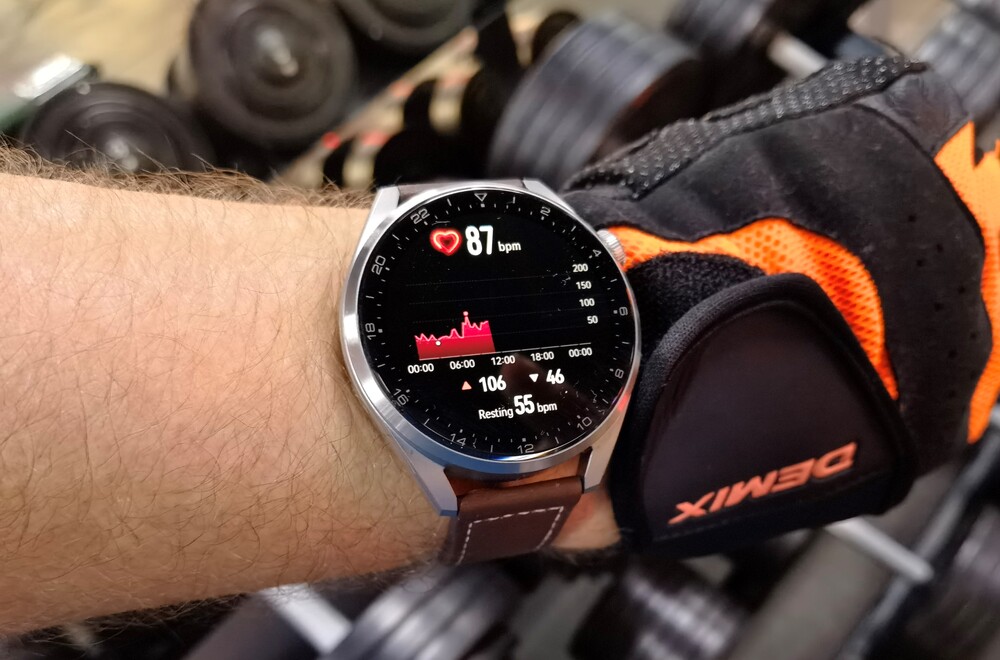 Heart rate measurement seems flawless and works well during rest, sleep and training. On the other hand, constant analysis of SpO2 is less effective. Hand movements and slight movements of the watch itself make the results inaccurate. For example, the Watch 3 Pro may show 92% oxygen, but after a calm full measurement, the result suddenly jumps to 97-98%, which is more likely. I also noticed some unnaturally high 100% results while indoors.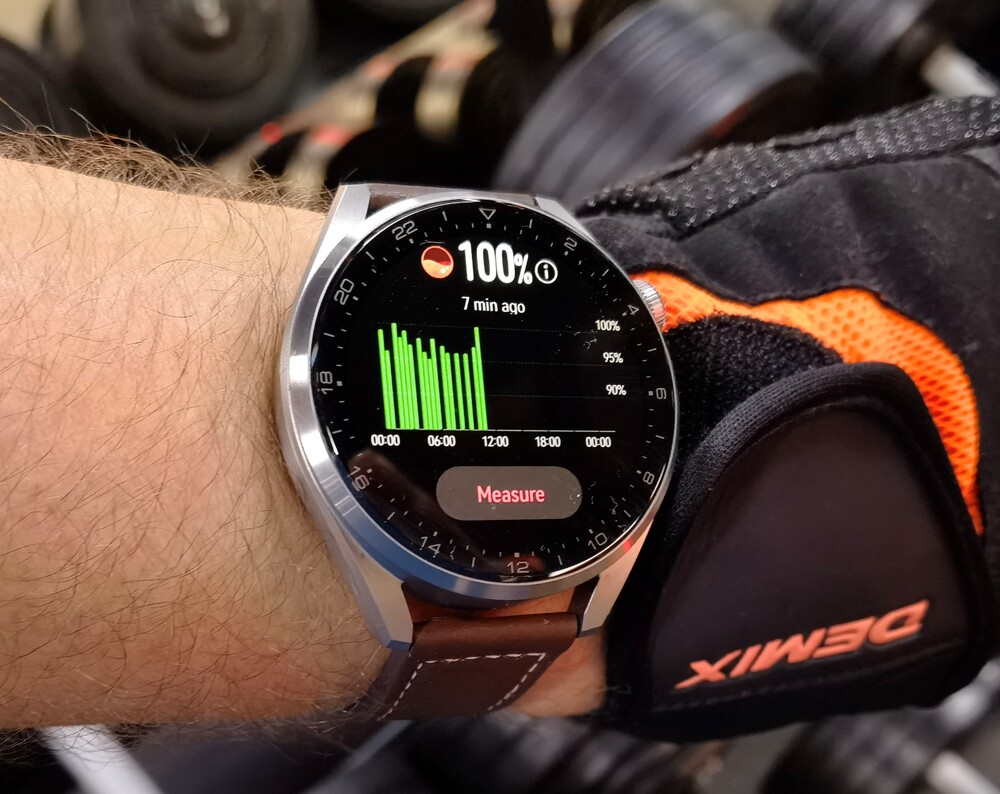 The instability of these results does not allow you to treat the watch as a professional measuring device, but the indicators remain within the permissible error and give approximate results. In this situation, the fall in results below 90% should be alarming. In the context of the coronavirus pandemic, oxygen control in the body is very useful, even if it is not always accurate.
A few more words about measuring skin temperature. It's a new feature. An important note here is that it is not about measuring body temperature, like you do with a medical thermometer.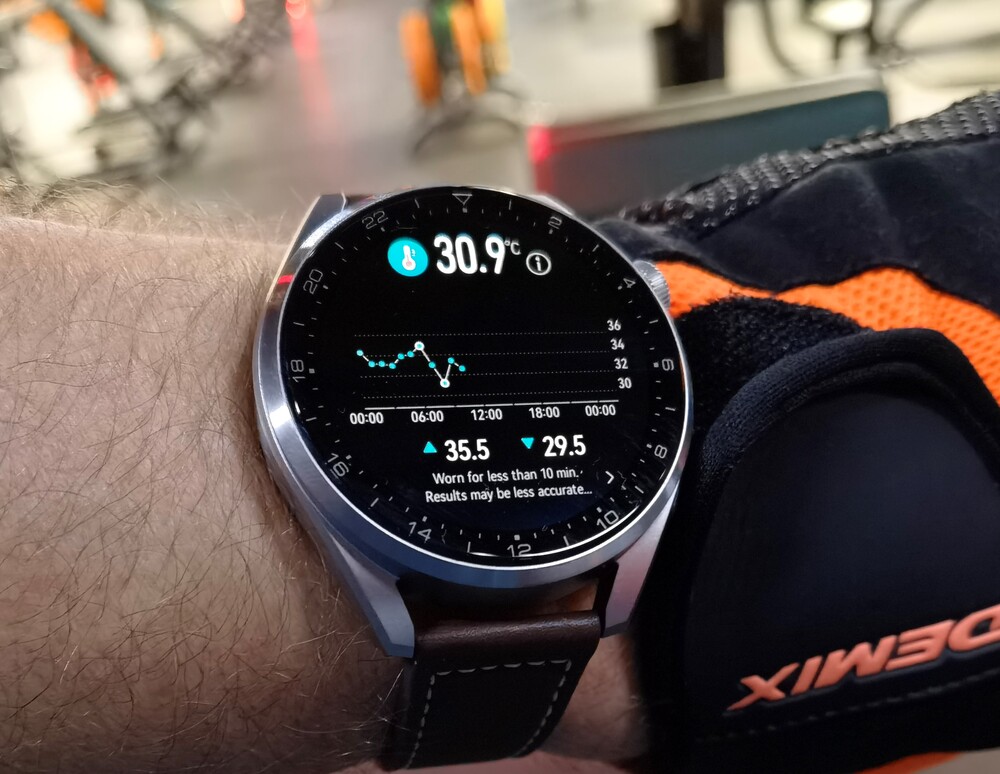 Only the surface temperature of the wrist skin is measured here, and the manufacturer notes that the normal value varies between 32-34°C. However, these results are also influenced by external factors and the way the watch is worn, so my range was vast, 28-35°. That is, the usefulness of this feature is up for a debate, the results are difficult to understand.
Long battery life and wireless charging
The Huawei Watch 3 Pro should be as enduring as they come, at least according to Huawei, which probably refers to its ultra mode, which provides up to 21 days of operation. However, this mode will not be very useful on a daily basis, as the user usually wants to use communication, sports training, all health measurements and other functions.
The Huawei Watch 3 Pro is equipped with a 790 mAh battery and supports 10W wireless charging. It's convenient and you can charge your watch through with wireless chargers as well, or via your phone. The dock is magnetic.
| Battery charge volume | Charging time |
| --- | --- |
| 10% █ █ . | 6 min. |
| 20% █ █ | 11 min. |
| 30% █ █ █ | 18 min. |
| 40% █ █ █ █ █ █ | 29 min. |
| 50% █ █ █ █ █ | 35 min. |
| 60% █ █ █ █ █ █ █ | 42 min. |
| 70% █ █ █ █ █ █ | 48 min. |
| 80% █ █ █ █ █ █ █ | 54 min. |
| 90% █ █ █ █ █ █ █ █ █ █ | 59 min. |
| 100% █ █ █ █ █ █ █ █ █ █ | 62 min. |
It charges the battery from zero to 100% in about an hour, which is very pleasant. The manufacturer declares the watch working in normal use for 5 days (exercise 90 minutes a week and constant heart rate control). If GPS, constant heart rate measurement and constant exercise monitoring are enabled, the watch should work for up to 22 hours. How does this really happen in practice?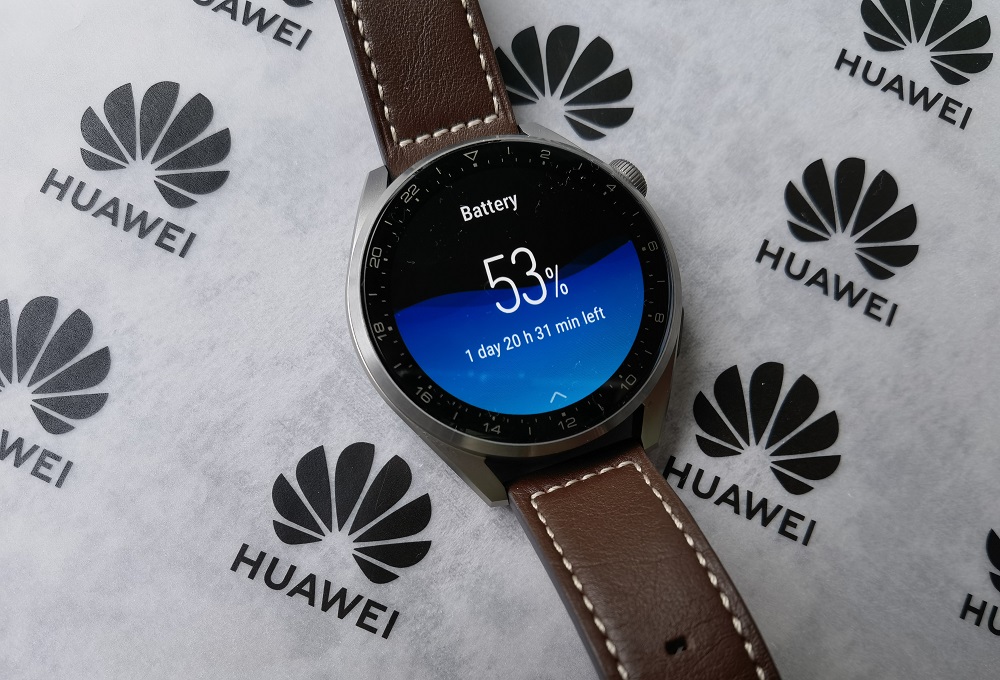 I wore my watch constantly on my wrist, practiced with or without GPS turned on, constantly taking active heart rate measurements and receiving messages. I also had the AOD feature active, the display brightness was set to automatic mode, comfortable both day and night. I monitored the sports activity for 90 minutes per week, and spent the same amount of time training indoors.
During an hour of sports activity without GPS, the battery charge decreased by an average of 5%. When GPS was turned on, the battery level decreased by about 15% per hour of exercise.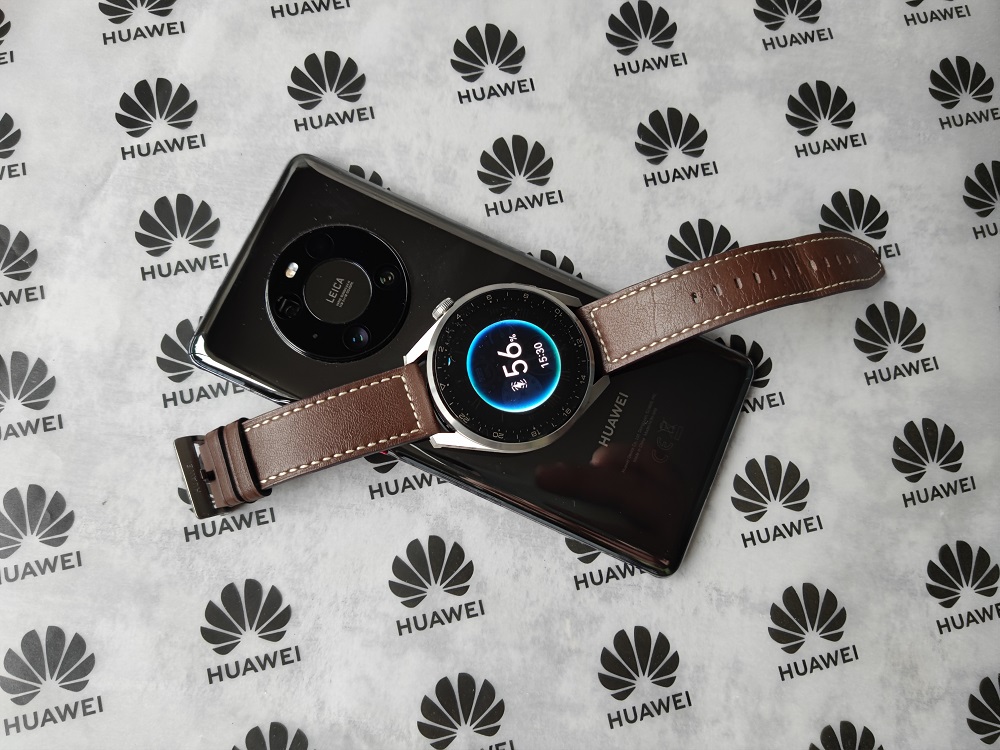 Therefore, it is easy to get four days of battery life from one charge, but even five days should not be a problem. If you limit some features, you'll get a week. In general, the battery life of the watch can be determined as much higher than average. But this is still very little compared to the old Huawei or Honor watch based on LiteOS, which allowed you to work for two to three weeks under normal load. Even my Huawei Watch GT 2 Pro now runs up to 14 days on a single charge with constant monitoring of all features.
Should you buy the Huawei Watch 3 Pro?
I reviewed the Huawei Watch 3 Pro as the owner of the Watch GT 2 Pro, expecting new features. But I am not sure of what to think. There are some issues for sure.
So what's wrong? I liked the new HarmonyOS. From the very beginning, I rate the OS highly, but I understand that it still needs time to develop further. I think this is potentially a strong third player in the market. But it's not ready as of yet. Yes, you can install third party apps – but that's about it! There are still few APK files, but this is just the beginning, over time there will be many more of them. Also, as with the old LiteOS, the personalization and customization options are somewhat limited, and there is also no multitasking (not counting the music player running in the background) and poor messaging support. Whoever counted on the revolution here will be disappointed.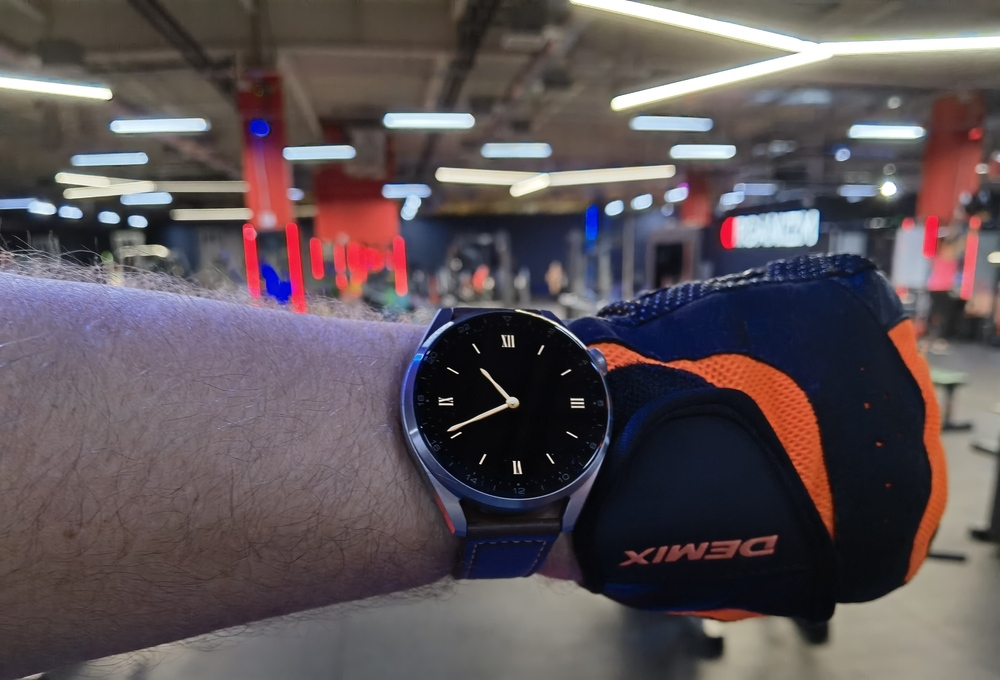 We cannot yet use NFC on Watch 3 Pro for payments, eSIM configuration is also not available from operators in many countries (check this before buying), smartphone users who don't own Huawei products are also in a weaker position. Compared to the old watch, the new one is not amazing when it comes to battery life. Yes, 5 days is quite a good result for such a device, but two weeks of my Huawei Watch GT 2 Pro with almost the same functionality tells me that it is not yet time to update.
The Huawei Watch 3 Pro won me over me with its excellent design and quality of premium materials. The combination of titanium alloy, sapphire glass and leather bracelet looks great, allowing the Huawei Watch 3 Pro to surpass most watches available in the market, where you can mainly count on a rubber strap or stainless steel. The AMOLED display is also wonderful, the UI is commendable, clear and intuitive. Watch faces in real AoD mode are finally there!
The watch is great for monitoring sports activities and body condition, thanks to a huge selection of sensors and training modes. A real assistant and advisor, both in training and in tracking the overall condition of the body.
The new Huawei Watch 3 Pro is an incredibly high-quality gadget with excellent design and functionality. If you need a stylish, modern smartwatch that will emphasize your status not only in a fitness club or at a party with friends, but also at a business dinner or meeting, feel free to buy the new model from Huawei. I'm sure the Huawei Watch 3 Pro won't disappoint you.
Pros
Premium design
Excellent build quality
Wonderful bright screen under sapphire glass
HarmonyOS intuitive interface, beautiful watchfaces in AoD mode
Wide range of sports modes and functions
Accurate and clear analysis of the overall condition of the body
Ability to install apps from AppGallery
Sufficient battery life, wireless charging
eSIM, Wi-Fi, dual GPS
Water resistance
High-quality speaker and microphone
Cons
Functionally, there are no big changes compared to the predecessor at a much higher price
HarmonyOS 2.0 has too much from the old LiteOS – the revolution is yet to come, smart features are not enough.
Constant measurement of blood oxygen saturation and skin temperature is inaccurate
Fewer features when used with non-Huawei smartphones
The price is too high, given the lack of functionality
Read also: